Qatar Airways boasts one of the world's best Business Class in its Qsuites. And if you happen to be a Privilege Club Gold or Platinum member, then you could upgrade to Business Class (or even First Class) for free! It's as easy as it sounds, thanks to the Qcredits you get as part of Qatar Airways' Privilege Club program.
All you have to do is check if there is upgrade availability, book an eligible cash fare, and then put your Qcredits to work with a free upgrade.
And if you originally did a status match to Gold or Platinum with Qatar Airways back in 2020, your Qcredits will be expiring soon. It's not too hard to put those Qcredits to good use – here's everything you need to know about upgrading Qatar Airways flights.
What are Qatar Qcredits?
Qcredits are a special reward offered to Gold and Platinum members of the Privilege Club program. They're valid for 24 months from issue and can be used for upgrades, extra baggage, lounge access, or to pay award flight fees. Of course, our focus today is using Qcredits for those sweet, sweet upgrades.
Gold members get 40 Qcredits to play with, while Platinum members have 60 Qcredits per membership cycle. You'll get a fresh batch every time you upgrade or retain your tier. These Qcredits expiries haven't been extended though, so you'll want to use them ahead of time.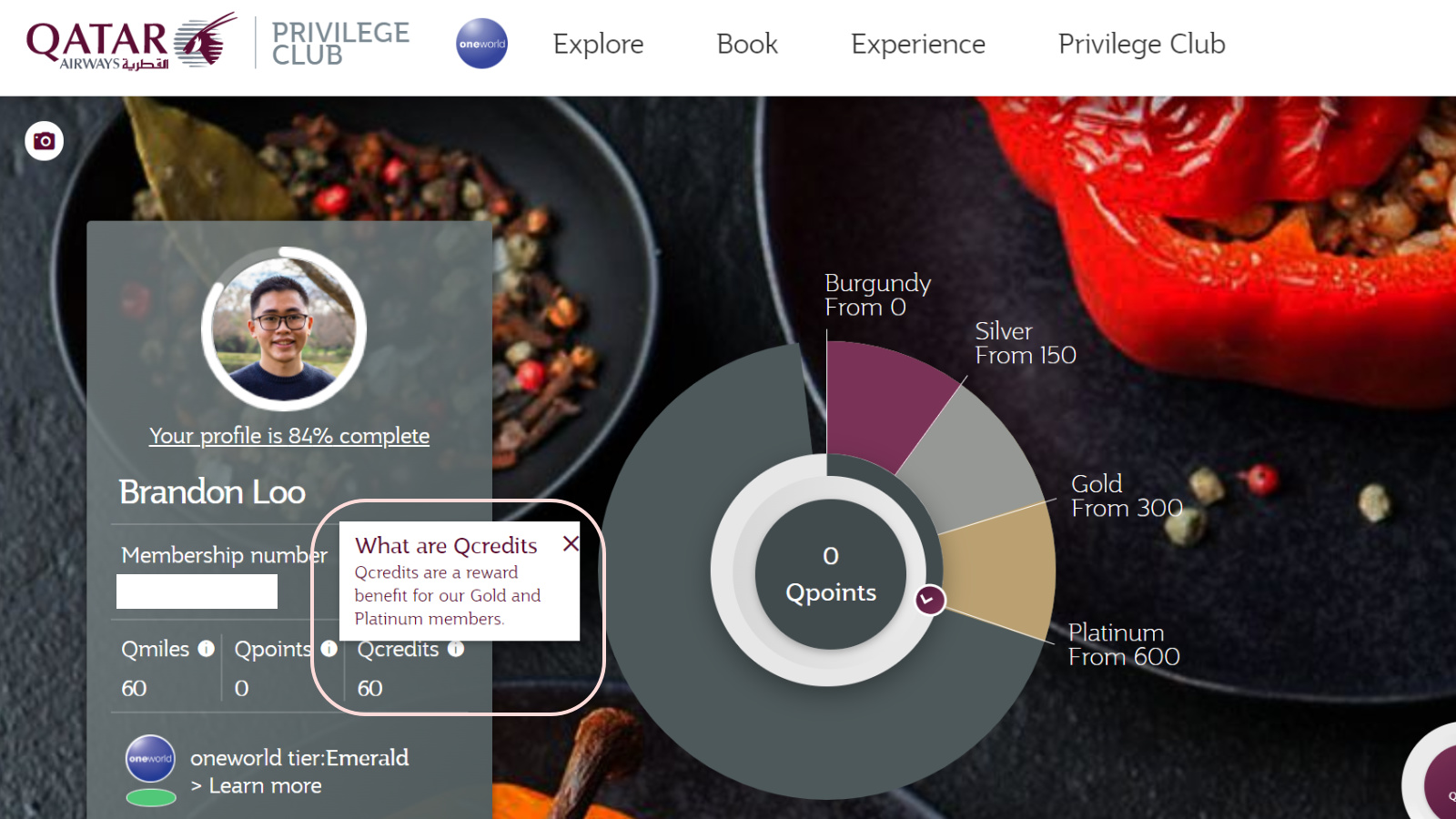 How many Qcredits do I need to upgrade?
The 'My Calculator' is your best friend when it comes to figuring out what you can do with your Qcredits.
Go to the My Calculator link (you might need to login).
Click on the 'Upgrade and Excess Baggage' tab.
Enter your desired flight details.
Toggle the 'Avios' button so it shows 'Qcredits' instead.
See the number of Qcredits needed for a free upgrade.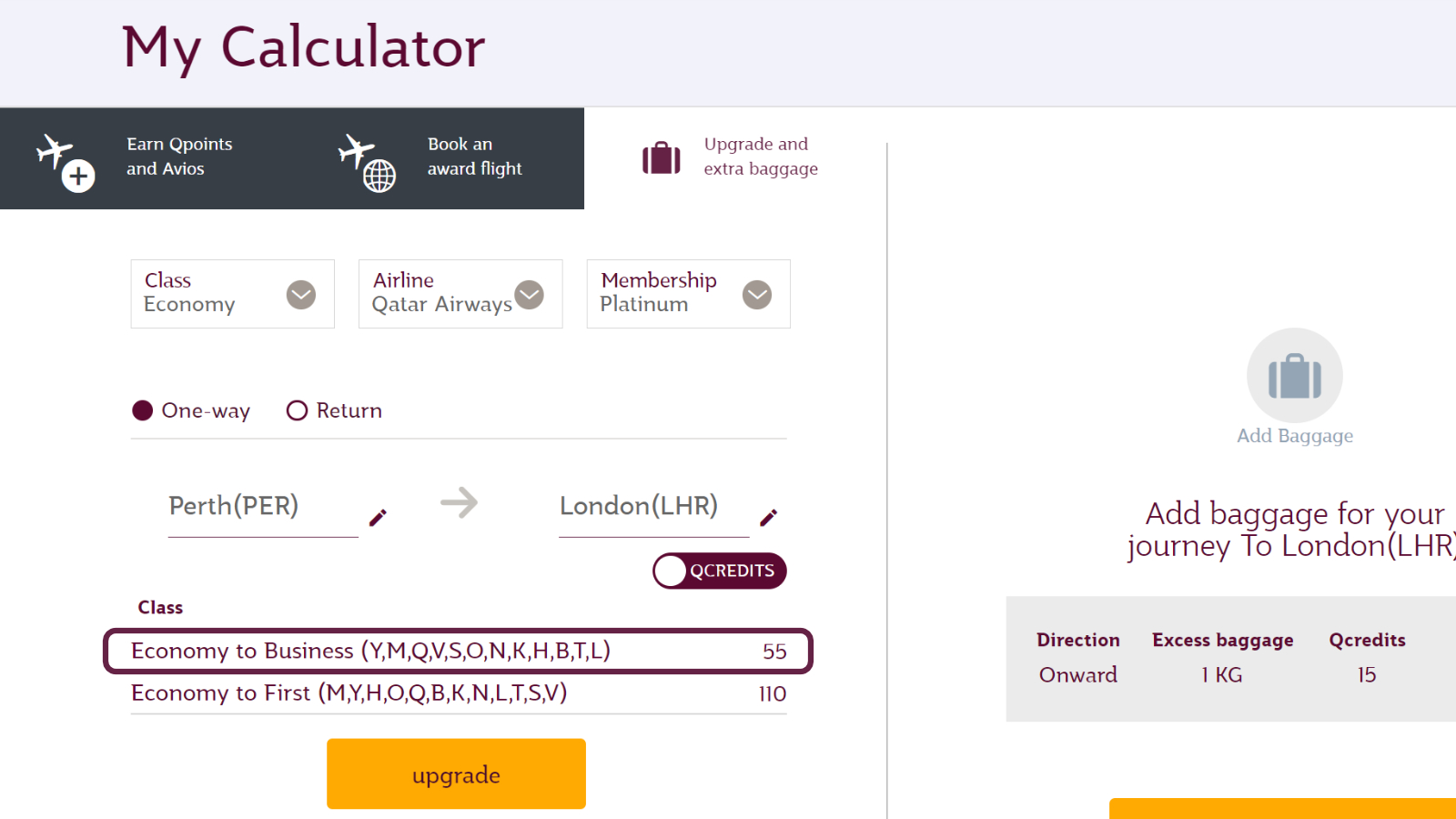 Pay attention to those letters – that's the original fare class you need to book. So if I want to upgrade my Perth-London flight to Business, I need to book Economy Y, M, Q, V, S, O, N, K, H, B, T or L. Thankfully, that covers a wide range of fares, including some discounted ones!
A Platinum member with 60 Qcredits can upgrade Australia to Europe all the way for just 55 Qcredits. Gold members starting with 40 Qcredits can upgrade the Doha-Australia leg, which costs 39 Qcredits.
Ad – Scroll down to continue reading.Minimum spend, terms & conditions apply.
How do I search for Qcredit upgrade availability?
Once you've done your research, it's time to get booking. Start by checking there is upgrade availability on your desired flights. Log in to your Privilege Club account and head to the 'Redeem Avios' page. Enter the exact same flight details as the one you're looking to book in the lower class.
On the results page, your flight should be upgradeable if you check two things:
See the gold ribbon indicating 'Lowest price in Avios this week', and
DON'T see the green ribbon indicating 'Flexi awards' next to your flight.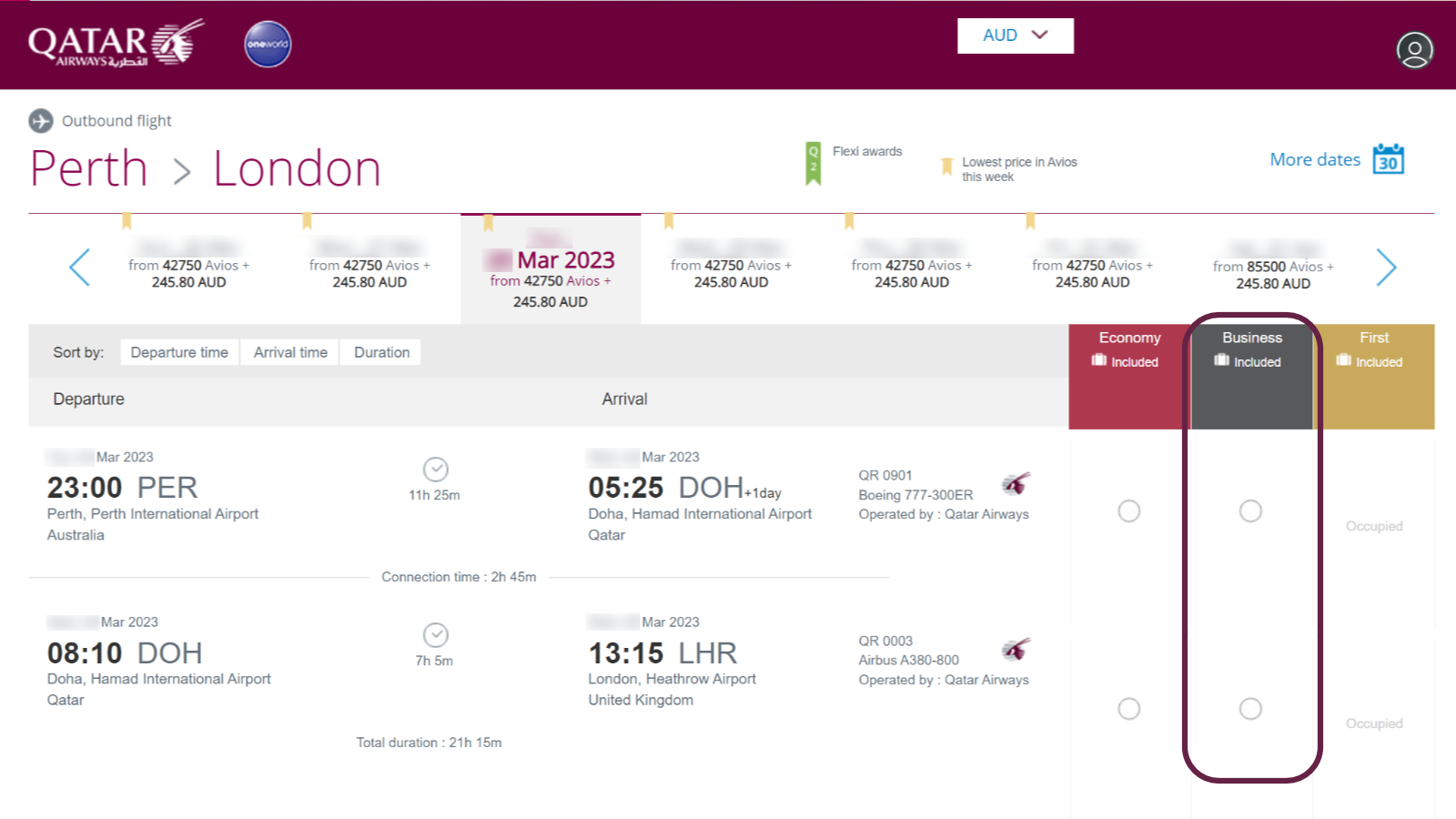 Essentially, there has to be normal 'Saver' award seat availability for your Qcredits upgrade to process. Of course, if you have any doubt then contact Qatar Airways before booking. The phone agent should be able to confirm Qcredits upgrade availability on the spot.
You can even stay on the line while you book your cash ticket, and then give them the booking confirmation code to process the upgrade over the phone. In my case, I book an Economy (T) Perth-London fare online for AU$1,076 one-way, which is eligible for an upgrade.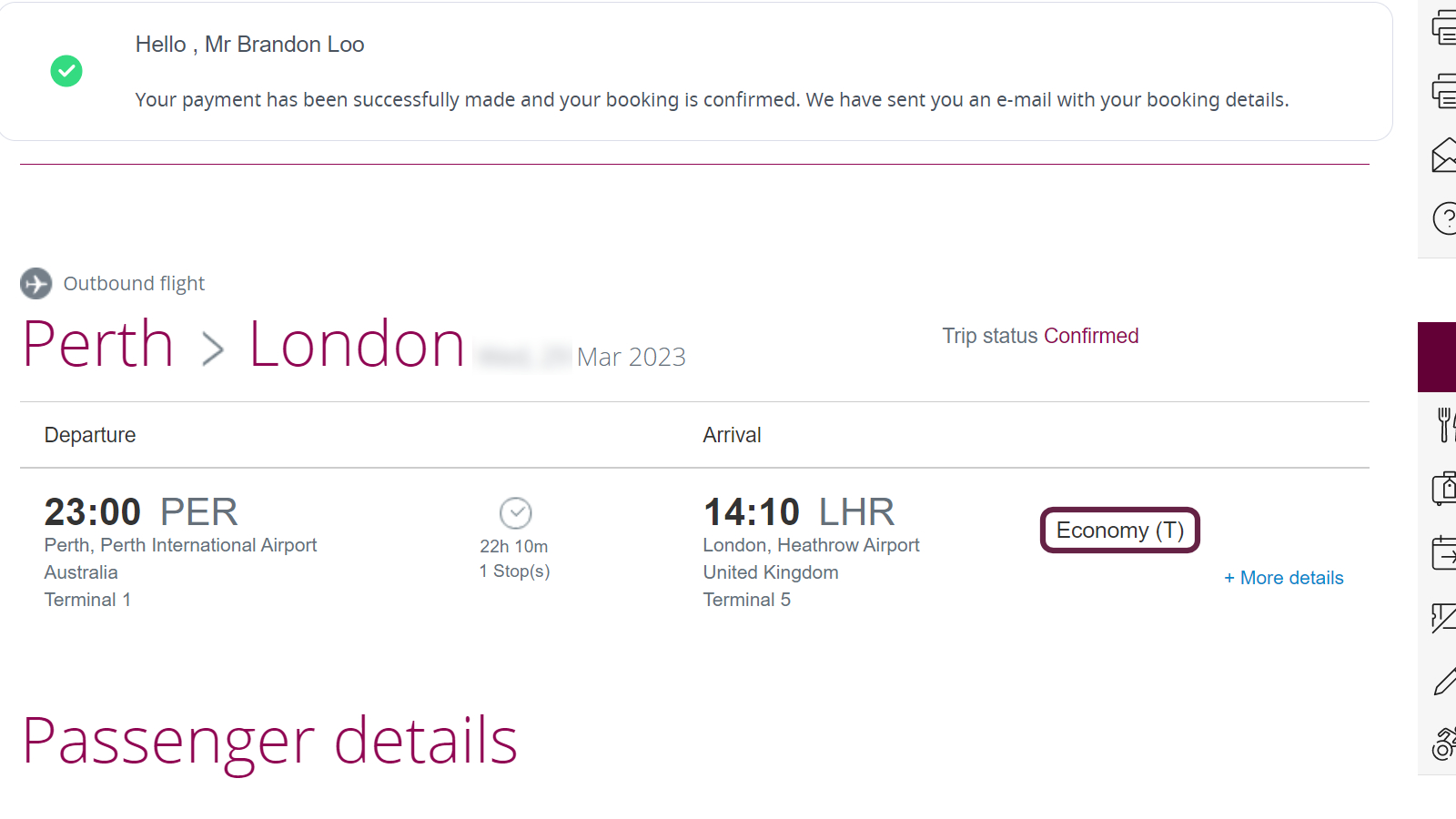 How do I upgrade with Qcredits?
The next step is to upgrade with Qcredits online. Simply log in to your account, click on 'Redeem Avios' and then 'Upgrade on Qatar Airways'.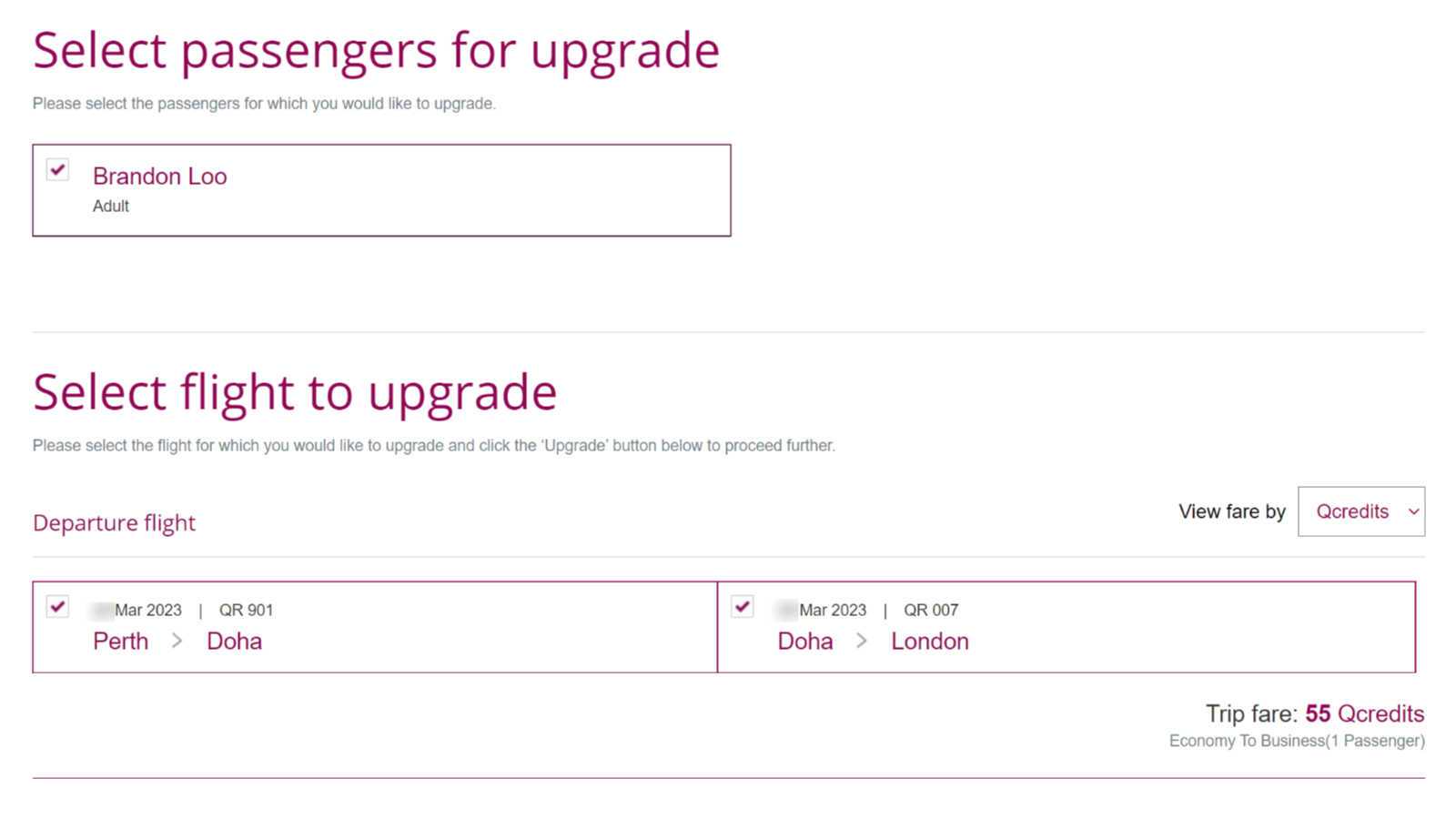 Enter your booking reference and last name to bring up the booking.
Choose which passengers you want to upgrade.
Also, choose which flights you want to upgrade. Upgrading a whole leg is better than upgrading individual segments if you have enough Qcredits.
Confirm the number of Qcredits required matches your research.
Verify your one-time PIN via SMS.
You are now successfully upgraded!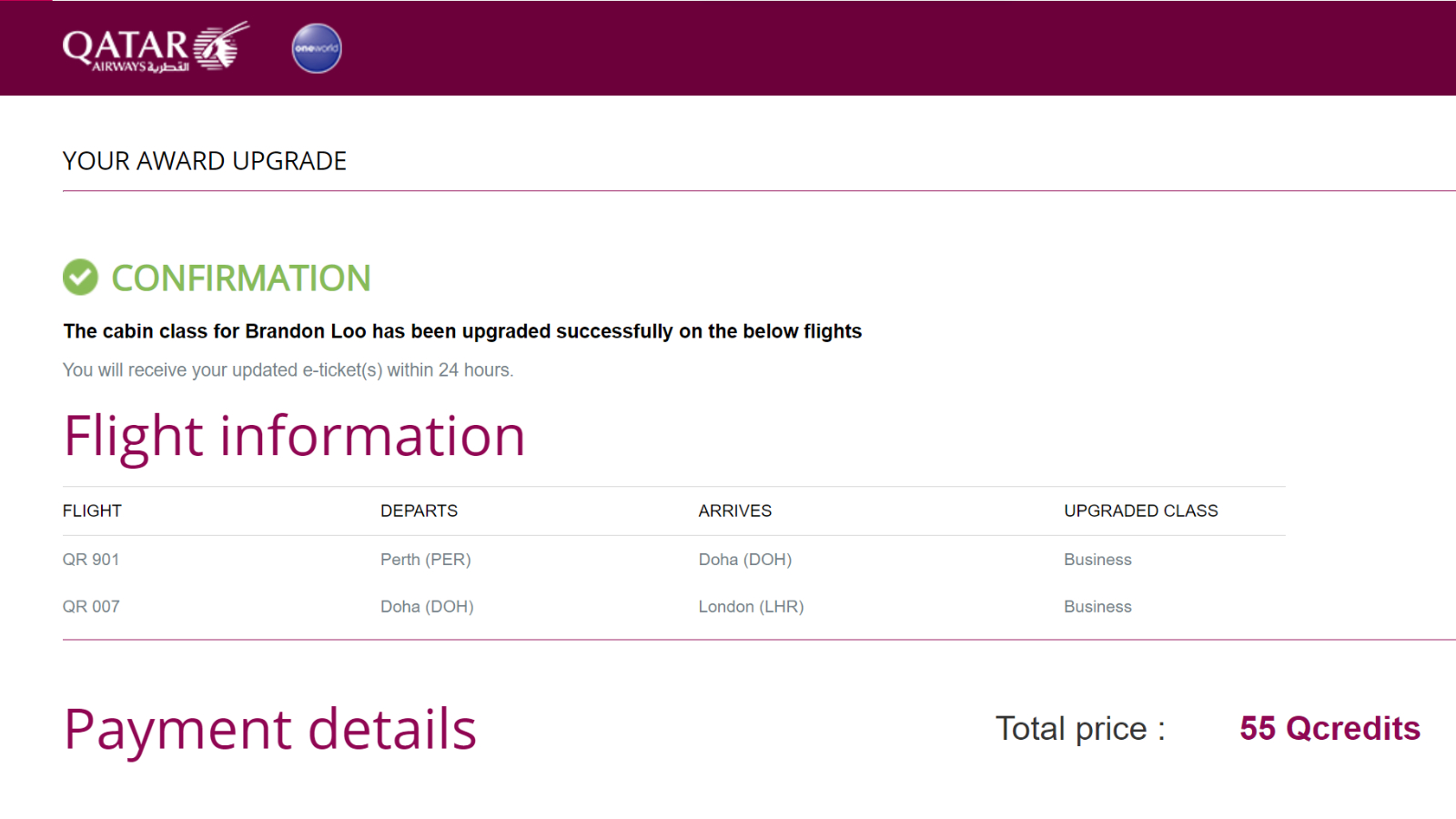 Are there any catches with using Qcredits?
The process of upgrading with Qatar Airways Qcredits is fairly transparent, so there shouldn't be any unexpected surprises. But there are a few points that aren't necessarily clear when upgrading:
Qatar Airways does NOT offer lounge access as standard on upgraded tickets. You'll need to rely on your Privilege Club Gold or Platinum status for lounge entry. Outside of Doha, that's no problem. But in Doha, this means you might not be able to access the superior Al Mourjan or Al Safwa lounges. Instead, Gold members may be sent to a lower-tier Business Class lounge. Platinum members may retain access to the Al Safwa lounge as a perk when travelling on Qatar Airways Business Class.
Certain Qatar Airways flights within the Middle East sell the Business Class seats as First Class instead. On those flights, you'd need to pay the Economy to First upgrade rate. As before, Al Safwa lounge access is not included with the upgrade.
You'll keep the original ticketed baggage allowance as well. For me, that's 25kg in Economy Classic.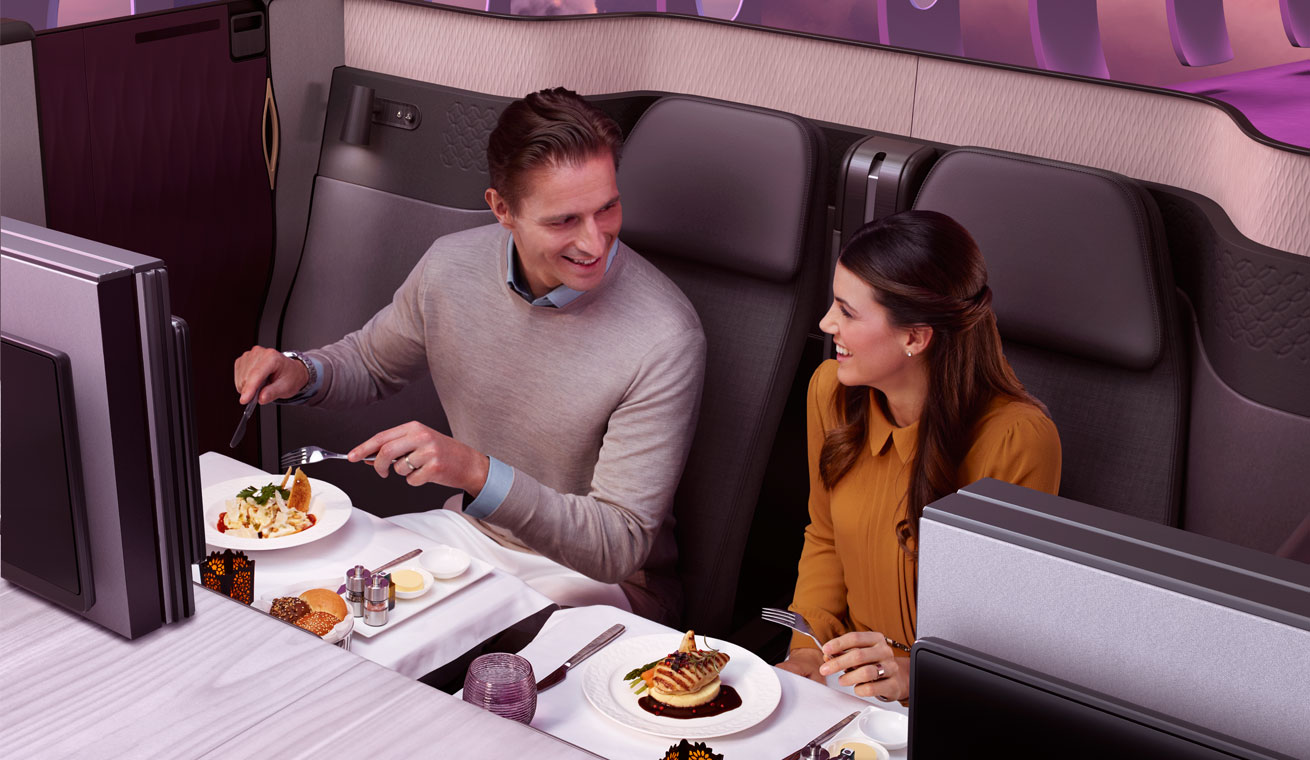 On the flip side, Qcredits are valid for 24 months from the date of issue (as long as you retain your status) and are refundable if you do end up changing or cancelling your flight. Lastly, you can use your Qcredits on other people, such as family members and friends. Time to rack up some brownie points!
Summing up
Qatar Airways rewards its Gold and Platinum Privilege Club members with up to 60 Qcredits a year. With flights from Australia to Europe needing only 55 Qcredits to upgrade from Economy to Business, you can see that it's a very valuable reward.
As long as you do your research and check award seat availability, this is truly a free upgrade you can take advantage of once a year. There is nothing extra to pay, and a wide range of cheaper Economy fares are eligible.
Given I attained my Privilege Club Platinum tier with a status match from Virgin Australia in 2020, I'm certainly looking at prioritising travel with Privilege Club in 2022 to retain these excellent benefits. And I'm glad I can also enjoy a free upgrade from Perth to London in 2023.
How to upgrade your Qatar Airways flight for free
was last modified:
May 31st, 2022
by