The Qantas International Business Lounge at Singapore's Changi Airport is one of the best in the Qantas network.
I recently visited this lounge prior to my Qantas flight to Australia, and had high expectations for it, knowing the airline's reputation for lounges around the world.
Lounge Location and Details
The lounge is found after immigration in Terminal 1 of Singapore Changi Airport, slightly closer to the gates C1 to C26.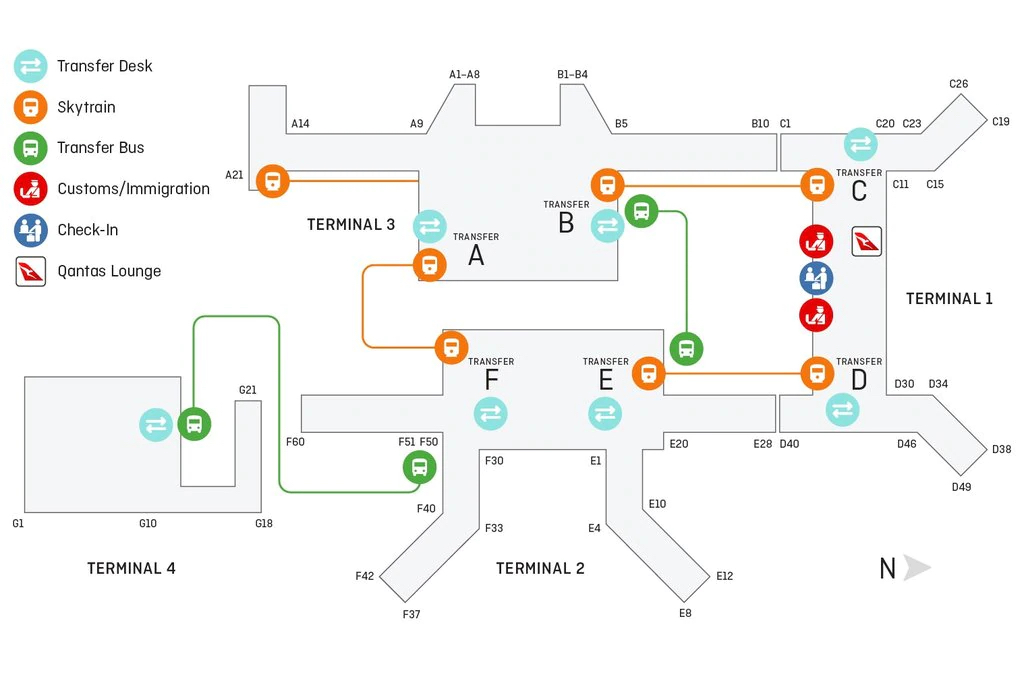 Follow the signs for the Qantas and British Airways lounges – it will lead you up an escalator to a quiet Level 3 where the lounges are located.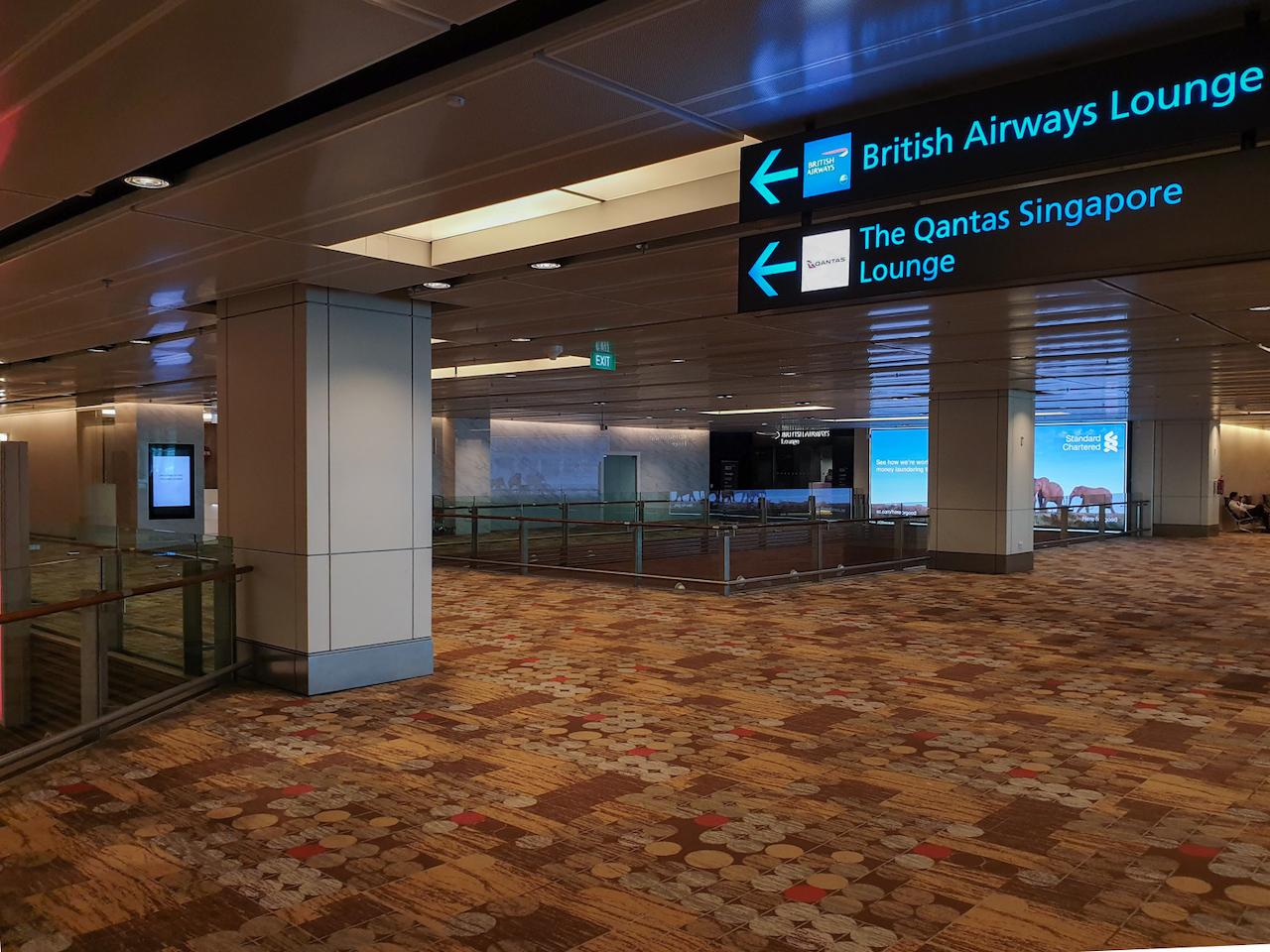 The entrance to the Qantas Singapore Lounge is down a long hallway, but it shouldn't be too hard to find.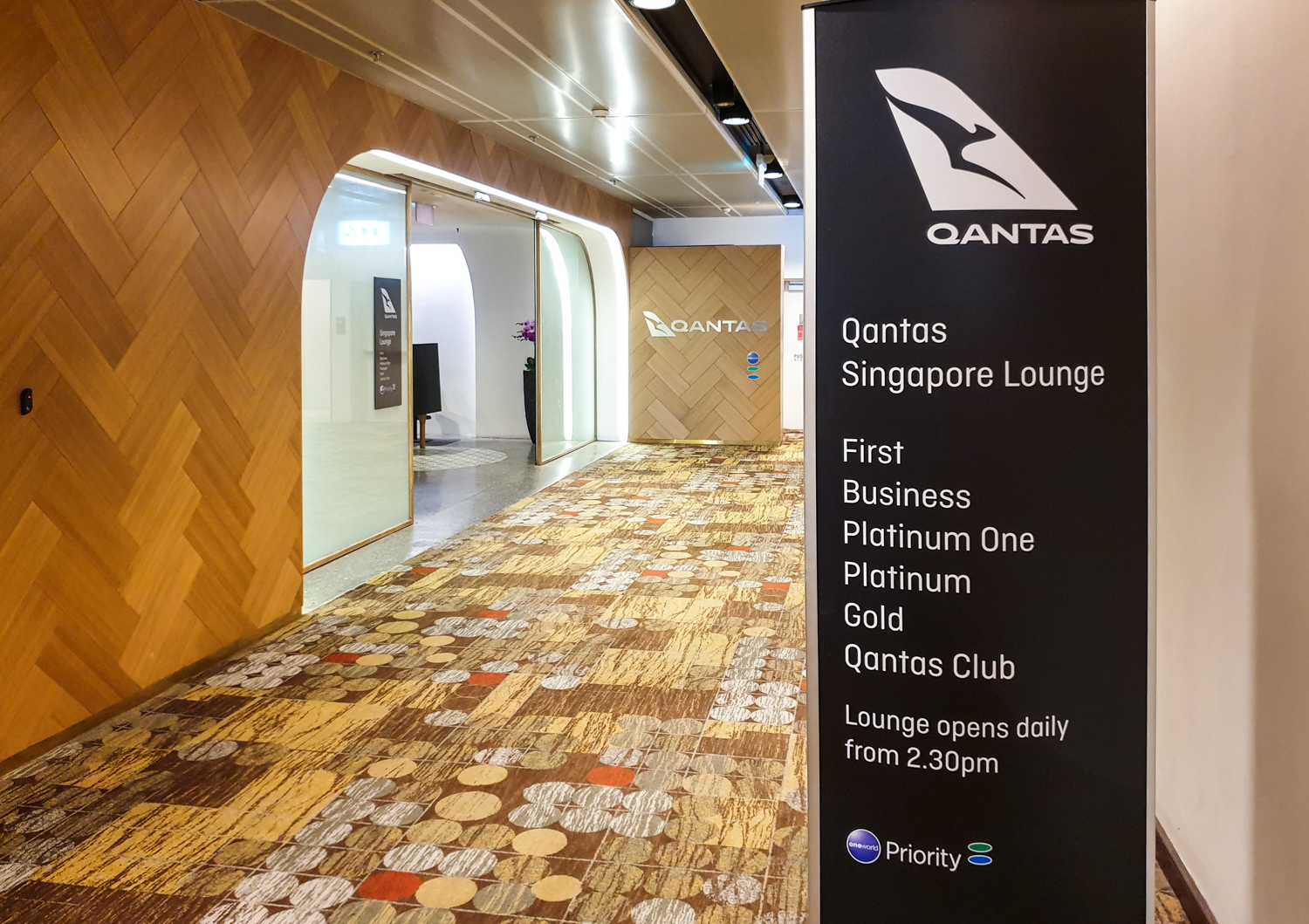 The Lounge is open from 2:30pm every day and closes near midnight or whenever the last Qantas flight departs.

Lounge layout and seating
Past the reception desk is a twisting corridor that sets the tone – wooden walls, concrete floors and exposed ceilings give this lounge quite a modern industrial feel to it. There are also flight information screens throughout.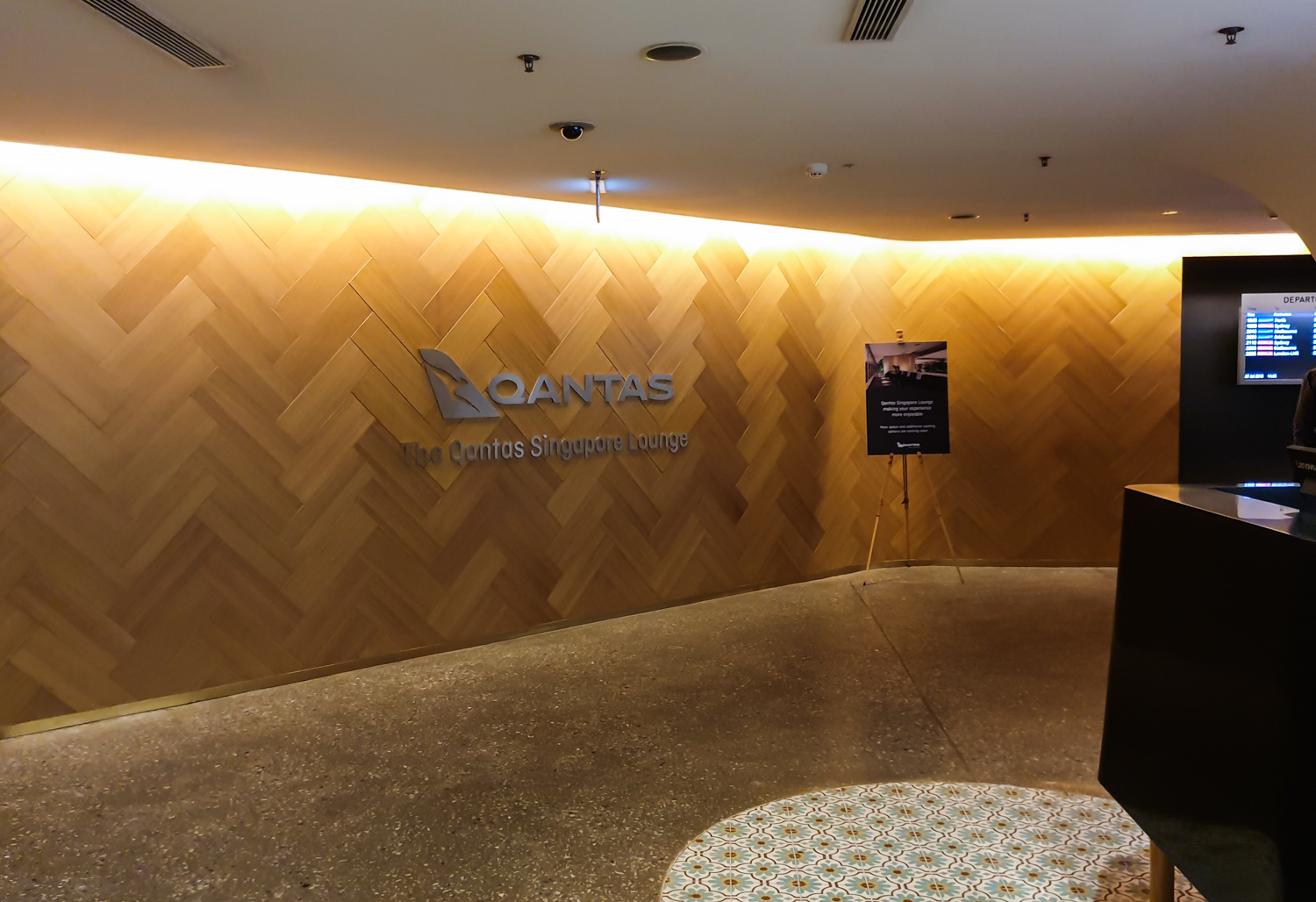 When you enter the lounge, the iconic staffed bar is to your right.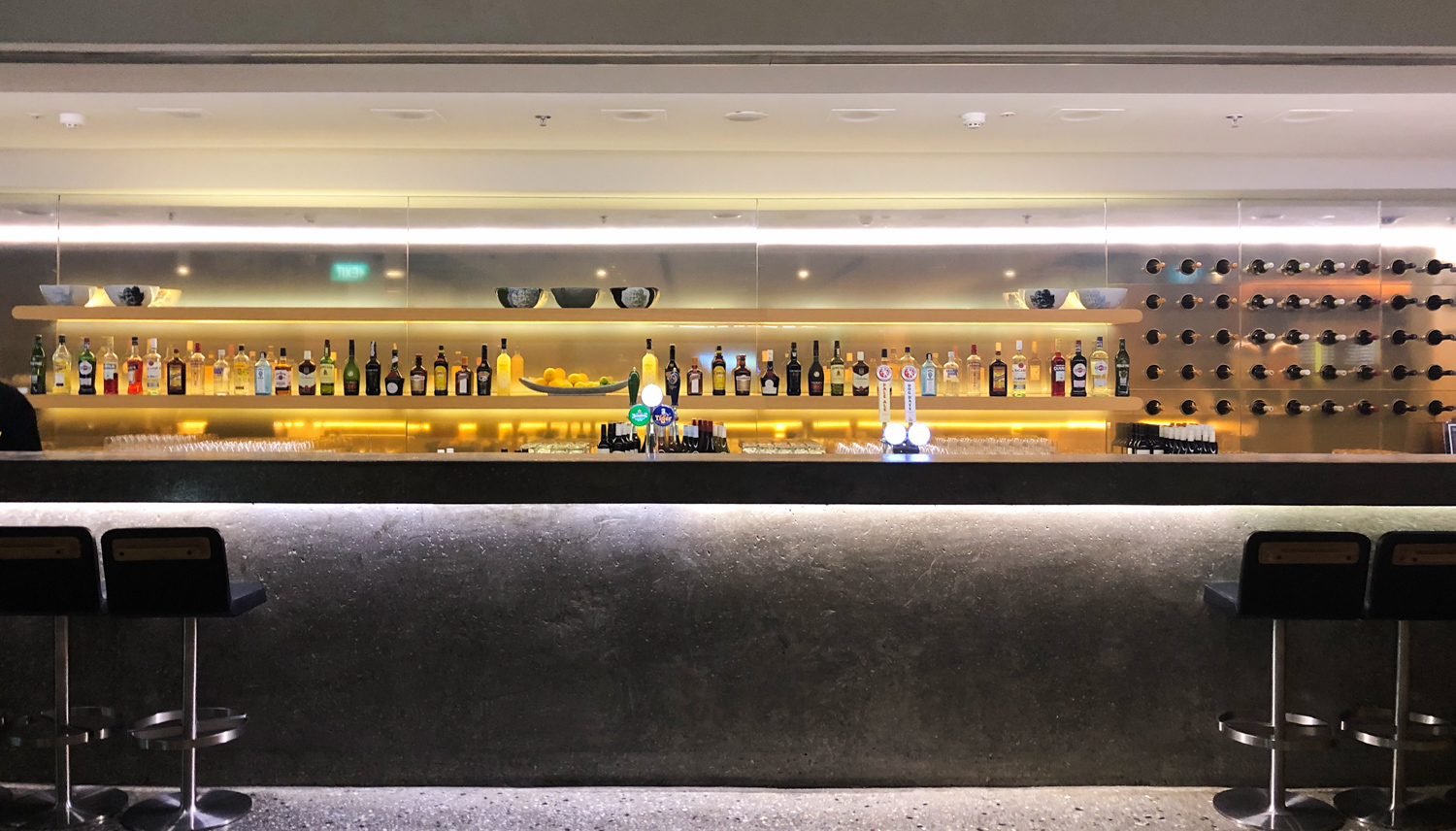 At this point, you have two choices – to directly head for the dining area and showers, or to head to the seating area on your left.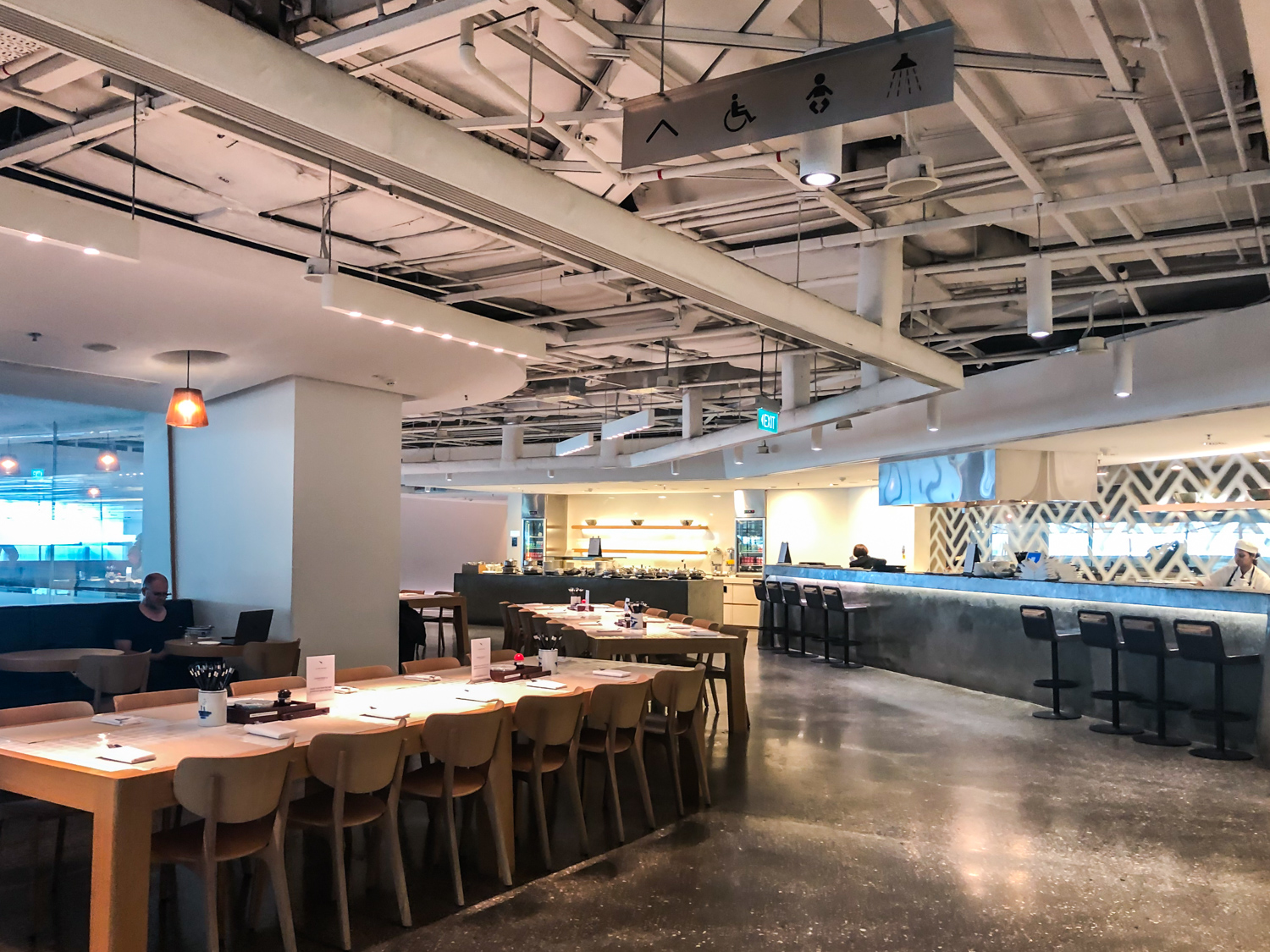 The first section has long bar tables and single yellow seats around cocktail tables. This area tends to fill up last as it's not a very comfortable or quiet spot to relax.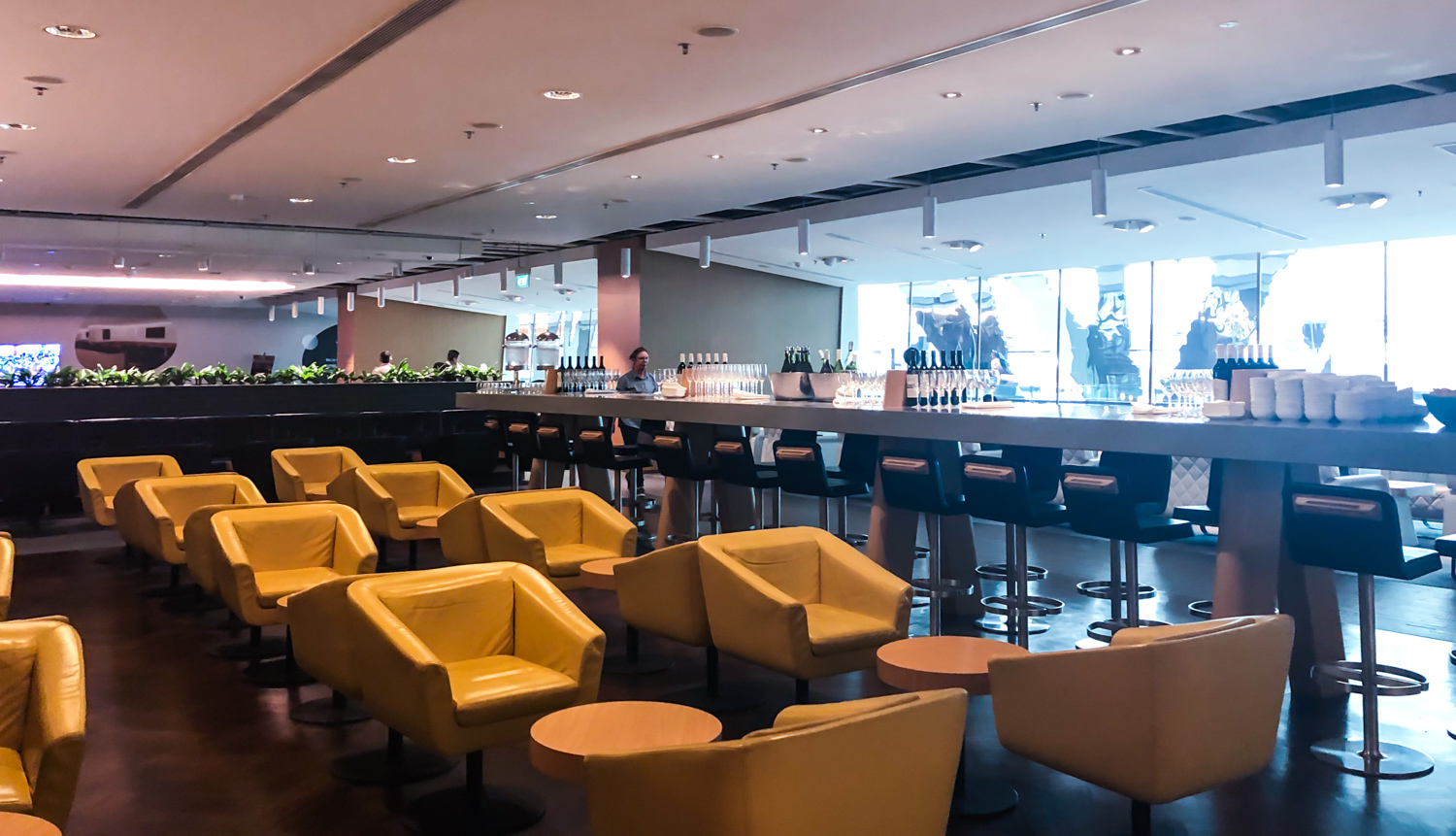 The windows shown above look towards the inside of Terminal 1 instead of the airfield, making the lounge feel a little gloomy at times.
Moving on is the bulk of the seating areas which are divided into different zones.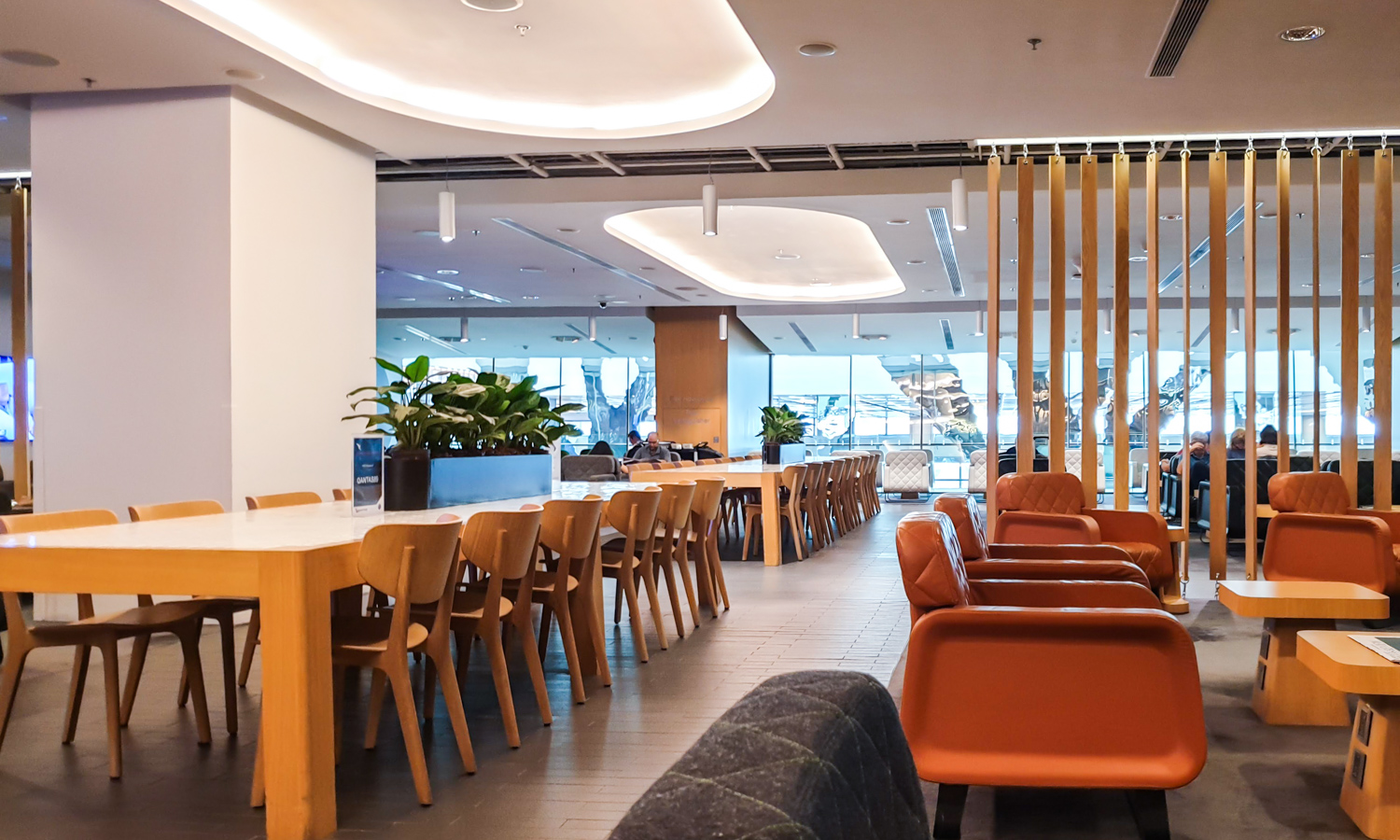 Most of the seating is Qantas' familiar orange, black and grey armchairs.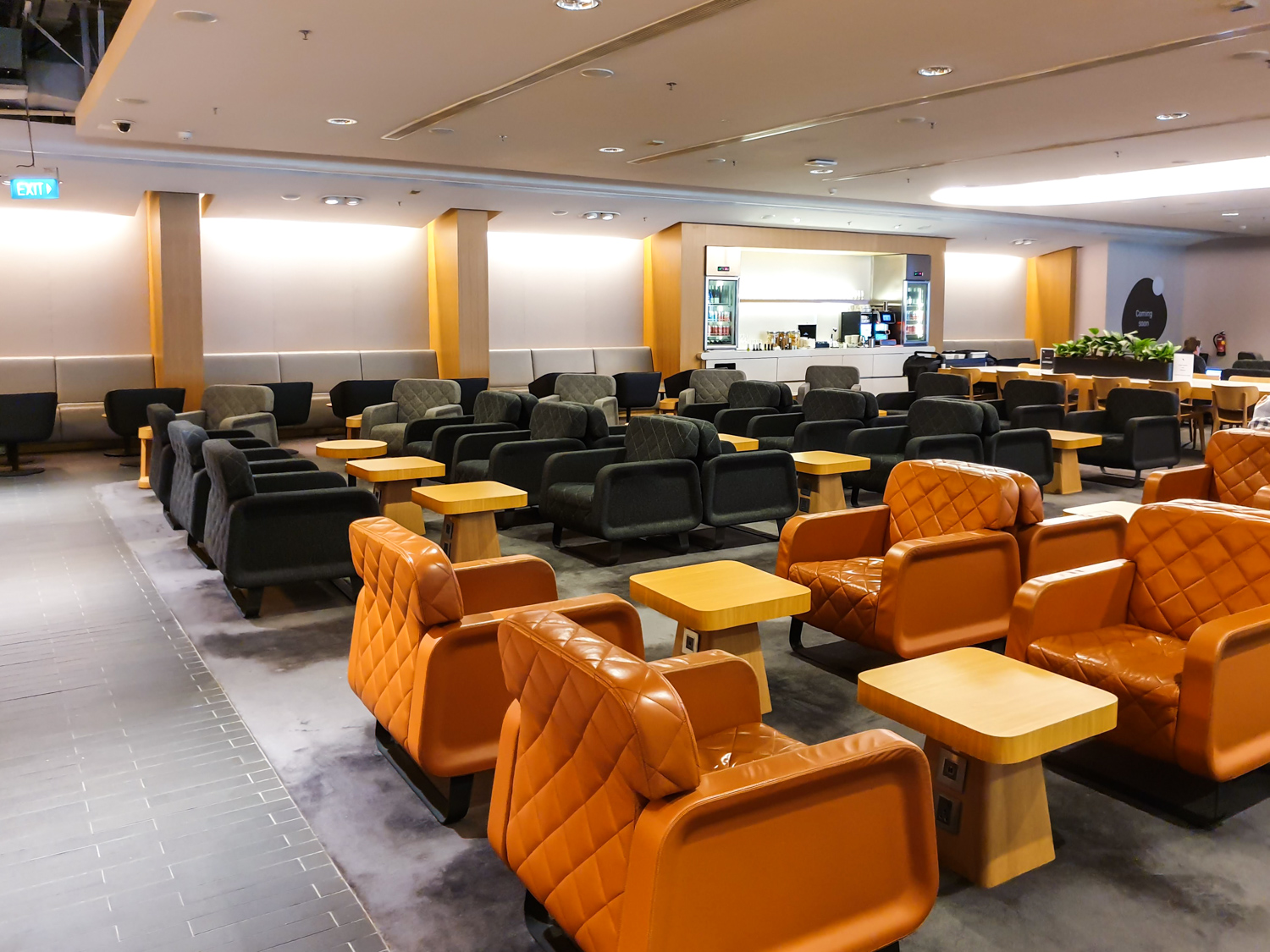 The lounge has plenty of charging ports throughout with two outlets (one power, one for USBs) located under most of the wooden tables.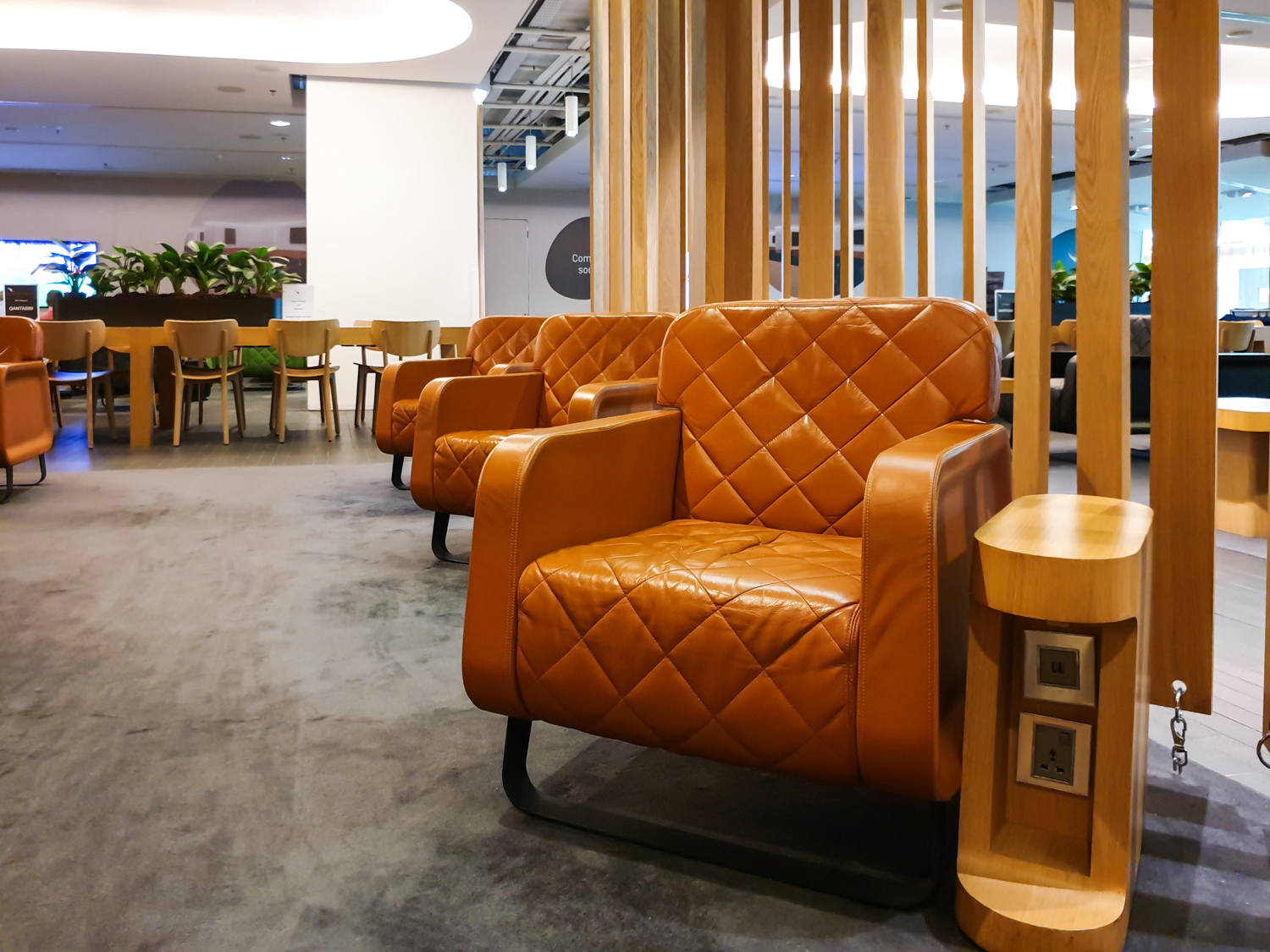 In the back corner of the lounge is a small self-serve station for soft drinks and hot drinks. Qantas is also adding more seating to this space, which was under construction during my visit (behind that back wall with the signage).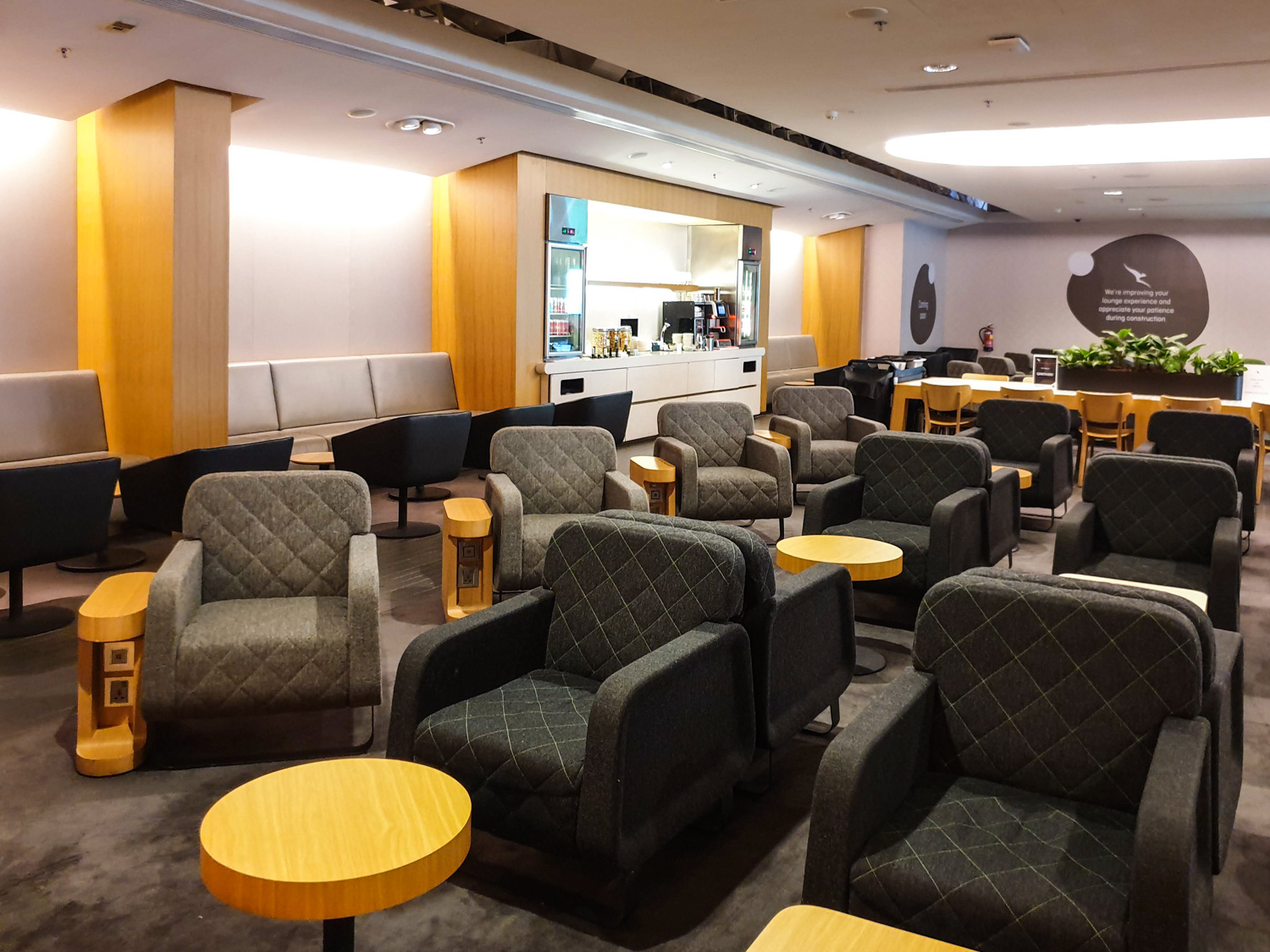 Moving back to the dining area, this is also a very large space with the buffet counters and lots of seating options.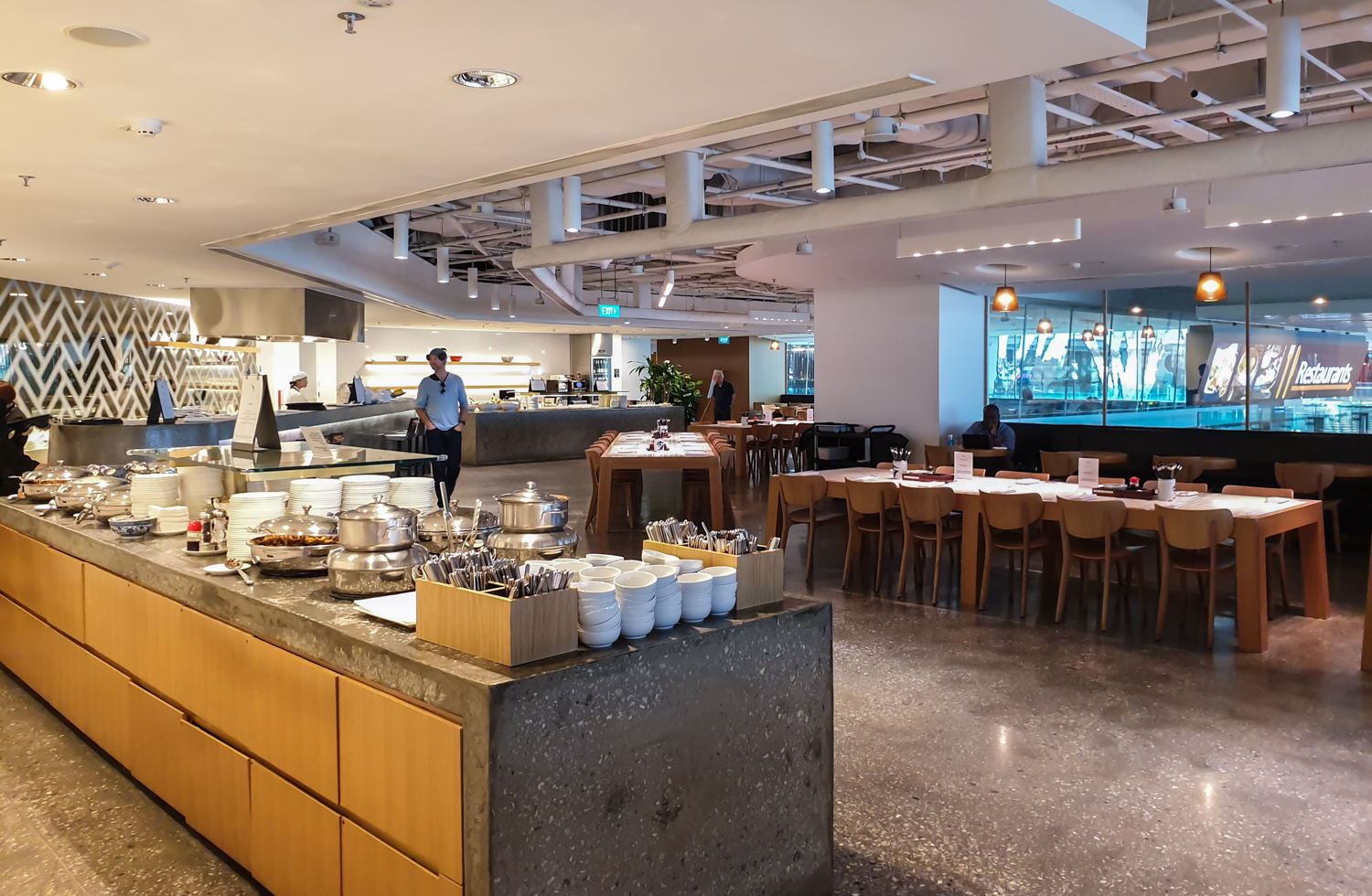 At the far end of here are 20 large shower suites, which are allocated by an attendant.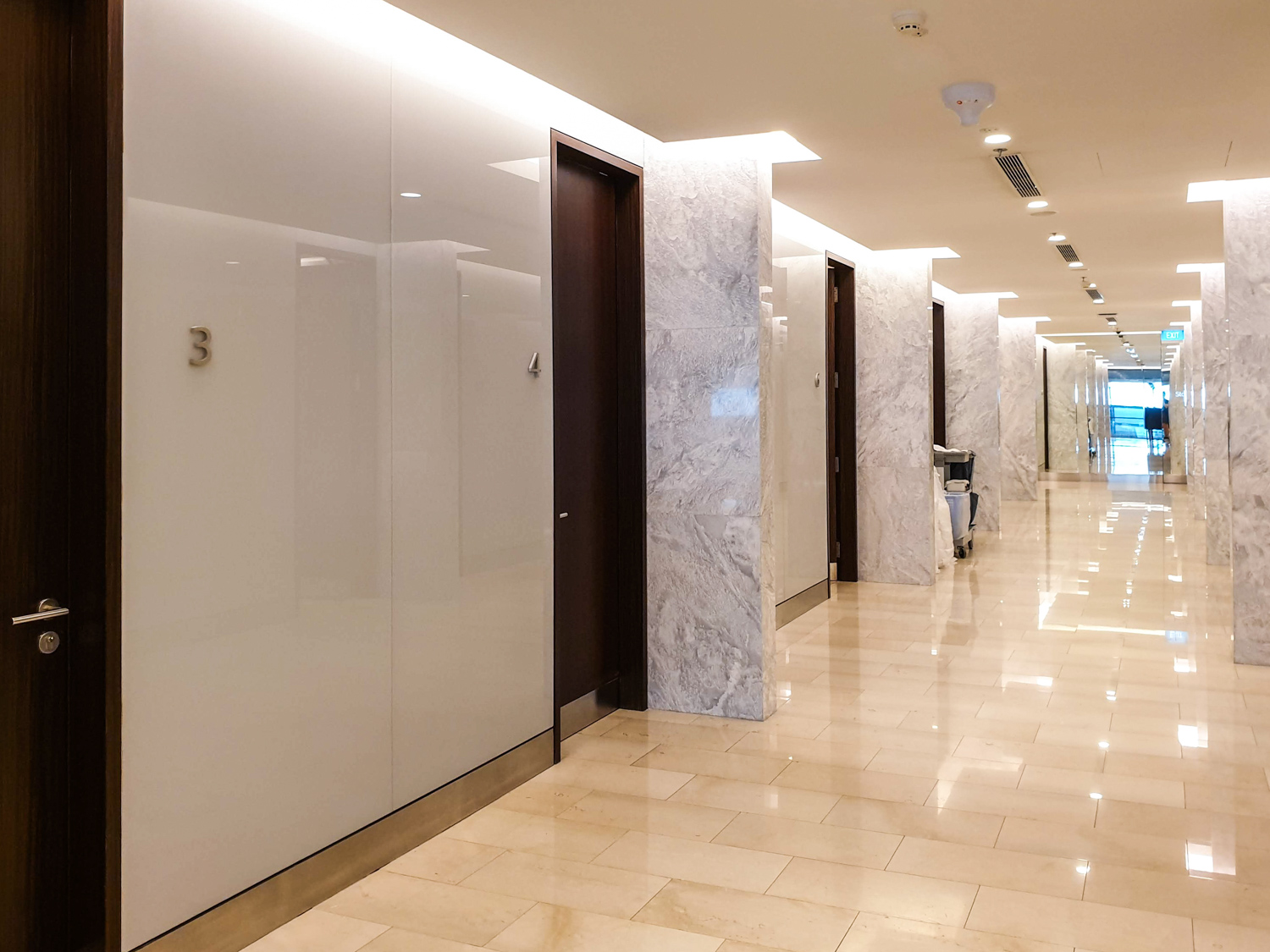 Food and Drink
The Qantas Singapore Lounge has a rotating menu of two dishes that are made-to-order. I tried the Chinese-style white fish which was actually very delicious. The lounge staff are managed by Sofitel, and bring your order to your seat.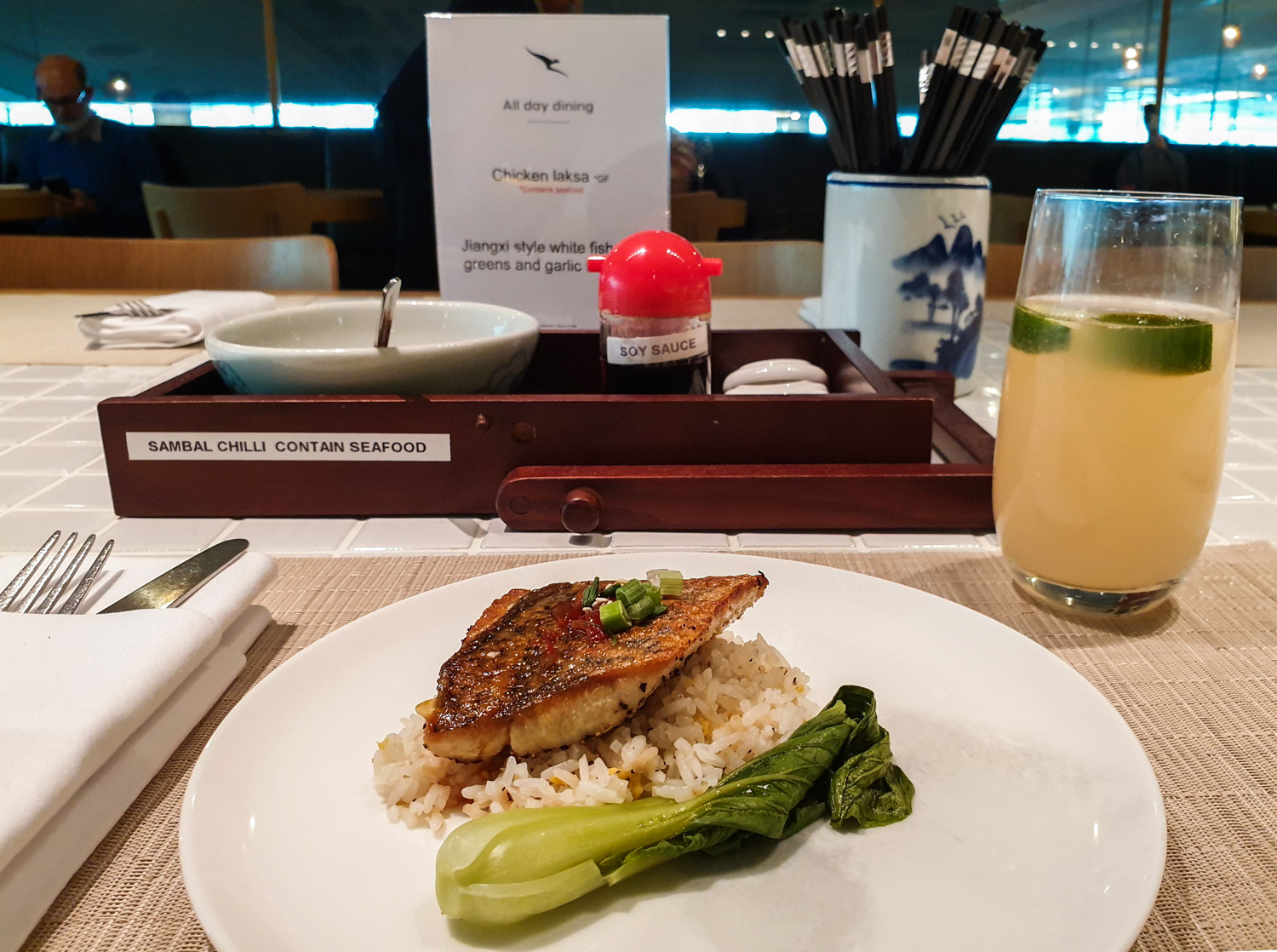 The regular buffet has a number of hot Western dishes to choose from.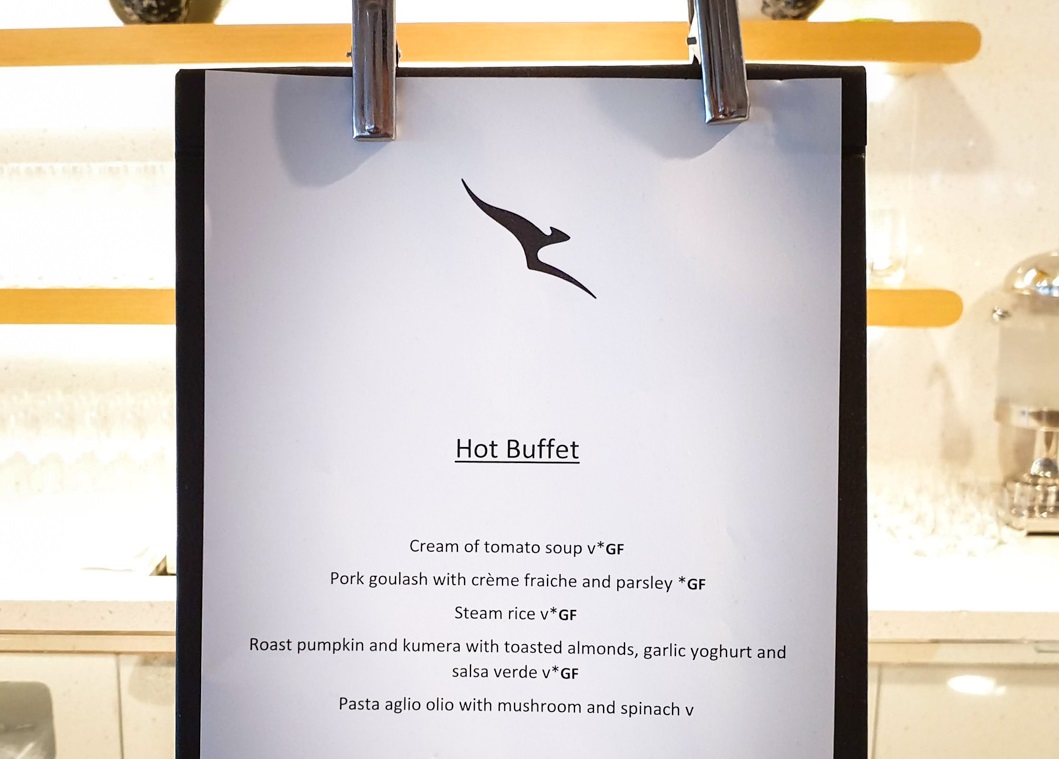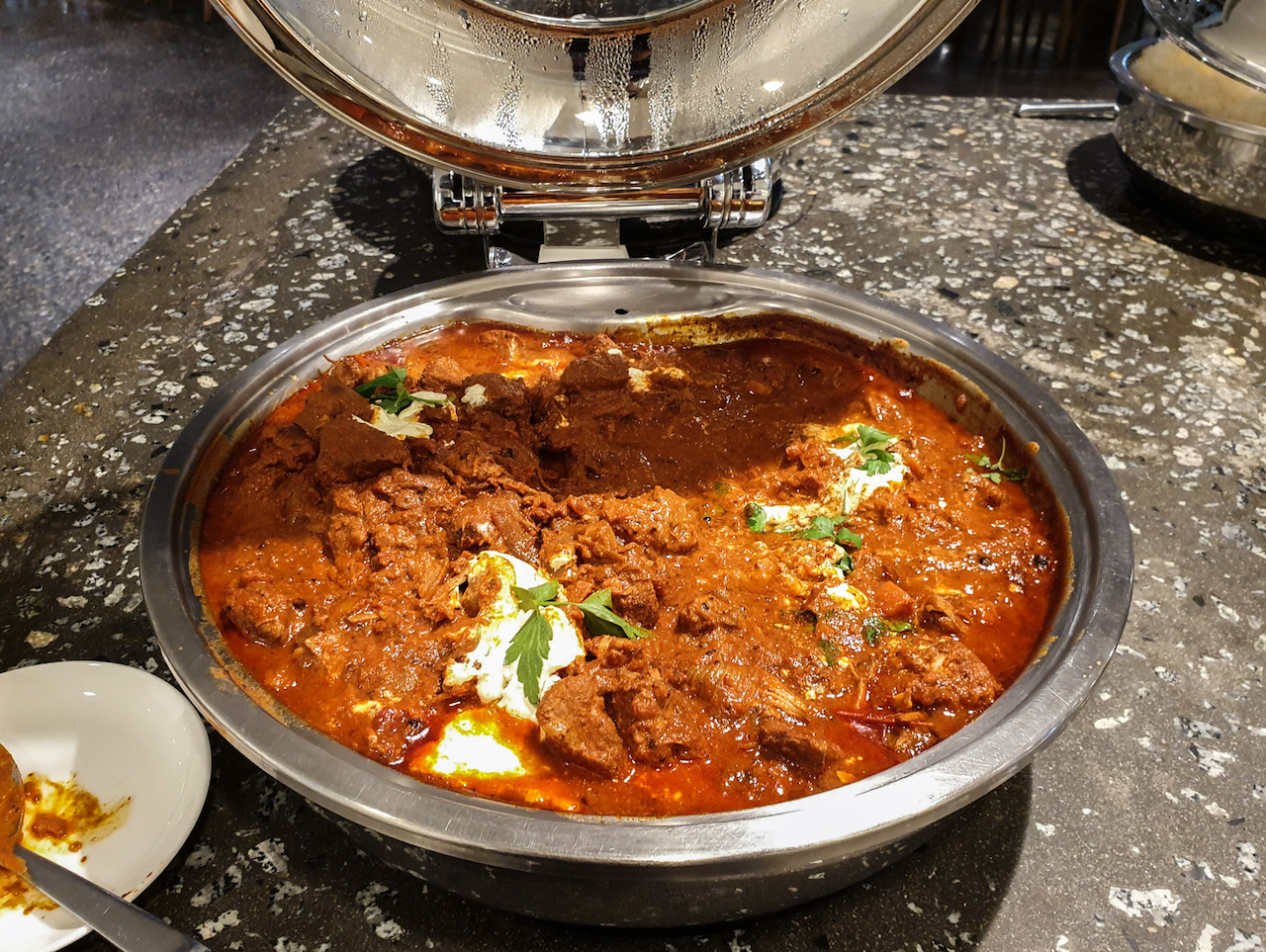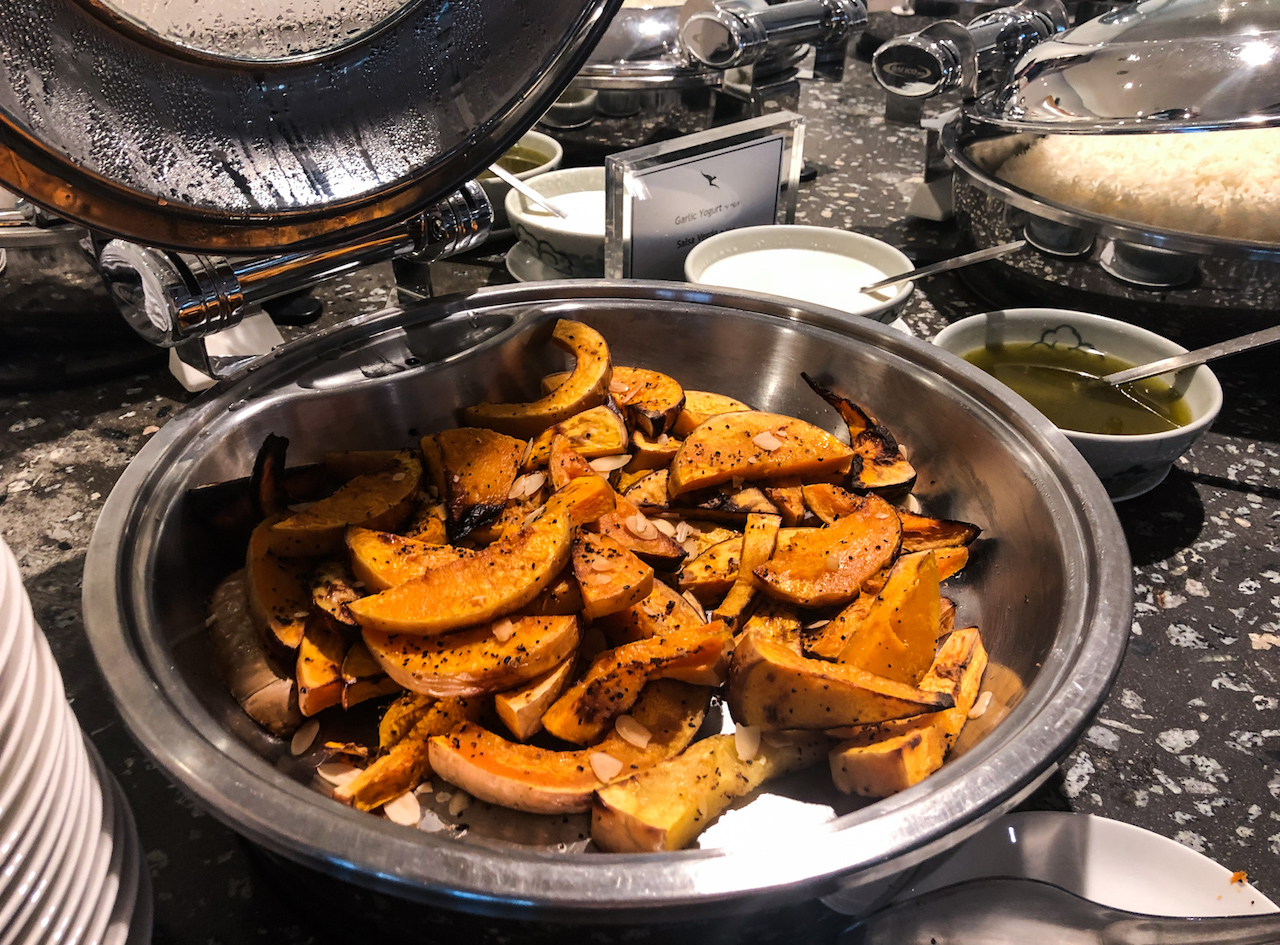 On the cold side of things is the most vibrant collection of salads I have ever seen in an airport.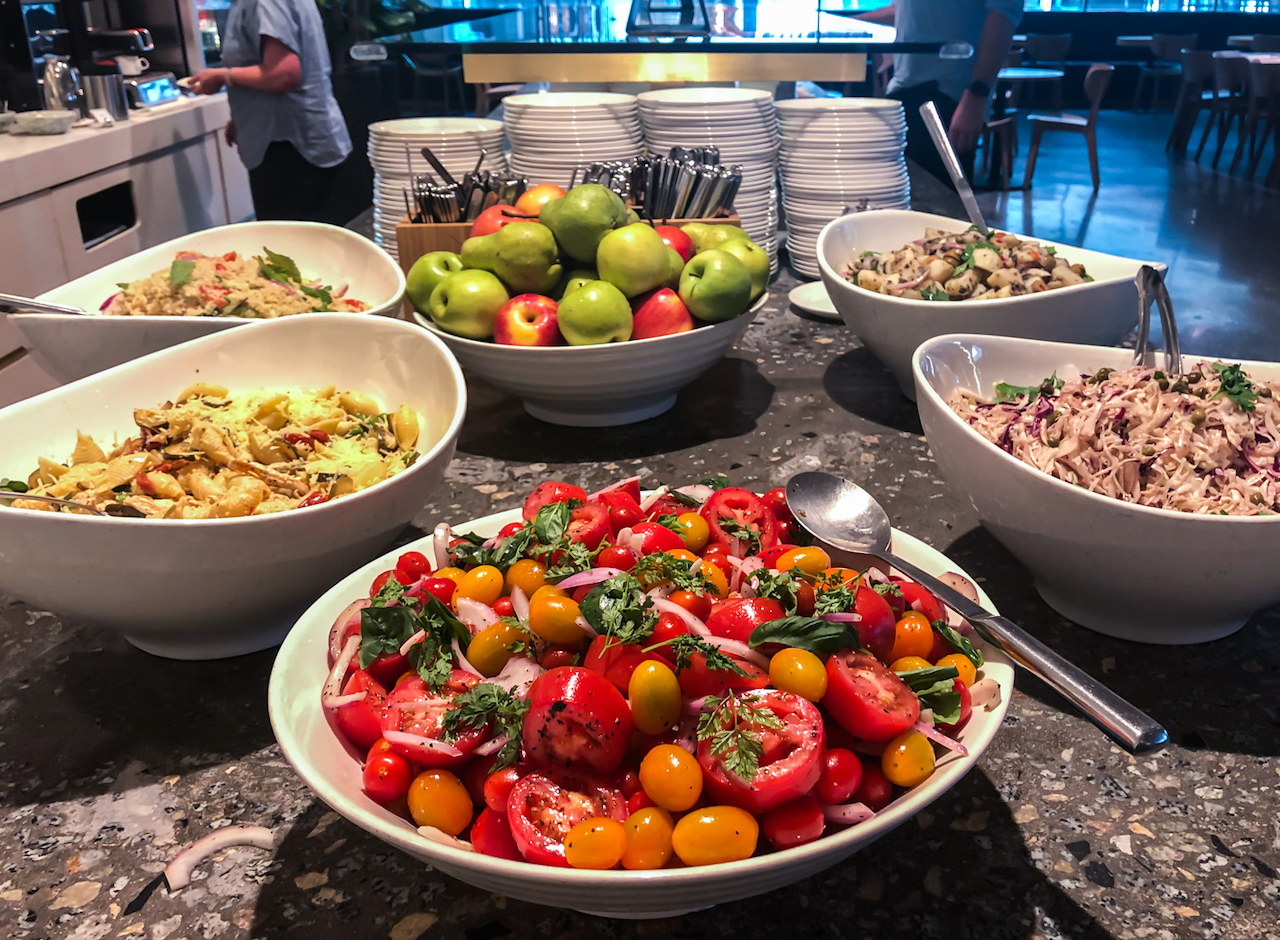 The dessert selection will tempt just about everyone with a mix of options from black sticky rice with mango to panna cotta with mixed berries.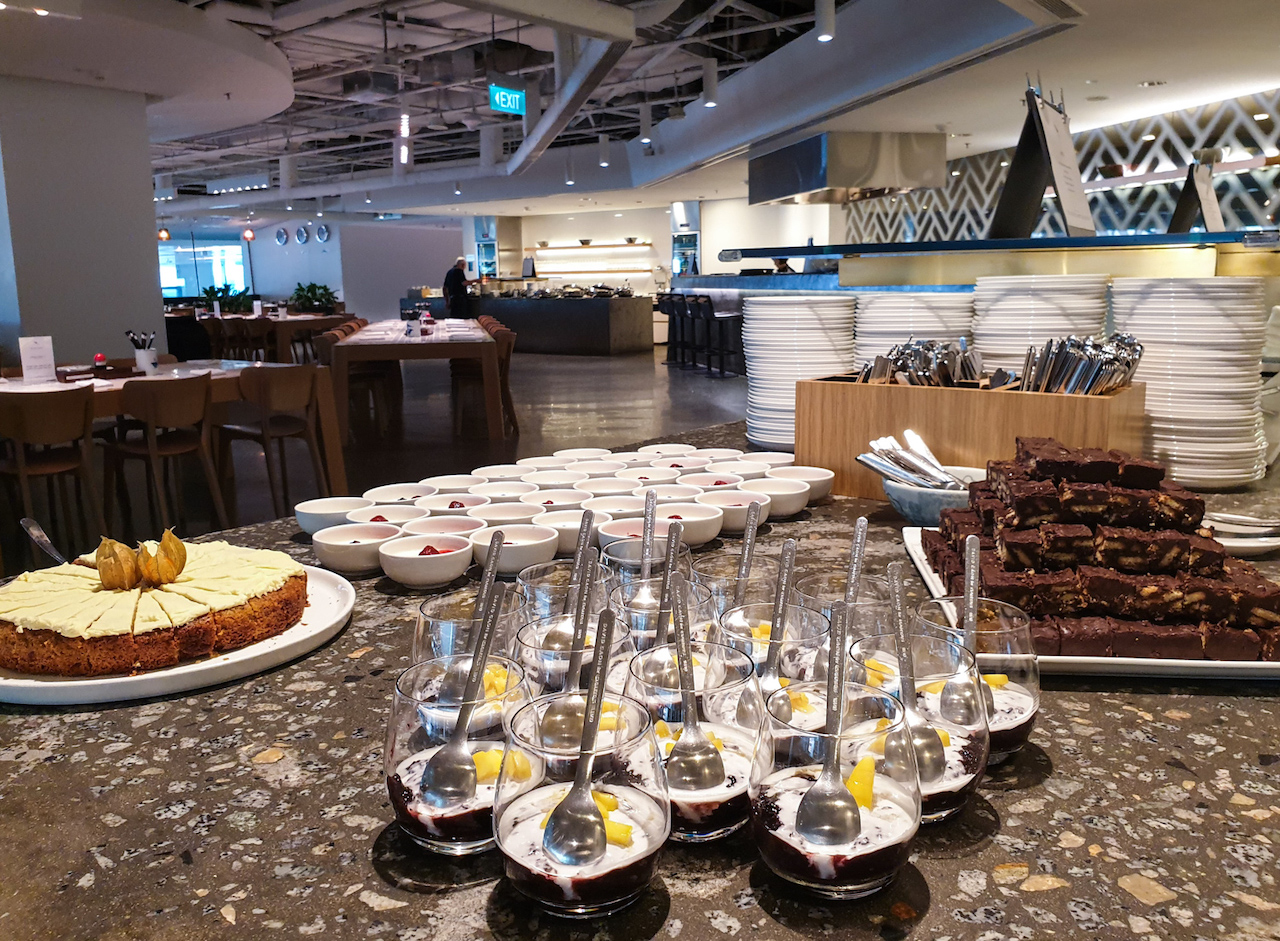 Over at the bar, you can ask for just about any drink as long as they have the ingredients to make it. I enjoyed my espresso martini, but they didn't have fresh mint leaves on hand for a mojito. Mint syrup just made the drink taste sickly sweet.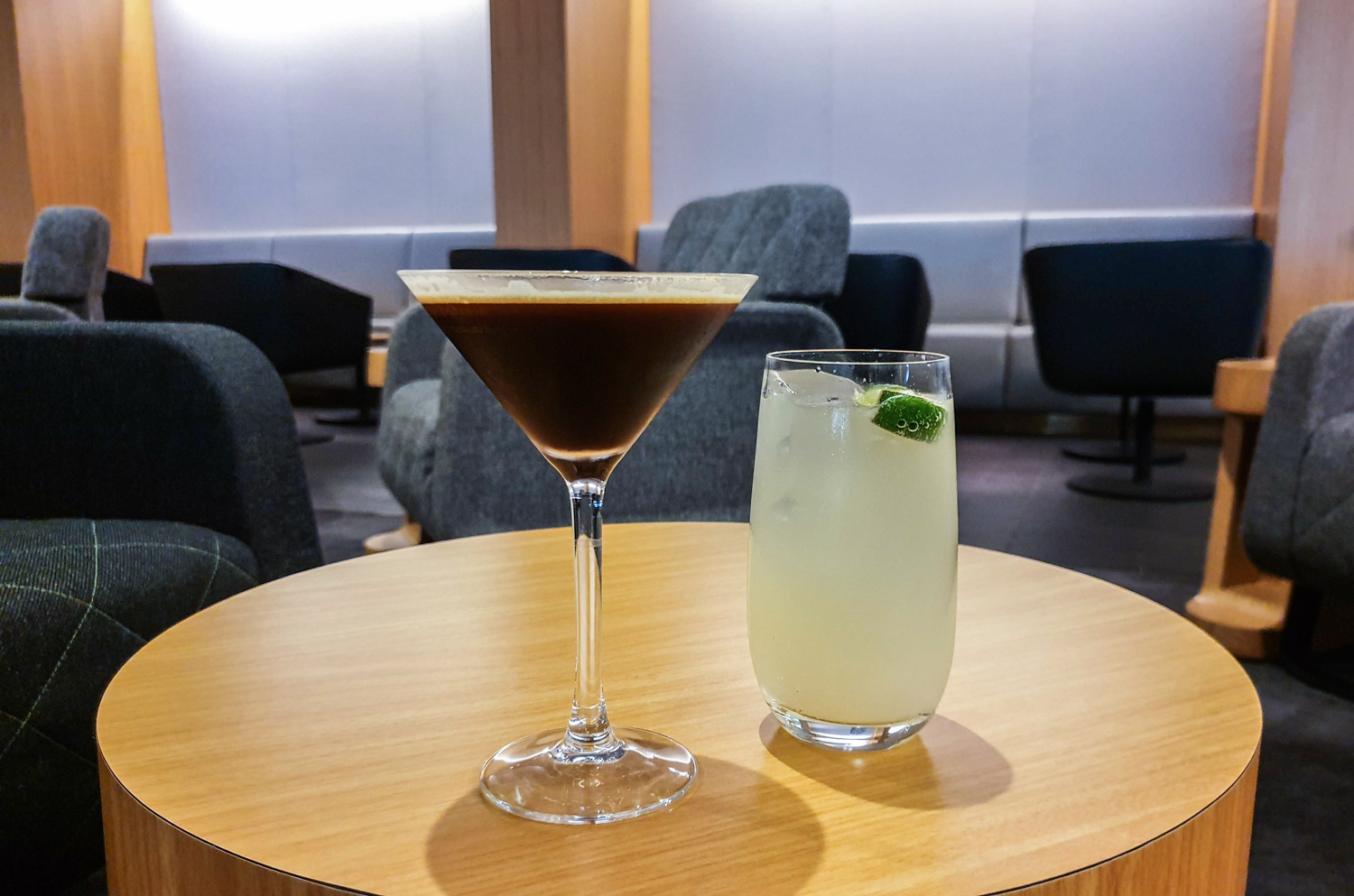 Of course, a Qantas lounge wouldn't be complete with a great selection of quality Australian (and New Zealand) wines. The sparkling wine is Seppelt 'The Drives' NV.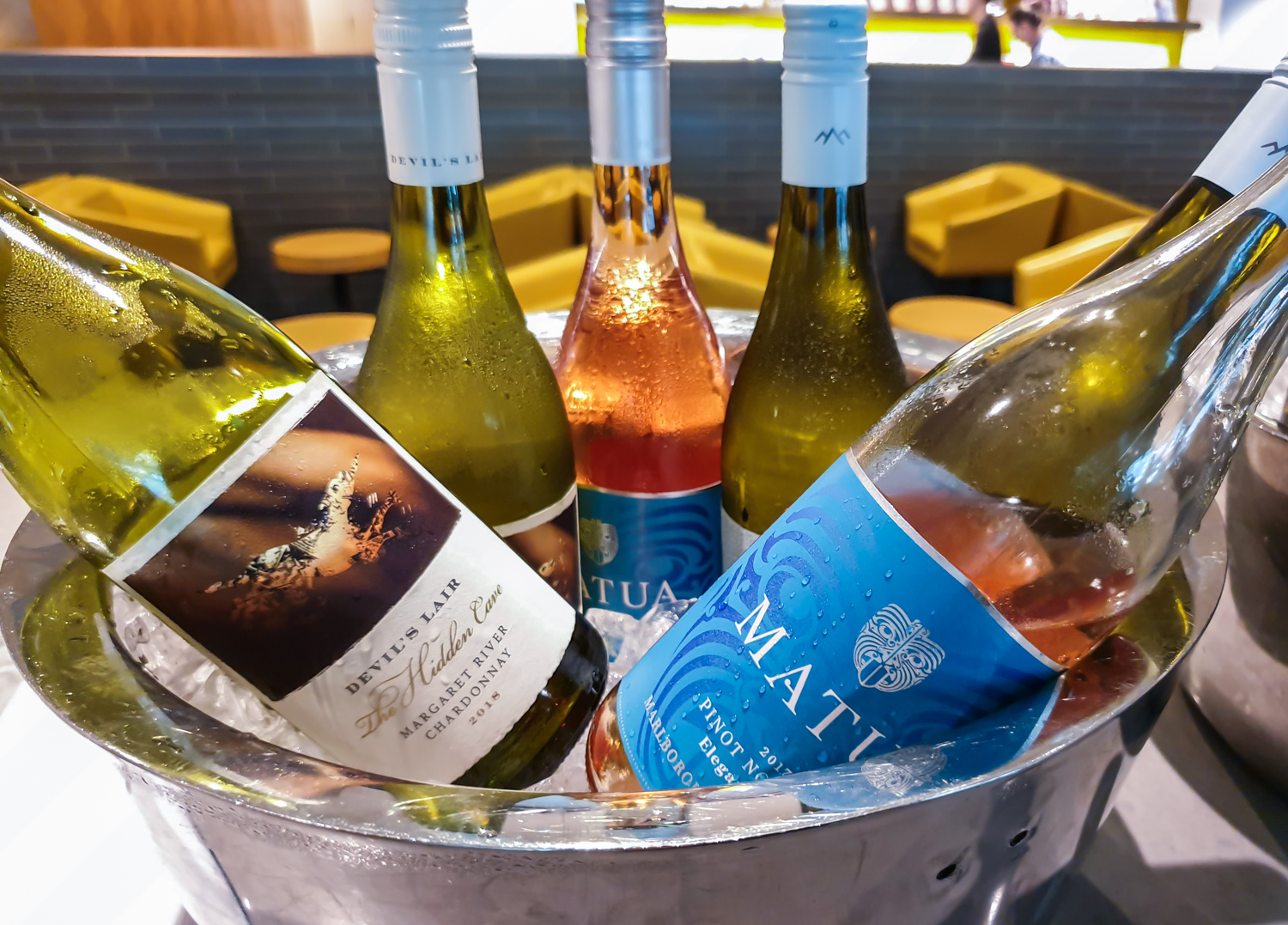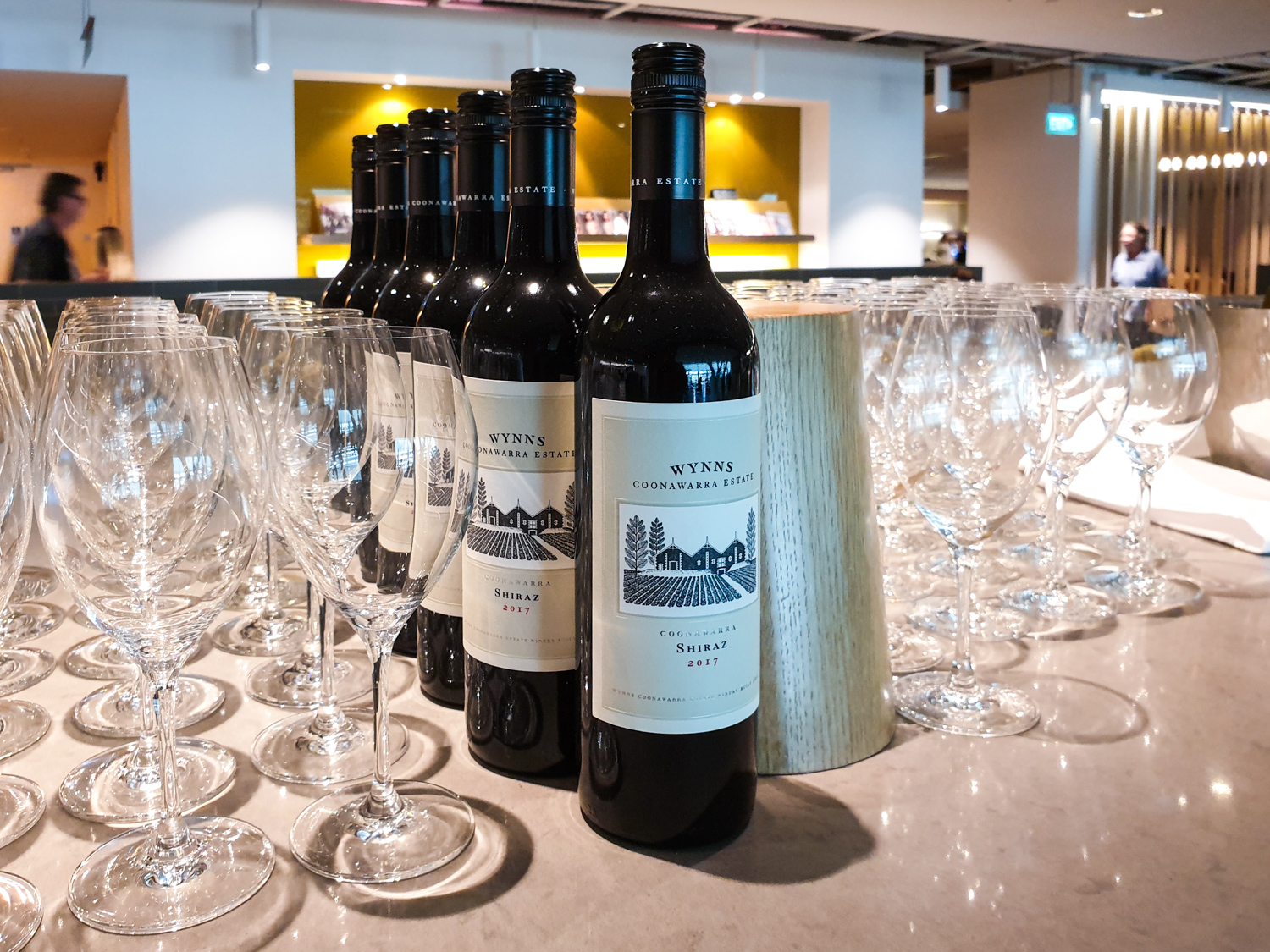 As a West Australian originally, I was very glad to see Fremantle's iconic Little Creatures beers on tap as well as the more conventional Tiger Beer and Heineken.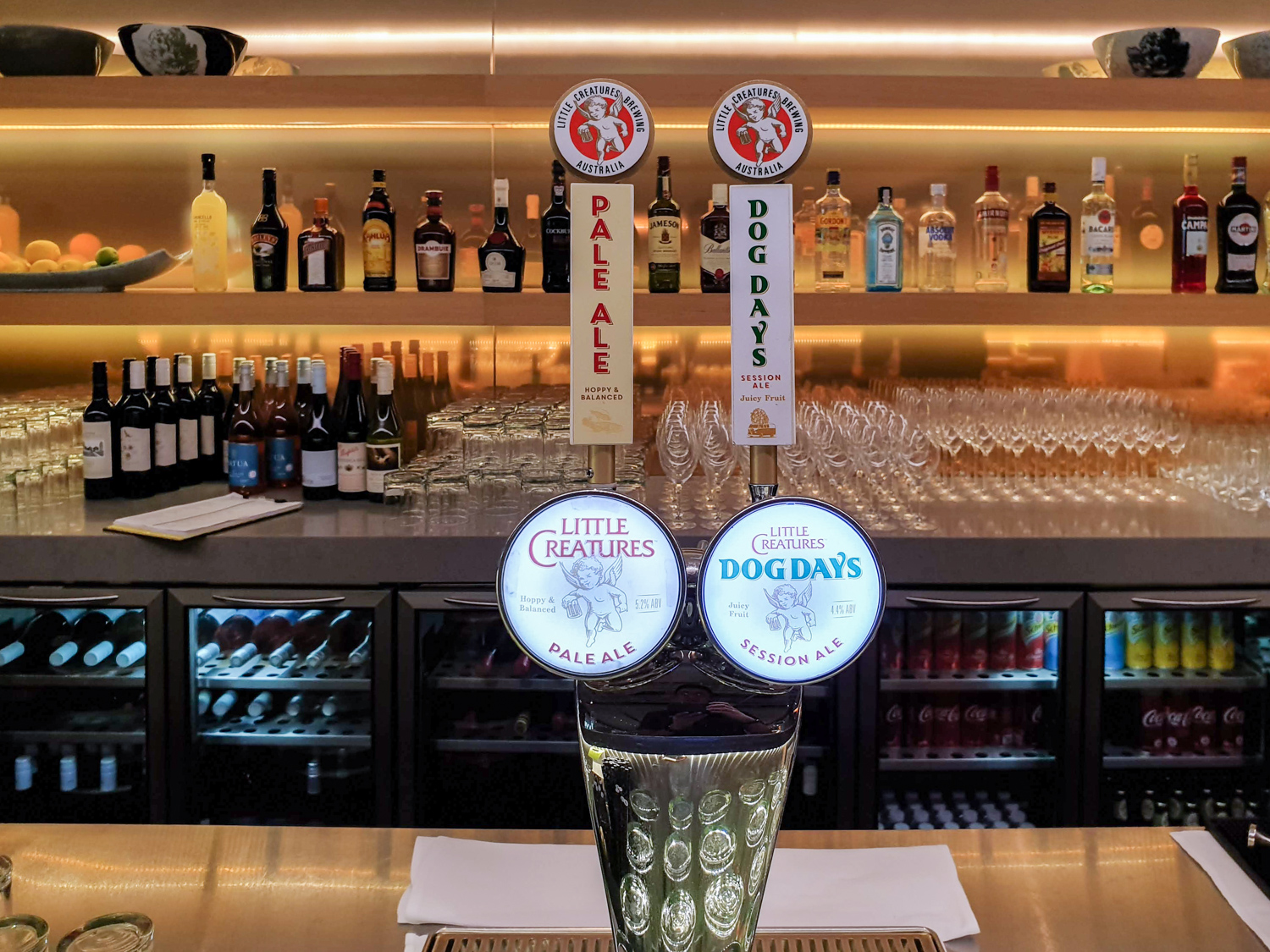 On the softer side, there are the usual soft drinks, teas and self-serve coffee (but get it barista-made from the bar), and infused waters and juices.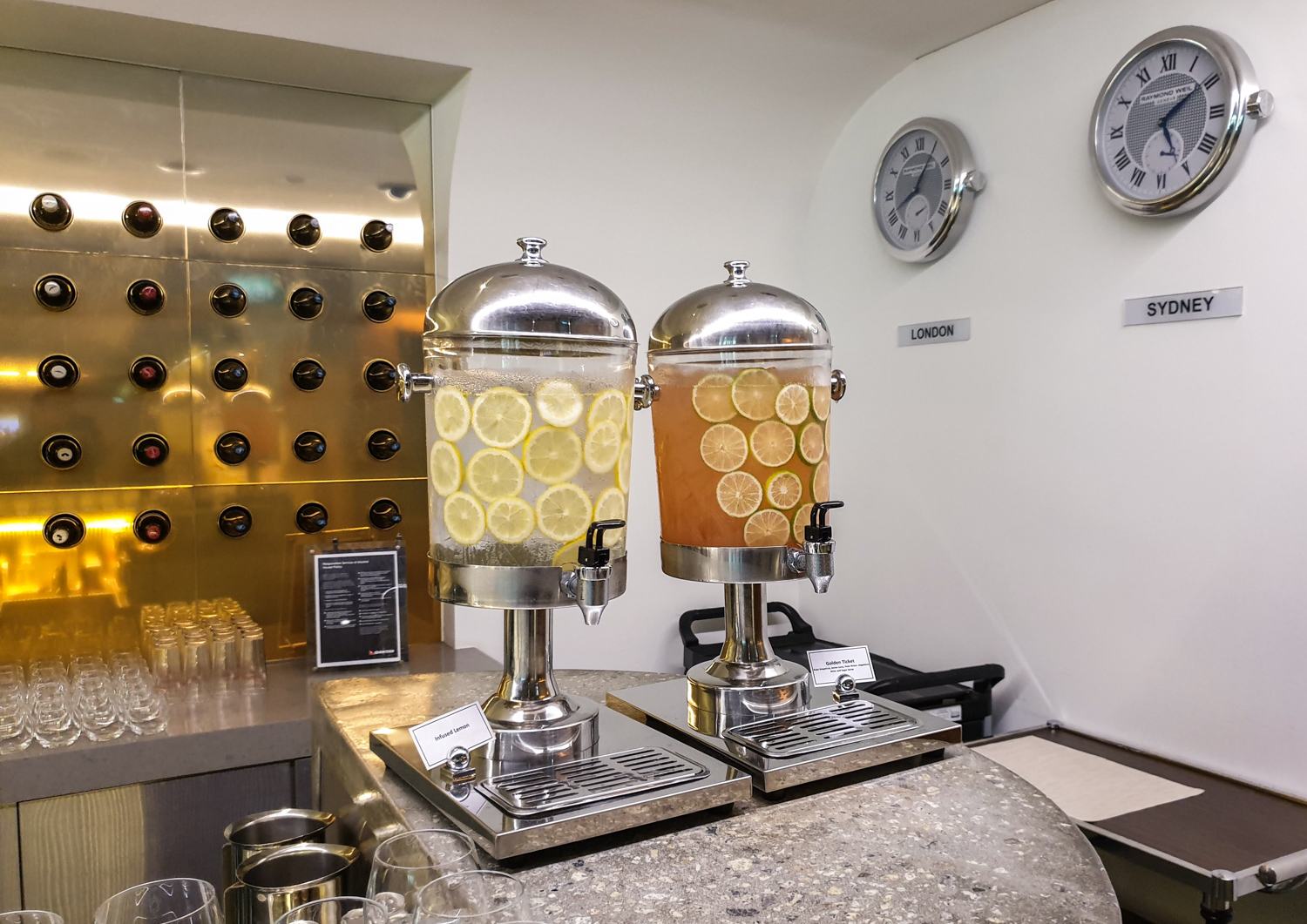 Amenities
There is a wide range of reading material including Australian newspapers.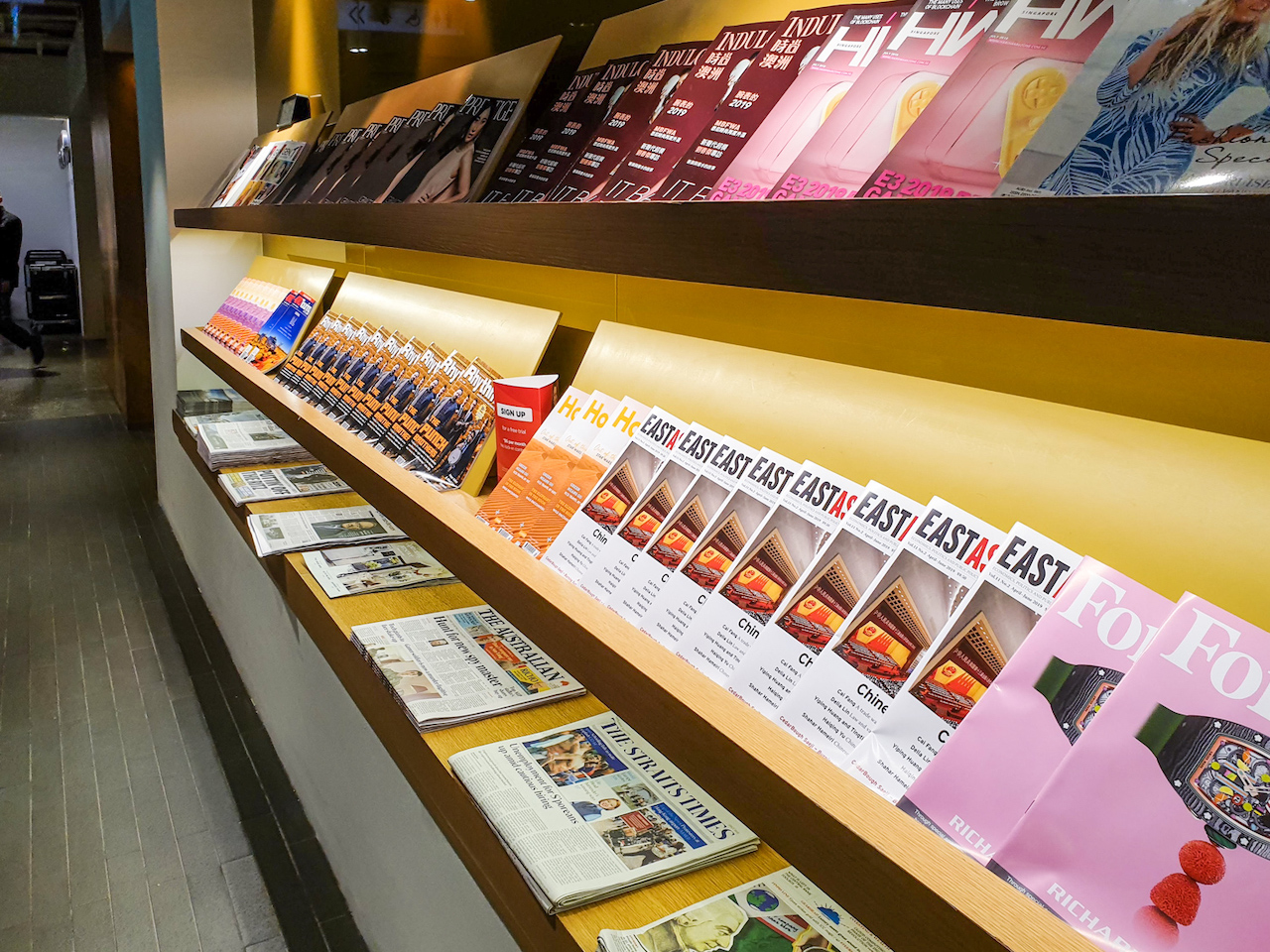 As already mentioned, power plugs are easily found throughout. The WiFi was blazing fast, measuring 320 Mbps down and nearly 500 Mbps up, although this was during a quiet period.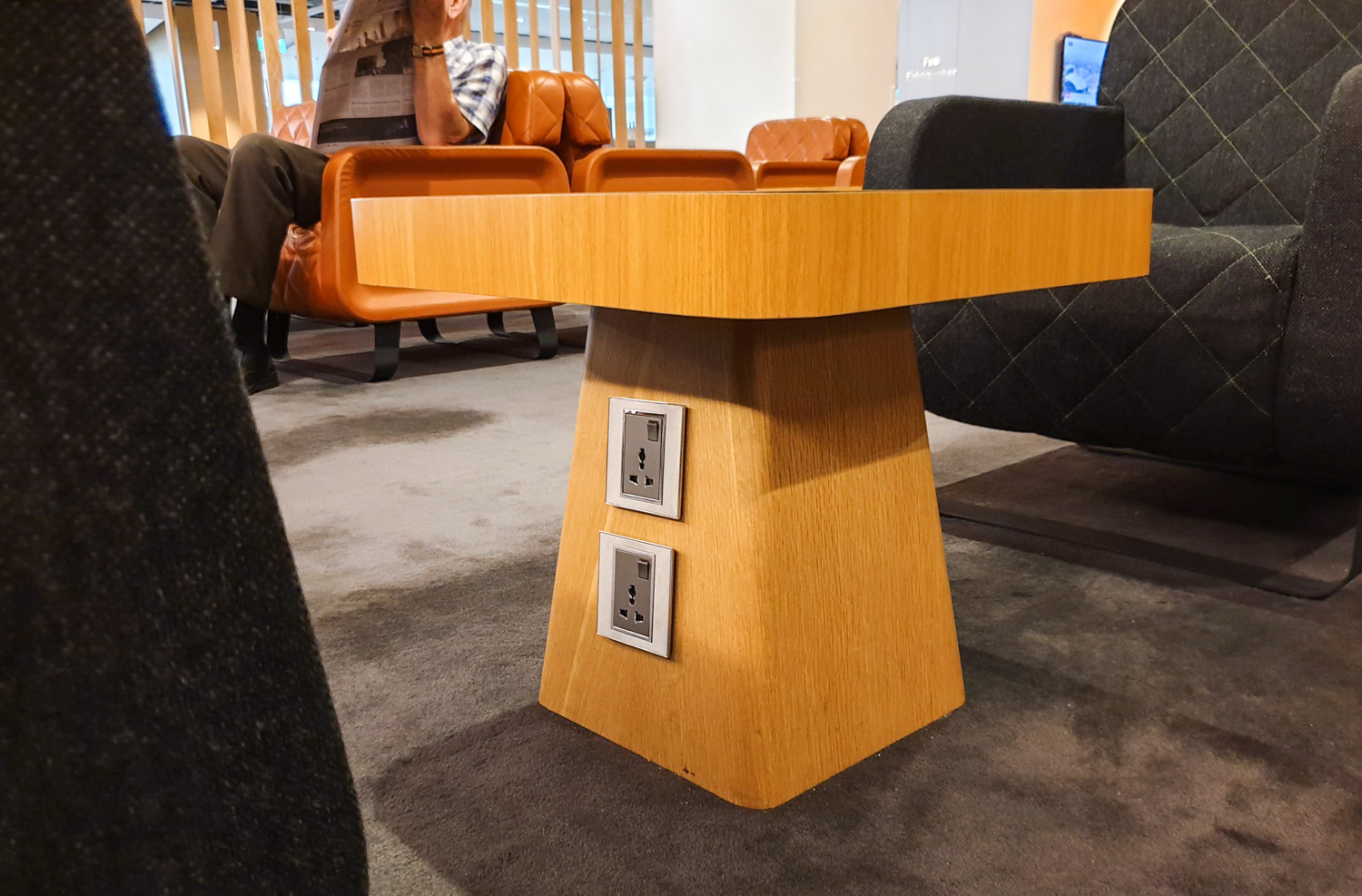 The twenty shower suites are large and cleaned individually after each use. Towels, toothbrushes and other amenities are supplied.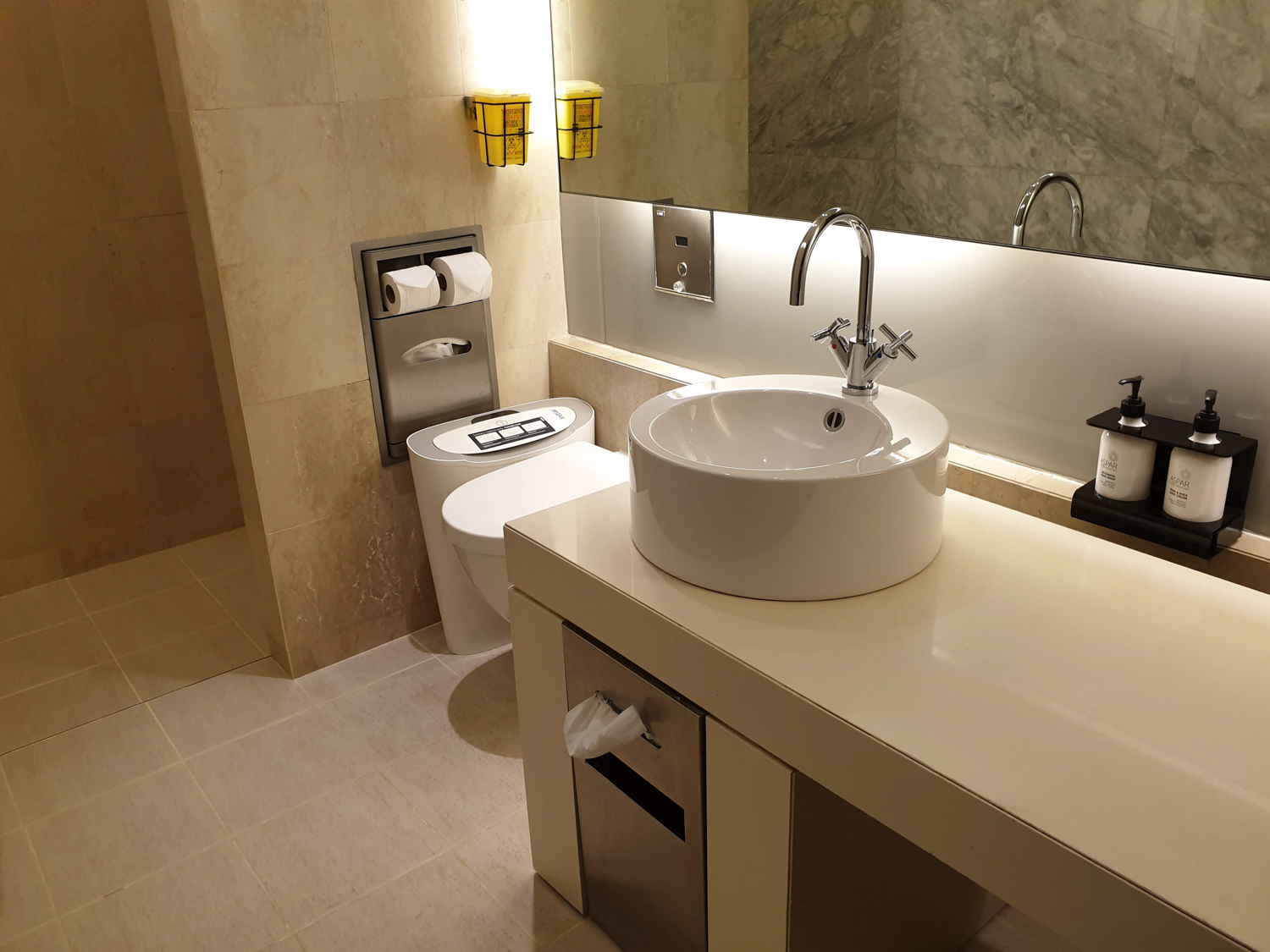 ASPAR hair and body products help make the experience more upmarket than other lounges.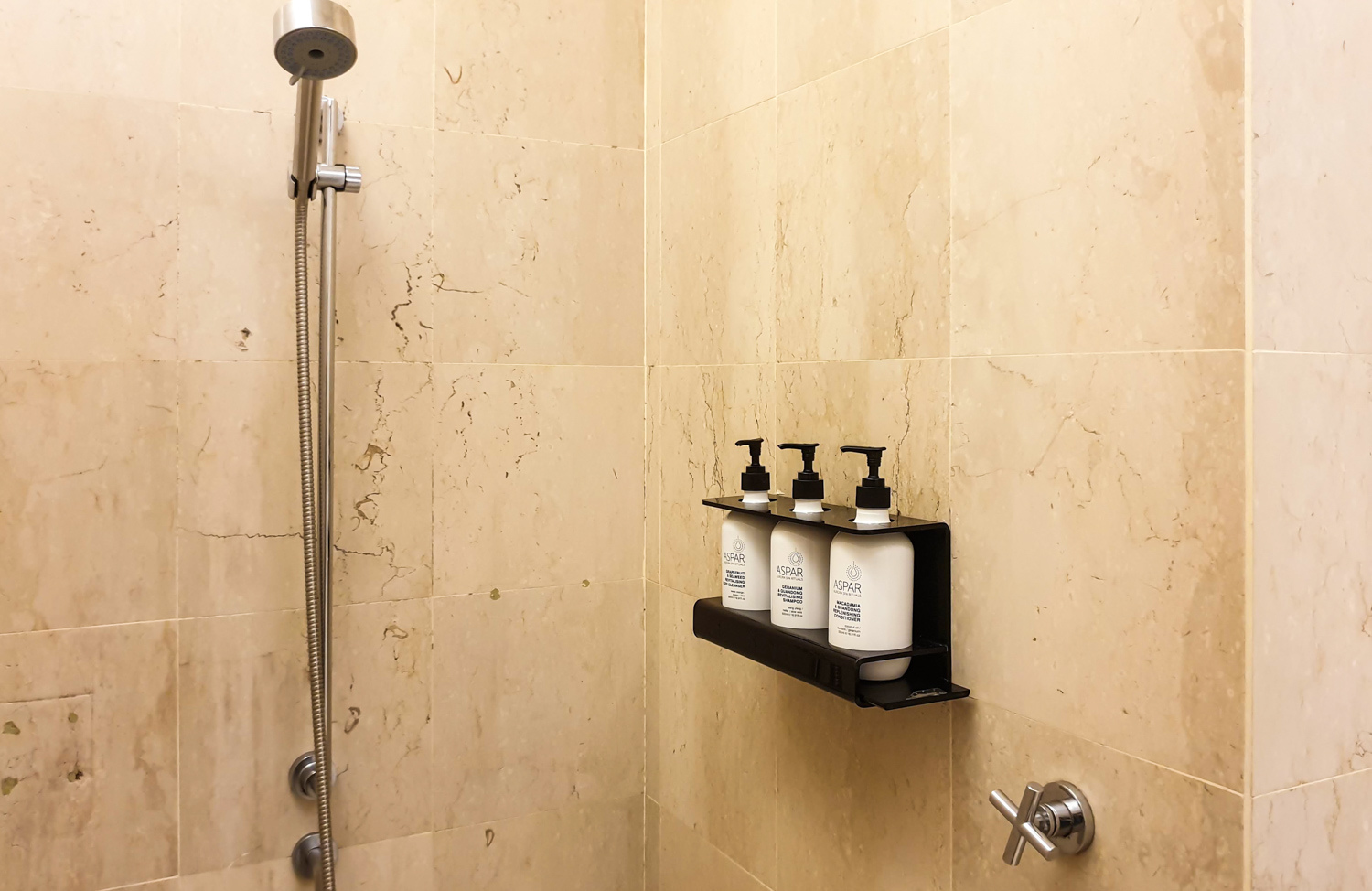 Lounge Access Options
There are many ways to access the Qantas Singapore Lounge, especially for Qantas frequent flyers with status or lounge membership.
By Qantas Frequent Flyer status: Qantas Gold, Platinum and Platinum One when travelling on an Emirates, Qantas, Jetstar or oneworld flight
By Emirates Skywards status: Emirates Skywards Platinum or Gold members travelling on an Emirates or Qantas flight
By oneworld status: oneworld Sapphire and Emerald equivalent frequent flyers before a Qantas or oneworld flight
By lounge membership: Qantas Club members and Annual Guest cards before a Qantas or Jetstar flight only
Keen to visit a Qantas lounge? Check out our list of credit cards that offer access.
Our take
The Qantas Singapore Lounge is one of the airline's best international business class-level lounges. It has excellent catering with an Australian twist, and high-quality amenities.
What was great
Excellent catering
Fully-stocked bar with cocktails and barista coffee
Well-stocked shower suites
What was not great
Limited window views and dim lighting
Other Singapore lounge overviews
Qantas International Business Lounge Singapore overview
was last modified:
February 23rd, 2022
by