For one last taste of paradise in New Caledonia, make time for the Aircalin Hibiscus Lounge in Nouméa. It's your final port of call before jetting home – whether that's on Aircalin, Qantas or even Air New Zealand.
Open to most premium passengers departing Nouméa, settle in and relax until it's time to fly.
Location
Before planning your time in Aircalin's Hibiscus Lounge, do note that security and immigration only open two hours before a scheduled flight departure.
Unaware of this, I'd arrived quite early just in case and could check-in for my flight three hours before departure. But that meant an hour of sitting around in the terminal before my lounge time. I won't be making that mistake again!
Once you are through the formalities, Aircalin's lounge sits one level above the departures concourse.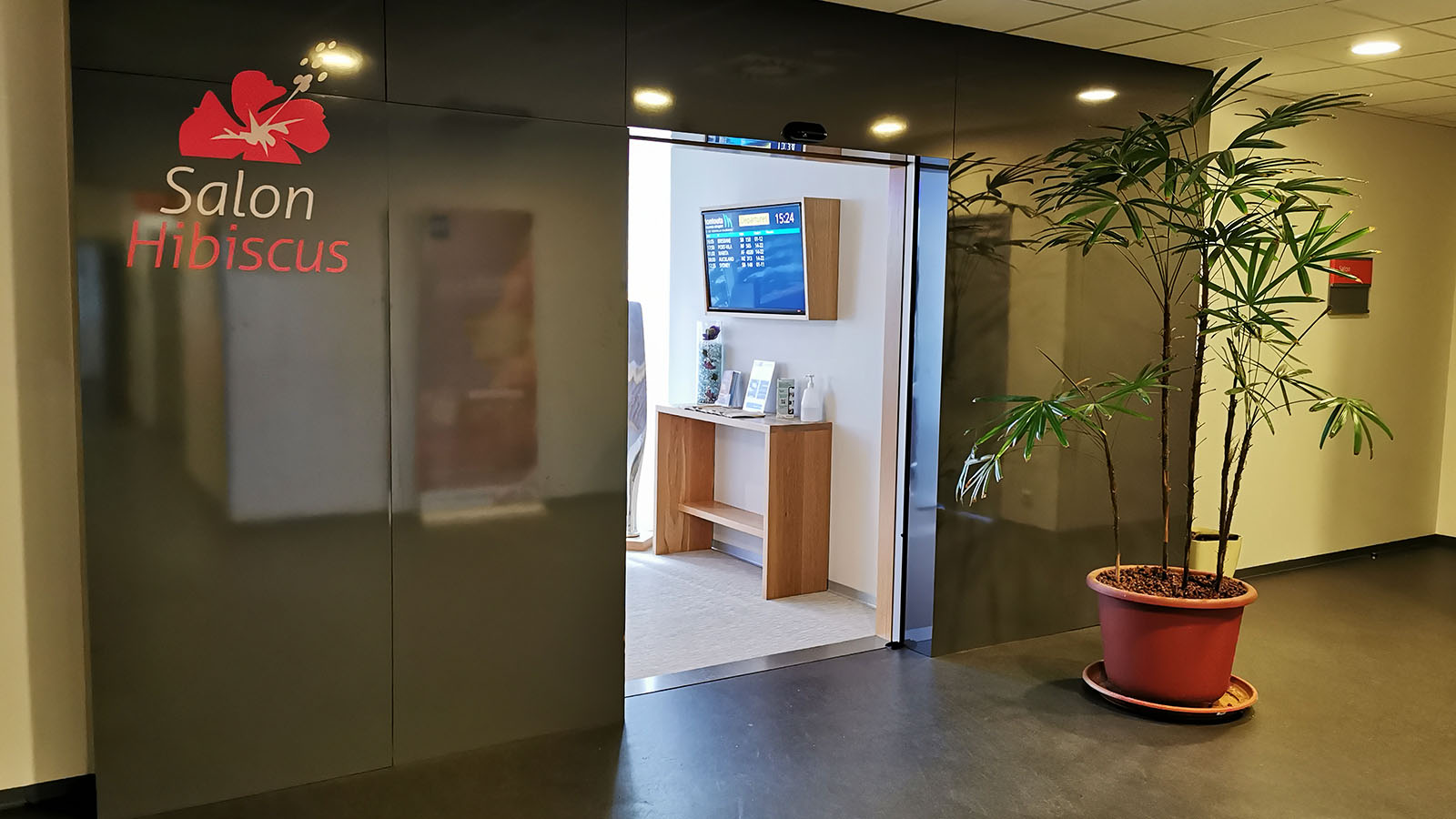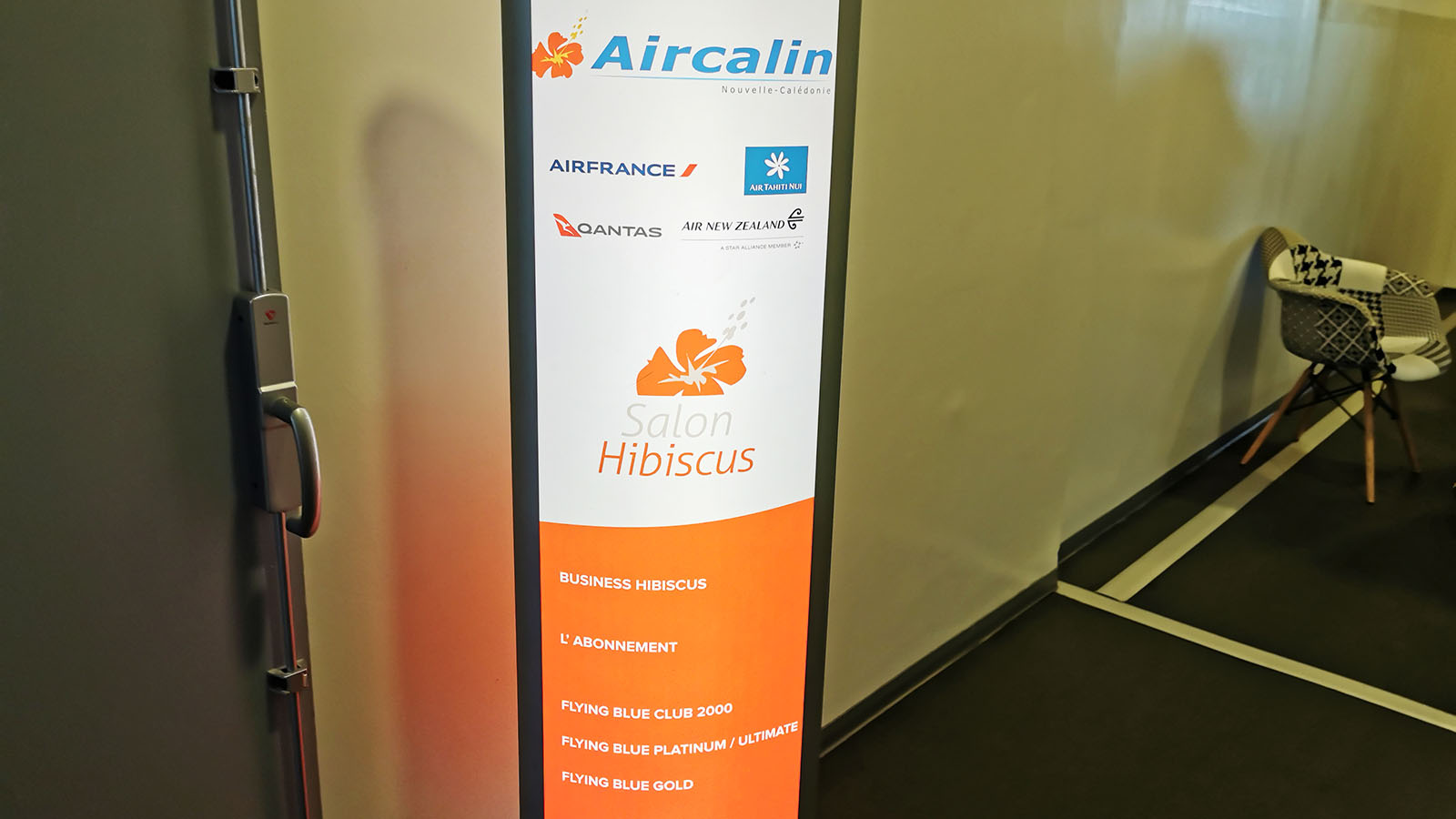 You can take the lift or stairs to get up. Once you're on this floor, the hallway looks a little grim. But don't fret – walking into the lounge is like entering another world – and once you're in here, there's plenty of natural light.
The Hibiscus Lounge serves Aircalin, Qantas and Air New Zealand flights. As to opening hours, expect only to gain access two hours before departure unless there's more than one flight departing at a similar time.
Lounge layout and seating
With a quick scan of my Qantas boarding pass, I'm in. It's my first time visiting Aircalin's Hibiscus Lounge, so I take a moment to explore the space fully.
The 'reception end' finds a collection of sofas ideal for families and groups travelling together. Those wanting a little more privacy can also stake their claim to a comfortable corner down this way. And that's exactly what a family did shortly after I arrived.
I quite like this part of the lounge as there's much less foot traffic. Once people have entered the space, they tend to file through into what I'll call the 'main area' – and stay there until departure. You also get more natural light here as any direct sunlight is filtered by trees outside rather than blocked by blinds as elsewhere in the lounge.
But beyond this quieter corner, there's much more to explore.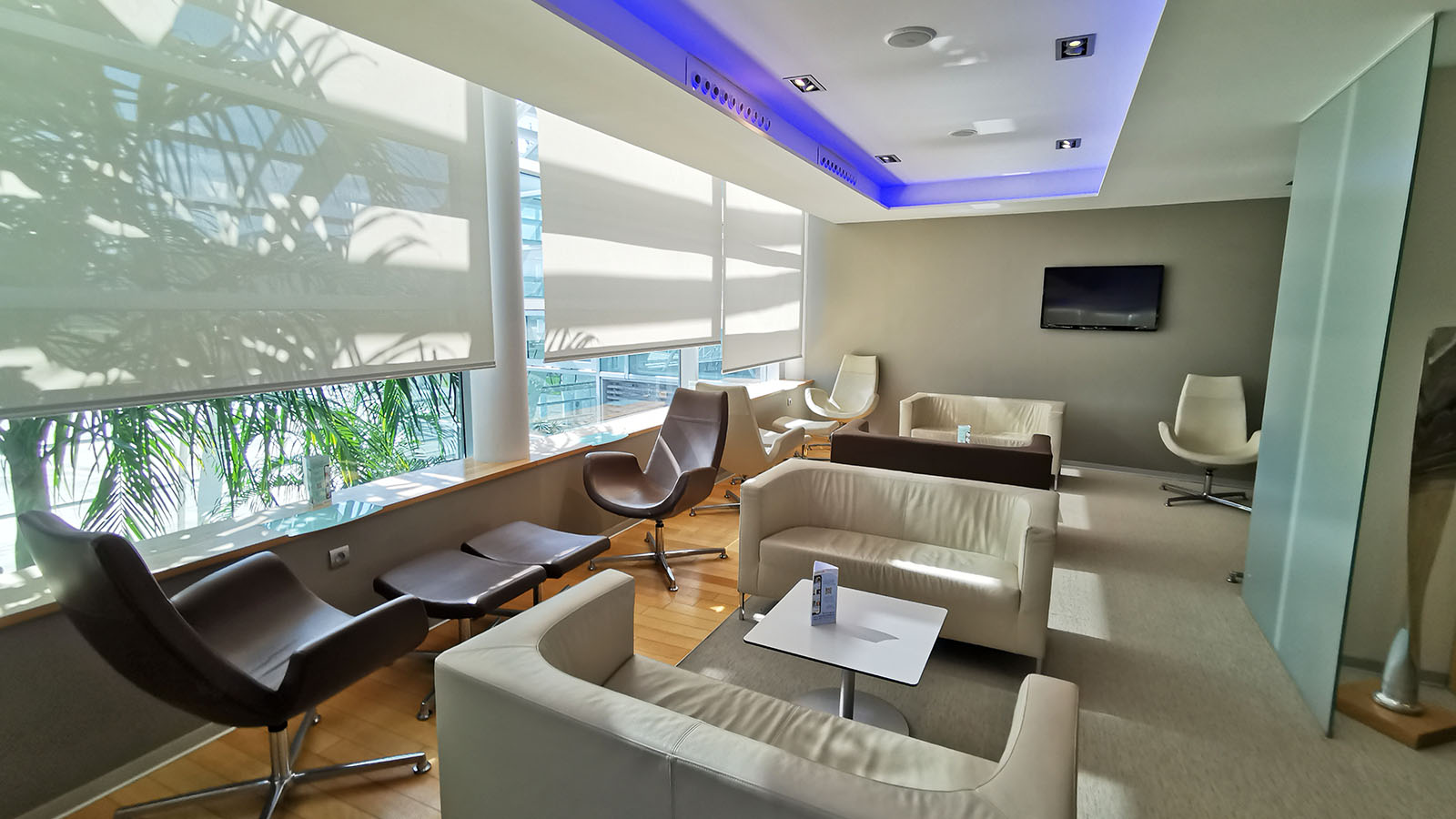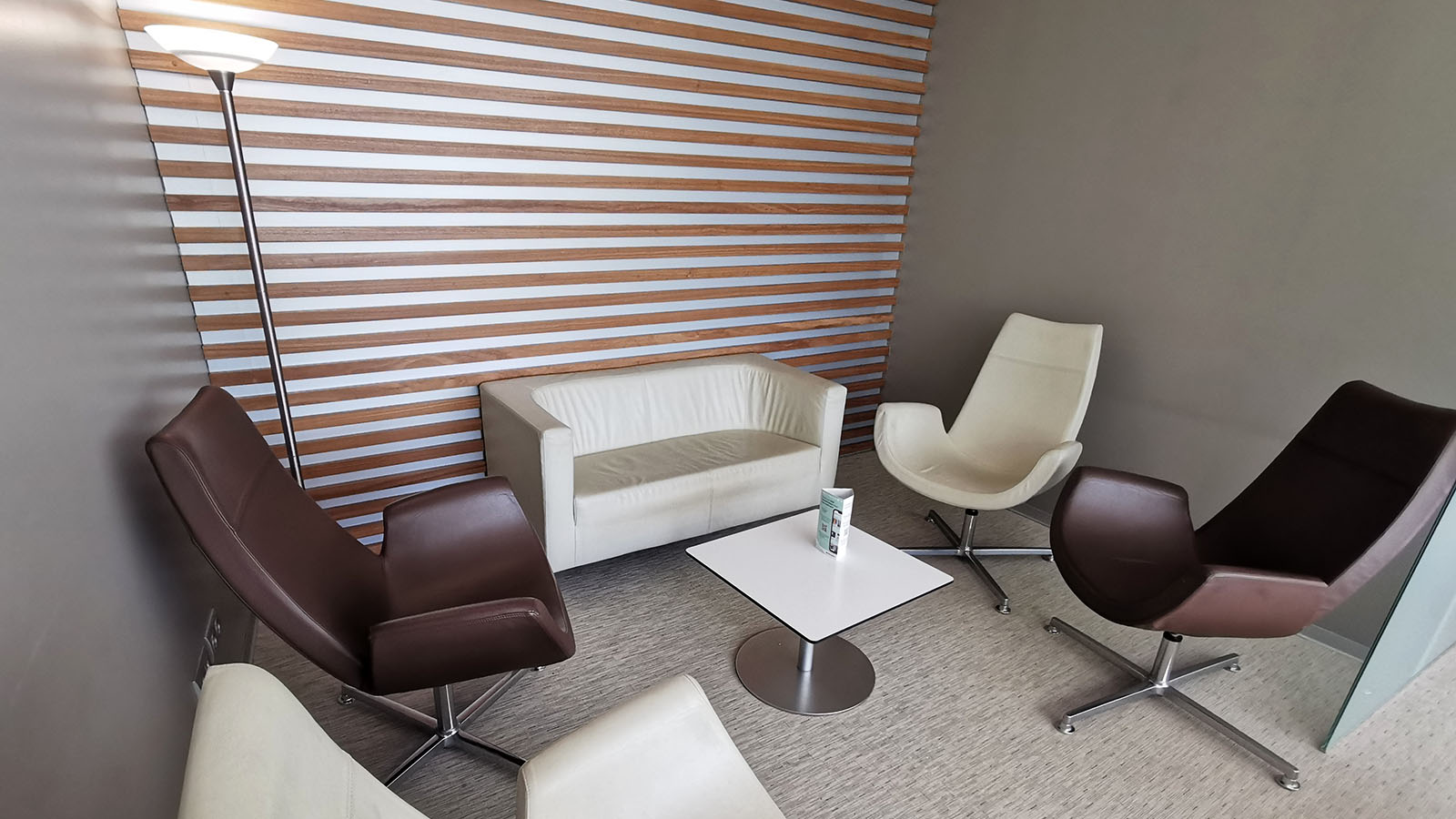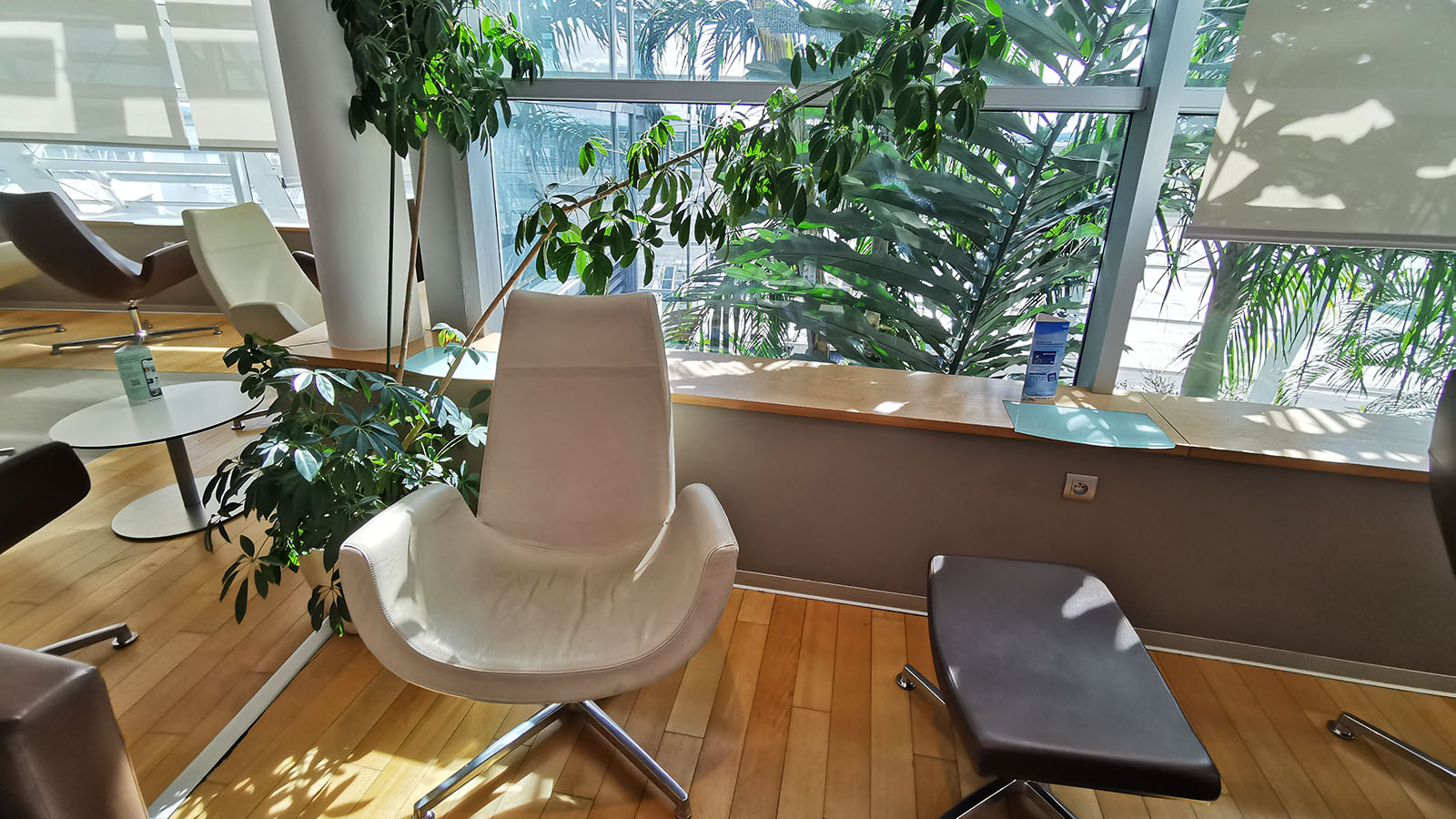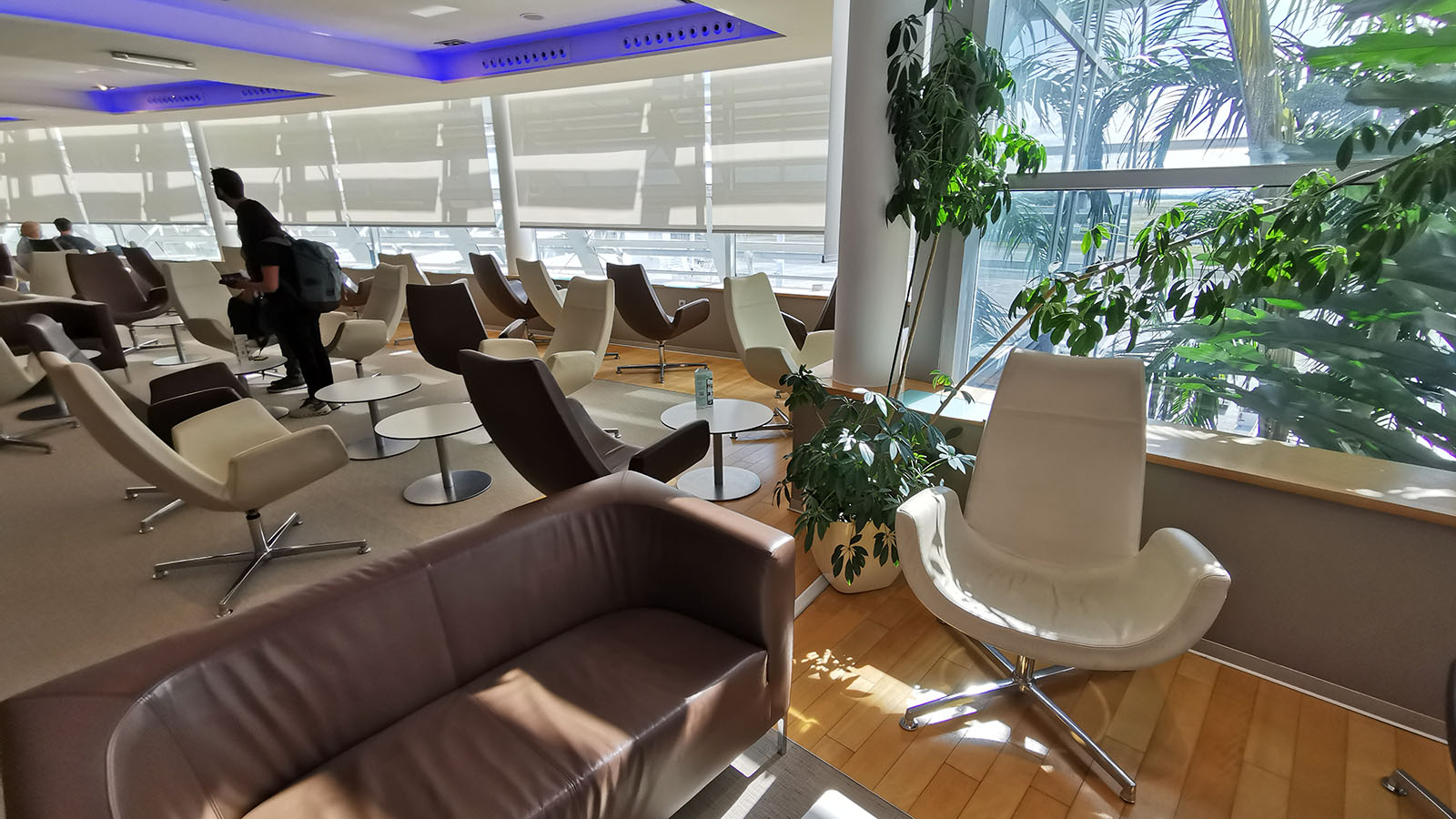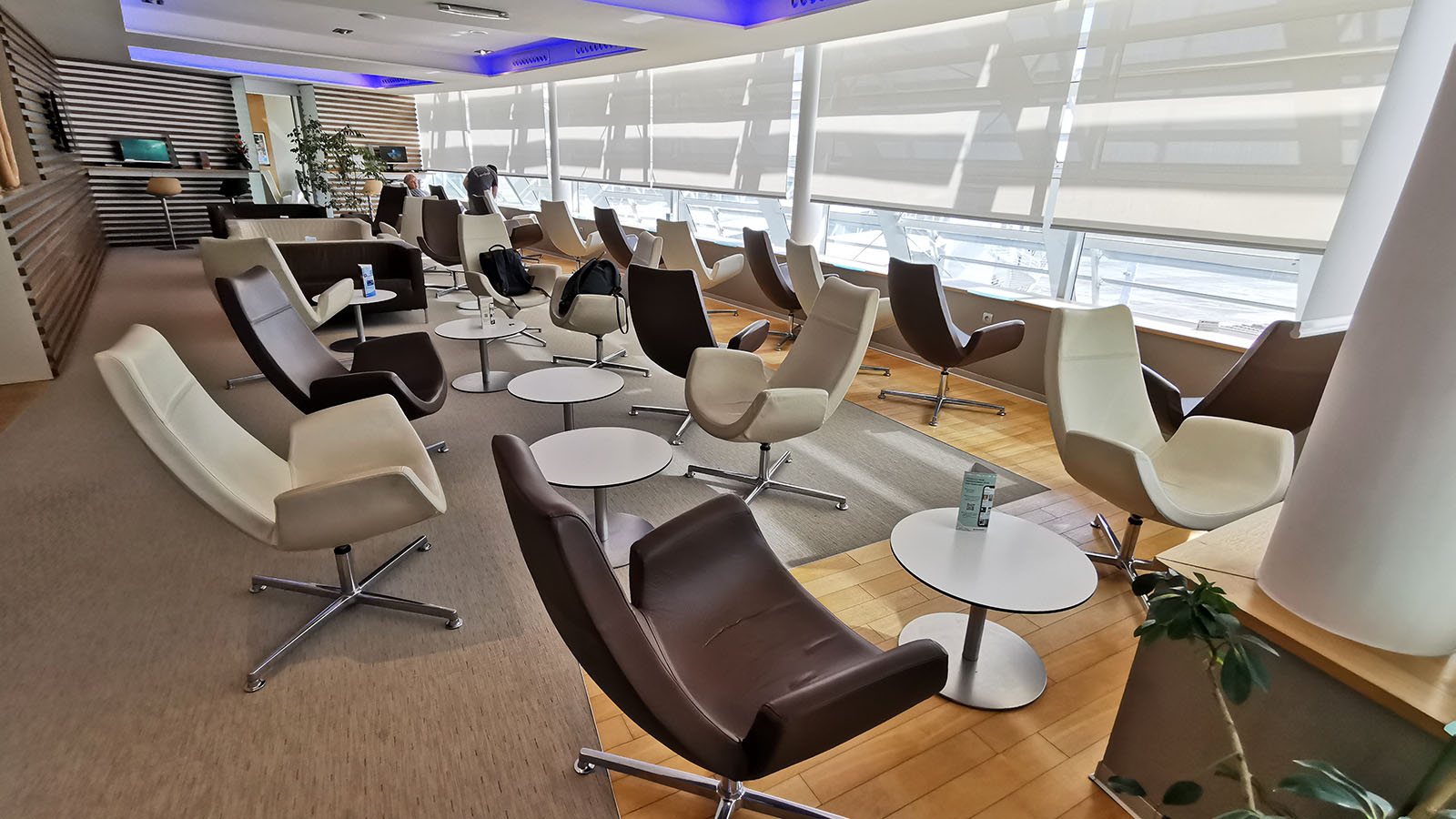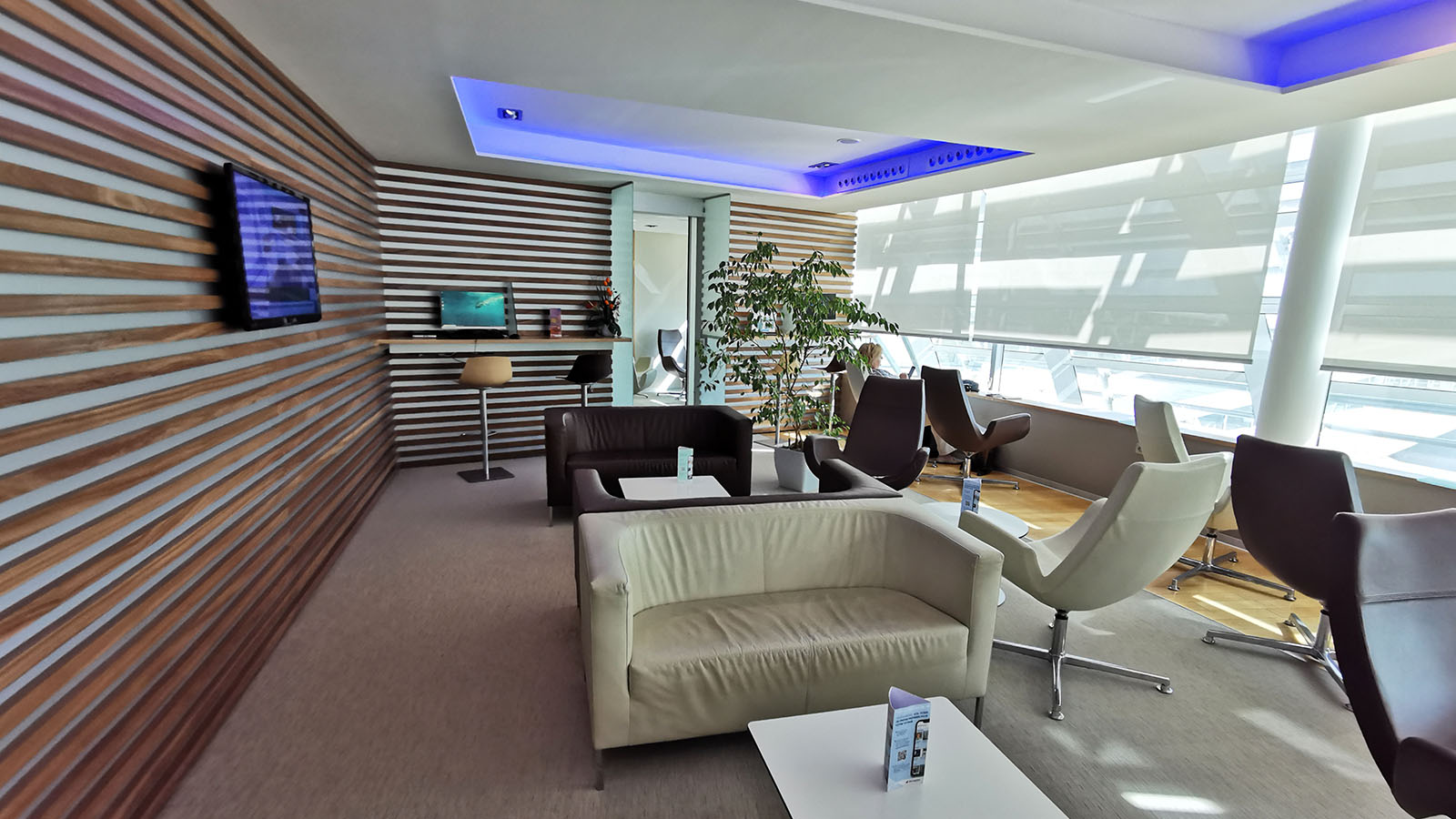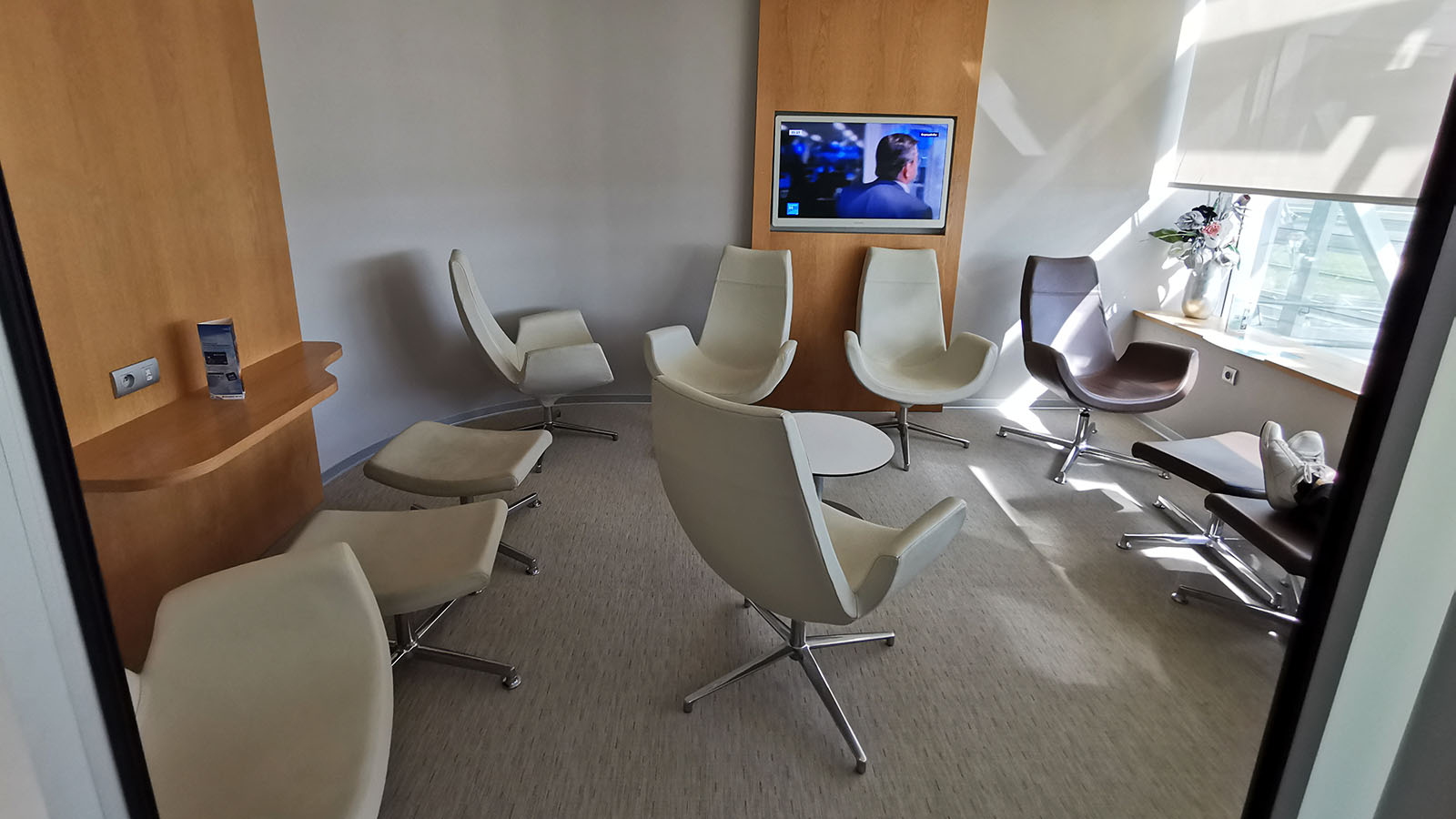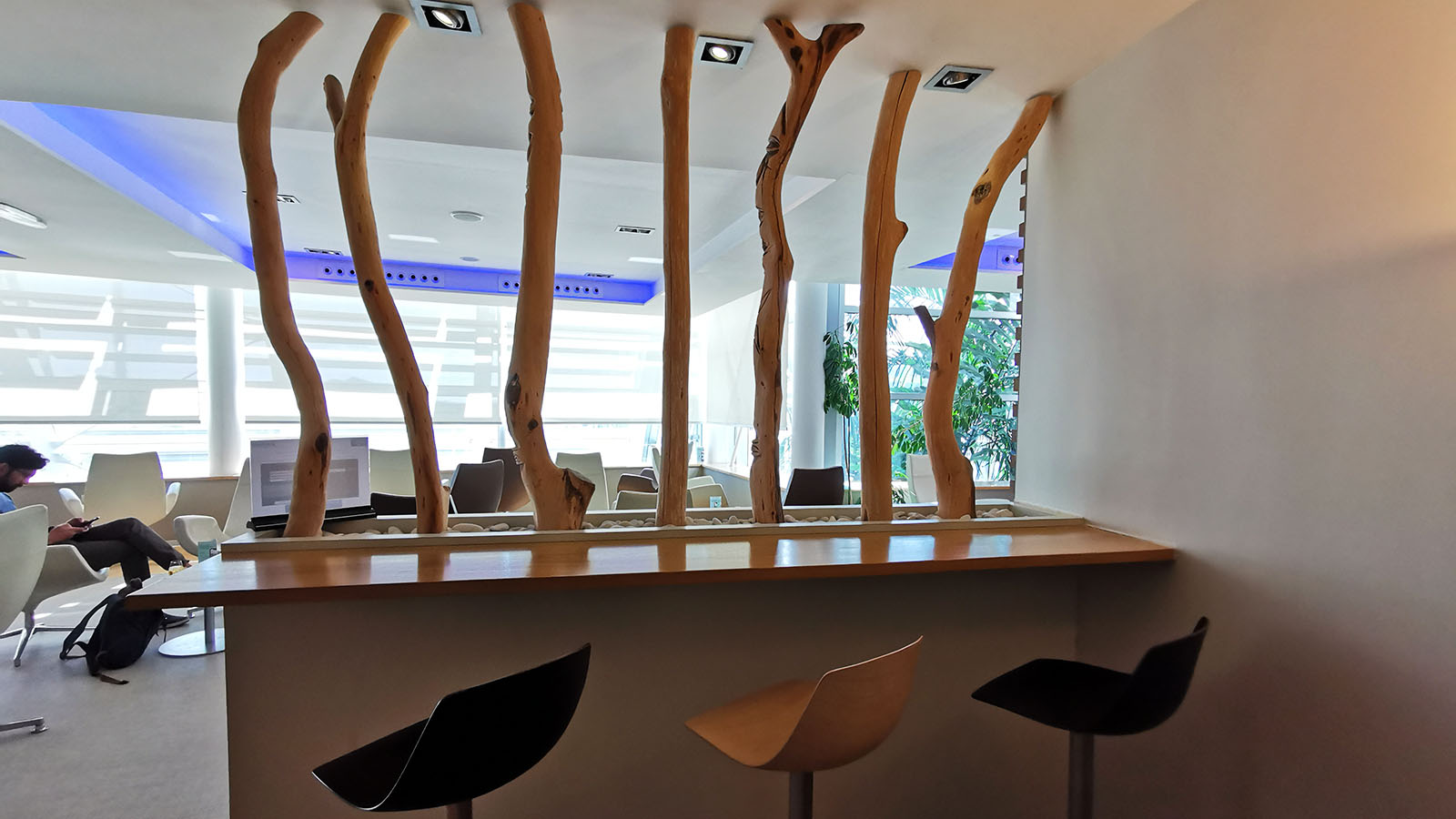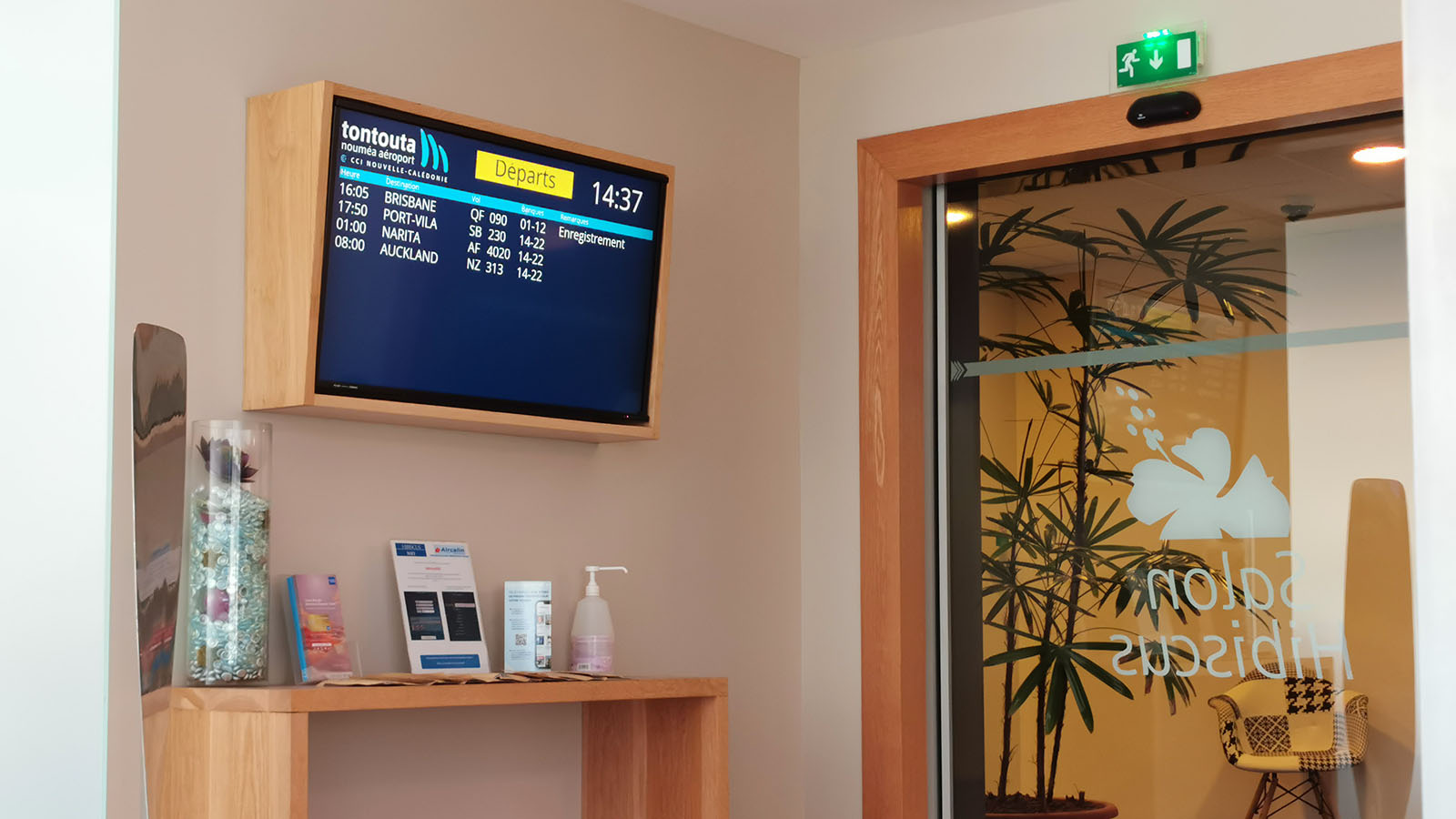 Those flying solo are comfortably catered for in that main zone. A sea of seats face the airfield, with others looking back – perfect when travelling as a pair.
Zipping down to the far corner finds more sofas and computer terminals. I rarely see people using computers in lounges these days, especially with so many travelling with their own tech. Predictably, they sit unused – occupying space that would be better served as a workbench for those needing to use a laptop.
There's also a private room in the far corner of Aircalin's Hibiscus Lounge. It's there to afford maximum privacy for celebrities and the like. But on this quiet Saturday, it remains open and available to all.
A flight information screen can be found at reception, which isn't a long walk from anywhere in the lounge.
Food and beverage in the Aircalin Hibiscus Lounge, Nouméa
Feeling peckish? There's a selection of complimentary food and drinks. On the food front, think lighter bites rather than substantial meals – but you won't go hungry.
Stopping by mid-afternoon finds a choice between sandwich segments, sushi, thin wraps, mini sausage rolls and other similar savoury treats. Being bite-sized, I try one of everything. If I hadn't had a full meal waiting for me on my upcoming flight, I'd have gone back for more.
A separate counter serves up a selection of packaged snacks such as pretzels, nuts, chips and instant noodles. There's machine-made coffee nearby as well – but just be prepared to run the machine a second time to get something close to a decent volume of liquid on your mug. Small chocolate from the basket at reception goes nicely with my latte.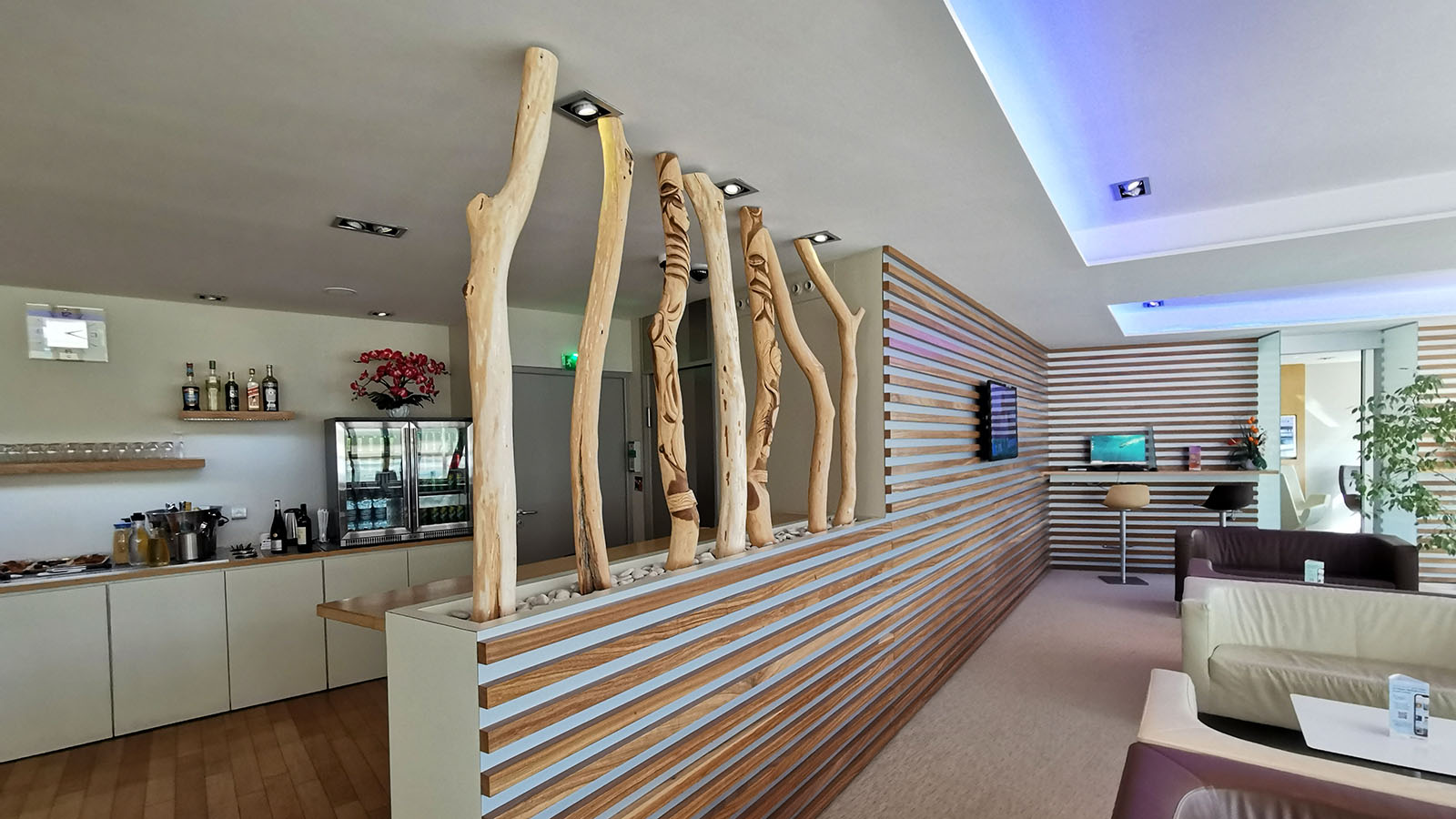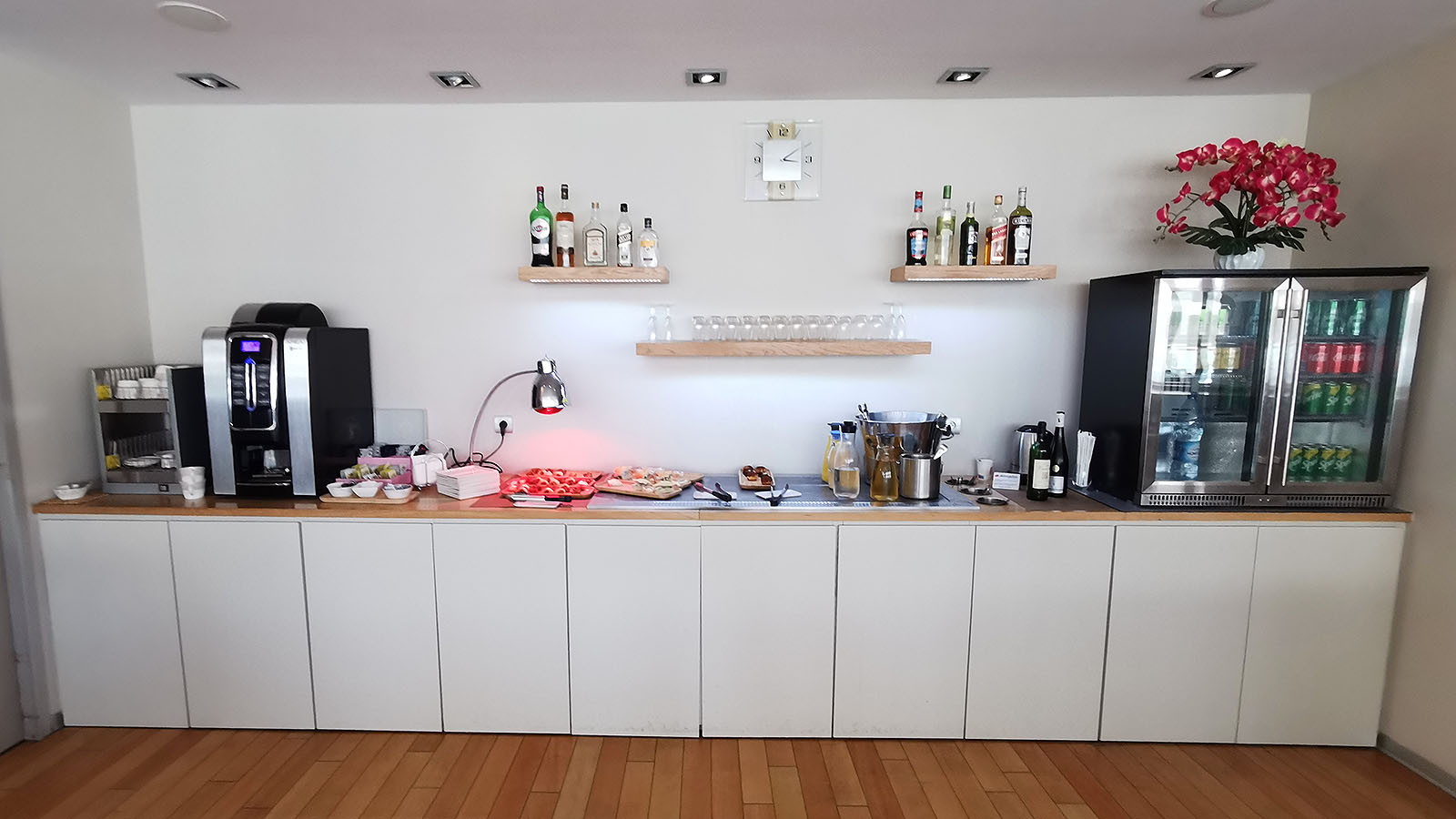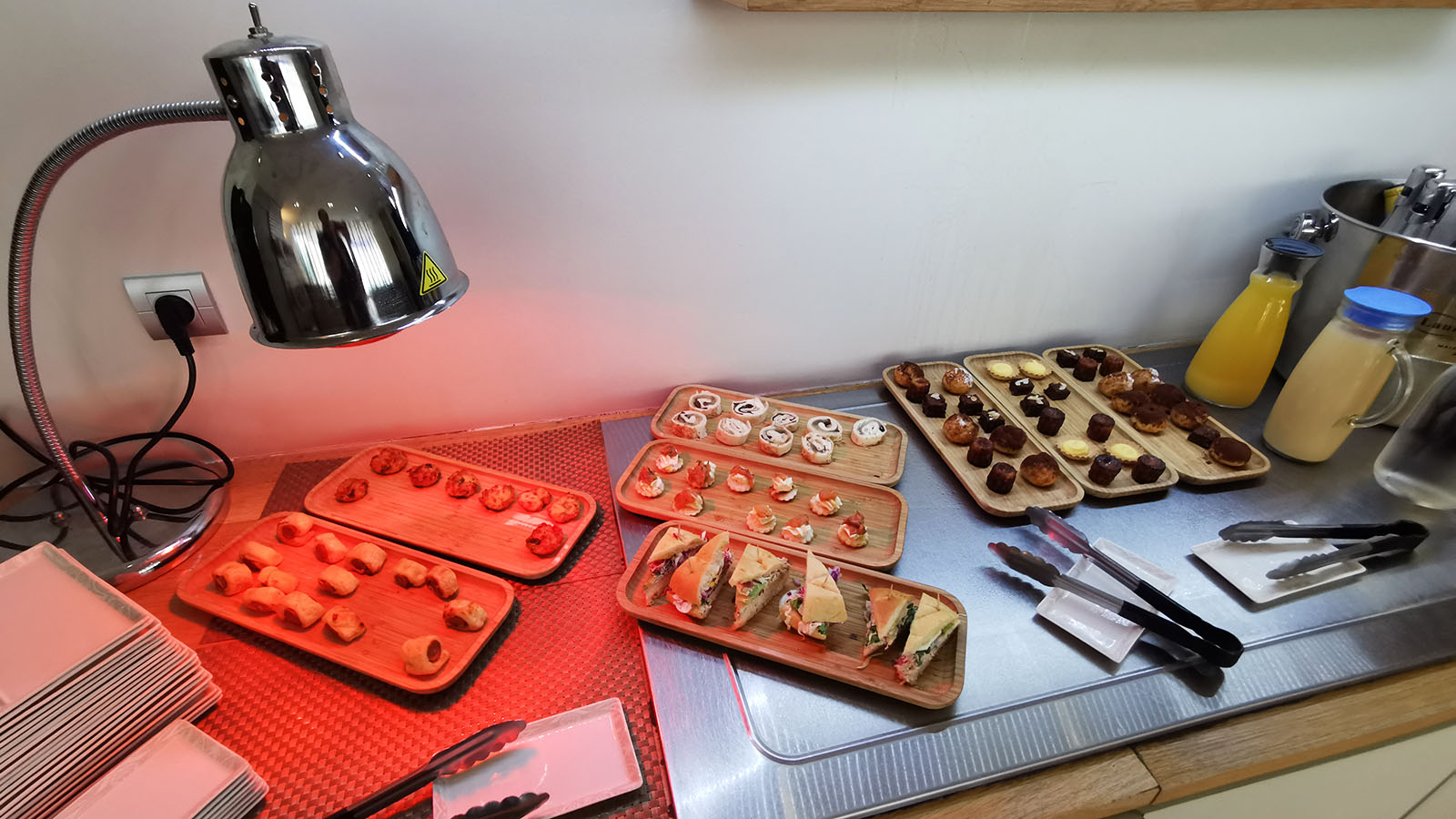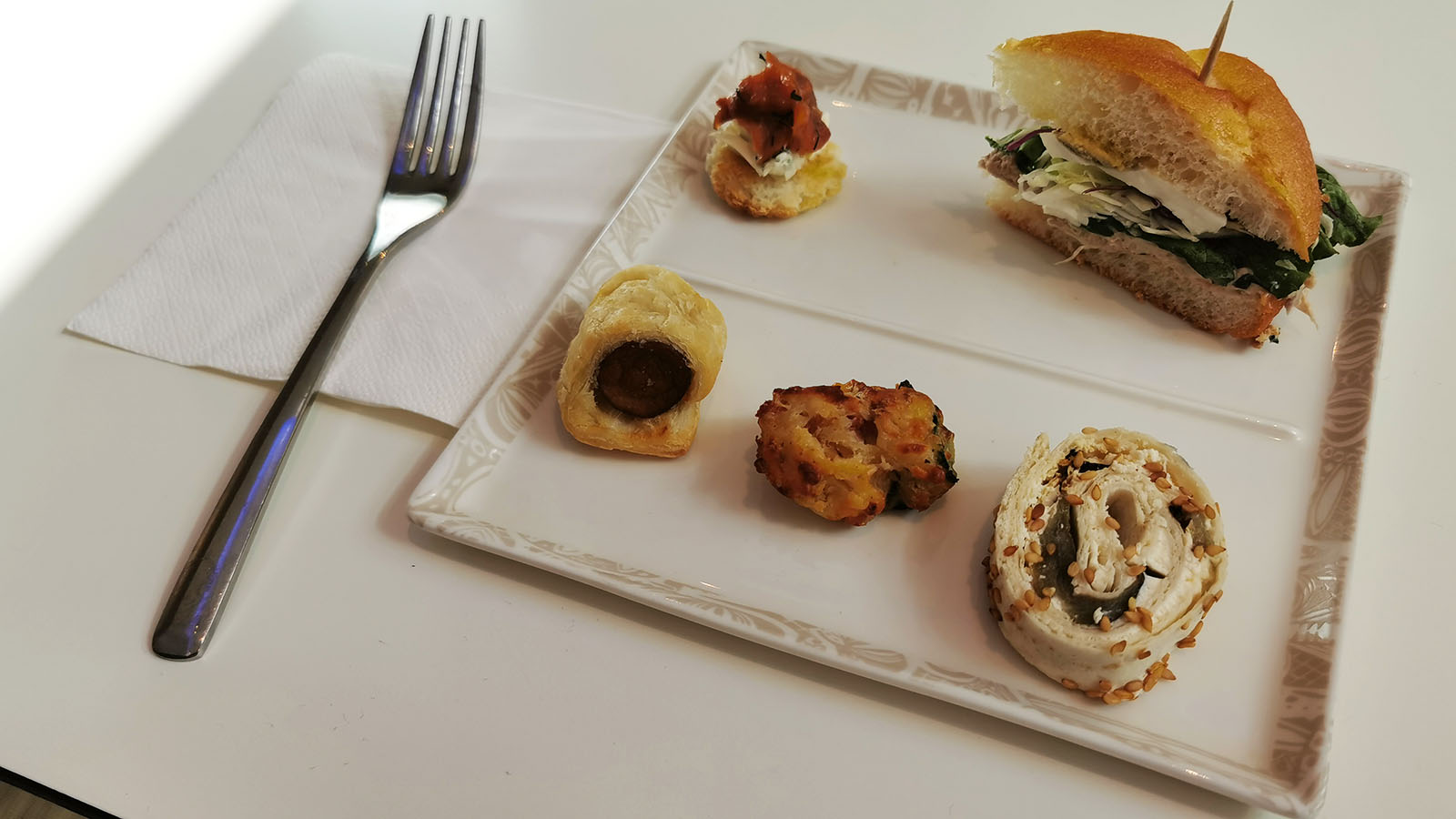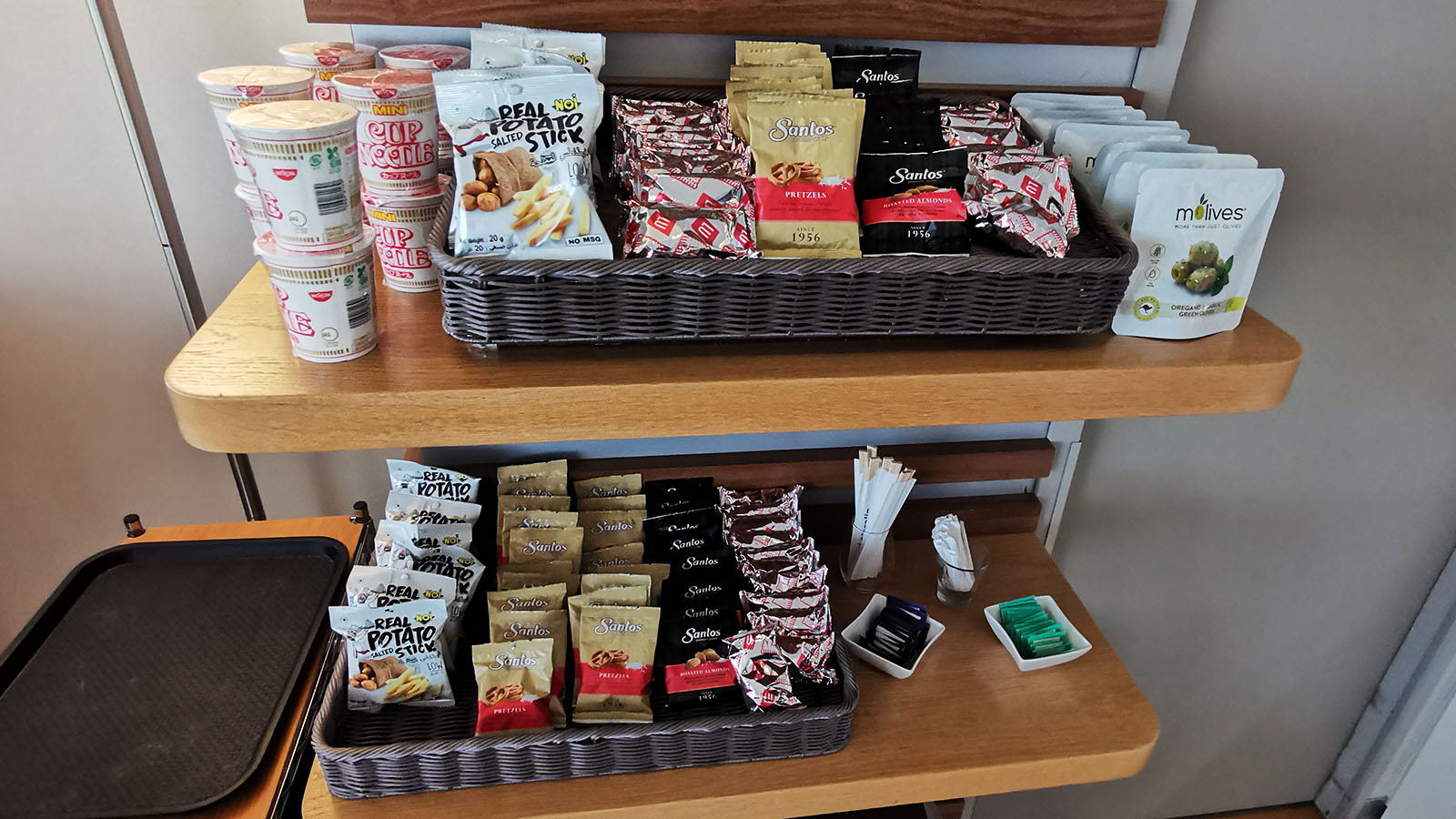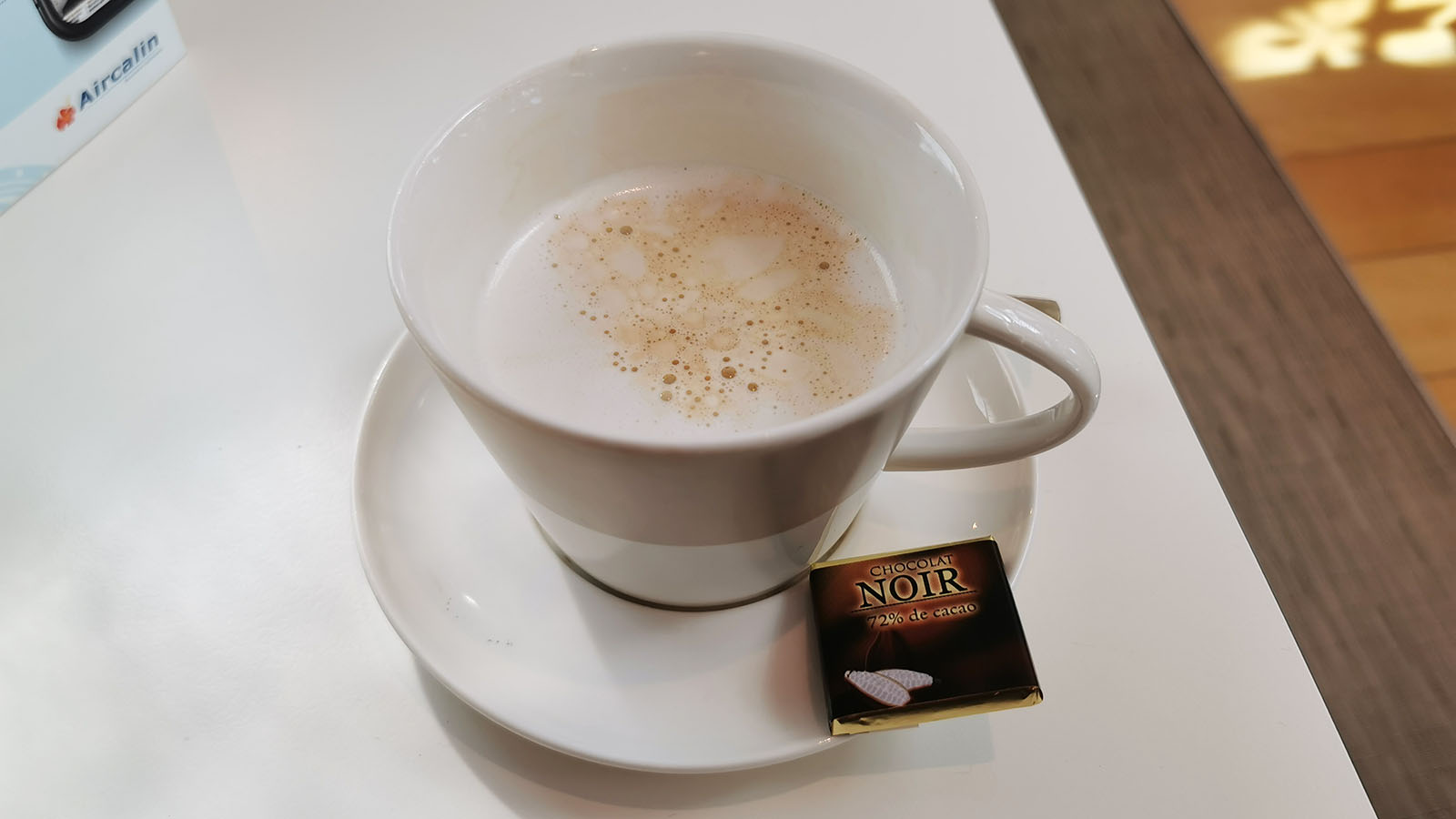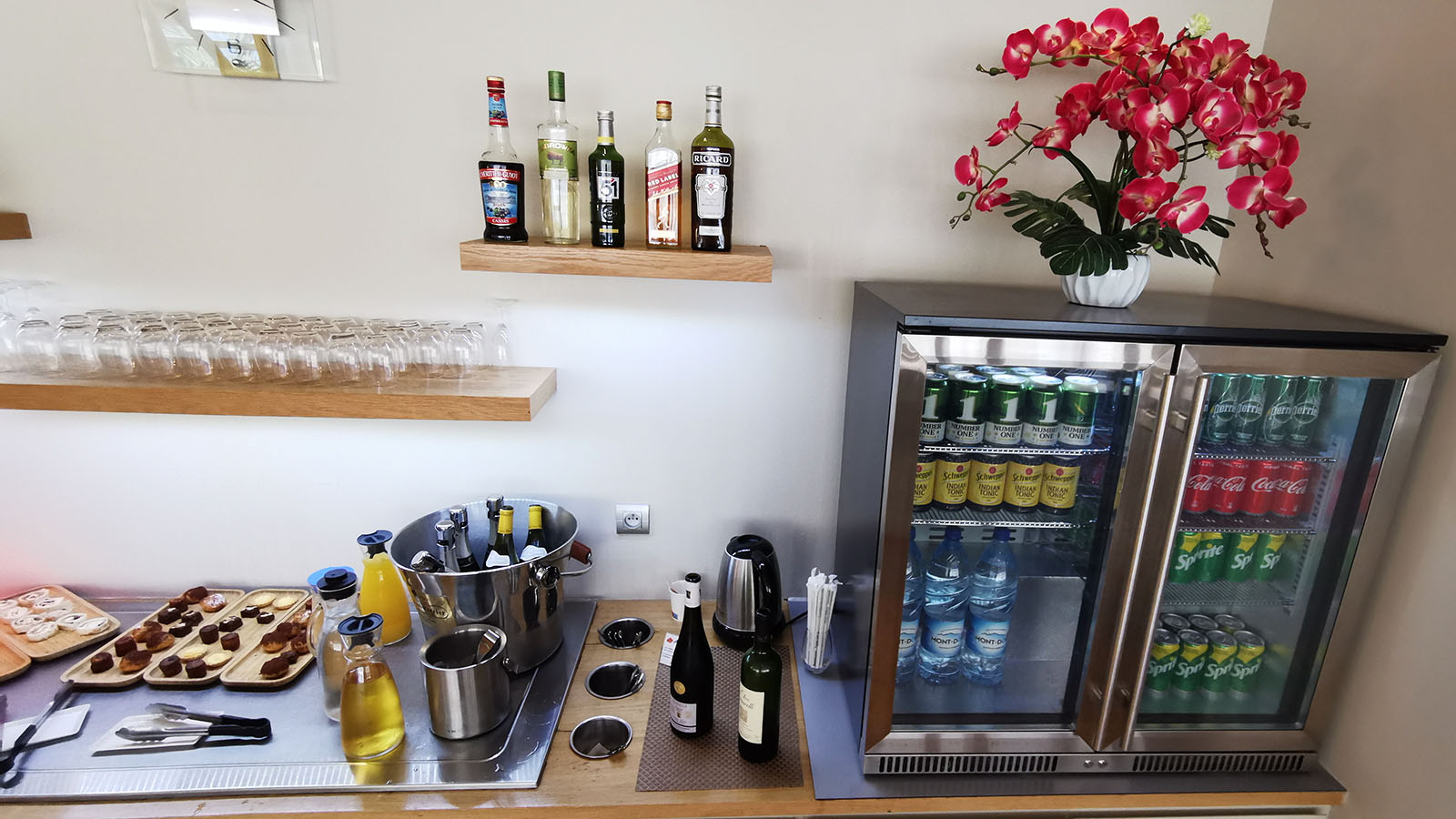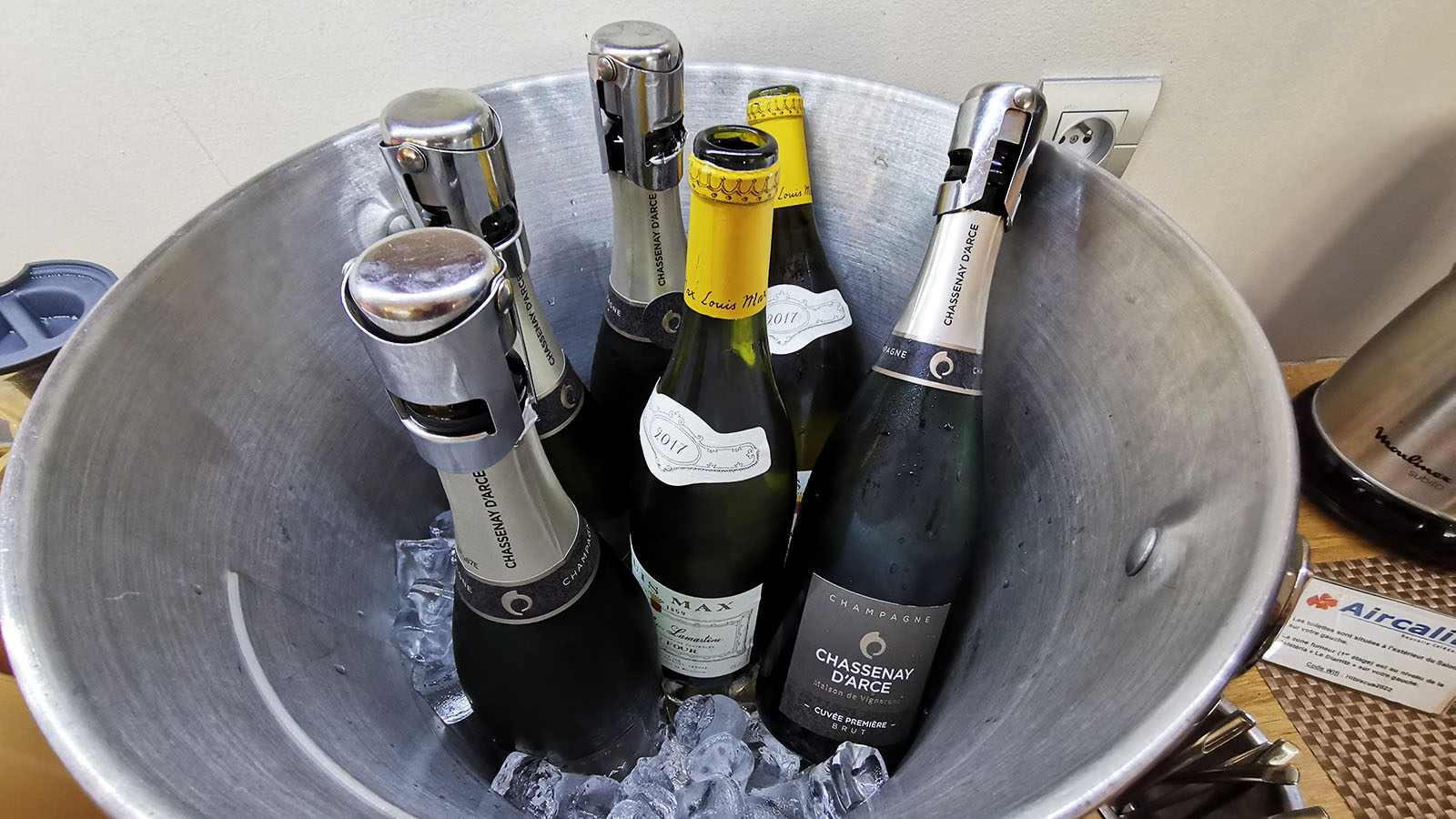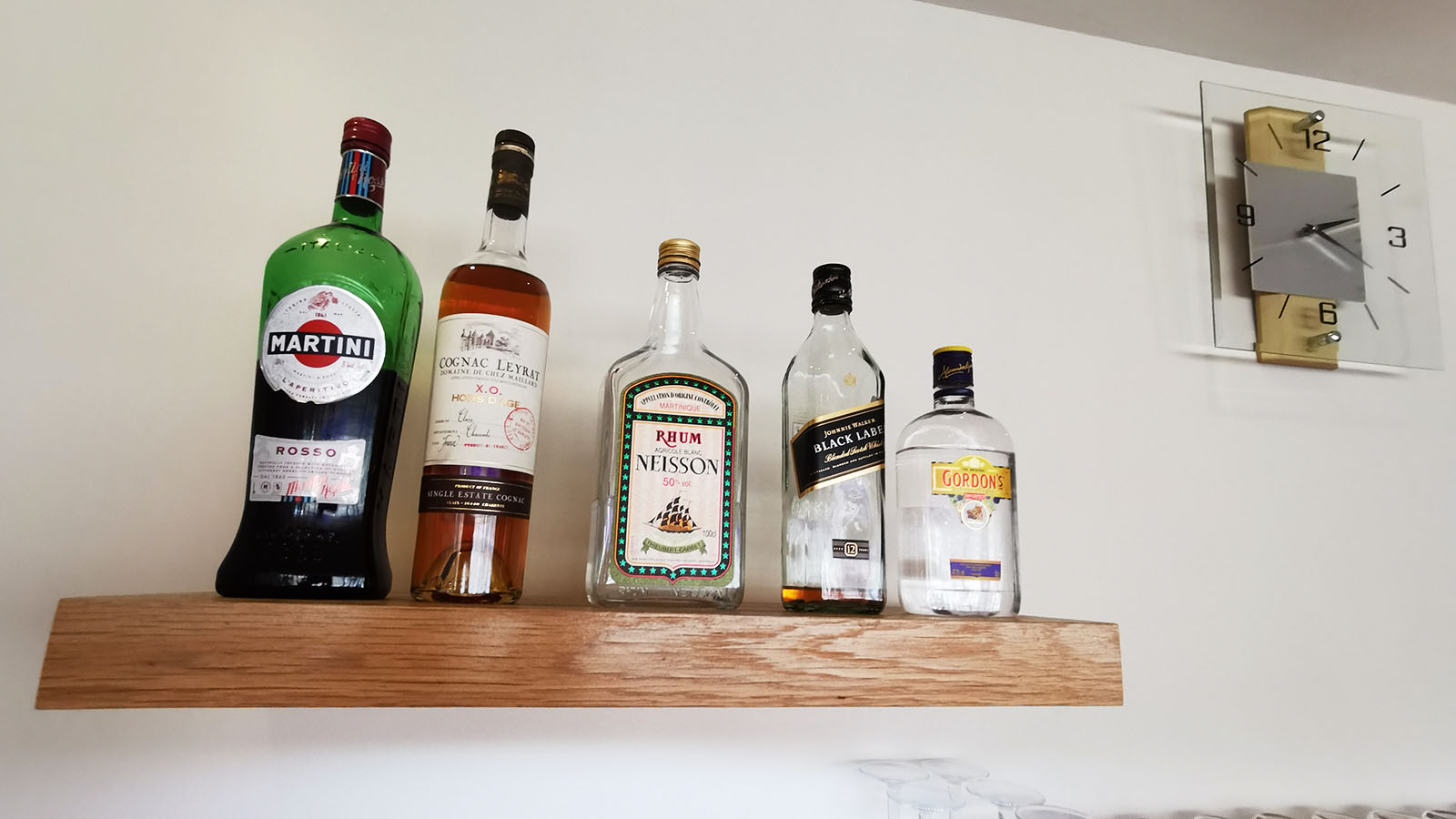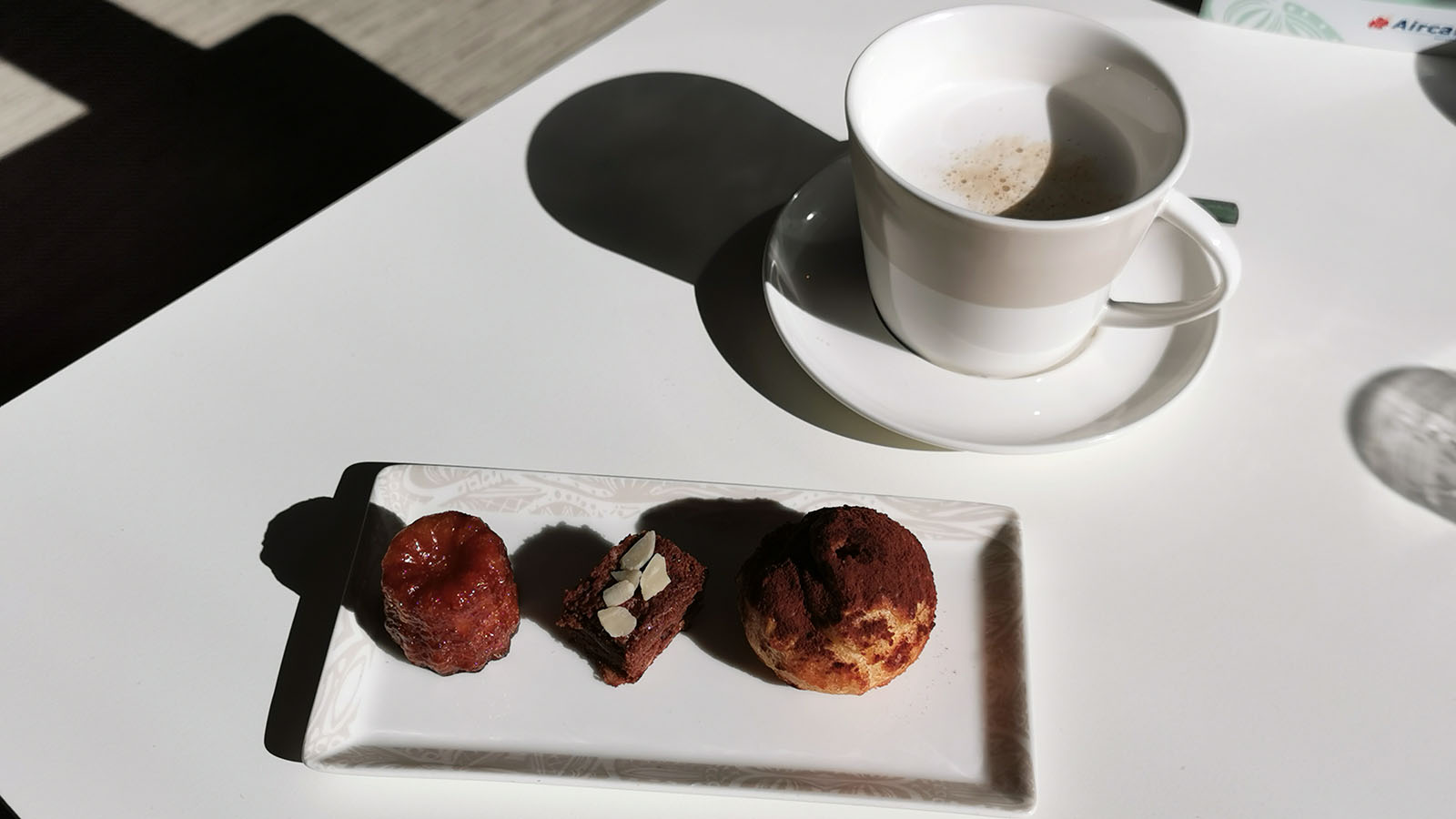 Once I've had that caffeine kick, the Champagne is calling my name. It's a lesser-known drop, Chassenay d'Arce Cuvée Première Brut, but it's sumptuously drinkable. There's also a collection of other wines here in Aircalin's Hibiscus Lounge and chilled drinks in the fridge. Spirits are at-hand, too.
One glass of bubbles was enough for me this time, as I knew there'd be more on board again. But I did go back for a second coffee to enjoy the sweet treats that caught my eye. It was very hard not to go back for a second profiterole, though!
Lounge amenities
As I sit back with my glass of bubbles, a sign at the table catches my eye. By connecting to the Hibiscus Lounge's Wi-Fi network and visiting the Aircalin portal, a range of digital magazines and newspapers await my perusal.
Pleasingly, there's no need to download an app for this – not even PressReader. With the ability to browse titles by language, I'm well set for the flight ahead. I grab the latest digital copies of Business Traveller Asia Pacific, National Geographic and Gourmet Traveller for the road.
That's on my own device, but if I'd have needed a computer, the lounge also has two terminals available.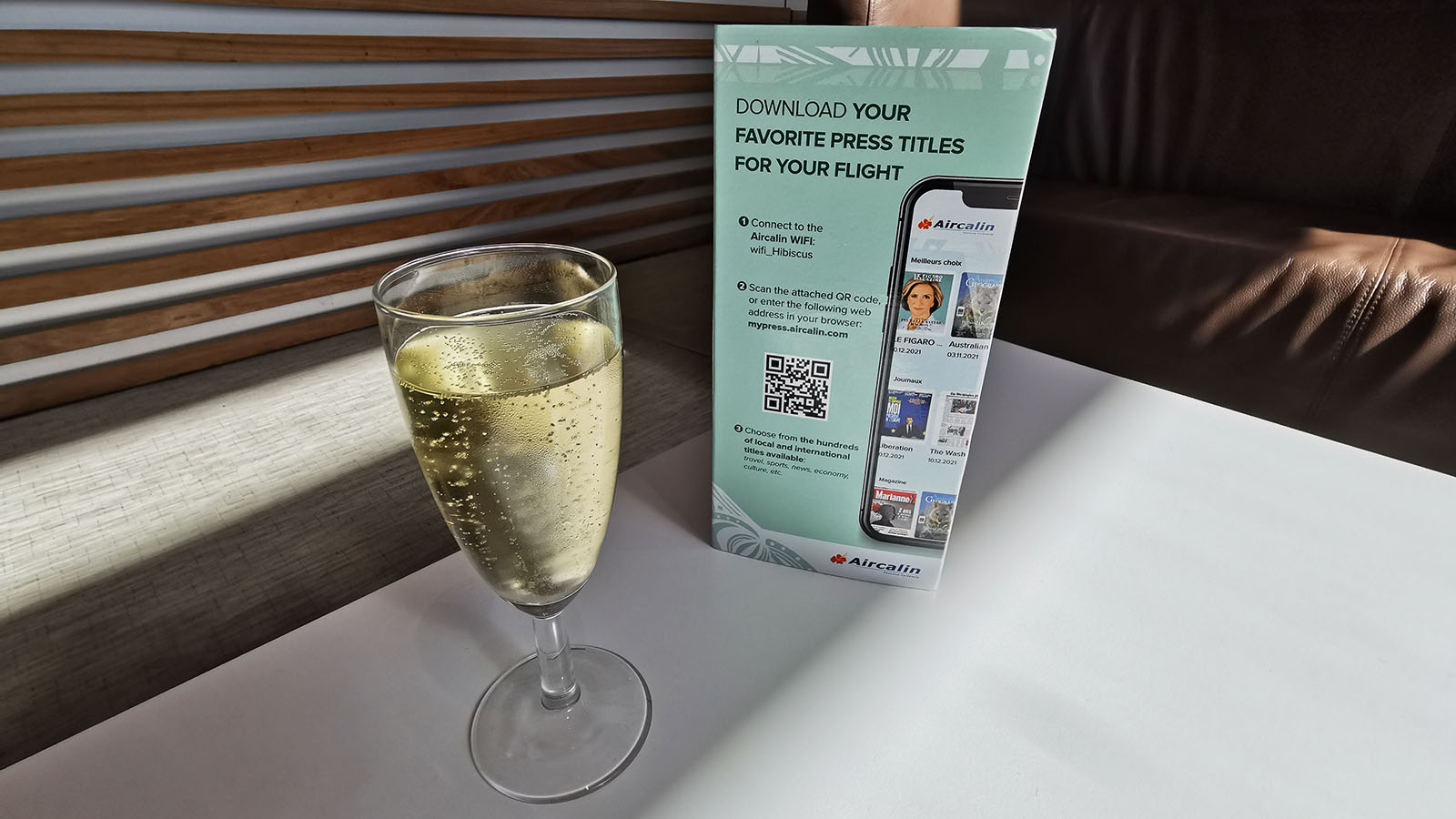 Speaking of connectivity, this is one lounge where the Wi-Fi is particularly handy. None of the Australian mobile networks offers data roaming in New Caledonia – and even if you've hired a Wi-Fi hotspot for your time here, you'd have returned it by this point.
Download speeds averaging 15Mbps prove adequate for downloading those magazines and other browsing. Uploads could be improved, though, sitting around just 0.7Mbps. That makes for quite a slow time when trying to upload holiday snaps at the end of your trip!
Another drawback is that the lounge itself has no on-site restrooms. It's not the end of the world, as there are facilities just outside. Being up on the lounge level, they're basically only used by lounge guests anyway. But they are still part of the public terminal, which means leaving the lounge and returning.
Accessing the Aircalin Hibiscus Lounge, Nouméa
While you might be a real lounge lizard, it pays to know the intricacies of who can – and cannot – access Aircalin's Hibiscus Lounge. As you'll see, the flight number on your ticket plays a big part if you rely on your frequent flyer status for entry.
By Business Class ticket:

Passengers of Aircalin ('Business Hibiscus' cabin), as well as Qantas. Technically, Air New Zealand's Business Premier guests also qualify for access, although Air NZ is currently running Economy-only flights from Nouméa. Entry signage also displays logos for Air France and Air Tahiti Nui, but neither currently offers regular flights to Nouméa.

By airline frequent flyer status:

When flying on a QF flight number only, Qantas Gold, Platinum, Platinum One and Chairman's Lounge (+1 guest).

Other oneworld Sapphire and Emerald frequent flyers when travelling on a QF flight number only (+1 guest).

Flying Blue Gold, Platinum, Ultimate and Club 2000 members, when booked on Aircalin's SB flight numbers (+1 guest).

Air New Zealand's Airpoints Gold, Elite, Elite Partner and Elite Priority One before Air NZ flights (+1 guest).

Other Star Alliance Gold cardholders when travelling with Air New Zealand only (+1 guest).

By paid lounge membership:

Qantas Club members before QF-coded flights only (+1 guest).

Aircalin's L'Abonnement subscribers before SB-coded flights. These members can bring up to two guests, but at a cost of 3,800 XPF (~AU$47) per guest, per visit.

Air New Zealand's Koru members only before Air New Zealand flights (+1 guest).
Because Aircalin isn't a full 'partner airline' of Qantas Frequent Flyer, the flight number you book is incredibly important. For instance, if you buy a flight directly from Aircalin on their own SB flight number, there'd be no lounge access by way of Qantas status or Qantas Club membership.
On the plus side, Aircalin flights booked using Qantas Points are ticketed on the QF codeshare. This means eligible Qantas members would get Aircalin lounge access on points-based flights, even when travelling in Aircalin Economy.
Summing up
A stop at Aircalin's Hibiscus Lounge is a great way to wrap up your time in Nouméa. It's a lovely space – and as a frequent domestic traveller myself, it was also quite refreshing to visit a lounge operated by an overseas airline.
Sometimes, the travel experience can be a little predictable. Of course, that's largely what you want – especially for premium flyers. But something about this lounge made me smile, and I can't quite put my finger on it.
I guess I'll just have to return and find out!
Also read: Say 'bonjour' to Nouméa for just $217 return using Qantas Points
Photography by Chris Chamberlin, who accessed the lounge as a regular guest while travelling at Point Hacks' expense.
---
Stay up to date with the latest news, reviews and guides by subscribing to Point Hacks' email newsletter.
Aircalin Hibiscus Lounge, Nouméa
was last modified:
December 9th, 2022
by