Novotel Melbourne Central officially opened up last December on 399 Little Lonsdale Street, just a few minutes walk from the eponymous Melbourne Central train station, providing another option for Le Club Accorhotels members to earn Accor Reward points when staying in Melbourne.
Sharing the same building as the Ibis Melbourne central, Novotel has 213 guest rooms and suites on the higher floors. Its location is convenient for both business and leisure travellers with close proximity to public transport, shopping and dining around the Melbourne CBD.
Accor Hotels do not do 'reward nights' as such—just a simple €40 ($63) off for every 2,000 points. Instead, I used the $400 credit from the American Express Explorer Card to offset the cost of the room, which was approximately $438 for two nights.

Room Layout
The Deluxe King Room (28m²) is the third largest room type available, under the Junior Suite (55m²) and the Executive Rooms (48m²). However despite its name, there is no Executive Lounge at this hotel.
This diagram shows the relative size of the Deluxe Rooms (four on the left), compared to the Superior Rooms (five on the top and bottom) which at 22m² are definitely on the smaller side!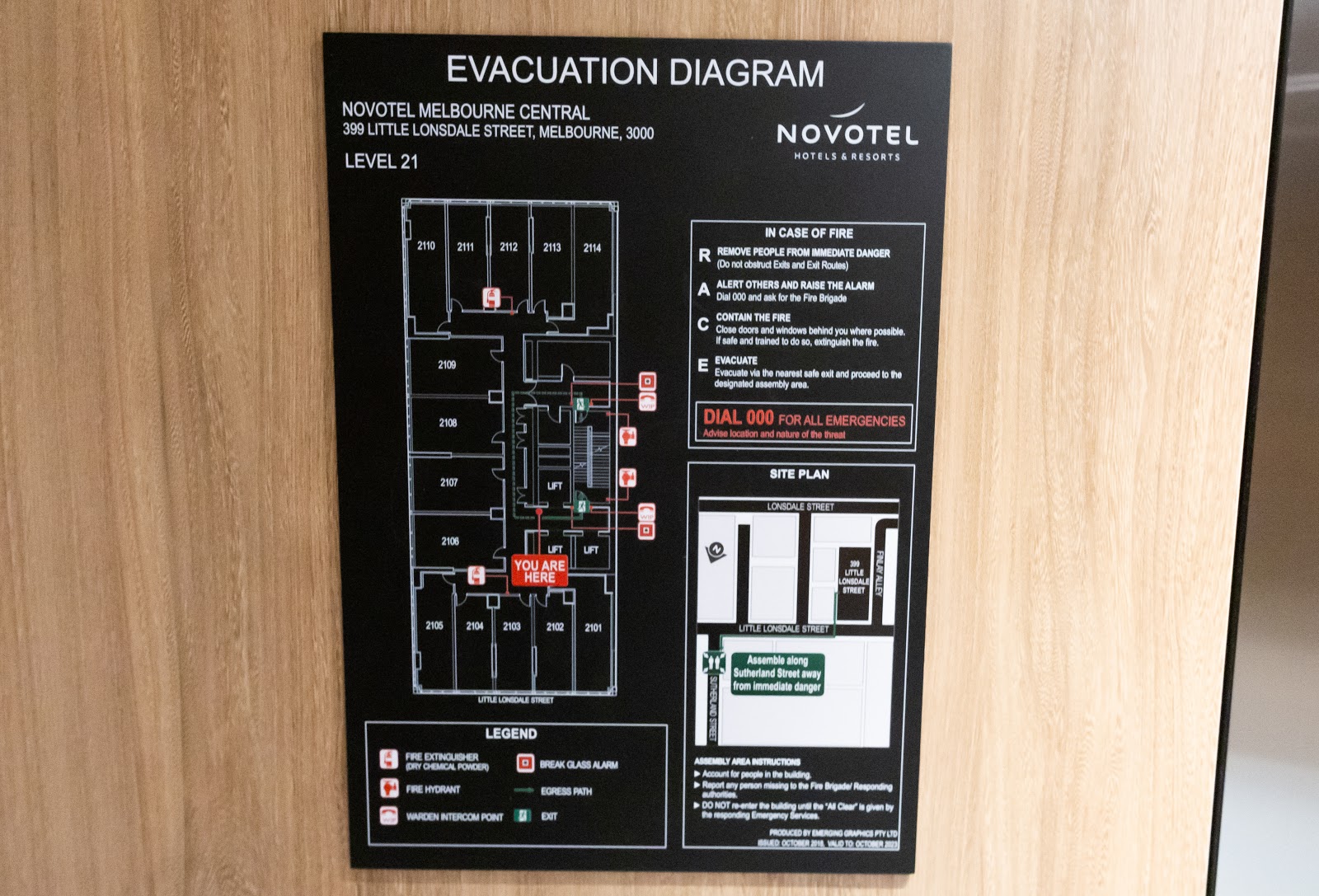 The Deluxe Room consists of a king-size bed and a window-length lounge chair that is great for… lounging. The room does have a few quirks though, such as an open-plan bathroom with a freestanding washbasin.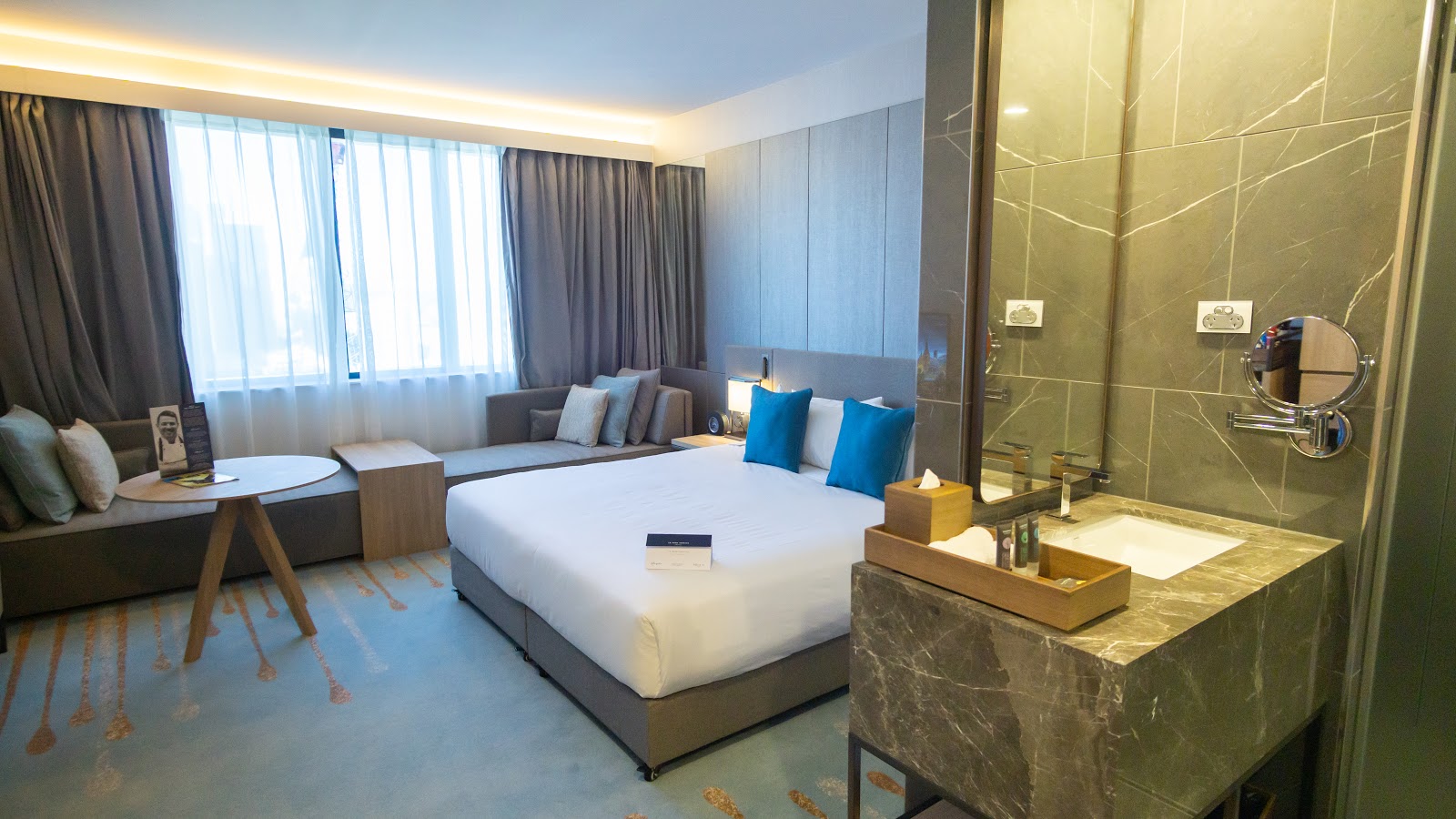 Looking back towards the entrance, the left-side frosted door leads to the shower, while the forward frosted door hides the toilet.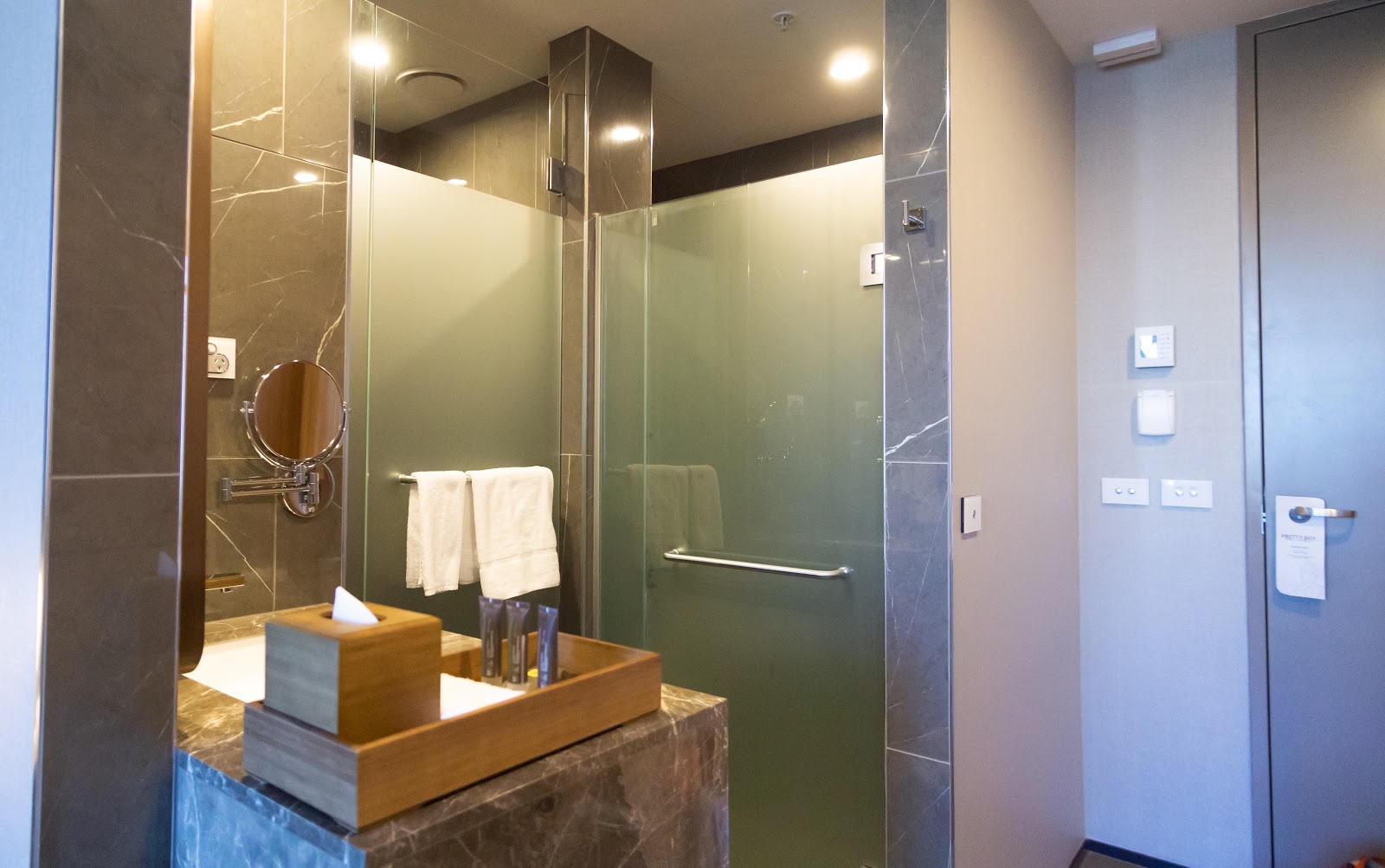 From left to right, there is a stocked mini-bar station, the 55' LG television and a small coffee table. Unfortunately for anyone doing work, there is no dedicated area to sit comfortably with a laptop.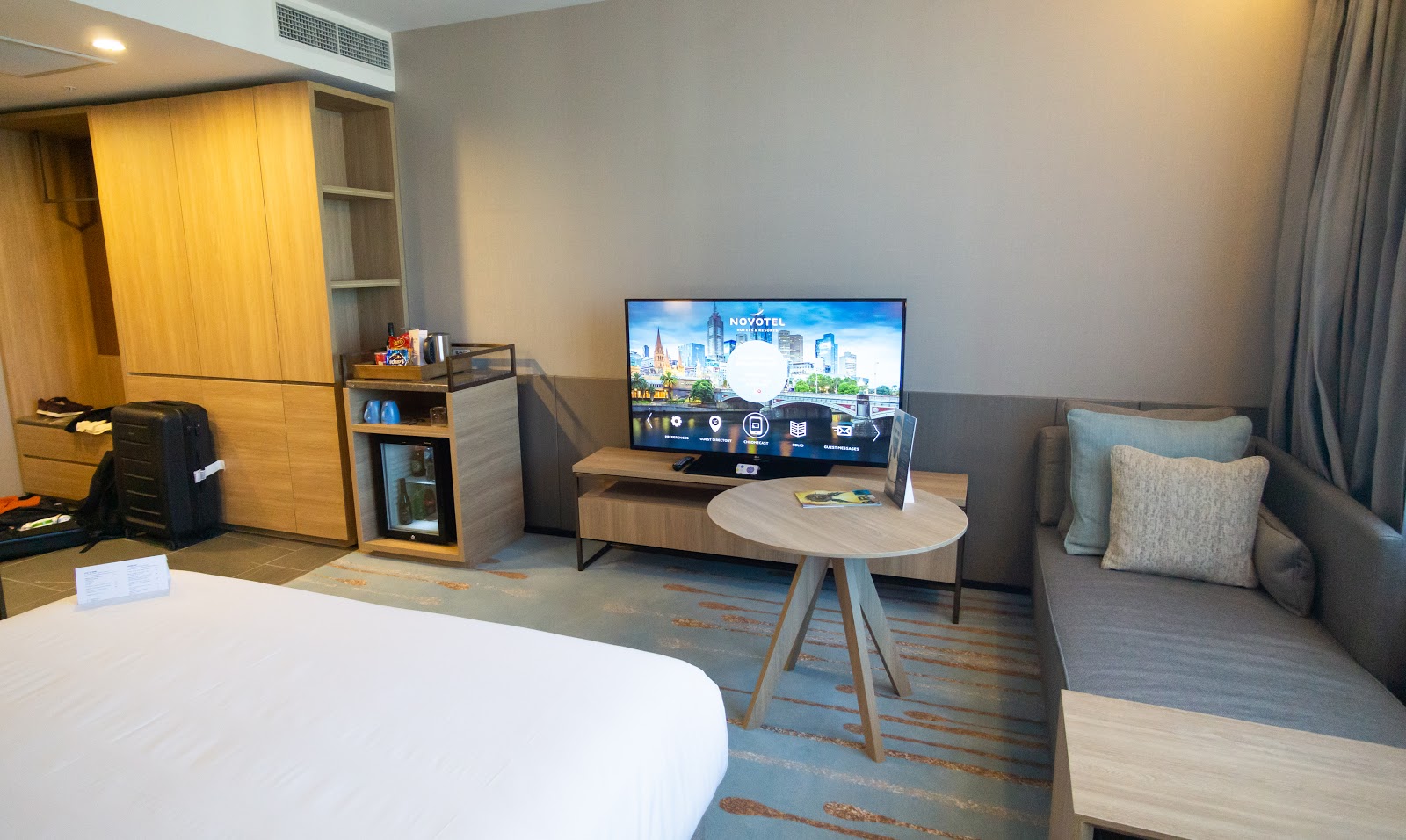 The king bed itself is made up of two single beds pushed together, but the gap between them was barely noticeable.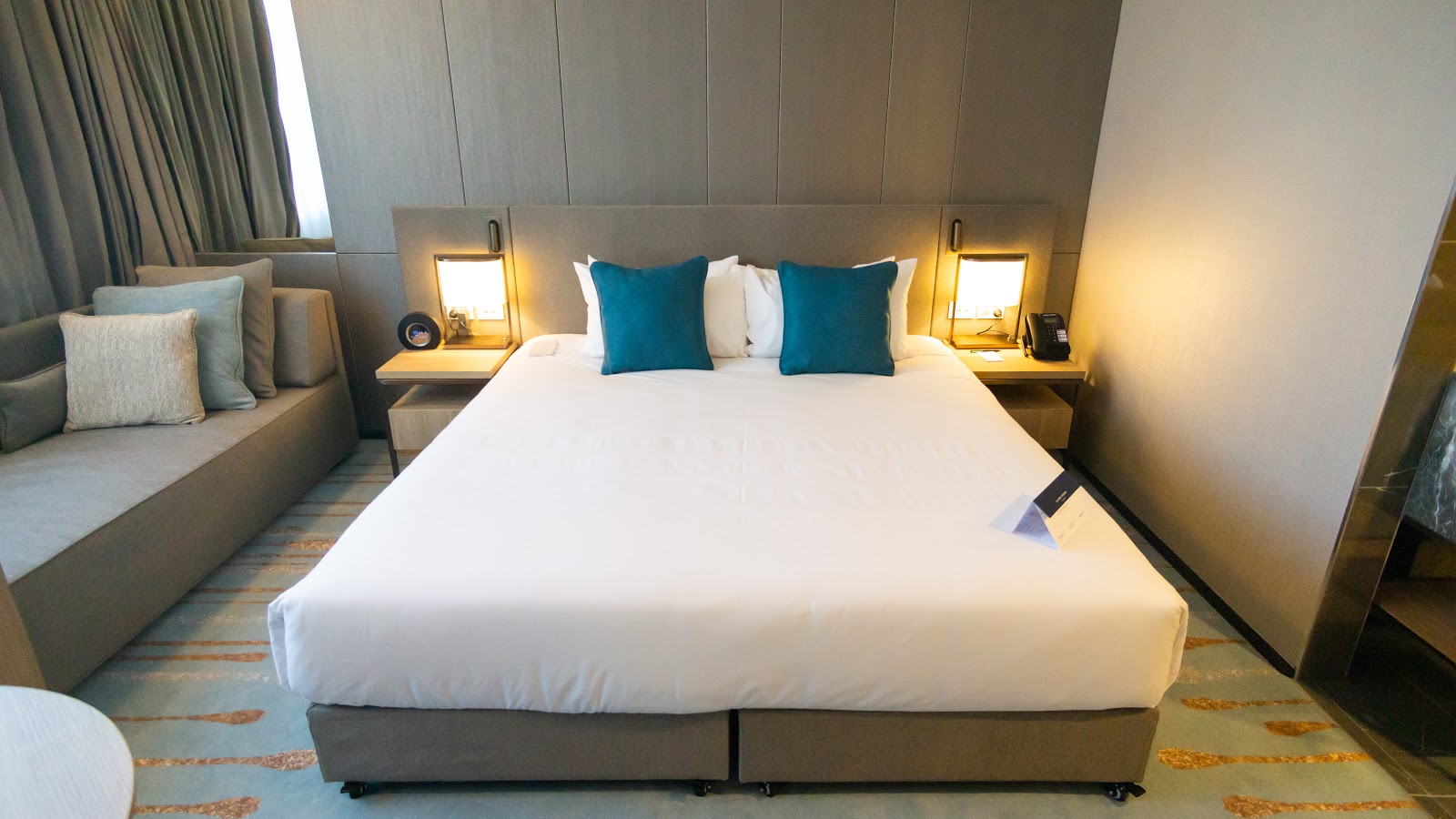 A 'pillow talk' menu offers a variety of different options, which you are welcome to order from housekeeping at any time, or even purchase if you desire.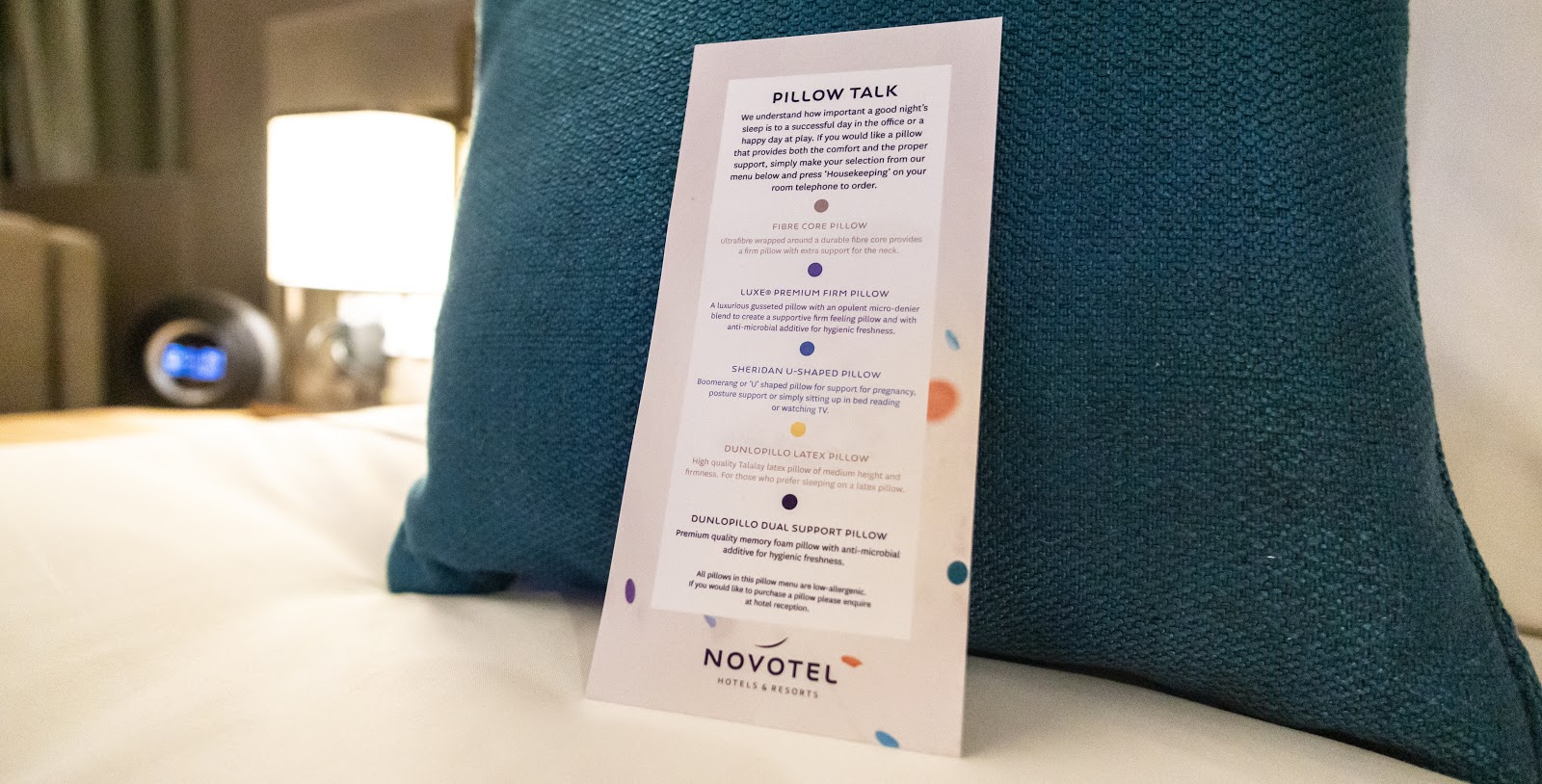 Back near the entrance, there is a generously-sized cupboard filled with an in-room safe, an iron and a hairdryer.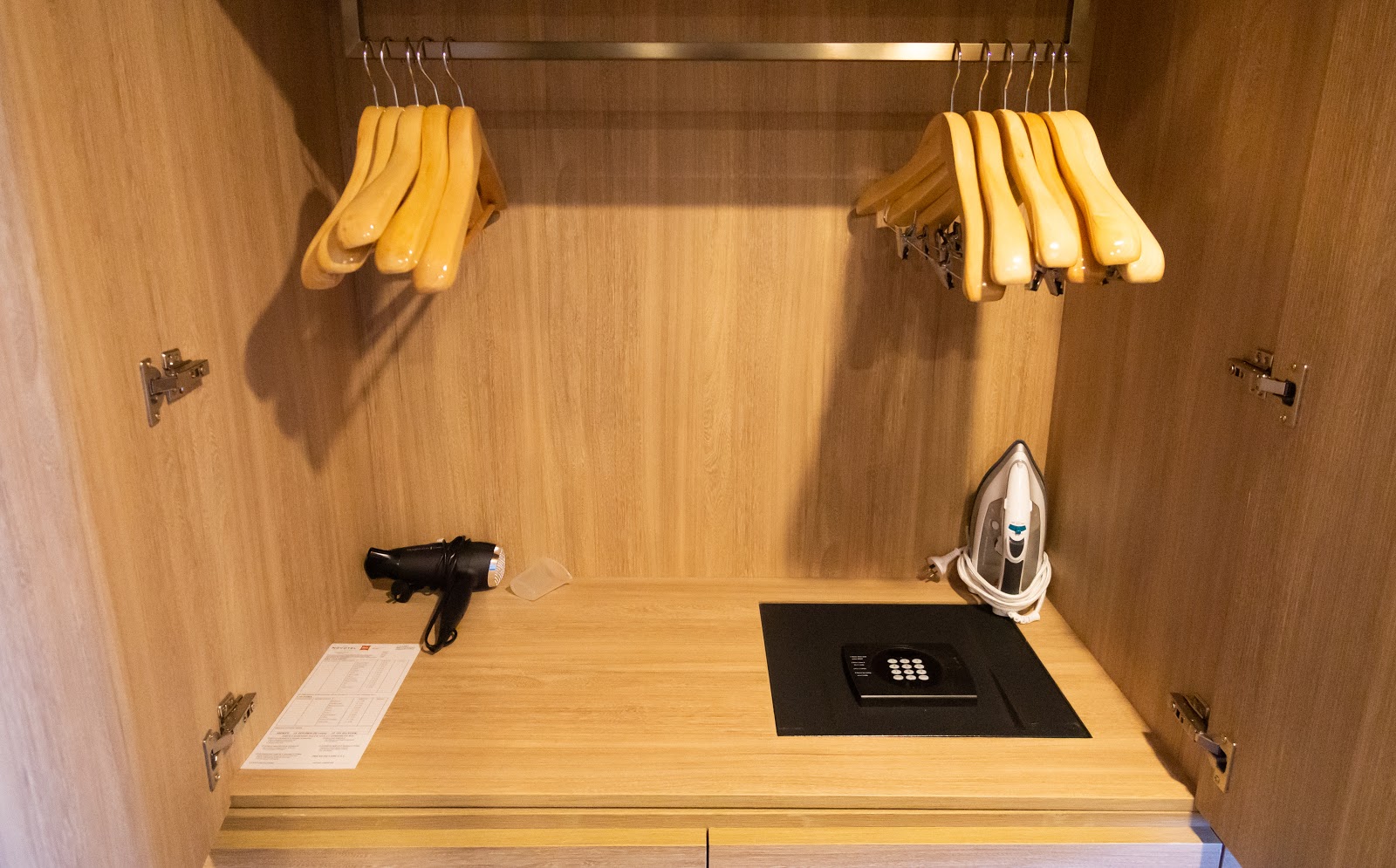 Technology
Being a very new hotel, the tech-side of things are modern as expected. There are two power ports, a USB charging port and light-switches on each side of the bed.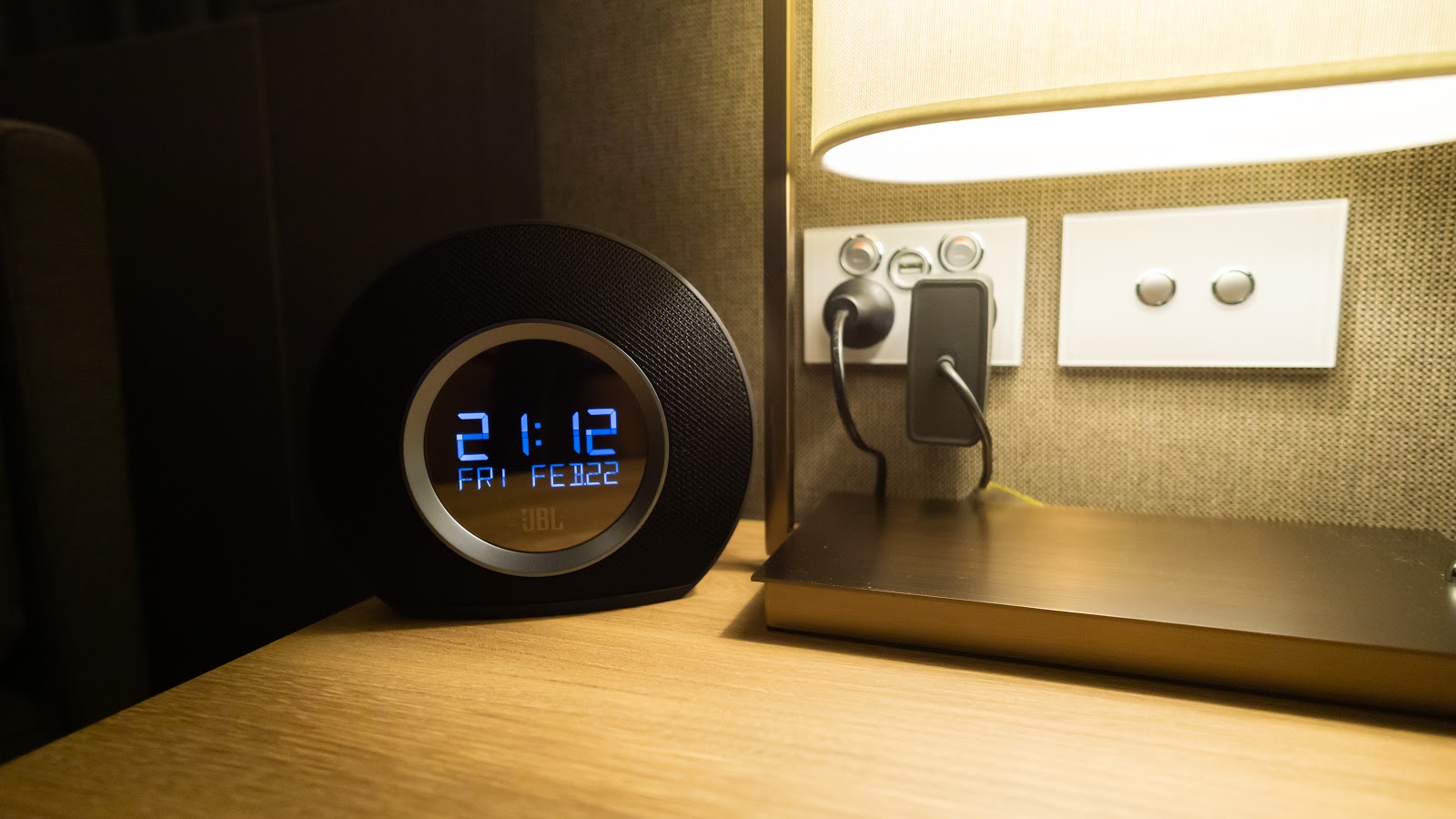 Novotel proudly shows off the Chromecast capabilities of its 55 inch TVs, by putting that functionality front and centre on the screen.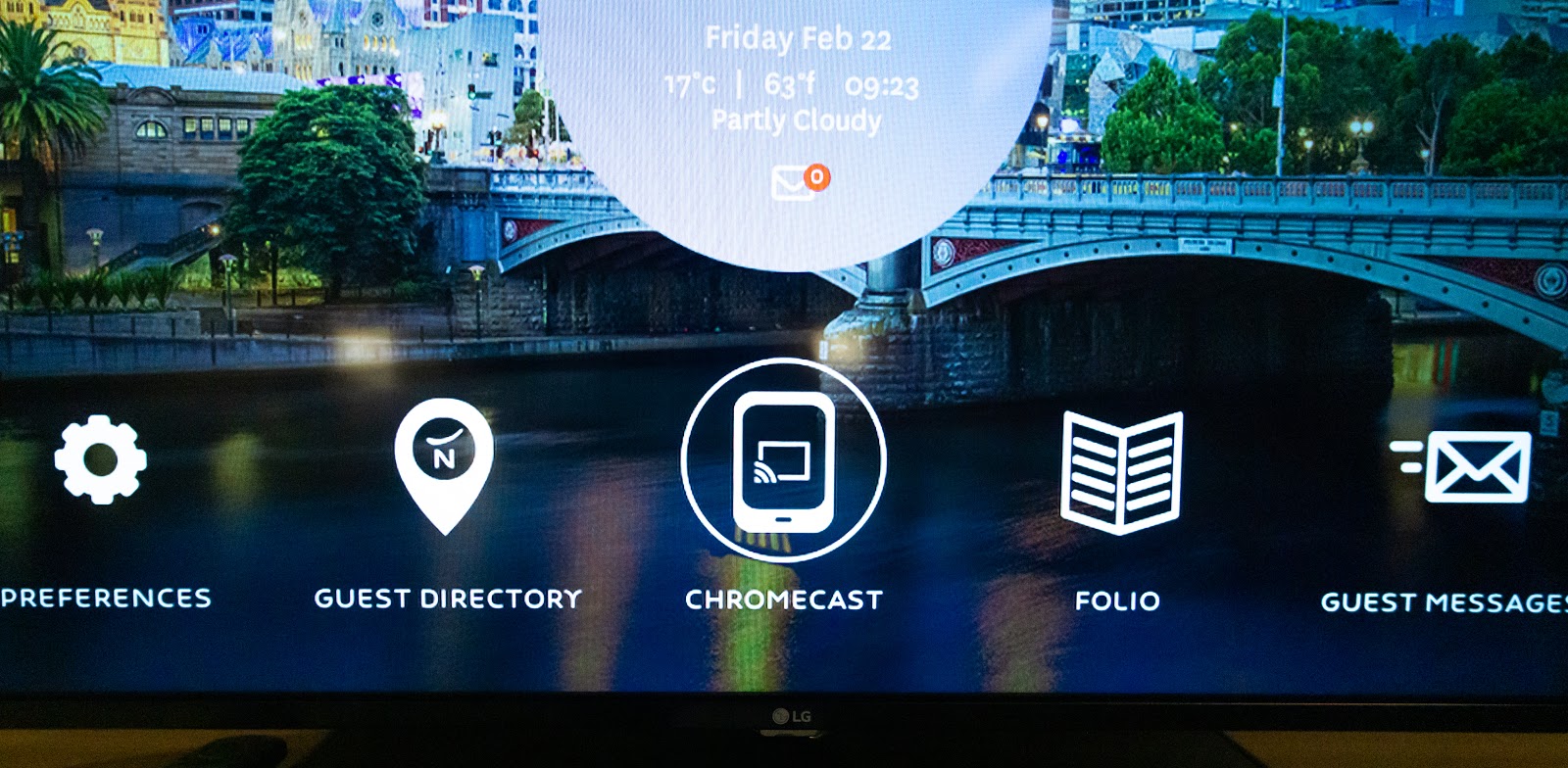 It is very easy to use as well—with a compatible Android phone or iPhone, just connect to the Novotel WiFi with your room number and last name. Your device will automatically sync to the TV, and any Chromecast-enabled apps (such as Netflix) will give you the option to cast the screen.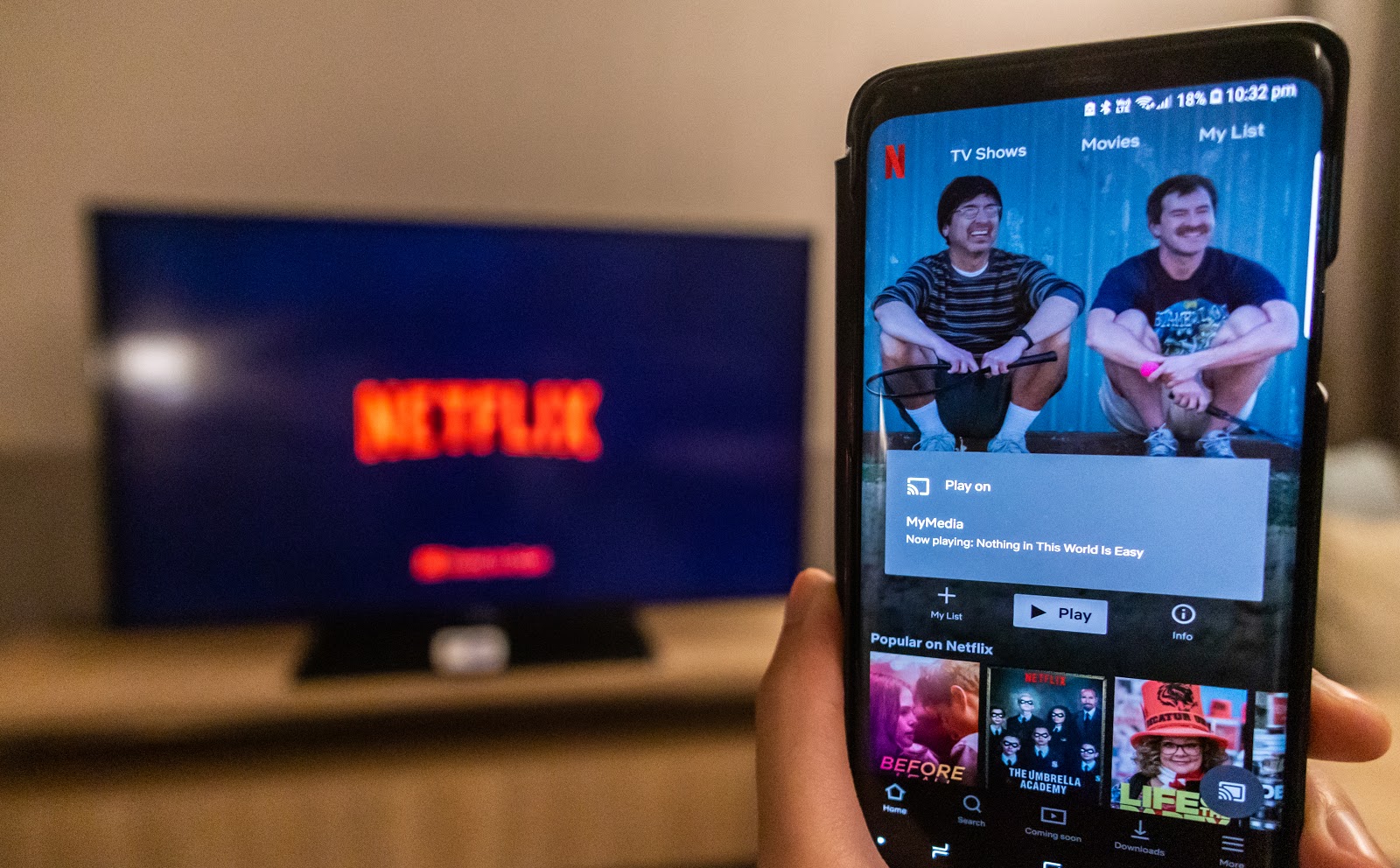 Free in-room WiFi is available for Le Club Accorhotel members and was fine for streaming and work. There is also a premium paid version if you wanted higher speeds, which is usually free for Platinum members.
Bathroom
The open-plan bathroom is great for a feeling of spaciousness within a small space, but it is definitely not ideal if you are sharing the room with someone.
There is no barrier for sound or smell from the toilet to the bedroom, which may be uncomfortable for some. The usual soaps and shampoo amenities are provided.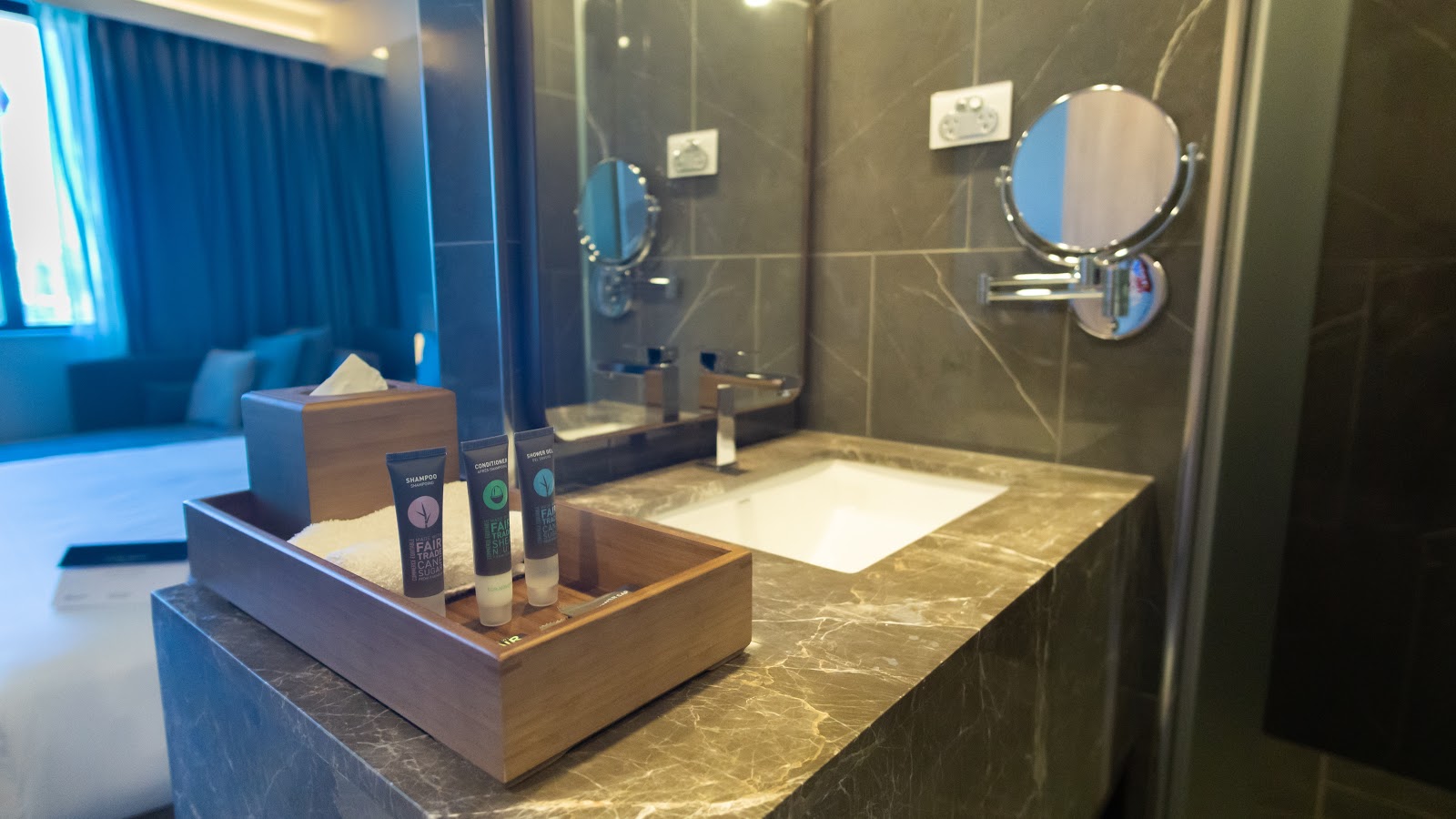 The rainfall showerhead and second flexible showerhead provided good pressure and a consistently warm temperature.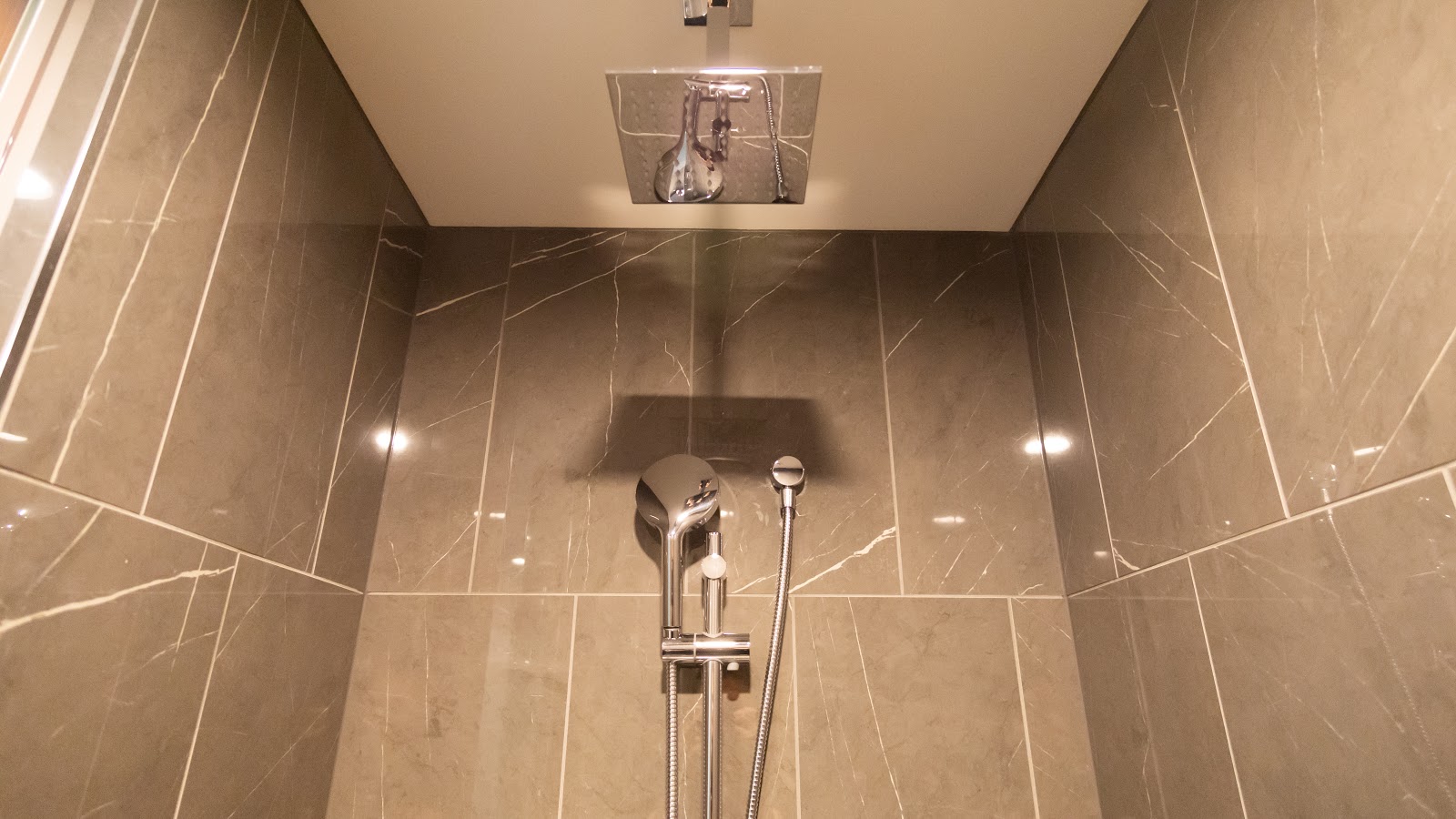 In-room service
The room includes a mini-fridge well-stocked with Evian bottled water, soft drinks as well as a small selection of alcoholic beverages. The Mount Franklin bottle of water is complimentary.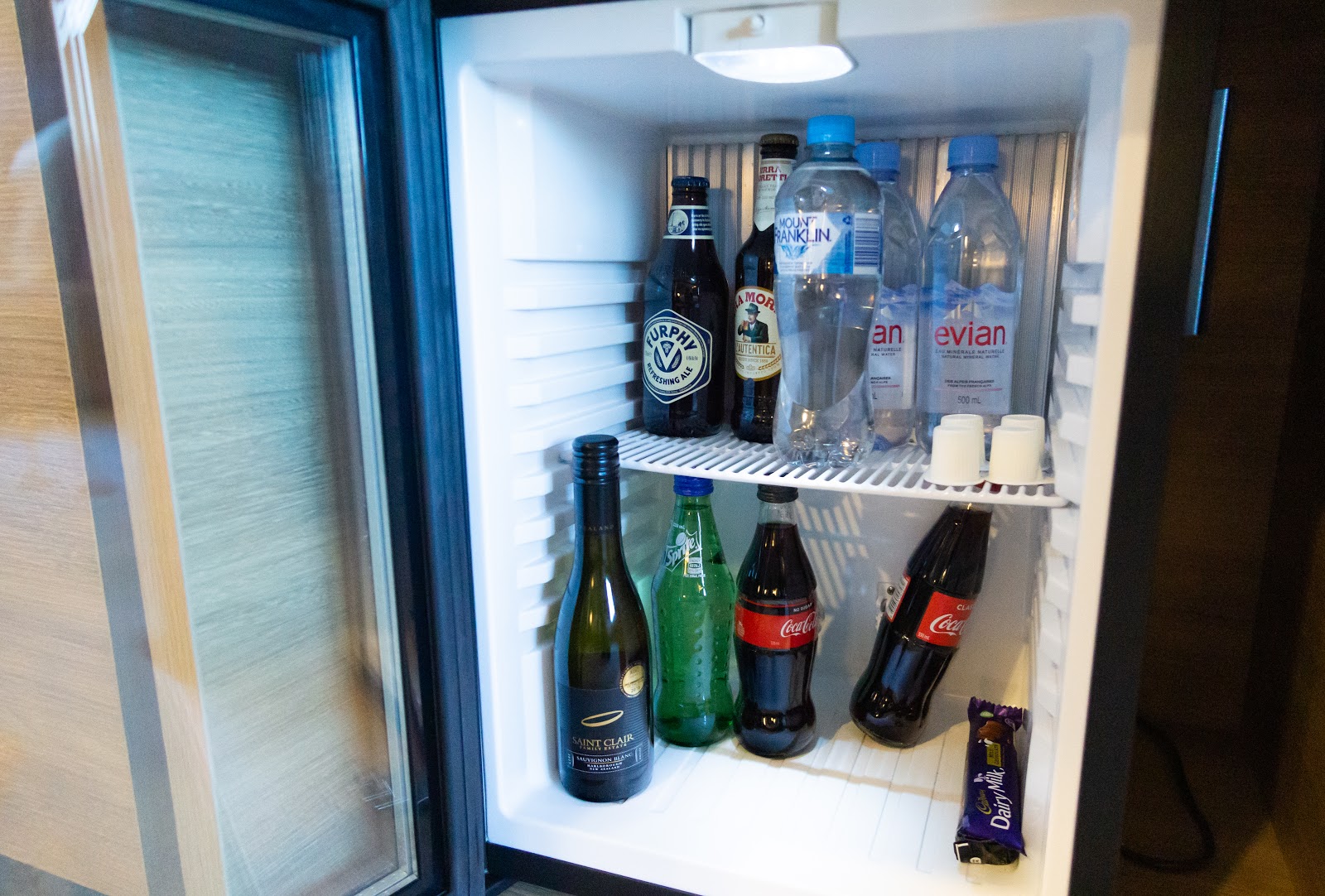 On the tray, there is a selection of Dilmah teas, individual sachets of instant Nescafe, sugar, bar snacks, glassware and a kettle.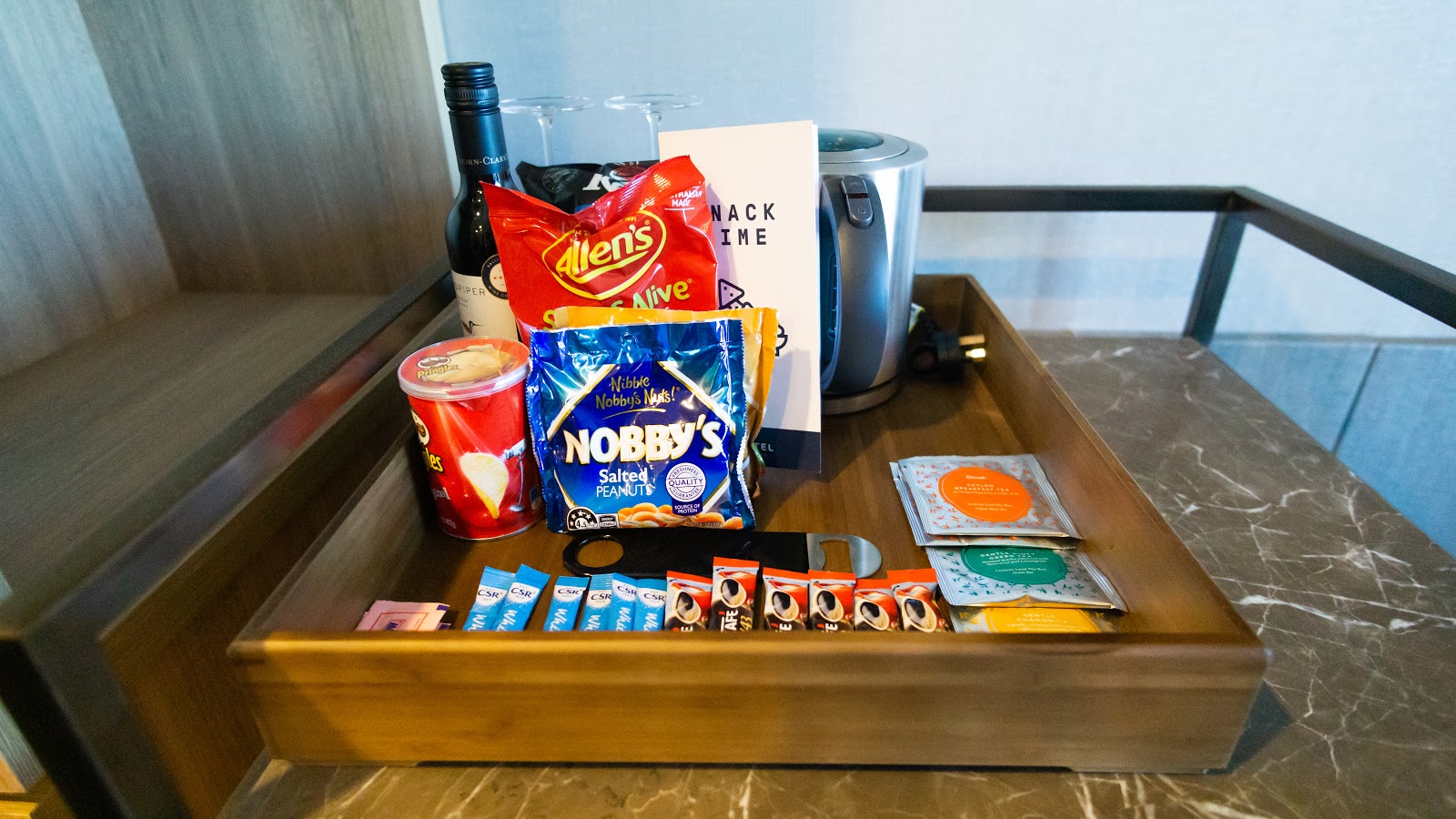 The room service menu comes from the on-site restaurants: Floyd's Bar, Goldie Asian Canteen and Pretty Boy Steakhouse. Food is all reasonably priced and I would not hesitate to order from it if I was genuinely hungry and did not want to go out.
Here's a copy of the room service menu:
The Hotel and Lobby
Unfortunately, gone are the days for new inner-city hotels to have grand lobbies. The Novotel and Ibis have an unassuming entrance off the side of Little Lonsdale St.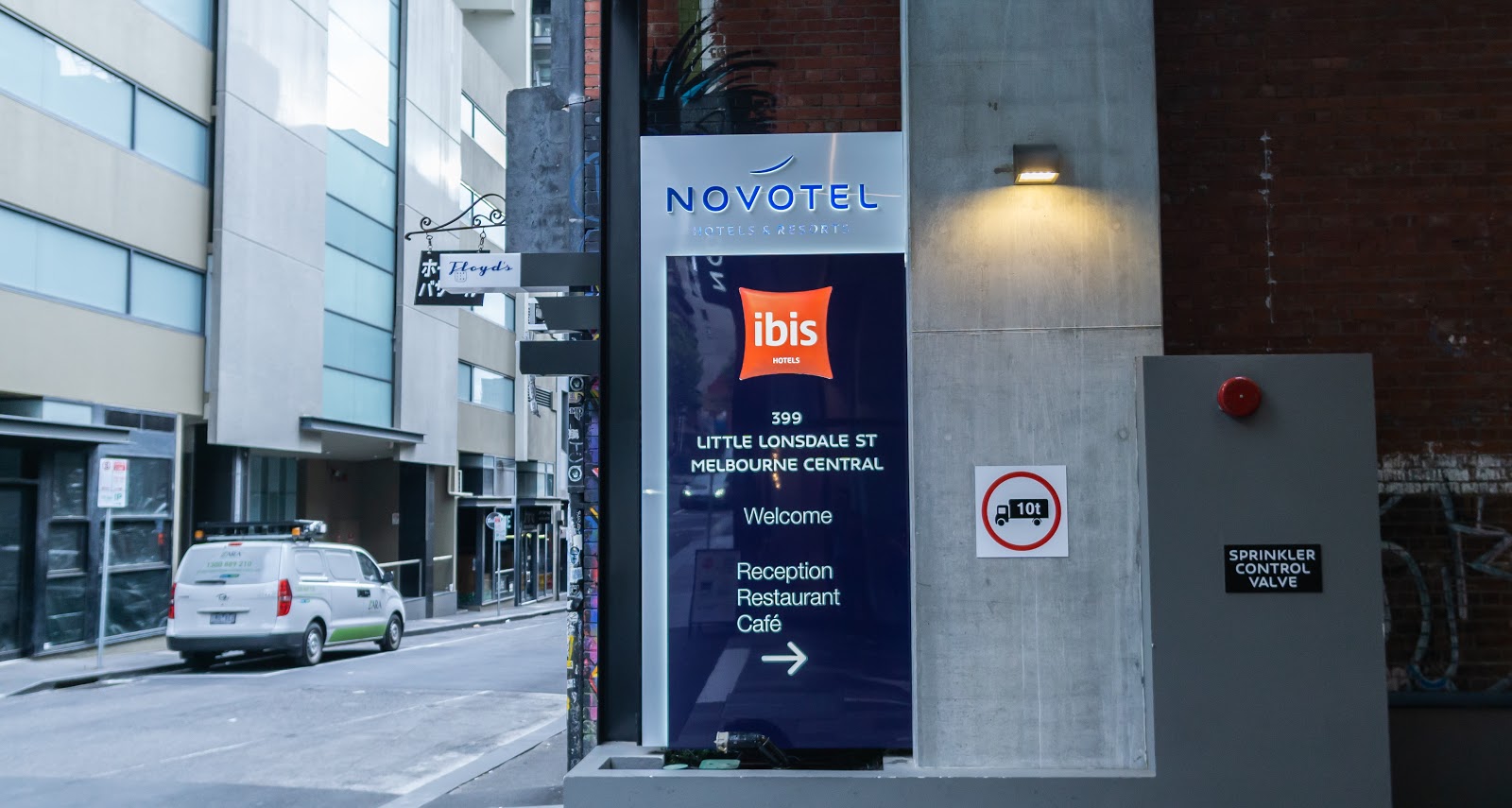 The lobby itself is located on Level 2 so on the ground floor, there are just a few staff members to direct you to the right elevators.

On Level 2, you will be greeted by separate (but identical) lobbies for the Novotel and Ibis. There is a priority welcome lane for Silver members and higher.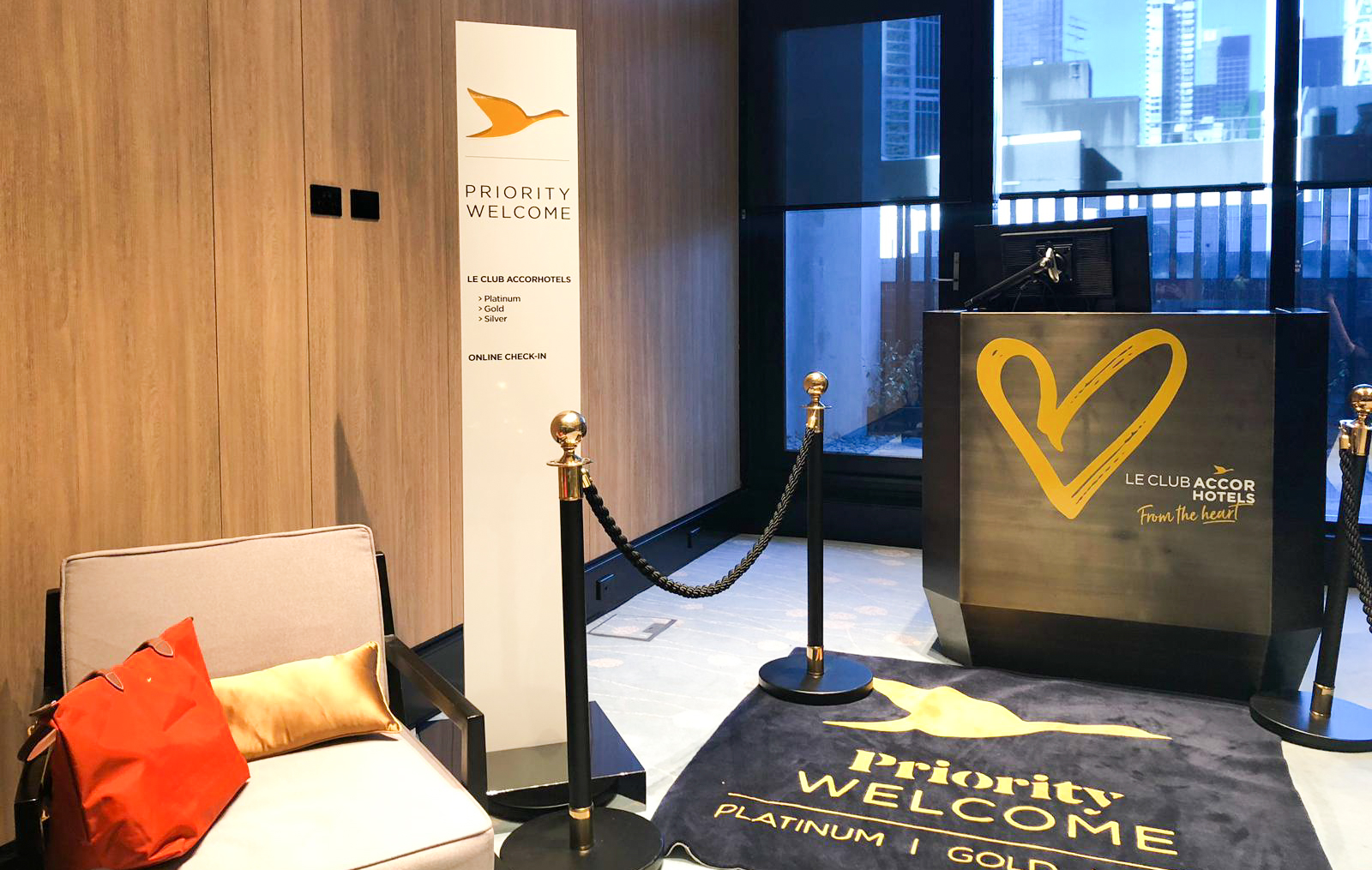 As a nice touch, there are two dispensers with infused fruit waters for guests to enjoy while they waited.

Due to check-in delays during my visit, a complimentary drink voucher was provided for the nearby Floyd's bar, similar to what Gold or Platinum members would get on arrival.

Dining
Floyd's Aperitivo bar can be found on Level 2, right next to reception. They offer a $5 drink special from 5pm-8pm on most days, and the same options are complimentary for Gold and Platinum members when checking in.

These include a basic selection of soft drinks, beers, wines and spritzes (pictured below).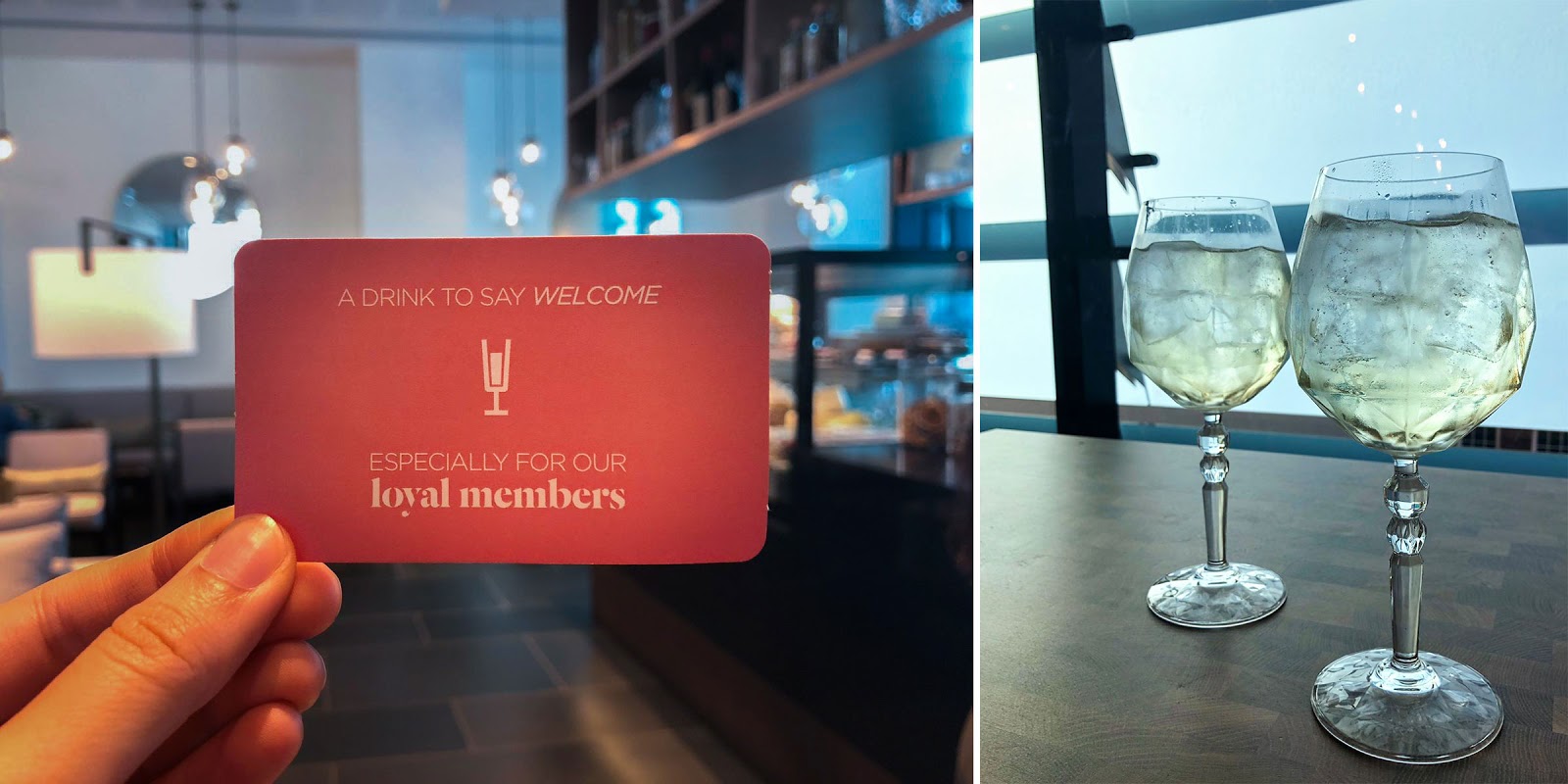 Pretty Boy Italian Steakhouse on Level 1 is where the breakfast buffet can be found, but I did not have the chance to try it out on this trip.

Facilities
A well-equipped gym can be found on the 6th floor which is shared between Ibis and Novotel. You will find treadmills, ellipticals, weights, and a space to do some gentle yoga or pilates.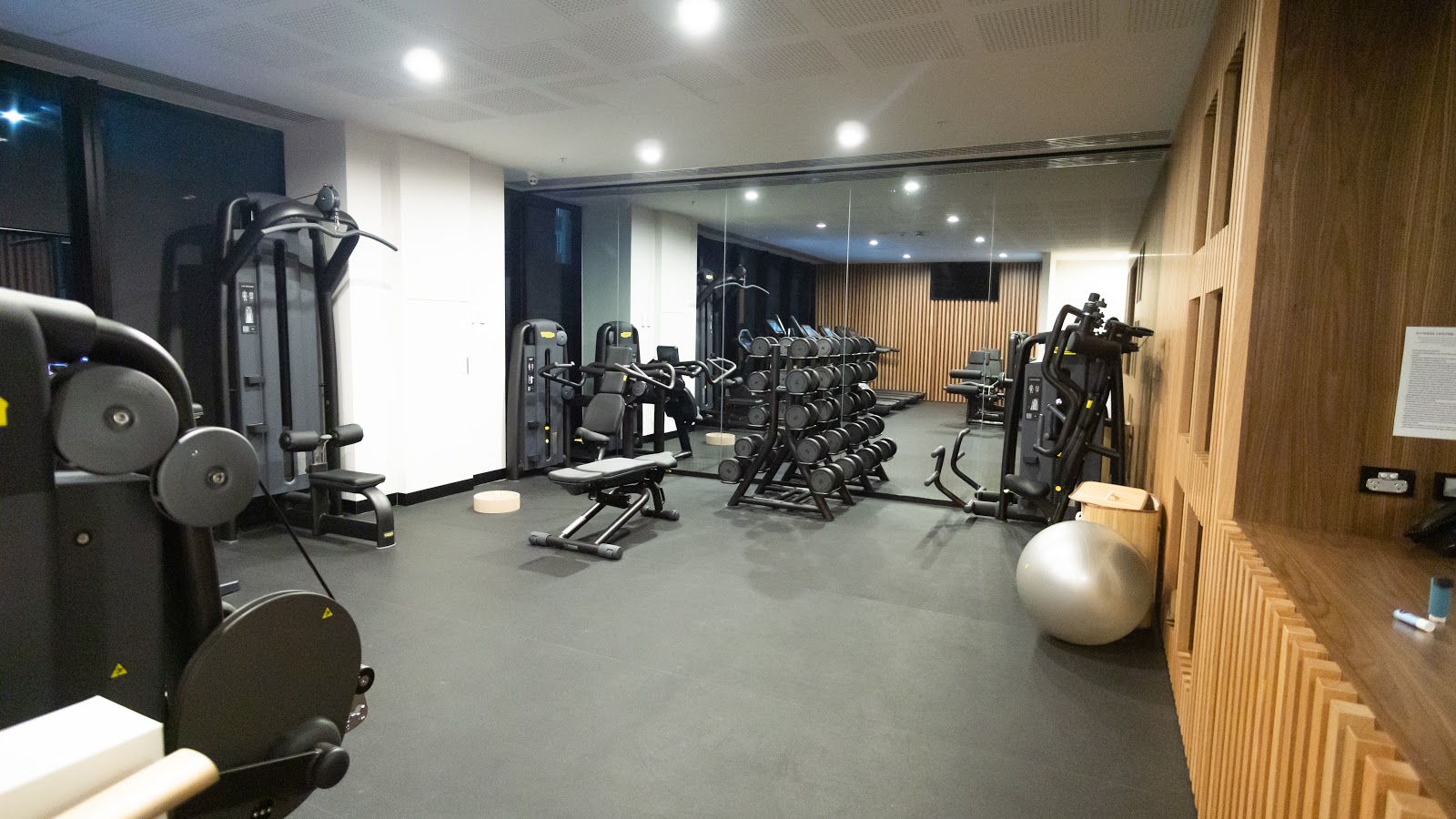 Other Novotel hotel review
Other Melbourne hotel reviews
Summing up
Overall I quite enjoyed my stay at the Novotel Melbourne Central—there is something about that 'new building feeling' that makes a hotel room feel brighter and more inviting, compared to old-fashioned hotel rooms with dull lighting and faded furnishings.
I received outstanding hospitality from the staff, especially when the check-in system was down for the whole afternoon. The drinks voucher was much appreciated and I also managed to get a handy 3 pm checkout time on departure.
The location is outstanding, which is expected. There is a Skybus Link stop nearby for those transiting through Southern Cross Station. It is well within the free tram zone and walking distance to various areas of interest, including the always-busy Hardware Lane just around the corner for cafes and restaurants.

The Deluxe King rooms were more than big enough for two people and I imagine the Junior Suites would be even more so. However, based on the floor plan and website images (below), the Superior rooms do seem uncomfortably narrow and I would recommend aiming for a Deluxe Room or higher.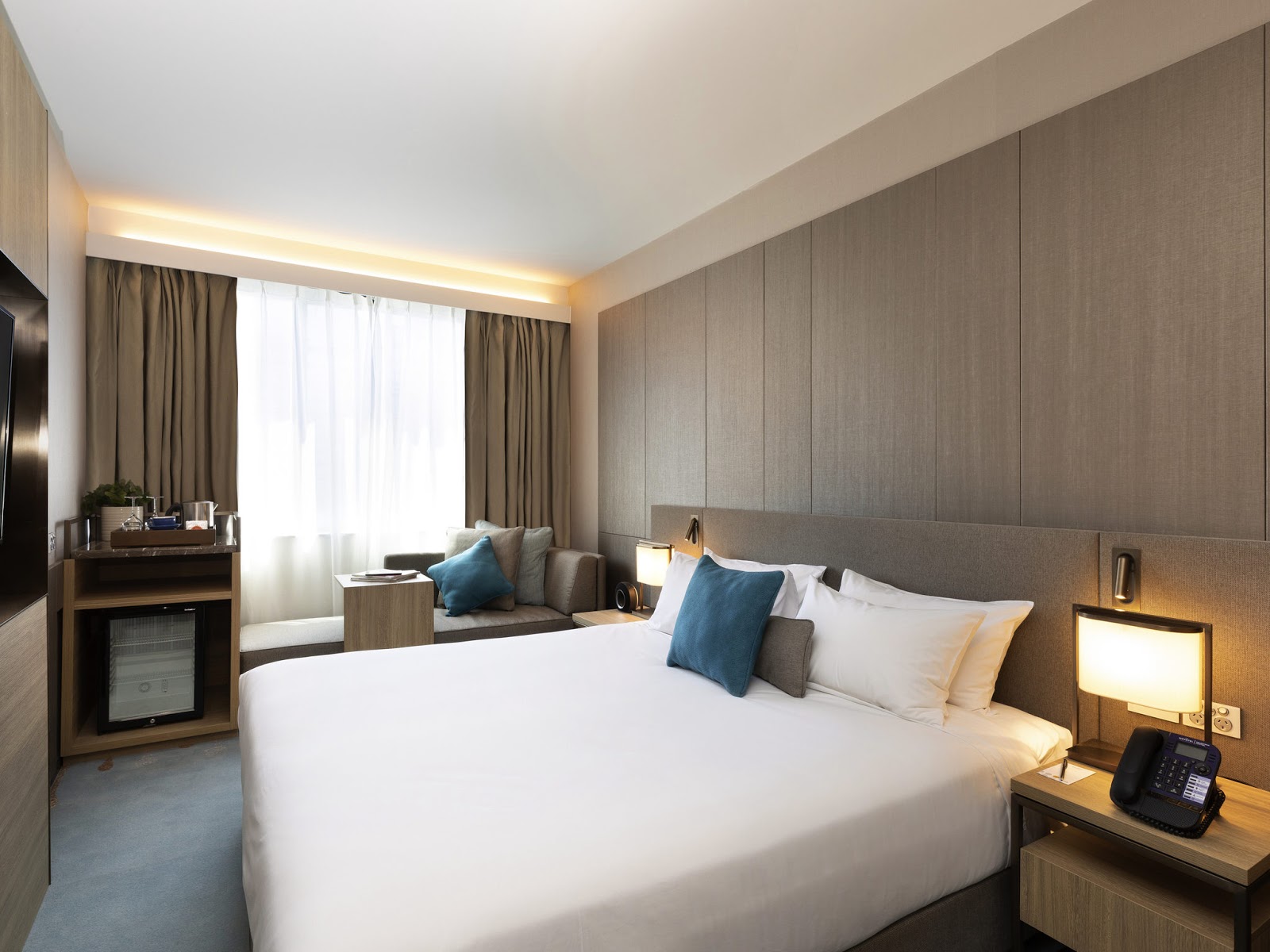 The main pitfalls of this hotel are that the Superior and Deluxe rooms are simply not designed with business travellers in mind, who would undoubtedly make up most of the weeknight traffic. Only the Executive Room and Junior Suites have work zones, office chairs and a desk, but those room types are limited in number and pricey.
The bathroom layout is also unusual and not the most pleasant way to share a room with somebody, especially if it is friends or family members you do not usually live with.

Finally, it would be nice to have smaller improvements in some amenities, such as robes and slippers for a more comfortable casual stay. Ultimately, the Novotel Melbourne Central lives up to its four star rating.

Novotel Melbourne Central Deluxe King Room review
was last modified:
January 12th, 2022
by