During one of Hilton's Asia Pacific 'Flash Sales', I snagged a City View King Room including full breakfast for two people for ~$172 a night, which is a relative bargain. As a newly-minted Hilton Gold member, I was curious to see how the experience stacked up.
The DoubleTree Hilton Melbourne is a 4-star hotel and is ranked #74 out of 165 hotels in Melbourne on TripAdvisor, which puts it at top half of hotels in the area.
You can also use Hilton Honors points to redeem a stay at this property starting from 40,000 points, this room in particular will set you back at least 57,000 Hilton Honors points.
Checking-in
Digital check-in with room selection is available the day prior to your stay through the Hilton Honors app or on the Hilton website for Hilton Honors members. I did this and was given a choice of six king rooms across floors ten to thirteen.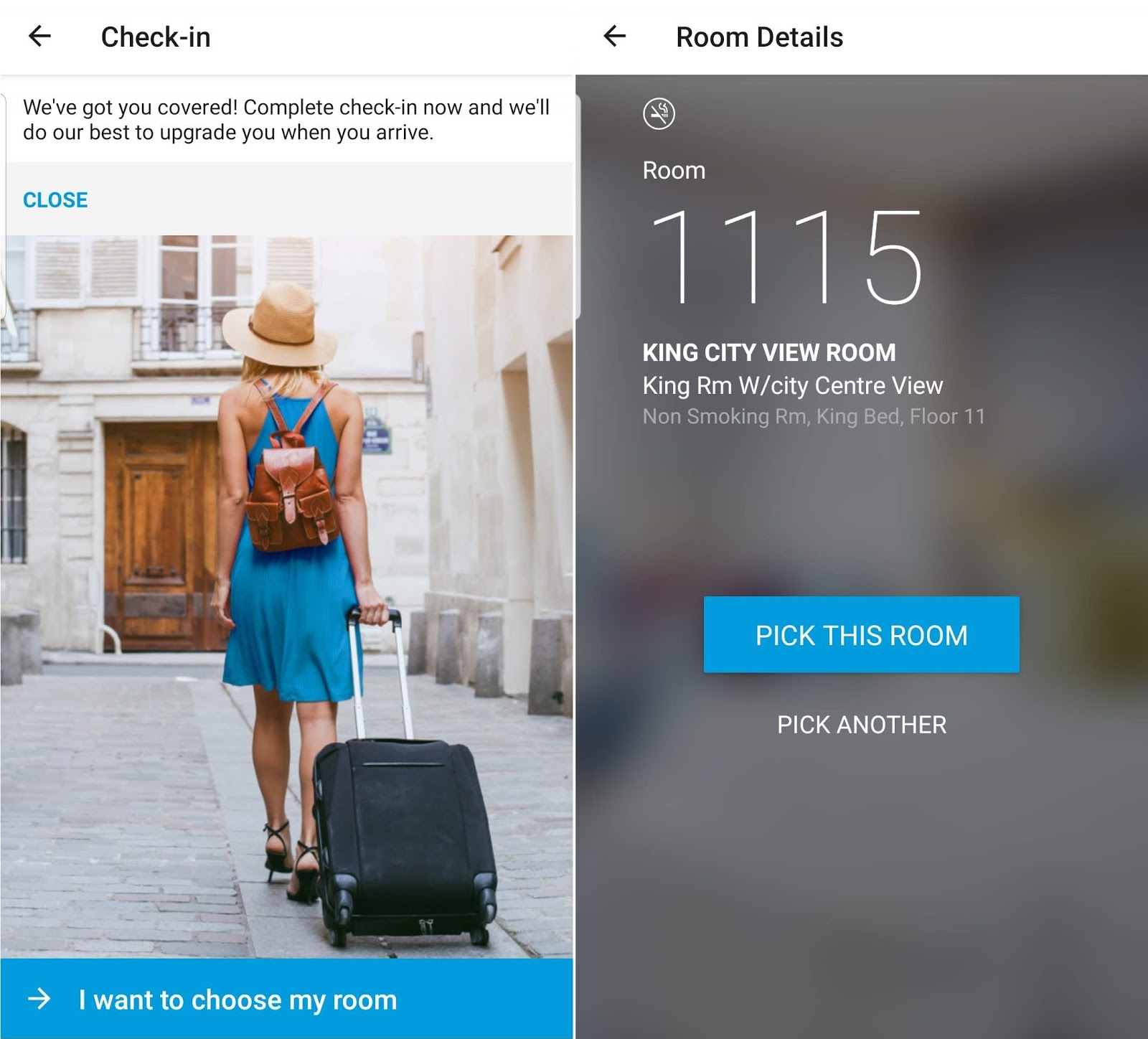 On the day of arrival, I received a text message at 10am letting me know my room was ready early and to pick-up my keys anytime! I love how hotels are evolving with the times.
Since I was already nearby, I headed over. We were handed over our room keys along with the signature warm chocolate chip cookies. As part of my Hilton Gold benefits, I was also given a welcome pack containing two bottles of water as well as complimentary drink vouchers.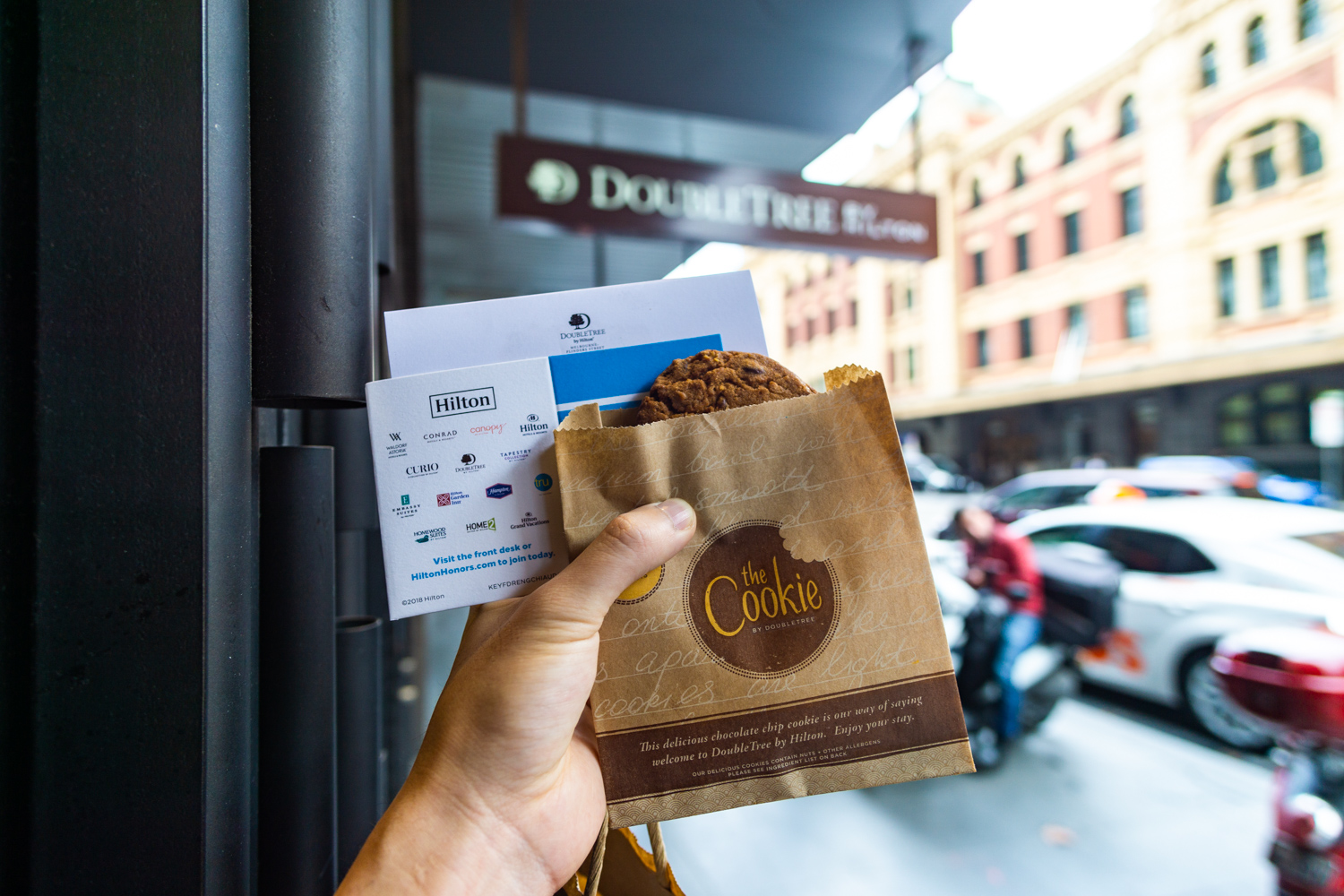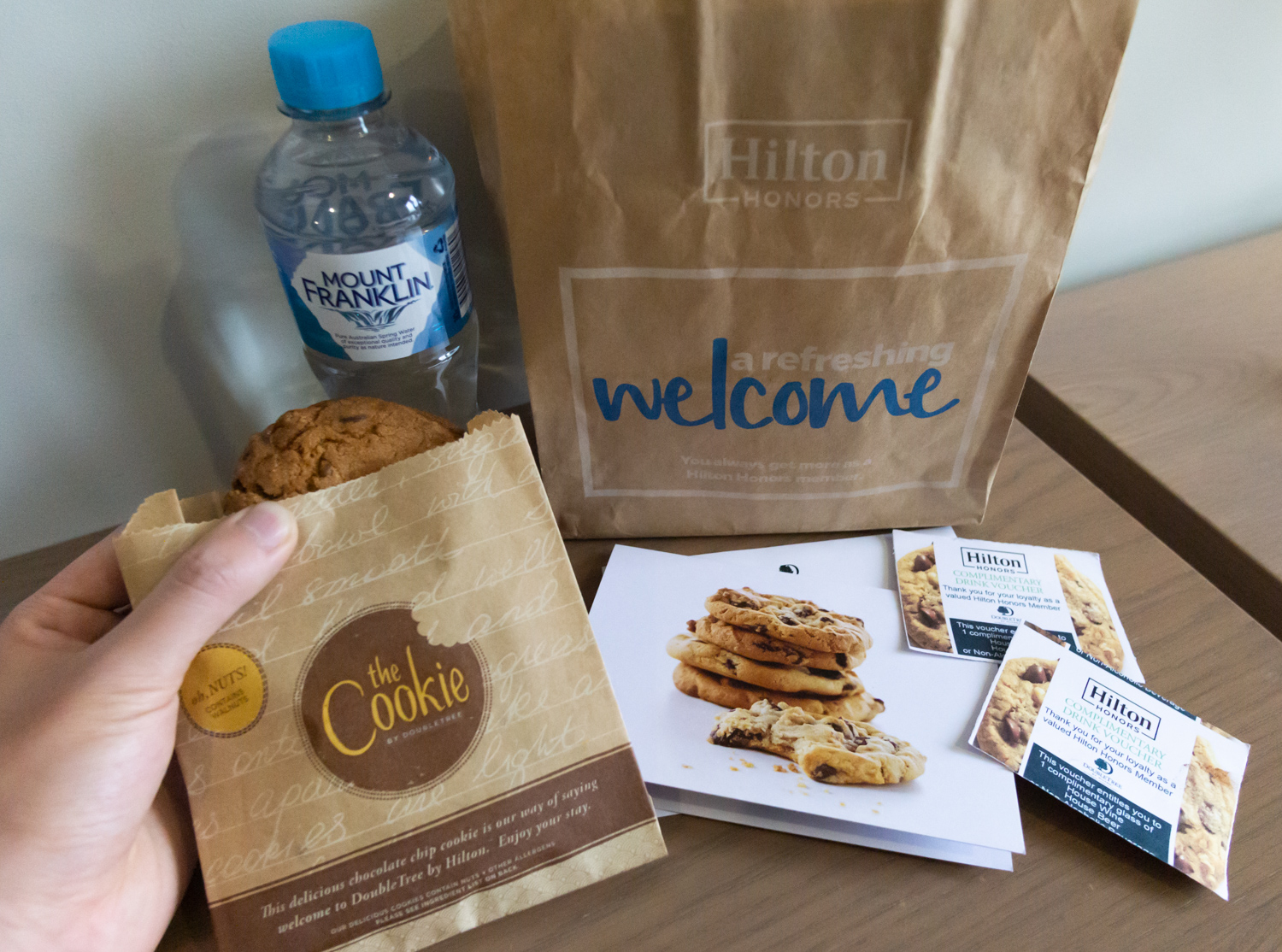 The lobby is cosy and casual with the reception desk right next to the hotel bar and restaurant Platform 270. During the evenings, it does give the lobby some 'atmosphere'.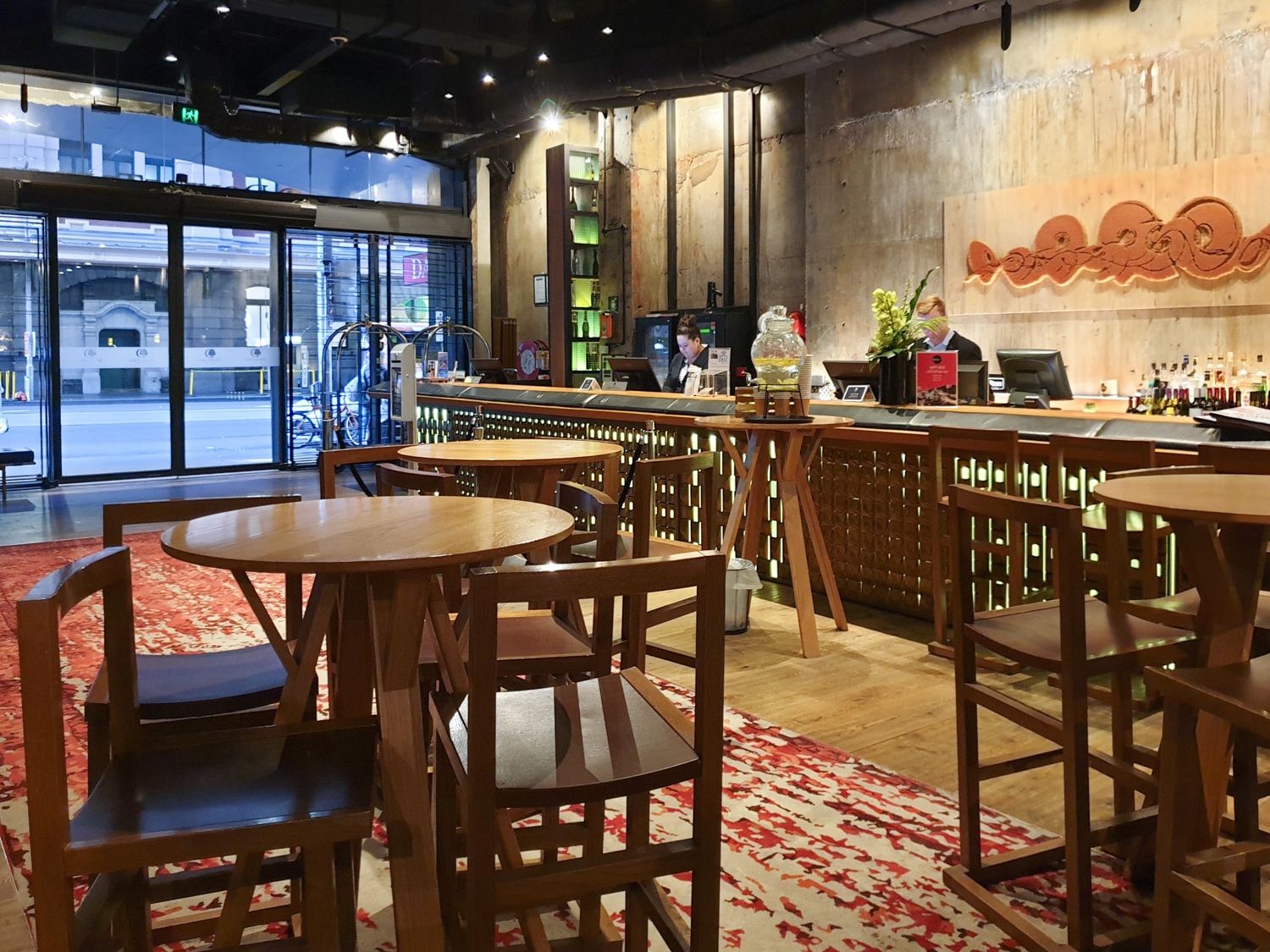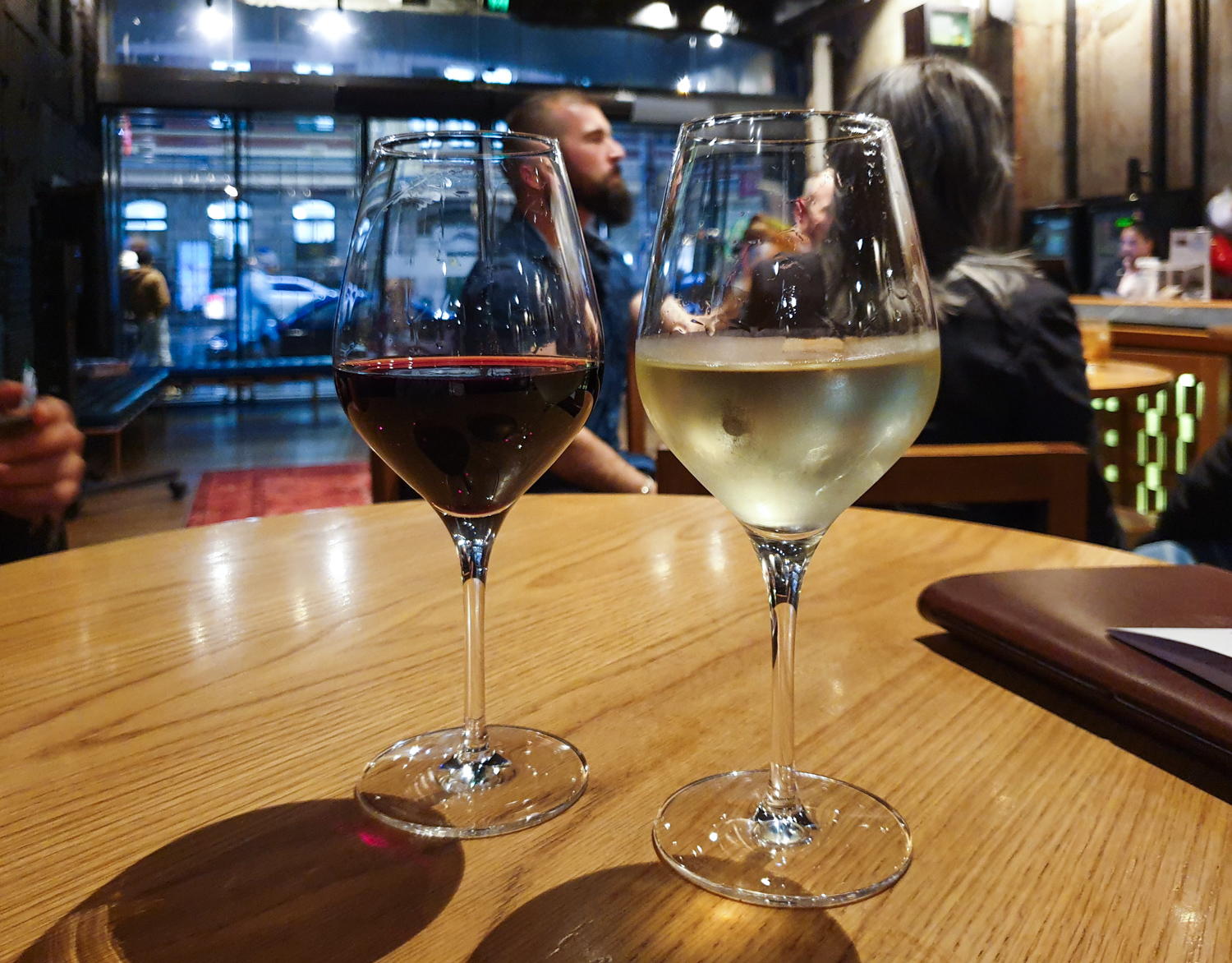 I was hoping for a complimentary room upgrade, an advertised Hilton Gold benefit, but unfortunately, there wasn't any availability on the day.
Paid 'standby upgrades' can be requested through your booking, which is only charged if you get the upgrade at check-in. I had the option of requesting a King Skyline View Room with Balcony for an extra $53 but declined to put the offer in.
Room Layout and Features
The upper floors of the Hilton are reserved for Hilton Honors members. Some magazines and daily newspapers are available from the common lift areas.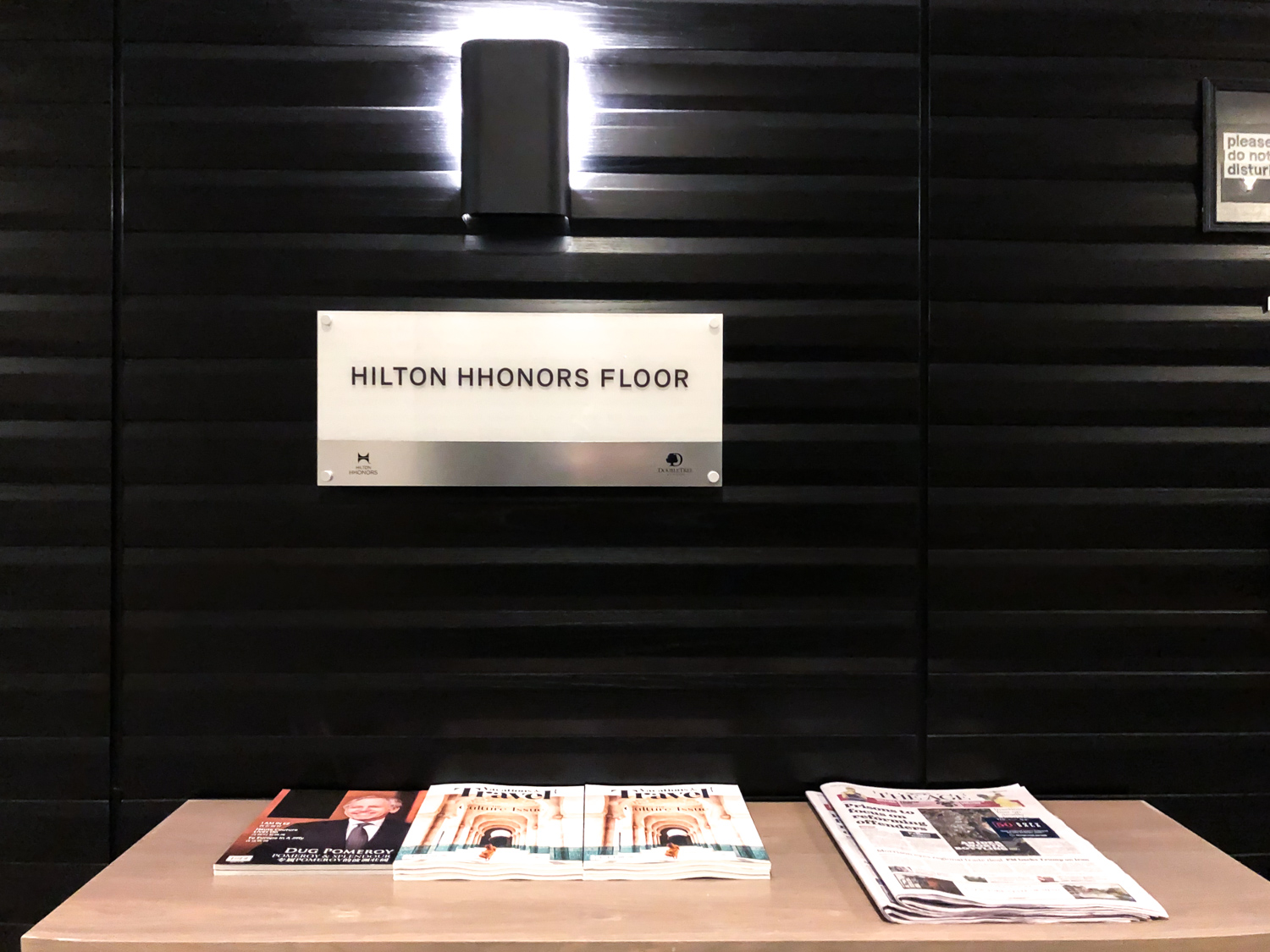 The King City view rooms are fairly spacious, although my 'city view' mainly consisted of adjacent rooftops. On my first impression, I liked the minimalist, simple design and open floor plan.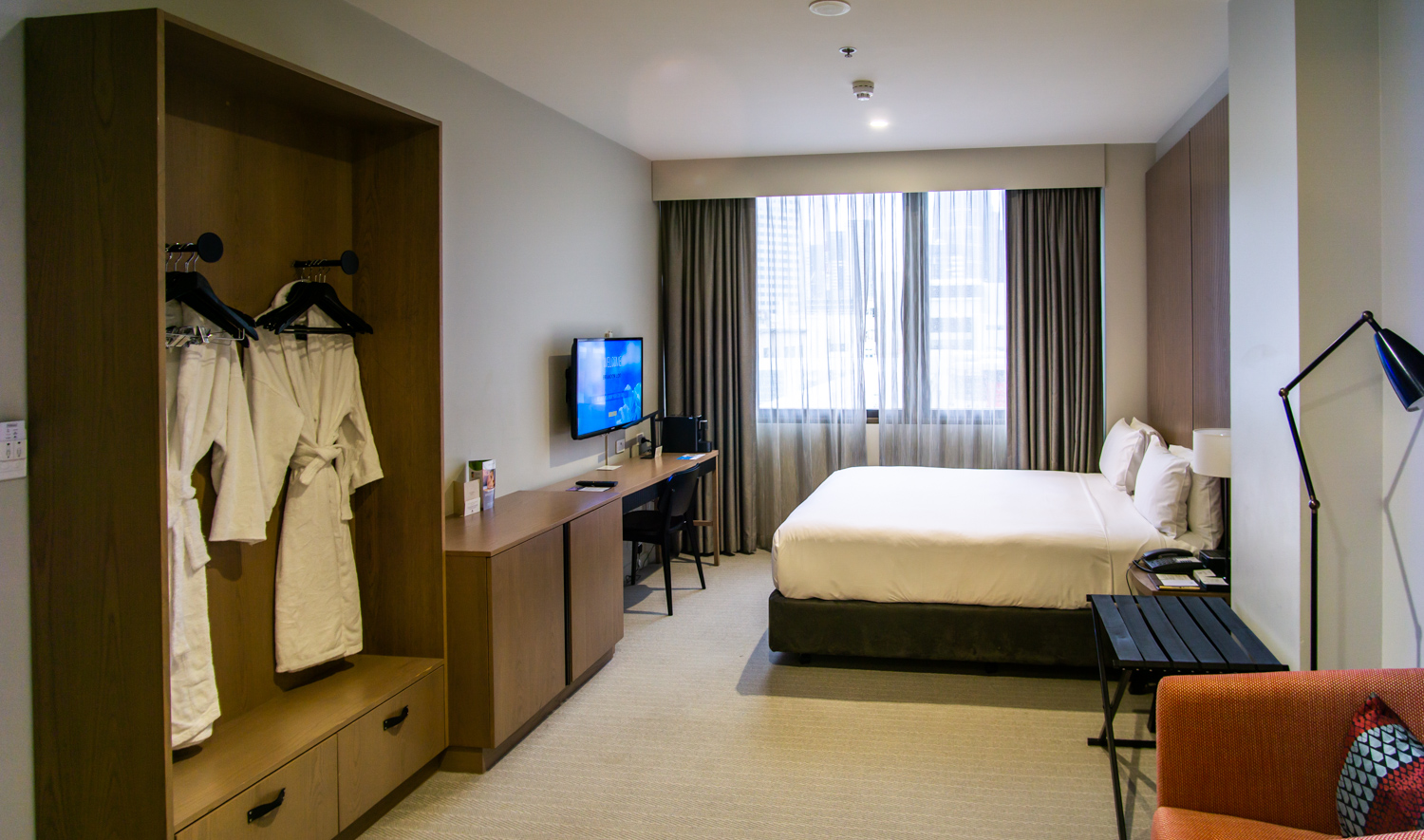 The King Bed is nothing to write home about. There isn't much in terms of bedside amenities – no charging ports or master light switches. In fact, I felt this whole setup was a tad too 'basic'.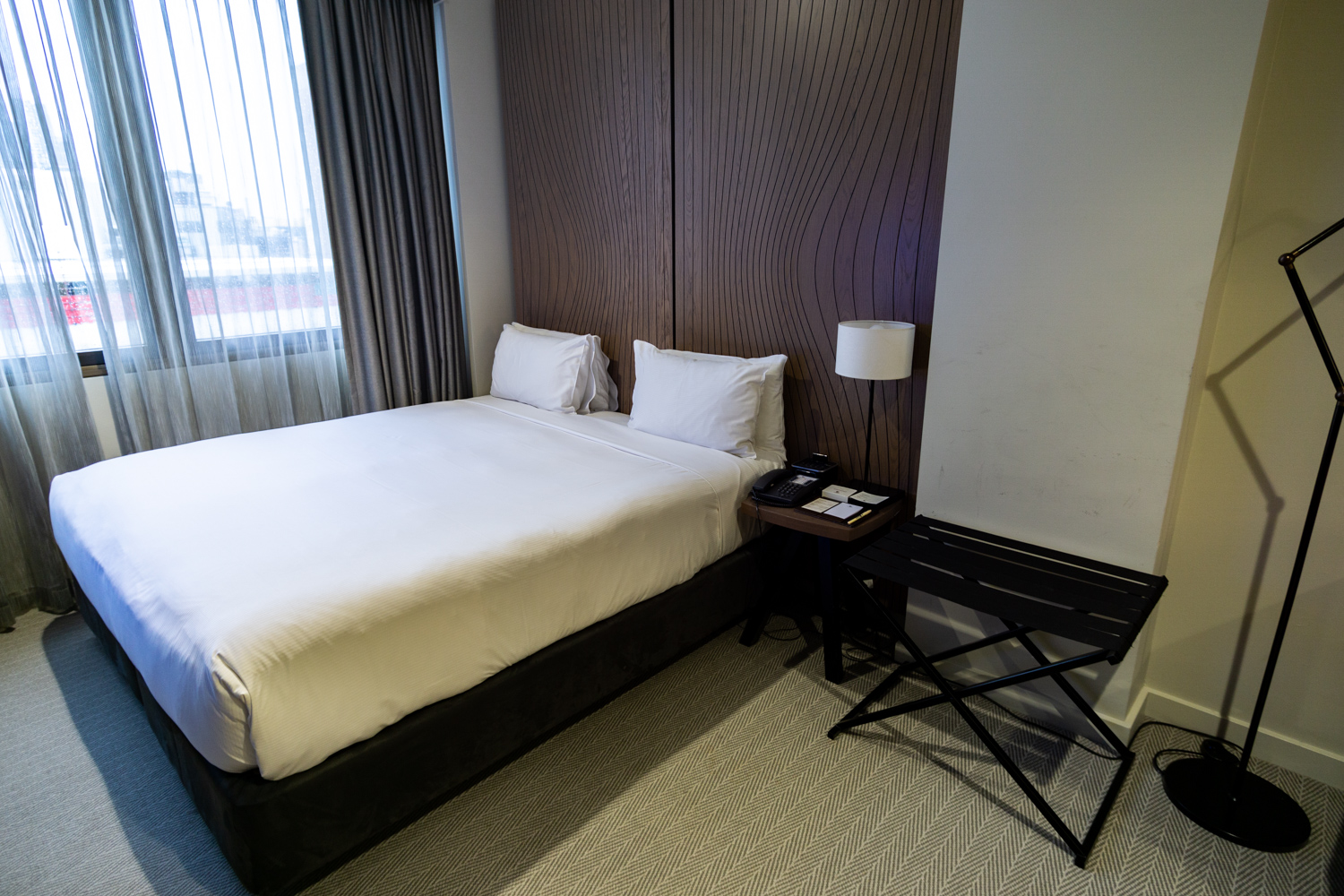 Opposite the bed is a 42' TV, a work desk and coffee pod machine. This is the best place to charge your electronics overnight.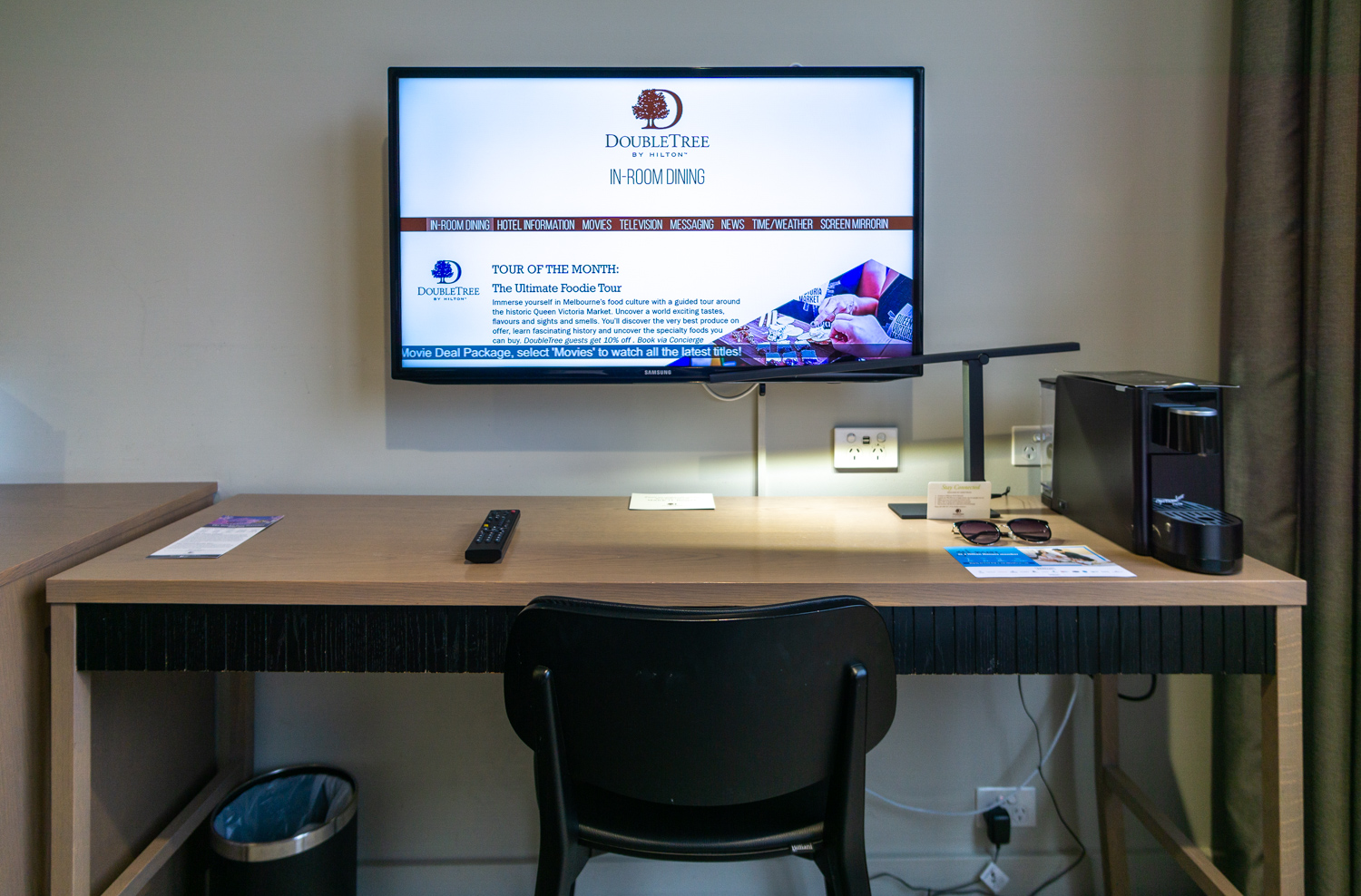 The TV has Miracast enabled, which means you can project the screens from some laptops and phones.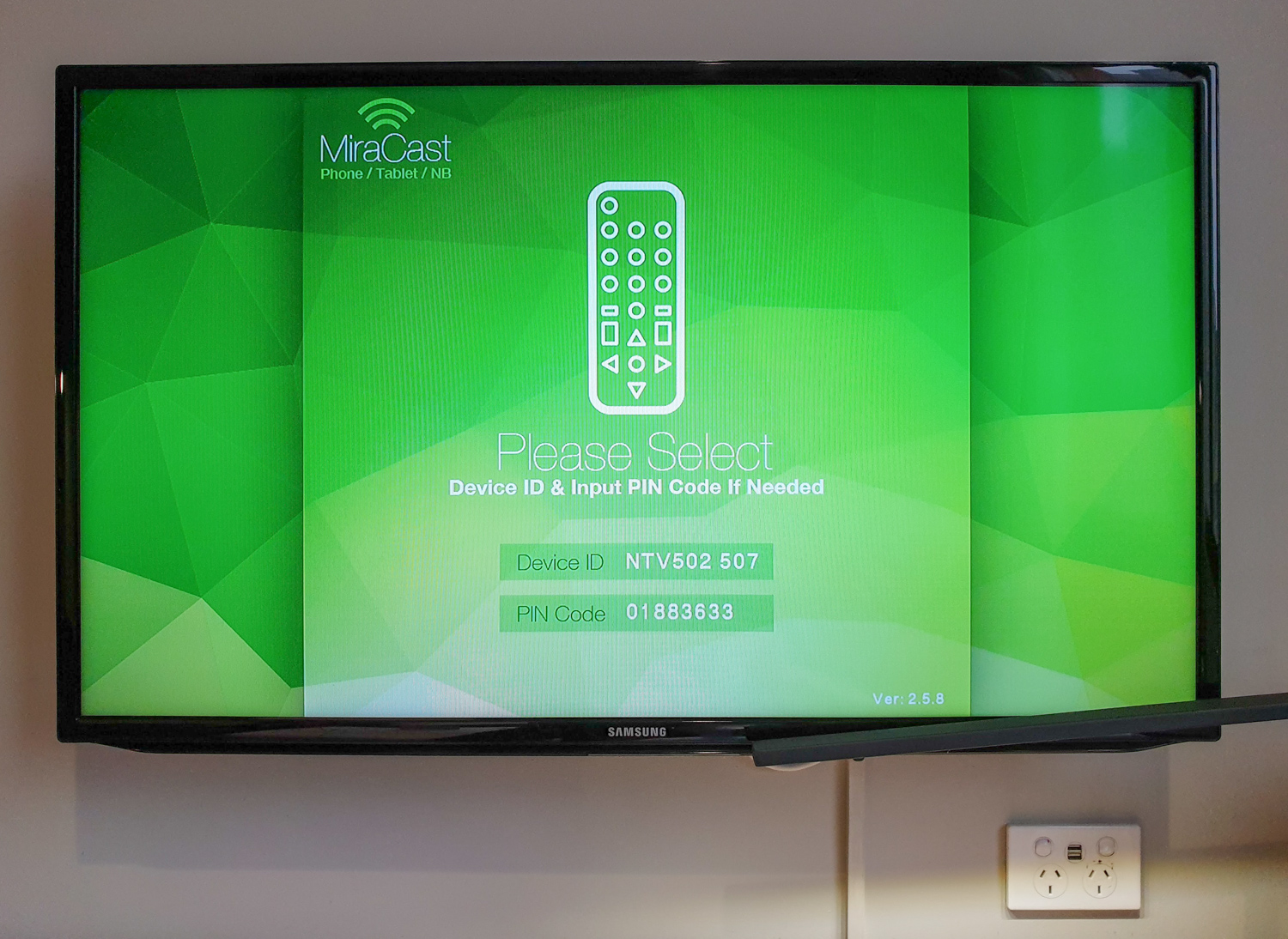 I tried it for a movie on my laptop. At first, I couldn't get a stable connection. But after trying again, I managed to mirror my laptop in 1080p and stream an HD movie file with relatively little stutter or delays.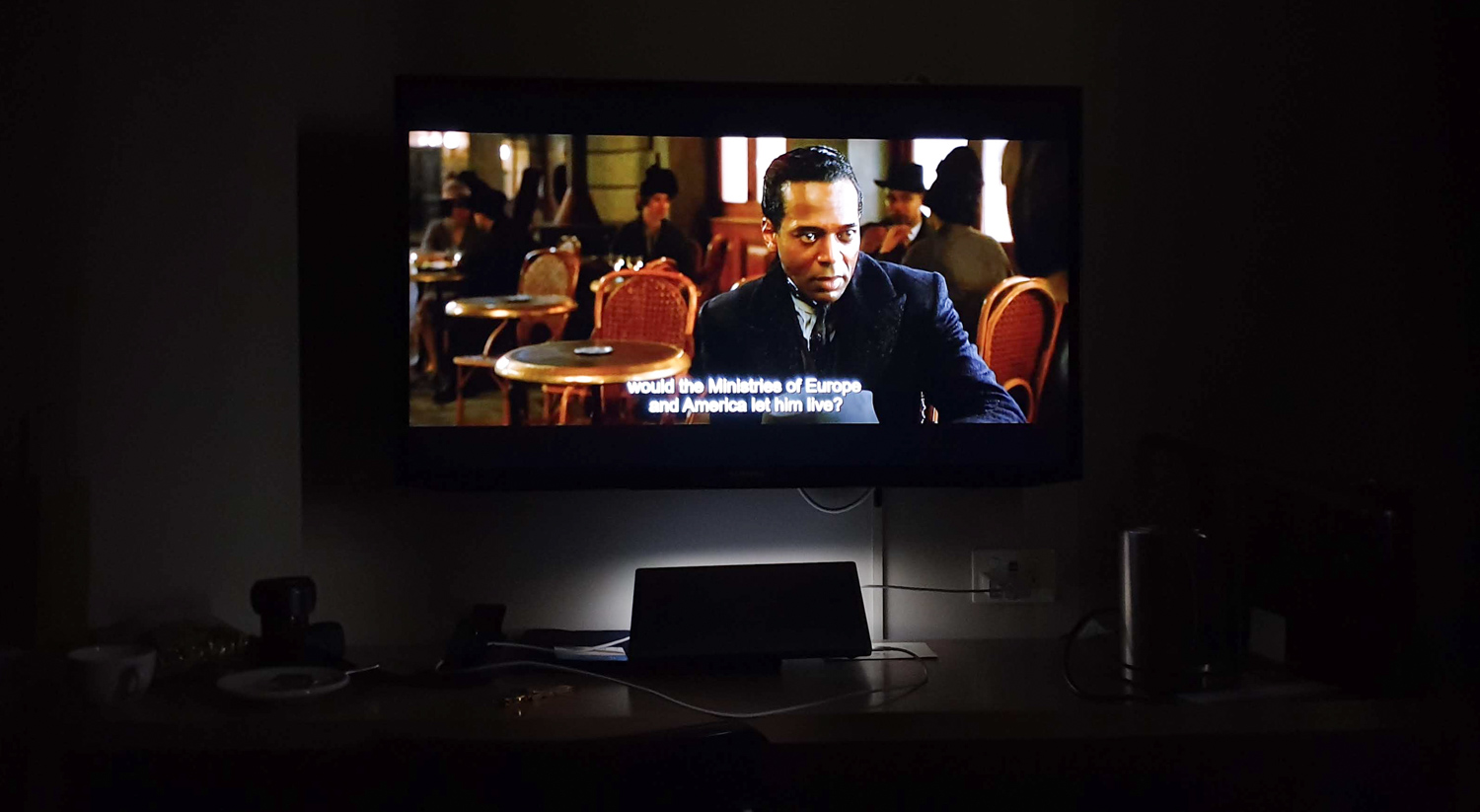 This cabinet has all the room essentials – kettle, tea and coffee facilities, an in-room safe and a fridge. The minibar isn't stocked by default though. You can pre-order a drinks package before you check-in or just order drinks as you go through room service.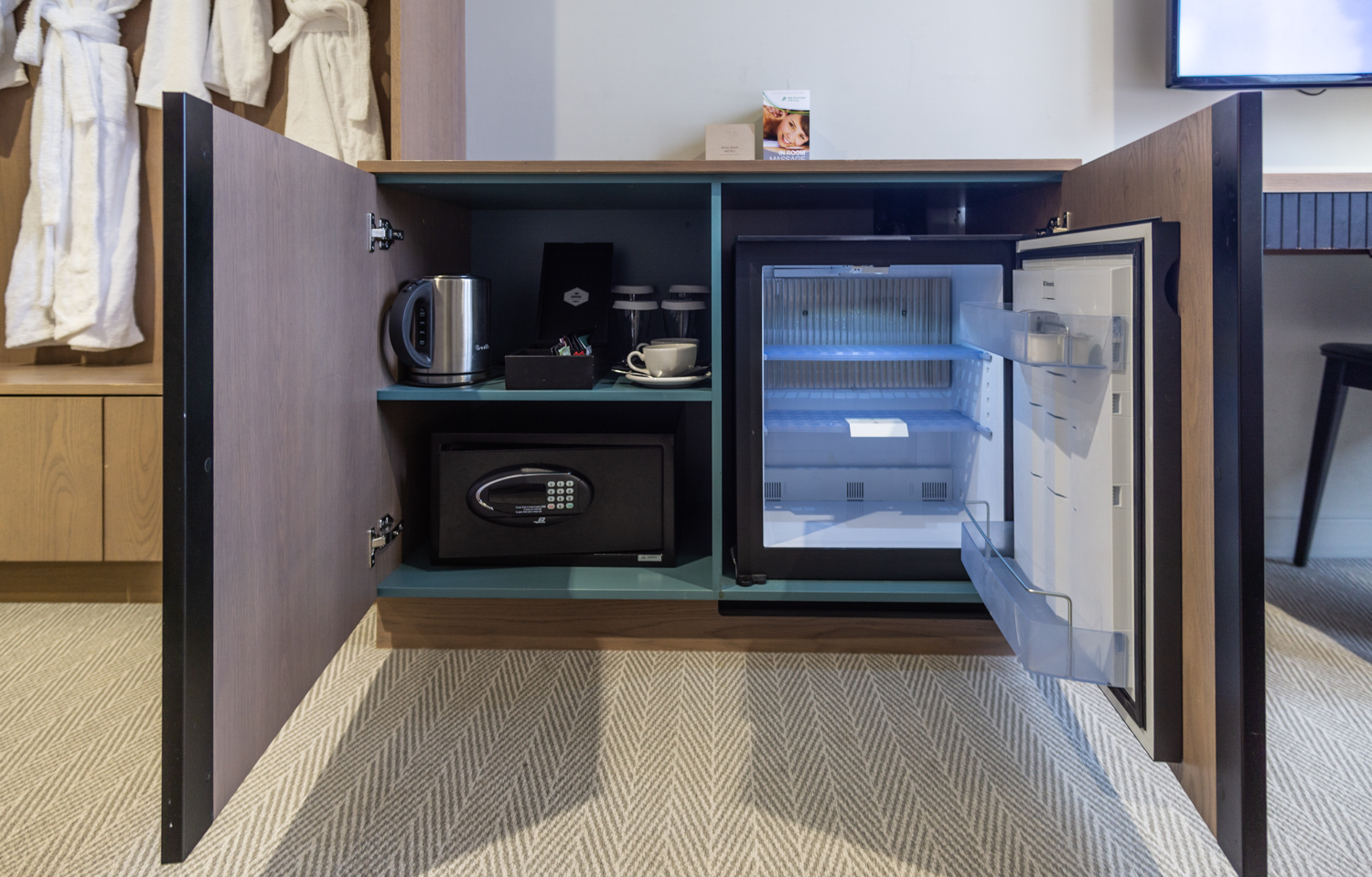 A cosy reading nook and full-length mirror finish off the room. The one major flaw I found is that the heating and cooling fluctuates a lot. If it got too cold, I would change the thermostat by 1 degree and within a few minutes, it would become uncomfortably warm, and vice-versa.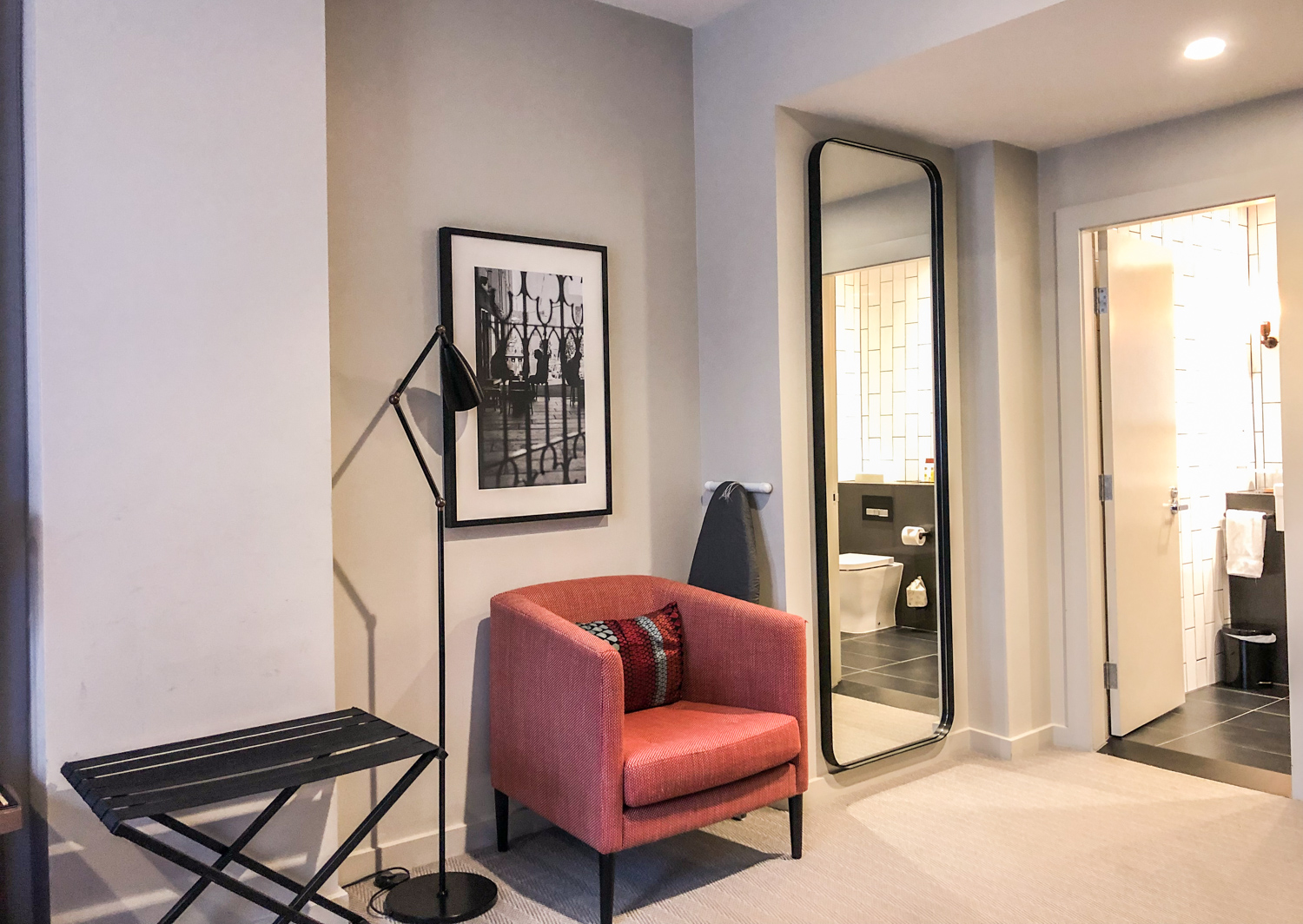 The bathroom sports a contemporary tiled design and walk-in shower with great water pressure. I really liked the warm yellow mood lighting by the sides of the mirror. If you're using the bathroom late at night, it's a far more calming atmosphere that won't shock you awake.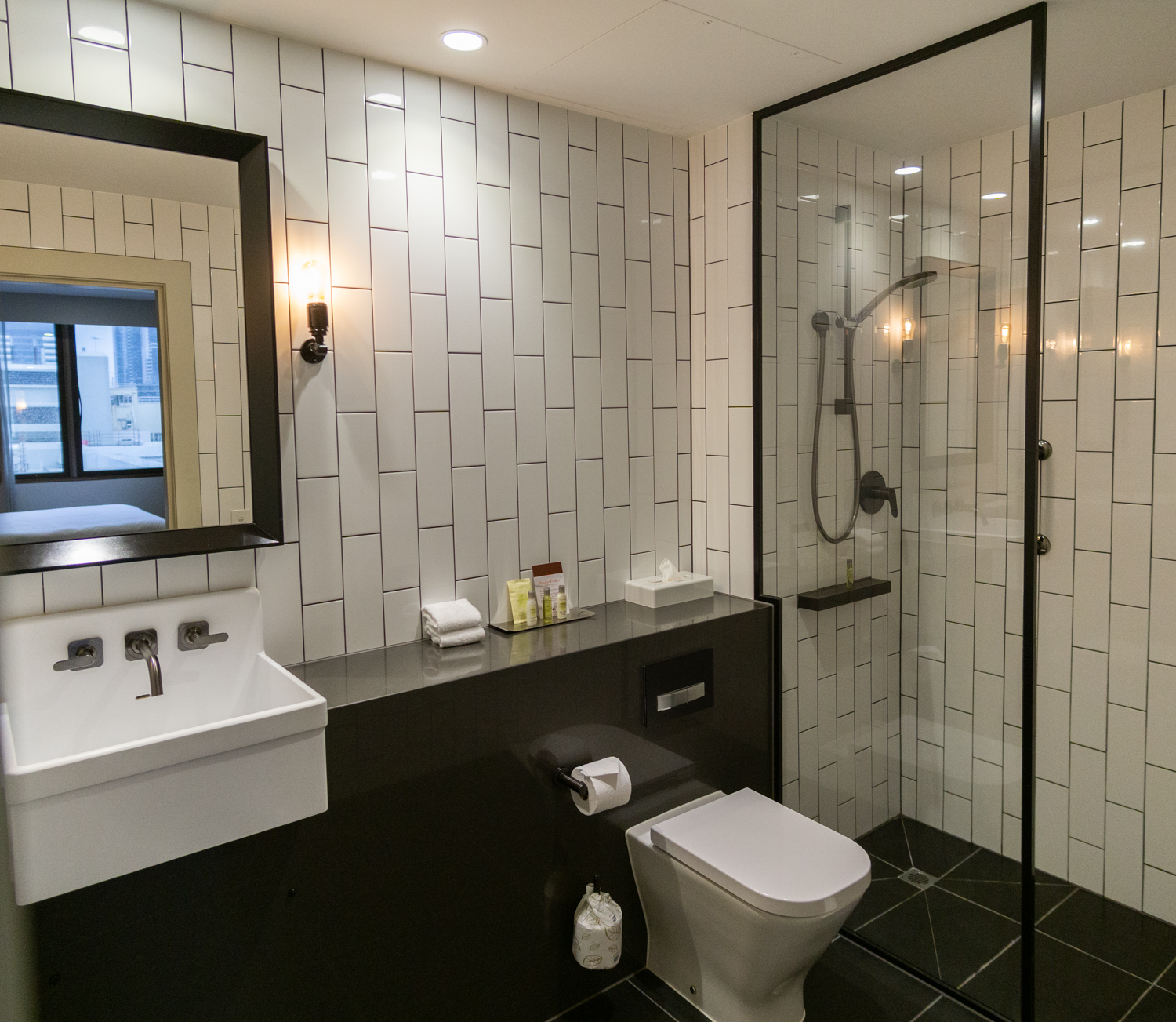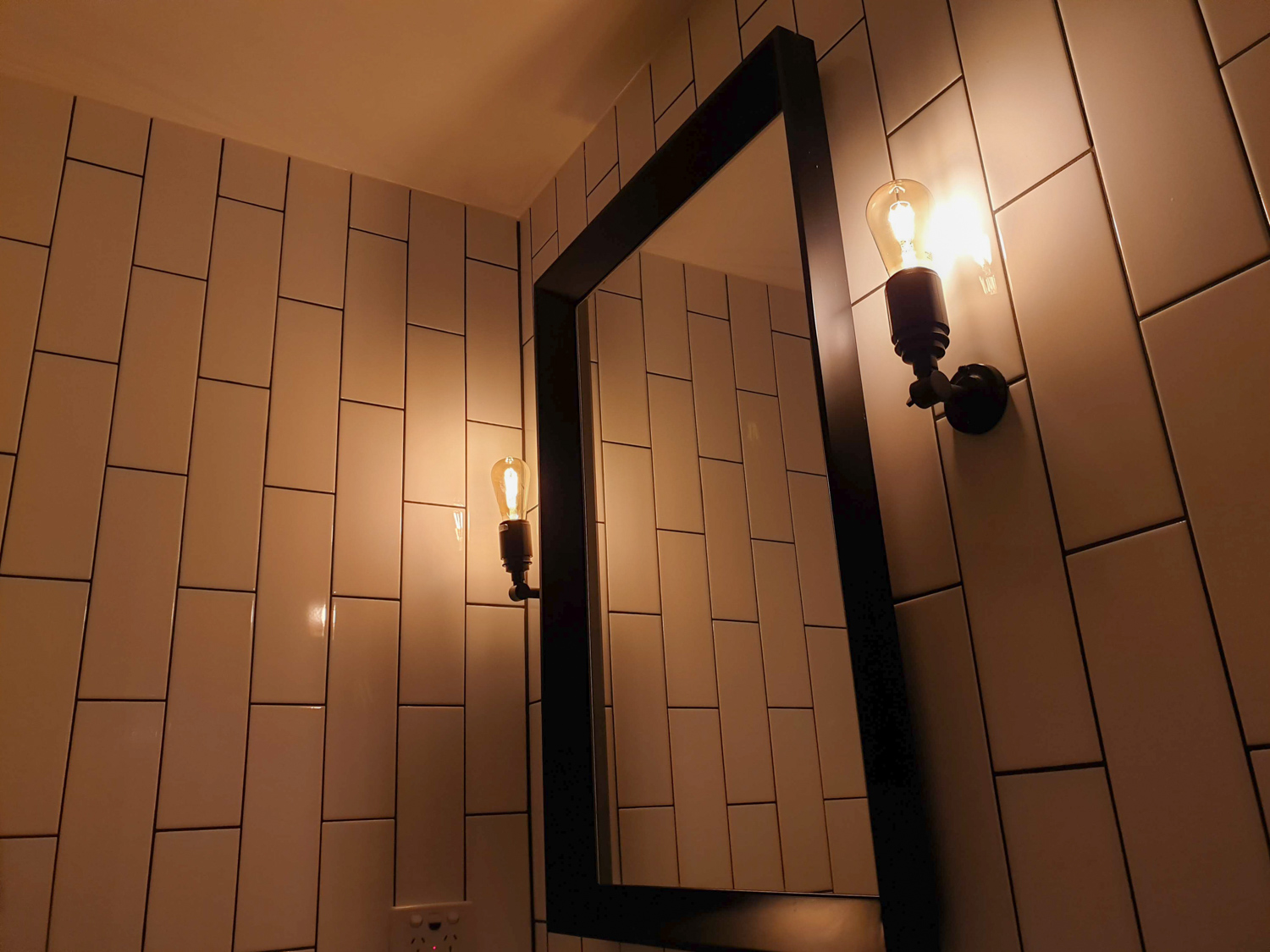 Basic Crabtree & Evelyn bathroom amenities are supplied.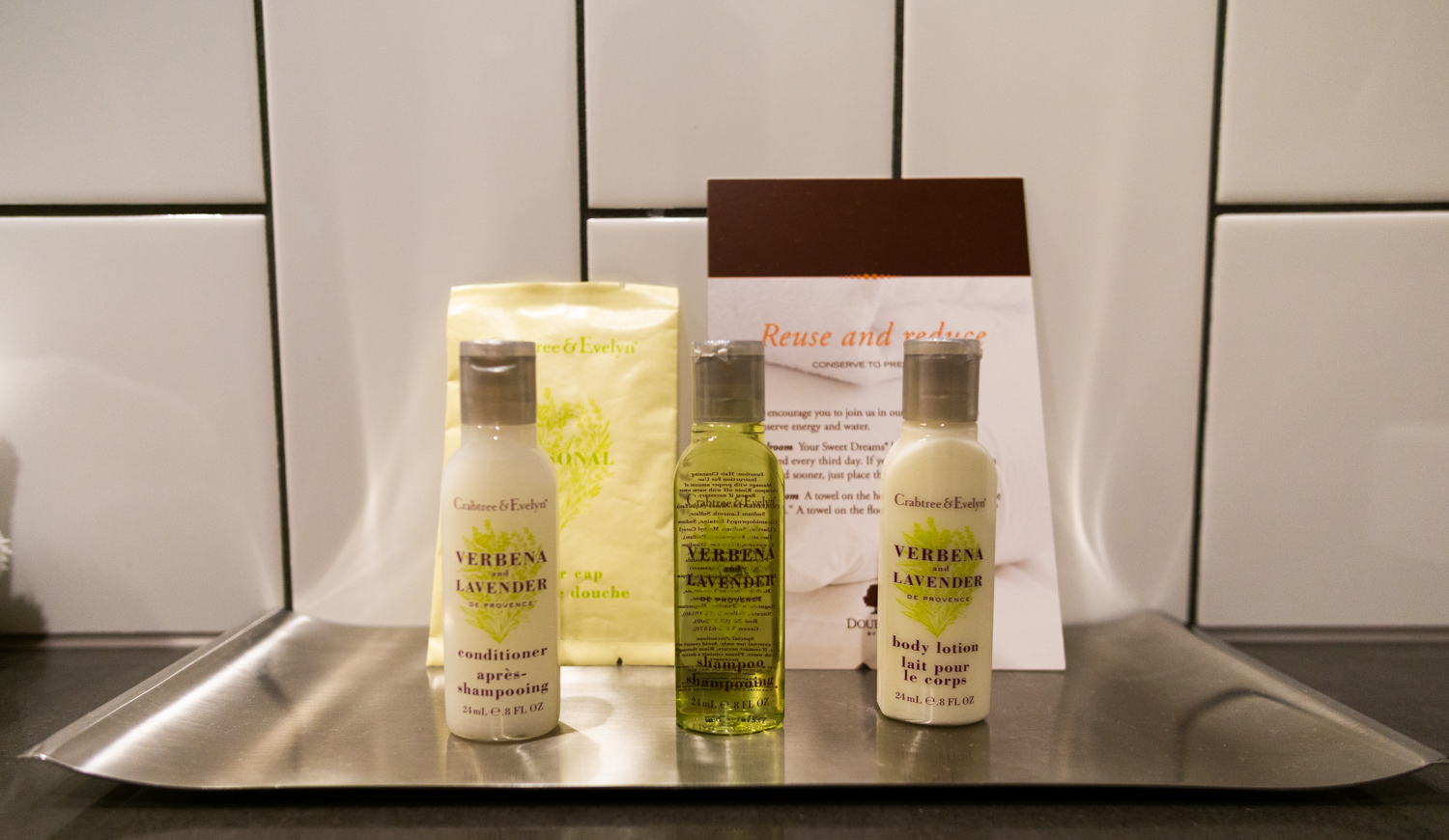 Hotel Services
Room service meals are supplied from Platform 270, with the menu visible through the TV. Prices appeared quite reasonable, although note the $5 delivery charge which seems standard.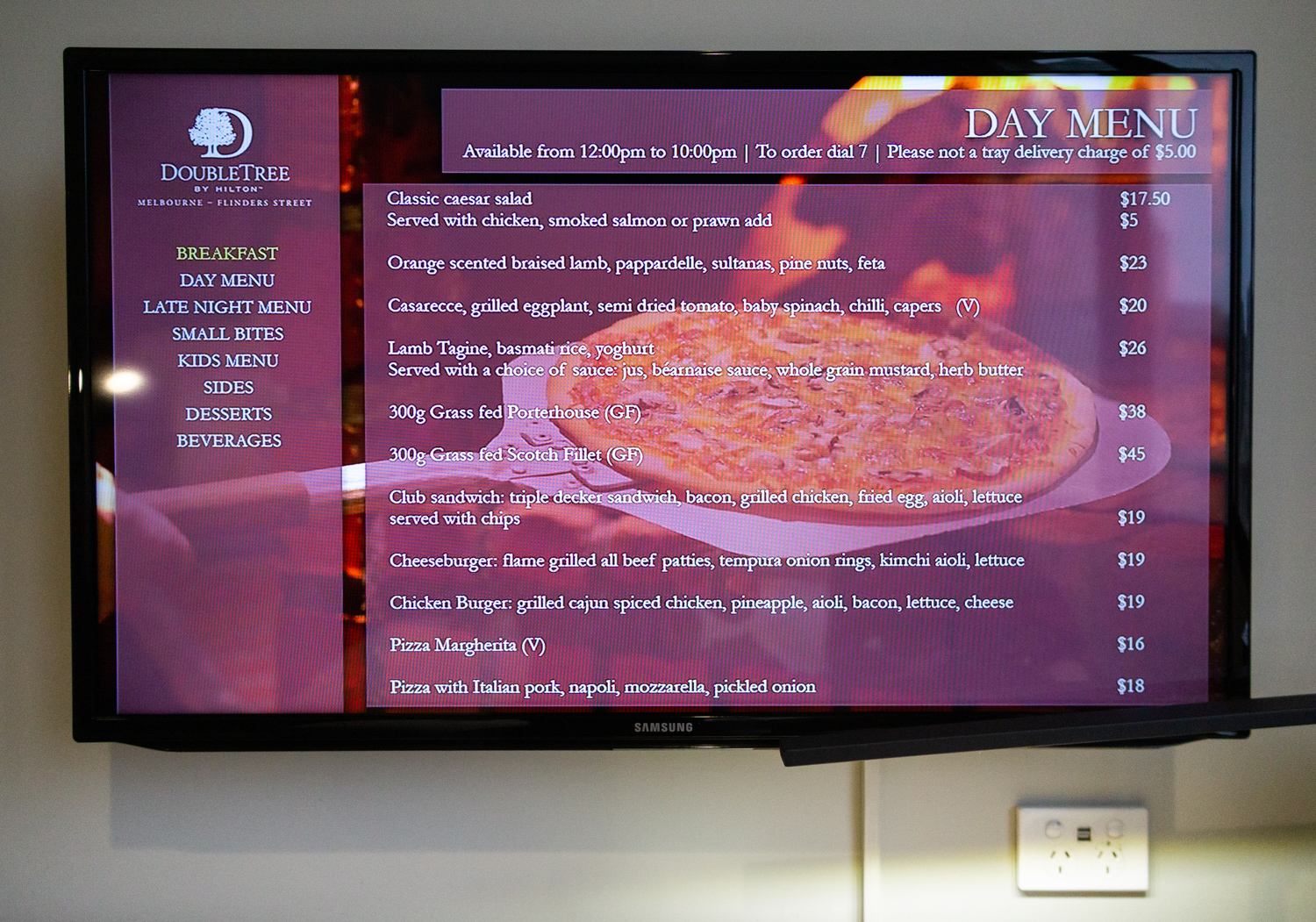 As mentioned earlier, drinks can be ordered for your minibar fridge through your reservation on the Hilton App or website.
Dining
Breakfast is served at Platform 270, the in-house restaurant on the ground floor of the building. Guests with Gold and Diamond elite status with Hilton Honors are eligible for complimentary continental breakfast, with an upgrade to the full hot breakfast for $10 per person, per day.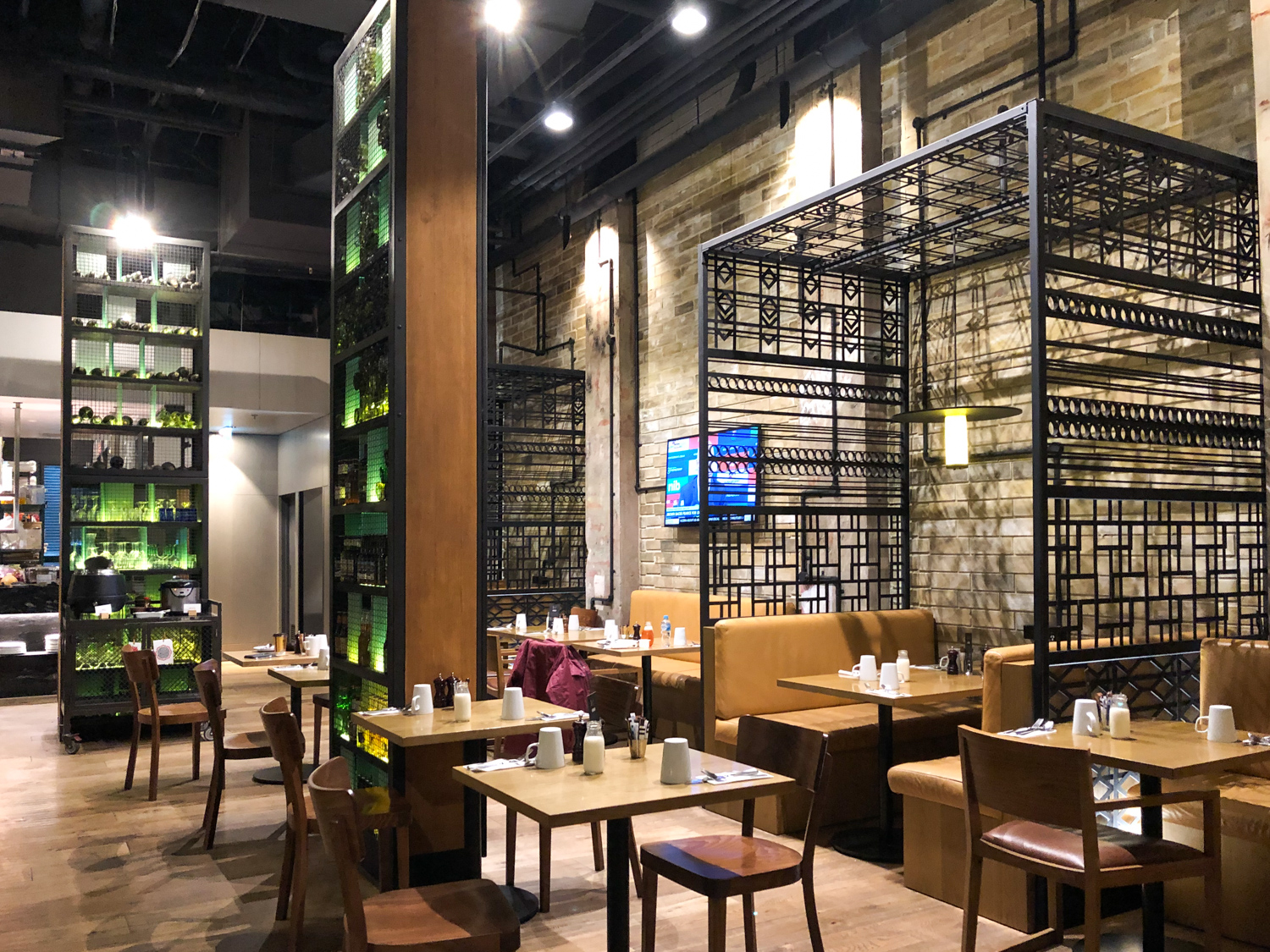 However, full breakfast was included in our room rate for this stay anyway. Upon settling down in our booth, orders were taken for made-to-order eggs which include the usual scrambled, fried or omelette with a selection of fillings.
Here are some shots of the breakfast selection.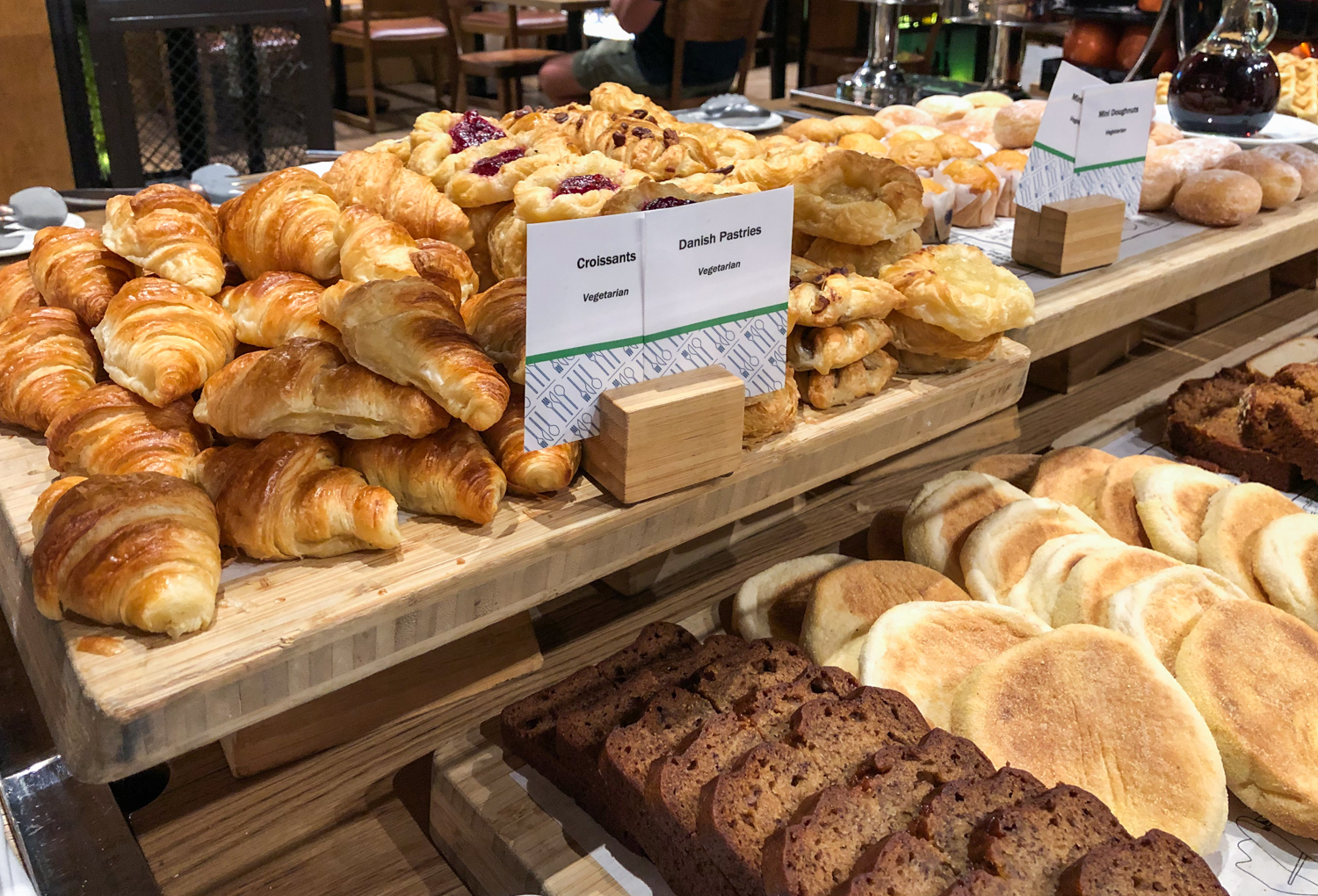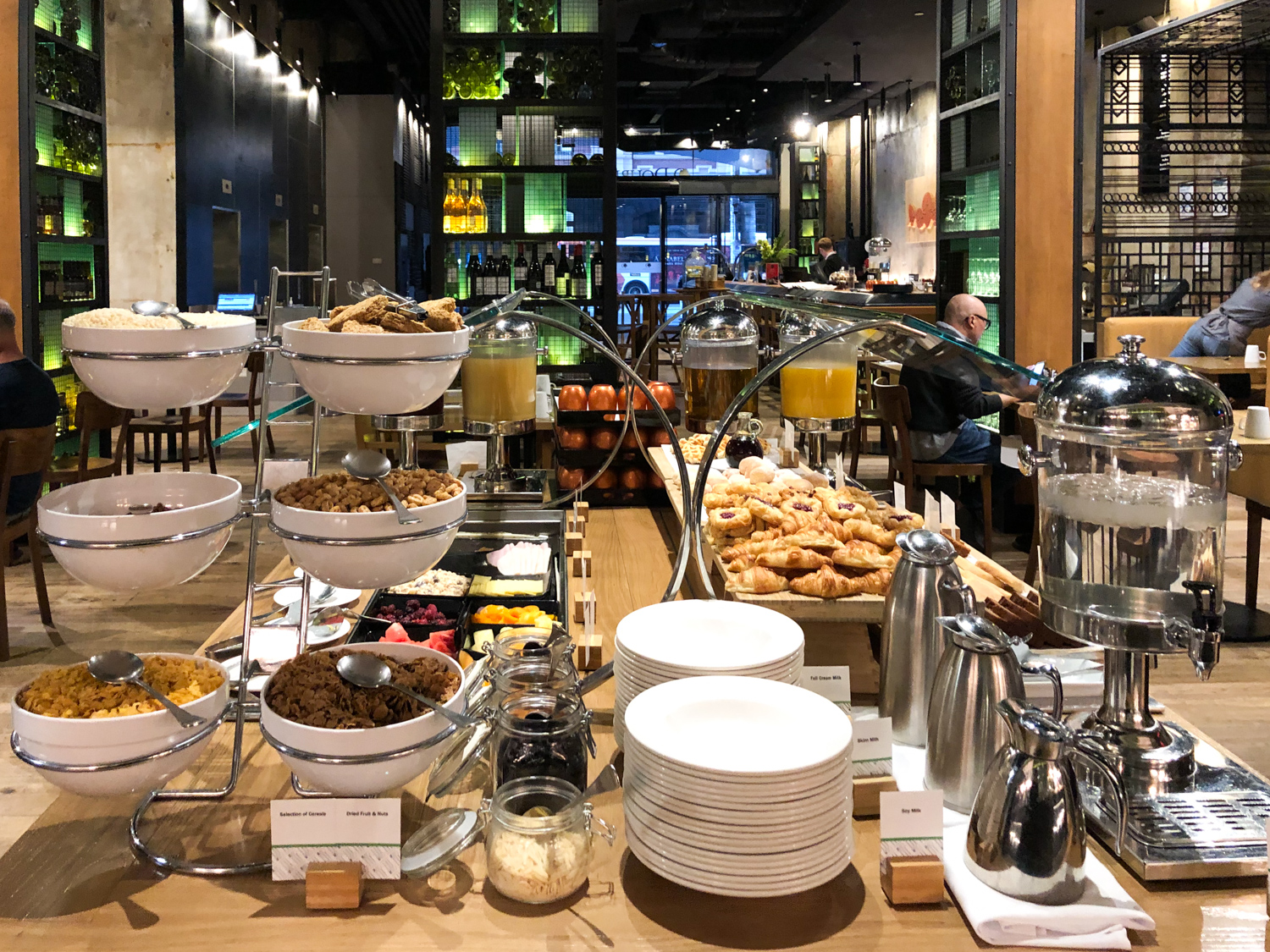 A juicer is also available for those who prefer fresh rather than pre-mixed juices – very similar to those found in Qantas Domestic Business Lounges!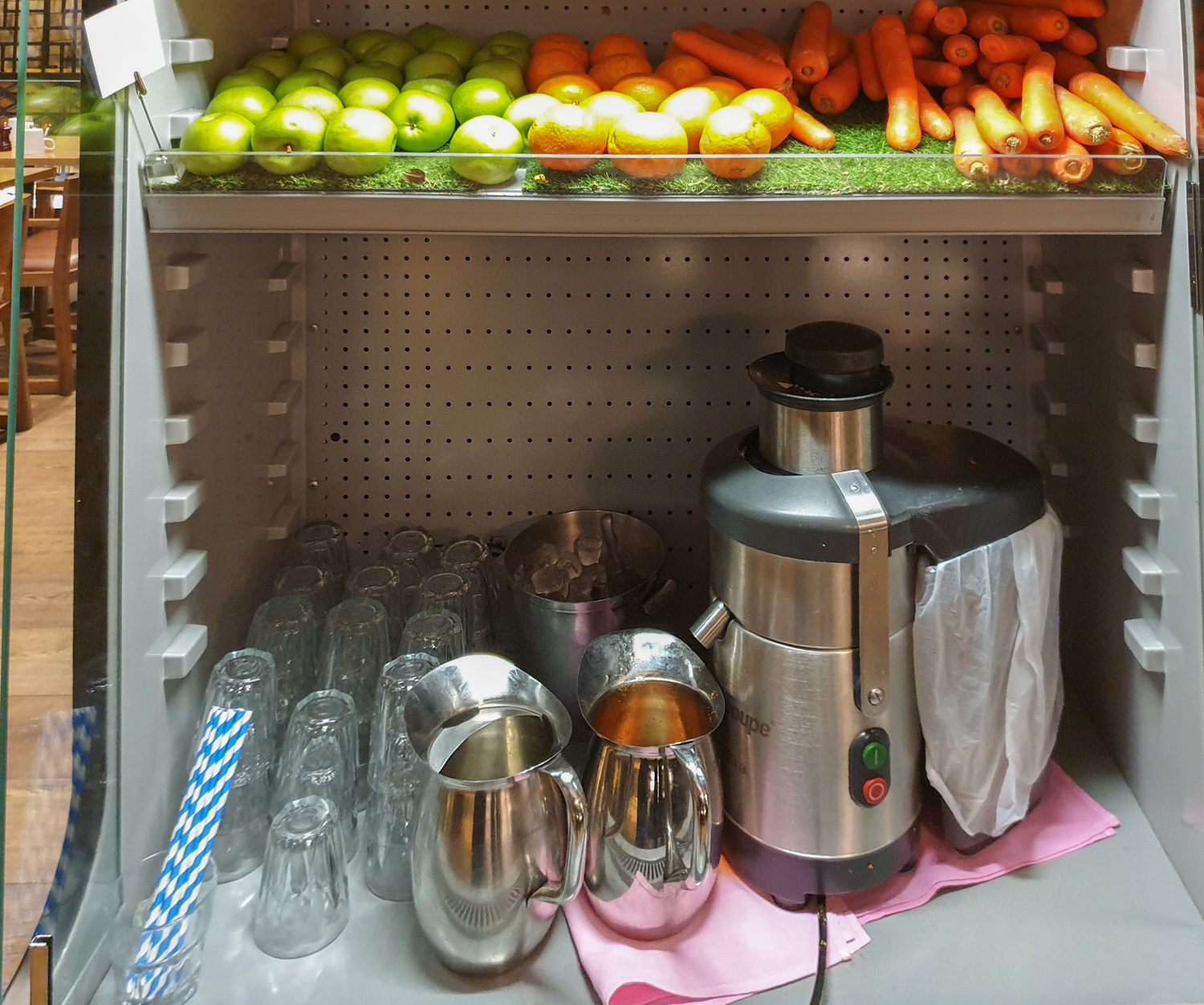 Hot dishes include fried rice, steamed vegetables, bacon, sausages, tomatoes, baked beans, boiled eggs, hashbrowns and steamed dumplings. I probably wouldn't pay an extra $10pp for it, but it's nice to have it all available if you've got the full breakfast included.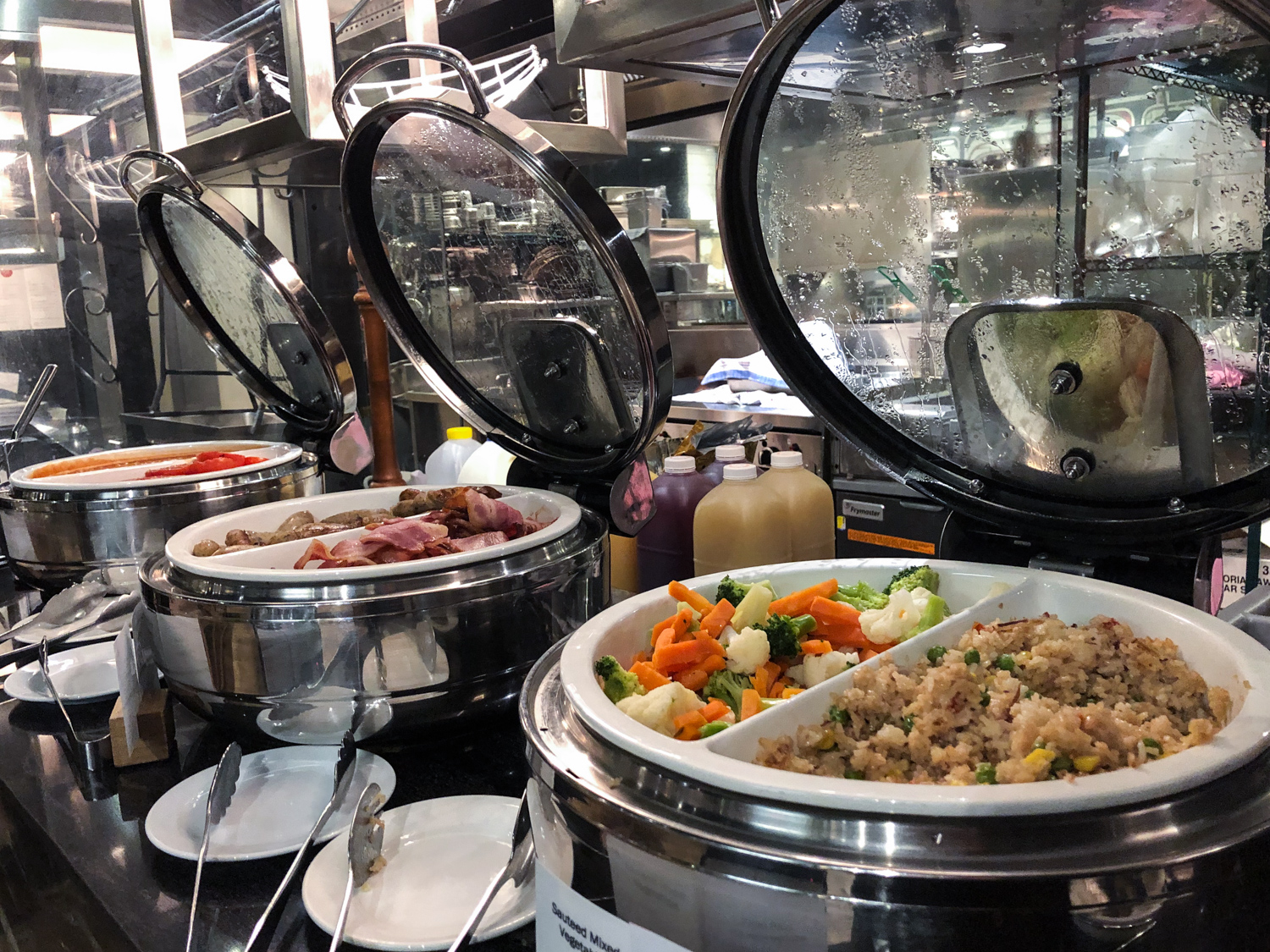 Facilities
The Fitness Centre, which offers an excellent view of the iconic Flinders Street Train Station, is equipped with everything you need for a quick workout.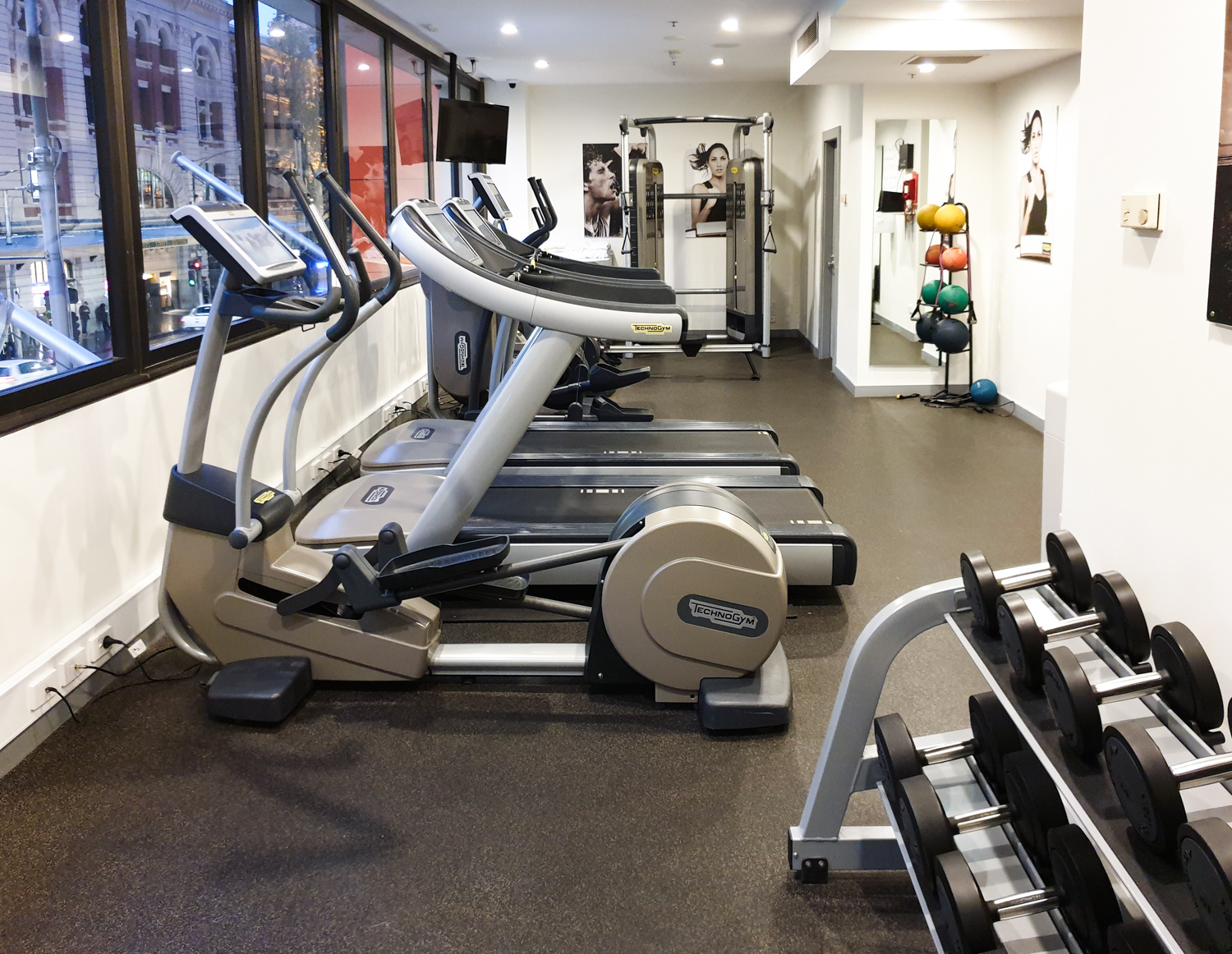 The hotel also has basic business and meeting facilities.
Around the hotel
The DoubleTree Hilton is located in the heart of Melbourne CBD, right opposite the iconic Flinders Street Station and near Federation Square. It is a convenient location for tourists and business travellers alike.
Summing up
Keeping in mind the 'Flash Sale' room rate I paid and DoubleTree being a mid-tier Hilton brand with more simple amenities, I was reasonably happy with my stay. The main issue for me was the fluctuating temperature problem. I also thought the bed setup was a tad too 'basic' and would have liked to see a bedside table for each person, plus charging ports.
It otherwise ticks all the boxes for travellers who need a comfortable place to stay with a good location, and who can say no to cookies? When booking a room, I would recommend paying a bit extra and avoiding one of the hotel's thirteen 'Interior Rooms', which don't have any window views.
Things I liked:
Central location – close to Flinders Street Station and in the CBD
Digital check-in and being notified by SMS when my room was ready early
Warm cookies!
Miracast-enabled TVs
Platform 270 buffet breakfast
Things I did not like:
Room heating/cooling was temperamental – often too hot or too cold
Lack of charging ports and bedside tables on both sides of the bed
This content contains affiliate links from which Point Hacks may earn commissions from transactions generated from new customers, bookings and general enquiries. Find out more here.
DoubleTree Hilton Melbourne King Room review
was last modified:
December 7th, 2021
by