Japan Airlines' spacious Sakura Lounge in Tokyo Narita International Airport is one of the airline's two flagship Business lounges – the other located at Tokyo Haneda. It's a lofty two-level space with a range of seating options and amenities sure to make your visit a comfortable one.
Designed in warm tones and featuring expansive tarmac views across both levels, the lounge is a nice place to while away a few hours. Though it pays to be strategic about where you set up, as you'll discover below.
Flying JAL Business Class from Melbourne to Frankfurt via Tokyo Narita – before continuing on to beautiful Belgium – I swing by for breakfast.
Here's what you can expect in JAL's Sakura Lounge in Tokyo Narita.
Also read: Japan Airlines Boeing 787-8 Business Class (Melbourne – Tokyo Narita)
Location
Located in Tokyo Narita International Airport's Terminal 2, the Sakura Lounge is handily mere moments away from immigration. Bizarrely, there's only a sign for the First Class Sakura Lounge outside, and I experience a momentary flicker of hope that I'll be lounging here instead. You can but dream.
Once I head through the doors to the central reception desk, though, I'm directed to the regular Sakura Lounge on the right upon presenting my boarding pass. Hopes dashed, I head inside.
While the JAL website lists the lounge's opening hours as from 7:30 am to 10 pm, when I arrive at 7 am I find it already open. Which is fortunate as I'm ravenous and in dire need of a second coffee.
Layout and seating
The spacious Sakura Lounge features a seemingly endless array of seating options across its two levels. Entering on the second level, I head straight up the escalator to Level 3, not realising that the downstairs floor even exists. At the top of the escalator sits the casual dining space. I find it sterile and a tad chaotic, flanked by a drinks station near the windows and the buffet station at the back. Charcoal tiles and haphazard seating do nothing to warm up the space or give it a sense of cohesion.
In the centre there are four high work benches with powerpoints, though I can't figure out why anyone would opt to conduct business in this thoroughfare devoid of feng shui. Armchairs line the windows, and to the right near the entrance there's a small lounge area with dining tables. Guests traipse through the space in all directions. After a few minutes, I'm keen to escape.
I pass through to the quieter second room, which has more dining tables along the windows. I'm a window gal – onboard and in life – so I pull up a pew here. The rear of the space caters to business travellers, to an extent I've not seen in lounges elsewhere. Rows of workbenches lined with powerpoints extend to the back wall, so many it looks like an ordered classroom. In terms of layout and general vibe, the Sakura Lounge has done nothing to impress me so far.
But downstairs it's a different story. The lower level is chicer and more refined, with an elegant lounge adorned with flower arrangements and sweeping tarmac views. I kick myself for not doing a lap of both levels before settling on a spot to set up. I always do this – and recommend you do the same – so I'm highly annoyed at myself. In fact, I only head down the grand staircase in the name of research with just 20 minutes to spare before heading to my gate. It's a mistake I won't make again.
You'll find a range of seating on offer down here. Three rows of leather armchairs flanked by tables with reading lamps line the windows. Further back there's an abundance of cream leather armchairs and burgundy fabric-covered chairs. Again, small tables abound, enhancing comfort and ensuring there's space for your belongings. There's also a long bench with powerpoints set up for working. The bottom line? Whatever your preference, downstairs you'll find a seating option to suit you.
On the left is a cosy darker lounge set back from the windows, perfect for relaxing or having a nap. Head to the right, passing in front of the staircase, and another avenue of seating awaits. More armchairs and tables with reading lamps line this outer spoke. It's certainly the quietest of the many spaces – on my visit it's a ghost town. So if you're looking to kick back undisturbed, set up shop here.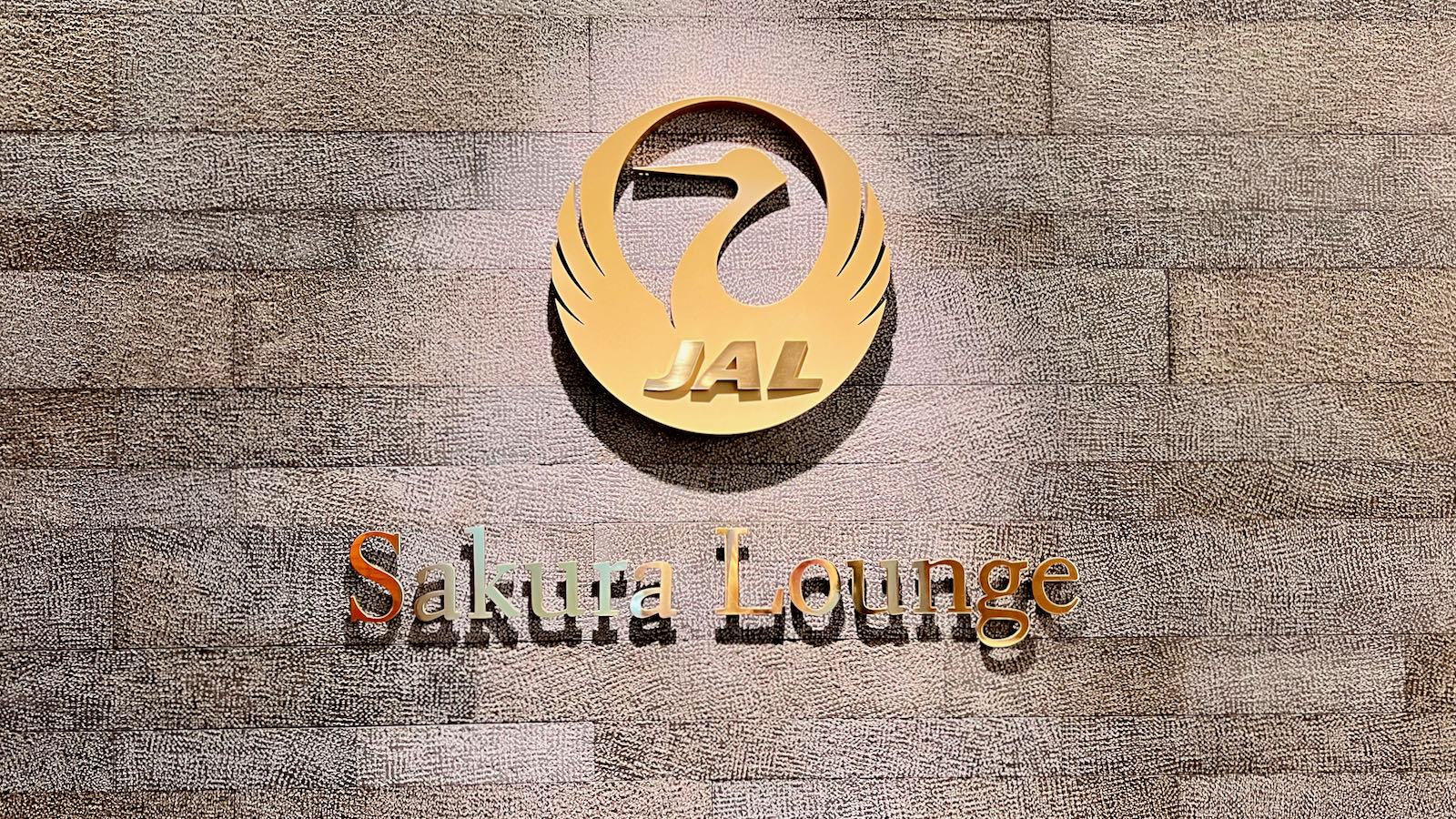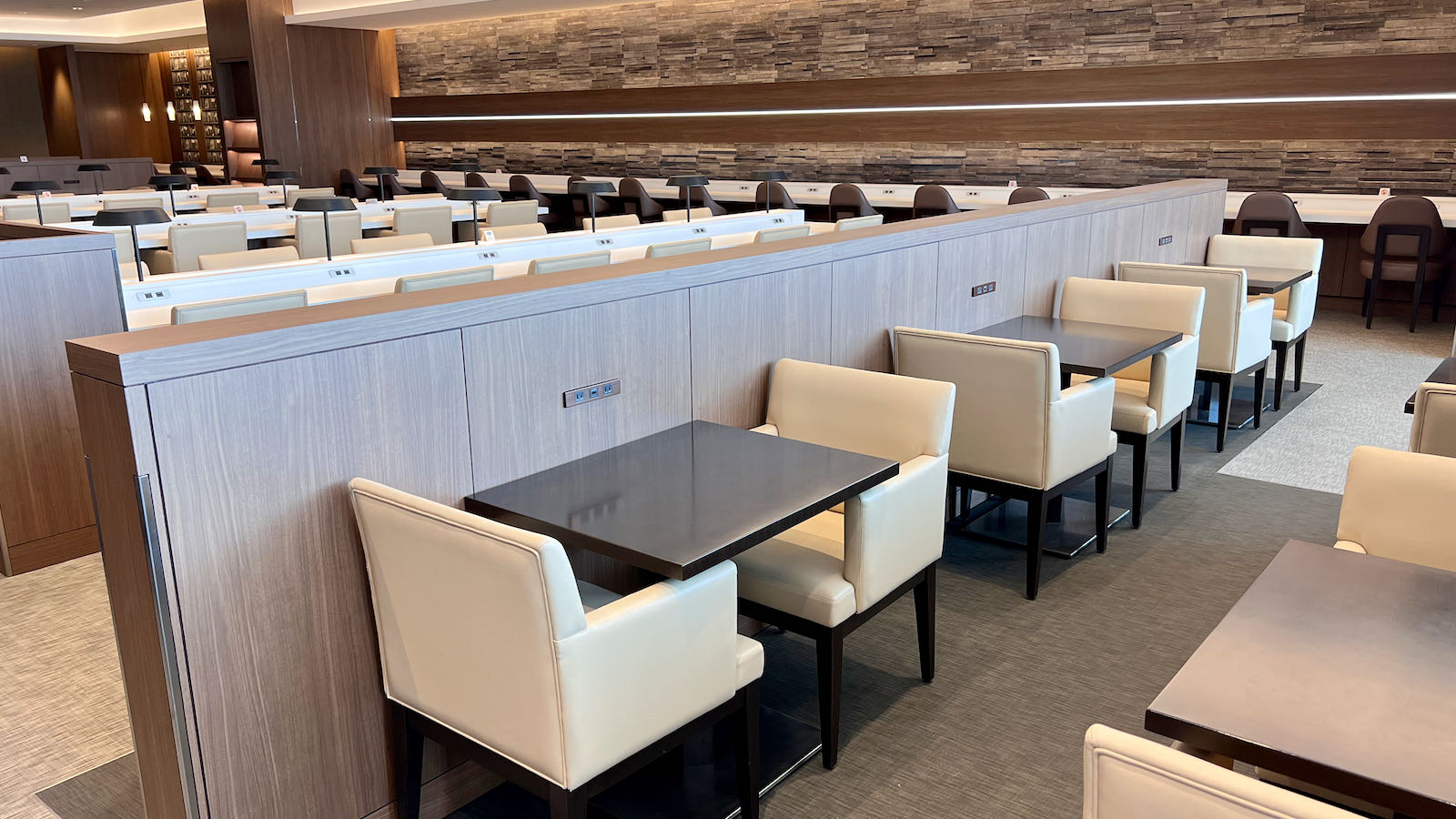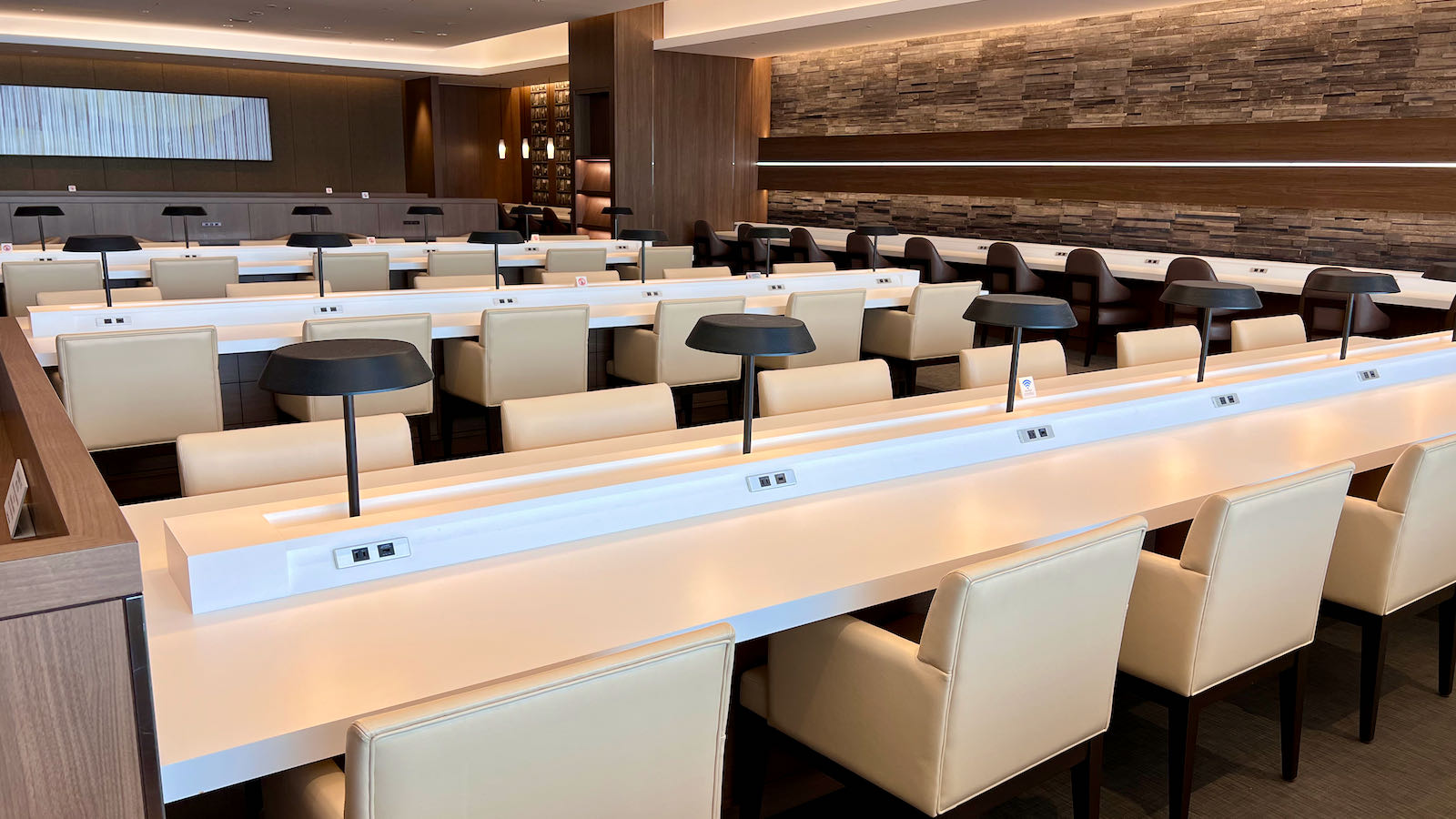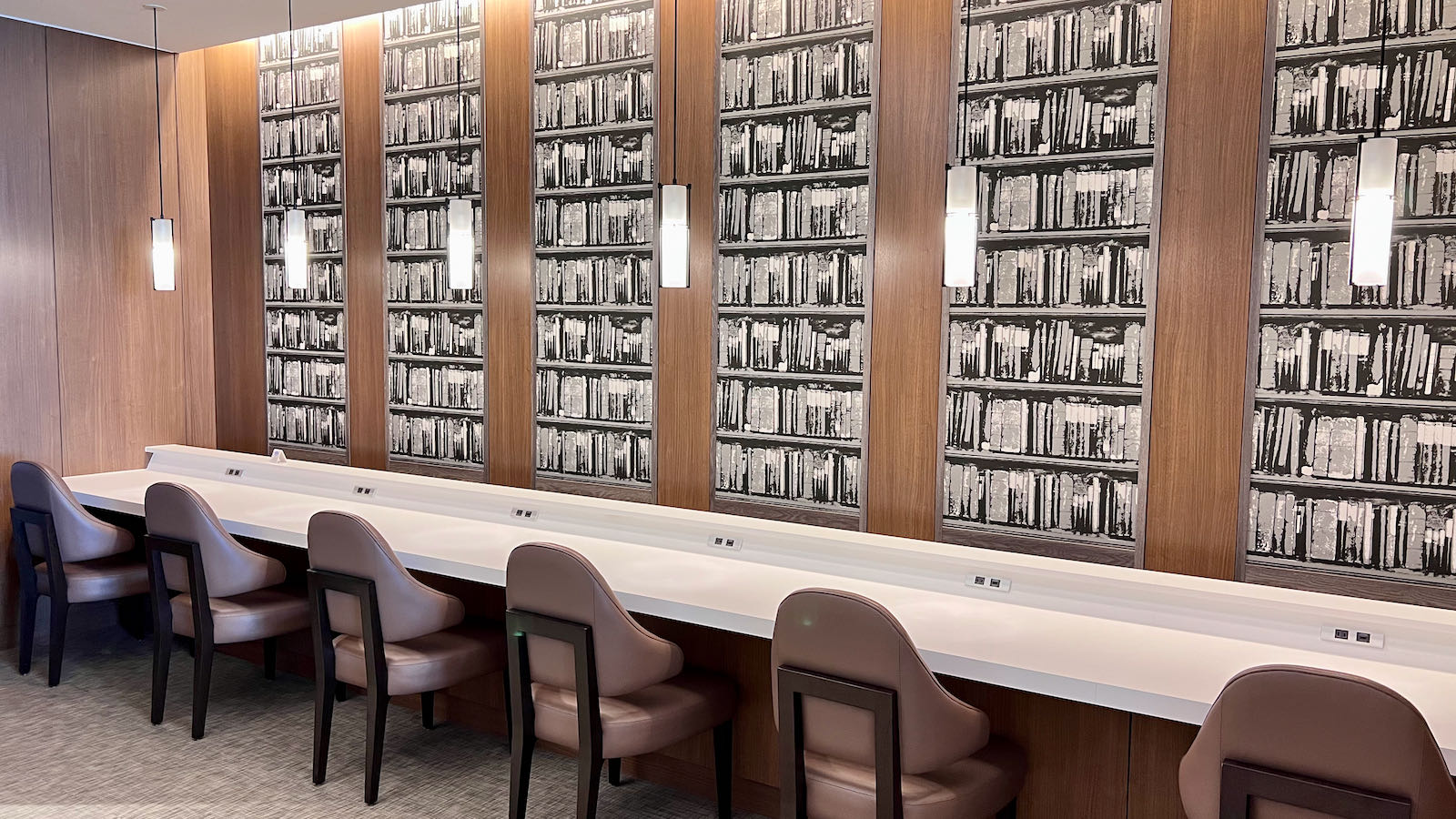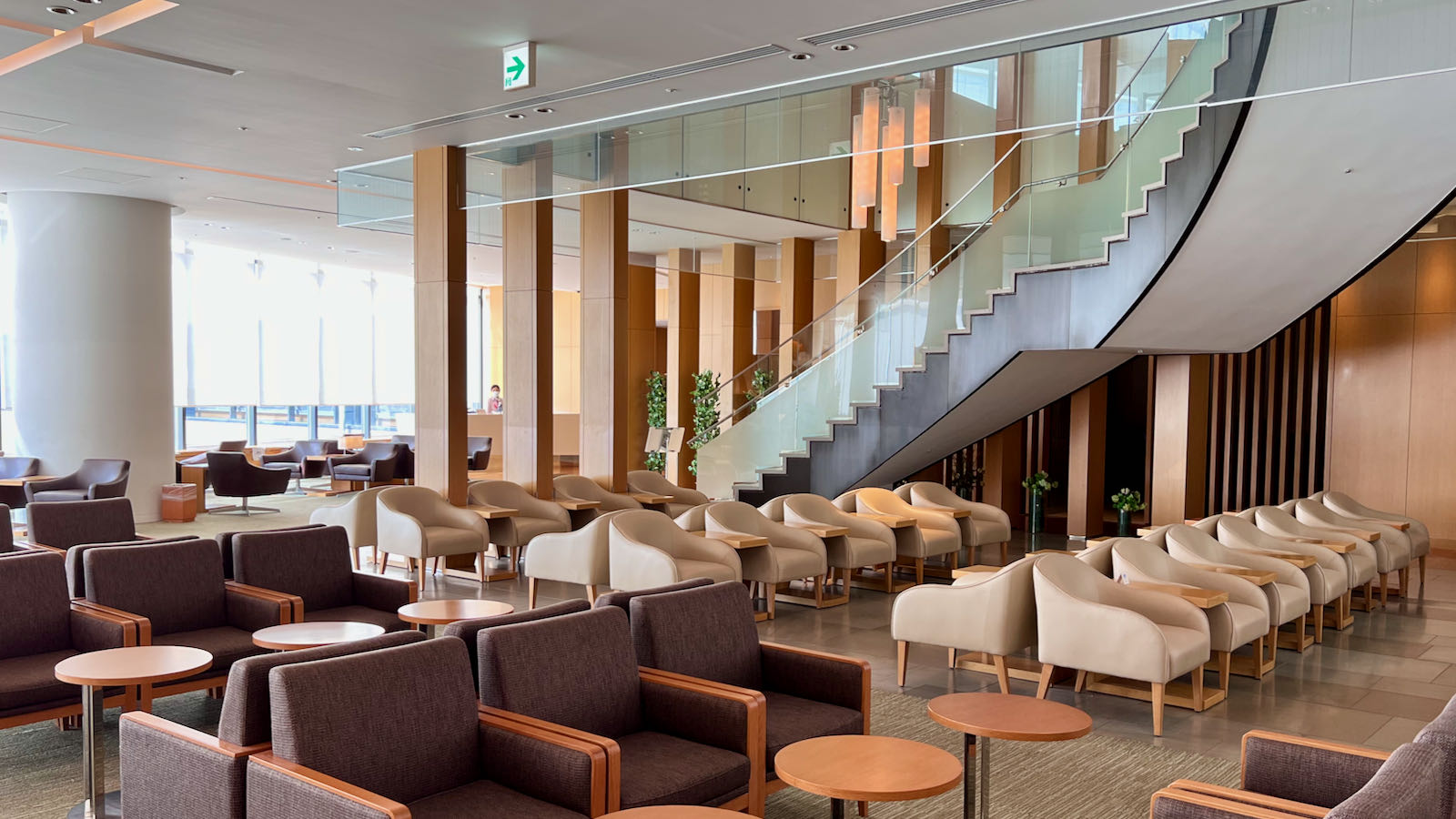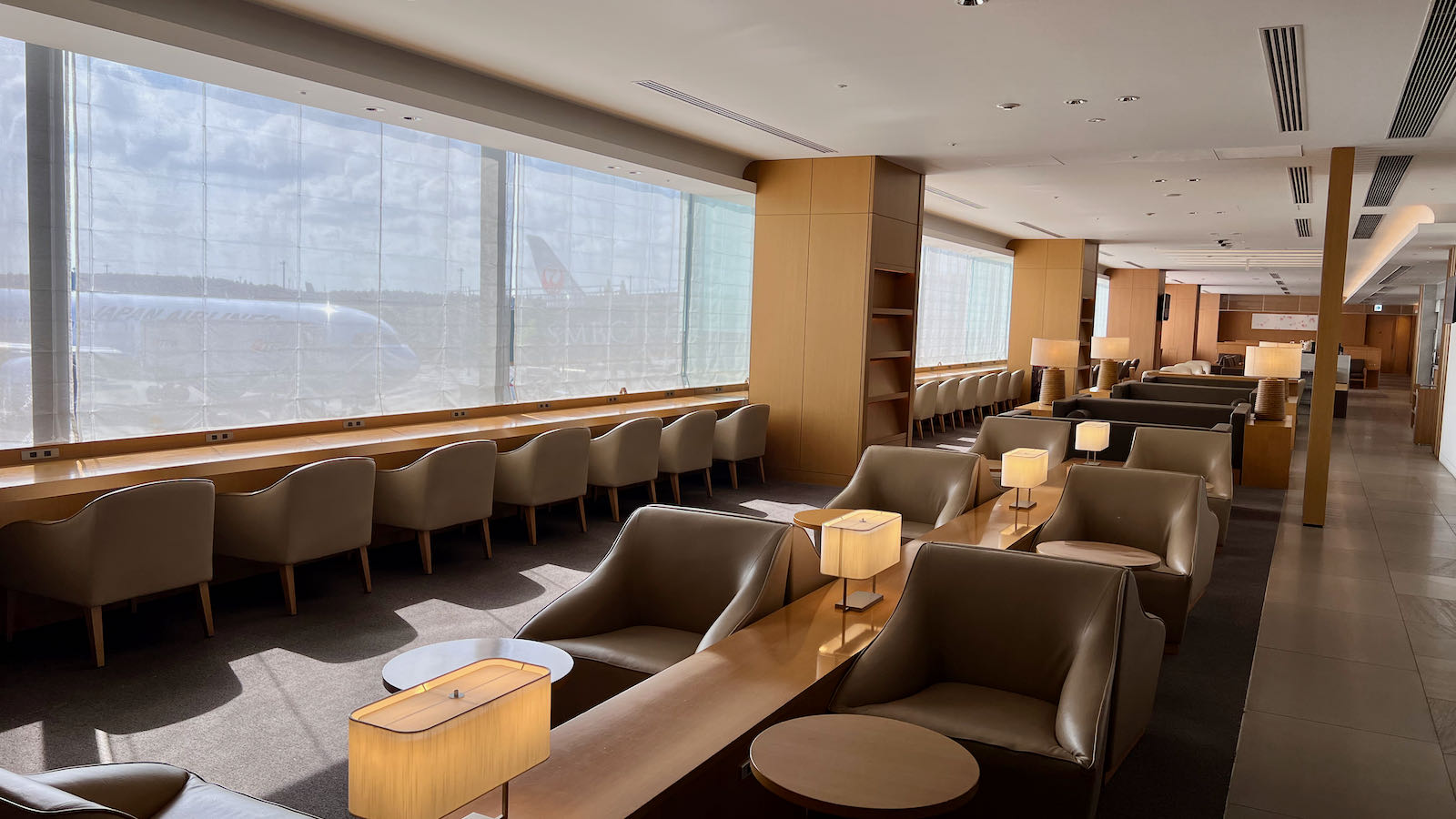 Food and beverage in the Japan Airlines Sakura Lounge
Beverages
Mine is a morning visit – and I've already consumed my body weight in Champagne, sake and plum wine on my Melbourne to Tokyo flight in JAL Business – so it's water and coffee for me. Unfortunately, the coffee is self-serve from a machine. Many business lounges around the world are devoid of barista coffee – even Qatar's majestic Al Mourjan Business Lounge in Doha – so it's not something one should expect. But when you live in Melbourne, you inevitably become a coffee snob. And this latte is average at best.
It's barely 7:30 am, but there's plenty of self-serve alcohol stashed around the lounge. Where I'm stationed in the upstairs dining room, there's a bottle of Veuve Ambal Blanc de Blanc sparkling on ice – made entirely from Chardonnay grapes in central and southern France. It's a downgrade from Champagne, sure, but I hear it's a pleasant drop for those craving a hit of bubbles.
On the wine front, there are three red and white wines, plus a bunch of spirits – including Japanese sake and whisky – to whet your whistle. I don't spot any beer on my visit, but it's no doubt stashed away somewhere. Ask and you shall (most probably) receive.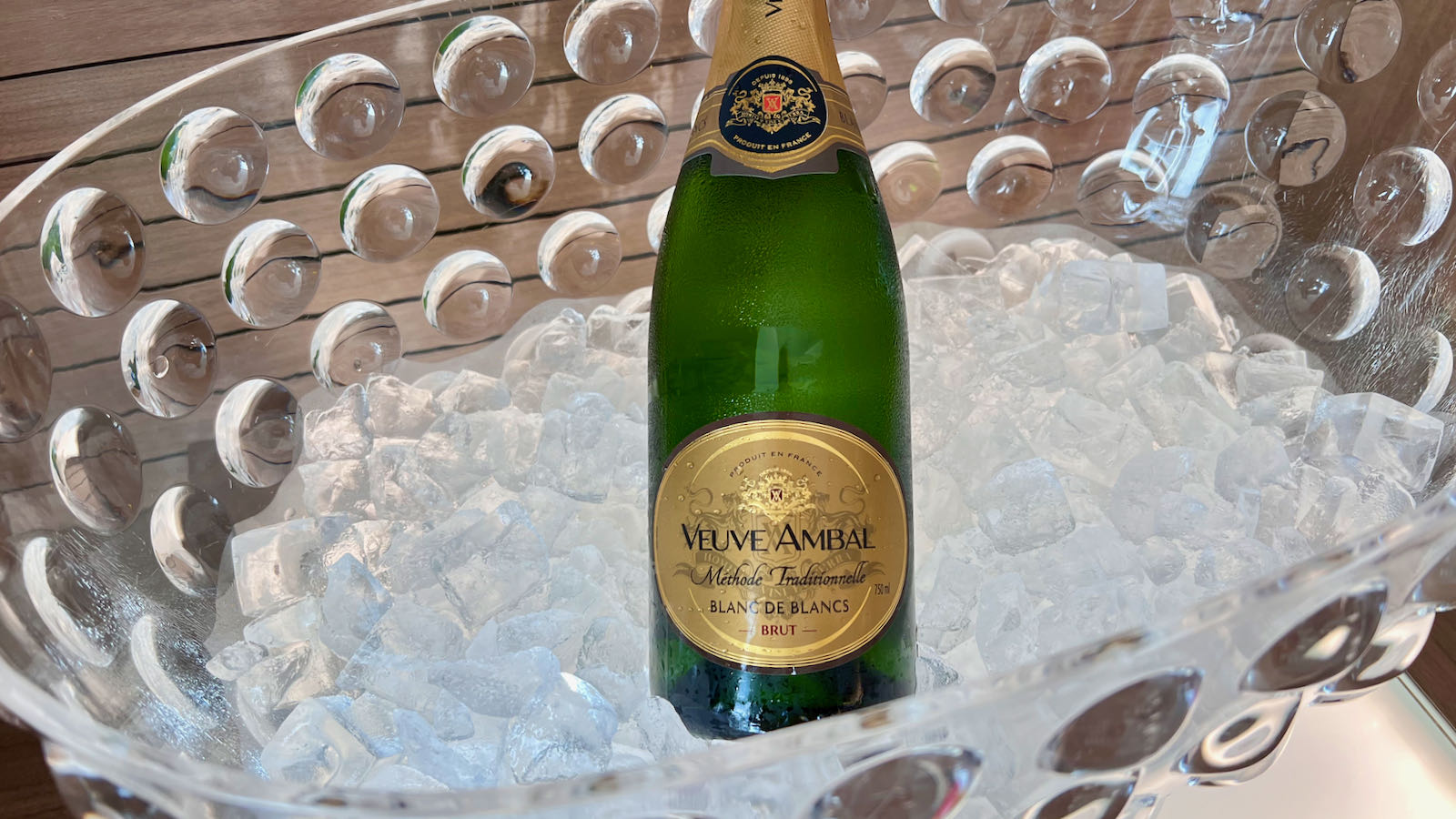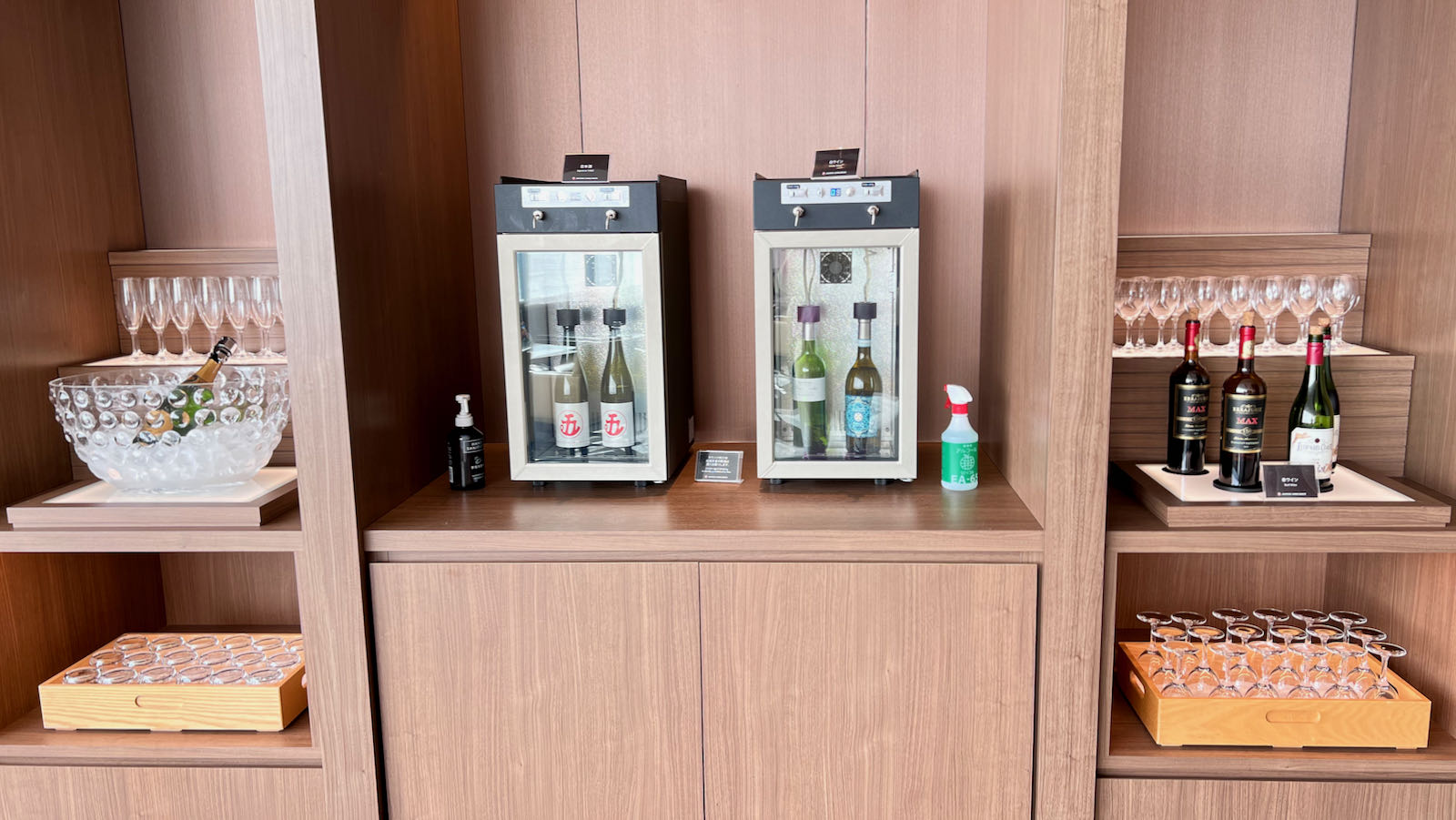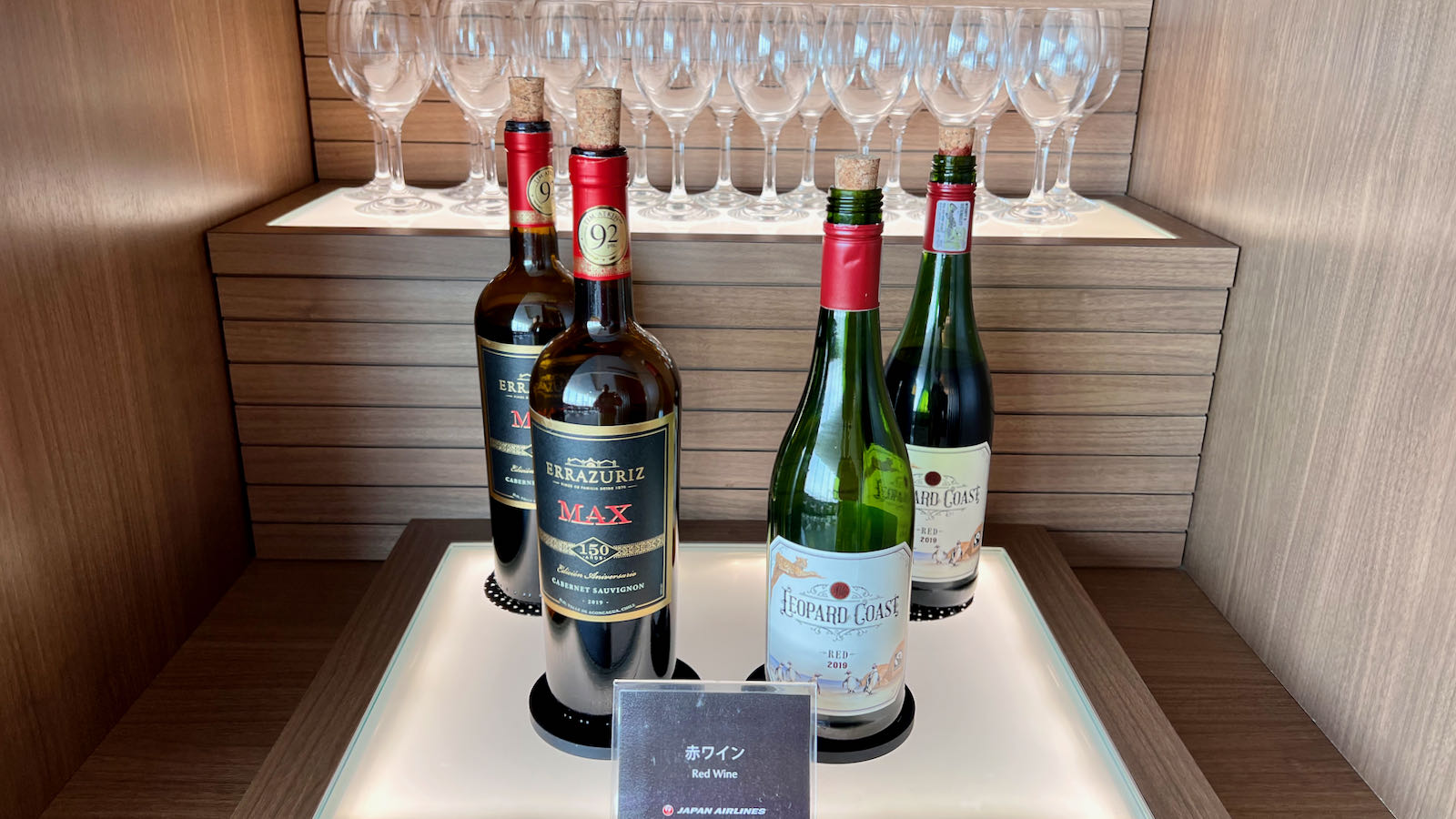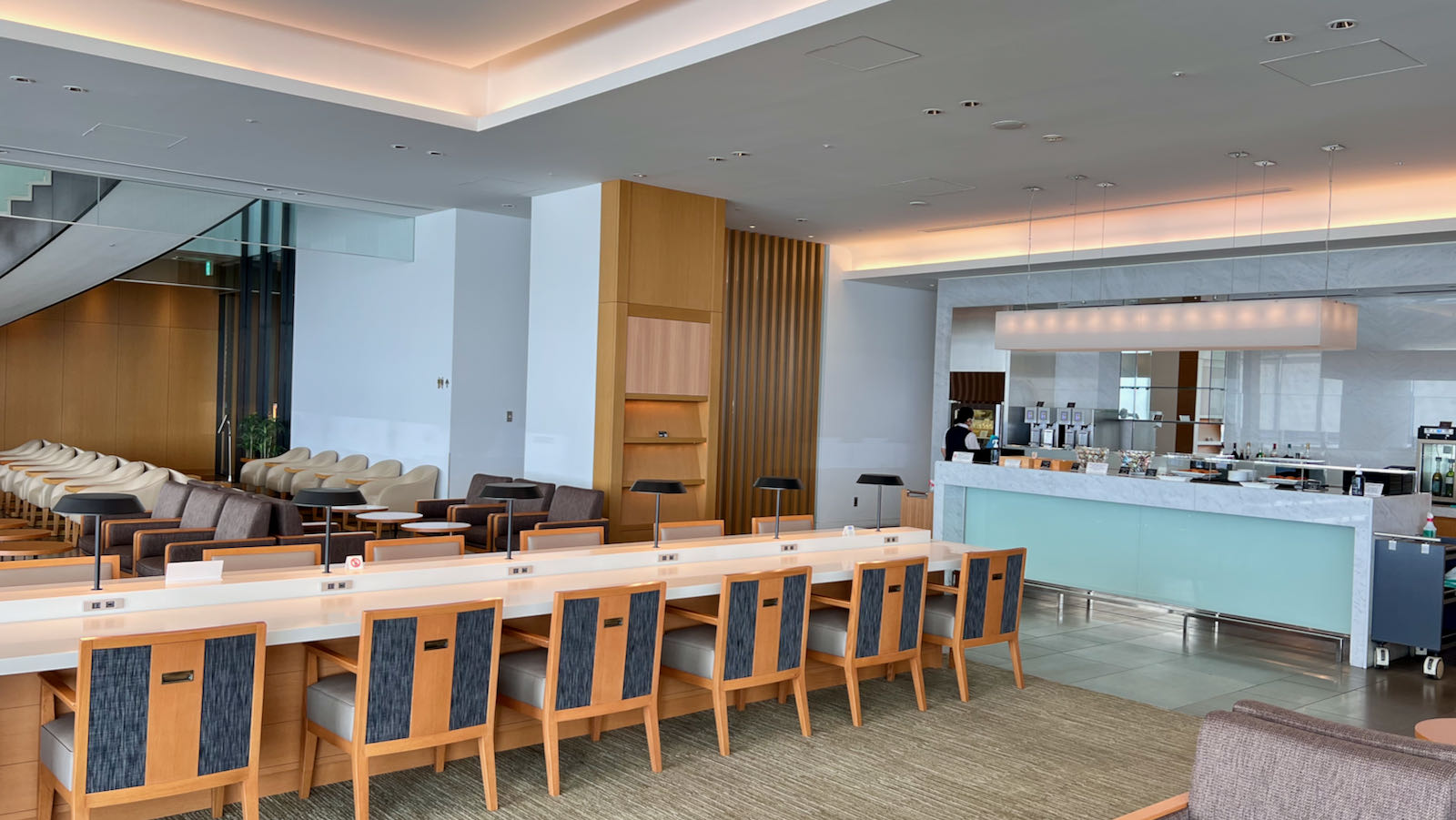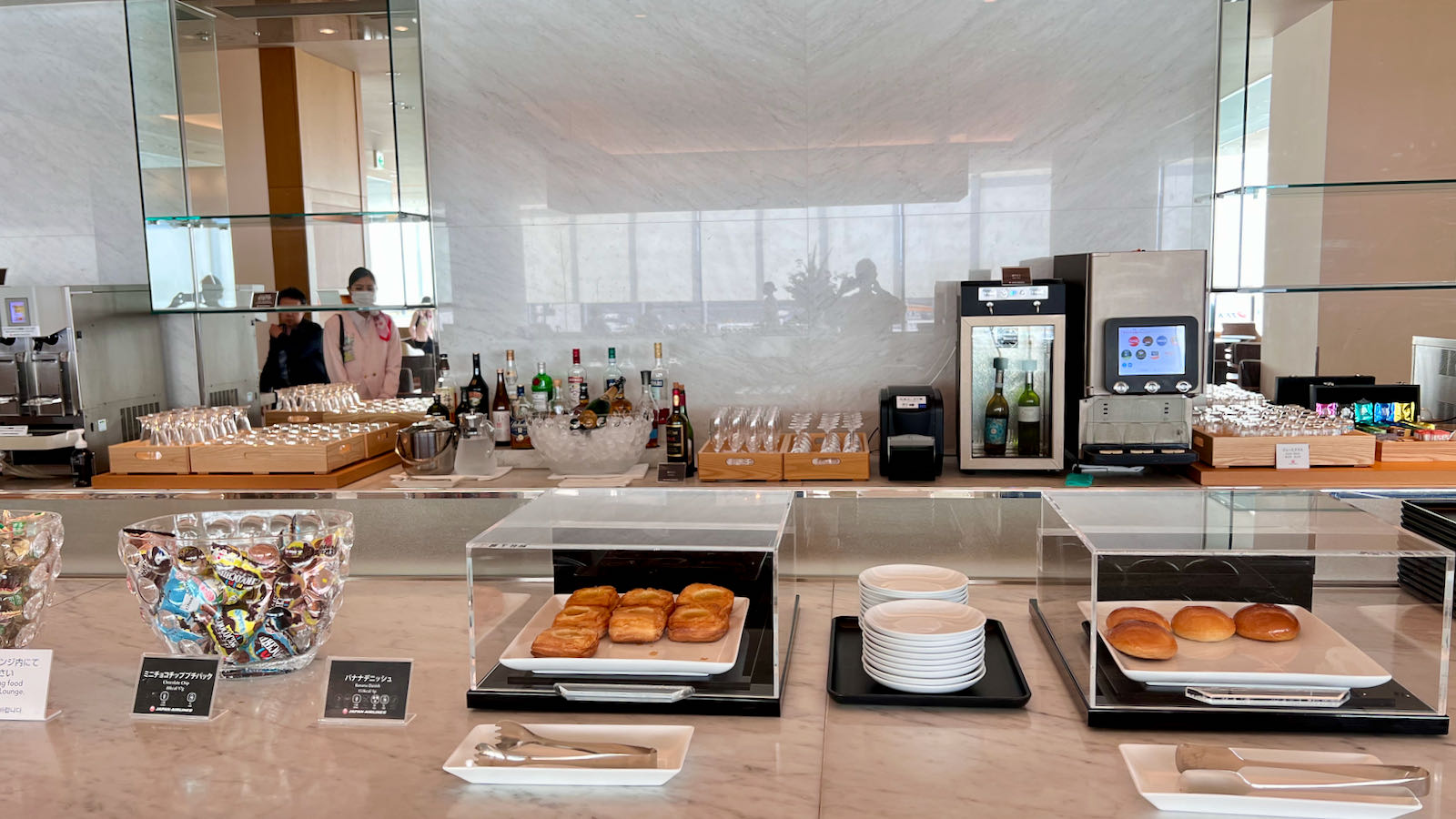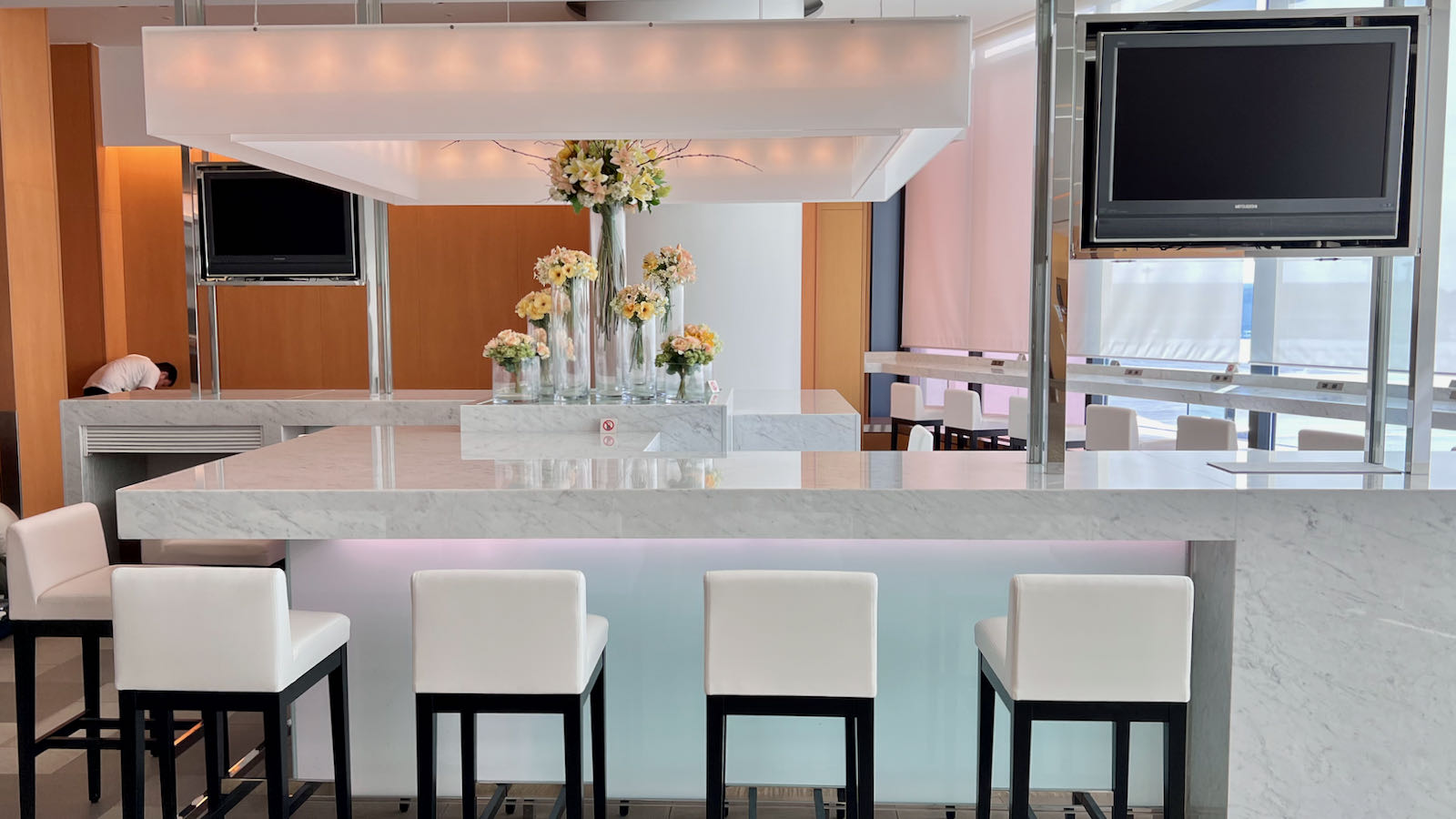 Dining
After my early start, I'm in desperate need of breakfast. But brekkie doesn't begin until 7:30. The buffet station in the second dining room where I've set up shop is closed, so at 7:29 I scoot out to the main food station. Happily, I'm the first person there. Those who know me will smile (or perhaps grimace) at this lifelong behaviour. But I love my food, alright?
I pounce on the American breakfast, served by staff behind the counter. It's not bad, with soft scrambled eggs, pork sausage, roast potato and salad with a choice of two dressings (I choose the soy). Next time I'll steer clear of the croissant, which is doughy and frankly an insult to the French pastry of the same name.
There's also an Asian breakfast on offer, with beef curry, an Asian bowl, a Japanese bento box and a couple of salads. You'll also find two pastas and two soups, plus the unlikely inclusion of tiramisu. But who's ever complained about a cheeky serving of tiramisu, whatever the hour?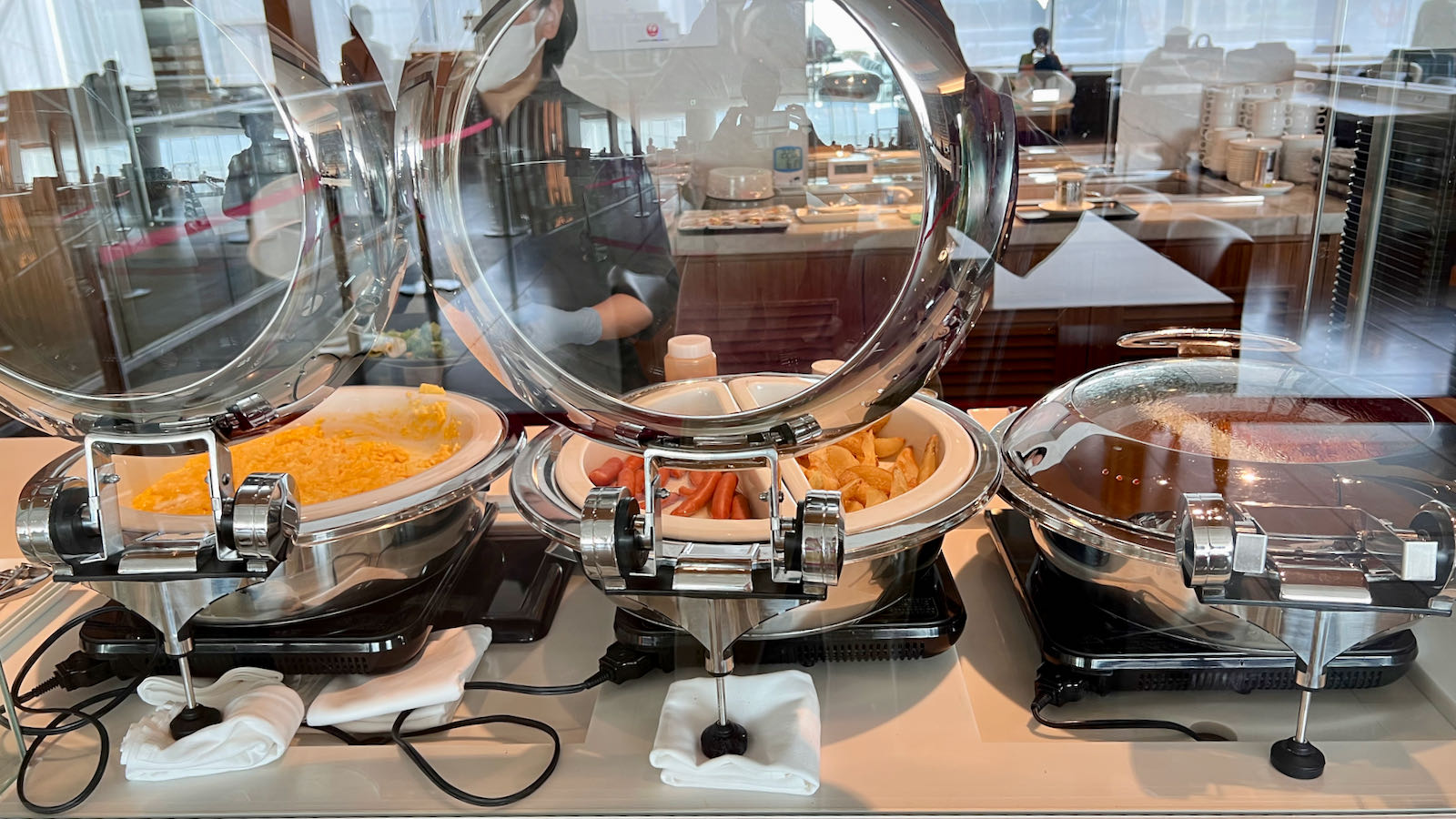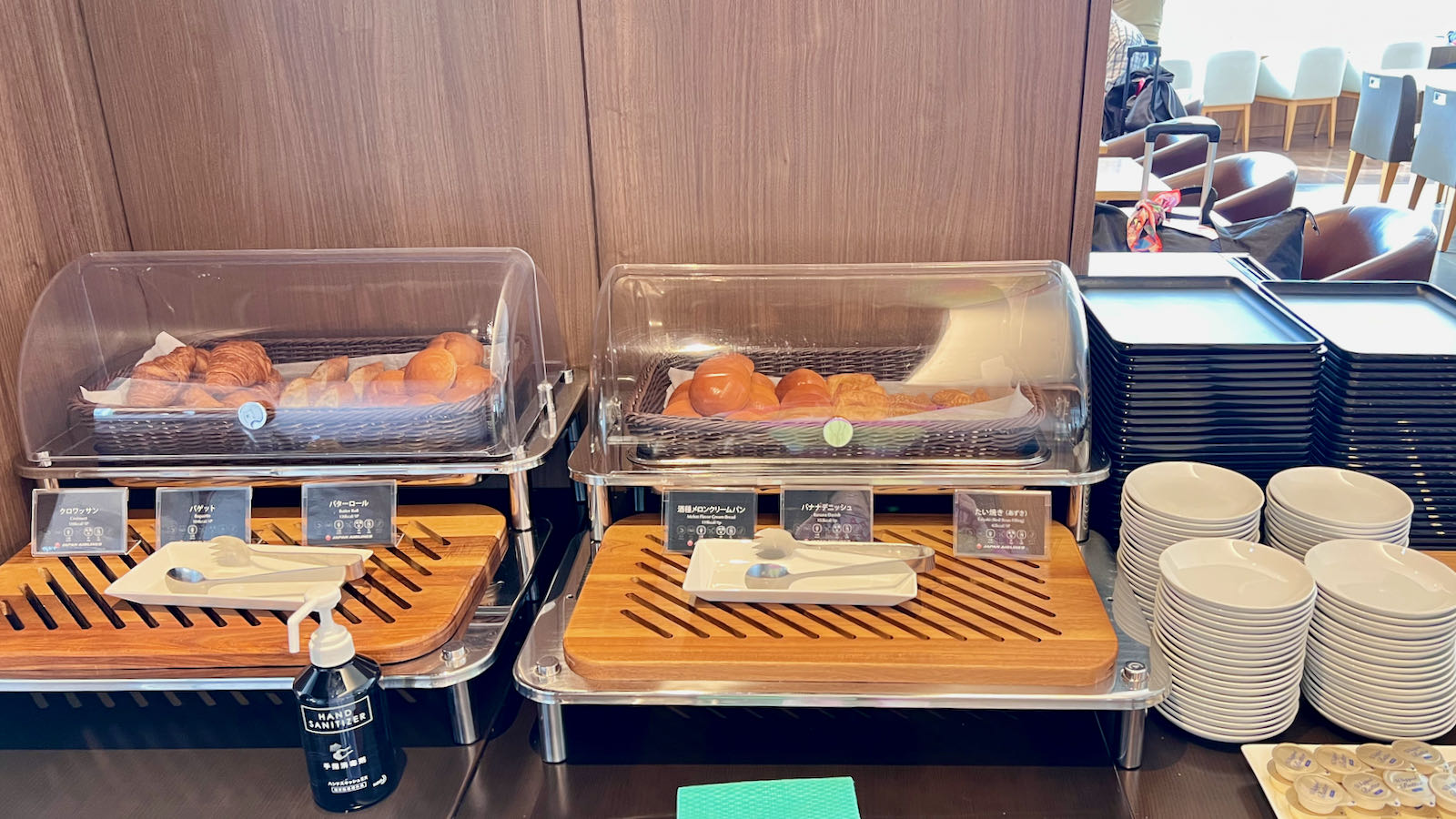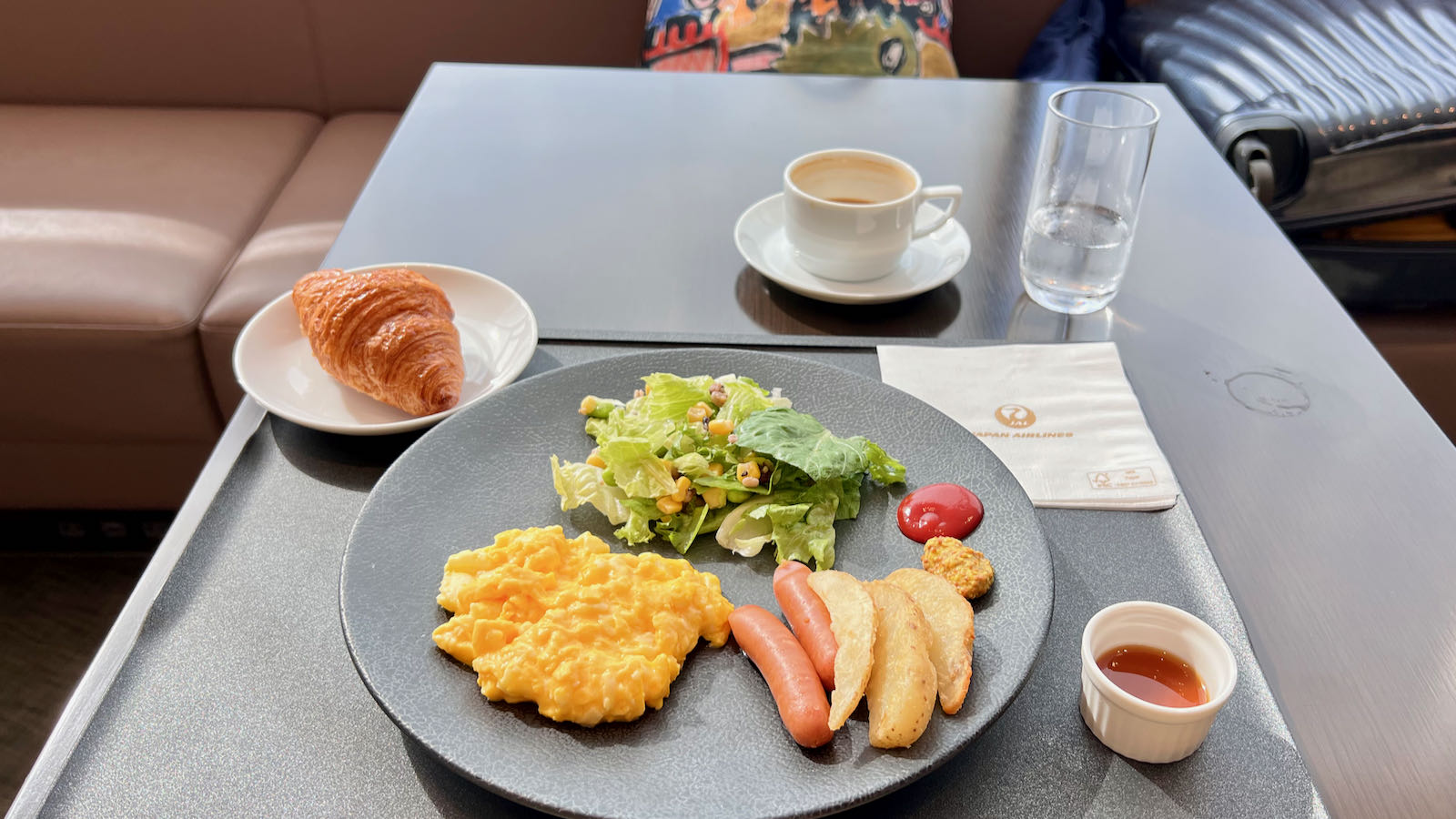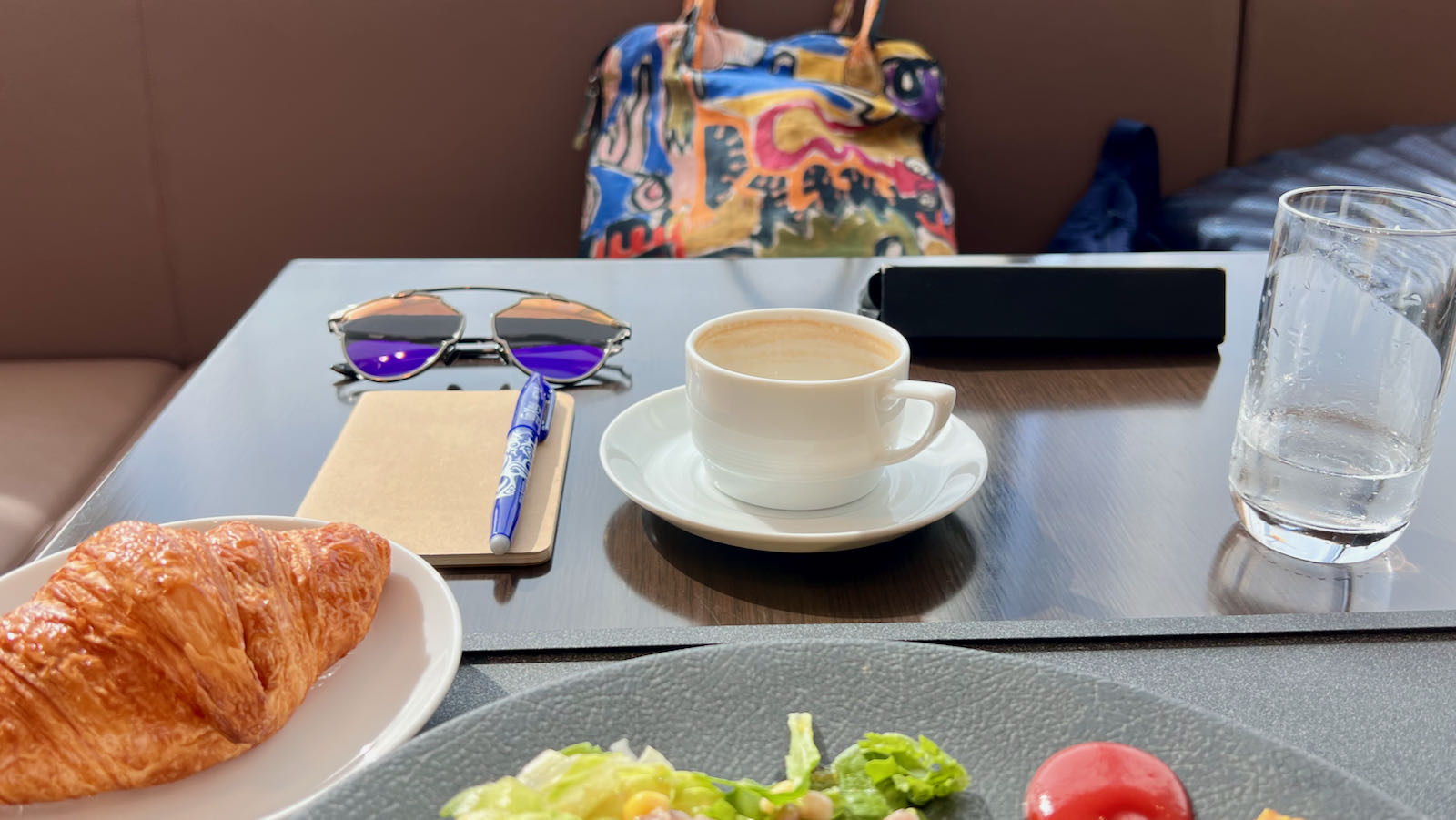 Lounge amenities and service
Amenities throughout the Sakura Lounge are quite impressive. Heading down the sweeping staircase to Level 2 and turning right, I immediately come across the cloakroom, with lockers available for use. I miss the massage and adjoining relaxation rooms located behind the stairs, not to mention the showers. They're somewhat hidden, and unless you were searching specifically for them, I'd venture that you would miss them too.
So with the benefit of hindsight, let me give you a tip: consult the map on JAL's website before visiting the Sakura Lounge if you want to experience it all. I sure wish I had.
Swinging left after the cloakroom, there's a kids' room with brightly-coloured couches and patterned carpet. Next up are individual pods for private phone calls, while further down you'll find the business centre with computers and printers next to the smoking room.
Service throughout the lounge is pleasant and respectful, but it's got nothing on the exceptional service you'll experience in Japan Airlines Business. In my opinion, JAL's lofty standards set the bar for Business Class service in the sky, outshining even the polished crew on my Qatar Qsuite flight en route to Marrakech.
These standards don't extend to JAL's Sakura Lounge on the ground in Tokyo Narita. In fact, outside of the buffet station upstairs, it's hard to find a staff member anywhere. But I suppose it's difficult to maintain perfection across the board.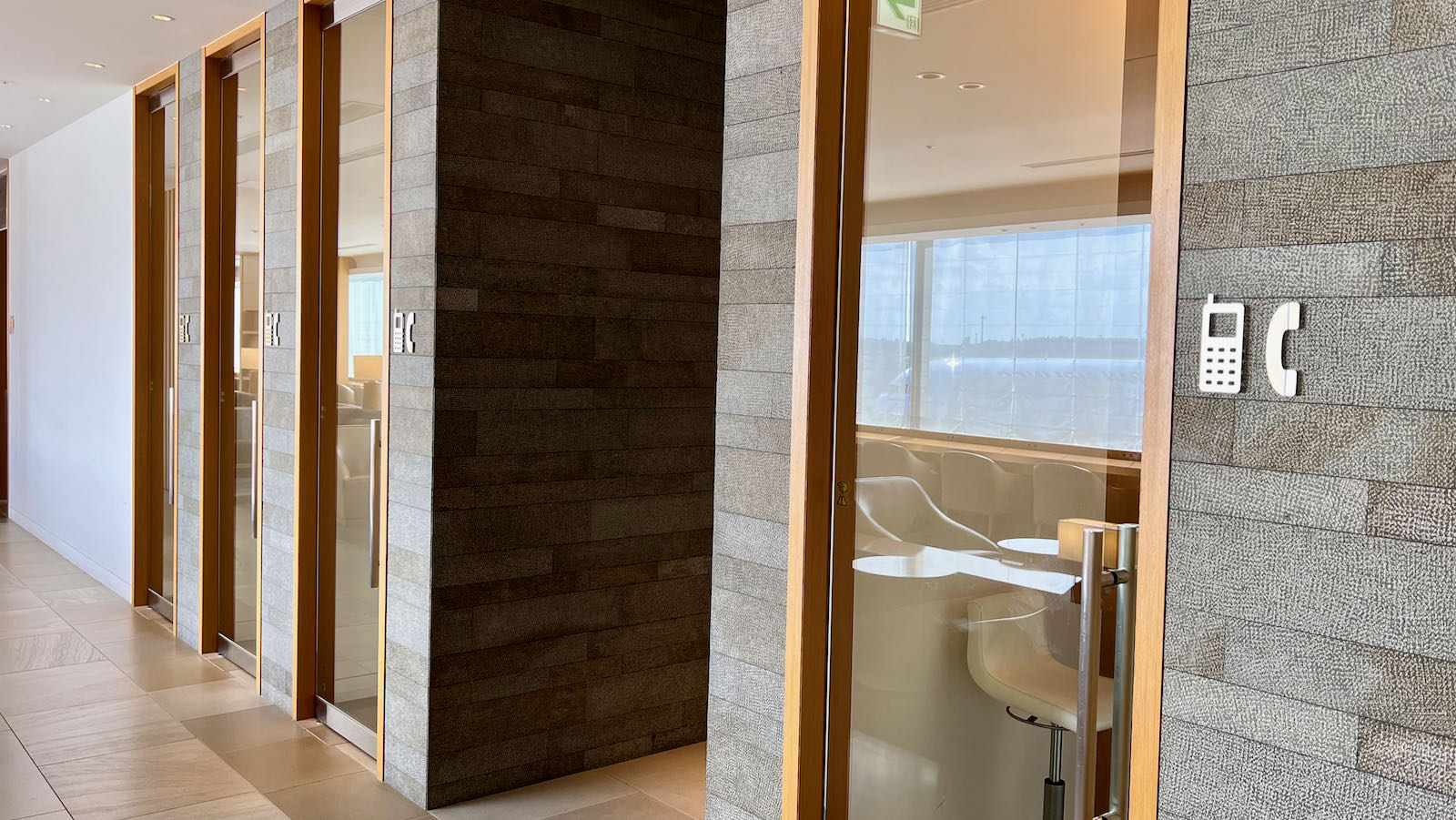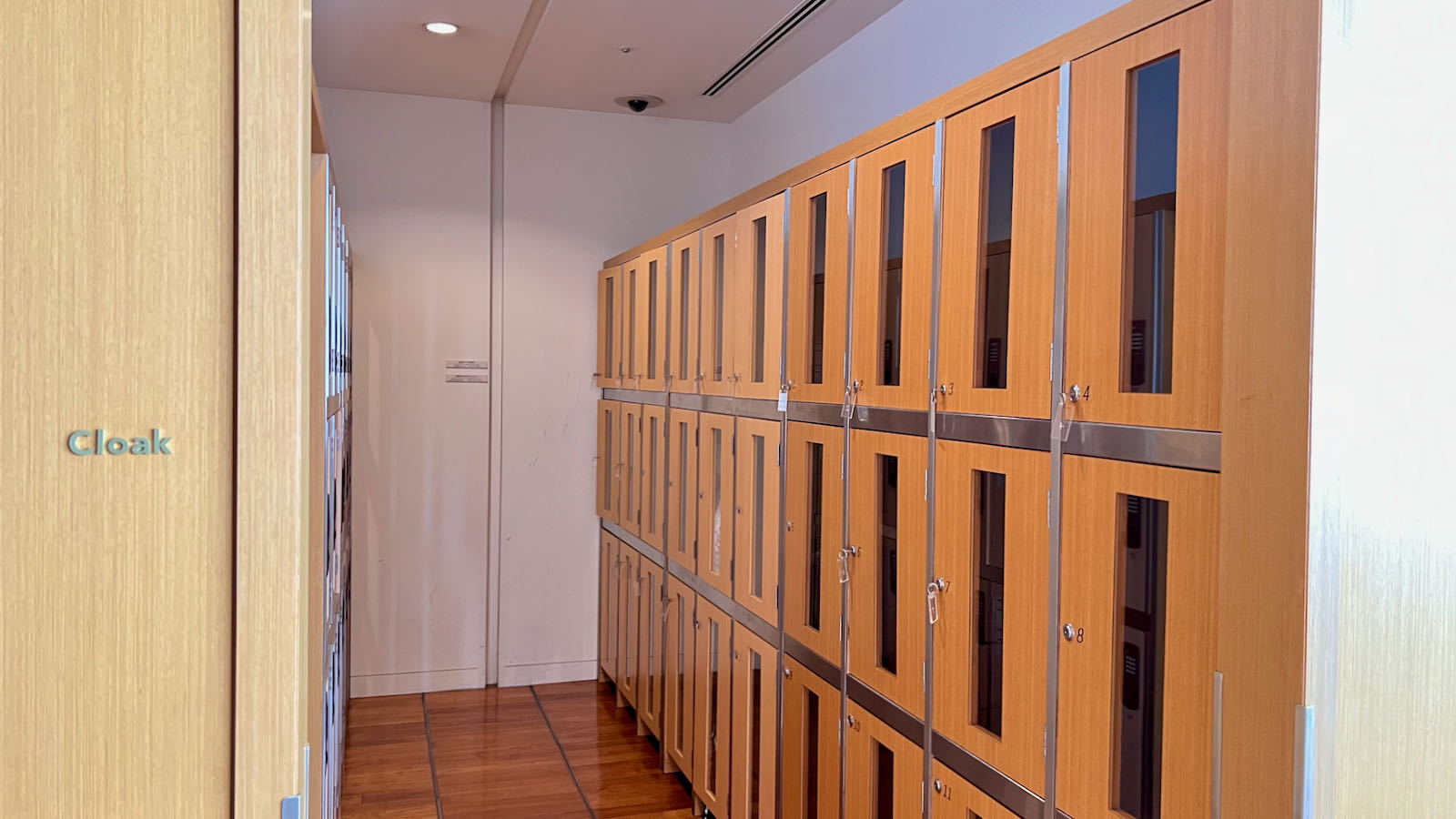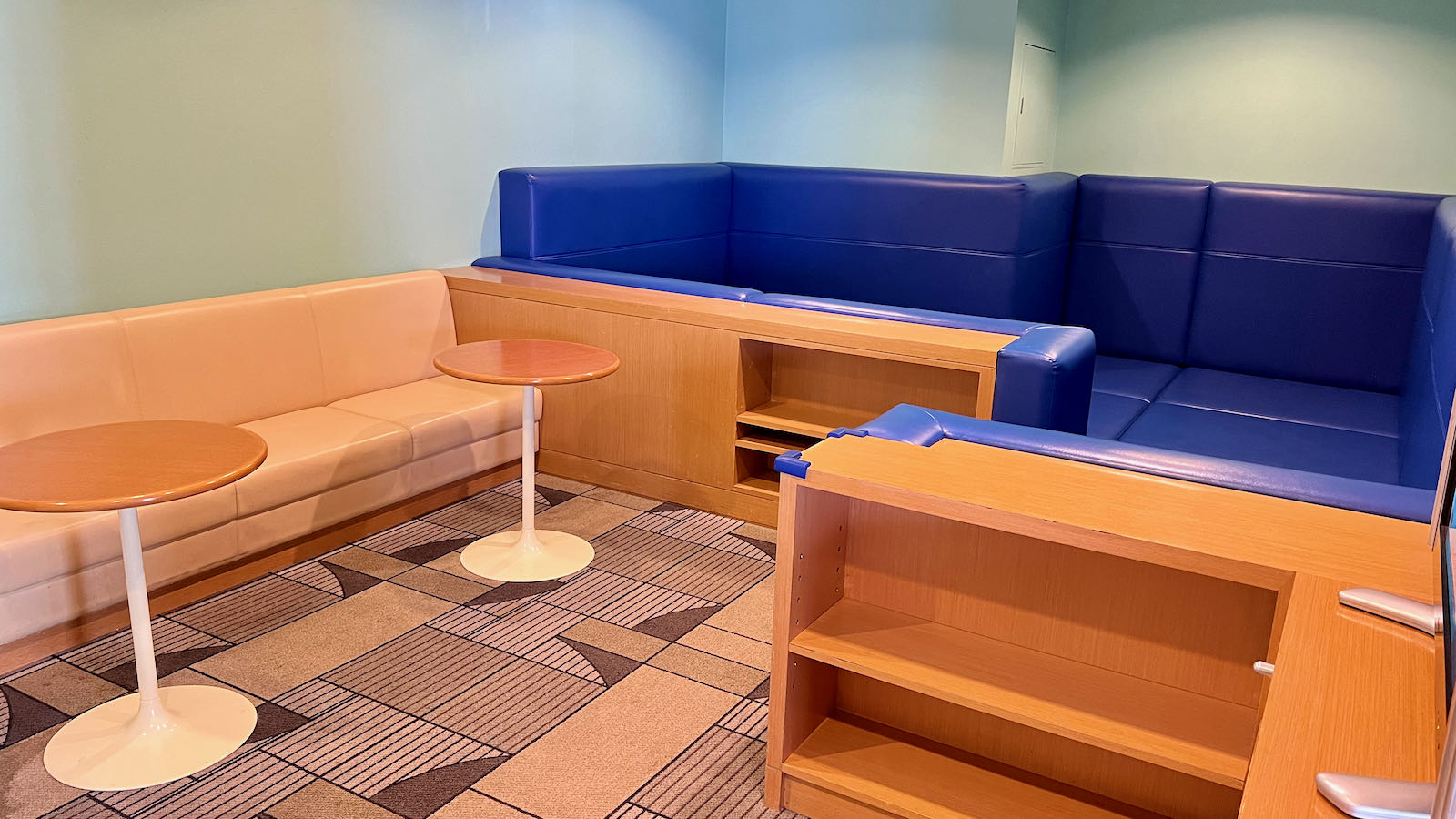 How to access this lounge
Japan Airline's Sakura Lounge in Tokyo Narita can be accessed by a range of passengers. Here's who makes the cut.
Passengers travelling on Japan Airlines in Business, Premium Economy or Economy Class (a Flex Y fare).
Qantas Gold, Platinum, Platinum One and Chairman's Lounge, plus other oneworld Sapphire and Emerald (while we've included passengers with oneworld Emerald status – including Qantas Platinum and JMB Diamond members – they can access the JAL First Class Lounge instead).
JMB Diamond and Sapphire members (+ 1 guest, or 2-3 guests with a JAL Lounge Coupon).
JGC Premier members (+ 1 guest, or 2-3 guests with a JAL Lounge Coupon).
JAL Global Club members (+ 1 guest, or 2-3 guests with a JAL Lounge Coupon).
By JAL Lounge Coupon (exchangeable coupons with JMB miles. 2000 miles = 1 lounge coupon).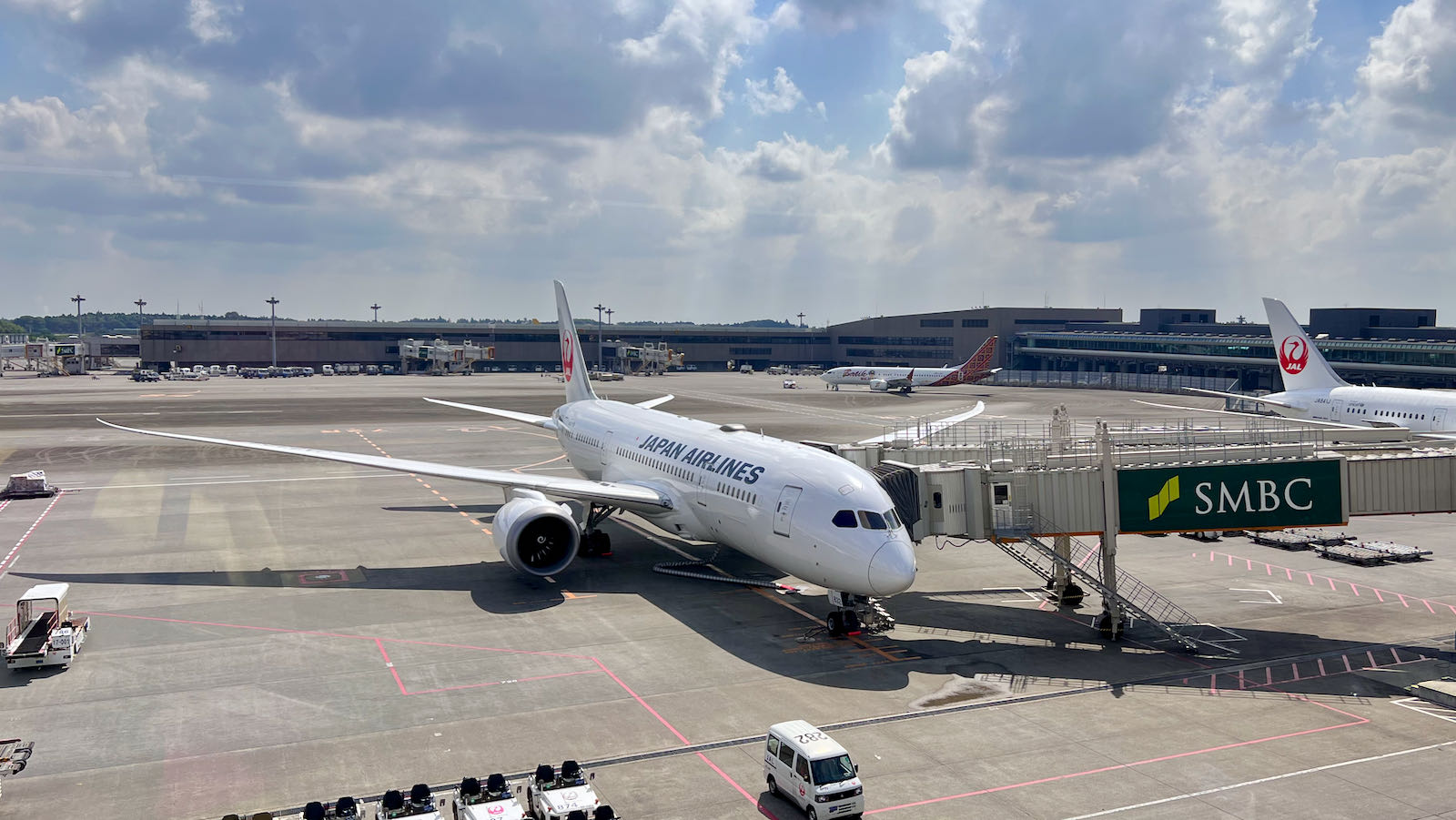 The verdict
JAL's Sakura Lounge in Tokyo Narita ticks many of the boxes you'd expect from an airline's flagship Business Class lounge. There are endless seating options, an array of amenities, an all-day (self-service) bar and truckloads of natural light thanks to the wall of windows on both levels.
But for me the lounge falls a little short. My main issue is with the two upstairs dining rooms. Downstairs the atmosphere and decor are serene and tasteful – upstairs quite the opposite. In fact, the first room's layout continues to baffle me, with its oddly-placed seating and constant thoroughfare.
Over half of the space upstairs is given over to workbenches, though placing a bunch directly in front of the buffet station is a puzzling choice. Sure, there are those who prefer to chow down while tapping away on a laptop. But wouldn't it be better to place dining tables here instead? Lounge staff are also largely absent, with everything bar the buffet self-serve.
To give you a rating, loyal reader, all I can do is split the lounge in two. Upstairs it's a 3/5 from me – downstairs a solid 4/5. My advice? Hit the buffet station first, eat quickly at a table nearby, then head down that lovely staircase to recover and digest. Because you'll find it harder to do that upstairs.
All photography by Antonia Strakosch, who accessed the lounge as a Business Class guest while flying at Point Hacks' expense.
Japan Airlines Sakura Lounge, Tokyo Narita
was last modified:
September 26th, 2023
by