Emirates offers many Business Class lounges around the globe, but its lounge in Concourse A of Dubai International Airport is the largest of them all. And that makes sense, given Concourse A is the world's first airport building designed specifically for the Airbus A380 – of which Emirates has over 100 in its fleet.
Offering extras such as direct boarding from the lounge straight onto the aircraft, here's what awaits for Business Class passengers flying through Terminal 3's Concourse A.
Location and layout
Here in Concourse A, the Emirates Business Class Lounge spans the entire length of the building. It's a colossal space – but one that serves frequent travellers very well, in that no two visits feel the same. Following the rectangular footprint of the building itself, the main entrance sits square in the middle. It's also conveniently close to the exit from the airside train, for those making the trek from Concourse B or C.
Once inside, the lounge is largely mirrored in each direction. There's also direct boarding from within the lounge onto every flight departing from Concourse A. For many travellers, the most convenient option is to meander in the general direction of their boarding gate – that's left or right, immediately after reception – knowing that the same amenities await.
I've got time, so I do a complete loop of the lounge, all the way around its rectangular shape. And it's a walk that really helps me appreciate just how large this facility is. Even though I pause for photos along the way, it takes about 45 minutes just to do one circuit. I can see why travellers typically venture towards their boarding gate. If they waited only until boarding begins to find where they're going, there's a real chance of missing the flight. In other words, be early!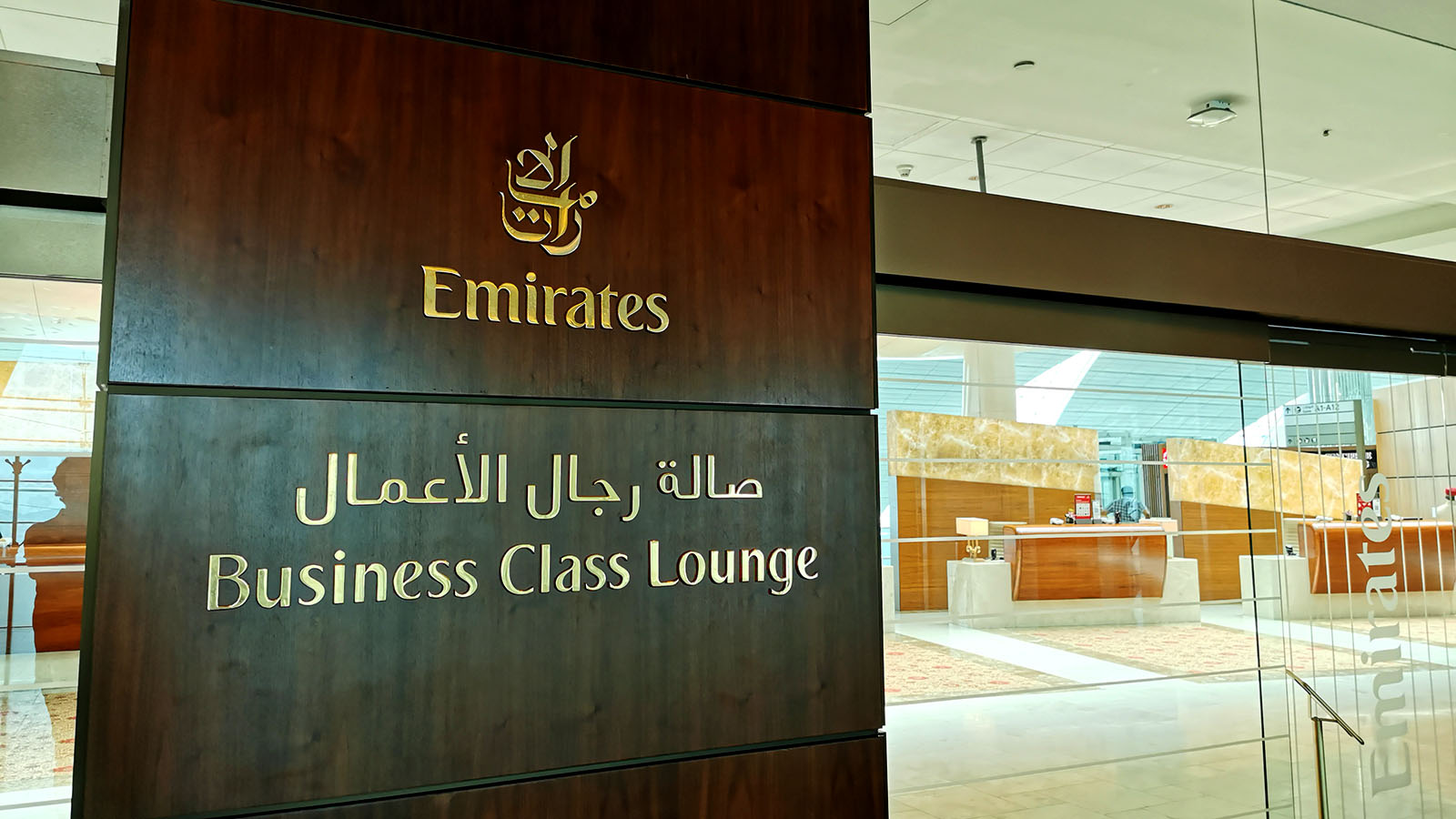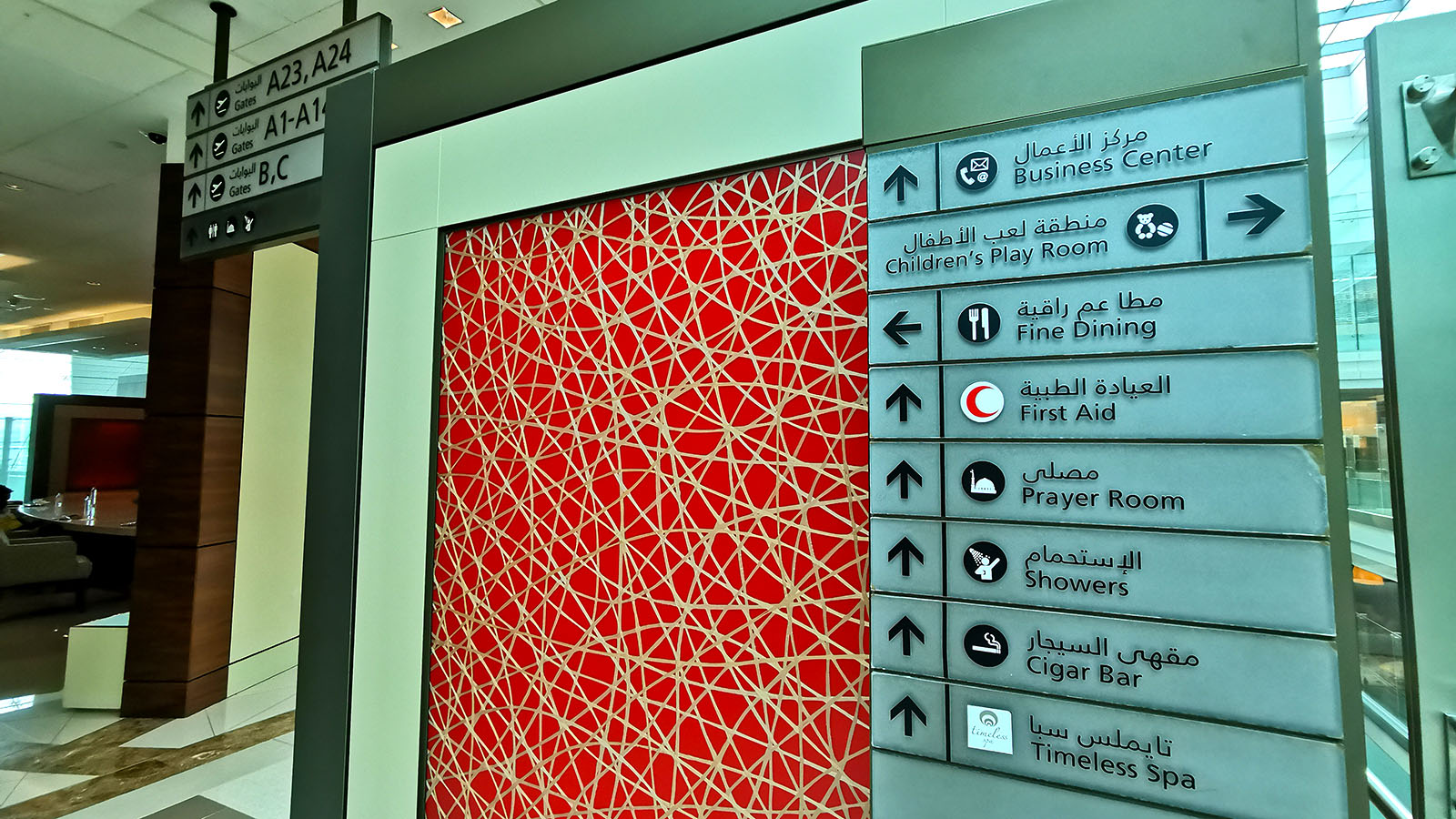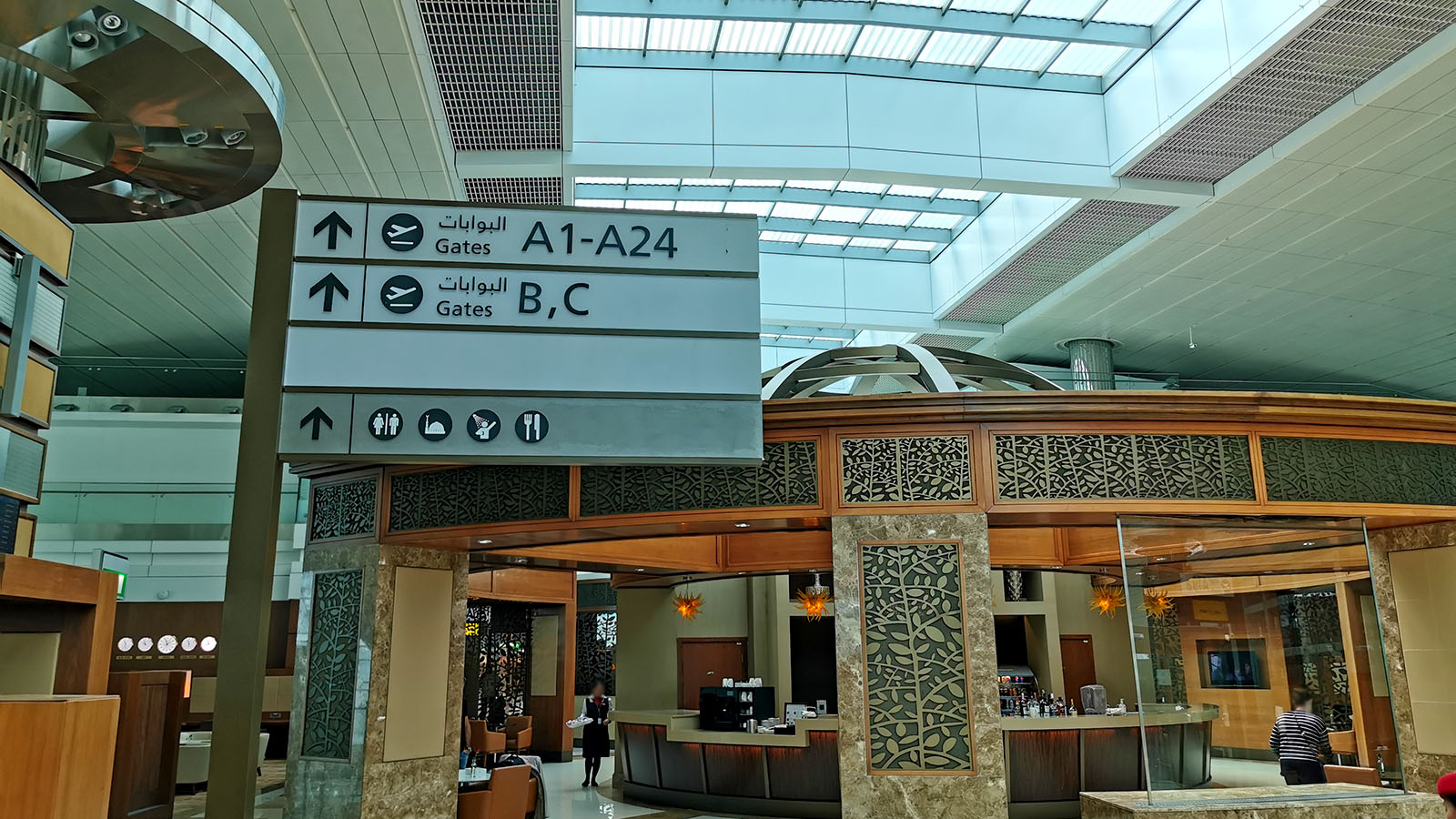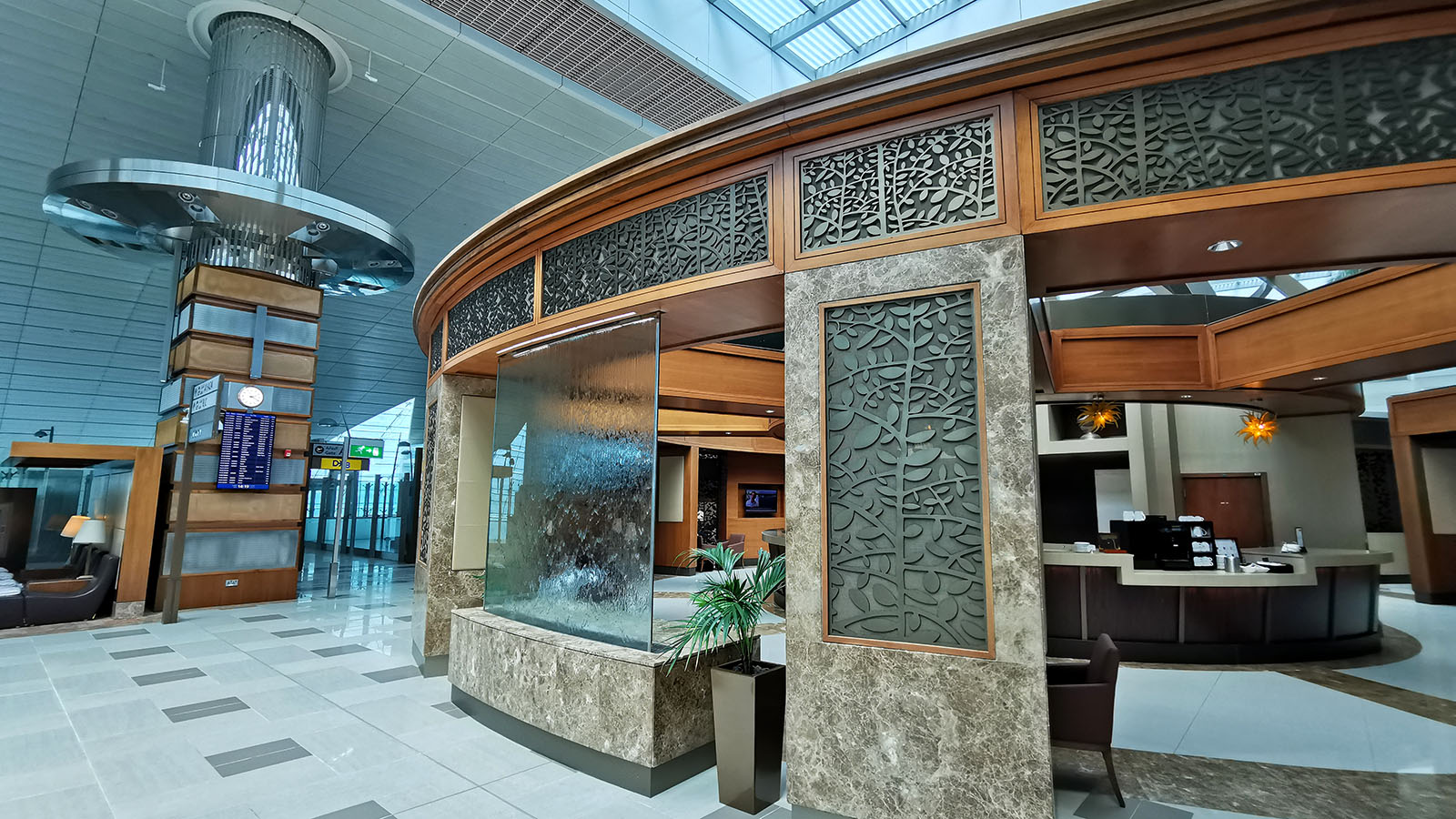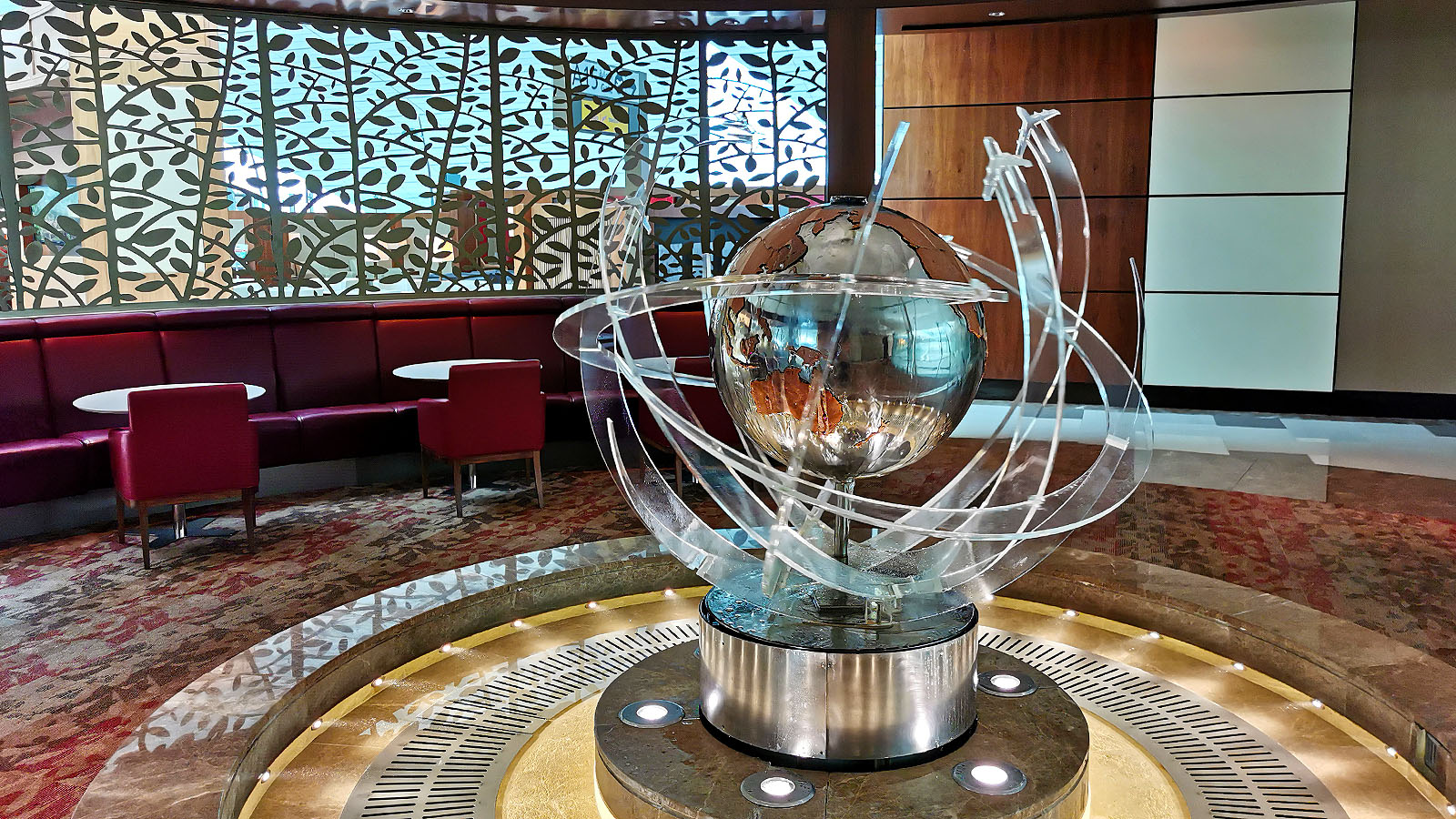 For me, I have a favourite place within this lounge. Actually, I'd best say two favourite places, given the layout is mirrored in the middle. This secret spot is right down the very far end, on the 'shortest side' of the lounge's rectangular layout.
Collections of relaxed seats converge beneath high ceilings. Multiple subtle water features further that vibe. And because you're at the end of the rectangle, you can sit not just with 90-degree window views as from everywhere else, but 270-degree vistas. You can see the airport to the front, to your left and to your right. It's a nice spot – and usually quiet, given the hike from reception.
The Emirates Business Class Lounge in Concourse A is open 24/7. Day or night, it's there when you need it.
Seating
I've visited the Emirates Business Class Lounge in Concourse A many times, and I can't say that I've ever seen it 'full'. There's always a wide variety of seating available to suit any mood or journey.
Again, the quietest parts of the lounge tend to be down the far ends. So it makes sense that rest pods are also nestled away here – almost hidden behind wall wraps. Similar chairs can also be found in other, more open sections of the lounge. These are better for kicking back with a book, perhaps – rather than a quick snooze.
Beyond that, there are tables for dining and a variety of sofas. Some are tucked away for more privacy, while others line the hallways for a quick and easy exit when it's time to board.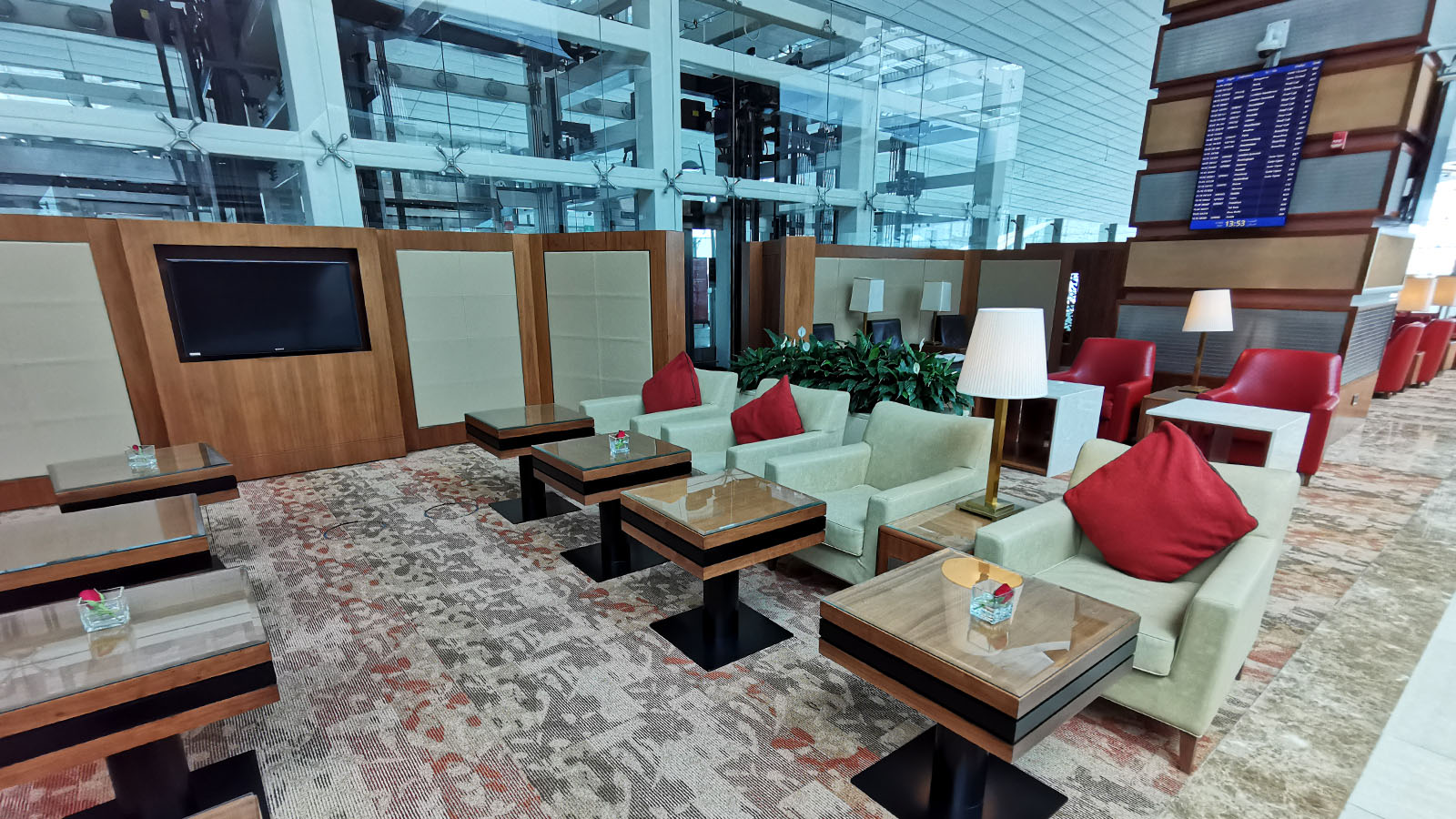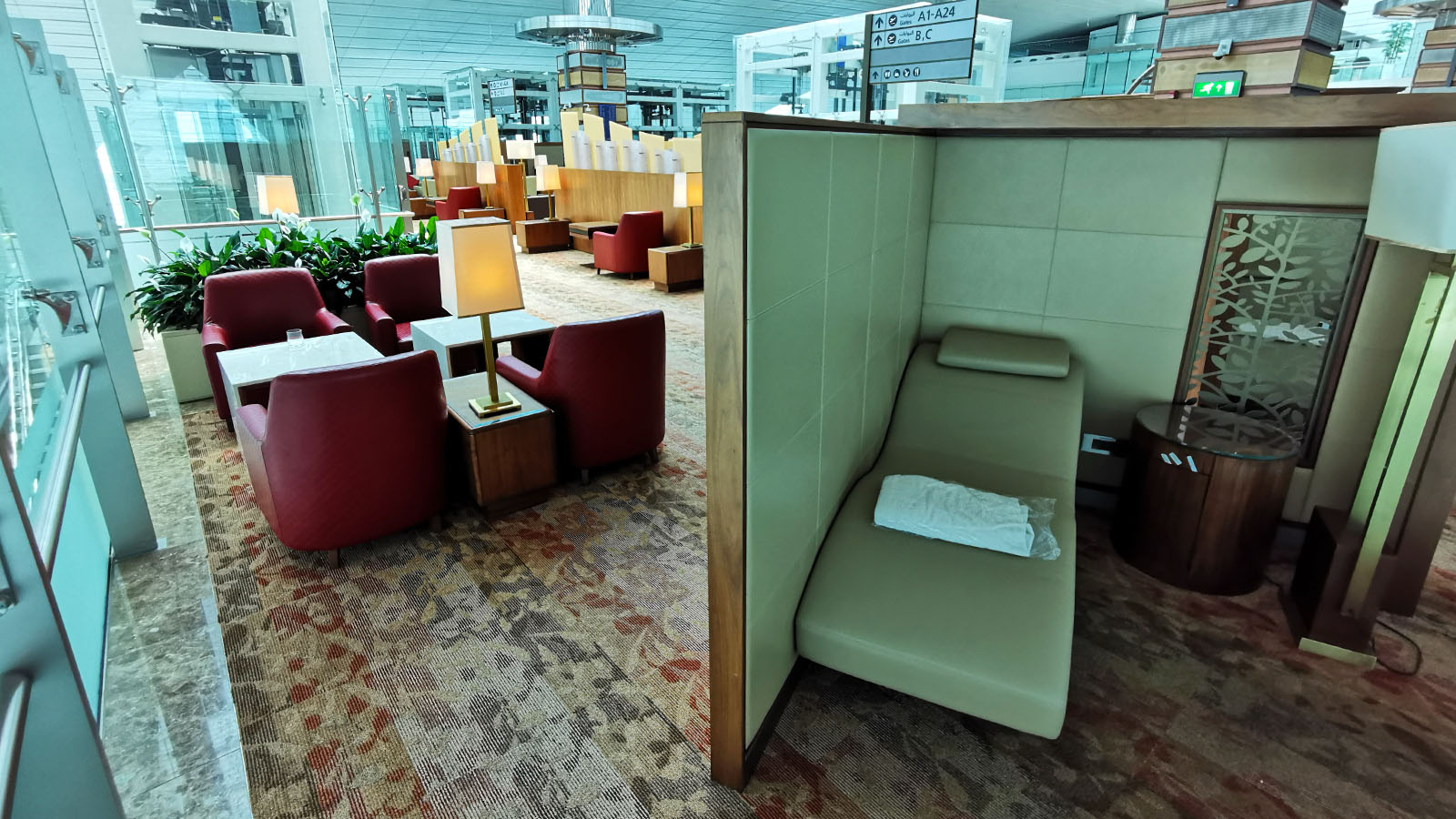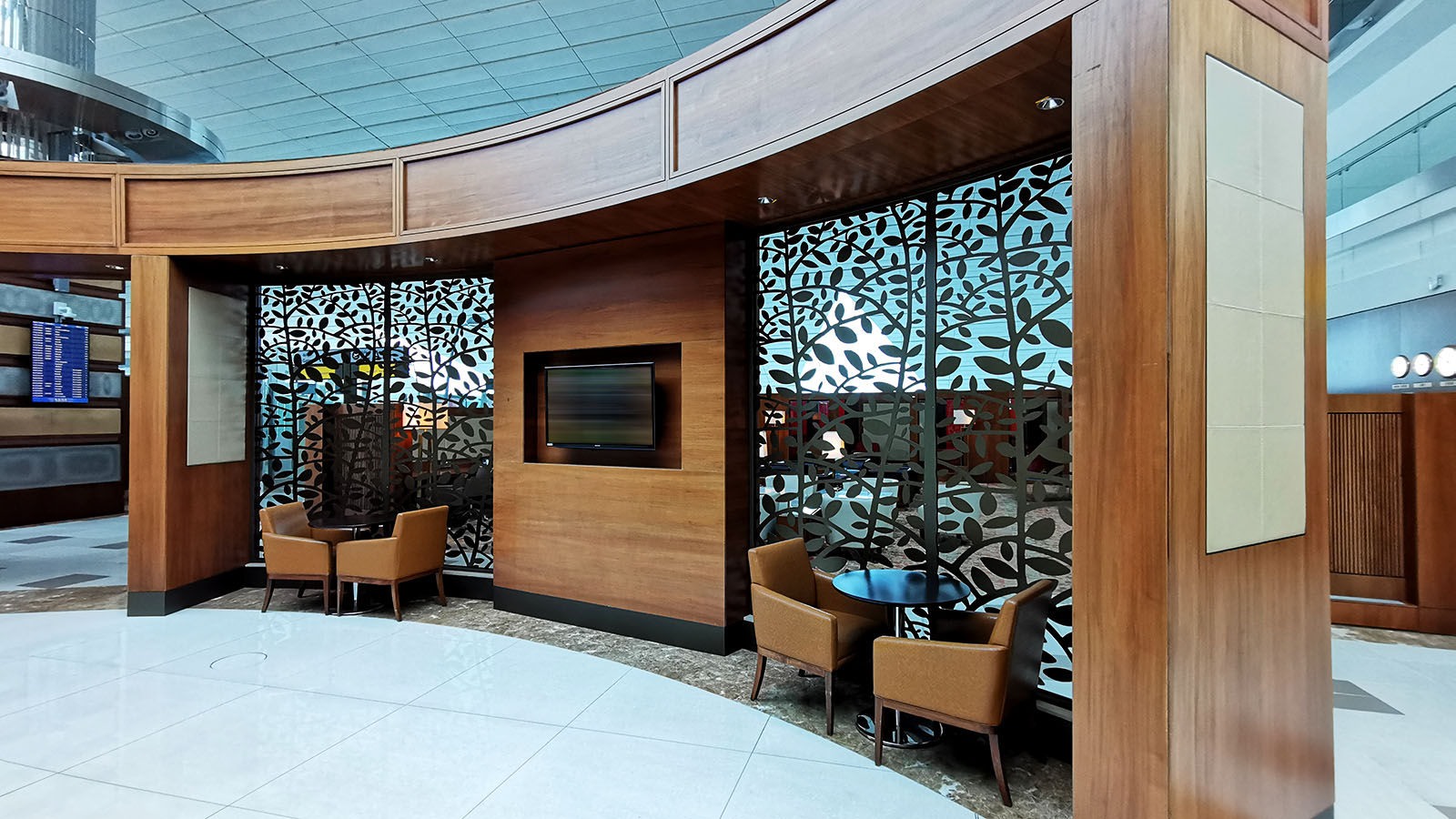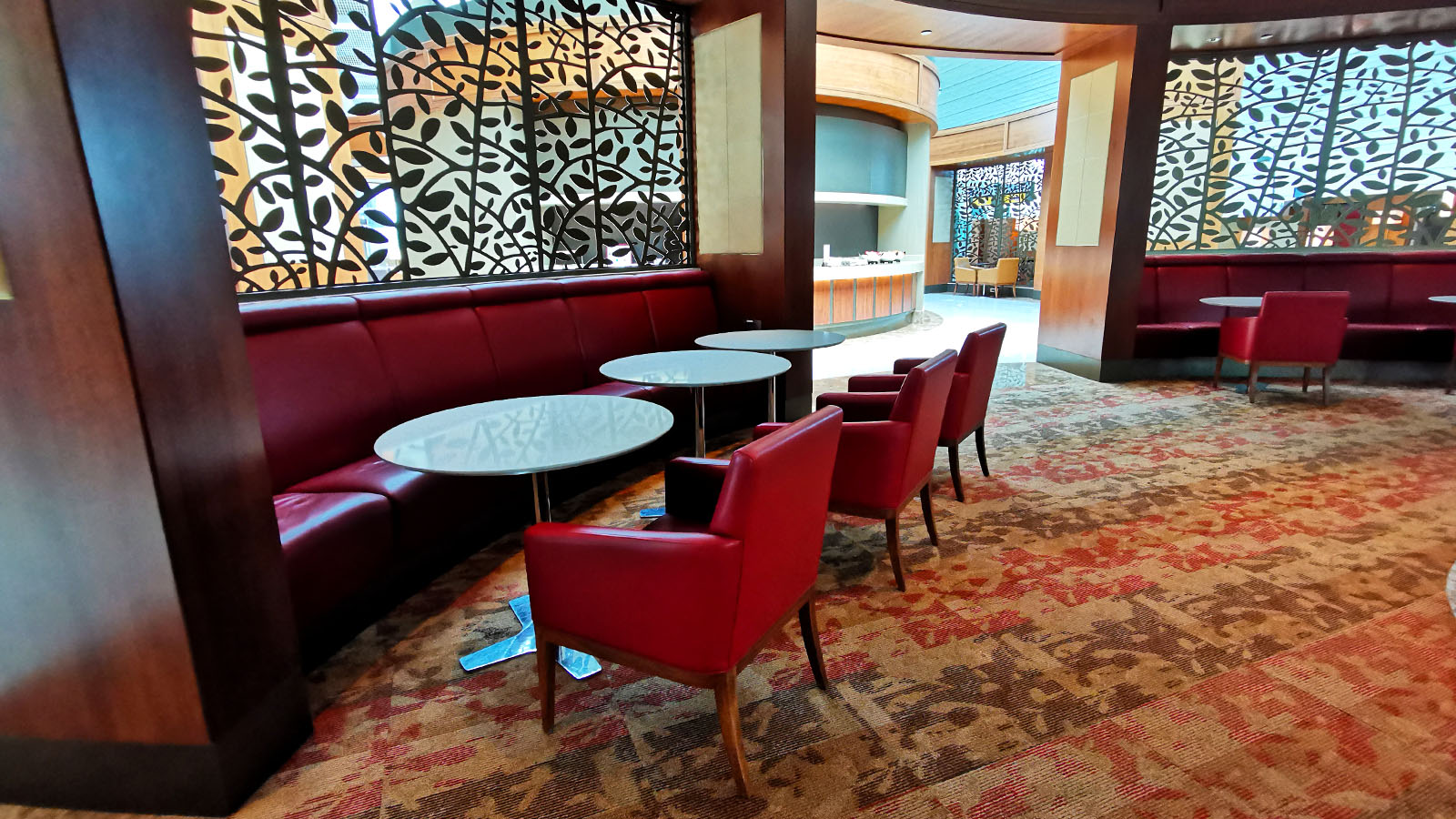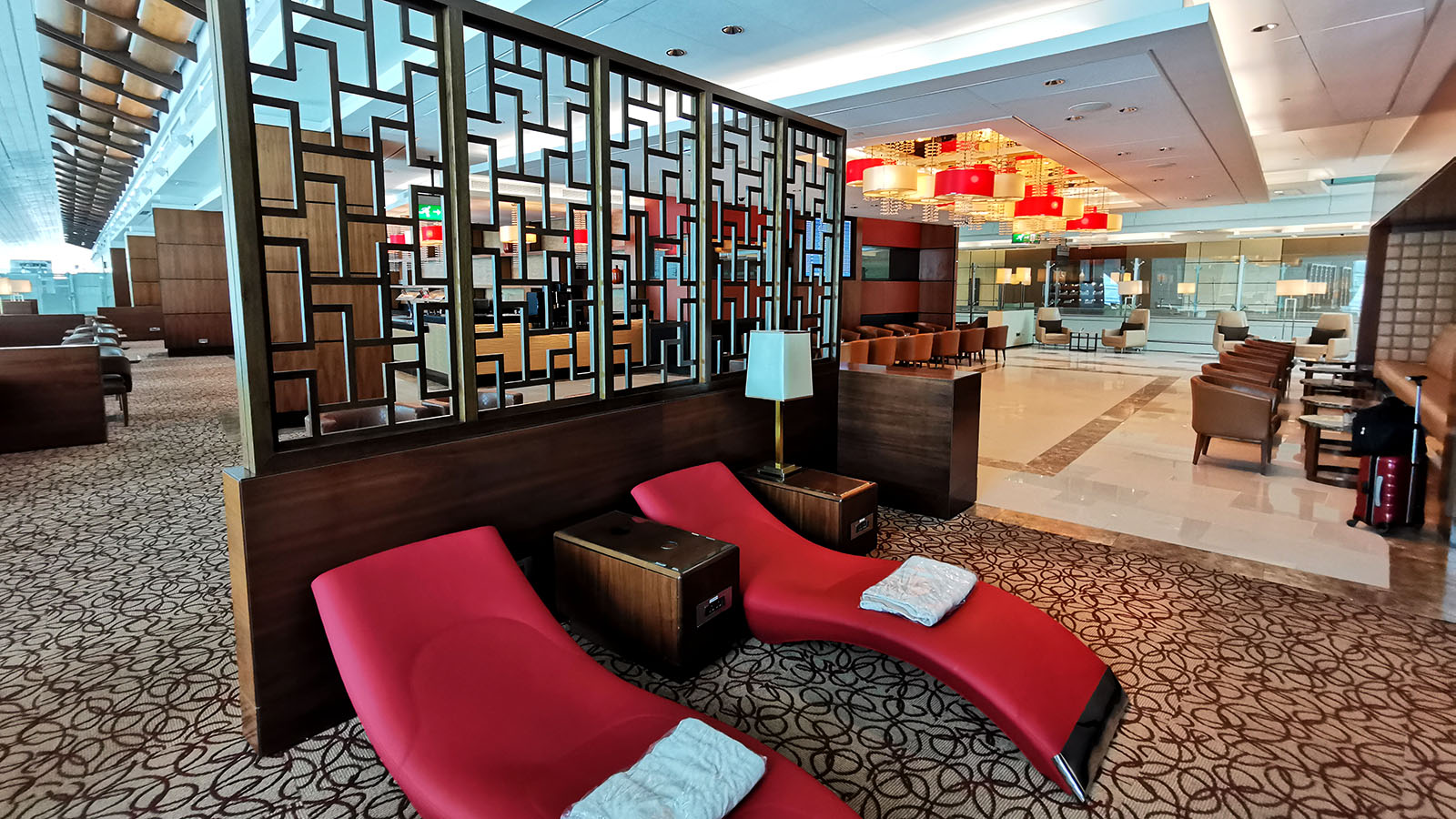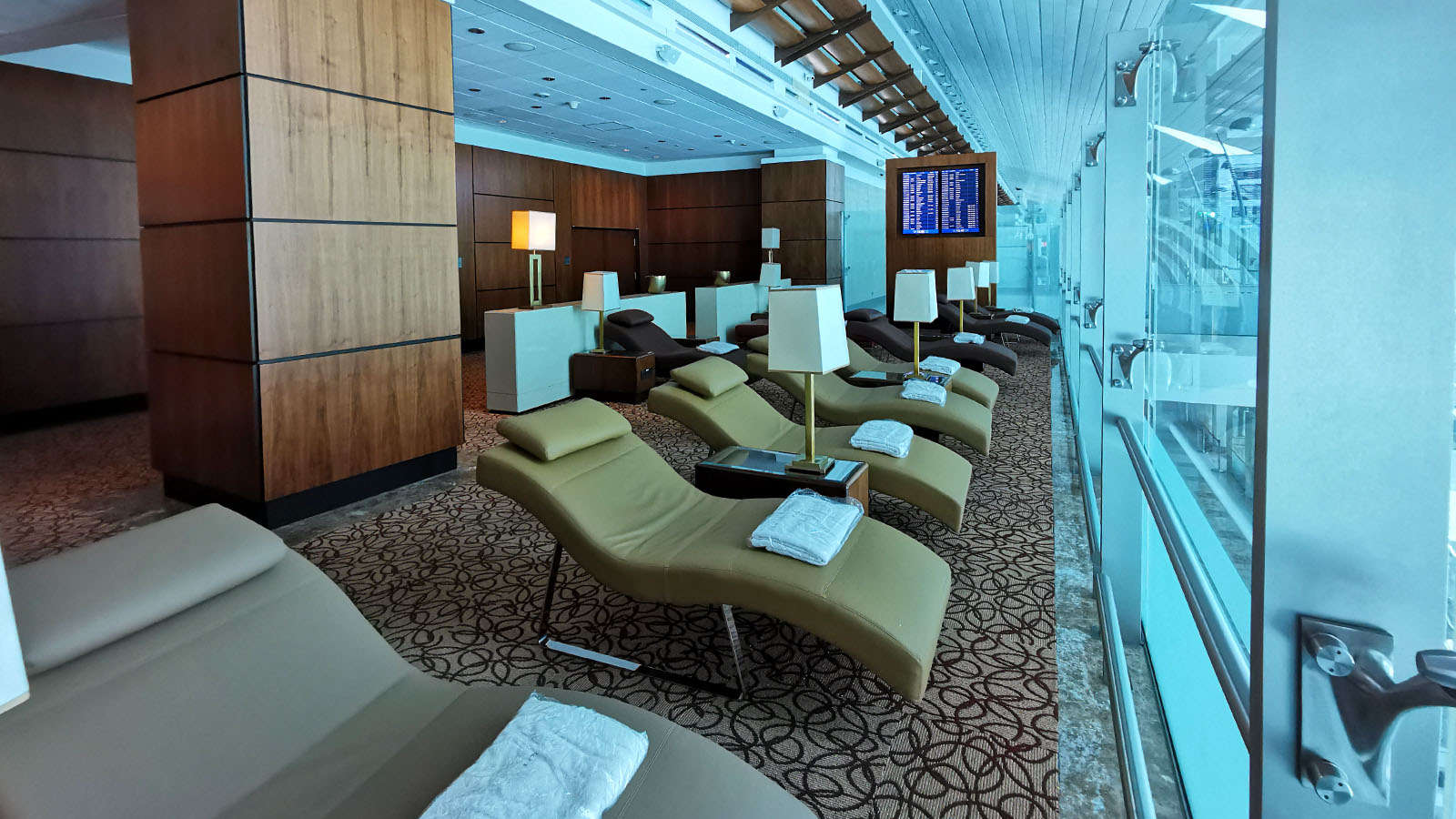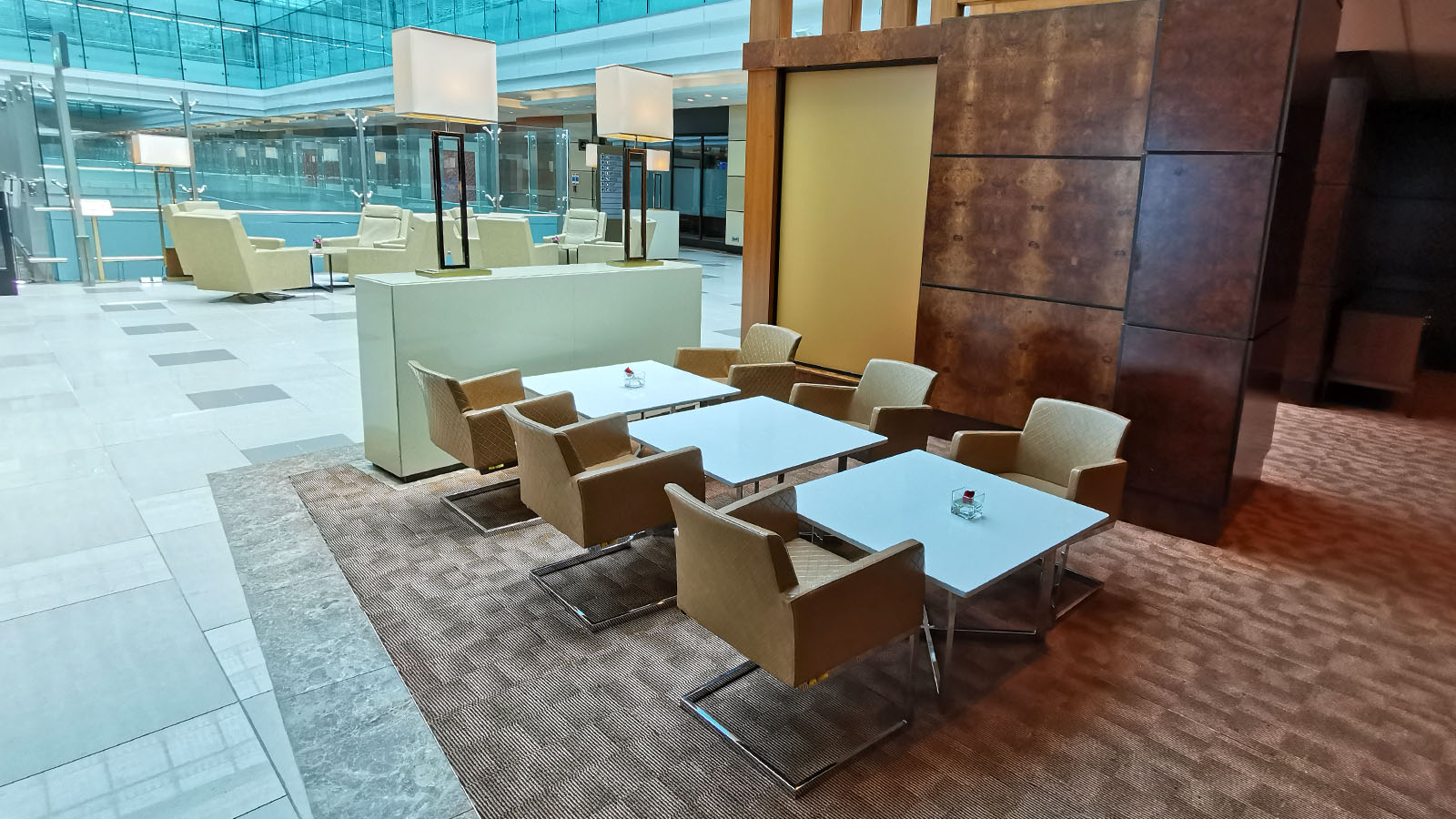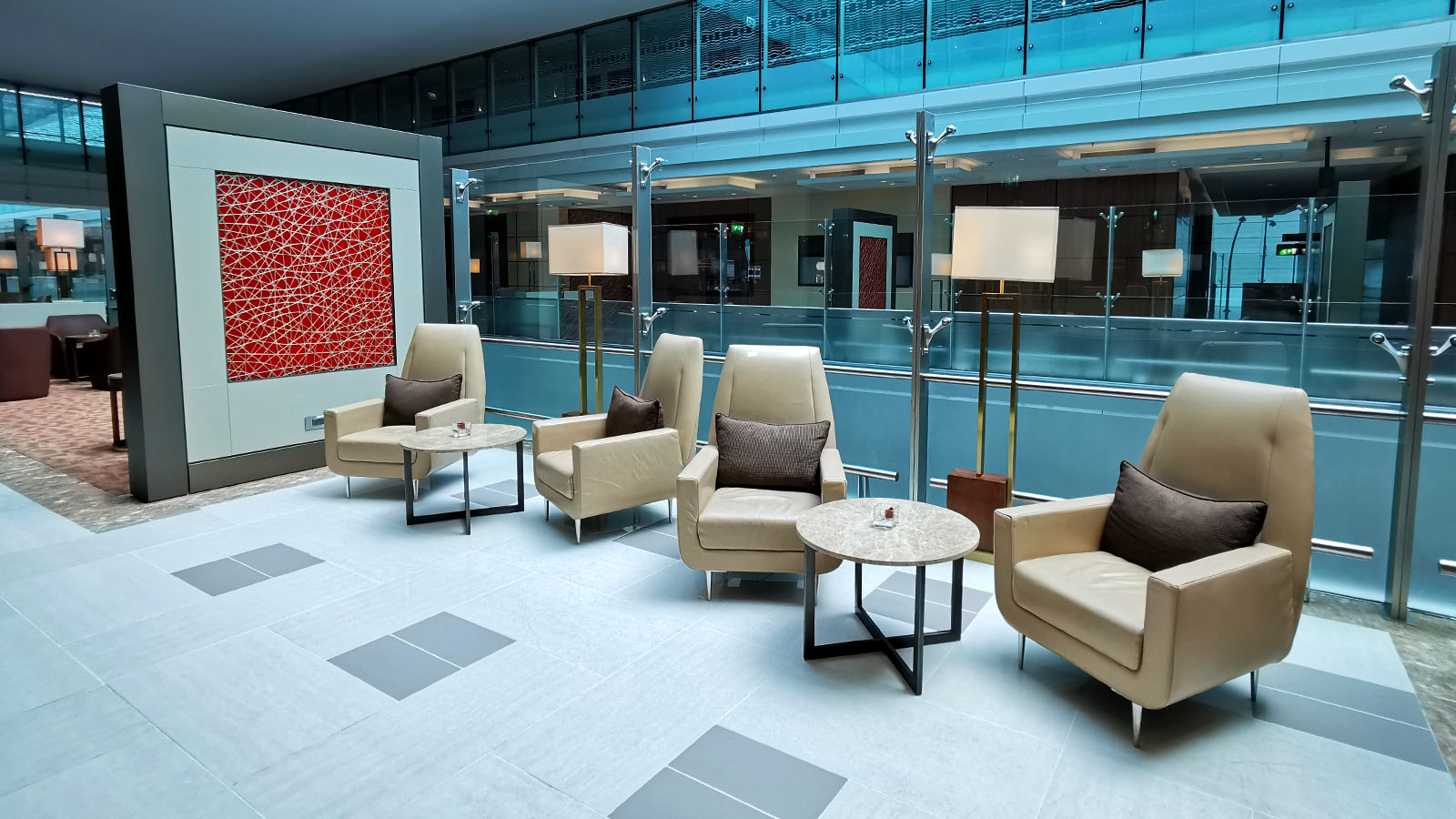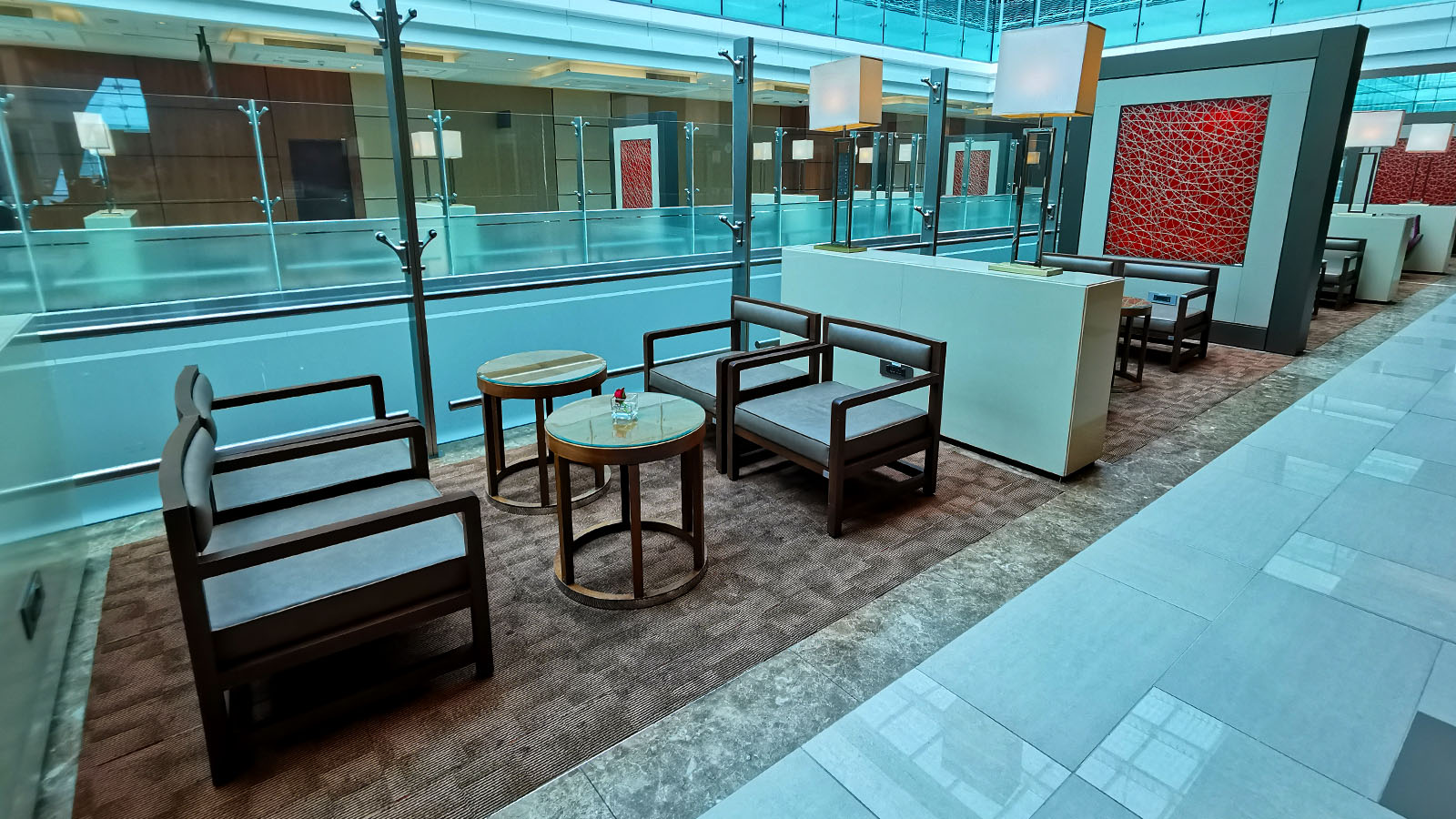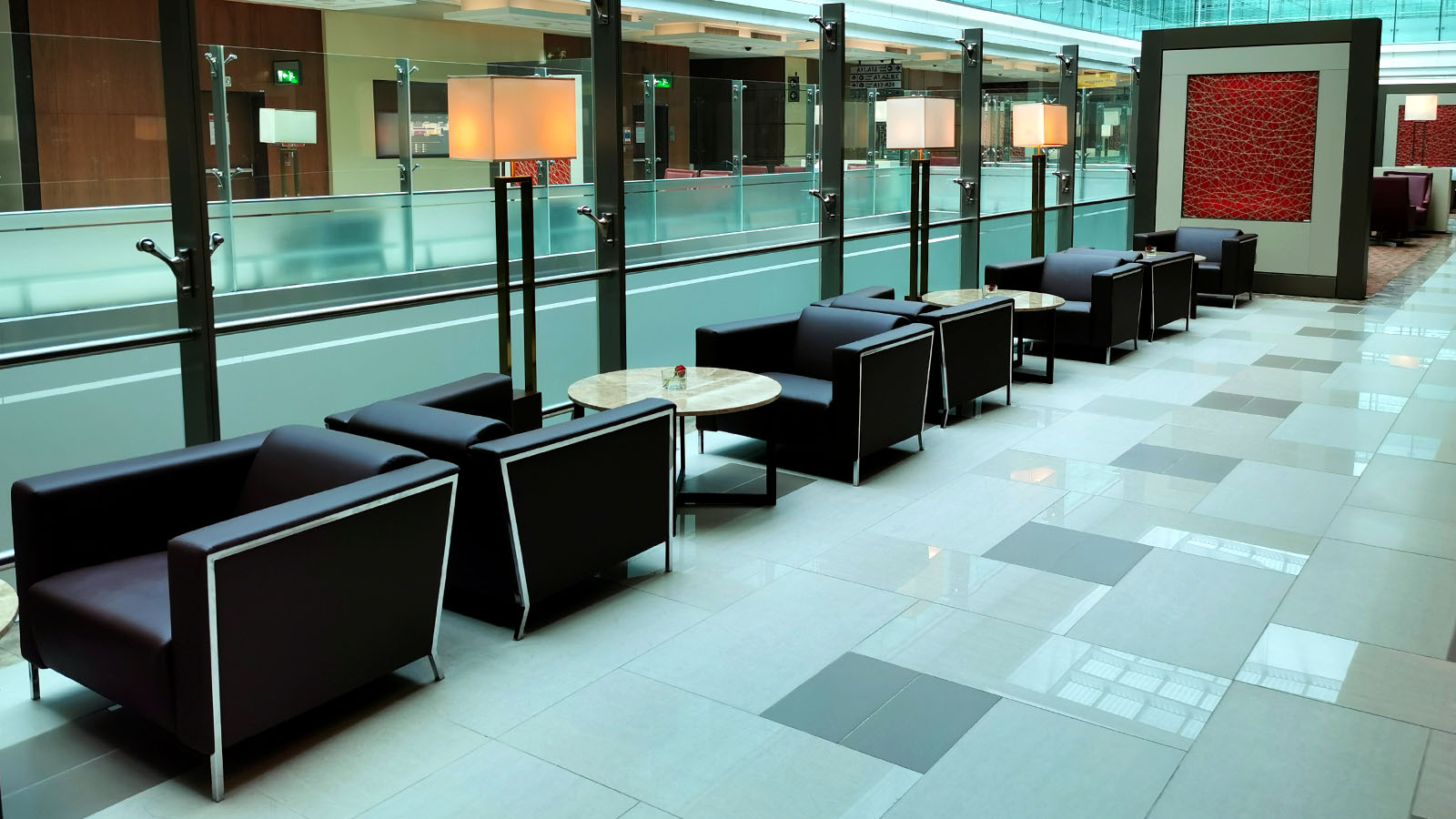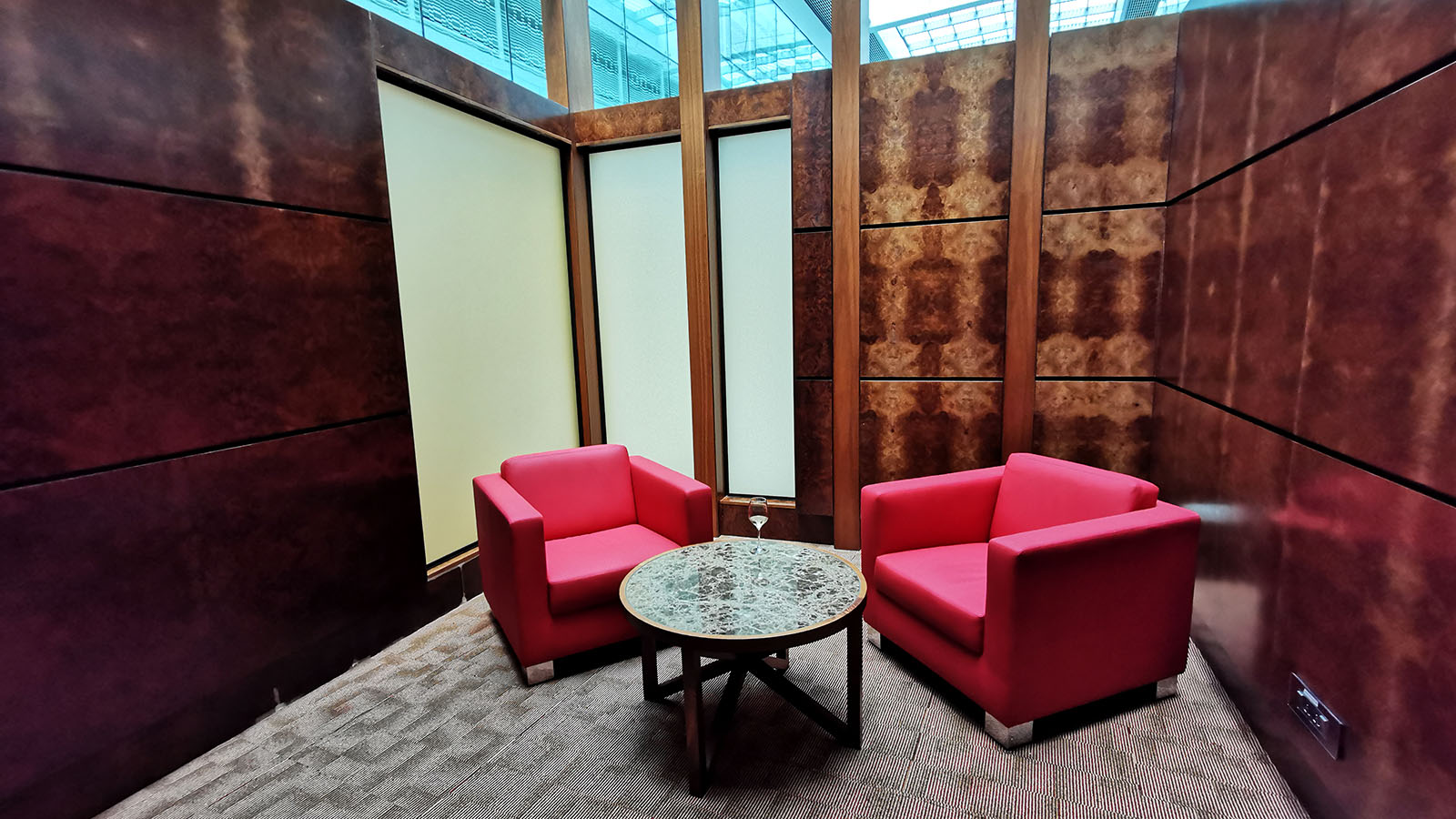 I always make a point of sitting somewhere different on each visit, giving every journey a more distinct feel.
Food and beverage in the Emirates Business Class Lounge, Dubai T3, Concourse A
On the dining front, the Emirates Business Class Lounge in Concourse A offers a wide variety of fare. Buffet selections range from light salads and pastas through to more substantial bites for breakfast, lunch and dinner. A lunchtime visit still finds fresh breakfast options available, so if you have a hankering for a hash brown, you won't be disappointed.
As for main courses, expect staples like curries, rice and noodles. In photos, dishes may appear in short supply, but these options are popular and the serving counters are regularly replenished. Keep wandering and you'll also find a sandwich bar with ready-to-take toasties. Keep your eyes peeled for the pizza here too.
For something to finish – or as a simple bite to start – make time for the baklava counter. You won't want to miss the dessert station either, stocked with cakes, tarts, mouses and more. Or for that matter, the ice cream cart: just look for the red and white stripes.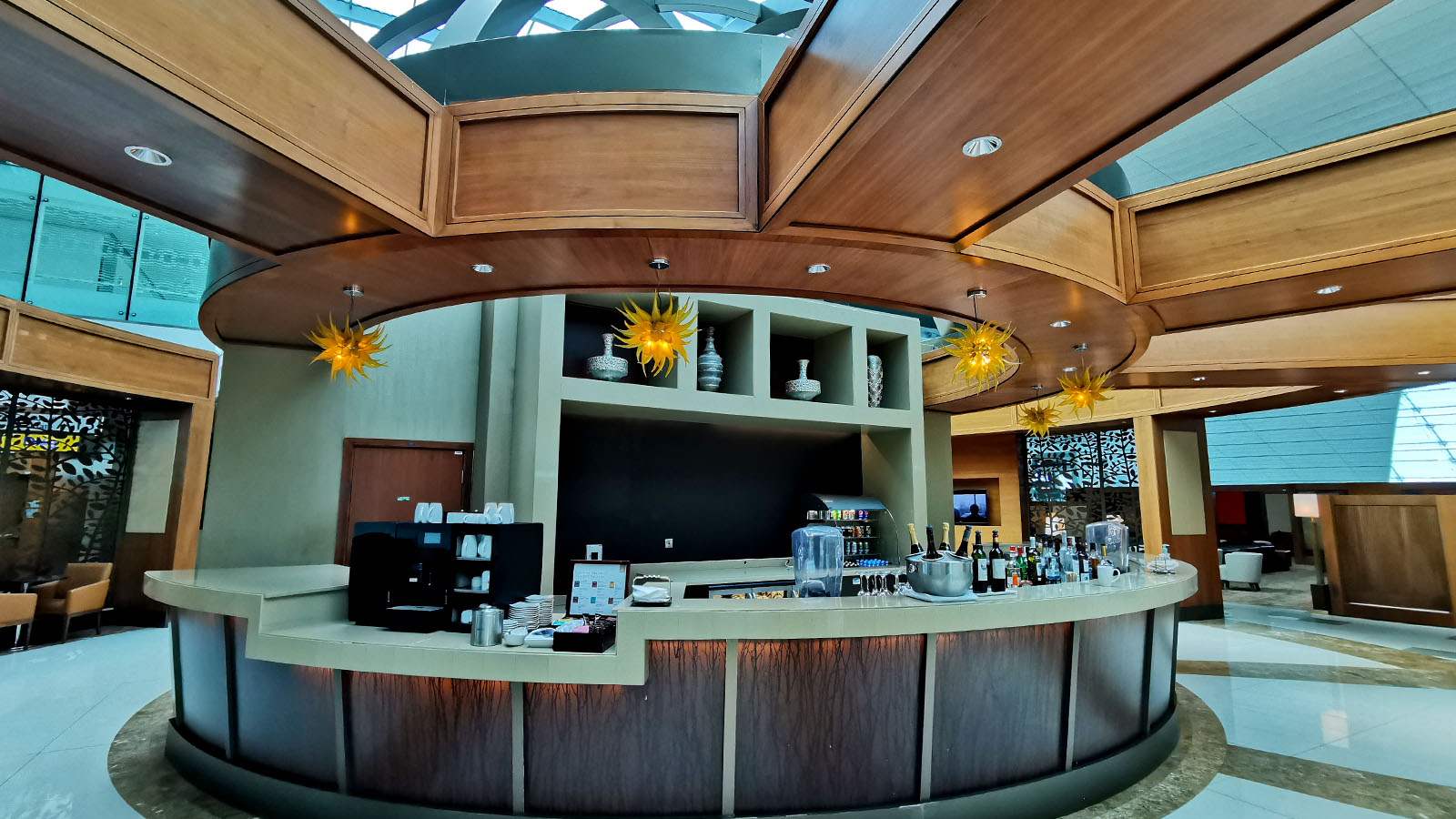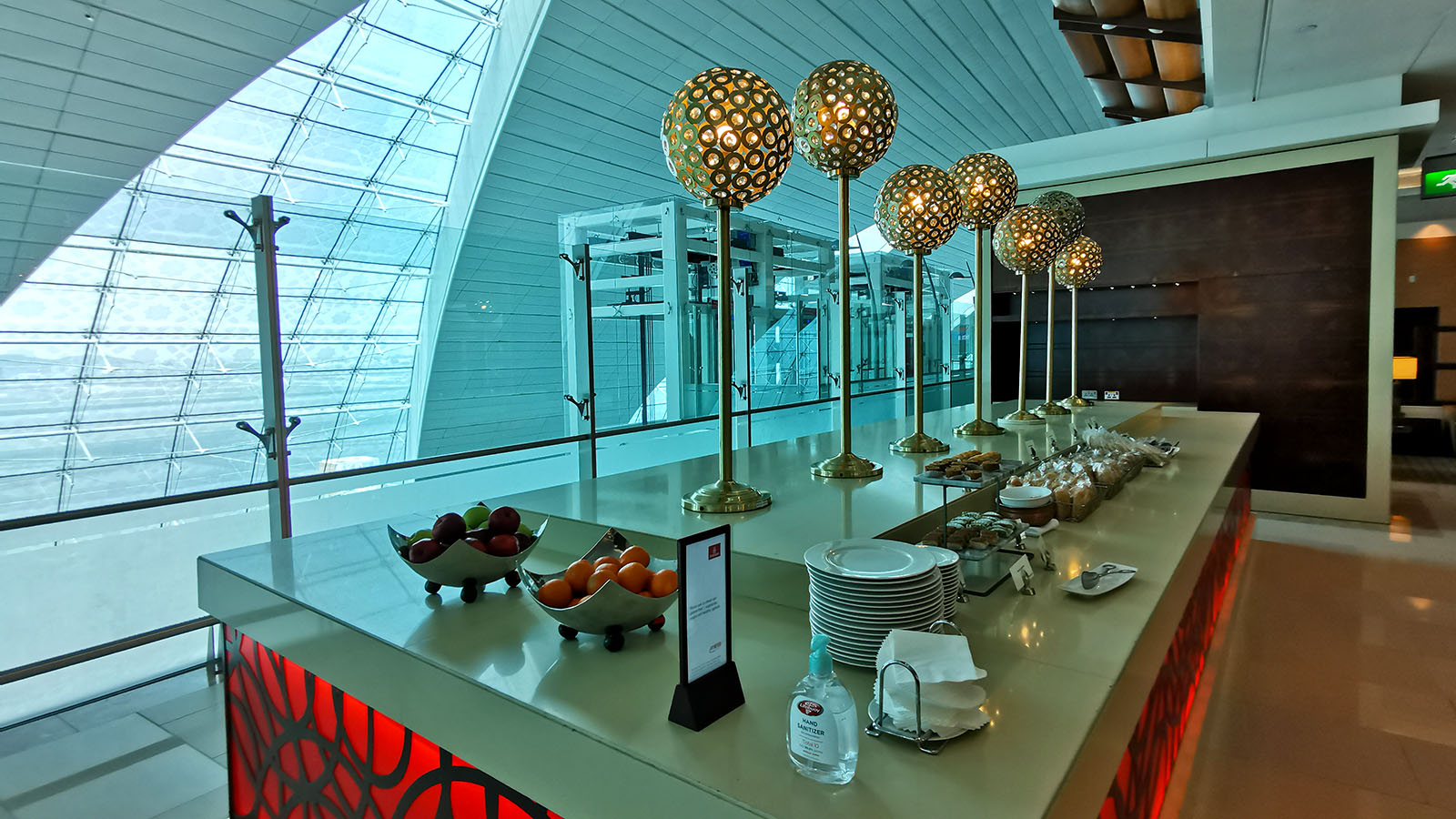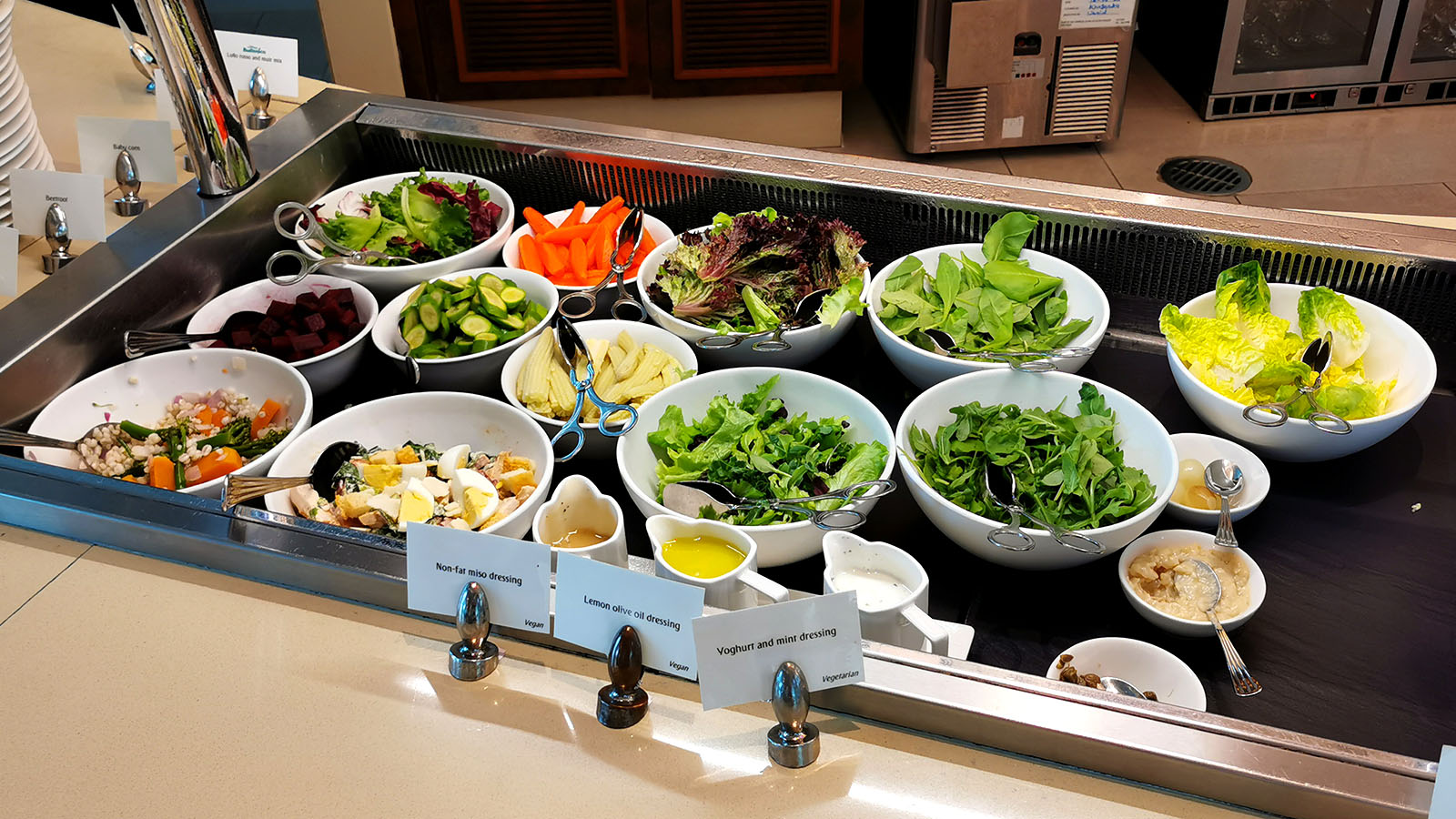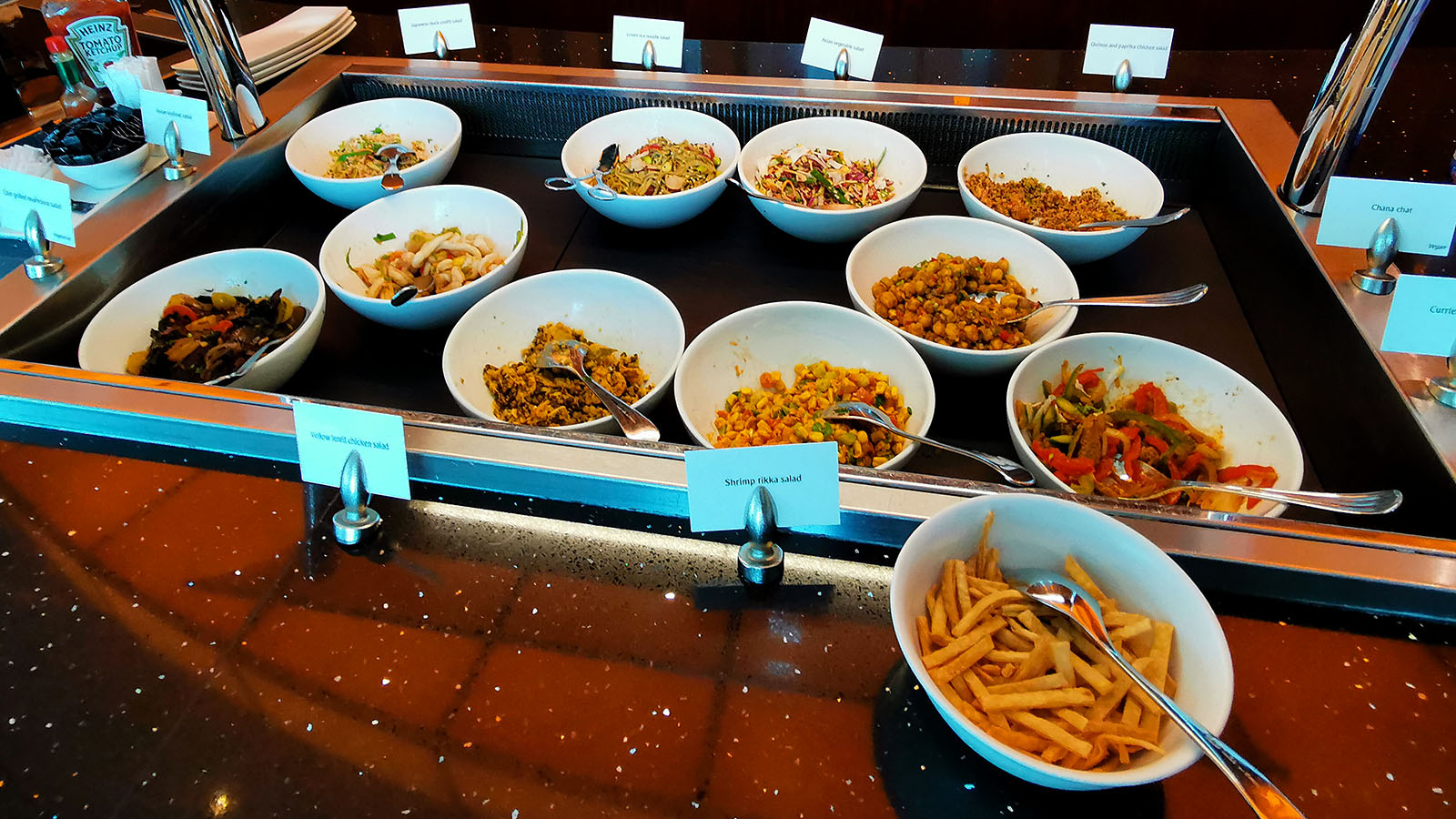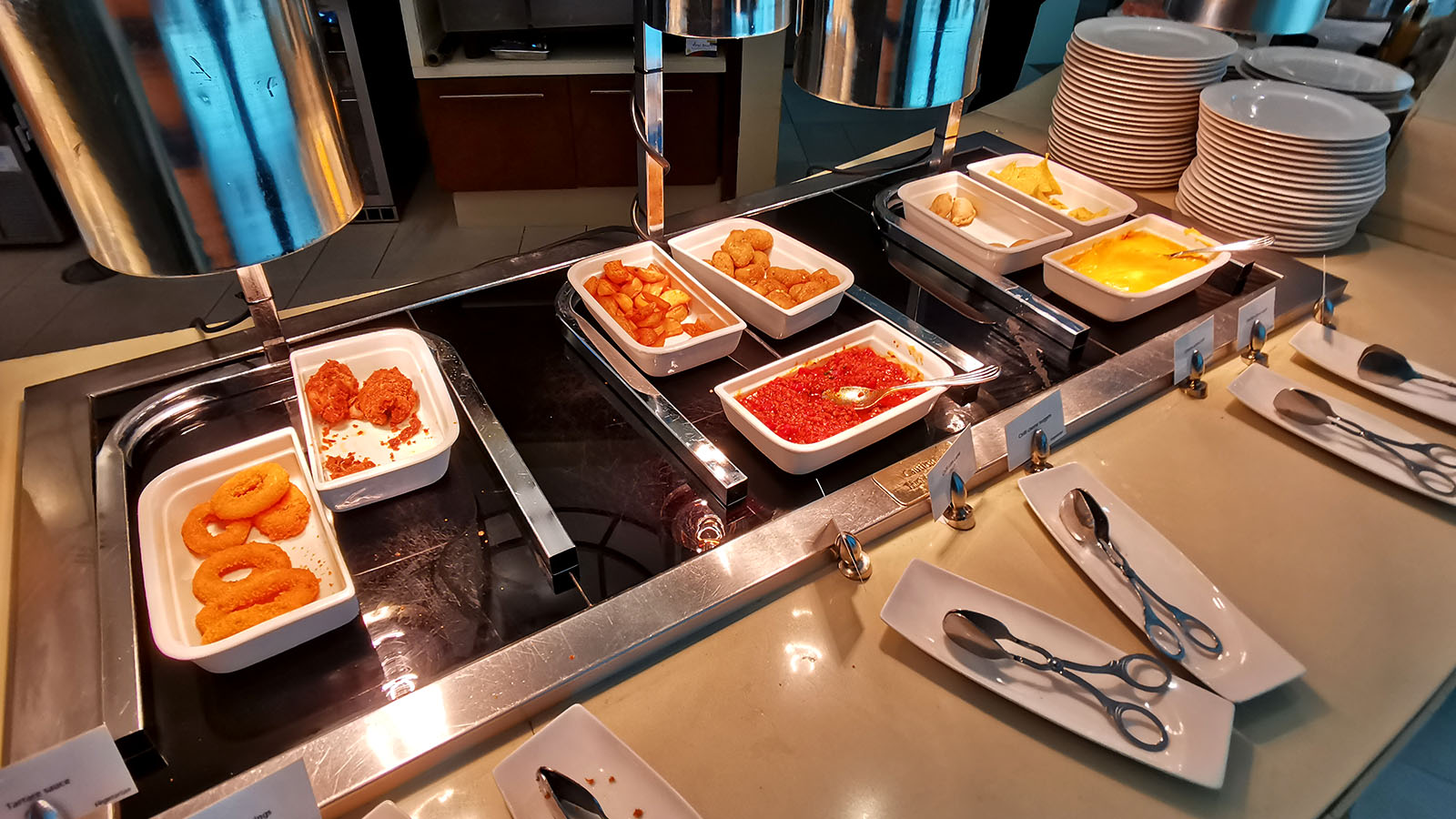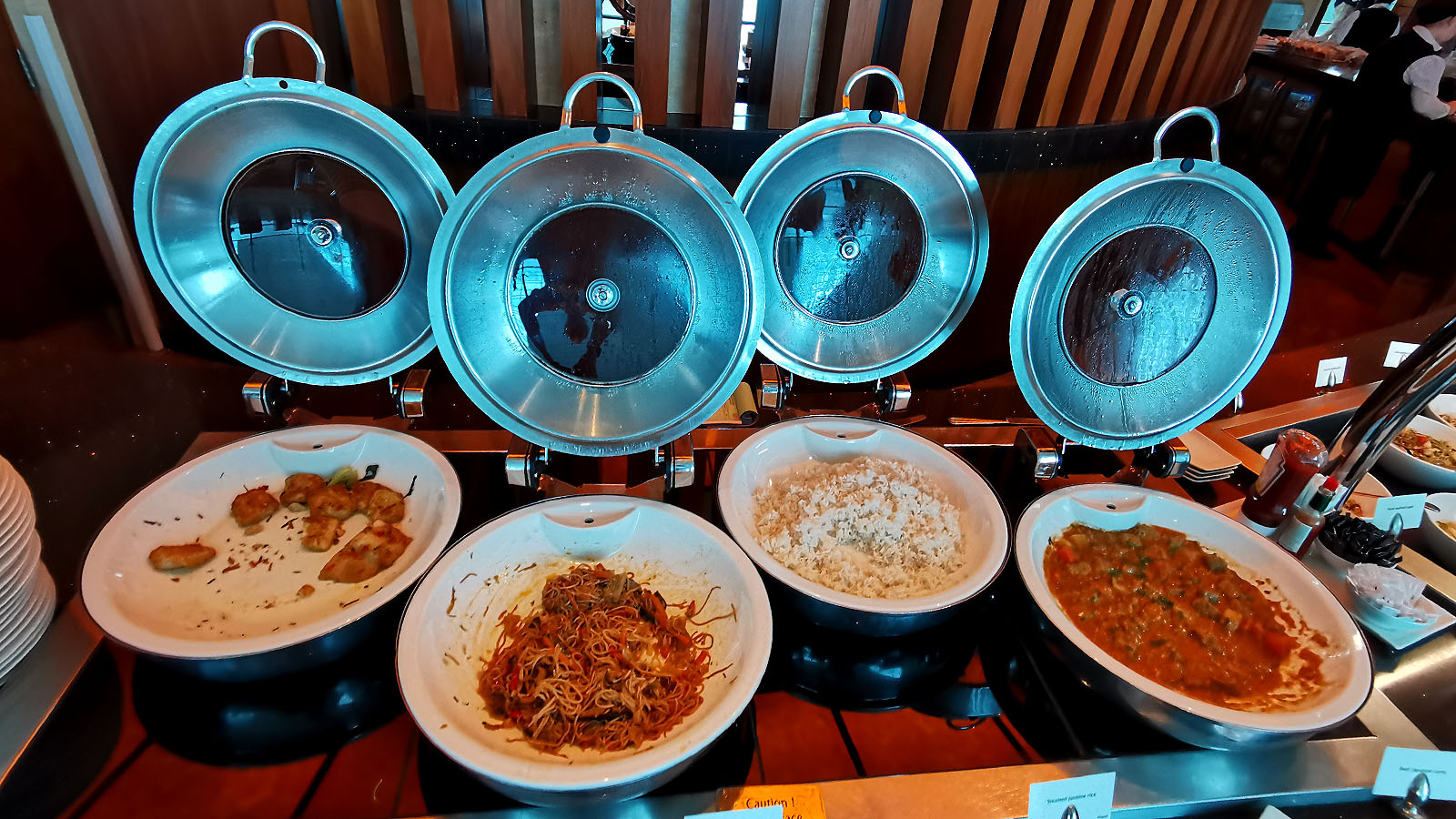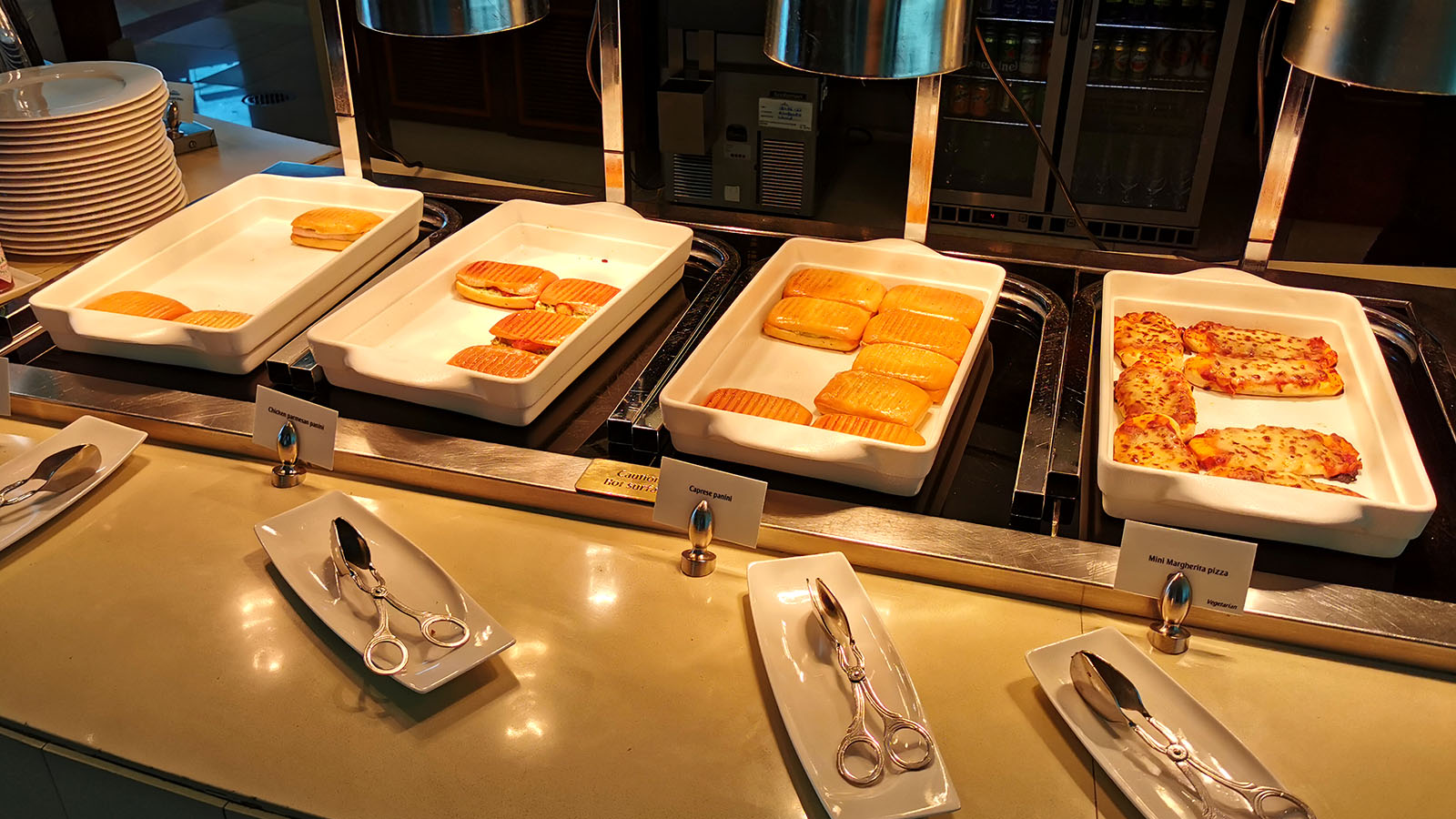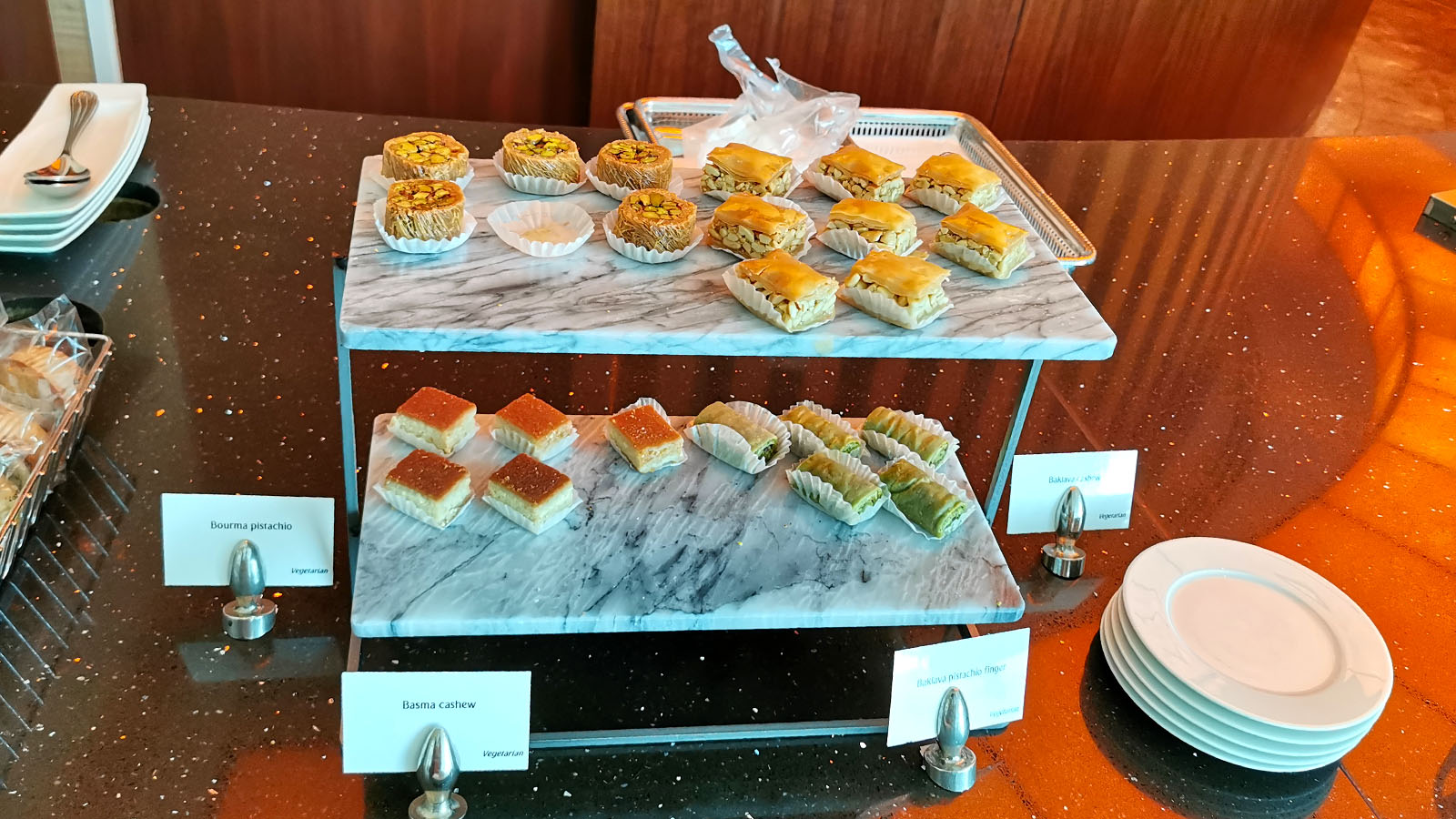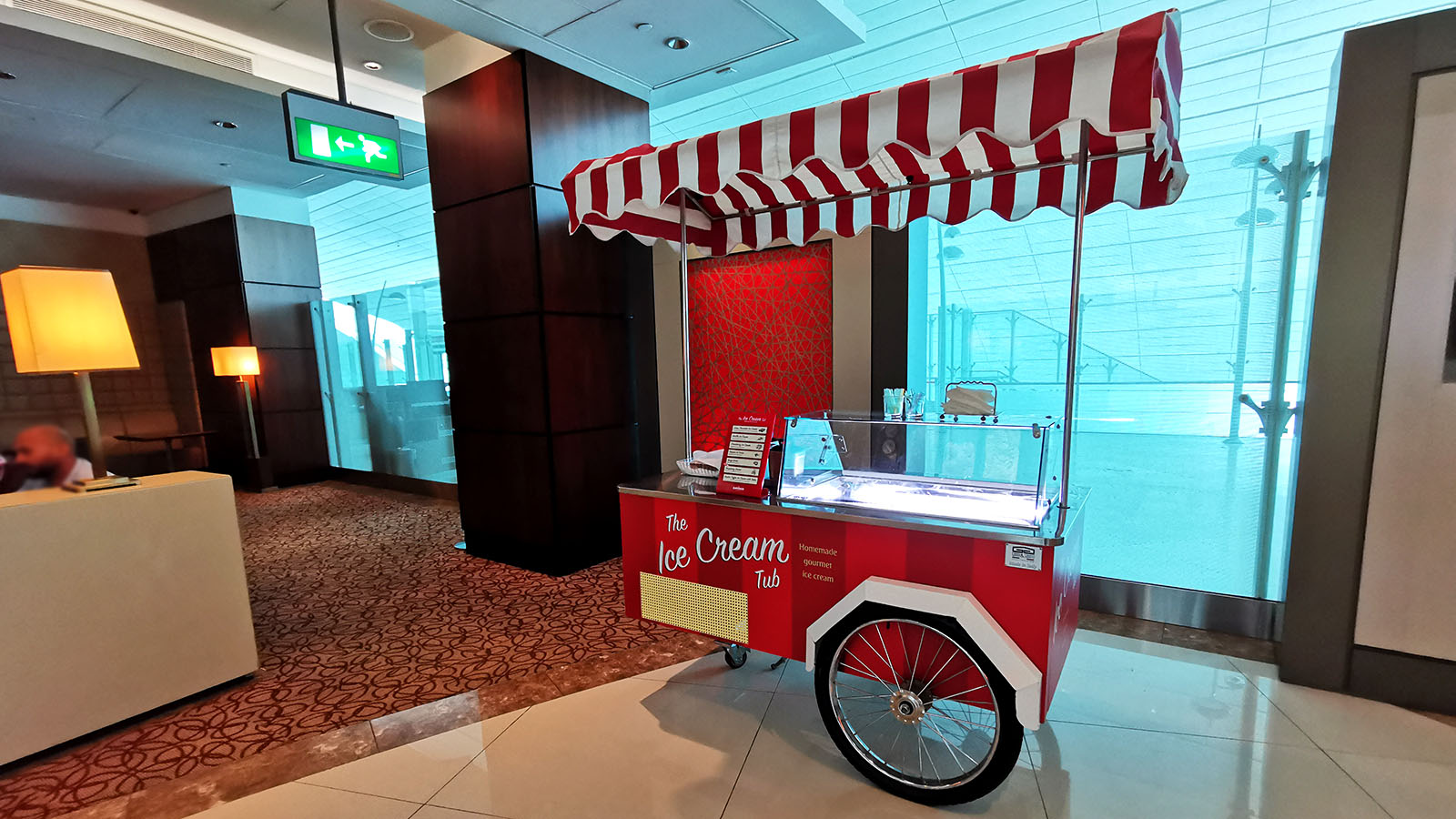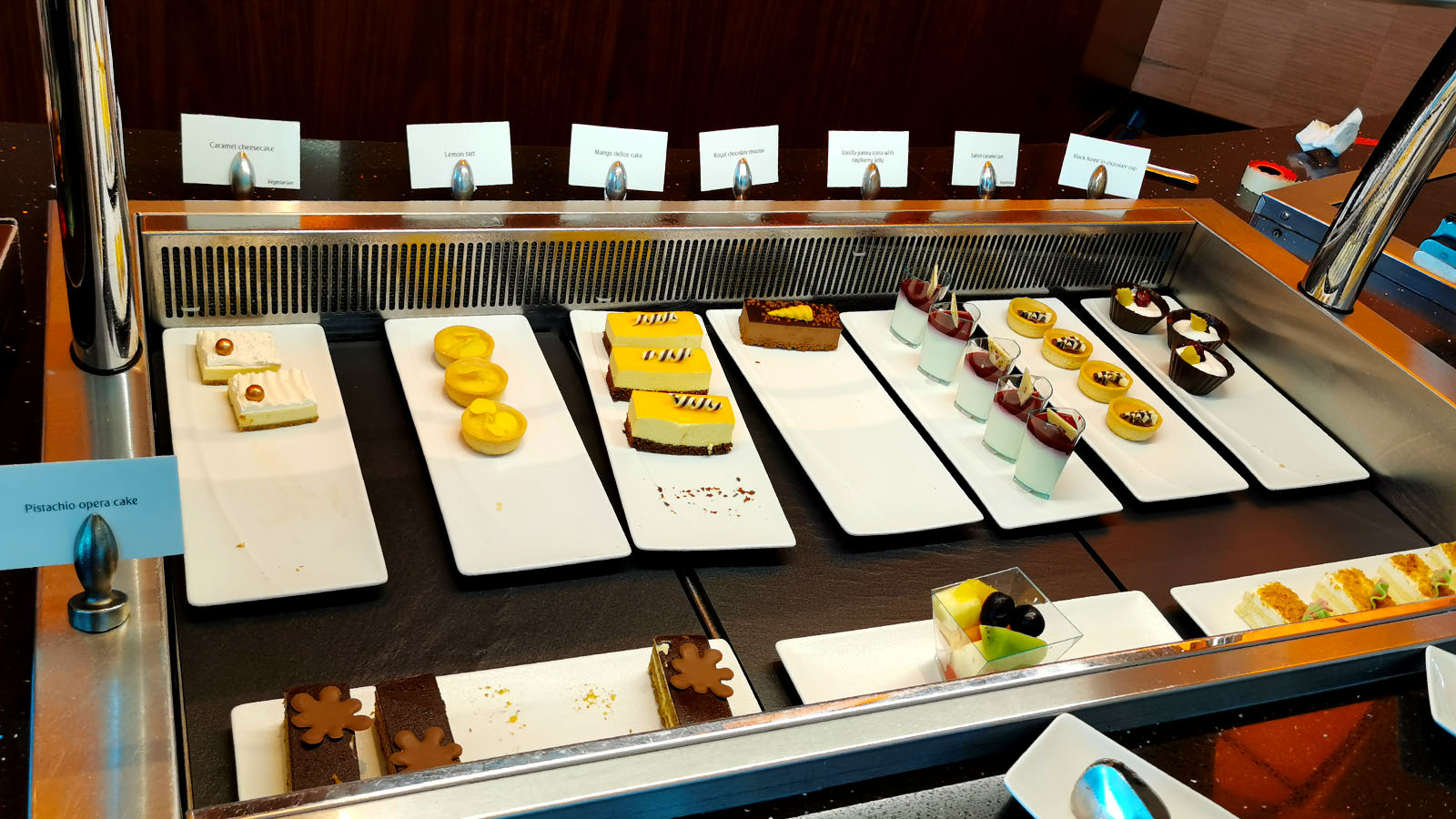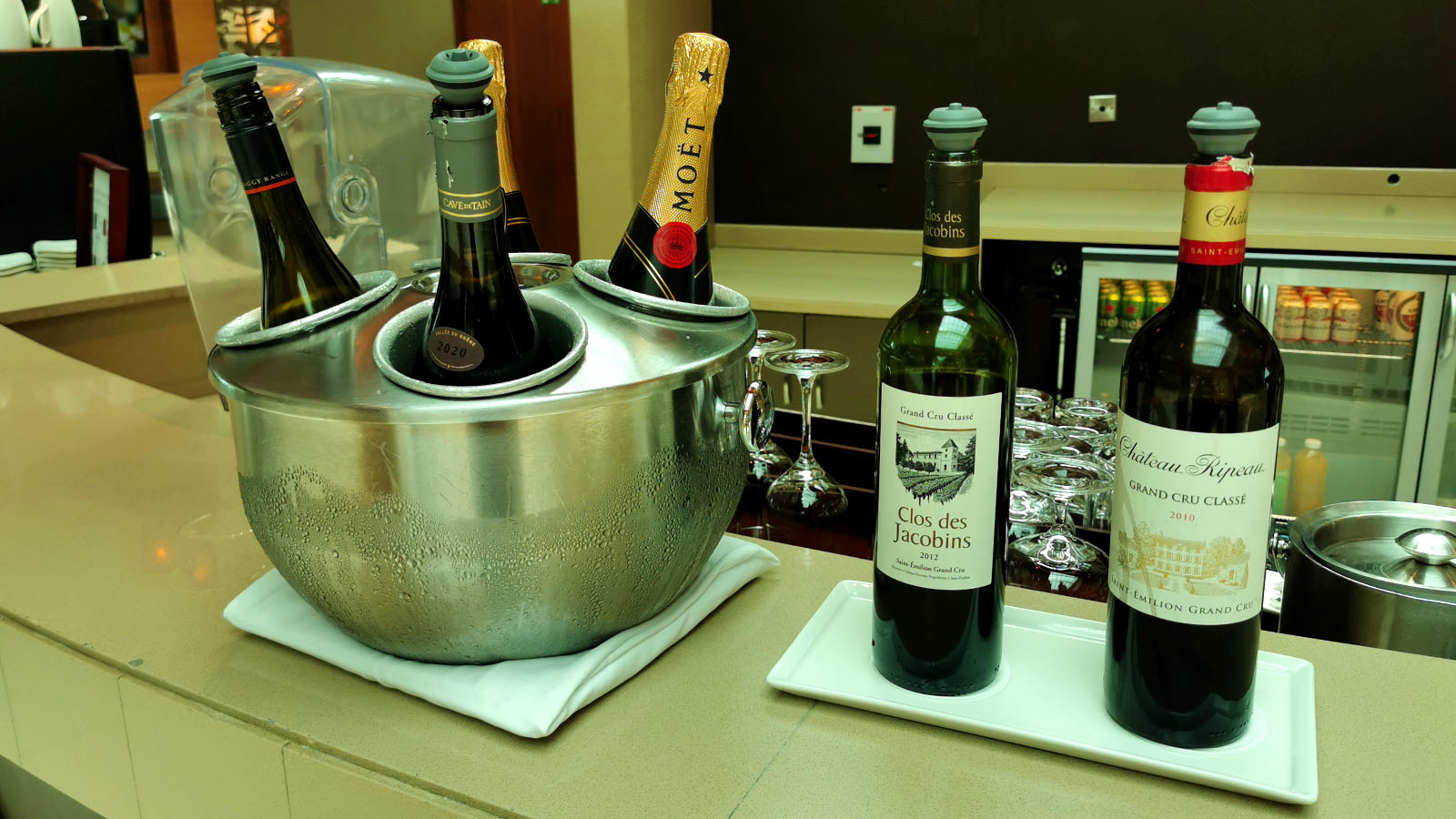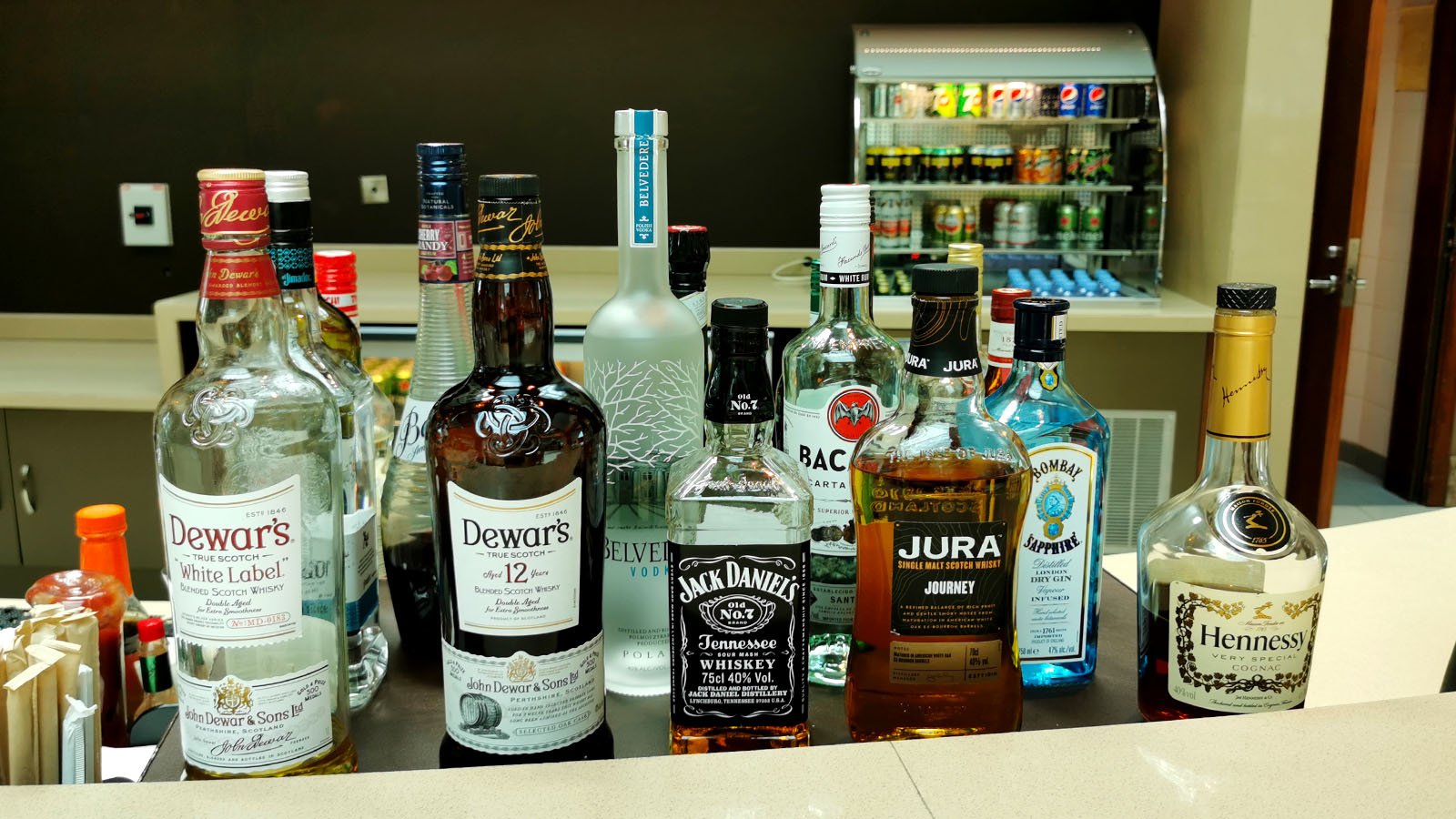 Depending on where you wander, bar counters are either staffed or DIY. This makes it easy to help yourself to a glass of Champagne (Moët & Chandon Impérial Brut NV). But if you want something with some assembly required, like a gin and tonic, staff are ready to help.
That said, unlike this lounge's equal counterpart over in Concourse B, there's no dedicated Champagne bar here. If you have some time up your sleeve and enjoy trying different bubbles, a quick train ride to Concourse B is well worth it.
Amenities in the Emirates Business Class Lounge, Dubai Concourse A
Beyond the basics that most travellers expect, the Emirates Business Class Lounge in Concourse A has a few other tricks up its sleeve. For one thing, there's a cigar room – yes, indoors. For those who appreciate it, it's a closed-off room with a cigar menu and a separate service counter. It's not something you'd see in places like Australia, but don't forget, Emirates caters to travellers from all over the world. And if it's not for you, you can simply walk past.
Speaking of closed-off rooms, this lounge offers more for business travellers than simply tables with power points nearby. There's a dedicated business centre near the entrance to the lounge. Whether you need a quiet desk to work or a small room to host a pre-flight meeting, it's a real go-to. Wi-Fi is available throughout the lounge, too.
This lounge also has a dedicated Skywards service desk inside. Separate from the main reception, staff here can help with all sorts of frequent flyer enquiries. They can also print Emirates-branded baggage tags based on your Skywards status. Even though I've used my Qantas Frequent Flyer status to enter the lounge, staff here can still assist. Before long, I have a fresh set of Skywards baggage tags ready to go, printed in Silver to match my separate Emirates status.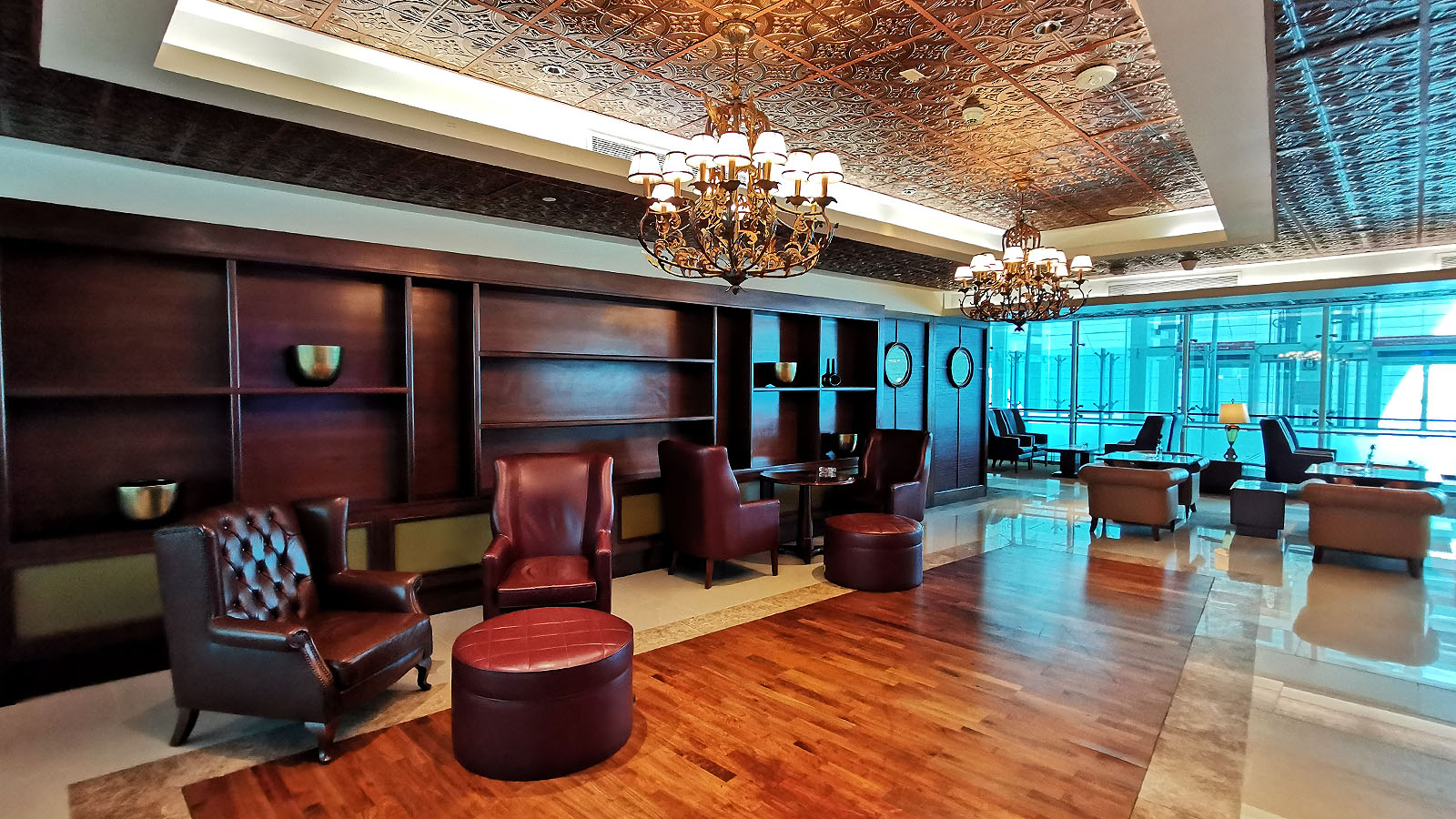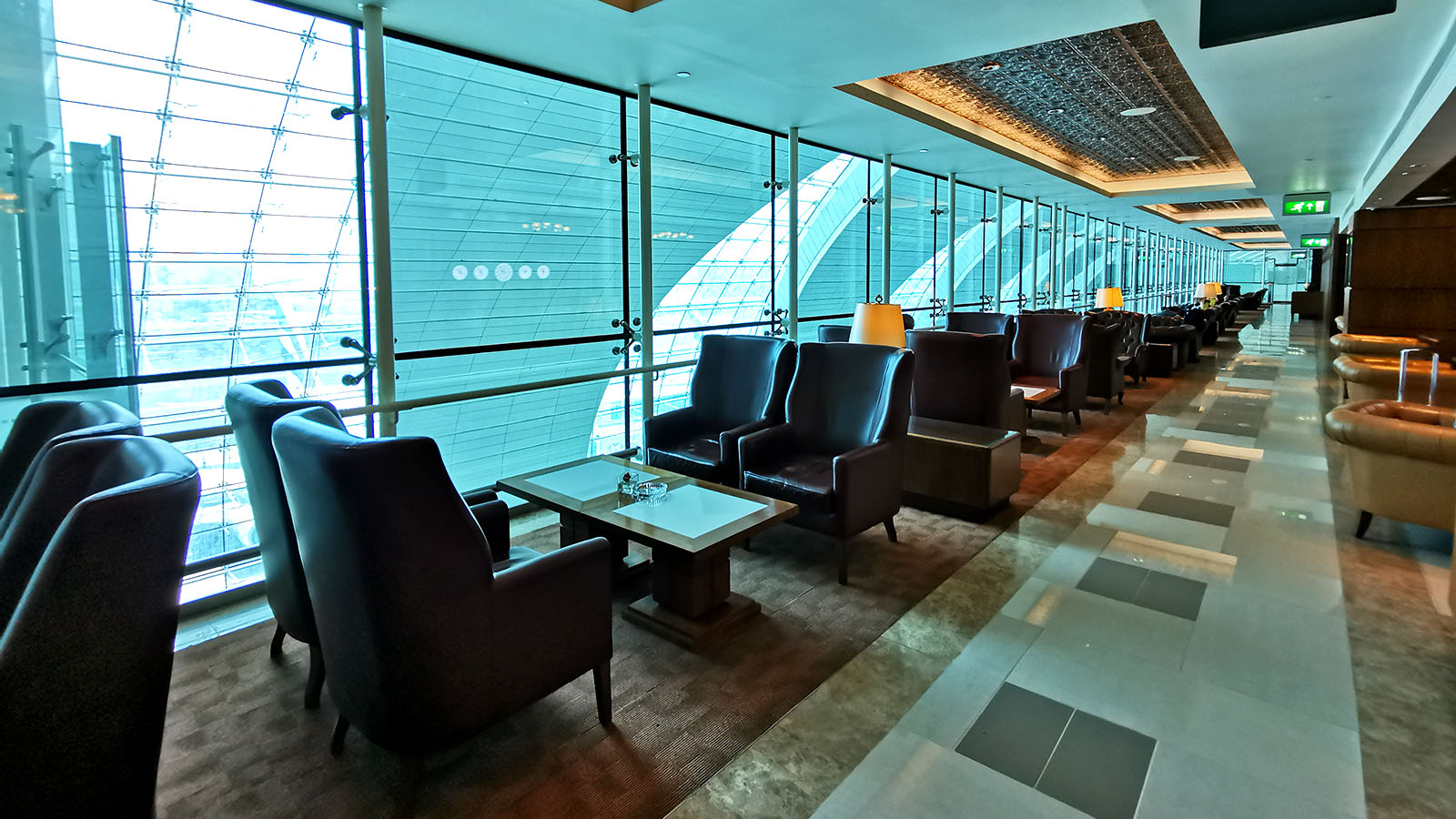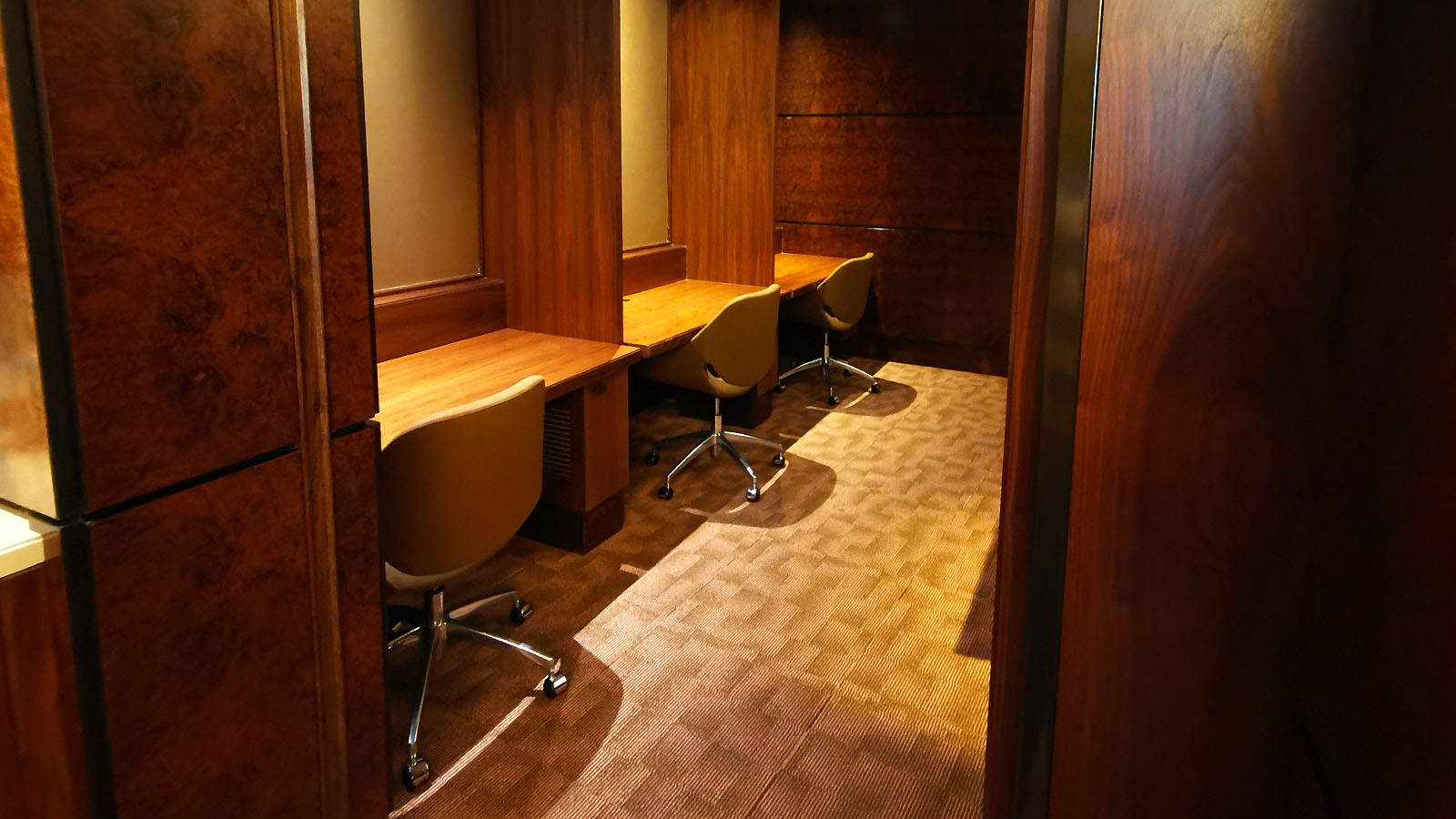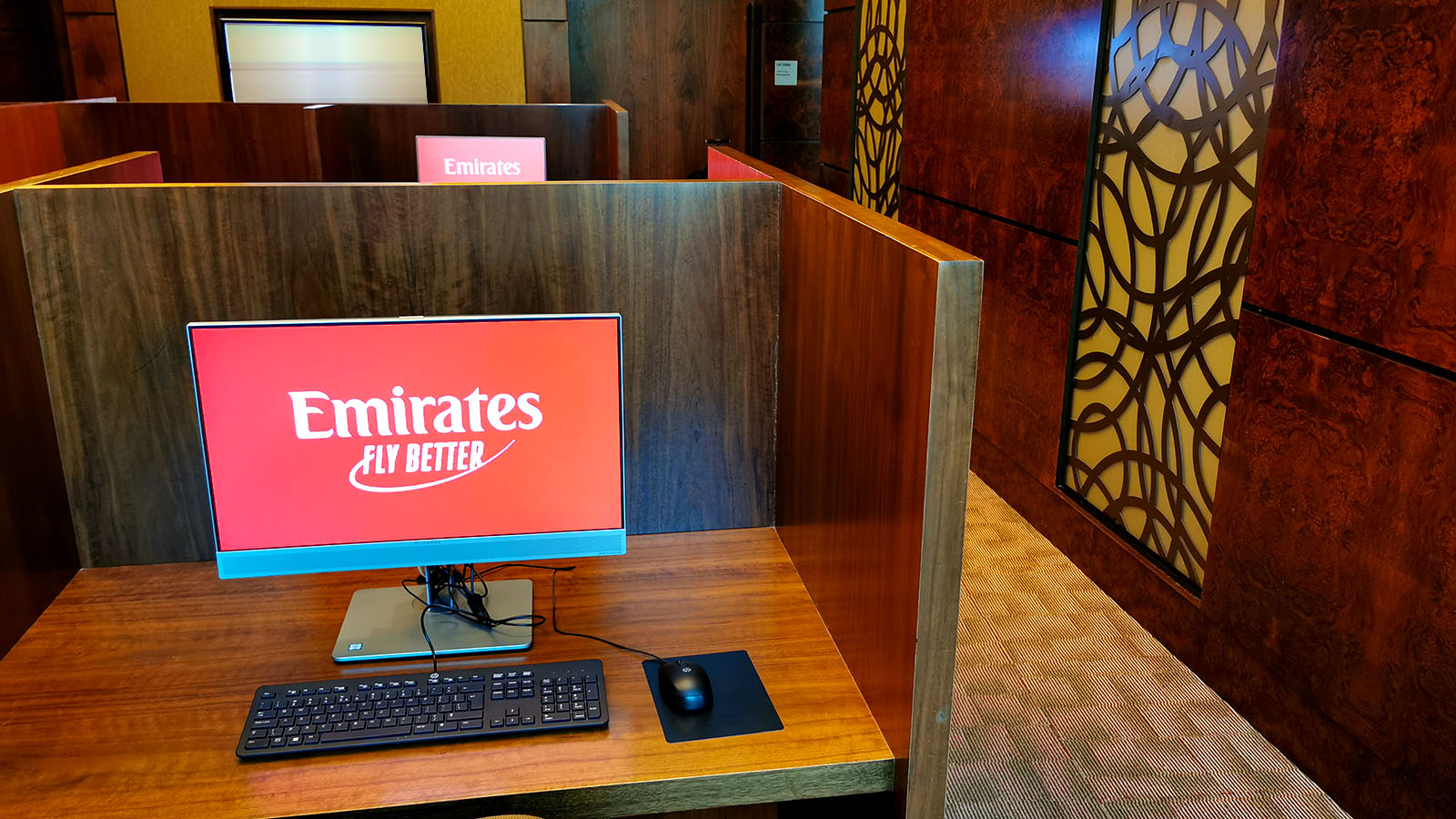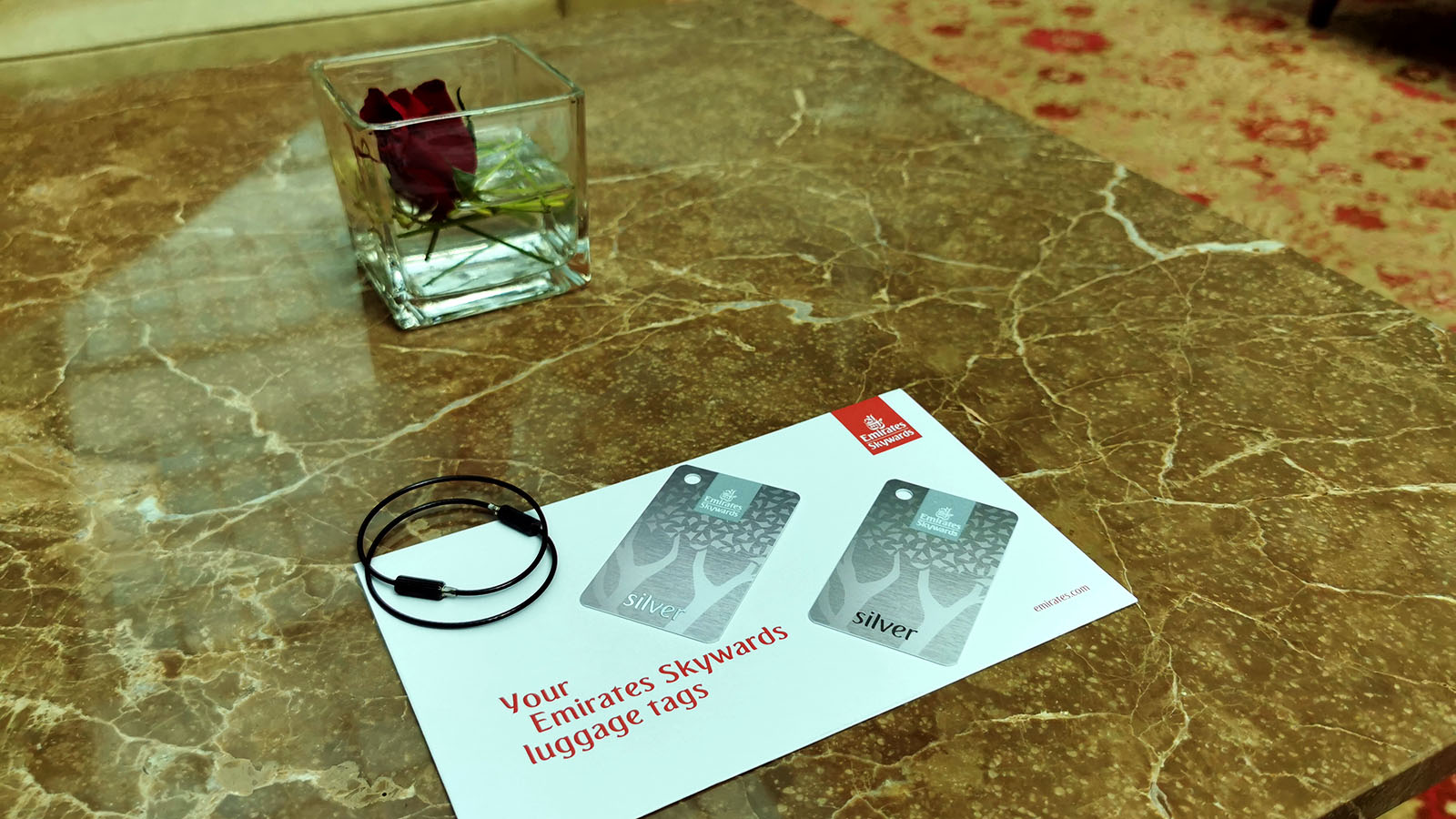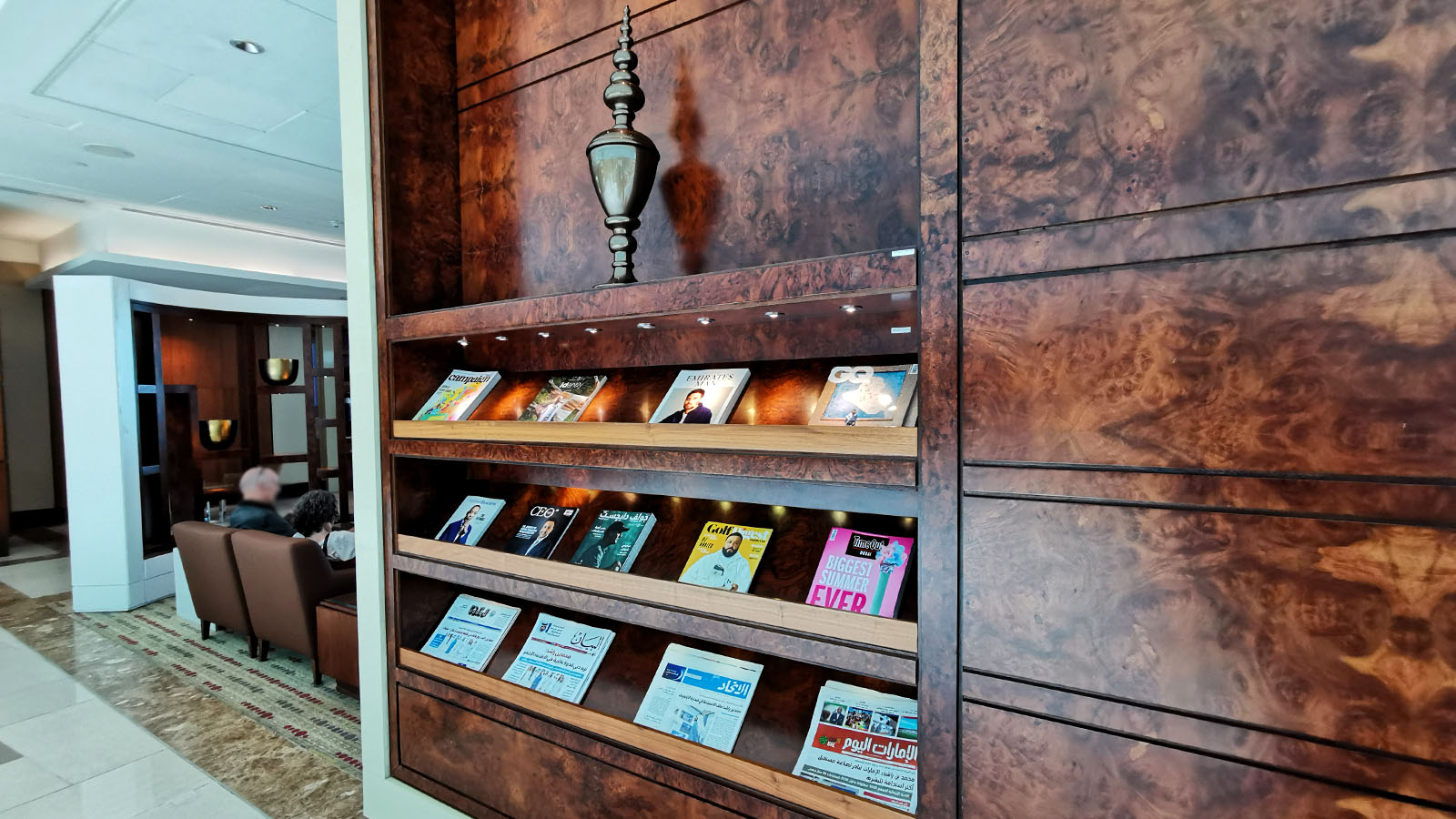 Rounding out the experience, expect to find a selection of newspapers and magazines at the ready. There's also a colourful room to keep young children entertained. Handily, with seating for adults just outside. Restrooms and shower suites are also dotted throughout the lounge.
Accessing the Emirates Business Class Lounge, Dubai Concourse A
There are many ways to access the Emirates Business Class Lounge in Dubai Concourse A. In fact, any passenger on any Emirates flight can get inside if they're willing to pay. I won't list everybody who qualifies for access, given that First Class flyers and Platinum-tier members will largely use the First Class Lounge instead. But here's a rundown of those who'll gravitate here:
By class of travel:

Emirates Business Class, excluding passengers booked on Emirates' Business Class Special fares.

flydubai Business Class, on flights departing from Terminal 3.

By elite status or paid lounge membership:

Emirates Skywards Silver, with an onward Emirates flight.
Emirates Skywards Gold, when travelling on Emirates or flydubai (+1 guest).

Qantas Gold, when travelling onwards with Emirates on an EK or QF flight number (+1 guest).
Qantas Club, prior to Emirates flights booked on a QF flight number only (+1 guest).

By paid entry:

Skywards Blue members (the entry-level tier) can pay the equivalent of US$157.80 (~AU$249) at the door, per person. This fee can also be paid by Skywards Silver members who wish to bring in a guest. Or by Skywards Gold cardholders when bringing in more than one guest.
Non-Skywards members can pay the equivalent of US$183.75 (~AU$290). But given Skywards is free to join, that's an easy incentive to sign up on the spot.
Note, these paid options are available wherever a traveller doesn't otherwise qualify for free entry. This means visitors can pay for access whenever flying in Economy or Premium Economy. Or for that matter, on a Business Class Special fare. Frequent flyers with eligible status or membership can always access the lounge based on their status, even when travelling in these classes or on a Business Class Special ticket.
When it comes to lounge entry, Business Class flights booked using frequent flyer points are treated just like any premium Business Class fare. This is to say, access is A-OK. The exclusion for complimentary entry with Business Class Special only relates to a specific, discounted category of paid Emirates fare – not reward redemptions or upgrades.
Summing up
When you're flying from Concourse A, the Emirates Business Class Lounge here is no doubt the most convenient choice. With ample space to await your flight and direct boarding from lounge to aircraft, there are few reasons to go anywhere else.
But having said that, this lounge in Concourse A is peaceful – and often, rather quiet. Some may prefer a lounge that's a bit more 'happening' instead. And here in Dubai, you have that option. Everybody who qualifies for entry to this lounge in Concourse A also makes the cut over in Concourse B. Given Concourse B is the 'centre' of Emirates' Dubai hub, more people tend to begin their journey over there. This means there's a little more buzz and a lot more people watching.
Best of all, it doesn't matter which gate your flight is departing from. You're free to roam between Concourse A and B (and C, for that matter), and to use whichever lounge you fancy – and qualify for. Even if your boarding pass indicates a specific lounge (e.g. Business Class Lounge A), you don't have to follow that suggestion.
Over the years, I've used this rule to visit every single lounge that Emirates operates in Dubai (there are seven). What brings me back to the Concourse A lounge is that peace and quiet, particularly when there's work to do before I jet off. Ultimately though, it's up to you. Why not try them all and see what you think?
Also reviewed: Emirates Business Class Lounge, Dubai Terminal 3, Concourse B
Photography by Chris Chamberlin, who accessed the lounge courtesy of (earned) frequent flyer status while travelling as a guest of Emirates. Featured image courtesy of Emirates.
---
Stay up to date with the latest news, reviews and guides by subscribing to Point Hacks' email newsletter.
Emirates Business Class Lounge, Dubai Terminal 3, Concourse A
was last modified:
November 8th, 2023
by