Sometimes, you just want an airport lounge that's nice and quiet. And other times, you might fancy one with a bit of energy – that feeling of the world coming together. When it comes to the Emirates Business Class Lounge in Concourse B of Dubai's Terminal 3, it's very much the latter.
In fact, this is Emirates' busiest lounge at Dubai International Airport – which is, itself, one of the busiest airports in the world. Now with a description like that, you'd be forgiven for thinking it's pure mayhem here – but it's usually anything but. In fact, I'm surprised how quiet parts of this lounge can be: especially the Moët & Chandon Champagne bar. (Yes, there's a bar just for Champagne – and we'll get to that soon enough).
With seven Emirates lounges in Dubai alone, here's what to expect in this, the most popular.
Location and layout
Unlike Emirates' colossal lounges in Concourse A, its Business Class Lounge in Concourse B isn't quite as large. Rather than occupying an entire storey of the building, it shares a level with the adjacent First Class Lounge. But even so, it'd be wrong to call this lounge 'small'.
I literally notch up thousands of steps just to see it all. Finding the lounge is easy too, with multiple entry points along Concourse B. The main reception – which most travellers would use – is also conveniently close to the train service that runs from Concourse A. That's where I'm coming across from, making my entry here very smooth.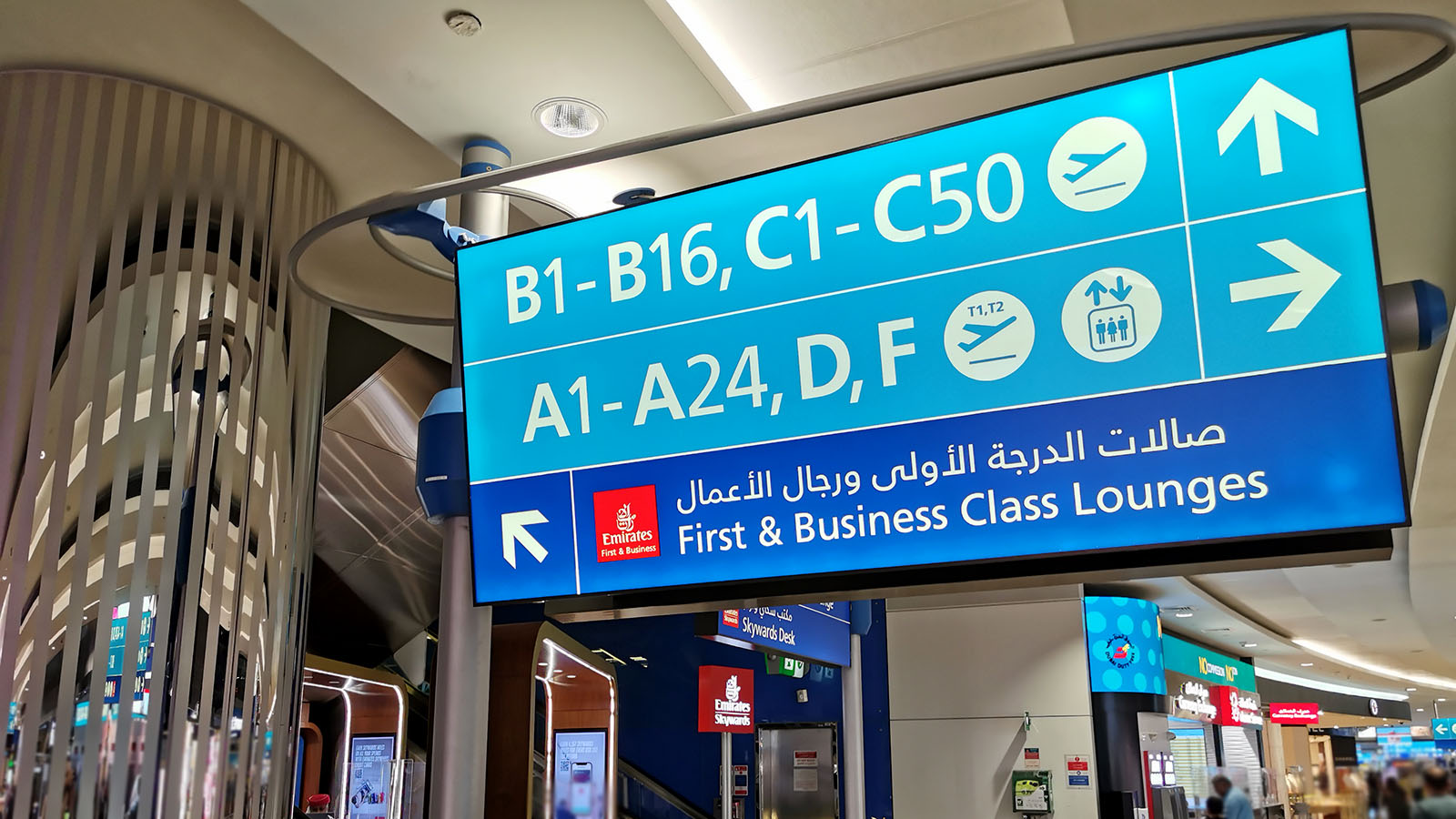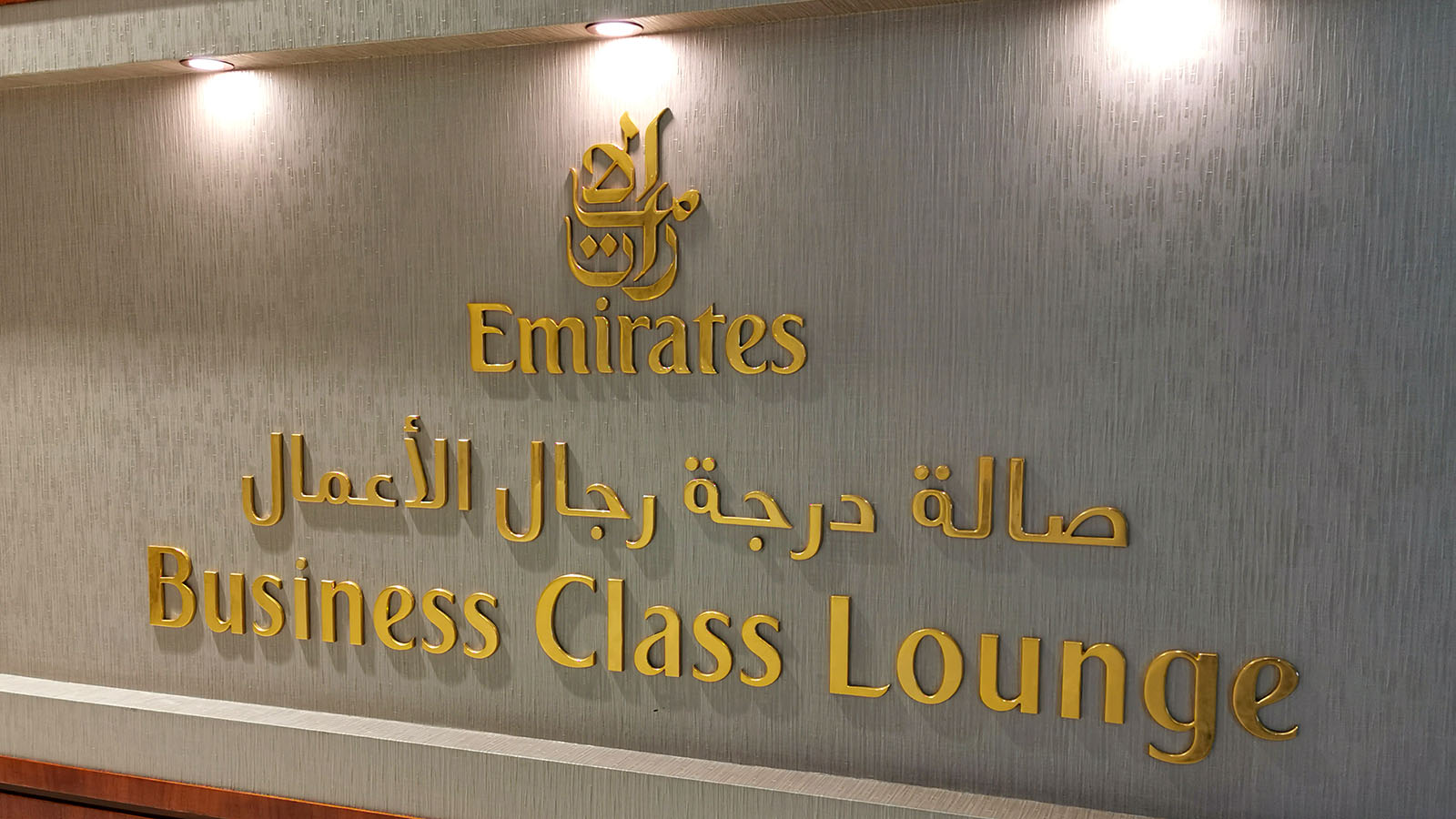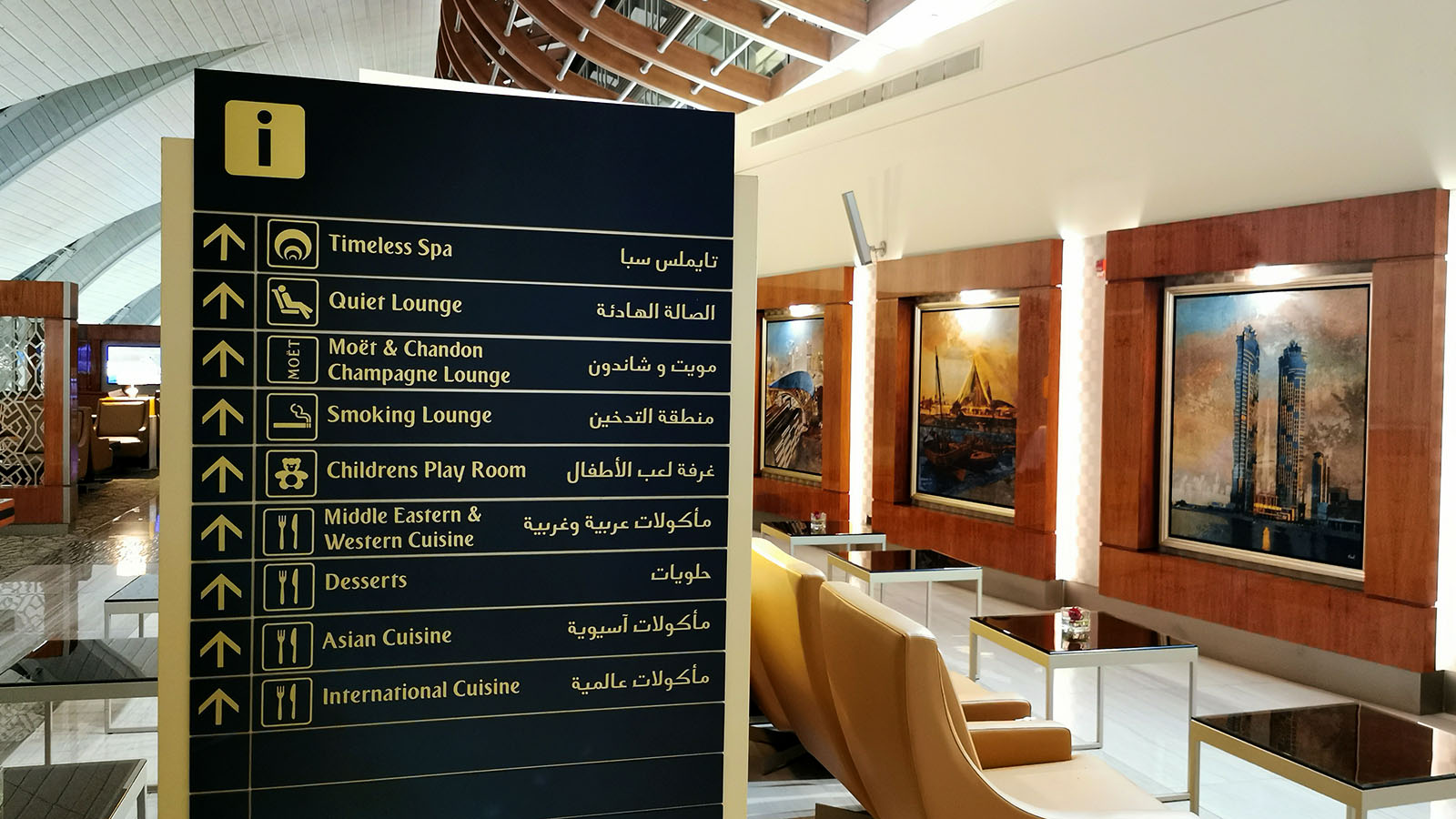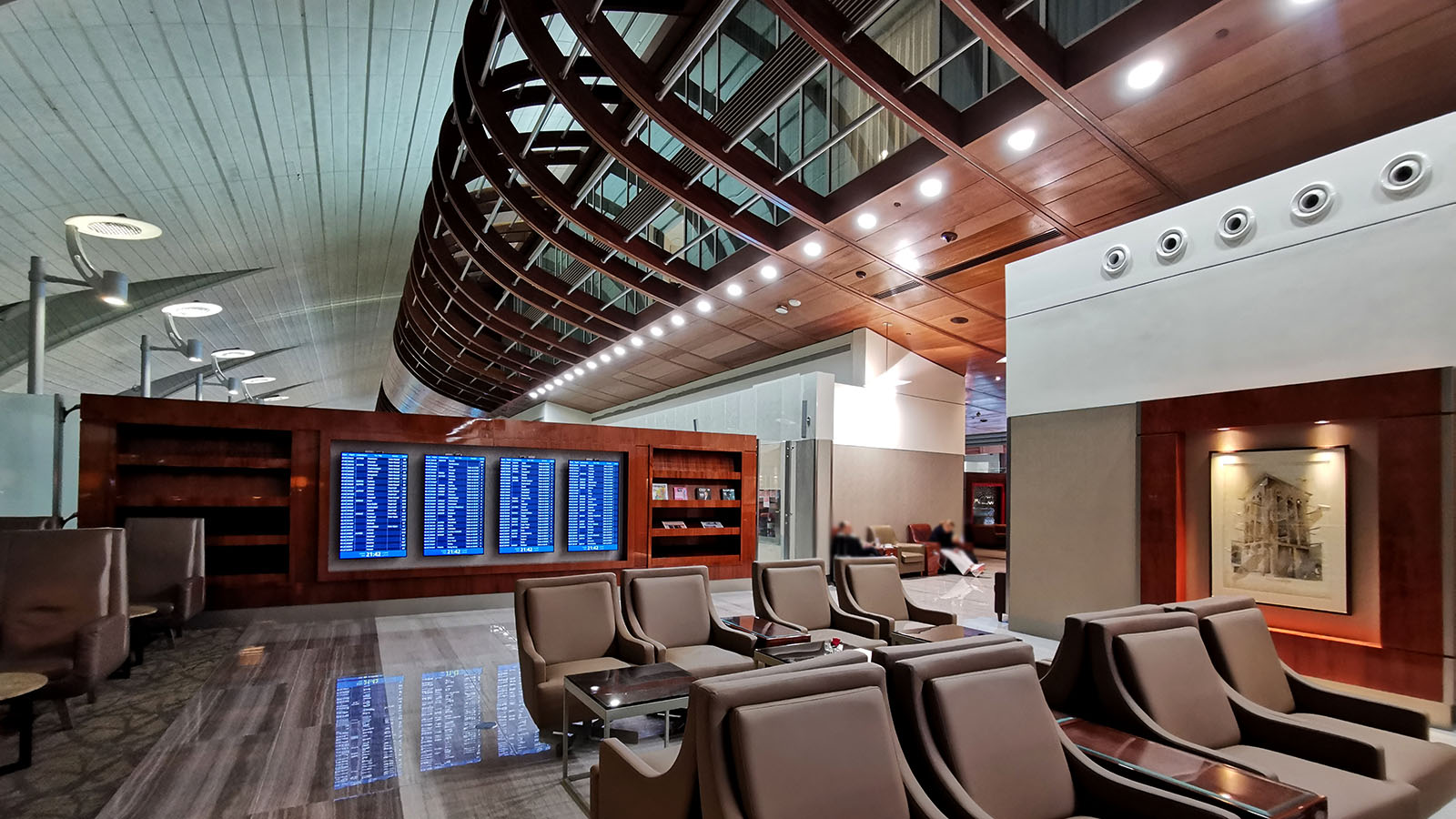 The floor plan of the space largely resembles a long, hollowed-out rectangle. In the very centre, you can peer down towards the busy departure level below. Given the design of Dubai International Airport, some zones also have very high ceilings – but if that's not your thing, other sections have a cosier vibe.
As with the airport itself, this lounge operates 24/7/365. So yes, if you happen to be taking one of Emirates' circa 2 am flights to Sydney, Melbourne, Brisbane or Perth, the lounge remains ready and waiting.
Seating
Here in Concourse B, Emirates' Business Class Lounge gives you so much choice over where to sit. Looking for something comfortable for a quick drink or snack? You're more than sorted. Trying to find a friend who's arriving soon? Settle in behind reception. Want to put your feet up? That's easy too.
What I like about the design is that each space feels slightly different. It doesn't 'feel' like one long, cavernous area filled monotonously with the same furniture from end to end. Instead, as you walk through, there's a sense that you're moving from one room into the next – even though you're not touching any doors, or making any turns.
Parts of the lounge also convey more of a modern, luxurious feel. Other zones draw on more of a classical design vibe instead. Think lamps, artwork and leather in muted colours.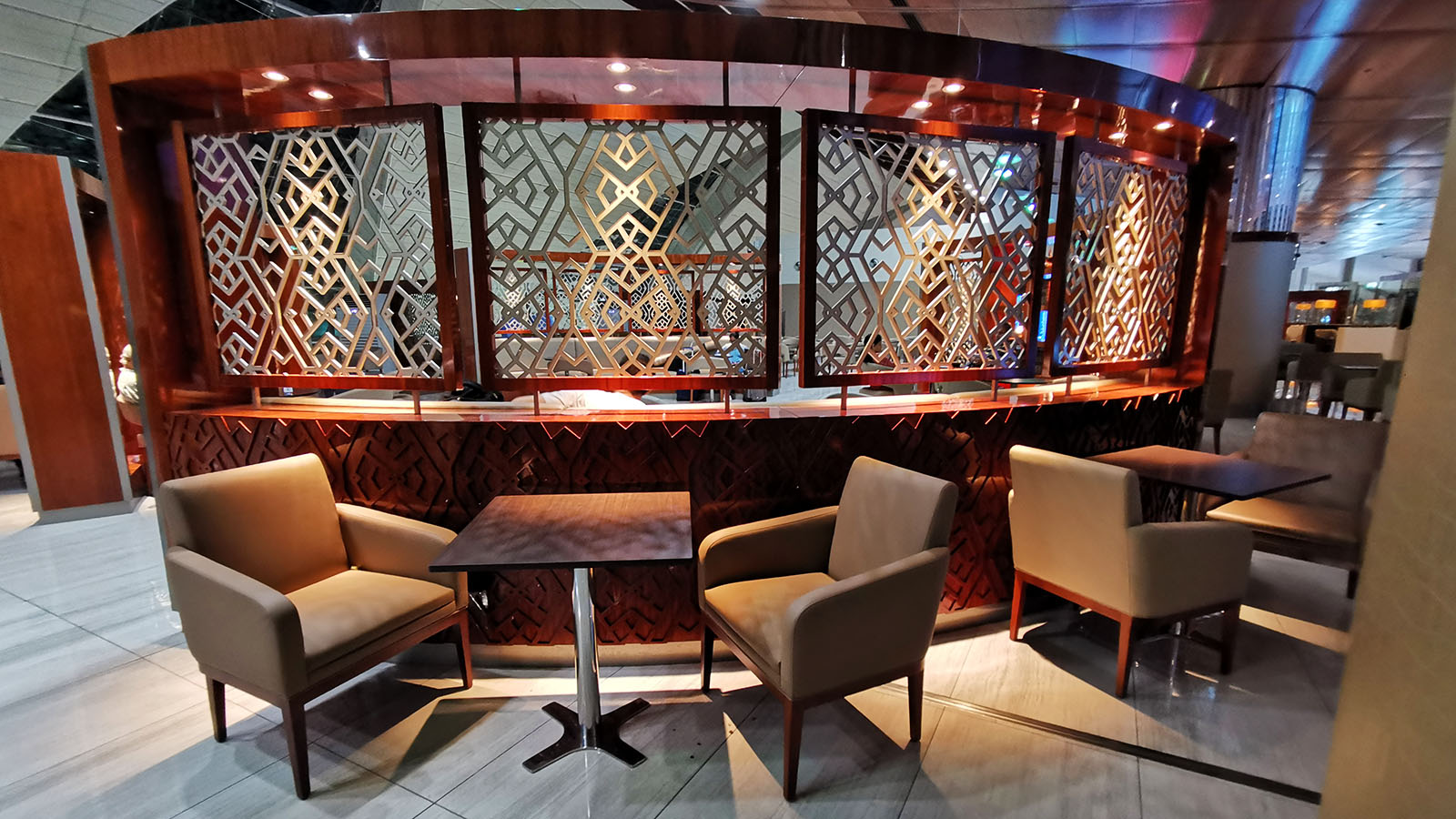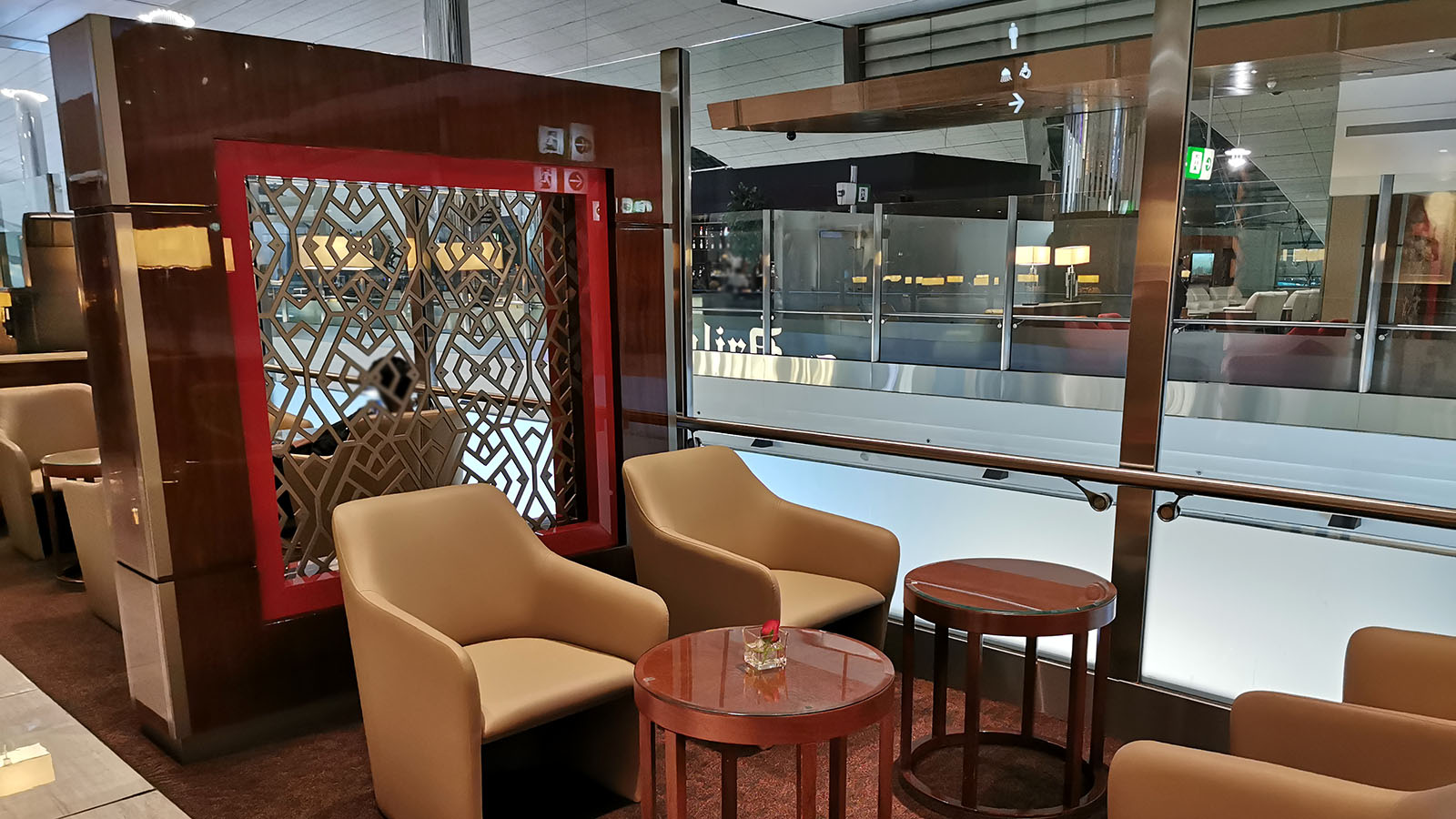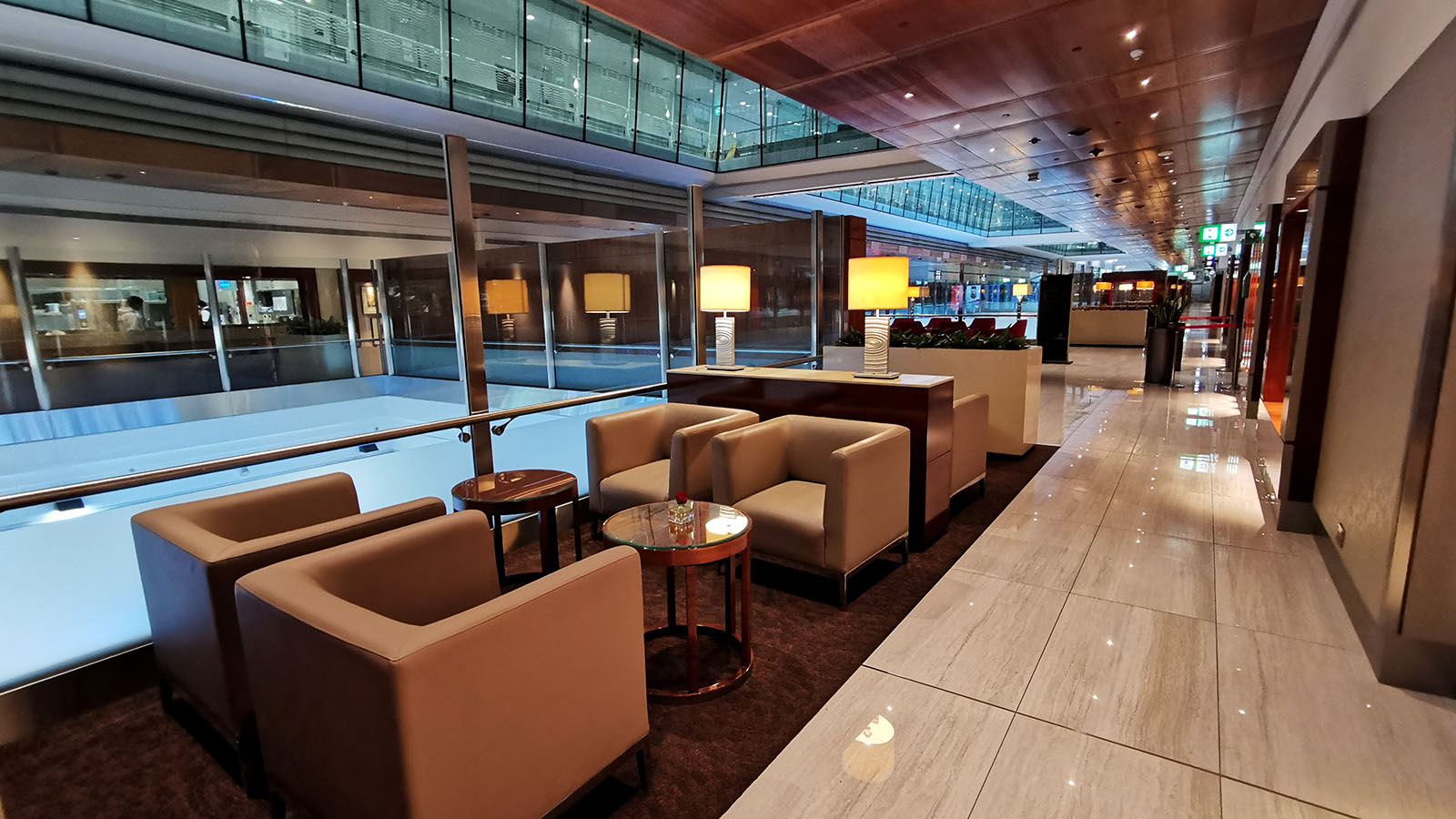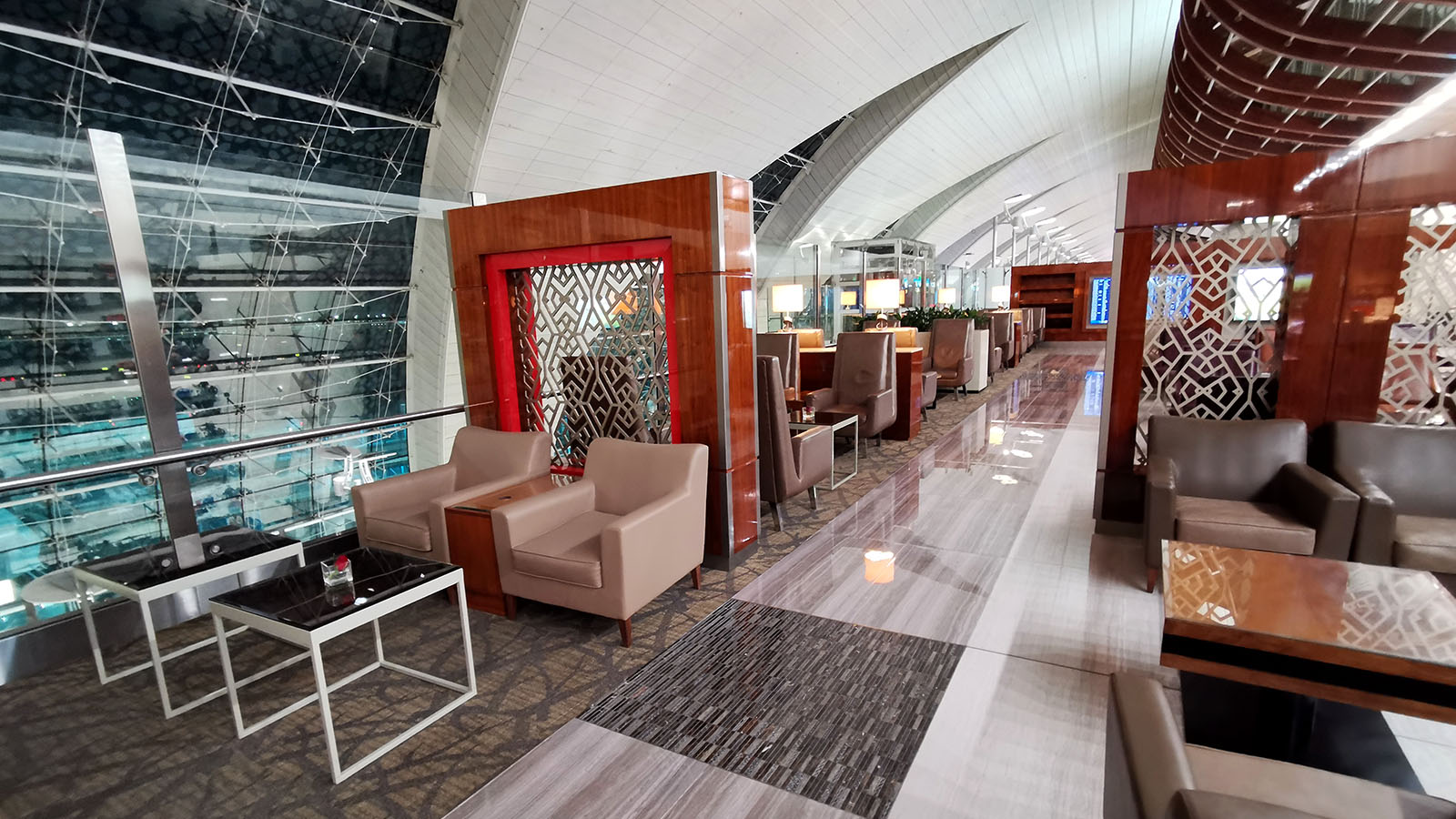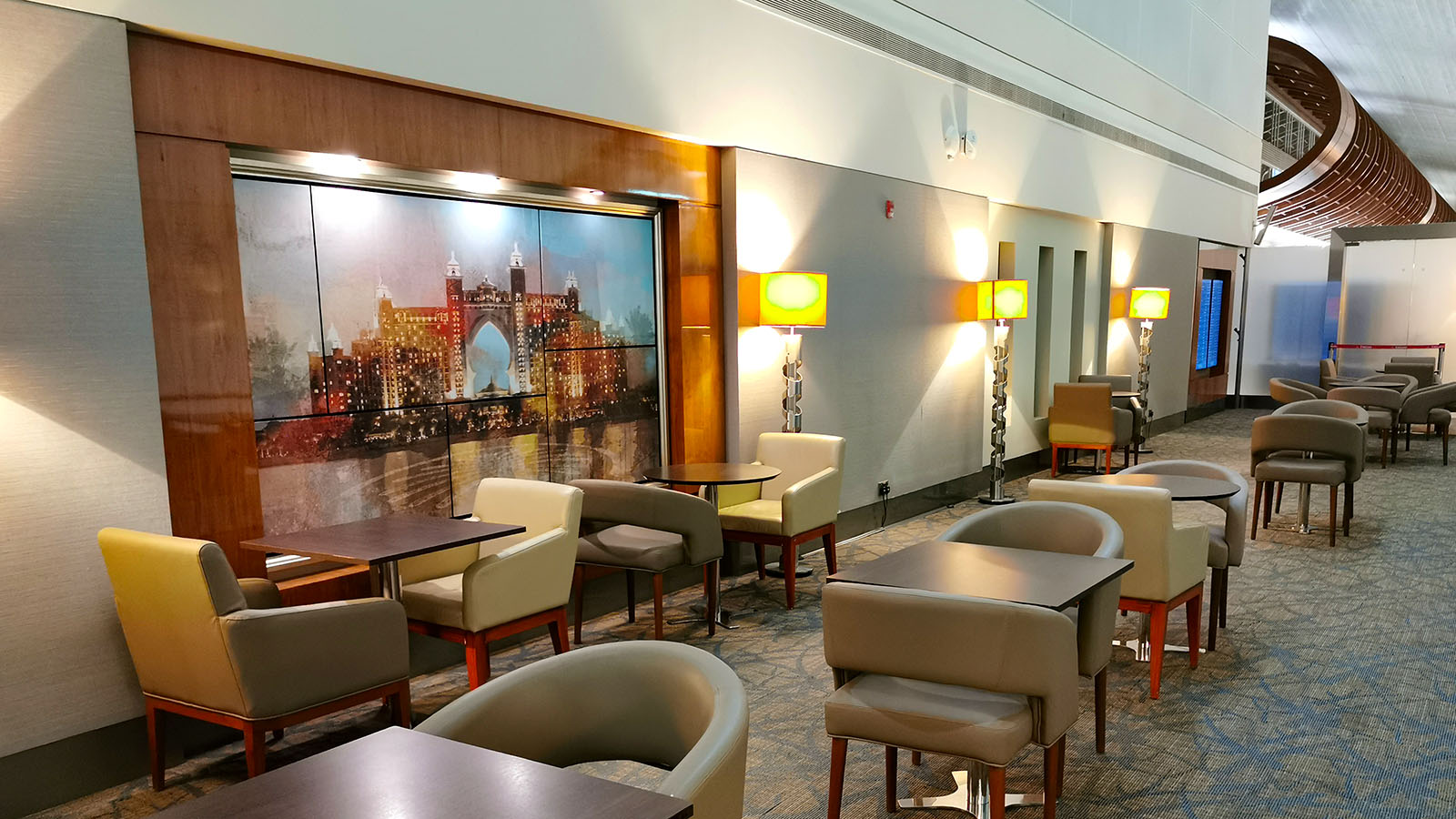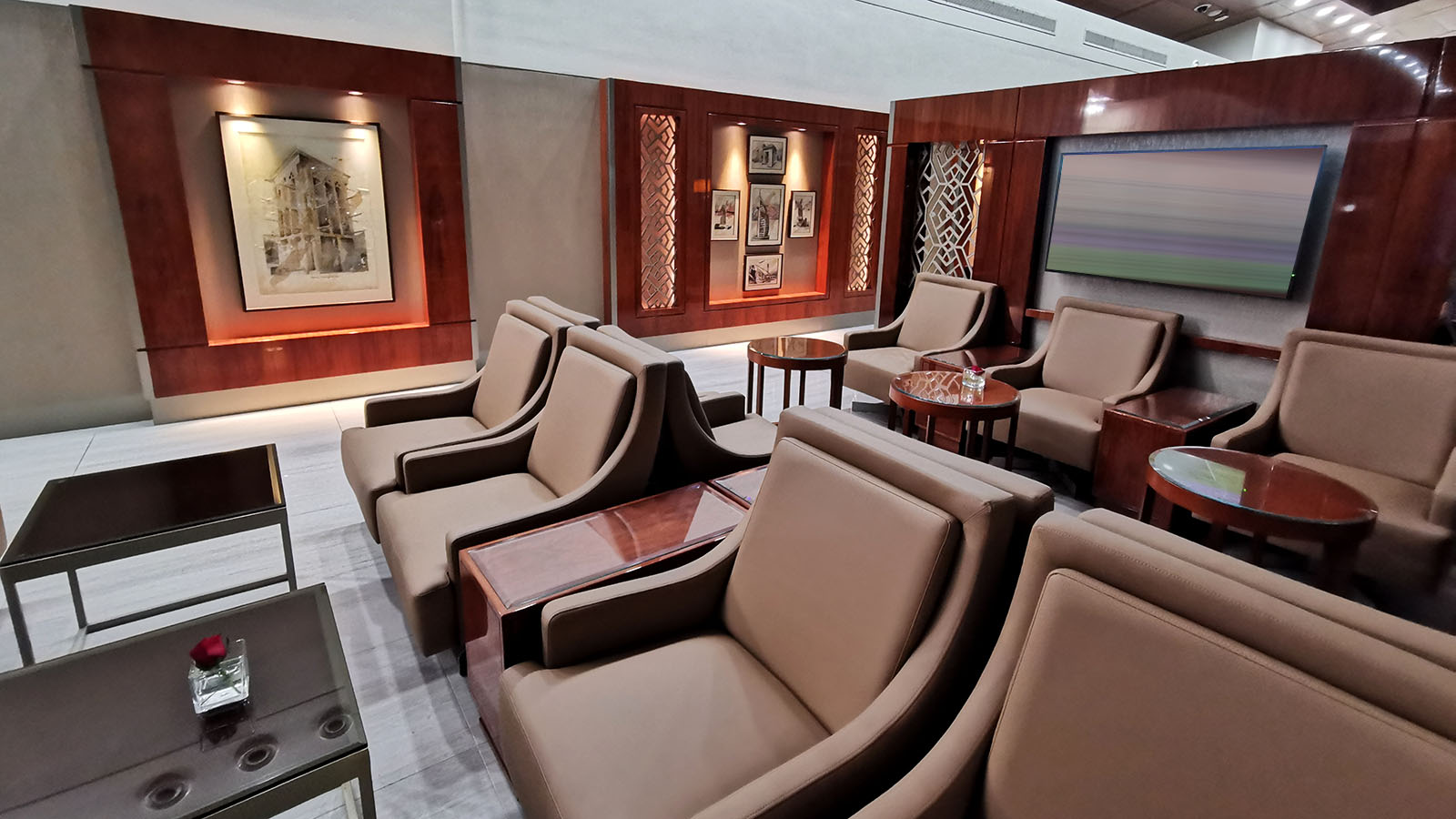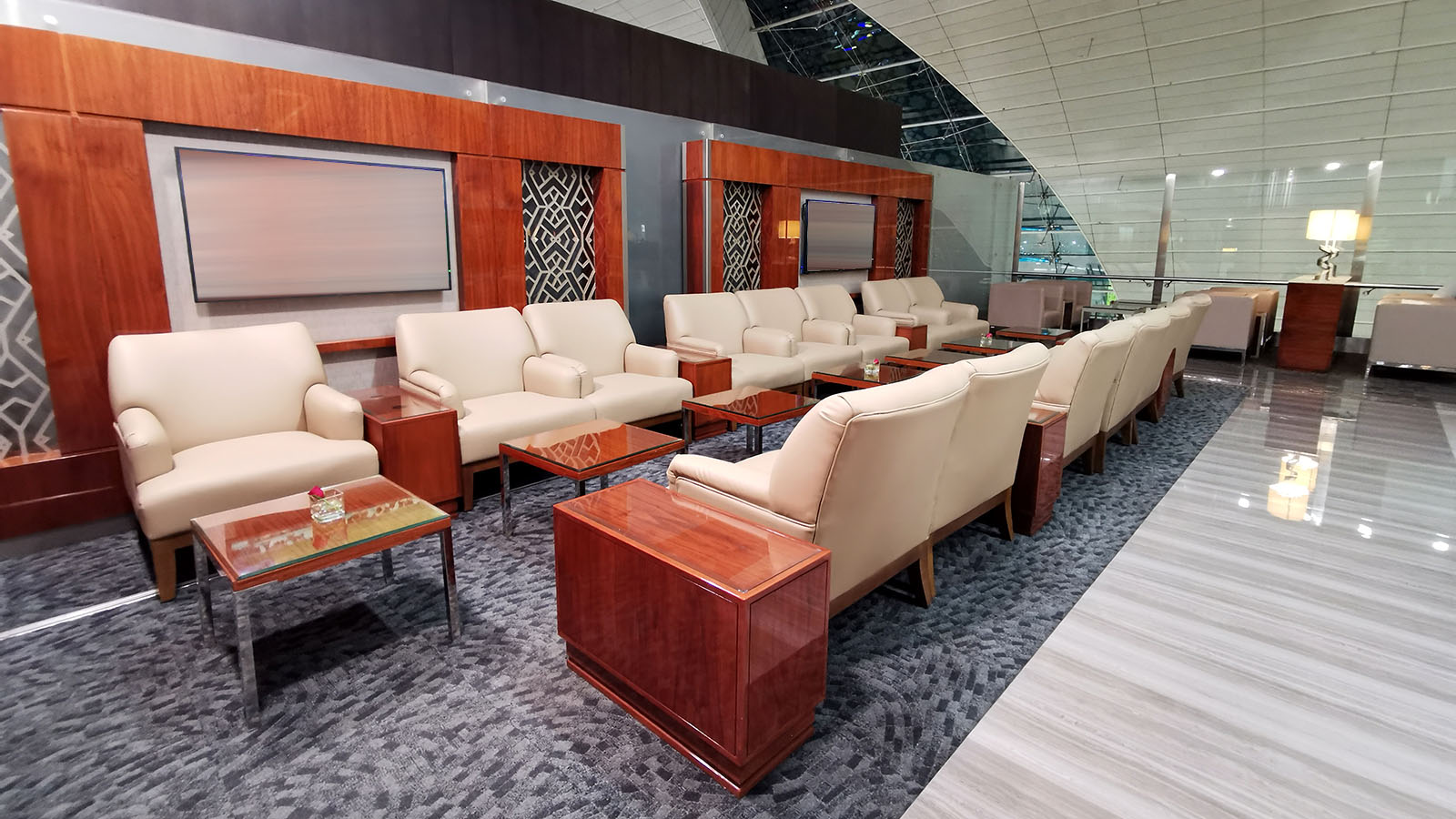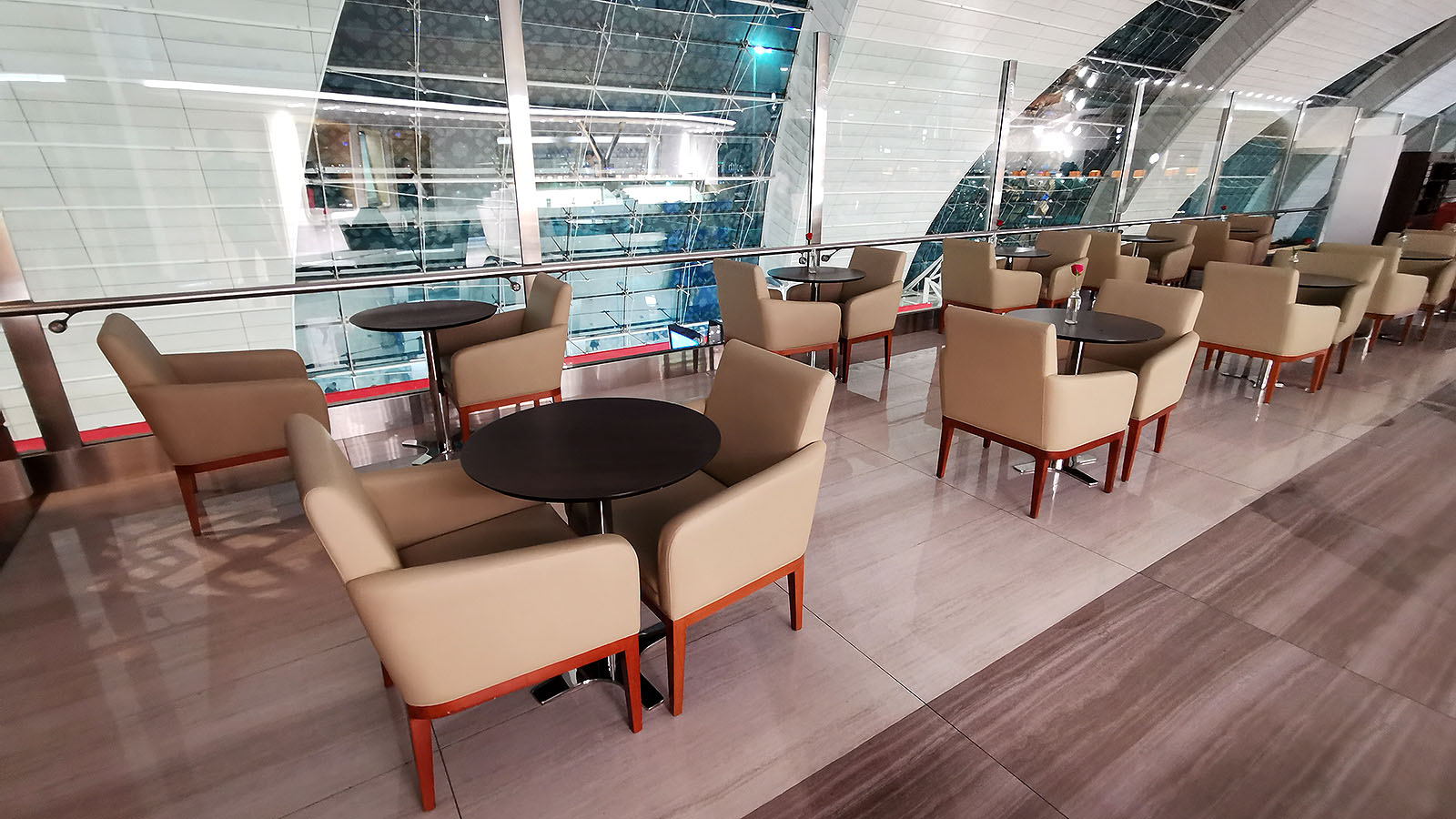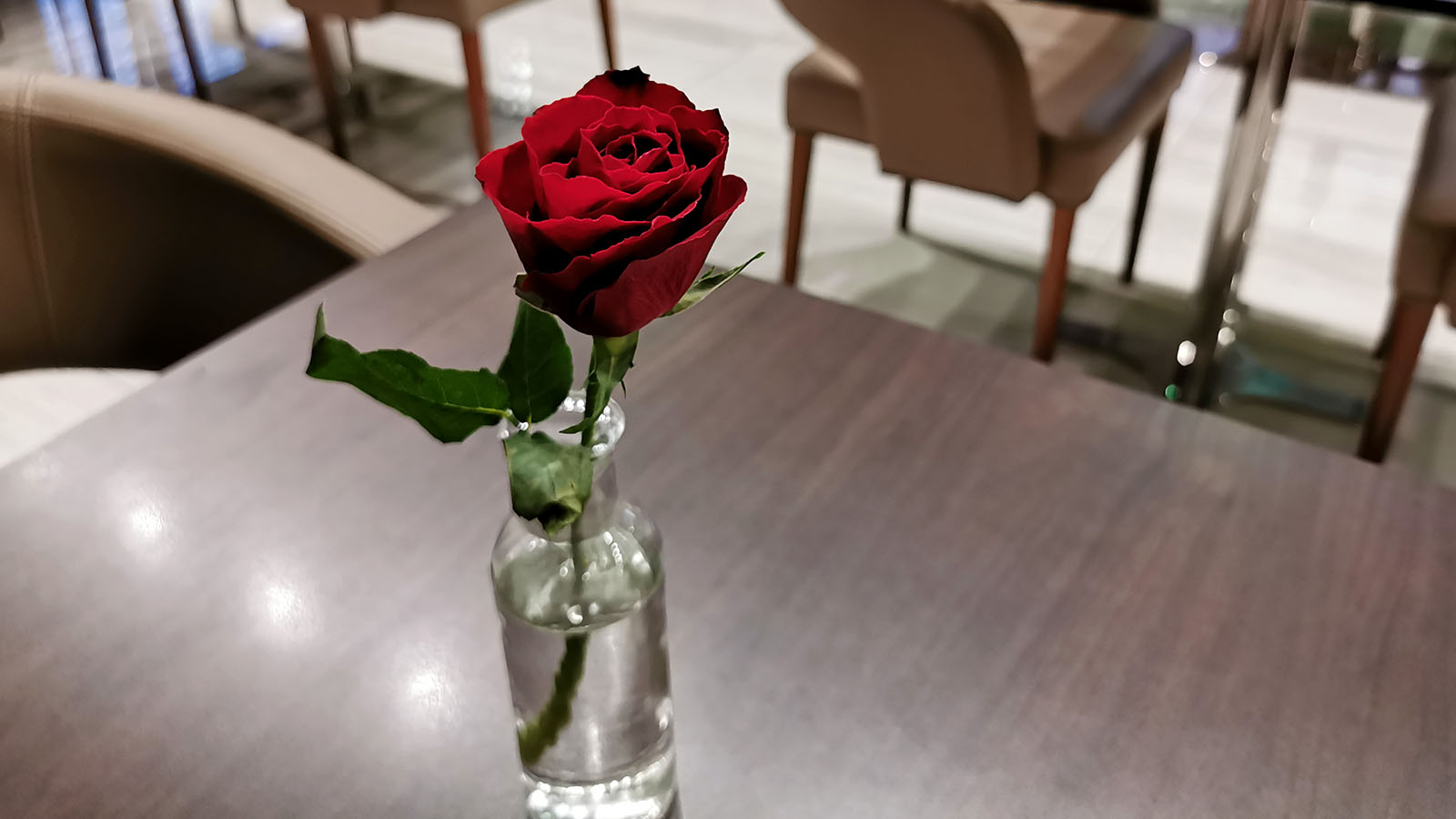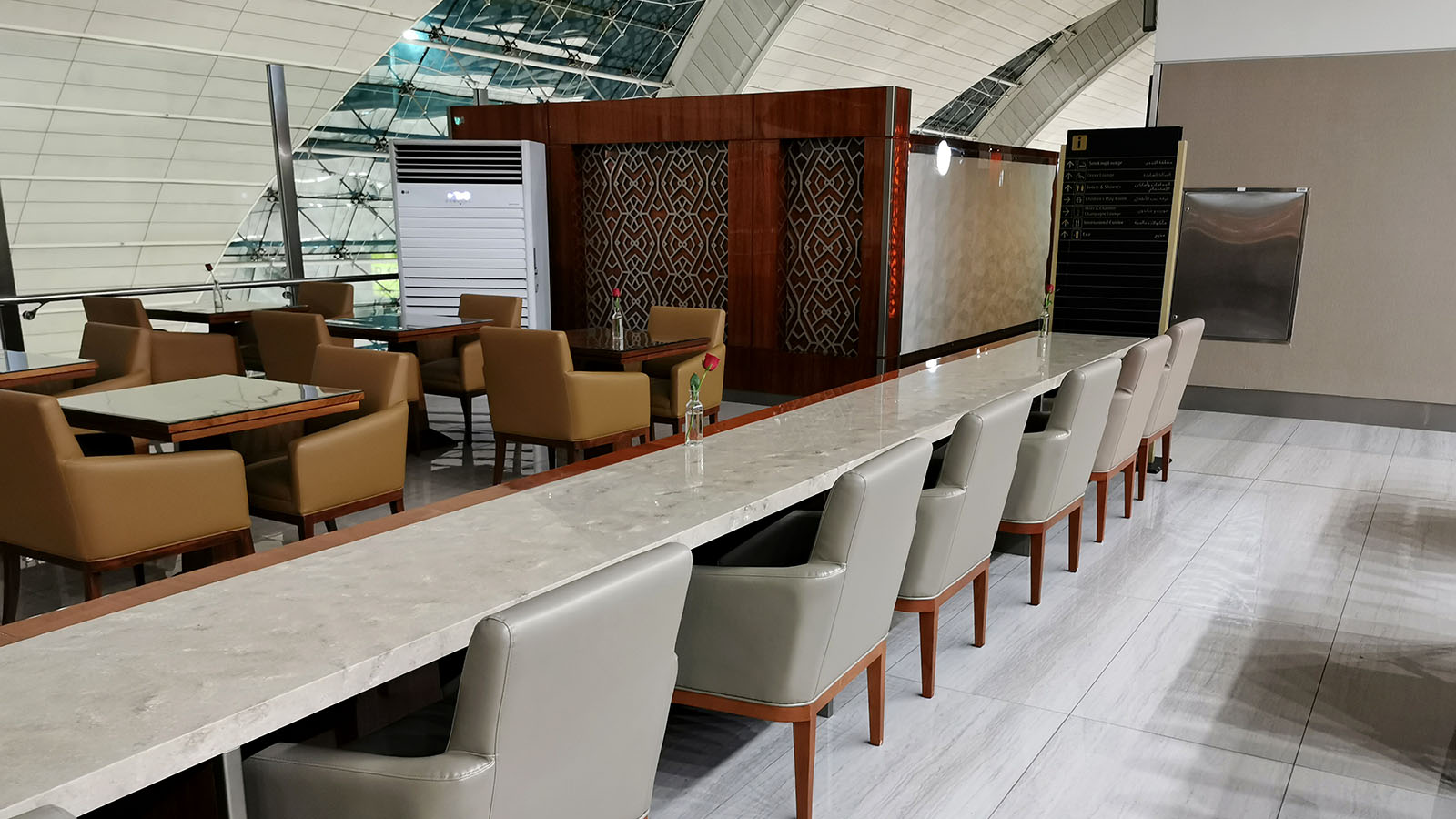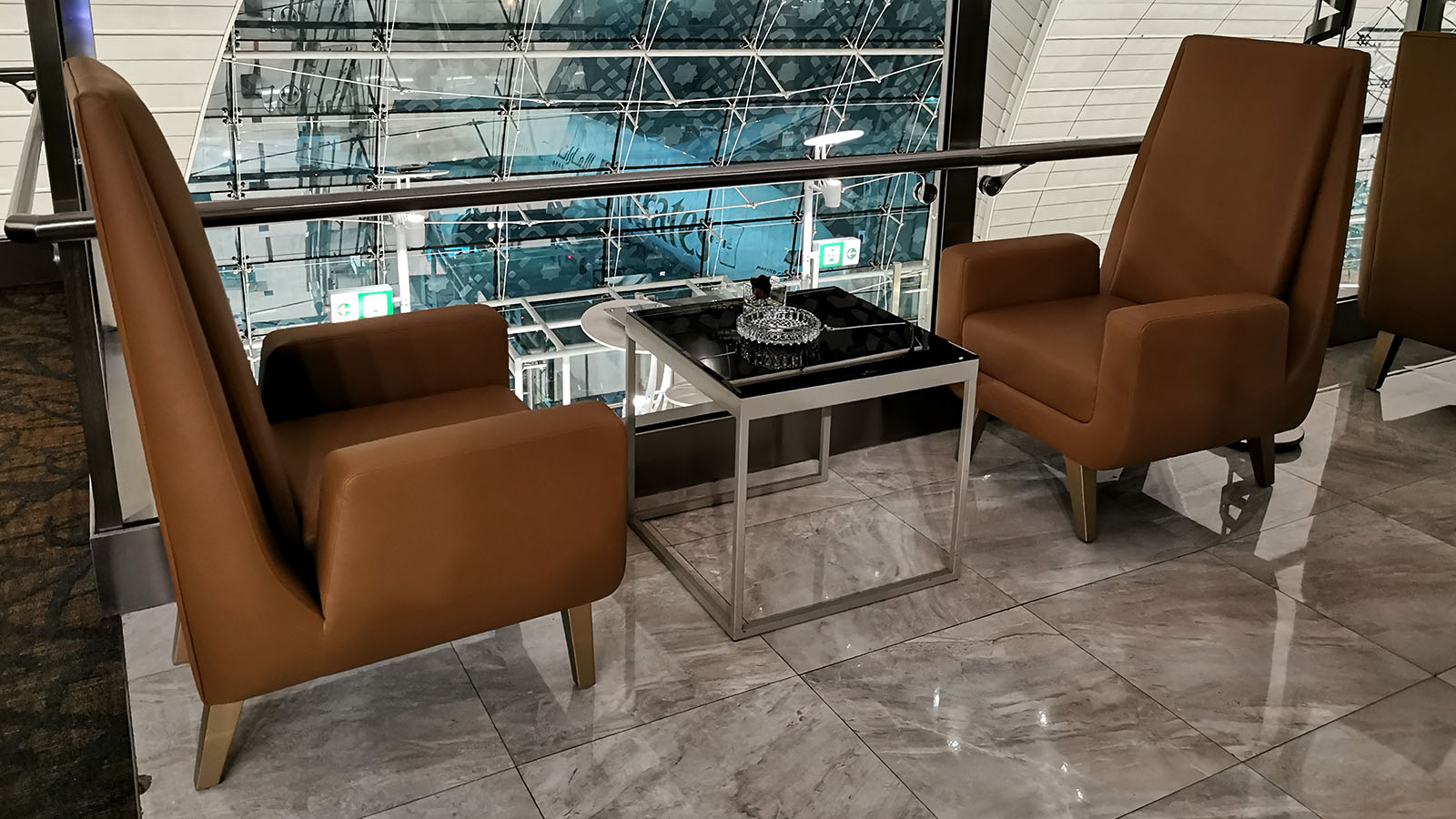 It's interesting to observe that while many other lounges offer working benches, Emirates largely shies away from them. These seats, of course, resemble one long table with a sea of power points and office-like chairs or stools, where people can get things done. There's so much space here that you'd never need to huddle up and work close to anybody. But if you choose to, there are a couple of long tables that can facilitate comingling.
I also appreciate the finer touches here. This is a very large lounge, literally residing in the middle of a desert – and yet, there are fresh red roses on more tables than not. Tending to these and keeping them all pristine would be a full-time job in itself.
Recognising that passengers fly through here from all over the world, there's also a dedicated smoking section at the far end of the lounge.
Food and beverage in the Emirates Business Class Lounge, Dubai T3, Concourse B
Food and beverage options are vast here in Emirates' Business Class Lounge at Concourse B. Each cuisine has its own station – not unlike the large hotel breakfast buffets I've experienced in the Middle East – and those stations are spread out.
Clearly, it's not practical to show every dish – or even every station, as we'd be here all day. But I will say, this approach is very smart for an airline like Emirates. It's a carrier serving passengers from all over the world – with different tastes, palates, cultures and lifestyle choices. Dubai is where everybody converges, and the city itself is equally as multicultural, with a strong expat base.
There are local flavours, of course. But across the board, the choices are so vast that I don't know where to start. I help myself to small samples of a fair few things, and there's nothing I wouldn't go back for with a greater appetite. Lately, I've also become a little more health conscious. And on that front, it's pleasing to find an entire wing devoted to light and fresh foods. Sometimes, you do win friends with salad…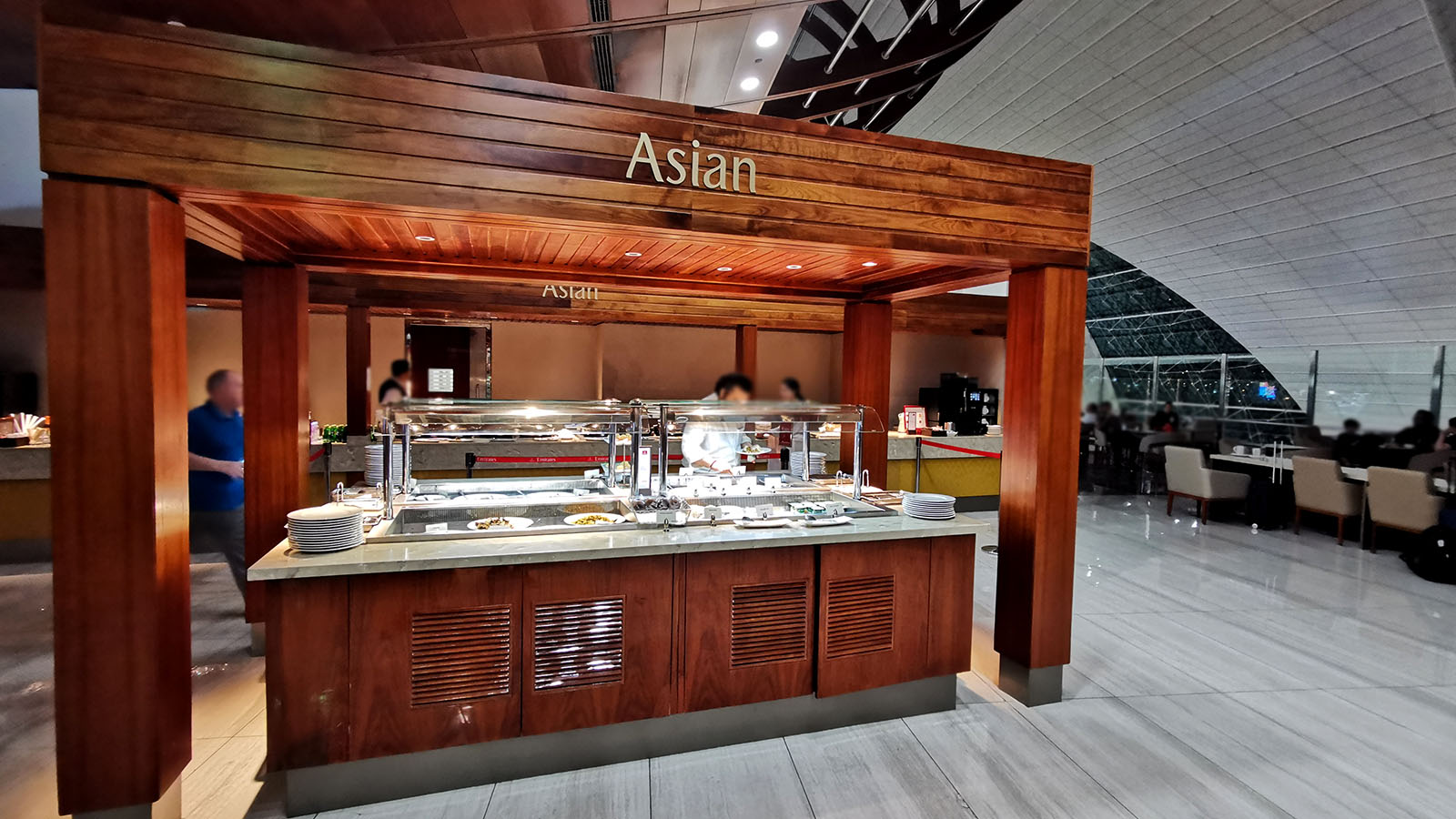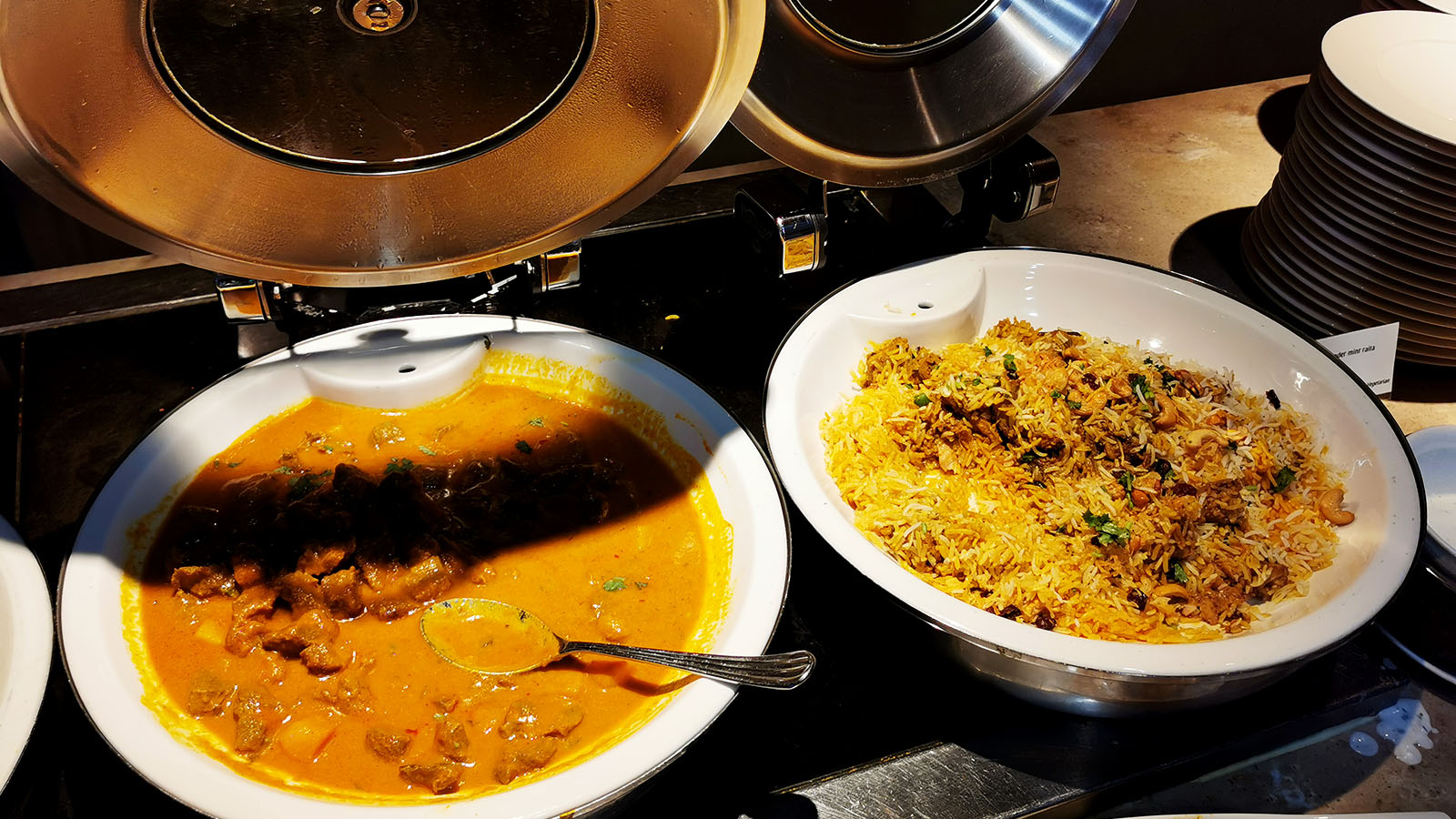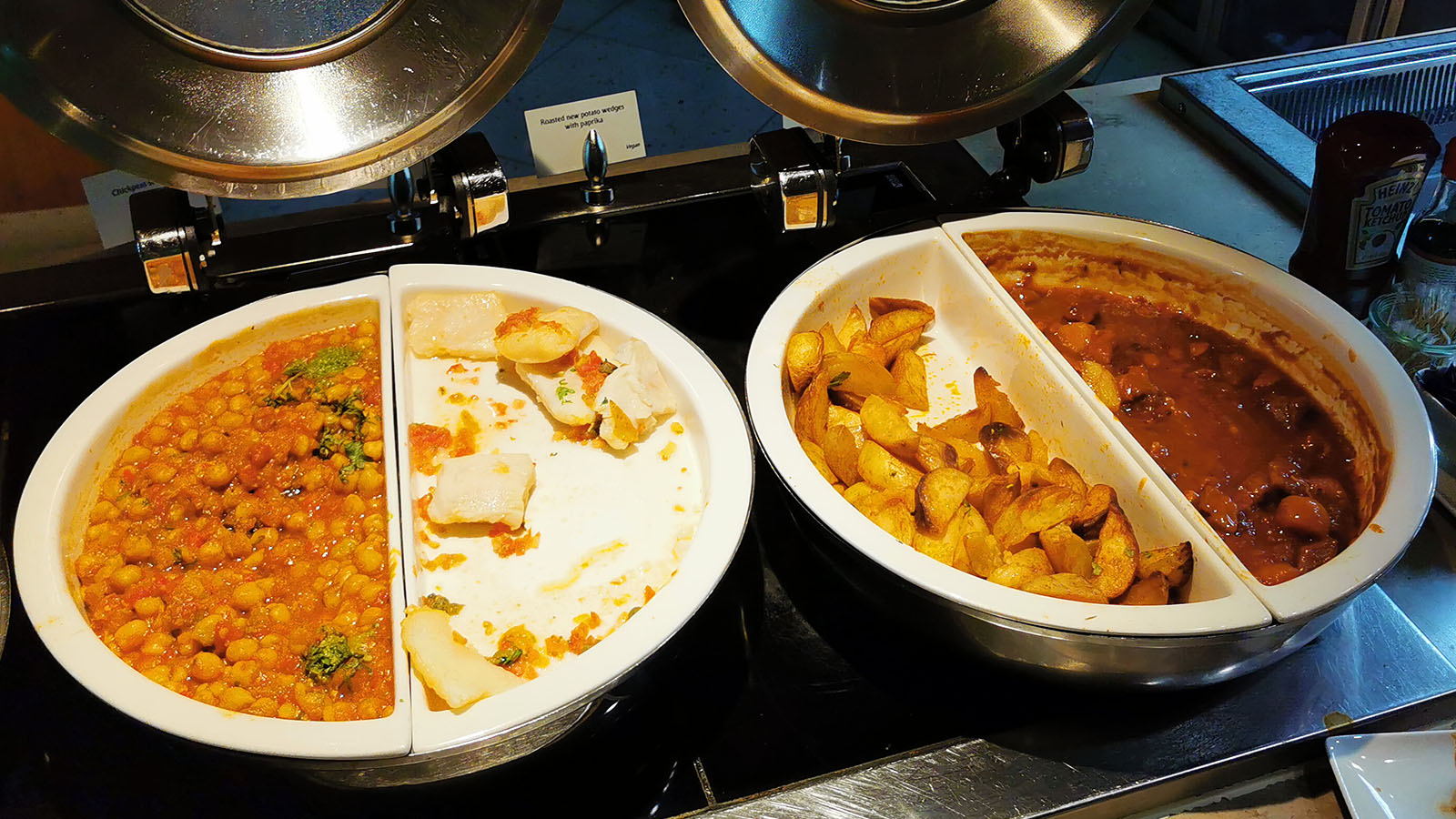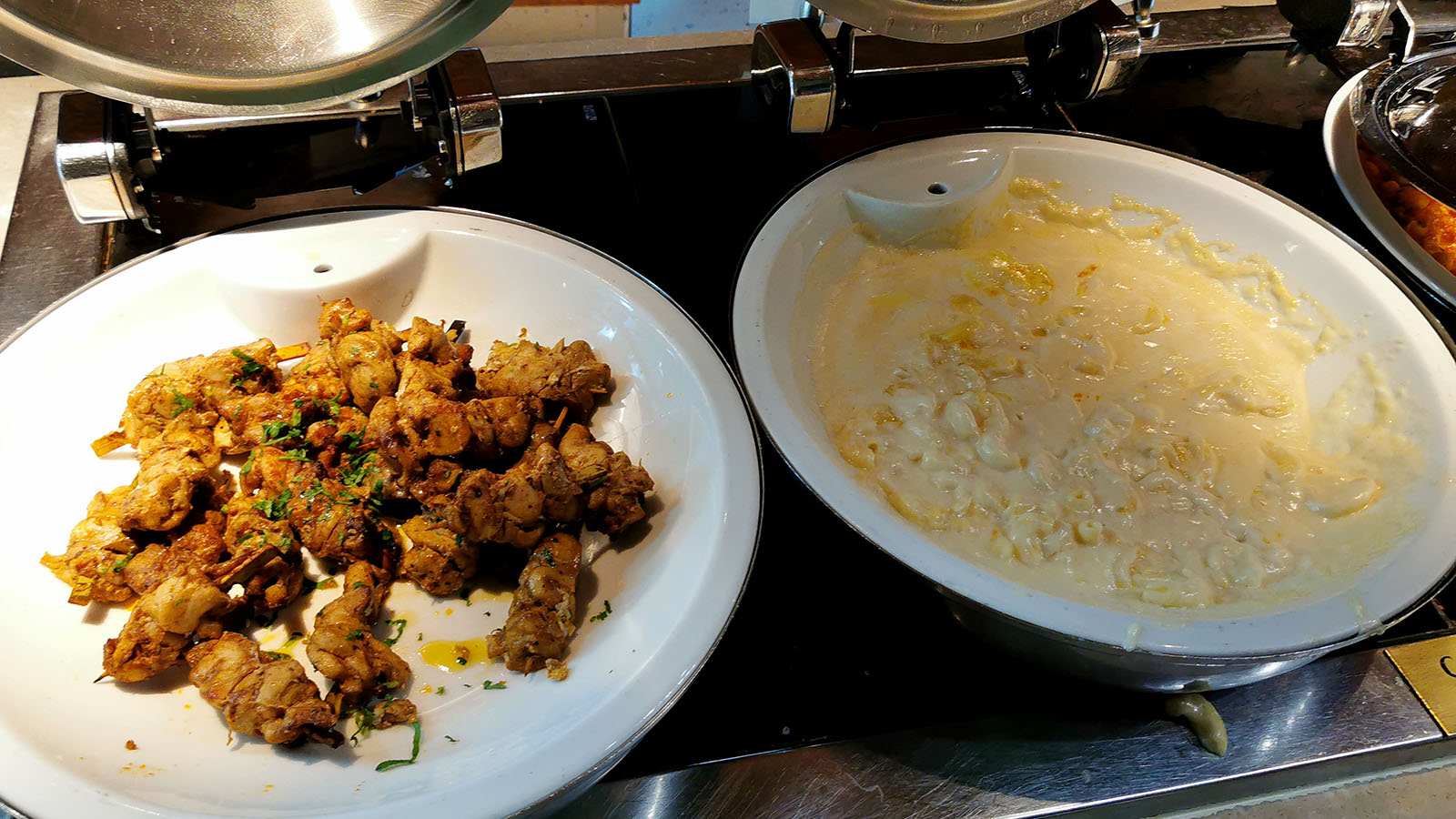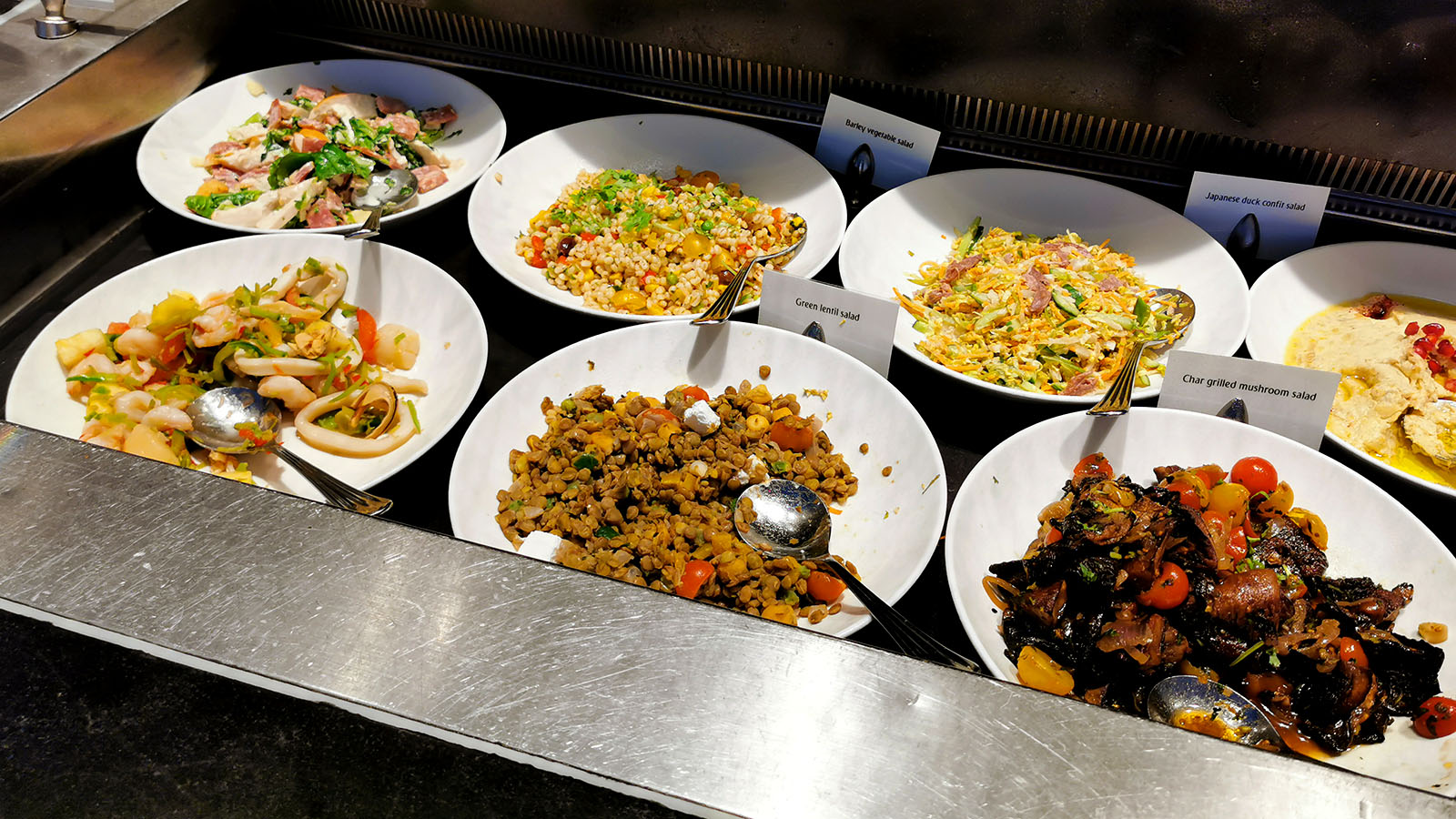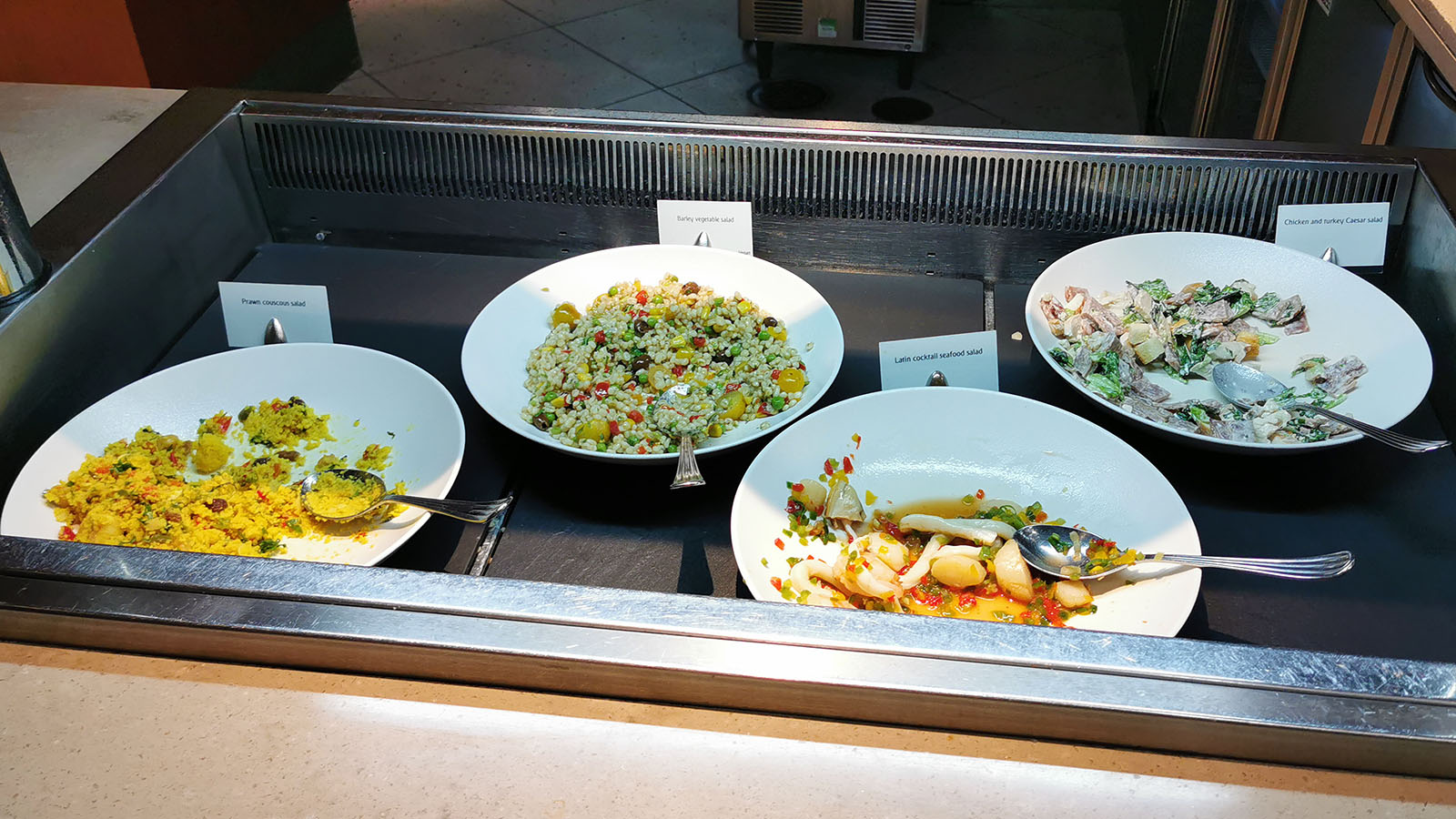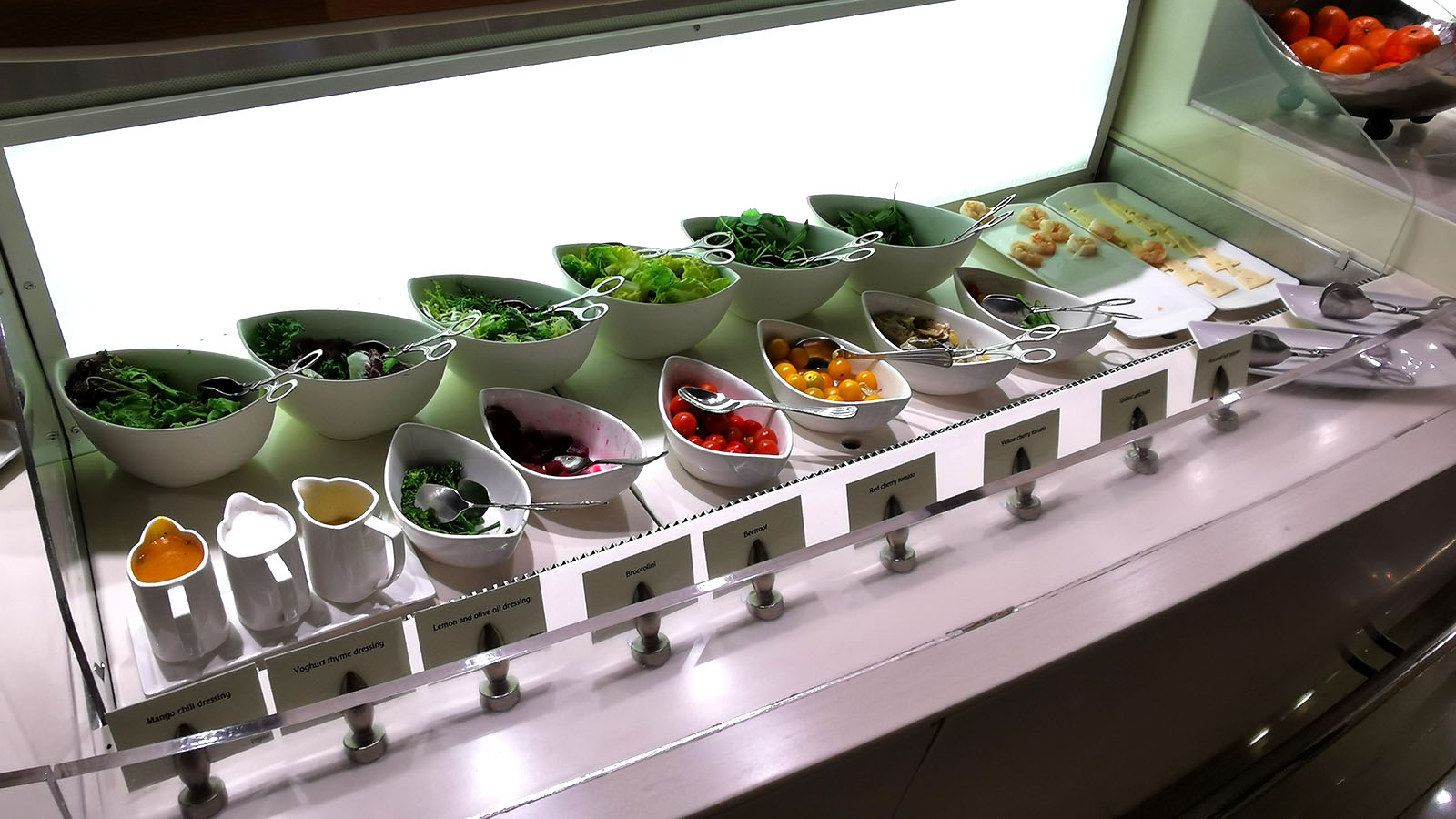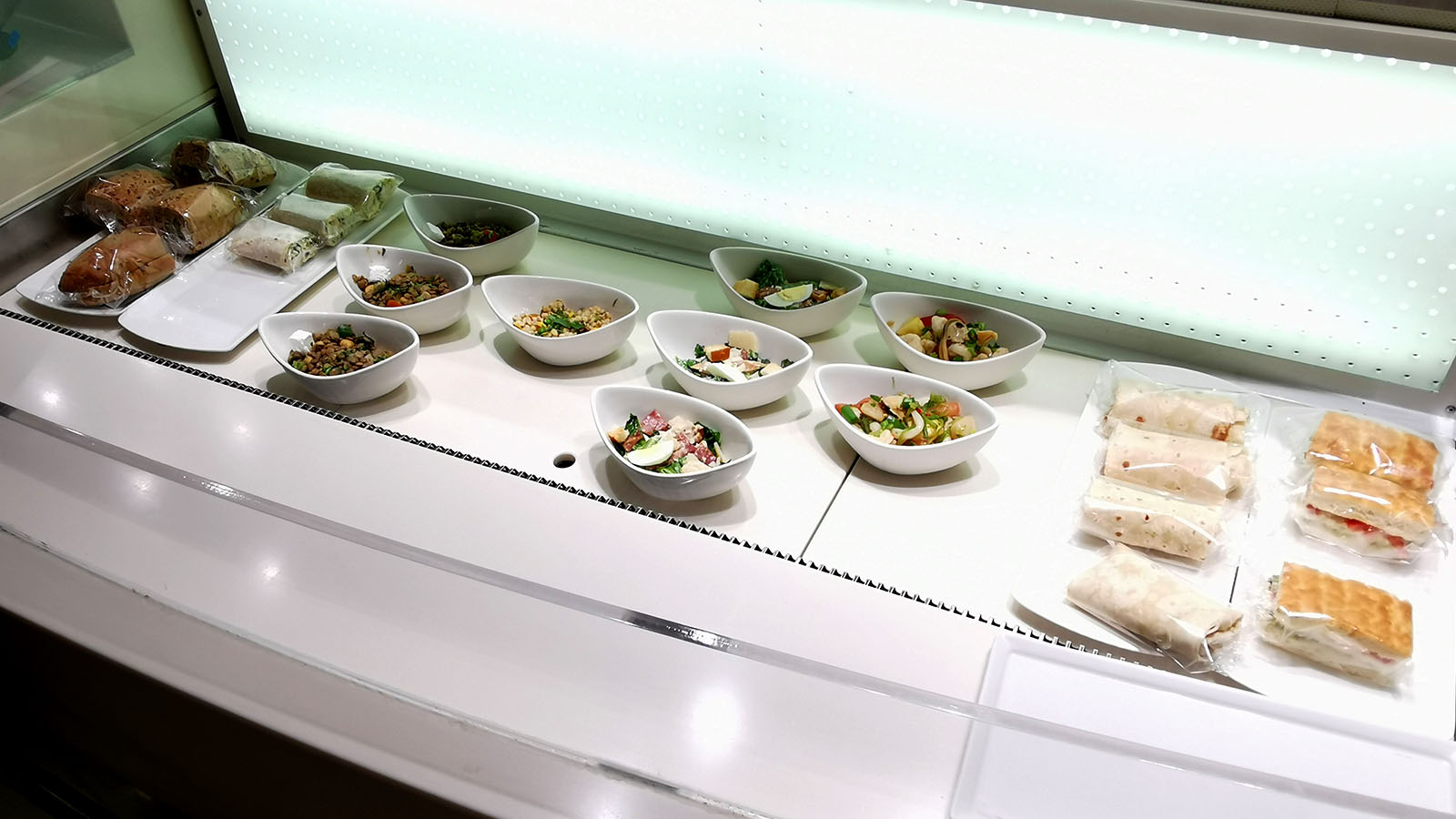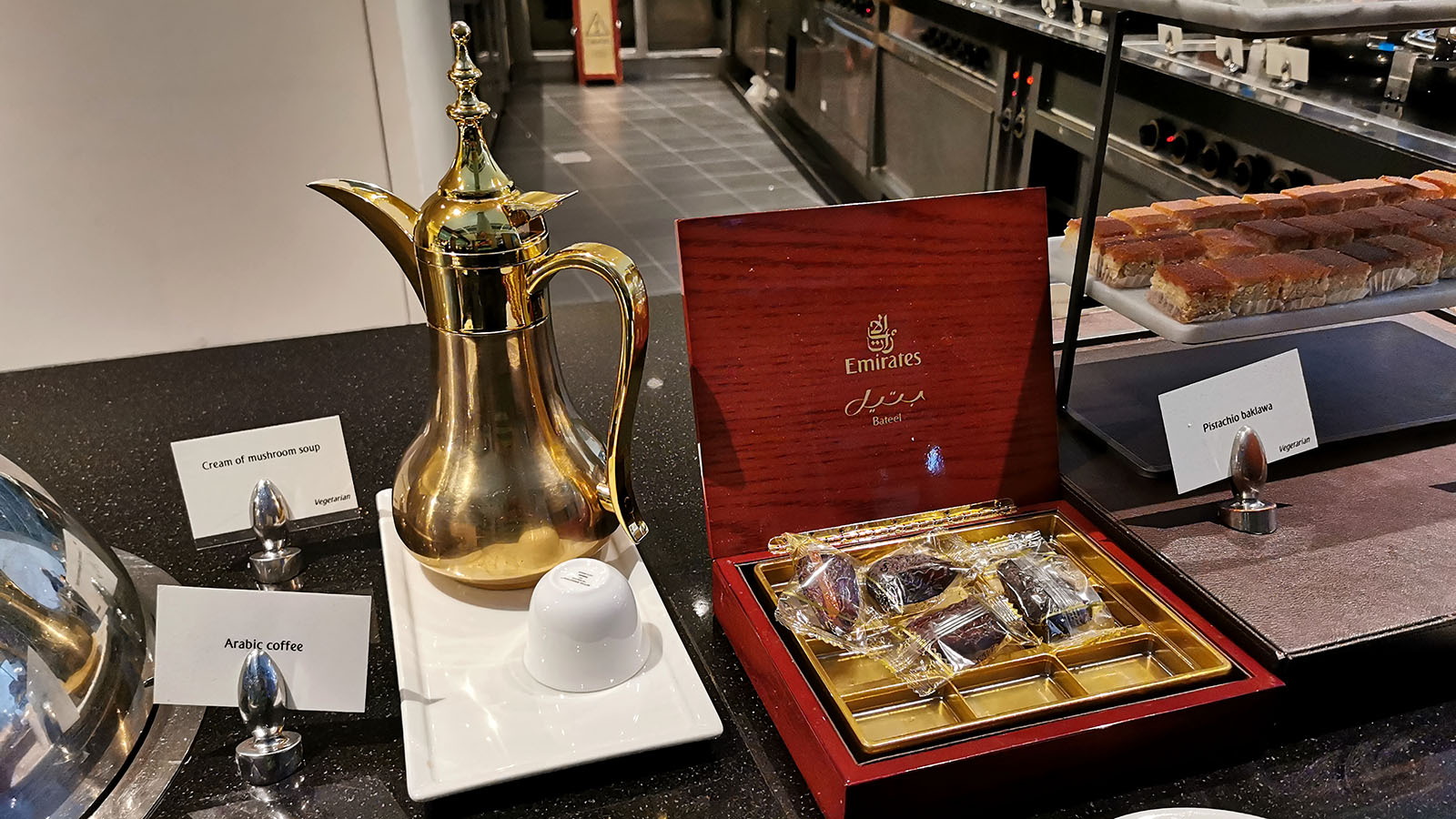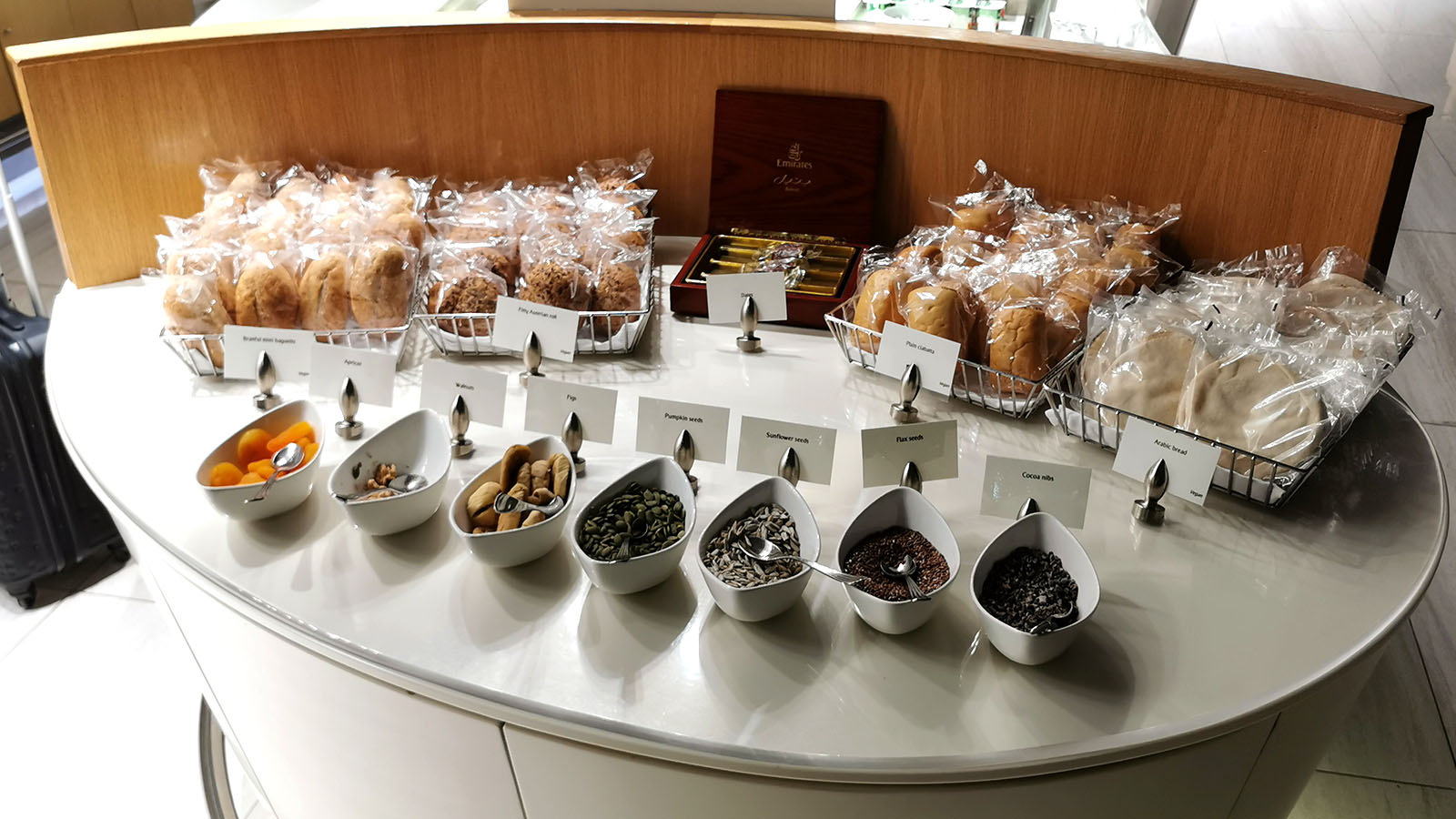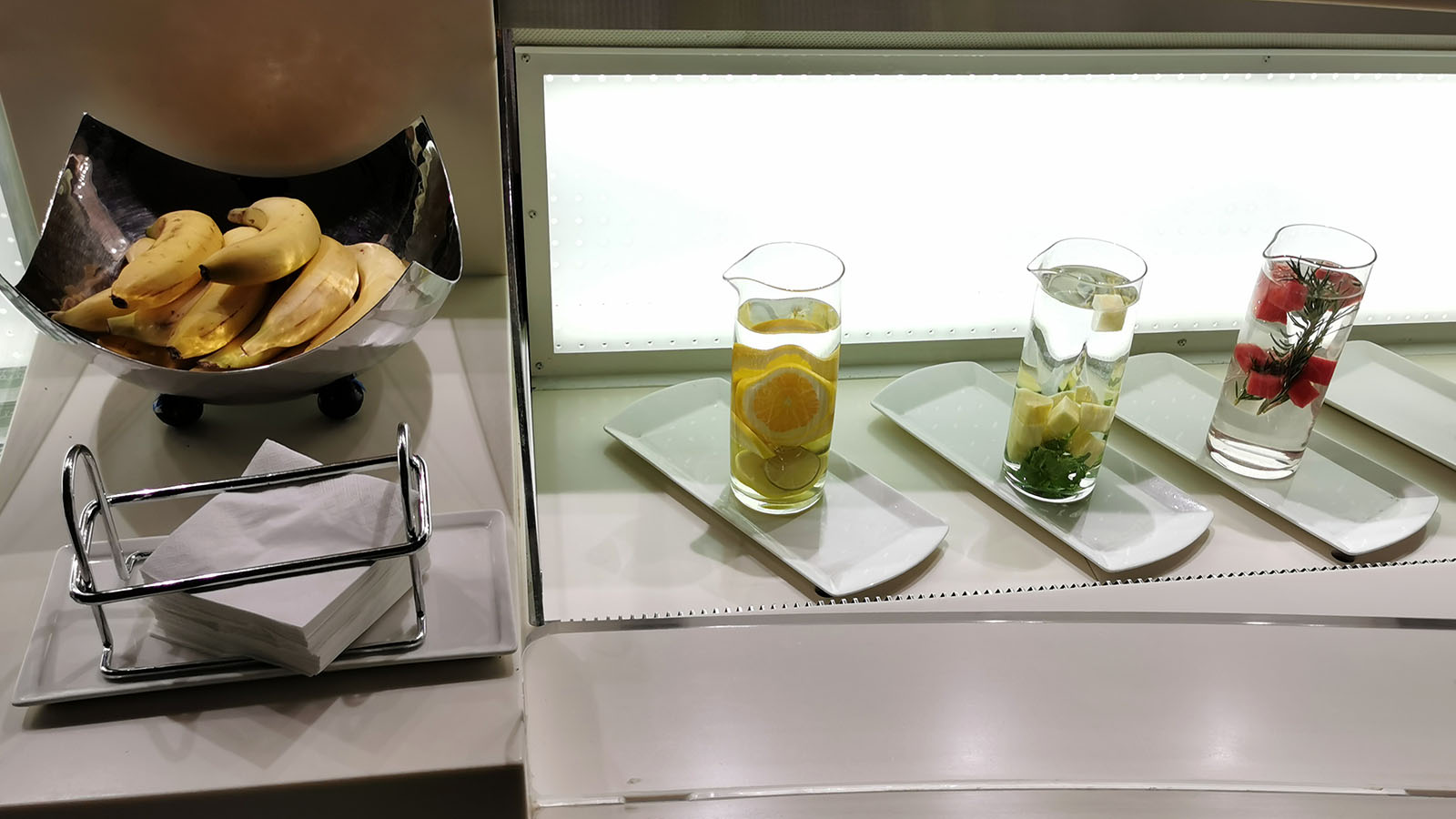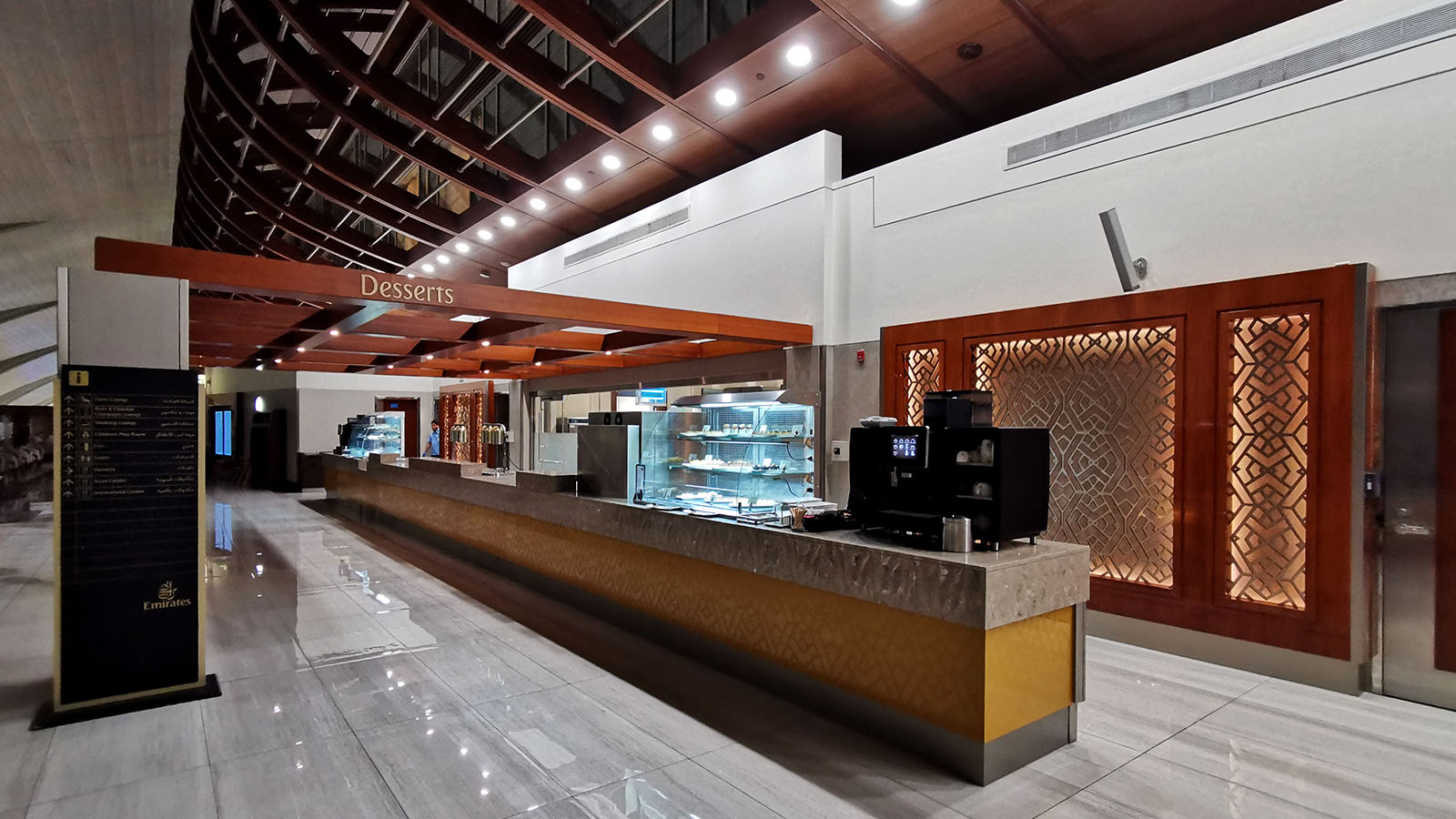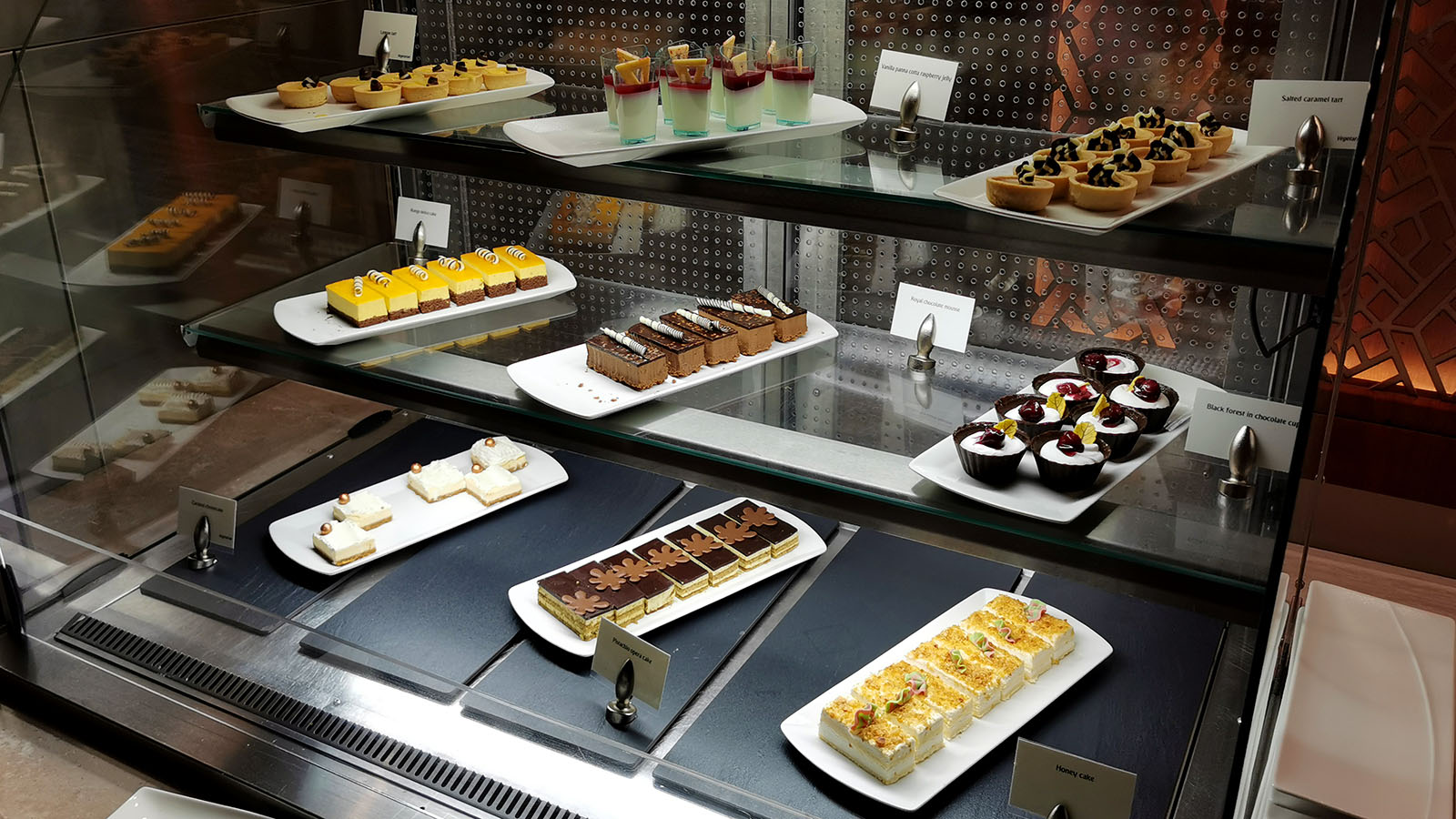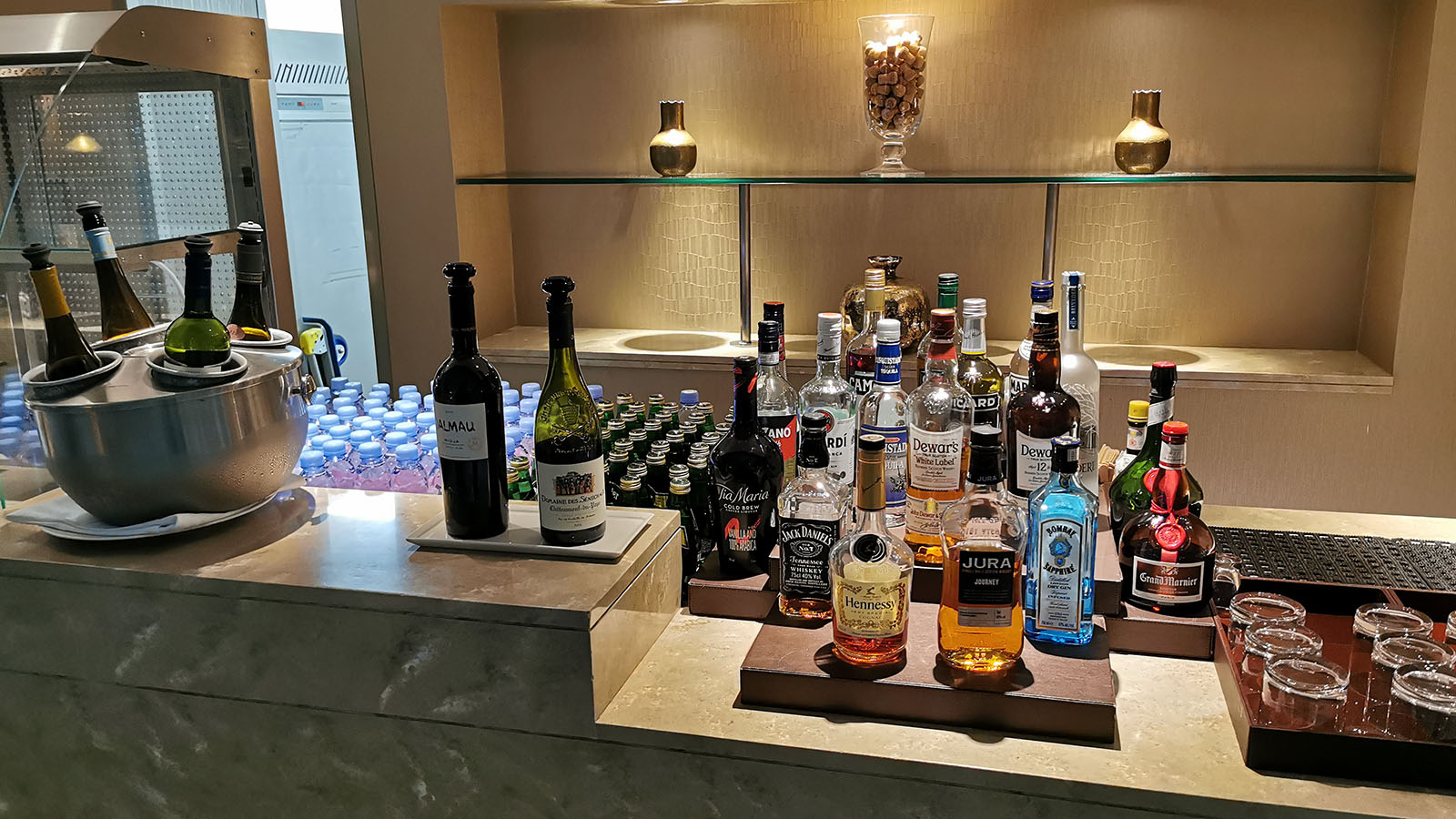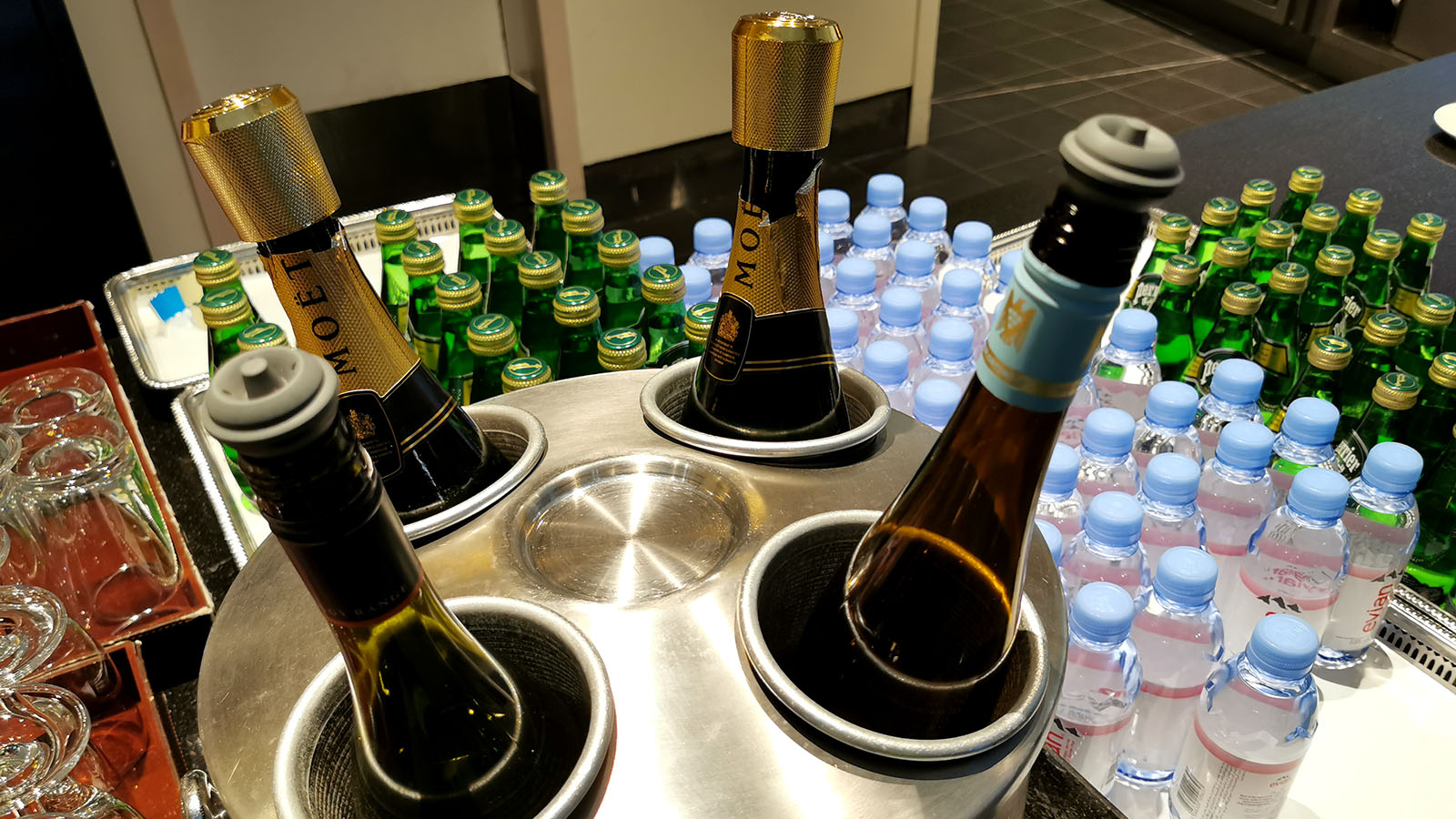 Healthy options aside, there's a cheeky station devoted entirely to dessert. This time, I enjoy it with my eyes. But you know what? I'm already transitioning back onto Australian time – and even though it's coming up to 11 pm here in Dubai, that's 5 am in Sydney: my next destination. I'm hankering for a coffee, and remember this lounge has an actual Costa store inside. Naturally though, you don't need to pay.
I follow the signs and wander on over – aaand, it's closed. Damn! Not content with a regular machine-made brew, I pop outside to the nearest coffee shop. 23 dirhams (AU$9.28) later, I'm holding a latte that's worth every cent.
Okay, we're back in the Emirates Business Class Lounge in Concourse B. On the alcohol front, there's a reasonable range of self-serve options that'll keep most people happy. This includes Champagne – Moët & Chandon Impérial Brut (NV).
Emirates' Moët & Chandon Champagne bar
Oh, speaking of Champagne – this lounge has another trick up its sleeve. Yes, you can help yourself to the 'standard' Moët from any number of self-serve stations. But there's something even better tucked away – the Moët & Chandon Champagne bar. And here within the Business Class Lounge, the bubbles are even better than in Emirates' First Class Lounge next door.
At this bar, you have four Champagnes to choose from, including a vintage drop. Here's what's on offer.
Moët & Chandon Impérial Brut (NV)
Moët & Chandon Rosé Impérial (NV)
Moët & Chandon Nectar Impérial (NV)
Moët & Chandon Grand Vintage (2013)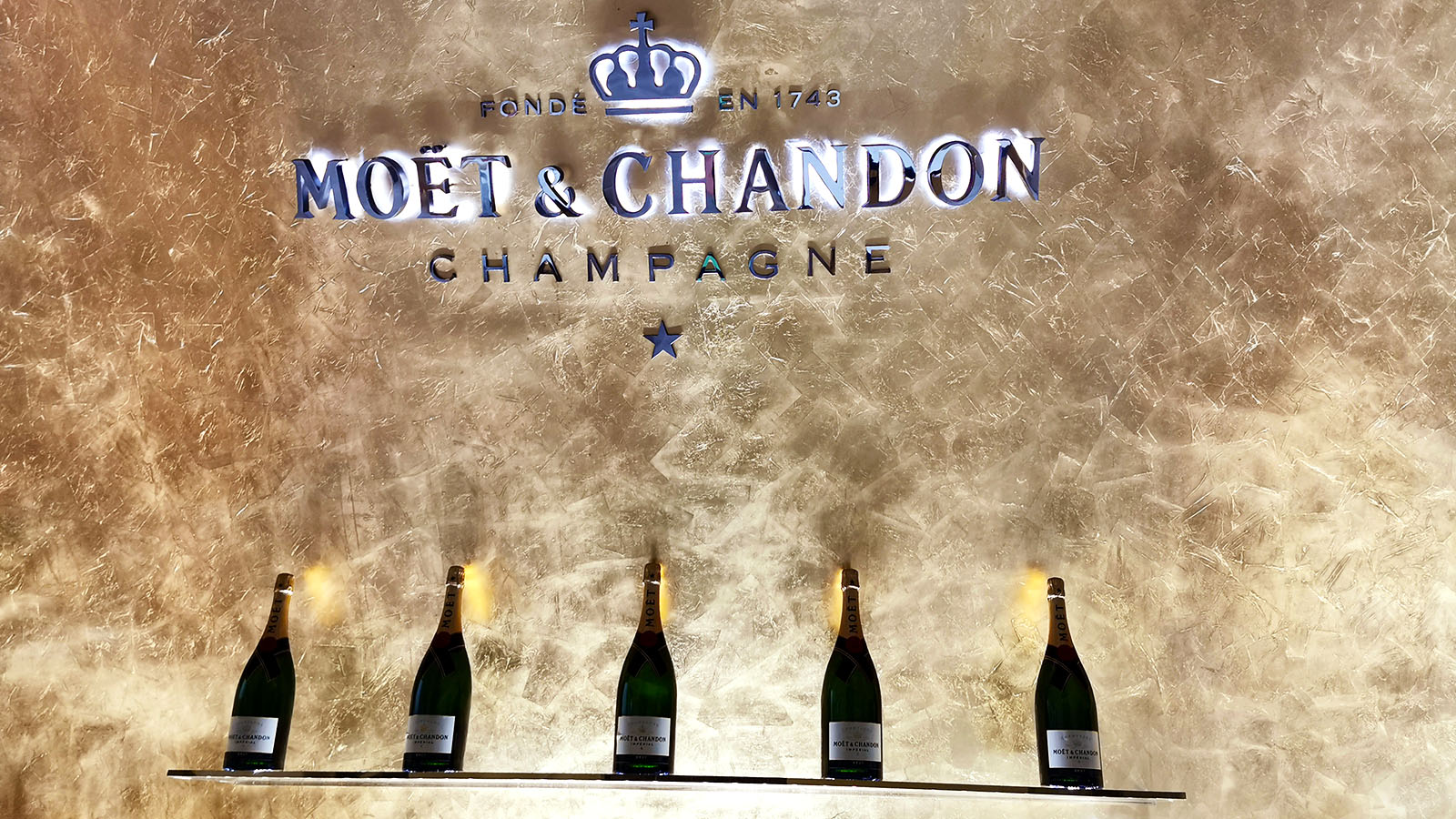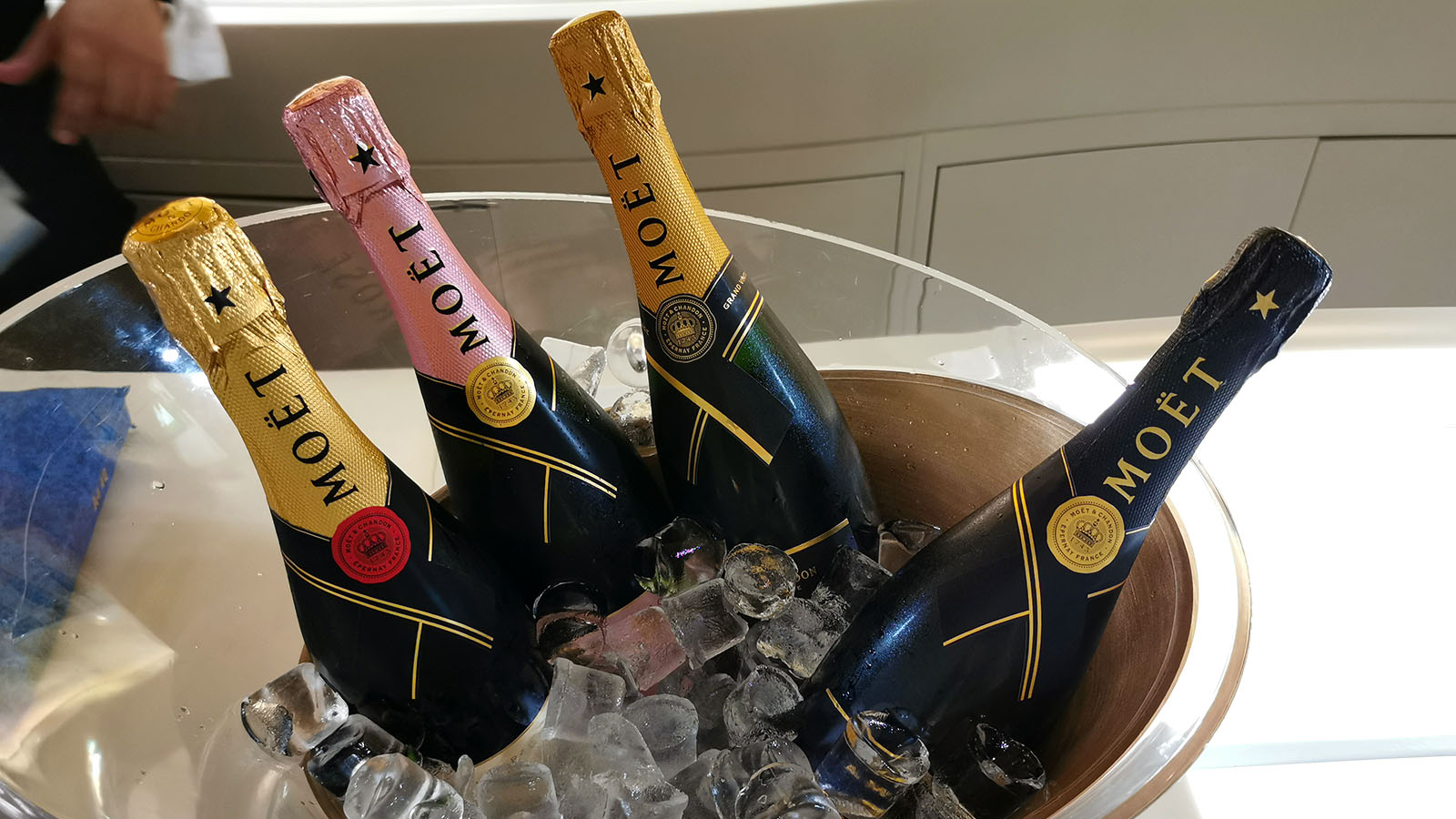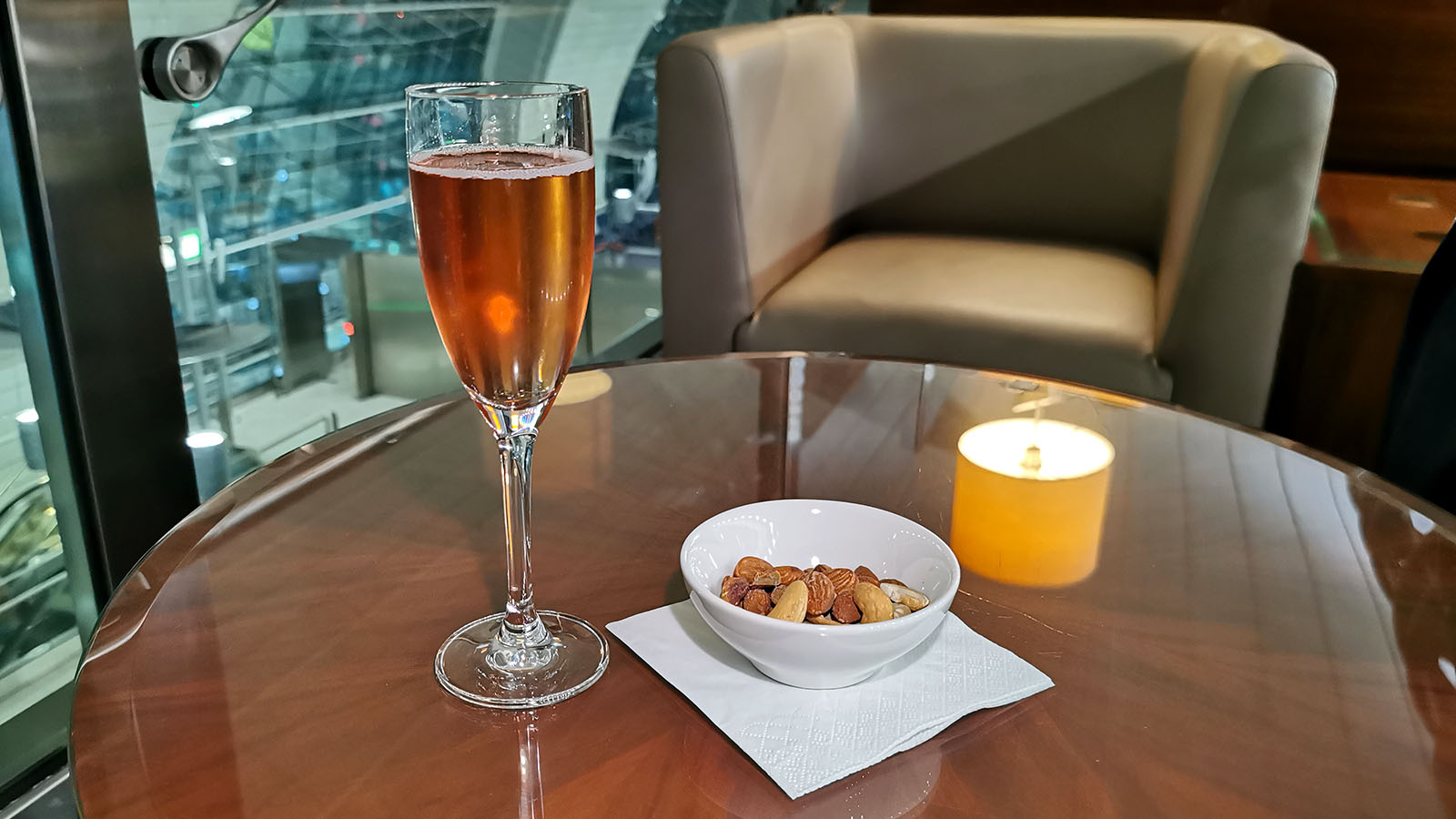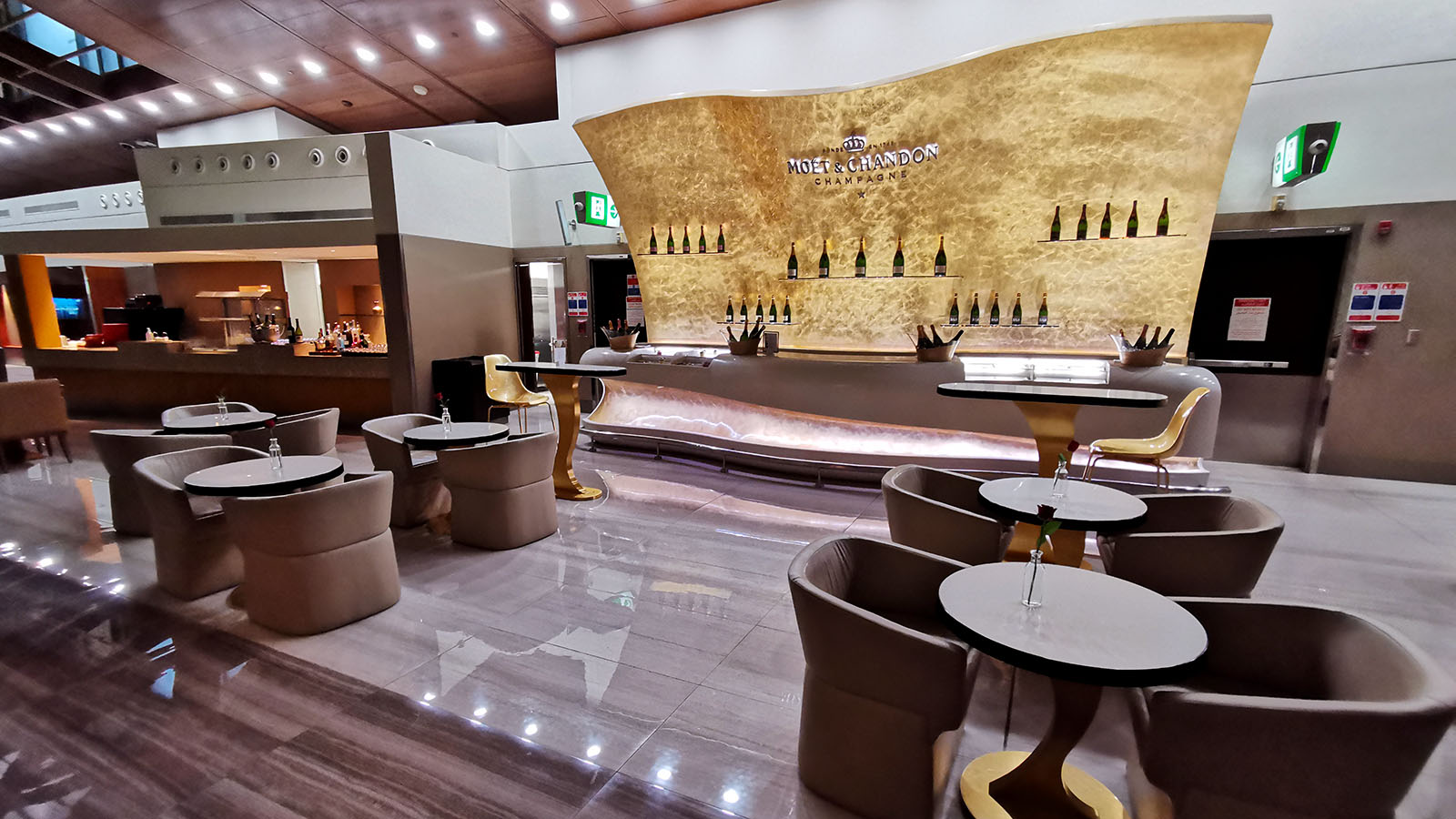 Here's the thing. If you really want to try all four drops at once, you won't be turned away. And yes, on a previous visit, I've tested that (you know, just to make sure…). But today, I'm just looking for a single glass to enjoy while I sit back and relax for a brief moment. But which Champagne to choose?
I scratch the standard Moët from the running (that's the Impérial Brut) – they have that on the plane, and everywhere else in the lounge. Normally, of the three remaining choices, I'd go for the Nectar. It's a lovely demi-sec, and one I personally prefer over the 2013 Grand Vintage. But sometimes, rosé wins the race. Hey, I like to keep things interesting.
Amenities in the Emirates Business Class Lounge, Dubai Concourse B
A few final features round out the experience here in Emirates' Business Class Lounge in Concourse B. There's a playroom for the little ones – and it's oh so colourful. The racing game is out of service when I stop by, but the Hello Kitty ride is up and running. A friend will be very pleased.
Separately, shower suites are available in multiple locations. I pop in for a photo, and in the brief moment I'm clicking away, an attendant promptly appears to reserve the room and provide towels. If you do find that one group of showers are all in use, taking a quick stroll to another location may avoid the wait.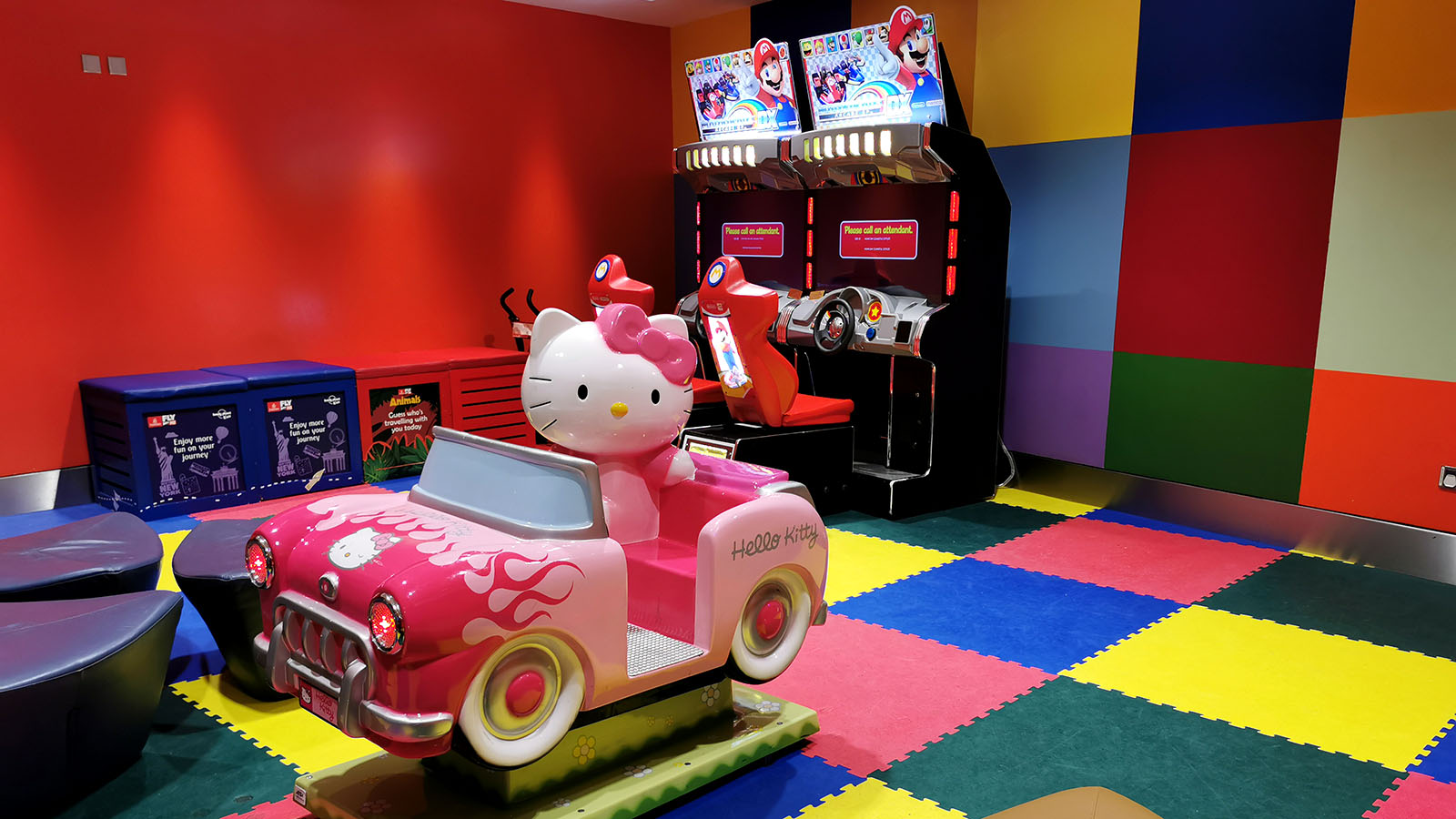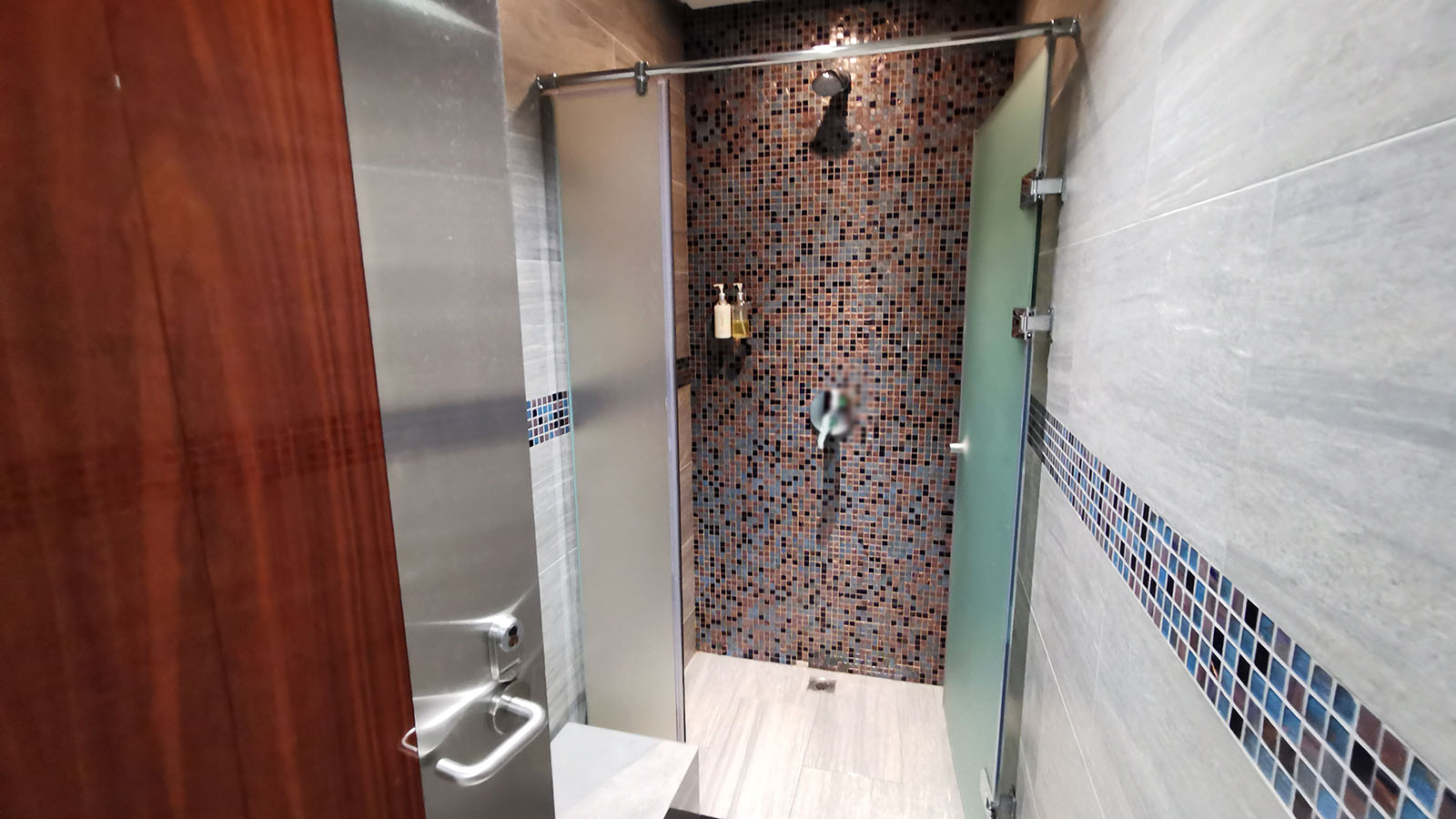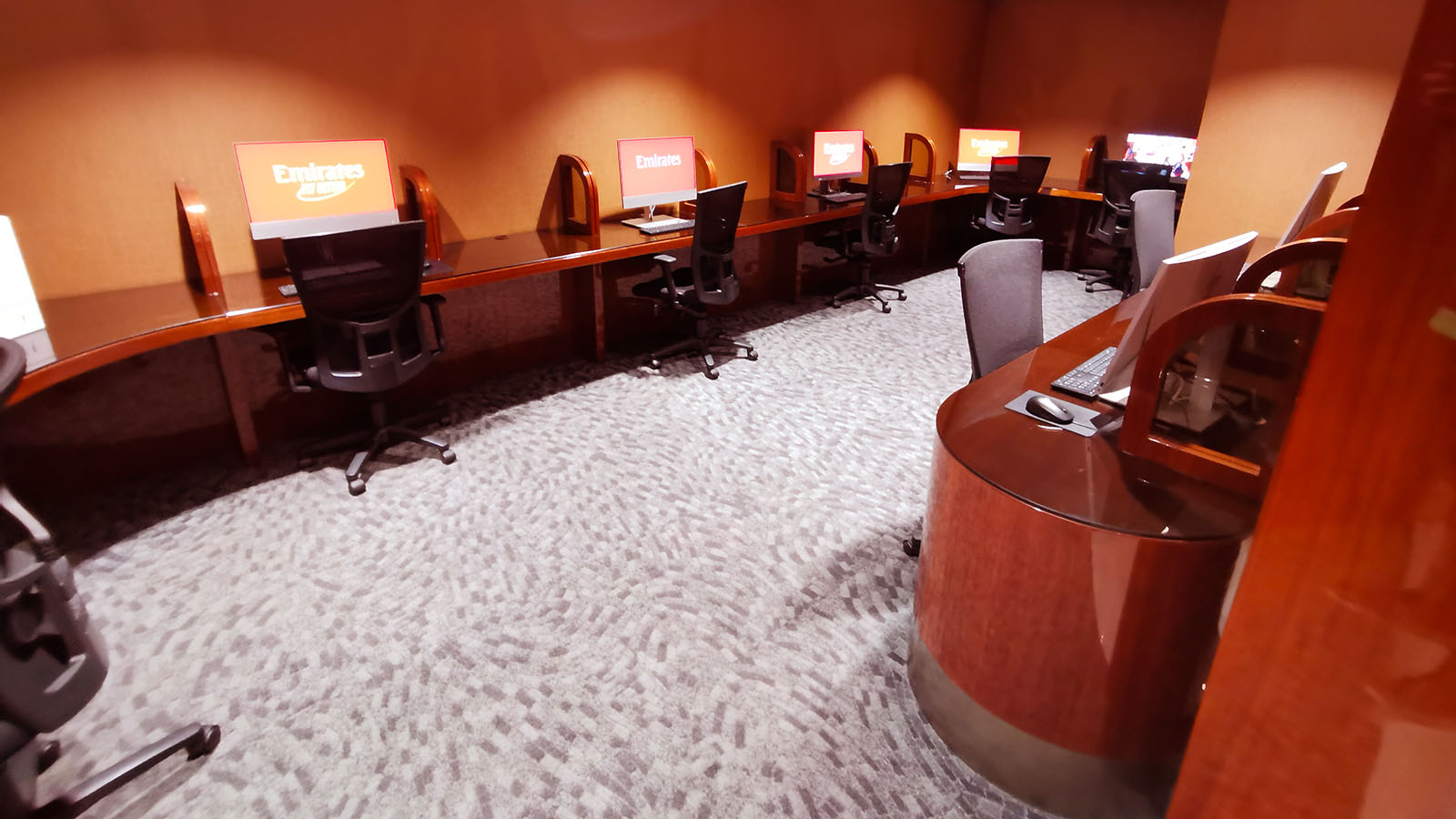 If your visit caters to work, there's a dedicated business centre with a line-up of computers, if needed. Curiously though, it's not easy to work on your own laptop from the same place – at least, if you need to plug in. The power points here aren't the most accessible. No doubt, because the area was designed in the days where fixed desktop computers filled every space. But remember, there are so many other places to set up and work anyway.
As for the Wi-Fi, it's very fast. I clock download speeds of 116Mbps and uploads even speedier at 167Mbps. This has you covered for everything from video calls through to sizeable cloud backups – such as keeping holiday snaps safe remotely. Downloading shows to enjoy on the flight ahead also won't take long at these speeds.
Accessing the Emirates Business Class Lounge, Dubai Concourse B
Here's how you can enjoy Emirates' Concourse B Business Class Lounge for yourself. In this list, we've not included passengers eligible for access to the Emirates First Class lounges – just those who call the Business Class 'home'.
By class of travel:

Emirates Business Class, excluding passengers booked on Business Class Special fares.

flydubai Business Class, on flights departing from Terminal 3.

Courtesy of elite status or paid membership:

Emirates Skywards Silver, with an onward Emirates flight.
Emirates Skywards Gold, when travelling on Emirates or flydubai (+1 guest).

Qantas Gold, when travelling onwards with Emirates on an EK or QF flight number (+1 guest).
Qantas Club, prior to Emirates flights booked on a QF flight number only (+1 guest).
Emirates takes a lot of the guesswork out of who qualifies for the lounge. If you're eligible, you'll see the words 'Business Class Lounge' on your boarding pass. (Or 'First Class Lounge', for those entitled).
This is a busy lounge – so if you're flying solo and your access is displayed on your boarding pass, you can scan yourself in. I can also confirm, this works here even if your flight is departing from another concourse. It also lets higher-tiered travellers through without a fuss. That is to say, using a Platinum card to access this 'Gold' lounge also gets an easy green light.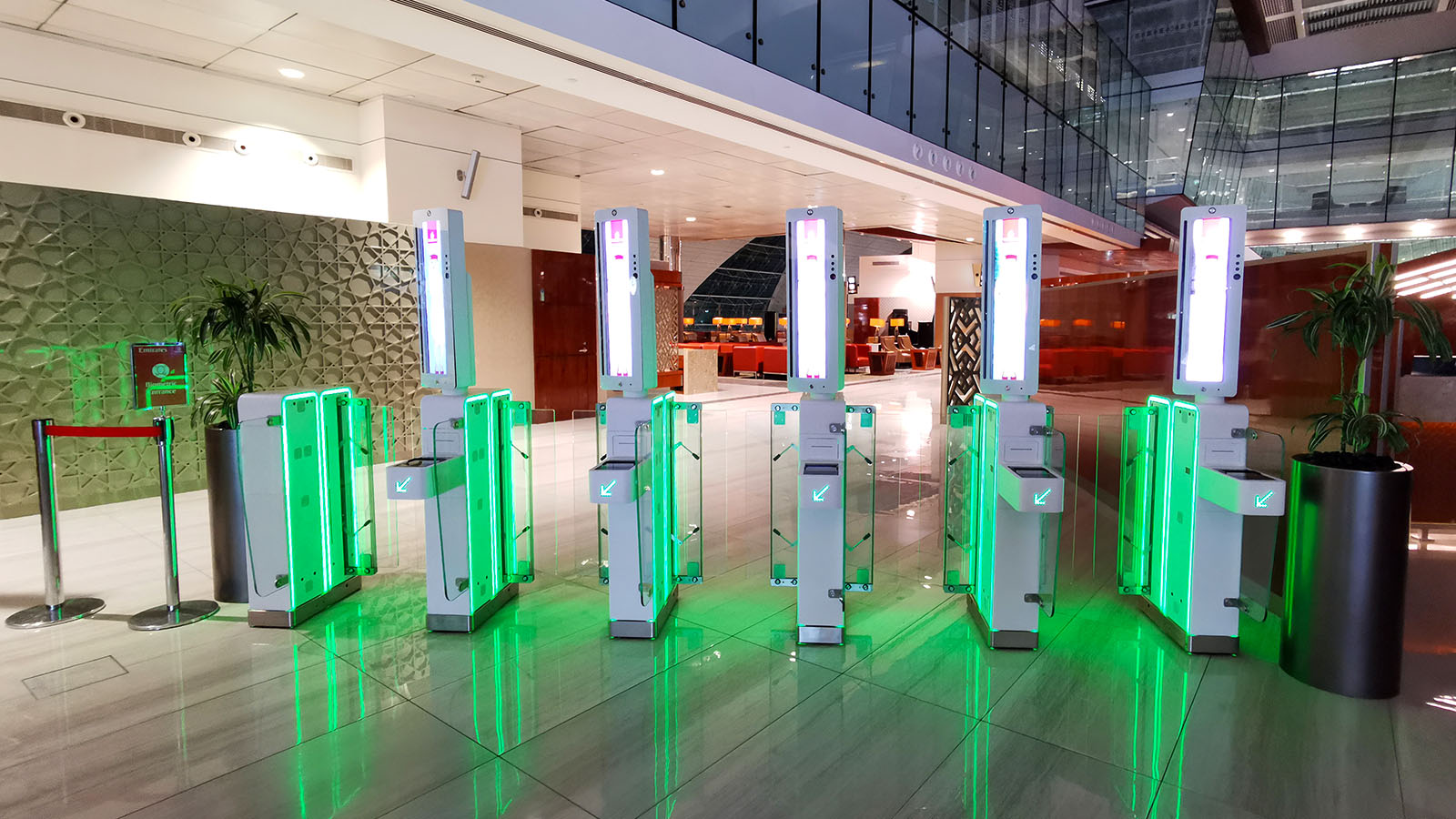 If you're bringing a guest – or would just rather speak to a person – there's a reception desk nearby. That's also where you can purchase access if you don't otherwise qualify. Expect to pay the equivalent of US$183.75 (AU$288) per person – or US$157.50 (AU$246) p.p. for Skywards members of any tier. Given Skywards is free to join, that's a no-brainer.
Summing up
This lounge is certainly large, but Dubai Airport is even bigger. In fact, this lounge in Concourse B is one of four Business Class lounges that Emirates offers in this terminal alone. And not to mention, there are three separate First Class lounges on top of that. But in terms of popularity, this particular lounge is Emirates' busiest.
Its central location makes it easily accessible for passengers departing Dubai and for those in transit. Its floorplan is big, but not so much that it takes forever to find a preferred area or amenity. And hey, even though Emirates does have First Class lounges, this Business Class lounge has better Champagne than any of them. For me, that can be reason enough to stop by, even if I'm planning to spend my time in one of those other lounges.
By extension, this is a lounge to choose if you want somewhere to mingle, or really want that 'bustling' feeling after a long and quiet flight. For a longer transit though and a change of scenery, you might consider taking the train to Concourse A and the Business Class Lounge there. It's even larger – spanning an entire floor of the building, from one end to the other. It's an ideal spot for a little more peace and quiet.
Just don't get too relaxed. Except for significantly disrupted flights, there are no boarding calls made here. The Emirates app often sends an alert when boarding begins, but this is one airport where you'll want to leave for your gate early – just because it could take a little while to get there.
Also reviewed: Emirates First Class Lounge, Dubai Terminal 3, Concourse B
Photography by Chris Chamberlin, who accessed the lounge courtesy of (earned) frequent flyer status while travelling as a guest of Emirates. Featured image courtesy of Emirates.
---
Stay up to date with the latest news, reviews and guides by subscribing to Point Hacks' email newsletter.
Emirates Business Class Lounge, Dubai Terminal 3, Concourse B
was last modified:
October 10th, 2023
by