Delta One Suites is Delta's flagship international Business Class product and is available on Delta's only Australian route, from Sydney to Los Angeles. I had the chance to try out this product whilst coming home from the US for the Christmas holidays in early December 2020.
It was the only Business Class product of the five that flies nonstop between Australia and the US mainland that I had yet to experience (Hawaiian Airlines also flies from Sydney and Brisbane to Honolulu.) Now that I have tried all of them, I would rank them as follows:

Delta Air Lines (this review)
However, if it were available, I would choose Qantas A380 First Class any day!
Flying Delta One Suites during COVID-19
Before taking this flight, I was expecting the onboard product to be vastly different to what it would be during more 'normal' times. However, the only major changes were to the meal service.
Pre-dining, there were no hot towel or warmed nuts served. Furthermore, everything from the appetizer to the main to salad were served on one tray.
Obviously, all passengers and crew were required to wear masks throughout the whole flight, except when actively eating or drinking.
A turndown service is not normally offered anyway, so passengers made their beds themselves.
Apart from that—and the fact that only 36 of the 306 seats were occupied—it felt like a relatively normal flight.
Fleet & routes
Delta One Suites are available on:
all Airbus A350s
all Airbus A330neo
some Boeing 767s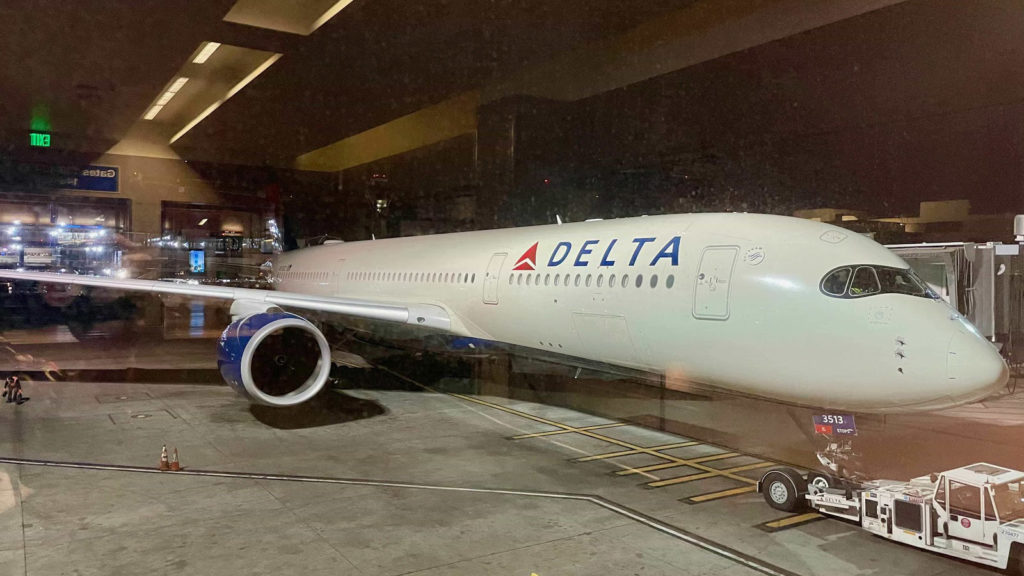 You can find these plane types flying on a large number of Delta's long-haul international routes, including to Australia and Asia.
One thing I love about the Airbus A350 is how noticeably quiet it is.
(This product was installed on all of the airline's Boeing 777 planes but they were retired due to COVID-19.)
The cabin & seats
The Delta One cabin is set up in a 1-2-1 configuration, with fully-enclosed suites awaiting each and every passenger.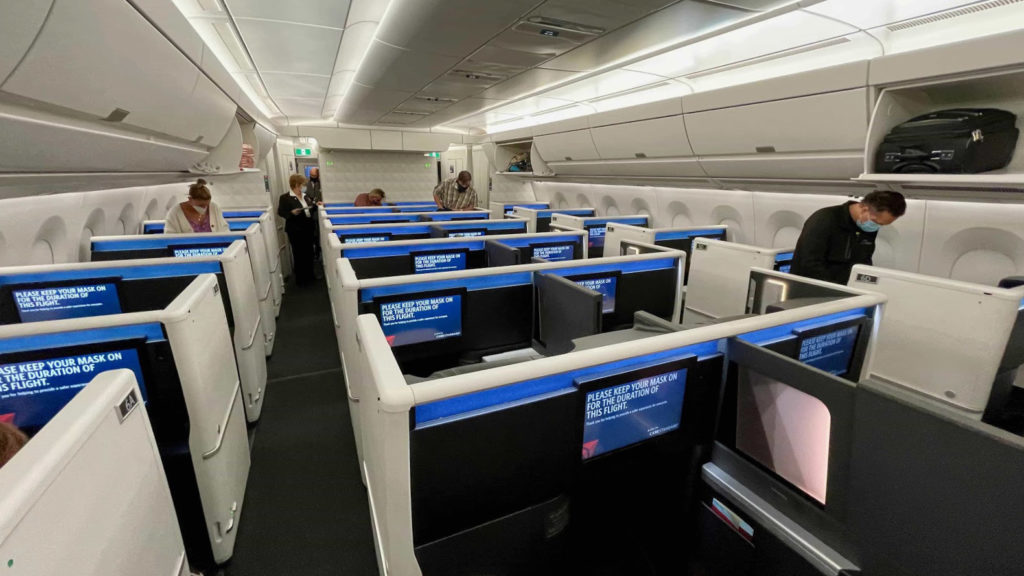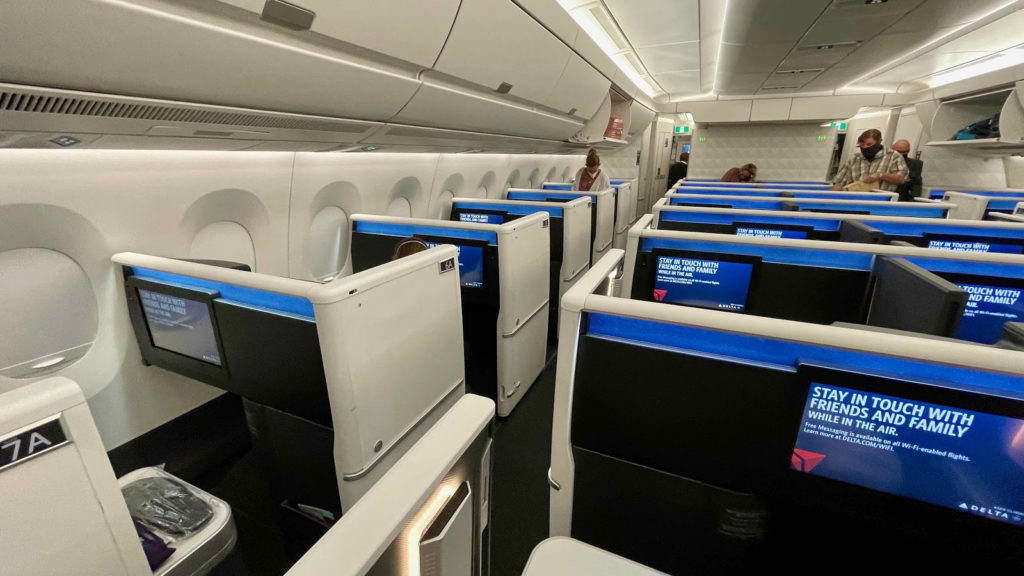 The Vantage XL seat sports Delta's distinctive blue and purple finishes, with the lighting on this aircraft also following the same trend. If I were to sum up the seat in three words, I'd choose: comfortable, stylish and spacious.
Of note is just how deep the footwell is.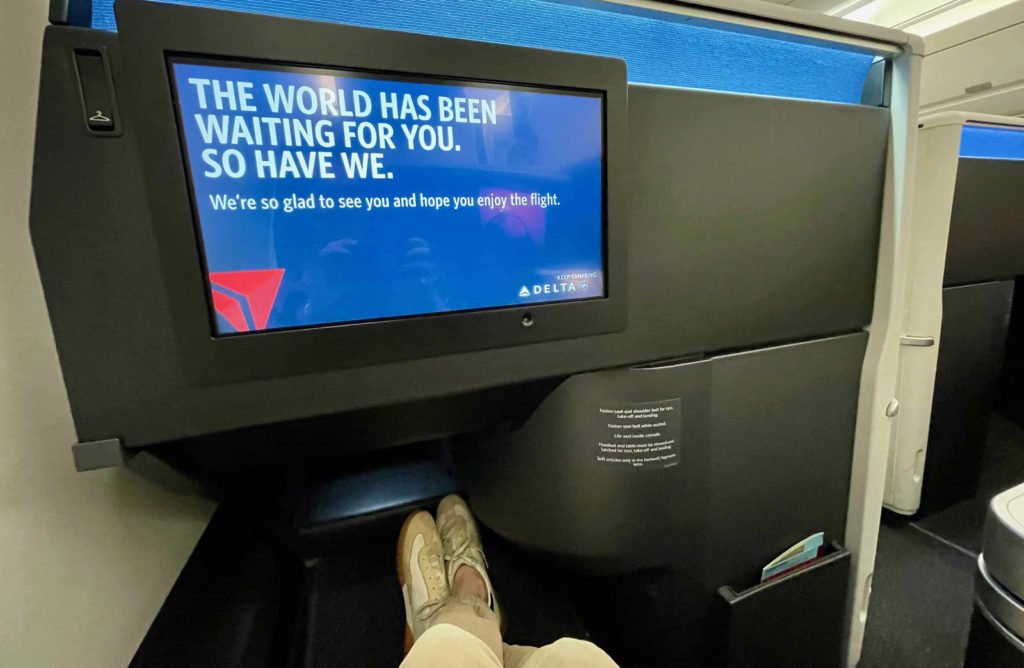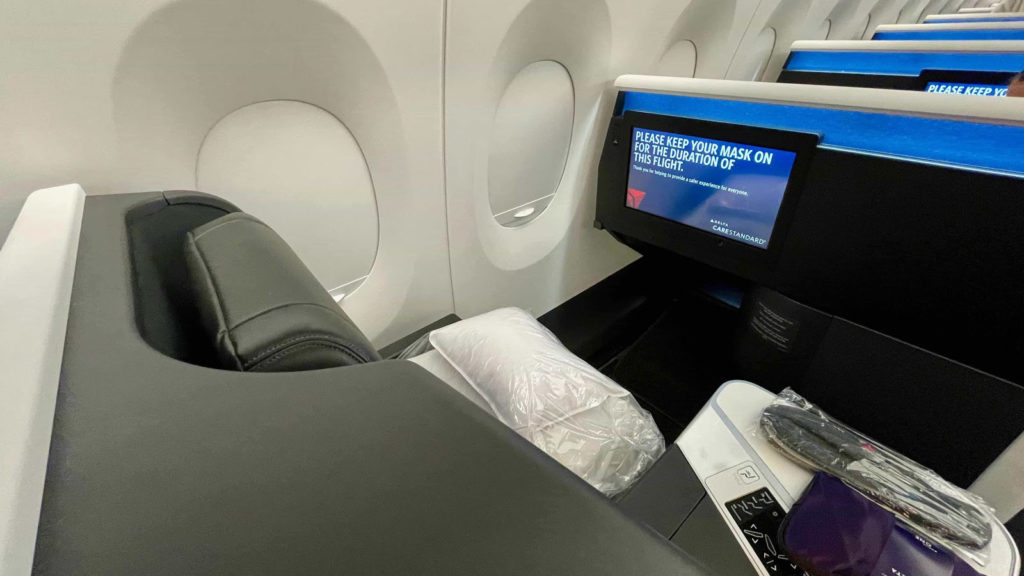 However, I do concur with other reviews of this product in noting a distinct lack of storage space for electronics.
The most important thing on a long-haul flight between Australia and the US is how well you sleep. Fortunately, the seat reclines into a fully-flat bed that measures 195 cm/6'5" long.
This is where the sliding privacy door comes into play. Mine did get jammed and did not close fully, which was a shame but had no real impact on my experience. Other bloggers have also noted issues with their door closing on their flights.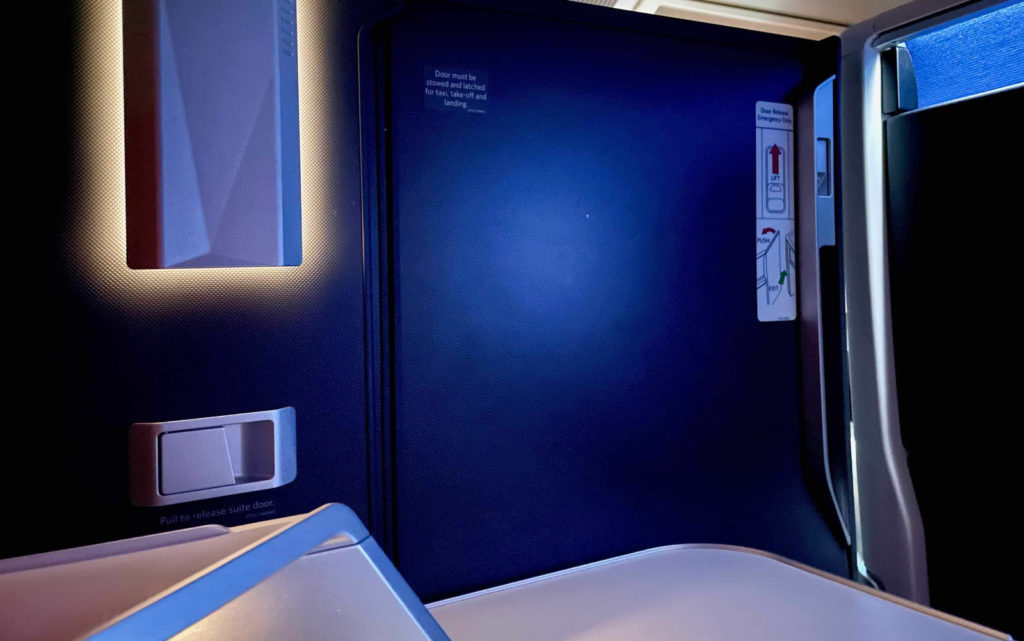 The combination of having the privacy door closed and this being the lowest bed I've ever slept on in a plane gave me the distinct feeling of being in a cocoon.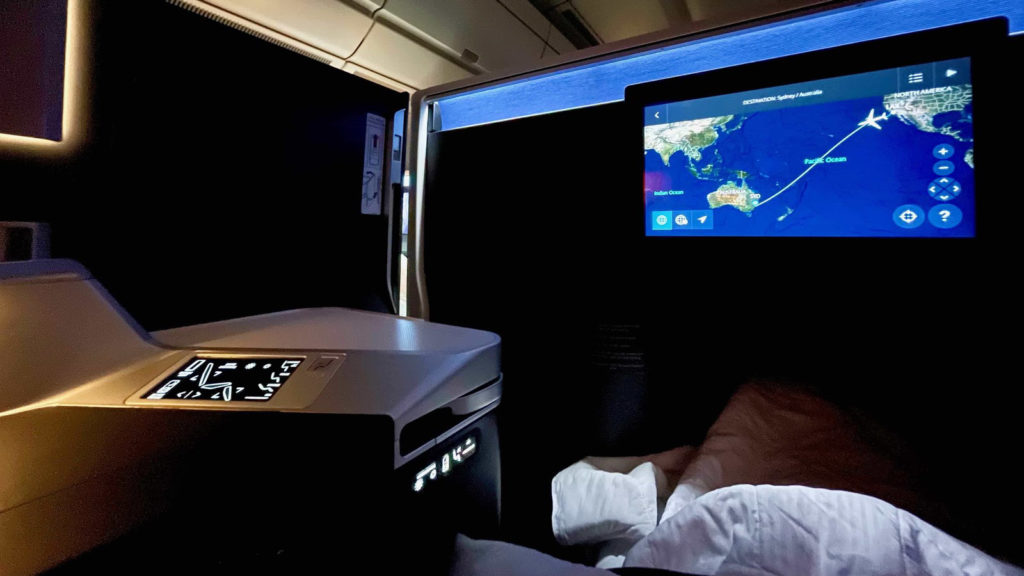 Delta does not offer a turndown service. Given the low passenger count on my flight, I took two extra doonas from empty seats to cushion my bed. Whilst I was seated in a window seat and used it to eat and watch movies, I set up a centre seat as my bed.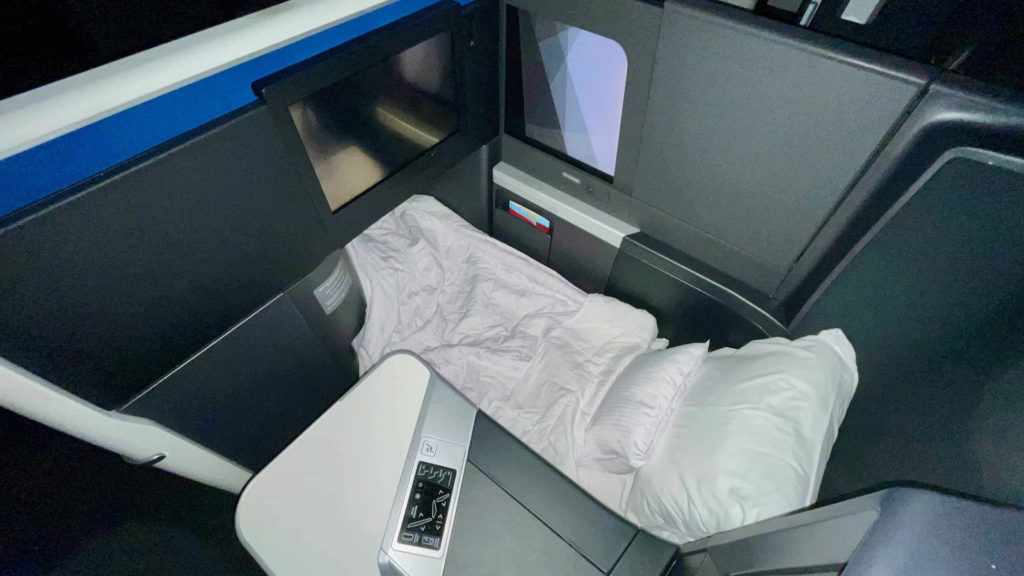 When you're ready for your slumber, you can press the Do Not Disturb button. The width of the bed is great, and you can sleep comfortably on your back or side.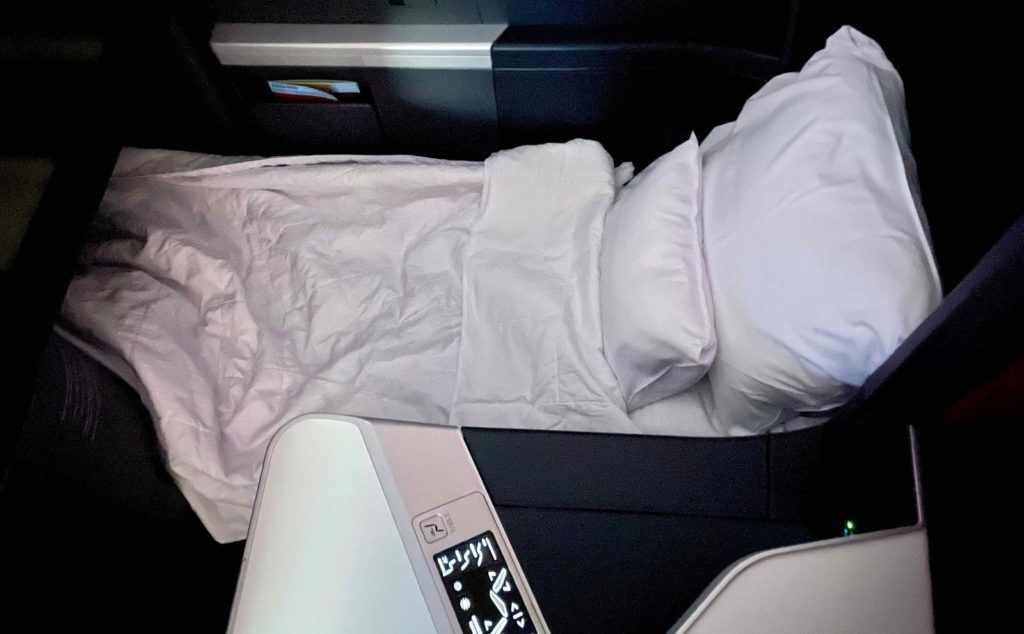 A tip: you can disconnect the shoulder section of the seatbelt for a more comfortable sleep (given that you still have to/should wear a seatbelt for the duration of the flight.)
The seat controls are easy to use.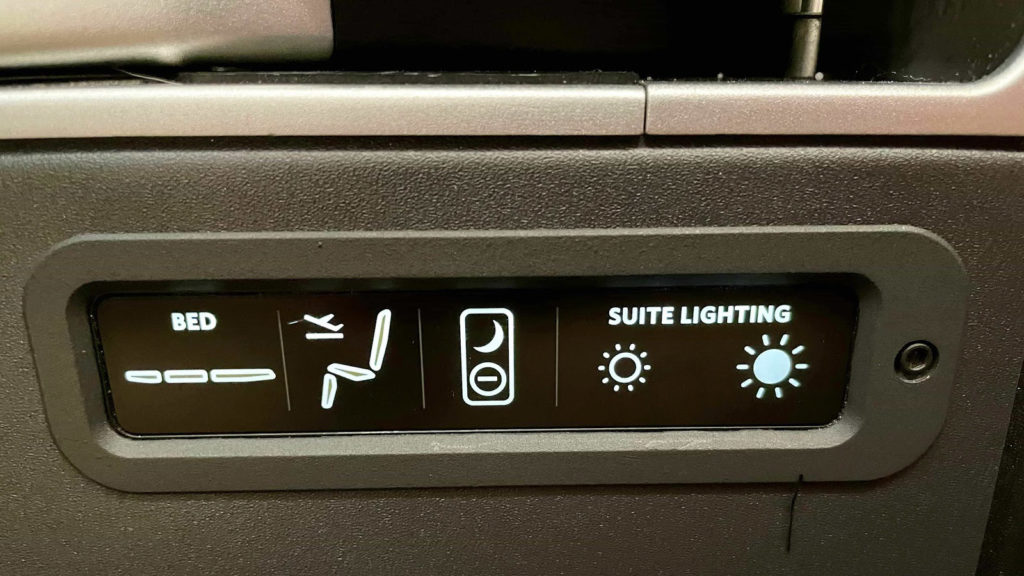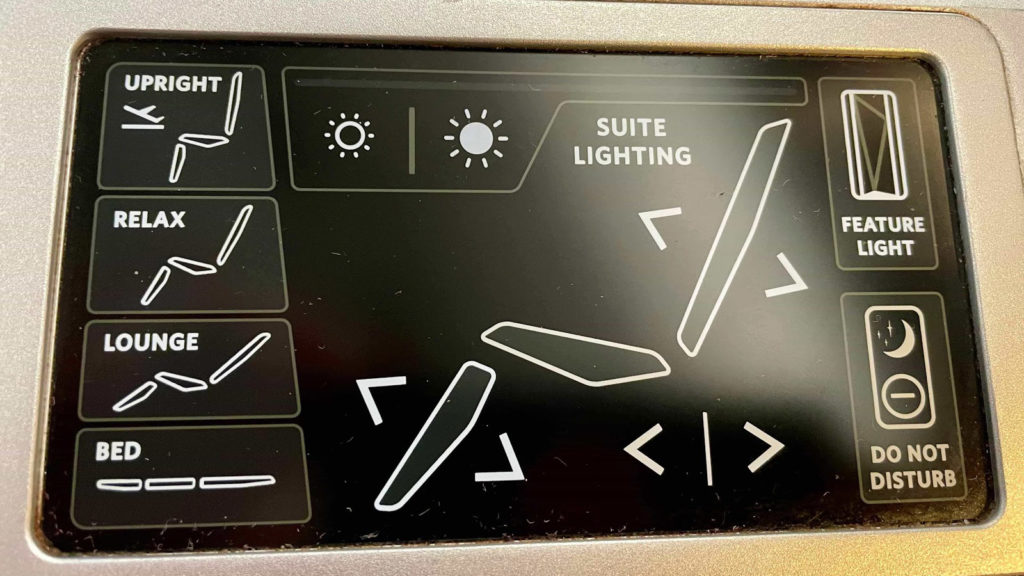 Seat choice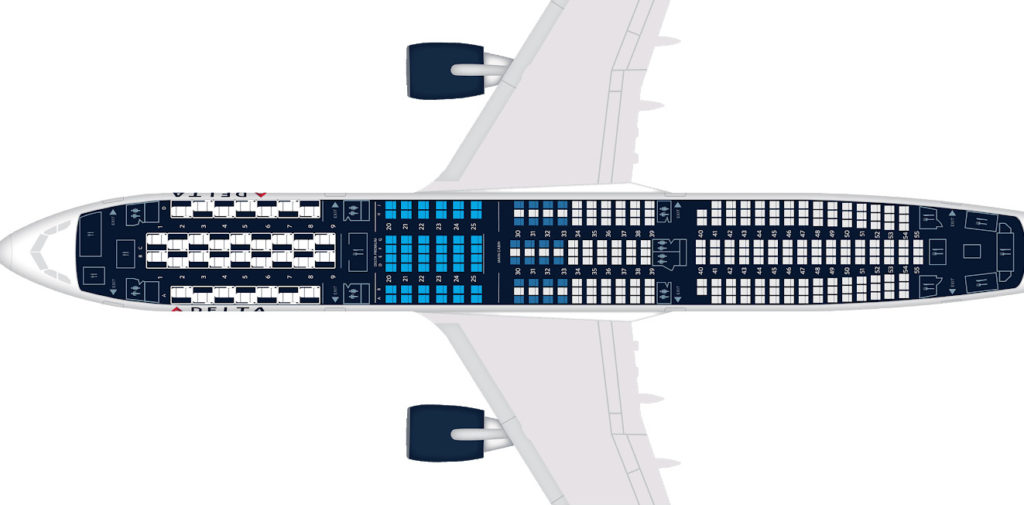 Solo travellers will want to choose a true window seat (A or D) in an odd-numbered row (3, 5 or 7). If you're right-handed, A would be best as you'll have the side table on your right-hand side; conversely, if you're a leftie, D would be a better fit for you.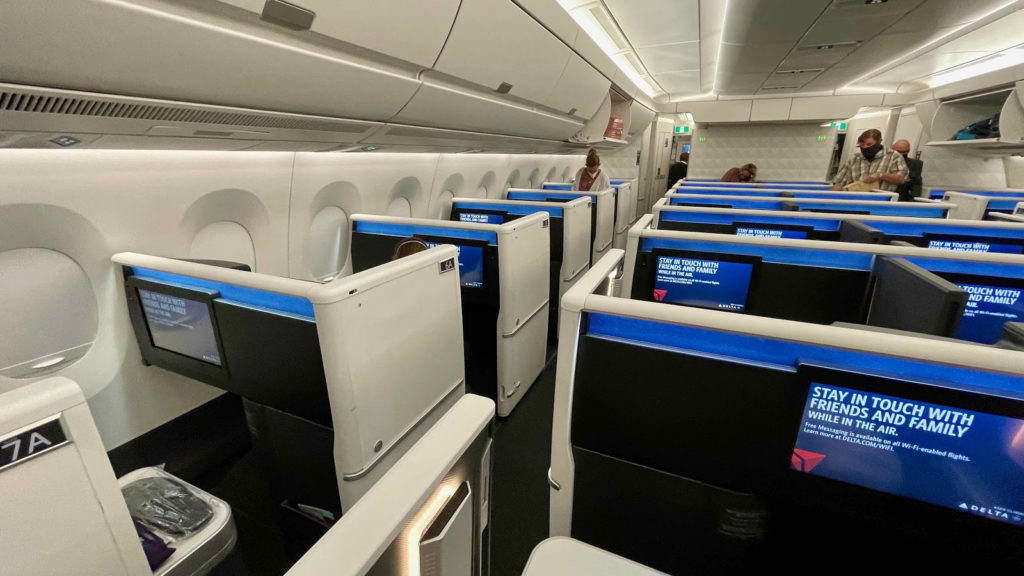 Couples may wish to choose two centre seats together. However, do note that whilst there are individual air vents above window seats, the centre seats do not have this feature.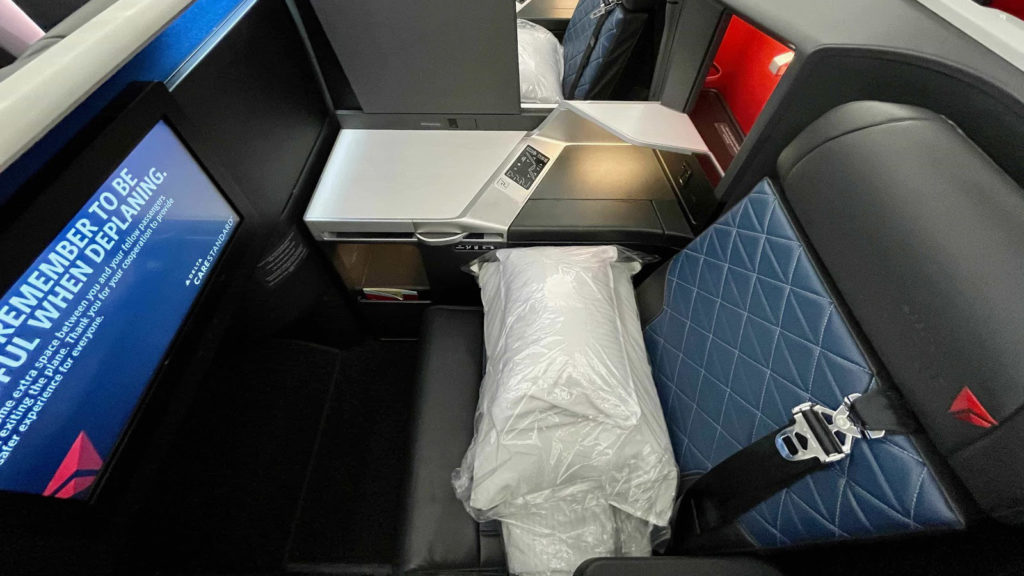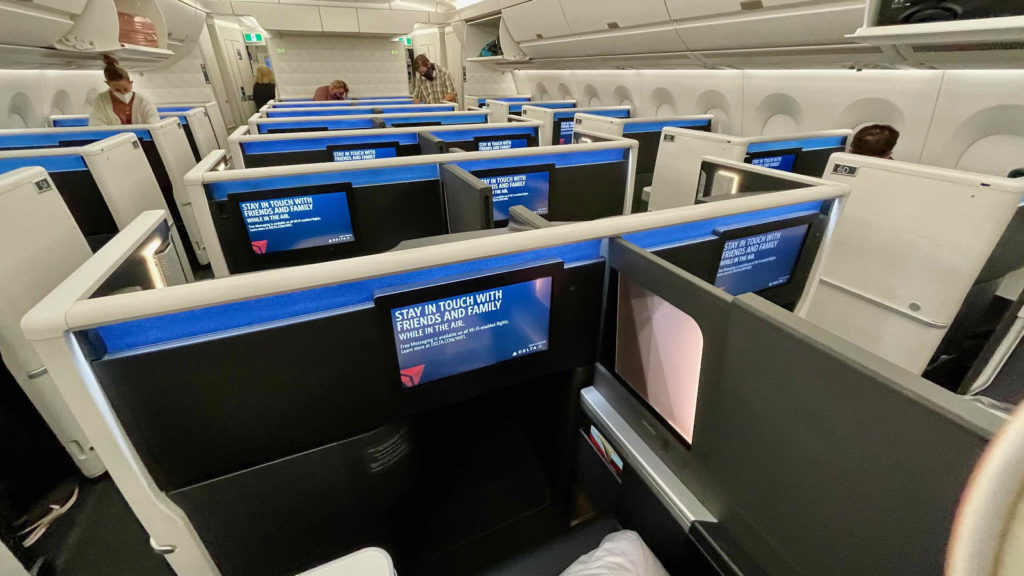 Food & drink
Overall, the food on my flight was perfectly fine but nothing to write home about. Everything was served on one tray. The salad was average, with the main marginally more inspiring.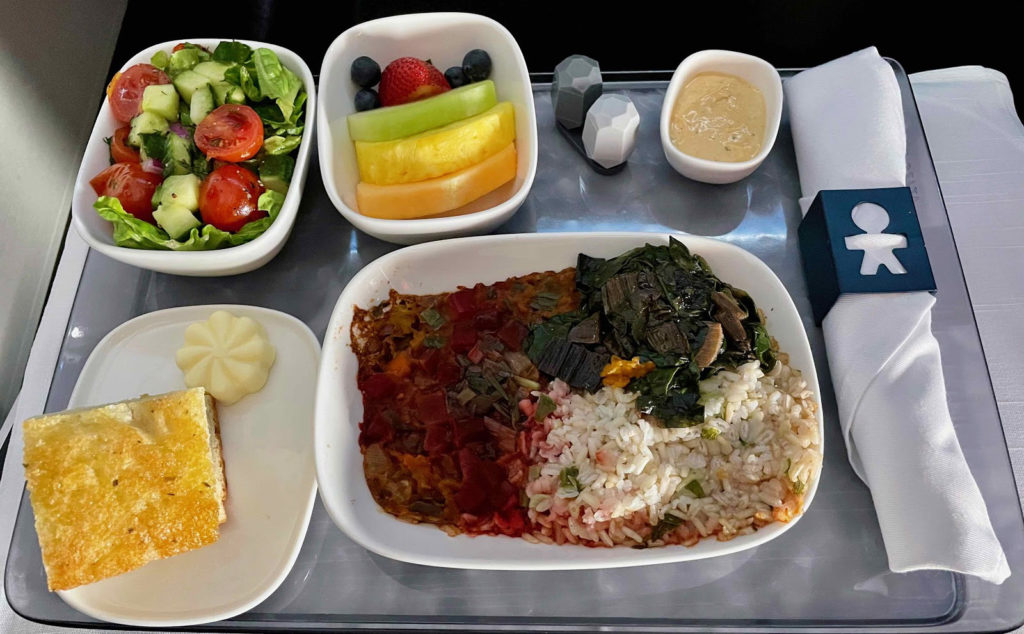 My mid-flight snack consisted of a delicious sandwich and yoghurt.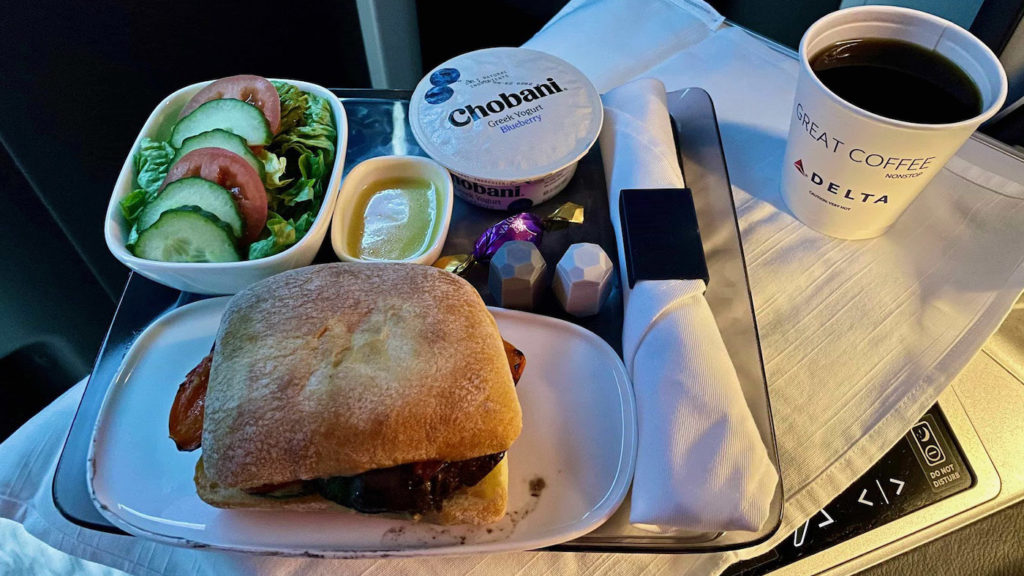 Breakfast coming into Sydney was the definite highlight of the three meals.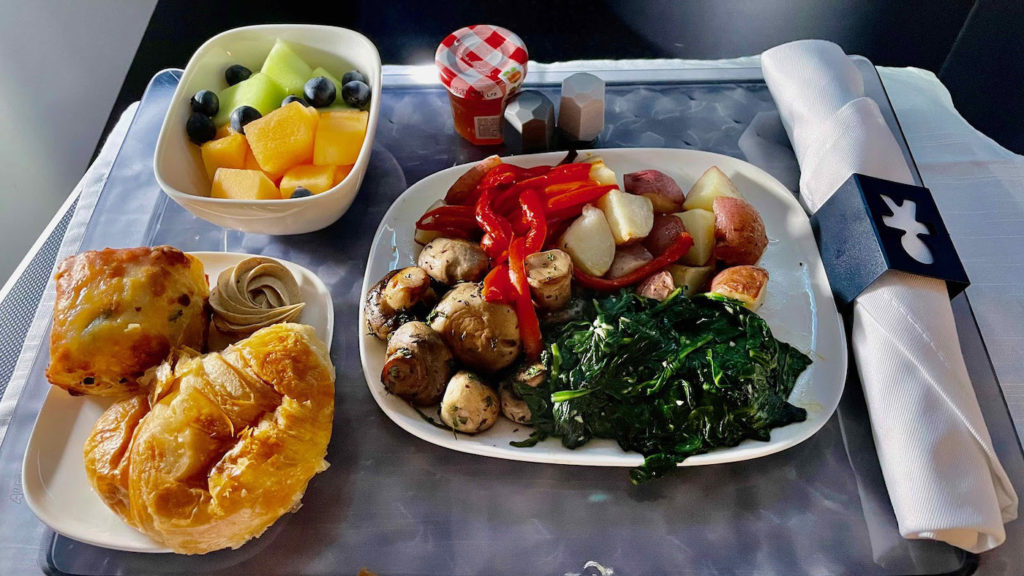 Customer service
I've flown on Delta a lot and they are consistently the best out of the major US carriers. I received warm and professional service all the way from checking in to interacting with the lounge agents, boarding the plane and onboard my flight.
Meals were served promptly and the cabin crew were quick to respond to any requests throughout the flight.
Inflight entertainment
The large touchscreen provides for a great entertainment experience. There are no annoying ads before content and it's easy to fast forward and rewind.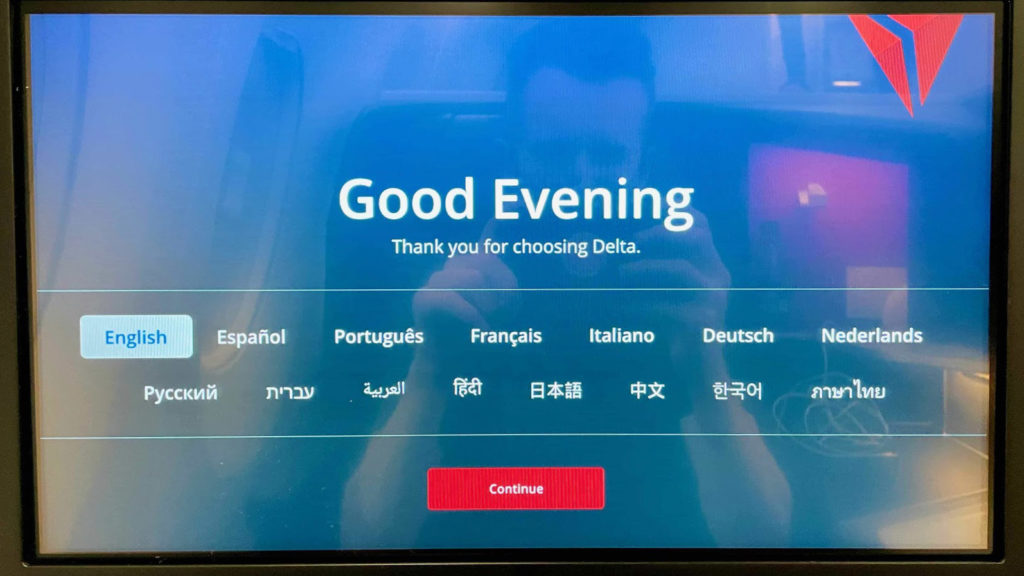 However, some airlines have entertainment screens that tilt down for when you're in lie-flat mode. Delta does not have this, which is a shame. I also found that most 'New Releases' on the system were at least a year old, so that could do with some updating.
The noise-cancelling headphones are above average.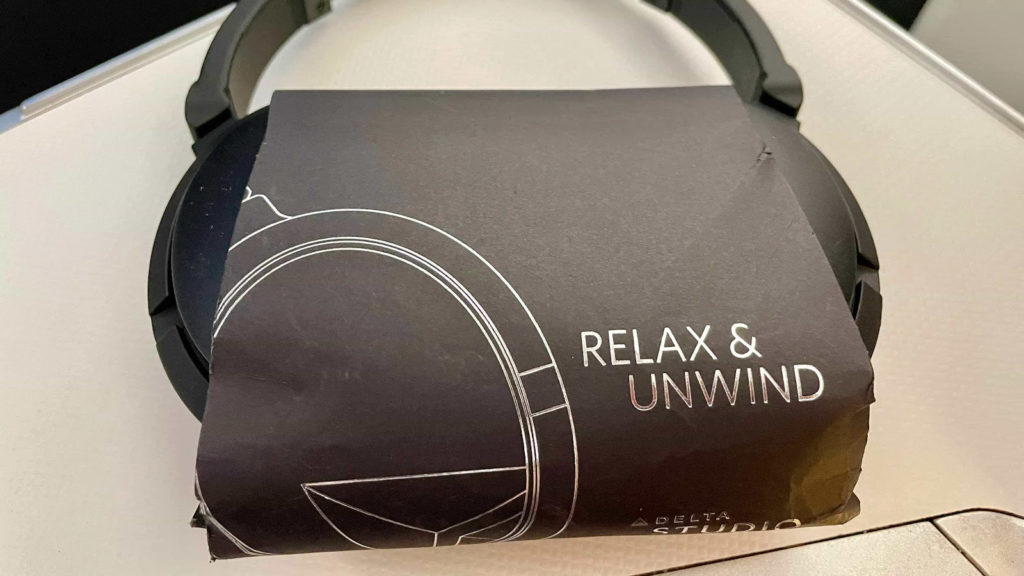 Amenities
Wifi is available for purchase (check current prices here). However, as other bloggers have noted, it often doesn't work and when it does, the speeds can be very slow, so it's probably not worth it.
The lavatories on this plane are noticeably cramped, so it can be a bit of a squeeze when changing in and out of pyjamas.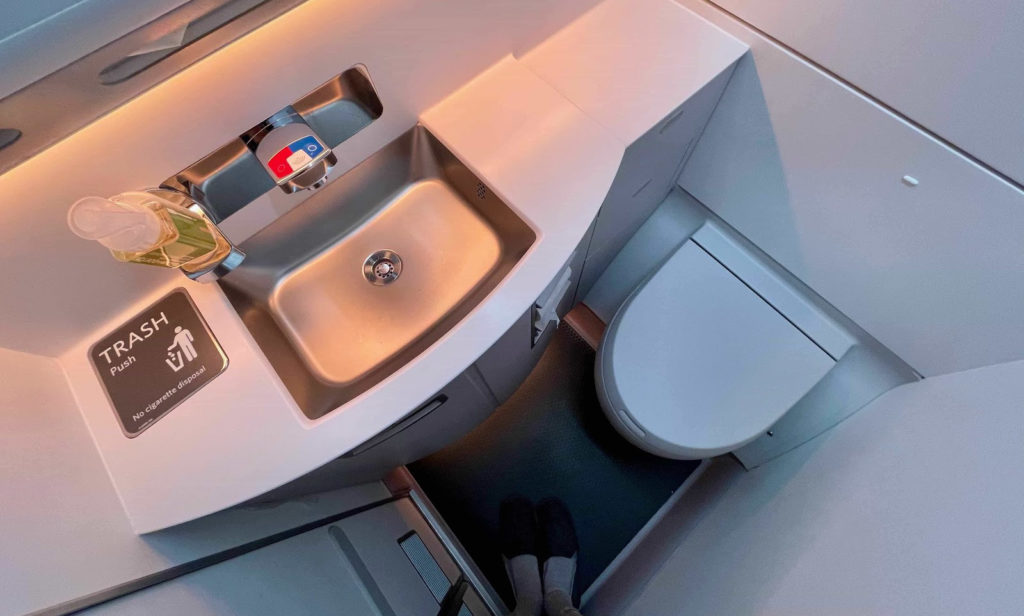 Speaking of, Delta does not provide pyjamas to its Business Class passengers, so it's BYO. However, they do provide some comfy slippers.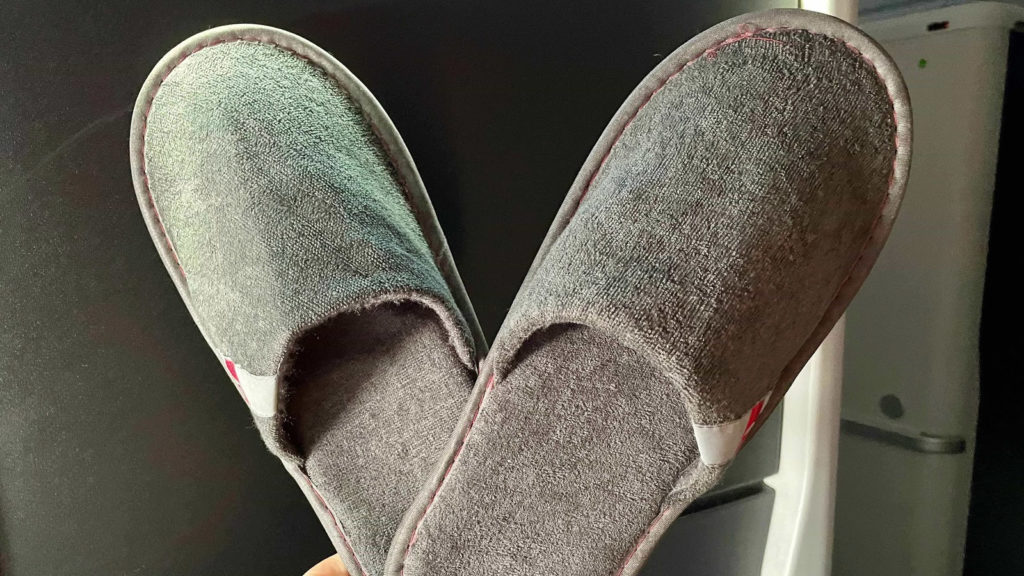 Delta One passengers receive one of the more useful and modern amenities kits I've seen.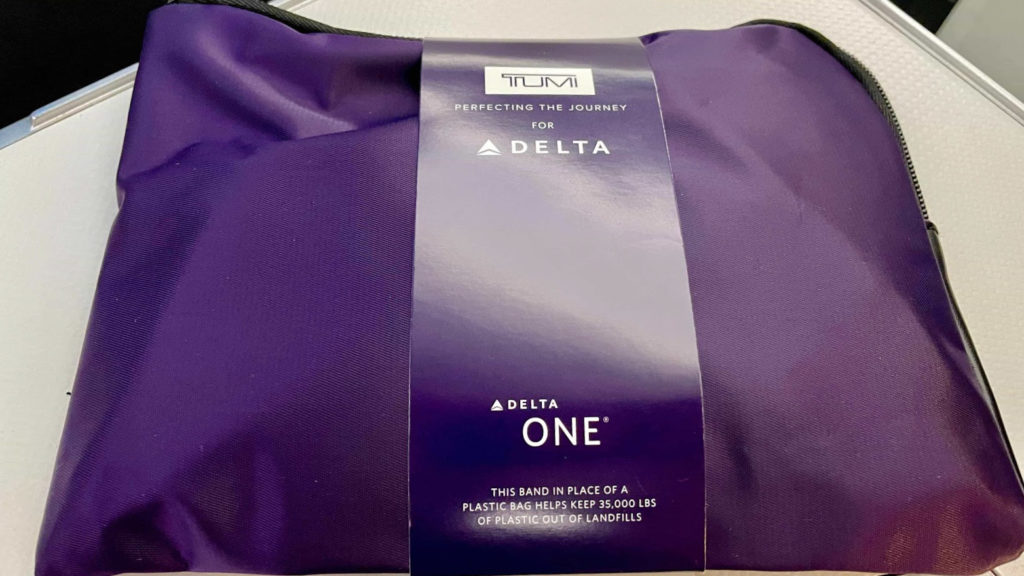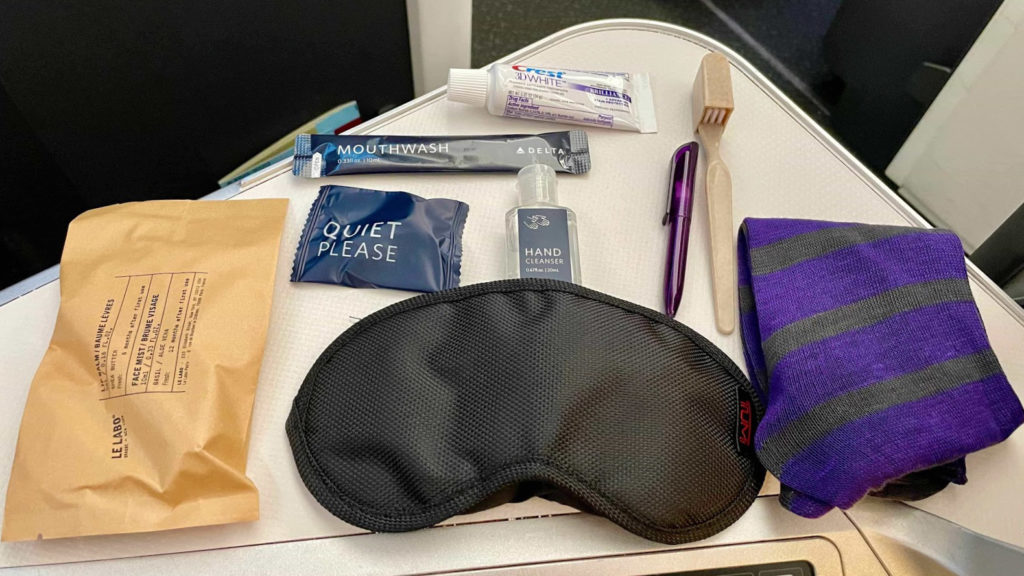 How to redeem points for this flight
The main way travellers in Australia would book a redemption seat on this flight would be to use 95,500 Velocity Points + $126 in taxes + a $230 carrier charge one-way. You can book Delta Airlines redemption seats through the Velocity Frequent Flyer website. (Note that at the time of writing, Velocity Points redemptions for international flights are suspended.)
An alternative would be to convert Marriott Bonvoy points to Delta's own SkyMiles program, which has dynamic award pricing. However, you would probably need a lot of miles for this. I was lucky to snag my redemption from Austin to Sydney via Los Angeles for 145,000 SkyMiles + US$29 (~AU$37), which is towards the lower end of the range.
Availability is most open ~11 months as well as one week before departure. Here's when award calendars open for Velocity and SkyMiles.
Lounge access
Delta One Suites passengers departing Sydney can access the SkyTeam Sydney Lounge, with a four-star rating.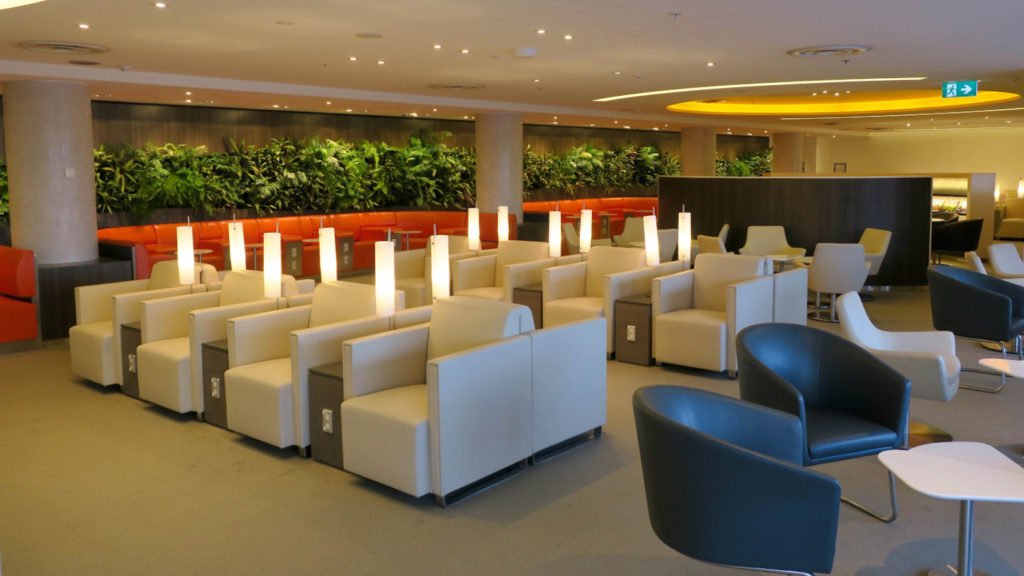 At LAX, passengers can visit the Delta Sky Club in Terminal 2 or 3. Note that if your flight departs from Tom Bradley International Terminal (as mine did), you'll need to allow an extra ~15 minutes to transit to your gate via bus.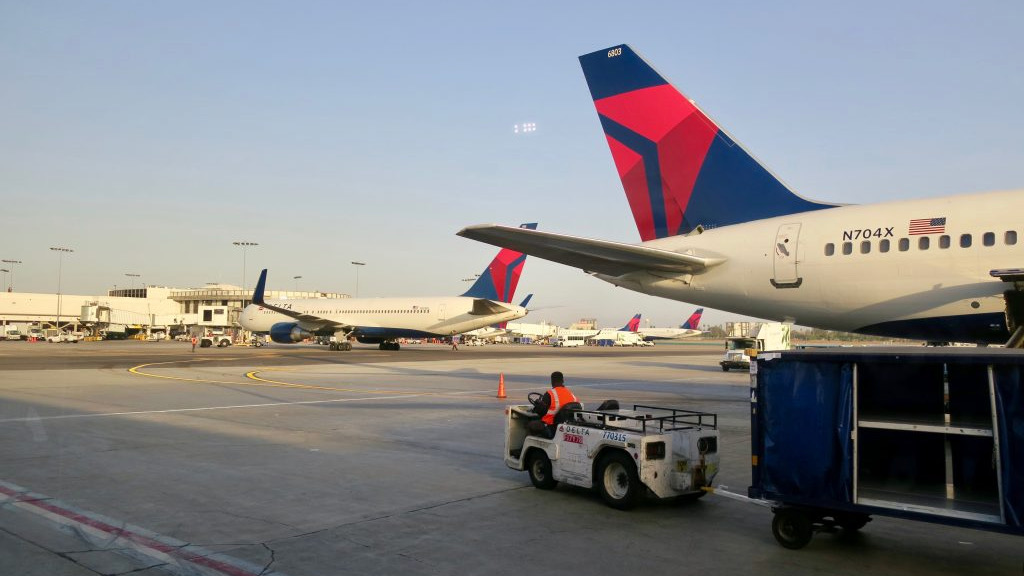 Summing up: why choose this flight?
Delta One Suites is the most private way to travel nonstop from Australia to the US in Business Class.
If you look at the list below, it may seem that the cons outweigh the pros. However, in my opinion, the most important thing when travelling to and from the US is sleep quality. Delta shines in this respect, with a comfortable sleeping experience.
It is, however, let down by a number of (less important) factors, hence a four-star rating instead of full marks.
What is great
Fully-enclosed suite with sliding privacy door
Long and wide bed
Comfortable pillows and doonas
Consistently friendly and professional customer service
Modern aircraft
Useful amenities kit
What is not great
Average food
Frequent issues with sliding privacy doors
Outdated entertainment options
Slow wifi
Cramped lavatories
No pyjamas
Lack of in-seat storage
Limited points redemption opportunities for Australia-based travellers
Supplementary images courtesy Delta Air Lines.

Delta A350 Delta One (Los Angeles – Sydney)
was last modified:
April 19th, 2021
by