I had long wanted to try British Airways' only First Class service to Australia, with their daily Sydney – Singapore – London flight operated by a Boeing 777.
Award seat availability for using your points is not terrible, especially for well-planned or later bookings and availability is shown on the Qantas website. I redeemed 50,000 AAdvantage miles that I had purchased specifically for this flight.
Fleet & Routes
At the time of writing, British Airways have 58 Boeing 777 planes in service, made up mainly of the -200ER variety with some -300ER and -200 variants in there.
First Class is found on these planes as well as BA's Airbus A380, Boeing 747 and Boeing 787-9 aircraft, with the most common number of seats being 14 but there are also configurations with 8 seats.
BA's only service to/from Australia is a daily flight departing Sydney in the mid-afternoon and arriving into Singapore just after 9pm, which dovetails into a flight to London with a 90-minute layover at Changi. The flights carry the same flight number.
On the way back, it is a red-eye flight departing Singapore around 7:30pm and arriving into Sydney just after 5/6am (depending on the season).
BA operates its First Class cabin to a huge range of destinations, including but definitely not limited to:
North America: Chicago, Los Angeles, Miami, New York, San Francisco, Toronto, Vancouver
Asia-Pacific: Beijing, Delhi, Kuala Lumpur, Hong Kong, Shanghai, Singapore, Sydney, Tokyo
Latin America: Mexico City, Santiago, São Paulo
Middle East: Abu Dhabi, Dubai, Tel Aviv
Africa: Cape Town, Johannesburg, Nairobi
There is no First Class on routes within Europe.
Most First Class flights depart from London Heathrow but a handful of Caribbean leisure destinations like Bermuda and Barbados enjoy this cabin on flights from Gatwick too.
The Cabin: Seats & Seatmap
No matter which aircraft you are flying on, you'll find the same setup in First Class, with the seats arranged in a 1-2-1 configuration—not as generous as on comparable products with Singapore Airlines and Etihad.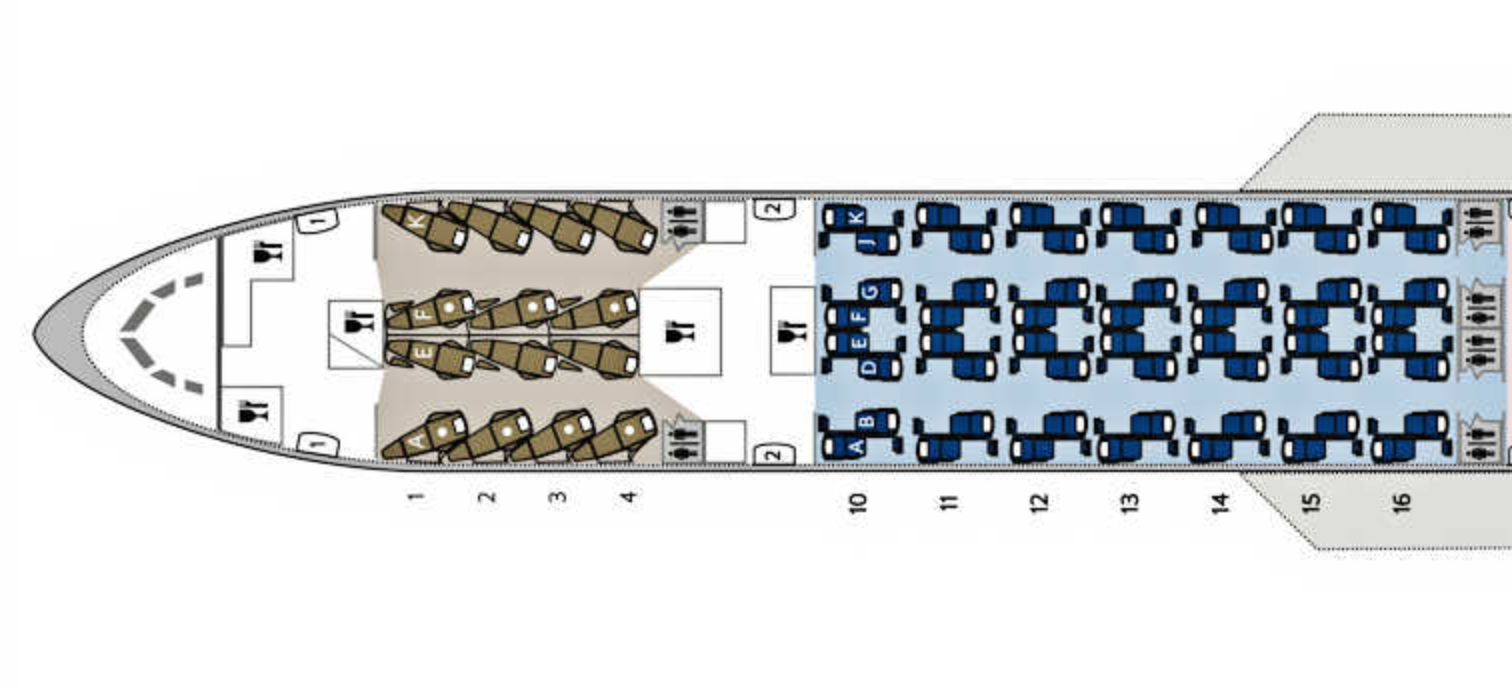 Seat Choice
There are no really bad seats in the cabin, although the further back you are, the more noise from the galley you'll get—plus it seemed that the crew served from front to back, so service was a little less prompt.
The main decision comes down to whether you are travelling as a couple or not—if so, go for the centre seats so you can chat.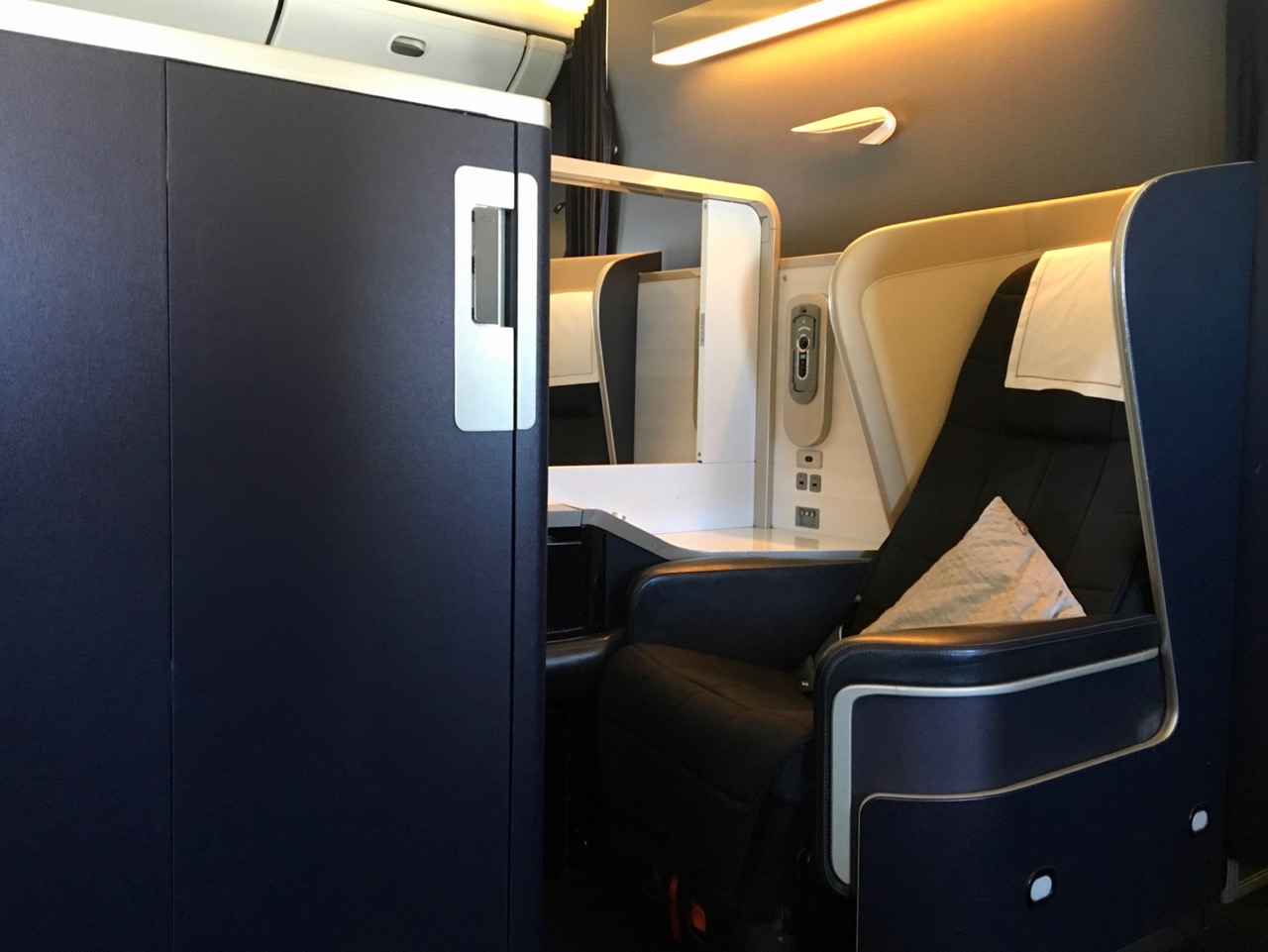 Otherwise, aim for the window seats so you can enjoy the view.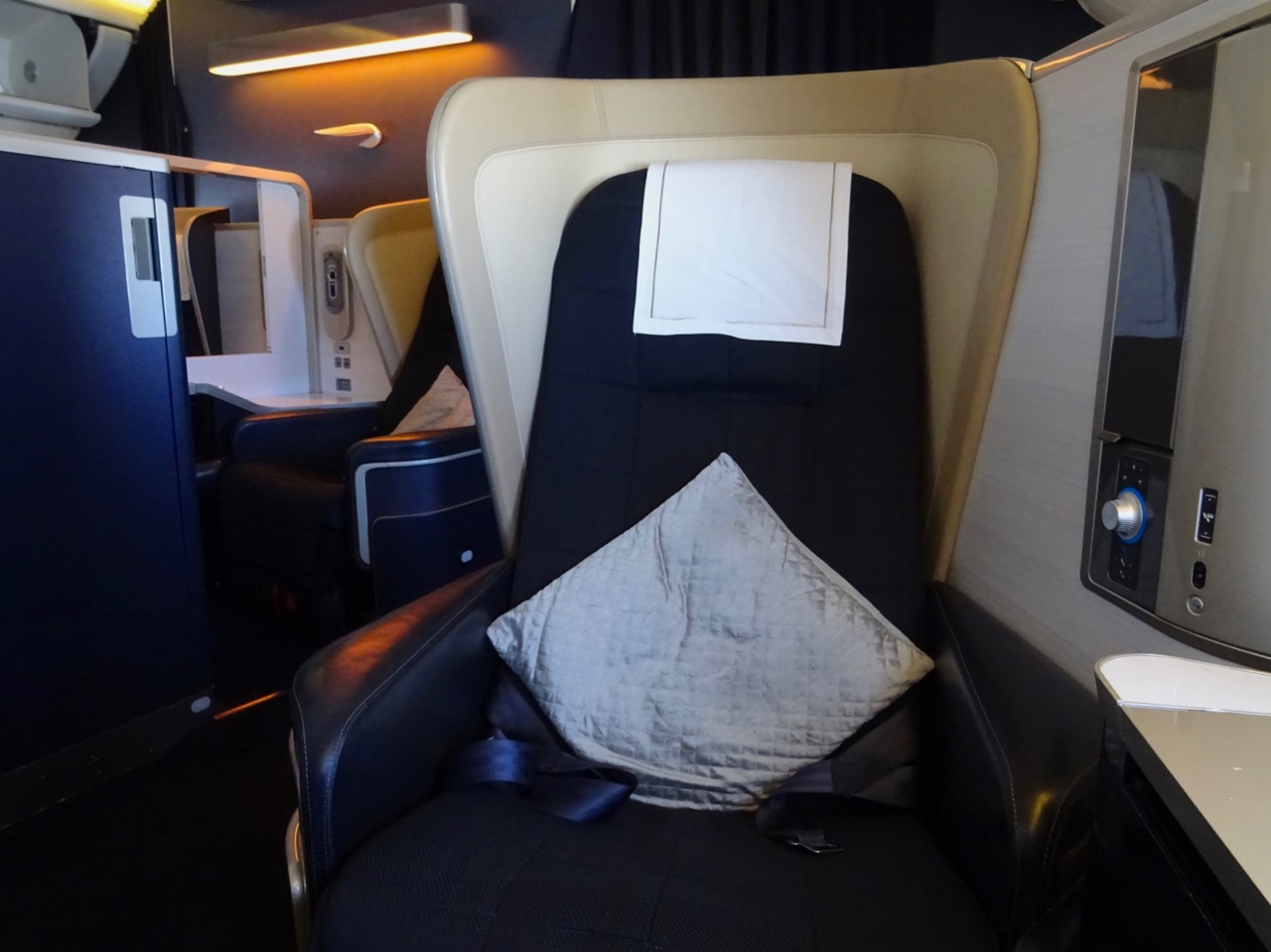 Either way, the seat—as is well-known by frequent flyers—is a more spacious version of a reverse herringbone seat more often found in Business rather than First Class.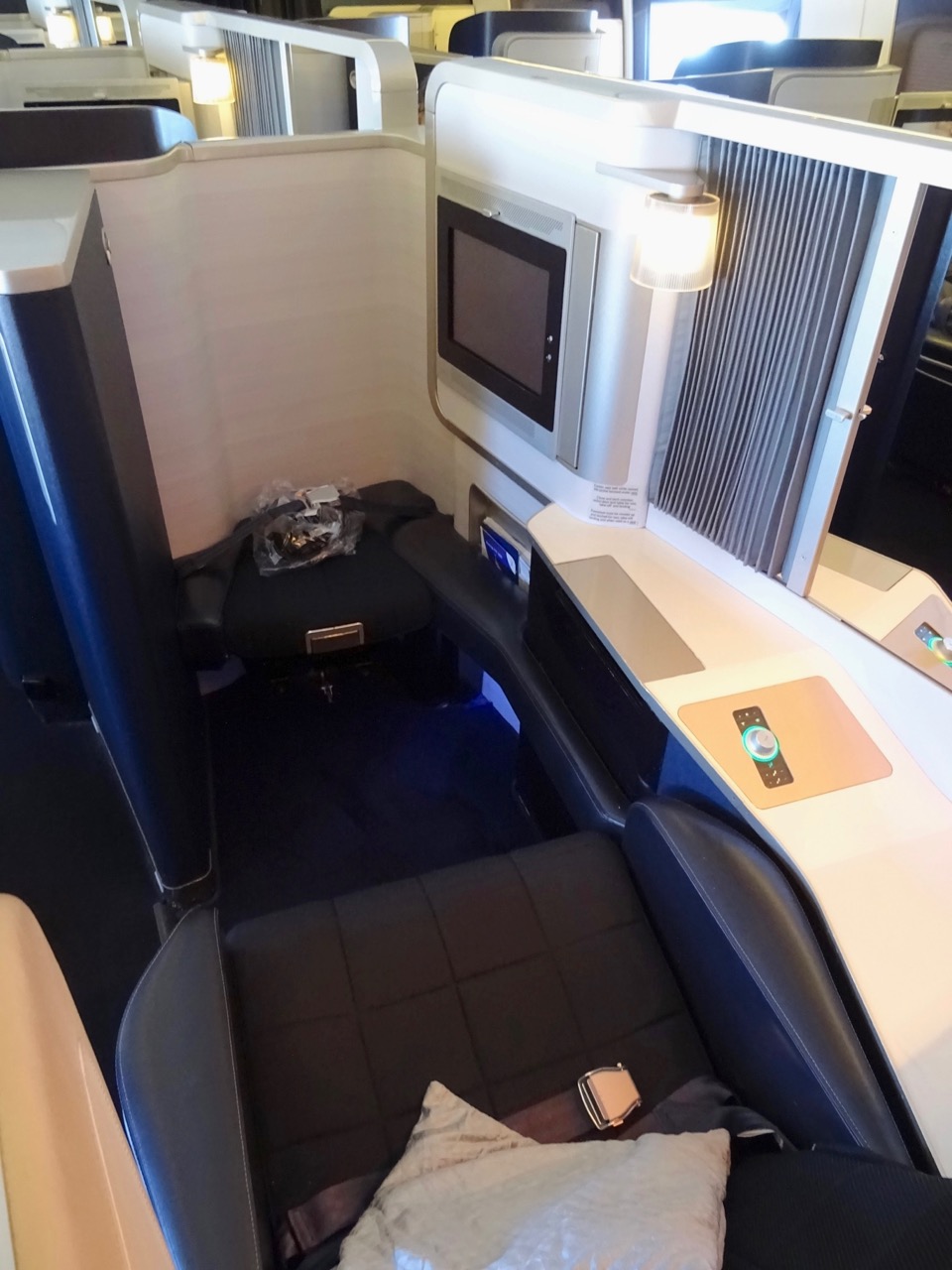 The footstool at the end of each seat can be used as a second seat for inflight dining, and provides some underseat storage too.
If you do get lumped with a centre seat as a solo traveller, you can make it entirely separated from your unknown travel companion with a centre divider.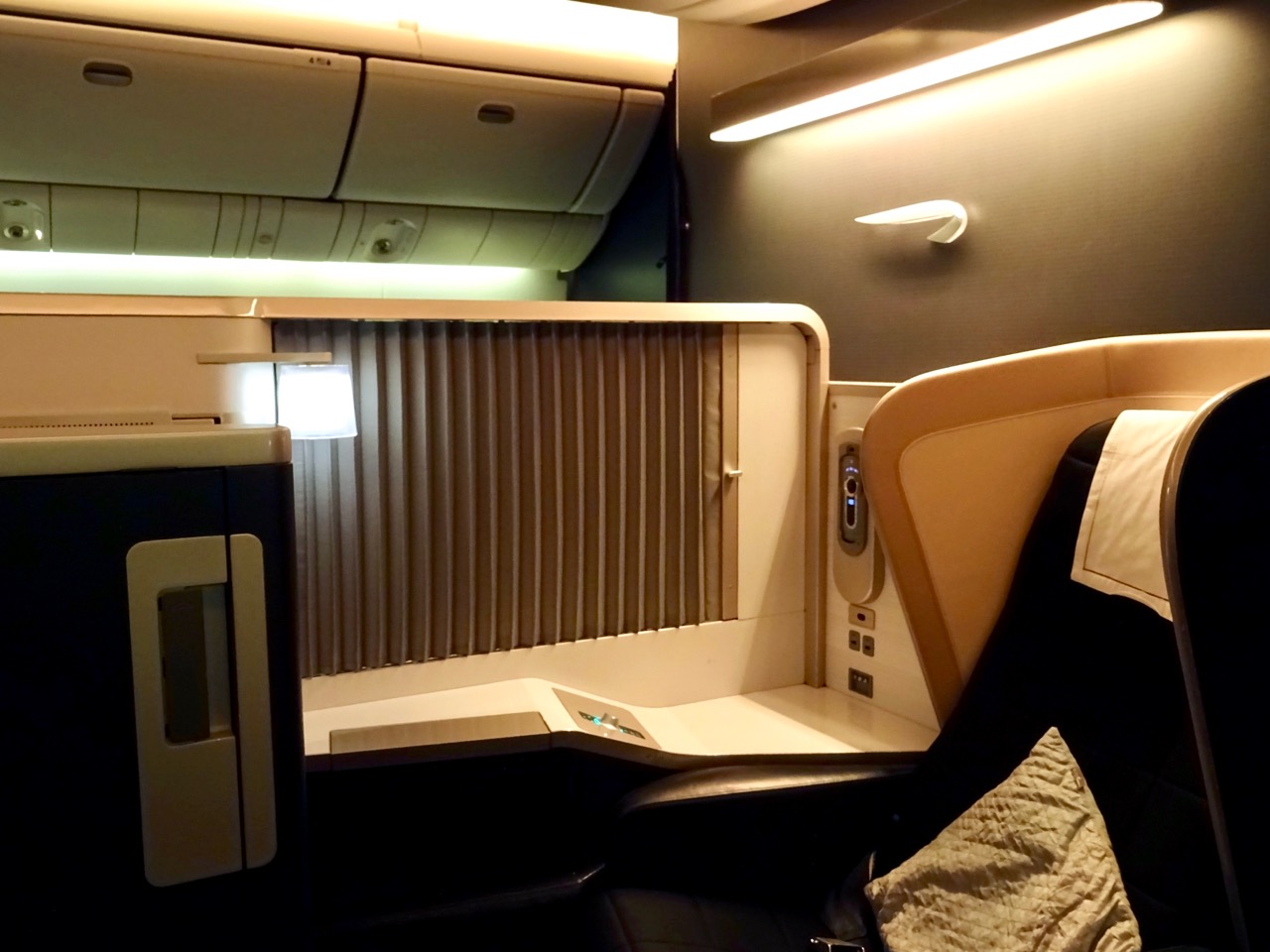 The best bit about the window seats is, well, the window, with two full views out to sky around you and stylish blinds for when the time comes to settle down and get some rest.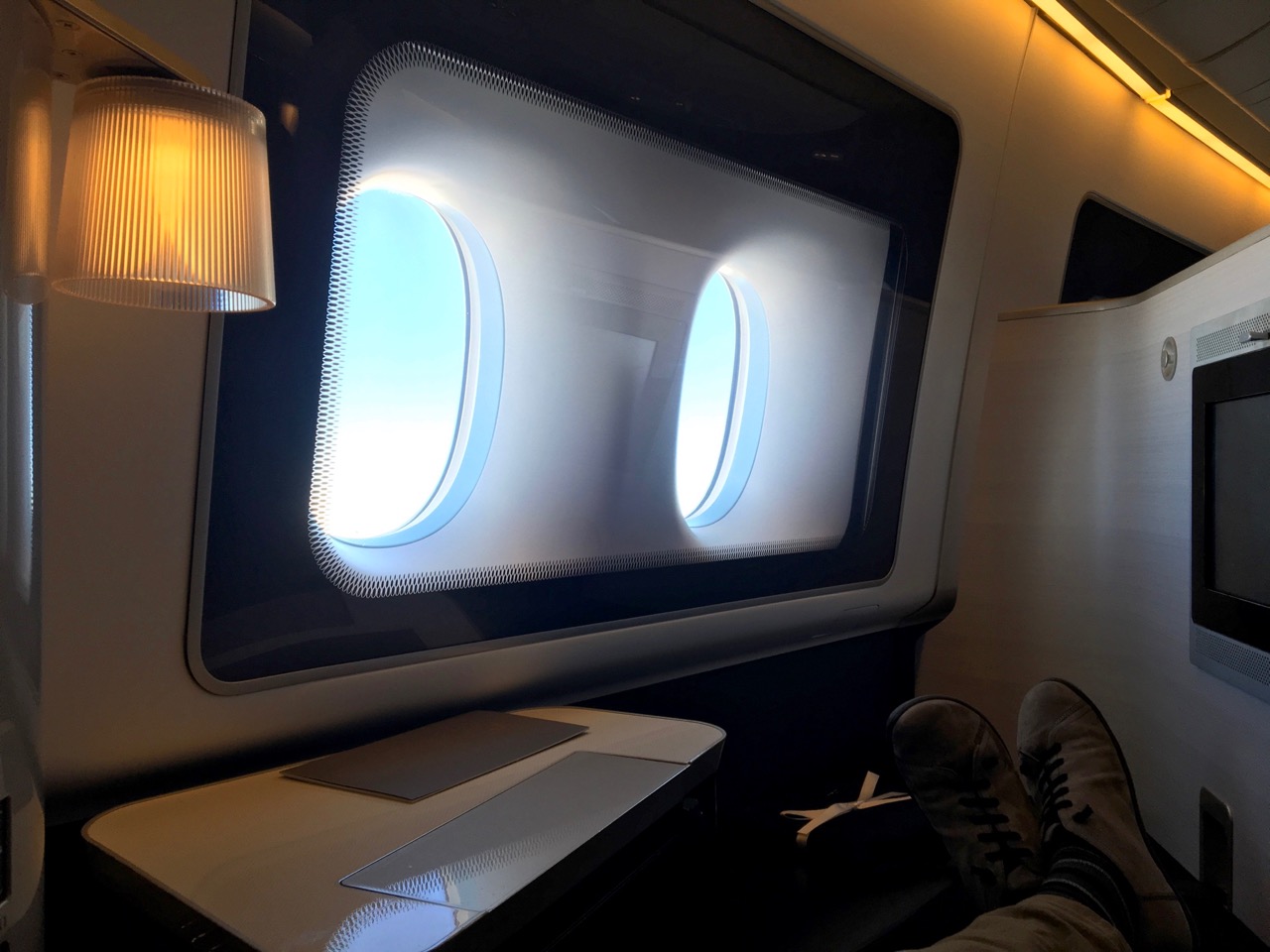 There is also a fairly roomy hanging space for jackets, clothes and shoes immediately in front of you.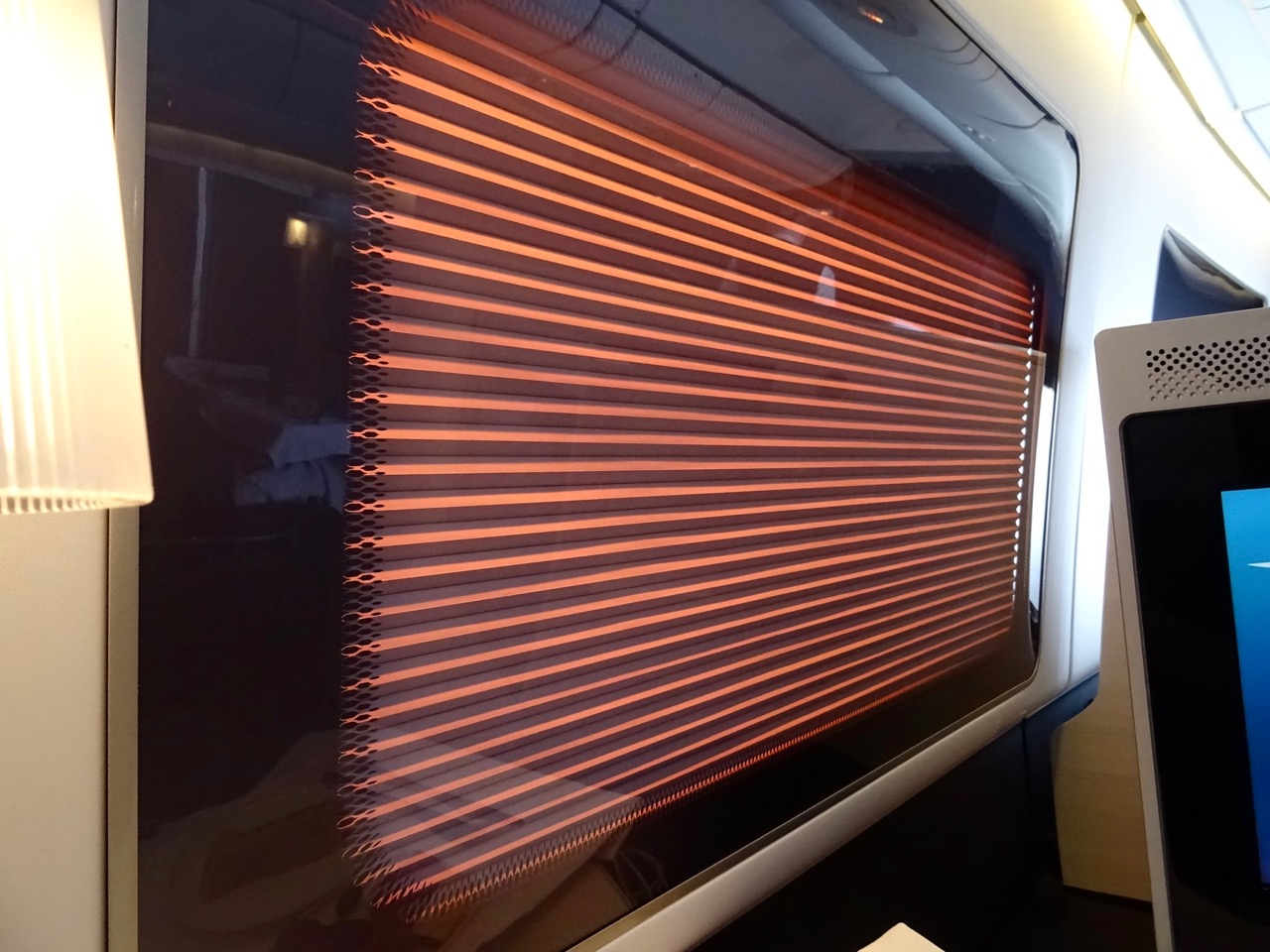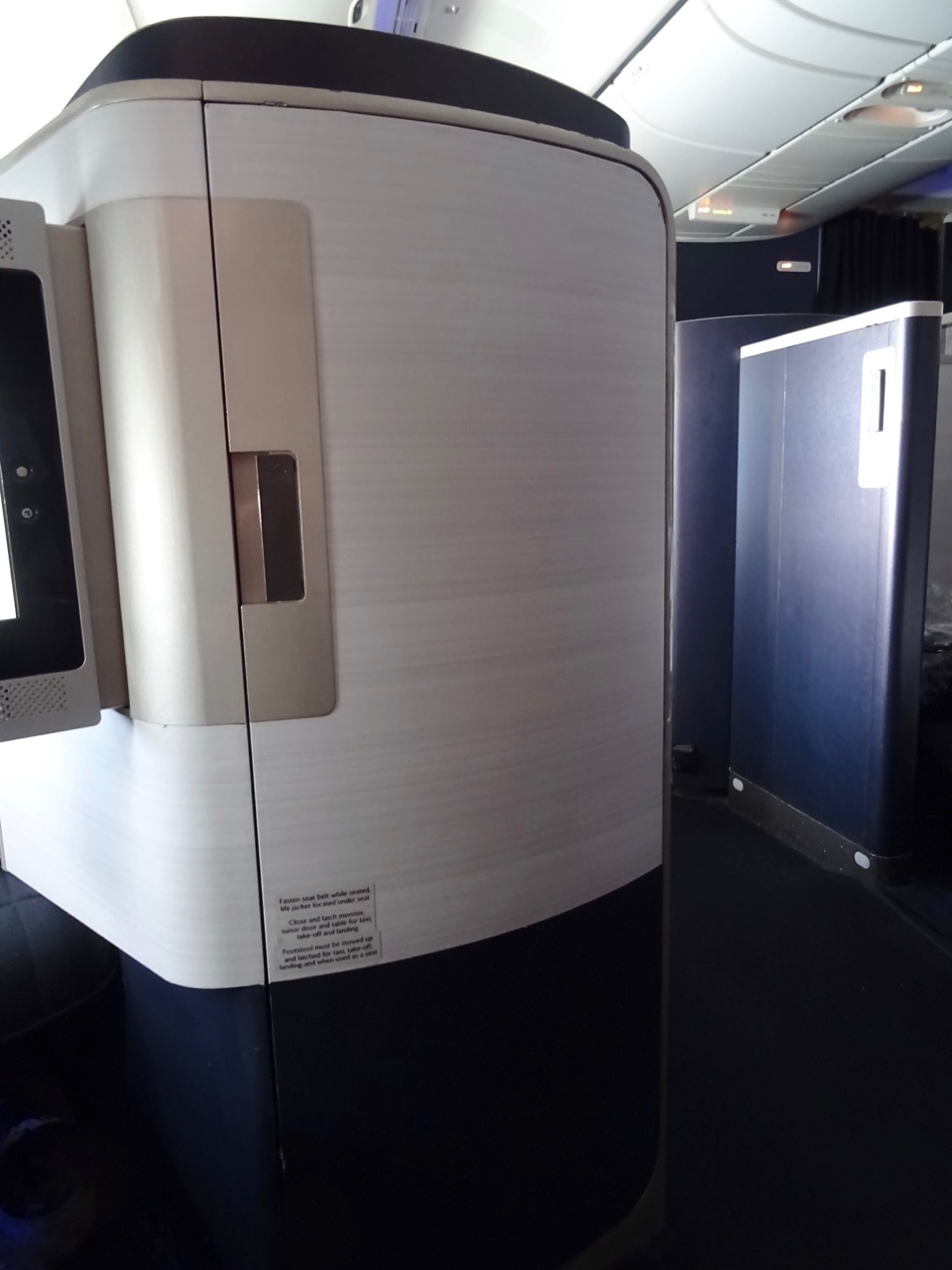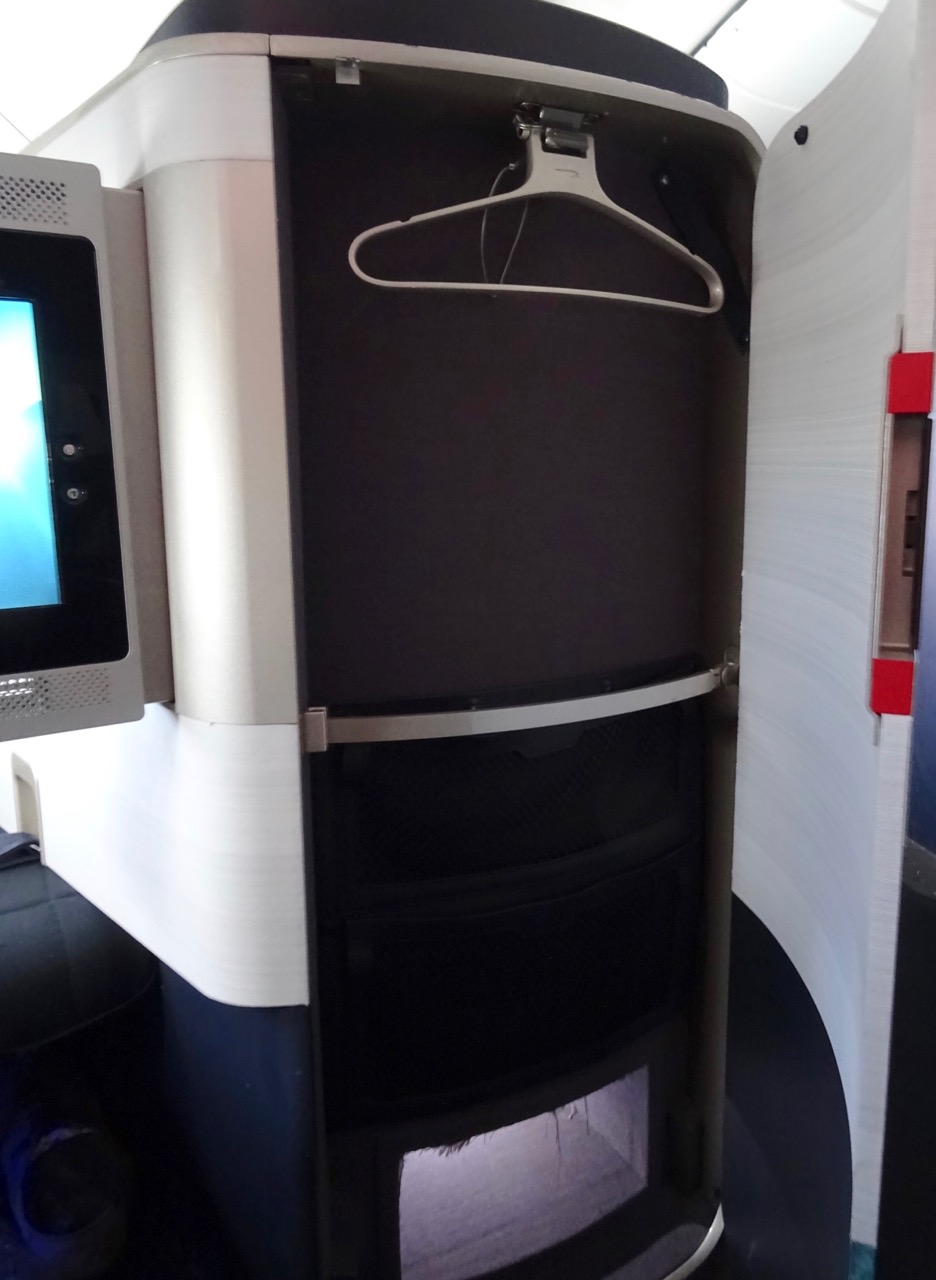 All that said, the seat is nowhere near the roominess or comfort of many other First Class cabins but is plenty comfortable enough, so go in with lowered expectations and you'll be fine.
Read our guide on how to choose the best seat for your flight here.
Service: Food & Drink
On my flight up to Singapore from Sydney, we were offered afternoon tea followed by a dinner service. The food was of decent quality, not particularly hearty or a ridiculous amount of options but again, nothing to complain about—just no real 'wow' factor.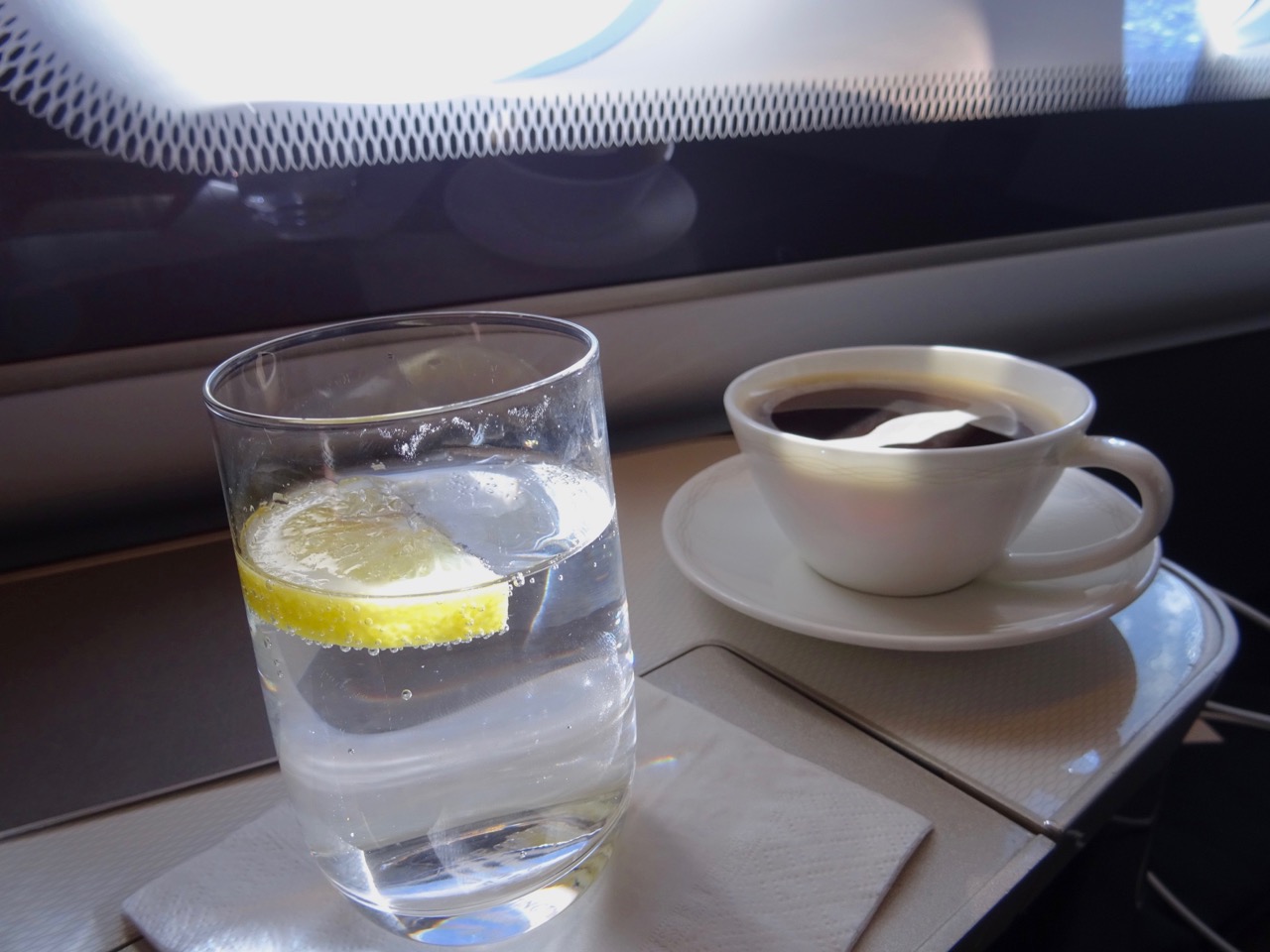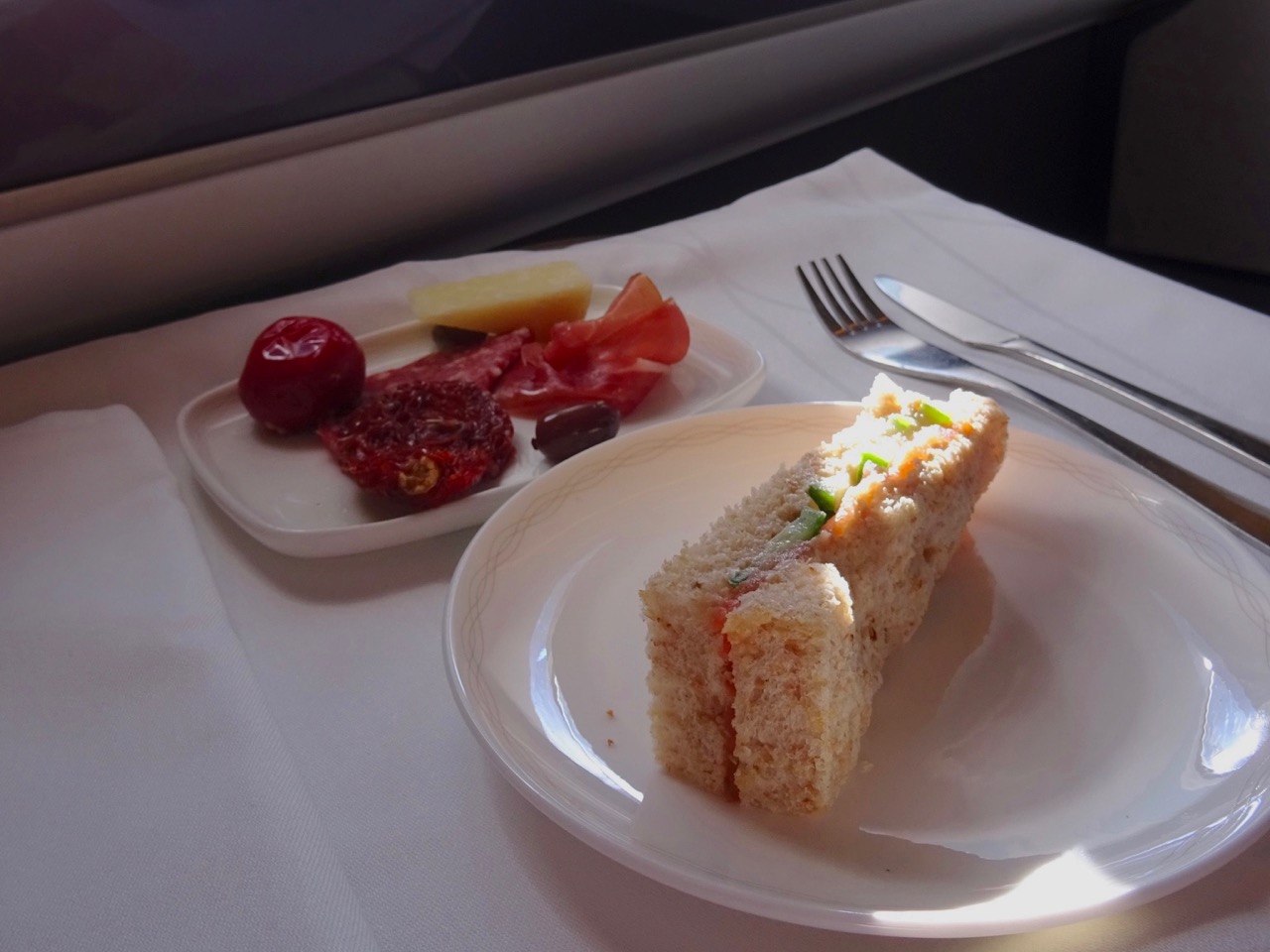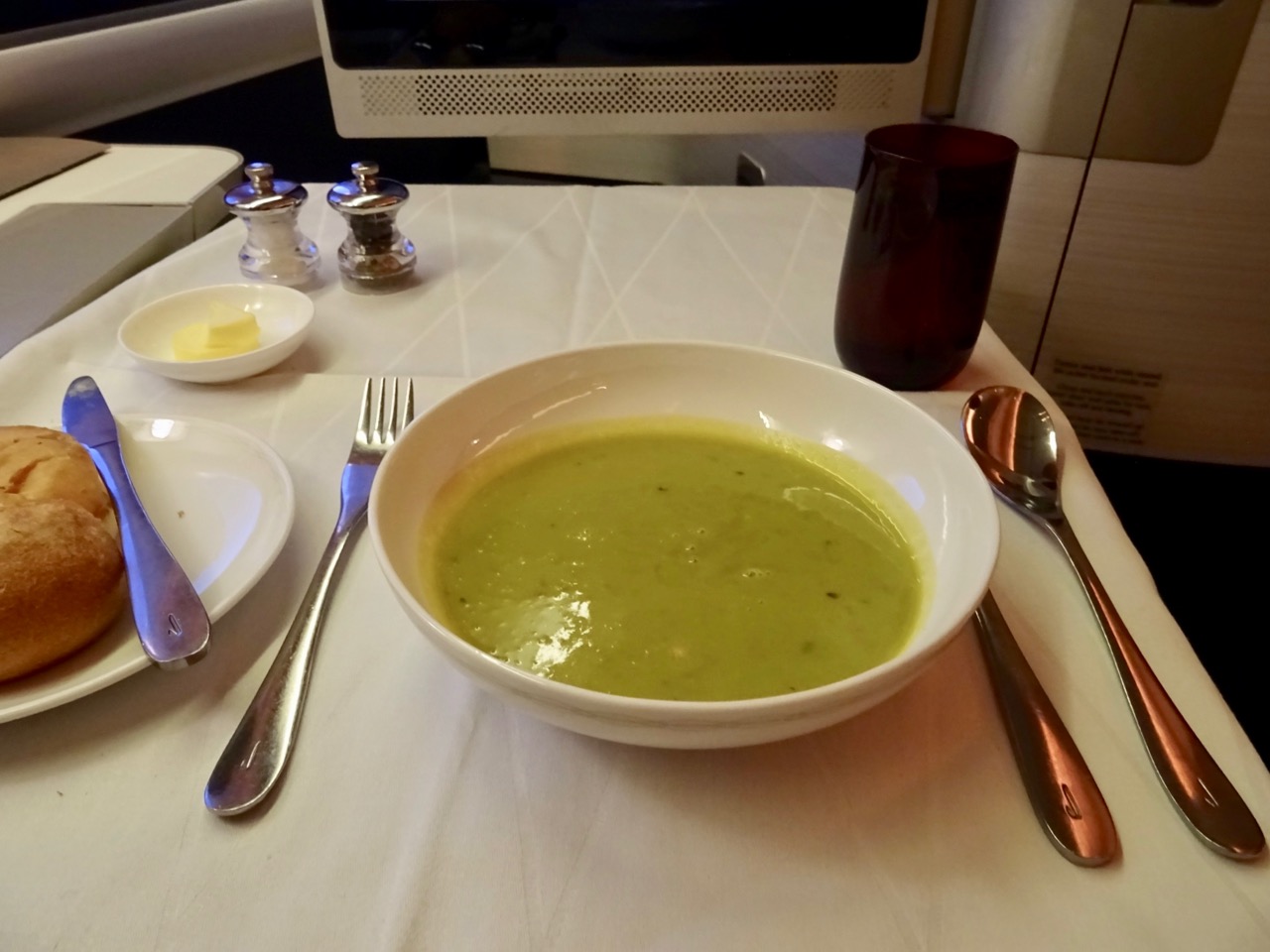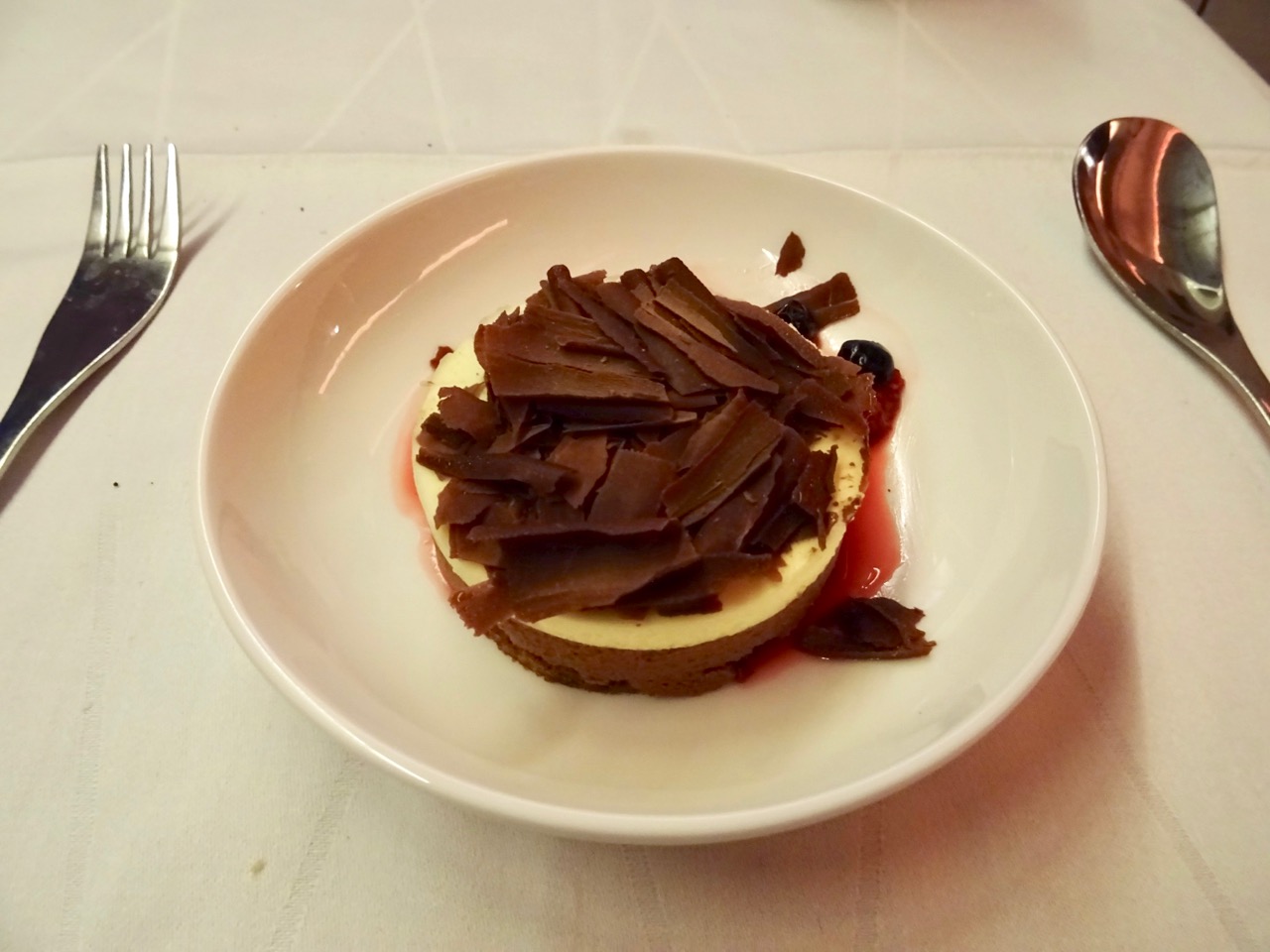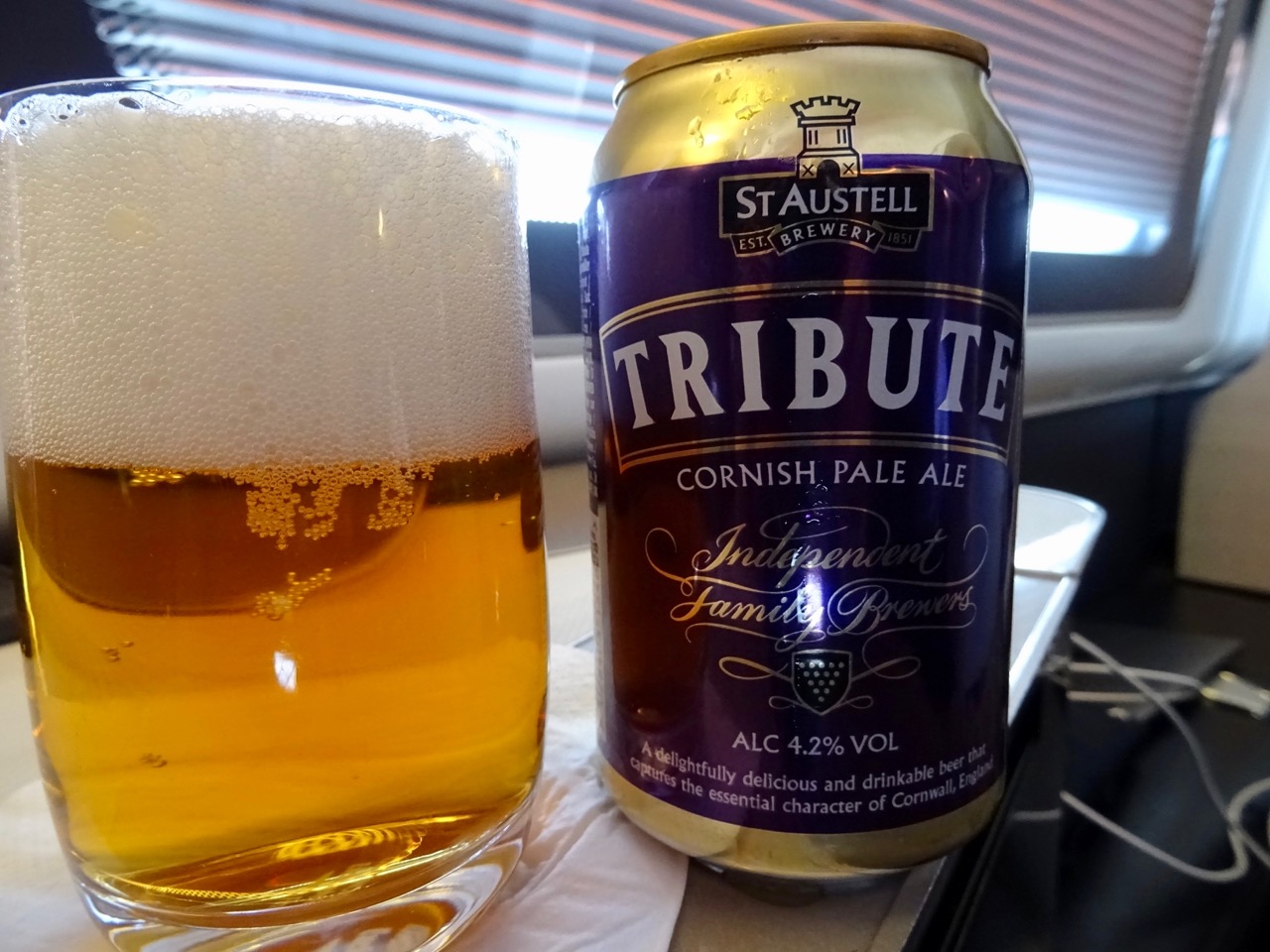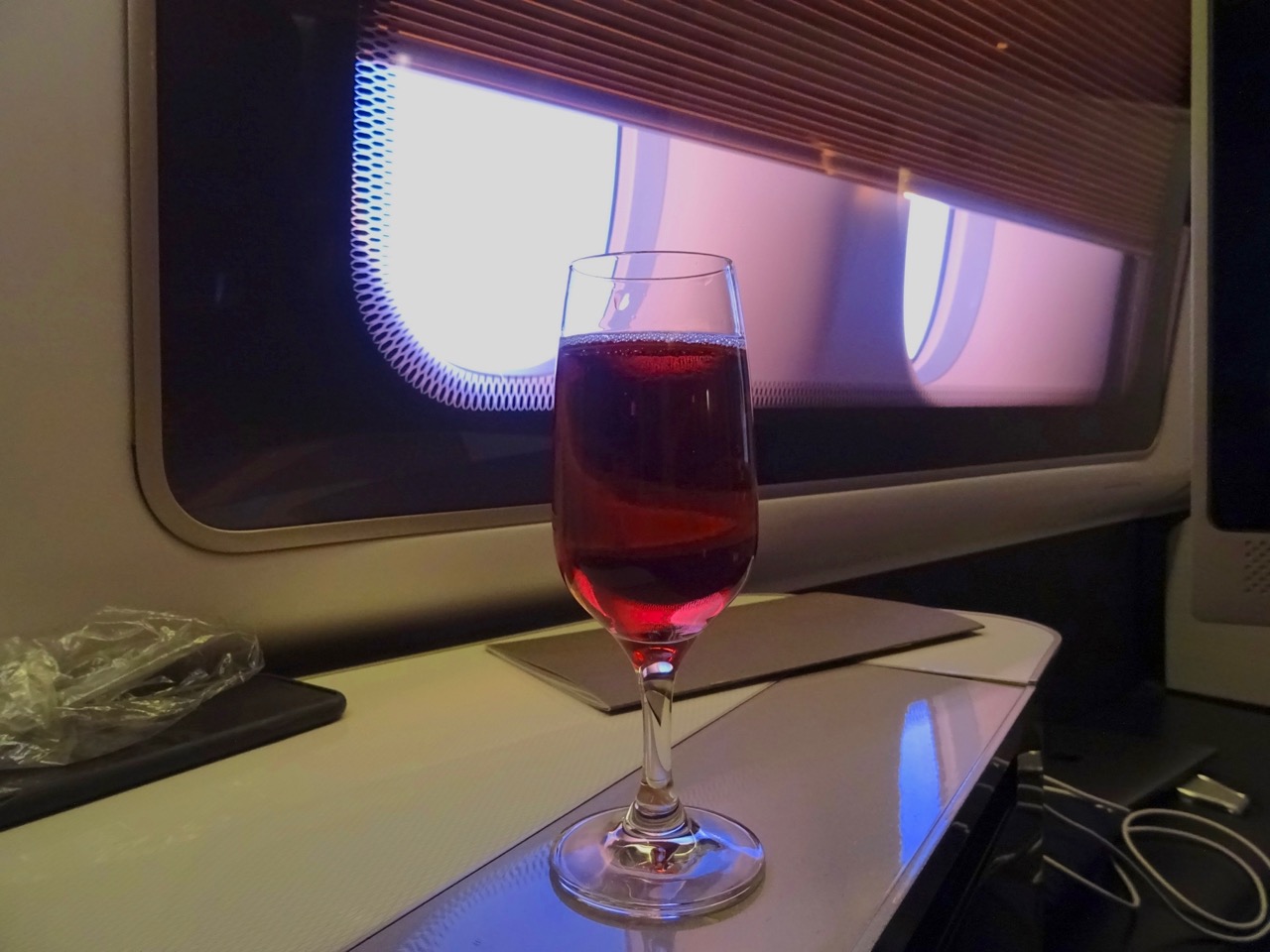 I found the crew to be engaging and friendly to deal with. BA's service routine on this flight did seem a little fixed—I expected there to be a bit more flexibility in dining time but, instead, the service was fairly formulaic, with the crew reacting a little surprised when I wanted to mix up courses from what was available on the menu.
Inflight Entertainment
A large monitor swings out from the side of the seat in front of you with a decent selection of movies and TV shows, with as you would expect, an English skew.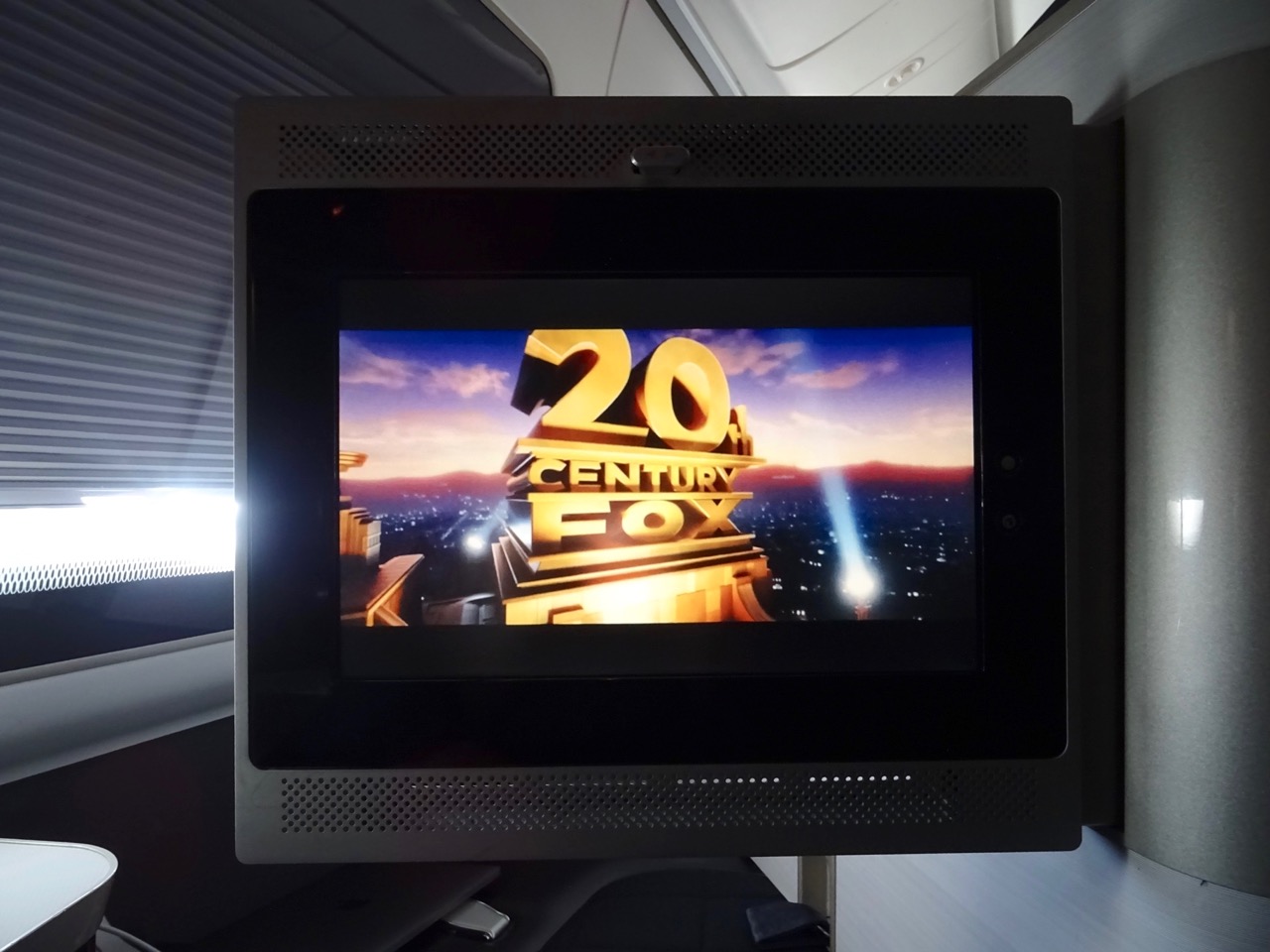 Seat and screen controls are found immediately next to your shoulder.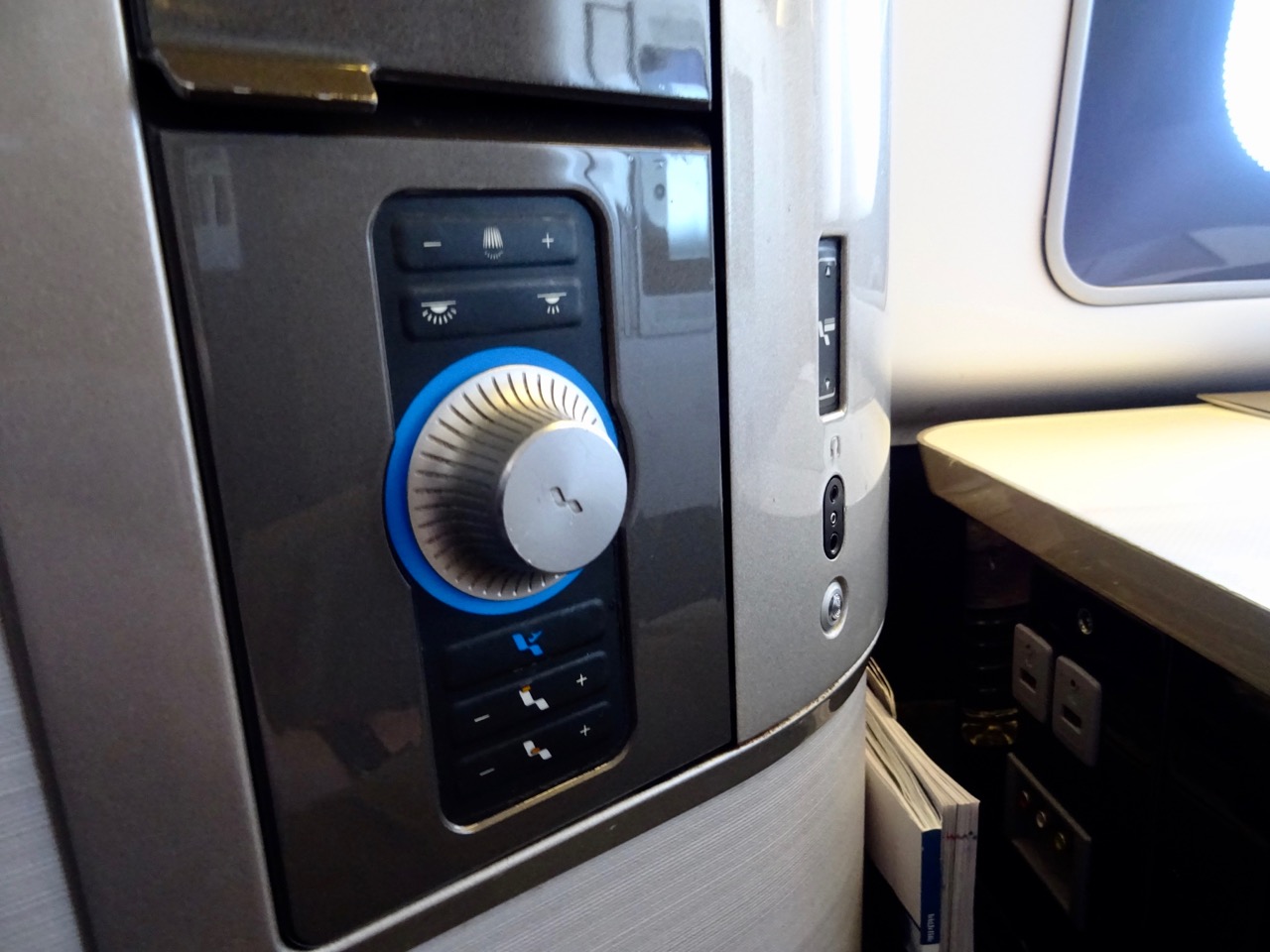 There are also USB and power points galore for the inevitable moments you'll want to charge your devices on a long journey to London.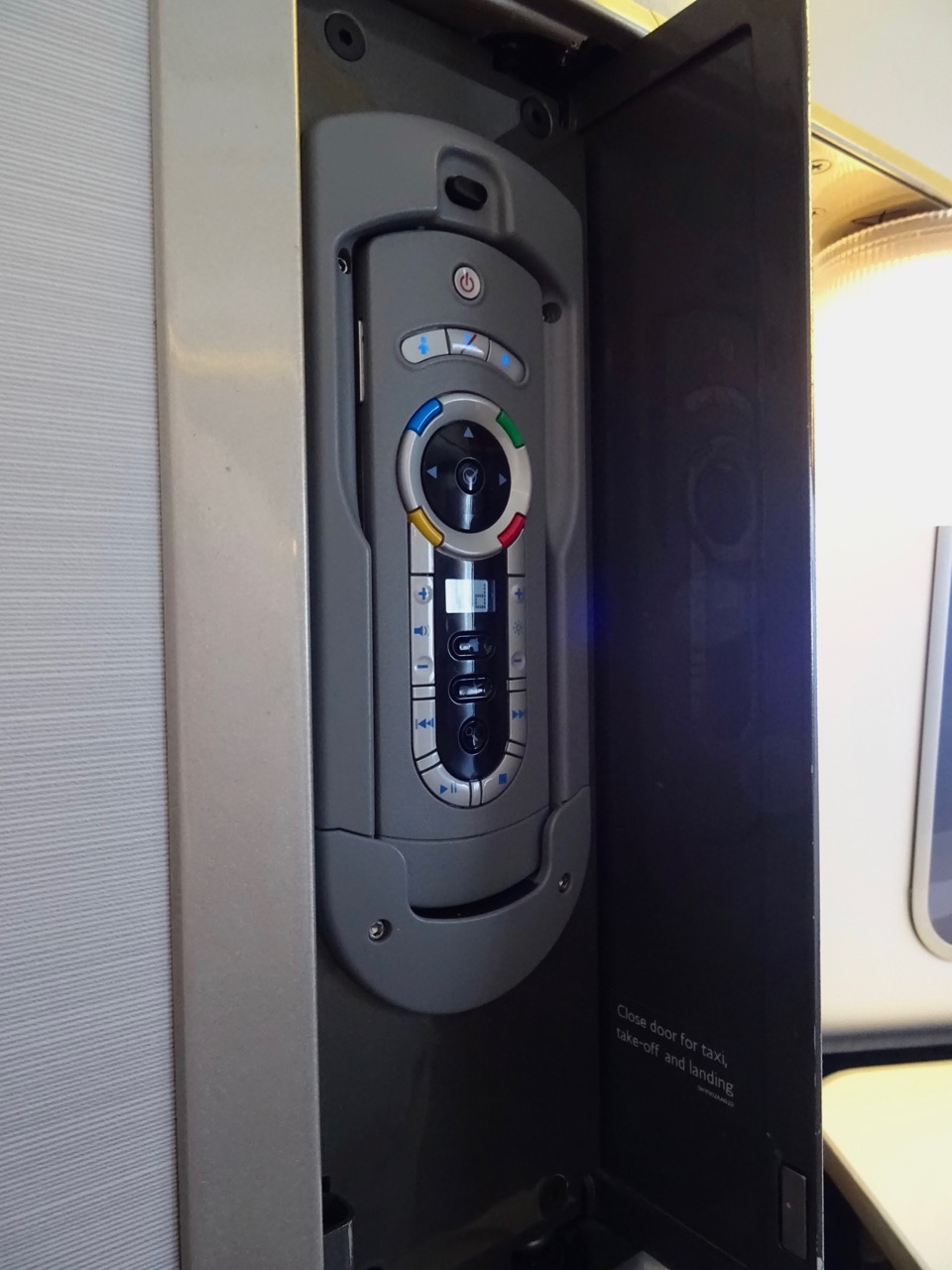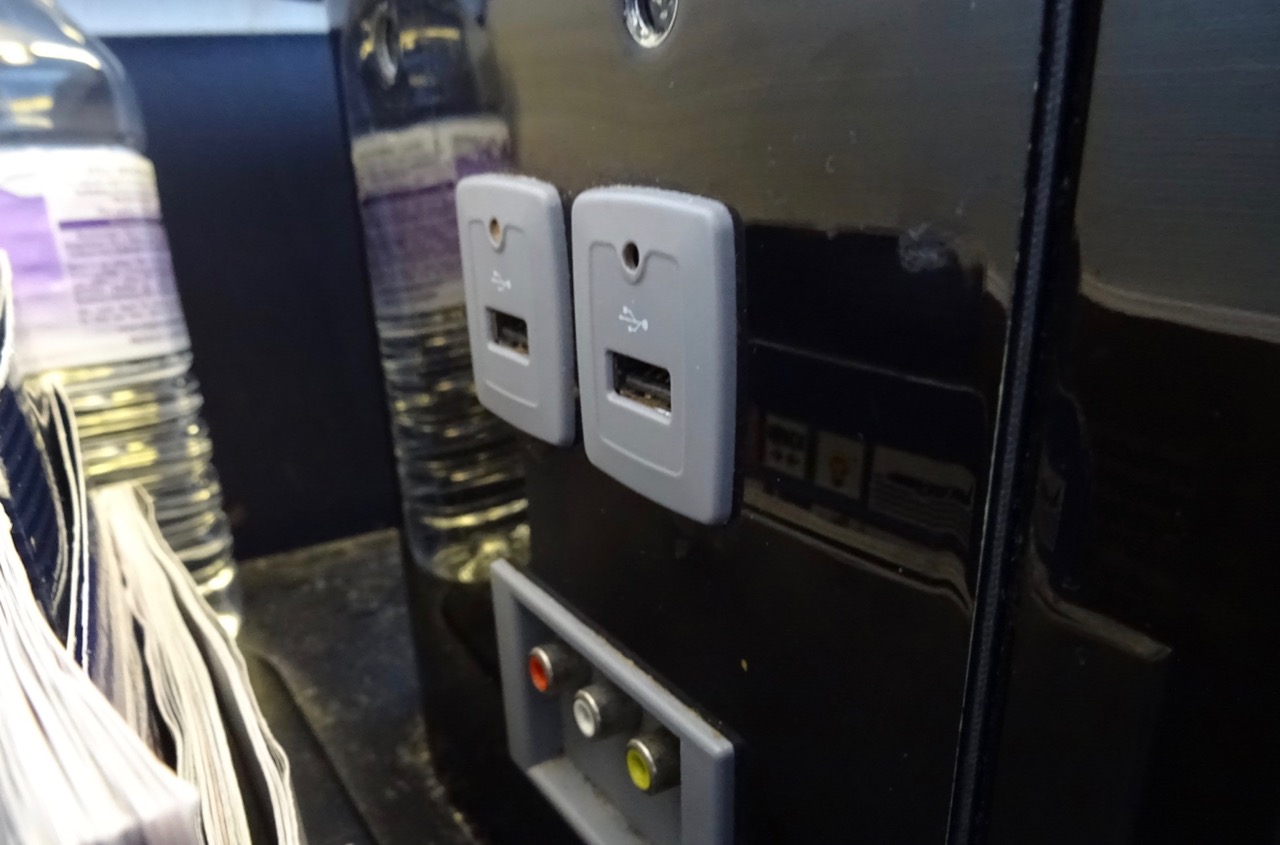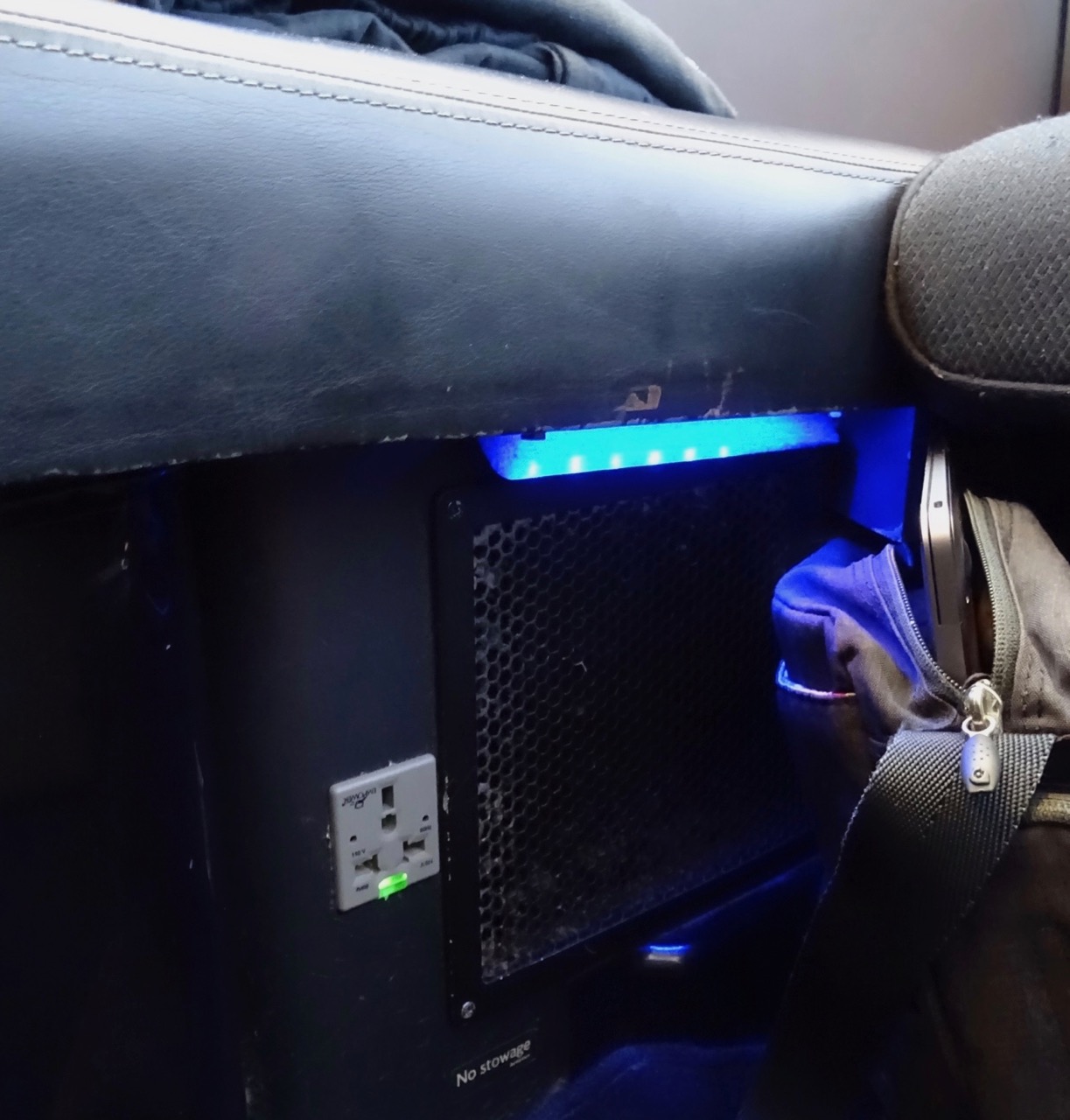 Amenities
You'll receive a small amenity kit plus some cotton pyjamas. These are actually pretty good pyjamas to be honest, so if you're in need, don't turn them down.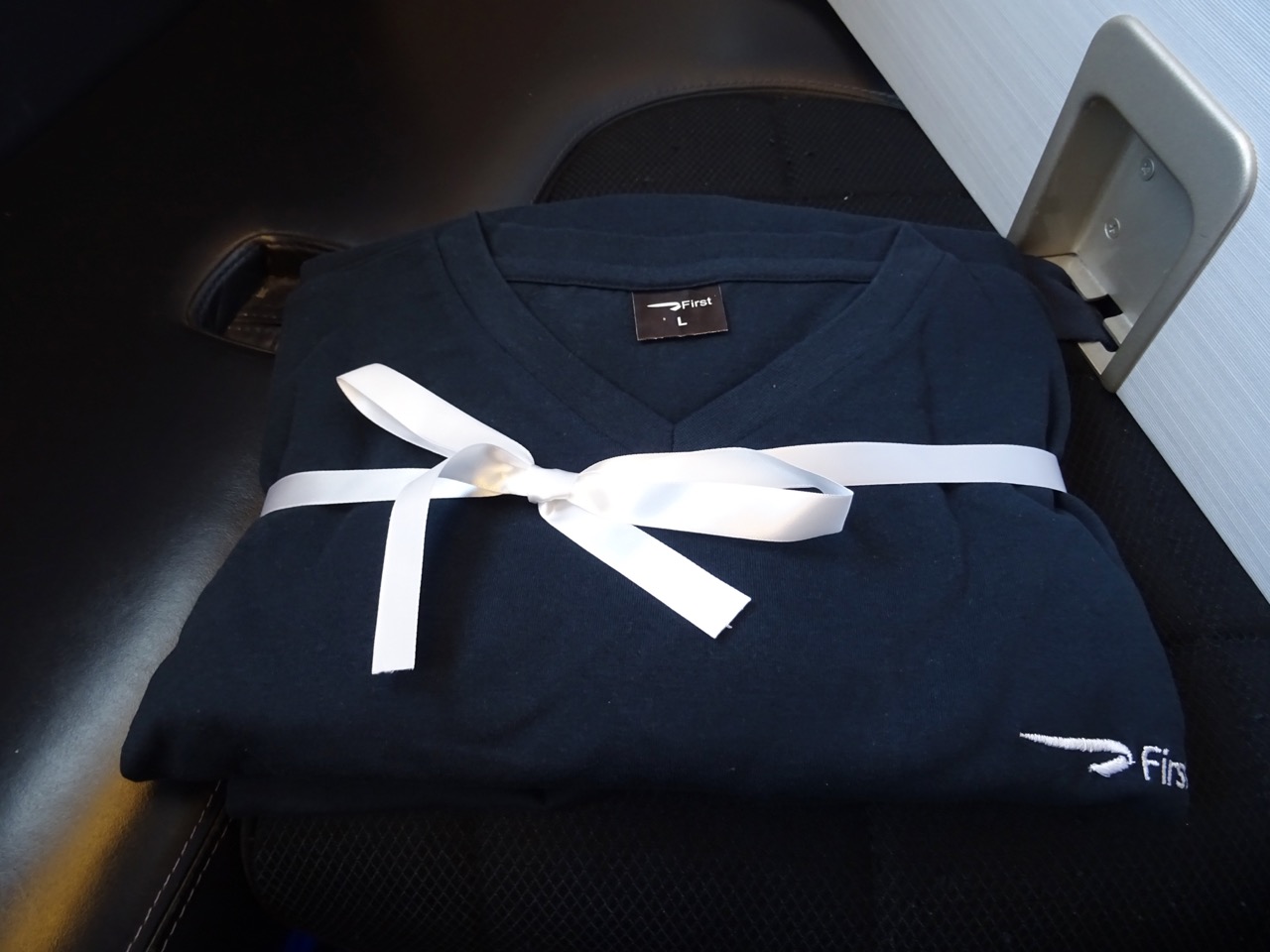 There are two dedicated lavatories for the 14 First Class passengers.
How to redeem points for this flight
The most common way for travellers in Australia to book a British Airways redemption is using Qantas Points.
A one-way flight between Sydney and Singapore in First Class costs 90,000 Qantas Points but you could also use 50,000 AAdvantage miles, 75,000 Asia Miles, or 68,000/80,000 (off-peak/peak) British Airways Avios instead.
Fuel surcharges are what hits all British Airways redemptions hard—often really hard. Departing Sydney, this flight attracts $220-335 in taxes, depending on the program you redeem through. Departing Singapore is ~$100 more expensive.
If you are really keen to try this product and want to reduce the taxes payable, you may consider starting your journey from a country that restricts fuel surcharges, like Hong Kong, Japan, Canada or Brazil. Note that departing from London is much more expensive than flying into it.
Flying all the way from Sydney to London via Singapore would set you back 192,000 Qantas Points and ~$450 in taxes, which is not too bad but in the other direction, the taxes almost double!
You can search for British Airways award seats using both the Qantas and British Airways websites but the BA Redemption Finder is the quickest way.
For comparison purposes, a flight between Sydney and Singapore retails from ~AU$5,000 return, meaning redeeming 190,000 Qantas Points + $320 in taxes would give you a value of 2.5c per point, which a little bit above our valuation for Qantas Points. If you are looking to maximise value, you may be interested in a better use of your points.
Lounge access
Departing Sydney, you'll get access to the excellent Qantas lounge.
As of February 2019, there are unconfirmed reports that British Airways passengers can also access The House, however, the Qantas lounge is far superior, in my opinion.
In Singapore, you could use the British Airways lounge but the Qantas lounge in the same terminal is better regarded.
Upon arrival to Heathrow, there are arrival lounges with showers in Terminals 3 and 5.
Departing Heathrow, you'll get access to both the upscale Concorde Room—with private cabanas—and the Galleries First Lounge; and elsewhere, you'll get access to British Airways and associated oneworld partner lounges.
Other 777 First Class flight reviews
Summing up: why choose this flight?
The British Airways First Class service is not one to actively seek out but if you have the points available and the flight timings and redemption availability work well for your trip, I wouldn't hesitate to fly with them.
They got the job done of getting me from Sydney to Singapore with no fuss, decent food and service, and in a comfortable seat. It's certainly far better than flying their cramped Business Class, although you'll pay the price in additional points for doing so.
The seat was comfortable, I got a great nap on the way to Singapore and enjoyed some good quality British hospitality.
Watch out for the considerable taxes applied to points redemptions on many British Airways flights, and be aware that you're not going to get an Emirates, Singapore Airlines or even Qantas-style First Class experience.
British Airways 777 First Class overview – Sydney to Singapore
was last modified:
May 15th, 2022
by