Cathay Pacific Business Class is a useful redemption for travellers in Australia to aim for. You can fly it to Hong Kong and onwards throughout Asia and to Europe and North America.
Redemptions can be booked using Qantas Points and Asia Miles, as well as other oneworld points currencies.
In October 2019, I took four flights in Cathay Pacific Business Class. I flew the A350 from Seattle to Hong Kong for our annual team meetup. Three days later, I flew to Ho Chi Minh City return on the A350 again and 777. Finally, I connected straight onto an A330 service to Dubai.
I booked this redemption using a combination of Qantas Points, Alaska Airlines Mileage Plan miles and British Airways Avios.
Cathay Pacific Business Class fleet & routes
Cathay Pacific services all five major capital cities in Australia.
There are four types of aircraft used on Australian routes, all featuring lie-flat Business Class seats:
Airbus A350-900
Airbus A350-1000 (basically the same as -900)
Boeing 777-300ER
Airbus A330
You'll find the A350s and 777s used on North American and European routes. Conversely, intra-Asia flights are most commonly operated by an A330, which can feature lie-flat or recliner seats. This Chrome extension can help you figure out which one you're flying on.
Differences between Cathay Pacific A350, 777 & A330 Business Class
As you can see in the table below, the A350 is by far the preferred aircraft to fly on, followed by the 777.
| Aspect | Best | Average | Worst |
| --- | --- | --- | --- |
| Seat width | A350 | 777 | A330 |
| Seat length | 777 | A330 | A350 |
| Seat privacy | A350 | 777 | A330 |
| Screen size & quality | A350 | 777 | A330 |
| Aircraft noise | A350 | 777 | A330 |
| Age | A350 | 777 | A330 |
| Storage space | 777 | A350 | A330 |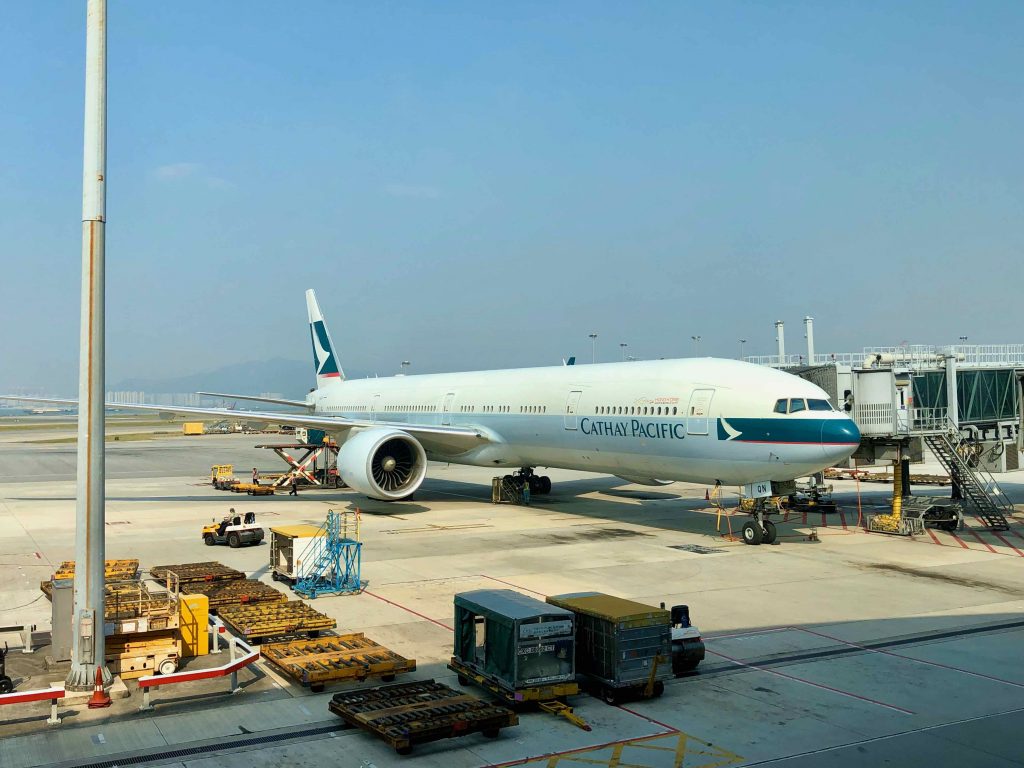 Cathay Pacific Business Class cabin & seats
On all aircraft, the cabin is set up in a 1-2-1 reverse herringbone configuration. All passengers enjoy direct aisle access.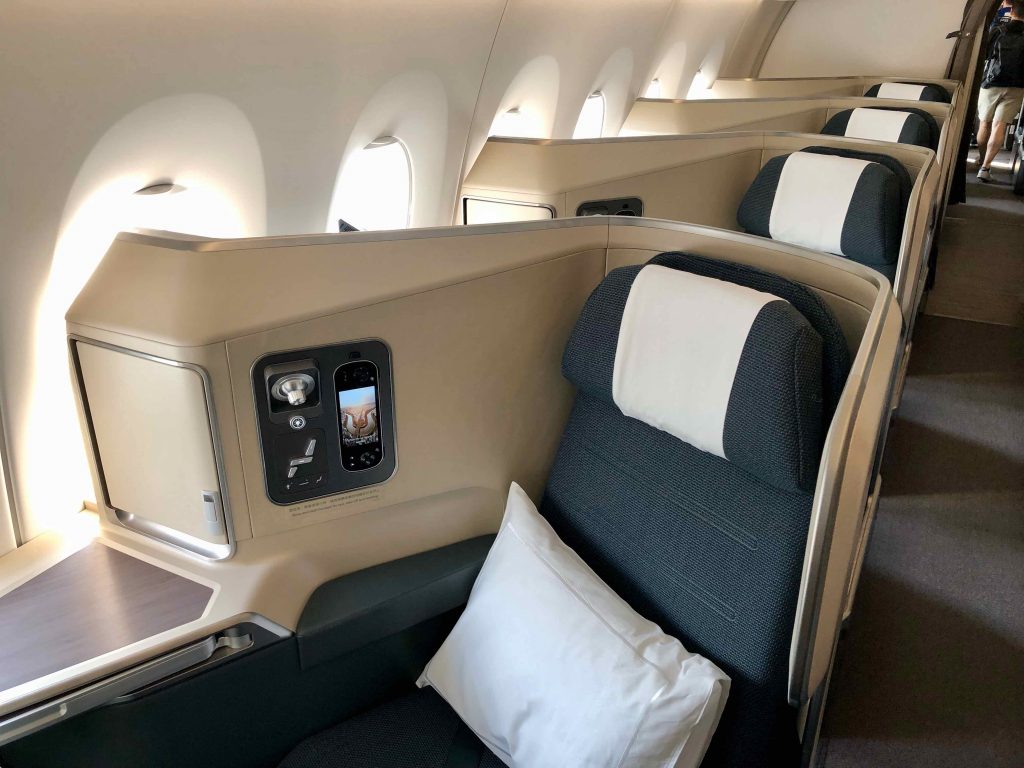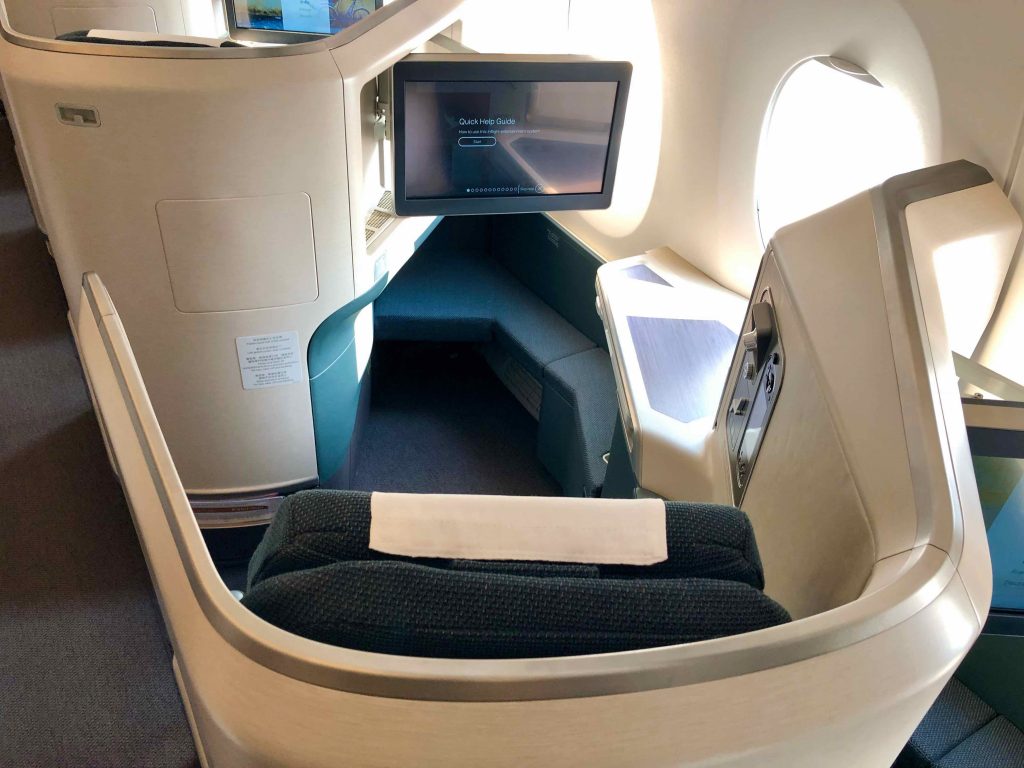 All aircraft (except the A350-1000) have the Business Class cabin split into a main one and a smaller mini cabin.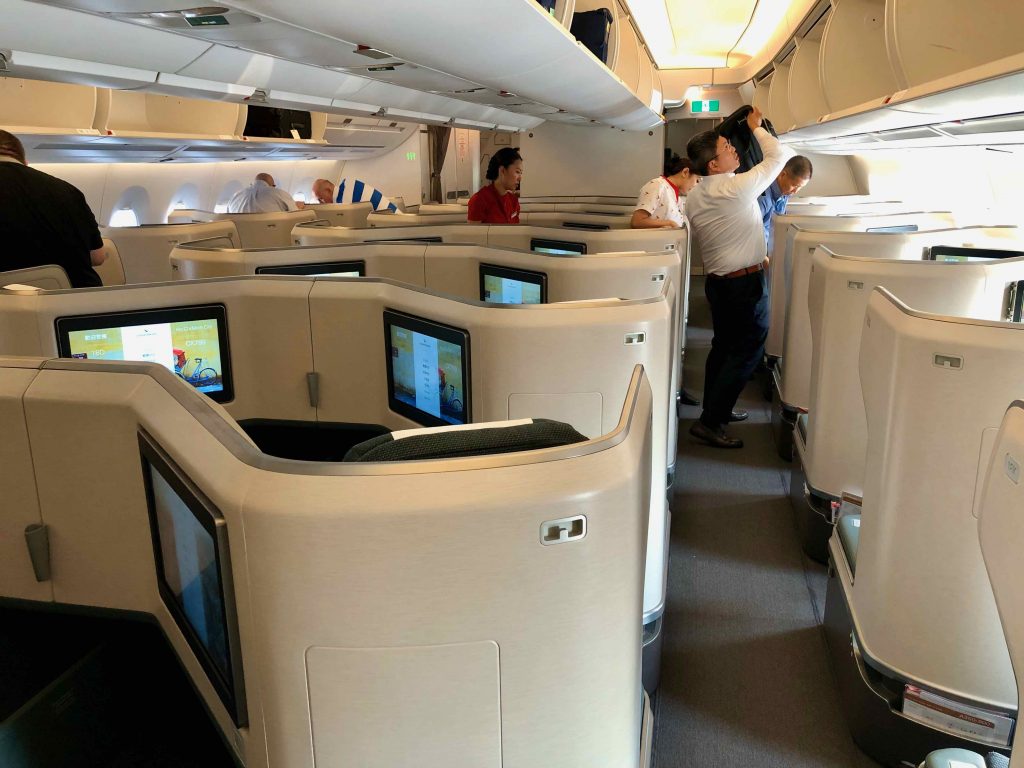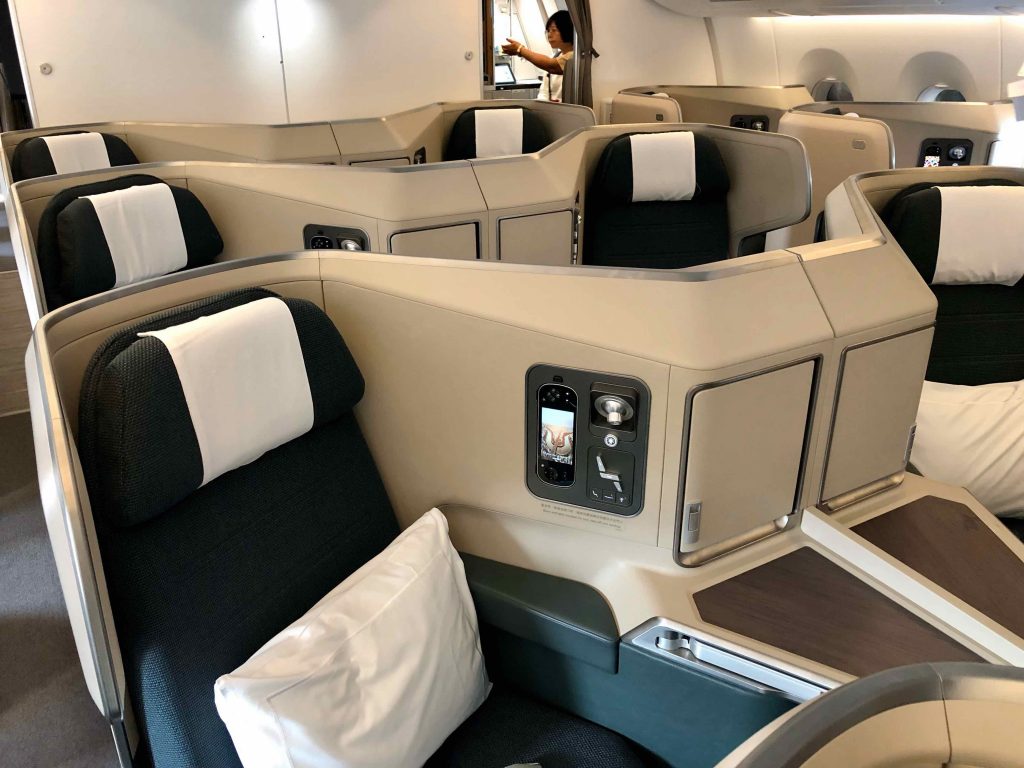 Each seat has a high privacy shell, which works pretty well. However, it's definitely lower on the A330, which reduces your privacy on that plane.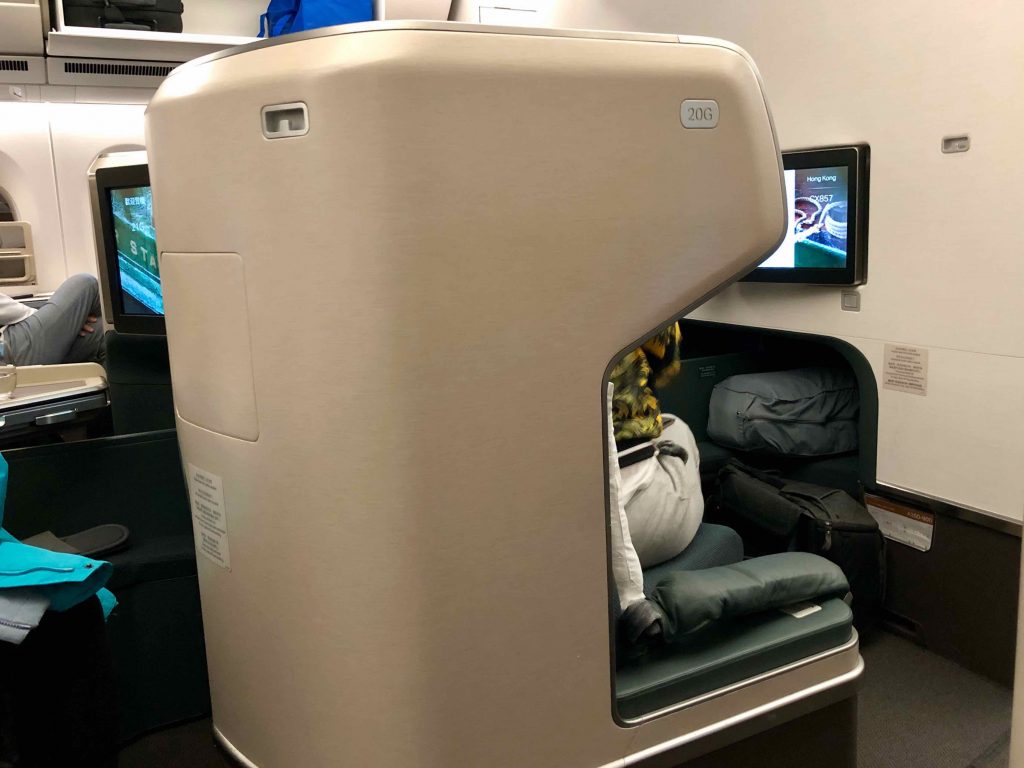 The seat was definitely spacious enough for my 179 cm height. However, I found the seat hard if not using a pillow to rest my head and back.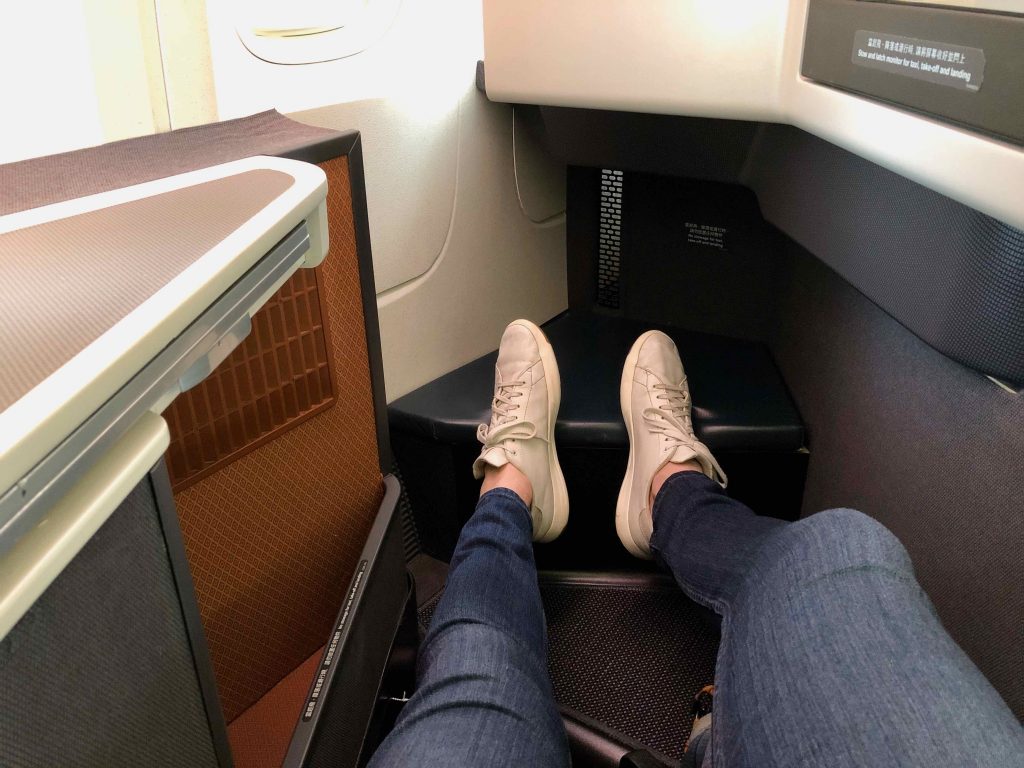 In October 2019, the Business Class sleeping experience was upgraded. Waiting at your seat will be not only a pillow and duvet but also now a thin mattress topper and slippers.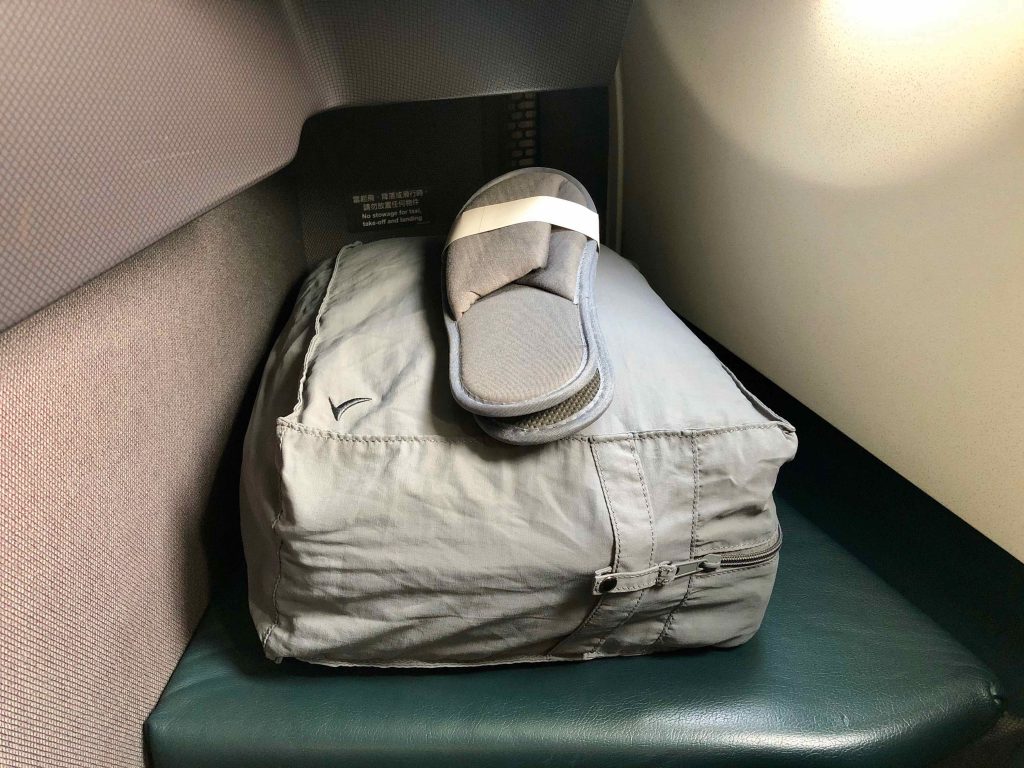 My favourite thing about my four flights was how comfortable I felt when sleeping. The mattress pad was neither too firm nor cushy. The linens were breathable, too.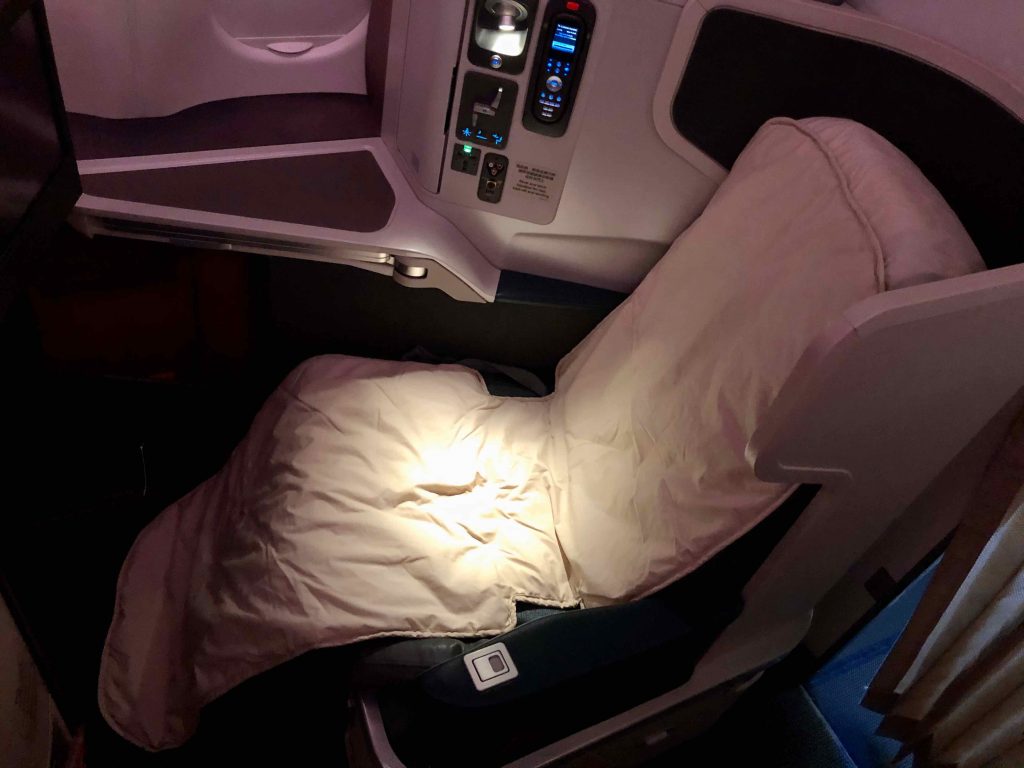 It didn't rival my restful slumber in Cathay Pacific First Class but it was still great. The cabin was kept at an ideal temperature (not too warm) on three of my four flights. There were no overnight announcements, which made sleeping easy.
The cabin crew were happy to provide me with an extra pillow for more cushioning (although I realised I didn't actually need it.) If you sleep on your side, you can comfortably tuck your knees into space furthest from the aisle.
The storage space is largest on the 777, with the A350 (pictured below) just adequate. On the A330, it's noticeably limited.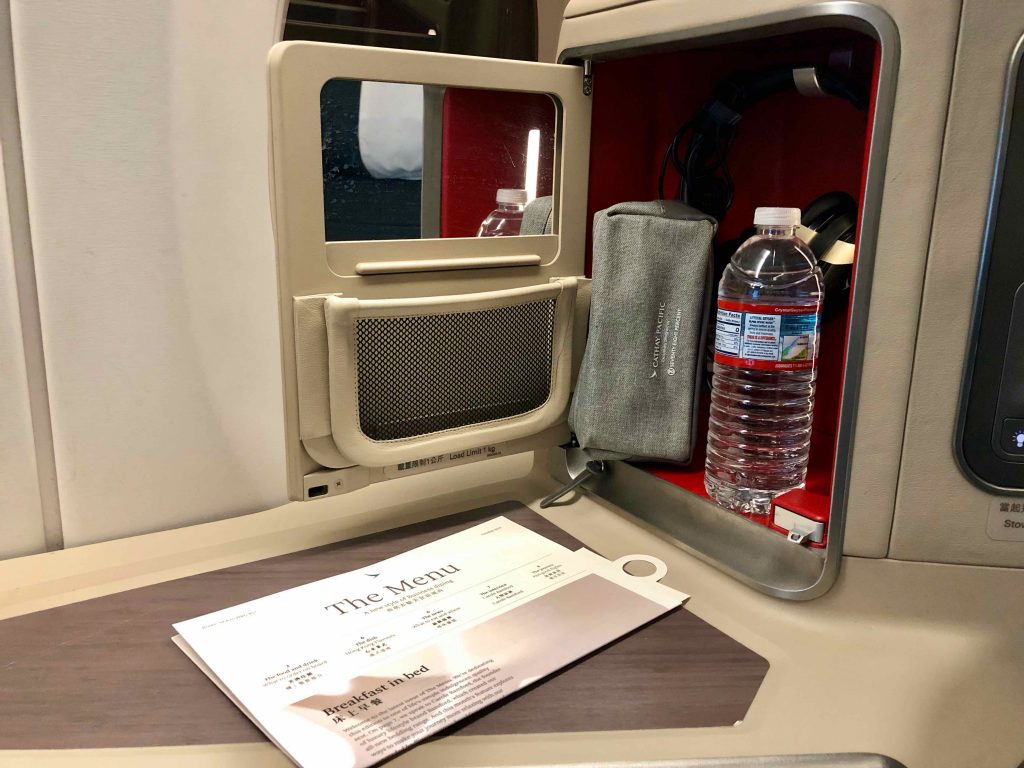 Finally, there is an adjustable armrest, which must be down for takeoff and landing but helps 'cocoon' you when raised during flight. The tray table is small but surprisingly OK.
Seat choice
As always, I'd recommend solo travellers pre-select a window seat and those travelling with a companion two centre seats. Be aware that there is no retractable privacy divider between the centre seats.
Whilst the bulkhead seats in both the main and mini cabins have more legroom, to me the light from the galley occasionally shining in your face is not worth the extra space.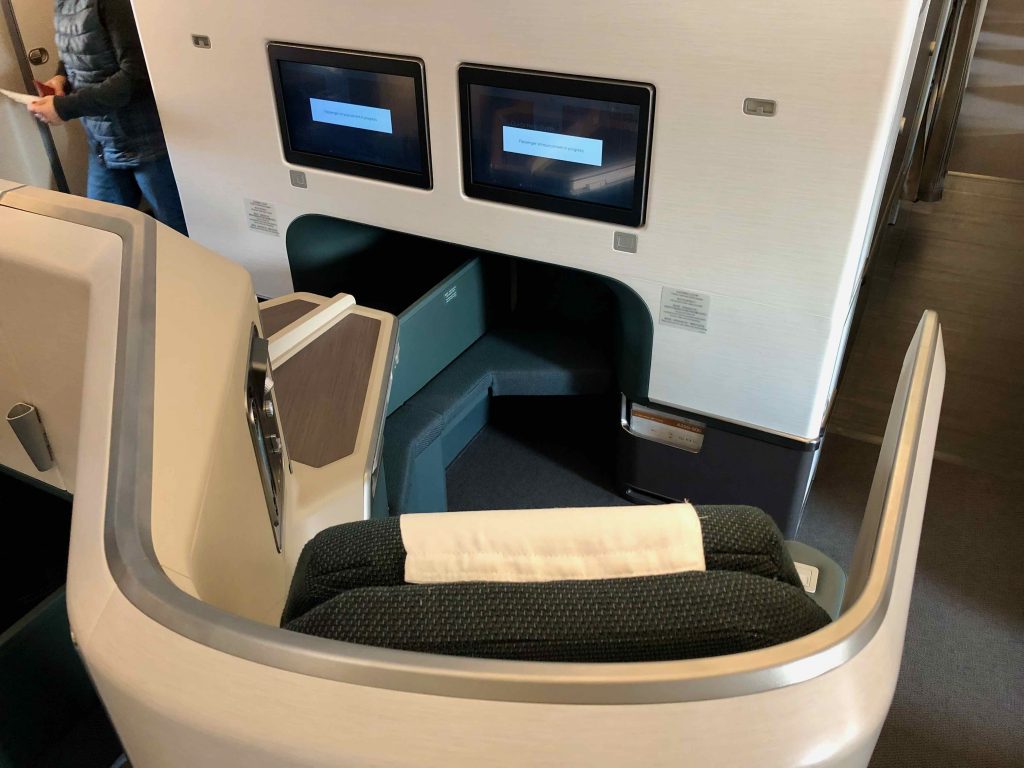 Furthermore, avoid Row 20 on the 777 as it has no windows.
Cathay Pacific Business Class food & drink
The airline serves welcome drinks on the ground. They're usually champagne, the signature Cathay Delight (a tasty coconut kiwi mint frappé) or still water. Then in the air, you'll get warmed nuts and a drink to start.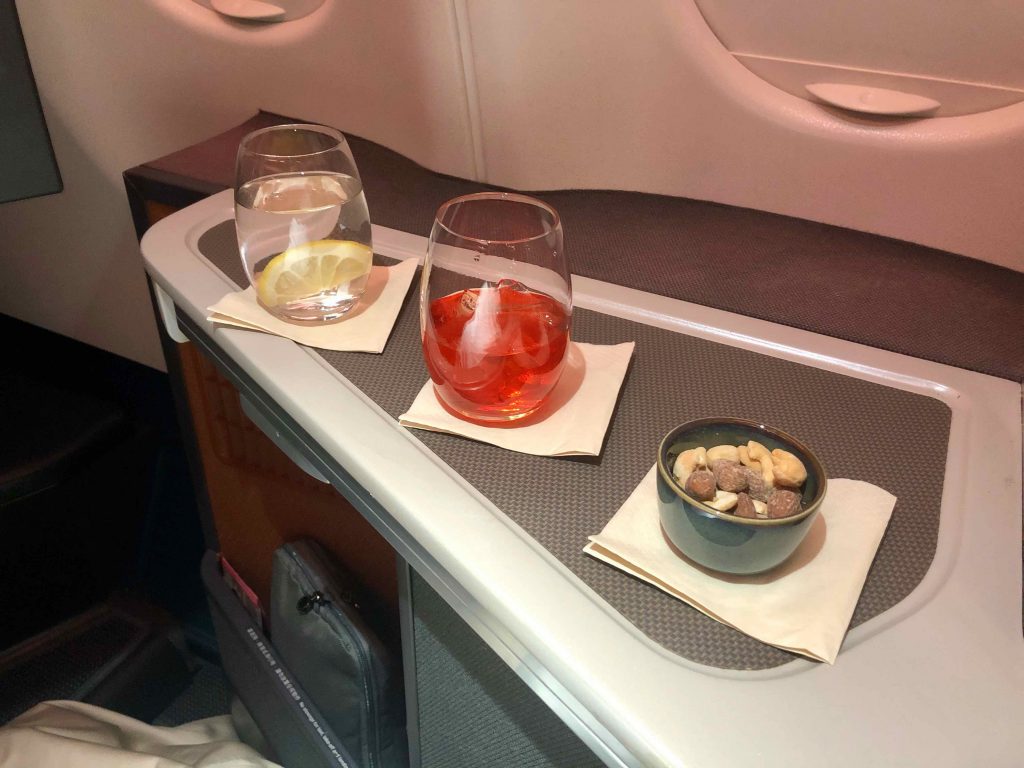 The pictures below don't do it justice, but I found the food on my four flights to be consistently of high quality. I think the Asian (rather than Western) food choices are the way to go.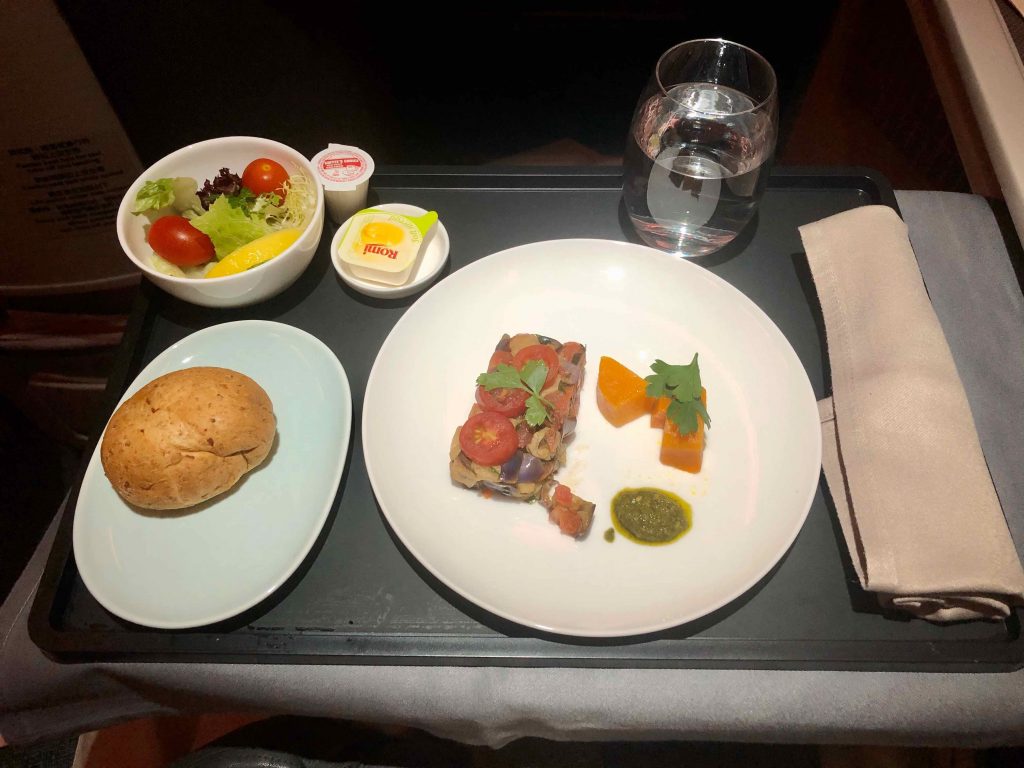 The portion sizes were perfect and meal service tended to be quick, with meals served on one tray. However, on one flight, it took over 20 minutes to get a mid-flight drink and snack.
I loved that the menu on my longest flight (Seattle to Hong Kong) was in the unique form of a newspaper. I must say that the breakfast card at the end of this reel was useful, but serving the meal two hours before landing at 5am local time was a bit too much.
Cathay Pacific Business Class customer service
On the majority of my flights, I found the cabin crew to be really friendly, smiley and professional. Meal orders were accurate and there was a large number of crew members to take care of Business Class passengers. They tended to respond to the call button within 15 seconds, which is great.
On the overnight flight, however, the crew were not warm and seemed rushed. However, I think this made sense as it was a 1am departure and they just wanted to give passengers the most hours of sleep possible.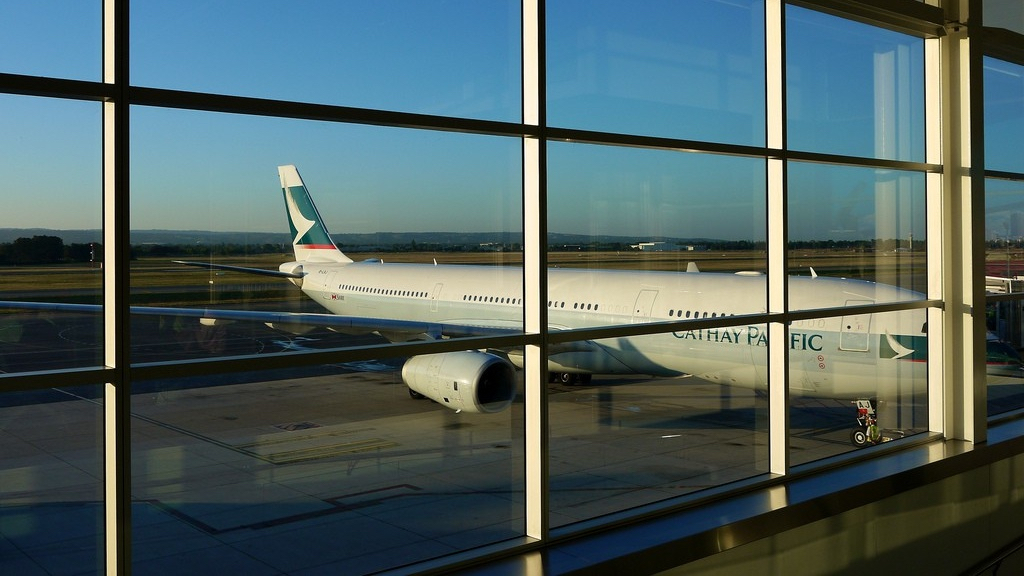 If I could suggest anything to you, it would be to remember that Cathay Pacific cabin crew are trained to not intrude or be overly proactive. Therefore, if you want something, do not hesitate to press the call button as that is what they expect passengers to do.
If I could recommend anything to the airline, it would be to work on addressing passengers by name to build rapport, and to introduce dishes (I don't think the passenger should have to ask what is on their plate.)
Cathay Pacific Business Class inflight entertainment
You'll get a responsive touchscreen to select your entertainment. On the 777 (bigger) and A330 (smaller), it's easy to reach but on the A350, it's uncomfortably far.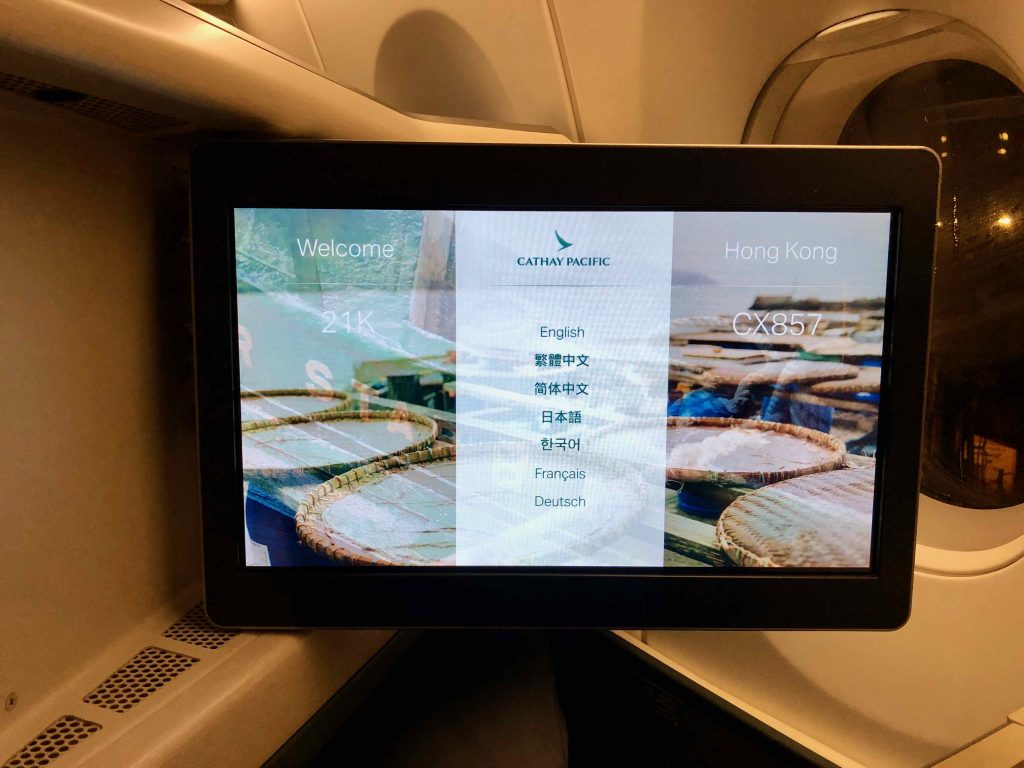 There was an annoying buzzing sound through the provided headphones on two of my four flights. I realised during the second one that unplugging my phone which was charging at the same time solved this interference issue.
The movie library had a great selection of new releases, which is the most important thing to me.
Cathay Pacific Business Class amenities
WiFi is available on all A350s and about two-thirds of 777s. You can check if your flight is WiFi-equipped here. It's well-priced, with unlimited data packages for:
US$19.95 for flights over six hours
$12.95 for flights six hours and under
$9.95 for one hour
Bathrooms tend to be on the smaller side.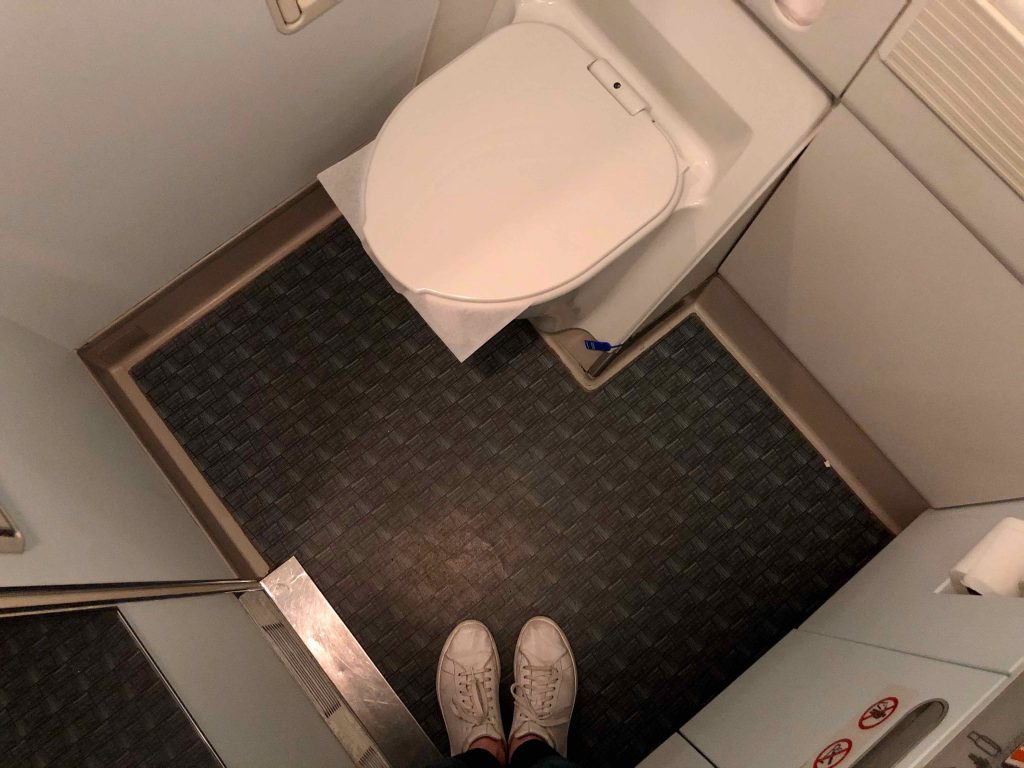 Business Class passengers on Cathay Pacific don't get pyjamas. However, they do get slippers and a pretty standard amenities kit.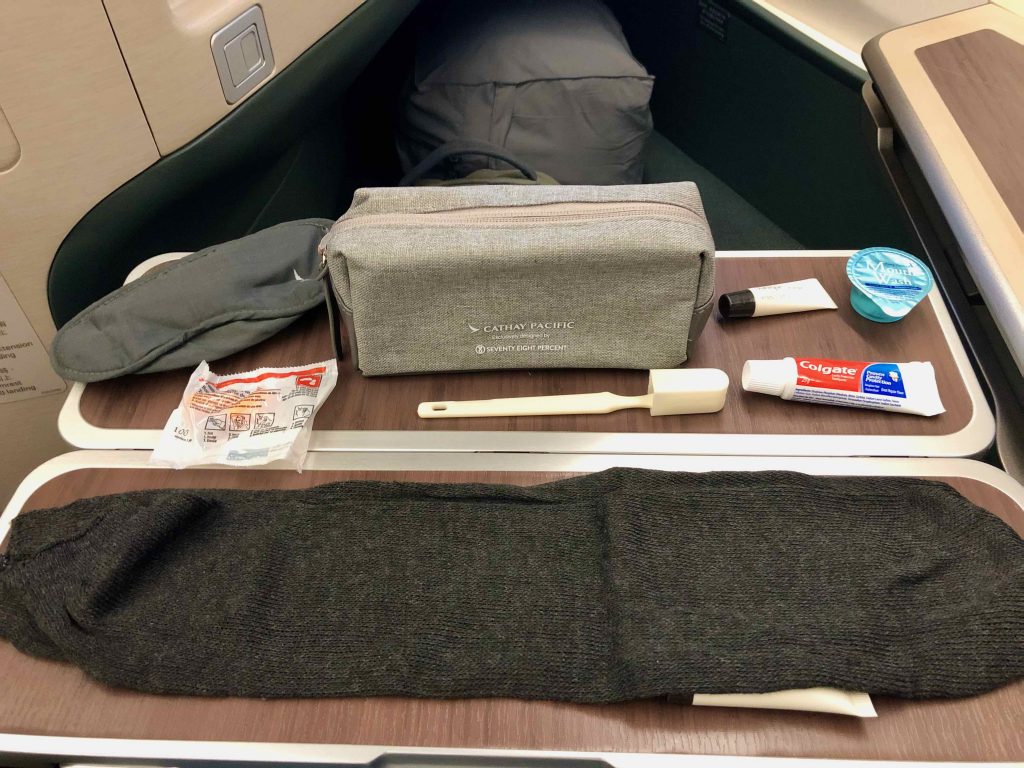 Cathay Pacific Business Class lounge access
You'll be quite blessed with high-quality lounge options when flying Cathay Pacific Business Class but it depends on your departure city.
From Australia
You'll have access to Qantas lounges in Sydney, Melbourne, Brisbane, Perth and Adelaide. Cathay Pacific operates its own lounge in Melbourne but the Qantas one is better.
If you have Qantas Platinum/Platinum One or oneworld Emerald status, you'll get access to the excellent Qantas International First Lounges in Sydney and Melbourne.
From Hong Kong
Cathay Pacific runs four Business Class lounges at its hub. It's a huge terminal, so it depends on which gate your flight leaves from, but if it's convenient, The Pier is the one to aim for. The others are The Wing, The Deck and The Bridge.
If you have oneworld Emerald status, you'll have access to two First Class lounges. The Pier, again, is better than The Wing.
From the US & Europe
When departing from American Airlines hubs such as Chicago and New York JFK, you'll get access to the fantastic American Airlines Flagship Lounges.
From Los Angeles, you'll find the oneworld Business Class Lounge more convenient than the American Airlines one.
Finally, in London Heathrow, you can't go wrong with either the Cathay Pacific or Qantas lounge.
For more information, see our guide on how to choose the best lounge for your flight.
Frequently asked questions
Does Cathay Pacific Business Class have pyjamas?
No, Business Class passengers do not get pyjamas when flying Cathay Pacific. They do, however, get slippers and a pillow, mattress pad and duvet. First Class passengers do indeed get pyjamas.
What is included in Cathay Pacific Business Class?
On the ground, you'll get access to excellent Cathay Pacific and partner lounges. In the air, you'll have a lie-flat reverse herringbone seat with direct aisle access. The food is delicious and service consistent. WiFi is available on all A350 and some 777 aircraft.
Is there WiFi in Cathay Pacific Business Class?
Yes, Business Class passengers can connect to WiFi on all A350 and the majority of 777-300ER aircraft. Pricing ranges from US$9.95 for one hour to $19.95 for a whole flight of over six hours. There are no data caps.

Do Cathay Pacific Premium Economy passengers get lounge access?
No, Premium Economy passengers on Cathay Pacific do not get lounge access. They would only get that if they had oneworld Sapphire or Emerald status. Alternatively, consider getting a Priority Pass lounge membership.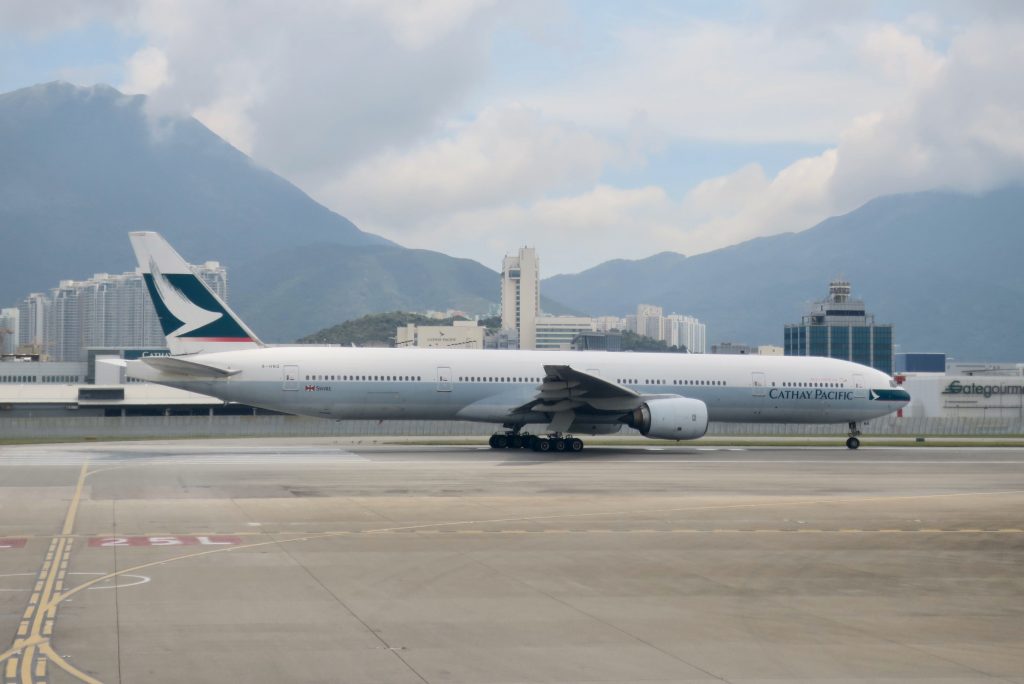 Summing up: why choose this flight?
Colour me impressed with Cathay Pacific Business Class. I think I had low expectations coming into these flights but I walked away with a consistently positive experience.
Whilst nothing about it is industry-leading, I think this is a very solid redemption option for Australia-based travellers wanting to travel to Asia, Europe and North America. I think it deserves to be in the bottom half of the top 10 Business Class products flying from Australia.
Having said that, I would definitely recommend going for a flight on the A350, with my second preference being the 777. The A330 product is fast becoming dated.
What's great
Lie-flat seat on all Australian flights
Direct aisle access for all passengers
High privacy shells
Comfortable bedding
Delicious food
Perfect portion sizes
Tasty drinks
Friendly crew
Quick service
Lots of new release movies
No WiFi data caps and reasonable pricing
Excellent lounge options
What's not great
Lack of warmth from cabin crew
WiFi not on all planes (no A330s and only some 777s)
Tighter seat on A330
Limited storage on A350 and A330
Small bathrooms
Have you flown this product before? What's your take? Share in the comments below!
Cathay Pacific Business Class Airbus A350, A330, Boeing 777
was last modified:
April 4th, 2021
by