Oneworld elite status is a great ace to keep up your sleeve. Depending on the tier level, it could unlock Business or First Class lounge access before any member flight, along with other priority and time-saving perks before and after your flight. But oneworld elite status must be earned through one of the alliances' partner airline programs.
In Australia, the primary method of attaining oneworld status is through Qantas Frequent Flyer, of course. But you could technically credit your Qantas flights to other oneworld airline partner programs for various reasons, including earning more points or miles to spend – or, in this case – to reach oneworld elite status almost twice as fast with partner carrier Finnair.
---
This article is aimed at beginners – we'll keep it simple here and link out to dedicated program guides with more information if you want to learn more about earning elite status with Qantas flights. We look at maximising the value of your points or miles from Qantas flights in a separate article.
---
What is oneworld status?
Not sure what all this 'oneworld' talk is about? Check out our dedicated guide first. In brief, oneworld is an airline alliance and oneworld status grants frequent flyers a standardised set of perks whenever those members travel on any alliance airline, even in Economy.
oneworld Ruby: Equivalent to most airline 'Silver' tiers. Benefits include Business Class priority check-in
oneworld Sapphire: Equivalent to most 'Gold' tiers. Perks include Business Class lounge access before any oneworld flight, plus priority processing and extra baggage allowance
oneworld Emerald: Similar to most 'Platinum' tiers. New benefits include First Class lounge access before any oneworld flight, plus even more priority at the airport and a bigger baggage allowance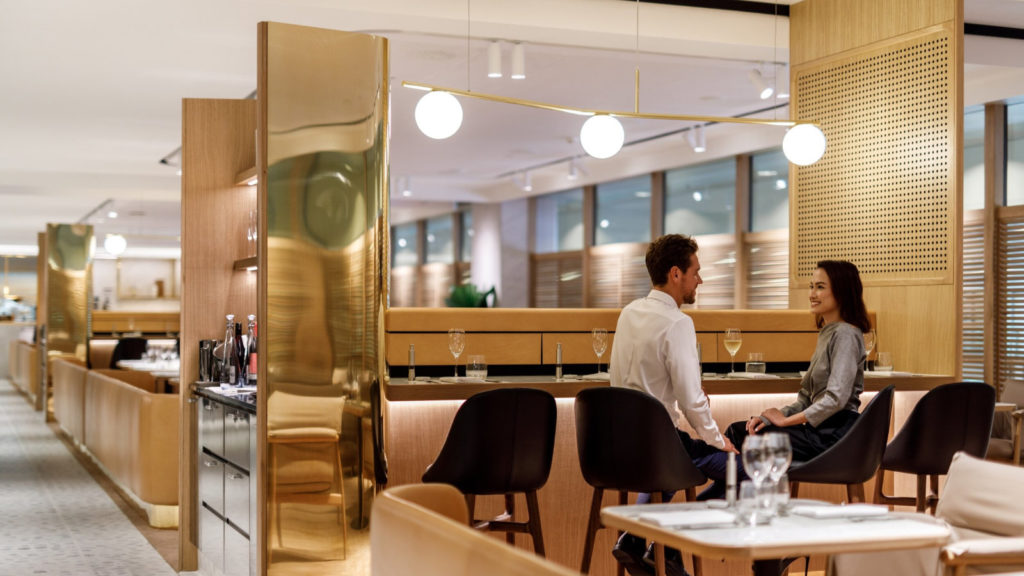 As of June 2021, alliance partners include Alaska Airlines, American Airlines, British Airways, Cathay Pacific, Finnair, Iberia, Japan Airlines, Malaysia Airlines, Qantas, Qatar Airways, Royal Air Maroc, Royal Jordanian, S7 Airlines and SriLankan Airlines. We cover the more relevant partners for Australians below.
Earn oneworld status with Qantas Frequent Flyer
The obvious choice is crediting to Qantas Frequent Flyer, where you earn Status Credits. Ignoring any bonus Status Credits from partner offers and Double Status Credit promotions, here is how many flights it would take you to earn the equivalent of oneworld Ruby, Sapphire or Emerald status.
Qantas Frequent Flyer
Oneworld Ruby
Qantas Silver
Oneworld Sapphire
Qantas Gold
Oneworld Emerald
Qantas Platinum
Initial qualification
(Both must be met)
Earn 300 Status Credits
Fly 4 QF/JQ sectors
Earn 700 Status Credits
Fly 4 QF/JQ sectors
Earn 1,400 Status Credits
Fly 4 QF/JQ sectors
Sydney-Melbourne
Discount Economy (10 SCs)

30 flights

to 300 SCs

70 flights

to 700 SCs

140 flights

to 1,400 SCs
Sydney-Melbourne
Business (40 SCs)

8 flights

to 300 SCs

18 flights

to 700 SCs

35 flights

to 1,400 SCs
Sydney-Perth
Discount Economy (20 SCs)

15 flights

to 300 SCs

35 flights

to 700 SCs

70 flights

to 1,400 SCs
Sydney-Perth
Business (80 SCs)

4 flights

to 300 SCs

9 flights

to 700 SCs

18 flights

to 1,400 SCs
It's a hard slog to the top if you just fly Discount Economy (red e-Deal fares), but at least four times easier if you tend to fly Business Class with cash tickets. In addition to earning the required number of Status Credits, members must also fly at least four eligible Qantas or Jetstar flight sectors within the membership year.
Ad – Scroll down to continue reading.Minimum spend, terms & conditions apply.
Earn oneworld status with Finnair Plus [shortcut]
Finnair is probably not on your radar. But in one particular case, crediting your Qantas flights to Finnair Plus could be a shortcut to oneworld status: those who tend to fly short routes in Economy (such as Sydney-Melbourne).
This is because Finnair Plus allows you to earn status through two ways – Tier Points (TPs) or flight sectors on any oneworld airline, regardless of length. This means you can earn status on short Australian domestic flights without ever seeing a Finnair plane!

Tier Points are earned from 25% up to 150% per kilometre travelled, depending on the cabin and booking class. For the figures below, Discount Economy fares earn 25% of distance travelled, while Business Class is 125%. We highlight the quickest way to attain that tier, either via points or sectors.
Finnair Plus
Oneworld Ruby
Finnair Plus Silver
Oneworld Sapphire
Finnair Plus Gold
Oneworld Emerald
Finnair Plus Platinum
Initial qualification
(Either must be met)
30,000 Tier Points,

or


fly 20 sectors
80,000 Tier Points,

or


fly 46 sectors
150,000 Tier Points,

or


fly 76 sectors
Sydney-Melbourne
Discount Economy (177 TPs)
Fly 20 sectors
Fly 46 sectors
Fly 76 sectors
Sydney-Melbourne
Business (882 TPs)
Fly 20 sectors
Fly 46 sectors
Fly 76 sectors
Sydney-Perth
Discount Economy (821 TPs)
Fly 20 sectors
Fly 46 sectors
Fly 76 sectors
Sydney-Perth
Business (4,105 TPs)
7 flights to 30,000 TPs
20 flights to 80,000 TPs
36 flights to 150,000 TPs
Overall, Qantas Frequent Flyer still beats Finnair Plus for the majority of routes. But if you fly short hops such as Sydney-Melbourne in Economy frequently, you could be better off with Finnair Plus.
This is because you only need to fly 20, 46, or 76 oneworld partner sectors to earn Finnair Plus' Silver, Gold or Platinum status, respectively. That's much better than the 30, 70, or 140 flights you'd need on Qantas to earn the equivalent status level in Qantas Frequent Flyer.
Earn oneworld status with other partner airlines
We won't go into too much detail on crediting Qantas flights to other oneworld airlines, because elite status requirements of those programs are much harder to fulfil. This could include a minimum number of flights marketed and operated by that carrier, which might not be feasible while stuck in Australia.
The airlines listed below are featured in our companion guide "where could I credit my Qantas flights to for the best value". If you're going to credit your Qantas flight to one of those programs for the spendable miles, you'll also be collecting the elite miles needed for elite status, anyway. It's good to know how it works.
Alaska Airlines Mileage Plan
One benefit of Alaska Airlines Mileage Plan is that the miles threshold for elite status is relatively low. You only need:
20,000 elite miles or 30 sectors for MVP (oneworld Ruby)
40,000 elite miles or 60 sectors for MVP Gold (oneworld Sapphire)
75,000 elite miles or 90 sectors for MVP Gold 75K (oneworld Emerald)
For MVP Gold and MVP Gold 75K, that's half of Finnair Plus' requirements for the equivalent tiers with a similar (though not identical) earning rate on Qantas flights! However, you do need to also fly at least 2 to 6 eligible flights marketed and operated by Alaska Airlines, which is difficult for residents Down Under.
British Airways Executive Club
British Airways also boasts relatively low tier-earning requirements. However, you do need to fly with the airline at least four times per membership year, which isn't possible right now from Australia. (Previously, you could fly Sydney-Singapore-London with British Airways).
According to the flight calculator, a Sydney to Perth Qantas Business Class ticket will net 140 Tier Points (TPs) each way, which is a generous amount. Here are the qualification thresholds:
300 Tier Points for Bronze (oneworld Ruby)
600 Tier Points for Silver (oneworld Sapphire)
1,500 Tier Points for Gold (oneworld Emerald)
Under this system, you'd only need 11 one-way Perth-Sydney Qantas Business Class flights to earn oneworld Emerald status with British Airways, instead of 18 with Qantas. However, the rule of taking four British Airways flights still applies, and would be the major obstacle to this plan.
American Airlines AAdvantage
AAdvantage doesn't have a requirement to fly on American Airlines, but the elite status qualification requirements are a bit cumbersome. You need to earn a minimum level of Elite Qualifying Dollars (EQDs), along with either meeting the threshold for Elite Qualifying Miles (EQMs) or Elite Qualifying Sectors (EQSs)
On Qantas flights you get 1 EQS per flight. EQMs and EQDs are earned per mile flown (so you don't need to worry about actually spending US dollars). For example, a Qantas Business Class ticket earns from 2 EQMs per mile, and 0.25 EQDs per mile. A Sydney to Perth journey in Business could net at least 4,082 EQMs and $510 EQDs.
Here are AAdvantage's reduced tier thresholds for 2021:
20,000 EQMs

or

20 sectors,

plus

$2,000 EQDs for Gold (oneworld Ruby)
40,000 EQMs

or

45 sectors,

plus

$4,500 EQDs for Platinum (oneworld Sapphire)
60,000 EQMs

or

70 sectors,

plus

$7,000 EQDs for Platinum Pro (oneworld Sapphire)
80,000 EQMs

or

950 sectors,

plus

$12,000 EQDs for Executive Platinum (oneworld Emerald)
Cathay Pacific Marco Polo Club
First up, Cathay Pacific's Marco Polo Club costs US$100 to join initially. Without doing so, you can still enter your Asia Miles number into a booking, but you'll only earn the spendable Asia Miles. To have Cathay Pacific elite status, you also need to be a Marco Polo Club member and earn Club Points (CPs). Paid-up members start at the 'Green' tier.
You'll need to do a lot of flying to earn Marco Polo Club elite status, along with at least one Cathay Pacific flight a year. Because of this, Marco Polo Club isn't one of our recommended ways to earn elite status from Qantas flights. A Qantas Business Class ticket from Sydney to Perth earns 25 CPs each way. Taking that into account, here are the tier thresholds:
20 Club Points for Green
A further 300 Club Points for Silver (oneworld Ruby)
A further 600 Club Points for Gold (oneworld Sapphire)
A further 1,200 Club Points for Diamond (oneworld Emerald)
Note the use of 'further' above: Marco Polo Club tier upgrades are not cumulative. Once you earn a higher tier, your points and membership year are reset. You then have a further 12 months to earn the next status level from scratch.
Summing up
Most frequent flyers will still be better off with Qantas overall, but particularly those with deeper pockets who can fly Business Class more often. Qantas Status Credits can be earned on the ground with certain partners, and you can still take advantage of double Status Credit promos to accelerate your earnings.
Finnair Plus is a great way to snag elite status with considerably fewer flights than Qantas, but only for the shortest flights in Economy. This option should be considered by anyone who does a weekly commute such as Brisbane-Sydney, Adelaide-Melbourne or similar.
Alaska Airlines and British Airways also offer great-value programs with easy elite status earning levels, but is restricted by the requirement to take a few flights on the airline itself. American Airlines and Cathay Pacific are not as competitive overall, with higher and more complex qualification requirements.
Don't forget to keep an eye out for Status Matches and Status Challenges. If you already have elite status with an existing competing airline (such as Virgin Australia or Star Alliance partners), chances are you could get a foot in the door and secure oneworld elite status for less.
Earn Qantas Platinum-level perks in almost half the time
was last modified:
June 23rd, 2021
by