Qantas is now trialling access to 'money can't buy' experiences for its most points-rich frequent flyers. The move brings an interesting alternative to using Qantas Points in traditionally more popular ways, such as to book a flight or upgrade to Business Class. But for those with an overflowing points balance, the option may be an interesting one.
At first, these experiences will only be available to 'selected' Qantas Frequent Flyer members. The airline will email The Chosen Ones from 24 March onwards, with details of the opportunities available. But unless you already have at least half a million Qantas Points in your account, you're not likely to pass muster.
The majority of our members use Qantas Points to treat themselves to things that they wouldn't otherwise buy.

Being able to redeem points on exclusive and premium experiences is a natural progression for our program and we are keen to understand how we can best deliver a product like this to our members through this trial.

– Olivia Wirth, Qantas Loyalty CEO, 23 March 2023
Ad – Scroll down to continue reading.Minimum spend, terms & conditions apply.
Using Qantas Points for experiences money can't buy
Qantas has just unveiled the full details of its first such trial. Eligible members may be able to secure a unique package for an NBA game on 7 April, in New Orleans.
Priced at 500,000 Qantas Points, the package includes a 'premium seat' to the game. But with that 'money can't buy' twist, points bookings also include entry to the pregame warm-up, as well as a personalised team jersey and an on-court photo opportunity. There'll also be no need to purchase food or drinks on the night – it's all included.
The game available via the first trial is Pelicans vs Knicks at the Smoothie King Center in New Orleans. And of course, anybody can buy good seats to NBA games – and food and drink at the venue. What you're really getting on top is access to that pregame warm-up, the jersey and the photo.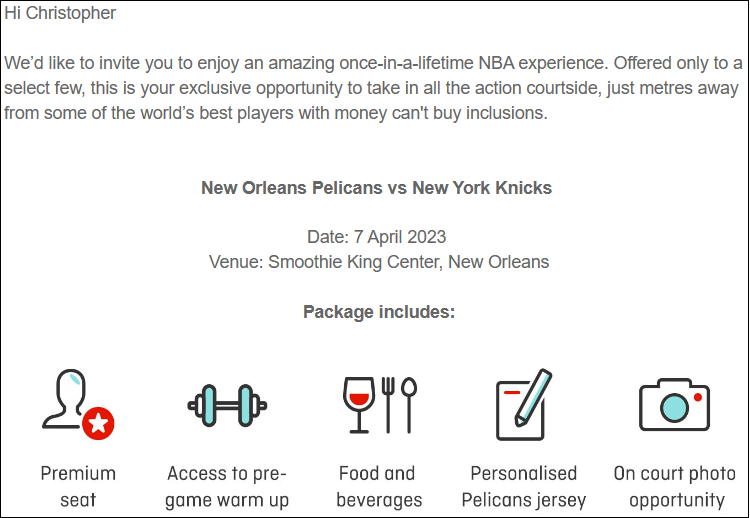 For an idea of the 'value' derived per point, let's look broadly at some of the ticket prices for NBA games in New Orleans in April. If you were to buy a premium ticket today using money rather than points, you'd be up for some pretty hefty amounts.
To sit front row courtside, asking prices are currently between US$2,119.16 (~AU$3,159.24) and US$2,258.78 (~AU$3,367.39) per person. Other premium seats start at US$366.14 (~AU$545.84) p.p. on the floor in the third row. These prices all include Ticketmaster fees, which the company adds to its displayed ticket prices only on the final checkout page.
If the seats unlocked through Qantas were courtside, that's at least 0.63 cents (AUD) in value per point redeemed, based on the ticket price alone. If they're further back, such as row three (still on the floor), the redemption value could be as little as 0.1 cents per point (AUD).
That's just a guide, of course – and doesn't factor in the other inclusions offered when using Qantas Points that money can't buy.
Summing up
Using Qantas Points for money can't buy experiences won't be for everybody. Especially so when money can actually buy something similar – albeit, without those unique inclusions added on.
This first such experience also doesn't include flights, accommodation, transfers or any other travel costs. You'd need to part with half a million Qantas Points just for the game, and cover the rest on top.
But for those with significant piles of points – who also happen to be NBA fans – the move could be tempting. Ultimately, the devil will be in the detail, once the specifics of each experience are known. Whether or not such a redemption is 'worth it' would be down to each individual's preferences, interests and points balances.
Also read: Qantas launches new double status credits offer
Feature image courtesy of National Basketball Association. Copyright 2023 NBAE (Photo by Garrett Ellwood/NBAE via Getty Images).
---
Stay up to date with the latest news, reviews and guides by subscribing to Point Hacks' email newsletter.
Qantas trials 'money can't buy' experiences using points
was last modified:
August 24th, 2023
by