Many travellers book flights and hotels separately, but Qantas Holidays hopes to change that. By combining both on a single booking, travellers can often pay less, while still pocketing those valuable Qantas Points.
Here's how you can turbocharge your rewards – and savings – when booking a long-awaited getaway.
What is Qantas Holidays?
Combining flights and hotels in a single booking, Qantas Holidays makes it quick and easy to plan your next adventure. This simplicity is ideal for occasional travellers. It's also great for those who don't like the complexity of juggling multiple bookings.
But Qantas Holidays can be equally rewarding for regular globetrotters. By booking your flights and hotel together, you'll often pay less than if you booked each separately. You can also earn a bunch of Qantas Points!
Relaunching Qantas Holidays as a part of the Qantas Frequent Flyer program has provided our members with even more ways to earn and use their points, including on domestic and international hotel and flight packages at an exclusive discounted rate. Holiday packages are carefully selected by our team to ensure members are getting fantastic value and inclusions, whether they are seeking out a luxury beachside getaway, or a quick city break.

– Qantas spokesperson, 8 October 2021
Qantas Holidays provides travellers with a range of hotel options from budget to premium, and everything in between. Whether your next journey is within Australia or further afield is entirely up to you!
Earn points
Beyond price alone, Qantas Holidays serves up Qantas Points on every booking. It's even possible to double-dip, or even triple-dip on those rewards.
You'll start by earning three Qantas Points per $1 spent on the total package price. Spend $6,000 and there'll be 18,000 Qantas Points headed your way. On bookings with more than one passenger, these points go to the lead traveller.
Separately, you'll also collect both Qantas Points and Status Credits on each flight. These are earned by every passenger on the reservation, at the usual rates for the fare type booked. That's where you can earn points twice on the one ticket. With three points per $1 from the booking (including flights), plus extra points in the sky, you'll be planning another trip in no time!
If you pay for your package using a points-earning credit card, expect a third helping of reward points from the one transaction. Just be mindful that Qantas Holidays payments don't appear on your credit card in the same way as a Qantas flight. This means you may not earn credit card bonus points, as you might with other Qantas spend.
Ad – Scroll down to continue reading.Minimum spend, terms & conditions apply.
How to book
Booking your next break takes mere minutes on the Qantas Holidays website. Just select where you're flying from, your dream destination, and when you want to travel. (If you're planning a road trip, look to Qantas Hotels instead).
You'll quickly see the flights that best suit your itinerary. The only drawback to using Qantas Holidays online is that travel is always in Economy Class. For other cabins, you'll need to call Qantas Holidays on 13 70 66.
On the plus side, any usual seat selection fees you'd pay in international Economy are waived through Qantas Holidays. That's a saving of up to $40 per person, per flight.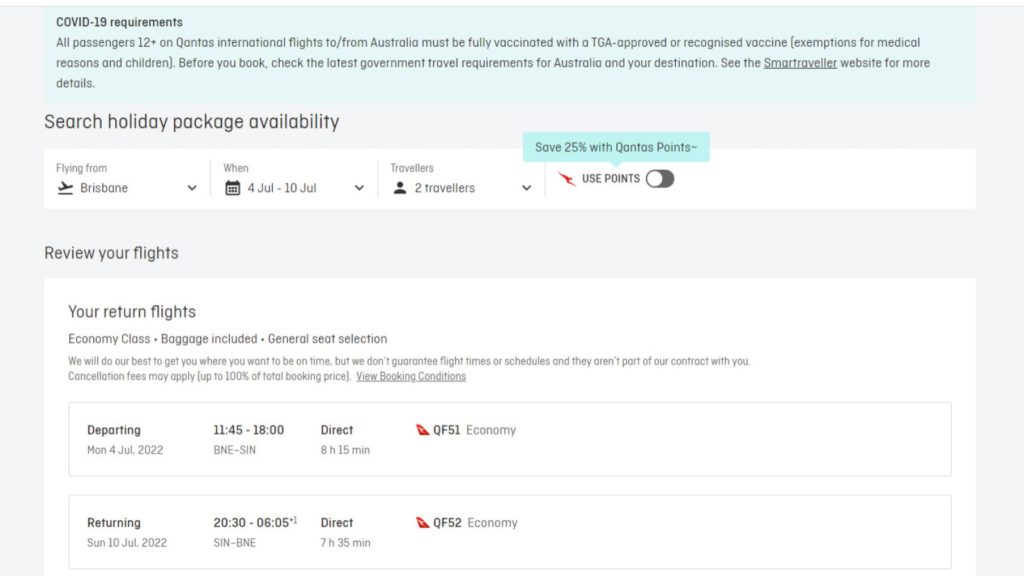 The same page also includes a comprehensive list of hotels. Each shows an all-inclusive price per person, based on the most affordable room type.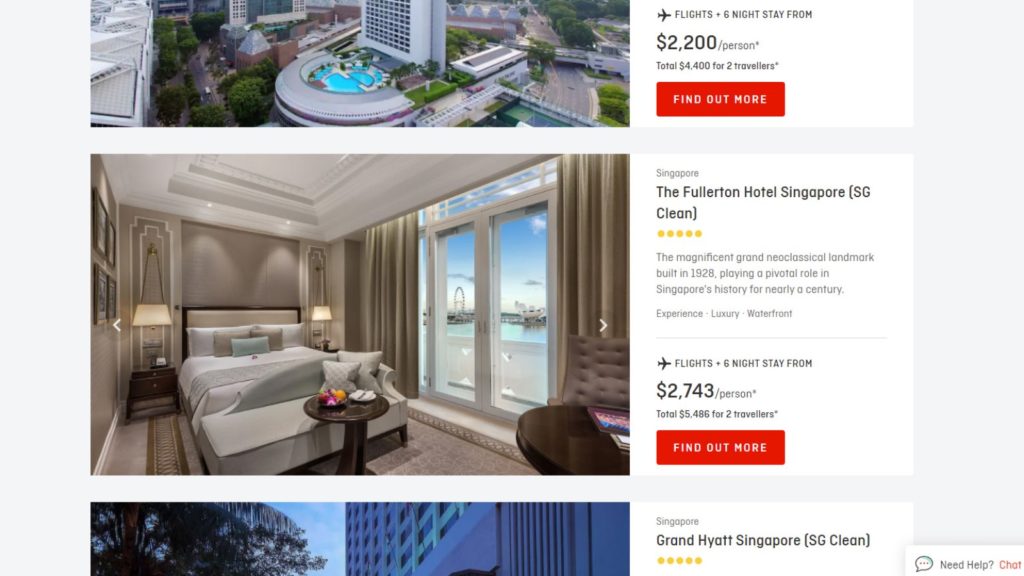 But unlike flights where you're confined to Economy Class, you're free to upgrade your room. At The Fullerton Hotel Singapore, for example, the default stay includes a Premier Courtyard Room. You can choose to pay more if you'd prefer something superior.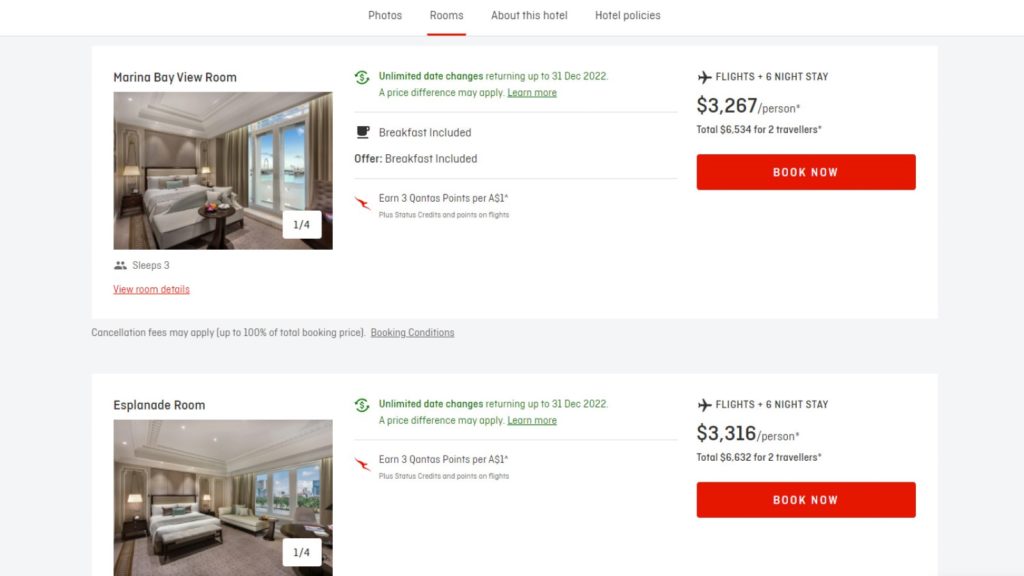 Follow the process to the payment screen and you'll have the option of using credit card or Qantas Points. Using Points might appeal to somebody with a large rewards stash who'd rather save their cash. However, these payments are processed as 'Points Plus Pay'. That means you're converting your rewards into cash, rather than securing a better value Classic Reward, as when booking your flights and hotel separately.
To ease that sting, Qantas Holidays is temporarily reducing the number of points needed by 25% until 9 December 2021. Still, those spending dollars are the ones who'll likely get the best value from Qantas Holidays.
Does Qantas Holidays really save you money?
Qantas Holidays claims access to "exclusive deals" that provide better value than booking flights and hotels separately. But does the company's pricing really save you money?
To find out, I obtained a quote for a Qantas Holidays 'flight + hotel' package. I then compared that with the price of booking the exact same journey, but with flights and the hotel on separate reservations.
It turns out, Qantas Holidays lives up to its promise.
As a single booking, return flights from Brisbane to Singapore for two adults, with a six-night stay at The Fullerton Hotel, clocked in at $6,009.38. That also includes standard Economy Class seat selection.
When booked separately, the same flights in the same class (and on the same dates) instead came in at $2,286. Add to that, $40 per person, per flight for seat selection. This puts the flights alone at $2,446 return. Through Qantas Hotels, the same room on the same dates at The Fullerton was $4,182.
All up, booking separately carries a price tag of $6,628 here, for exactly the same journey. That's over $600 pricier than booking through Qantas Holidays. With the savings you'll earn, there's sure to be a lot left over for satay and chilli crab!
What happens if things change?
If your plans change or travel restrictions get in the way, don't fret.
On domestic and trans-Tasman bookings, Qantas Holidays is offering unlimited date changes until 28 February 2022. Bookings for all other international destinations have the same flexibility until 31 December 2022.
You won't pay a change fee to amend your booking. But if your new travel plans cost more than what you've already paid, you'll just need to cover the difference.
This can be done by phone – give the team a buzz on 13 70 66. Lines are staffed from 8:30 am to 5:30 pm (Sydney time), seven days.
Summing up
Qantas Holidays makes the booking process simple, which infrequent travellers are sure to love. With cash savings and Qantas Points also in the mix, many regular jetsetters will find value too.
However, if you plan to spend Qantas Points on your next trip, it's hard to beat a traditional Classic Reward. Costing a fixed number of Points that doesn't vary with the cash price, Classic Rewards almost always trump Points Plus Pay.
Earn points, save money with Qantas Holidays
was last modified:
June 7th, 2022
by