What can we expect from Virgin Australia's catering in 2021?
Posted:
November 18, 2020 - 4:45 pm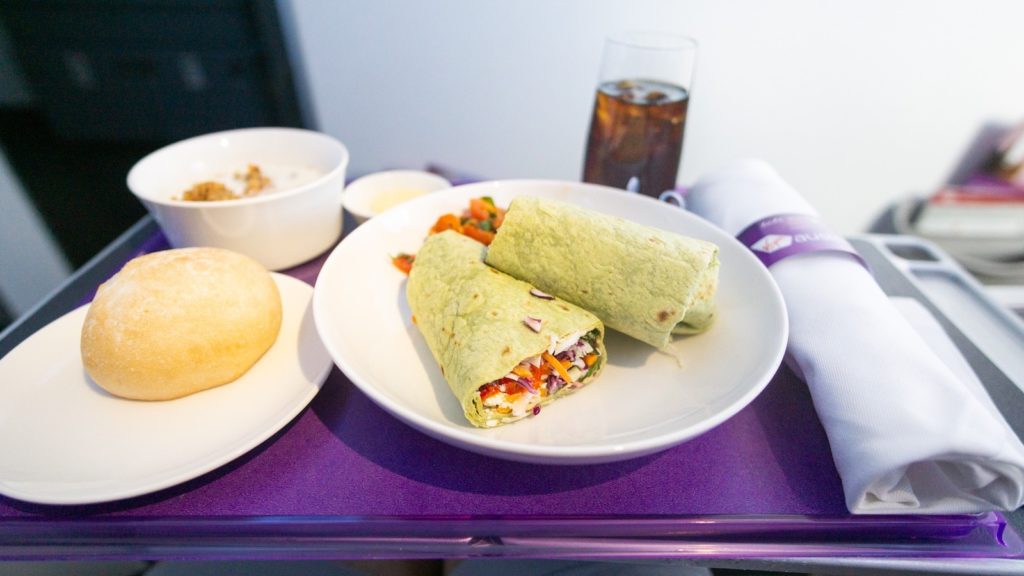 What we'll be covering
Virgin Australia has offered us a sneak peek into its upcoming shift to a 'mid-market' airline. From a foodie perspective, the key takeaway is that free snacks will no longer be included in Economy fares and that the Business Class offering is under review until some time in 2021.
We'll explore both the positives and negatives of transitioning to a full buy-onboard menu in Economy Class, as well as discuss what shape Virgin's Business Class and lounge catering could take in 2021.
What is Virgin Australia's Economy buy onboard menu like?
During this period of transition into Bain Capital's ownership, Virgin Australia's onboard F&B service remains limited to a small snack, with no food available for purchase until 'early next year.'
While we don't know what next year's 'exciting and fresh' menu will look like yet, we can share with you a previous Virgin Australia onboard menu from early 2020, which featured sandwiches, snacks and an assortment of premium beverages.
Note: this is an old Virgin Australia onboard menu from early 2020, used for reference only.
Lower ticket prices, better food for purchase?
This wouldn't be a bad approach to continue through 2021, as long as ticket prices are lowered to take this into account. Many domestic flights are under 90 minutes in length and there's just no need to have a hot meal.
But it's still good to have the option of a light snack or a more filling fresh sandwich if you're willing to pay for it. Transcontinental flights to and from Perth should have a complimentary or paid hot meal option though, to take into account flight times up of to 5.5 hours.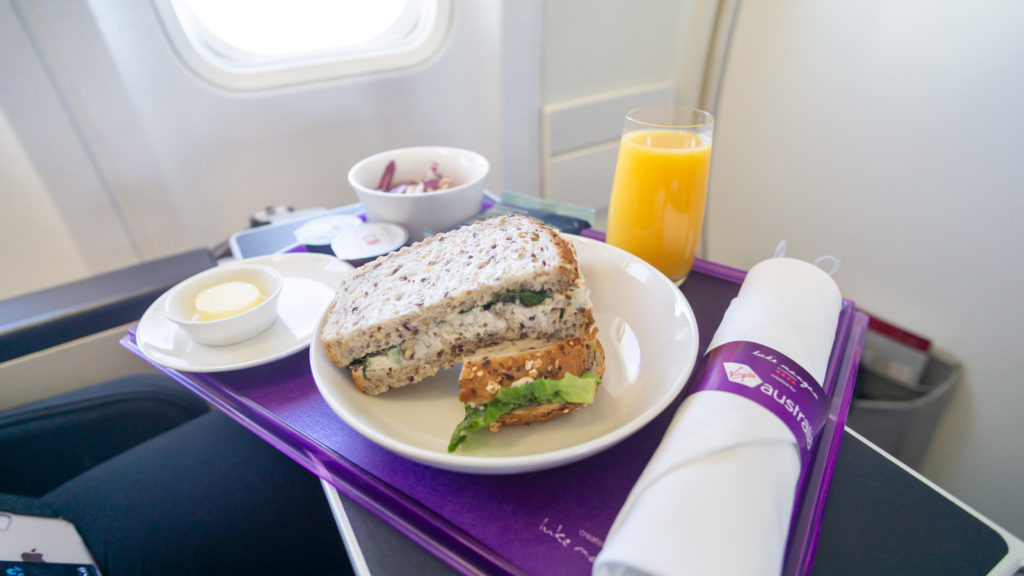 One downside of a buy-on-board system is that business travellers, who usually have their fare covered by work or a client, would need to jump through some extra hoops to expense claim any meals purchased onboard.
Of course, this isn't a big problem in the grand scheme of things, but it could be enough to turn off some business travellers to choose a different airline with some food included in the fare. For example, Qantas usually offers hot food in Economy during main meal periods.
A potential solution to this (and to make the catering team's life easier overall) is to introduce online pre-ordering of onboard meals. Not only will it be easier to claim costs and pay online, but it will help with inventory management so the airline doesn't overstock or run out of options too often.
Rewarding loyalty with food
Rolling out an online food pre-order system could also make it easier for Velocity to issue complimentary food and beverage vouchers to frequent flyers with status — this would be a welcome perk.
Another idea would be to include some form of complimentary food and/or beverages with Economy X passengers, who typically fork out up to $75 for the extra legroom and associated benefits.
Since Platinum Frequent Flyers get Economy X for free, this would help keep the loyalty of those who travel often in Economy Class, knowing they'll be looked after with extra legroom and a decent fresh meal.
Ad – Scroll down to continue reading.Minimum spend, terms & conditions apply.
What's in store for Virgin Australia's Business Class catering?
Unfortunately, Virgin Australia's Business Class catering is likely to take a hit when it relaunches in 2021. The Luke Mangan-designed meals were truly some of the best in the sky, but sadly this now seems out of place with Virgin's new 'mid-market' positioning.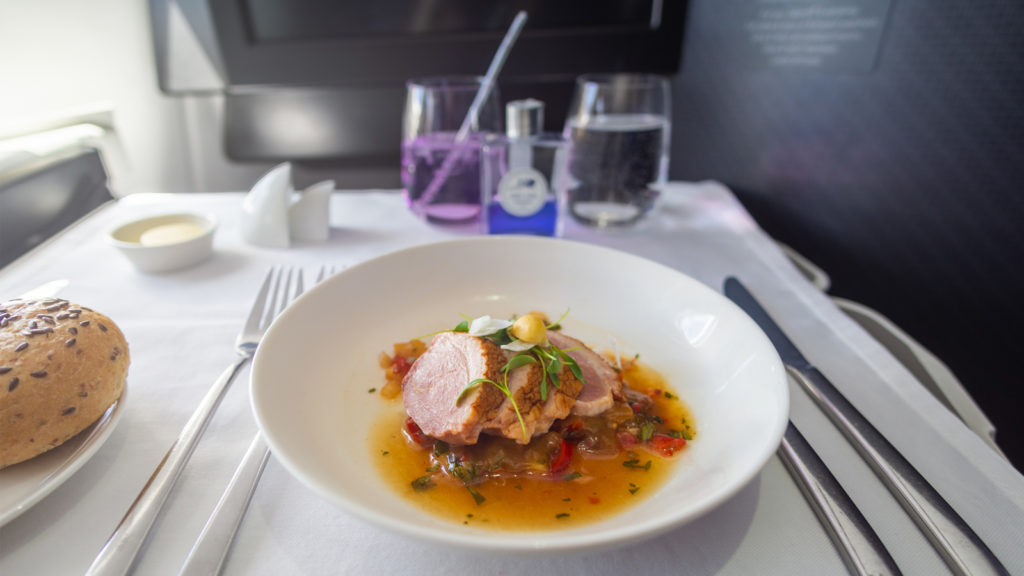 Keen readers would have seen recent reports of 'Noodlegate' where during the transition of ownership, a Virgin Australia Business Class passenger was served two-minute noodles. However, we can be fairly confident that the relaunched Business Class in 2021 will do better than that.
It wouldn't be a good look for Virgin to nickel and dime Business Class passengers, so it makes sense that 'simpler' food options might make an appearance instead. Passengers would likely still be able to purchase extra items off the Economy menu if desired.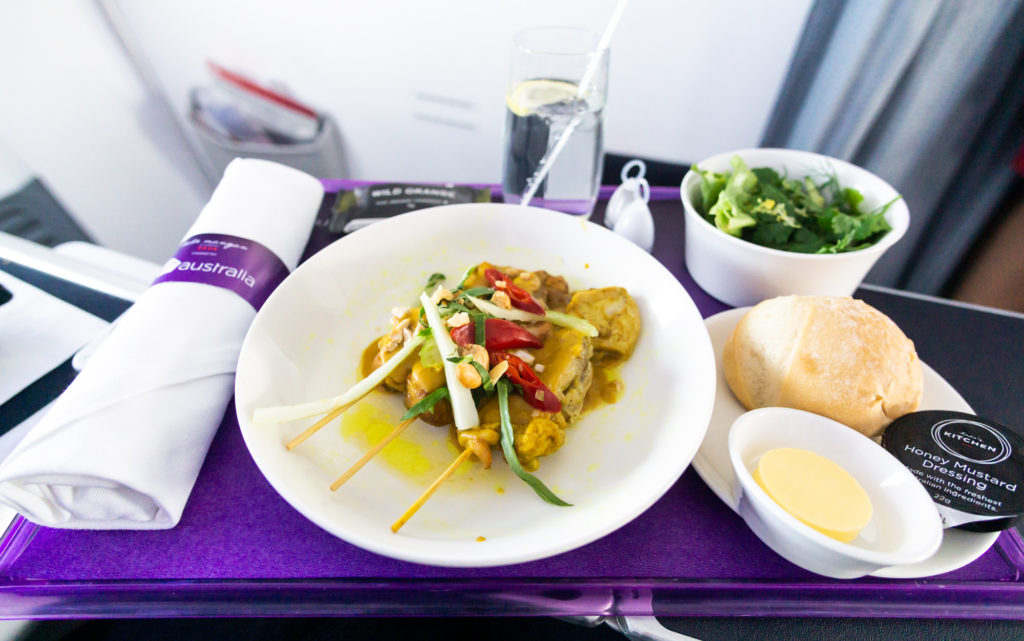 We'll all wait with bated breath for that unknown date in 2021 where the new Virgin Australia Business Class experience will be detailed.
What about Virgin Australia's lounge catering?
It's been confirmed that moving forward, Virgin Australia will keep lounges in Melbourne, Sydney, Brisbane, Adelaide, Perth and Gold Coast. But what about catering in the lounges?
We know that Virgin's lounge catering will still include:
Fresh and pre-made food
Sweet and savoury snacks
Sandwiches and fruit
Barista-made coffee
Juices and soft drinks
Premium sparkling, wine and beer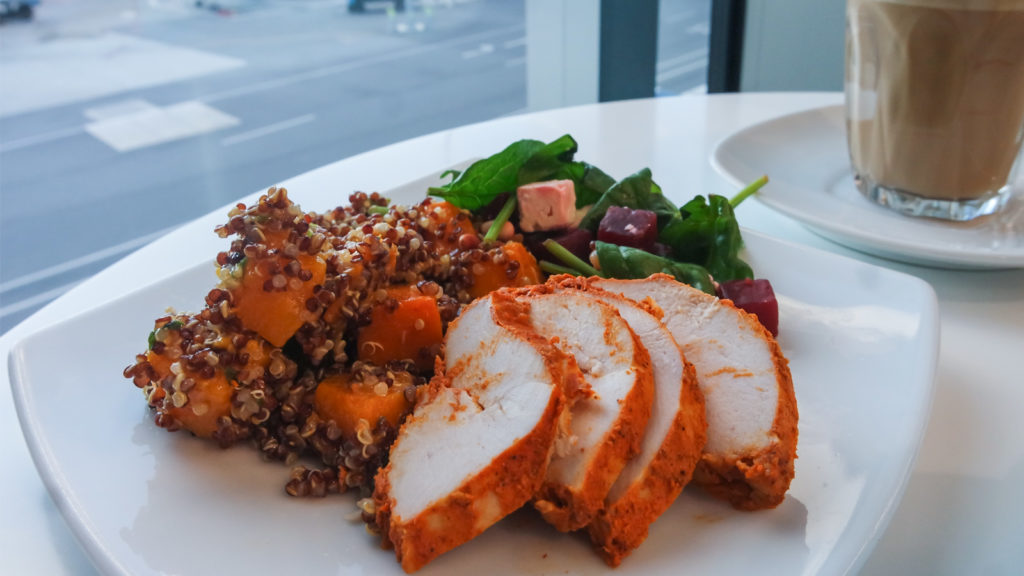 The only major element not directly mentioned in that list is hot food during main meals, however this may be incorporated in the fresh and pre-made food section. But if it isn't, it seems that a toasted sandwich and salad will be the biggest option within the lounge. Still, that's not so bad as long as the ingredients are fresh.
Summing up
You may be wondering why we're talking so much about food. The simple answer is there's not that much Virgin can play with as a mid-market carrier. It's not changing its seats or removing free luggage allowances from its Economy fares yet.
Onboard food and beverage are one of the 'soft product' areas where Virgin can make a difference. The trouble is finding that sweet spot where fares are lower, and passengers can get a better quality meal than what would normally be included for 'free'.
Plus, introducing an online ordering system could be better for a seamless customer experience, better stock management, and the potential to introduce tasty frequent flyer rewards for loyal travellers.
Let us know your thoughts in the comments below. All photos in this article are from the author.
What can we expect from Virgin Australia's catering in 2021?
was last modified:
August 25th, 2023
by