What it's like to travel internationally during a pandemic
Posted:
December 16, 2020 - 2:30 pm
What we'll be covering
From the moment I arrived at Melbourne Airport – where there was not one other car in the drop-off area – I knew my overseas travels were going to be eerie and unlike anything I had experienced before.
It took 42 hours from arriving at the airport in Melbourne to arriving in Austin, Texas after four flights covering 15,054km and one night in Sydney hotel quarantine under army and police escort.
I was expecting some of what I experienced during the travels – but there were still plenty of little surprises.
Getting permission to leave Australia
Australia remains one of few countries around the world where citizens and permanent residents are blocked from freely leaving under strict COVID-19 border restrictions.
To leave Australia, you must apply with Australian Border Force for a Travel restriction exemption and meet one of the following criteria:
your travel is as part of the response to the COVID-19 outbreak, including the provision of aid
your travel is for your business/employer
you are travelling to receive urgent medical treatment that is not available in Australia
you are travelling outside Australia for three months or longer
you are travelling on compassionate or humanitarian grounds
your travel is in the national interest.
Transiting through Sydney
With international flights still not flying into or out of Melbourne Airport, most major airlines are flying into Sydney. Given my flight to the United States was taken before November 23, that presented challenges as a Melburnian.
At the time, NSW border restrictions meant anyone from Melbourne transiting through Sydney had to apply for a border permit and go into hotel quarantine if their connecting flight was more than eight hours after their flight from Melbourne landed in Sydney.
Given the border restrictions, Qantas was only operating a single flight from Melbourne to Sydney each day – what was once one of the busiest travel routes in the world.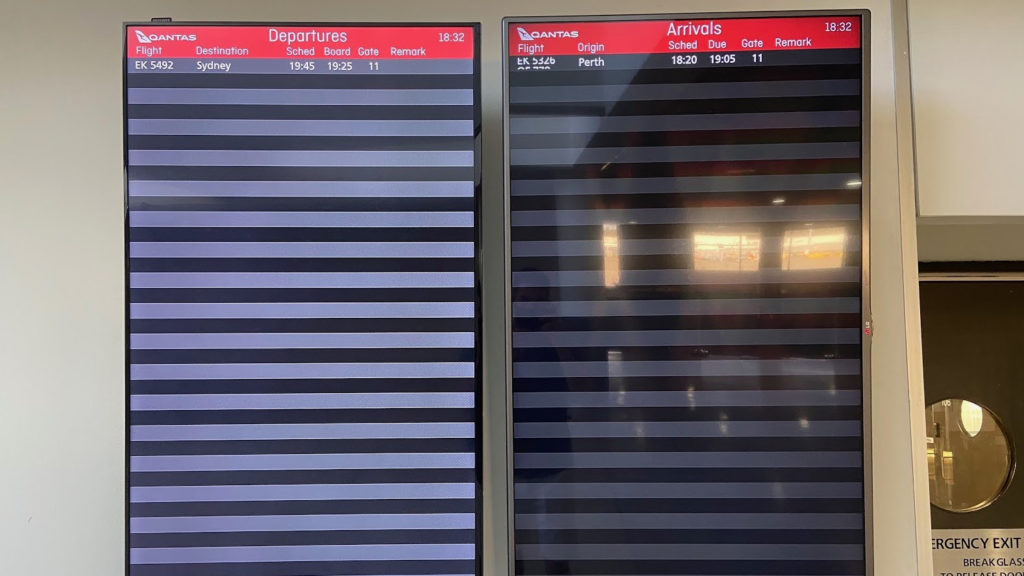 At the time, all flights from Melbourne landed at Sydney's International Terminal, where health officials were on hand to temperature test and screen arriving passengers.
From there, NSW police escorted us onto a bus to a quarantine hotel – the Pullman Sydney Airport – where I stayed the night.
Police checked us in and Australian Defence Force personnel escorted us to our allocated rooms which we were not allowed to leave for the duration of our stay.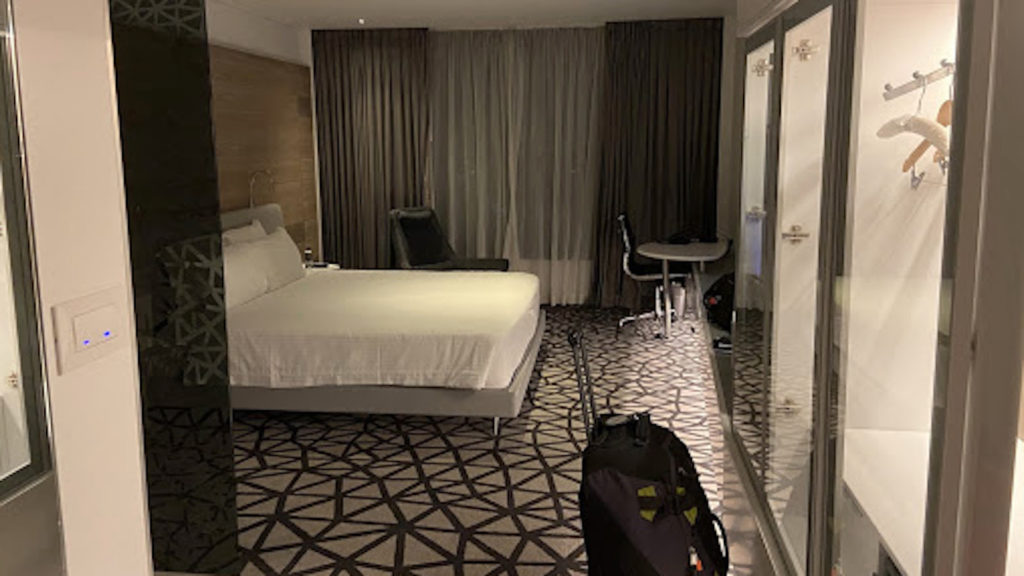 Breakfast was delivered with a knock on the door just before 7am the next morning, ahead of a departure by bus back to Sydney Airport where police escorted us to check in and through security.
An empty Sydney International terminal
After clearing Border Force, the first impression was that Sydney's International terminal was much the same as usual.
The enormous Duty-Free store was lit up and operating, even if there were more staff than customers in it.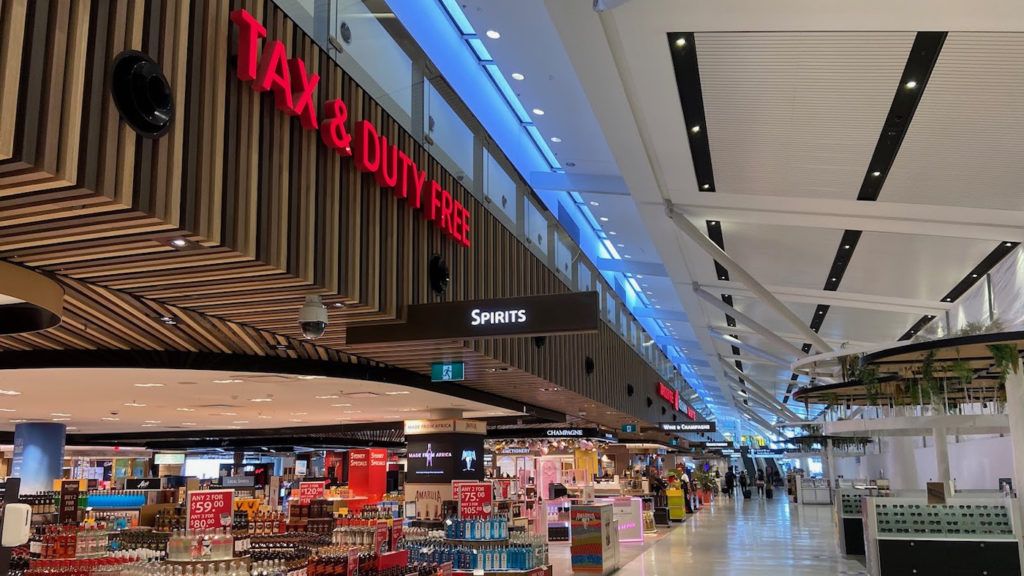 However, further into the terminal it was clear to see just how big an impact COVID-19 has had on international travel and airports.
All the luxury goods stores were not only closed, but also had completely empty shelves.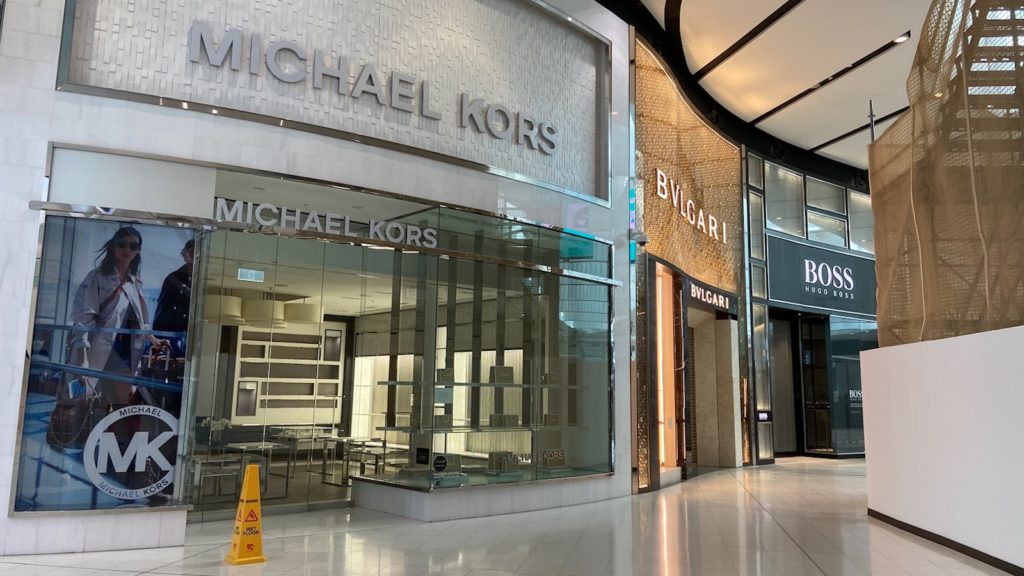 Want a bite to eat or a coffee? Your options were limited to just a couple of places still operating. Even both McDonald's outlets in the terminal were closed!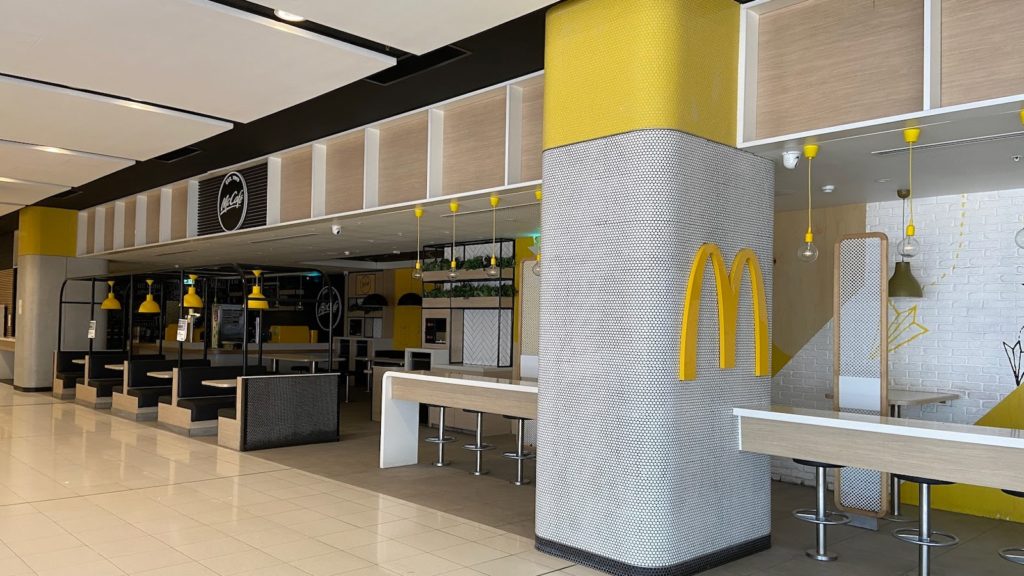 Likewise, chairs were stacked up on the bar gathering dust at the Heineken Bar.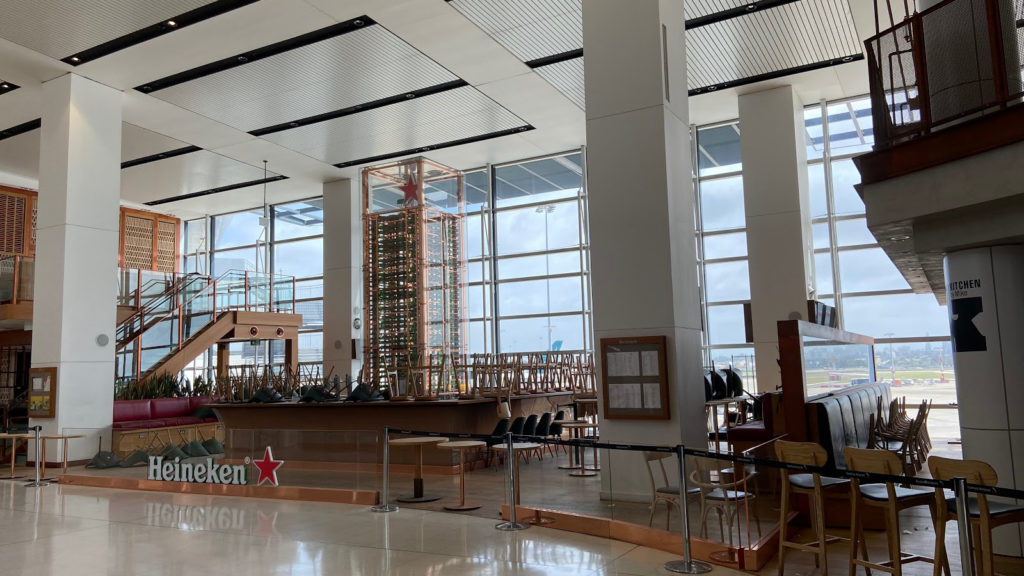 You could hear a pin drop in the normally noisy and bustling dining area at the centre of the terminal.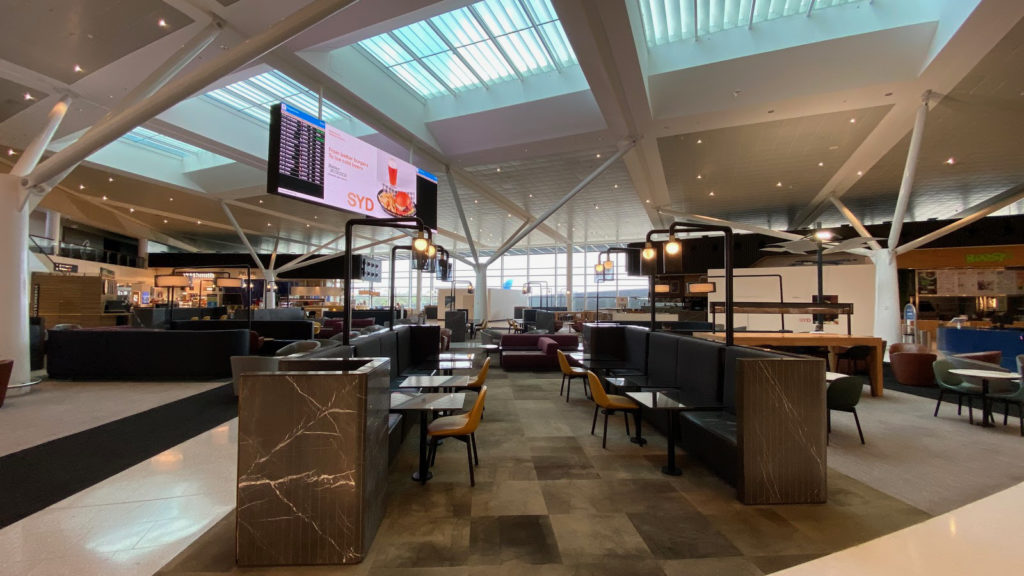 The Amcal pharmacy was one of the very few stores open.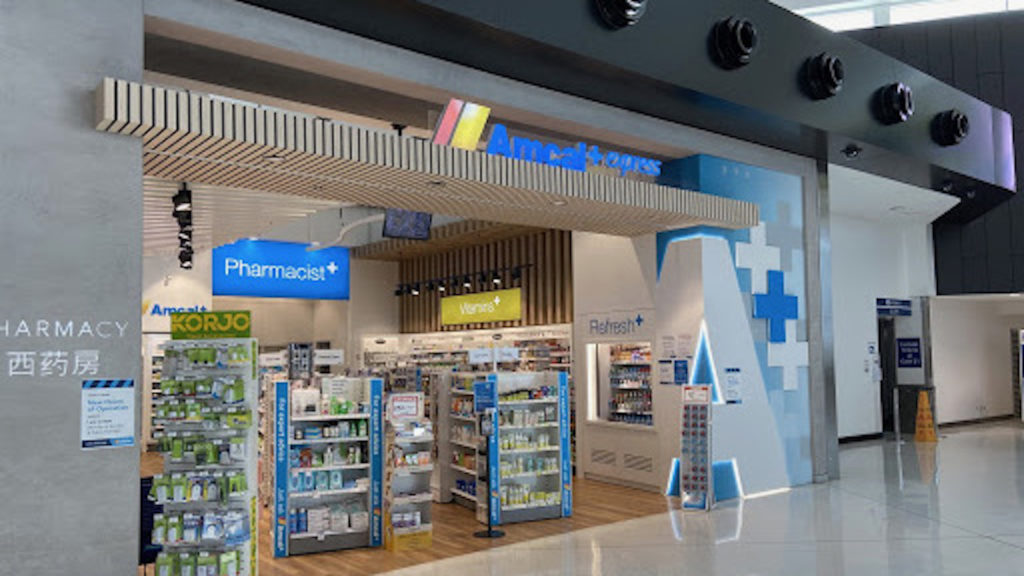 All lounges at Sydney – including the Plaza Premium Lounge – were closed, unsurprisingly given the number of people in the terminal.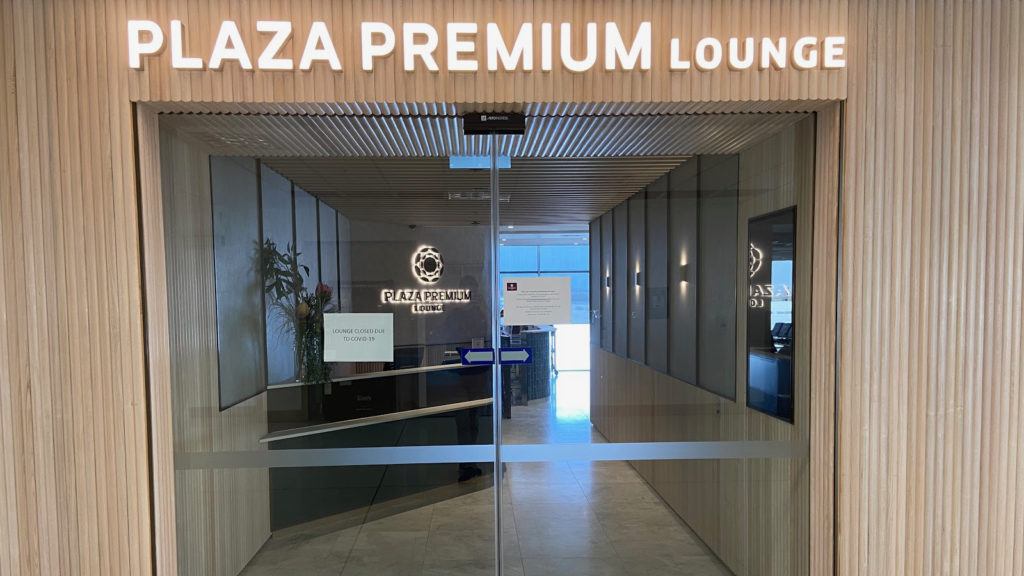 But perhaps the most unusual sight was seeing almost every vending machine in the airport completely empty.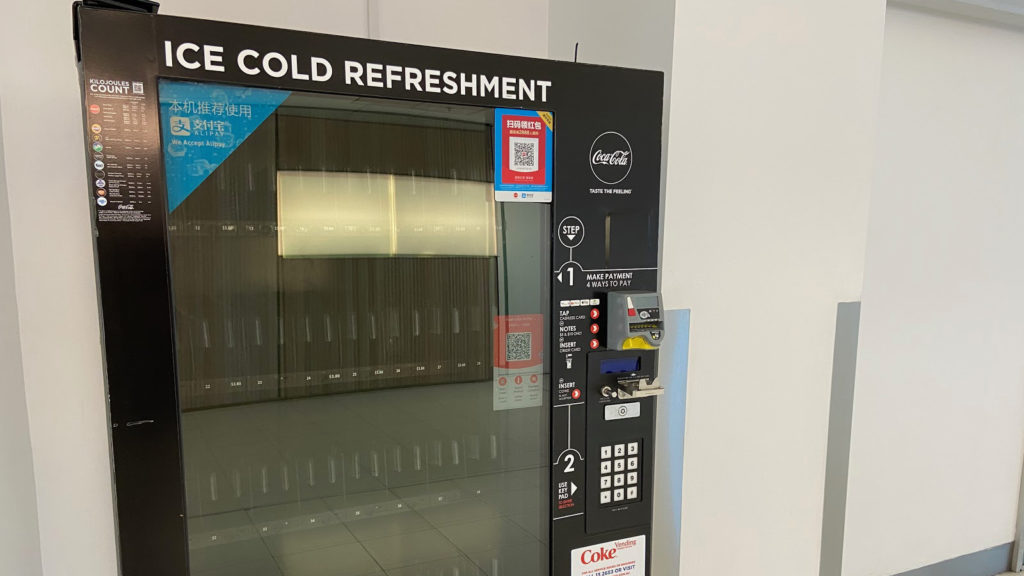 Forget taking a moving walkway to your gate, too. They were turned off to save power.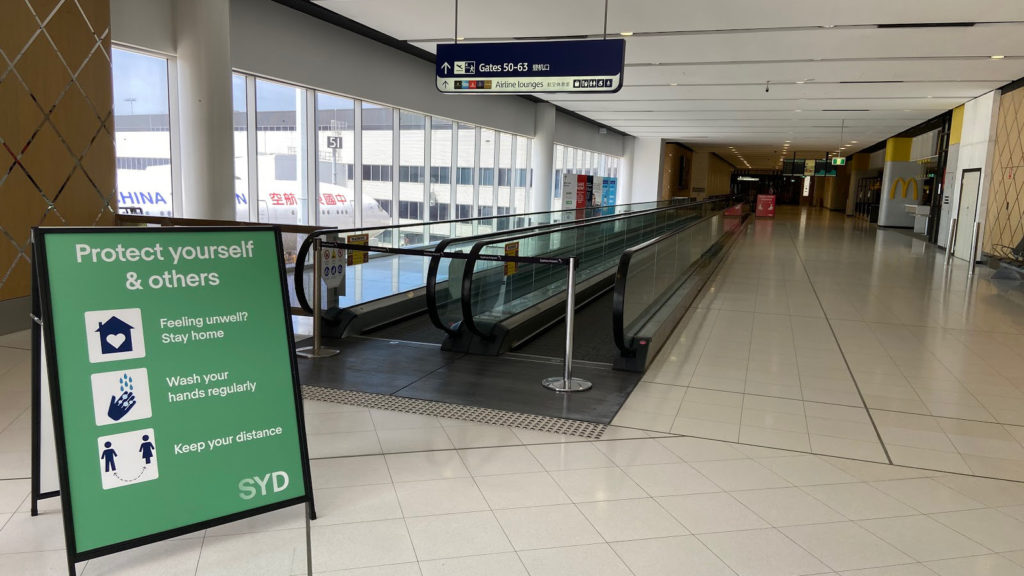 Ad – Scroll down to continue reading.Minimum spend, terms & conditions apply.
The flight to the United States
I took a flight with Qantas oneworld partner American Airlines to Los Angeles, which is one of only three airlines currently flying directly to the US from Australia. The other two airlines flying the route are United and Delta.
From a quick look at the departure gate when boarding started, I knew there was not going to be many people on the flight.
But once onboard, I asked a flight attendant just how many passengers there were on the Boeing 777-300ER, which holds 304 passengers. "I think there's 23 passengers today. Crazy, isn't it?," was the the reply.
Of those passengers, there was none in First Class and only four – including myself – in Business Class. It's no wonder I had no trouble getting a Classic Rewards seat for the trip using Qantas Frequent Flyer points.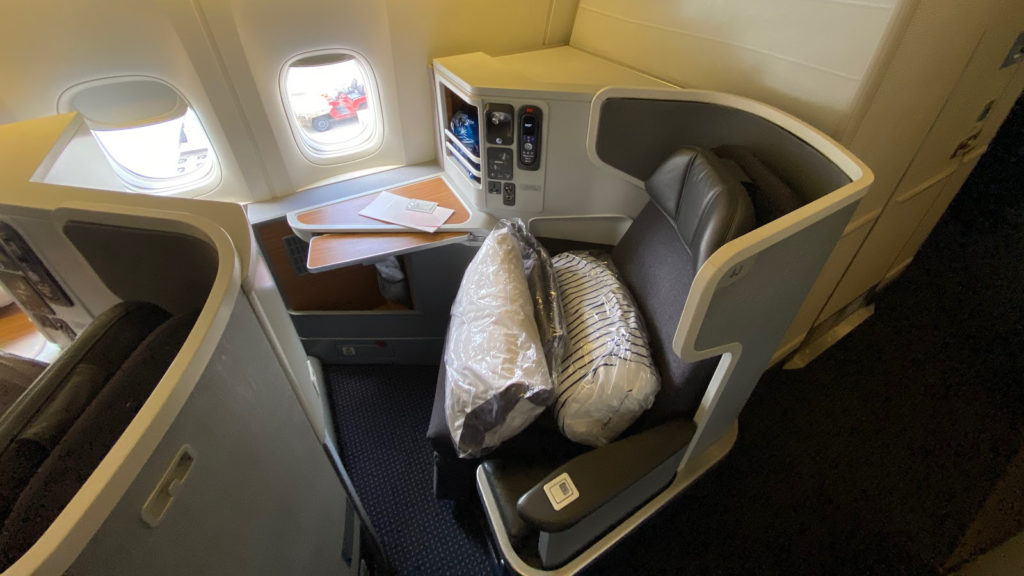 A mask had to be worn during the entire flight, except for when actively eating or drinking, and disinfectant wipes were provided for anyone who wanted to make sure their seat was extra clean despite promises of thorough, improved cleaning standards. But aside from that, not much was different to flying during normal times.
If anything, the service was better and faster given the small number of passengers. Meal service was essentially standard, except that bread roll with lunch came in a plastic wrapper.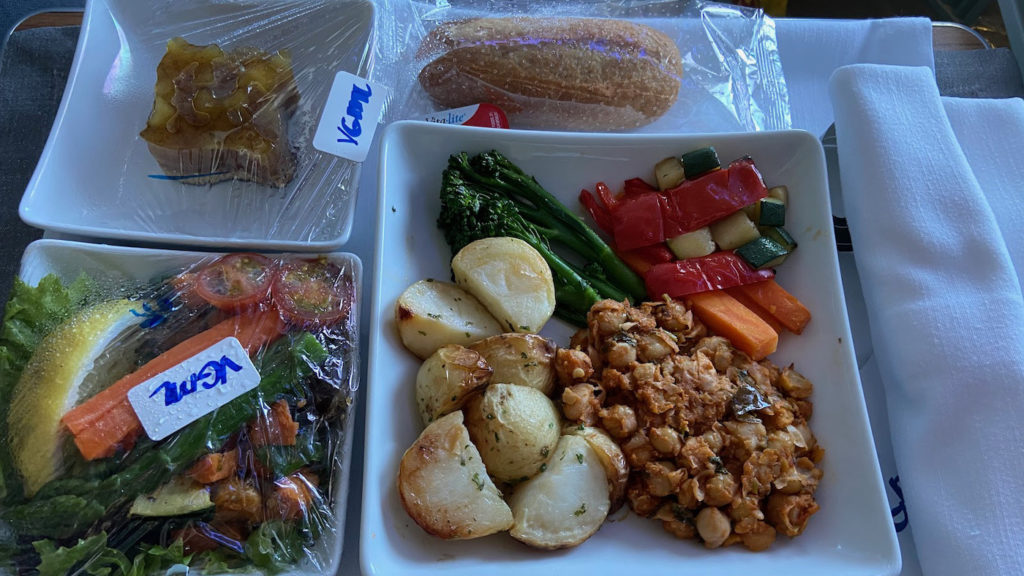 Los Angeles International Airport
The first difference you noticed upon arriving at LAX was the lack of any lines at Customs and Border Protection.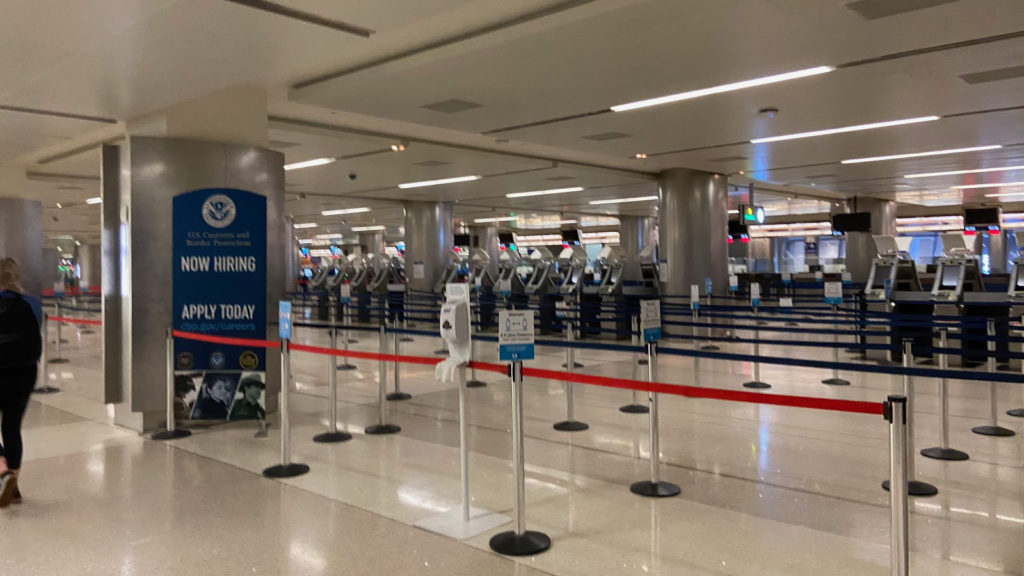 I've waited in line there for close to two hours in the past. The self-service machines to scan passports and fingerprints were also not operating.
In the enormous baggage claim area, only two carousels were going around when I collected my bags.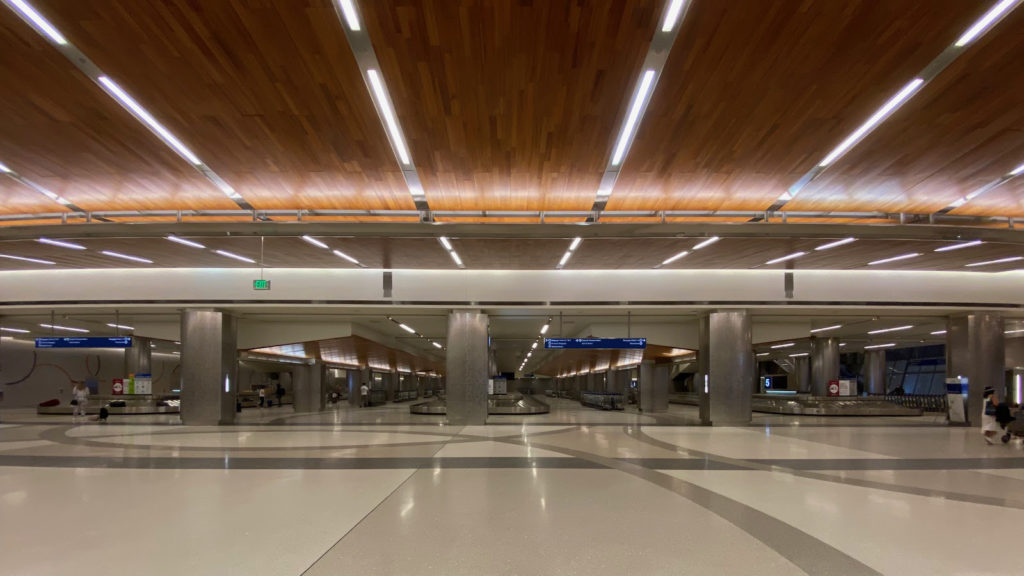 Check in lines at the Tom Bradley International terminal were also largely non-existent.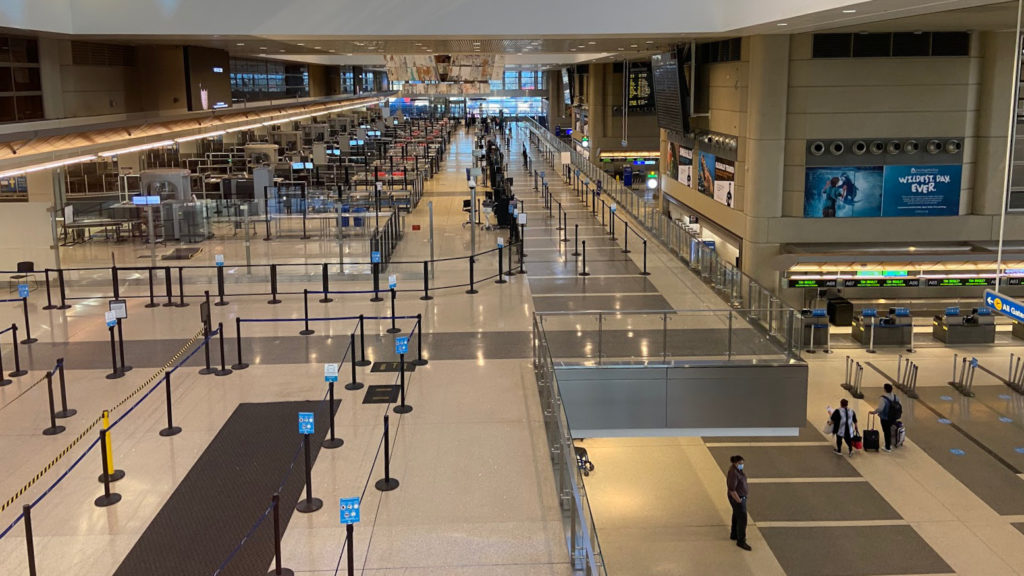 I dropped my bags at American Airlines' domestic terminal, which was a lot more lively, albeit still far quieter than in normal times.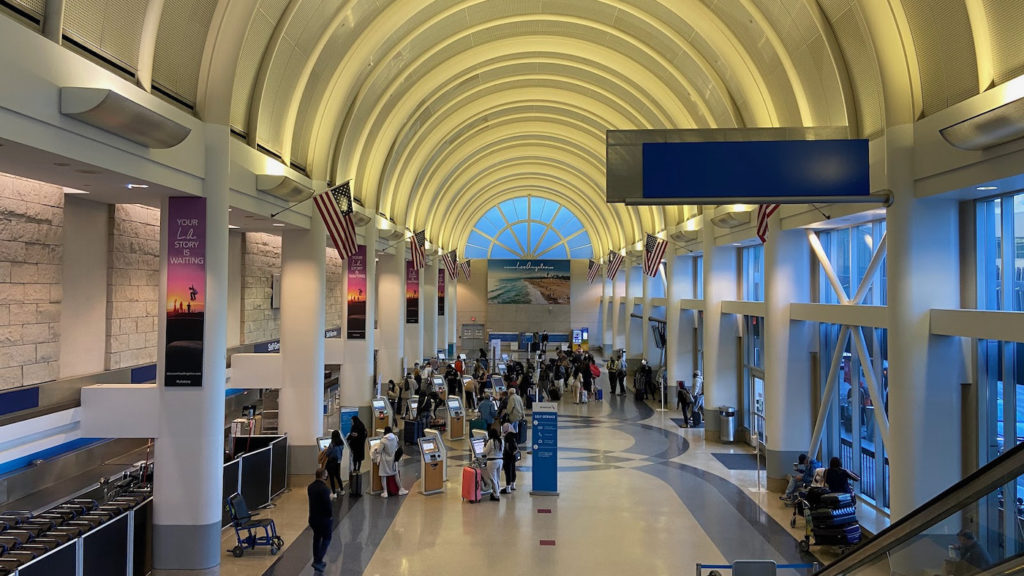 Then I went through security and headed for a walk back to the international terminal for a look at the departure gates area, which was much like Sydney's international terminal – empty.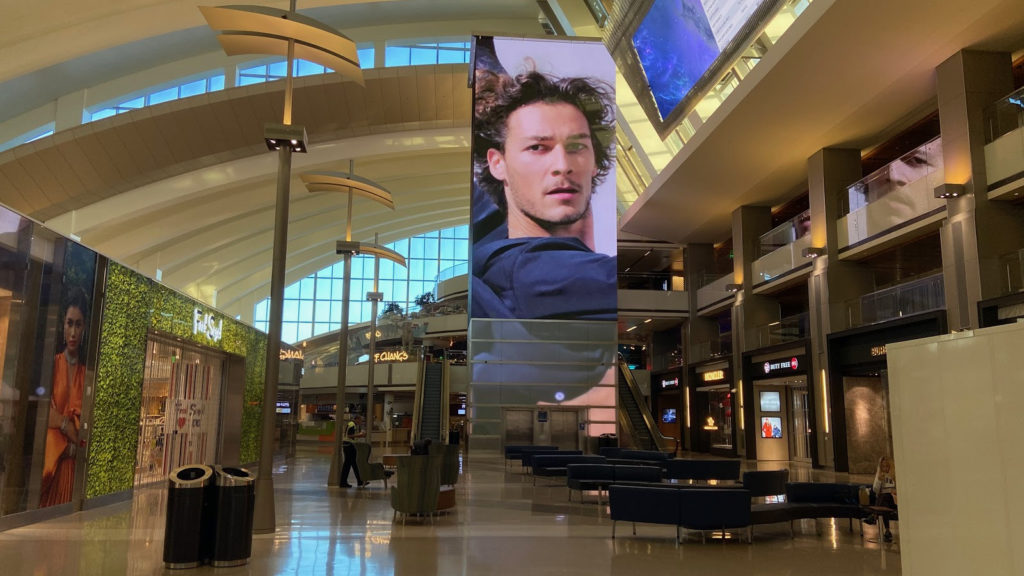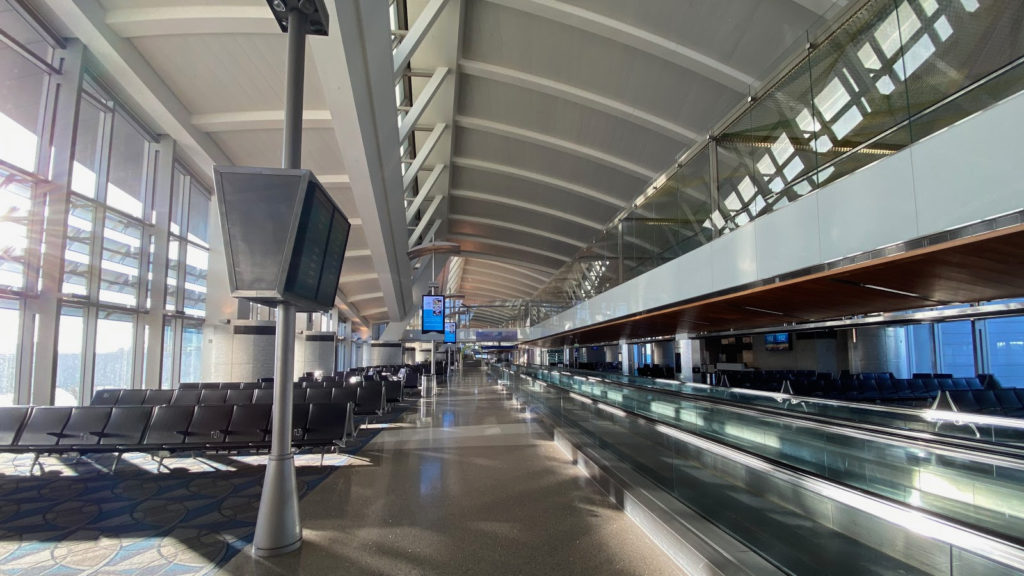 The Qantas lounges were closed, like all other airline lounges in the terminal.
However, the new American Express Centurion Lounge at LAX was open – of sorts.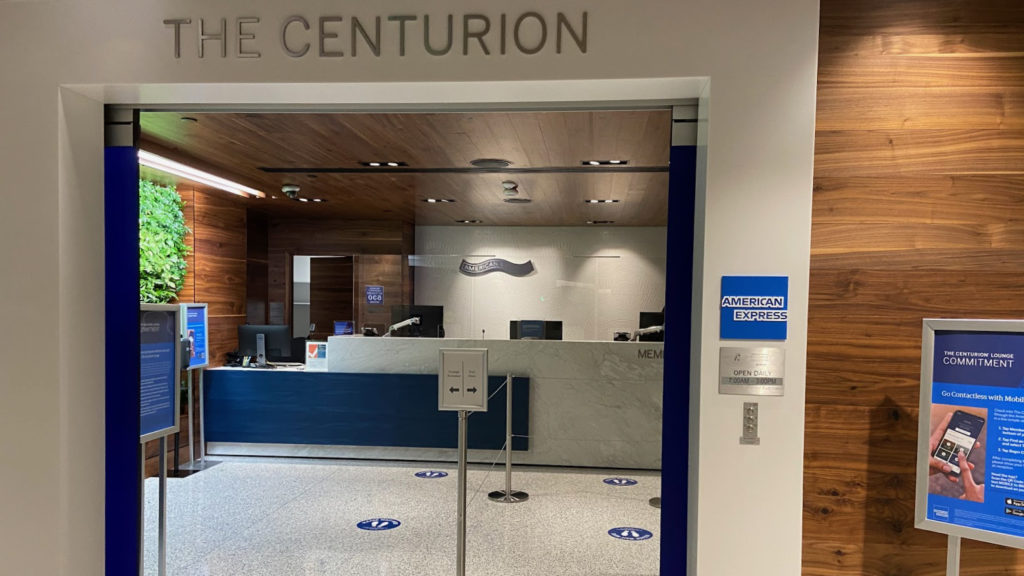 This lounge was operating as a grab-and-go service, due to government restrictions, meaning eligible Platinum Card and Centurion Card Members could pick up a pre-packaged box of food and a coffee.
The boxes included a choice of chicken or vegetable wrap, an apple, an apple crumble slice, some chips and a can of sparkling water.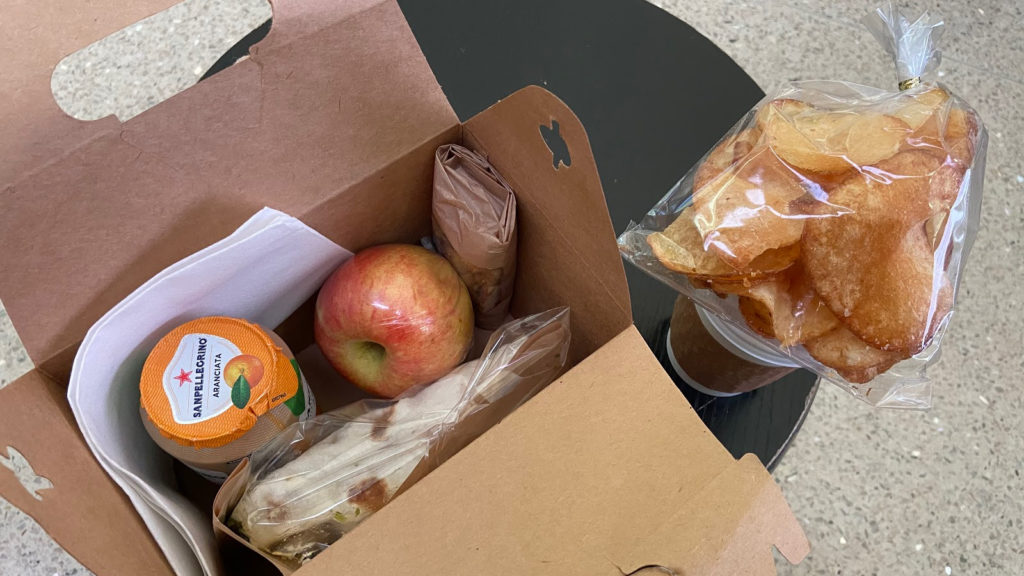 Credit to American Express for thinking outside the box and still offering their customers something, rather than completely shutting up shop.
Connecting to Austin
I connected through Dallas on my way to Austin, aboard two completely full American Airlines flights which was somewhat surprising.
While service volumes have been drastically reduced, there are still plenty of Americans travelling domestically despite the pandemic.
Like the international flights, wearing masks was mandatory for the duration of the domestic flights and disinfectant wipes were handed out with bottles of water and some biscuits when boarding.
Summing up
It was an interesting trip to the United States, one unlike any I have experienced during many trips there before.
It was clear to see the devastation COVID-19 has had on the travel industry and being on an international flight with just 22 other passengers was somewhat surreal.
Hopefully all Australians can travel internationally again soon – at least to selected countries in a bubble capacity – to get the industry going again.
From there, fingers crossed the world is opened up again with the rollout of a vaccine in 2021 – because the airlines and airports are bleeding and certainly need it.
What it's like to travel internationally during a pandemic
was last modified:
August 25th, 2023
by