Virgin Australia adds new Business Flyer perks
Choose between lounge passes, bonus points, or at Tier 3, gratis flight upgrades.
Posted:
January 27, 2023 - 3:30 pm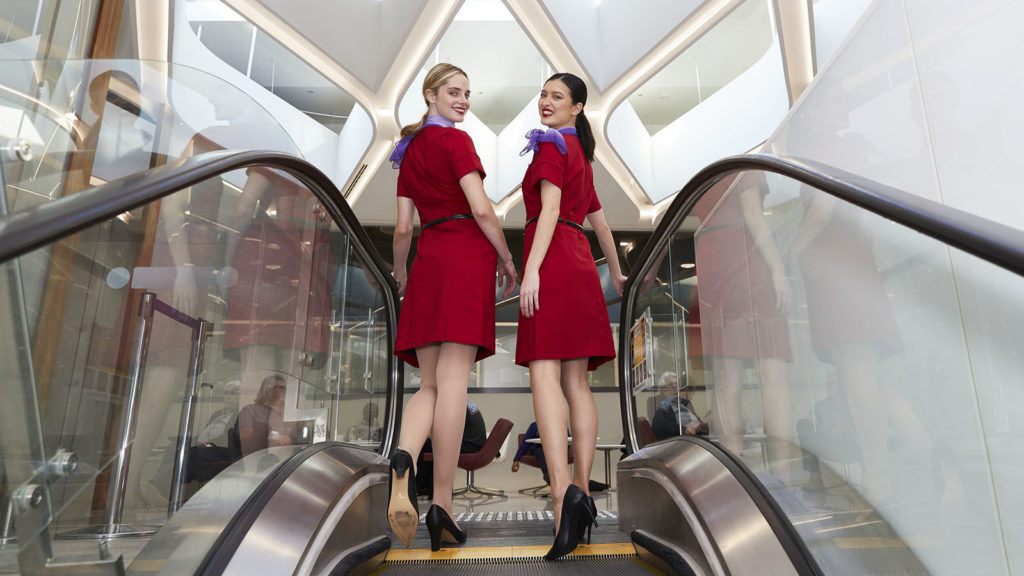 What we'll be covering
Virgin Australia Business Flyer is now even more rewarding for SMEs. That's because businesses spending at least five figures on Virgin Australia flights each year have new benefits to enjoy.
Eligible entities can select between a stash of Virgin Australia Lounge passes or bonus Velocity Points. Those at the highest rung of Business Flyer can also be rewarded with complimentary flight upgrades.
Here's a rundown on the program's newest perks, as well as our top pick for members at each tier.
Virgin Australia's new Business Flyer benefits
Virgin Australia Business Flyer members sit either at Tier 1, Tier 2 or Tier 3. Tier 1 is the entry-level rank, granted to every business that signs up. Tier 2 is for businesses spending at least $10,000 annually on flights with Virgin Australia.
On qualifying or retaining Tier 2 each year, companies can now select one of the following rewards:
Five single-entry passes to the Virgin Australia Lounge.
20,000 bonus Velocity Points.
Businesses that hit $50,000 of annual Virgin Australia flight spend can progress to Tier 3. This provides a choice between one of the following three additional benefits:
Ten single-entry Virgin Australia Lounge passes.
50,000 bonus Velocity Points.
Two Business Class flight upgrades.
These Business Class upgrades follow the same rules as the complimentary bump-ups offered to Velocity Platinum and Virgin Australia Beyond members. This means each upgrade is valid for one passenger, one-way, when booked on an Economy Flex fare.
Upgrades are subject to Business Class reward seat availability. In other words, if there's a reward seat in Business Class open for booking using Velocity Points, a complimentary upgrade can be processed on that same flight.
Businesses that qualify or requalify for Tier 2 or Tier 3 will receive an email from Virgin Australia Business Flyer within four weeks of qualification. This email will contain a link, through which the business' chosen reward can be unlocked.
Ad – Scroll down to continue reading.Minimum spend, terms & conditions apply.
Which extra Business Flyer benefit should you choose?
Virgin Australia Business Flyer members at Tier 2 merely need to decide between lounge access or bonus Velocity Points. On the surface, some companies will find that decision easier than others.
If those travelling for the business already qualify for Virgin Australia Lounge entry, choosing the bonus Velocity Points is a no-brainer. But if staff regularly fly Economy Class and don't otherwise qualify for the lounge, those single-entry passes get more appealing.
That's because Virgin Australia otherwise charges $65 per person, per lounge visit for casual entry. This values the five complimentary passes at $325. From a business perspective, this also provides five separate opportunities for some pre-flight productivity. Or five chances to reward a hard-working employee at the end of a successful business trip.
On the other hand, 20,000 bonus Velocity Points could save the business cold hard cash. When paying the taxes and fees on the side, that's more than enough to cover one return Economy Class trip on short domestic routes like Sydney-Melbourne or Brisbane-Sydney.
Those points could also be used for up to four upgrades from Economy to Business Class on those same routes, when travelling on an Economy Flex fare. Of course, flights upgrades also grant lounge access, giving benefits on the ground as well as in the air.
Because every business approaches travel differently, it's great that Business Flyer members can choose the reward that generates the greatest benefit for them.
What about the complimentary upgrades for Tier 3 Business Flyer members?
At Tier 3 of Business Flyer, there are also the complimentary Business Class upgrades to consider. But as members can still only choose one benefit – lounge passes, Velocity Points or upgrades – it pays to make the right choice.
After examining the fine print and crunching the numbers, we can't see how any business would be better off by choosing the complimentary upgrades. That's for a few reasons.
Like the gratis upgrades for Velocity Platinum, these can only be redeemed when flying on the highest-cost Economy Flex fares. On these same tickets, the number of Velocity Points needed for an upgrade is the lowest of all fare types.
For instance, it costs just 9,900 Velocity Points for a Business Class upgrade from Sydney to Perth, when booked on a Flex fare. Heading over to New Zealand? Sydney-Queenstown is similarly 9,900 Velocity Points for a comparable upgrade.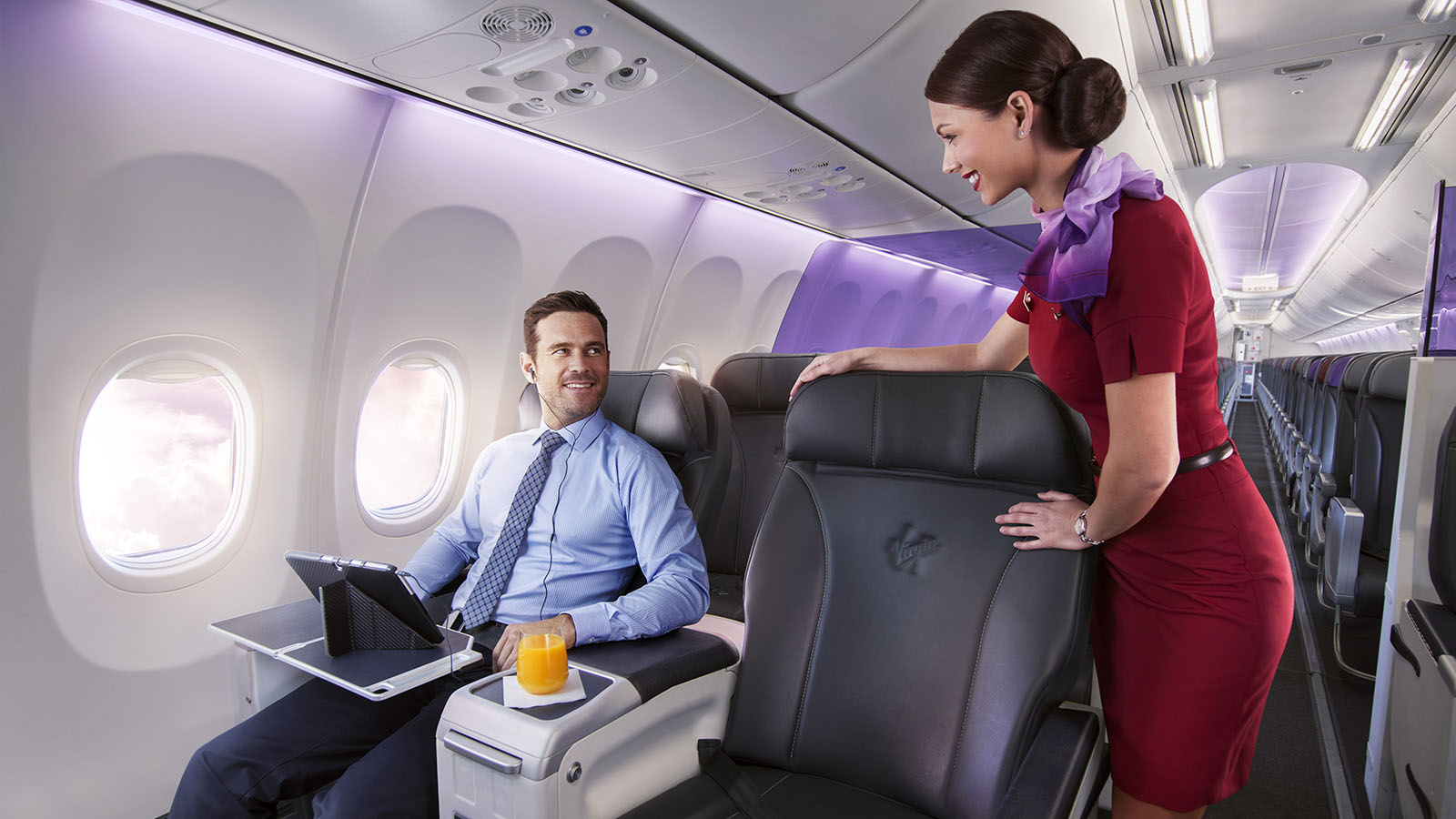 Even longer international flights, such as Melbourne to Bali, require only 14,900 Velocity Points for a similar upgrade. This means the two complimentary upgrades are realistically 'worth' 29,800 Velocity Points, at most.
But the choice at Tier 3 is between those two complimentary upgrades, 10 lounge passes, or 50,000 bonus Velocity Points.
Those 50,000 Velocity Points can go a lot further than just two one-way upgrades. They're also more useful for businesses booking the more affordable Economy Choice tickets. Even though it costs more points to upgrade on these fares, at least travellers have the option.
When upgrading using Velocity Points, there's also the opportunity to waitlist for an upgrade. This means an upgrade may be automatically processed closer to departure at Virgin Australia's discretion, if a reward seat wasn't available earlier. When using complimentary upgrades instead, waitlisting isn't available.
Summing up
Launched less than one year ago, Virgin Australia Business Flyer continues to grow. In recent months, the program has gained new points-earning opportunities. Now, it offers even more benefits as well, helping to reward small and medium-sized businesses that continue to spend with the airline.
The temptation of single-entry lounge passes comes on top of the program's existing offer for discounted year-round memberships. We maintain the best choice for businesses is between these gratis lounge entries or bonus Velocity Points.
Complimentary upgrades are nice, of course, but would be a more competitive choice in a greater quantity.
All images courtesy of Virgin Australia.
---
Stay up to date with the latest news, reviews and guides by subscribing to Point Hacks' email newsletter.
Virgin Australia adds new Business Flyer perks
was last modified:
August 24th, 2023
by