Etihad's iconic Airbus A380s return to the skies
The Residence, First Apartments and Etihad's inflight showers make a glorious return.
Posted:
December 12, 2022 - 3:56 pm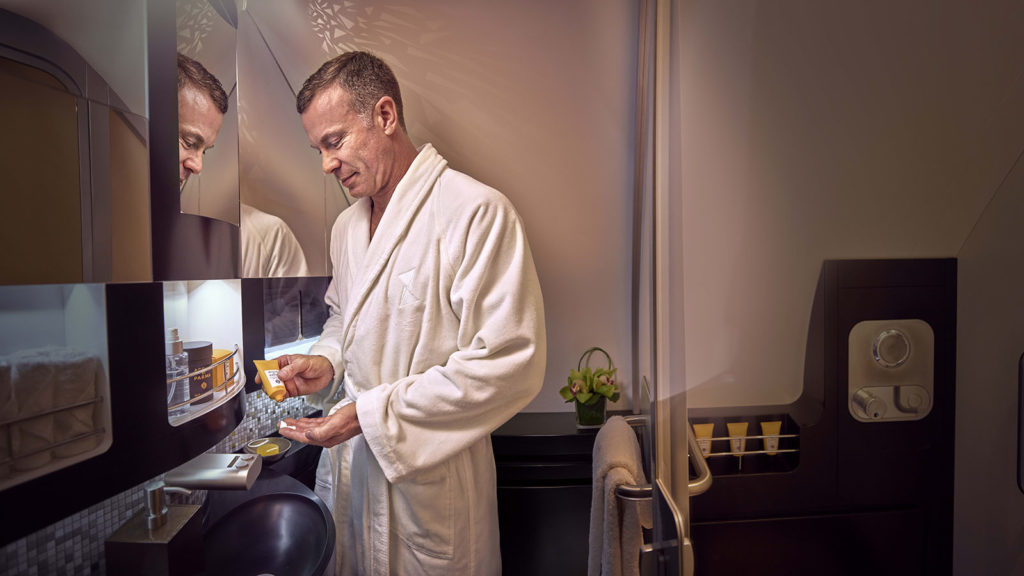 What we'll be covering
After years of doubt and speculation, it's finally confirmed that Etihad Airways' lauded Airbus A380 jets will soar once again. From July 2023, the carrier is returning the superjumbo onto selected flights between its Abu Dhabi hub and London's Heathrow Airport.
For Etihad, the move also significantly improves First Class travel. The Airbus A380s are the exclusive home of the airline's spacious First Apartments. It's also the only aircraft type equipped with The Residence. That's Etihad's three-room, better-than-First-Class experience, with a private butler to boot.
We know this will be welcomed by our guests who love Etihad's incredible A380 and its award-winning cabins. We have decided the time is right to return some of our A380s into the fleet to satisfy the demand which has made them financially viable once more. We look forward to welcoming our guests again on board this remarkable aircraft.

– Antonoaldo Neves, Etihad Airways CEO, 9 December 2022
Etihad's Airbus A380 flight schedule
Want to get yourself aboard the Etihad Airbus A380? Here's where it'll be flying from mid-2023, as known at the time of writing.
Route
Start date
Flight number
Departure time
Arrival time
Abu Dhabi to London
15 July 2023

1 August 2023
EY11

EY19
2:05 am

8:30 am
6:45 am

1:05 pm
London to Abu Dhabi
15 July 2023

1 August 2023
EY12

EY20
9:30 am

2:50 pm
7:40 pm

12:55 am (+1)
Interestingly, Etihad plans to bring back at least four of its Airbus A380 jets. But the flight schedules released so far could comfortably be operated by just two superjumbos, outside of maintenance periods.
It remains to be seen whether more flights to London will make the switch to the superjumbo. Equally, Etihad may prefer to take a conservative approach with its aircraft scheduling, especially in the early days.
We'll have to keep our fingers crossed that Etihad's Airbus A380s may one day return to the airline's Australian routes. Currently, flights to both Sydney and Melbourne are operated by Boeing 777-300ER jets. These offer a significantly more dated experience than the flagship Airbus A380 product.
Ad – Scroll down to continue reading.Minimum spend, terms & conditions apply.
The experience onboard Etihad's Airbus A380s
Speaking of the onboard product, Etihad's Airbus A380s offer four cabin classes. Along with Economy, there's Business, First and The Residence. A communal space on the upper deck, known as The Lobby, is also available to passengers travelling in Business, First or The Residence.
Etihad doesn't offer Premium Economy on any of its aircraft.
The Residence
When your budget stretches beyond regular First Class but not quite to a private jet, The Residence is easily the next best thing. It's a secluded three-room suite at the front of Etihad's Airbus A380 upper deck.
The loungeroom sports a comfortable two-person sofa. After take-off, expandable tables transform this into a dining room – and on daytime flights, it's where guests would spend the most time.
Proceeding down The Residence's private hallway finds the bedroom at the end, behind a lockable floor-to-ceiling door. In between sits a private bathroom, again reserved exclusively for The Residence. Of course, there's a shower as well – this is the Etihad Airbus A380, after all.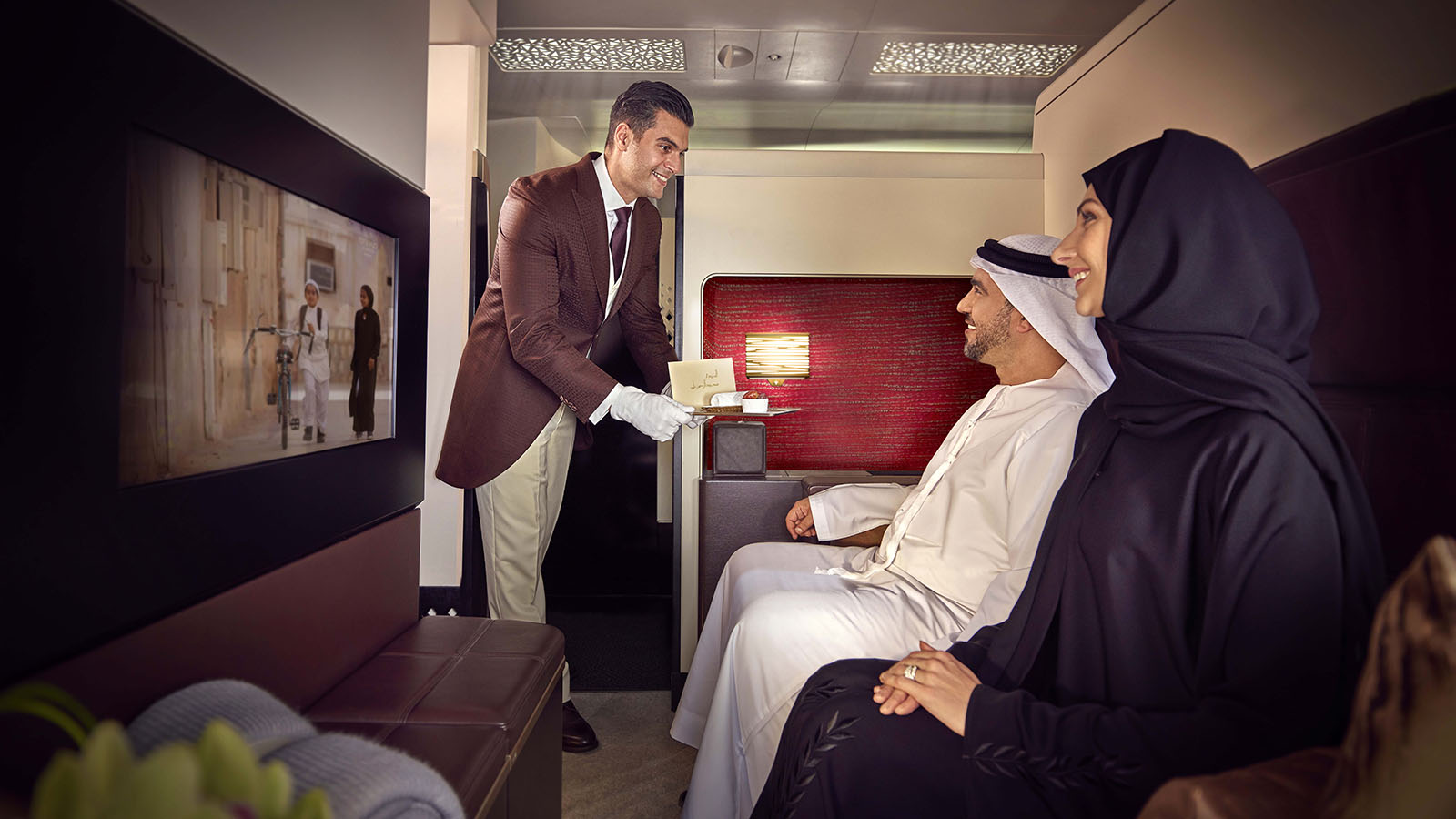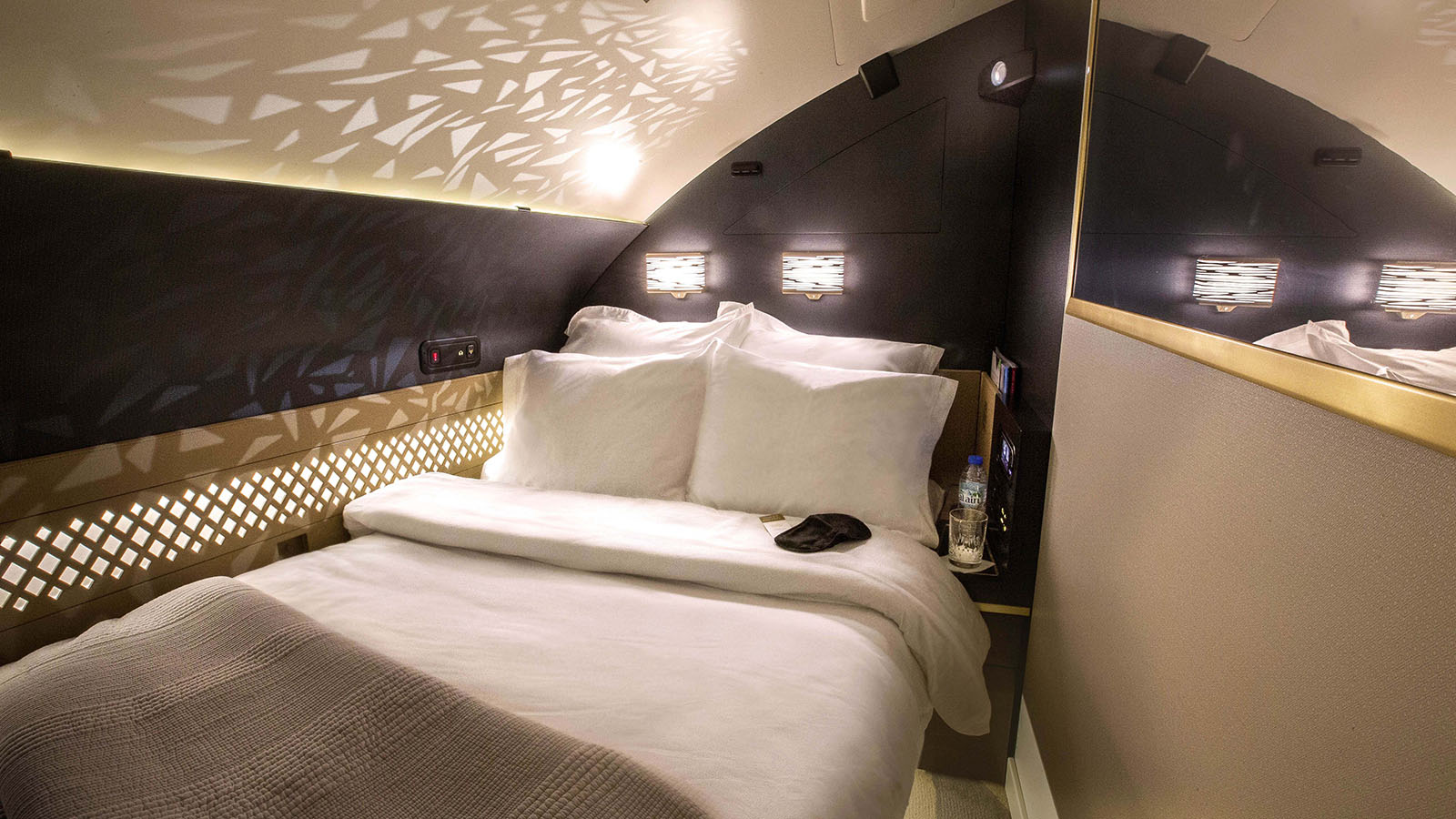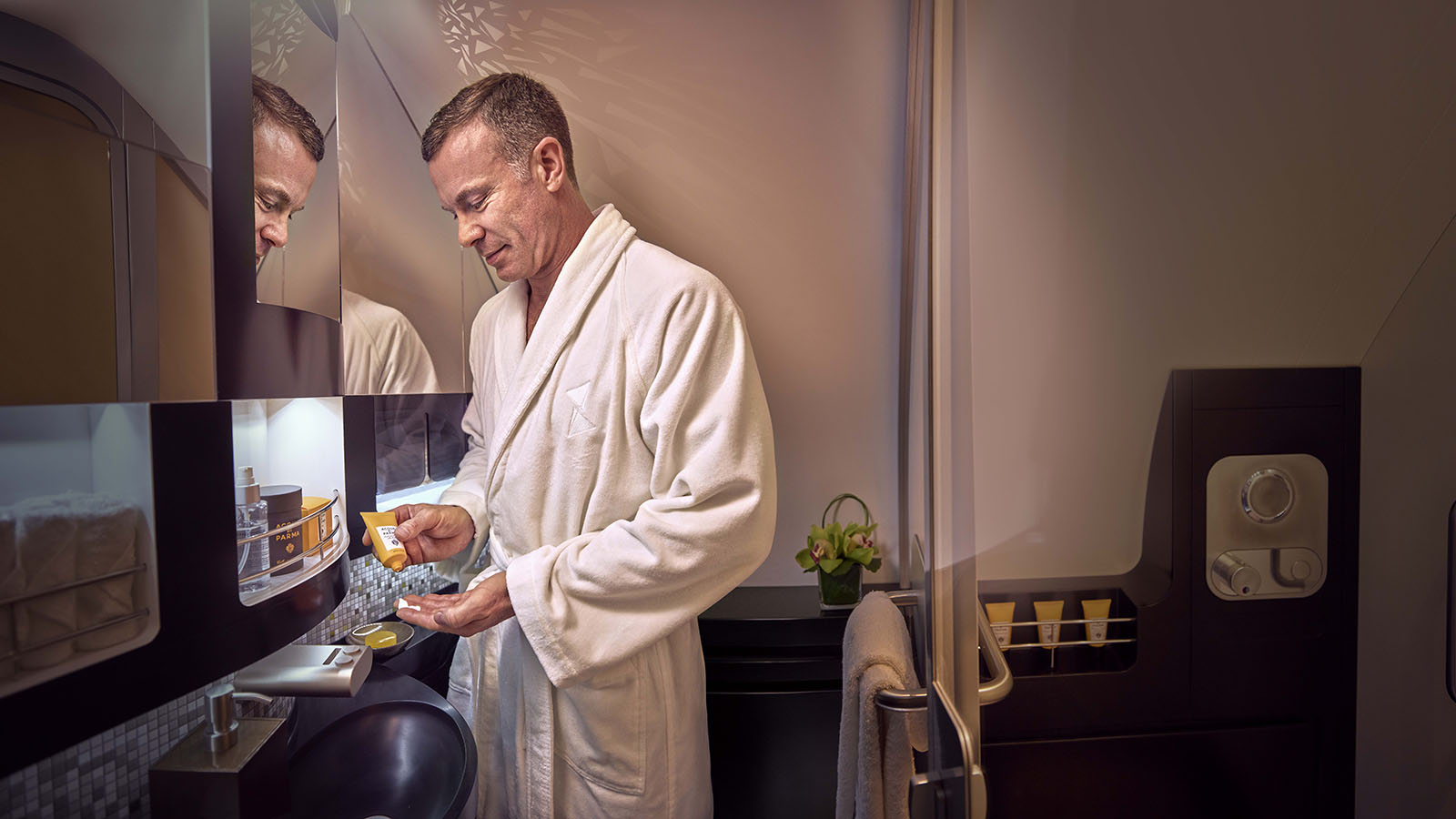 Normally, The Residence is bookable as a separate cabin class, priced well above a typical First Class ticket. But with the A380's return, 'Etihad plans to eventually offer The Residence as an optional extra for guests to 'enhance their First experience further'.
It'll be interesting to see how this works, and how much Etihad will charge passengers to upgrade from First to The Residence.
First Apartments
The other key highlight of Etihad's Airbus A380 is the First Apartment. With nine such First Apartments on the superjumbo's upper deck, premium passengers can stretch out with a separate bed and armchair.
Selected First Apartments can also be combined, with those passengers able to walk between their adjoining Apartments without setting foot in the main aisle. But unlike Singapore Airlines' newest Suites, Etihad's Apartments don't provide a double bed. While the single beds align, a wall remains in between.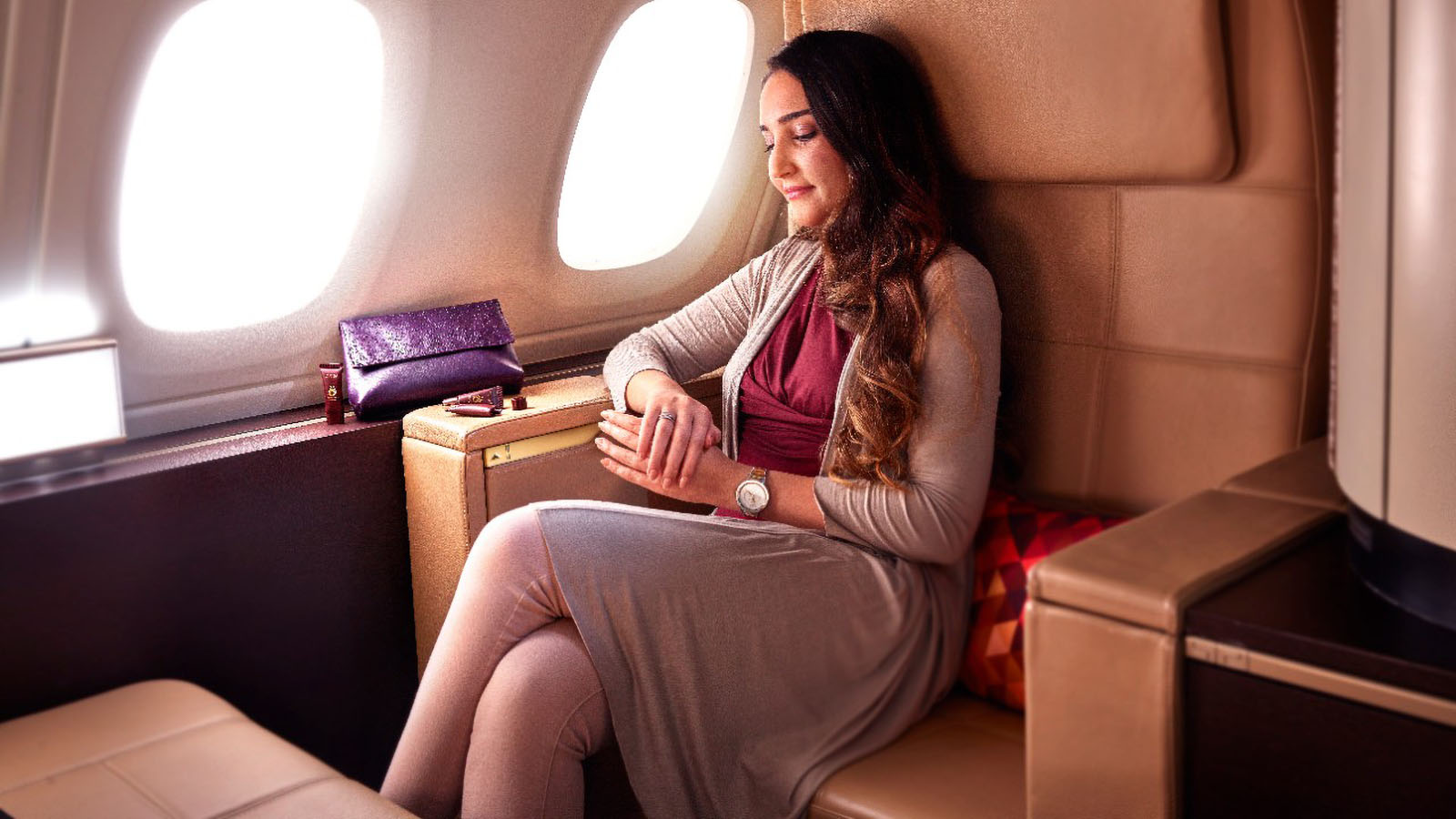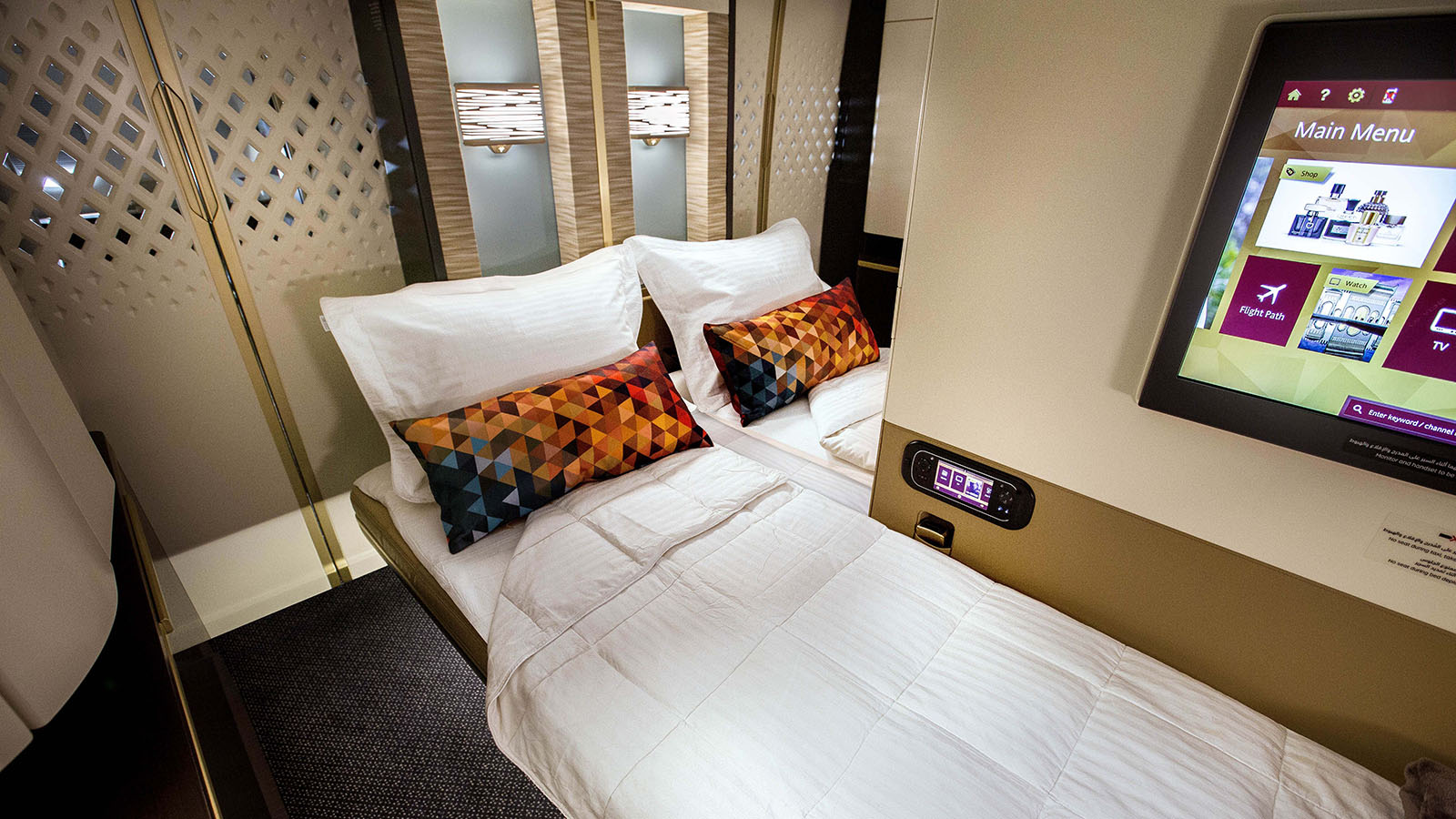 Travellers in Etihad's Airbus A380 Apartments can also avail of an onboard shower.
Business Studios, The Lobby and Economy on Etihad's Airbus A380
In Etihad's Airbus A380 Business Class, the cabin resembles the airline's Boeing 787 jets. The modern Business Studio seats come in a typical 1-2-1 layout. But unlike those Dreamliners, the superjumbo features The Lobby, as well.
It's a central space open to all passengers flying on the upper deck. Depending on the time of day, it could be anything from a meeting room with colleagues to a casual place to relax with a drink and mingle with fellow passengers.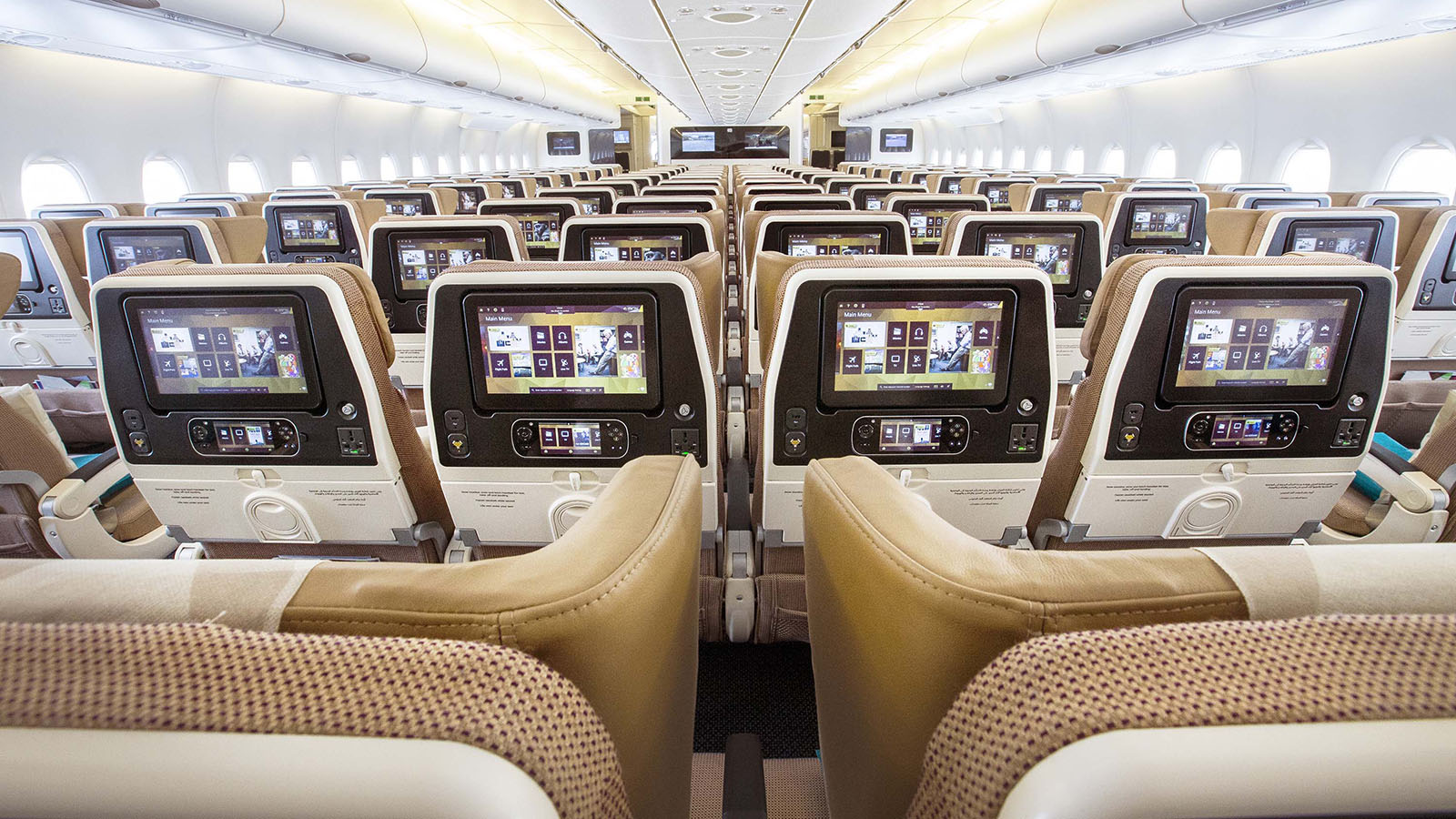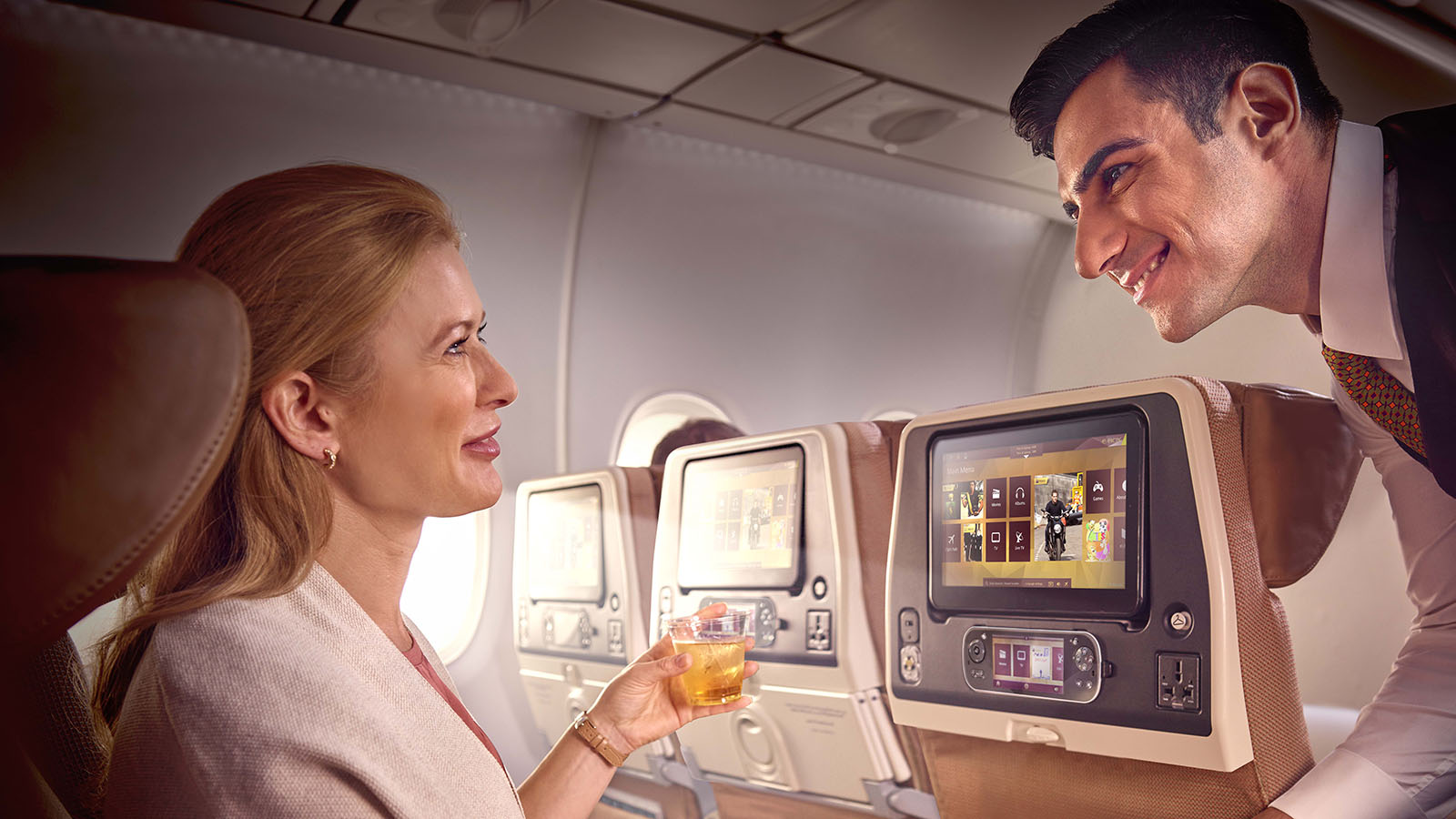 Downstairs, Etihad's Economy Class cabin comes in a 3-4-3 layout: standard for the Airbus A380.
Summing up
It's great to see Etihad's Airbus A380s returning to service – even if we have to wait until July 2023 for that to take place. While the Business Class experience is comparable to Etihad's Boeing 787s, the A380's First Apartments and The Residence make the superjumbo's comeback all that more exciting.
These Airbus A380 flights are already being sold via the Etihad website. It may also be possible to book reward seats using Etihad Guest miles in Economy, Business Class and First.
That said, on the flights I've searched, those more generously priced reward seats are only appearing on Etihad's Boeing 787 flights to London. On the A380, pricing in miles is more than 11 times higher. This reflects Etihad's equivalent of a 'points plus pay' booking, where miles are used to offset the cash price of the ticket, rather than to secure a more typical reward seat.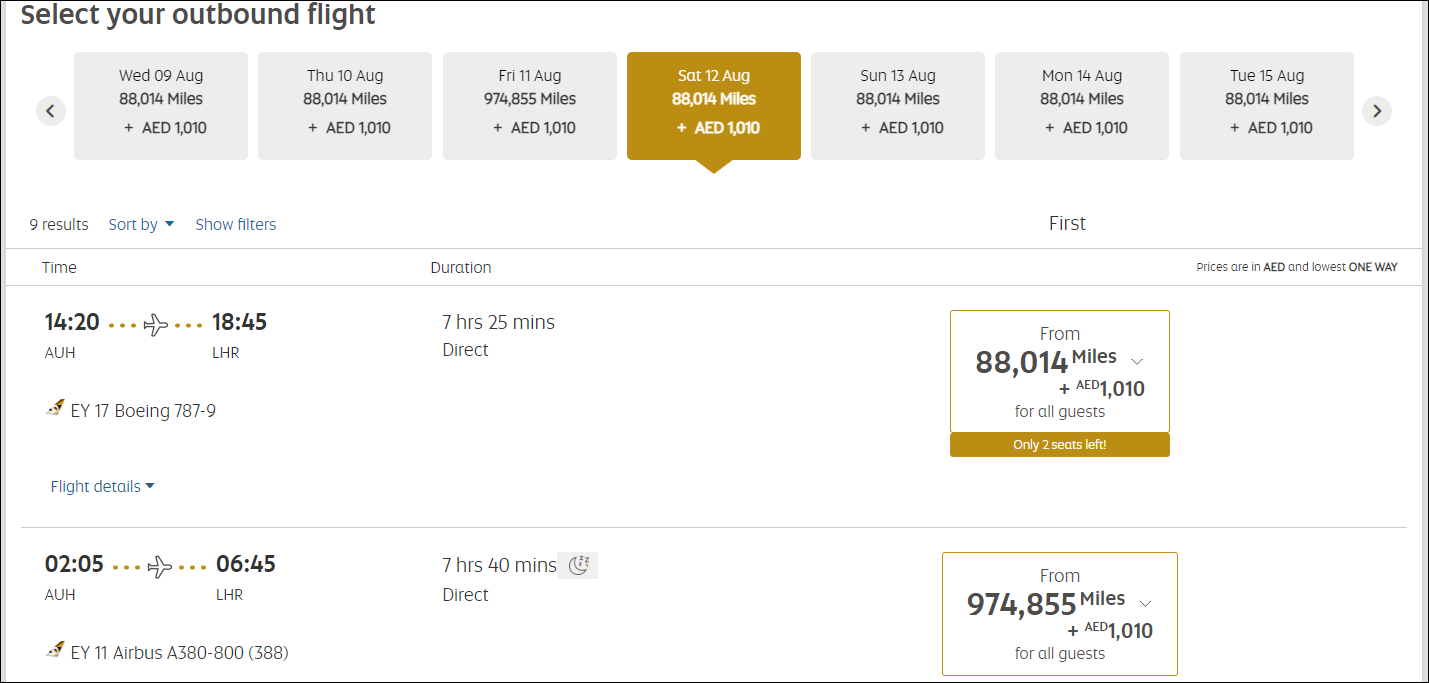 Etihad Airways is also a partner of Virgin Australia's Velocity Frequent Flyer program. When availability permits, members can spend Velocity Points on Etihad flights – including the Airbus A380 and its First Apartments. That said, I'm also not seeing any reward seat availability in Etihad's Apartments – at least, for now.
Hopefully, this changes as more of Etihad's Airbus A380s return to the skies. For now, there's some availability in Etihad's A380 Business Class and Economy. But you'll likely need to include another Etihad flight as a connection to secure the seat, such as when booking to or from Australia, or places like Singapore.
Also read: How to use Velocity Points for Etihad flights
All images courtesy of Etihad Airways.
---
Stay up to date with the latest news, reviews and guides by subscribing to Point Hacks' email newsletter.
Etihad's iconic Airbus A380s return to the skies
was last modified:
August 24th, 2023
by