Air Canada reveals new Aeroplan loyalty program
Posted:
August 12, 2020 - 7:28 am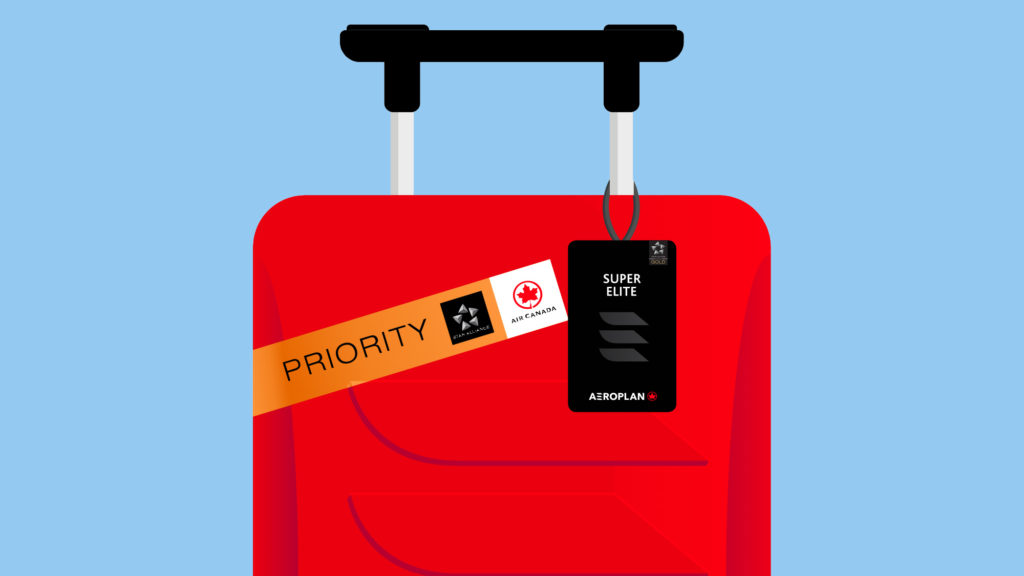 What we'll be covering
Canada's national carrier is completely revamping its Aeroplan frequent flyer program, which is set to relaunch on 8 November 2020.
The top-to-bottom refresh includes changing 'miles' to 'points', and new ways to redeem those points, including on any available seat on Air Canada flights. Changes to status tiers and the introduction of Family Sharing round up some of the more drastic changes.
Aeroplan's second wind comes as Air Canada reacquired the loyalty scheme again after previously selling it off in the mid-2000s. Here's everything you need to know about 'Aeroplan 2.0'.
Miles to Points, now tied to cash
You'll no longer earn Aeroplan Miles — it'll now become 'points'. Starting from sometime in 2021, you'll start earning Aeroplan Points based on the fare you purchase, rather than the distance flown.
Each fare starts with a basic multiplier — either 2x or 3x — and having elite status with Air Canada will add a bonus multiplier. A top-tier Air Canada passenger flying on a Standard Economy fare or higher would net up to 7x the fare paid as Aeroplan Points.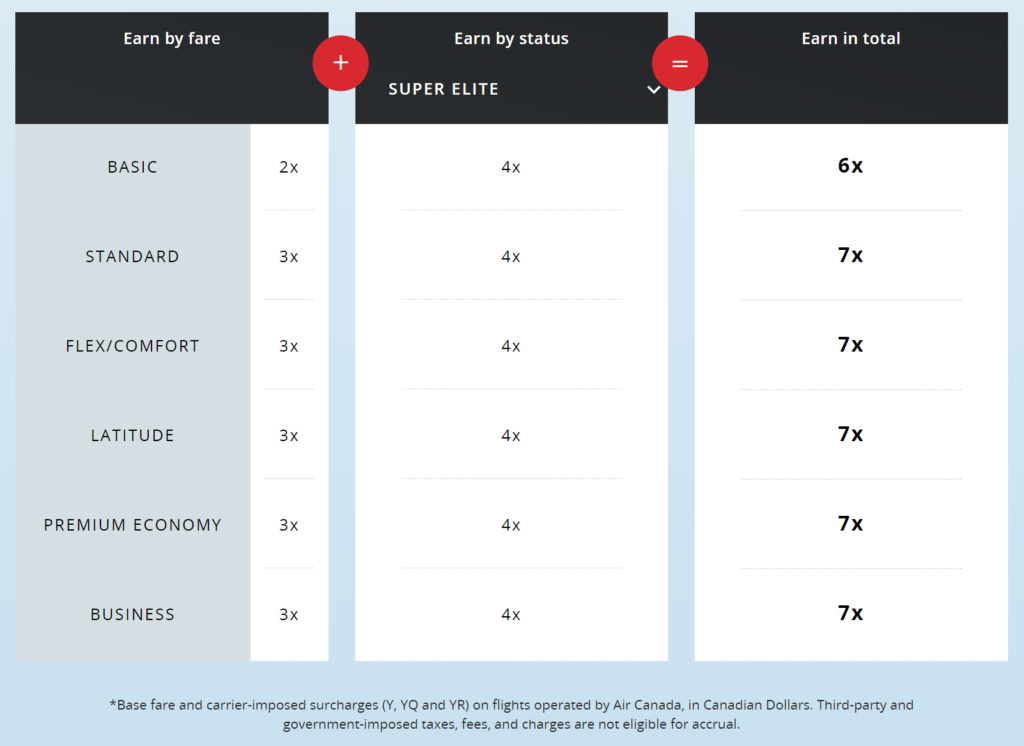 Other earning opportunities include onboard purchases of food and duty-free, or spend with plenty of other program partners such as hotels and car rental agencies.
Ad – Scroll down to continue reading.Minimum spend, terms & conditions apply.
More redemption opportunities, at a higher price
The new Aeroplan will usher in what we would know as 'dynamic pricing' and 'any seat awards'. While these are generally viewed as negatives in the points hacking world, Air Canada is spruiking it as better flexibility for members.
Every seat on Air Canada flights will be available for redemption by points if you can normally pay cash for it. One upside of this is no more blackout dates or hunting for elusive reward seats. Air Canada is also dropping fuel surcharges on its own flights.
Points + Cash is another payment option, where you can use cash to bridge the difference if you have at least 60% of the Aeroplan Points needed.
Predictable pricing aims to give more certainty with using Aeroplan Points with flights. The 'Points Predictor Tool' will share with you the number of points you'll likely need for your Air Canada flight. The ranges can be extremely high, especially for Business Class.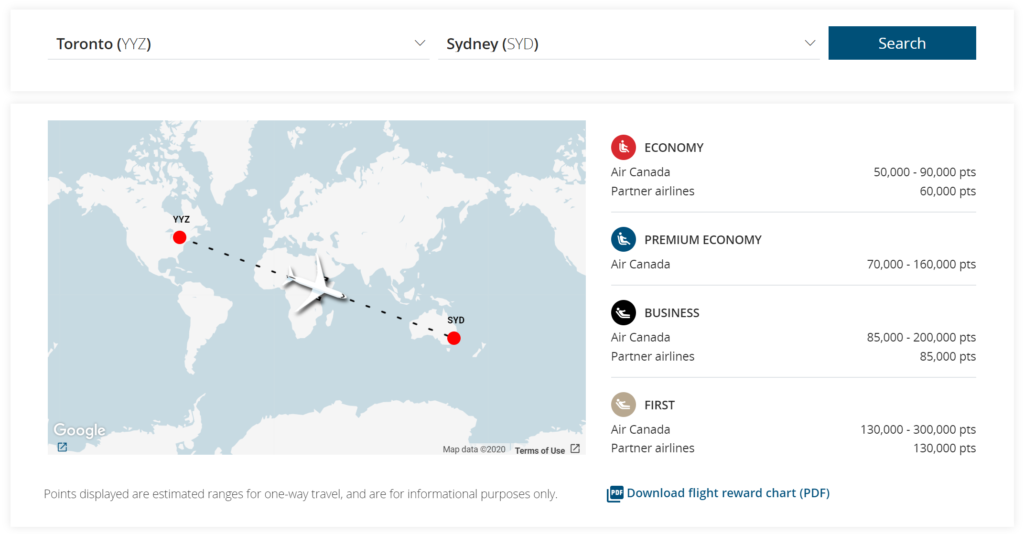 Partner airline redemptions will still be fixed-rate, which is welcome news. View the flight reward chart [PDF] for Air Canada and partner airline pricing. A 'Partner Booking Fee' of CAD$39 applies per ticket for bookings on partner airlines.
Upgrades with points will remain possible, but members will soon be able to try their luck by bidding a certain amount of points to go up a cabin class.
Flight rewards can be searched and redeemed on the Air Canada website or through the Air Canada app, which is an improvement from the separate website that previously existed.
Aeroplan Elite Status levels and perks
Aeroplan Elite Status levels replace the old separate Air Canada Altitude and Aeroplan status recognition programs. Although the tiers remain roughly equivalent to before, there are many new and updated benefits that should please most Aeroplan frequent flyers. The renamed tiers are:
Aeroplan 25K
Aeroplan 35K
Aeroplan 50K
Aeroplan 75K
Aeroplan Super Elite (100K)
New shiny perks for members
The new Priority Reward vouchers entitle holders to 50% off the base fare in points of a flight reward, even on partner Star Alliance carriers. While all elite members will earn some vouchers, there are limits on distance and eligible cabin classes.
For example, only top-tier Super Elite members can use Priority Reward vouchers to get a 50% discount on flights worldwide in Business Class, whereas entry-level 25K members can only use it within Canada or the USA in Economy Class.
Status Pass is an interesting 'member for a day' perk. From March 2021, eligible members can treat someone special (and up to 9 others on the same reservation) with elite status benefits for a day, including lounge access, priority processing and complimentary checked bags.
Family Sharing has some similarities to Virgin Australia's Family Pooling but is open to more people. Up to seven family members can join yourself in a pool of eight people. Your points balances will be pooled and can be used by members to make flight redemptions.
To prevent abuse of this feature, some limits are in place. For example, new members must stay part of the 'family pool' for at least 3 months, and can't join another pool for six months after leaving.
No changes to earning status levels
Many other program features remain the same as before. Aeroplan Elite Status will still be earned by collecting qualifying miles, flight segments and dollars with Air Canada and Star Alliance member airlines.
But similar to Qantas' Points Club, it'll be possible for frequent spenders to earn some form of elite status — certain Aeroplan credit cardholders could earn 25K status by earning more than 100,000 Aeroplan Points through eligible transactions in a calendar year.
Summing Up
Aeroplan's changes are a mixed bag. Of course, it's great to get a shiny new frequent flyer program with all the trimmings, and perks such as Priority Reward vouchers, Status Passes and Family Sharing are welcome introductions.
The 'enhancements' to using Aeroplan Points for flights is where the changes might sting for a few people. Only time will tell if removing fuel surcharges and making any seat available for redemption will be worth it for the higher number of points needed.
Frequently asked questions
What will happen to Aeroplan Points in 2020?
Existing Aeroplan Miles will be transferred at a 1:1 ratio to Aeroplan Points when the program changes over.
How many Aeroplan Miles do you need for a flight?
With the new Aeroplan program, check the Points Predictor Tool to see how many Aeroplan Points you will need for flights with the new program.
Who owns Aeroplan now?
Air Canada now fully owns Aeroplan again, after previously making it a subsidiary and then selling the program off in the mid-2000s.
Air Canada reveals new Aeroplan loyalty program
was last modified:
August 24th, 2023
by