Virgin Australia and Singapore Airlines enjoy a special relationship not usually seen among airlines, with the ability to transfer points and miles between the two loyalty programs. Most Australian-based readers will likely be looking at swapping Velocity Points to KrisFlyer, given it's much harder to earn KrisFlyer miles down under.
But there are also a few great reasons to send your KrisFlyer miles to Velocity too, including consolidating smaller balances and booking domestic travel within Australia.
How do I convert KrisFlyer miles to Velocity Points?
Singapore Airlines doesn't make the process especially transparent, so here's how to transfer your miles over to Velocity.
Log in to your KrisFlyer account on the Singapore Airlines website.
Navigate to the 'How to use Miles' section in your account (use our direct link here).
Scroll down to 'Other redemption options' and click on 'Virgin Australia – Velocity'.
Choose the number of KrisFlyer miles to send over.
Click on 'Transfer Now' to complete the transfer.
The KrisFlyer miles should transfer instantly, but it may take up to 24 hours.
Note that there is a minimum point transfer of 5,000 KrisFlyer miles to Velocity, and the transfer rate is 1.55 to 1 in either direction. That means if you change your mind and send your points back to KrisFlyer, you'll lose another huge chunk in the process.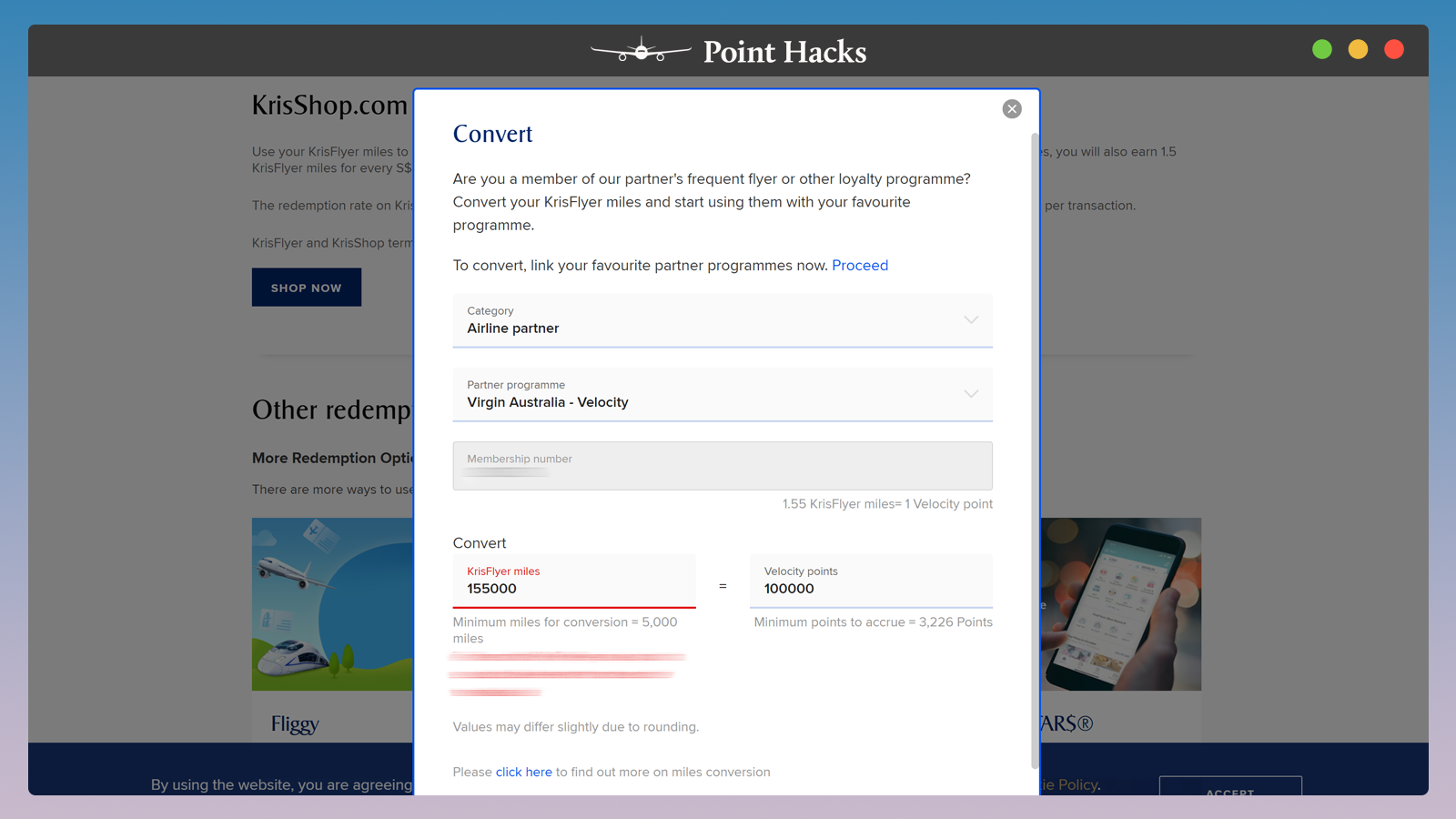 Ad – Scroll down to continue reading.Minimum spend, terms & conditions apply.
Why should I transfer points from KrisFlyer to Velocity?
Book or upgrade Virgin Australia flights: Though you can book Virgin Australia flights via KrisFlyer, you may prefer to transfer your miles to Velocity to use them towards flight upgrades or reward seats. (But keep in mind the number of miles needed to book VA flights via KrisFlyer is usually less than the number of miles needed to transfer to Velocity and book the same flight via Virgin Australia).
Consolidate smaller balances or stop points expiry: If you only have a small number of KrisFlyer miles, transferring them to Velocity could be a way to save them. You could also do this to pool miles from family members – transfer to individual Velocity accounts and then use Velocity's 'Family Transfer' or 'Family Pooling' function to pool the points into the same account.
Book non-SQ partners: Want to fly on Qatar Airways, Etihad, Hawaiian Airlines or another non-Singapore Airlines partner? Transferring your miles to Velocity could be a way to make that happen.
Summing up
With Singapore Airlines' and Virgin Australia's partnership, members can transfer points between either program. Just be mindful that it's not a straight swap. For every 1.55 points or miles you exchange, you'll get 1 point or mile in the other program. This means you should think carefully about any points conversions, as you'll lose around 35% of the amount transferred each time.
How to transfer KrisFlyer miles to Velocity Points
was last modified:
June 23rd, 2023
by