Google Flights is my go-to search engine for flight bookings, so when a friend was having trouble booking a cheap flight from Puerto Vallarta on the Pacific Coast of Mexico (see our destination guide here) to her home in Austin, I headed over to the site to check out what the prices were looking like. And ended up more than halving the cost of her flight.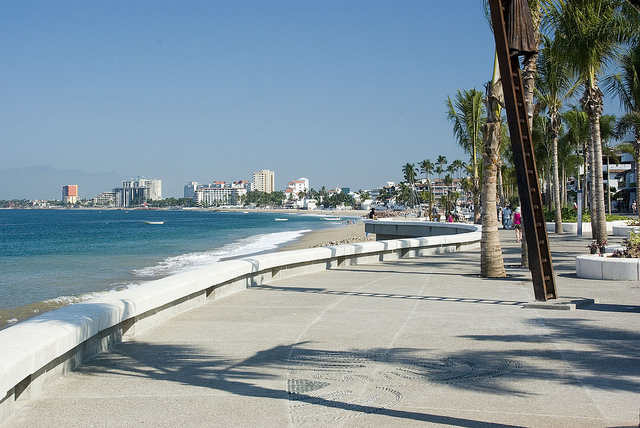 Puerto Vallarta offers a more authentic Mexican experience than resort destinations like Cancun and Cozumel on the Caribbean side of the country. Image: Flickr
Whilst here at Point Hacks we usually focus on earning points and redeeming them for travel in premium cabins (First and Business Class), there are instances where you may not have enough points for a specific redemption or there is no award availability, so you need to buy an Economy or Premium Economy ticket with cash.
When to use this trick
The easy trick explained in this guide works best in countries and regions like the US and Southeast Asia where the 'hub-and-spoke' model of high-frequency flights between a select number of big airline hubs is more common.
In Australia and New Zealand, due to our smaller populations, we tend to have more direct flights, so it isn't applicable so much to domestic and Trans-Tasman flights.
The obvious search
Now, if my friend had read our guide on the ideal time to buy flights, she would have known that buying a flight for the busy first week of January, especially from a leisure destination like Puerto Vallarta, would have been much cheaper bought more than two months in advance. But, alas, life is not always planned.
So we're looking for a one-way Economy Class ticket from Puerto Vallarta (PVR) to Austin, Texas (AUS) for 3 January:

And here are the results I got for a simple one-way flight from PVR to AUS: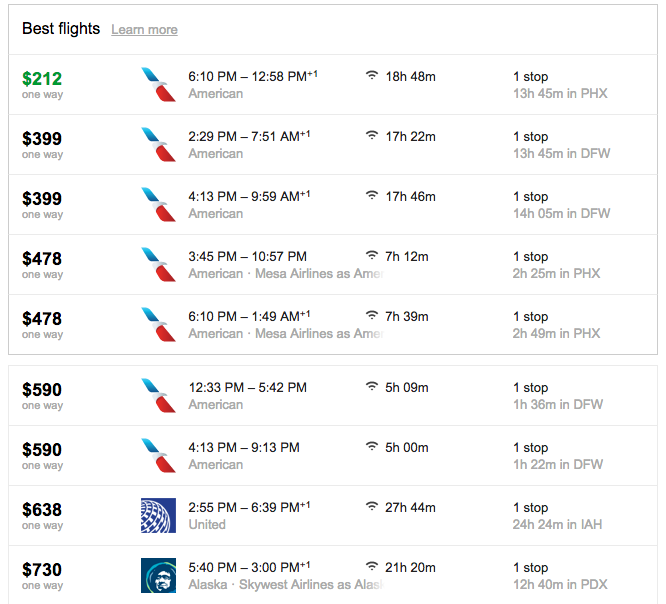 One thing I love about Google Flights is that it will bring the best results according to its algorithm of flight duration, stops, price, etc to the top of the page, highlighting the cheapest option in green.
You can see that the cheapest option by far includes a horrible stopover of nearly 14 hours in Phoenix (PHX), followed by similar stopovers in Dallas/Fort Worth (DFW) and the ideal options of stopovers of less than three hours in Phoenix, but at double the cheapest price ($478 USD).
So, my friend can either pay half the price but have a long overnight layover in Phoenix, or can pay double and reduce her layover to less than three hours.
Or can she get the cheaper price along with the shorter layover?
The smart stopover search
Now that we know that the five cheapest options all have stopovers in either Phoenix or Dallas/Fort Worth, we can use Google Flight's nifty multi-city tool to force a stopover.
So instead of putting Puerto Vallarta to Austin in one line, we put Puerto Vallarta to Phoenix and Dallas/Fort Worth in the first line, and then Phoenix and Dallas/Fort Worth to Austin in the second line. You can enter up to five airports in each box, separated by commas.

You can see that the prices of those flights going through Dallas/Fort Worth are not going to budge, so we won't pursue them, however we can play around with the three flights going to Phoenix: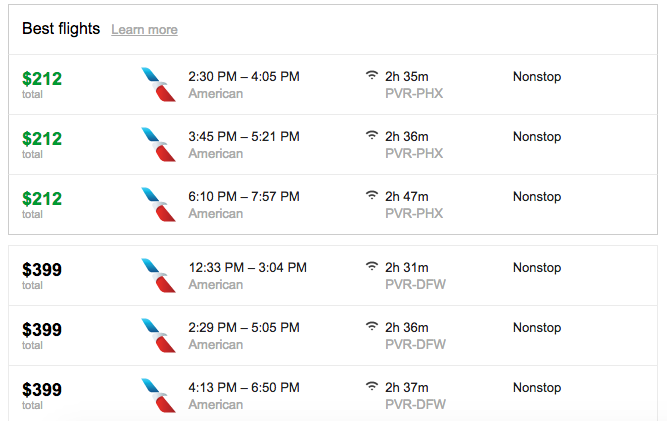 Clicking on the earliest flight will give us the most connections later in the day, and sure enough, there are two onward flights to choose from to Austin: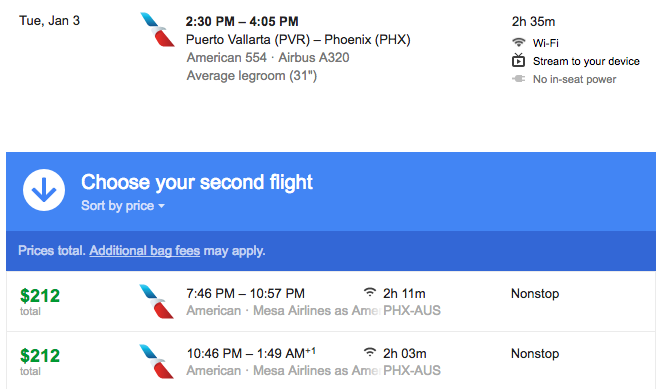 Due to my friend wanting to make the most of her last day in Puerto Vallarta, she wanted the latest flight to Phoenix, which was the third option: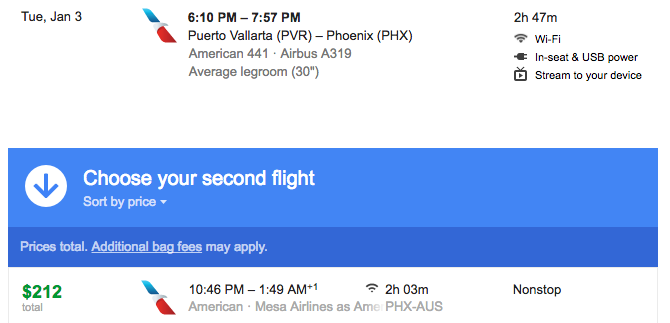 But say you wanted to catch the earlier flight and had a friend to see in Phoenix, you could make the stopover longer and still get on that last flight of the night to Austin. You're basically crafting your own stopover.
The result
The flight that my friend opted for – the 6:10pm departure from Puerto Vallarta, then three-hour layover in Phoenix and an arrival back to Austin at 1:49am the next morning – was originally priced at $478 through the obvious search method, but using the forced stopover method, we saved her $266 and reduced her layover by ten hours.
Another option: add on a stopover for cheap
As I mentioned earlier, it's less common to be able to use this trick in our region, but you may be able to pick up a free or cheap stopover on your way to somewhere like Europe through Asia or the Middle East, or North America through New Zealand.
Take this example of a one-way flight from Adelaide to Beijing, with the three cheapest options at $559 transiting through Hong Kong for between 1 and 3½ hours: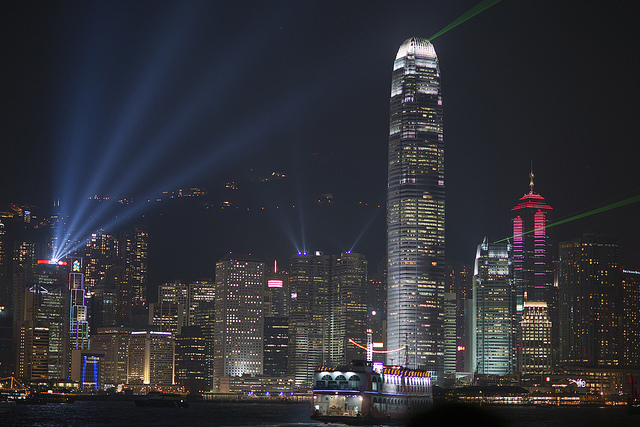 Hong Kong is a popular stopover destination. Image: Flickr
Perhaps you want to visit Hong Kong for a week on your way to Beijing, so you break the trip up and find that you can customise your stopover as you wish: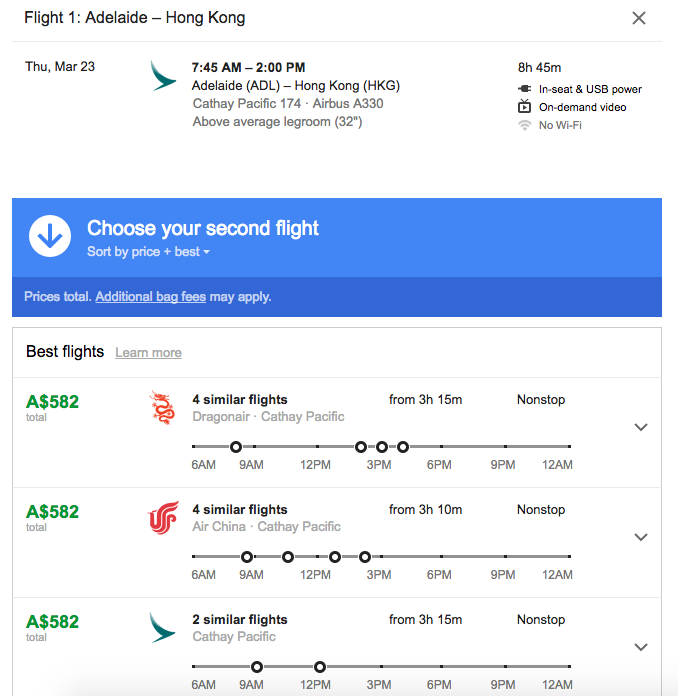 Now you have ten onward flights to Beijing to choose from a week later and get a stopover of your choosing in Hong Kong for only $23 more!
Summing up
So next time you are stumped on why a connecting flight is so expensive, have a look at breaking the trip up. You may get a lower price and even a free or cheap stopover if you want to extend it!
Featured image courtesy of Google.
How to use the Google Flights multi-city search tool to save cash and customise your stopover
was last modified:
August 10th, 2017
by