The southernmost point of earth is relatively untouched and unseen by the human eye. Sure, photos can give you an idea of what one of the coldest, driest and most barren parts of the planet look like. But unless you're a geologist, astrophysicist or reside in the remote territory for other research purposes, your chances of marvelling at the wonders of Antarctica and the South Pole with your own eyes are slim to none. Until now.
I was fortunate enough to be onboard Chimu Adventures' first scenic flight to the South Pole. The 16-hour round-trip on a chartered Qantas plane is the only scenic flight that takes you from Australia to the beautiful South Pole. And while I'm not a scientist, I'm an enthusiastic point hacker – and 170,000 Qantas Points is all I needed to nab a ticket for this once-in-a-lifetime journey.
There are no fees or taxes to pay either, which makes for an even more substantial saving from the cash fare of almost $4,000 for an Economy No Wing seat. With other seats on this plane priced at over $10,000, I'm truly blown away at how far – both literally and figuratively – my points can take me.
If you want to book this amazing journey for yourself, click this link to be notified when the points offer comes online early next year. Or if you'd like to learn more about booking with cash, click here.
And what's even better than unobstructed views? No baggage to check in, no jetlag to beat, and no layering up required to travel to this sub-zero climate. Just me, my iPhone camera, and the breathtaking scenery I'm honoured to enjoy over the next few hours.
I never thought I'd be able to say I travelled to the South Pole. But now I can. And here's how you can, too.
Before the flight of a lifetime
With my flight scheduled to depart at 6 am, I spend the night before at the Novotel Melbourne Airport hotel to ensure I get plenty of shut-eye for the day ahead. After all, this is one flight where I don't want to be dozing off. But when my alarm goes off at 3:15 am, I realise that the anticipation of what I'll witness today has kept me awake for the better part of the night. The best-laid plans!
I'm fortunate to be able to travel a lot, and I still feel the rush of excitement whenever I'm about to visit somewhere new. But today somehow feels different. My flight takes off from Melbourne and lands in Melbourne 16 hours later without actually having landed anywhere. I'm going both somewhere and nowhere. But what I'm about to see from the air is something very few humans in history have ever seen.
I arrive at the airport for my 4 am check-in and make my way to the counter. The air is abuzz with excitement and anticipation. My fellow passengers are introducing themselves to those standing around them – almost as if we're all part of some sort of special club. I feel as if I'm meeting my new teammates and we're about to embark on a new adventure together. I've never experienced anything like this before at an airport – and my eagerness has only intensified.
As I look up at the departures board, my excitement reaches a new level. In bright, bold letters, the top entry reads 'QF1336 Chimu South Pole Flight'. Its destination? Melbourne. It's strange seeing this while standing in Melbourne Airport, but it adds a touch of uniqueness to the whole experience.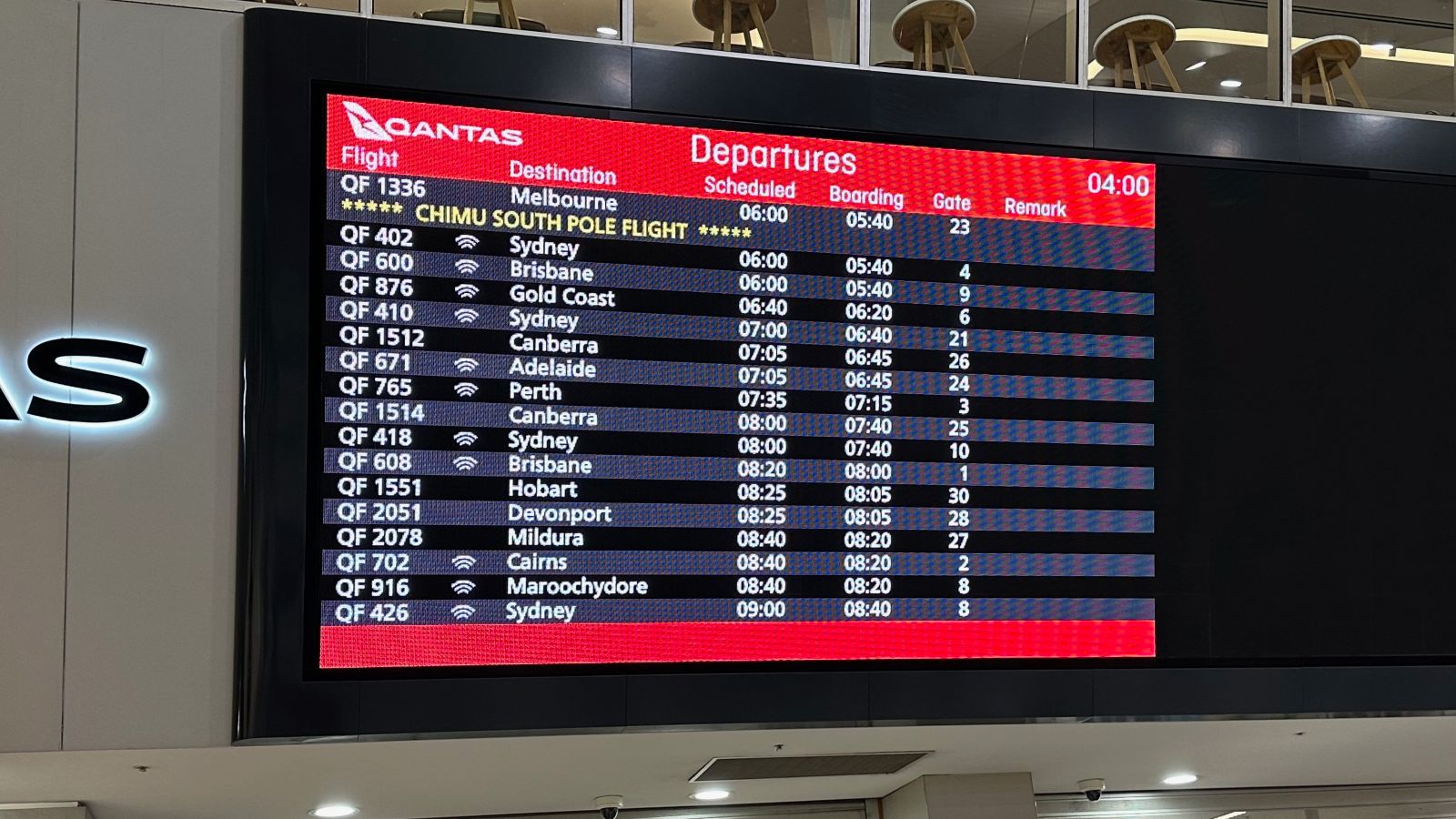 Boarding
At the departure gate, there's a desk set up for us to collect our ID lanyards and boarding passes. I glance at the passengers around me, who are a mix of passionate tourists to professional scientists, with every age demographic from around 25 and above represented. It's a full flight, with only the middle seat in each row of 9 seats in the 3-3-3 layout left deliberately empty.
Boarding the flight, I look nervously at my seat number – 58A. As a dedicated point hacker, I've become accustomed to travelling at the pointy end of the plane. A two-digit seat number isn't normally in my repertoire. And a 16-hour flight beckons, with my long legs crushed against the seat in front of me. Argh.
But my Economy No Wing seat was attainable and excellent value for 170,000 Qantas Points, given the cost of the seat in cash was around $4,000. And as I quickly realise, the Economy cabin is the place to be, with its festive atmosphere and sense of camaraderie. This is one flight where I'm glad to be travelling down the back. Plus I get to experience the wonders of Antarctica, and still be home in time to sleep in my own bed!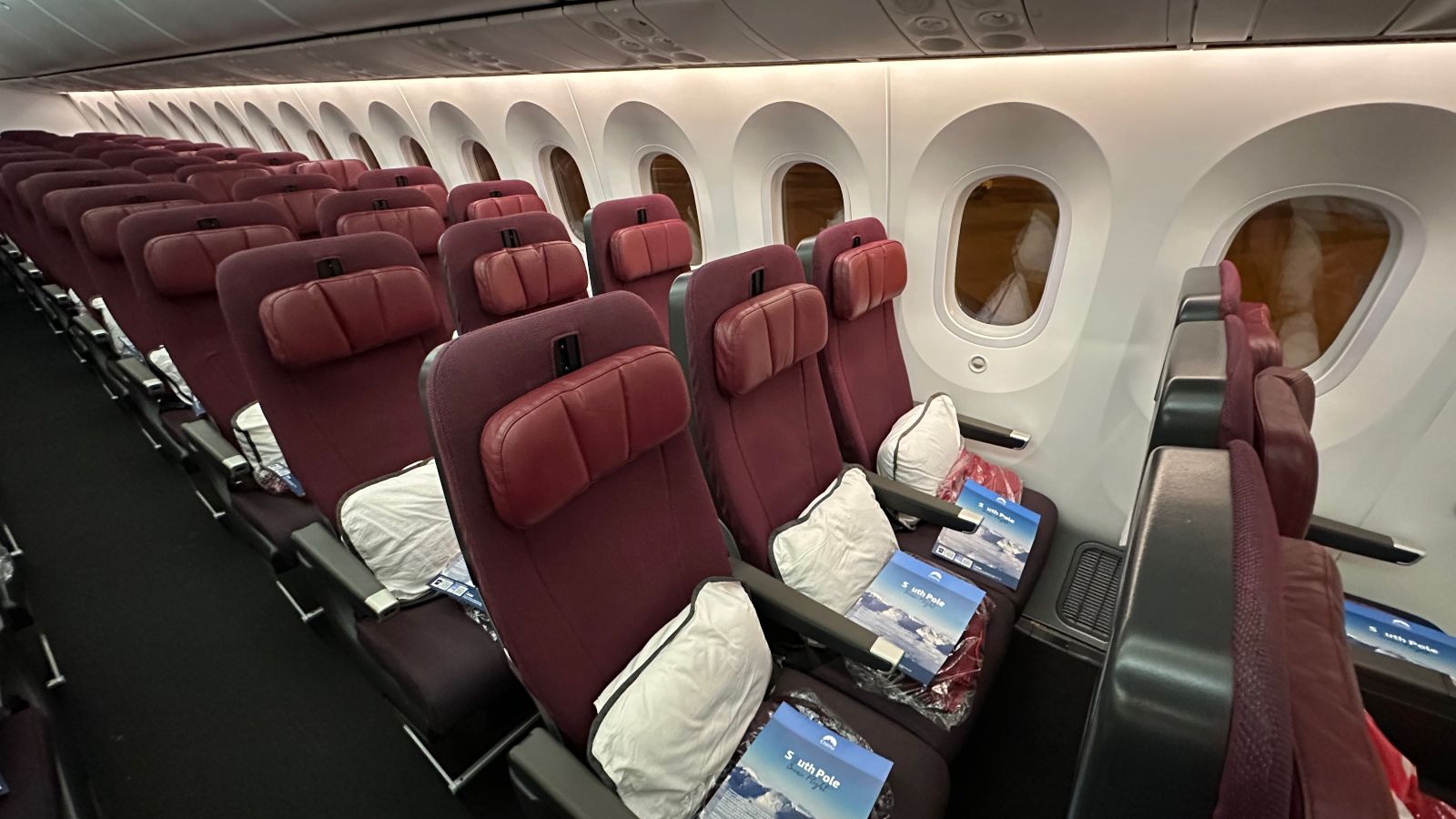 The first scenic flight to the South Pole
I settle into my seat aboard the Dreamliner and get acquainted with the passengers around me. Fortunately, I have a window seat for the outbound journey, so I'll be one of the first to see the wonders of Antarctica when we arrive over the frozen continent.
This is a scenic flight, so window seats are a hot commodity. Unless you've got a Limited View ticket, you'll receive two boarding passes for two different seat numbers – one for the outbound flight, and one for the inbound journey. Though the flight doesn't land anywhere, you'll effectively play musical chairs in the sky. The idea is to share the window seat so as many passengers as possible can be dazzled by the stunning views that lie beyond the large Dreamliner windows.
Once we reach cruising altitude, the pilot begins the usual welcome announcement. Except this time, it's anything but usual. He starts with a line that I'll always remember – 'Welcome onboard Qantas flight 1336 bound for the South Pole!' Cheers break out in the cabin, and our journey begins in earnest.
En route to the South Pole
The coastline of mainland Australia is behind us, and before long we're making our way over the Southern Ocean. Antarctica, here I come! We're still very early in the journey and at this point, the cabin has morphed into a standard flight with passengers perusing the inflight entertainment between meals served by the Qantas crew. You wouldn't know that we're bound for one of the most remote destinations on the planet.
I've normally got my screen set to live map while I read so I know where I am and when to look out at the world below. But as we cruise over the southern tip of Tasmania, thick clouds blanket the view from horizon to horizon. Doubt creeps in – I begin to wonder if I'm going to see anything at all.
After about five hours, my live map tells me we are approaching the Antarctic coast. I lower my Kindle and sheepishly look out the window, mentally crossing my fingers for crisp, white ice sheets. But as I adjust my gaze to meet the view, my heart drops. The thick cloud is still there – and it appears endless. Even darker clouds flood my mind as I contemplate a wasted journey and the loss of 170,000 Qantas Points.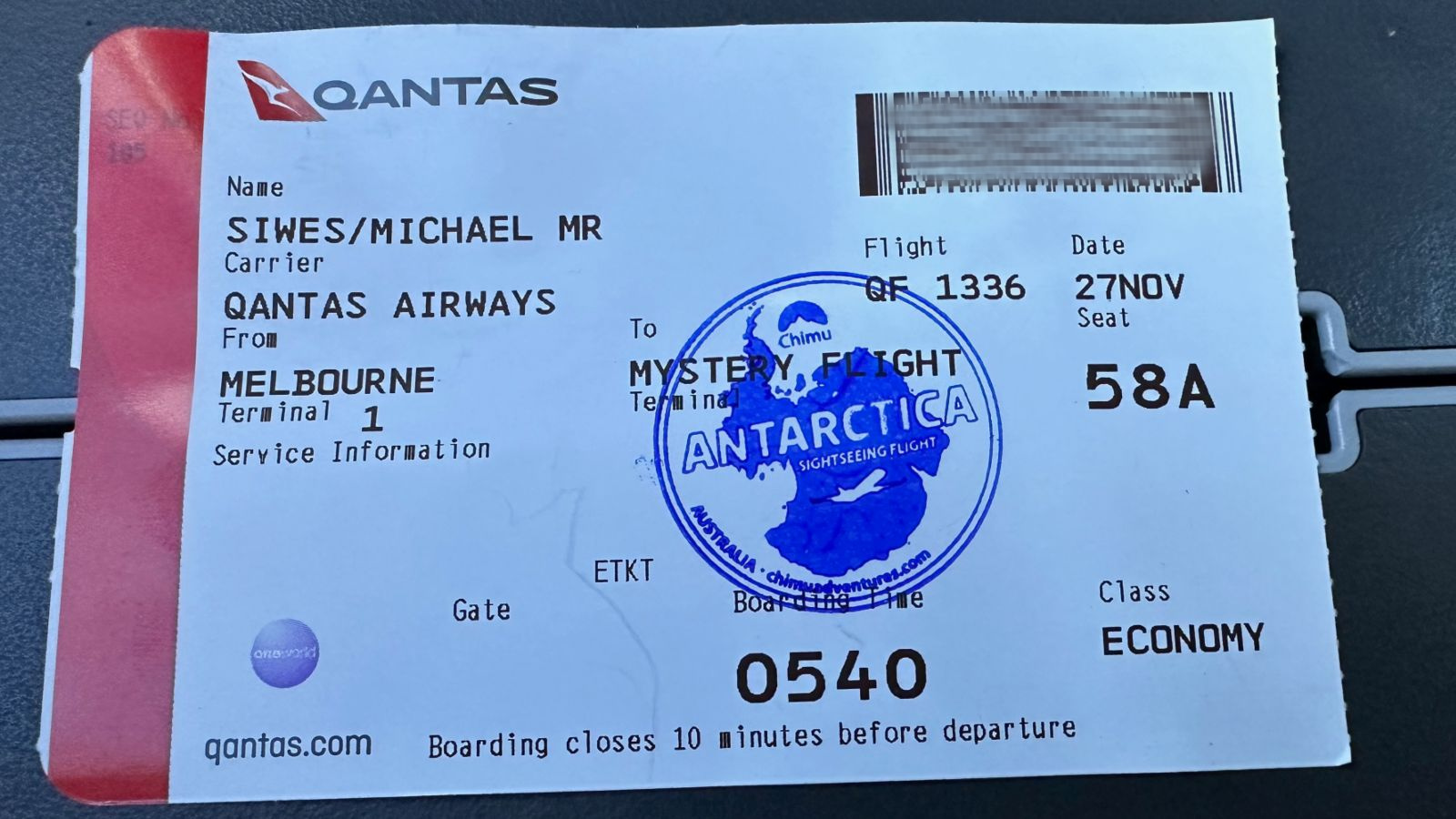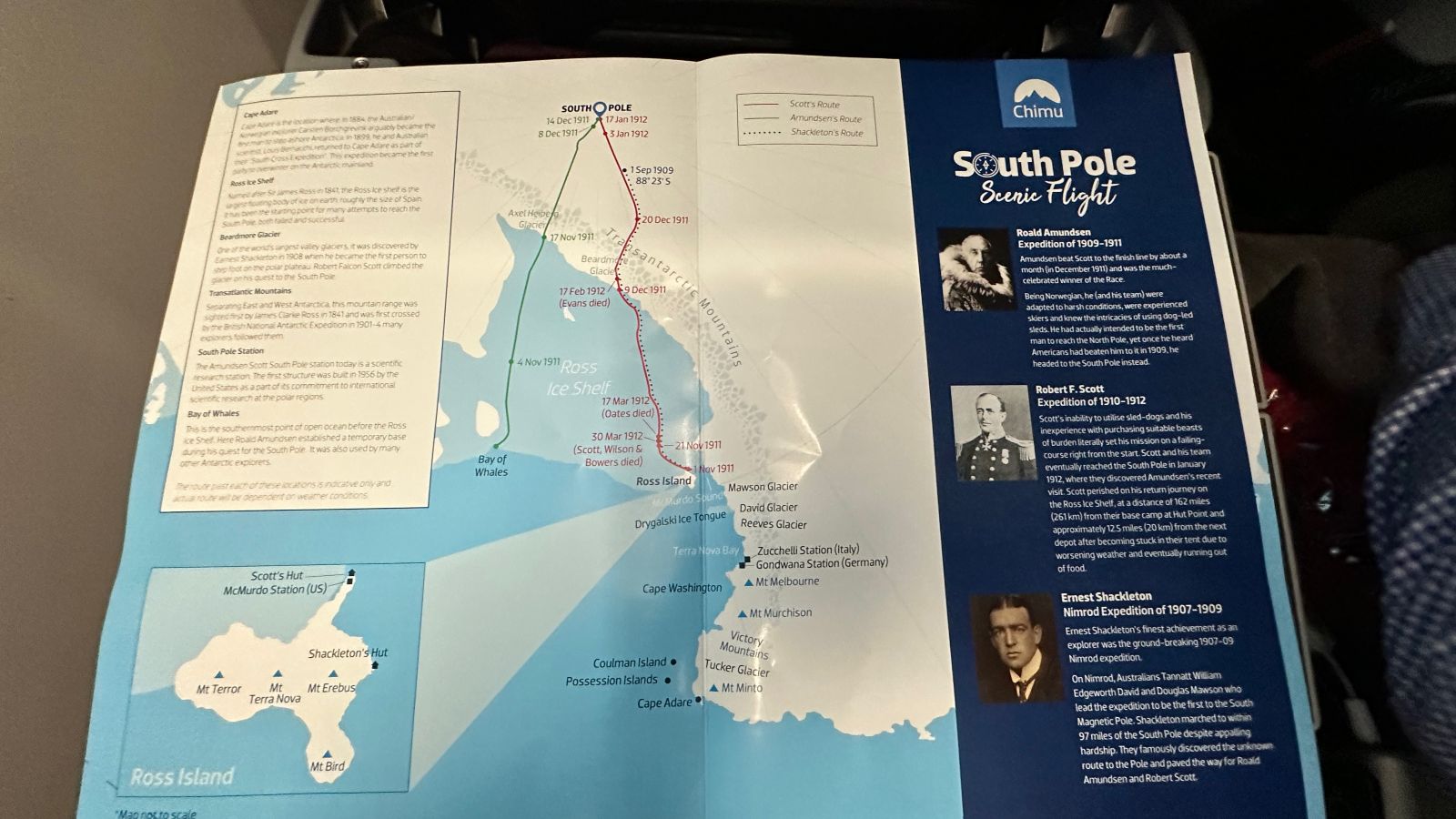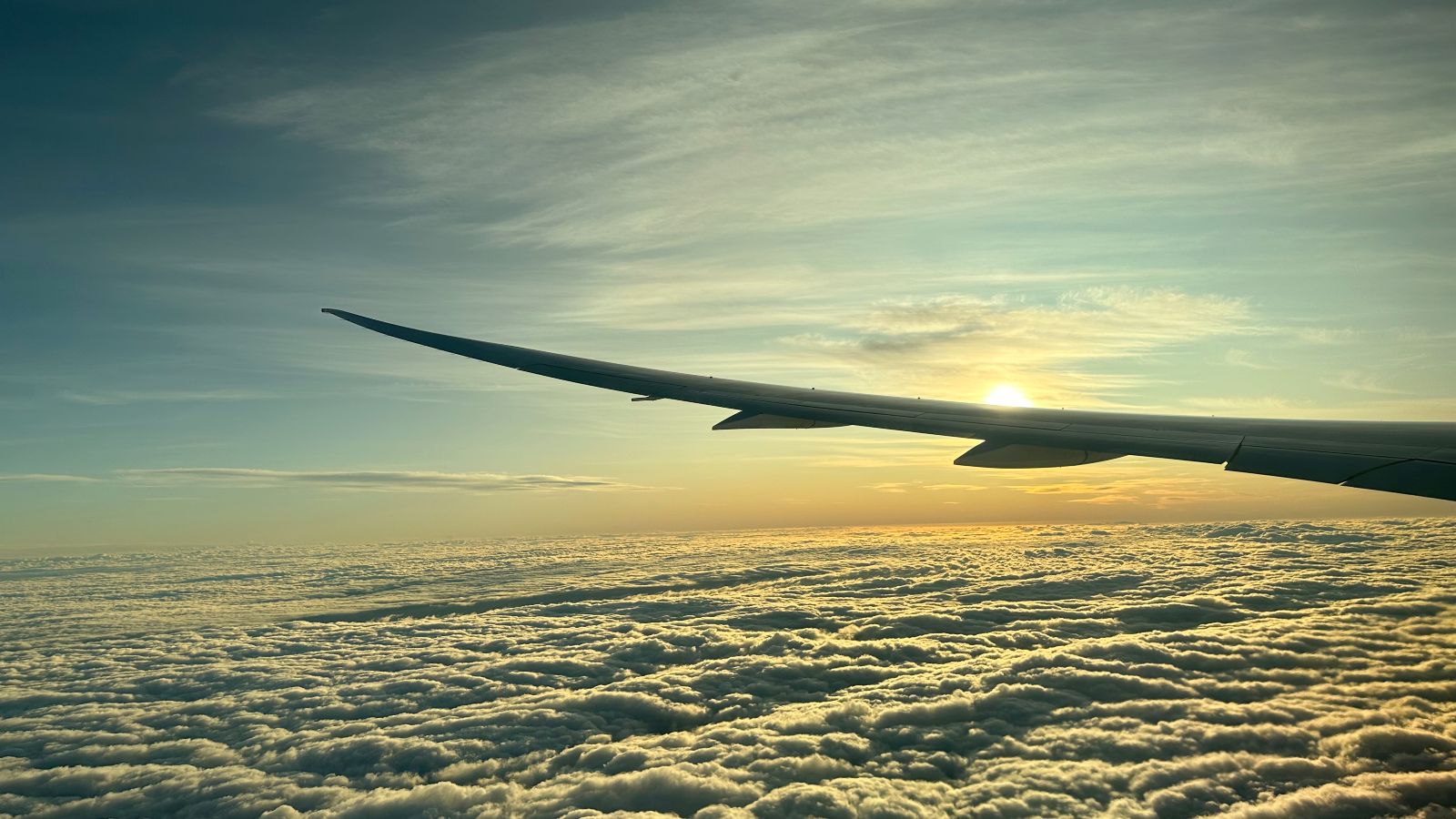 My first glimpse of Antarctica
I'm not dismayed for too long, though. As if by some miracle, the clouds begin to disappear no more than a minute or two from the coast. Faint and blurry images of pack ice start to peek through the thinning clouds. Everything is clear and oh-so-pure below. Huge sheets of ice are everywhere. The coast appears, bringing with it snow-covered mountains that have seemingly emerged from nowhere. Tucked among these rugged towers is the Ross Ice Shelf. This flat, enormous heap of floating ice is the world's largest – in fact, it's about the size of France. How's that for perspective?
Like someone flicking a switch, the entire Economy cabin bursts into life. It brings back memories of old footage of people trying to get a peek at the Beatles when they arrived in Australia in the 1960s. Faces are pressed against windows, other faces are peering over the shoulders of those between them, and cameras are going off everywhere. This certainly isn't your standard flight – and the energy is contagious.
Admiring Antarctica in detail
The Qantas flight crew bring the aircraft down from its usual 12,000m altitude to around 7,000m so we can enjoy the views in glorious detail.
The landscape of Antarctica is as far away from Australia as I can imagine. Gone are the browns, yellows, reds and patches of green that cover the flat land of home. Here, deep blue oceans stand in stark contrast with the pure, bright whites of everything that resides this close to the South Pole. The colour tones remind me of Santorini, but I don't feel like sunning myself on this beach. Actually, I'm not sure I'd feel comfortable being down there at all.
There's such purity in this landscape that I hope humans never have a significant presence here. That no empty Coke cans will ever stain the perfection I'm admiring below. I'm in awe as the mountainous landscape scrolls below us.
The scale of Antarctica is mind-blowing. It's far bigger than Australia, and we're about to spend the next six hours or so taking in the views. Careful consideration has gone into the route, too. We're re-enacting the journeys of the early explorers Roald Amundsen and Robert Falcon Scott as they raced to be the first to the South Pole in the early 1900s. Thankfully, there's no sense of urgency today.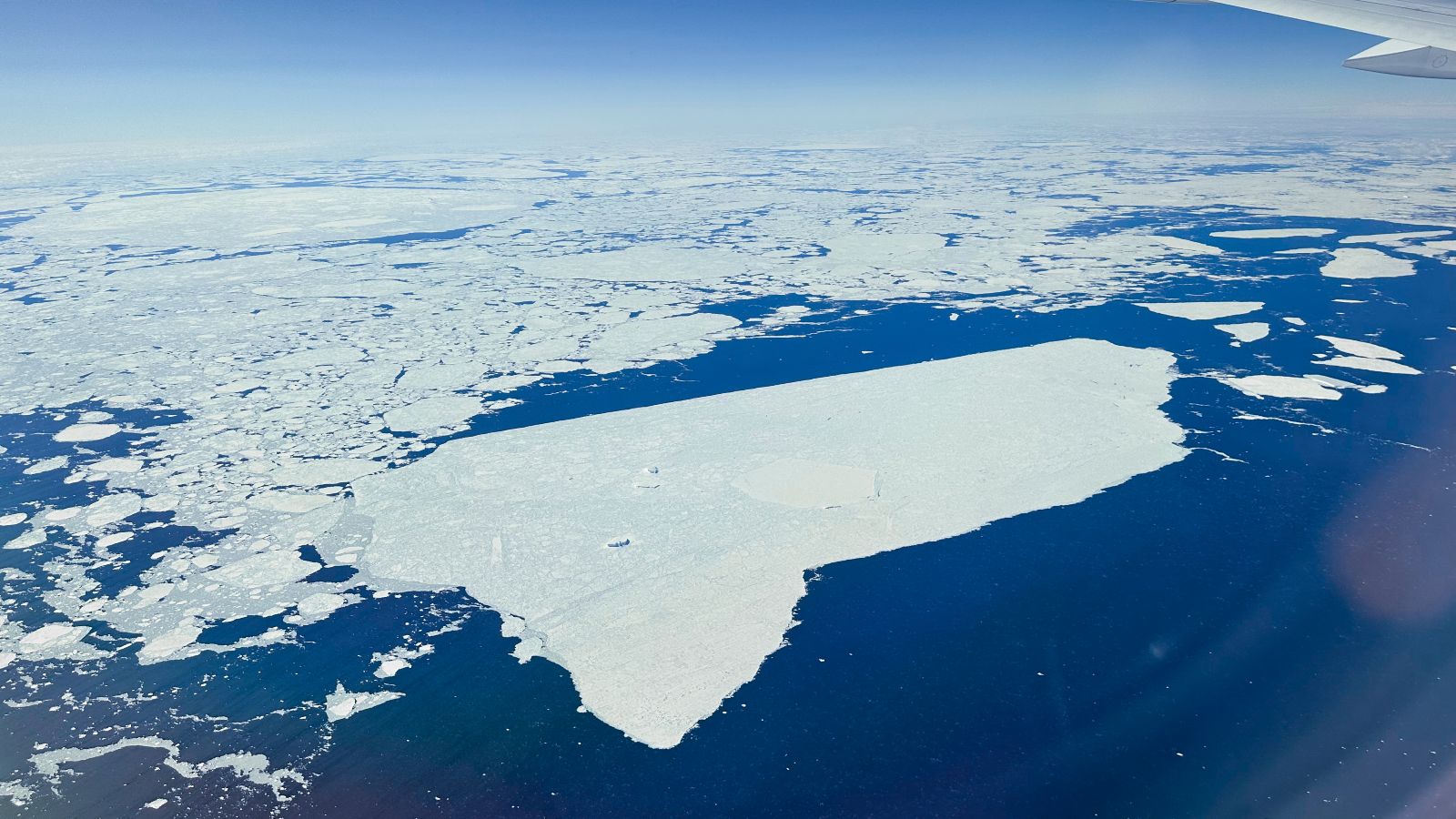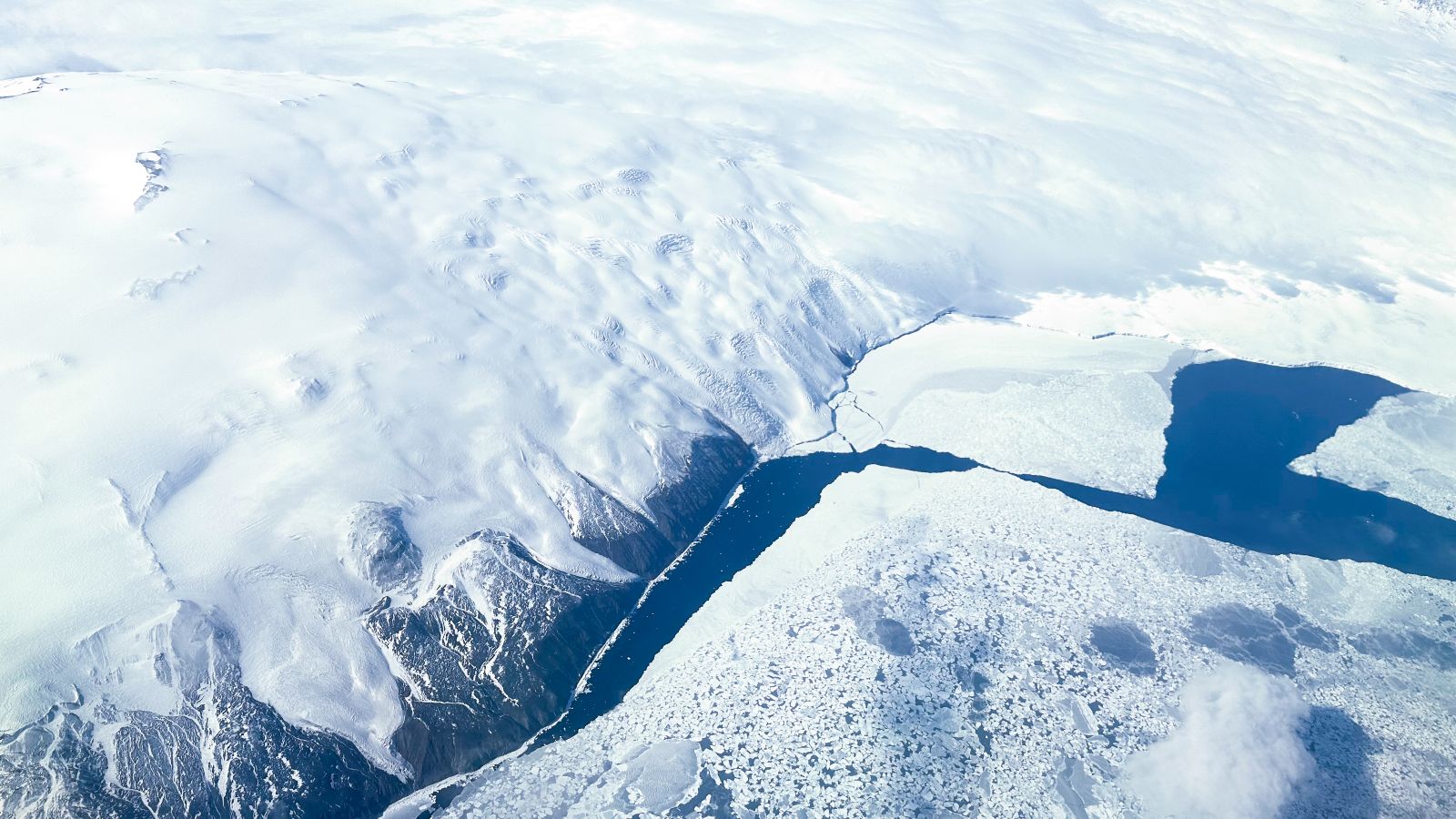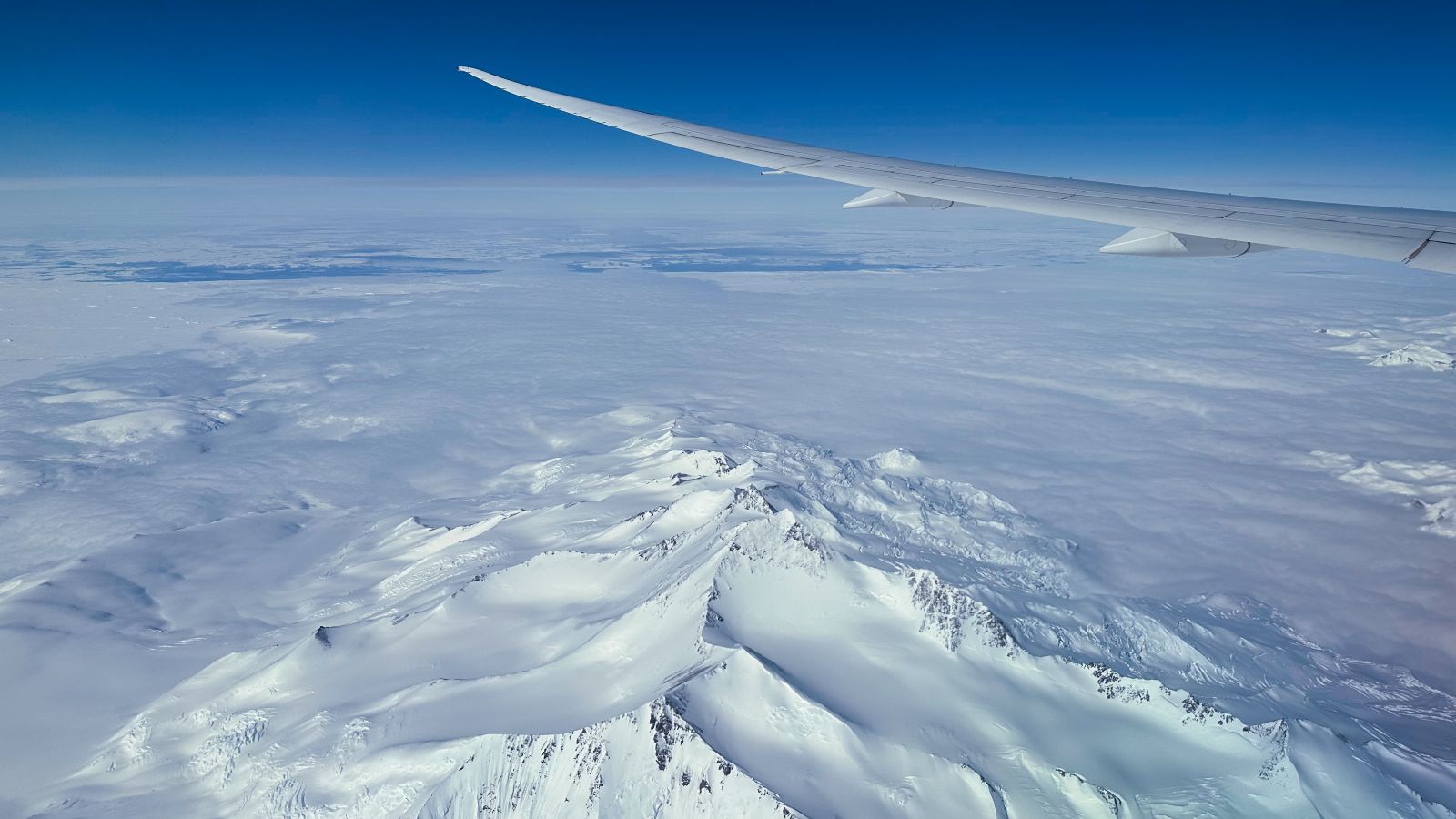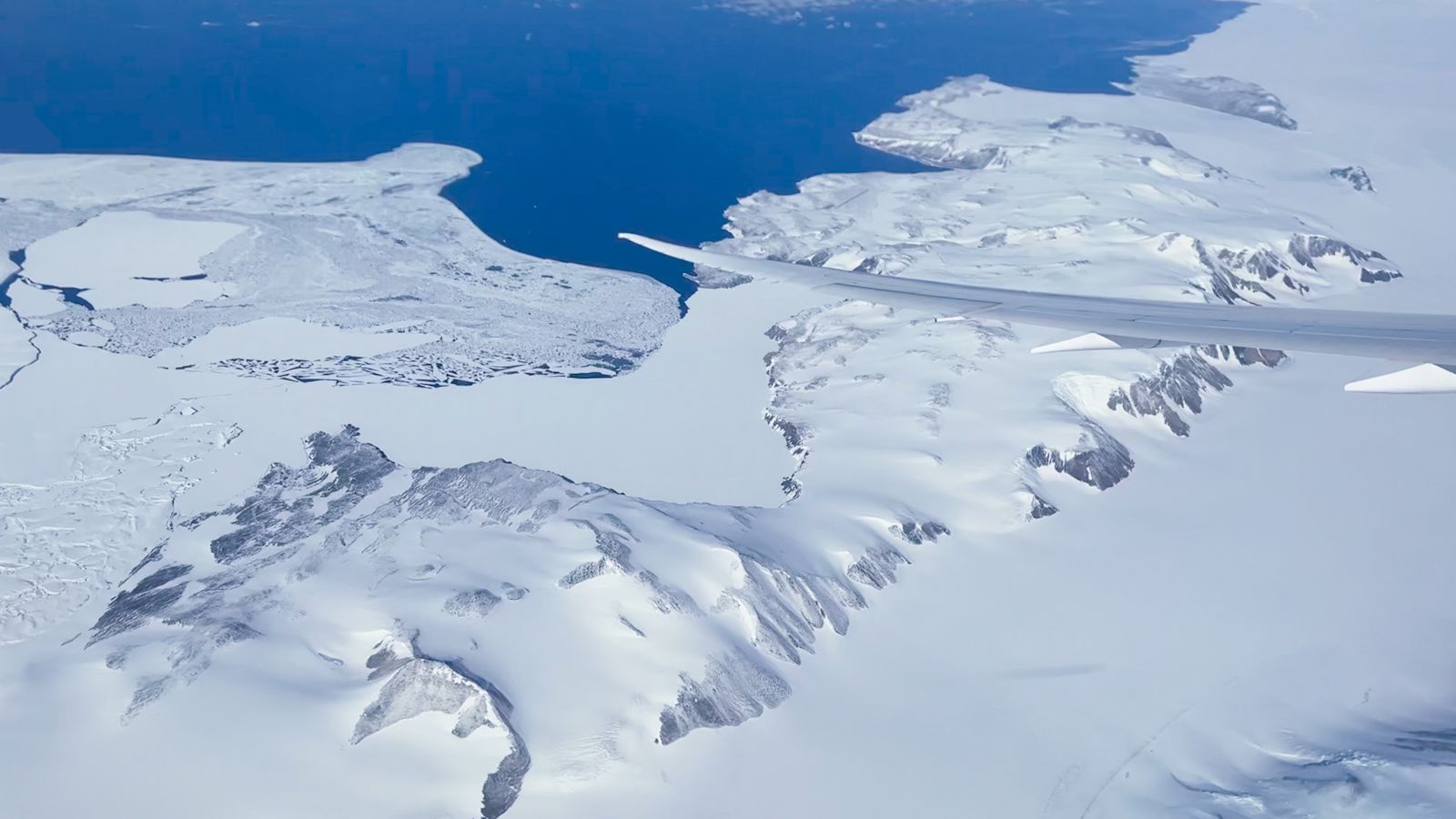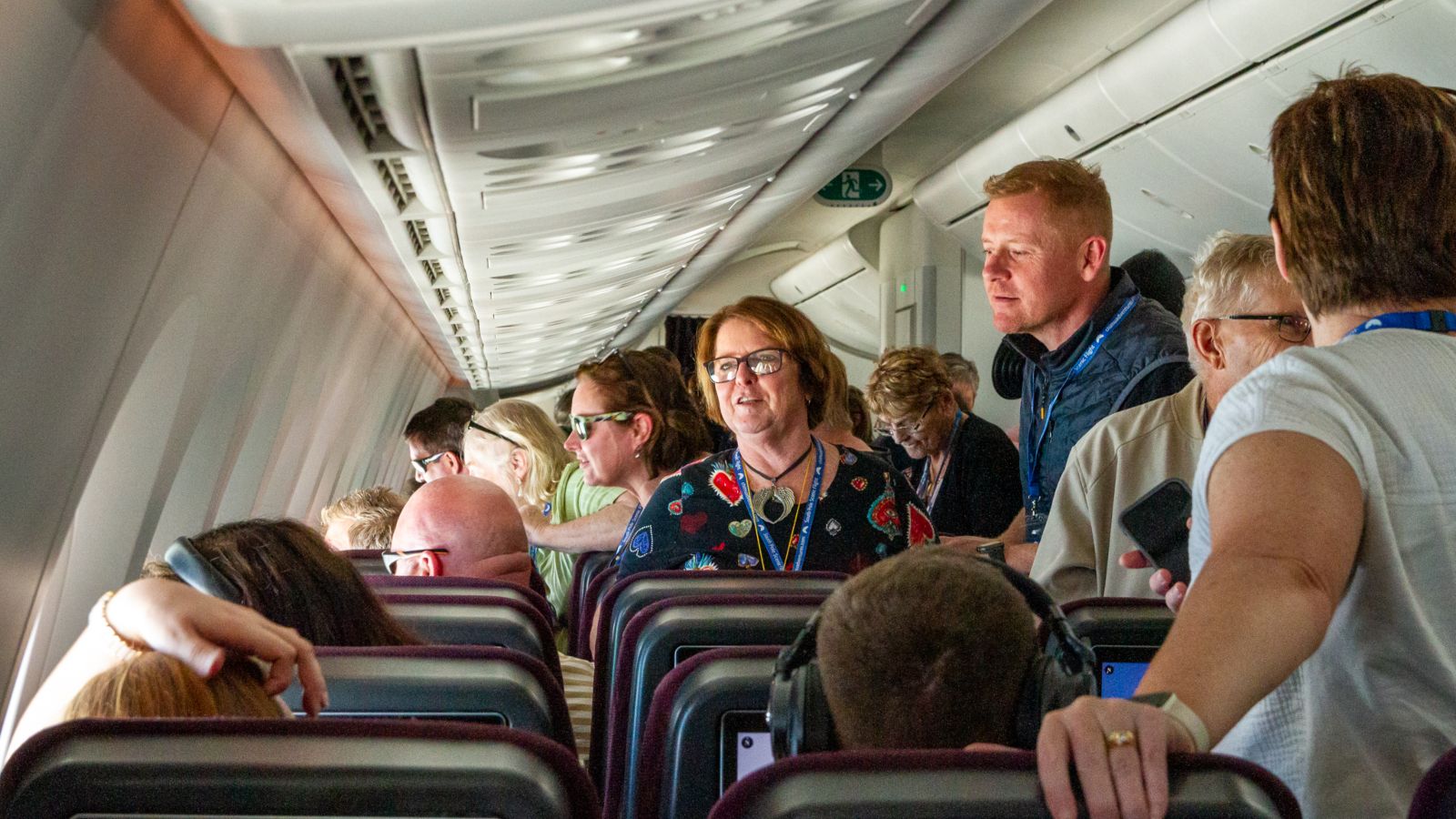 Weaving over the south magnetic pole
As the journey continues, the whole Economy cabin begins to resemble more of a party than a commercial plane flight. People are standing up in the aisles and swapping seats to give everyone a view. Passengers are sharing cameras, photos and stories. The mood is fantastic and very enjoyable. Time certainly does fly when you're having fun. And how could you not, when you've got a cabin full of lively passengers to share this unique experience with?
We venture deeper into the heart of Antarctica, and the cloud begins to return. We lose the perfect, clear views below. Fortunately, the lack of other aircraft over this part of the world gives the flight crew flexibility to change course. They manage to plot a course that weaves around the clouds on the way to Mount Erebus, the most active volcano in Antarctica. Similar to the famous Mount Fuji and Mount Kilimanjaro, it seems to rise majestically out of nowhere from the flat surrounding landscape of the Antarctic interior. We circle the volcano a few times to give everyone on both sides of the plane a view, before continuing our trek towards the south magnetic pole.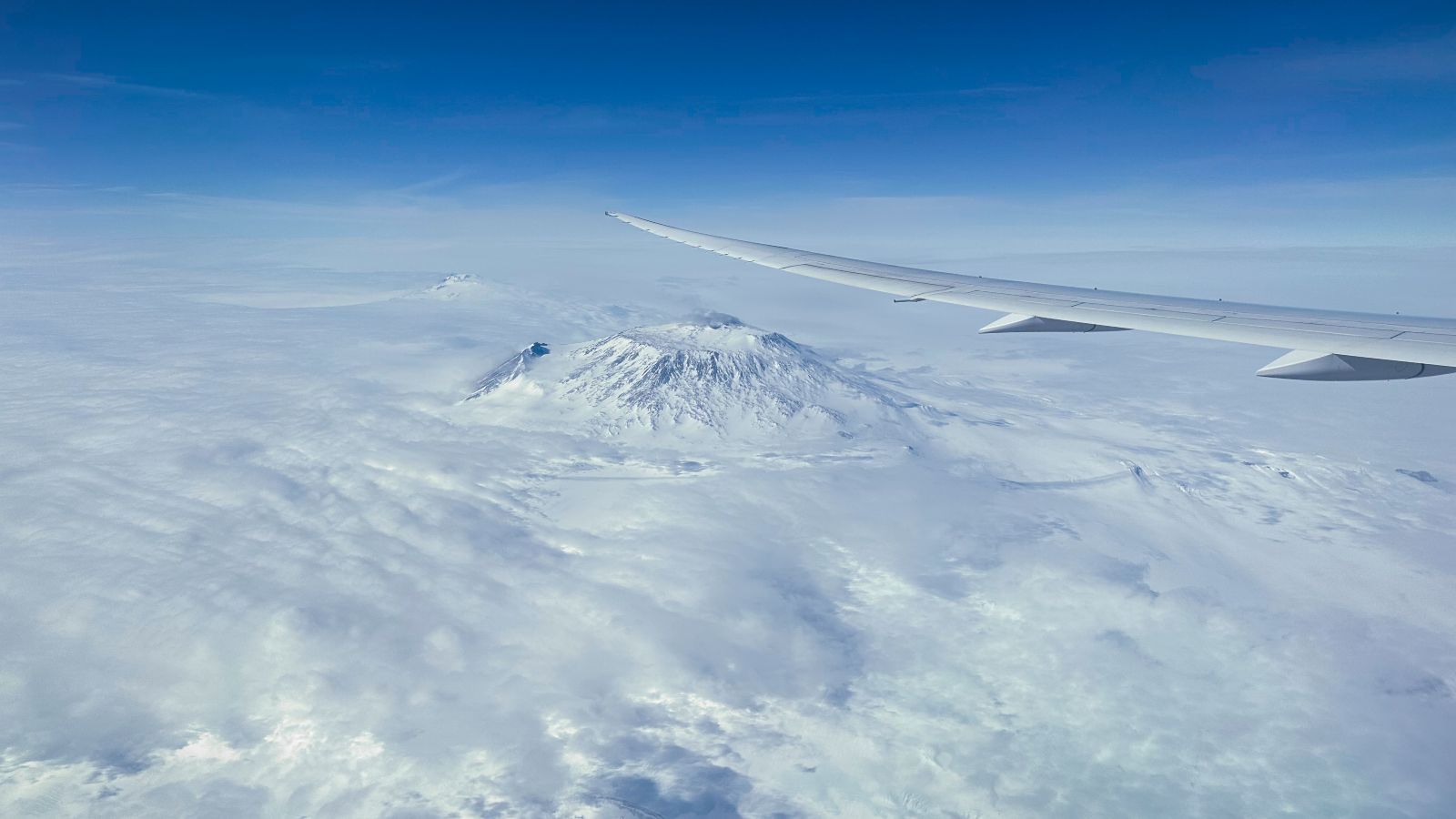 A different type of onboard entertainment
There's no chance of boredom on this trip, even when covering long distances over this amazing continent. Guest speakers onboard talk us through what we're seeing and share stories of their own Antarctic adventures.
We also hear the pilot chat over satellite phone with two expeditioners making their way across the land below. They tell us of their need to consume 8,500 calories daily to get their bodies through the arduous trek. I start counting the calories of what I've eaten today and decide I should probably join them instead of sitting idle in my climate-controlled Qantas Dreamliner cabin. But I'm quite enjoying myself at the moment.
The cloud returns as we approach the South Pole, and we're warned that we may not get to see the Amundsen-Scott research station located there. We circle the pole and those with a magnetic compass pull them out and marvel at the craziness of being here. Sure enough, like every other time this glorious day, the clouds begin to thin out and the American research station comes into view below. The pilot is able to contact a scientist below and chat over the audio system of our aircraft to tell us about life on the station. We're lucky they answered, as they're in the middle of their Thanksgiving celebrations!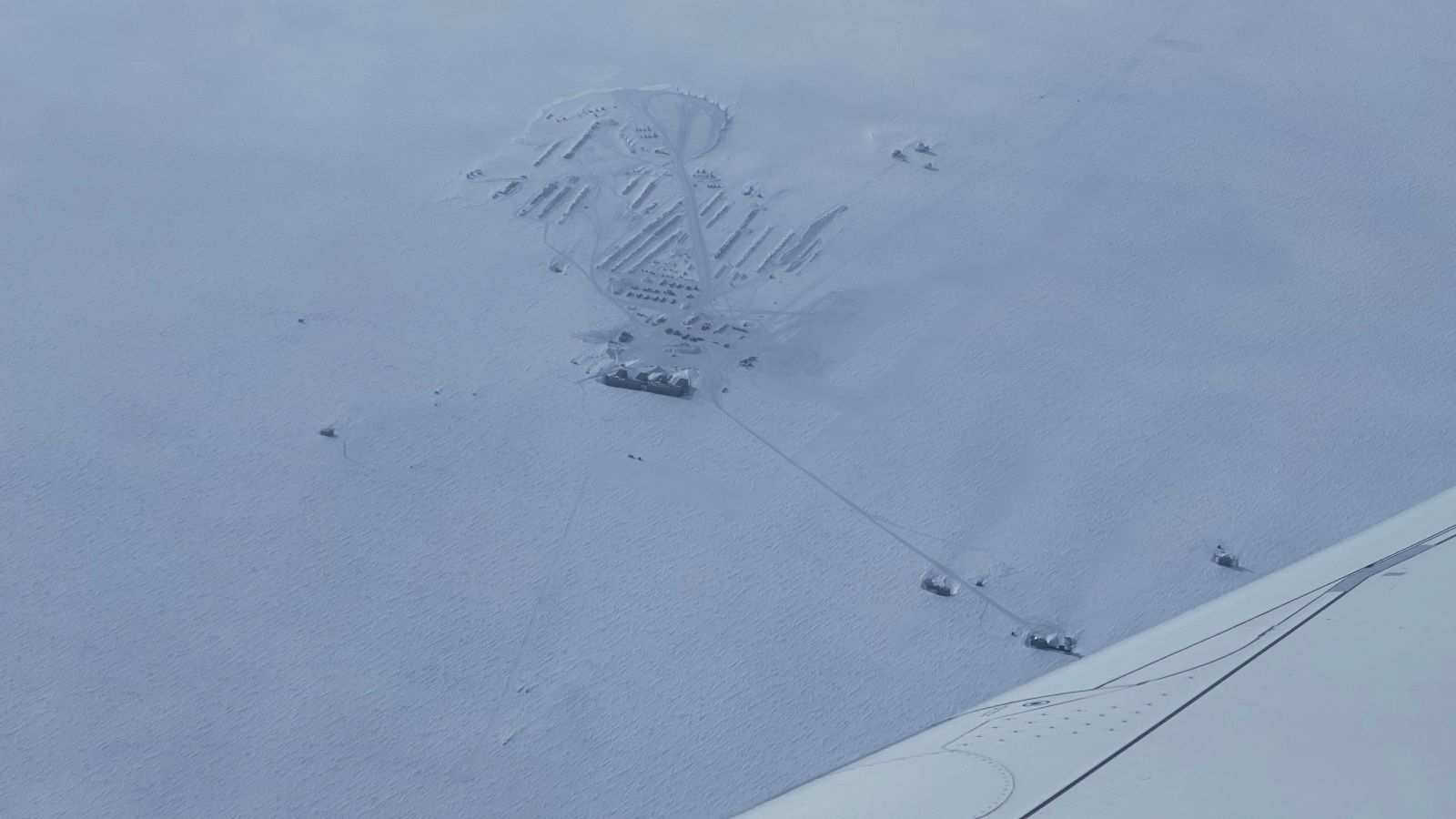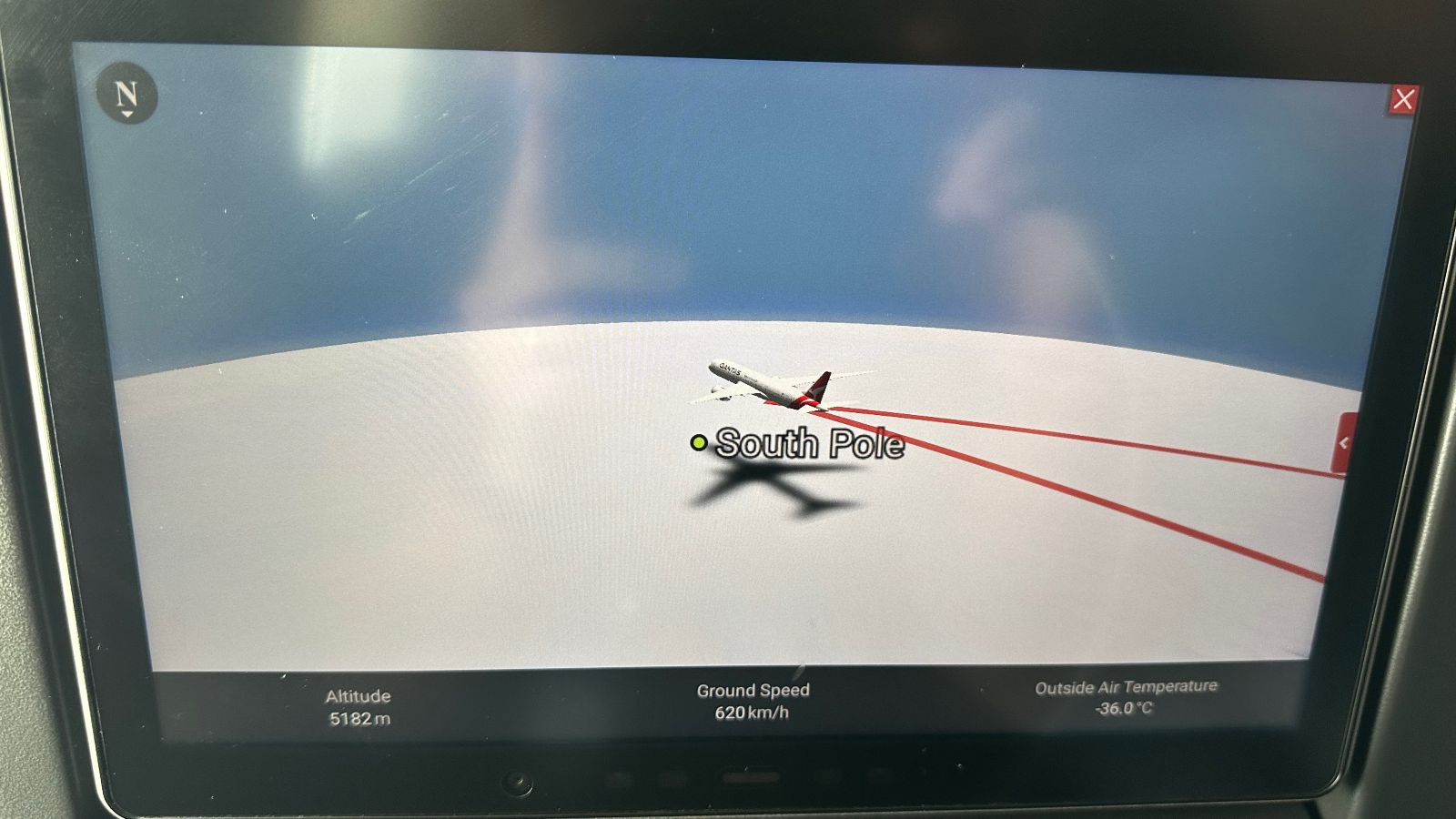 Ad – Scroll down to continue reading.Minimum spend, terms & conditions apply.
Farewelling the South Pole
We begin the long journey home, but there is still one more amazing sight to behold. Of all the things I've seen today, the McMurdo Dry Valleys are probably the most spectacular. These large, snow-free valleys have not seen rain for nearly two million years! It's one of the most extreme deserts in the world, and something I didn't expect to see after gazing at nothing but white snow for hours. Fortunately, the clouds part one final time to reveal this wonder of the world.
We bid a final farewell to the frozen continent and move back to the normal cruising altitude of 12,000 metres for the trip home. On the journey back, I reflect on all the wonderful things I've seen today. It almost seemed like a dream that I managed to see all that I did – and I'd be back home before 24 hours had passed. I marvel at the wonders of the age we live in where we can visit the most remote, spectacular corner of the globe, and still be back almost in time for dinner.
The power of points
I've had the pleasure of travelling in a number of First and Business Class cabins and experienced luxury that I never thought possible before immersing myself in the world of frequent flyer points. But this flight – even in Economy – was probably the best of the lot. Not because of luxury, or amazing food, or next-level service – all of which make flying up the pointy end so alluring. But simply because I get to see what very few others ever have.
The experience was made even more special by the camaraderie of the passengers onboard. Even the Qantas crew were palpably excited to be on this flight. They were in among the rest of us – taking photos, enjoying the sights and being part of this unique team of travellers. This was 170,000 Qantas Points I will never regret spending.
How to book a scenic flight to the South Pole
There's never been a scenic flight to the South Pole – until now. So now that I've given you a rundown of what to expect, here's how you can get booking.
Chimu Adventures charters the Qantas Dreamliner that will transport you to the remote territory. You can also jump onboard Chimu Adventures flights to Antarctica from other Australian cities, though you can only fly all the way to the South Pole from Melbourne. All upcoming flights are listed on the Chimu Adventures website, and you'll need to give them a call to book.
I paid 170,000 Qantas Points + $0 in fees and taxes for an Economy No Wing seat. Without points, the same seat cost $3,920. That means each point is around 2.5 cents which is well above our current valuation for Qantas Points, and an excellent deal for Economy.
And if you need to top-up your points balance, I've included some ways to earn points below. But first, check out these great credit card deals, which will nab you a stash of bonus Qantas Points in no time.
Featured deals
Tips
If you have the points, I'd recommend booking an Economy No Wing seat. This gives you a good chance at uninterrupted views, though you won't be able to choose your seat. The Limited View seats are easier on the budget, but you won't be allocated a window for any part of the journey. Still, with everyone moving about the cabin, many passengers are kind enough to offer their window seat for a bit. There are also windows near the galley areas.
During the return leg, I had the opportunity to spend some time in the Premium Economy cabin. It's a far more comfortable trip with better food and beverage offerings than Economy, but it lacked the social, community feel. This may have been because we were on the way home, and everyone's phones were already full of photos. Still, if you're after a more social experience, I'd definitely recommend Economy. The ability to move around the cabin made the trip far less taxing on my legs than I'd expected.
If you live far from the airport, I'd recommend spending the night before at an airport hotel. It's already a long day, and the extra sleep you'll get is invaluable.
Bring a charging cable or powerbank for your phone. All the photos and videos I took almost drained my battery halfway through the flight!
This flight only operates around late November to early December to target the favourable weather conditions. I'd recommend booking early so you don't miss out. If you don't have the Qantas Points or cash ready to go, wait until closer to the date. Chimu Adventures offers last-minute sale pricing if the plane isn't full. But be aware that there is no guarantee there'll be seats left, especially after the Point Hacks audience reads this article!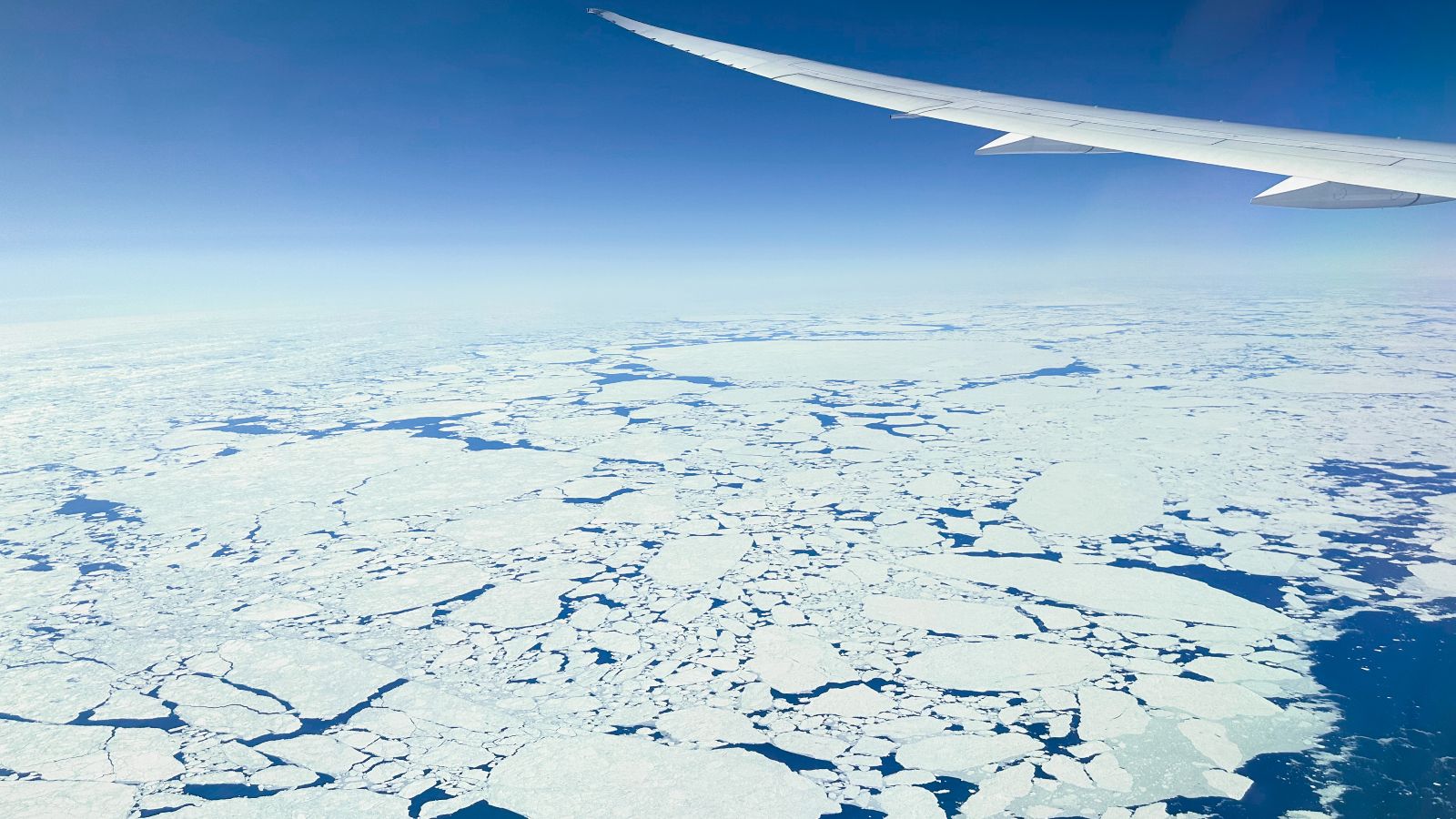 How to earn Qantas Points towards your own unparalleled experience
For many, travelling to the South Pole or even catching a glimpse of Antarctica is on their bucketlist. But even if your list looks a little different, you can still experience your own trip-of-a-lifetime using Qantas Points. If you haven't yet joined the Qantas Frequent Flyer program, there's no better time to get started.
Credit cards
A points-earning credit card is one of the best ways to boost your points balance. Many offer generous bonus points for new customers once you're approved and reach a minimum spend. You can also take advantage of other benefits with your new card, which may include travel credit, insurance or even lounge passes. Some cards worth considering are the Qantas Premier Platinum, Westpac Altitude Qantas Platinum and Qantas American Express Ultimate.
Qantas Wine
With Qantas Wine, you don't need to choose between a beverage or points. You can have both! Plus, you earn one Qantas Point per dollar spent – and triple for Points Club members. But the main attraction for point hackers is the bonus point offers on certain cases, which can earn you up to 20,000 Qantas Points pronto.
Qantas Shopping
The Qantas Shopping portal has plenty of online retailers, from big-name electronics stores to popular beauty brands. All you need to do to pocket some extra points is to click through to your preferred store via the Qantas Shopping portal, which tracks your purchase and awards points. You can earn up to 15 points per $1 during major promotional periods, which can go a long way toward your own South Pole journey.
Everyday Rewards
Thanks to Qantas' partnership with Everyday Rewards, you can convert your points earned at retailers like Woolworths, Big W, Bunnings and Officeworks into Qantas Points.
It's time to soar to the South Pole
Tick off your bucketlist with a scenic flight to the South Pole, courtesy of Qantas Points.
If you're looking for more experiences like this one, subscribe to the Point Hacks email newsletter to discover where your points can take you. Memorable experiences await.
Photography by Michael Siwes, who travelled at Point Hacks' expense.
Soar to the spectacular South Pole on Qantas Points
was last modified:
October 10th, 2023
by