Etihad Guest is an interesting beast – with over 20 airline partners, Etihad Guest miles can be used to travel far and wide across various airline alliances. Etihad Guest miles can be handy if you're travelling domestically with Virgin Australia or across to Japan with ANA.
How do I buy Etihad Guest miles?
All you need to buy miles is an Etihad Guest account in good standing. (If you don't have an Etihad Guest account, sign up now to earn 500 bonus miles with your first flight). Once you're logged in, you can buy Etihad Guest miles through the dedicated page.
Head to the 'Accelerate your miles' landing page.
Log in to your Etihad Guest account.
Click on 'Buy your miles today.'
Choose the number of miles you wish to purchase.
Enter your payment information to complete checkout.
Your purchased Etihad Guest miles should be ready for use soon.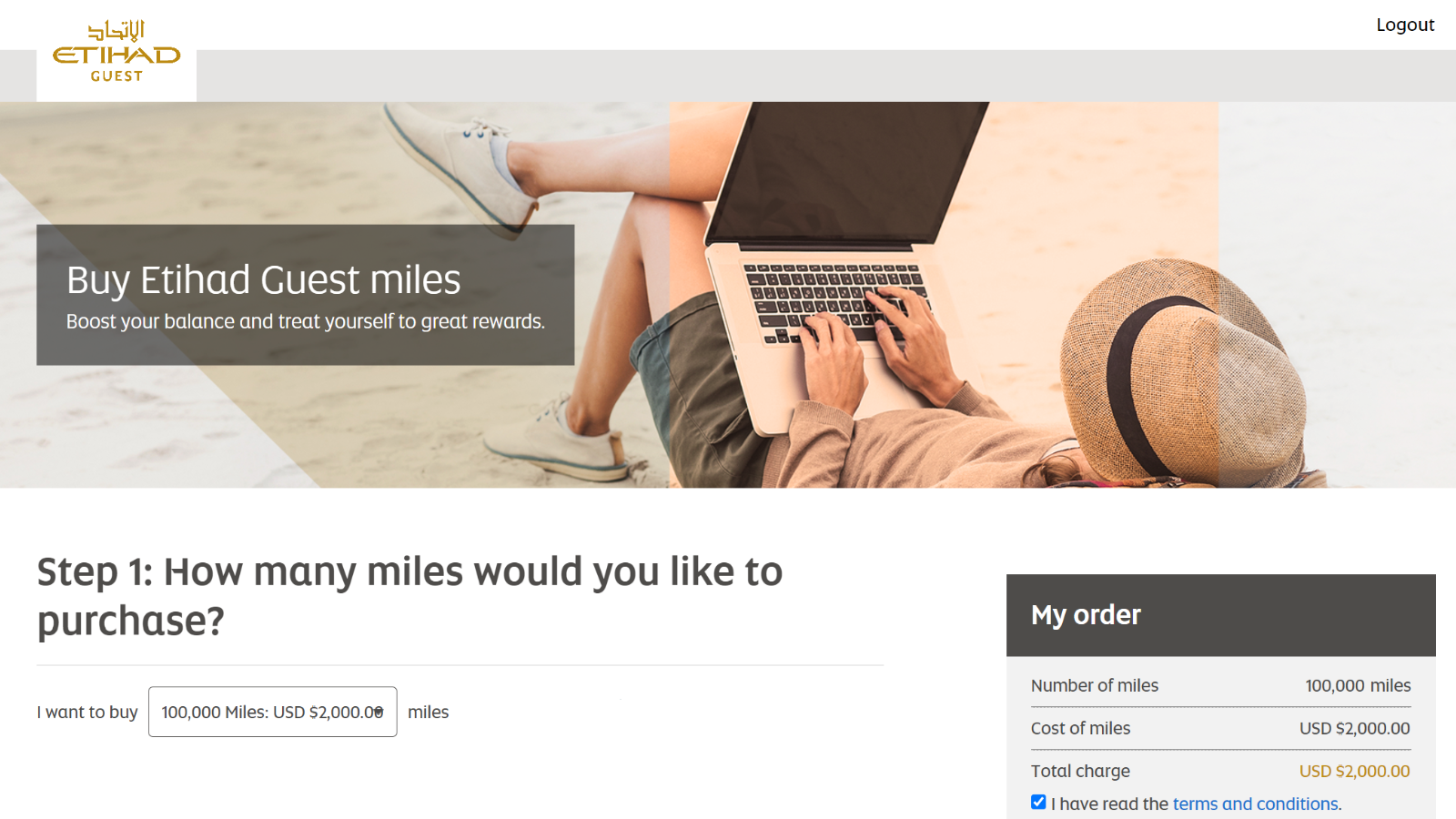 Important notes
You can buy a maximum of 100,000 miles in a calendar year. (Platinum Etihad Guest members can buy up to 150,000 miles instead).
Miles usually post within 24 hours but can take up to 72 hours.
The usual price is US$2,000 for 100,000 miles, which equates to 2 cents per mile (USD).
Points purchases are managed by points.com, meaning this will not qualify as a travel purchase for credit cards with bonus points categories.
You should aim to buy Etihad Guest miles when there is an offer. The largest in recent times has been 70% bonus miles, which brings the cost down to as low as 1.18 cents per mile (USD).
Ad – Scroll down to continue reading.Minimum spend, terms & conditions apply.
Where can I go with Etihad Guest miles?
With many bespoke partnerships under its belt, you can travel far and wide with Etihad Guest miles.
Redeeming Etihad Guest miles on Virgin Australia flights
Redeeming your Etihad Guest Miles for travel on Virgin Australia is often a low-fuel-surcharge option for domestic flights within Australia. You'll only need to spend 6,900 to 33,800 Etihad Guest miles for Virgin Australia domestic and short-haul international flights in Economy or Business Class.
However, the booking can't be done online and requires a phone call to Etihad.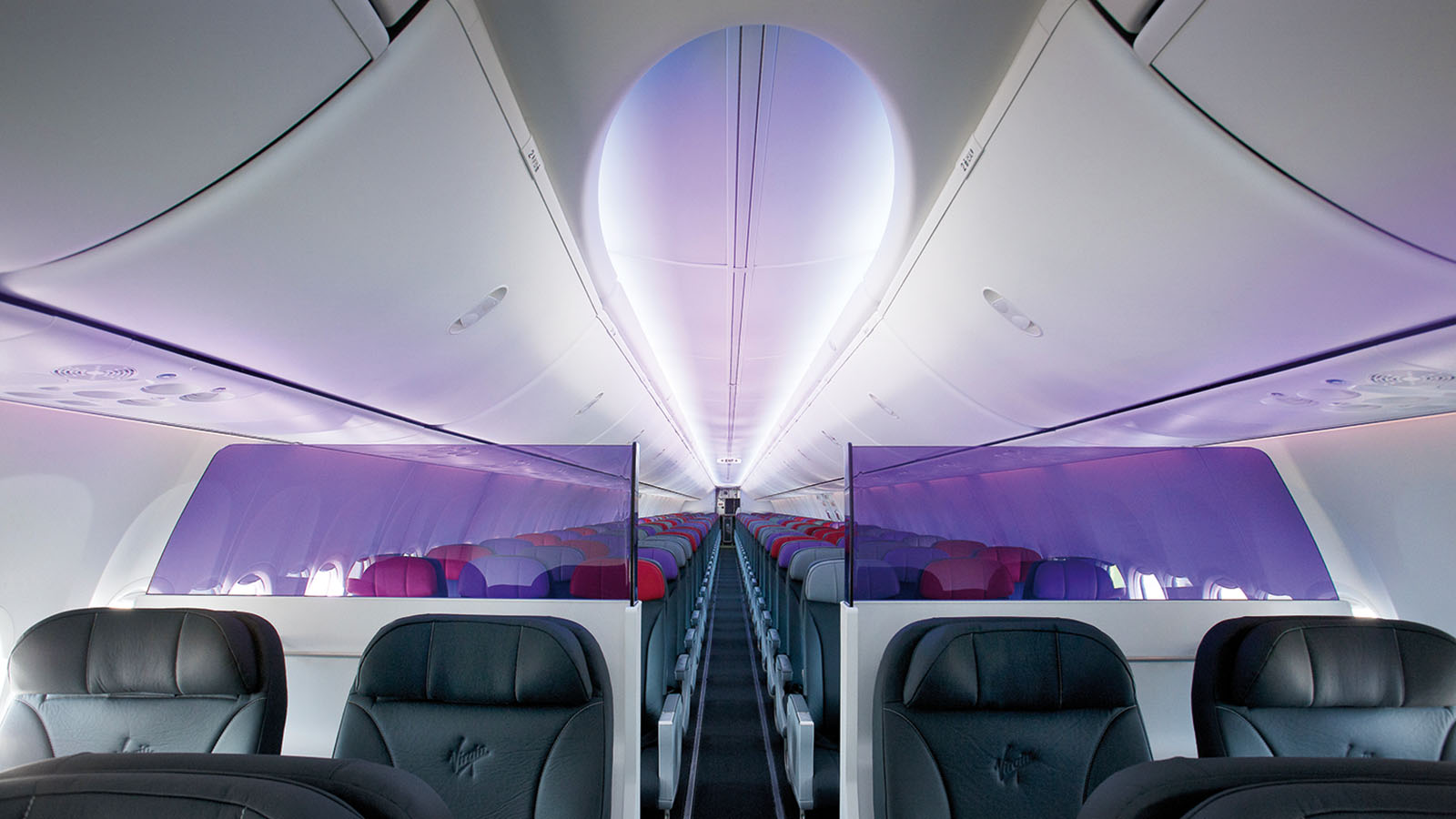 You will see in the table below that it makes more sense to buy Economy Class tickets on Virgin Australia with cash and Business Class tickets with miles.
The sweet spot in this table is Virgin Australia Business Class redemptions priced at 13,800 Etihad Guest miles and you can access the full list of those routes here. (Note that this table hasn't been updated since COVID, so some routes are no longer applicable).
| Route | Cabin | Airline | Etihad Guest miles required | Cost buying miles (USD)* | Average cash fare (USD) |
| --- | --- | --- | --- | --- | --- |
| Canberra - Sydney/Melbourne | Economy | Virgin Australia | 6900 | $96.6 | $75 |
| Perth - Adelaide/Melbourne | Economy | Virgin Australia | 10900 | $152.6 | $130 |
| Cairns - Sydney | Business | Virgin Australia | 13800 | $193.2 | $630 |
| Sydney - Queenstown | Business | Virgin Australia | 13800 | $193.2 | $660 |
| Hobart - Brisbane | Business | Virgin Australia | 13800 | $193.2 | $600 |
| Melbourne - Nadi | Business | Virgin Australia | 33800 | $473.2 | $580 |
*All redemption prices are in USD, one-way, and do not include booking fees, taxes, and other charges. Assumes a cost of 1.4 cents (USD) per mile when purchased with an offer.
However, if you have access to both points currencies, it is worth comparing Etihad Guest miles and Velocity Points for your next Virgin Australia flight redemption.
Some readers have shared issues with booking international Virgin Australia flights with Etihad Guest miles. It seems that the Manchester call centre (+44 3456 081225) is the most helpful and may require special supervisor permission to book one of these flights.
Redeeming Etihad Guest miles on Etihad flights
Etihad Guest miles can, of course, be used on Etihad flights. Again, it is the premium cabins that will give you the most value. Reward seats with Etihad Guest are called 'GuestSeats' and are priced somewhat dynamically based on the distance flown and other factors.
For example, a Sydney-Abu Dhabi GuestSeat Business starts from 100,000 miles + AU$95, while a Sydney-London GuestSeat Business starts from 162,500 miles + AU$110, according to the calculator.
But when we run a search for Sydney-London GuestSeat Business, we are seeing options for 195,051 miles + AUD$110 per person. This is an example of dynamic pricing with GuestSeats.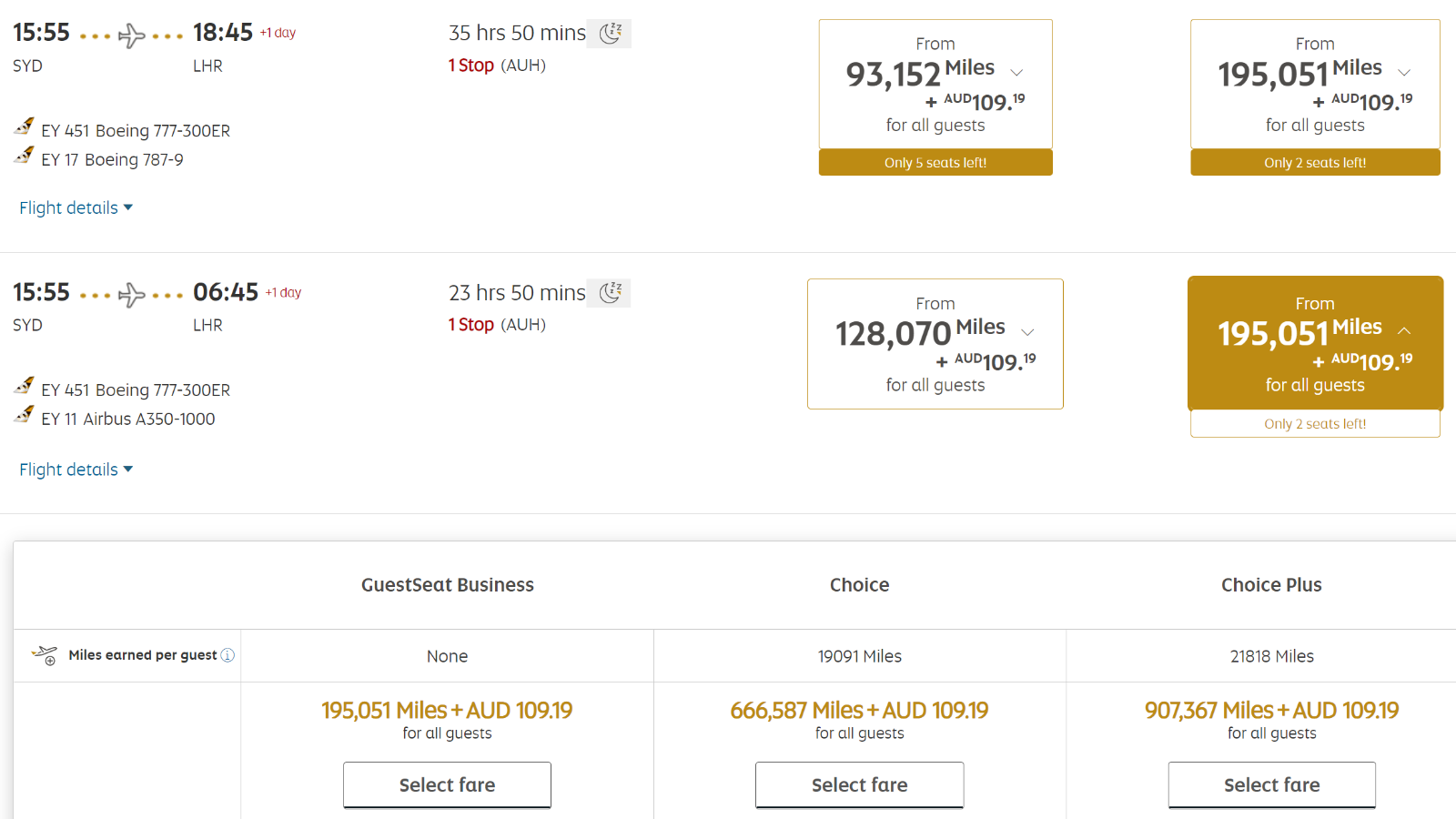 If you're buying Etihad Guest miles for GuestSeats, make sure to check for availability before purchasing. Also, check to see how dynamic pricing affects the reward's pricing and how much a comparable cash fare is.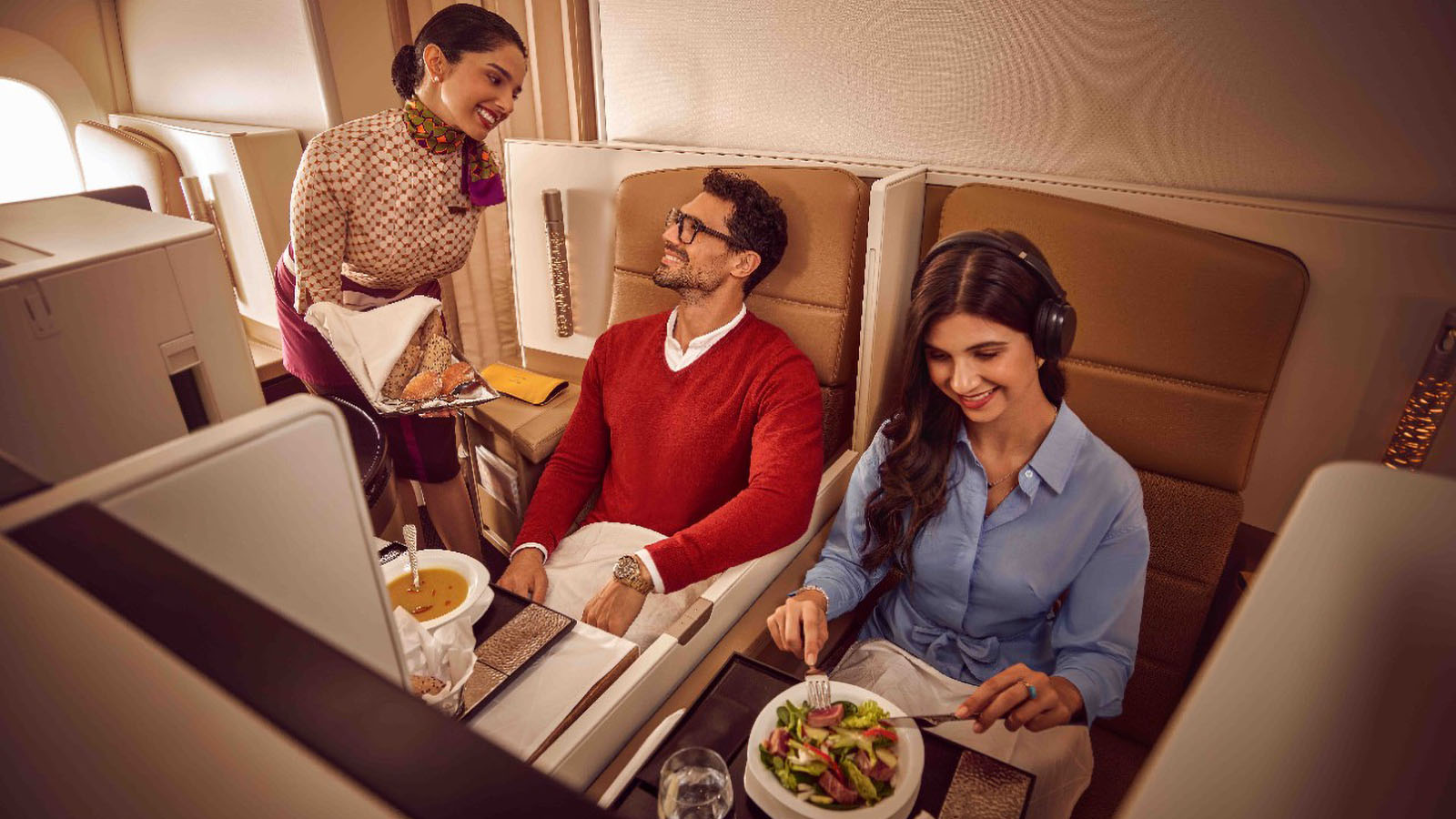 Redeeming Etihad Guest miles with Etihad partners
Etihad Guest miles can also be redeemed for travel on 20+ airline partners, including American Airlines, ANA, and Hainan Airlines. Interesting Etihad Guest redemptions for Aussie readers include:
ANA: Sydney-Tokyo in Business for 54,000 miles
American Airlines: North America to Australia for 62,500 miles in Business
See the full list of Etihad Guest partners and redemption rates here →
How to buy Etihad Guest more cheaply if you already have some in your account
A method to make your Etihad points stretch further – at least when booking online – is to use the option to pay in part miles and part cash, meaning you can 'buy' miles for as low as 0.9 cents (USD) each. This is much better value than buying them outright at up to 2 cents (USD) a pop.
But that is only if you already have at least 75% of the required miles for the redemption and it is only for Etihad-operated flights.
Summing up
As always, we don't suggest you buy Etihad Guest miles speculatively. However, if you are looking at using cash for a Business Class seat, you could save money by buying miles for a GuestSeat.
Luckily for Aussie readers, Virgin Australia redemptions with Etihad Guest miles can be pretty good value, particularly for short-range flights costing 13,800 miles in Business Class.
Frequently asked questions
Can you buy Etihad Guest miles?
Yes, you can buy up to 100,000 Etihad Guest miles per calendar year. Miles cost 2 US cents each. However, you can get a cheaper price by buying them during promotions. These promotions tend to run 2-4 times a year.
How long are Etihad Guest miles valid?
Etihad Guest miles expire after 18 months of inactivity. Make sure to earn miles or use them on a redemption every 18 months so to keep your account balance active.
Have you had any wins buying Etihad Guest miles? Share in the comments below!
This content contains affiliate links from which Point Hacks may earn commissions from transactions generated from new customers, bookings and general enquiries. Find out more here. This article was previously written by Daniel Kinnoch.
How to buy and use Etihad Guest miles
was last modified:
February 2nd, 2023
by