Bankwest has recently decided to offer their Qantas World Mastercard to new customers, and in return have eliminated the Qantas Gold Mastercard from their Qantas cards range.
We will take look into the details of both the Qantas Classic and Platinum Mastercard in this guide. The Platinum MasterCard is packed with similar benefits as the World Mastercard version and comes with a standard $160 annual fee which can also be bundled with your Bankwest home loan, if you have one.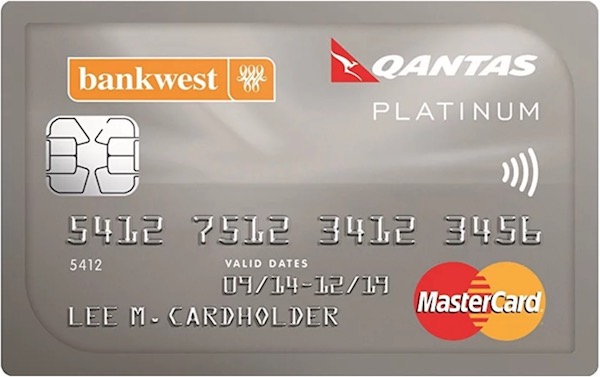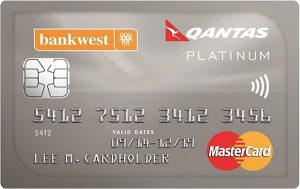 Earning Qantas Points from Spend
Bankwest has downgraded the earn rate of the Platinum card in June 2016 from 0.75 Qantas point to 0.5 Qantas point per $1 on day to day spend with a cap of 200,000 points per year. There are no overseas or Qantas spend bonuses.
The Classic card also earns 0.5 Qantas Points per $1 on spend but with an annual cap 50,000 point and limited benefits.
Other Benefits of the Bankwest Qantas Platinum Mastercard
The best benefit of the Platinum card over the Classic in my opinion is the waived foreign transaction fees, with this card being one of the few cards on the market together with the Bankwest World Mastercard which offers this waiver while still allowing you to earn points.
Given there is usually a 2.95% surcharge on your overseas spend with Bankwest's other cards, this is a substantial saving, and covers online and in-person transactions.
The Bankwest Qantas Platinum card also offers travel insurance with up to 6 months per trip coverage and $3,000 of car hire insurance excess. There are more details on the included insurances here.
This guide references some of the benefits of insurance policies provided with this card.
You should read the PDS and obtain independent professional advice before obtaining this product.
| Card Details | |
| --- | --- |
| Card | Bankwest Qantas Platinum MasterCard |
| Loyalty program | Qantas Frequent Flyer |
| Points earned from spend | 0.5 Qantas Points per $ spent |
| Points cap | 200,000 points annually |
| Travel benefits | Waived foreign transaction fees |
| Included insurances | Domestic and international travel insurance, purchase security insurance (PDS) |
| Overseas transaction fee | 0% for online and overseas purchases |
| Annual fee | $160 |
Comparing Bankwest Platinum to Classic
With the same earn rate on both cards, the primary differences in benefits between the two are the points capping and the foreign transaction fee waiver.
The annual fee for the Classic is $100. Given the Platinum card is only $160, I'd suggest going for the Platinum card, specially since it comes with complimentary insurances while the Classic does not.
| Card Details | |
| --- | --- |
| Card | Bankwest Qantas Classic MasterCard |
| Loyalty program | Qantas Frequent Flyer |
| Points earned from spend | 0.5 Qantas Points per $1 spent |
| Points cap | 50,000 points annually |
| Travel benefits | n/a |
| Included insurances | n/a |
| Overseas transaction fee | 2.95% of the converted amount |
| Annual fee | $100 |
Halo Payment Ring
These Bankwest cards are also eligible for the Halo Payment Ring, embedded with a Mastercard Contactless chip.
Summary – Bankwest Qantas MasterCard range
The earn rate for both Classic and Platinum cards are not the best in the market, however, if there's a decent sign up bonus on offer and you spend a considerable amount on overseas transactions and prefer saving cash to earning more points, then the Platinum card is a decent option.
Otherwise, there are Qantas Cards out there with higher earn rates on spend which you could probably consider instead.
Guide to Bankwest Qantas Classic & Platinum credit cards
was last modified:
December 22nd, 2018
by
Point Hacks Credit Card Information
Point Hacks is published by Point Hacks Australia Pty Ltd (ACN 622 987 160), a corporate authorised credit representative (Number: 504786) of MSC Advisory Pty Ltd ACN 607 459 441 (Australian Credit License: 480649). In some instances, Point Hacks Australia Pty Ltd receives a commission or benefit for referring you to the services of a credit provider. This commission or benefit is disclosed at the point of referral to the credit provider. This website does not provide credit, assist you in obtaining credit, or advise you to apply for any particular product from a provider.
We have not taken into consideration your personal circumstances or financial situation when providing the information on this website. It is important you read the relevant PDS from the product issuer and seek the independent advice of an appropriately qualified professional before making a decision on a product.
While we invest a great deal of time and energy into ensuring we provide with you with the most up to date and accurate information, we do not warrant the accuracy of statements or information contained on the Website relating to third party goods and services, including credit card information, loyalty schemes and rewards. You acknowledge that such information and materials may contain inaccuracies or errors and we expressly exclude liability arising from any person acting on those statements or information to the fullest extent permitted by law. Where conditions or warranties are implied by law and cannot be excluded, our liability will be limited to the re-supply of information. You should confirm the accuracy of information provided on this Website with the third party product provider before acting on it.