Bankwest's Qantas Platinum and Qantas World Mastercards are popular with travellers, given they are two of a few points-earning cards with no foreign transaction fees. They are also both eligible for the new Halo Payment Ring, embedded with a Mastercard Contactless chip.
If you have a Bankwest Qantas Transaction Account, you are also eligible for this ring.
With the promise of being able to 'leave your wallet behind', the ring is extremely convenient when travelling, as it is small and waterproof, and doesn't require charging.
This guide takes the Halo ring for a test drive and considers how it might assist a frequent traveller.
Eligibility
The Halo is currently available in black or white, for Bankwest customers with a credit or debit Mastercard. If you are not a Bankwest customer but keen to use contactless, check out our guides to Apple Pay and Android Digital Wallets.
Ordering the Halo
To order a Halo, you need to visit a Bankwest branch or jump onto online banking to obtain a free ring-sizing gauge. These rings are made-to-order and hard-linked to your card. Bankwest provides a measuring guide to assist with ordering the correct size.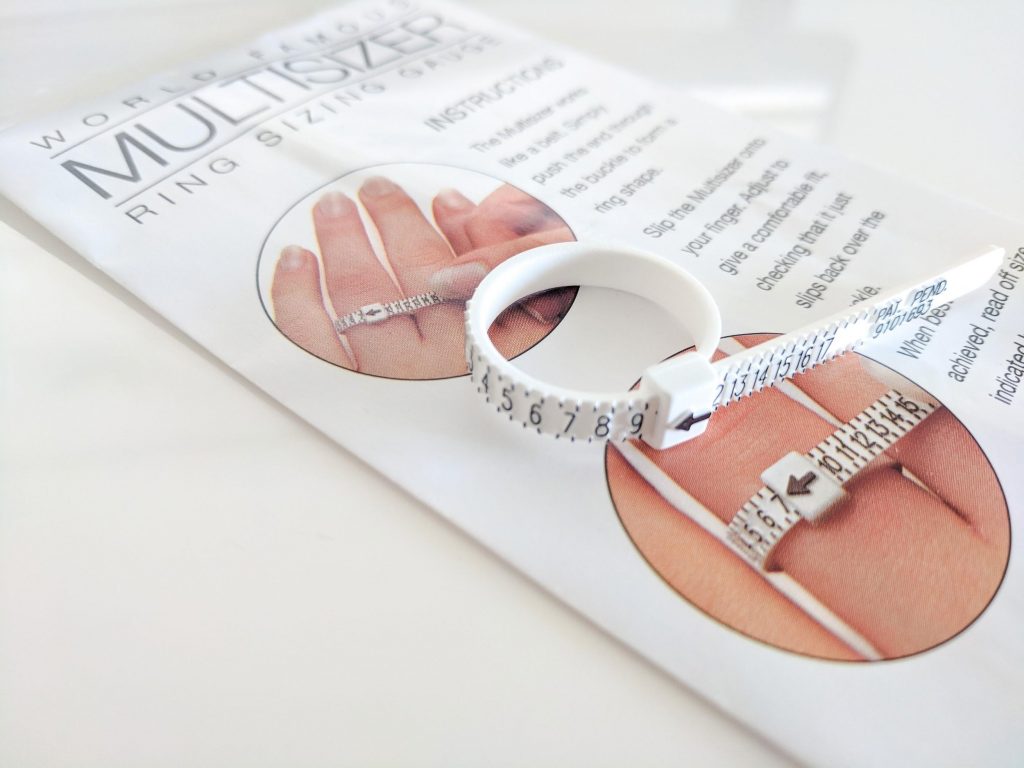 Ring-sizing kits can be ordered for free and take about a week to arrive by post but you can also obtain one from a Bankwest location
Once you are sized up, the Halo can be ordered from within Bankwest Online Banking for $39.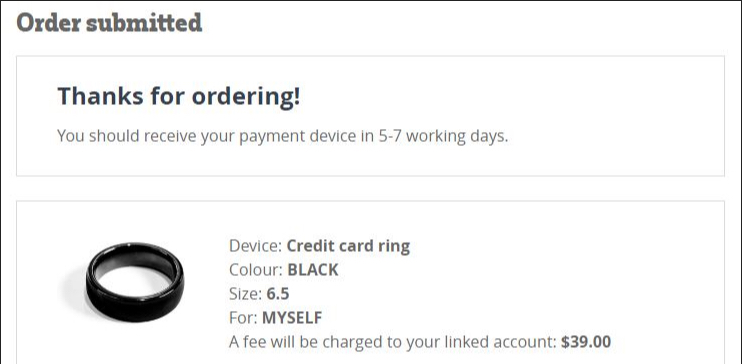 In the ordering process, you'll have the opportunity to select a size, colour, and whether to link it to your own card or a supplementary cardholder's card number
Supplementary cardholders would also need to purchase their own ring at an additional cost.
On my finger
The ring arrived one week after ordering, in a neat package reminiscent of Apple products.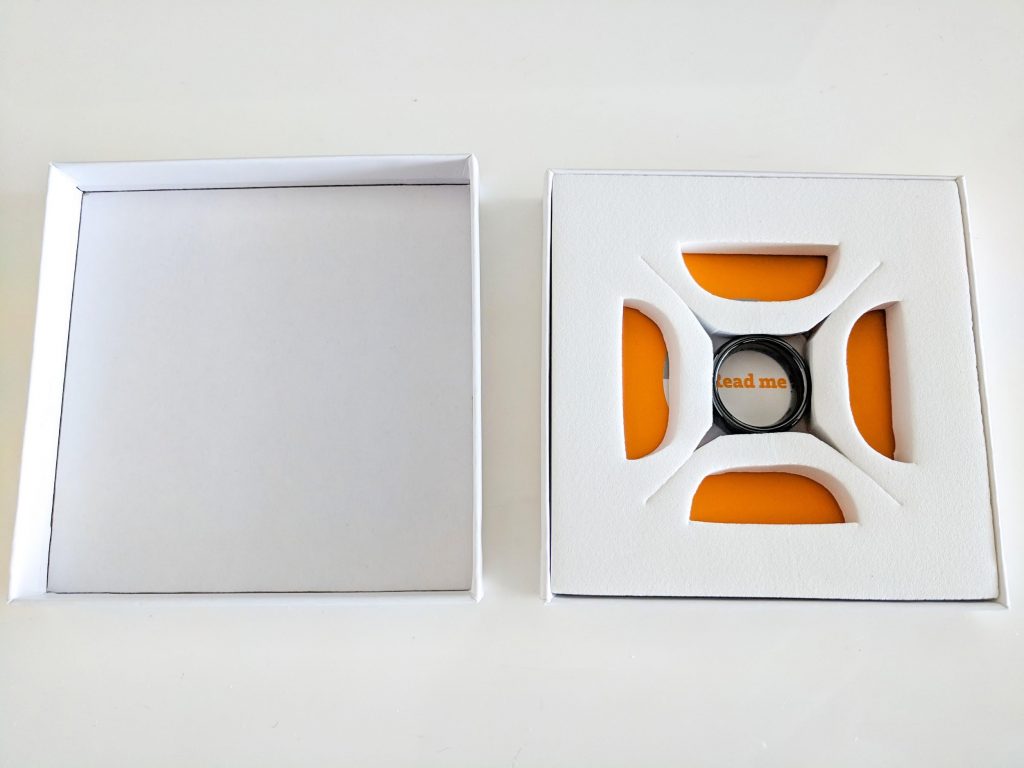 The small package arrived quickly, with the Halo activated and ready to use
The black ring has a pearlescent finish, with the Bankwest and Mastercard logos etched into the inner surface.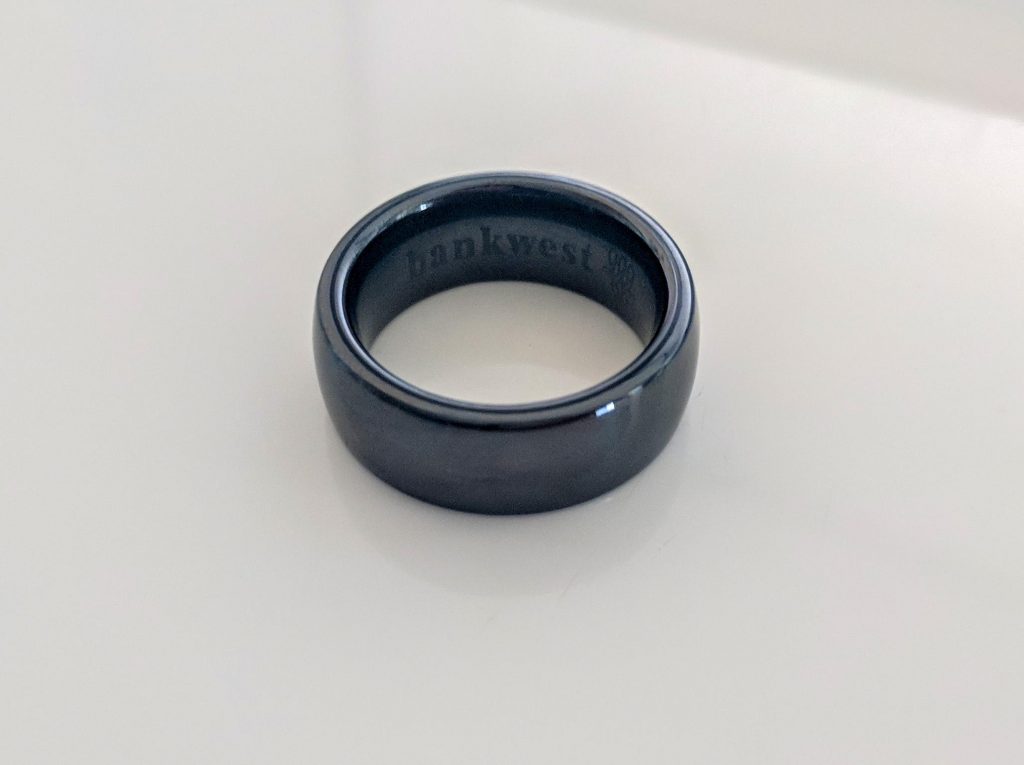 The Halo is a large ring but not unfashionable
The ring matched the size I ordered exactly, though the shape of the ring is a little wider than the preview in online banking. While thicker than rings I am used to wearing, I was impressed with its modern finish. I was certainly aware I was wearing a ring—and considering I'm carrying around my credit limit, that's arguably a good thing.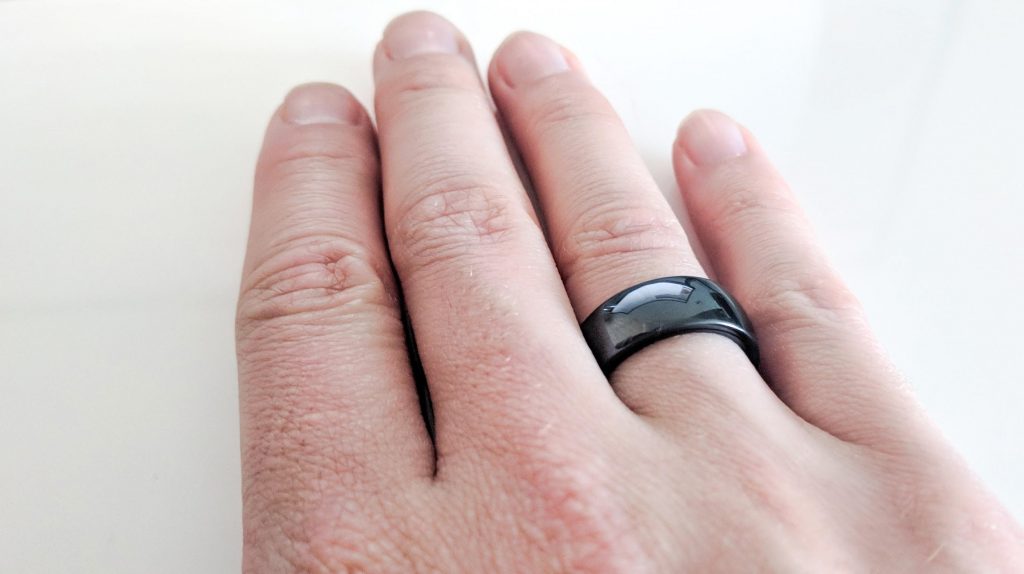 Sitting next to the knuckle of my smallest finger, the ring was quite thick, spacing the fingers on my right hand
It did take a while to get used to the thickness of the ring, which I found comfortable enough to wear for a day, but perhaps not quite enough to wear 24/7, or when doing finger-intensive work or activities such as rock climbing.
Ad – Scroll down to continue reading.Minimum spend, terms & conditions apply.
Around town
The next step was to test the Halo domestically. Expecting to get some odd looks, the first two stores I visited, a board game store and a coffee shop in Perth's CBD, both said I was not the first customer to use one, and showed me the best place on their EFTPOS terminal to tap the ring.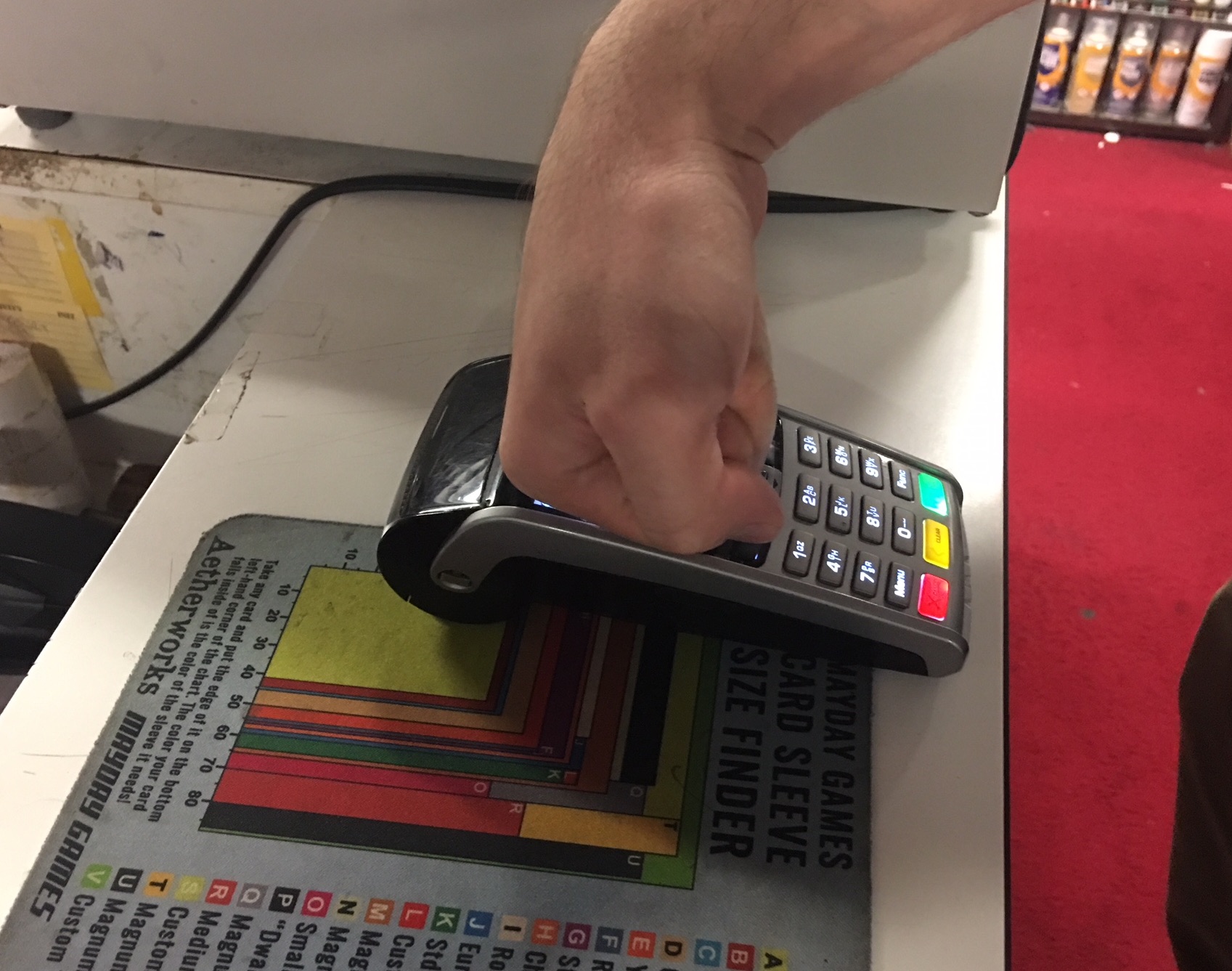 Fist-bumping the ANZ terminal placed the Halo ring close to the sensor at the top of the device. I must say, it did feel cool
When trying the ring out at a coffee shop, the barista did exclaim that she 'wished CommBank had one of those', which both reinforced to me that it wasn't a weird thing to use, and that this product may be successful for Bankwest.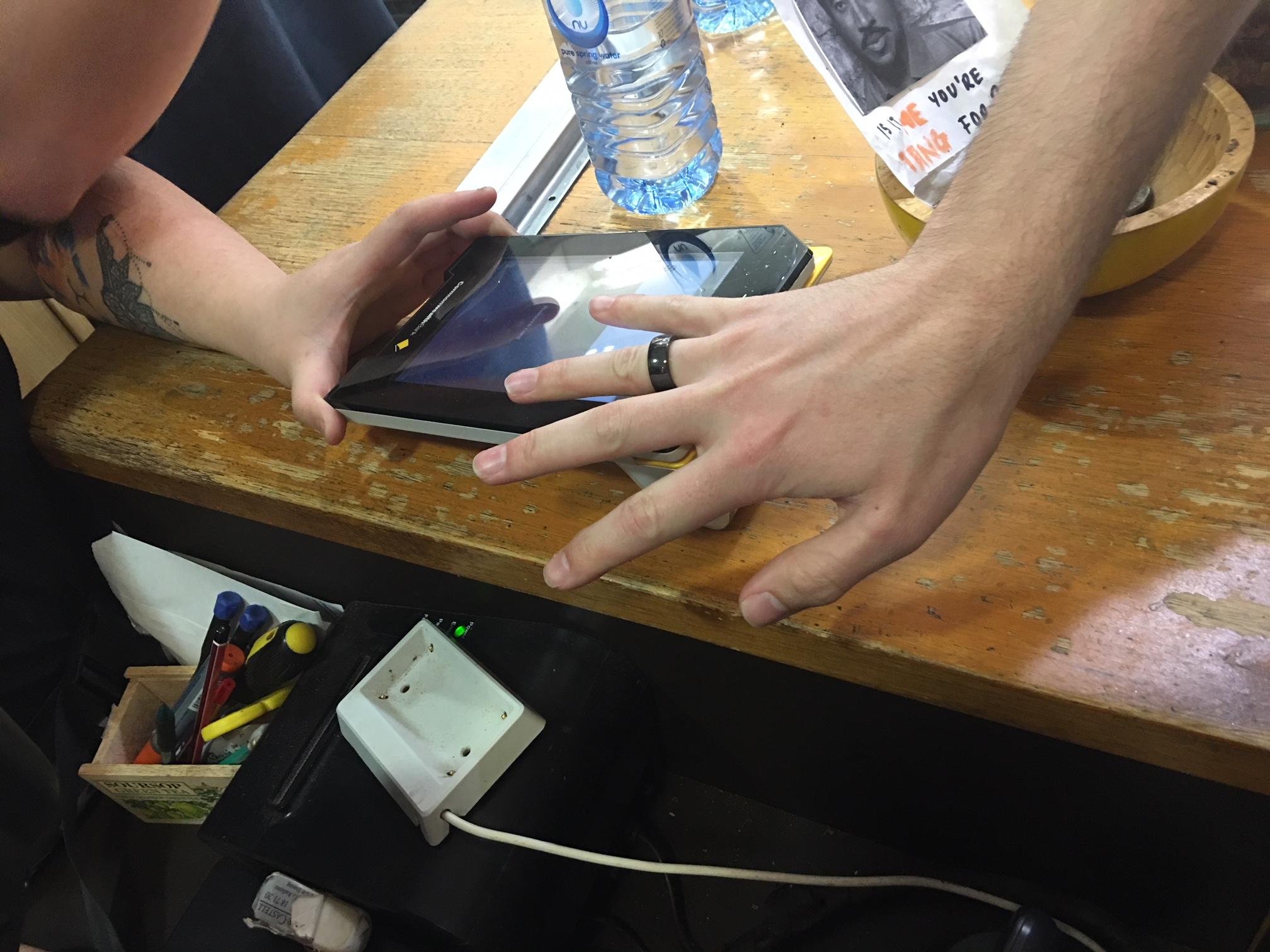 However, fist-bumping did not work on a CommBankk 'Albert' payment terminal, where I found the best method was to tap on the top corner
I've subsequently also used the ring successfully on Suncorp, Westpac, CommBank and ANZ terminals, as well as Tyro and Worldline terminals. In all cases, it was a little trickier to use than a card, but it did always work, leaving me confident to use the Halo as a payment method in Australia.
Trialling overseas
During recent travel to the Philippines and Singapore, I searched for opportunities to use the payment ring in place of a card.
In the Philippines, my experience (which is predominately outside Manila) is that cash is generally dominant, and while I was able to use my card at the occasional supermarket, chain or 7-Eleven, I was unable to use contactless payment or the Halo ring at all.
In Singapore, I had a 20-30% success rate with the ring, mainly due to the following:
In some locations, only Visa or NETS contactless were available, and not Mastercard; and
In others, while Mastercard contactless was available, I couldn't quite find the right location on the terminal, and so, after two failed attempts, I embarrassingly defaulted to using my card
More secure than a card?
If contactless is available in your destination, it could be considered that a ring on your finger is less likely to be stolen than a card or phone. It's also less likely to be swiped through a card copier.
Your primary card could remain secure in a travel wallet while you make purchases or generally enjoy yourself. I'm recalling being terrified of my wallet falling out of my pocket while on a roller coaster.
However, one downside to the ring is that it is tied to your Mastercard's number, so if you lose your card (or the ring) you will need to place a hold on both.

The Halo is also available in white, appearing to have a similar pearlescent finish
Waterproof but not smash-proof
The ring's 50-metre waterproofing is one of the Halo's primary selling points, however, the instructions do specifically advise that the ceramic body of the ring should not be subjected to shocks or force.
Summing up
The Bankwest Halo is a unique device. Its low cost and small size cater to those who do not want to carry around an expensive device with NFC, particularly in wet environments.
As contactless payment systems become more accepted, I can see the Halo being a useful addition to the payment methods I take when travelling. The appeal of not having to take a wallet out of my pocket will make me feel more comfortable in market-type environments.
For those that value function over form, the idea of jewellery being useful as well as decorative is attractive, and the design of the Halo, though large, is sleek.
However, it will still take a little while before I can break my habit of taking two or three cards and a wad of local cash when travelling.
What's your experience using contactless payments when travelling? Would the Halo ring or a similar NFC device help you overseas? Let me know what you take when travelling in the comments below.
You can tap this ring on a card terminal to pay for your purchase: is it worth the $39 pricetag?
was last modified:
August 1st, 2019
by