This series wraps up with a look at Warren's experience of some of the flights and lounges on his trip to Tahiti, the US and Japan.
---
Case study: Warren's Business Class honeymoon to Tahiti, the US and Japan
Part 1: How my point-hacking journey started
Part 2: How I bought my airline points and booked my flights
Part 3: My experience of the flights and lounges
---
Auckland – Papeete – Los Angeles on Air Tahiti Nui Airbus A340
Aircraft and seat
Air Tahiti Nui's A340 Business Class cabin consists of a total of 32 angled-flat seats, spread across six rows in a 2-2-2 configuration plus only two seats in the centre section of Row 1. They have a total of five aircraft in their fleet with all but one of the aircraft having been refreshed in 2016—it is the luck of the draw which aircraft you get.
We were really unlucky to get the same older seats and aircraft on both our flights—double jackpot! It was not so much an issue on the shorter daytime flight from Auckland – Papeete but the Papeete – Los Angeles flight was a midnight flight. The seats were definitely not up to modern international Business Class standards, showing it pays to do your research!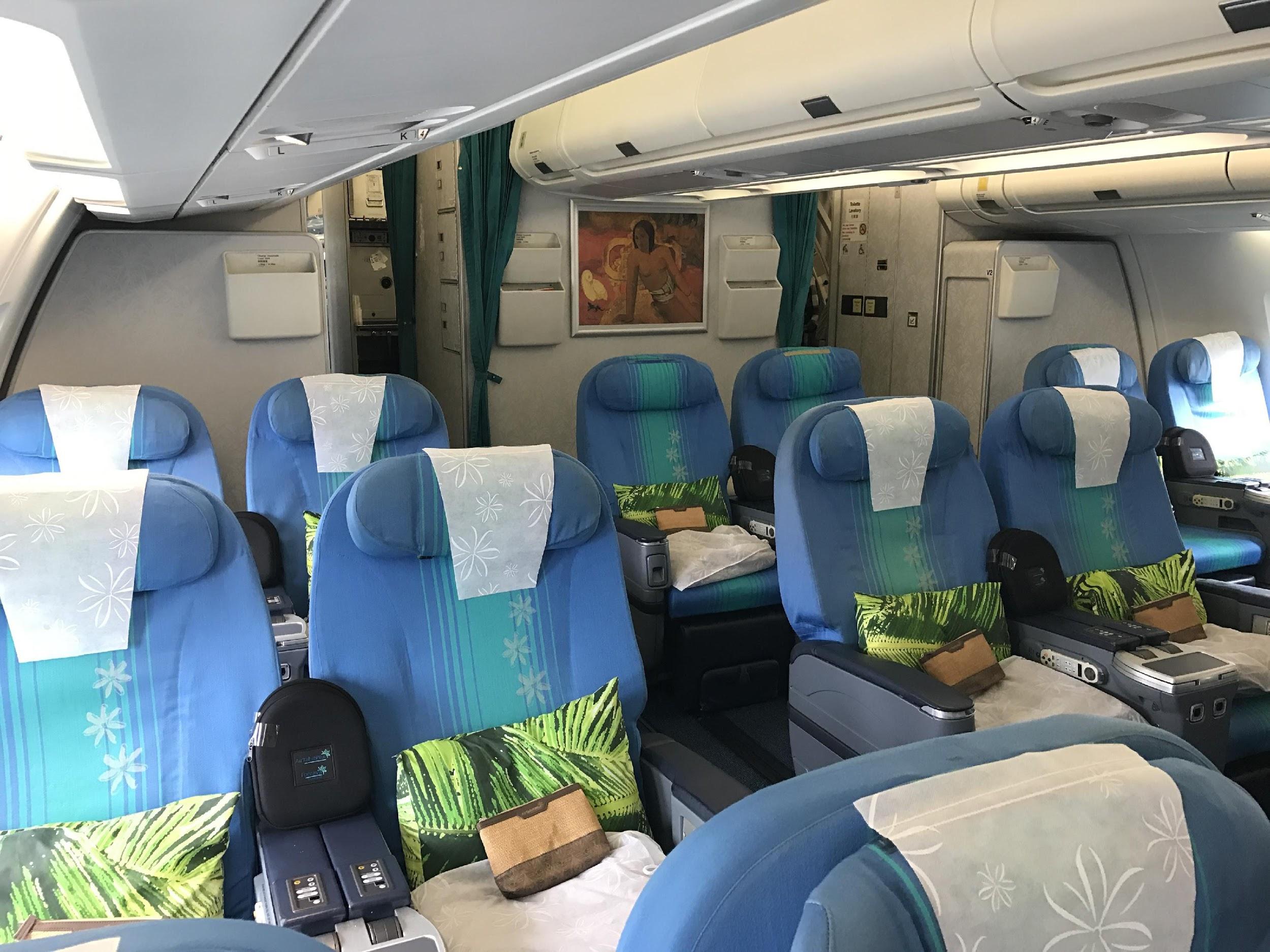 The cabin, seat upholstery and flight crew uniform gave a real island feel to it, getting us mentally prepared for an island paradise (if we were not already in the mood).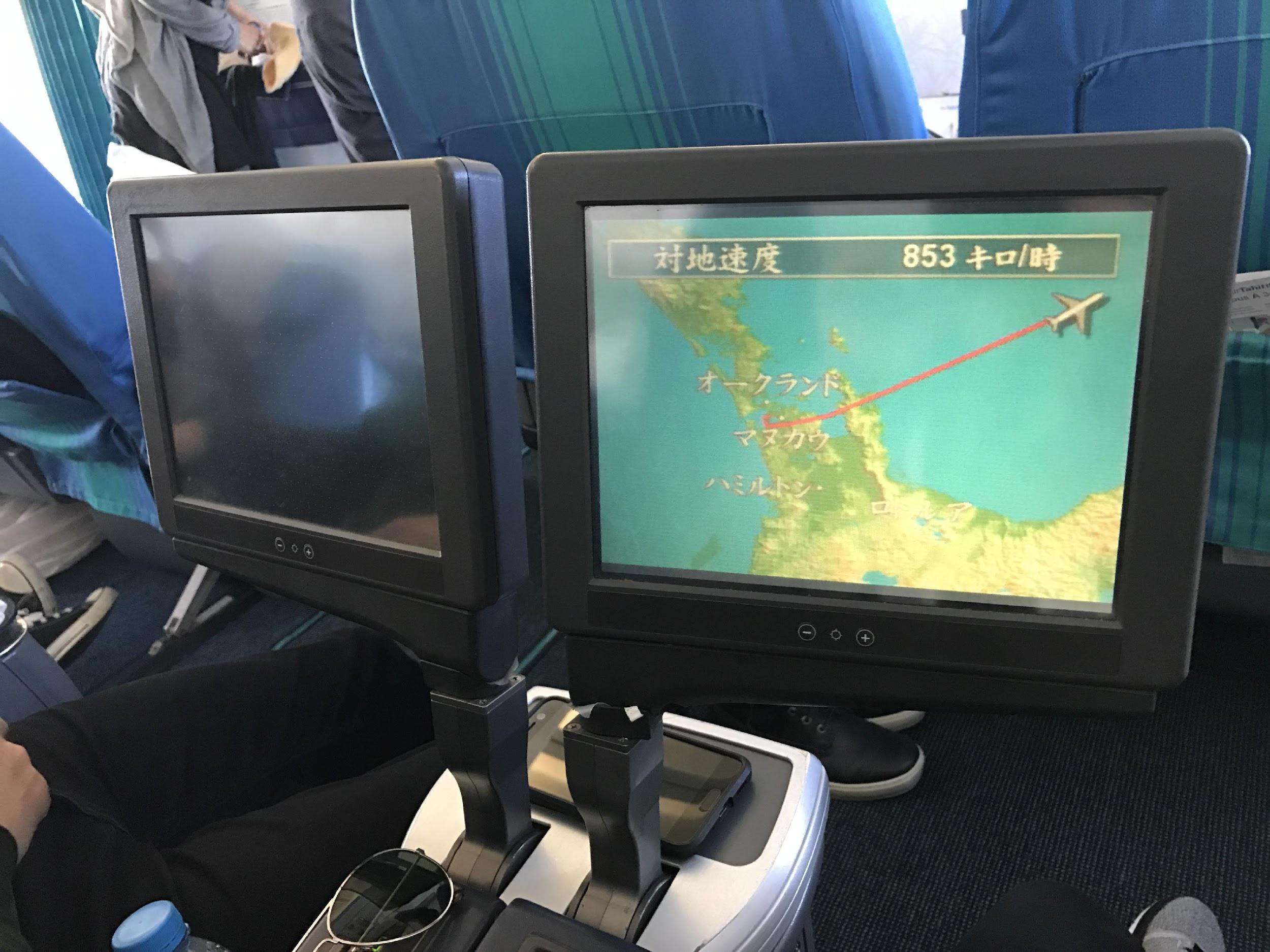 The inflight entertainment (IFE) system was dated, keeping in sync with the rest of the plane. The movies were in a loop on each channel, meaning if you missed the start of a movie, you are pretty much out of luck for the rest of the length of the movie.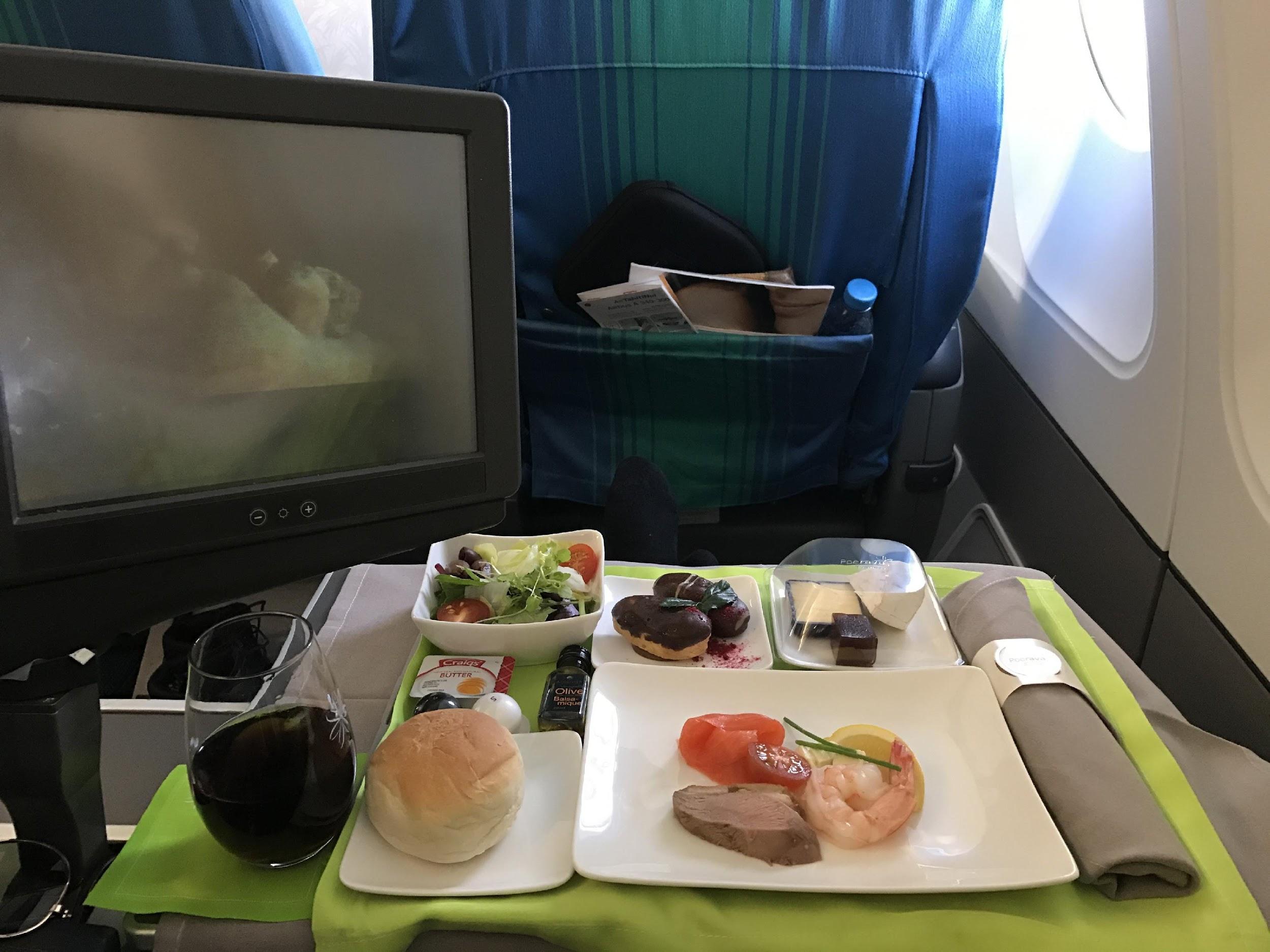 You guessed it right, we missed the start of all movies. No toilet breaks too as you cannot pause/play as you please—very old-school. The only saving grace is that I got to pick up what I missed on the second flight a few days later.
All in all, I guess they were perfectly fine flights. As there are limited airlines servicing this route, I was happy with what I could get with our flights. Would I pay full price to fly Business Class with them? I do not think so. Hopefully, the hard product will be much improved when they start using Boeing 787 Dreamliners in the next year or two.
Detroit to Tokyo on Delta Airlines Boeing 747
I had initially booked us on a direct flight from New York to Tokyo with Delta Airlines on a Boeing 777, however, we were informed a few months after booking that the direct route was cancelled and our flights changed over to one requiring a short stopover in Detroit.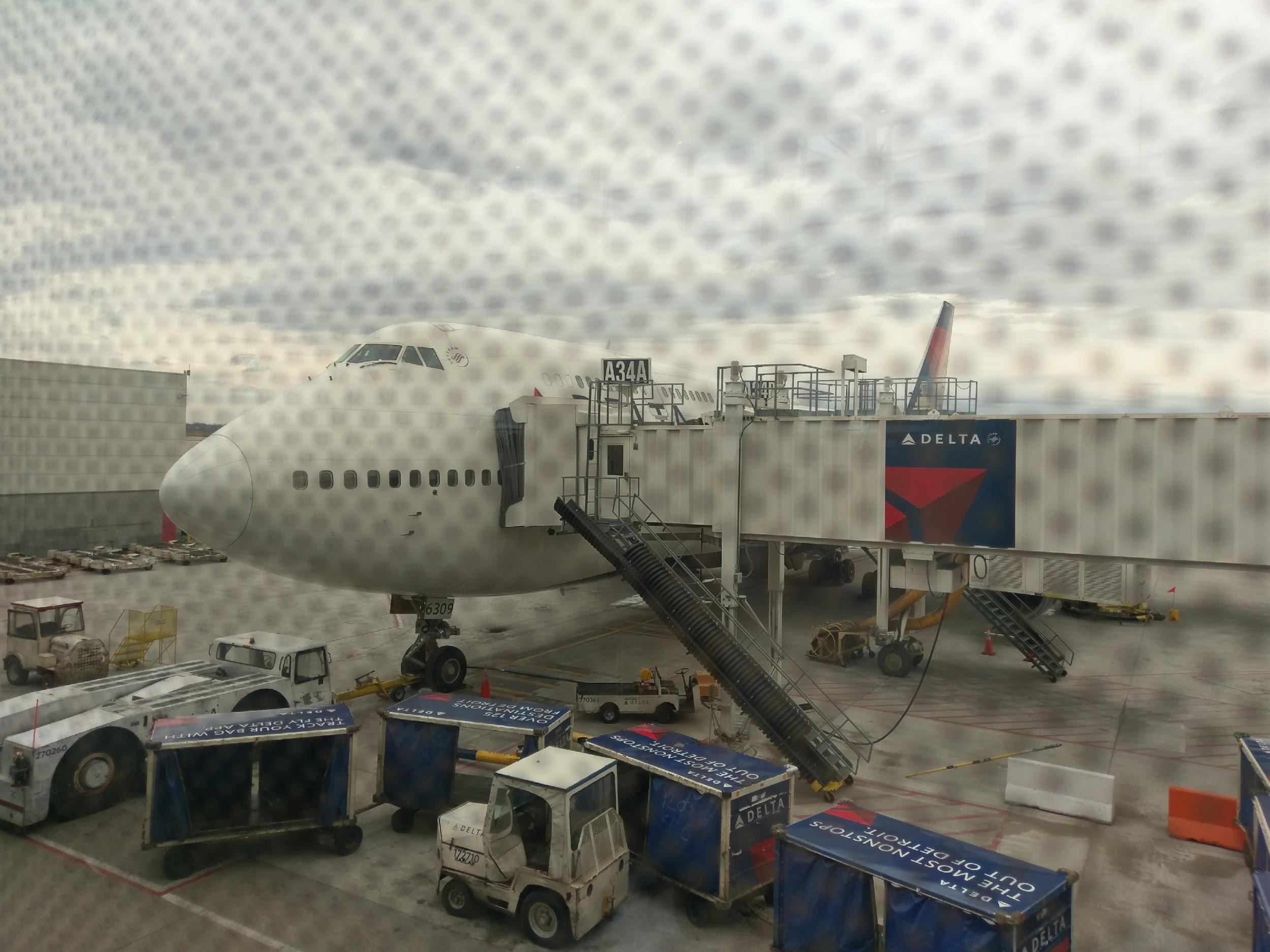 I was simultaneously slightly disappointed to have to make a stop but also slightly excited to fly the Queen of the Skies again as I know it would not be long before all of Delta's 747s would be retired. Our flight from New York to Detroit was pretty ordinary and we already have a review of that product.
This aircraft had 48 lie-flat seats spread across a combination of 1-1, 1-1-1 and 1-2-1 reverse herringbone configurations at the front of the lower deck and 1-1 configuration on the upper deck.
After much deliberation, I selected seats for both of us in the upper deck, one in front of the other, because I thought the additional privacy and smaller cabin would be much appreciated on a 13-hour flight (the longest flight my wife had been on).
The aircraft was not ready for boarding in Detroit. We were told boarding was delayed because they had delays tidying/cleaning of the aircraft. When we finally boarded, my wife's seat had quite a bit of crumbs visible around the seat, so we got the flight attendant to quickly tidy the seat up.
Pillows and blankets were already placed on the seat but we noticed that my wife's blanket had a pretty obvious large stain on it, so we got the flight attendant to change the blanket too.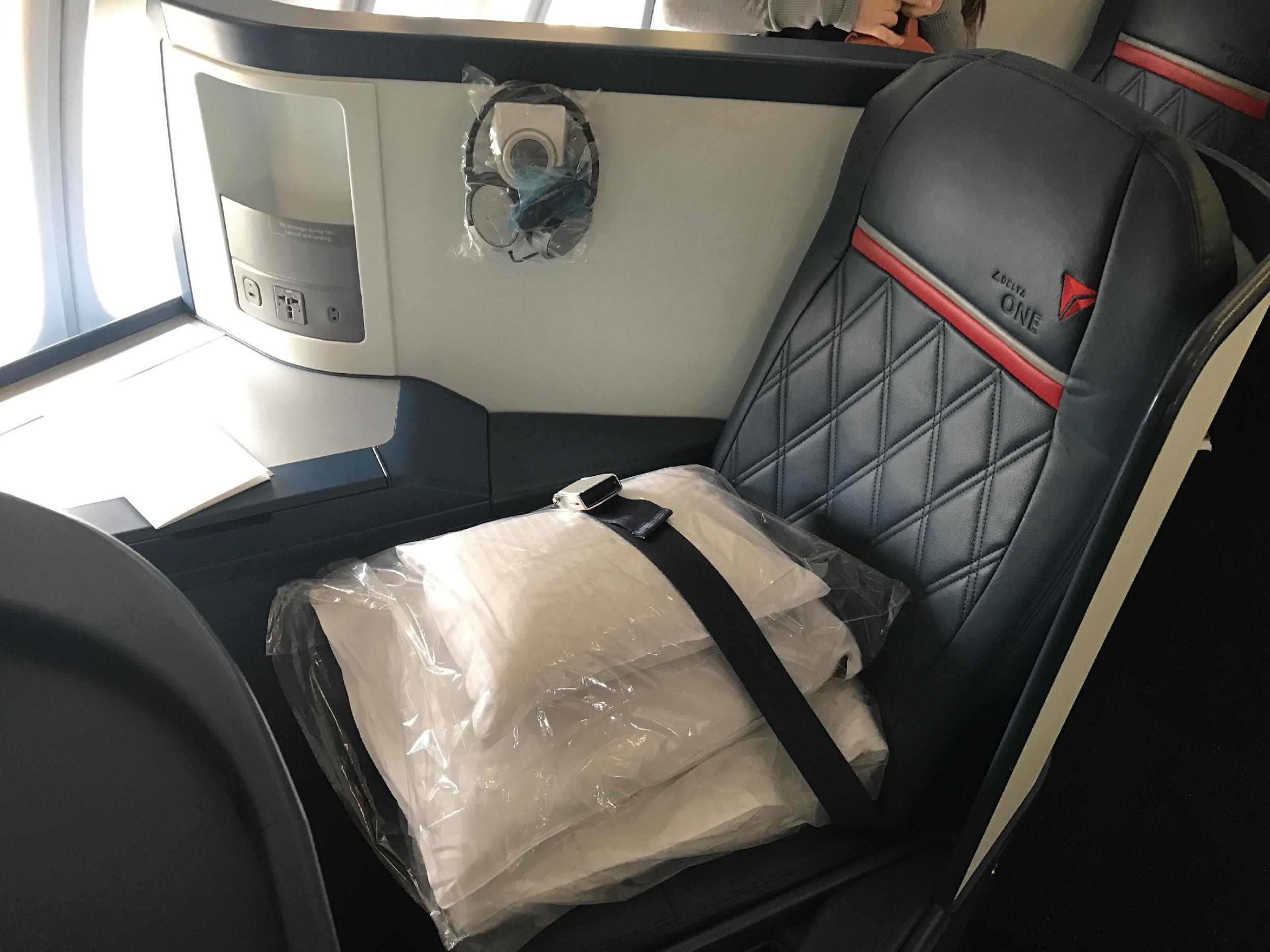 The seats were quite comfortable and I had plenty of legroom to stretch (as you can see in the photo below). I believe this was my first time in a reverse herringbone seat and despite it being a tad dated, I really enjoyed this seat. Plus, the extra privacy in the upper deck with the 1-1 configuration really hit the spot for me.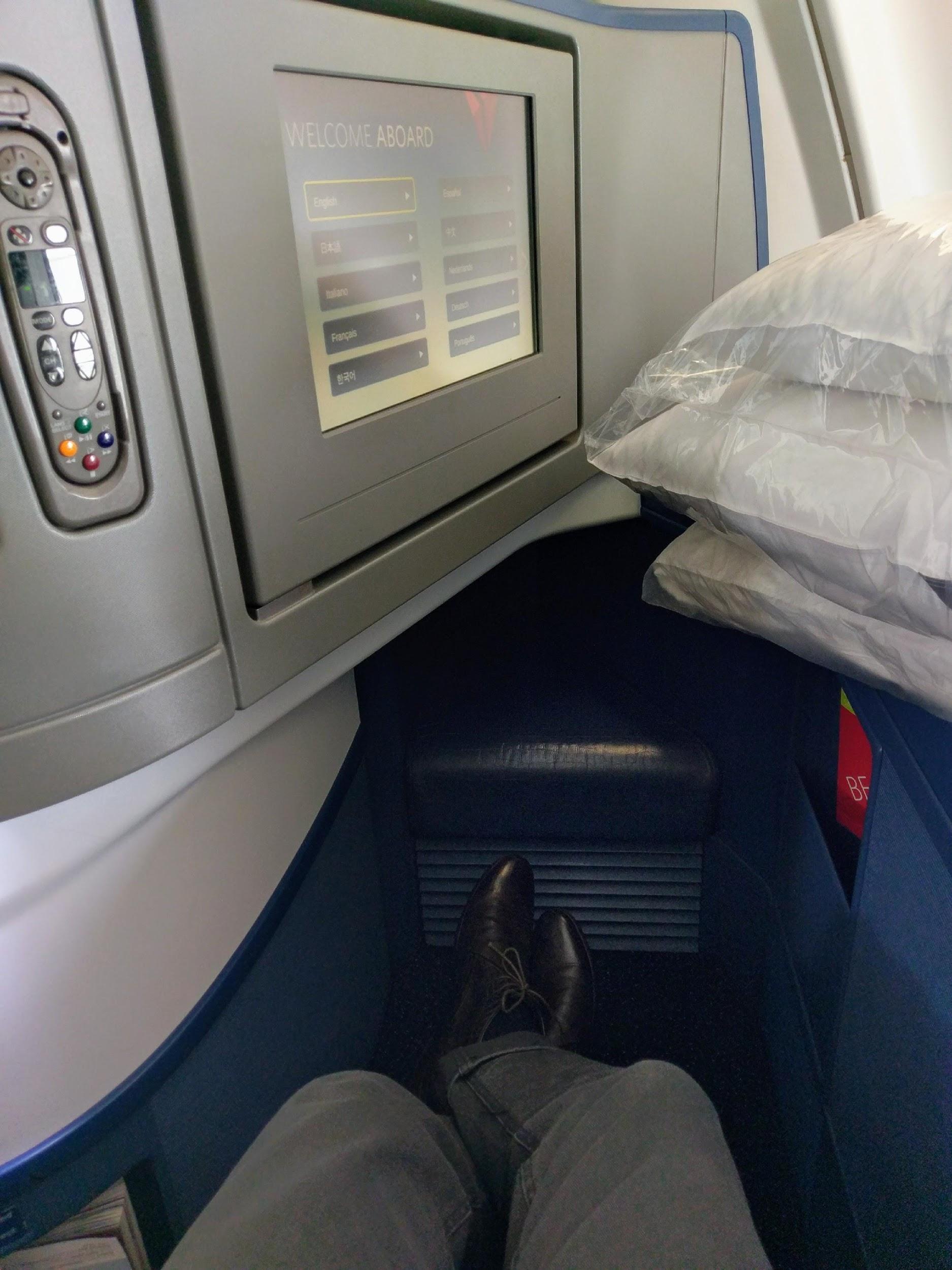 There were Japanese and Western menus available for meal selection and I selected the Japanese menu, however, I was also served the Western starters by mistake. I did not realise the mistake until after I had finished eating the starters and I was definitely not complaining about the extra serving—ha!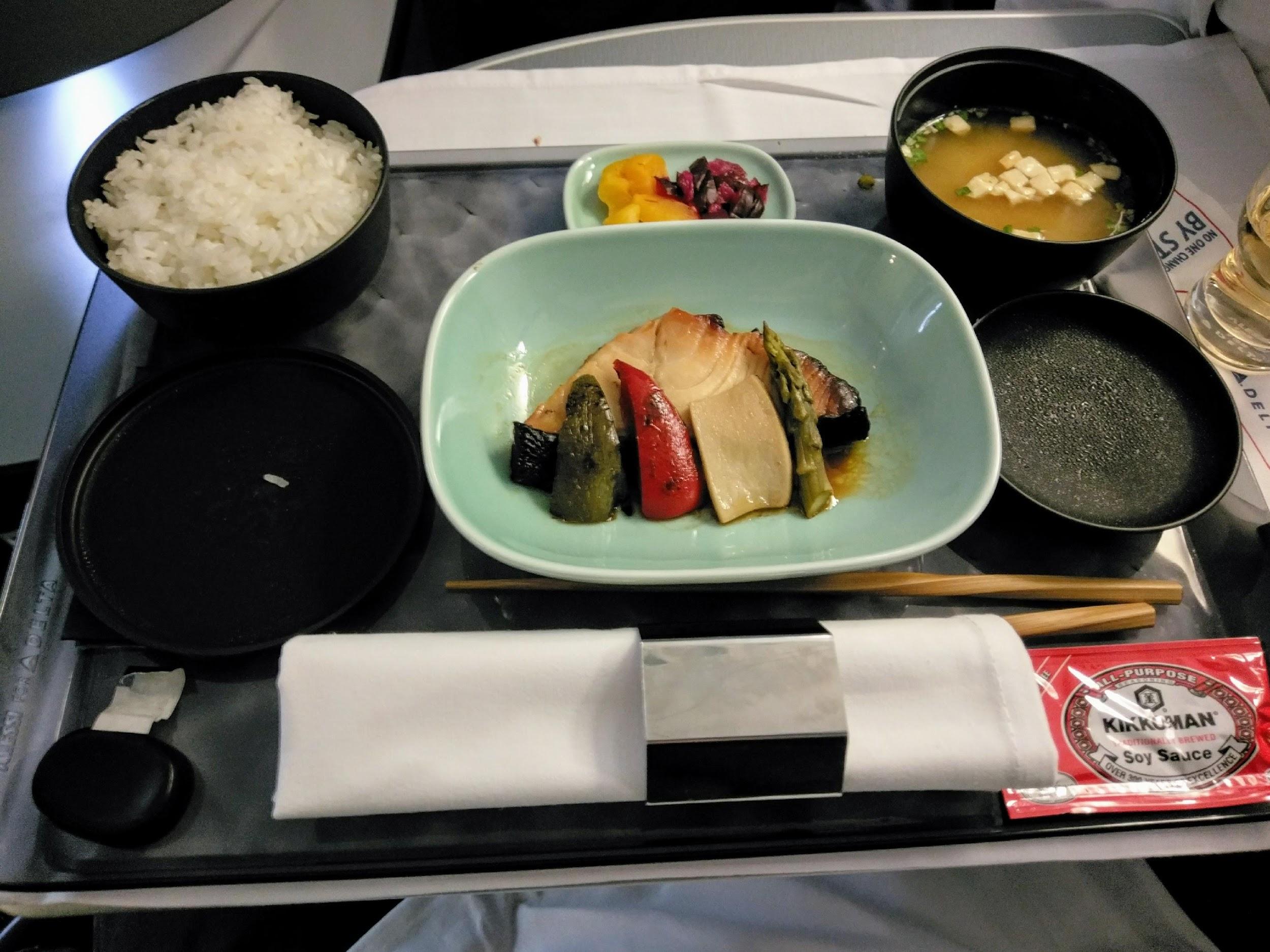 The meals were pretty decent—my wife told me that it was the best airline food she had ever tried.
The customer service was fine but nothing spectacular. There were two flight attendants looking after us in the upper deck, with the flight attendant to passenger ratio being pretty good, in my opinion.
However, they seemed to be a bit absent–minded—my wife was not even offered the mid-flight meal and I got served the two starters, however, other than that, they did their job well.
Would I fly them again? Sure. Will I go out of my way to repeat this experience? No.
Ad – Scroll down to continue reading.Minimum spend, terms & conditions apply.
Tokyo to Sydney on Japan Airlines Boeing 787 Dreamliner
The JAL Sakura Lounge in Narita International Airport was probably the best airport lounge we visited during our honeymoon trip.
There were plenty of space and seats and the high ceilings made the space feel open and airy, with good views of the tarmac. I loved the machine where you could pour your own Sapporo beer.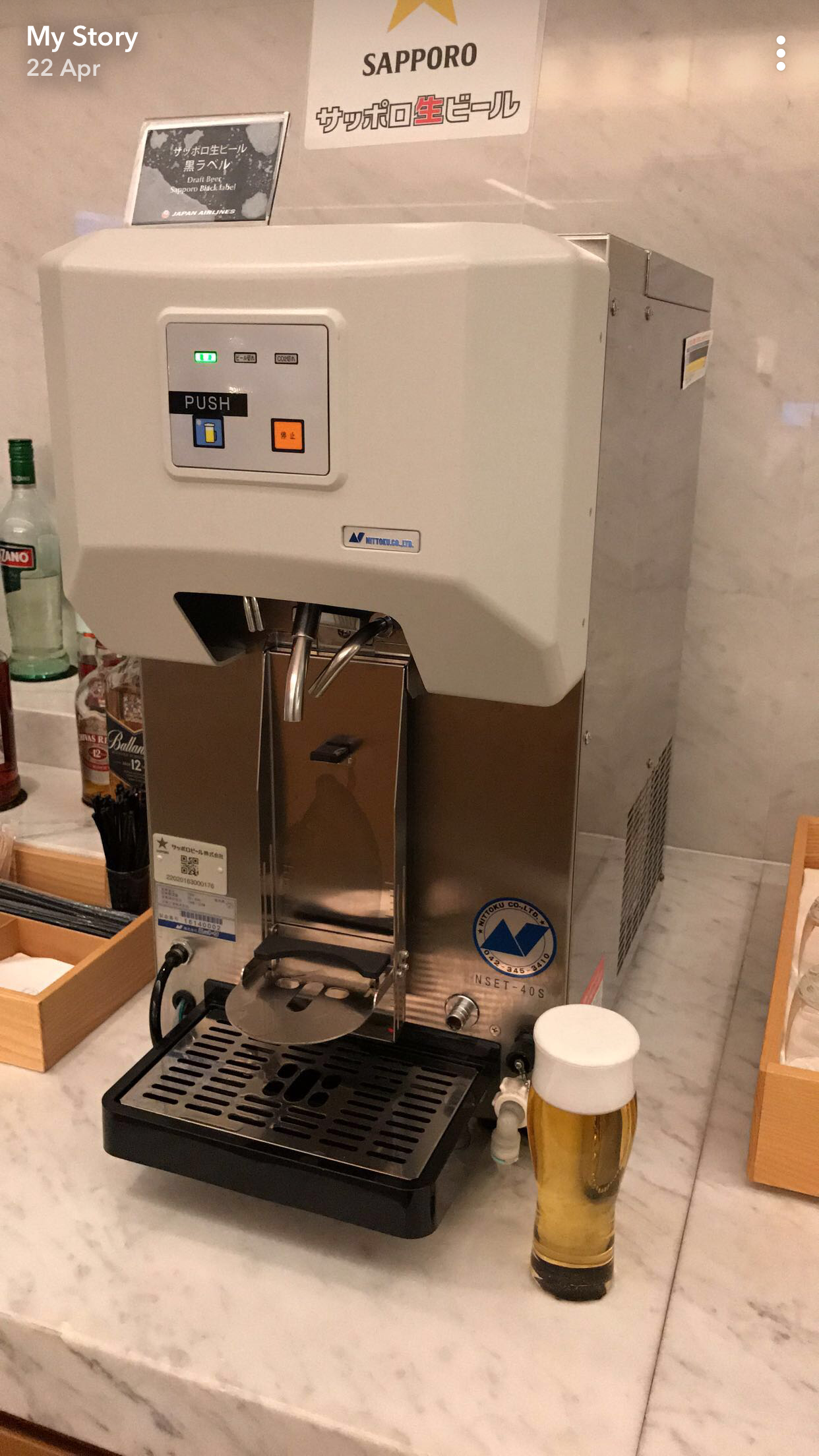 Despite the 2-2-2 configuration on this aircraft, all seats have direct aisle access due to the offset seating and a retractable privacy screen between paired seats. The window seats are really private, giving you a pseudo-First Class Suite feeling.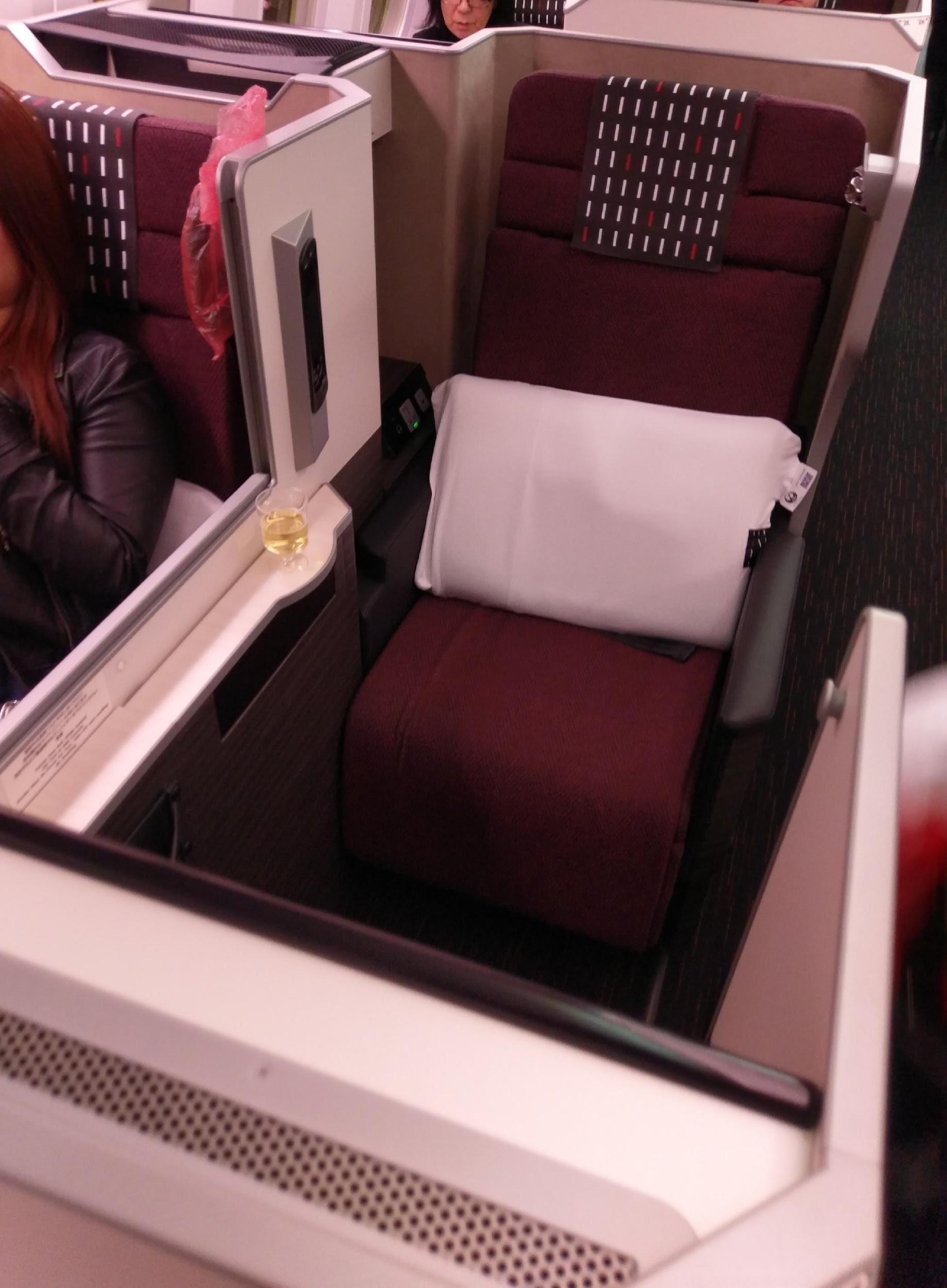 I personally really enjoyed the Sky Suite very much as the seat was very comfortable and modern. When in lie-flat mode, there was a thin mattress-like padding that could be put on top of the seat for improved comfort when sleeping.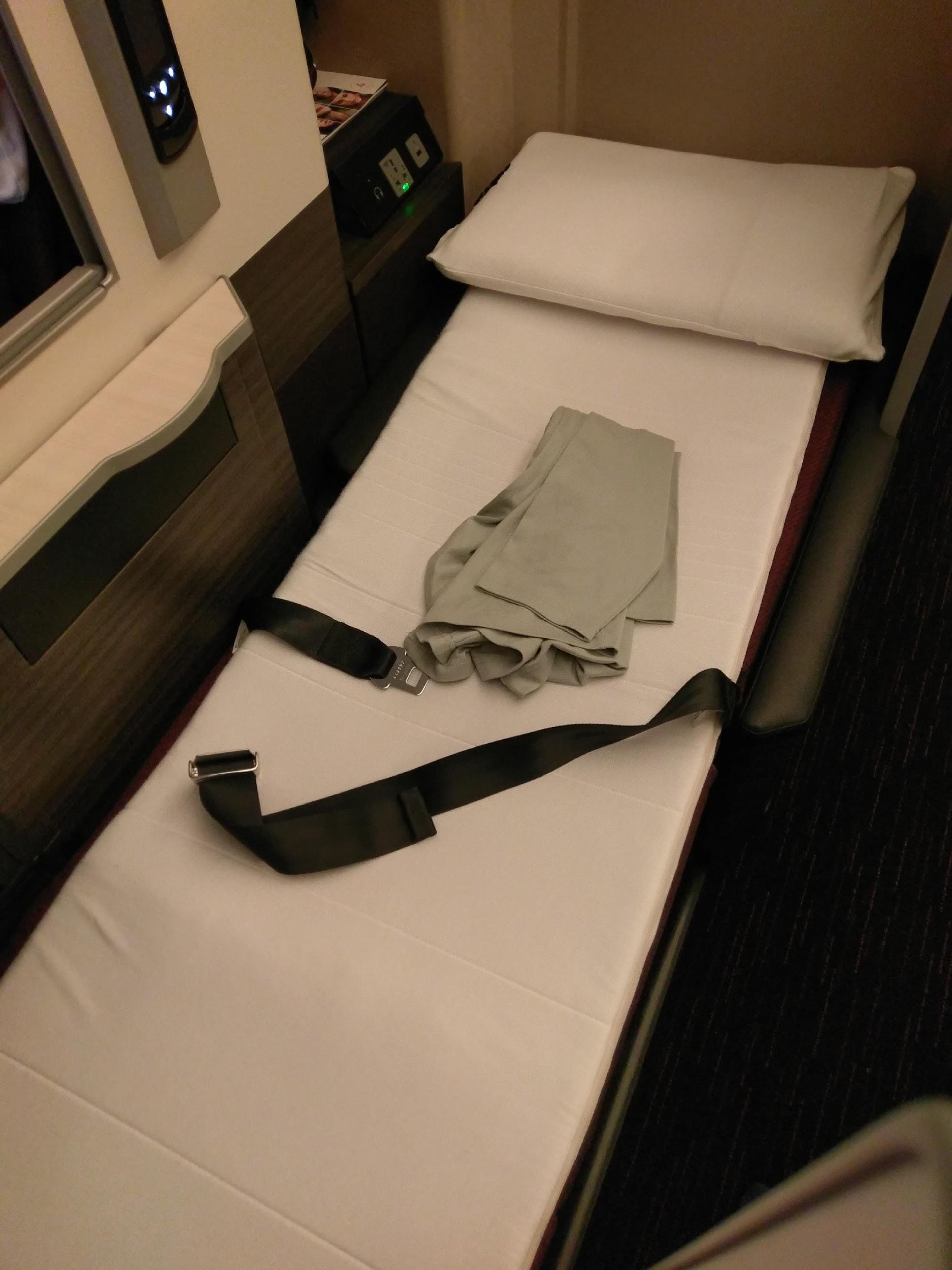 The inflight entertainment system was respectable but the range of selection is much less than what Emirates and Singapore Airlines provide on their flights. However, on this overnight flight, we were happy to have our meal and go to sleep without really worrying too much about the IFE.
The food was really good and my wife's previous best airline food award for our Delta flight on the way to Japan had to give way to the offering on this flight.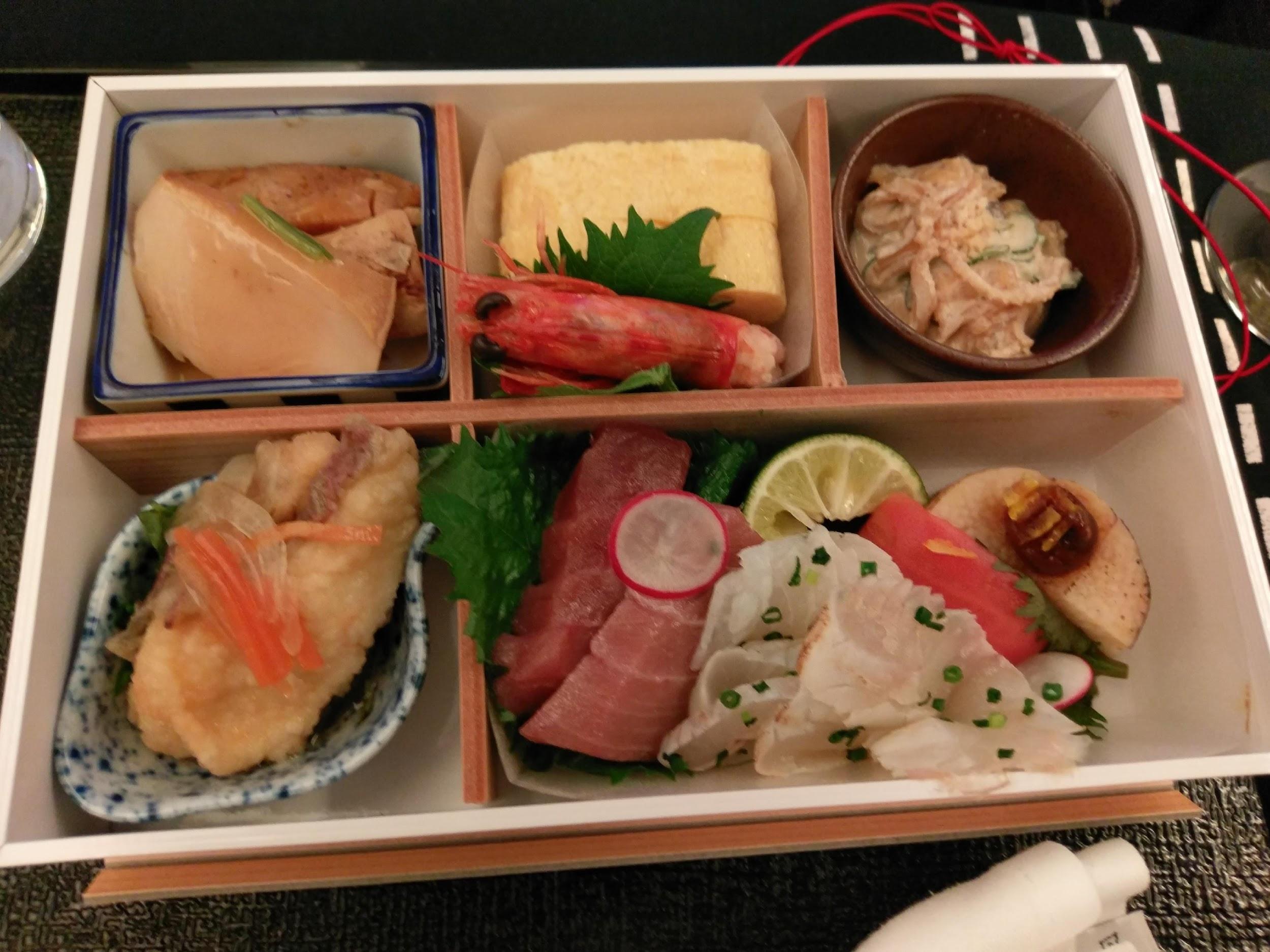 The Japanese service was faultless as expected, and the food was great with the seat comfort top-notch. It was a great way to end our long six-week holiday.
We really enjoyed this flight. Seeing as how much my wife and I love Japan, we would not hesitate to take this flight again even if it means having to transit via Sydney or Melbourne. However, the direct Qantas flight from Tokyo to Brisbane may be more convenient if award seats are available.
Summing up
Lessons learnt
I have since learned that I could have tacked on connecting flights in the same region for no extra costs when redeeming flights with AAdvantage miles
Velocity to KrisFlyer transfers are instant—I lost rare Air New Zealand award seats (Brisbane – Auckland – Papeete) when returning a call to KrisFlyer five minutes after hanging up thinking I needed more time for the transfer to take place
Tahiti is one of the most challenging places to get to with points/miles—even paid redemption service providers would not help with any flights to and from Tahiti
Success
After our honeymoon trip, both my wife and I are bitten by the travel bug—I have succeeded in my secret mission of converting my wife
It is now rather difficult to go back to travelling in Economy Class, especially on flights longer than the 4-5 hour mark. The lie-flat bed or any form of extra space can really make the flying experience a little bit more enjoyable and less stressful
Building on the success of our honeymoon trip, I am hungrily accumulating more points and we are travelling more than ever before in premium cabins
How am I now accumulating points? High credit card sign-up bonuses, optimising points earned from credit card spend and buying points when they go on sale
I am currently planning our first First Class cabin experience for later in the year, hopefully flying Emirates and Cathay Pacific
Thank you to Point Hacks for helping me to travel more frequently and in better cabins!
Other case studies
Case study: How Air Tahiti Nui, Delta and Japan Airlines compare in Business Class (Part 3)
was last modified:
January 17th, 2022
by