I wrote about the launch of the new American Express Explorer credit card just over a week ago, and interest in the new card is definitely growing.
However, cue drum-roll… we've now confirmed that the Explorer earns Starwood Preferred Guest points, and not only that, as the transfer rate to Starwood Preferred Guest from the Membership Rewards Gateway is the same as Membership Rewards Ascent, the effective Starpoint earn rate on this card is an excellent 1 point per $.
If you like getting into the nooks and crannies of the best points redemptions out there, this is a pretty big deal! Starwood Preferred Guest not only have a wide range of good value hotel redemptions, they also partner with most major frequent flyer programs globally, so the Explorer card opens up many, many more points redemption opportunities at a respectable Starpoint effective earn rate.
This also means the 100,000 Membership Rewards points Explorer sign up bonus is worth a very respectable 50,000 Starpoints.
Here's a screenshot of an Explorer cardholder logged into their Amex online account, with the Starwood and Hilton transfer options showing: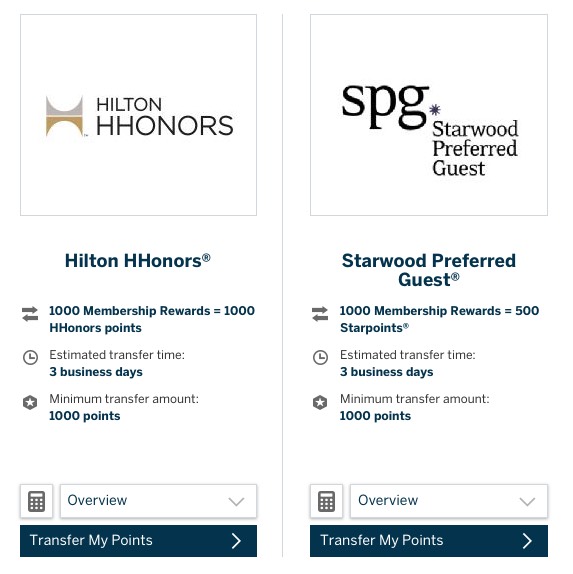 Starwood Preferred Guest transfer rates across the key Amex-issued Membership cards
There's no doubt that, if you're across the value of Starpoints and they are a part of your points redemption options, then this is getting more and more complex to compare the points-earning options on offer from Amex.
Let's bring in a table to help with an overview of the effective Starpoint earn rates* of the key Membership Rewards cards here in Australia. Tip: sort this table by the spend categories important to you to get a feel of the highest earning Starpoint cards.
SPG Effective Earn Rates – Starpoints earned per $ spent
*The effective earn rate is the calculated point per $ earn rate of a particular loyalty program of flexible program points (like Membership Rewards points) once transferred.
Membership Rewards & Starwood Preferred Guest
Amex Membership Rewards have a few different flavours – the Platinum Edge and Charge cards which many points-collectors will know well are linked to Membership Rewards Ascent, while the Explorer is linked to Membership Rewards Gateway.
I just updated the guide to Membership Rewards today to explain the differences in both programs in detail, but in short, Membership Rewards Gateway provides the means for American Express to increase the headline earn rates on their Gateway-linked credit cards while reducing the transfer rates to partner points programs.
I'm not going to get deeply into the merit of that strategy here – in short, I don't particularly like it as it is confusing, but it's not too detrimental to the Membership Rewards offering as a whole – yet.
The general outcome is that with Gateway-linked cards, 1 Membership Rewards point does not generally = 1 frequent flyer point like Membership Rewards Ascent.
However, this is not the case with Starwood Preferred Guest. The transfer rate from Membership Rewards Gateway to SPG for Gateway is the same as Ascent, at 1 Membership Rewards point = 0.5 Starpoints.
The same logic also applies for Hilton HHonors points, but we're not as excited about those as the transfer rate to Hilton, and per point value proposition is not as high.
Ad – Scroll down to continue reading.Minimum spend, terms & conditions apply.
Why is this a good thing?
Taking a step back for a second, you might wonder why you should care about this.
Let's be clear – this concept is really for those who are deep into wringing all the value they can out of their hard-earned points by mixing and matching the right loyalty program for the goal redemption they have in mind.
There are, of course, many opportunities to redeem Starpoints for Starwood's vast number of hotels globally.
But where this gets really interesting – Starwood partner with many, many global frequent flyer programs, all with their own different quirks, benefits (and weaknesses). The Starwood transfer opportunity allows you to really move points around and find the right program for the job.
Not only that, but Starwood provide a 5,000 Starpoint bonus for each transfer of 20,000 Starpoints to their partners, increasing the value of your points even further (by another 25%, to be precise).
A good place to explore the vast range of Starwood-linked redemption opportunities is right here in our range of SPG redemption guides.
How this works in practice
To get you started, here are a couple of examples of how the Explorer card, with a 1 Starpoint per $ earn rate, could help maximise the value of your points.
| Route / Airline | Starwood Partner | Price in Starpoints | Qantas Point Comparison Price |
| --- | --- | --- | --- |
| Sydney / Melbourne / Brisbane one way Qantas Business Class | British Airways Executive Club (Avios) | 9000 | 16000 |
| Australia to Asia Zone 2 (e.g. Singapore, Hong Kong) one way with Qantas, Cathay or British Airways | American Airlines AAdvantage | 40,000 + low taxes | 60,000 + high taxes |
| Australia to Asia Zone 1 (Japan, Korea) one way with BA / Cathay / Japan Airlines First Class | American Airlines AAdvantage | 50,000 + low taxes | 112,000 or more + high taxes |
These are just a few examples that come to mind immediately – we'll do a full round up of Starwood-linked opportunities in coming weeks. And those figures above aren't considering the 5,000 Starpoint transfer bonus either.
And then there are the hotel redemption opportunities out there – I've loved using Starpoints for stays in Whistler, Fiji and many other places.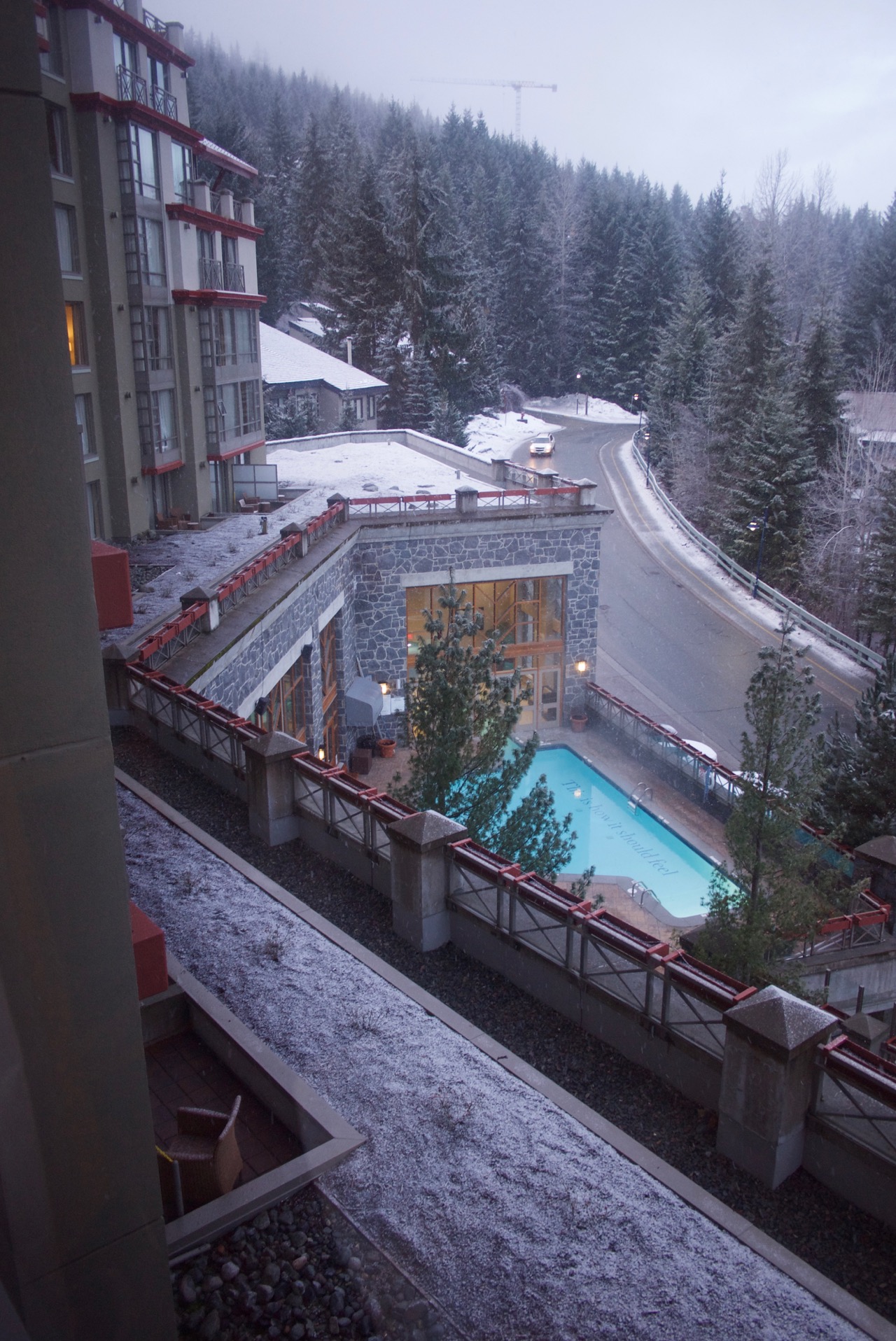 Here's the full list of Starwood airline transfer partners:
| Frequent Flyer Programs | Exchange Ratio - Starpoints:Airline Miles |
| --- | --- |
| Aegean Airlines | 1:1 |
| Aeromexico Club Premier | 1:1 |
| Aeroplan/Air Canada | 1:1 |
| Air China Companion | 1:1 |
| Air New Zealand Airpoints | 65:1 |
| Alaska Airlines Mileage Plan | 1:1 |
| Alitalia MileMiglia | 1:1 |
| All Nippon Airways (ANA) Mileage Club | 1:1 |
| American Airlines AAdvantage | 1:1 |
| Cathay Pacific Asia Miles | 1:1 |
| Asiana Airlines | 1:1 |
| British Airways Executive Club | 1:1 |
| China Eastern Airlines | 1:1 |
| Delta Air Lines SkyMiles | 1:1 |
| Emirates Skywards | 1:1 |
| Etihad Airways | 1:1 |
| Flying Blue | 1:1 |
| Gol Smiles | 2:1 |
| Hainan Airlines | 1:1 |
| Hawaiian Airlines | 1:1 |
| Japan Airlines (JAL) Mileage Bank | 1:1 |
| Jet Airways | 1:1 |
| Korean Air | 1:1 |
| LATAM Airlines LATAM Pass | 1:1:5 |
| Lufthansa Miles and More | 1:1 |
| Qatar Airways | 1:1 |
| Saudi Arabian Airlines | 1:1 |
| Singapore Airlines KrisFlyer | 1:1 |
| Thai Airways International Royal Orchid Plus | 1:1 |
| topbonus loyalty | 1:1 |
| United Mileage Plus | 2:1 |
| Virgin Atlantic Flying Club | 1:1 |
| Virgin Australia | 1:1 |
Words of caution and (hopefully) wisdom
This info should be considered with some caution – there's always a catch.
First, there's always the risk that Amex could change the transfer rate to Starwood Preferred Guest from Membership Rewards Gateway. However, the same transfer rate from Membership Rewards to Starwood has existed with the David Jones cards for several years without issue until now.
We've covered the different terms and conditions for bank rewards programs here – and in theory if Amex did decide to change this, they could do so with no notice. But I would be really surprised if this both happened, and happened with no notice too.
Secondly, there's the impending Starwood and Marriott merger, which could see the SPG program be merged into Marriott rewards by late 2017 at the earliest. So definitely don't rely solely on Starwood Preferred Guest's ongoing existence as a sole justification for getting into the Explorer card.
Finally, we also need to remember that the transfer rates to the more common programs we know and love are still better by going direct – KrisFlyer, Asia Miles, Velocity, Etihad Guest and Skywards all should be excluded as options via Starwood, of course. And given that, the comparison with other Amex-issued Membership Rewards cards becomes more complex.
You'll earn 1.5 points per $ in each of these programs 'natively' with Membership Rewards Gateway with the Explorer, compared to a range of different point earn rates for different spend categories based on each card. I'll do another comparison on this down the track.
Summing up
The American Express Explorer is new on the market, and it's interesting to see the new points-earning avenues it might be opening up.
Starpoints are a valuable currency, and we'll try and highlight some of the best transfer partners and redemption opportunities in some upcoming guides, as well as uses of Starpoints for aspirational hotel stays.
Alongside the Starpoint earn, there are a handful of other small differences to some of the other Amex-issued cards which we'll get into in coming weeks.
We now have a 1 Starpoint per $ earning credit card in Australia with the new American Express Explorer card
was last modified:
November 8th, 2021
by