American Express' Fine Hotels + Resorts (FHR) program is perhaps one of the best benefits for eligible Amex cardholders.
By booking hotels through FHR, you'll unlock a world of perks with every stay. But the price you'll pay is often no more expensive than many 'room only' rates found elsewhere – and that's where the value really shines.
Fine Hotels + Resorts is an exclusive perk for those with the Amex Platinum Card, Amex Platinum Business Card or the invitation-only Amex Centurion Card. Booking an FHR stay is your ticket to benefits like free daily breakfast, guaranteed late check-out, gratis hotel amenities, and more.
Here's a real-world example of how Fine Hotels + Resorts came in handy on a routine business trip to Sydney.
What I booked, and what it cost
With elite status across most major hotel chains and the freedom to always choose my own hotel, I'm never short of options for good-value accommodation. But I'd been to Sydney over 100 times before – and yet, I'd admittedly never tried using Amex Fine Hotels + Resorts on a business trip.
In my mind, FHR properties were always 'expensive' – the kind that wouldn't sit too well on an expense report. The kind to save only for a glamourous holiday. But I'll admit, I was wrong.
A quick search for my dates found Shangri-La Sydney available for approximately $280 per night. Had I booked direct with the hotel, this would have bought me just the room. Yet through Fine Hotels + Resorts, the package includes so much more.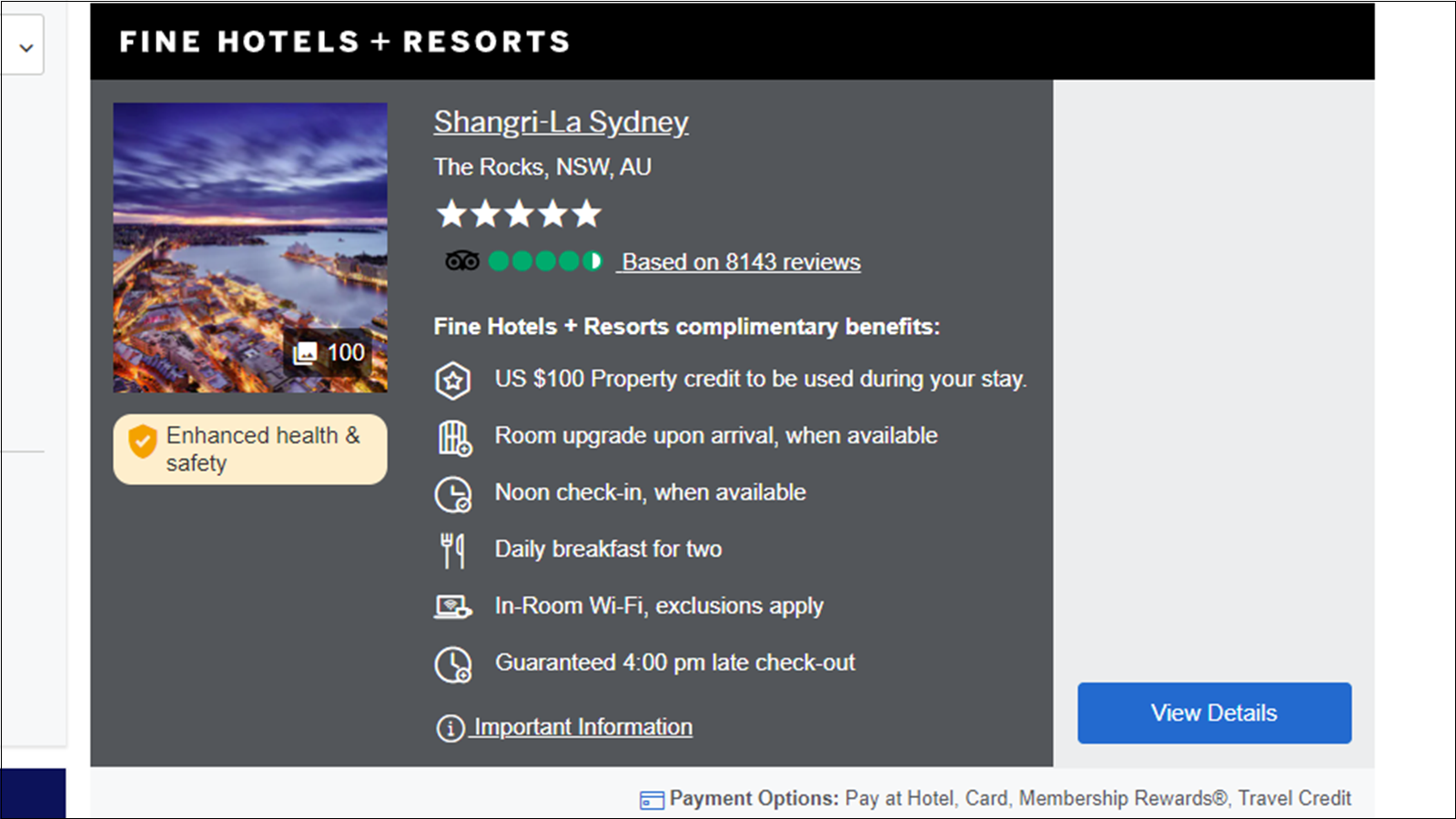 At no extra cost above the room rate, I'd kickstart the stay with daily breakfast, plus a separate US$100 (AU$130) credit to spend on other charges, such as dinner and drinks.
That's not to mention the early check-in, guaranteed late check-out, free WiFi and room upgrade on top: all while paying the same as a room-only rate elsewhere.
While nightly rates can often be much higher (yes, the rates during my stay were particularly sharp!), here's how I maximised the value of my American Express Fine Hotels + Resorts benefits.
The room, upgraded thanks to Fine Hotels + Resorts
One of the great Fine Hotels + Resorts perks is a room upgrade on arrival, subject to availability.
I'd originally booked an Executive Darling Harbour Room, so already knew I'd have a great view. But with a few clicks of the keyboard at reception, this was swapped to an Executive Opera House City Room, and without me having to ask.
At Shangri-La Sydney, that's the next-best room type above the category I'd booked – so a true upgrade.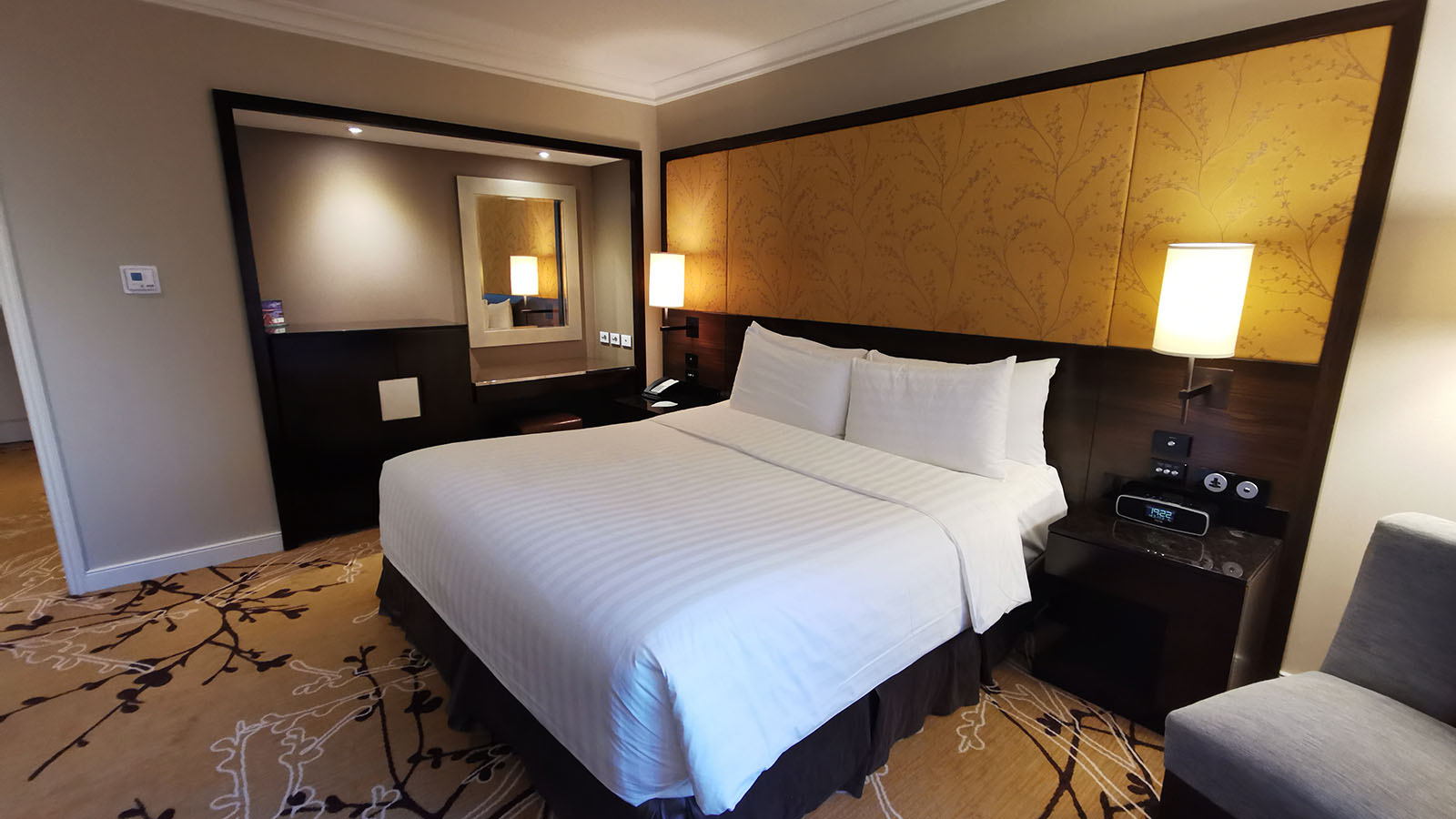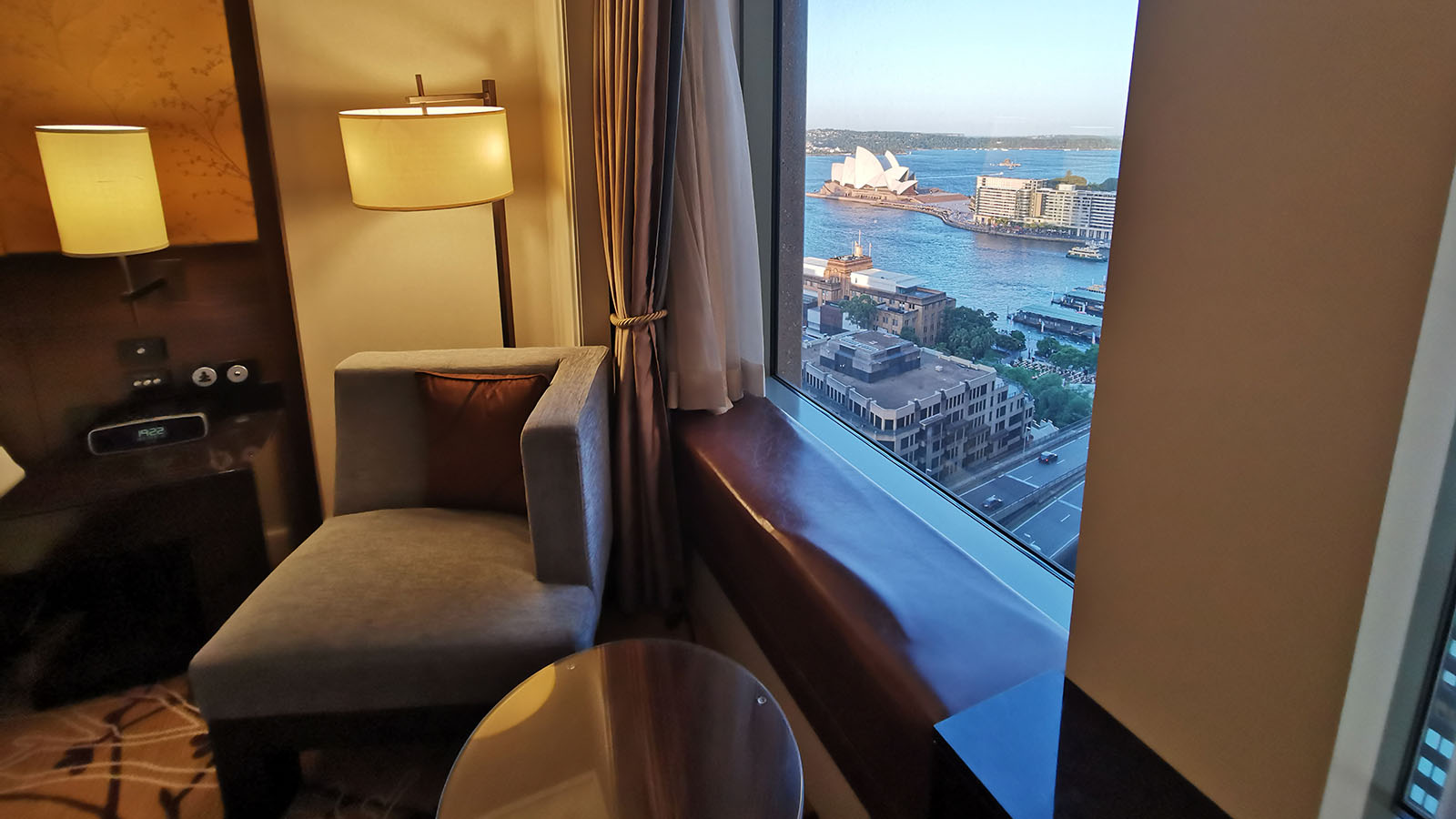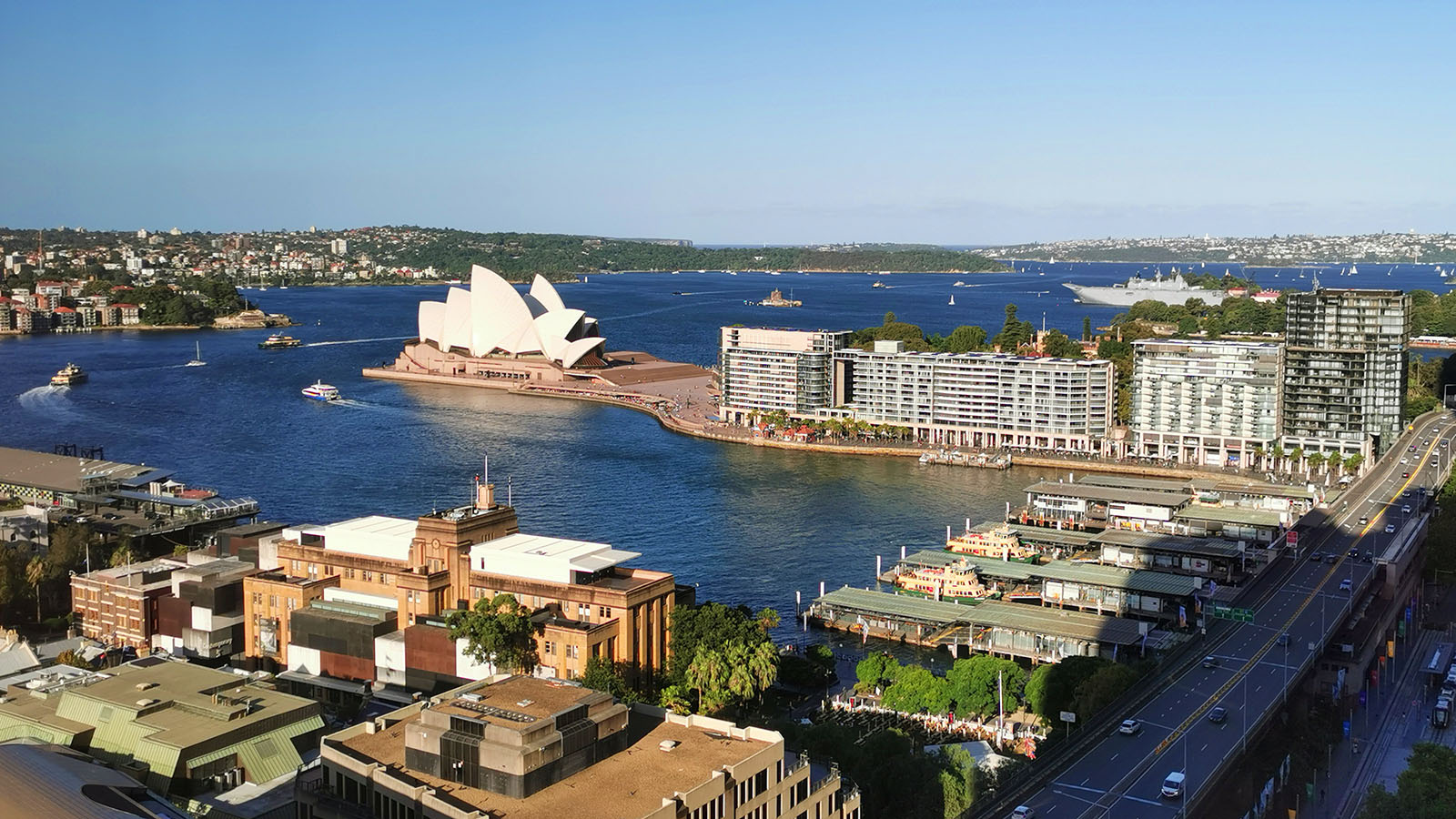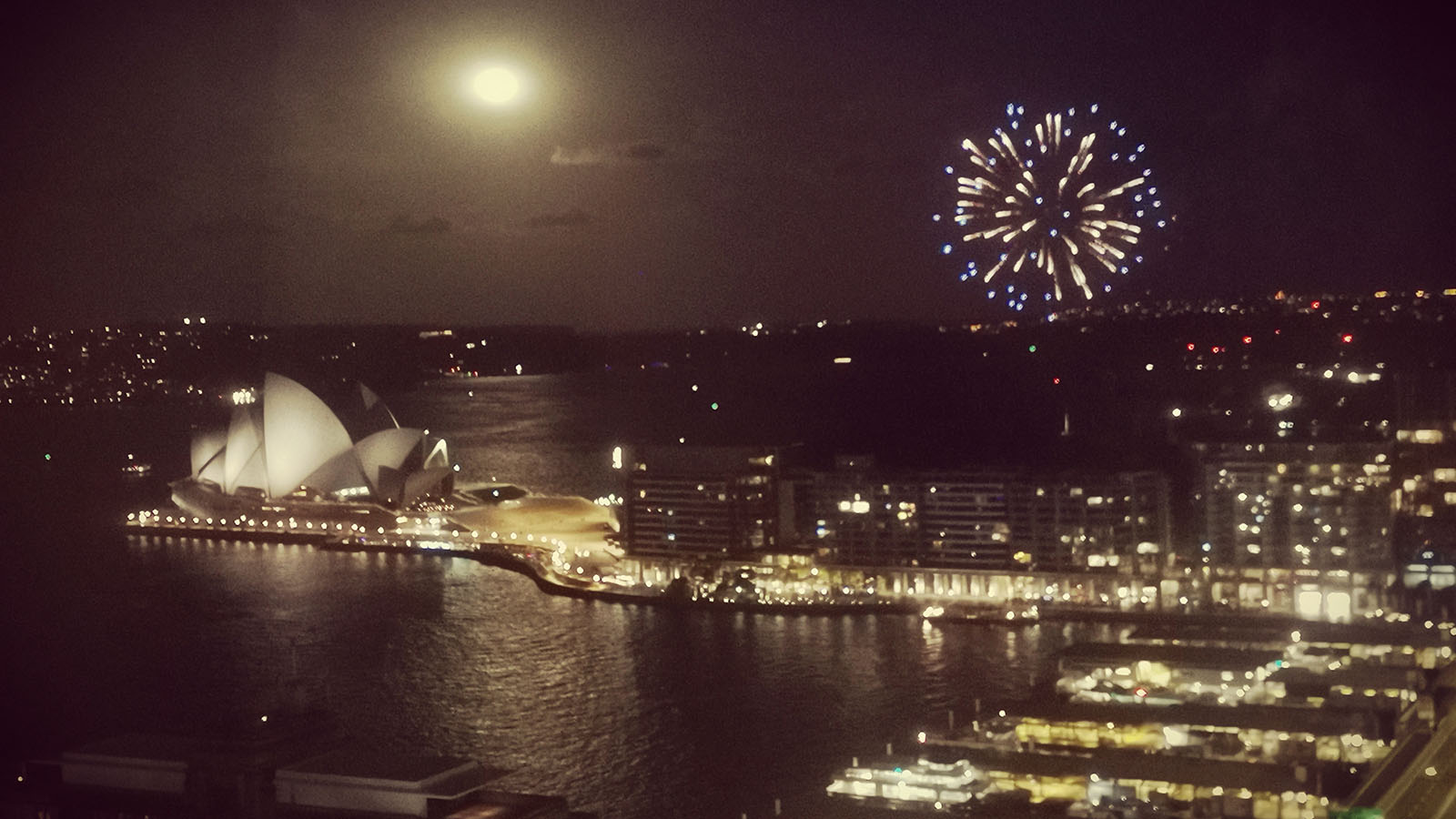 As you'd expect from the name, this gave me a direct view of Sydney Opera House, and of Circular Quay. Fast-forward to the evening, and as fate would have it, I had a front-row seat to fireworks on the harbour. Talk about getting the full Sydney experience.
Daily breakfast at Altitude Restaurant
Here's where Fine Hotels + Resorts starts paying dividends on business trips. Because the FHR package includes daily breakfast, I'm now saving the company money.
Every day that I stay at an FHR hotel is a day that I'm not buying breakfast. That's less money spent during the trip, and fewer receipts to process afterwards. That's sure to keep the accountants happy.
Given the gratis FHR breakfast is served at Shangri-La's Altitude Restaurant, it's hard to pretend that I'm not happy too!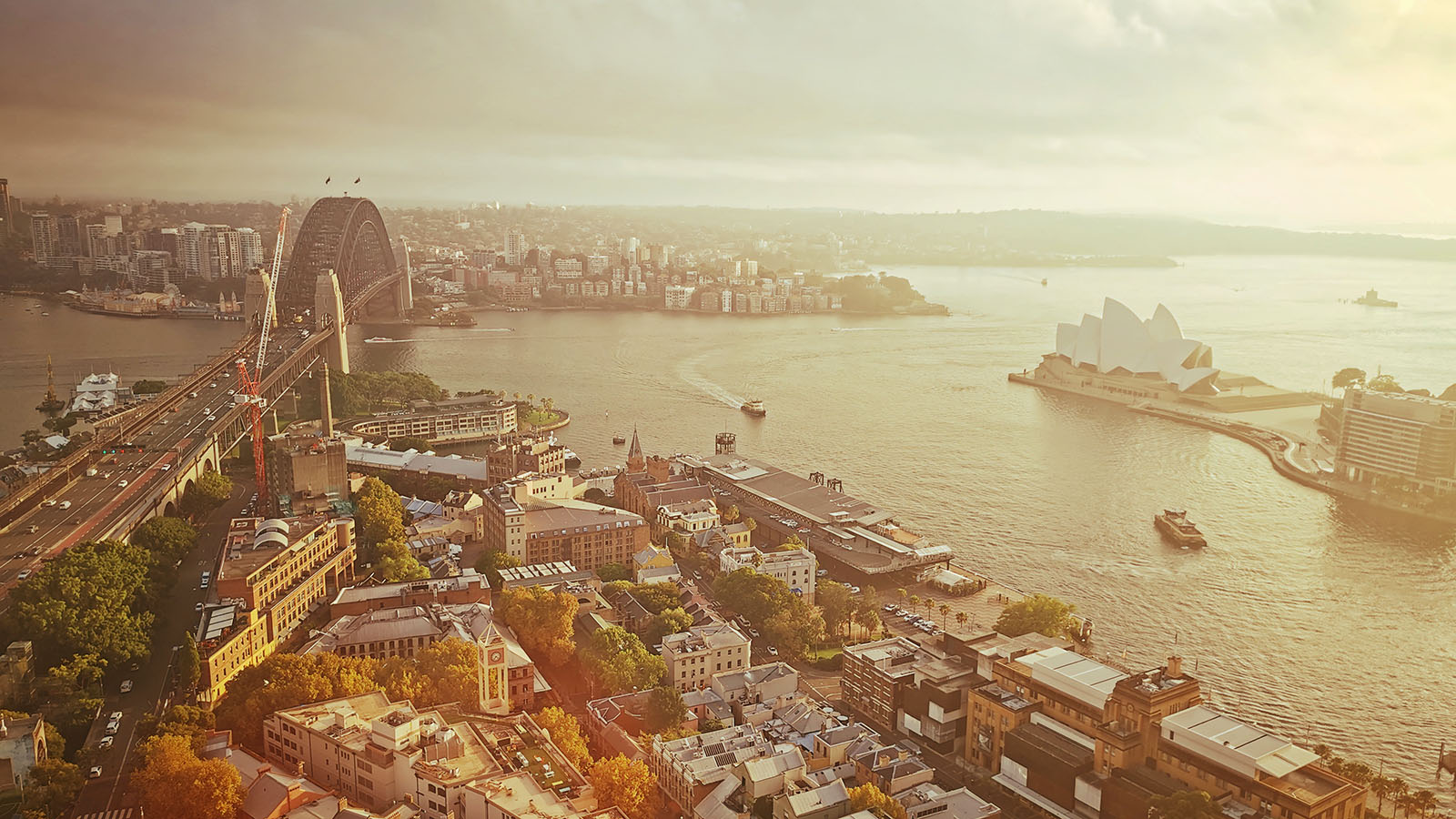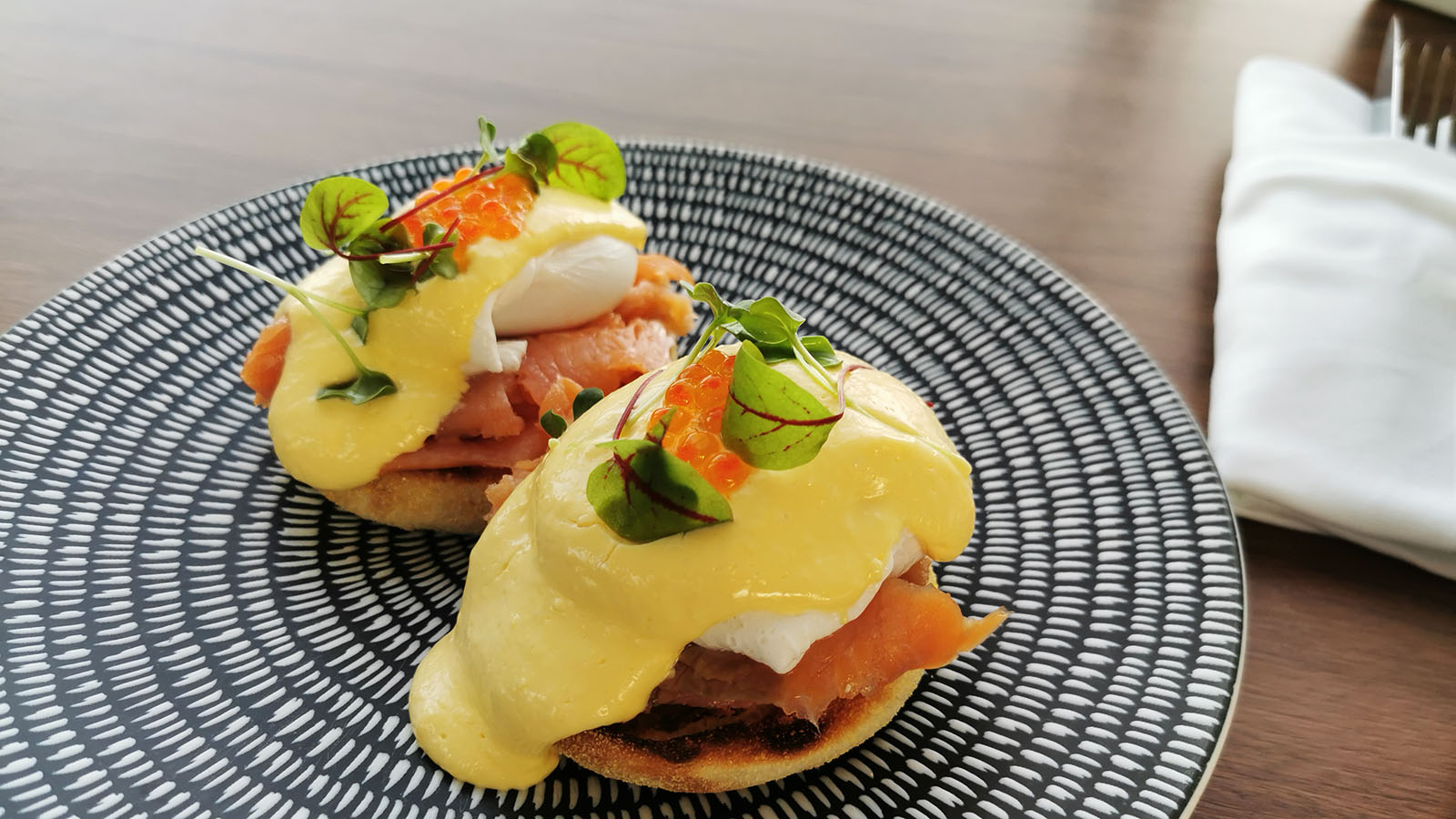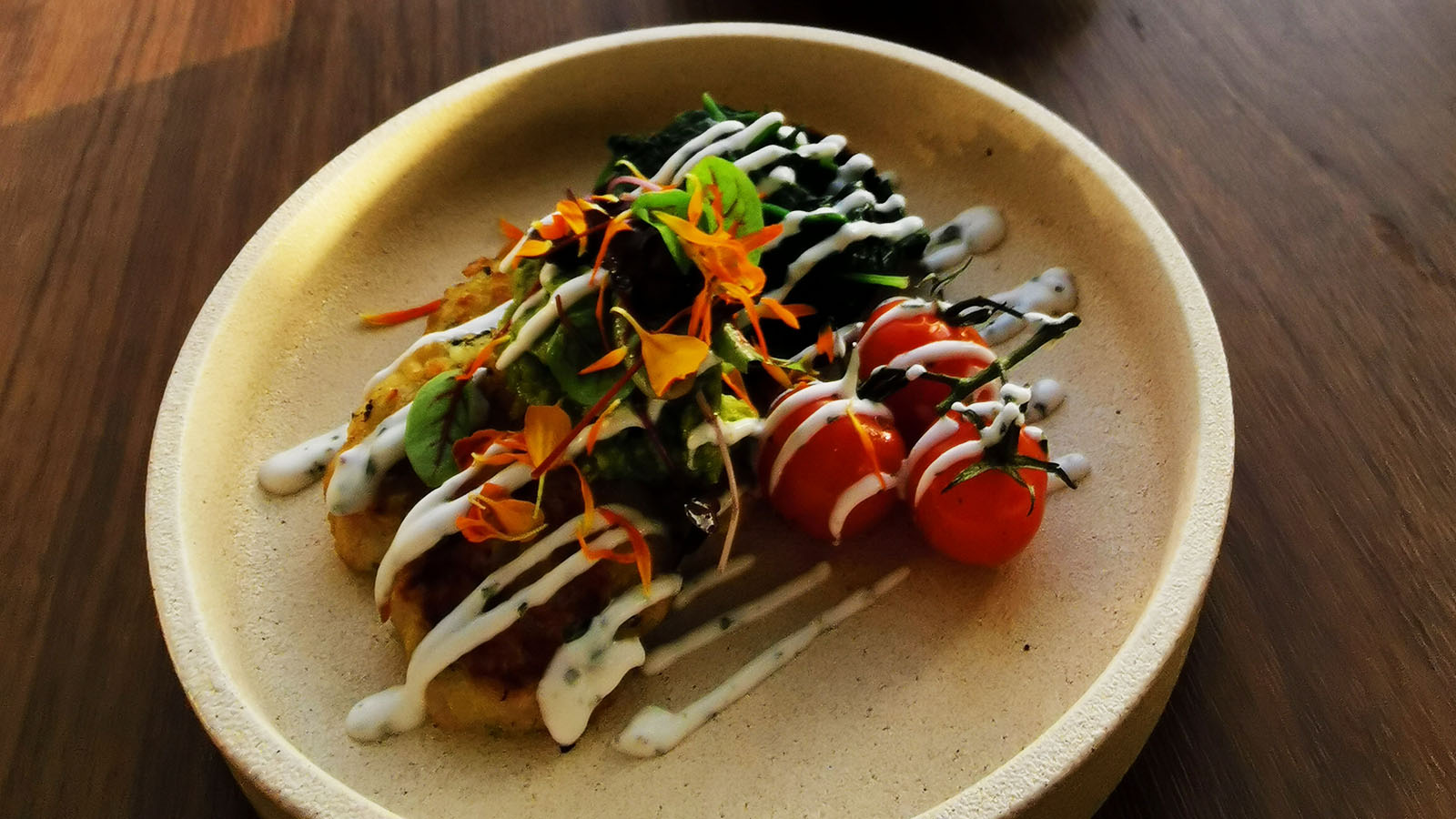 Breakfast as a Fine Hotels + Resorts guest isn't just a pass to the buffet. At Shangri-La Sydney, you can select an à la carte dish with every sitting, along with barista-made coffee.
One morning, I fancied an eggs benedict with smoked salmon, topped with orange roe. The next, I enjoyed a trio of potato rosti, served with a breakfast salad. Having booked through Fine Hotels + Resorts, these meals were all taken care of.
Ad – Scroll down to continue reading.Minimum spend, terms & conditions apply.
Using the Fine Hotels + Resorts US$100 property credit
American Express' Fine Hotels + Resorts is more than just 'free breakfast'. Every stay comes with a separate hotel benefit too. Quite often – and at Shangri-La Sydney – this is a US$100 'property credit'.
That means you're covered for the first US$100 worth of additional expenses charged to your room. Think lunches, dinners, coffees, cocktails, room service, in-room movies, or even a boring essential like laundry.
Not one to waste my credit on something 'everyday', I didn't need any encouragement to dial up room service for dinner.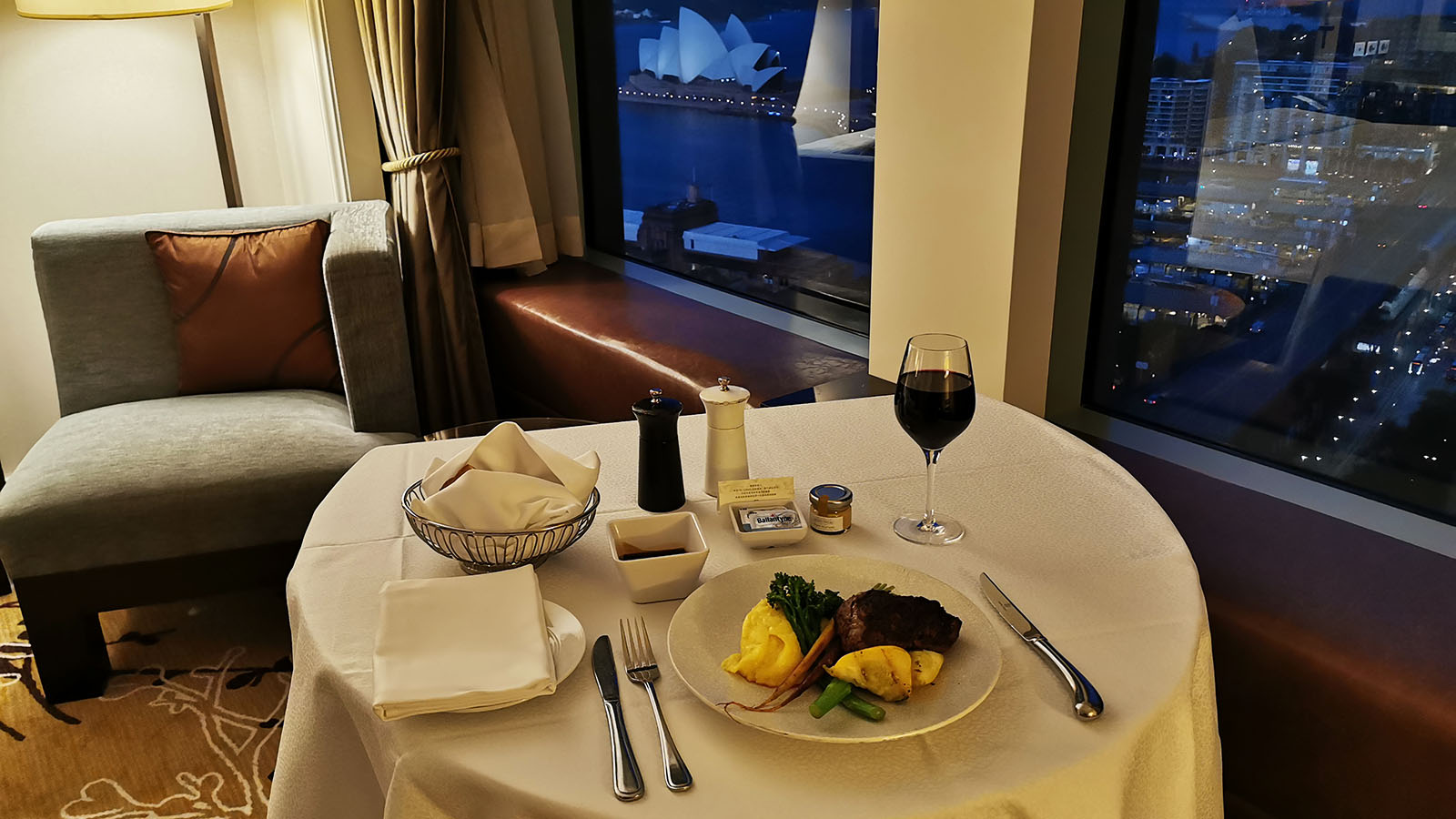 Again, while I'm living the lifestyle and having a great business trip, I'm still saving the company money. You see, the US$100 property credit comes as part of the Fine Hotels + Resorts package. Use that credit to cover a meal the business would have otherwise paid for, and my expense report now looks even better.
It's worth pointing out that the US$100 property credit isn't the same thing as an Amex Travel Credit. While eligible cardholders normally receive one Amex Travel Credit per year, the property credit is per stay with FHR. For regular travellers, those benefits really start to add up.
Even more Fine Hotels + Resorts benefits
Rounding out the suite of Fine Hotels + Resorts benefits is an early check-in that's subject to availability, as well as a guaranteed late check-out.
On check-in day, you can arrive as early as 12 pm – and if your room is ready, you'll be able to get settled right away. With a busy day of meetings in Sydney, I didn't need that perk this time, but did appreciate it being available in case my schedule changed.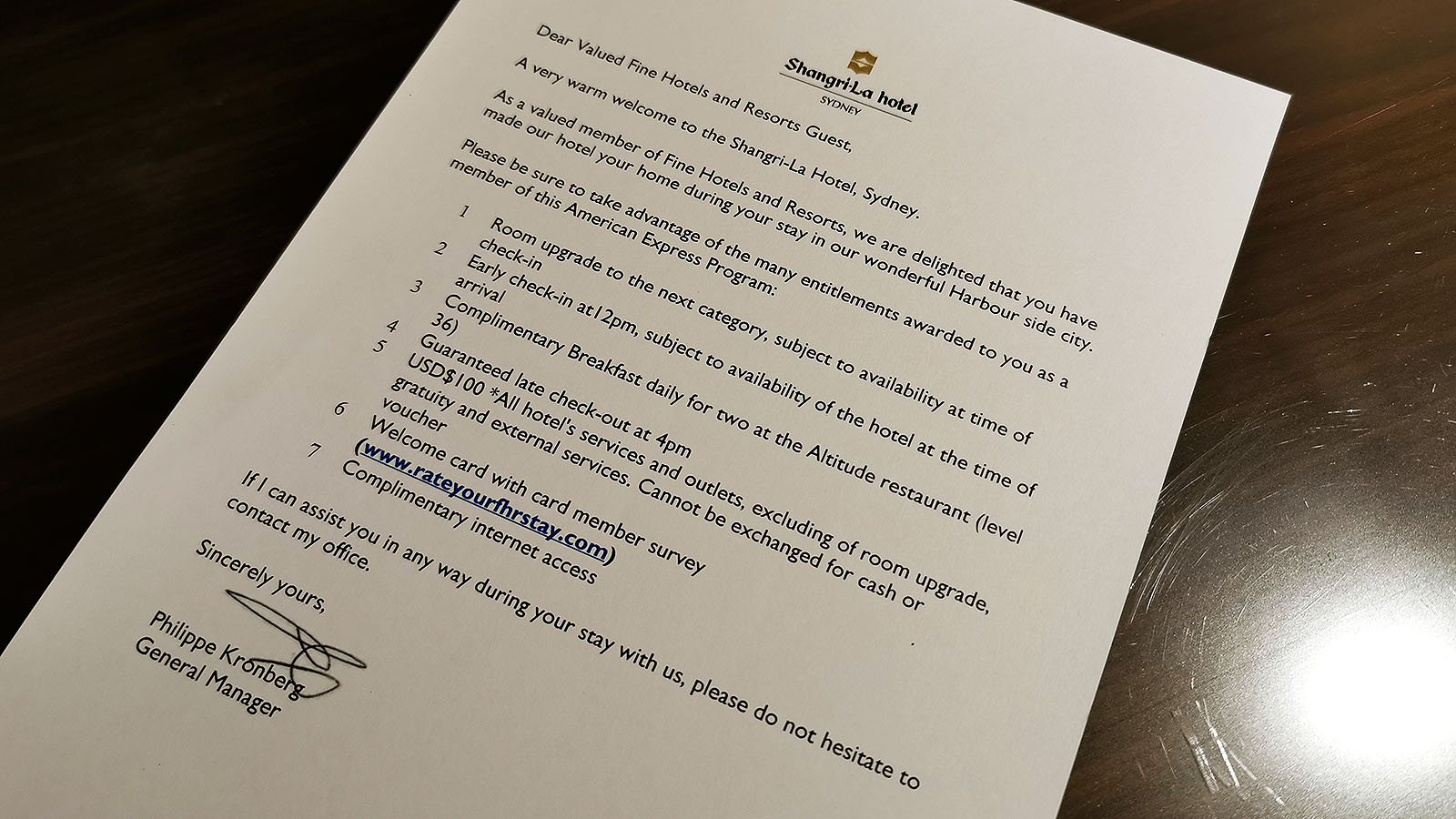 Fast-forward to departure day, and booking through Fine Hotels + Resorts guarantees you a 4 pm check-out. Not a late departure 'subject to availability', but confirmed automatically at the time you book.
At Shangri-La Sydney, I didn't have to ask for that 4 pm departure: it was already locked in, and my keys were coded accordingly. To top it all off, the in-room WiFi was included too.
Keep your eyes peeled for any special FHR deals, too. Sometimes, Shangri-La Sydney can offer a 'stay three nights, get one free' promotion. Or even, 'stay two nights, get one free'. While the hotel can have more expensive rates than many other Sydney properties, when averaging the nightly cost over one of these stays with a $0 night, the numbers can become very easy to swallow.
Shangri-La Circle status benefits
Here's where the experience gets even better for some. Separate from the perks of American Express and Fine Hotels + Resorts, I also have elite status in the Shangri-La Circle loyalty program. On this occasion, those benefits overlapped with the FHR perks I'd be enjoying – but, there was still an opportunity to get even more from the stay.
With my Shangri-La Circle membership number linked to the room, I also earned nights and points towards my loyalty account. It's the perfect double-dip, enjoying the full suite of FHR benefits, as well as points for next time, and help keeping my status to enjoy perks on future travels.
Summing up
Fine Hotels + Resorts can provide surprisingly sharp value when you travel, whether that's for work or a well-deserved holiday.
Although the price you'll pay can vary between stays and hotels – as with any other room rate – FHR benefits can bring outsized value when put to great use. When used savvily, the benefits of FHR may even save you (or your company) money.
Even though I have elite status with a number of hotel chains, I'll certainly be keeping Fine Hotels + Resorts in mind when I next travel. After all, what's not to like about five-star business trips that don't break the bank?
Photography by Chris Chamberlin, who travelled and stayed at Point Hacks' expense.
---
Stay up to date with the latest news, reviews and guides by subscribing to Point Hacks' email newsletter.
How American Express Fine Hotels + Resorts can elevate your next trip
was last modified:
May 10th, 2023
by