Airpoints Mall is Air New Zealand's version of an online shopping portal, allowing Airpoints members to earn Airpoints Dollars on purchases from a large range of online partner retailers.
During special promo periods, you could be earning many Airpoint Dollars per NZ$1 spent at major retailers! Add to that an Airpoints Points-earning credit card, and the rewards will start to stack up.
These 'online malls' work by getting you to click through to a partner retailer, then tracking your purchases to award bonus points to your loyalty account.
Other online shopping portals like Qantas Shopping, the Velocity e-Store, KrisFlyer Spree, Asia Miles iShop and Cashrewards also carry some of the same retailers and are key ways to earn points or money back from online purchases.
How do I earn Airpoints with the Airpoints Mall?
The main way to enter the shopping portal is to head to the Airpoints Mall website on a desktop, laptop or tablet.
The Airpoints online mall works by tracking the purchases you make at participating retailers, so it can credit you with Airpoints for each dollar you spend.You'll earn an average of 1-3% back on your spend in the form of Airpoints Dollars.
To start, head to the Airpoints Mall home page and log in to your Airpoints account.
Click on the retailer you wish to shop at. The page will tell you how many Airpoints you can earn per dollar, plus any applicable promo codes you can use.
Complete your purchase on the retailer's website. Do not visit other websites during this time, or your purchase might not track
When you have checked out, that's it! Sit tight and wait for the points to credit. You will usually receive an email like the one below showing that the tracking was successful: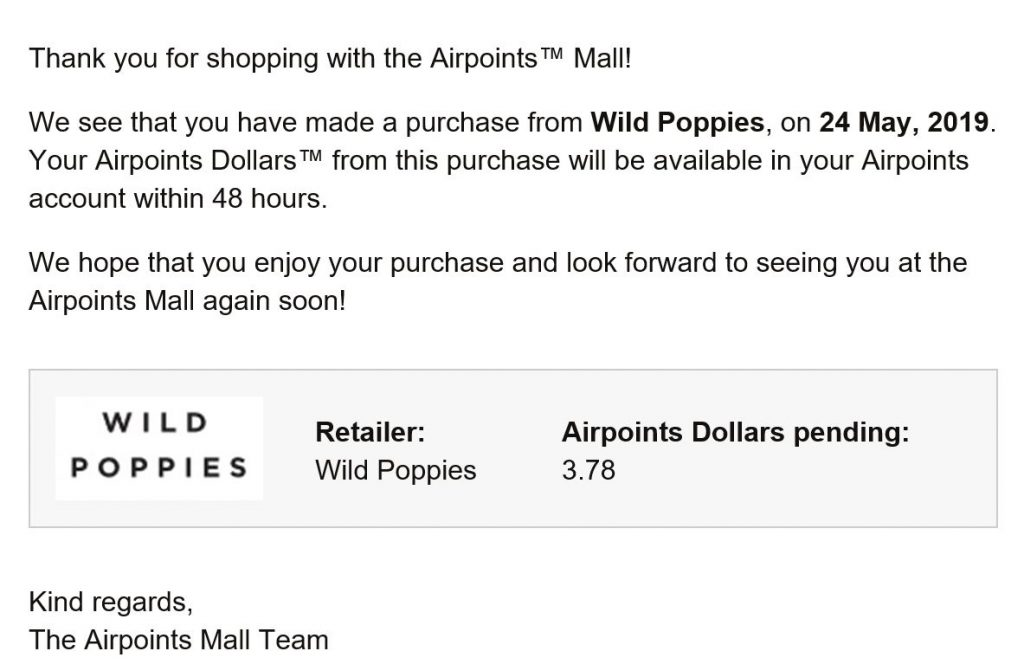 Ad – Scroll down to continue reading.Minimum spend, terms & conditions apply.
Which retailers let you earn Airpoints with the Airpoints Mall?
There are more than 130 retailers that participate in the Airpoints Mall. Some come and go while others will have limited-time bonus promotions, so head to the Airpoints Mall Directory to see the current list of retailers, which include many well-known brands across Australia and New Zealand.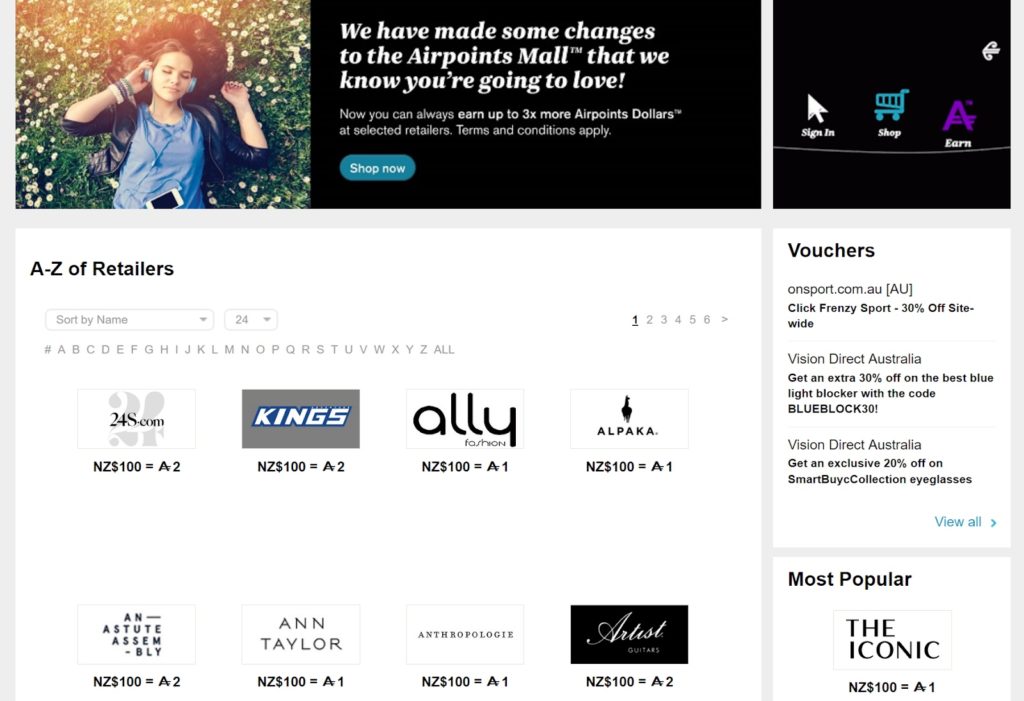 What do I need to know when using the Airpoints Mall?
Some retailers may have exclusions on products that won't earn Airpoint Dollars, such as buying gift cards or when a transaction is paid using gift cards. These conditions can be found on the retailer's offer page.
The Airpoints online mall relies on digital cookies to track your purchases. That means you should ensure nothing is blocking cookies or ads on the pages you wish to visit.
To ensure successful tracking of purchases, make sure you click through the retailer on the Airpoints Mall while logged in to your Airpoints account. It's best not to visit any other web pages on that device until the transaction is completed.
If you do visit other pages or fail to make a transaction, make sure to click back through the Airpoints Mall website on your next attempt, to ensure the transaction is tracked correctly.
Cashback websites, such as Cashrewards and Shopback, use the same cookies mechanism to give your reward, so, unfortunately, you can't double-dip with Airpoint Dollars and still get a cashback.
Vouchers and Special Offers
The Airpoints Mall provides a specific list of vouchers that can be used to save money at some of the different retailers, while still being eligible for bonus points. Be wary using promo codes not provided on this page, as this could invalidate any Airpoints Dollars earn due to the way the affiliate arrangements work between Airpoints and the retailers.
Summing up
The Airpoints Mall is an easy option if you're looking to earn more Airpoints Dollars from your general spending — so make sure to get across the full list of partners on the mall portal to maximise your points earning potential.
If you can understand how online malls work and how important it is to click out to a retailer through the Airpoints Mall before making a transaction, then earning bonus points on purchases will become second-nature, and not an inconvenience.
Don't forget to double-dip by paying with a points-earning rewards credit card — it doesn't necessarily need to be affiliated with Airpoints!
Frequently Asked Questions
How long does it take for points earned through the Airpoints Mall to credit?
It will usually take a few weeks to a few months for Airpoints Dollars to credit from online shopping. This is to ensure that changes aren't made to the transaction, such as cancellations and refunds, which would otherwise cancel out your reward. However from other people's experiences, it is generally quite fast with issuing rewards compared to most other similar sites.
How can I check if my purchase was successfully tracked on Airpoints Mall?
Your tracked purchases should be viewable within your Airpoints Mall account within 2-7 days of completion. You will also receive an email. If it's still not there after two weeks, contact the Airpoints Mall team.
Can I get both Airpoints Dollars from the Airpoints Mall and a cashback offer?
No, both these rewards use the last click-through to track a transaction. This means you can't double-dip with both Airpoints Dollars and cashback. The last click will dictate what reward you get.
Does Harvey Norman take Airpoints?
You can earn 1 Airpoints Dollar for every NZ$200 spent at Harvey Norman in New Zealand.
Can you use Airpoints to pay for hotels?
You can't currently redeem your Airpoints Dollars for a hotel booking.
How much is an Airpoint worth?
When used on flight redemptions with Air New Zealand, each Airpoint dollar is worth a dollar. It holds similar value for redemption of products and gift cards at the Airpoints store. Learn more in our starter guide to Airpoints.

How to earn Airpoints Dollars at the Airpoints Mall
was last modified:
October 7th, 2020
by