As I previously wrote in Part 1, the main purpose of this trip was to fly in a Singapore Airlines premium cabin and stay at the Park Hyatt Tokyo, which I had dreamed of for years since first watching Lost in Translation. As I planned the trip, I eventually added four other luxury properties I knew I could stay at and still stay within budget.
Since my total budget for this trip was US$1000 for flight and accommodation and with nightly rates at the Park Hyatt Tokyo usually going for an average of AU$700, I had to find another way.
---
Ricardo's case study
Part 1: About me and how I accumulate points
Part 2: How I used points for my Singapore Airlines flight
Part 3: How I redeemed points for my hotels in Tokyo
---
Using the points + cash method to save a ton of money
I'm a big fan of mixing points + cash to book hotels and flights because when done properly, you can save heaps of money and points.
In the table below you can see the breakdown of all my hotels, cost and upgrades I received (all prices in AUD and inclusive of taxes):
| Property | Booking method | Cost | Upgrade |
| --- | --- | --- | --- |
| Park Hyatt Tokyo | Points + cash | 15,000 points + $336 | Deluxe Room |
| Andaz Tokyo | Points + cash | 12,500 points + $275 | Tokyo Tower view |
| Hilton Tokyo | Points + cash | 20,000 points + $137 | King Junior Suite |
| Conrad Tokyo | Points + cash | 32,000 points + $242 | King Executive Suite |
| Hilton Tokyo Odaiba | Cash | $201 | King Deluxe Room |
Park Hyatt Tokyo
I especially enjoyed the check-in process as the concierge personally escorted me to my room and took all my info inside there after giving me a tour of the same and handing me the key. I was also glad to find out I had been upgraded to the Deluxe room.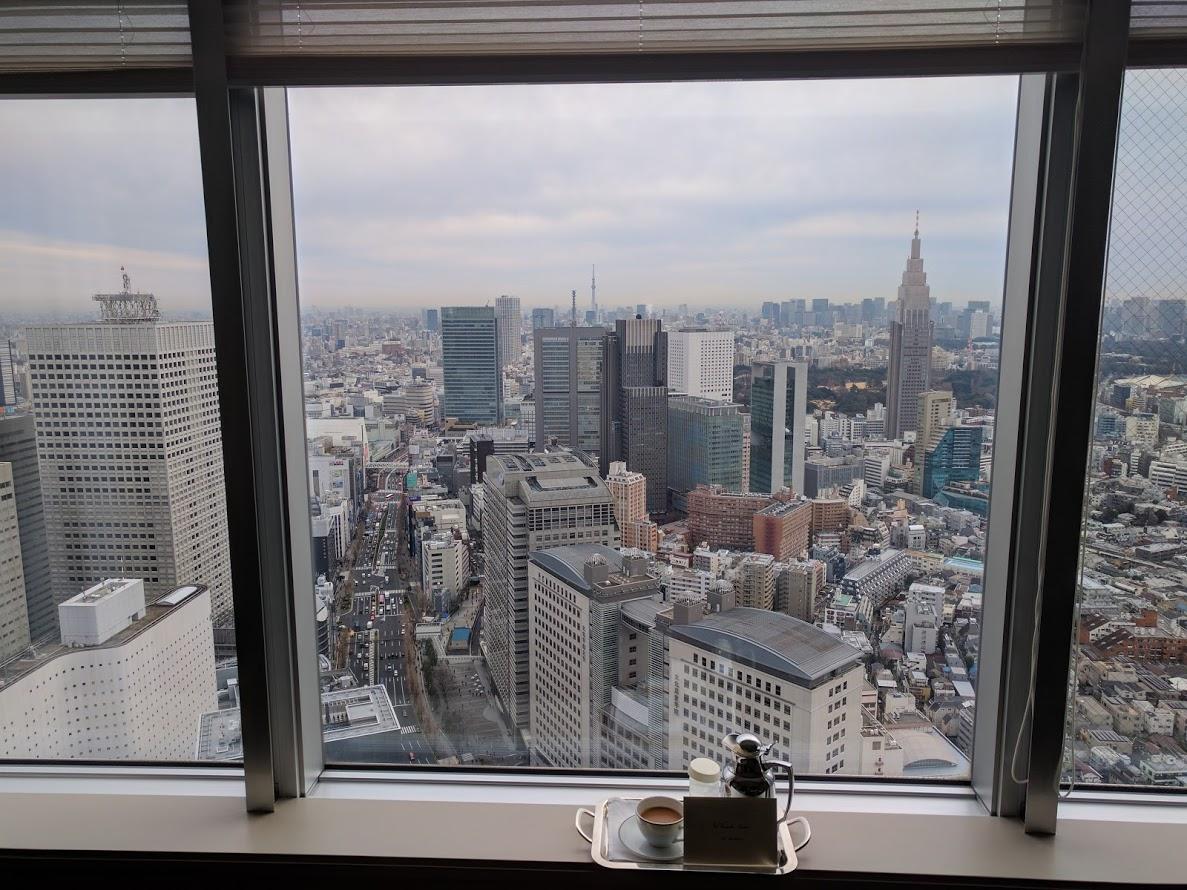 Waking up to this view: priceless
Tip: if possible, make sure to pick a Twin room and ask them to arrange both beds side by side Hollywood Twin style as the windows are larger than the King room
Ad – Scroll down to continue reading.Minimum spend, terms & conditions apply.
Andaz Tokyo Toranomon Hills
As much as I loved staying at the Park Hyatt Tokyo for the classic experience, I had recently learned about this newer, more 'hip' Hyatt-branded property in town getting rave reviews from people all over. It also happens to be inside Tokyo's tallest building, the Toranomon Hills, and being a sucker for Japanese skyscrapers, I just knew I had to stay there next.
The check-in process is indeed hip', as they ask you to have a seat and a complimentary juice at one of the sofas while they come to you with a tablet to check you in.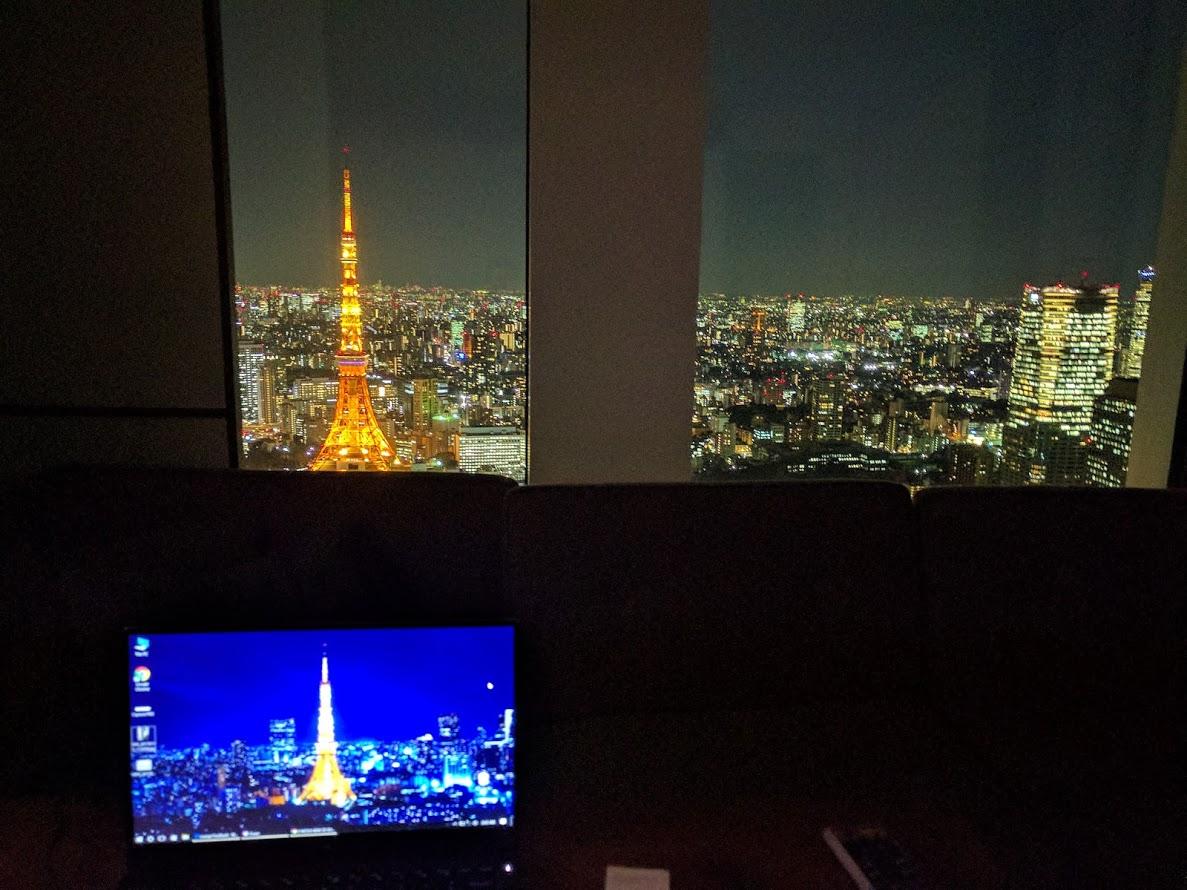 Who says dreams don't come true? My desktop wallpaper is proof of that!
I immensely enjoyed my stay at the Andaz and would recommend it over the Park Hyatt Tokyo to anyone but the most conservative traveller.
The Hiltons
If I'm being honest with myself, the bar was already set so high after staying at the two top Hyatt properties in Tokyo that I wasn't expecting much from the Hilton hotels. However, being a Hilton Diamond (I took advantage of a status match promotion Hilton was running a while back) member affords me so much more than Hyatt's that the experience can be comparable, if not better.
For example, and as mentioned before, Diamond status gets you free breakfast, complimentary room upgrade (very often to suites when space is available) and lounge access. These three perks alone can add hundreds of dollars of value to every stay, hence improving your Hilton experience tremendously.
Hilton Tokyo Shinjuku
This property usually goes for over AU$315 a night for a basic King room when booked in advance. That's when Hilton points can offer outsized value, as I again opted to use a combination of cash + points to book this room and was able to secure it for a fraction of the price.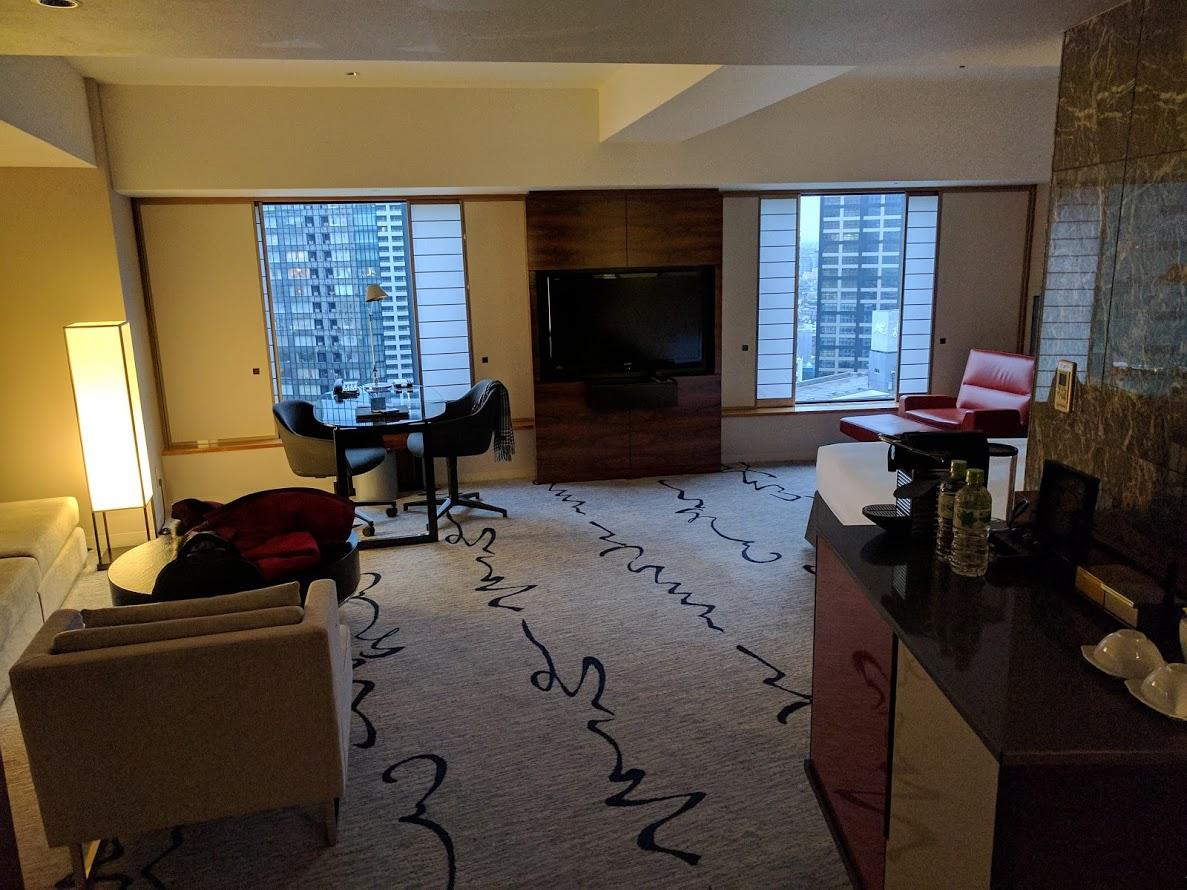 I got upgraded to the Hilton Tokyo King Junior Suite Executive, a AU$420 value over my original booking thanks to status!
Conrad Tokyo
Upon check-in, I was disappointed to see a huge line of people already waiting ahead of me as they were super busy. After waiting for over 15 minutes (no welcome drinks offered this time) they made it up to me by upgrading me to the King Executive Suite Bay View, which usually goes for nearly AU$1000 a night!
They also brought me a platter of fruits and a glass of champagne for my troubles which was a much appreciated gesture. Japanese hospitality at its best.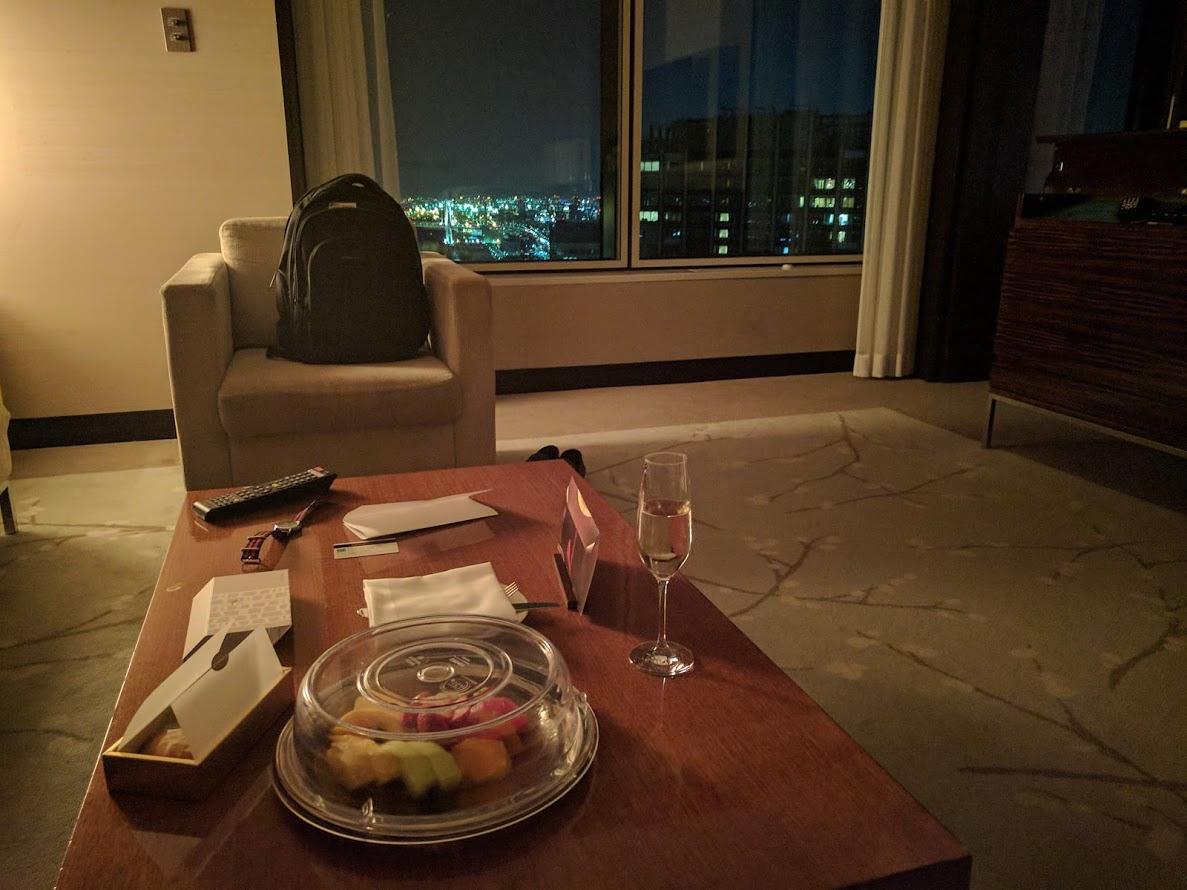 I got upgraded to this awesome suite, plus cookies, fruit platter and a glass of champagne
Hilton Tokyo Bay
After four days of staying in skyscraper hotels in the middle of the hustle and bustle of Tokyo, I was ready for something a bit more serene, so I left this property for last.
Much to my surprise, this 'humble' property (which cost me the least) turned out to be one of my favourites, simply because the Rainbow Bridge view from the lounge terrace is stunning at night. Plus every room has its own balcony and they have an awesome outdoor jacuzzi!

Sometimes it pays off to not redeem points as I received 10,500+ Hilton Honors points for paying for this booking outright, enough for two free nights at a low-category Hilton property!
Here's the view I absolutely loved: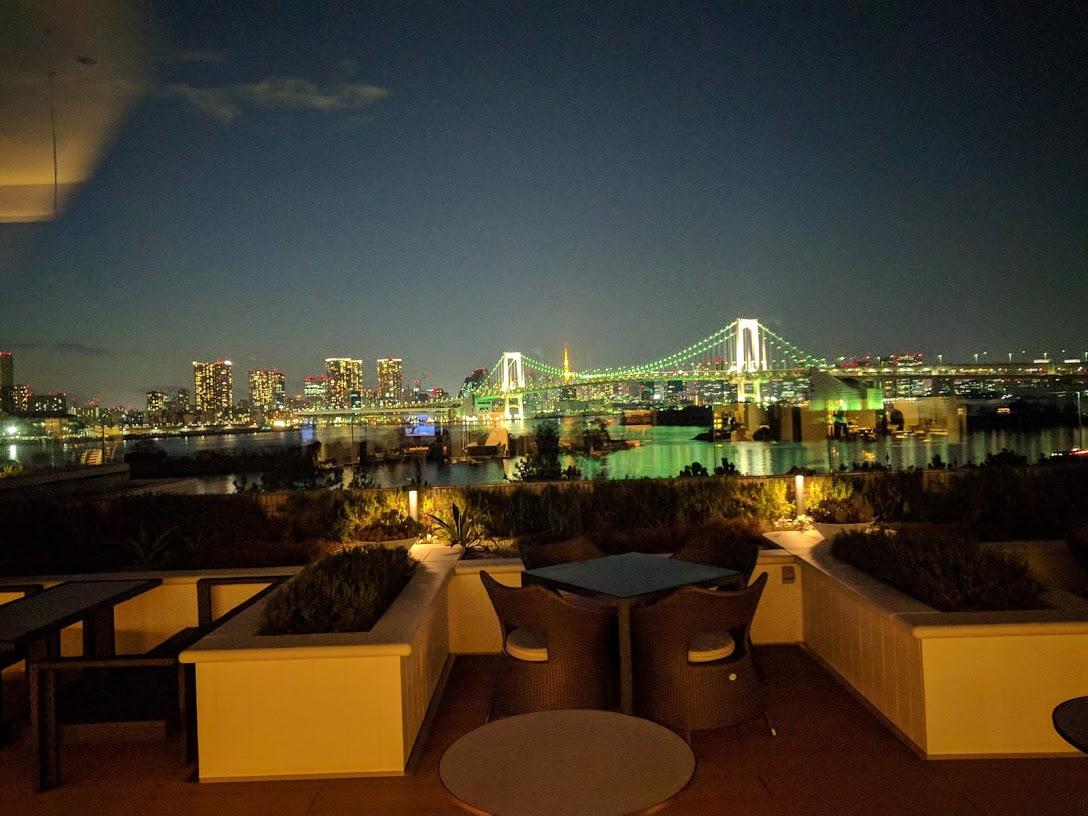 and the awesome outdoor jacuzzi.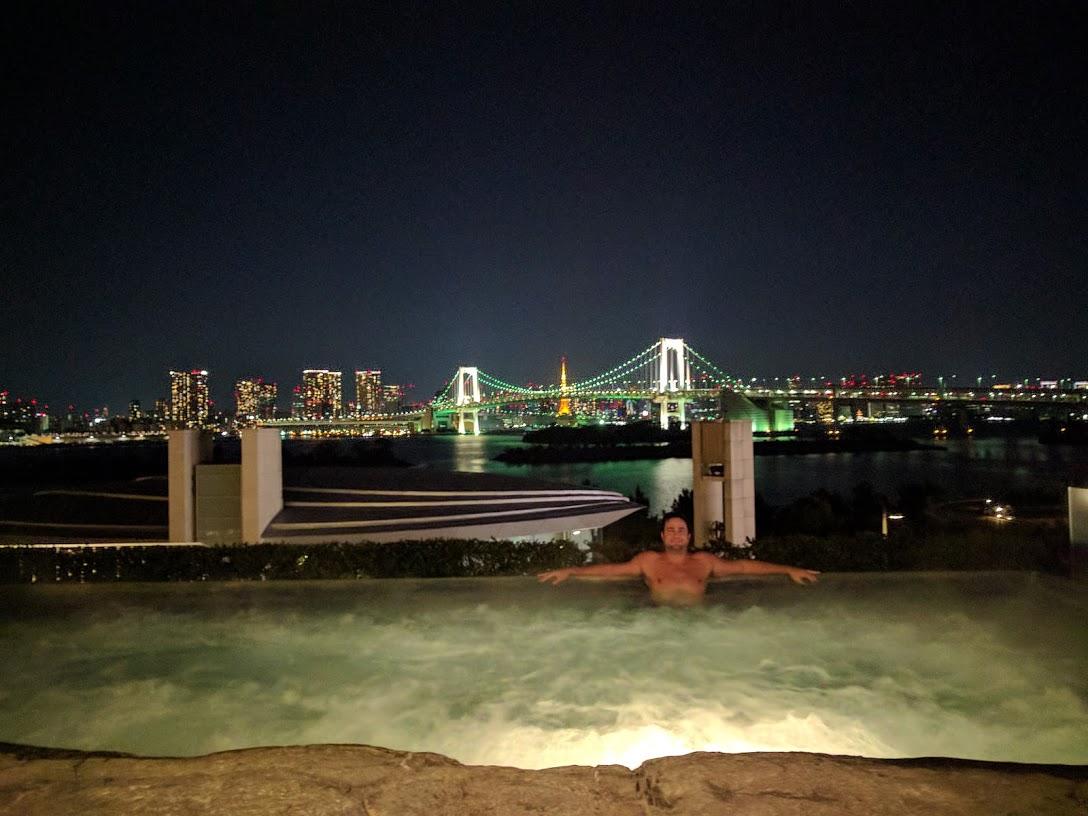 It was freezing cold outside but you would never guess in this boiling jacuzzi!
This hotel is proof that more expensive doesn't always mean better. In the end, I really loved this hotel for its understated elegance, budget pricing (for a Hilton) and amazing location.
Summing up: crunching the numbers
It felt great revisiting my amazing Tokyo luxury-on-a-budget trip in writing this case study.
Let's go over the numbers to see if I managed to stay under my US$1000 (~AU$1400) budget:
| Flight or hotel | Cost |
| --- | --- |
| Singapore Business Airfare | AU$77 |
| Park Hyatt Tokyo | $336 |
| Andaz Tokyo | $275 |
| Hilton Tokyo Shinjuku | $137 |
| Conrad Tokyo | $242 |
| Hilton Tokyo Odaiba | $201 |
| Total | AU$1268 |
Success!
I hope this case study helped you understand a little more about the power of points and miles and, when used to their maximum value, how much money they can save you so you can spend it on things that really matter, like Hello Kitty souvenirs.
So keep saving up those precious points and spend them wisely!
When have you used your points to maximum value? Share in the comments below!
Case study: How I redeemed my points for five-star hotels in Tokyo (Part 3)
was last modified:
March 22nd, 2022
by