You'll see that some of our credit card offers featured on Point Hacks give you a 'statement credit' as part of the sign-up bonus. Existing cardholders may also be offered credits as part of an ongoing deal. But what are these credits exactly?
Simply put, statement credits are applied to your credit card (or charge card) bill to reduce the total amount you need to pay off later. It's essentially a cash discount applied to your monthly statements, hence the name.
In most cases, you would need to have spent a certain amount in order to earn a credit for part of that bill. Hence, you're not able to 'cash out' statement credits, but it does have the effect of saving you cash.
Best of all, since statement credits are provided by the card issuer, it's often stackable with other deals and promotions that are offered by third parties, including retailers and reward/cashback websites.
Statement credits as a sign-up offer
Typically ANZ and American Express might offer a credit for eligible new users signing up for a credit card, in conjunction with bonus points and other perks.
This will be shown in the offer description as get $X back or get a $X statement credit — usually after meeting a set minimum spend over a period of time such as $3,000 over 3 months.

Here's how it works:
After doing your due diligence and deciding to go ahead, complete the card application page through the Point Hacks link (this is important so you receive the correct offer advertised)
If you get approved, activate the card when you receive it in the mail
Commence your usual spending to meet the offer criteria
Once you have met the requirements, the credit and bonus points (if applicable) will be credited to you in the next billing cycle
Ad – Scroll down to continue reading.Minimum spend, terms & conditions apply.
Statement credits as a bonus for existing customers
American Express is the main card issuer that also tempts Card Members with statement credits with certain spend. This is called 'Amex Offers' and also encompasses the popular yearly 'Shop Small' deals
When a deal appears in your account, you just need to accept it and then meet the spend criteria before the due date. An example with major hotel chains is shown below.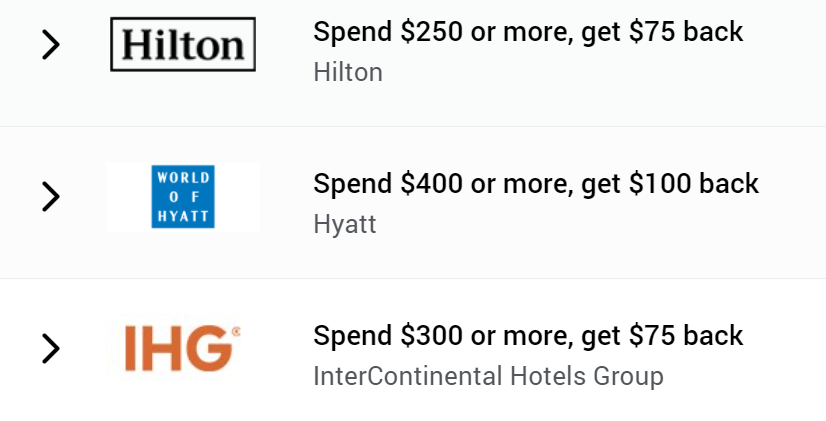 Accept the offer in your American Express account
Complete the minimum spend requirements, taking into account participating locations and payment methods
Your American Express Offers statement credit is usually approved and shows up on your statement within a few business days
Other banks, including Commonwealth Bank, are slowly jumping onboard the offers bandwagon too and giving out credits with certain spend. Be sure to click 'Activate reward' in your account before taking advantage of the deal.
Statement credits as a reward option for points programs
Finally, many bank flexible rewards programs will let you redeem some of your points for a statement credit, so you don't need to pay off as much on your next monthly bill.
We'll once again circle back to American Express as an example, as it has the best implementation of the process.
In the screenshot below, those who are enrolled in the Membership Rewards program have the choice of using their points to offset specific transactions (top) or generate a statement credit that offsets the total monthly bill (bottom).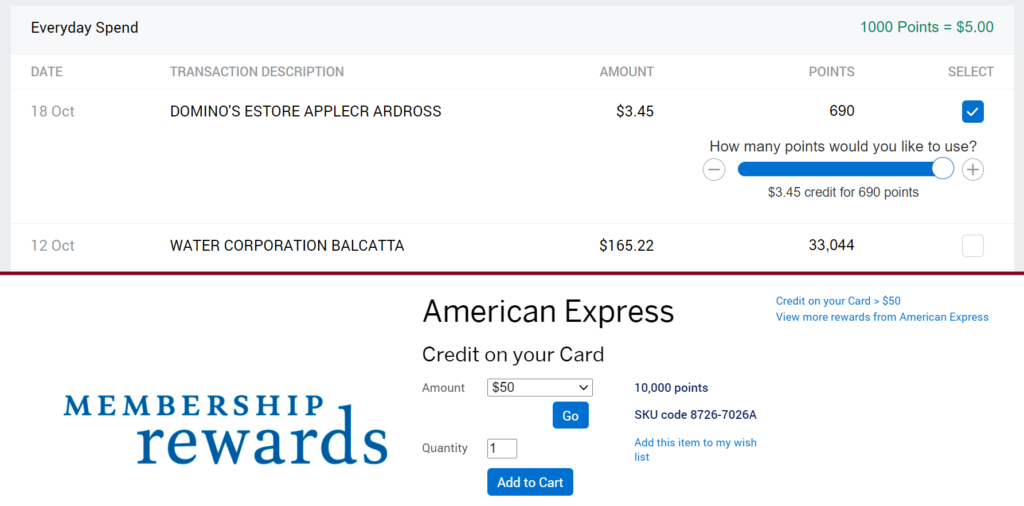 Summing up
Statement credits are a useful tool to sweeten the deal with credit card signups or to reward existing customers with new deals or rewards with their loyalty points.
Of course, you should never go out of your way to chase statement credits, because invariably you need to spend more money before getting some credits back.
But if it's thrown in as part of a great deal, or it's something you would have purchased anyway, then go ahead and make the most of the tempting offers out there.
Frequently asked questions
What does it mean to get a statement credit?
A statement credit helps offset an amount of your credit card bill. It's typically earned as a reward or incentive of some sort.
How does a statement credit work?
Simply put, a statement credit is money credited back to your account. It's intended to reduce your credit card bill, rather than for you to cash out.
How does Amex statement credit work?
American Express issues a number of credits, including those as a sign-up bonus, for American Express Offers such as Shop Small, and as a redemption option for customers enrolled in the Membership Rewards program.
What is a statement credit and how does it work?
was last modified:
August 25th, 2023
by