Like Qantas and Jetstar, Virgin Australia offers a price match, known as their 'fare promise' to encourage travellers to book directly with them. This could work in your favour if an online travel agent has a slightly cheaper fare but you would still rather book with Virgin Australia for various reasons.
Successful claimants will also get a bonus 500 Velocity Points on their next booking, which is always a welcome addition.
Here is how to make a Fare Promise claim with Virgin Australia on your next domestic trip.
What do I need to make a successful Fare Promise claim?
The full list of eligibility criteria is shown here. In a nutshell, this is what you need:
Identical flight, date, route, travel class, passengers and inclusions
Only domestic flights operated by Virgin Australia – no codeshares and no international segments in the same booking
Price on the third party website must be quoted in AUD without currency converters and be offered by an Australian travel agency with tickets issued in Australia.
The amount quoted must include GST, but excluding credit card fees and commissions.
Here is a real-world example with Sydney to Perth one-way. Let's say you're looking at the $669 Freedom ticket to use with a complimentary fare upgrade.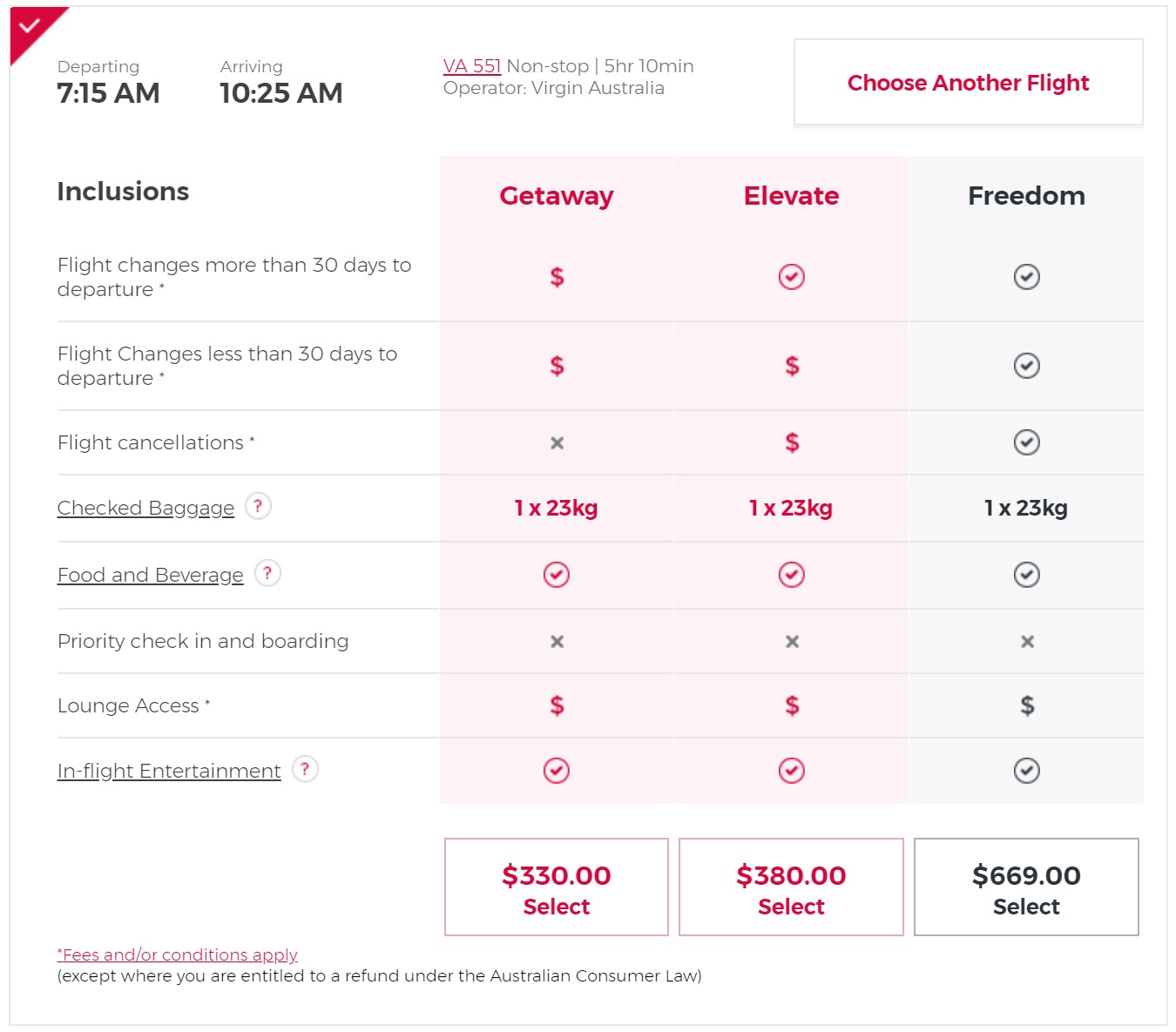 Using American Express Travel as an example of an online booking agent, here is the discounted price they are currently offering passengers for a Freedom fare – at $591, it is a whole $77.90 cheaper than on Virgin Australia's own website.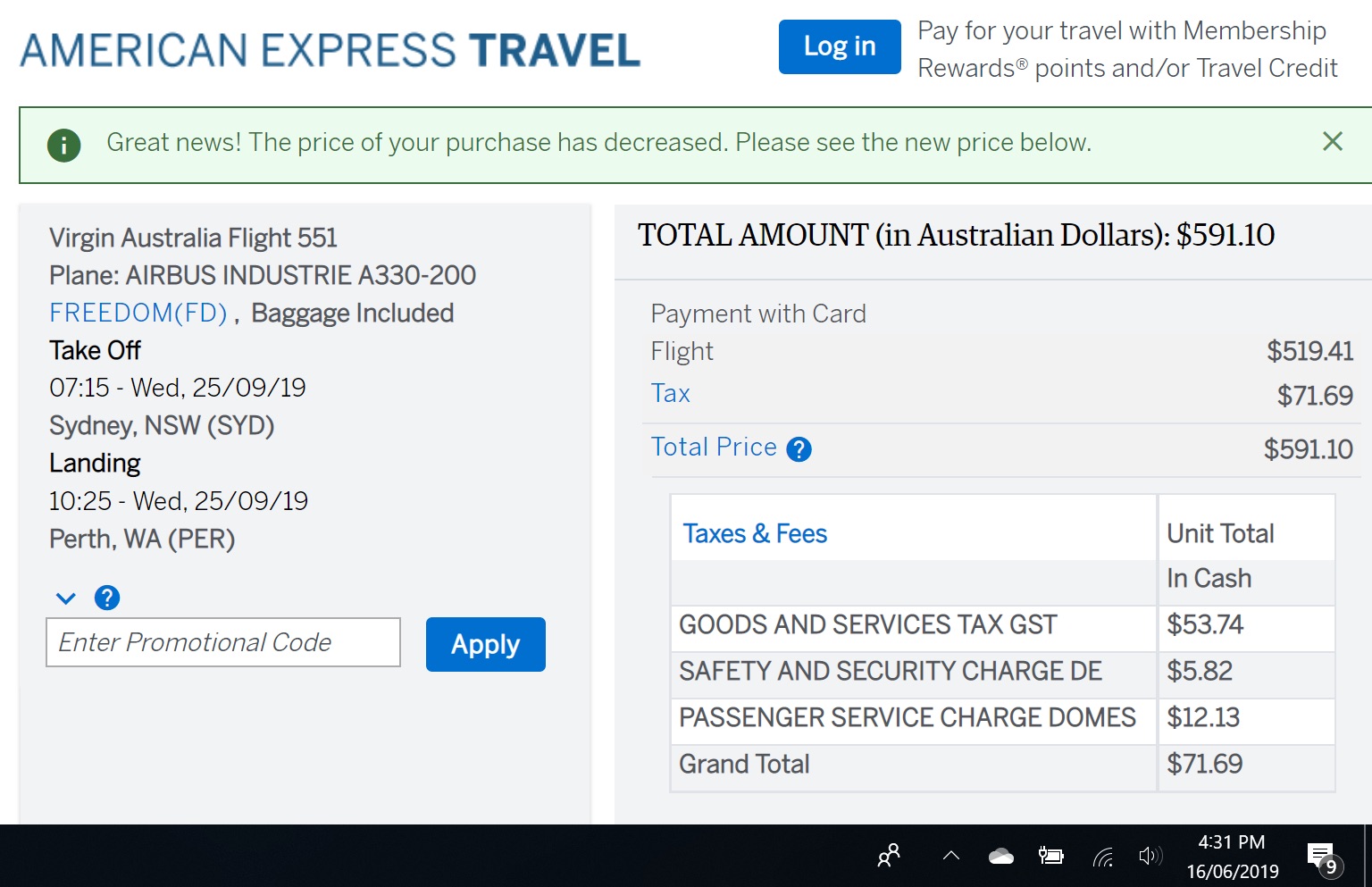 It is important to make sure the third party website displays a breakdown of taxes and fees, as Virgin Australia's T&C's clearly state that GST amounts need to be quoted to be valid. If you are submitting a screenshot, ensure your computer's time and date stamp is visible (as above).
Some popular online travel agencies, like Flight Centre-owned Aunt Betty and BYOJet, don't actually display a breakdown of taxes at check-out. If Virgin Australia was strict about the Fare Promise T&C's, then chances are your claim could be declined on that technicality.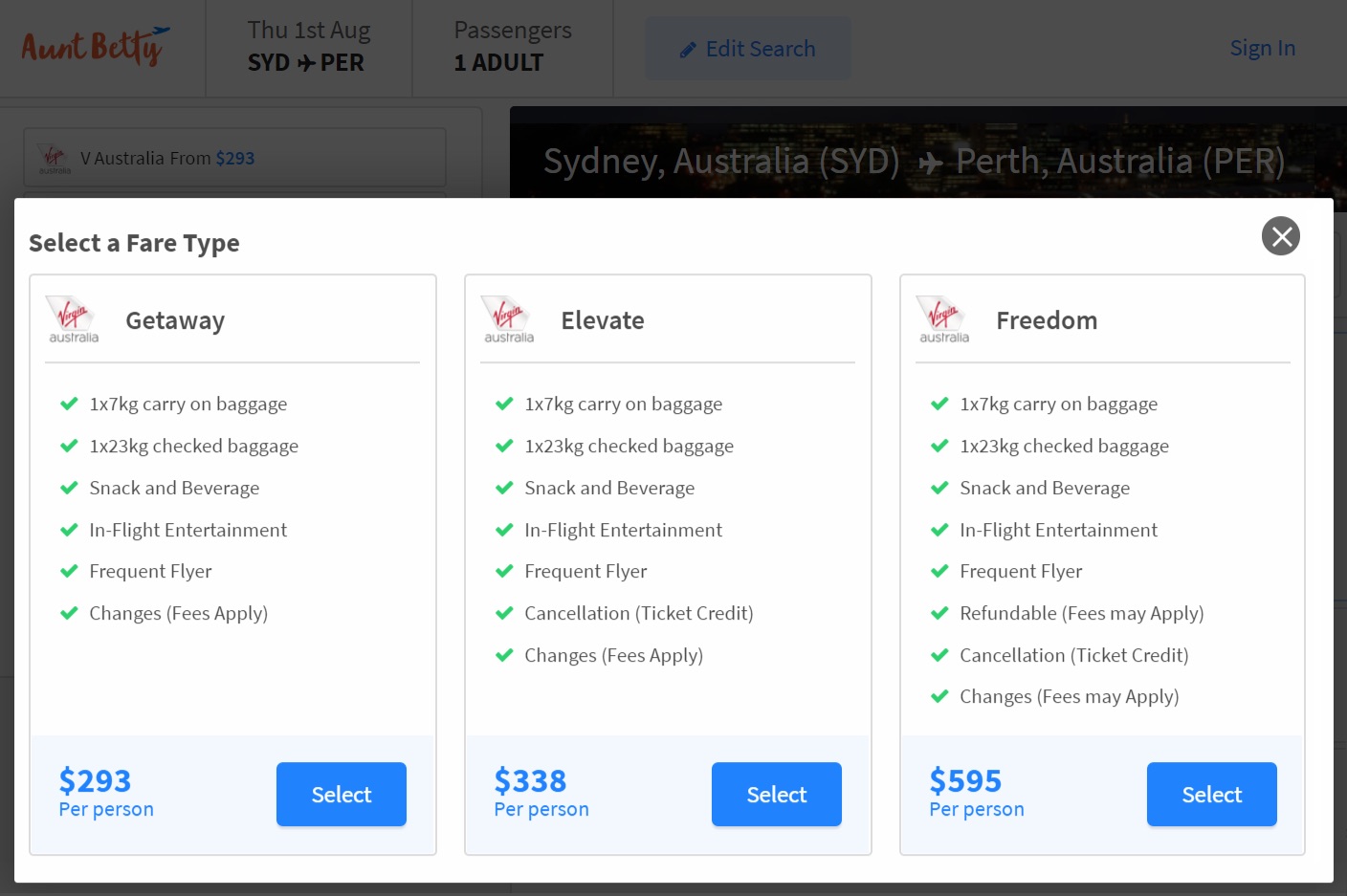 There are two ways to make your price match claim – either before booking or after booking (retrospectively) with Virgin Australia. There are pros and cons of doing it each way.
Ad – Scroll down to continue reading.Minimum spend, terms & conditions apply.
How to make a Virgin Australia Fare Promise claim before booking
Find the fare on Virgin Australia and on the third party website.
Call the Guest Contact Centre (13 67 89 in Australia) and request a Fare Promise claim.
They will check the third party website in real time and honour the lower price on the spot if everything is valid.
After payment, receive your itinerary within 24 hours and your bonus Velocity Points within three weeks.
How to make a Virgin Australia Fare Promise claim after booking
Fill out a fully-completed Fare Promise claim form by 11:59pm AEST of the same day you made the booking on Virgin Australia.
Include your confirmed Virgin Australia booking reference number and a screenshot with date + timestamp and the lower fare on the third party website, inclusive of mandatory fees and surcharges.
If successful, you will receive a refund or Travel Bank credit of the difference within three working days. Your bonus Velocity Points will credit within three weeks.
Summing up
As long as you are careful with fulfilling all the terms and conditions, the Virgin Australia price match 'fare promise' is a great way to get your booking done directly with the airline (which makes it easier to manage and change bookings), while also enjoying the lower price of an online agent.
The bonus 500 Velocity Points is a nice extra as well. To summarise, here are the pros and cons of doing the price claim before or after booking on Virgin Australia:
Doing the price claim before booking: positives
You will definitely know if it is approved or not before going ahead.
If Virgin Australia declines your claim, you can always book with the cheaper third party.
Doing the price claim before booking: negatives
Extra time needed to contact the Virgin Australia Guest Contact Centre and wait on hold while they verify the price.
Paying a 'booking and service fee' of $7.70 per passengers when using a credit card, debit card or PayPal.
Potentially having your claim denied and the cheaper pricing also sold out.
Doing the price claim after booking: positives
If you're confident that you meet the fare promise criteria, it is easier to book direct and submit a claim form later that day rather than call up.
Avoid the $7.70 per passenger booking fee.
Doing the price claim after booking: negatives
Risk that your claim is declined and you are stuck with the Virgin Australia website price.
Strict requirements on the screenshot – make sure it includes the date/time stamp from your taskbar or similar, such as in the American Express example above.
In summary, read our guide thoroughly so you know what terms and conditions you need to fulfill, so that making a Fare Promise claim with Virgin Australia is as hassle-free as possible.
Guide to Virgin Australia's Fare Promise
was last modified:
March 16th, 2022
by