If you are searching for the lowest Economy Class fare on a leisure route, or are particularly loyal to Jetstar, then this service can save you big money.

What is the Price Beat Guarantee?
Jetstar has this nifty service, which if you find a cheaper flight on a competitor airline or a cheaper price for a Jetstar flight on a third-party website, they'll beat it by 10%.
The main conditions are that it needs to be:
A direct one-way flight between exactly same airports (take note for Melbourne's Tullamarine and Avalon, and Tokyo's Narita and Haneda Airports)
Inclusive of all taxes, fees and surcharges
More than seven days from when you commence the flight (i.e. no last-minute bookings within a week of departure)
In terms of timing, the flights need to be:
Within one hour of each other for domestic flights within Australia or New Zealand or flights between Australia and NZ
Within one hour of each other for international flights within Asia
On the same calendar day for all other international flights (e.g. Australia to Asia or Hawaii)
Where to find better prices
As I've mentioned before, the search website I use the most is Google Flights as it allows flexible date and destination search. I also like the Everywhere feature on Skyscanner, the reliability of KAYAK search results and the user-friendliness of Adioso, with Expedia and Zuji good additional options.
With Jetstar being a low-cost carrier (meaning you have to pay more for checked baggage, seat selection, and food and drinks), it is most likely you will be trying to find cheaper fares on other low-cost carriers, although sometimes full-service airlines will be cheaper on certain routes.
Keeping in mind that you are looking for a direct flight on a route Jetstar serves, the main competitors you are looking to compare fares to are:
Tiger Airways within Australia
Air New Zealand within New Zealand
AirAsia to Malaysia, Thailand, Bali, Japan and the Philippines
Scoot to Singapore
Air New Zealand, Virgin Australia and LATAM between Australia and New Zealand
Fiji Airways and Virgin Australia to Fiji
Hawaiian Airlines to Honolulu
I used Google Flights to search for a one-way flight from Sydney to Denpasar (Bali) on 26 July 2016, making sure to price in AUD using that option in the left-hand menu and filtering the results by nonstops, which gave me four options.
AirAsia was the cheapest with, surprisingly, Jetstar more expensive than Virgin Australia and the five star-rated Garuda Indonesia.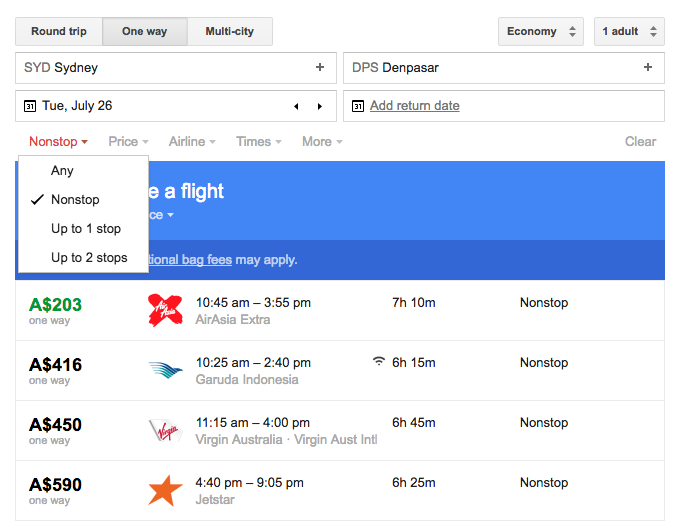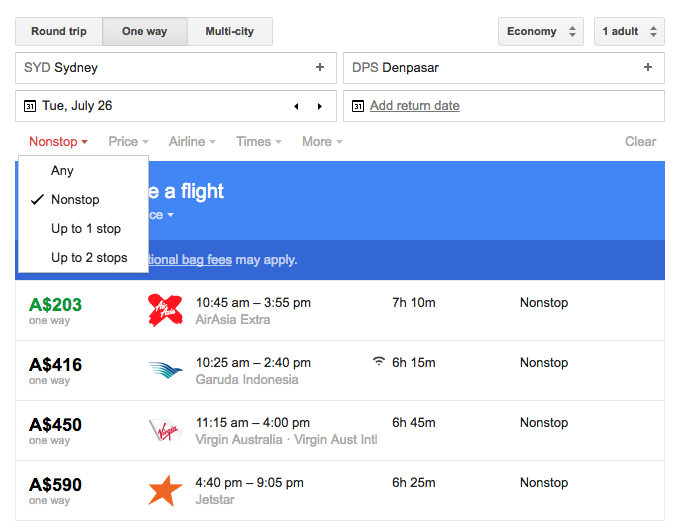 I clicked through to the AirAsia website to confirm the price ($203):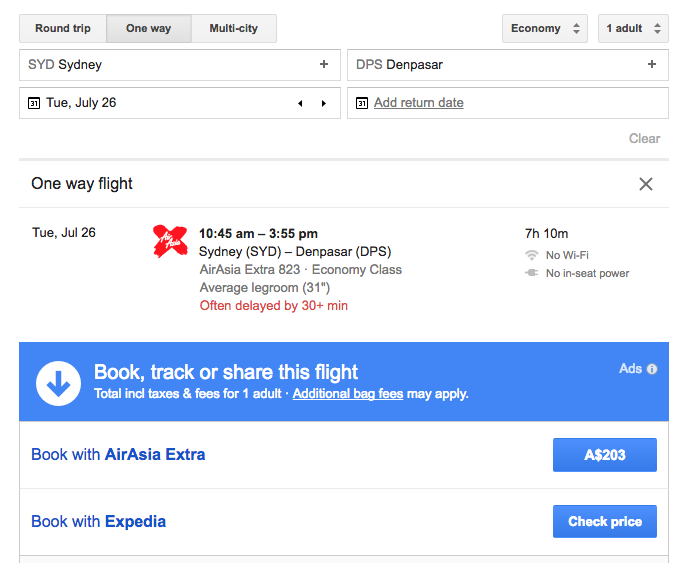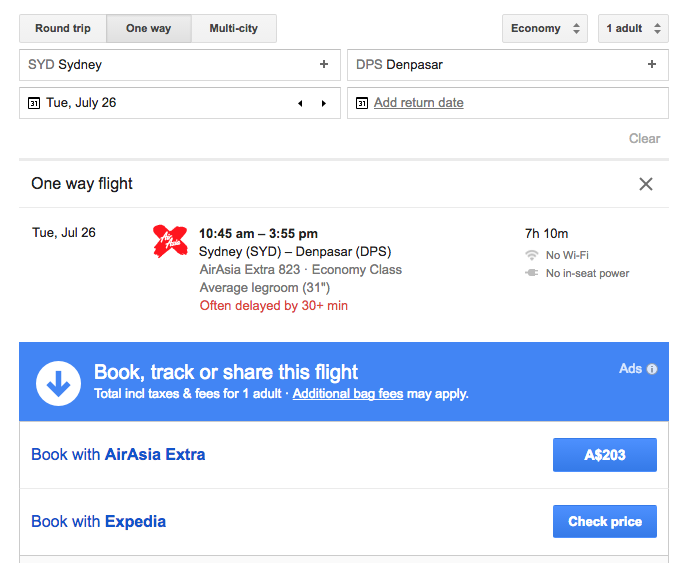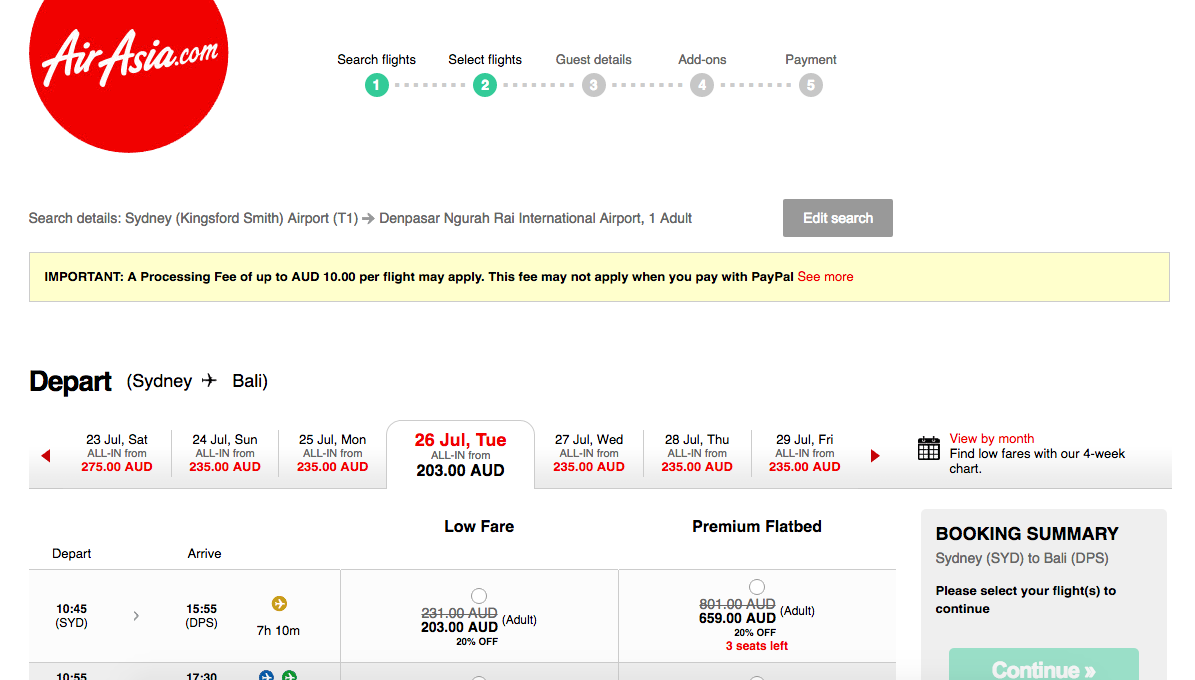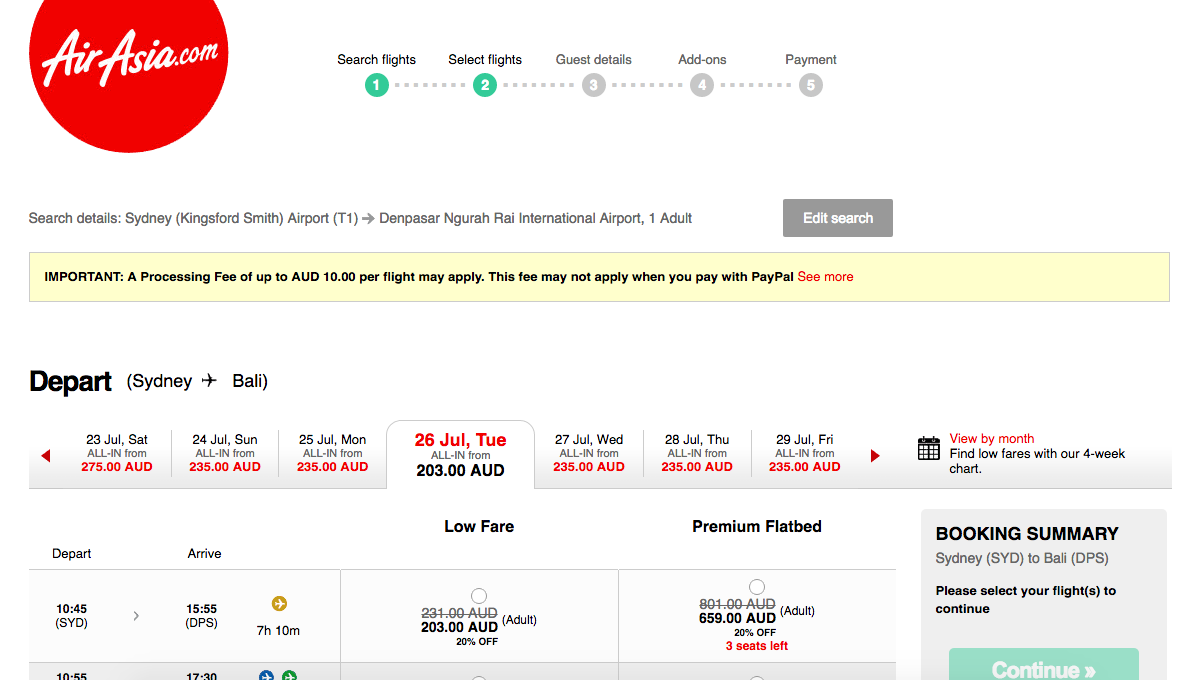 And did the same for the Jetstar option, which ended up being $131 cheaper on the Jetstar website ($459) than Google Flights ($590):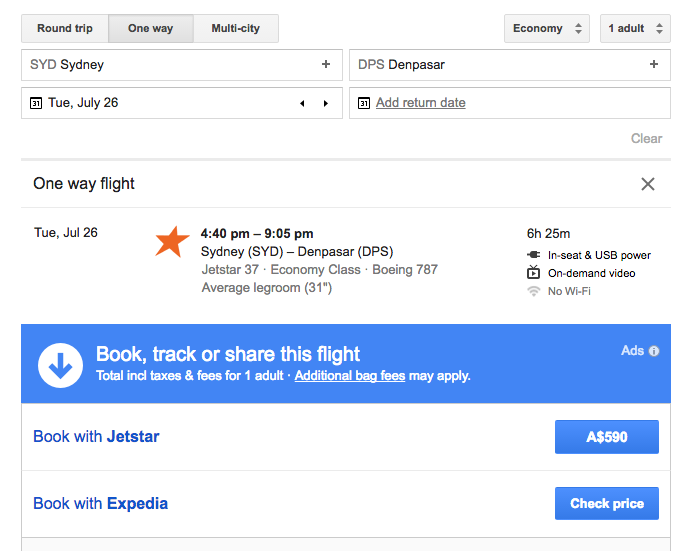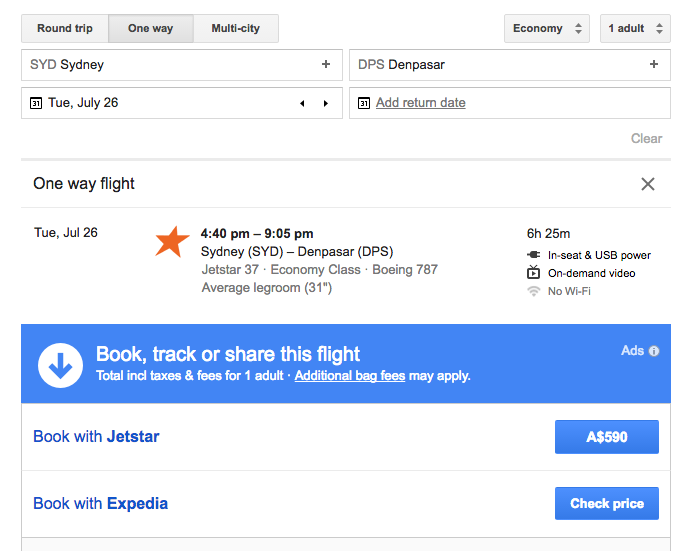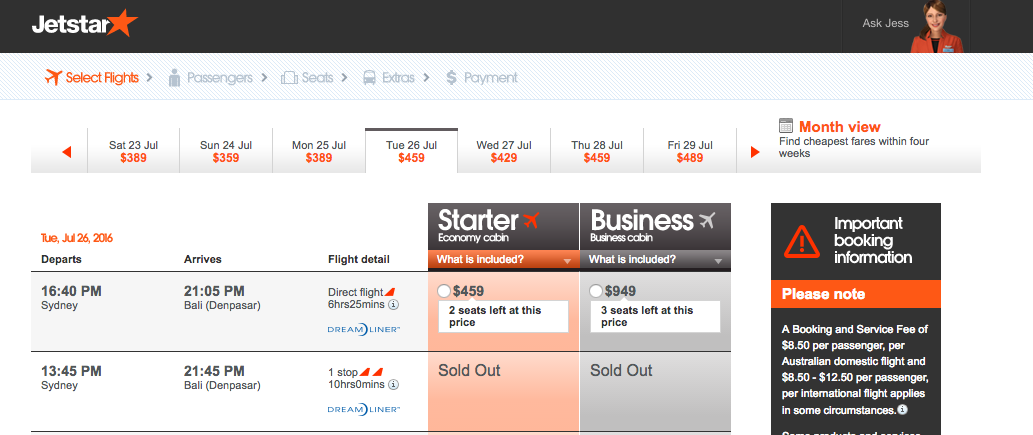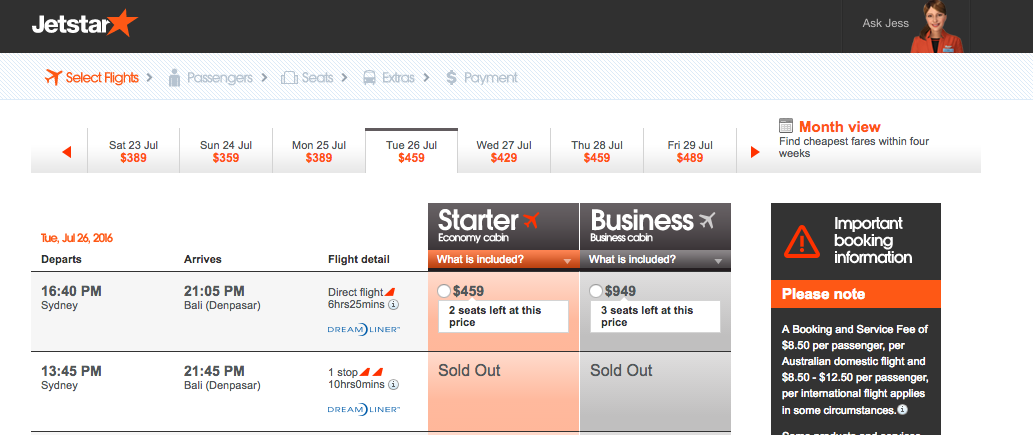 According to my calculations, as the flights were international flights between the exact same airports on the same calendar day, that met the conditions for the Price Beat Guarantee.
Ad – Scroll down to continue reading.Minimum spend, terms & conditions apply.
Steps to trigger a Price Beat Guarantee fare
Here is my condensed version of the steps listed on the Jetstar website:
Start an online chat and fill out the form. I had to wait 20 minutes to be attended, but the countdown timer was accurate, so no stress there.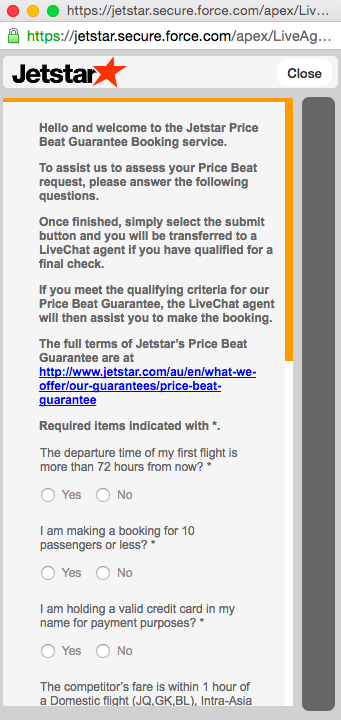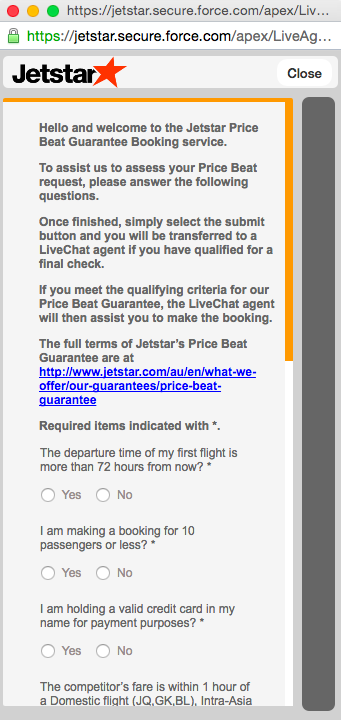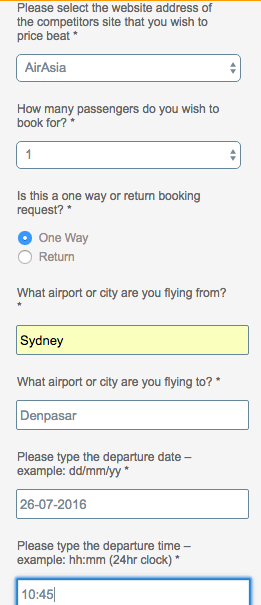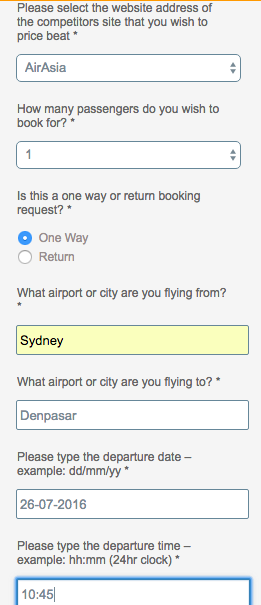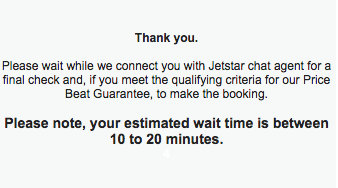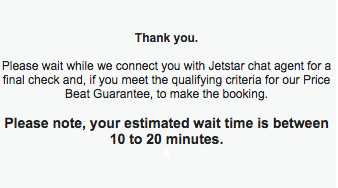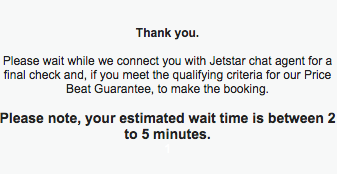 Have the website address where you found the cheaper flight or holiday ready. They didn't even ask me for this as I had already provided the competitor flight information in the form I filled out.
They'll verify the comparison. To get your 10% discount, you must buy the ticket then and there. The agent offered me the option of booking this straight away, but this was a dummy search, so I just thanked her for her time.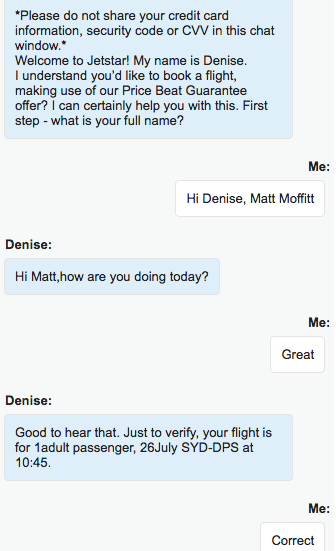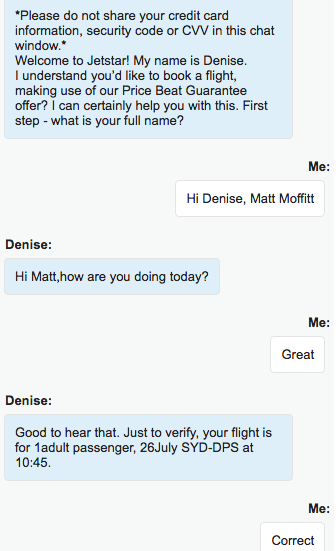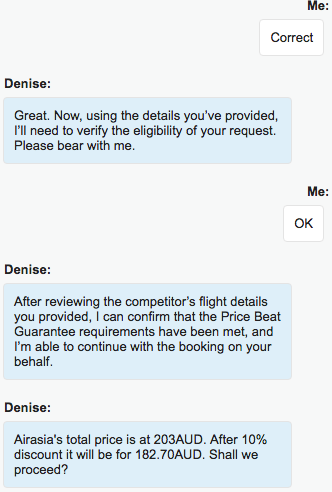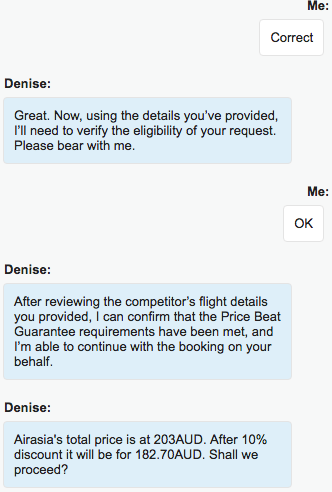 They'll send you the itinerary within 72 hours of your chat.
AirAsia charges a $10 processing fee for card payments, with Jetstar charging up to $12.50 for international flights, however, they also have fee-free options if paying by POLi or a Jetstar Mastercard.
So, even if I paid with a credit card, the discounted total would be $195.20 with Jetstar compared to $213 with AirAsia, or $471.50 if I just went straight to the Jetstar website without shopping around.
Plus, the later departure time with Jetstar is more convenient and the plane is a new 787 Dreamliner rather than AirAsia's Airbus A330.
Can you earn points and/or Status Credits on Price Beat Guarantee fares?
No, you cannot earn Qantas Points or Status Credits on these fares as they are Jetstar Starter (i.e. Discount Economy) fares, not Economy or Flexible Economy fares, which can sometimes earn points and Status Credits.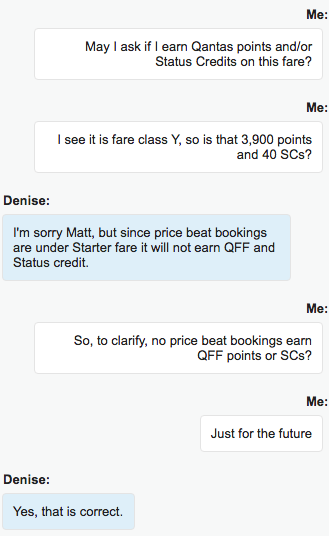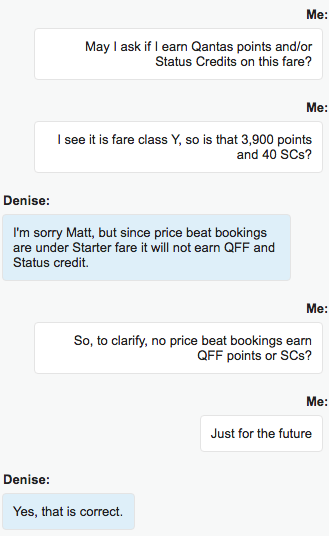 Summing up
If you are a leisure traveller wishing to travel within Australia/NZ or between the two, or to Asia or Hawaii and price is the main factor for you, then taking the time to compare fares with other airlines and submitting a Price Beat Guarantee request to Jetstar may be worth your time.
Similarly, if a Jetstar flight has a better departure time or offers more modern flight amenities, like inflight entertainment or more legroom, then the Price Beat Guarantee service might be useful to you also.
Jetstar's Price Beat Guarantee service: how 30 minutes of my time reduced my Sydney-Bali flight from $459 to $183
was last modified:
October 10th, 2018
by