Bali is a very popular holiday destination for Australians – it's fairly close to Australia and you'll often find incredible deals with flights and accommodation. Many low-cost and full-service carriers fly to Bali, including Virgin Australia, which falls into the latter category.
Using your Velocity Points, you can fly Economy or Business Class with Virgin Australia from Sydney, Brisbane and Melbourne to Bali, with all flights on the narrowbody Boeing 737s.
For something fancier, you could also book one-stop options with Singapore Airlines by transferring some Velocity Points to KrisFlyer, but this will be more costly and convoluted to book.
Read on for our comparison of using Velocity Points to fly to Bali.
Routes and aircraft used to Bali with Virgin Australia
Virgin Australia now flies from Sydney, Melbourne, Brisbane and interestingly, Port Hedland to Bali-Denpasar direct (the Melbourne route was just re-announced in late 2019).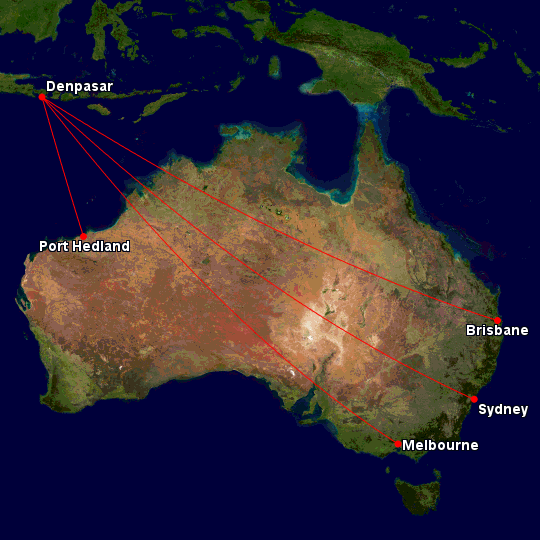 Sydney and Brisbane-Denpasar flights run daily, while the Melbourne to Bali flights are expected to go five days a week, starting 29 March 2020.
The unique Port Hedland-Bali service runs just once a week, on Saturdays. Perth to Bali was dropped previously due to intense competition from numerous other airlines (there are currently five different airlines on the route).
All flights are run on Boeing 737 aircraft, which is more or less similar to Qantas except for the Sydney route, where Qantas has larger Airbus A330s instead.
What to expect on Virgin Australia flights to Bali
This image pretty much sums up what you'll get on Virgin Australia flights to Bali. Eight Business Class reclining seats at the front, and 168 Economy Class seats at the back, including five rows of the extra-legroom Economy X seats.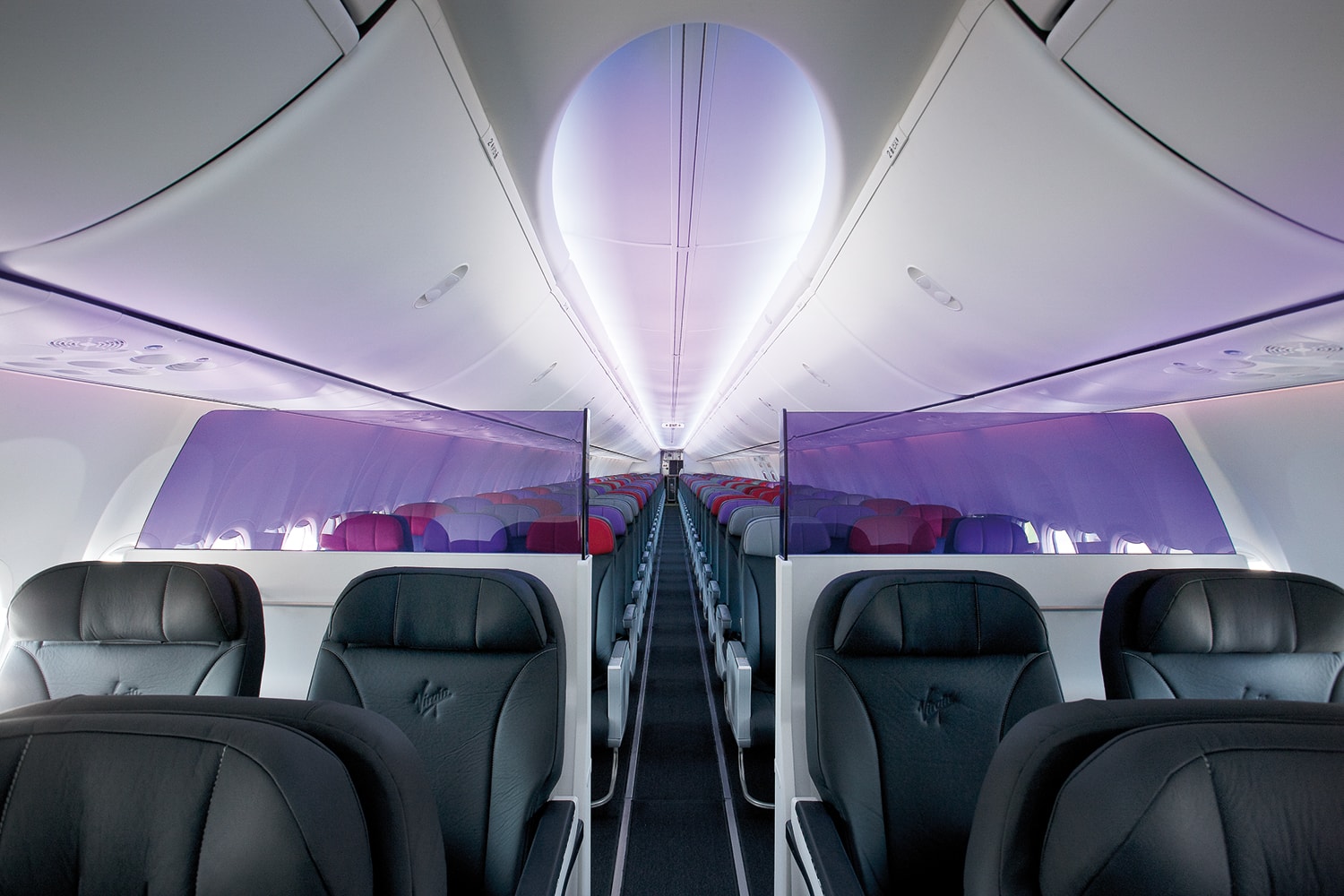 On these flights that can reach up to 7 hours, Row 2 in Business Class is my personal pick, as you can fully stretch your legs under the seat in front. Row 1 is against a solid bulkhead.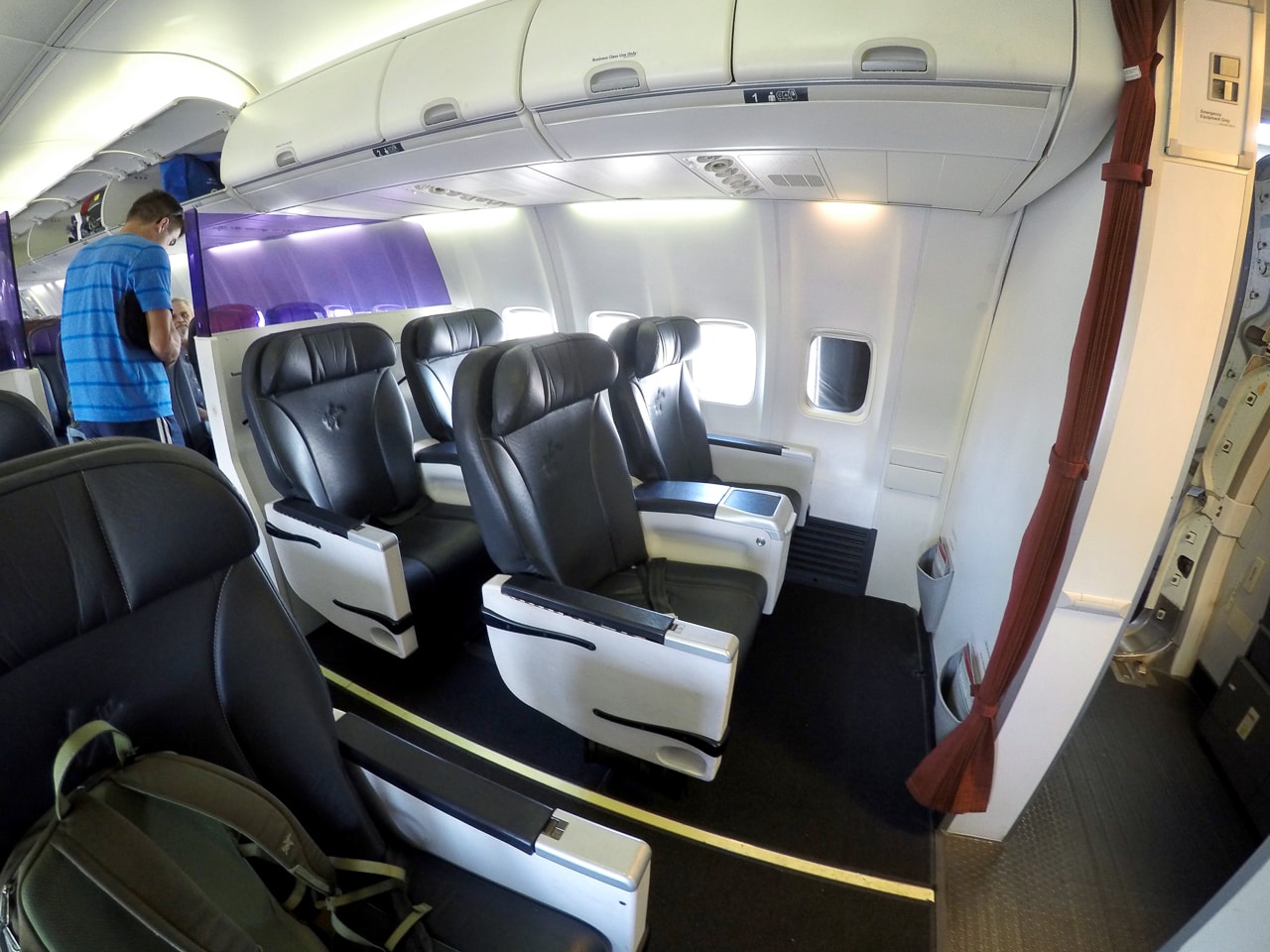 In Economy, I would consider spending the $89 needed to upgrade to Economy X on the longer flights, which comes with priority check-in, extra legroom, priority boarding and priority screening. Economy X is $49 from Port Hedland, but that's probably not worth it for a 2 hr flight. Note that Economy X is complimentary for Velocity Platinum members.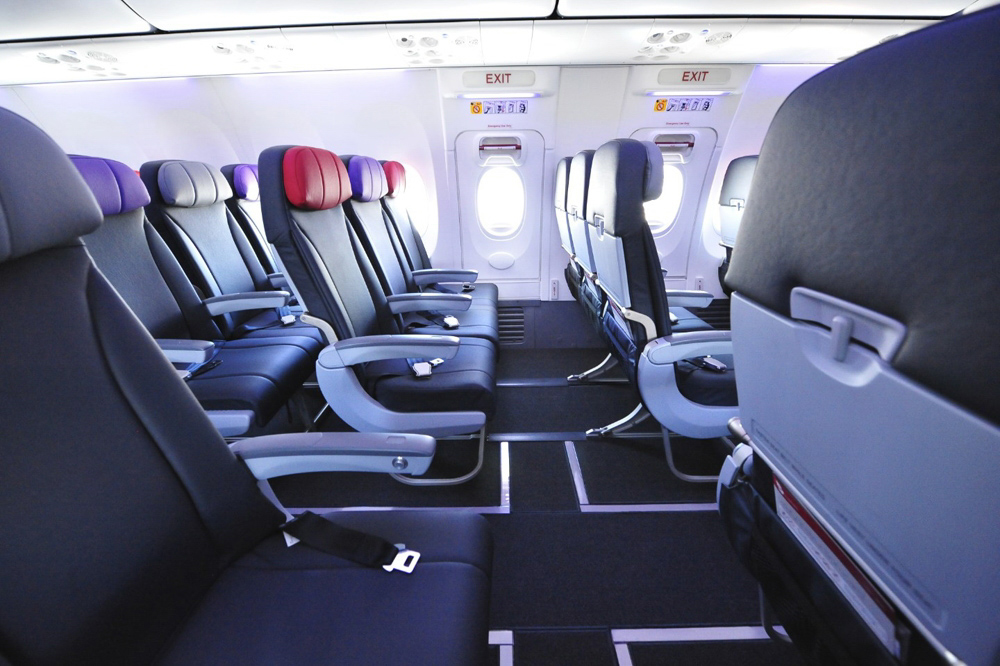 These planes don't have built-in entertainment, so bring your own devices, headphones and power banks. There is wireless streaming in-flight entertainment with a good selection of TV shows and movies, plus most Boeing 737s now have inflight internet, which comes at a cost.
As a differentiator from low-cost airlines like Jetstar and AirAsia, Virgin Australia fares include at least 1x 23kg checked luggage, hot meals and complimentary drinks.
One other option: Singapore Airlines
This option won't appeal to the average traveller because of the extra back-tracking involved, but you can also use your Velocity Points to fly Singapore Airlines (or SilkAir) to Bali via Singapore.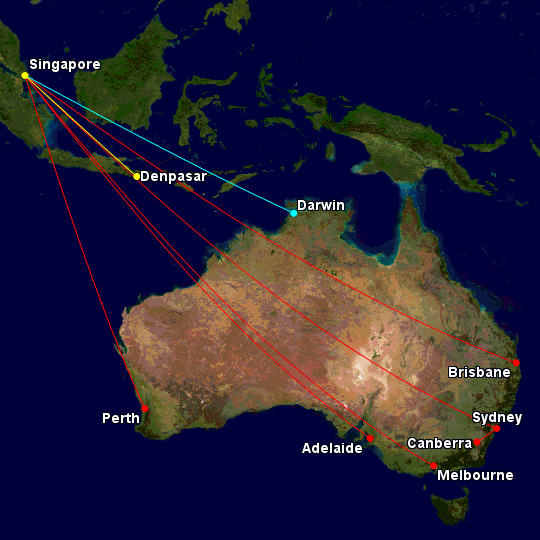 While it's not worth redeeming Velocity Points for Economy, the Business Class experience is much elevated and it's possible to have a flat-bed experience all the way from Australia to Bali.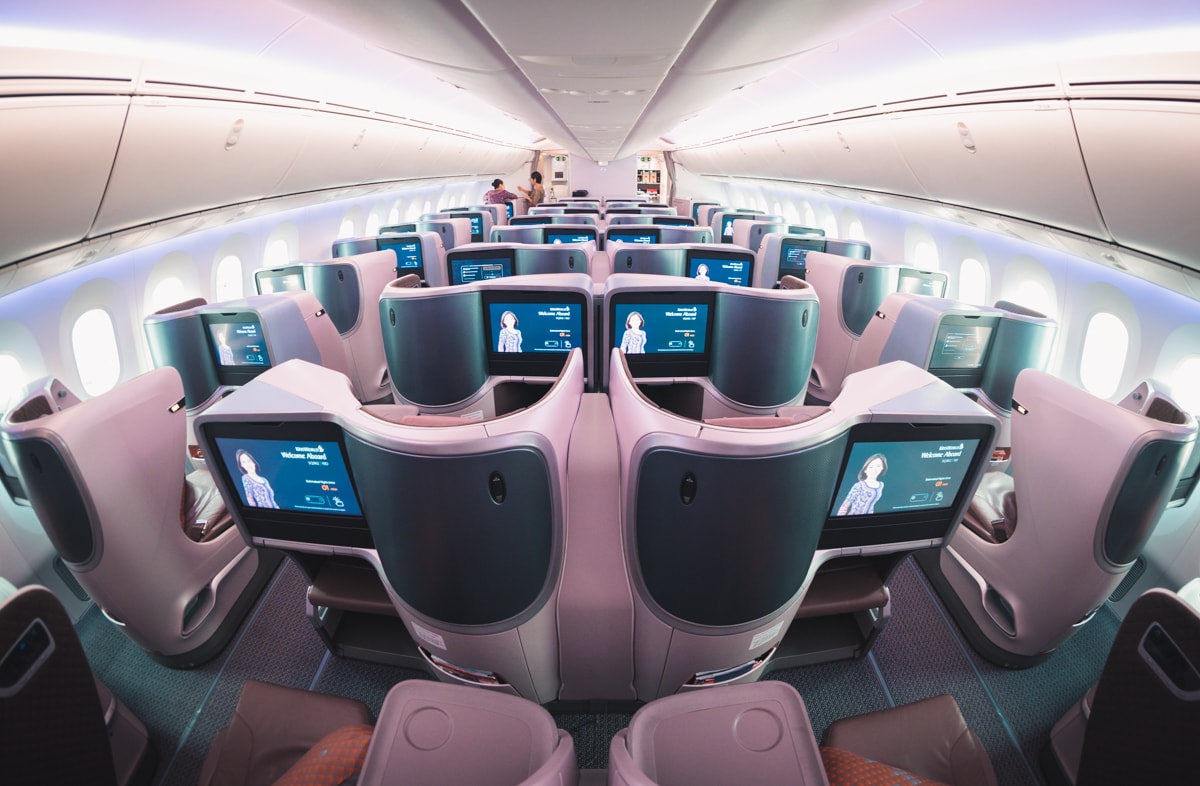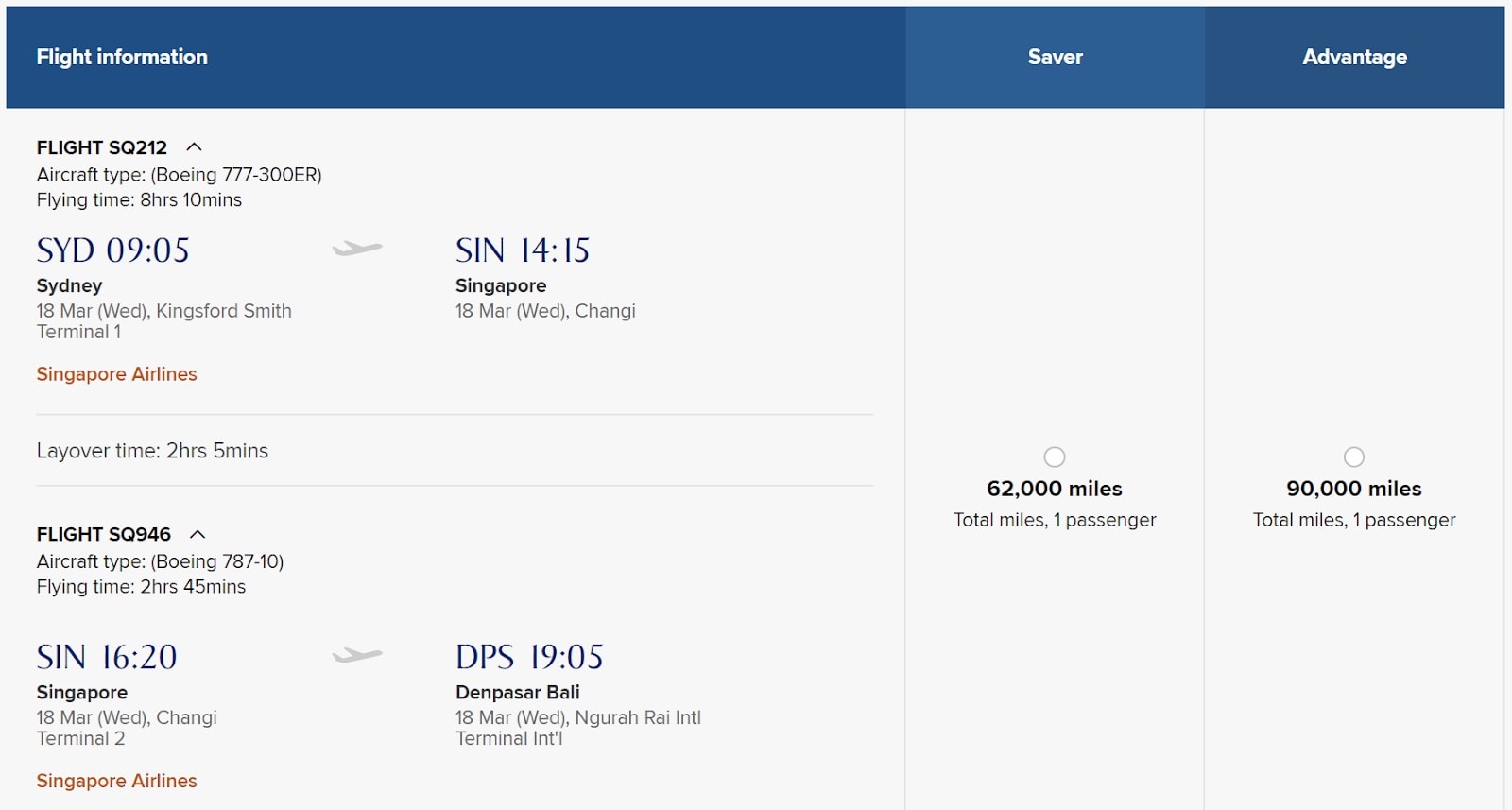 Unfortunately, it does not appear to be possible to redeem Velocity Points for Singapore Airlines flights to Bali through the Virgin Australia website (I haven't found a single day of availability on any searches).
This leaves the option of transferring your Velocity Points to KrisFlyer Miles to book the redemption, but with an exchange rate of 1.55 to 1 each way, you'll need more Velocity Points than it's worth.
Also, while Sydney-Singapore-Bali is bookable, the Singapore Airlines website doesn't allow a Perth-Singapore-Bali booking due to 'backtracking'.

Overall, I feel that using Velocity Points to book flights to Bali on Singapore Airlines or SilkAir is too much of a hassle and needs too many points for it to be worth it for most people.
Velocity Points Redemption Pricing to Bali
Taxes are approximately $85 to $150 per person, each way. Business Class taxes are approximately $40 more than Economy Class redemptions due to increased carrier surcharges.
| | Virgin Australia Economy | Virgin Australia Business |
| --- | --- | --- |
| Melbourne to Bali | 22,300 points | 49,500 points |
| Sydney to Bali | 22,300 points | 49,500 points |
| Brisbane to Bali | 22,300 points | 49,500 points |
| Port Hedland to Bali | 11,800 points | 23,500 points |
Here are the Velocity Points needed when transferring them to KrisFlyer and booking a Singapore Airlines redemption to Bali. You'll need nearly double the Velocity Points to fly Singapore Airlines Economy to Bali on widebody aircraft, compared to Virgin Australia direct on the Boeing 737.
Singapore Airlines
Economy Class
Singapore Airlines
Business Class
KrisFlyer Miles
Velocity Points
KrisFlyer Miles
Velocity Points
East Coast AU to Singapore to Bali
28,000 miles
43,400 points
62,000 miles
96,100 points
West Coast AU to Singapore to Bali
Not possible due to 'backtracking' rules
Taxes are about $100 per person each way when booked through KrisFlyer, regardless of travel class.
Summing Up
Using Velocity Points to get to Bali isn't as useful as Qantas Points since there are fewer flights overall to choose from and you can only book on Boeing 737s when flying with Virgin Australia.
Unlike Qantas Points which can be easily used to book Jetstar flights, it's not as easy to use Velocity Points to book Singapore Airlines and the costs involved are much higher.
For residents in Perth, Adelaide, Cairns and Darwin, it's not possible to redeem Velocity Points on direct flights to Bali, whereas you can with Qantas Points on Jetstar.
Finally, if you wanted a proper Business Class experience with lay-flat beds, that's possible with Qantas' A330 service from Sydney to Bali, but you wouldn't be able to get it with Virgin Australia unless you transfer your points to KrisFlyer at a high rate and book through Singapore Airlines, with major backtracking involved.
Related guides
How to redeem Velocity Points for flights from Australia to Bali
was last modified:
July 24th, 2020
by