Velocity Platinum status comes with a few unique perks – including a generous serve of four complimentary upgrade credits each year. You can use these on any Virgin Australia domestic or short-haul international flights, as long as there is Business Reward availability.
Normally, you can only use these credits from Economy Flex fares, which tend to be pricey. But until 30 June 2022, you can also use those free upgrades on the much cheaper Economy Choice fares. In fact, you can even upgrade other people travelling with you as well. What a deal!
How do I use Velocity Complimentary Upgrade credits?
First up, you can check the number of credits you have remaining under 'My Benefits' on the Velocity website. You'll also see the expiry dates of the credits, so be sure to use them before expiry.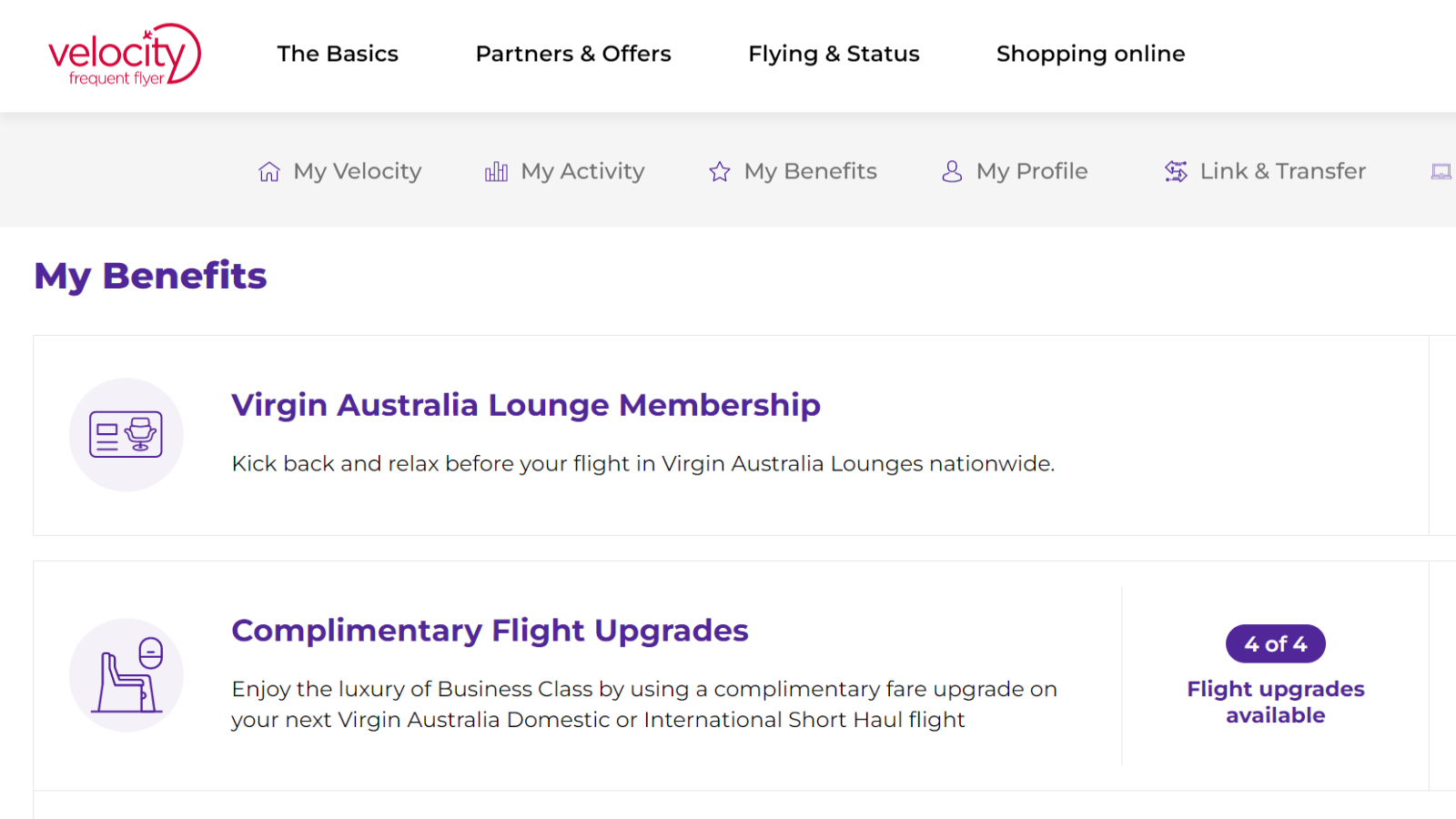 If you've still got at least one credit remaining, you're good to go. Here's how to search and use the credits.
1. Using Velocity Complimentary Upgrades over the phone
First, search your desired flight on Virgin Australia's website. Be sure the number of passengers match the number of upgrade credits you want to use, and that you tick 'Use Velocity Points'.
Check if Business Reward seats are available on your flight. If so, you should be able to use your complimentary upgrade credits.
Book that same flight as an eligible cash fare. That's usually an Economy Flex ticket, but sometimes other fares may be valid too. Check the Velocity website for the latest offers.
Once your original flight is booked and you have a reference, call Velocity Frequent Flyer on 13 18 75 at least two hours before the scheduled flight departure time. The agent will be able to verify upgrade availability and confirm the upgrades over the phone.
You are now upgraded!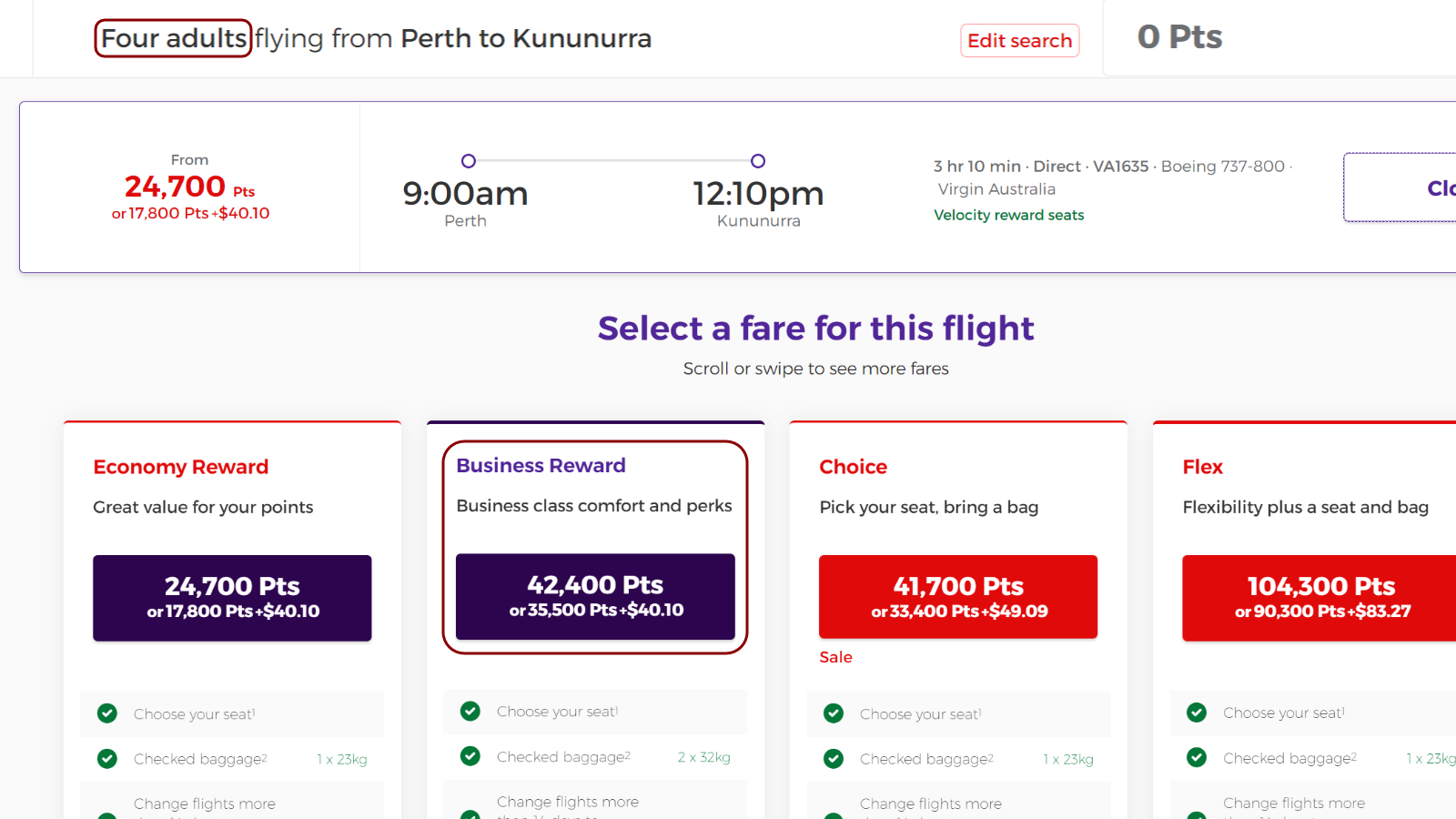 2. Using Velocity Complimentary Upgrades at the airport
You can also use complimentary upgrade credits to upgrade a flight at the airport, up to 30 minutes before the scheduled departure. But this doesn't apply to all routes, as you need to make a request at the Virgin Australia lounge (except for Hobart, where you can make the request at Priority Check-in).
Virgin Australia lounges are located in Sydney, Melbourne, Brisbane, Adelaide, Perth, Canberra and Gold Coast. Note that last-minute upgrade requests are not guaranteed to have full catering onboard.
Ad – Scroll down to continue reading.Minimum spend, terms & conditions apply.
Case study: using upgrade credits with friends
Personally, I'm making full use of the temporary ability to use free upgrades from Choice fares until 30 June 2022. My friends and I are flying to Kununurra – in the far north of WA – in April 2022. There are four of us travelling and I have four complimentary upgrades to redeem before 1 April. Perfect timing.
I checked the reward seat availability and was pleasantly surprised – many flights have four reward seats in Economy or Business Class! Economy Choice fares are $249 one-way, which is reasonable.
So I booked the cash fares and called up Velocity Frequent Flyer. Within five minutes, I'd used up my free upgrades and had new tickets issued in Business Class!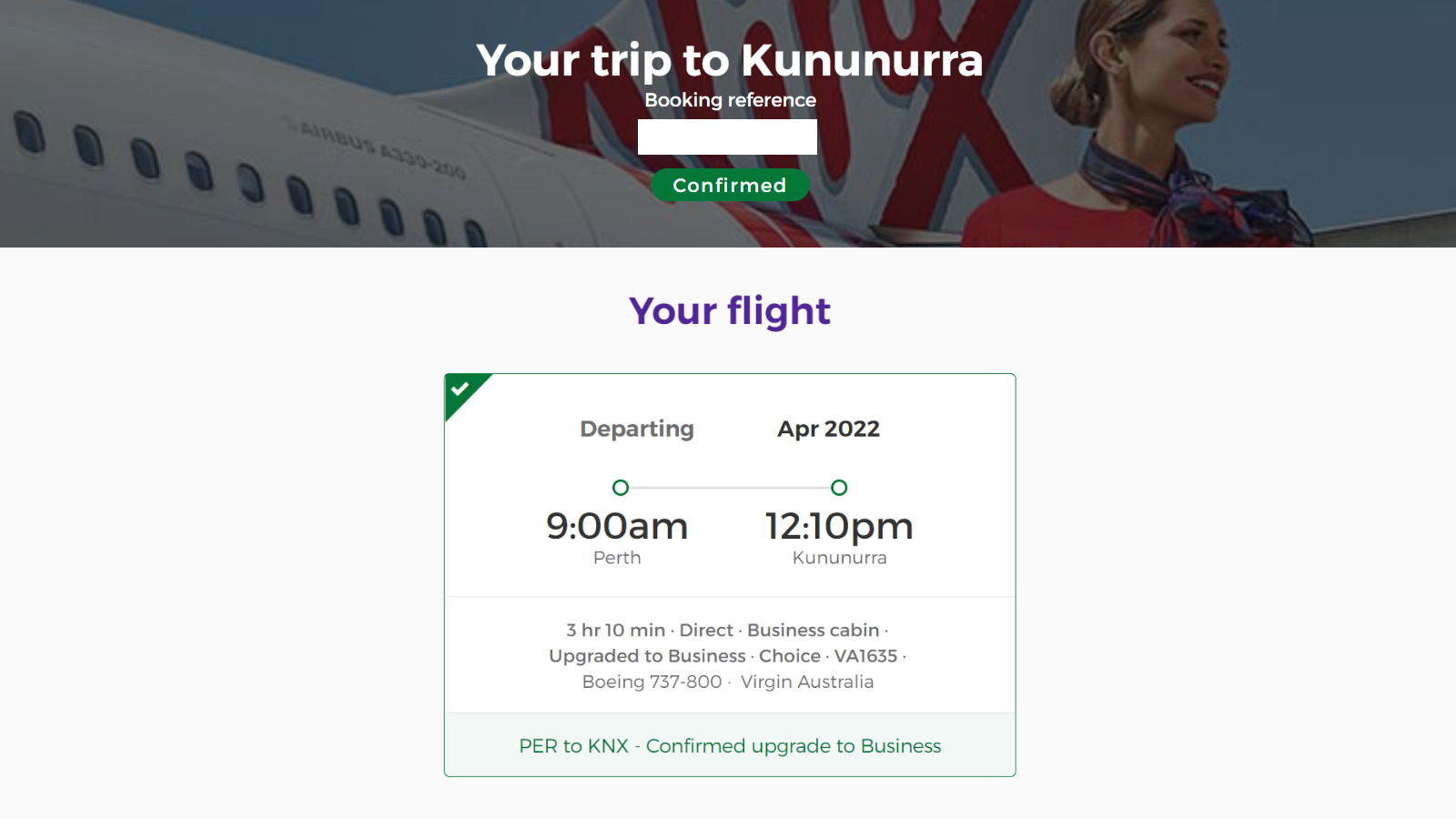 For reference, it would normally cost us 30,000 Velocity Points each to upgrade from Economy Choice to Business. So my four complimentary upgrades were worth an equivalent of 120,000 Velocity Points. Not a bad deal at all.
Summing up
Virgin Australia and Velocity's Complimentary Upgrade credits are an excellent deal for Platinum frequent flyers. While the credits can normally be used for Economy Flex fares, I strongly recommend using them to upgrade from Economy Choice fares when you're able to.
The only other feature I could wish for is the ability to confirm these upgrades online – perhaps even at the time of making a cash fare booking. But given there are barely any wait times calling the Contact Centre as a Platinum member, it shouldn't take too long to call up and use your upgrades.
Also read: How to upgrade your Virgin Australia flights with cash or points →
How to use your Velocity Complimentary Upgrades
was last modified:
February 9th, 2022
by