KrisFlyer miles are a great-value way to fly Singapore Airlines Business Class and Suites, especially when you're booking reward seats outright. But did you know you can upgrade from a cash ticket as well?
It's not the most amazing use of miles, but it's a great option to have up your sleeve if work is paying for your ticket and you want to splurge a bit. Or if you're paying for your own ticket and still want to splurge. We won't judge.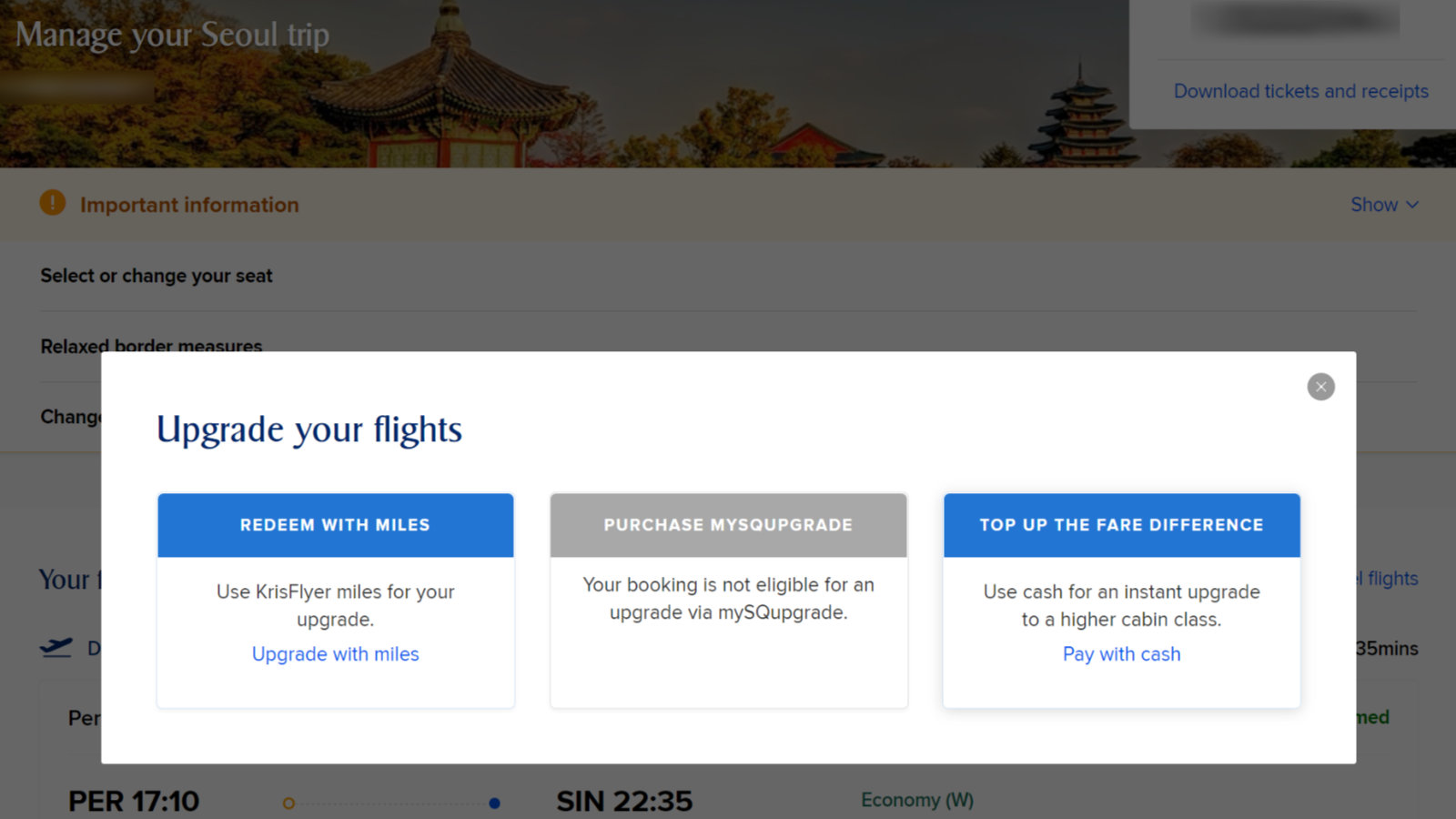 Here are the simple steps to upgrade your next Singapore Airlines flight with KrisFlyer miles.
Note: the number of miles needed for upgrades will increase from 5 July 2022. All in-text numbers in this article have been updated to the higher figure. But the steps are still the same.
How many miles do I need to upgrade?
First up, you'll need to do your homework. Luckily, that's fairly easy to do with the KrisFlyer upgrade award chart. We'll even put it below for you to peruse. To see how many miles you need, find the page appropriate to your upgrade pathway, then look at your start and end zones.
For example, a Sydney (Zone 9) to Singapore (Zone 1) flight from Economy Standard to Business (Page 3) would need 58,500 KrisFlyer miles for a Saver upgrade, or 85,000 miles for an Advantage upgrade.
There are seven pages, corresponding to seven different upgrade pathways:
Economy Standard (M, H, W) to Premium Economy, Business
Economy Flexi (Y, B, E) to Premium Economy, Business
Premium Economy Standard (P, L) to Business
Premium Economy Flexi (S, T) to Business
Business Standard/Flexi (Z, C, J, U) to First and Suites
Only 'Standard' and 'Flexi' fare types mentioned above are eligible for upgrades. Unfortunately, this excludes discounted 'Lite' or 'Value' tickets, so make sure you book the right fare.
How do I upgrade my Singapore Airlines flight?
In general, you'll want to aim for the cheaper 'Saver' upgrades. Log in to your KrisFlyer account and do a dummy redemption search on the exact same date and route as your existing booking. If 'Saver' reward seats show up in the higher cabin class, then you should be good to upgrade online.
We say 'should' because sometimes, the upgrade inventory doesn't match the reward seat availability 100% of the time. But in most cases, it should work out.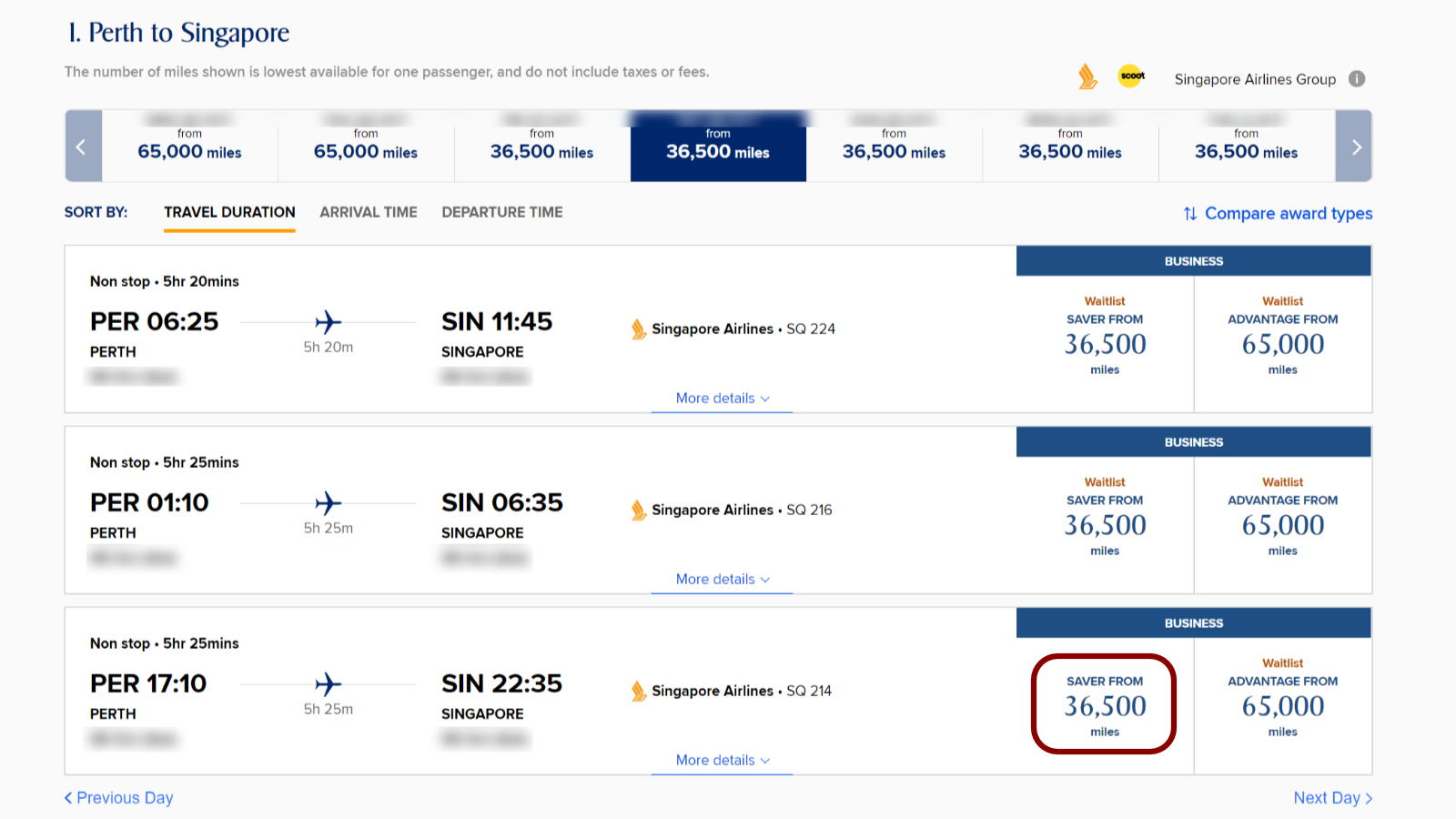 Here are the steps to upgrade online.
Go to 'Bookings' in your KrisFlyer account.
Choose the flight you want to upgrade and click 'Manage Booking'.
Click on 'Upgrade flights', then 'Redeem with miles'.
Tick the flight(s) that you want to upgrade.
Confirm the number of KrisFlyer miles to complete the upgrade.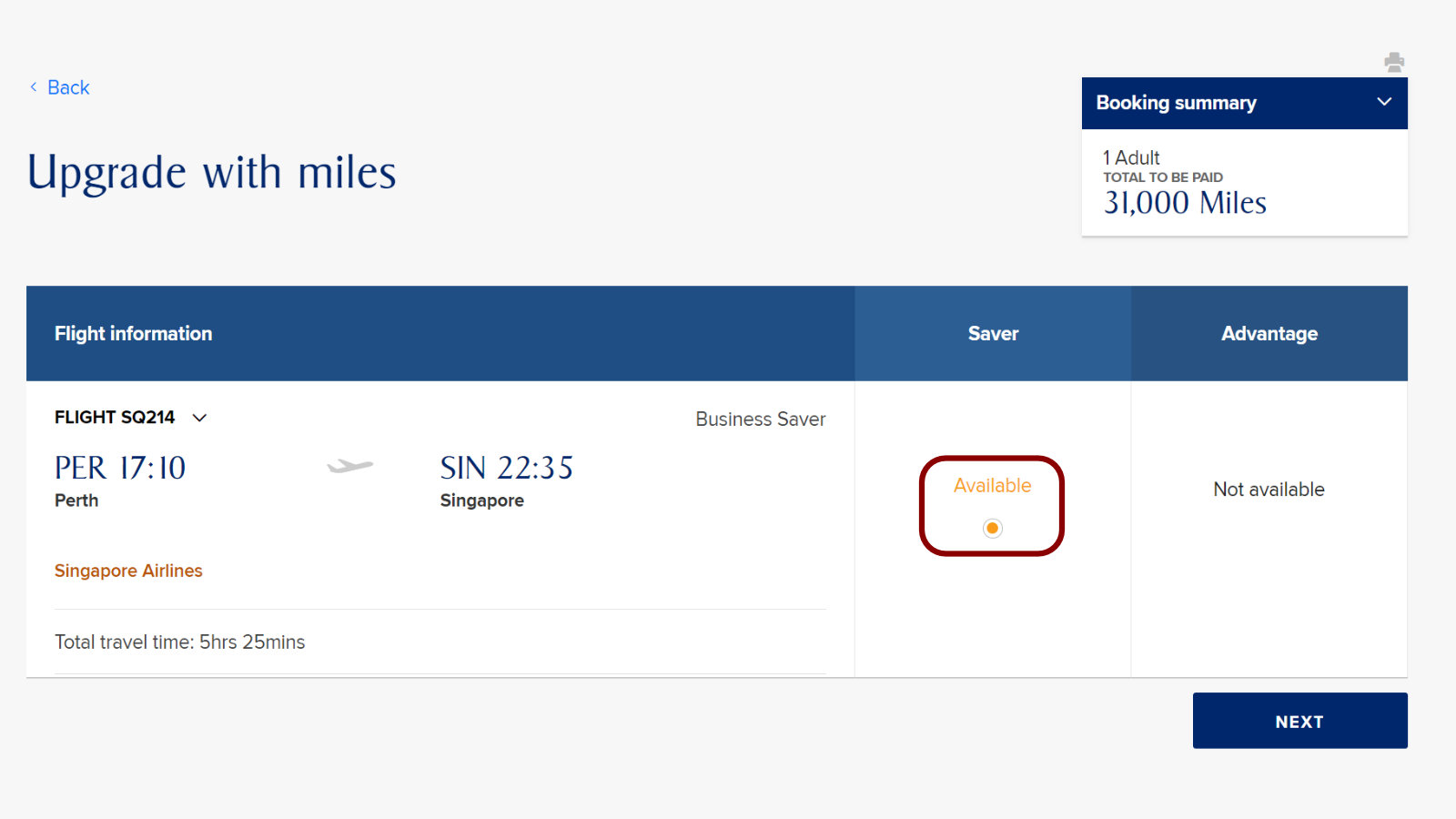 Ad – Scroll down to continue reading.Minimum spend, terms & conditions apply.
Other rules to know
1. It's better to upgrade multiple flights
KrisFlyer uses regions and zones in its reward chart, and the same applies to upgrades. So if you have a multi-leg flight, it's generally better value to upgrade both legs at once, rather than just one at a time.
For example, let's say you're flying Adelaide-Singapore-Bangkok in Economy Standard. Here are the Business Class upgrade costs for each individual leg:
Adelaide to Singapore: 58,500 miles
Singapore to Bangkok: 18,500 miles
But if you can upgrade Adelaide-Singapore-Bangkok in one go, it'll only cost 58,500 miles overall. Go on, check the table to confirm. You're essentially getting the second flight upgrade for free.
One other thing – you can't upgrade from Economy or Premium Economy to First Class/Suites. Only paid Business Class passengers get that opportunity.
2. You get increased luggage, but not points
If your upgrade clears, you'll have airport benefits from the higher class such as lounge access, increased luggage allowance and priority processing. But you'll still earn KrisFlyer miles and Elite miles based on the original fare.
3. Everyone on your booking must be upgraded
You can't have a ticket with half the passengers in Business and half in Economy! Everyone in one reservation must be upgraded together, and there must be enough upgrade availability seats to do so.
This means bigger groups will probably not be able to upgrade unless they split the booking.
Also, only one account can do the upgrade on behalf of everyone. If you're doing the upgrade, that means everyone else in the booking must be on your KrisFlyer Redemptions Nominee list.
4. You have to pay any difference in taxes
This doesn't affect most flights originating from Australia. But if upgrading to a higher cabin class means you need to pay a higher tax (such as in the UK), then Singapore Airlines will pass that on to you.
Is it worth upgrading with KrisFlyer miles?
In a pure number sense, generally not. KrisFlyer upgrades are priced so high that you can usually get a confirmed redemption in that cabin for not much more.
For example, Perth to Singapore only needs 40,500 miles in Business Class outright, whereas an upgrade is 32,000 miles from Economy Standard.
Sydney to London is 130,500 KrisFlyer miles in Business Class all the way. But an upgrade from a paid Economy Standard ticket will cost 104,000 miles.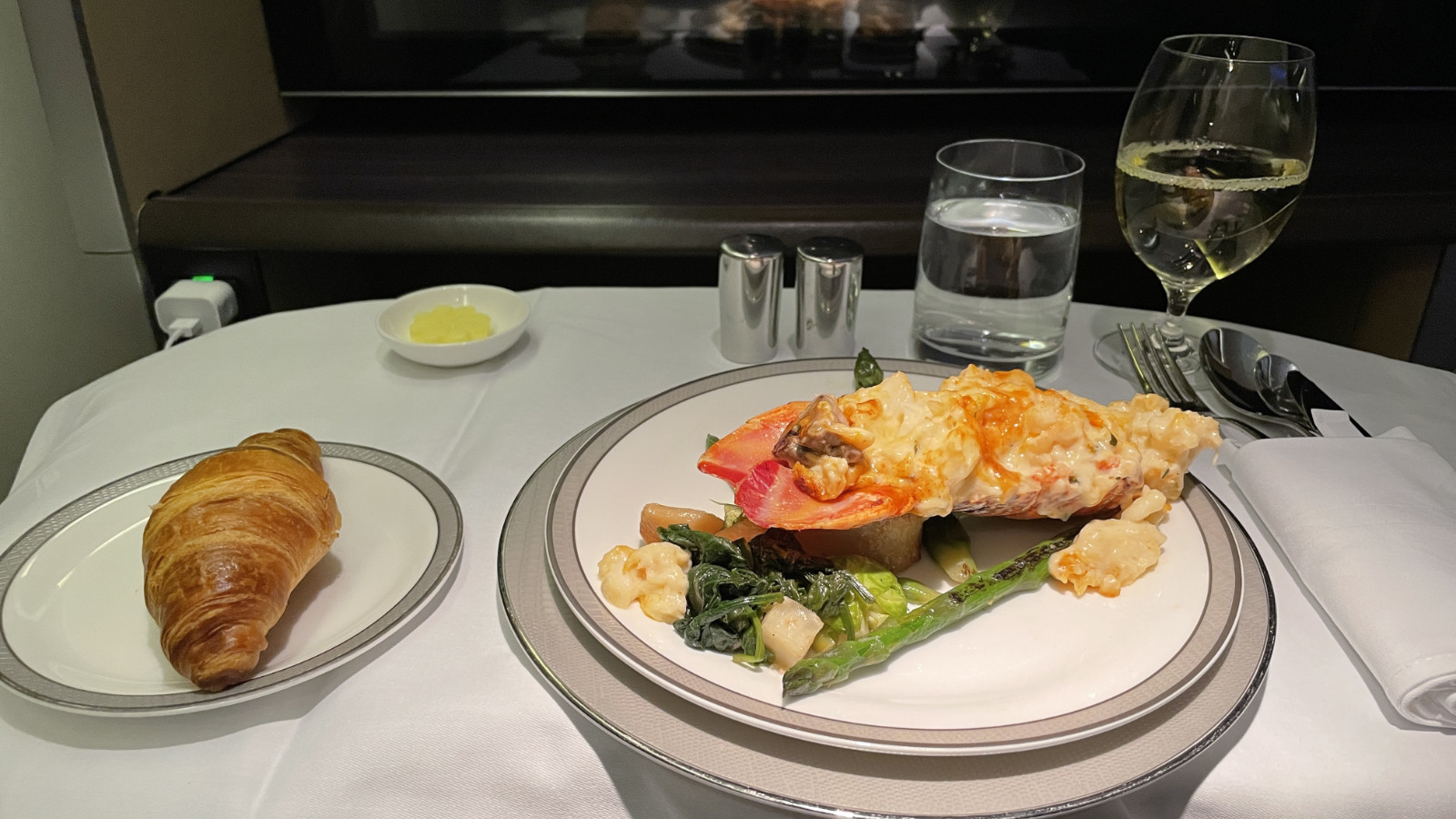 So our rule of thumb is to try to redeem a seat outright where possible. Upgrades are best left to when someone else is covering the cost of your ticket, or if you already have a cash ticket and just want to upgrade anyway.
Incidentally, you can also upgrade Singapore Airlines flights with miles from other Star Alliance carriers. But that's a complex process with lots of rules, so we'll cover it another time.
Summing up
Singapore Airlines has a fairly simple online upgrade system. Unlike Qantas Frequent Flyer, which uses a lottery/waitlist system, you can potentially confirm upgrades with KrisFlyer miles in advance. There just has to be 'Saver' or 'Advantage' reward seat availability in the higher cabin.
So for people who book their travel quite far out, using KrisFlyer miles is a great way to lock in an upgrade. Just keep in mind the various rules, especially when other passengers are in the one booking.
How to upgrade Singapore Airlines flights with KrisFlyer miles
was last modified:
June 10th, 2022
by