Shoppers can now automatically send their hard-earned Flybuys points to the Velocity Frequent Flyer program, taking advantage of slightly boosted points transfer rate along the way.
Some users will undoubtedly love the simplicity of this 'set and forget' model, which loosely echoes the arrangement between Qantas and Everyday Rewards.
But we're not so convinced this is the best strategy for Point Hacks readers. Here's our take on the new offering, along with steps on how to enable it if you want to set up Velocity Points auto-transfer.
What is Flybuys and Velocity Auto Transfers?
Auto Transfers is a new system where Flybuys members can set their points to be automatically transferred when they reach a certain threshold. This is ideal for those that predominantly use their Flybuys points for Virgin Australia travel.
The usual 'manual' transfer rate is 1,000 Flybuys points to 500 Velocity Points, and this is no different for Auto Transfer.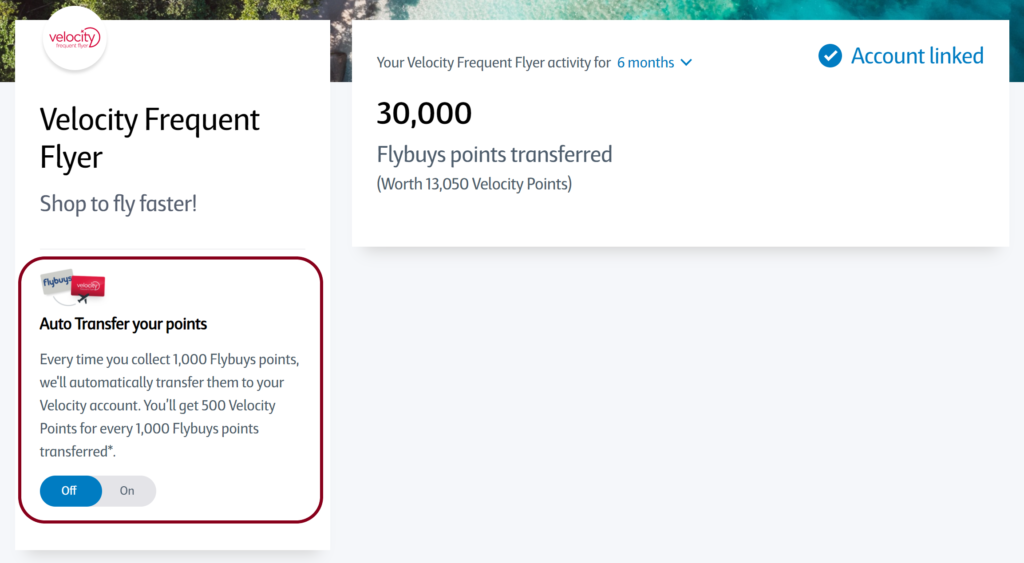 Ad – Scroll down to continue reading.Minimum spend, terms & conditions apply.
How do I enable Auto Transfer?
It's easy to set up Auto Transfer. Make sure you have a Flybuys and a Velocity Frequent Flyer account set up first.
If you haven't already, follow the prompts to link your two accounts together
Once linked, looked for a section called 'Auto Transfer' on the left side and confirm the transfer rate
Toggle the switch to 'On' to automatically convert you current and future Flybuys points balance to Velocity Frequent Flyer
Important: note that if you enable Auto Transfer, your entire current Flybuys balance will be transferred to Velocity Frequent Flyer at the present transfer rate. Only proceed with this if you do not wish to use your Flybuys points elsewhere.
Should I enable Auto Transfer?
There are a few things you need to consider before using Auto Transfer. The main question is: do you also want to use your Flybuys points for other rewards, such as discounts at the checkout or for Flybuys Travel?
If you're just a Velocity Points junkie and want a steady stream of points (and you shop through Flybuys partners regularly), then Auto Transfer might be just the thing for you.
But if that's not the case, then don't enable Auto Transfer. You'll not only clear out your entire balance to Velocity, but you'll also lose the 'flexibility' of those Flybuys points, as it can't be transferred back from Velocity later on.
The difference between Flybuys and Everyday Rewards
With the Qantas/Everyday Rewards partnership, you don't have a choice for manual transfers. It's auto-redemption or money off shop as your two main choices. But Everyday Rewards is a much smaller program, so it's not like you can do anything else with the points.
It's a different story for Flybuys with its merchandise store, travel portal, supermarket discounts and more. With that in mind, our advice is to stick to manual transfers to Velocity when there are bonus offers in place, as you'll retain the most control of your points.
Summing up
We're all for consumers gaining more options, so the introduction of Auto Transfers is positive news. Members who earn and burn a lot through Velocity Frequent Flyer will likely benefit from it.
On the flip side, those who prefer to use their Flybuys points for a range of rewards will still keep the option to manually transfer points to Velocity Frequent Flyer, hopefully during one of many future bonus transfer promotions.
In related news, Flybuys recently canned the 138,000 Flybuys points annual transfer limit to Velocity Frequent Flyer, so high-spenders and high-flyers can soar higher without limits.
This content contains affiliate links from which Point Hacks may earn commissions from transactions generated from new customers, bookings and general enquiries. Find out more here.
Flybuys unlocks points auto-transfers to Velocity
was last modified:
August 25th, 2023
by