Sure, any seat in Virgin Australia Boeing 737 Business Class is a comfortable one. But when you have the choice, why wouldn't you select the best available seat whenever you're at the pointy end?
Those instincts come naturally to many frequent travellers, but you don't need to be a high flyer to be as savvy as the rest. After taking my fair share of Virgin Australia Business Class flights over the years, I've come to learn the ins and outs of this cosy eight-row cabin.
Here's where each has its advantages, and where making a different seating choice can help provide the travel experience that you're looking for.
Virgin Australia Boeing 737 Business Class: row 1
In frequent flyer circles, 1A is often known as the 'best seat in the house'. But there are upsides and downsides to planting yourself in row 1 of Business Class aboard a Virgin Australia Boeing 737.
Here's why you might aim for row 1, and when you might choose to avoid it.
Pros of row 1 in Virgin Australia Boeing 737 Business Class
Being at the front of Business, you're more likely to have your meal preference taken first. That's quite helpful for those with dietary requirements who may only be able to eat one of the choices.
When it's time for that meal to be served, you'll usually get yours in row 1 before any food makes its way to row 2.
Being at the bulkhead, there's nobody in front of you. This guarantees you the same amount of space for the entire flight: nobody can recline ahead of you.
Upon arrival, you'll be one of the first off the plane. That's handy when you have a tight connection or need to dash straight to a meeting.
Cons of row 1 in Virgin Australia Boeing 737 Business Class
The flipside of sitting at the bulkhead is not being able to store bags by your feet for take-off and landing. You also may not be able to stretch your feet all the way forwards.
Storage in the lockers above row one may be limited. This depends on the safety equipment loaded onto each aircraft, which isn't usually predictable.
Speaking of storage, the bulkhead-mounted pouch in row 1 isn't as roomy as in row 2. That's worth noting when unpacking items from your bag before popping them into the locker.
During boarding, the seats here can feel a little more exposed than the rest of the cabin, especially in the aisle (1C/1D). These seats are right on display: the first place every other passenger will look after moving through the boarding door.
There's a 100% chance that you won't have anywhere to mount a tablet at your eye line. Whereas in row 2, the chance of this being possible is remote, but a chance is still a chance.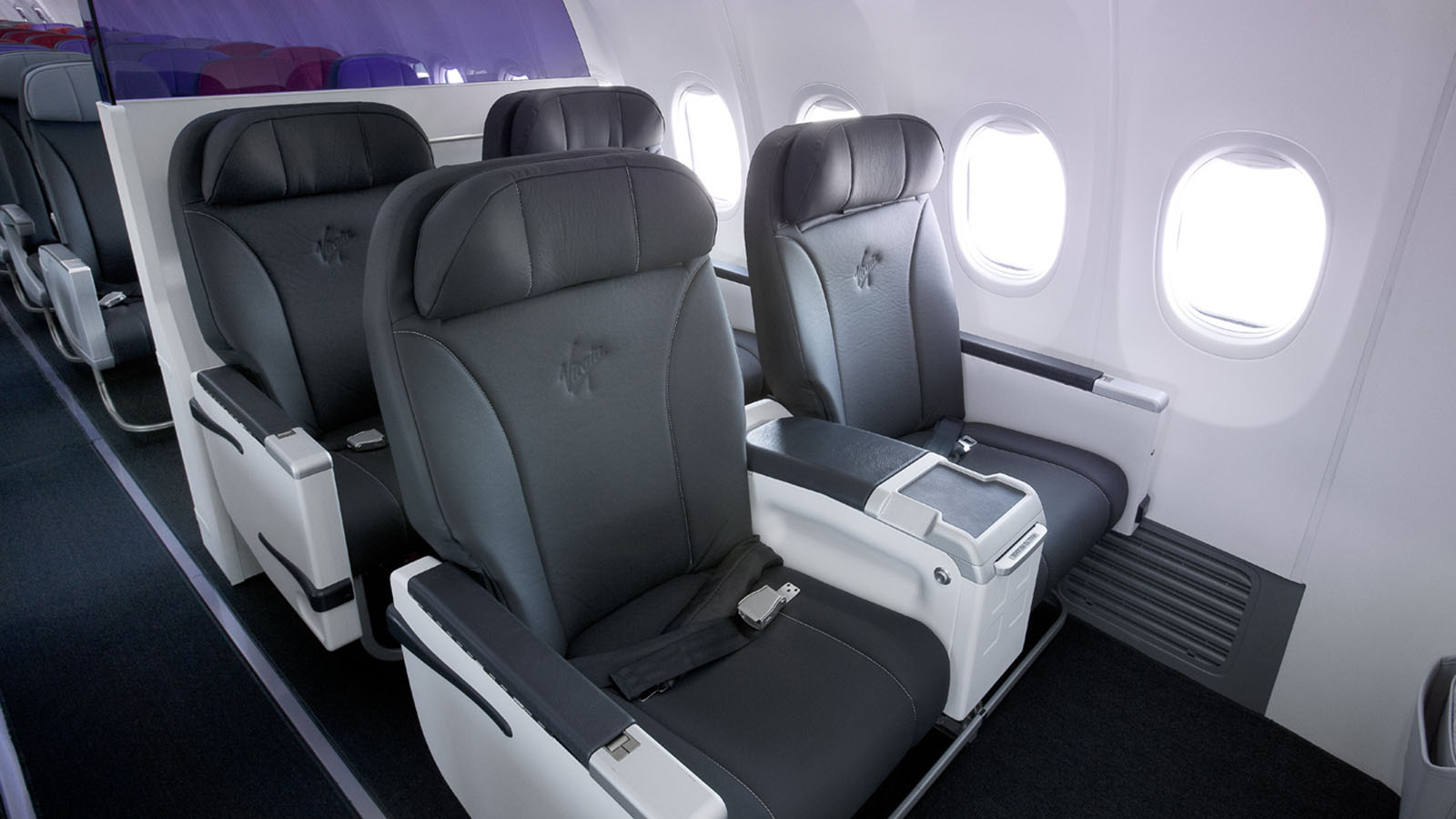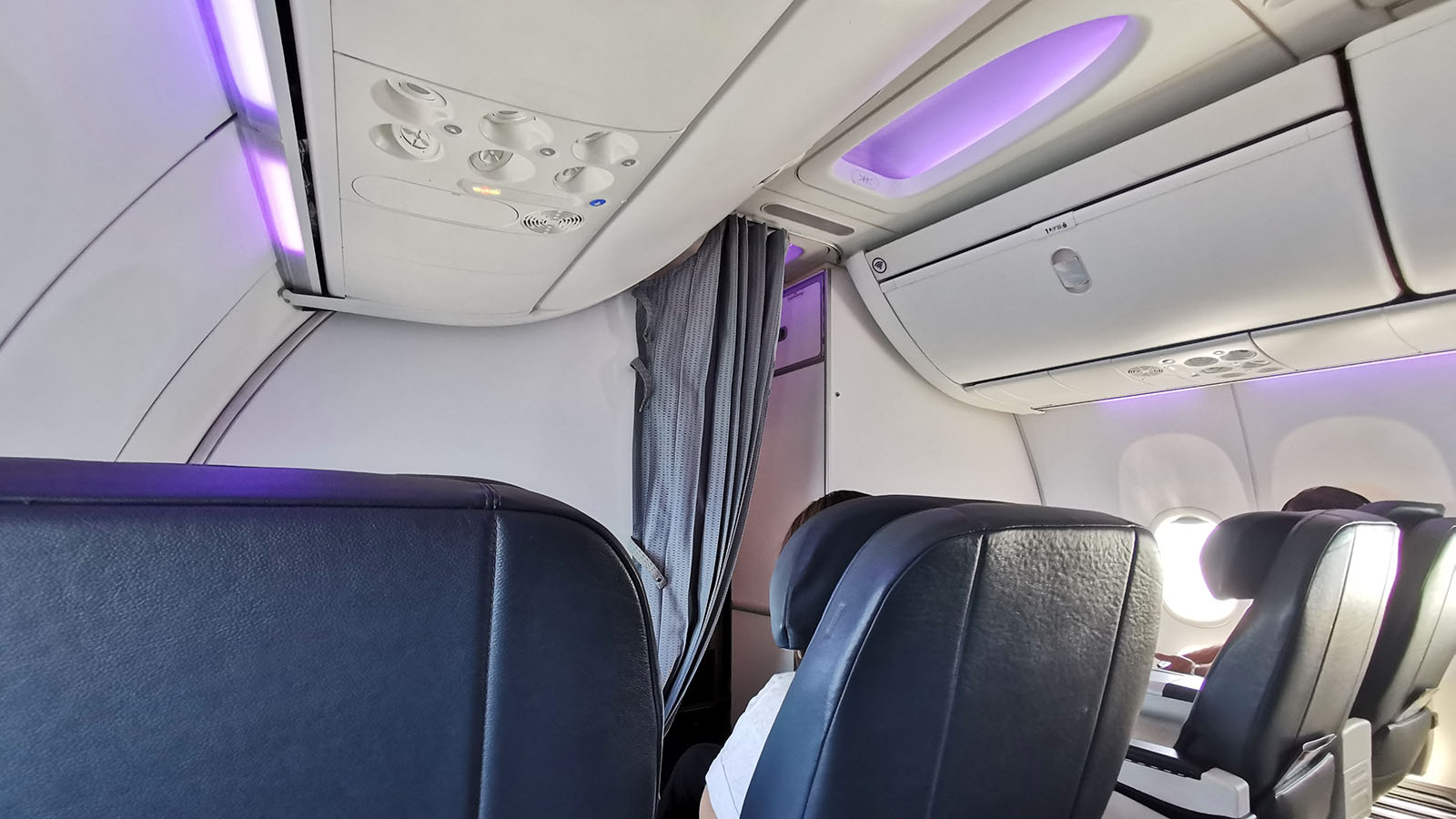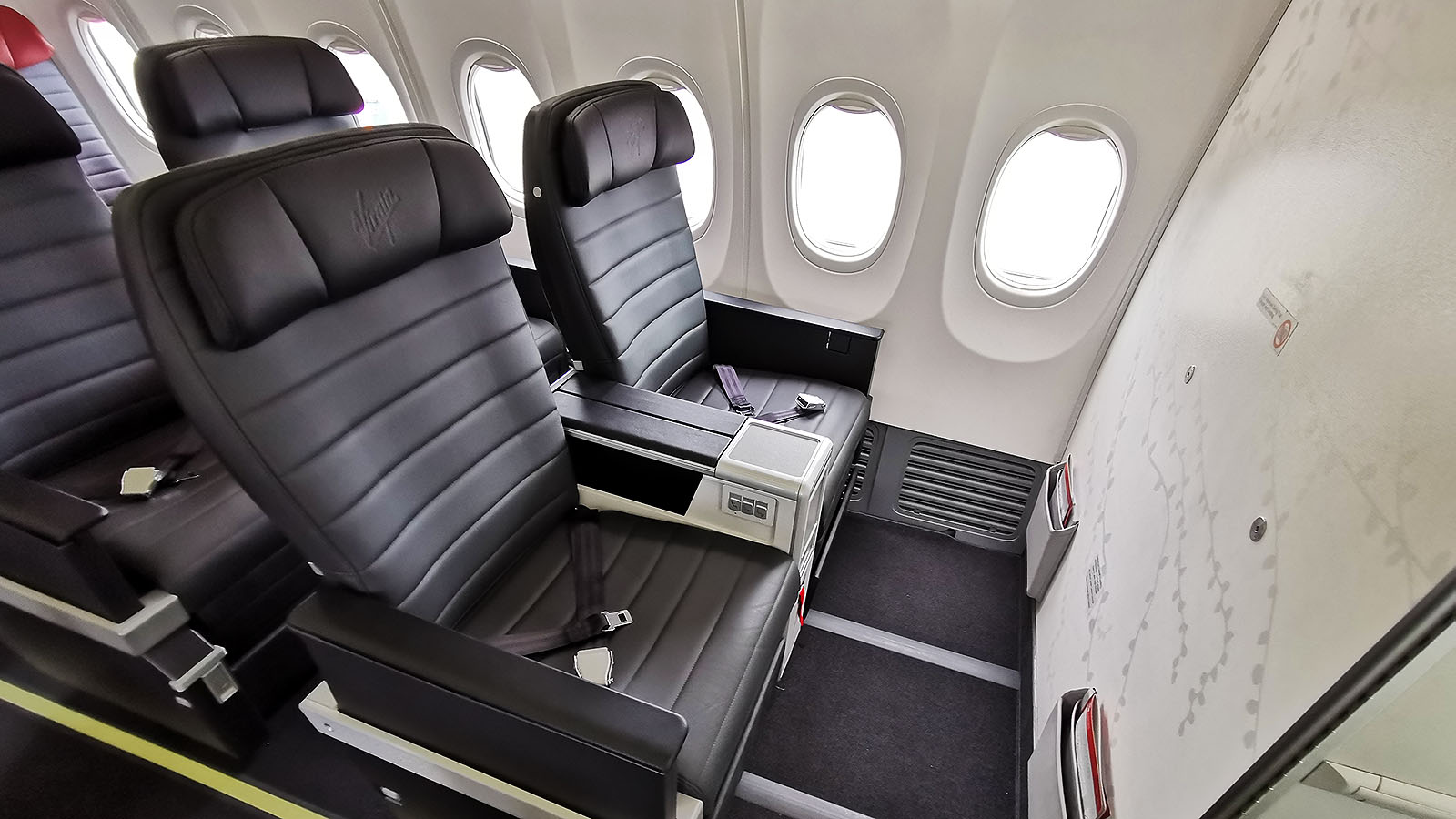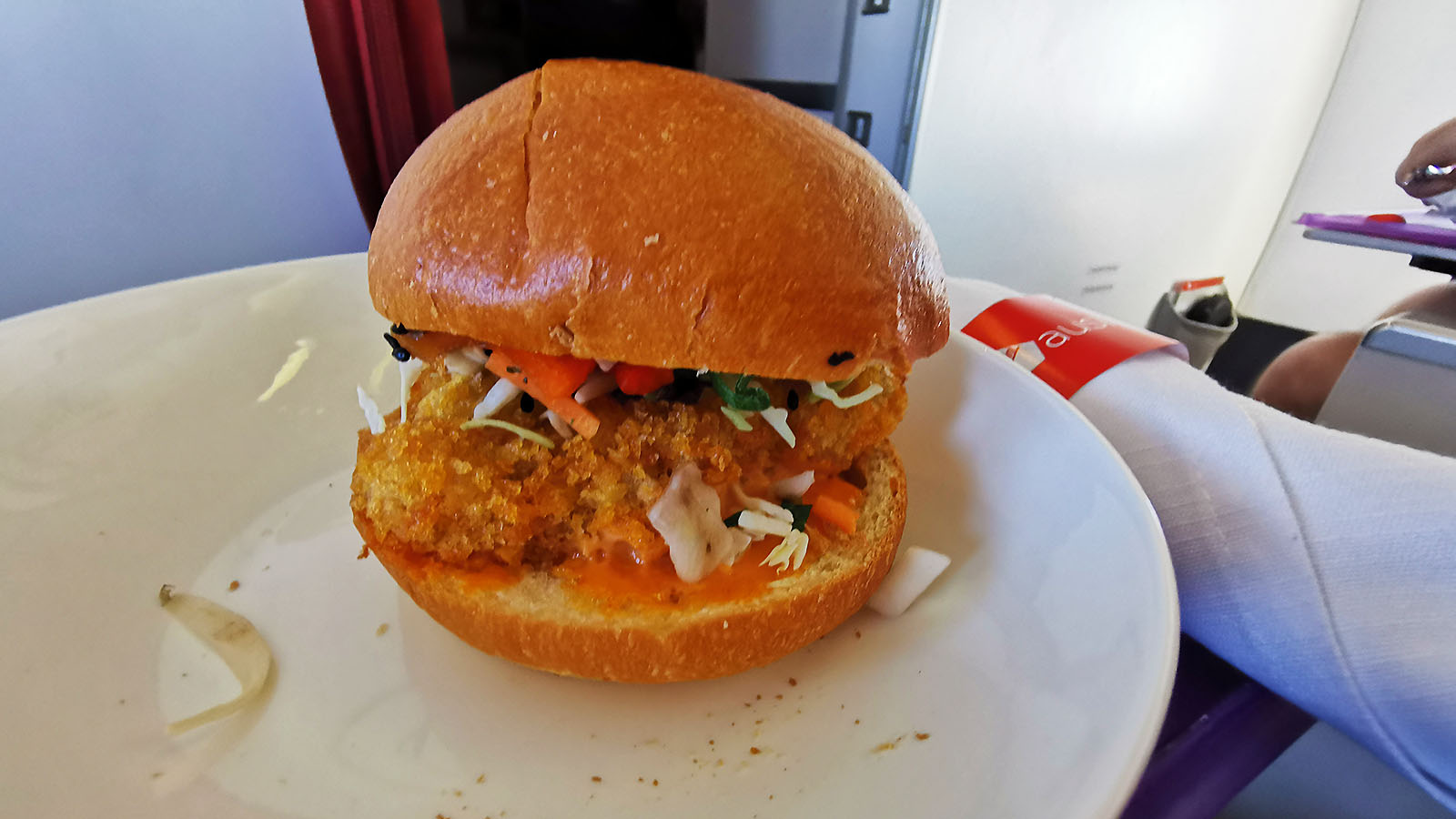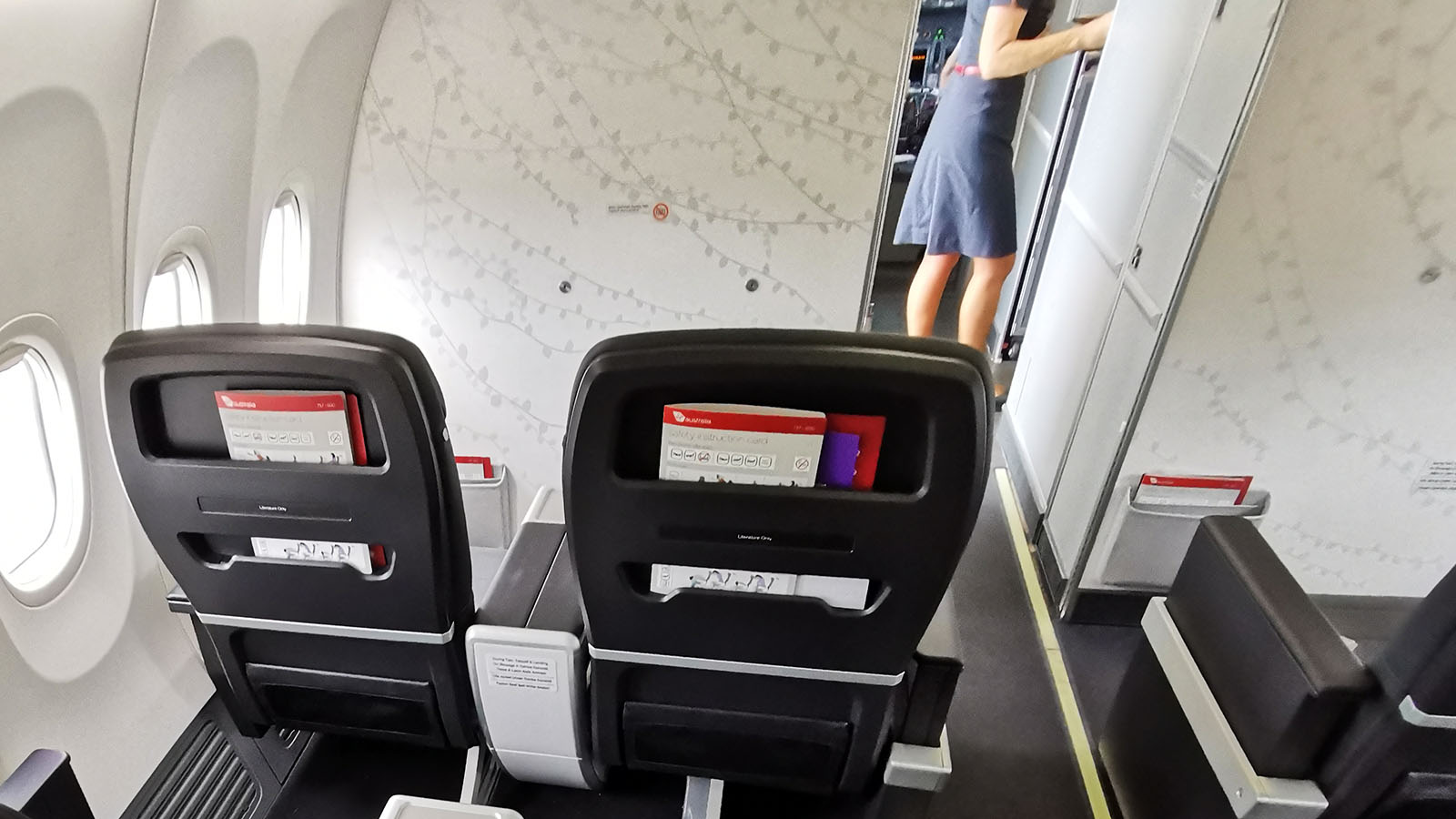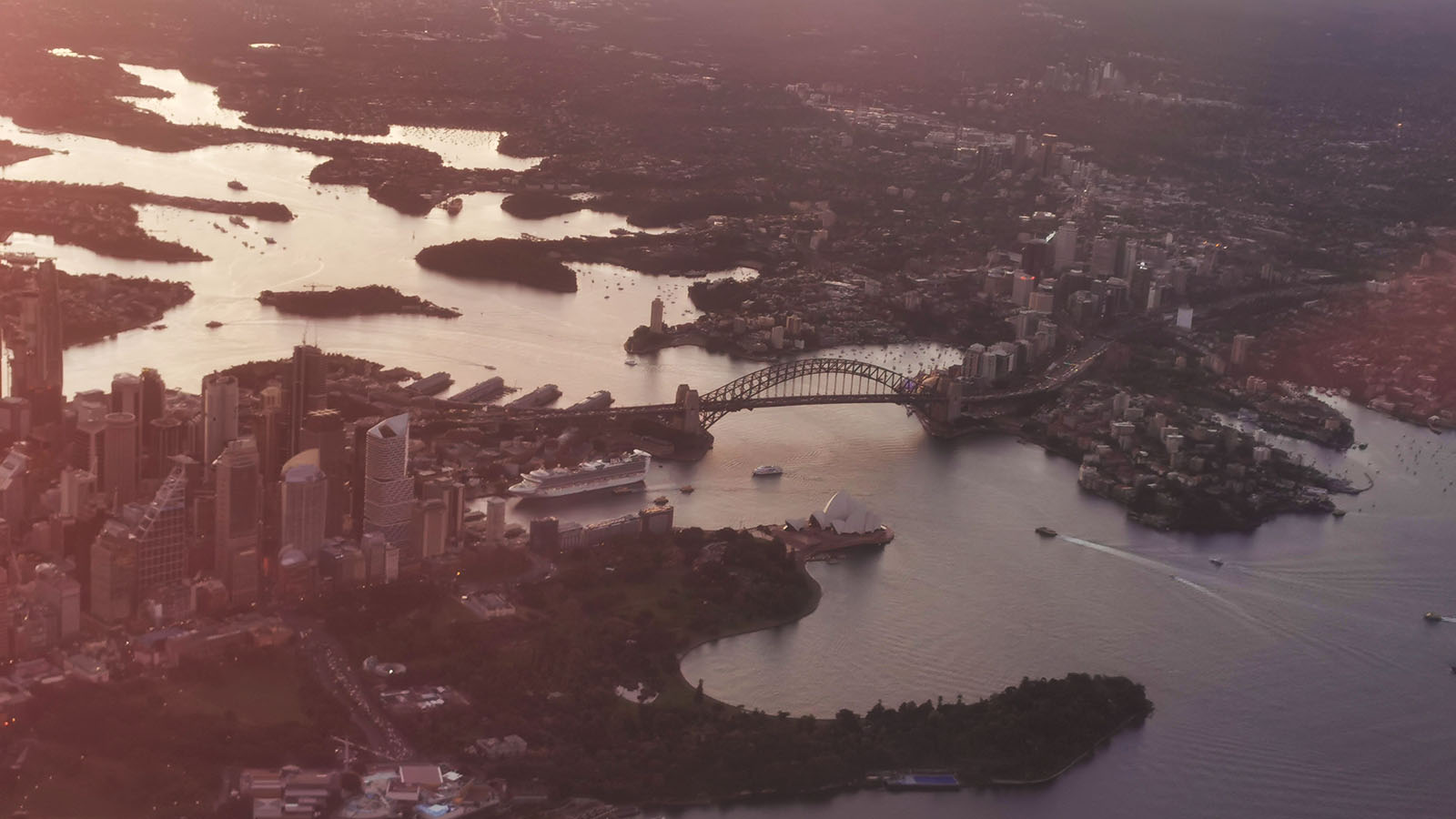 When I sit in row 1, and when I avoid it
I'll usually make row 1 my preference if I'm travelling with a companion who has dietary requirements. That's because Virgin Australia doesn't permit any special meal requests before the flight. In this case, 1A/1C is my first preference as cabin service usually begins on this side.
Being served first is also great if I've planned to eat a main meal on the flight. On routes where the menu begins with two options, one of those can be a more substantial meal, while the other is often a lighter alternative. When you're hoping for that more substantial dish, row 1 gives you a better chance of securing it.
As a longer-legged traveller, I'd usually avoid row 1 on lengthier domestic flights, such as from Brisbane to Darwin or Perth. But if it means being able to get a window seat on a short flight like Brisbane-Sydney, the views are often unbeatable.
Having said that, if there's already somebody sitting on either side of row 2, I'd choose a seat in row 1 if there's a spare pair. The second seat may not always remain free on departure day, but that added chance of extra elbow room sure beats knowing you'll have an unknown seatmate.
Unlike Qantas, Virgin Australia doesn't restrict row 1 for pre-selection only by top-tier frequent flyers until closer to departure. Any Virgin Australia Business Class passenger at any Velocity tier can select a seat here from the time of booking – that's up to 11 months before each flight.
Ad – Scroll down to continue reading.Minimum spend, terms & conditions apply.
Virgin Australia Boeing 737 Business Class: row 2
For me, row 2 gets the balance right in Virgin Australia's Boeing 737 Business Class cabin. There are still pros and cons, but here's how it stacks up.
Pros of row 2 in Virgin Australia Boeing 737 Business Class
Unlike row 1, you can keep a bag at your feet from boarding through to arrival. That's particularly handy in the window seats as you can unpack and repack at leisure, not just when the overhead locker is accessible.
Because there's a seat in front, you can stretch your feet all the way forwards underneath. You're not hampered by the bulkhead wall, as in row 1.
If you prefer a window seat as well as having more space and/or keeping a laptop bag close by, it's nice being able to have all three perks in 2A or 2F.
On Virgin Australia's newer 'Boeing Sky Interior' jets, the Business Class overhead lockers extend ever so slightly into the Economy zone. This gives Business Class passengers even more storage, as the lockers are reserved for Business use.
There's nobody directly behind row 2. In fact, most of these jets have another bulkhead wall between Business Class and Economy. This allows you to fully recline, without it affecting anybody behind you.
Cons of row 2 in Virgin Australia Boeing 737 Business Class
While the seating layout in row 2 is otherwise attractive, a small number of Virgin Australia Boeing 737s don't have that bulkhead wall between Business Class and Economy. Its absence reduces privacy, but it's not a deal-breaker.
As there's a seat in front, your row 1 counterpart may choose to recline. But of course, so can you.
At meal times, you may not have a choice over what you'd like to eat. That's because Virgin Australia doesn't cater enough of each option for everybody in the cabin. When there's a standout dish on the menu, it generally runs out very quickly. This reduces the decision for other passengers to a simple 'yes or no' on the alternative.
Because you're at the back of the cabin, it can take just that little bit longer for your food to arrive. On longer journeys, there's no real impact, of course. But on shorter hops, there isn't a great deal of time to begin with.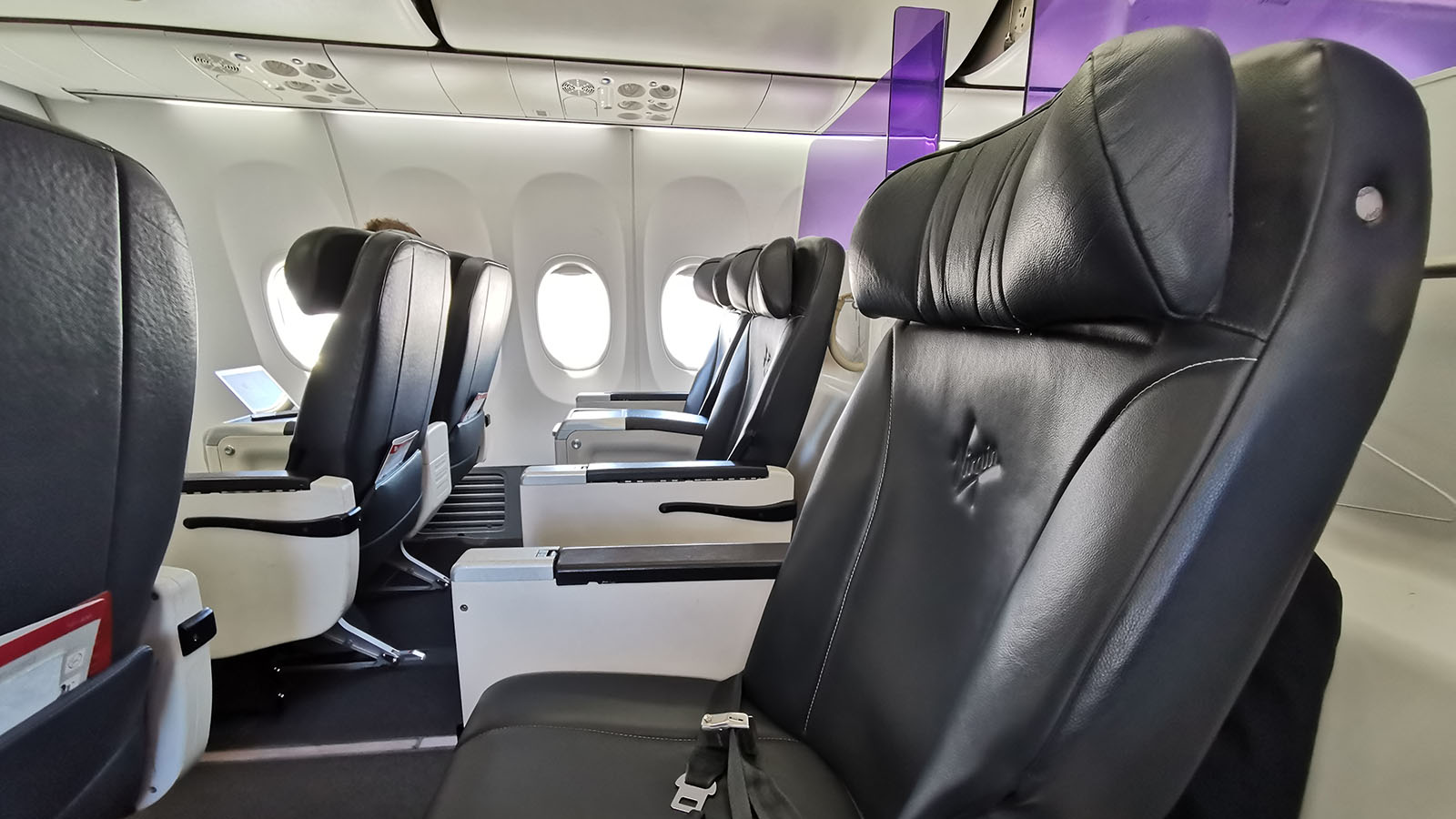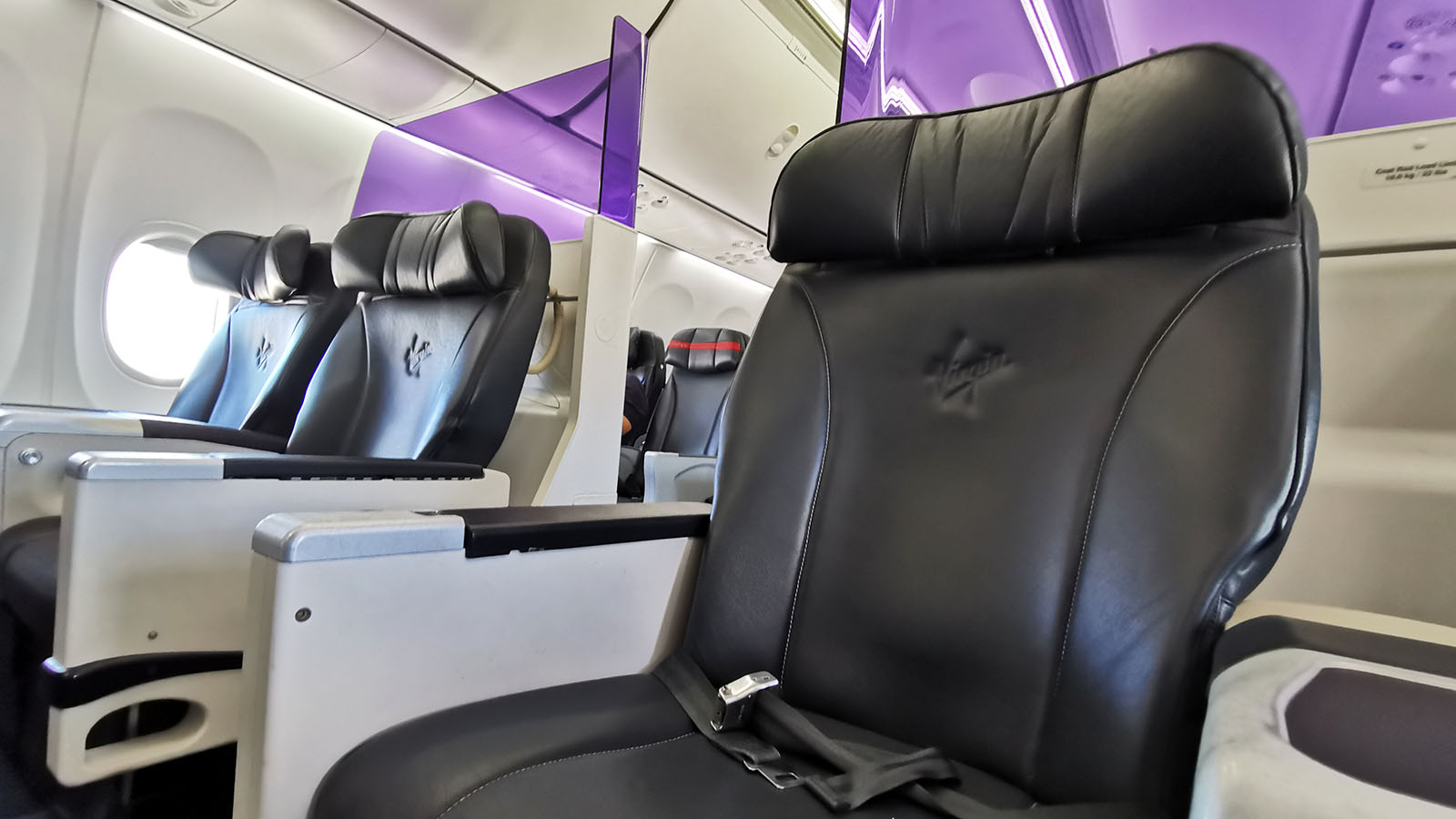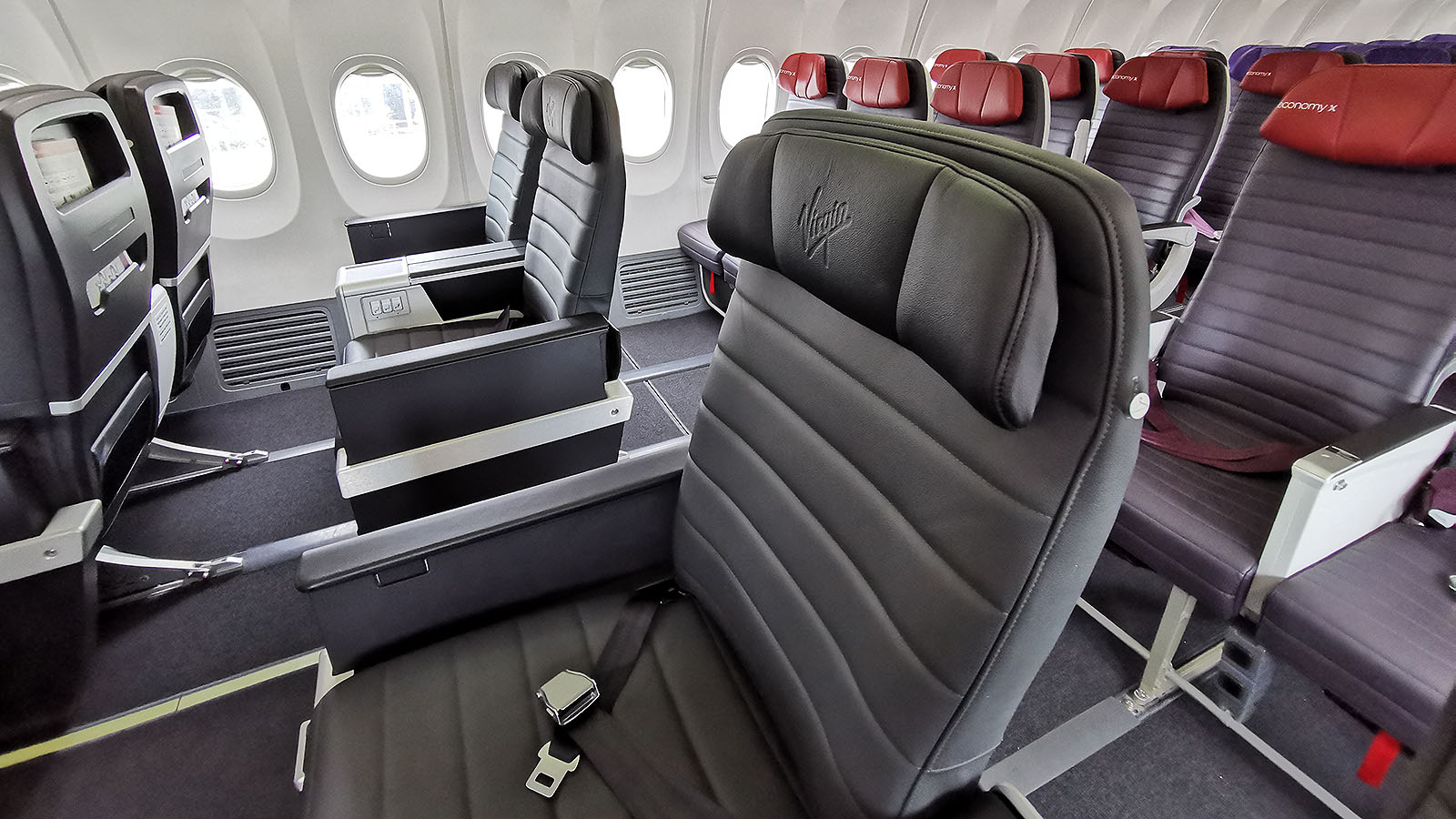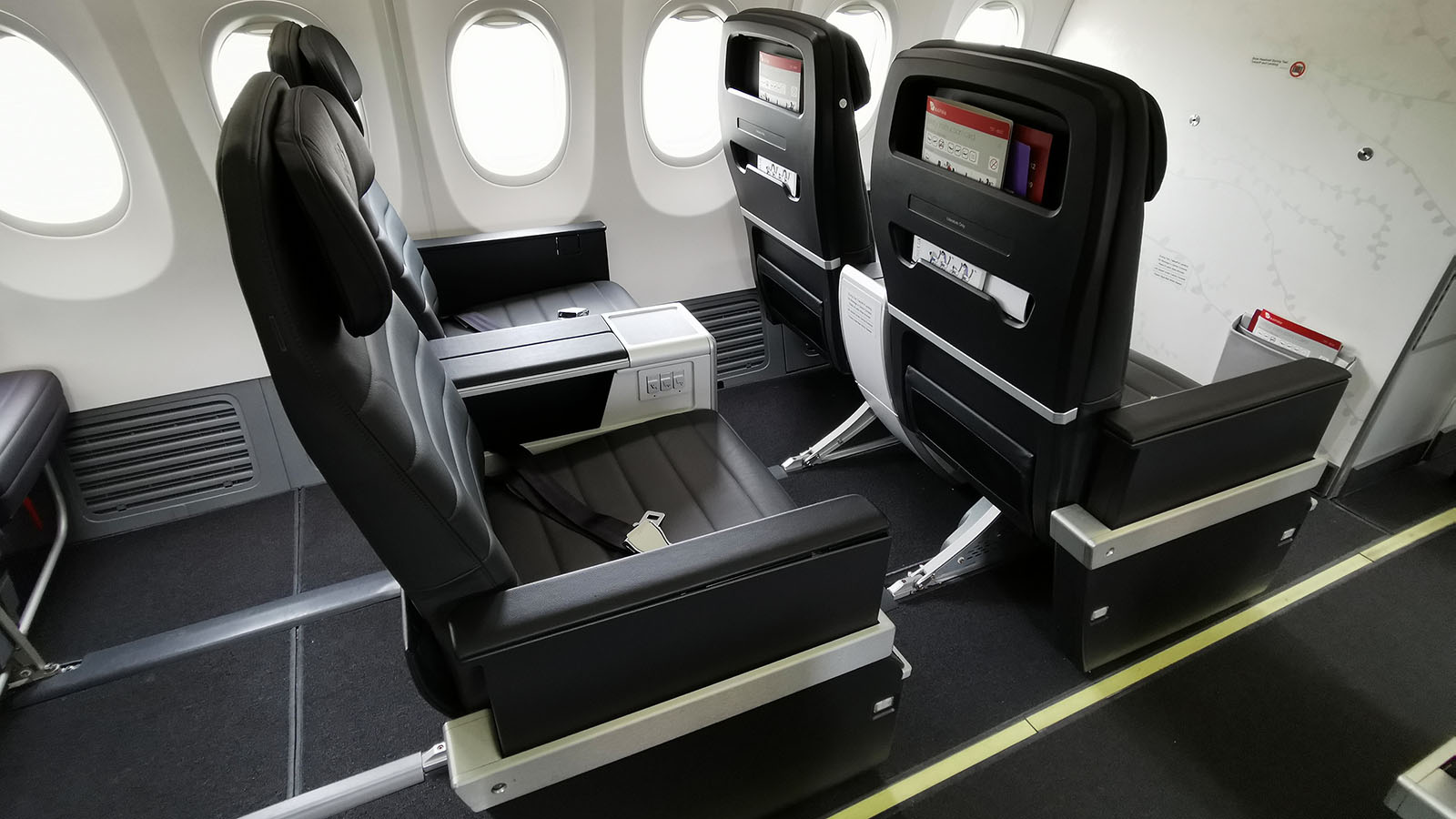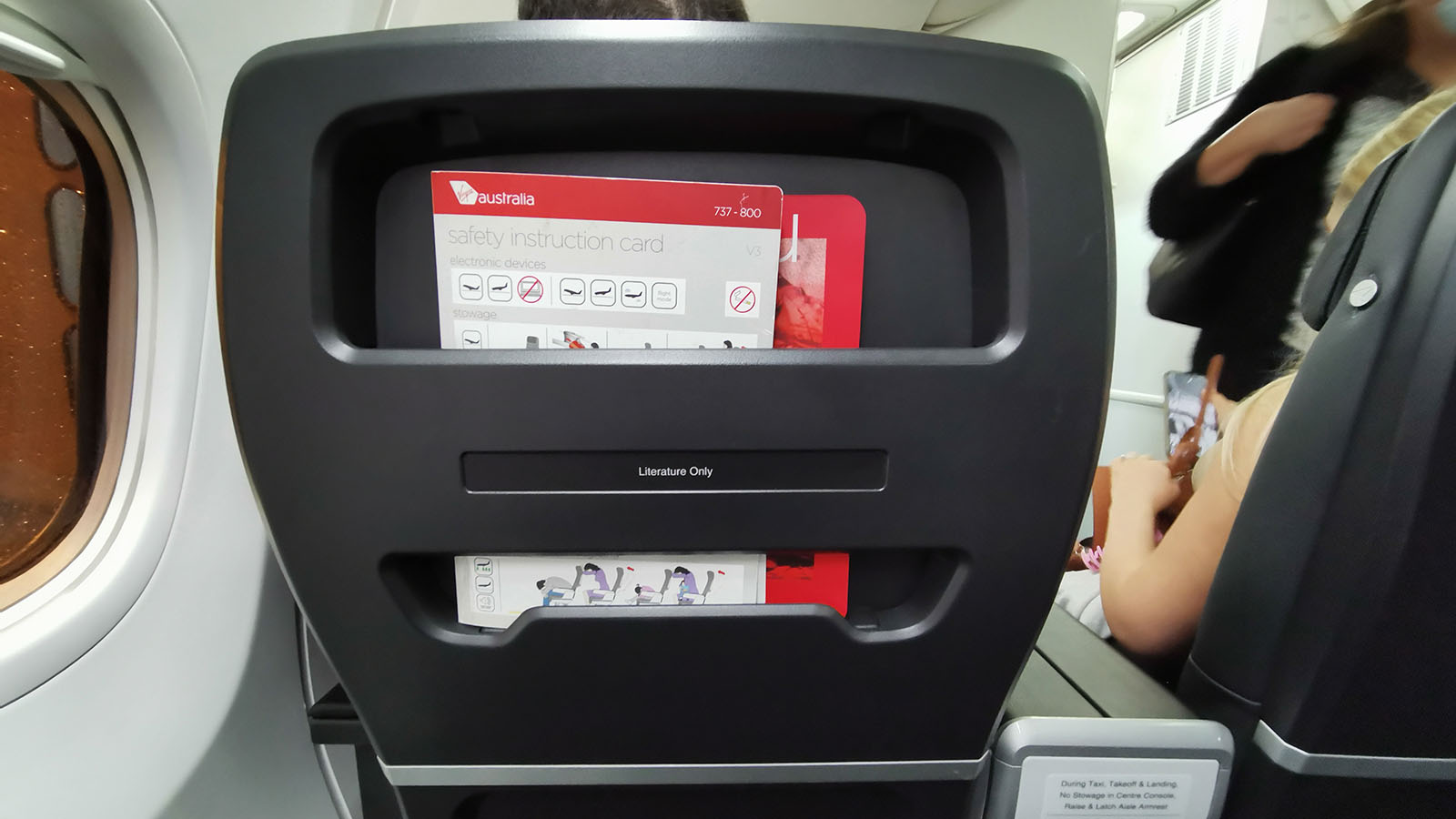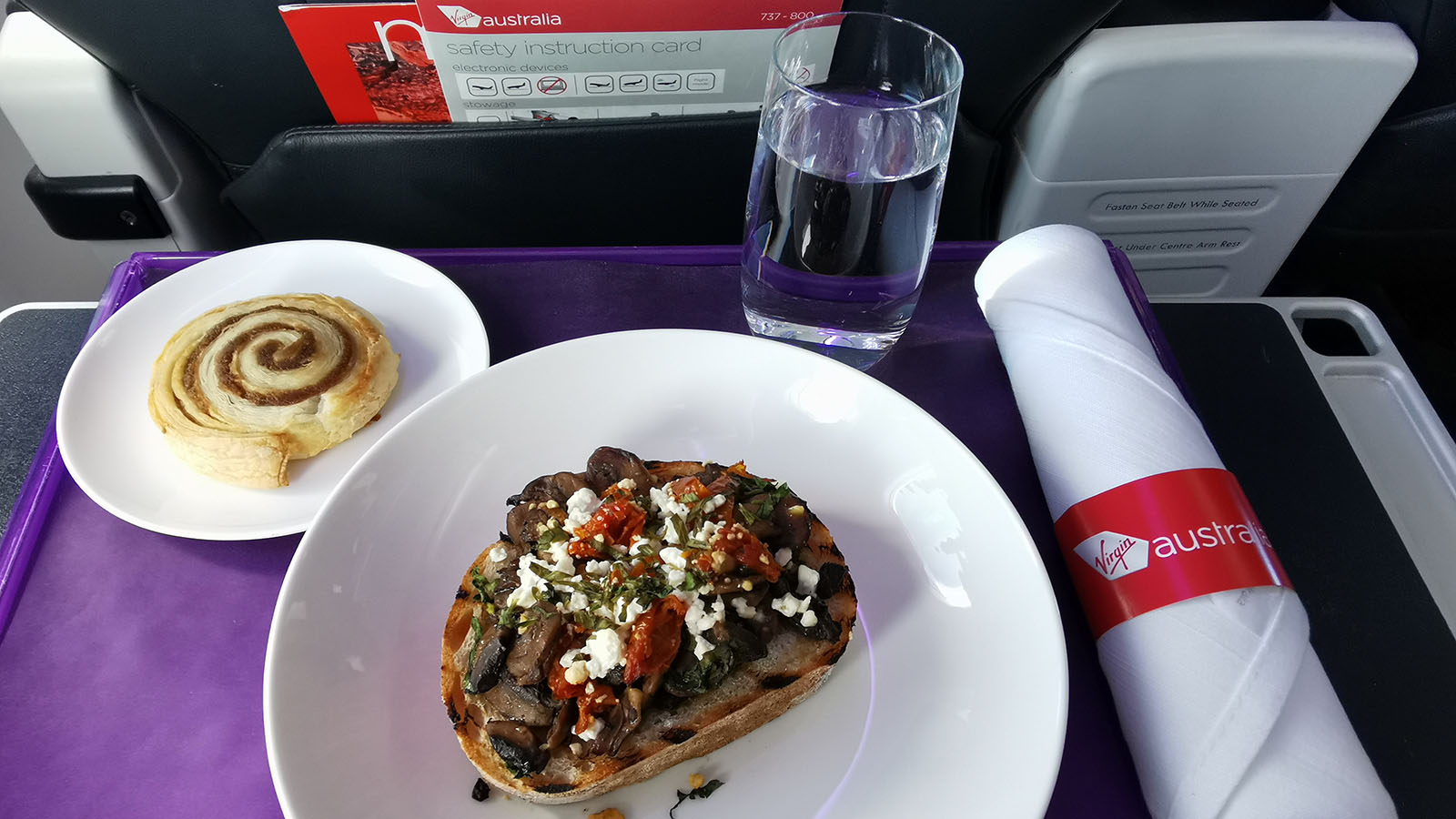 When I sit in row 2, and when I avoid it
My favourite all-rounder is 2A. There's space for my laptop bag, I can stretch out, there are views to enjoy and meal orders are usually taken before the rest of row 2.
If I'm planning to eat though, 2F is a seat I'll try to avoid. Unless the crew change things up, 2F is usually the last to be served. That's when the meal choice can be down to 'yes or no' on whatever's left.
If I won't have much time for the lounge before the flight (or there isn't one), I prefer row 1 over row 2 on a meal-time service. Having a choice between dishes can again really make the difference between getting a substantial bite or a moderate snack.
Summing up
Again, this article is for the fussier frequent flyers among us. Many passengers would be happy just to fly Business Class. Consider also that for every eight Business Class chairs, Virgin Australia has 168 Economy Class seats directly behind.
But of course, if you're flying in the best available cabin, you may as well choose the best available seat. Whether you've purchased a Business Class fare, upgraded using Velocity Points or secured a reward booking using those points, you'll still have eight seats to choose from. That is, unless other travellers beat you to the better choices first!
As for me, any seat in Virgin Australia Boeing 737 Business Class trumps even the best seats found in Economy. And for that matter, I don't check which seats are available before booking or upgrading, for that very reason.
But more often than not, you'll find me in 2A. If I trade that 'usual' for row 1, you can bet I'm a bit more peckish than usual!
Also read: Best seats in Qantas Boeing 737 Business: to choose row 1, 2 or 3?
Photography by Chris Chamberlin (except where otherwise indicated), from a mix of journeys taken at his own expense, at Point Hacks' expense and as a guest of Virgin Australia.
---
Stay up to date with the latest news, reviews and guides by subscribing to Point Hacks' email newsletter.
Best seats in Virgin Australia Boeing 737 Business Class: should you choose row 1 or 2?
was last modified:
November 8th, 2022
by