So, you want to visit Iran before the whole world catches on. Here's how your points can get you there…
The ideal route: fly in and out of Tehran
Tehran is Iran's largest airport, with direct Emirates, Etihad and Qatar Airways connections from Dubai, Abu Dhabi and Doha, respectively. (None of the reputable full-service Asian airlines such as Singapore Airlines, Cathay Pacific or Japan Airlines fly to Iran, so the big three Gulf carriers are the way to go.)
Ideally, as the main tourist trail of Tehran-Kashan-Isfahan-Yazd-Shiraz is basically on a north-south line, it is quite easy to work your way down and then catch the comfortable overnight train from Shiraz back up to Tehran. An ideal length of time for this trip is 2-3 weeks.
The map below also shows legs to two other tourist centres in the north, Tabriz and Mashhad, reachable by train from Tehran, but not visited by us on this trip.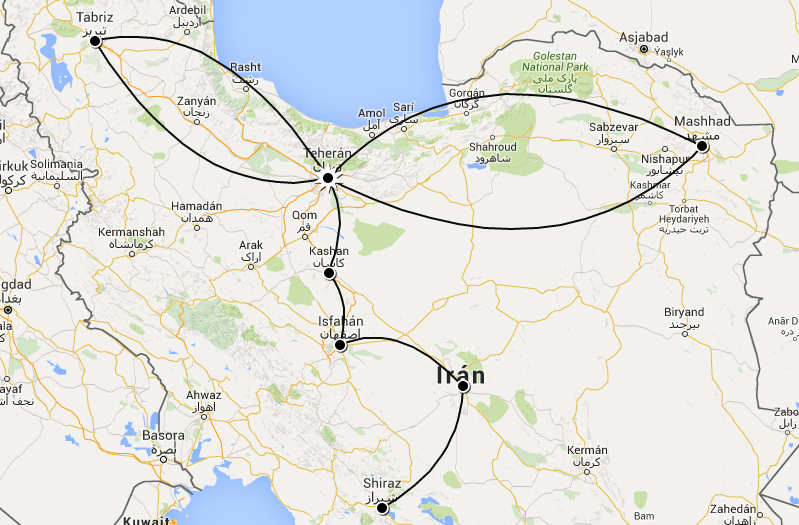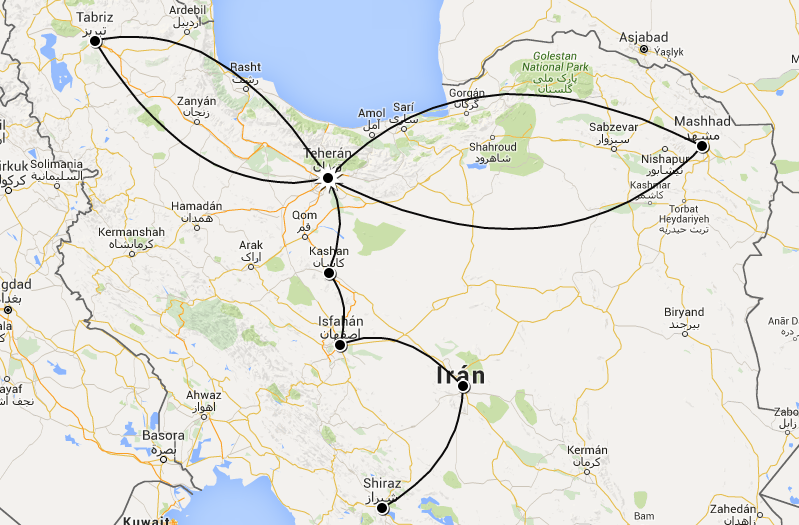 Option 1: Fly Qatar Airways via Doha using Asia Miles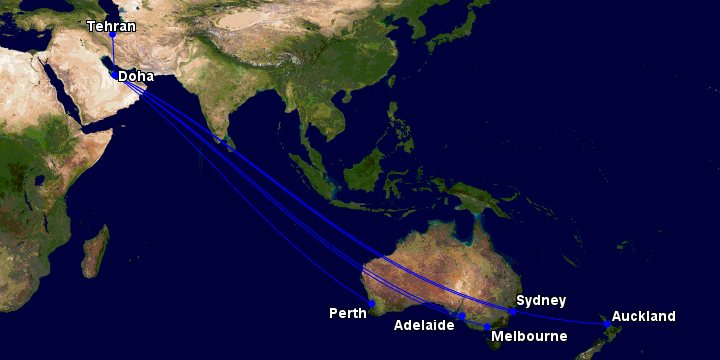 Asia Miles offers the lowest-priced redemptions and especially shines for its reduced roundtrip awards.
Flying from Perth or Adelaide will set you back 70,000 one-way/120,000 return in Business, or 105,000/180,000 in First. Remember that your flight from Adelaide to Doha will be on the new A350.
Flying from Sydney, Melbourne or Auckland (service to Doha scheduled to commence on 5 February 2017) will set you back 85,000/145,000 in Business, or 130,000/220,000 in First. Your flight from Sydney to Doha will be on the A380.
Ad – Scroll down to continue reading.Minimum spend, terms & conditions apply.
Option 2: Fly Emirates via Dubai using Qantas Points
Emirates offers the widest network here, and has some really great availability, as shown by the Business and First award space for April/May 2017 from Sydney to Tehran below: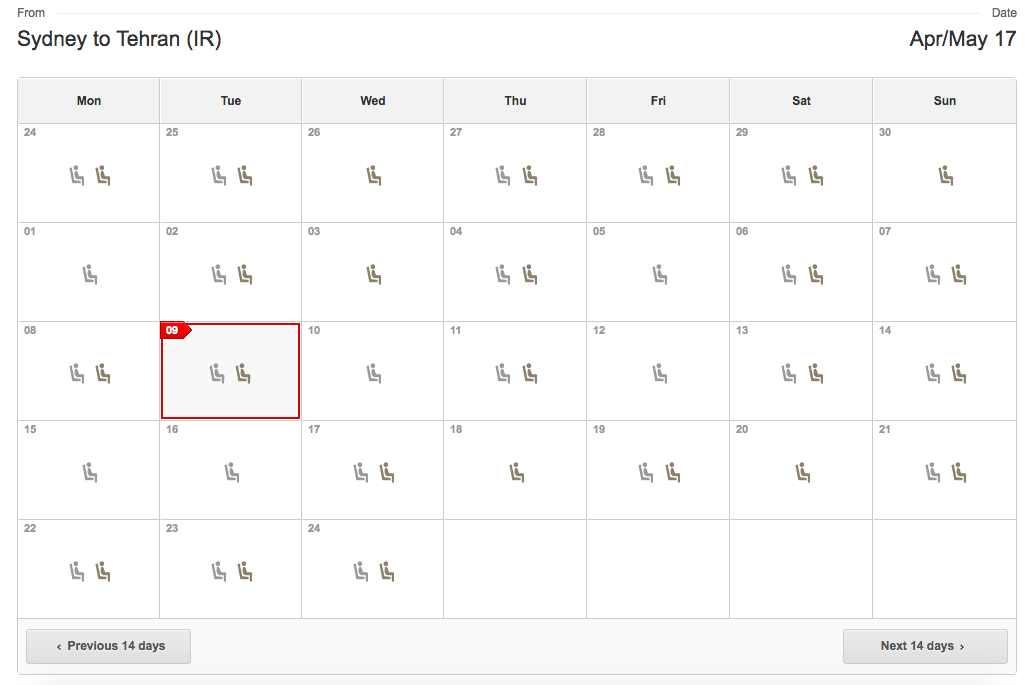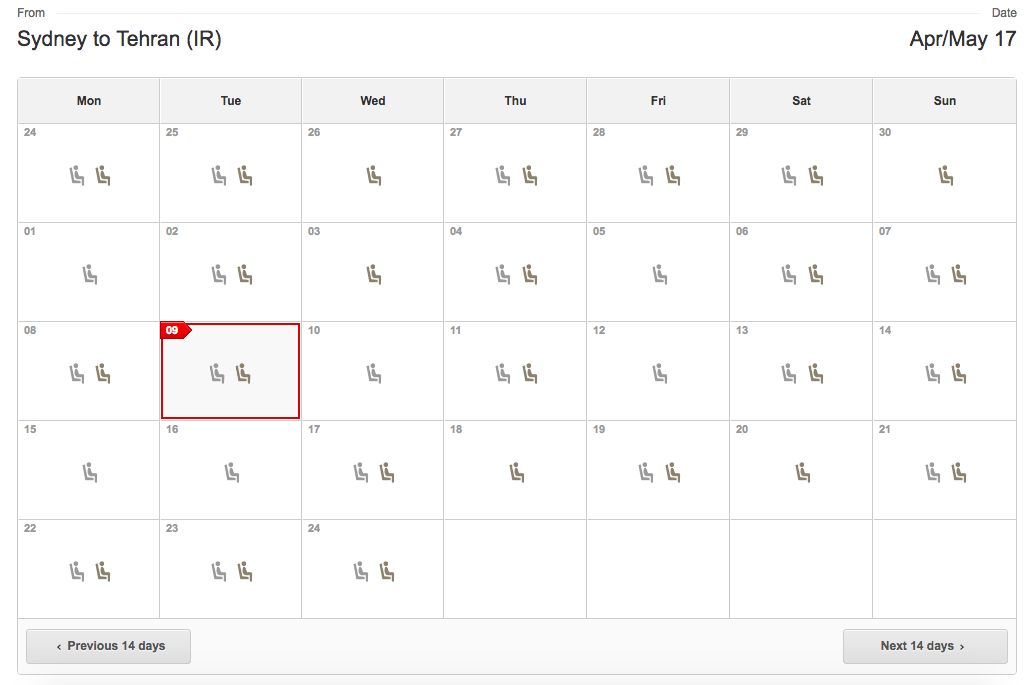 There are three distance categories here:
From Perth, you'll be set back 84,000 for a one-way ticket to Tehran via Dubai in Business or 126,000 in First
From Sydney, Melbourne, Brisbane and Adelaide, that jumps to 96,000 in Business or 144,000 in First
From Auckland, it's 112,000 in Business or 165,000 in First
Whilst you can also redeem your Qantas Points for Qatar flights, Emirates makes more of its award space available to its preferred partner Qantas, and the redemptions are slightly cheaper on Emirates vs Qatar.
Having said that, do check if there is a Qatar alternative on your dates. For example, from Auckland, both had great connections in the Gulf hubs, however Emirates costs slightly less at 112,000 compared to Qatar's 139,000: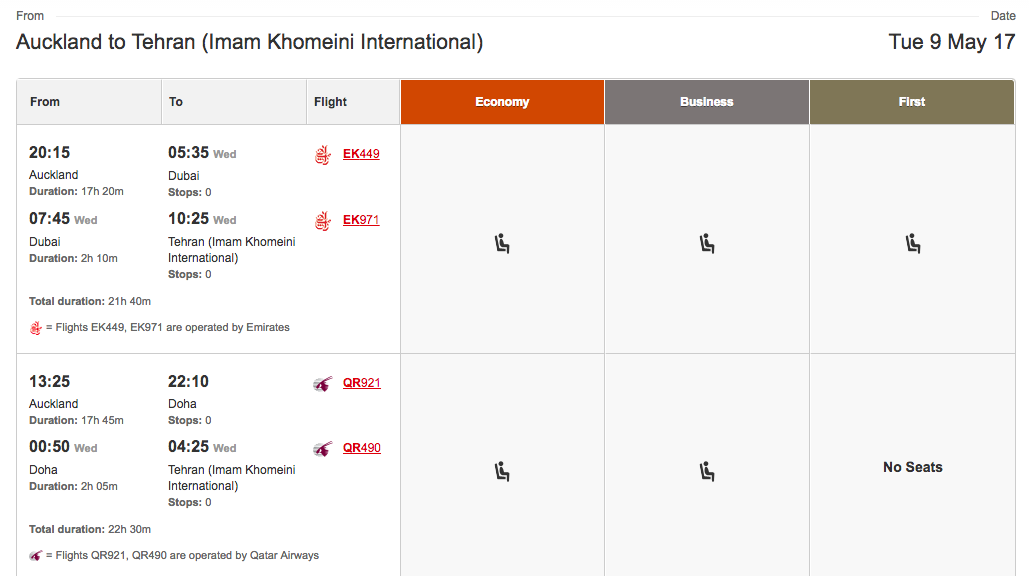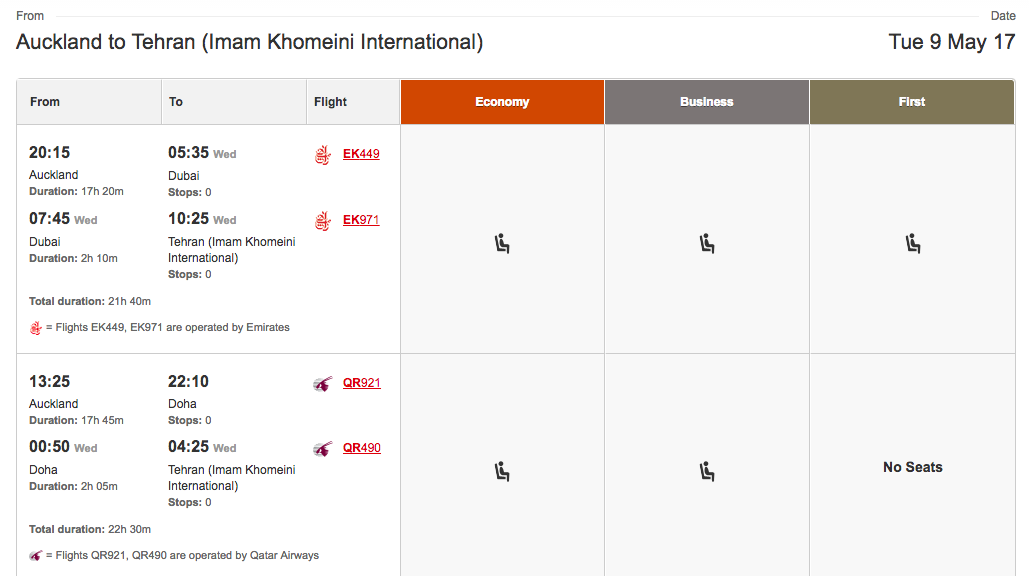 Option 3: Fly Etihad via Abu Dhabi using Etihad Guest or Velocity Points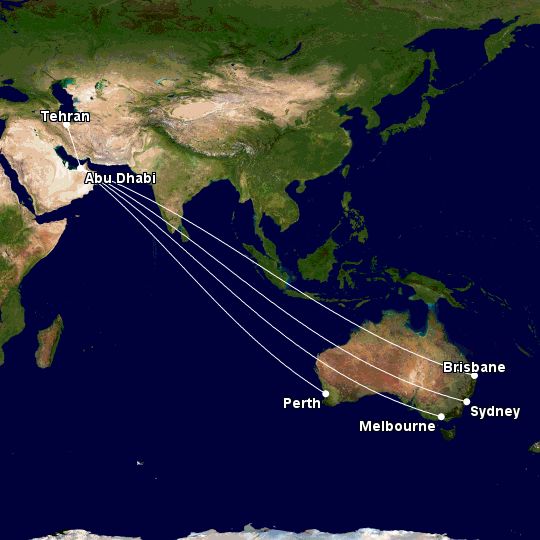 The most expensive of the lot, Etihad flights can be redeemed using Etihad Guest miles or Velocity points. However, Etihad does offer an amazing product with its First Class Apartments from Sydney and Melbourne to Abu Dhabi.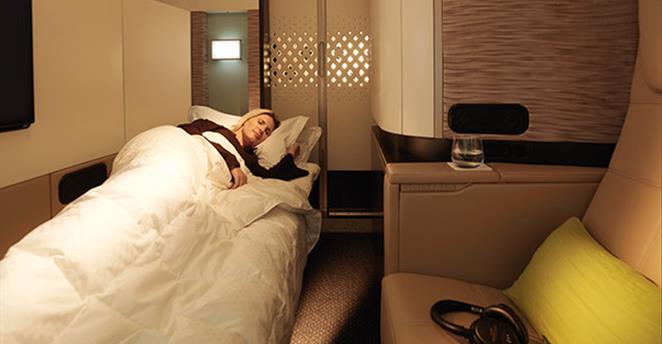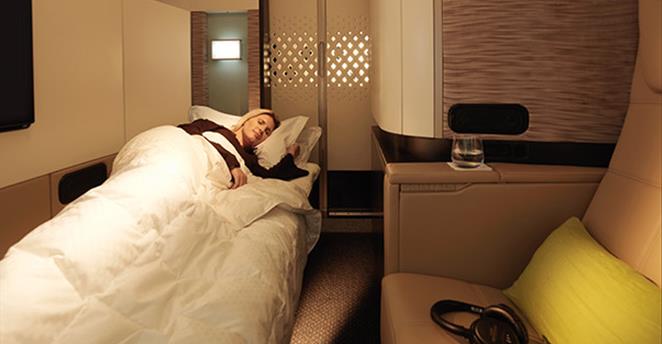 Given that Velocity now charges an extra fee for redemptions on Etihad, you'd be up for a $820 USD fee for a return ticket in Business or $1200 USD in First, which means if you have access to Etihad Guest miles that may be a better-value option:
Flying from Sydney, Melbourne, Brisbane or Perth to Tehran via Abu Dhabi will set you back between 111,000 and 118,000 Etihad Guest miles in Business or 147,000 and 156,000 in First (depending on your origin airport)
Comparing to Velocity:
From Perth, it's 92,000 Velocity points for a one-way Business ticket or 134,000 in First
From the other three airports, it's 104,000 points in Business or 152,000 in First
But do remember that you have that extra charge through Velocity.
Note that Perth loses Etihad's service to Abu Dhabi from October 2018.
Summing up
Depending on which points programs you have access to, you'll get the best value from flying Qatar through Asia Miles, followed Emirates redemptions through Qantas, with Etihad redemptions through Etihad Guest and Velocity rounding up the Big Three.
Destination guide: how to use your points to get to Iran
was last modified:
March 16th, 2019
by