Etihad's First Apartment is arguably one of the most luxurious First Class products in the skies.
With the launch of an A380 service from Abu Dhabi to Mumbai earlier this month, enjoying a comfy bed, chef-prepared food, fine champagne and an onboard shower will only set you back 32,000 Etihad Guest miles, 56,000 Velocity points, or $1450 cash.
First Apartment
Etihad's website describes the luxury First Apartment as:
…private living spaces featuring a reclining lounge chair and an ottoman, upholstered in Poltrona Frau leather, which opens up to become a separate 80.5 inch long fully flat bed.

Each First Apartment offers a 74 per cent increase in space over the airline's current award-winning First Class Suites, a 24" LCD TV monitor and personal vanity unit.

A fully equipped shower room is available for the exclusive use of First Class guests.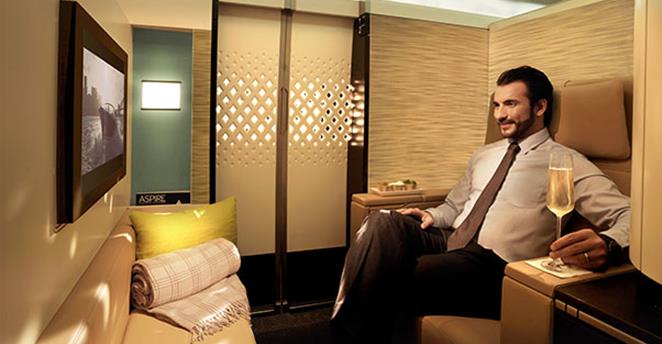 You'll also get access to the new Etihad First Class Lounge at Abu Dhabi, which is scheduled to open at the end of May 2016.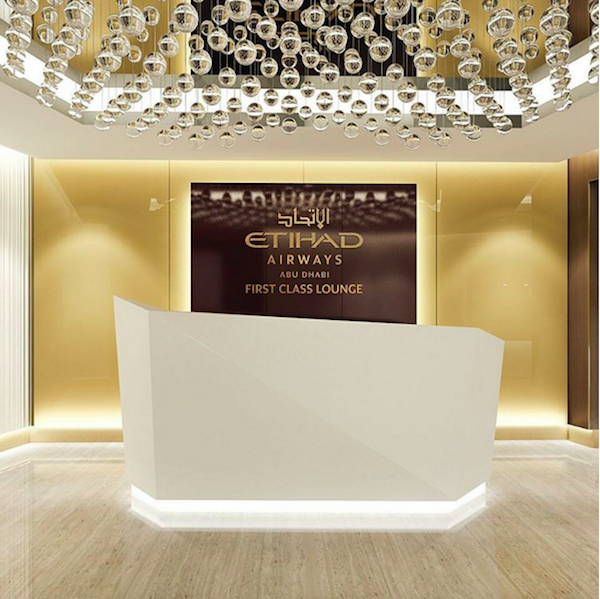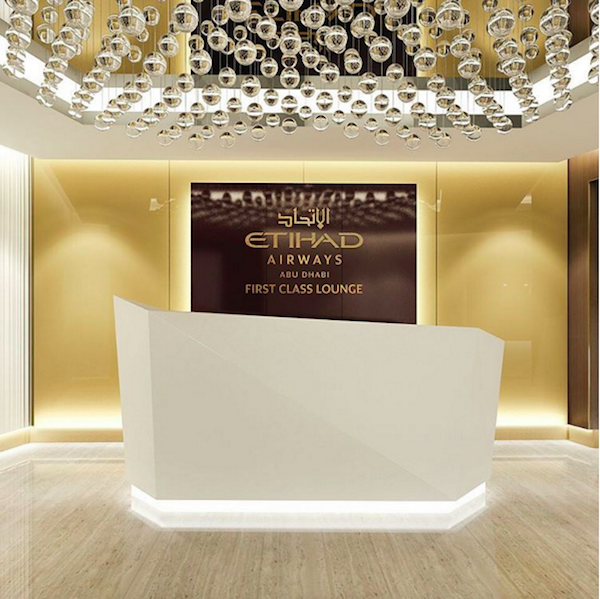 First Apartments are flown on the Airbus A380 from Etihad's hub in Abu Dhabi to the following destinations:
Mumbai: 1x daily, 3½ hours' flight time (until 30 June 2017)
Paris: 1x daily, 7½ hours (seasonal service from 1 July to 28 October 2017)
London: 3x daily, 8 hours
Melbourne: 1x daily, 13½ hours (until 28 October 2017)
Sydney: 1x daily, 14 hours (increases to 2x daily from 29 October 2017)
New York: 1x daily, 14 hours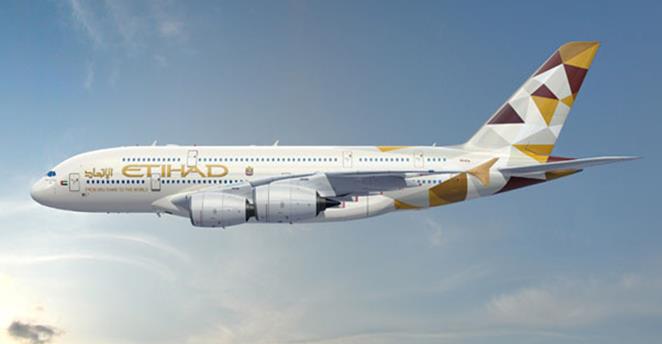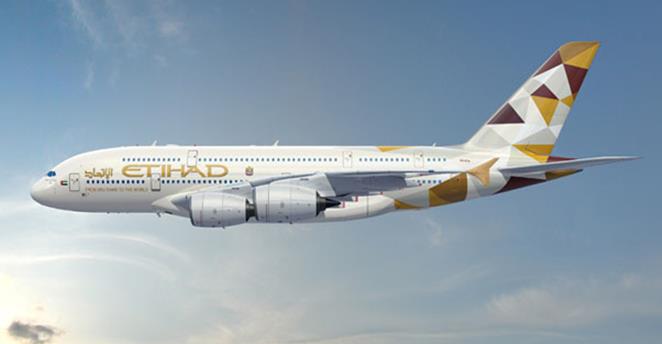 Etihad's A380 configuration has 496 seats, with 9 First Apartments, 70 Business Studios, 415 Economy Seats and one 'Residence'.
The Residence is a three-room unit with a double bed, living room, shower ensuite and a butler. It is fit for a celebrity, sultan or oligarch.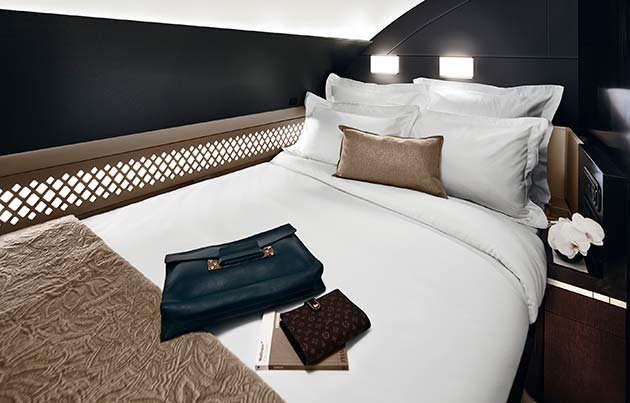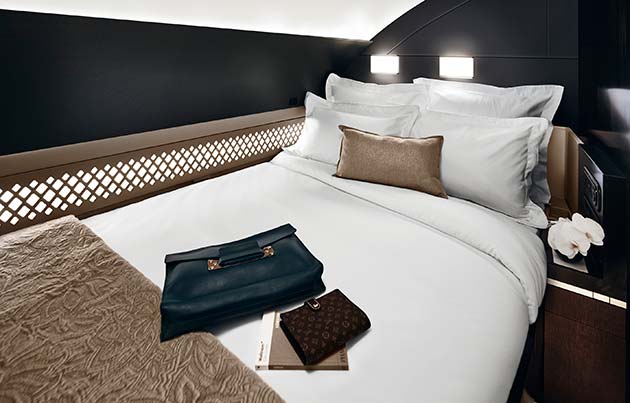 If you have Etihad Guest or Citi Rewards points…
In the case of a First Apartment from Abu Dhabi to Mumbai, it's a steal at only 32,073 Etihad Guest miles + 675 AED ($255) in taxes.
You can transfer 64,146 Citi Rewards points to Etihad Guest at a conversion rate of 2:1 to redeem this flight.
Etihad Guest mile redemptions are based on the exact distance between the origin and destination airports, therefore they are quite expensive for longer-haul redemptions to London, Sydney, Melbourne or New York.
Ad – Scroll down to continue reading.Minimum spend, terms & conditions apply.
If you have Velocity or AMEX Membership Rewards points…
Note that since this article was published on 27 May 2016, and from 18 June 2016, Velocity has introduced an Etihad redemption charge of $300 USD per First Class segment flown, meaning the total cost would be 56,000 Velocity points + taxes + $300 USD.
Even taking into account Velocity's redemption values changing from 1 June 2016, using your Velocity points for the Mumbai flight will set you back 56,000 points + taxes. (You save 1,000 points if you redeem by the end of this month before the changes kick in.)
Velocity point redemptions are based on the distance flown between the two airports, which then falls into a zone.
You can transfer from AMEX Membership Rewards to Velocity at a 1:1 conversion rate.
If you want to fly in a First Apartment from Abu Dhabi to London, it will set you back 78,000 points, with 134,000 points to New York, and 152,500 to either Sydney or Melbourne.
You can also read about how to redeem your Velocity Points for Etihad's A380 Business Studios.
If you don't have any points…
…buy AAdvantage points before 1 June 2016.
As opposed to both Etihad Guest and Velocity, the AAdvantage partner award chart is based on regions.
In the case of Abu Dhabi to Mumbai, the region pair would be Middle East to Indian Subcontinent, setting you back 40,000 AAdvantage miles or 854 USD (1182 AUD) in the current purchase miles promotion until 1 June 2016, which has a 35% discount on purchasing miles.
Assuming the airport taxes are the same as what Etihad charges ($255), you're looking at $1437 for not only three hours of luxury in the air, but a chauffeur service at both ends and time spent in the First Class Lounge at Abu Dhabi.
That's not bad for nearly a whole day of luxury, as you would be picked up to go to the airport and use the lounge for at least a couple of hours before your 2:10pm flight to Mumbai, arriving at 7:20pm, then chauffeured to your accommodation.
If you want to go further afield, Abu Dhabi-London can be redeemed for 62,500 miles (purchased for 1308 USD), Sydney or Melbourne for 100,000 miles (2091 USD), and New York for 115,000 miles (2400 USD).
Note that in the current promotion, if you buy over 135,000 miles, you will get 5,000 bonus miles in addition to the 35% discount on the rest of the miles. If you buy over 150,000, you'll get 15,000 bonus miles.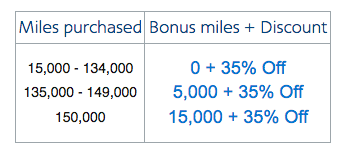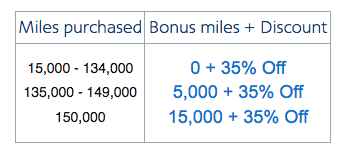 All of the amounts quoted in this article include the taxes involved in purchasing the miles, as well as the 30 USD processing charge per transaction.
Purchased AAdvantage miles post instantly.
What's next? Search for availability
You can search for availability on Etihad website. What you are interested in is GuestSeat availability, not OpenSeat.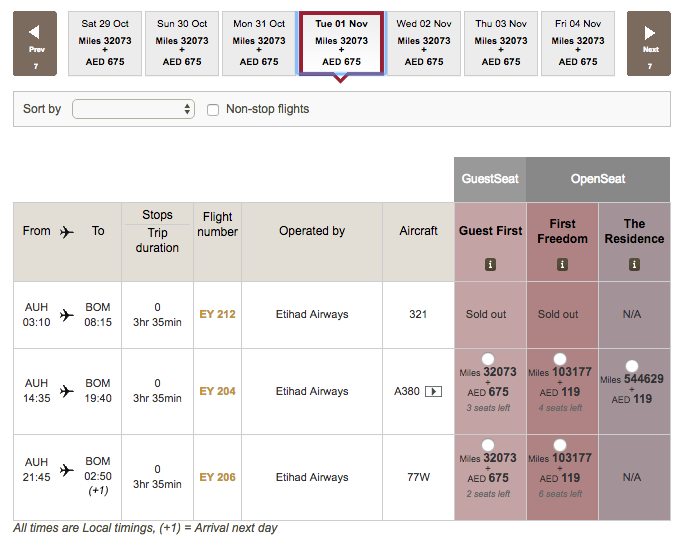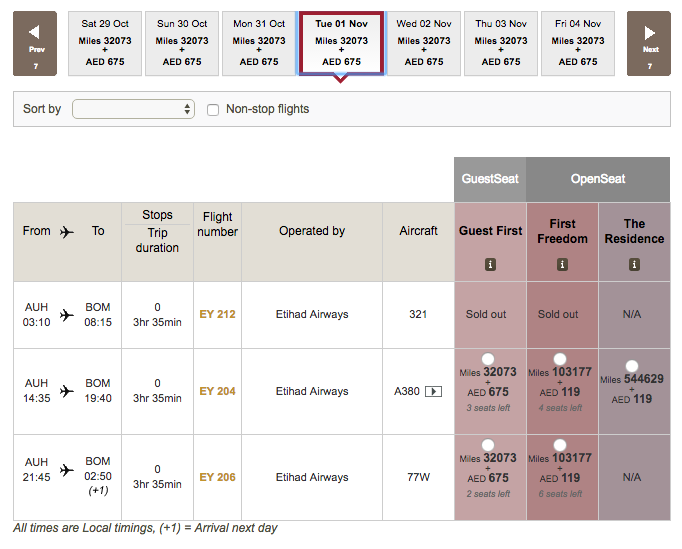 Etihad award space does not appear and cannot be booked on the Velocity or AA websites, so if you are booking with:
Etihad Guest: book online through the Etihad website above
Velocity: call Velocity on 13 18 75 (7:30am to 10:30pm AEST, 7 days a week)
AAdvantage: call AA on (02) 9101 1948 (24 hours, 7 days a week). The 35 USD telephone booking fee will be waived as you are booking an award that cannot be redeemed online. Note that a 75 USD fee will be charged for award tickets booked less than 21 days prior to departure.
Summing up
If you already have 32,000 Etihad Guest miles or 56,000 Velocity or AMEX points up your sleeve, this could be a clever way to experience a great both on-the-ground and in-flight product.
If you want to splash some cash, less than $1450 for nearly a whole day of luxury may be of value to you.
And, once in India, you can use our India Destination Guide to enjoy the best of the north and south of this enchanting and challenging country.
Fly Etihad's First Class Apartment for only 32,000 Etihad Guest miles, 56,000 Velocity points or $1450 cash
was last modified:
February 23rd, 2018
by