As you might guess from the current round of hotel reviews coming through from me, I'm currently focusing on staying at Starwood Hotels and building my SPG balance and status.
One of the ways that Starwood keeps members earning points (and staying with them) is by offering points at most of their hotels for declining housekeeping during your stay, up to 500 Starpoints per room, per night.
For a multi-room and/or multi-night stay, the amount of points you can earn can quickly rack up – I'd value Starpoints at about 3c AUD, so that's about $15 in value. Here's how the system works in practice.

How many Starpoints can you earn by declining housekeeping?
Firstly, you'll need to be on at least a two night stay to be able to opt in to the program. One night stays don't have any housekeeping outside of your pre check-in and post check-out clean which have to be completed, so there's nothing to earn on one night stays.
Assuming you're on a two night stay or above, you can earn:
500 Starpoints at participating Sheraton, Westin, Luxury Collection, Le Méridien, St. Regis and W Hotels
250 Starpoints at participating Aloft, Element and Four Points by Sheraton Hotels
Alternatively you can trade the vouchers for a $5 USD or 5€ food and beverage voucher (but the points are always going to be more useful and valuable in my world).
Not all properties participate, but the majority do. That said, there are some other exceptions to these rules:
Hotels in Latin America and Asia Pacific offer 250 Starpoints only
You generally can't pick up points more than three days in a row. This is pretty much so that housekeeping staff can enter your room and check you haven't died / thrown a TV out of the window.
So, a 6 night stay at a Westin in the US could earn…
500 Starpoints after the first, second and third nights
The fourth night / following day would not be eligible (according to the terms)
The fifth night / following day would be eligible for another 500 Starpoints
The sixth night / following day is checkout day, so would not be eligible
All up, there's 2,000 Starpoints on the table (4 x 500 Starpoints).
On top of that, you can earn for every room you have on your booking, up to three rooms (as per Starwood rules for nights and points credits as well). You can't earn any points/night credits for four rooms or more so it's not a surprise Make a Green Choice points also aren't available for large parties.
How do the mechanics of the program actually work?
Inside your room you'll be given a 'Make a Green Choice' door hanger. Hang this on your door (outside, naturally) by 2am and you should receive a small green card under your door when you check in the morning.
You then keep hold of these cards and trade them for points at check out, or food and beverage credits at outlets during your stay.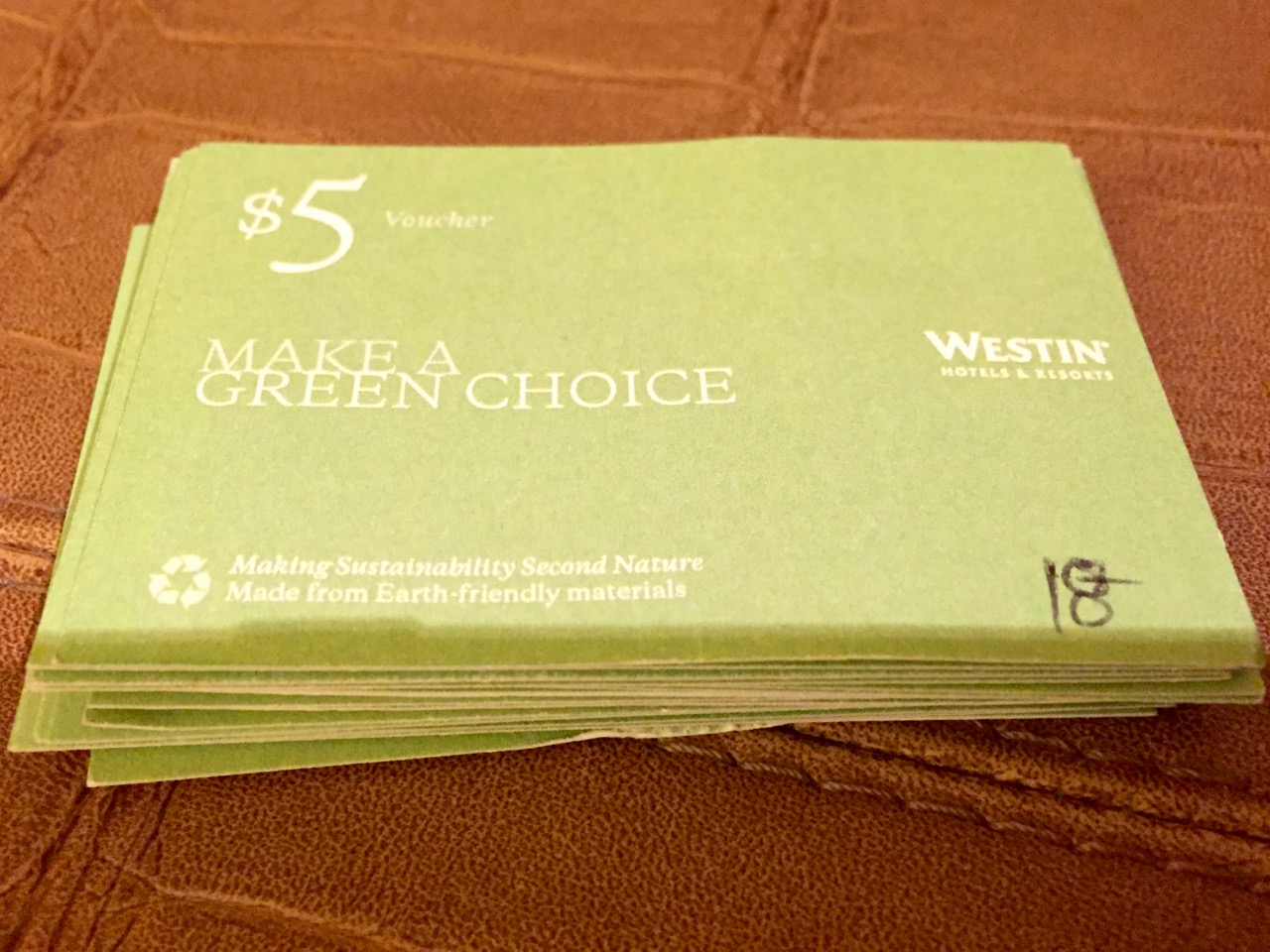 You can also let the front desk know you are interested in declining housekeeping for the full duration of a stay, and only have housekeeping come in on request. I did this for a recent stay, but still hung the hanger out each night as well.
Before check out, you take your stash of cards and fill out your room number and name on each (if not already done for you).
Then, at check out, take these down to the front desk, and the Starpoints should credit with your points and stays earned with the stay as a whole.
Ad – Scroll down to continue reading.Minimum spend, terms & conditions apply.
What does declining housekeeping actually mean?
If you do decide to opt in, you won't receive housekeeping (of course). This doesn't mean though you can't request specific extra amenities, like soap, coffee pods or filters, toilet paper or other items that would otherwise be resupplied during housekeeping.
It does mean you won't get made beds and a room tidy, or your towels replaced and bathroom cleaned up.
If you don't opt into the program (because you want your room tidied) but do want to conserve resources (by avoiding linen replacement) then you can put the doorhanger on your nightstand / bedside table to indicate you wish to reuse your linen, and your bed will be made without new linen.
Don't worry though, there are instructions on most of this on the door hangar.
On longer stays, I have also experienced being asked by housekeeping quite frequently (at least daily) that we definitely don't want housekeeping. In tip-centric cultures, I guess they are missing out on some tip earnings as a result of the program. I tried to over-compensate on cleaning days given the extra work they were taking on on that day.
How to ensure you don't miss out on any points from Make a Green Choice
The key thing is the paper cards, which are unfortunately pretty ironically analogue given the nature of the program, as a waste of paper unto themselves. It's a shame the system can't be digitised.
These little cards are worth hard points or cash, so you need to keep hold of them. Some hotels keep a record of which rooms have opted in each night, but others don't.
Then the use of cards for credits versus points aren't going to be reconciled quickly, so you'll need to keep hold of those cards to hand them in when you check out.
When the stay and points credit to your Starwood account, then make sure you have received points for all the nights you opted in – and request Starwood Customer service fix it up if they don't.

I have had points credit correctly as above, or as 'goodwill' points (as below).


Anecdotally, some hotels don't run the program in exactly this way, either not having or not wanting to give the cards out (because they have automated the system), or because they participate partially at best.
So, to be sure you get the points you are owed:
Keep records of the days you did and didn't opt in, and cards you did/didn't receive
Request any missing cards from the front desk before check out (assuming they offer paper cards)
Snap a pic of the cards before you check out in case of any issues
Remember to hand them over as you check out
Check your SPG account to make sure your points credit correctly, and if not, follow up
Why Starwood run the Make a Green Choice Program
It's all about saving resources and time. Starwood themselves state:
For each night a guest opts into MAGC, they receive 250-500 Starpoints or a $5/5€ Food & Beverage voucher, while they save up to 49.2 gallons of water, 0.19 kWh of electricity, 25,000 BTU of natural gas, and 7oz. of cleaning product chemicals per night (may vary by brand & region).
Summing up – Starwood's 'Make a Green Choice' program
I really like this program. Having stayed a ton of nights across multiple rooms already this year, I have earned a correspondingly great number of points just from declining housekeeping.
Our family is fairly environmentally conscious anyway, so this is a great way to incentivise us on the behaviour we are already making.
Earn heaps of points by declining housekeeping – how Starwood's 'Make a Green Choice' program works
was last modified:
October 14th, 2020
by