If you're jetting off to Dubai and beyond with Emirates somewhat often, then it's worth keeping an eye on your Skywards Miles balance. Emirates Skywards miles are comparatively expensive to purchase compared to other frequent flyer programs, so we wouldn't necessarily recommend buying large amounts outright to book flights.
But if it's time to book a reward flight and you find yourself just short, buying Skywards miles is one of the easiest ways to get yourself out of that pickle. Here's your brief guide to buying Emirates Skywards miles.
How do I buy Skywards Miles?
First up, your Emirates Skywards account needs to have previous activity to be eligible to buy miles. The airline defines this as 'flying on Emirates or a partner airline or through a partner transaction'. If you've got zero activity on your account, you're probably not in a position to top-up Skywards miles anyway.
But if you do plan to buy Skywards Miles in the future, plan to credit your next eligible flight or transfer some miles over from participating rewards programs to be eligible to buy miles later on.
Afterwards, simply visit this page and click on 'Buy Miles' to kick-start the process.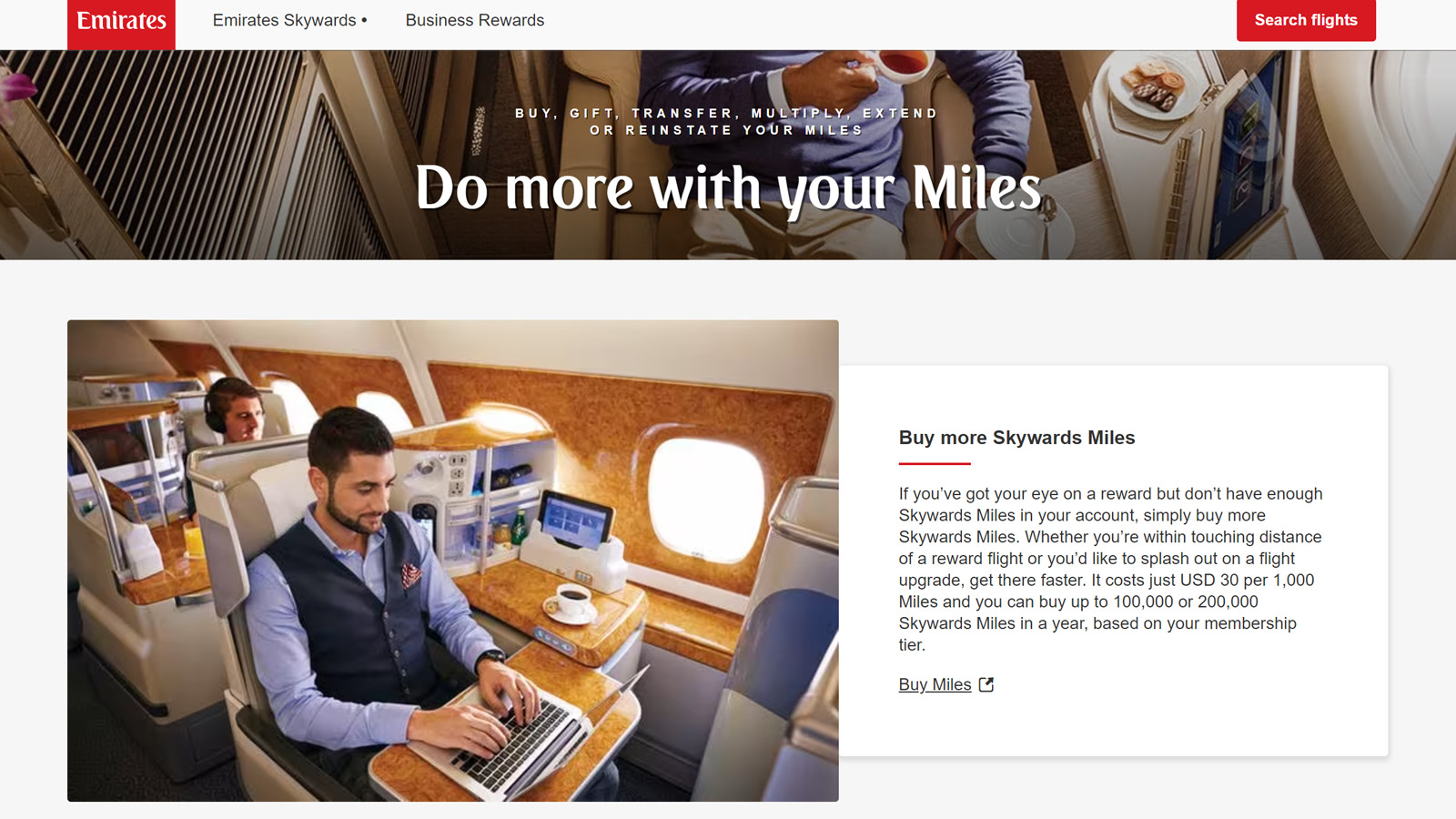 At full price, miles cost US$30 per 1,000 miles (3 cents USD each). That's quite pricey, so it's best to wait for a 'buy miles promotion' which we keep tabs on here. The lowest price we've seen in the last few years is 1.95 cents USD each, when Skywards offered a 35% discount. Even then, it's quite expensive unless you can put it towards a high-value redemption. That's why our advice for Emirates Skywards is generally 'only buy if you really have to'.
Also note that purchase limits apply. For Blue and Silver members, it's 100,000 miles a year. Gold and Platinum members can purchase up to 200,000 miles a year.
Ad – Scroll down to continue reading.Minimum spend, terms & conditions apply.
What can I do with Skywards Miles?
If you are already earning Skywards Miles, then that's when topping your account up with more miles might make sense. Here are some of the more popular things you can do with Skywards Miles.
Upgrade your Emirates-operated flights: Emirates lets Skywards members use miles for upgrades – either in advance, or last-minute (even when you're onboard!). Use the Miles Calculator to figure out how many miles you need to upgrade. For example, it costs 78,000 miles to upgrade Perth to London (via Dubai) from Economy Flex to Business, or from Business Flex to First Class.
Book reward seats on Qantas: Starting from 8,000 miles (in Economy), you can book reward seats on Qantas. For example, Sydney to Singapore in Business Class costs 64,000 Skywards Miles, one-way.
Book reward seats on Japan Airlines: In a similar vein, use your Skywards Miles to fly on JAL. A one-way Business reward from Melbourne to Tokyo-Narita costs 88,000 Skywards Miles.
Book reward seats on other partners: See the award charts for Bangkok Airways, Air Mauritius, Air Canada, Korean Air and other Skywards partners.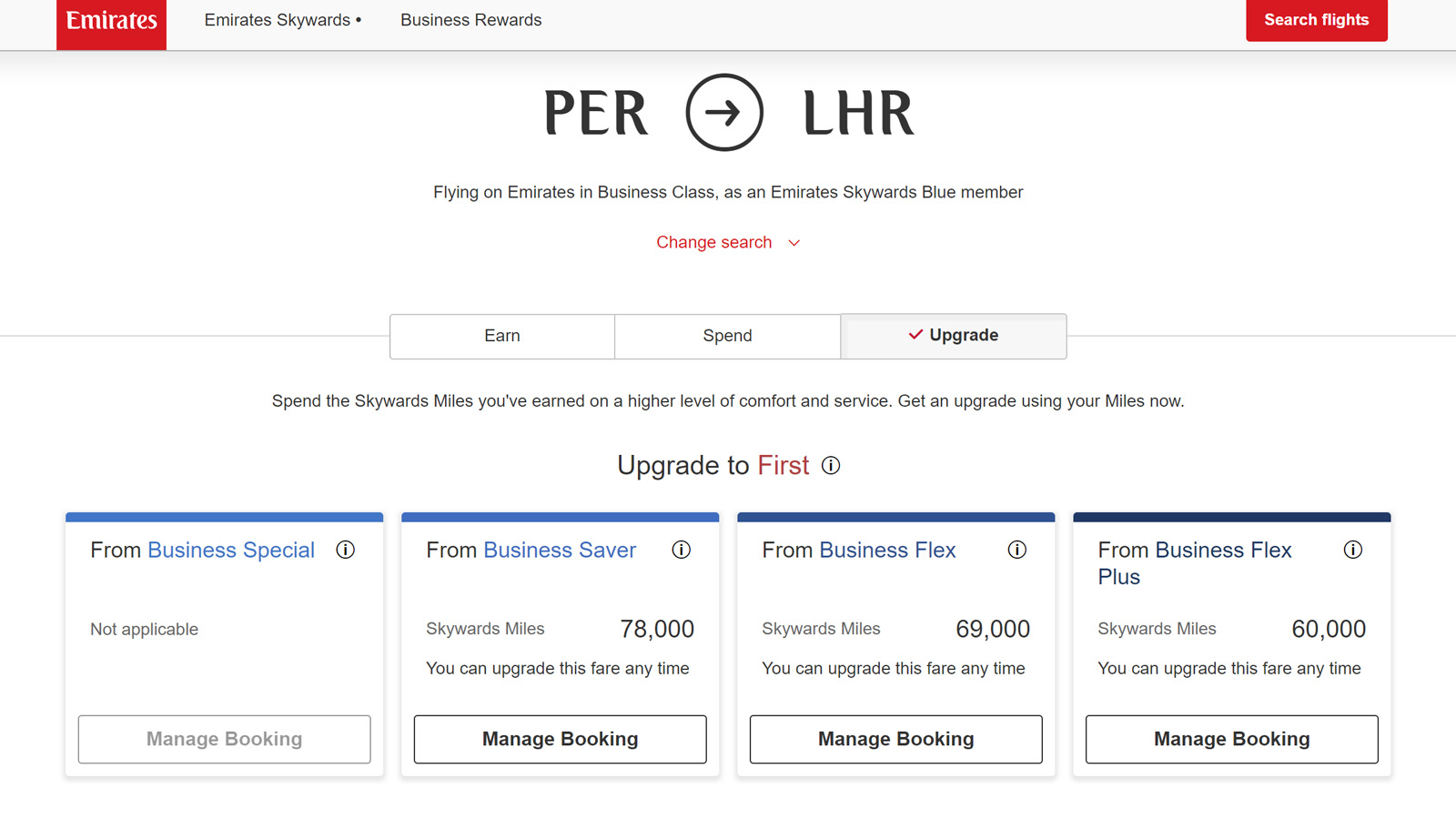 Of course, you can also use Skywards Miles to redeem reward seats on Emirates. Just look out for the high carrier charges. On the same Perth-London example as above, a 'Business Saver' award is 112,000 miles + fees and taxes.
How do I book with Skywards Miles?
Once you've purchased the top-up miles and they're in your account, you're ready to book. Most partners can be booked online on Emirates.com – choose 'Classic Reward Flights'.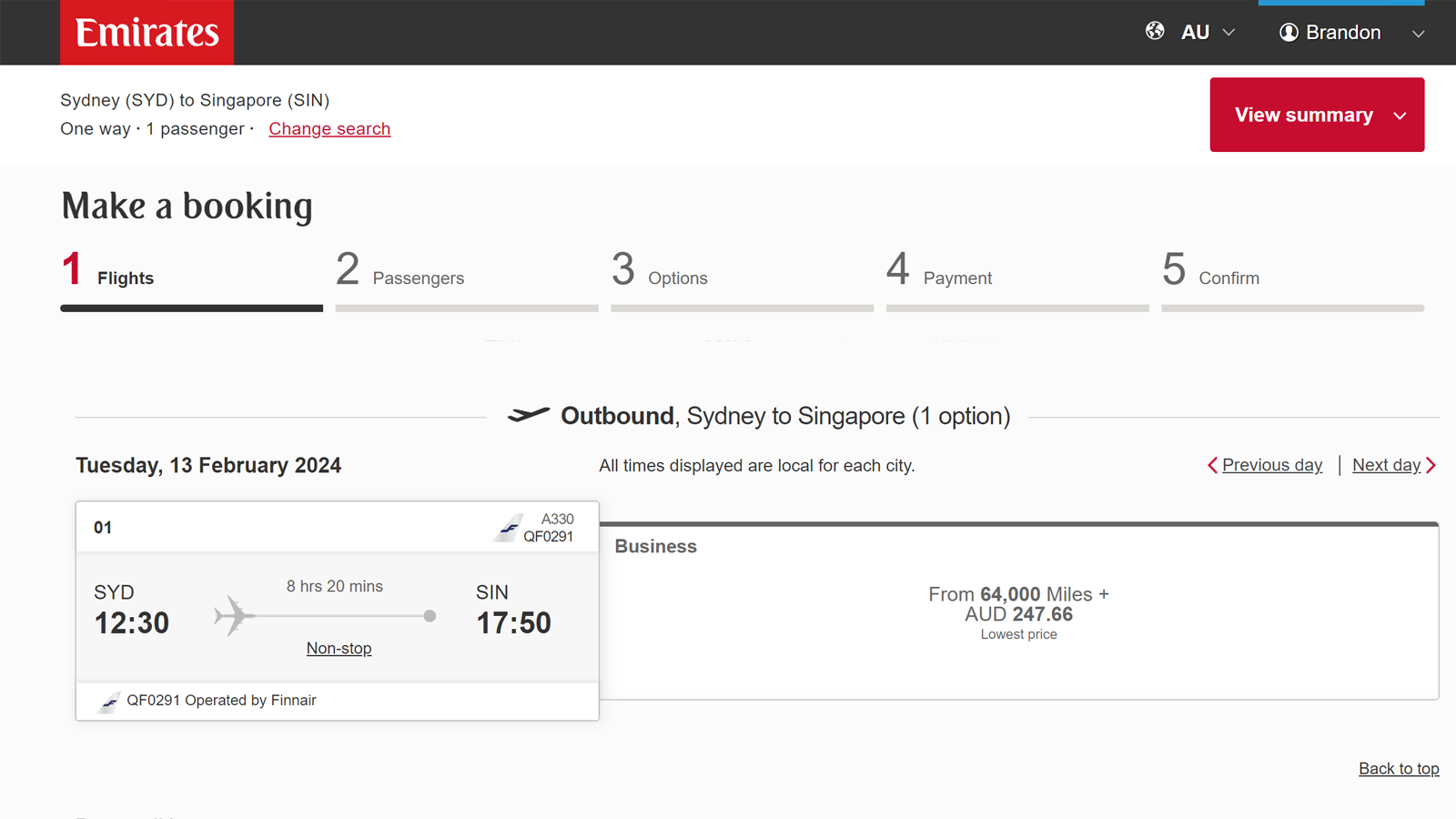 For upgrades on Emirates flights, follow the links in your booking to request an upgrade before departure (they may be confirmed in advance if there's availability). For last-minute upgrades, let the check-in agent at the airport or the cabin crew onboard know your intentions. If there is last-seat availability in the higher cabin, you'll usually get the upgrade on the spot, with the miles deducted manually.
---
Stay up to date with the latest news, reviews and guides by subscribing to Point Hacks' email newsletter.
Your guide to buying Emirates Skywards Miles
was last modified:
September 25th, 2023
by