Rex launches new Rex Flyer loyalty program
Here's your first peek at Rex's fresh frequent flyer program in Australia.
Posted:
October 2, 2023 - 9:00 am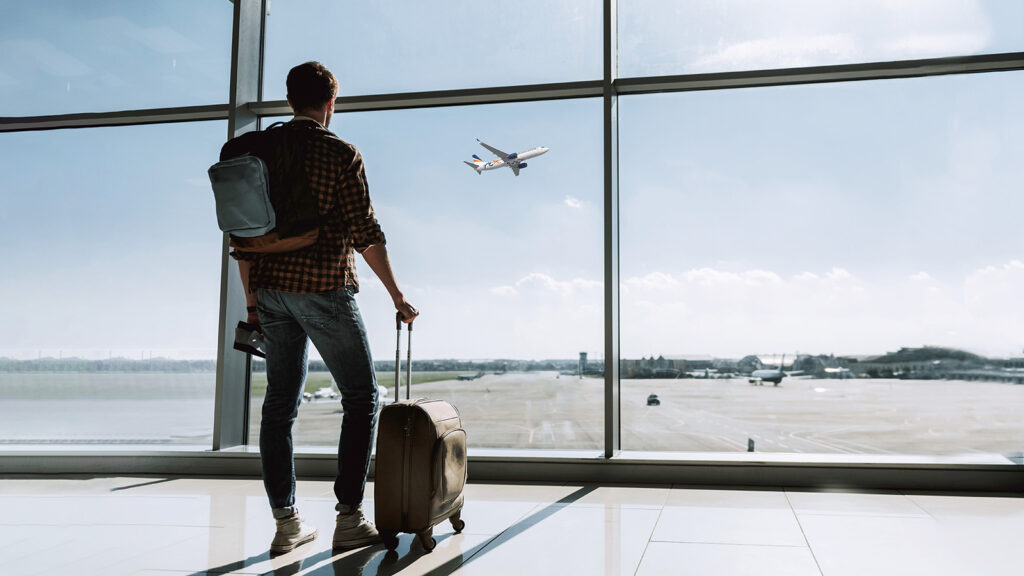 What we'll be covering
It has taken longer than planned, but Rex's new frequent flyer program is finally off the ground. Members can earn and (soon) use Rex Points across the airline's growing domestic and regional network. Also, accumulate status points to enjoy Tier Status benefits from early 2024.
Rex Points can be redeemed with three reward flight options at various pricing levels and availability – but there's a twist to stand out from the competition. Starting 48 hours before departure, nearly all remaining unsold seats on each Rex flight will be available for booking at the cheapest reward seat rate.
Or watch our ultimate guide video on the Rex Flyer to learn more about the program:
It's all part of Rex's efforts to recognise and reward its most loyal flyers, if you ask Rex's Deputy Chairman, the Hon John Sharp AM.
'The program with its superior benefits means we can at last reward our passengers for the loyalty they have shown us over many years as we have fought hard – often against almost impossible odds – to provide them with safe, affordable and reliable air services.'

– The Hon John Sharp AM, Rex Deputy Chairman, 2 October 2023

Rex's existing Business Flyer program will remain alongside the newly-launched mainstream frequent flyer program.
Essentials of Rex Flyer
Rather than the 'fly-nine-times-get-one-free' model of the old Rex Flyer program, the new one focuses on the traditional earning and burning points model.
Earning points: From 3 to 7 points per dollar spent on fares and up to 5 points per dollar on extras such as baggage and seating fees. Flexible fares and Business Class fares earn more points per dollar. The ability to earn points is available from today.
Using points: Points can be used for Economy and Business Class reward seats. Reward seat prices are somewhat tied to published cash fares and currently start from 7,400 points (plus fees and taxes) in Economy. Flight rewards will become available from mid-November 2023.
Enjoy status: Fly or spend enough with Rex to jump from Opal to Sapphire, Emerald or Diamond status. Earn 1 Status Point per dollar spent and earn perks such as free lounge membership and extra legroom seats. Status perks are launching in February 2024.
Read the full lowdown on how to earn and use Rex Flyer points and status in our ultimate guide to the program.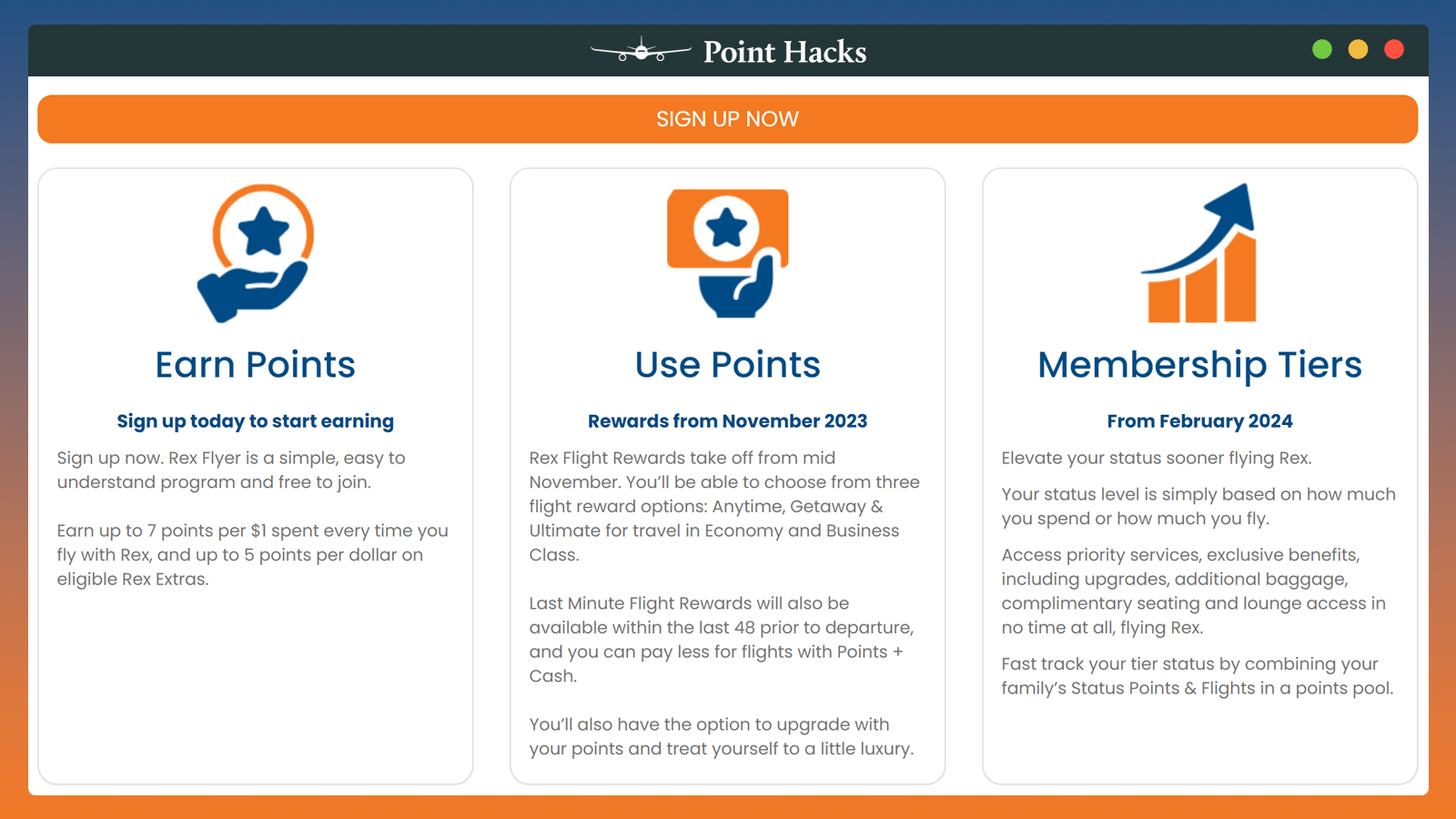 Ad – Scroll down to continue reading.Minimum spend, terms & conditions apply.
Rex Flyer is uniquely focused on seat availability
Though Rex doesn't yet have international operations or long-range aircraft – and the associated reward seat demand – the carrier is still keen to make Rex Points as easy to redeem for flights as possible.
There are three reward seat options in each cabin. In order of increasing cost, flexibility and availability, those are Ultimate, Getaway and Anytime. Members can also upgrade Boeing 737 flights to Business Class with points.
Ultimate rewards require the fewest points but have the most limited availability.
Getaway rewards are roughly 30% pricier than Ultimate rewards but have more seats available.
Anytime rewards are considerably more expensive in points but offer any-seat availability.
Reward seat and upgrade amounts are tied to specific published cash fares. This means they can change in line with published fare changes. But they won't vary on a day-to-day basis.
Mayooran Thanabalasingam, General Manager of IT&C at Rex, reassures us that reward seat numbers won't change frequently. 'We purposely picked fares that are not subject to frequent changes. Our published fares are reviewed periodically and may shift up or down based on the competitive landscape,' he explains.
Last Minute Flight Rewards
What's most interesting about Rex Flyer is the ability to snag great-value Ultimate reward seats close to departure. Rex Flyer promises that nearly every unsold seat can be booked with points at the lowest rate. Starting in February 2024, here's how it works:
At 48 hours before departure: All unsold Economy seats (except 5) will be available as an Ultimate reward.
At 24 hours before departure: All unsold Business Class seats (except 2) will be available as an Ultimate reward.
From midnight on the day of departure: All remaining unsold seats will be available as an Ultimate reward.
This is a useful perk for a wide range of passengers, including last-minute business and leisure travellers. There's no guarantee that there will be unsold seats on a flight. But it does give members a very good chance of finding Ultimate reward seats if urgent travel does arise.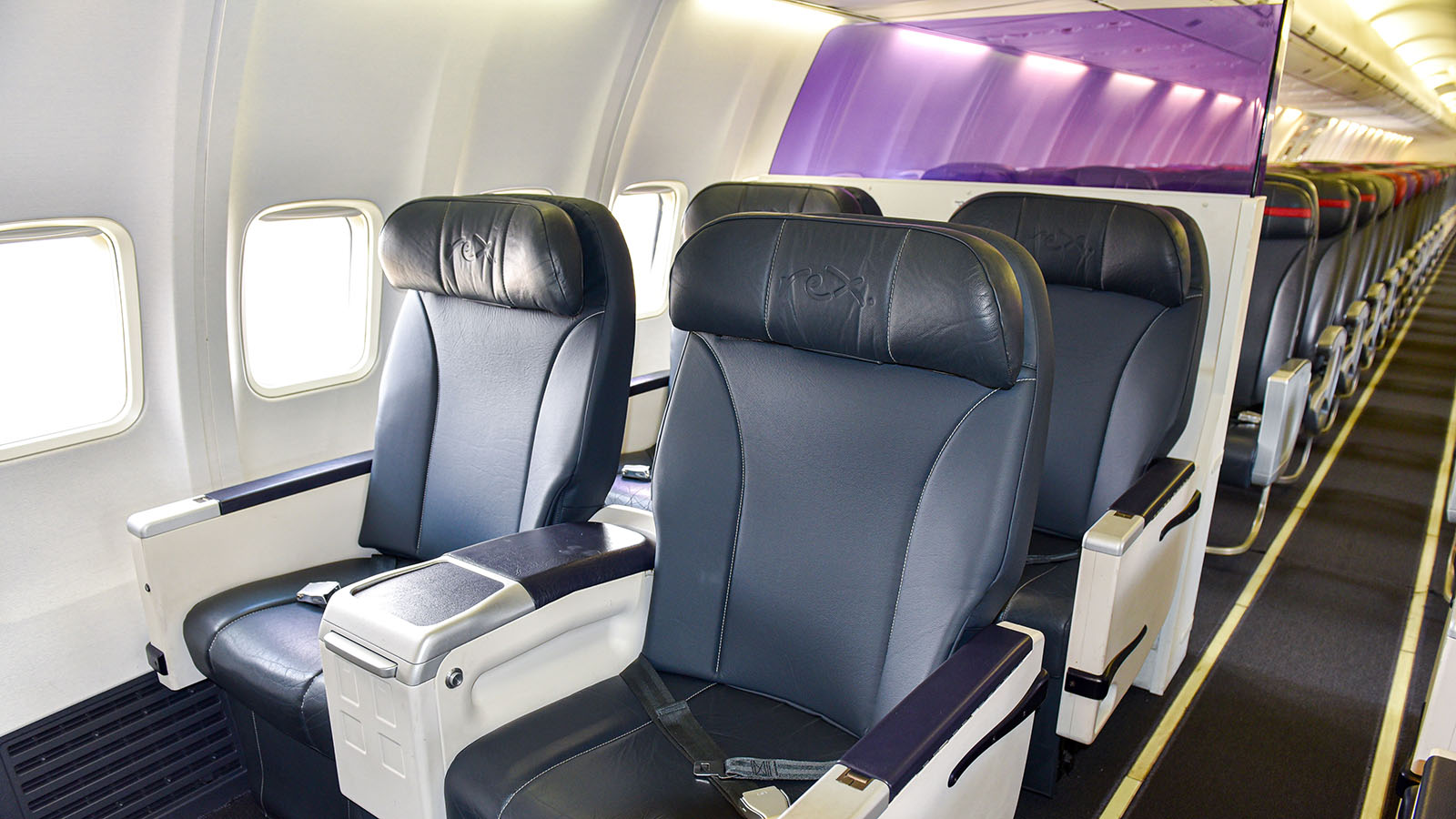 We ask Rex's Chairman, Lim Kim Hai, if he believes that Last Minute Flight Rewards will adversely impact revenue. Short answer: he doesn't, and they're eager to test it out.
'Rex has successfully pioneered the revolutionary concept of Community Fares (CF) where these very affordable fares can be booked either 2 months in advance or within 24 hours of travel. For the last-minute bookings, the CF has access to the last seat available.

We do not find this revenue dilutionary and on the contrary we find this a very effective method for market segmentation. In the same way we are opening up all the seats for redemption booking in the last 24-48 hours and we do not believe that we will be net negative both in terms of revenue (not forgetting that redemption bookings are also accounted as revenue) and cash flow.

This concept has not been tested before in loyalty programs and time will tell if we are doing the right thing.'

– Lim Kim Hai, Rex Chairman, to Point Hacks on 2 October 2023
What else is on the way for Rex?
Rex Flyer is spreading its wings now, but what about other partnerships? 'Watch this space' is what we're told. First up is a brand-new Rex app where passengers can manage their flights and Rex Points. And there's plenty more in store.
Expanding the Rex Flyer family
Rex will also want to sign up some new partners with a new program. The airline already has an interline agreement with Delta. But with the Rex Flyer program launching, we could see this transform into a codeshare, including likely reciprocal frequent flyer benefits for Rex Flyer and Delta SkyMiles members. Rex will also be targeting credit card and bank partnerships, as well.
More lounge spaces for passengers
The airline will roll out new airport lounges in Adelaide, Sydney, Melbourne and Brisbane, with construction 'commencing imminently'. Rex's new Adelaide lounge will be located just after security on the left, while the airline will take over the former Virgin Australia 'overflow lounge' in Brisbane.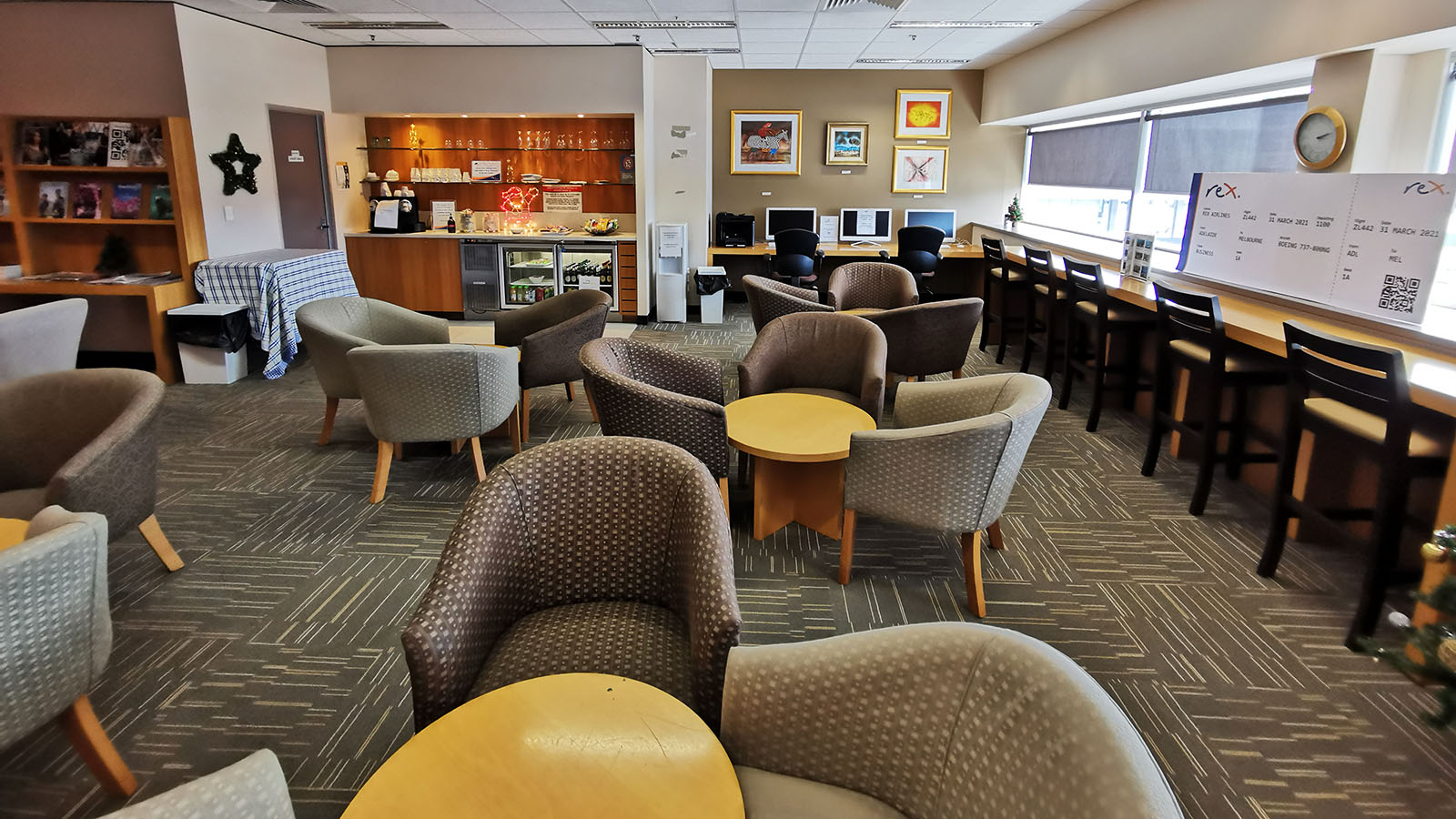 A status match in the future?
Finally, will Rex launch a status match to entice Qantas and Virgin Australia frequent flyers? The answer is almost certainly 'yes', but it'll be more a matter of timing. Rex Flyer status benefits are set to launch in early 2024, so we might see Rex dangle a shiny carrot then.
Rex Flyer's status tiers aren't a direct translation to the Silver, Gold and Platinum tiers that you might be familiar with over at Qantas or Virgin Australia. Instead, we're told the status levels map closer like this:
Opal: entry-level status for all members
Sapphire: benefits in between Bronze/Red and Silver
Emerald: benefits in between Silver and Gold
Diamond: benefits similar to Gold
Our take on Rex Flyer
We're excited to see Rex launch its new frequent flyer program. It's sufficiently different from Qantas and Velocity Frequent Flyer to offer a fresh take on rewards. With a relatively easy system to earn and use points, we think Rex's frequent travellers will find good value in the program, especially with new lounges on the way.
The program is more useful for city dwellers than those in the country, though. With a traditional distance-based reward chart, like Qantas and Virgin Australia flights, shorter regional flights are often the cheapest rewards to get with points. With Rex Flyer, reward seat values are tied to published fares. This means the cheapest routes to book with points are all domestic trunk routes rather than the pricier regional routes.
Still, as Rex gradually switches on more features and adds more partners, we can see Rex Flyer taking off.
Sign up to Rex Flyer before 2 January 2024 to earn 5,000 bonus Rex Points. You'll also earn double Rex Points for all ZL flights booked before that same date.
---
Stay up to date with the latest news, reviews and guides by subscribing to Point Hacks' email newsletter.
Rex launches new Rex Flyer loyalty program
was last modified:
October 19th, 2023
by