Rex is probably an airline you haven't given much thought to unless you are a patron of its unique regional network, covering 60-odd destinations throughout Australia.
You might be even less aware that Rex, short for Regional Express, has a frequent flyer program. However, it's aimed at businesses rather than individuals and is very simple in concept.
We take a look at the Rex Business Flyer program and how your business could benefit from it.
What is the Rex Business Flyer program?
Rex Business Flyer is the loyalty scheme of Regional Express. As the name implies, it is solely for businesses with a valid ABN — individuals can't participate in it.
Once signed up, businesses are given a membership number that needs to be added to the booking before check-in closes. Only the business owner and employees can fly under the membership number.
Wondering how much Rex Business Flyer membership costs? It's $99 AUD for a two-year membership. Applications for (and renewals of) memberships are subject to acceptance by Rex.
How do I join Rex Business Flyer?
The steps are very simple for joining Rex Business Flyer.
Access the Business Flyer application form here.
Enter your organisation details including trading name, ABN, and up to two main admin contacts.
Pay the $99 AUD sign-up fee with American Express, Mastercard, Visa or Diners Club. Remember to use a points-earning card where possible.
If approved, you will become a member of Rex Business Flyer for two years.
How does Rex Business Flyer membership work?
When your business receives its membership number, input it in the relevant field when booking flights for yourself or your employees on the Rex website.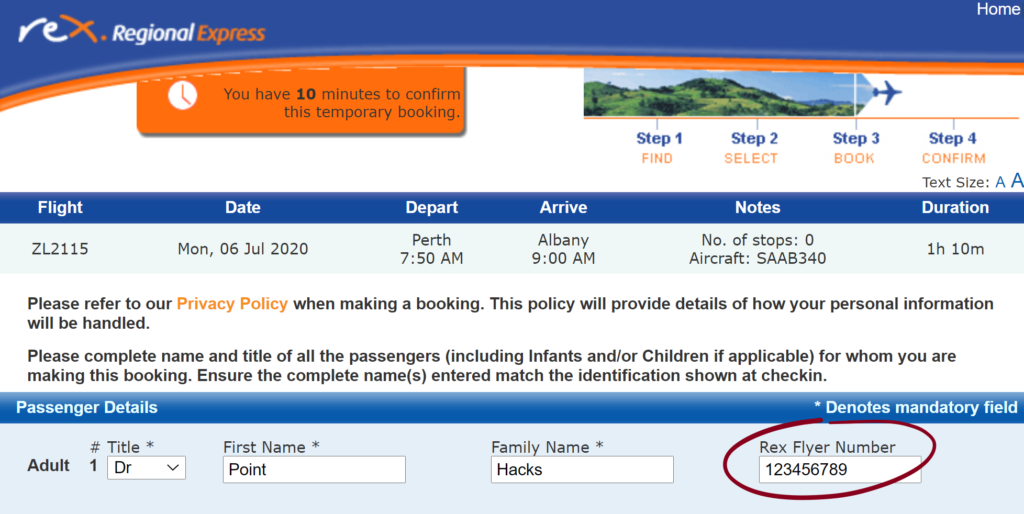 For every eligible sector that is flown under the membership number, your business will receive one point.
Accrue 18 points within two years, and your business will be rewarded with two Reward Flights, that are valid for any available seat on any Rex flight sector within the following six months.
These Reward Flights can be booked for anyone, including non-employees of your business such as family or friends. This makes the rewards quite flexible to use, especially with last-seat availability.
While the actual fare is waived for Reward Flights, airport taxes and other mandatory charges will still need to be paid on the ticket
Ad – Scroll down to continue reading.Minimum spend, terms & conditions apply.
Which Rex fares are eligible to earn Business Flyer points?
The most important rule, which is prominently mentioned in the application process, is that Rex Promo and Rex Net fares are not eligible for earning sector points.
Unsurprisingly, these are the two cheapest fare types offered online. You will need to purchase a Rex Saver fare or higher to earn a sector point under the Business Flyer program.

Not sure what's the difference between these five fare types? Here is a quick summary:
| | | | | | |
| --- | --- | --- | --- | --- | --- |
| | Rex Promo & Community Fares | Rex Net | Rex Saver | Rex Biz | Rex Flex |
| Cancel ticket, keep credit | No | Yes, with fee | Yes, with fee | Yes, free of charge | Yes, free of charge |
| Cancel ticket, cash refund | No | No | No | Yes, with fee | Yes, with fee |
| Name changes | No | No | Yes, with fee | Yes, free of charge | Yes, free of charge |
| Re-routing | No | Yes, with fee | Yes, with fee | Yes, free of charge | Yes, free of charge |
| Deadline for changes, cancellations | N/A | 48 hours before scheduled departure | 12 hours before scheduled departure | 2 hours before scheduled departure | 1 hour before scheduled departure |
| Checked baggage allowance | 15kg | 15kg | 15kg | 15kg | 23kg |
| Earn Rex Business Flyer points? | No | No | Yes | Yes | Yes |
Rex change and cancel fees are generally $44 AUD per sector over the phone, or $33 AUD per sector when performed online.
Reward Flights have similar rules to Rex Net fares: changes and credits are permitted up to 48 hours before departure with the usual fees.
Do Rex Business Flyer points and Reward Flights expire?
Yes, both the sector points you get from flying and the earned Reward Flight credits will expire after a certain amount of time.
Business Flyer points that are accrued and not converted to Reward Flights will be forfeited two years after being earned. This means you will need to earn your 18 eligible points within a two-year period to receive the two free Reward Flights.
Rex Business Flyer Reward Flights must be booked and flown within six months from the date of receiving the Reward Flight, or it will be forfeited.
In either case, Regional Express clearly states that expired Business Flyer points and Reward Flights will not be reinstated under any circumstances.
How do I book the Rex Business Flyer Reward Flight?
Earned your Reward Flights? Great work! There are two ways to book the Reward Flight on Rex.
Through a secured portal on the Rex Business Flyer Member's Page. This is the quickest and easiest way to book.
Calling Rex on 13 17 13. However, this method will incur the usual administrative charge which is currently $44 AUD.
Can I access Rex Lounges with Business Flyer membership?
The short answer is no: Rex lounge access is a completely different story. Paying for a Business Flyer membership won't grant access to the Rex lounges in Sydney, Melbourne and Adelaide.
So how can you access Rex lounges then? One way is by signing up for a Rex Lounge Membership, which retails at $329 AUD per year.
This grants you access to the lounges on the day of departure, plus one complimentary guest. You'll be given a 4-digit PIN and have a fingerprint enrolled for automated entry.
If you don't want to stump up for full membership, then a Casual Lounge pass will set you back $33 AUD per visit. This is only valid during staffed hours and the check-in desk can confirm availability for you.
Finally, a little-known secret is that Priority Pass membership grants access to Rex lounges. As long as you have a same-day boarding pass for any airline departing Sydney, Melbourne or Adelaide, you can redeem a Priority Pass visit for lounge access.
For up-to-date information on accessing Rex lounges through Priority Pass, see the pages for the Sydney, Melbourne and Adelaide lounges.
Summing Up
Rex Business Flyer is a neat little program offering tangible rewards for businesses who are able to make 18 flights within two years.
It's also refreshing to see very little red tape around the redemption of the Reward Flights. Having last-seat availability on any Rex flight to any destination for anyone is a decent perk.
However, should Rex also launch a frequent flyer program for individuals? While it might not be necessary right now, Rex does have plans to expand into capital city flights in 2021.
The Sydney/Melbourne/Brisbane 'golden triangle' that it's planning to break into are all fiercely competitive routes, so the airline will need to stand out from the rest somehow.
In order to achieve mainstream appeal, Rex will need to consider a lot of factors, such as deciding whether a frequent flyer program with a broader appeal should be implemented as part of its 'hybrid model'.
Do you feel Rex should expand its frequent flyer scheme beyond the current Business Flyer program?
Your guide to the Rex Business Flyer loyalty program
was last modified:
July 3rd, 2020
by