Located right in the heart of LA's world-renowned Hollywood neighbourhood, I recently spent three nights at this stylish property before heading over to New Orleans.
Research & Booking
The W Hotel Hollywood is ranked #75 out of 355 hotels in Hollywood on TripAdvisor.
I booked a base Wonderful Room on an SPG member flexible rate for a three-night stay using cash three months before my scheduled arrival. The cash rate averages $350-400 USD per night, depending on the date and rate type.
At the time of writing this review, this property was classified as an SPG Category 6 property, costing 20,000 Starpoints per night.
Due to the merger of SPG into Marriott Rewards, this is now a Marriott Category 6 property, costing 40,000/50,000/60,000 Marriott Rewards points per night (off-peak/standard/peak).
On the morning of check-in, I was notified my SPG Platinum upgrade had been confirmed before arriving at the hotel via the SPG app and I was upgraded to a Marvellous Suite, which normally averages $600 USD per night.
The Room: Marvellous Suite
The room features a W Signature king-sized bed.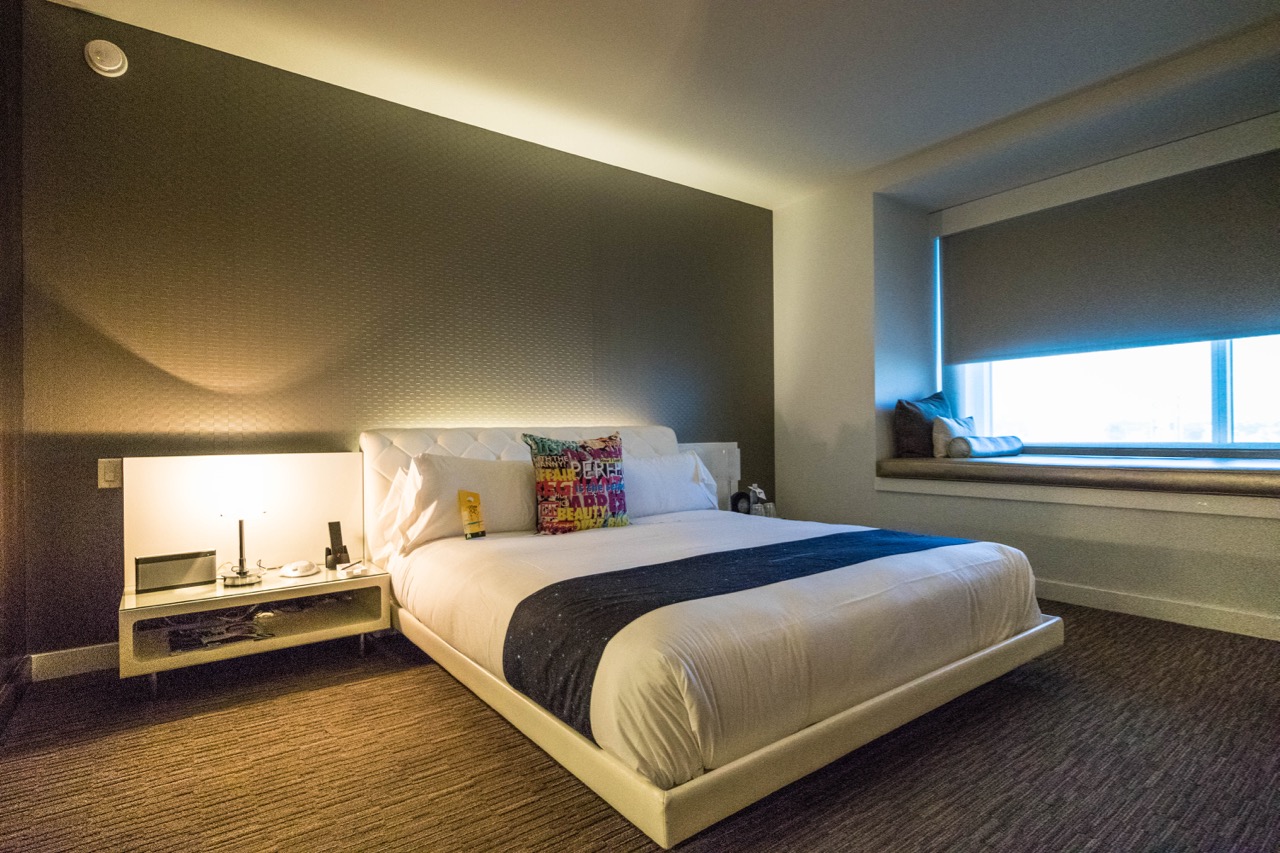 With the size of the suite and the multitude of light fixtures, it was surprising there were no master switches next to the bed.
Inside the suite, there is semi-circular, white leather lounge in front of a sheer curtain which separates the lounge room from the bedroom. The styling is modern, featuring a muted colour scheme with splashes of colour from the accessories.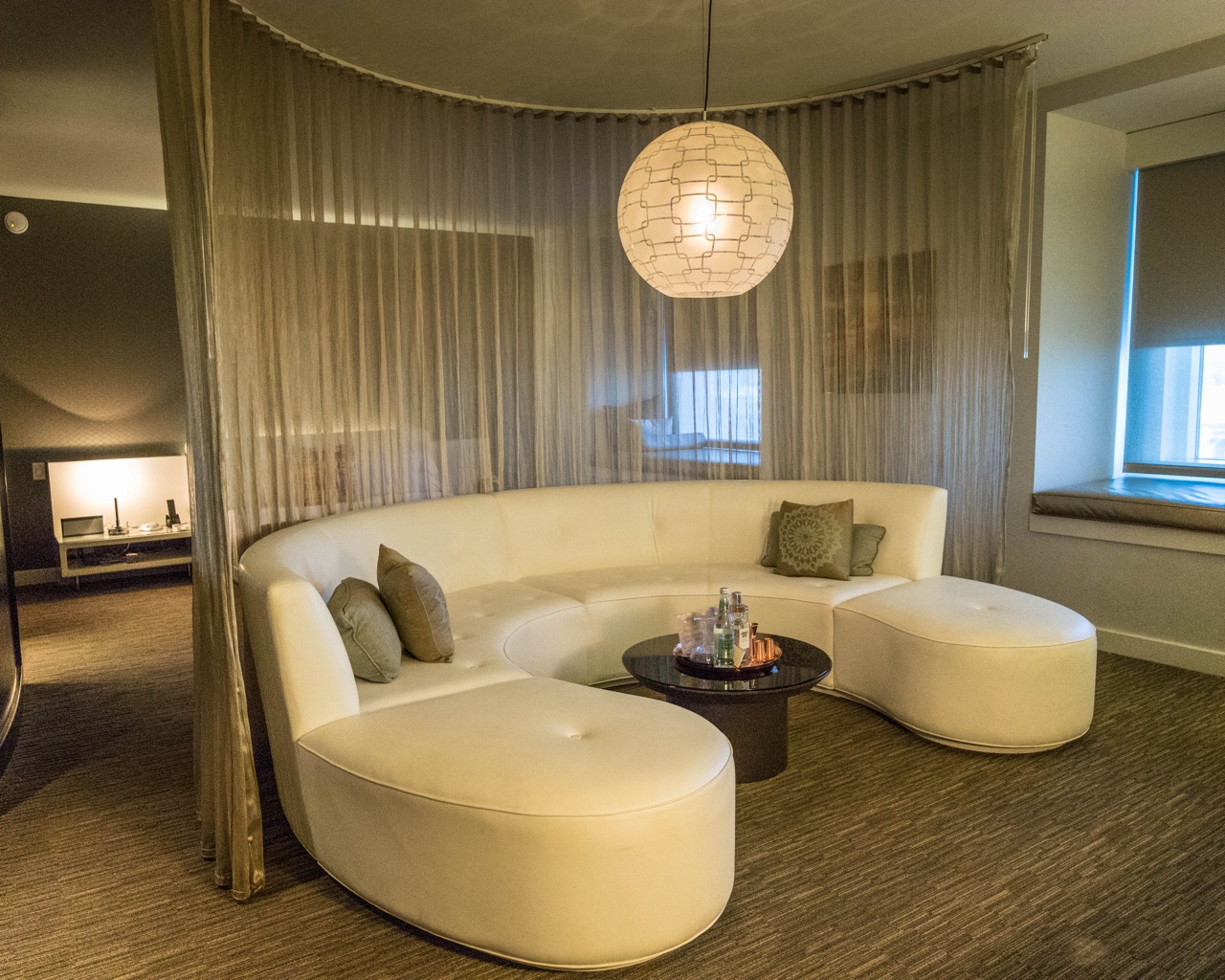 There was a handwritten card and a small bottle of sparkling wine on the desk, which was a nice surprise, however, only one glass was provided, even though the room was booked for two.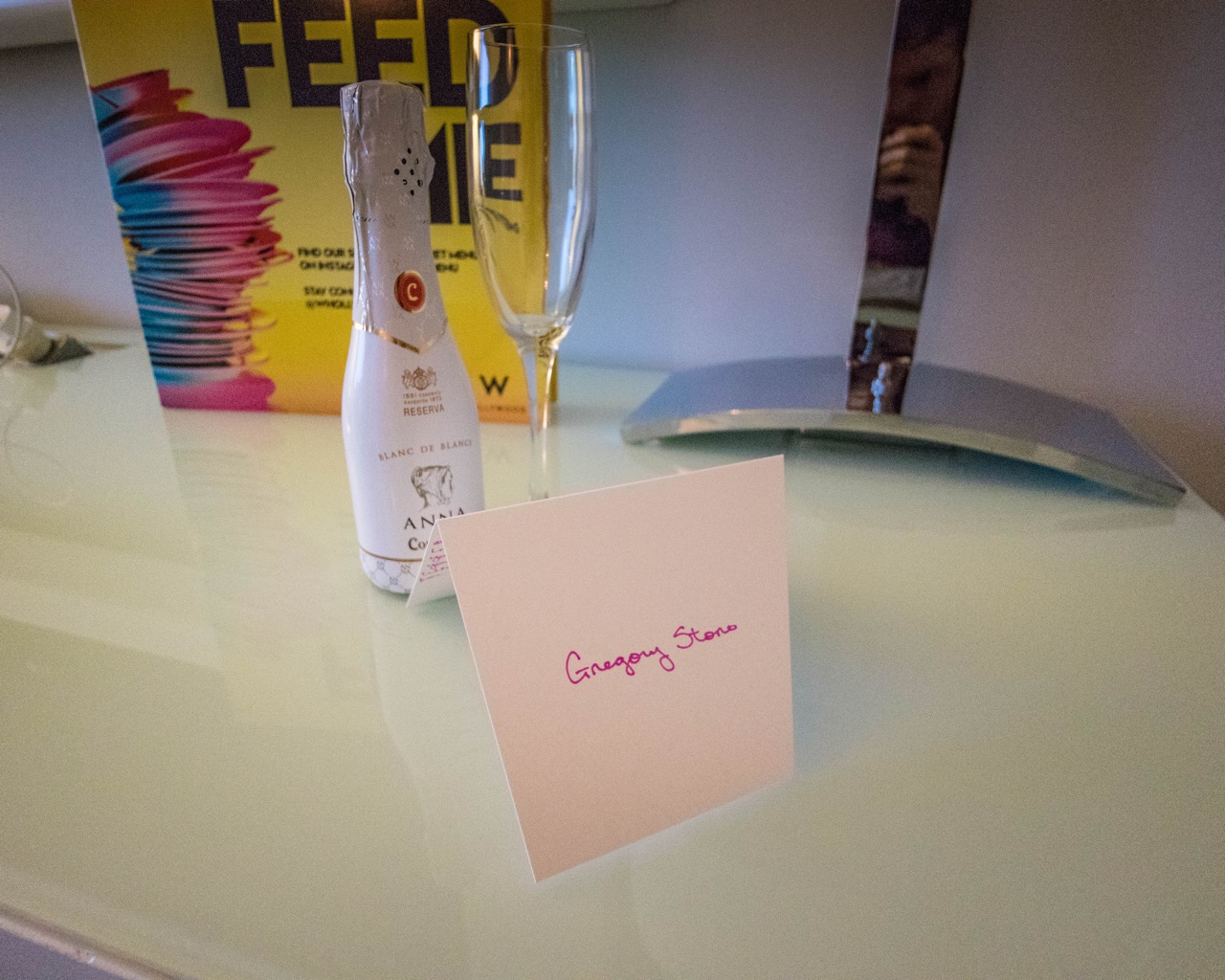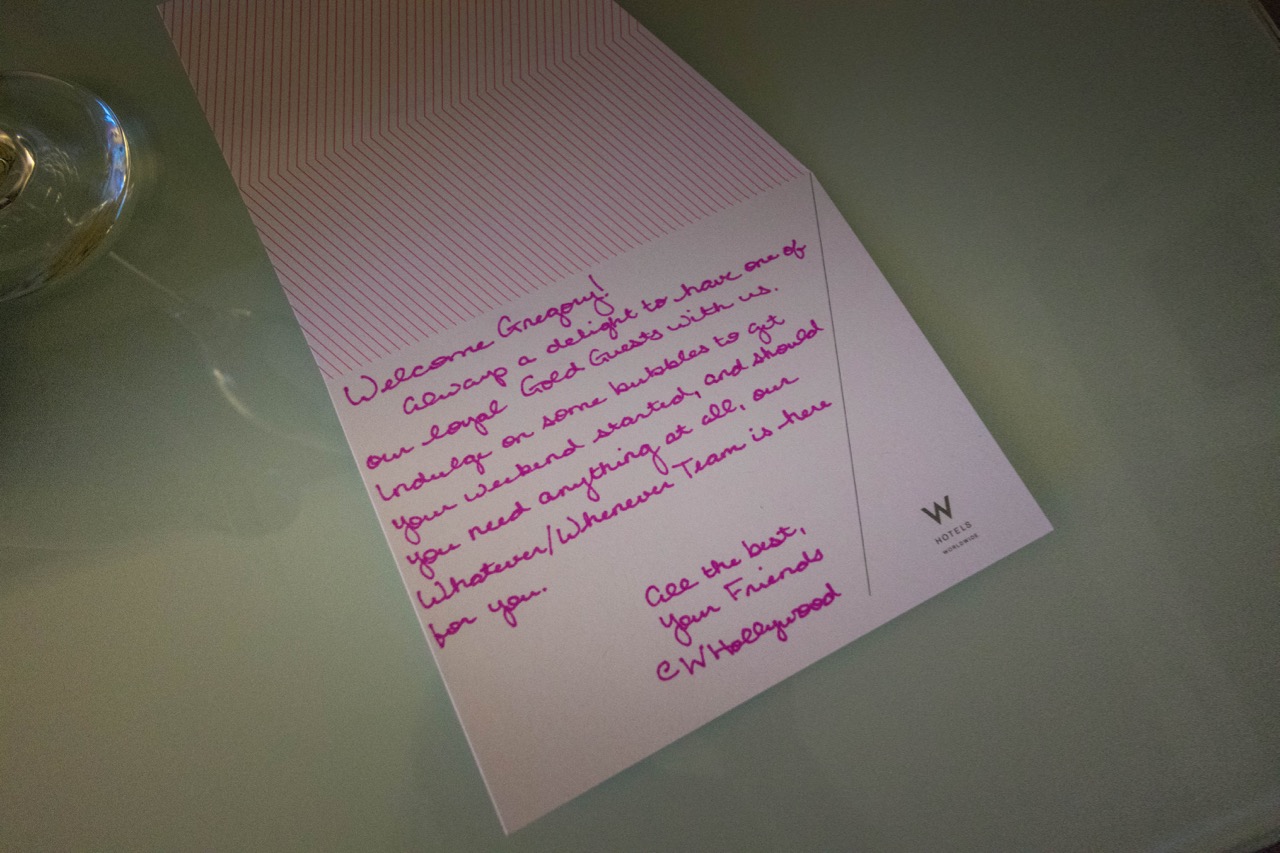 The large marble bathroom includes a separate bath, walk-in shower, water closet, Bliss toiletries and comfy bathrobes.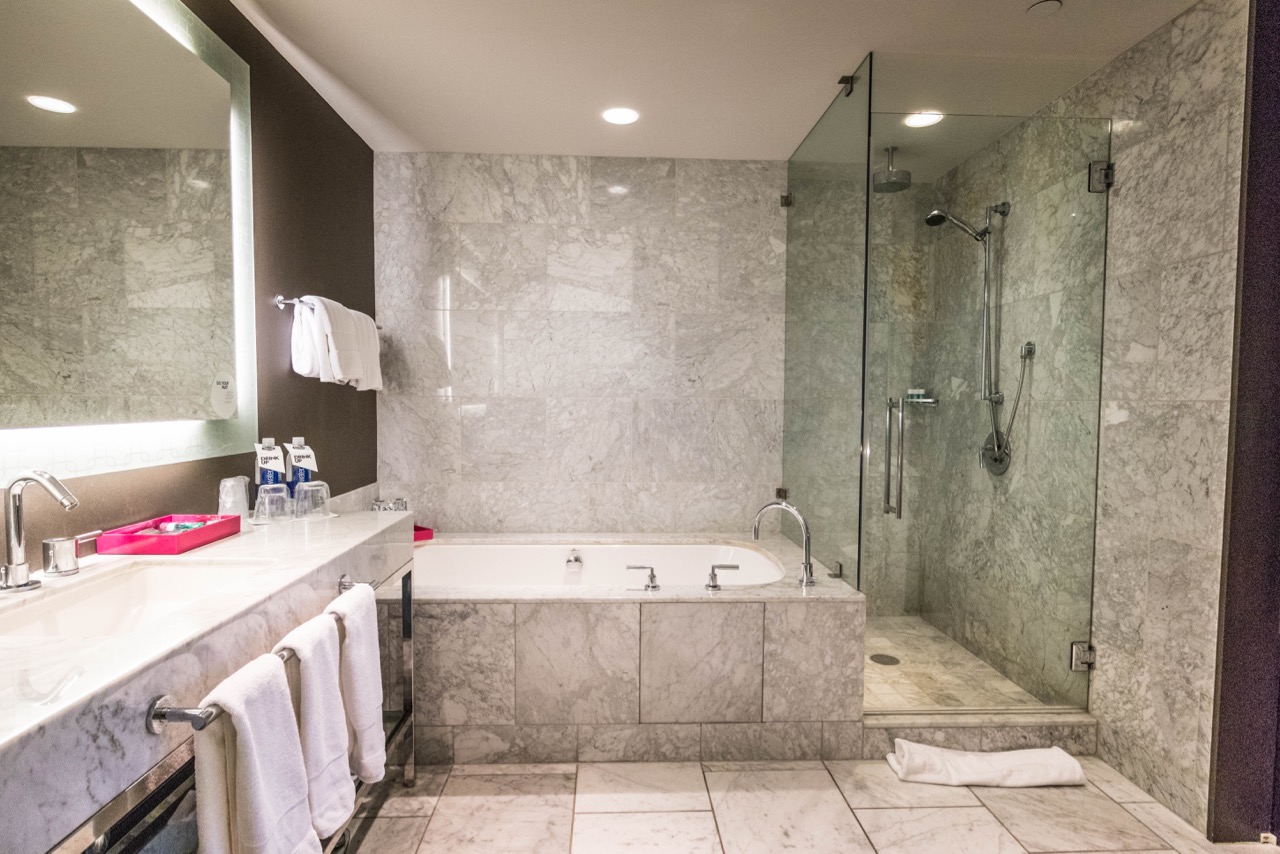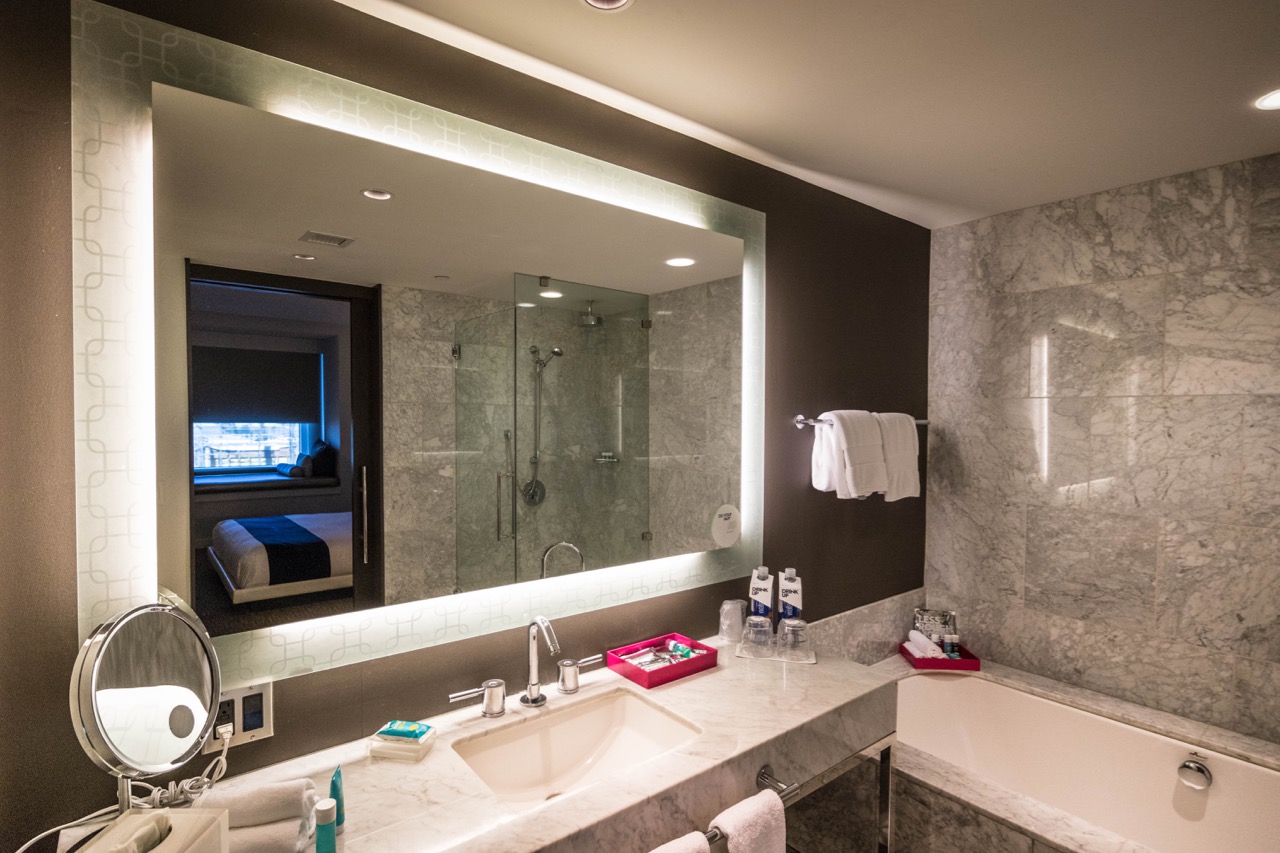 There is a large flatscreen TV, work desk and a wet bar, which thankfully features a Nespresso capsule machine instead of a usual US filtered coffee machines. Strangely again, only one coffee cup was provided.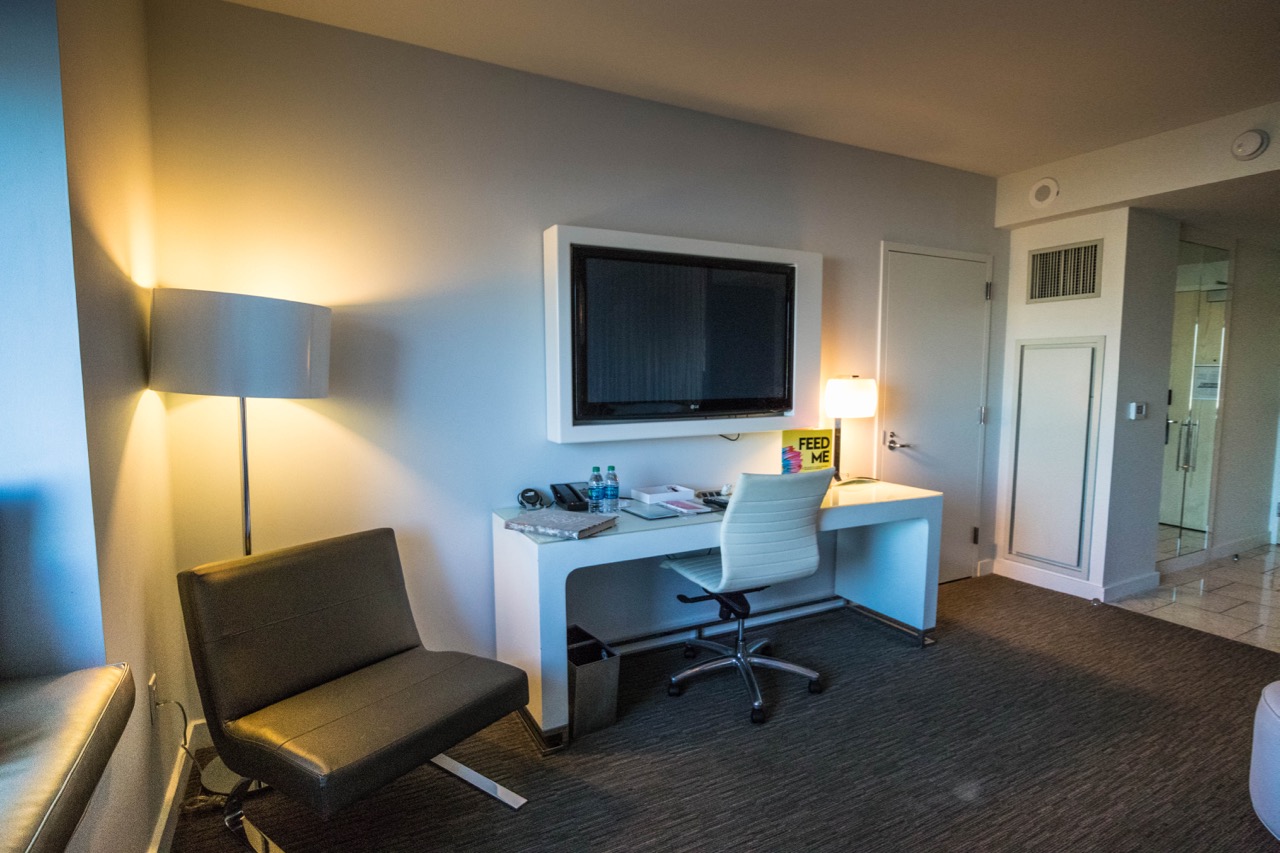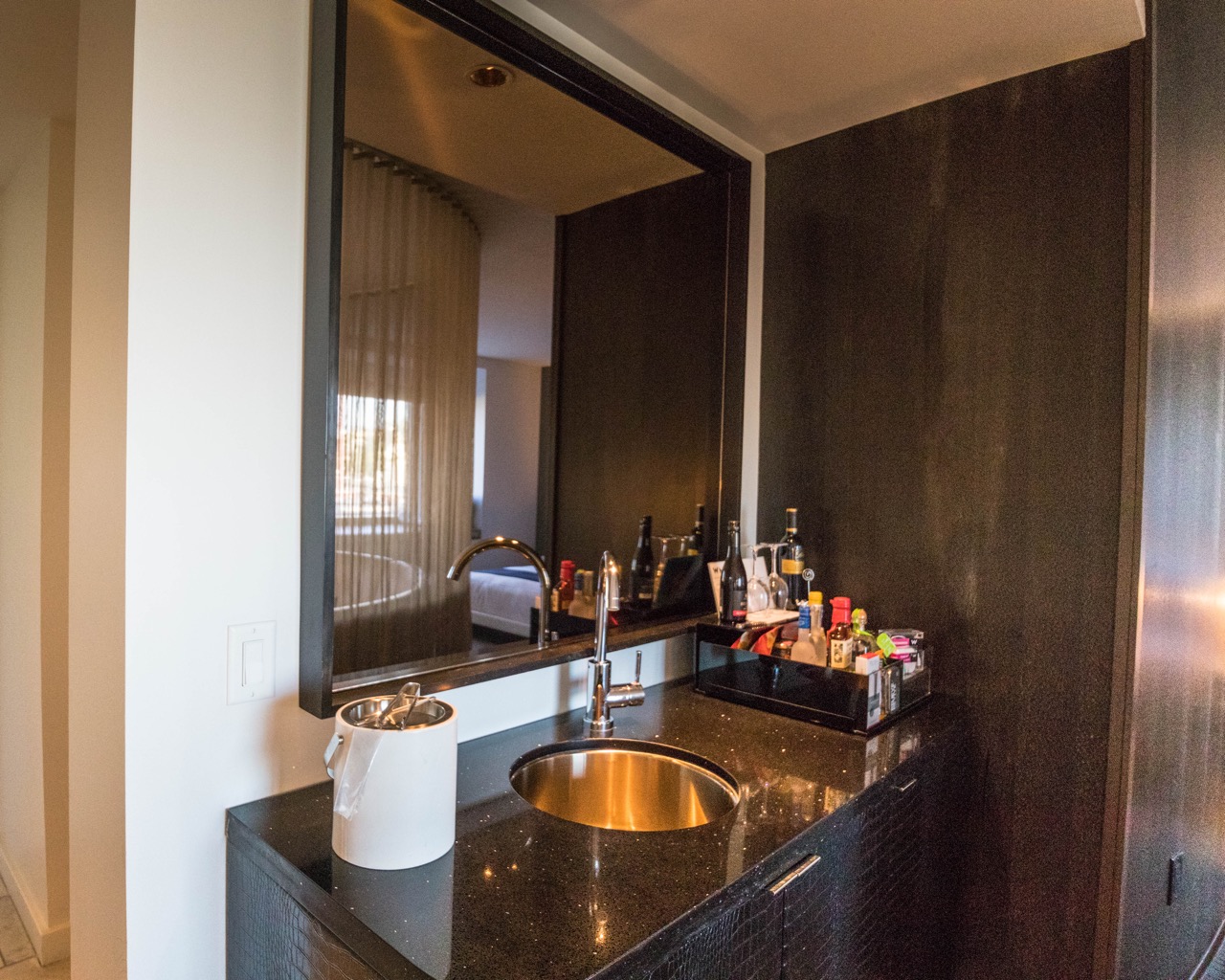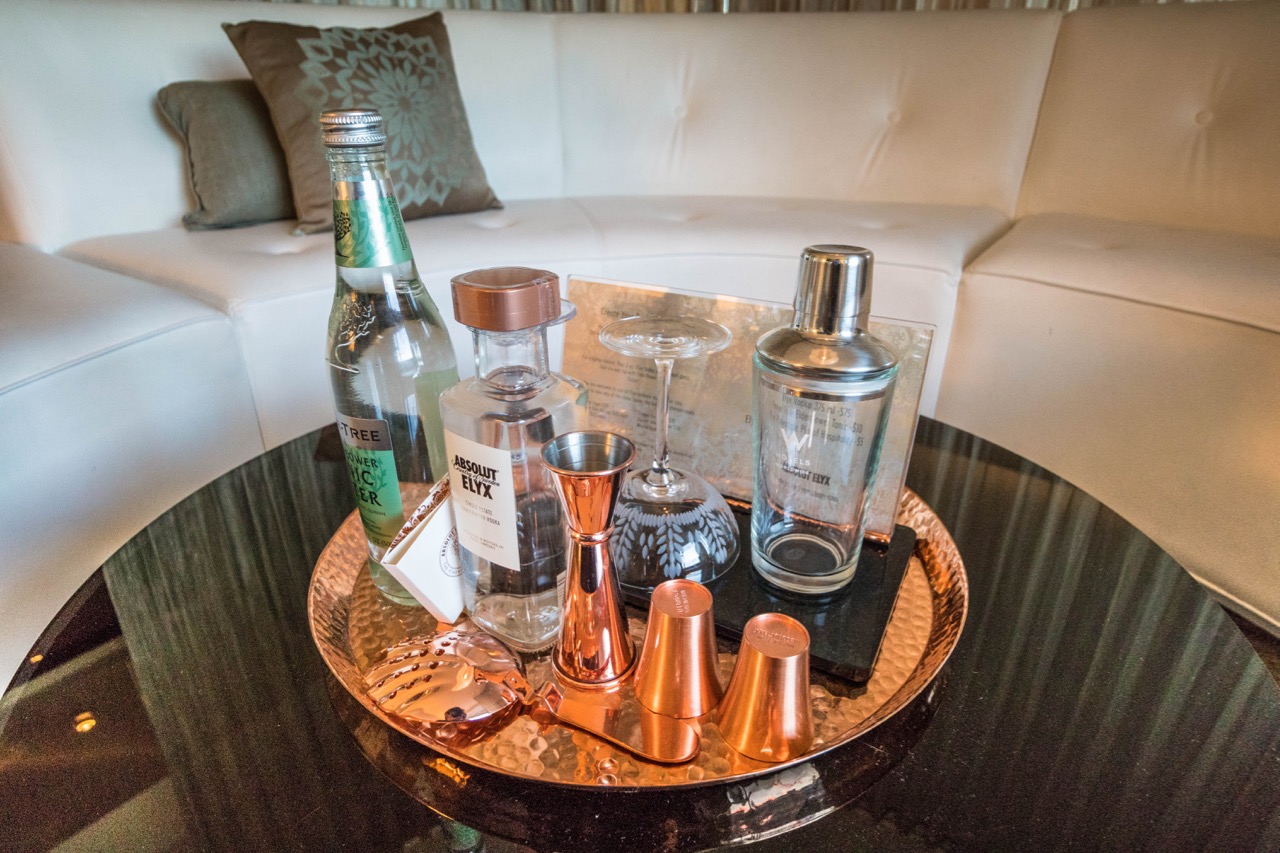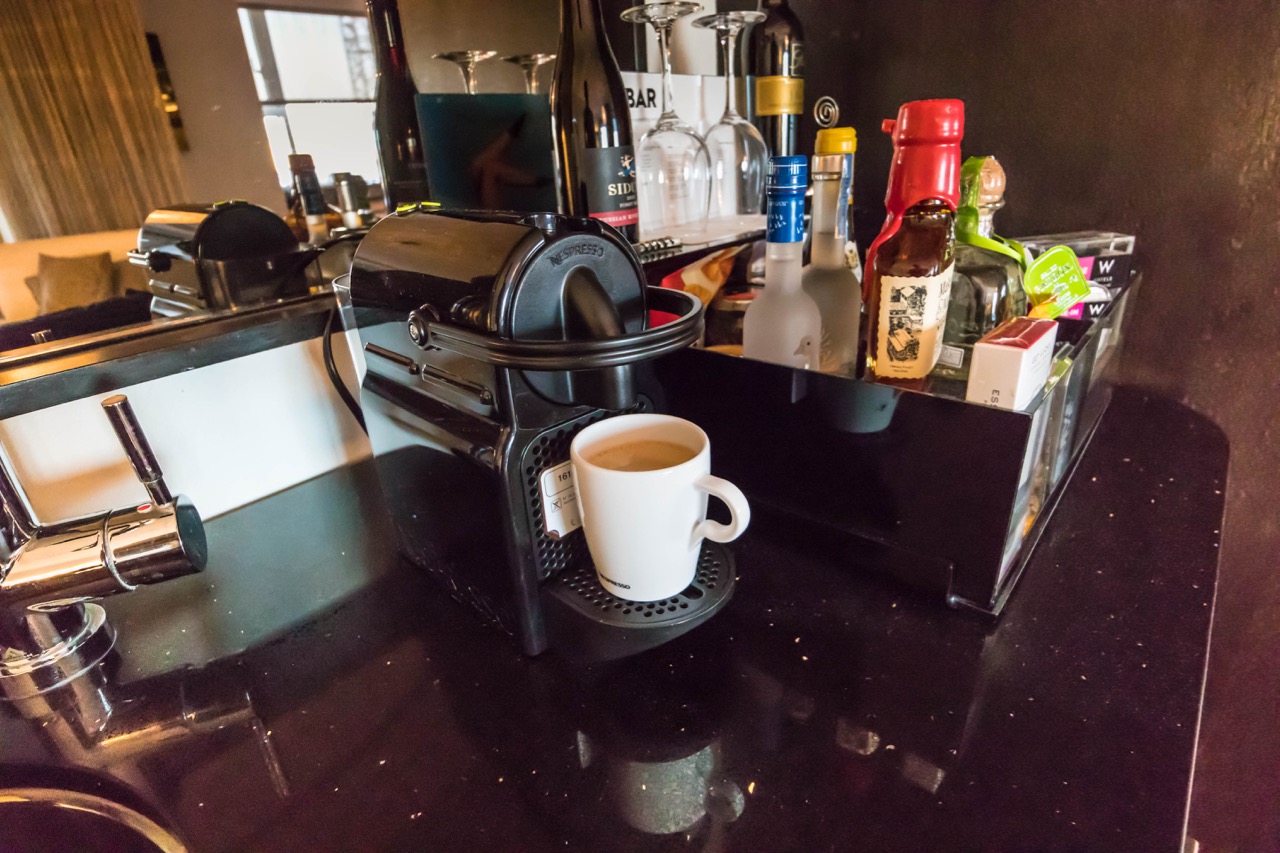 The Hotel
The lobby has entrances from both Hollywood Boulevard and Argyle Avenue.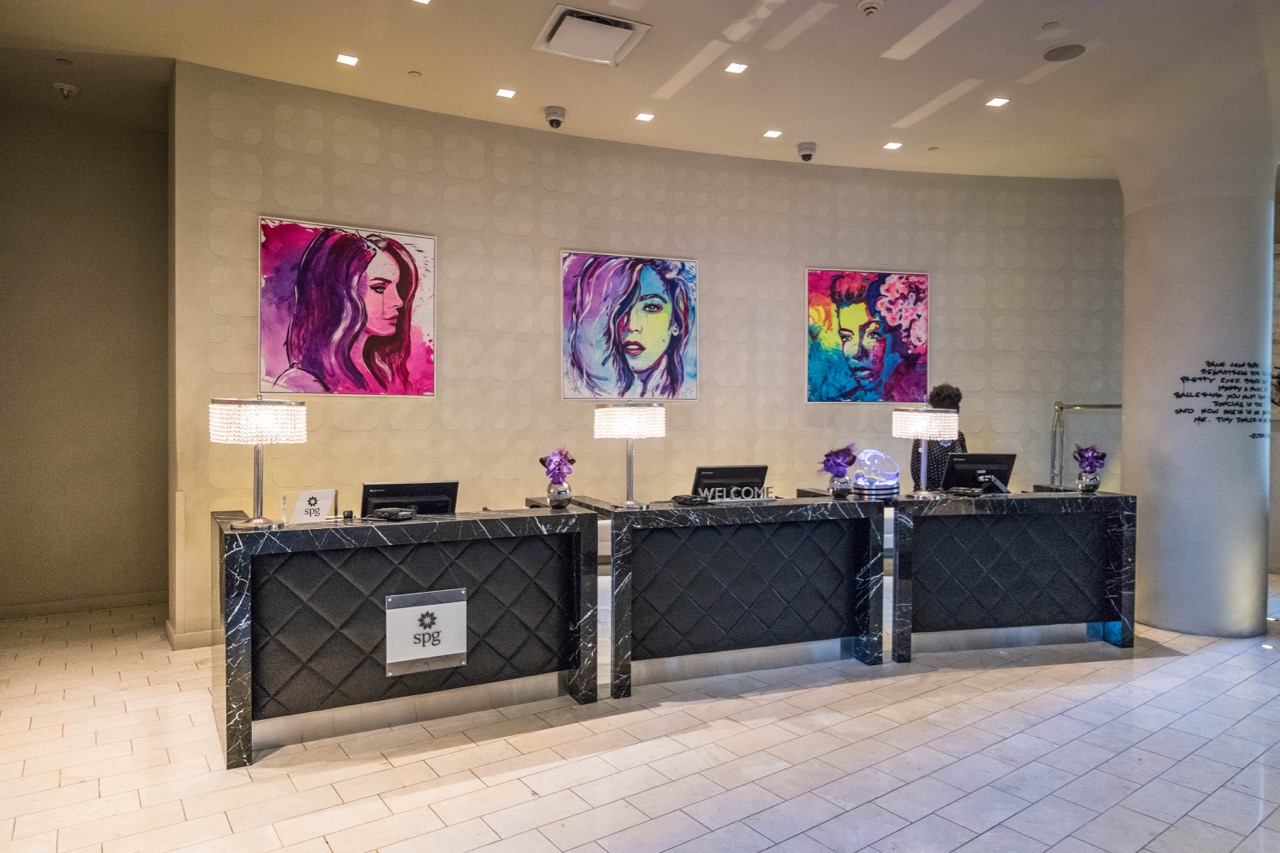 It opens into a large open space, with the Living Room bar and a lounge area hosting DJs and bands during evenings on the weekend.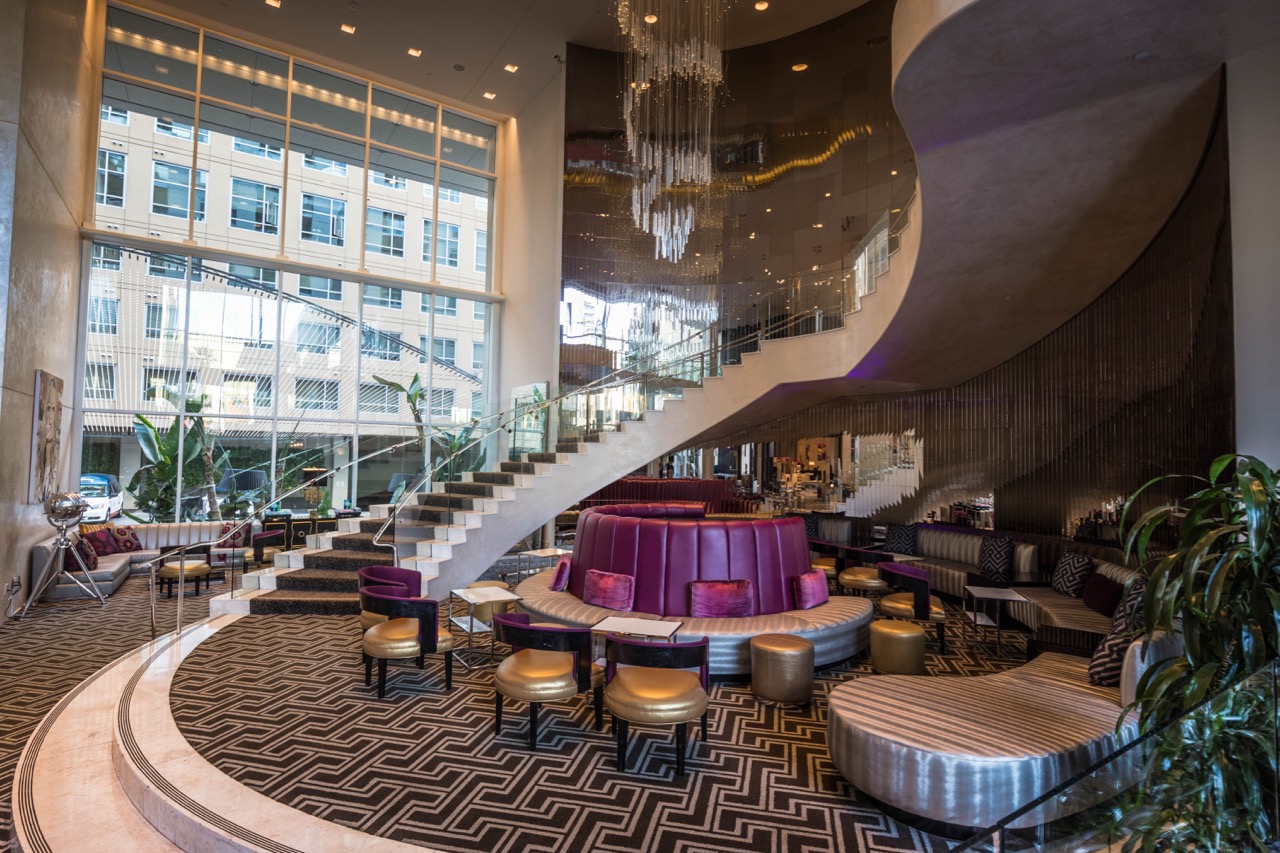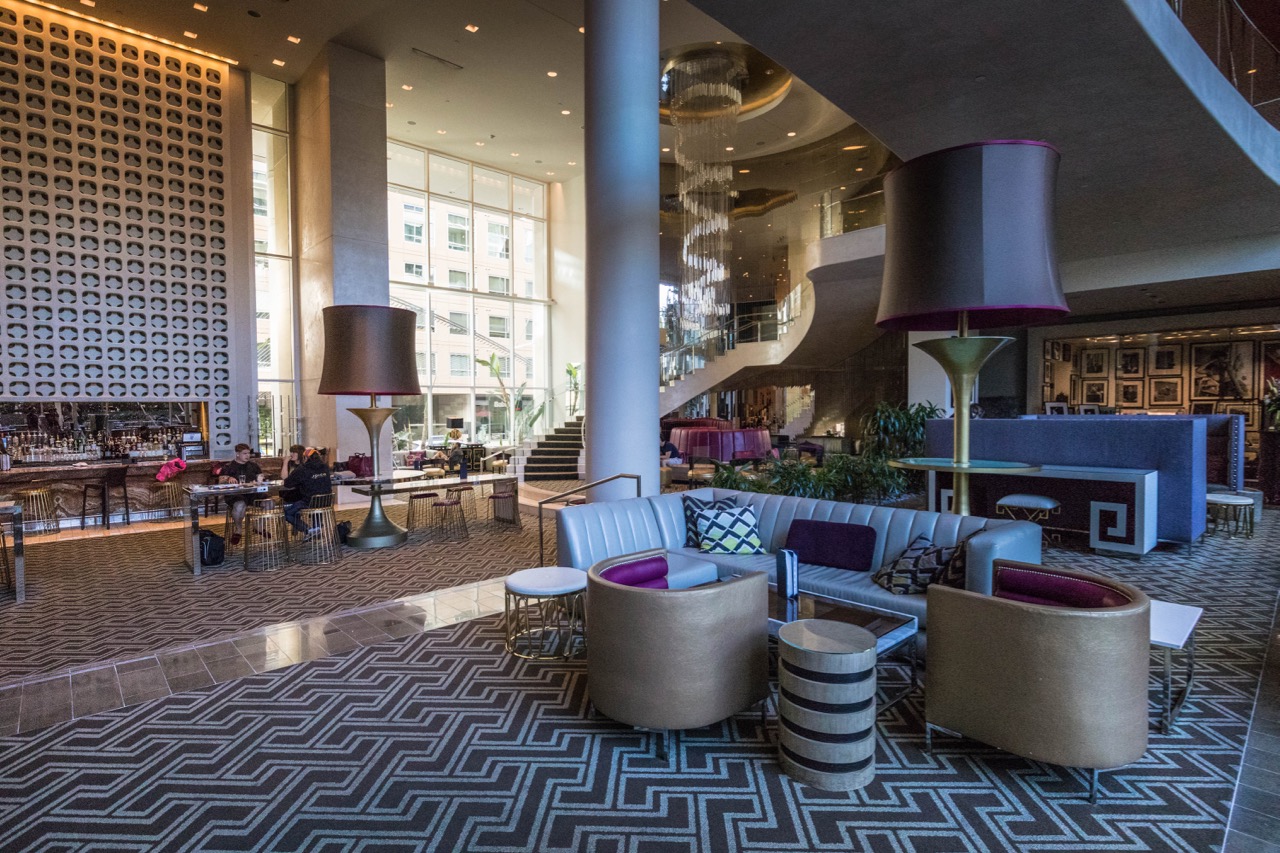 Just off the Living Room is the Station Hollywood bar.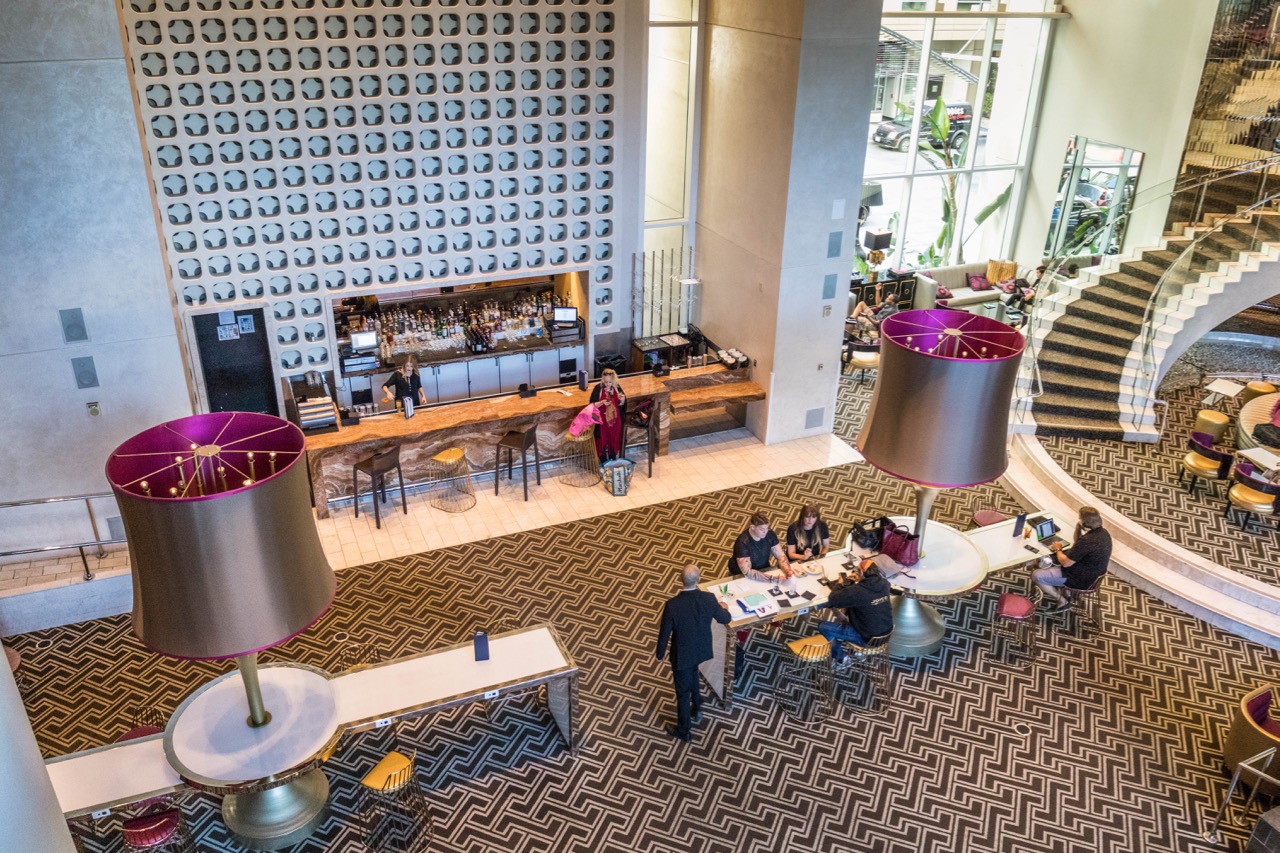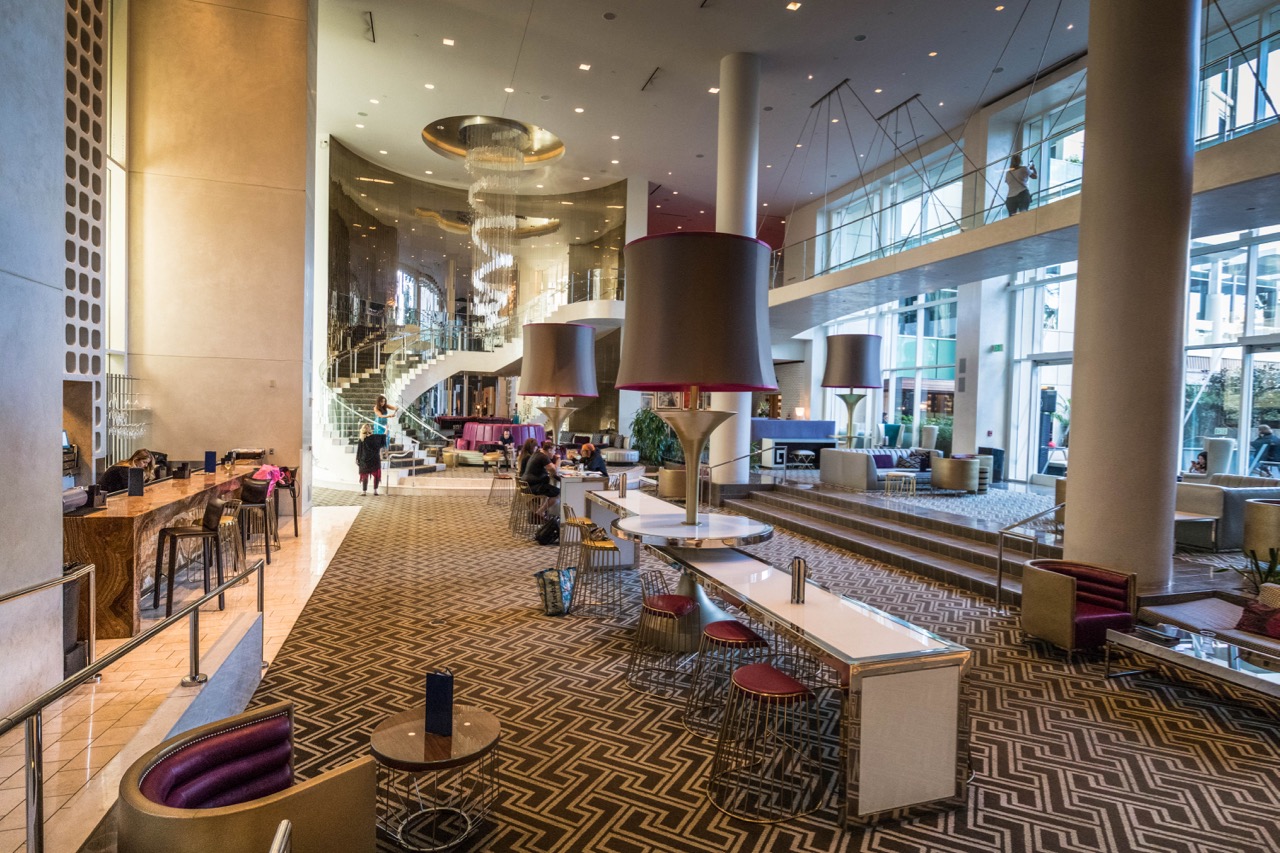 The service at Station Hollywood bar was slow on the two nights we dropped in for a drink. Our order was forgotten the first night. Plus be mindful of the automatic 17% tip added to every bill!
Breakfast is available at the restaurant on the ground floor, called Delphine.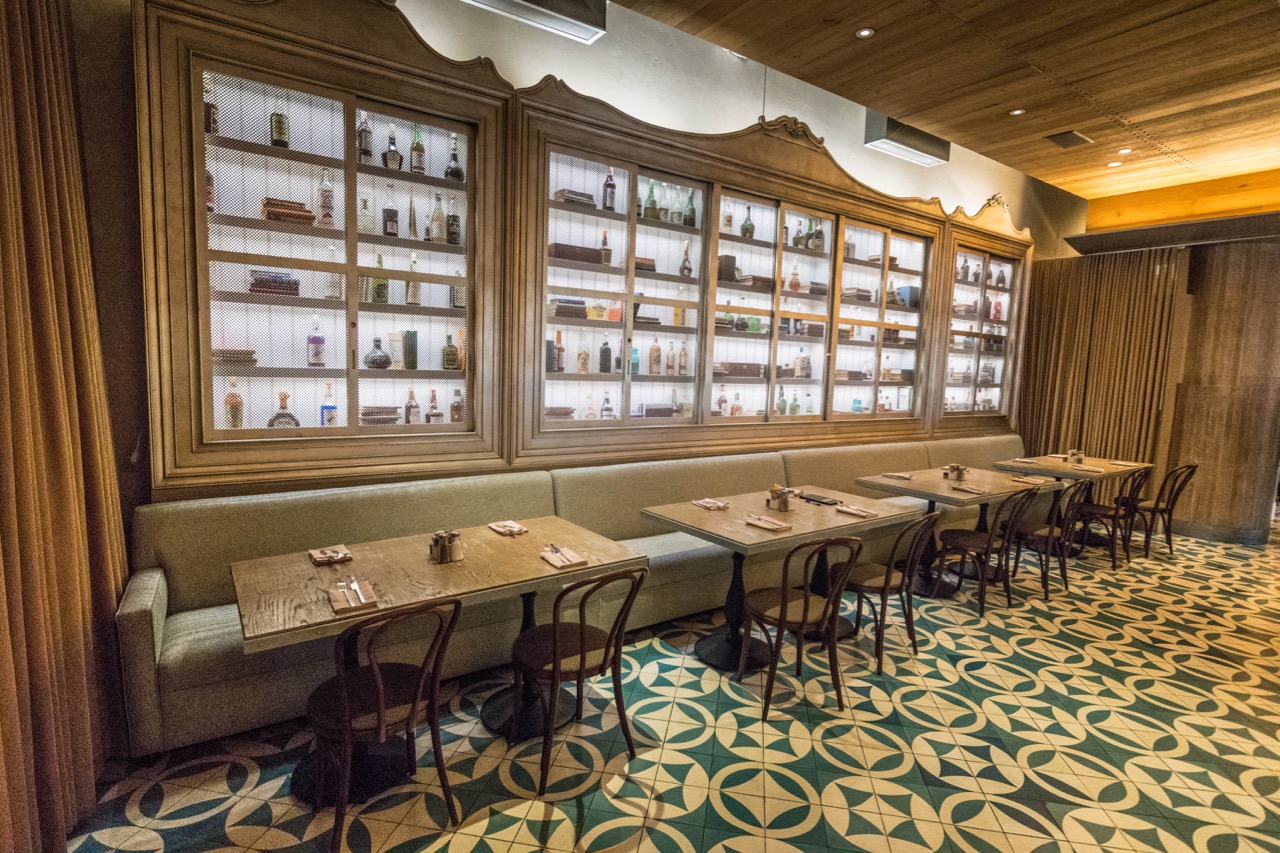 Although I opted for the complimentary SPG Platinum breakfast, I wasn't made aware of the limitations of this at check-in.
Unfortunately, there is no buffet, so the complimentary 'continental' breakfast only includes only a coffee, juice and either a plate of fruit or muesli, which had a maximum value of $14 USD (poor value compared to my experience at the W Punta de Mita in Mexico).
When I asked if we could just pay the difference for another option, they said it wasn't possible, so we ended up ordering a hot breakfast and they brought us a plate of fruit, as it was complimentary.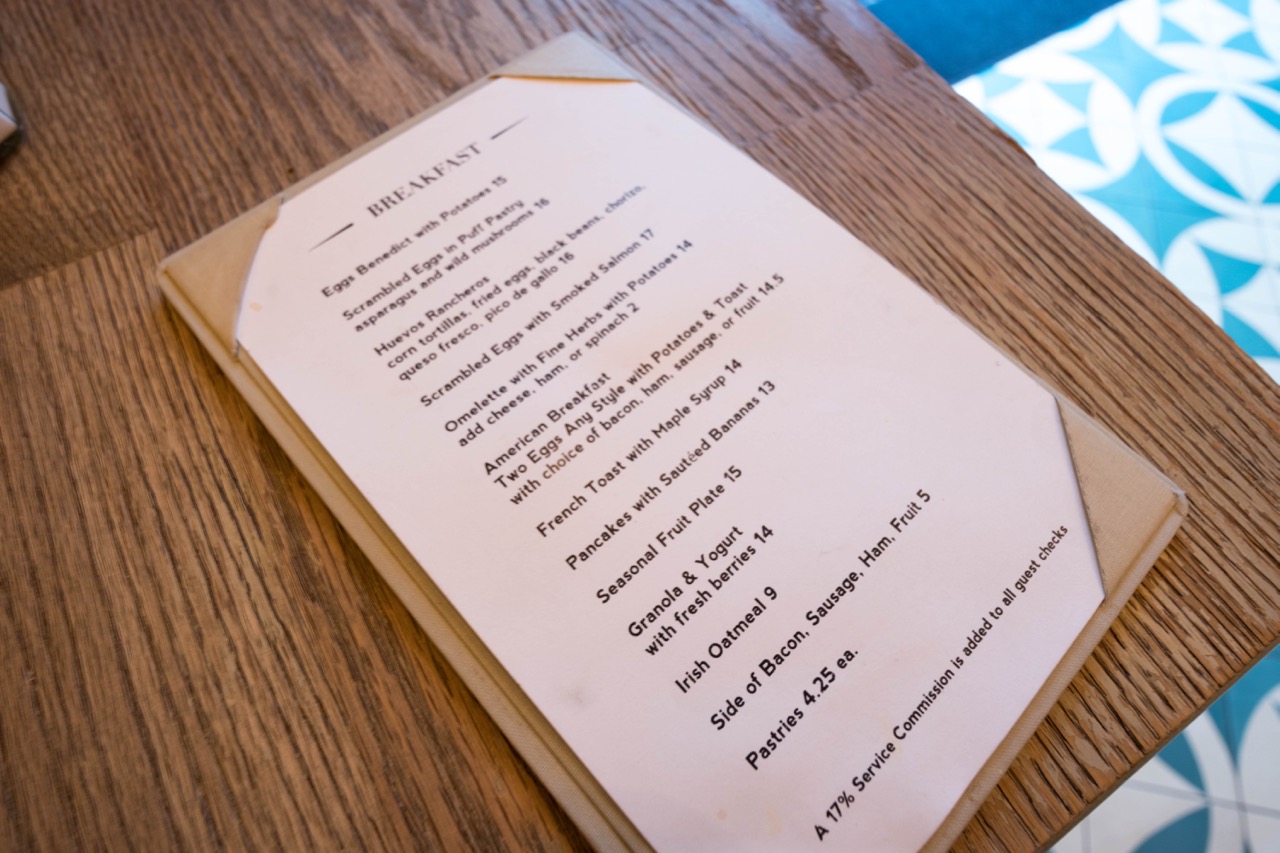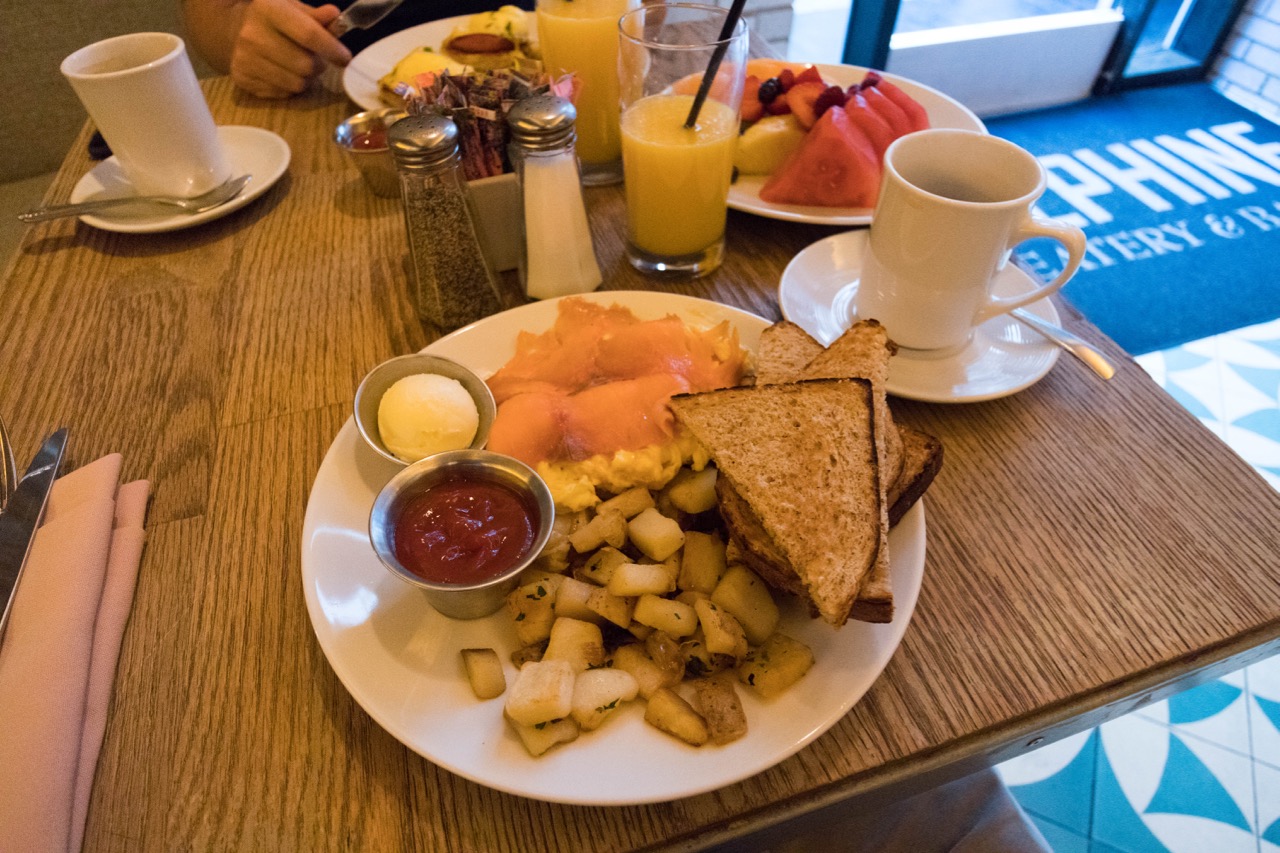 Amenities
There is a rooftop WET DECK and bar where they hold complimentary yoga sessions on Saturday mornings, and there was a pool party on the Sunday afternoon of our stay.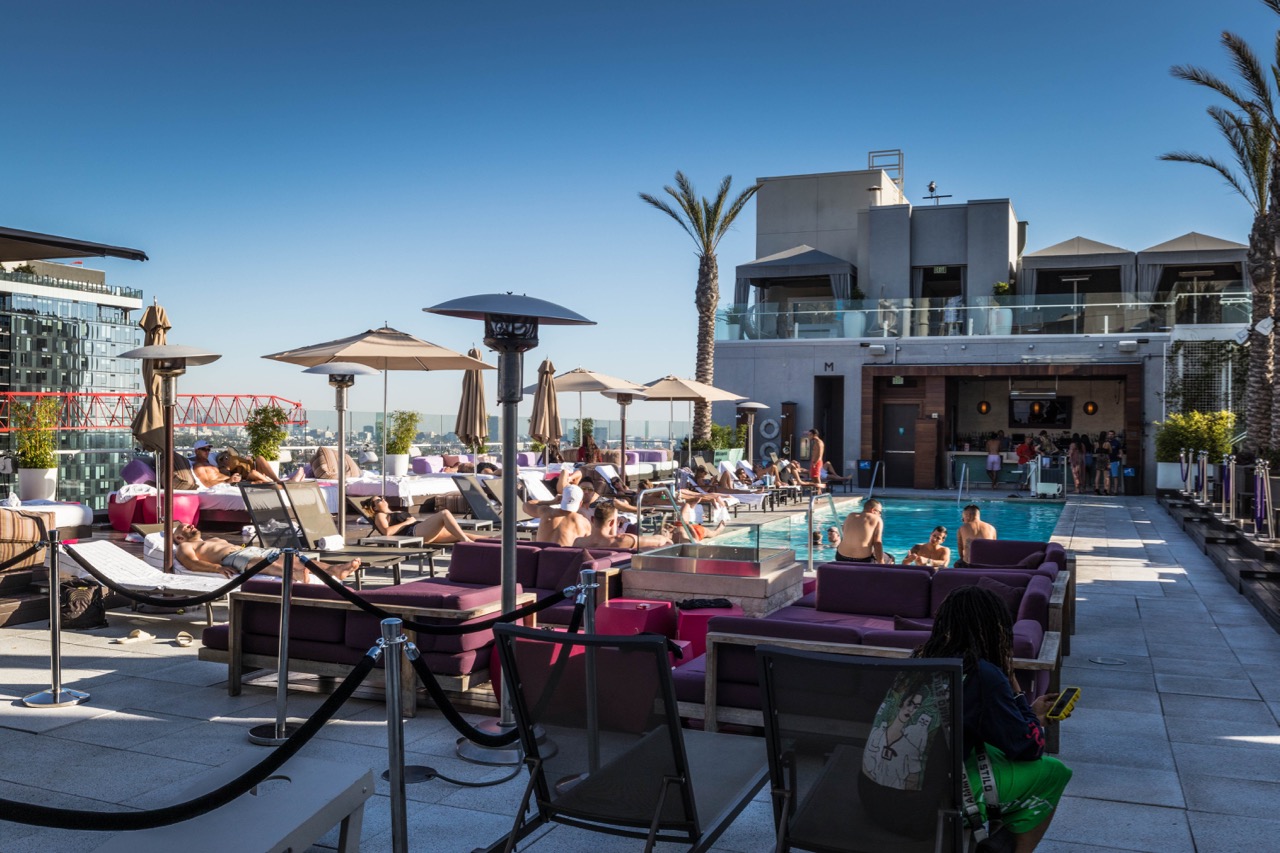 There is also a FIT gym and an AWAY spa. On Level 2, there is a collection of celebrity photos on display.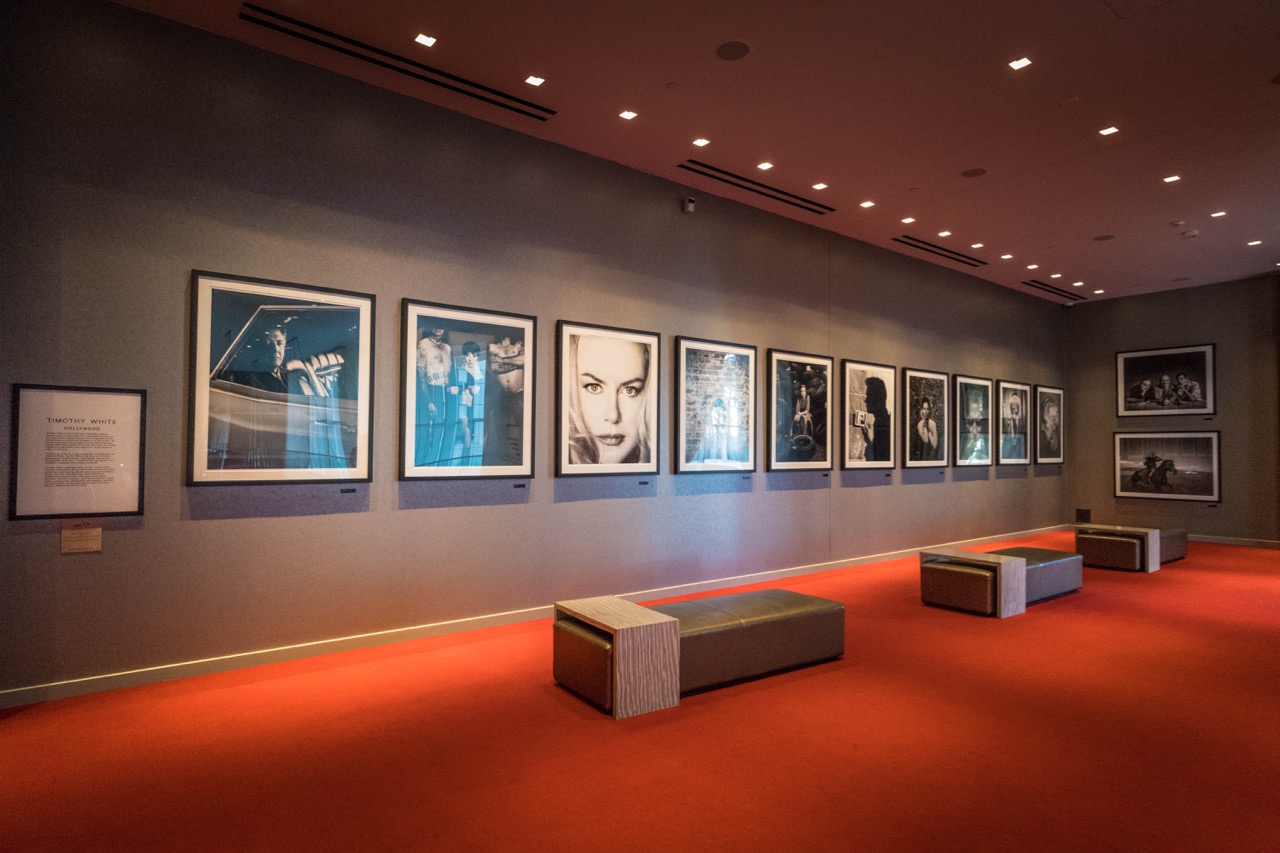 Wifi is complimentary for SPG members and speeds were consistent throughout the hotel (much better than at the W New Orleans).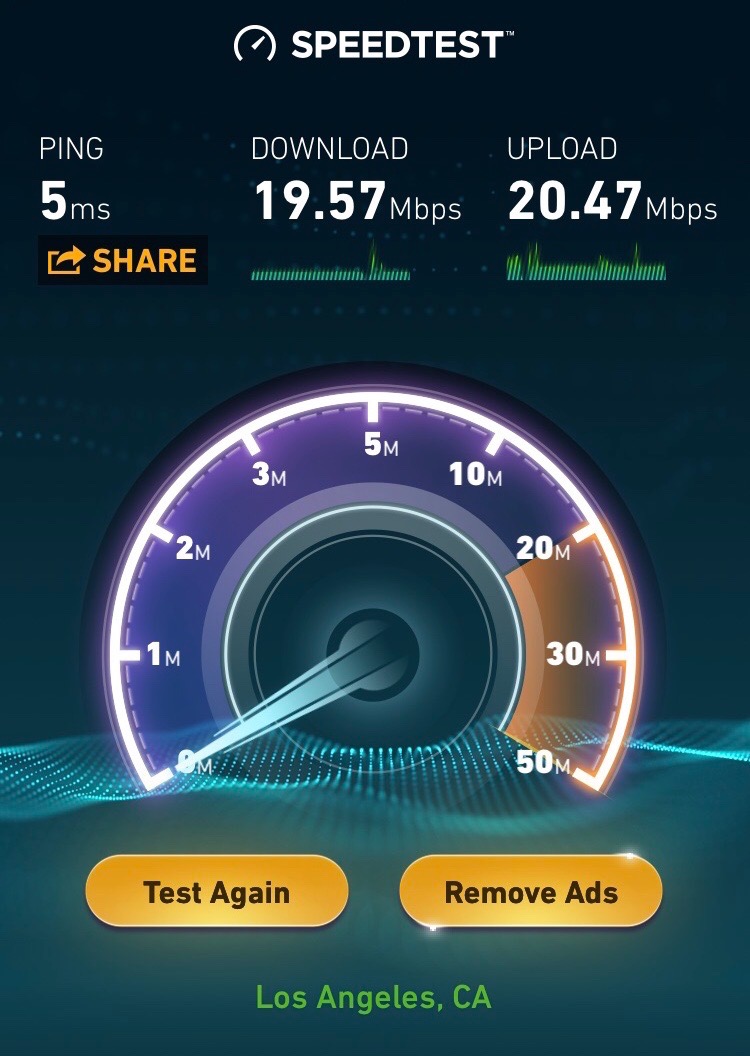 Around the hotel in Hollywood
The W Hollywood is located at the east end of Hollywood Boulevard and on the Walk of Fame.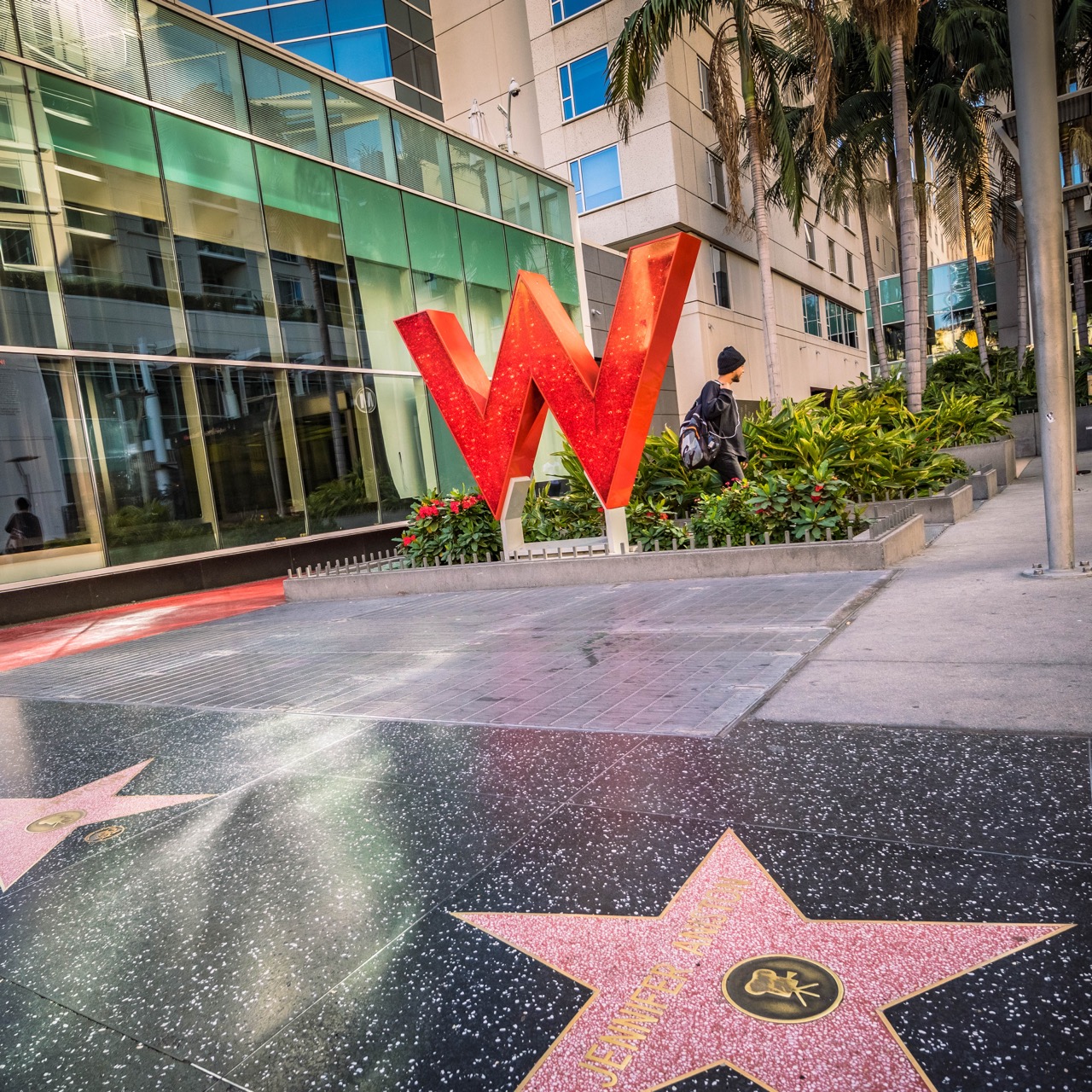 Although our room was located on the 11th floor and had two large windows with bench seats, it looked out to a construction site across the road.
The Hollywood Hills are in the distance and if you press your face against the glass, towards the far left you can just make out the Hollywood sign.
It is an easy walk to the Chinese Theater and the hotel is across from a hop-on-hop-off bus stop if you're looking to do some more extensive sightseeing.
A 15-to-20-minute walk due west is the Hollywood/Highland Station, with LA Metro's Red Line taking you to Downtown, Koreatown and Chinatown. It can be a good alternative to reach these areas without having to battle traffic but note that connectivity with other metro lines is spotty (something that is bound to improve with infrastructure investments coming up to the 2028 Summer Olympics).
There are plenty of restaurants within walking distance to suit any budget, and there is a Trader Joe's supermarket (a California-based chain offering affordable and healthy food supplies) on the same block.
Universal Studios is a quick rideshare over the Hollywood Hills and it is 20 minutes to the Griffith Observatory, which is an amazing spot to watch the sunset.
We caught an Uber between Anaheim and Hollywood and also outbound to LAX Airport, as it is cost-effective and reliable.
Any aviation geek must head down to In-N-Out Burger next to LAX for some plane-spotting—we spent over three hours there between noon and 3pm watching all the long-haul heavies arrive from Europe and Asia.
Summing up: W Hotel Hollywood
If you are heading to LA and you are looking for a hotel with some Hollywood glamour in a great location, then the W Hollywood delivers.
This content contains affiliate links from which Point Hacks may earn commissions from transactions generated from new customers, bookings and general enquiries. Find out more here.
W Hotel Hollywood Marvellous Suite—Picture Review
was last modified:
December 8th, 2021
by