Virgin Australia's six Airbus A330s have a fairly unique role with the airline — they are primarily found on transcontinental flights from Perth to Sydney and Melbourne, and medium-haul international routes which previously included Hong Kong, but now will consist solely of Brisbane-Tokyo Haneda.
On occasion, they will also be rostered between the Sydney/Melbourne/Brisbane triangle where more seats are required than a standard Boeing 737.
While these Airbus A330s are great news for those seated in Business Class, the majority of travellers will be seated in Economy, of course. Read on for the experience on a few domestic and international flights.
Fleet & routes
Here are the main routes that you will find the Airbus A330 on in 2020. However, Brisbane to Nadi (Fiji) generally only has it once a week seasonally, while Brisbane-Perth rarely has Airbus A330s.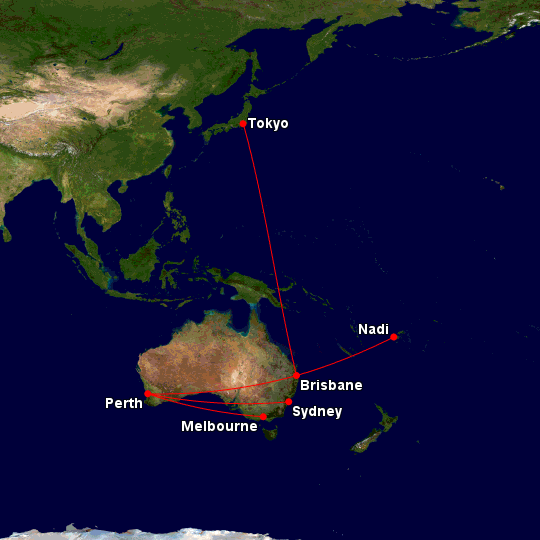 The cabin & seats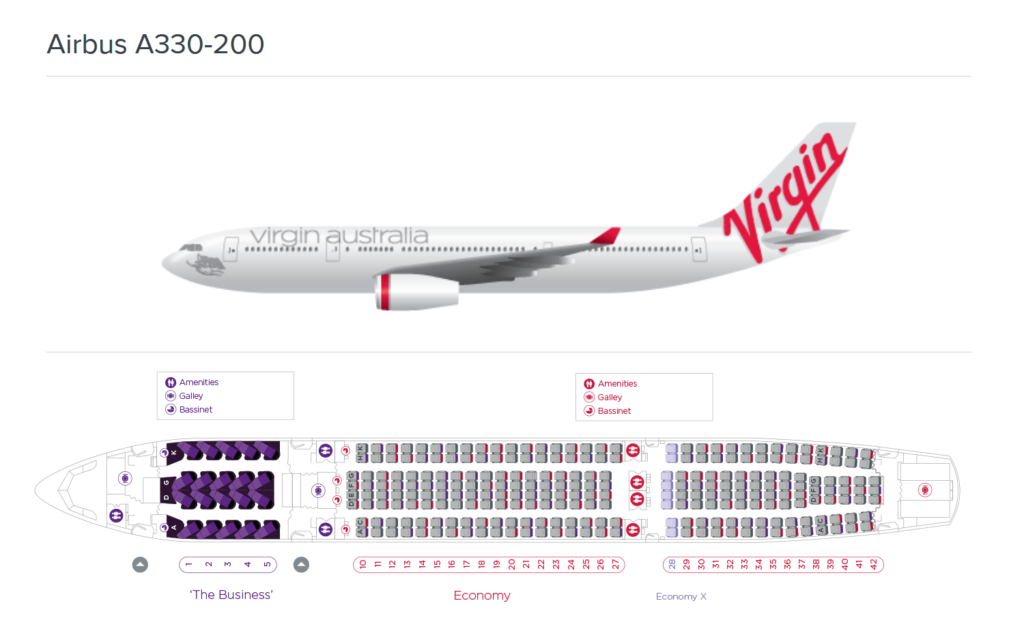 There are 33 rows of Economy seats in a 2-4-2 layout. Standard seats have a pitch of 31 inches, which is industry standard for domestic flights, but not exceptional. The seat width is 17.4 inches and the recline is just 5 inches.
The armrests in standard rows can go fully up, which is great for people travelling together in the pair of window seats, and makes it seem more spacious overall.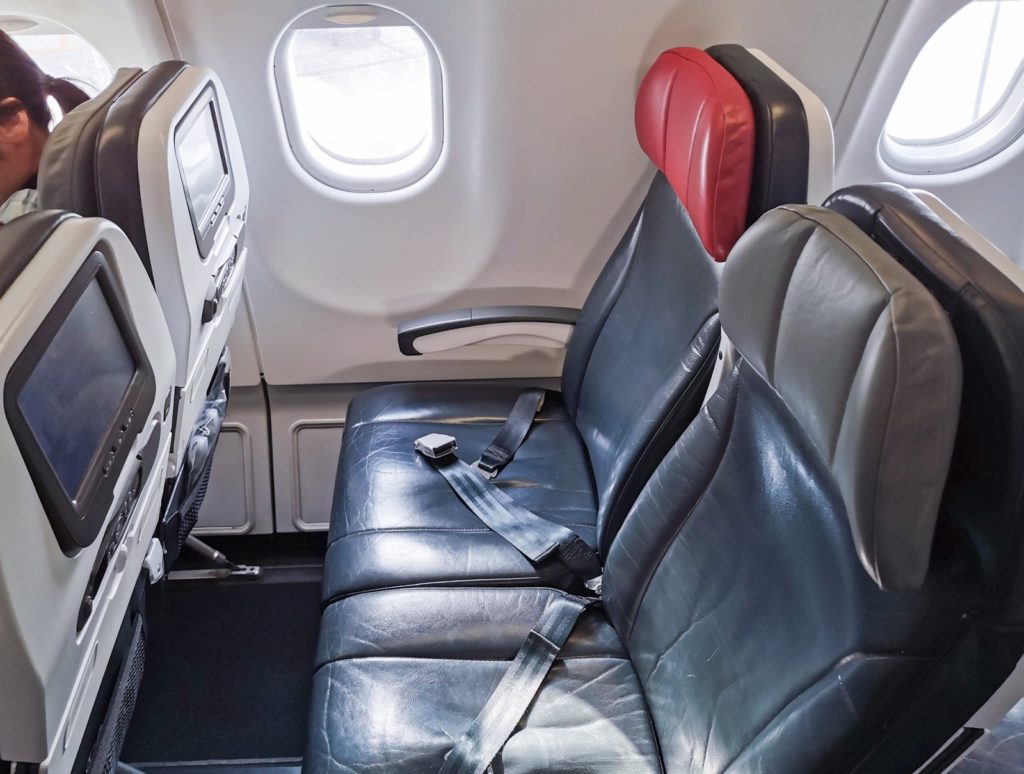 If you could somehow nab a whole group of four seats in the middle to yourself, you could raise all the armrests and claim it as a mini-bed.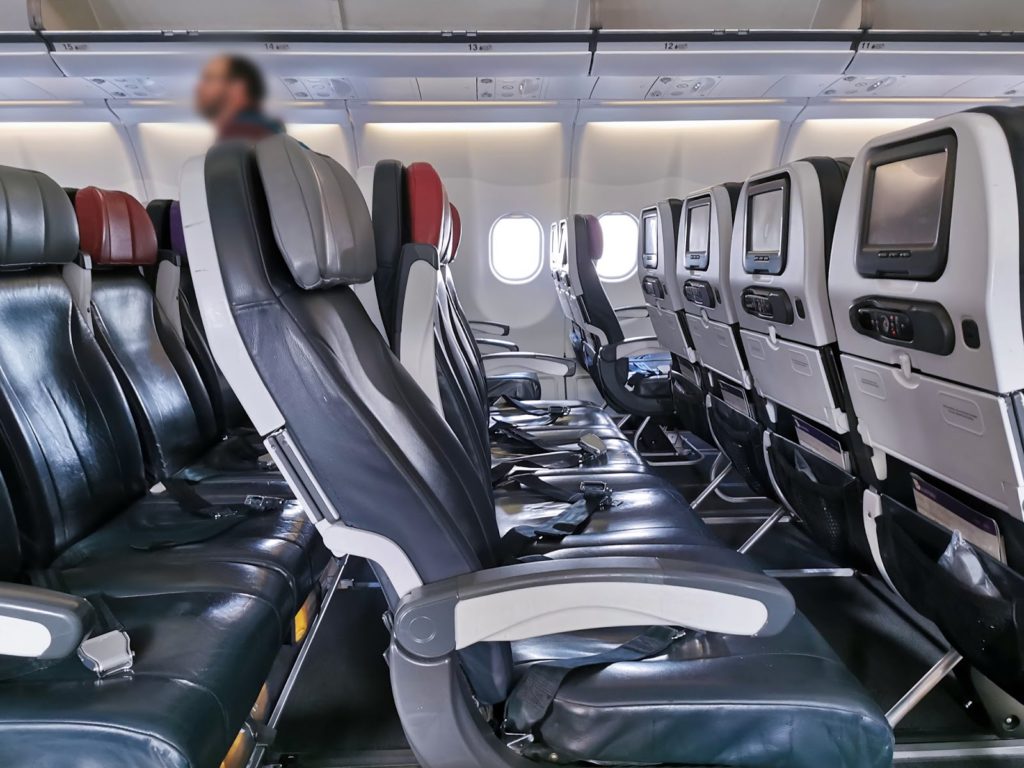 There is only one row of Economy X on these flights, which is Row 28 (the exit door row). Unfortunately, I couldn't get a photo of this due to the whole row being full of passengers already
Row 10 is the first row of Economy, normally only selectable by Platinum frequent flyers until online check-in opens, where it then becomes a free-for-all.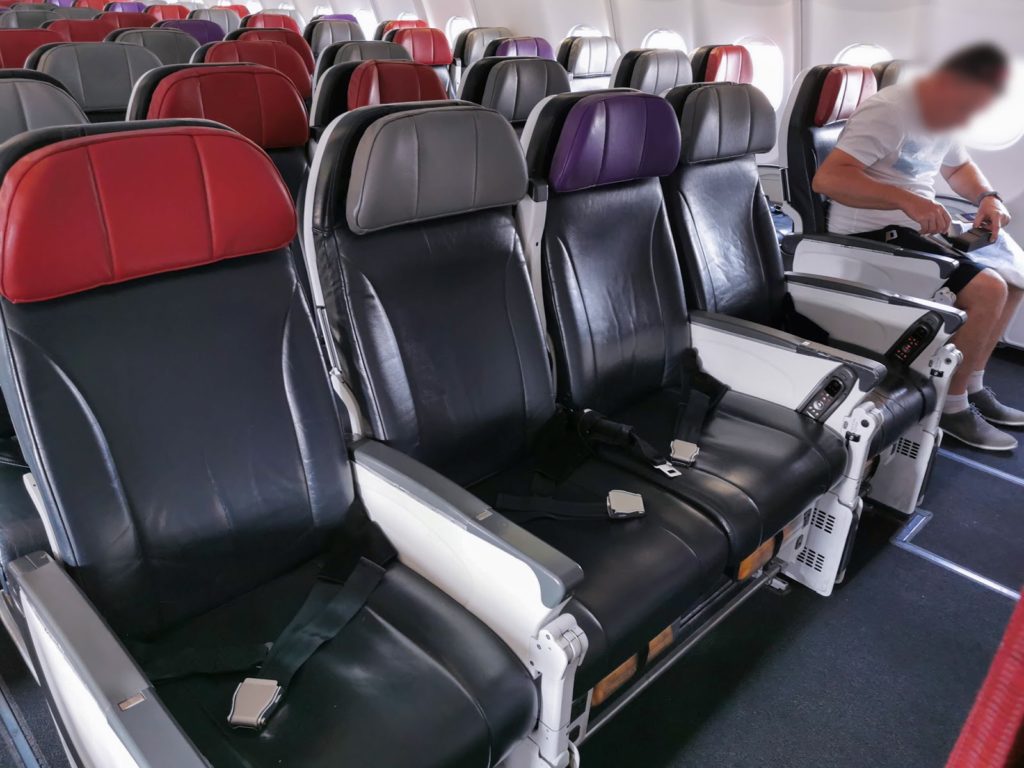 The 31" of legroom is decent enough for domestic flights, but it may be a little too squeezy for the longer flights to Tokyo Haneda. Each seat comes with two separate pockets — one for literature and one for the included headphones and other items.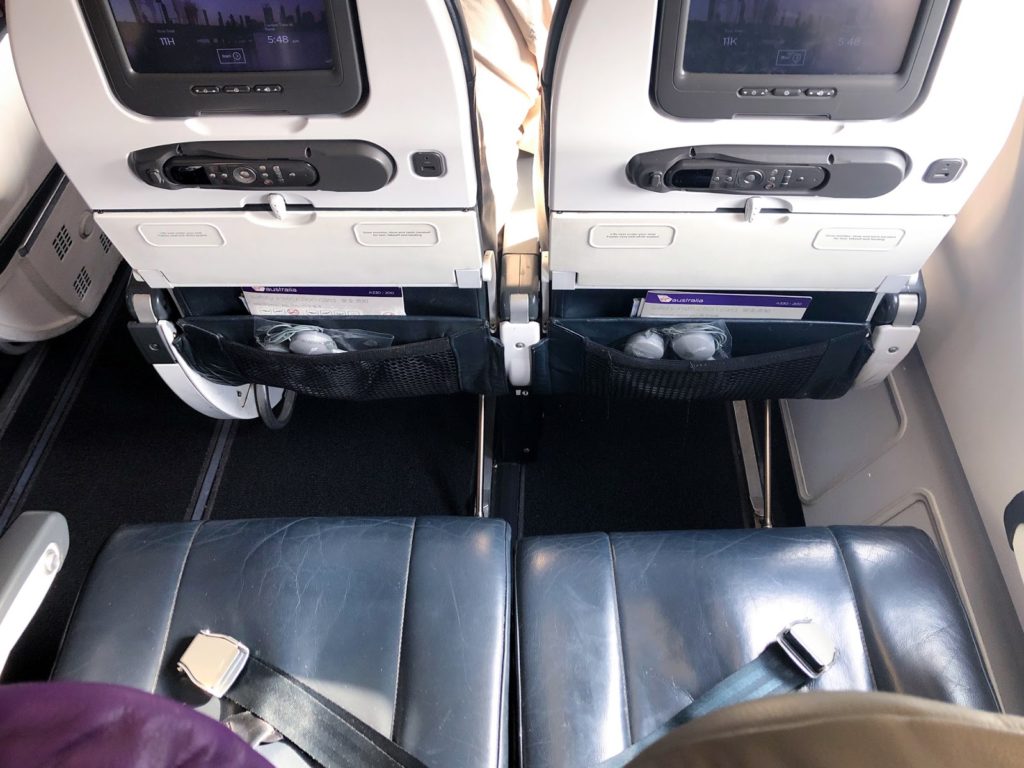 All passengers get a 9 inch touchscreen inflight entertainment system, a remote, seatback USB charging port, and a shared power plug between each seat.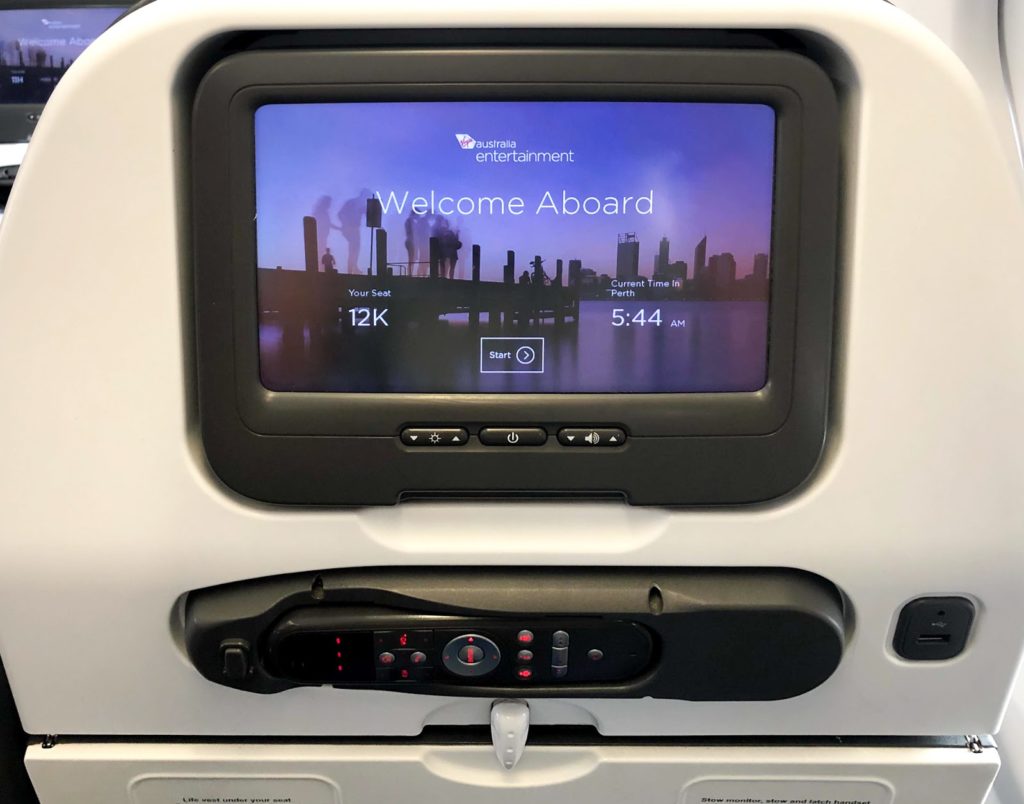 The tray table isn't anything special, but is probably good enough to rest a small laptop on for working.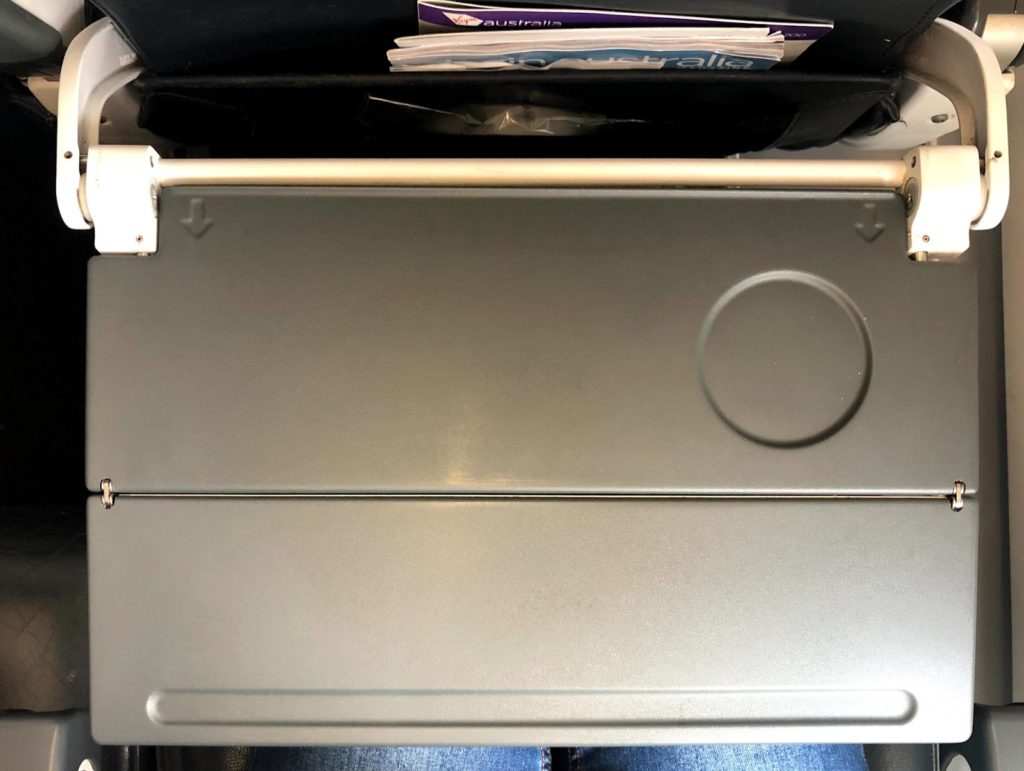 Seat choice
The seat choices available depend on your status and how busy the flight is at the time of booking. Standard seat selection is free for all passengers, but only from Row 25 onwards initially.
Any unallocated standard seat at the front of the plane becomes available to all guests at 48 hours before the flight. Economy X seats are always selectable by anyone who is willing to pay.
Here is a comparison between what a Velocity Red/non-status passenger sees (top), and what a Velocity Platinum member sees (bottom) for the exact same flight. The main difference is Economy X pricing and the blocking of anything ahead of Rows 10-24 from free seat selection.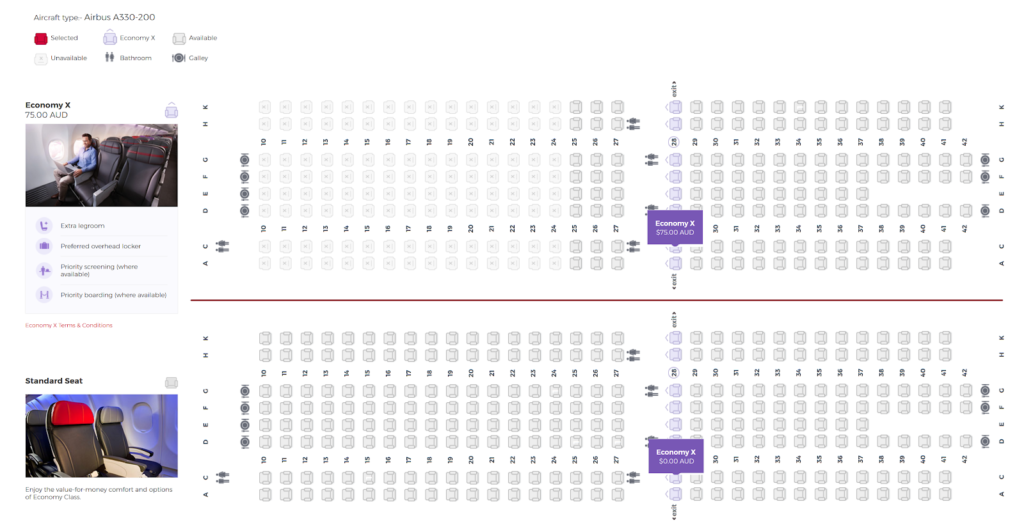 With a more relaxed 2-4-2 configuration, people travelling in pairs will likely pick the window seats as there is no chance of being seated next to a stranger. Sitting closer to the front of each cabin section (i.e. near Row 10 or Row 28) generally means you'll get your inflight meals a bit quicker, if rest is more important.
Food & drink
On Virgin Australia transcontinental and international routes, you will receive a hot meal tailored to the destination and time of day.
Domestic A330 flights
For example, a Perth-Melbourne overnight flight means a warm cheese and spinach quiche just after take-off, accompanied by bottled water.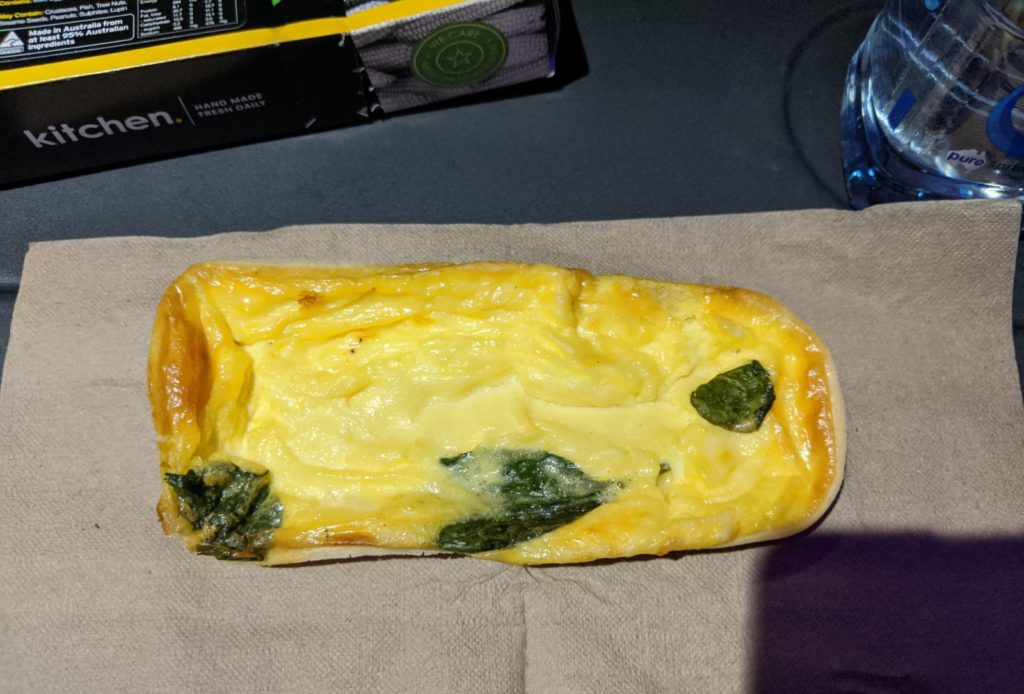 A Melbourne-Perth early morning breakfast flight offers something a bit more substantial, such as bacon and corn fritters. In either case, these domestic meals are served on their own without other sides to nibble on and the food quality was average.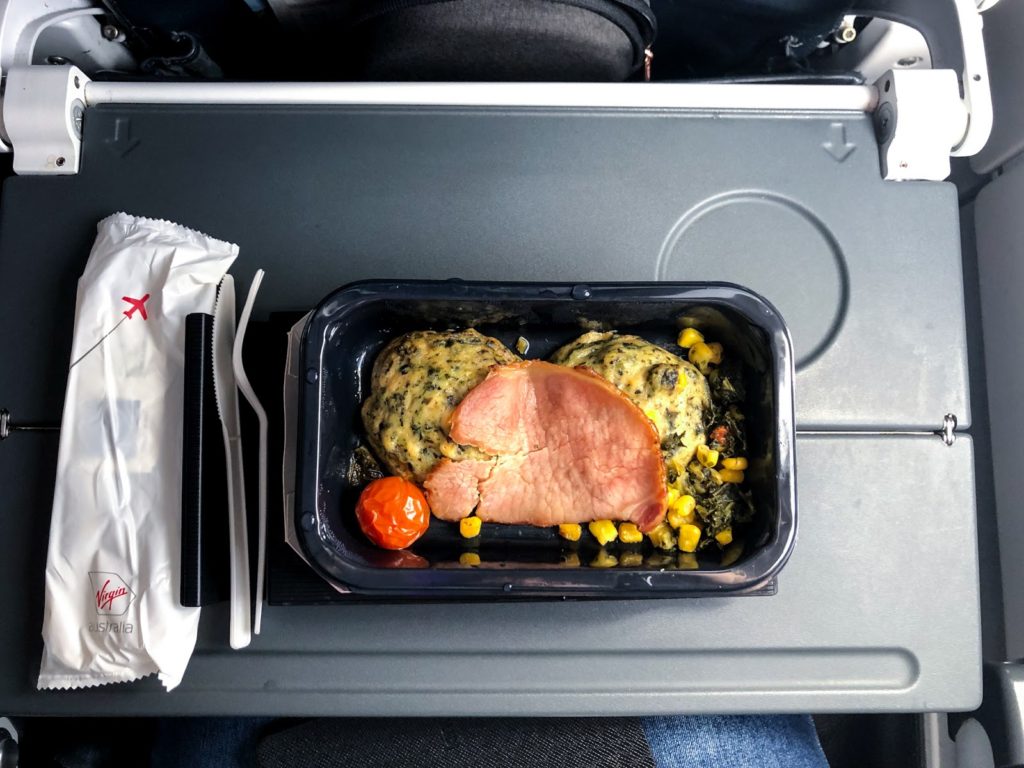 There is a menu in your seat back for additional purchases, such as sandwiches, snacks and premium beverages.
International A330 flights
International flights are much better catered. Although these photos are from the now-defunct Hong Kong route, I would expect similar service on the upcoming Brisbane to Tokyo Haneda flights.
First off, there is a printed menu with food options and a drinks list, including a full open bar.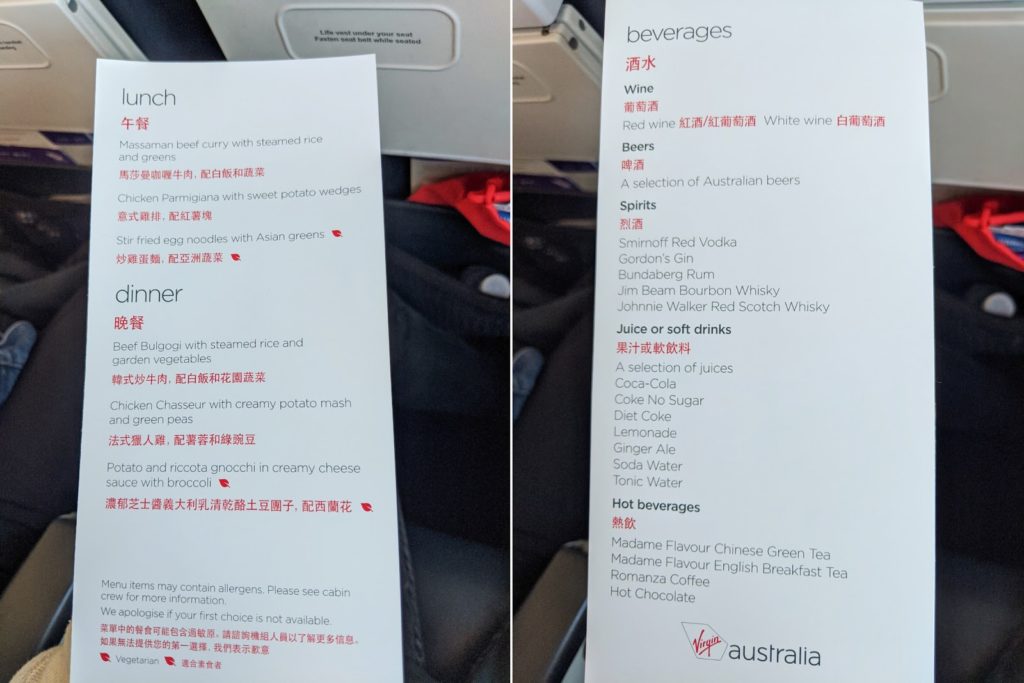 With a choice of three dishes for both lunch and dinner, there is variety for everyone. Although these aren't listed on the menu, meals include snacks and sides and served on a tray. The food quality is much better than domestic flights (such as that chicken parmigiana with sweet potato wedges!)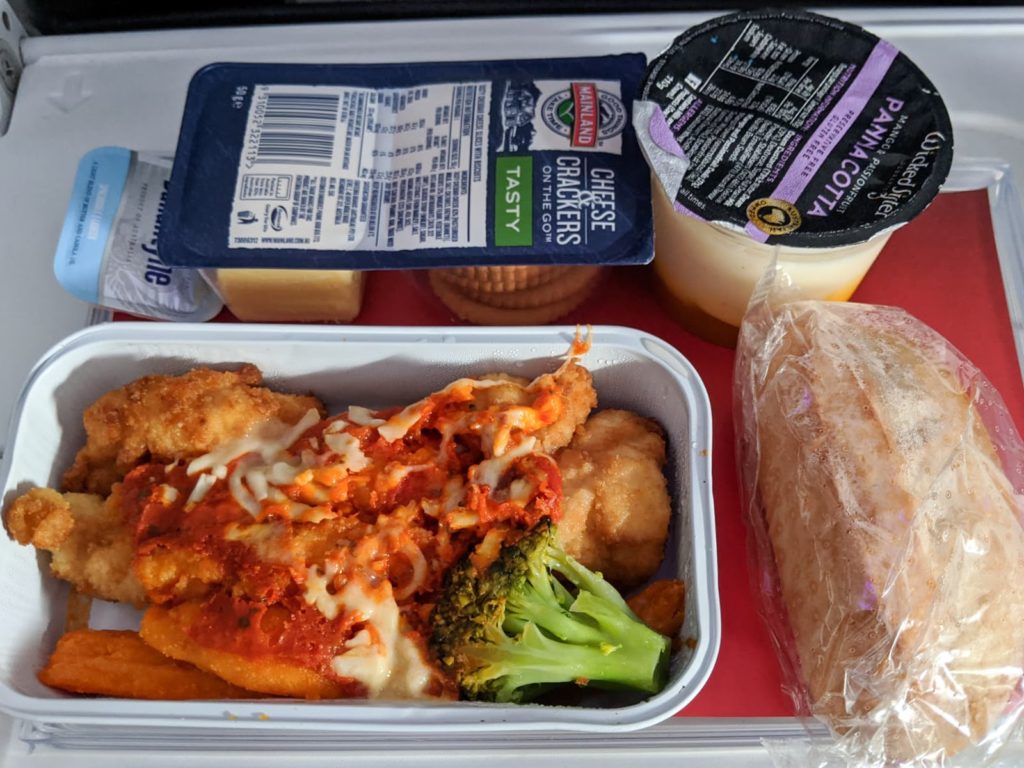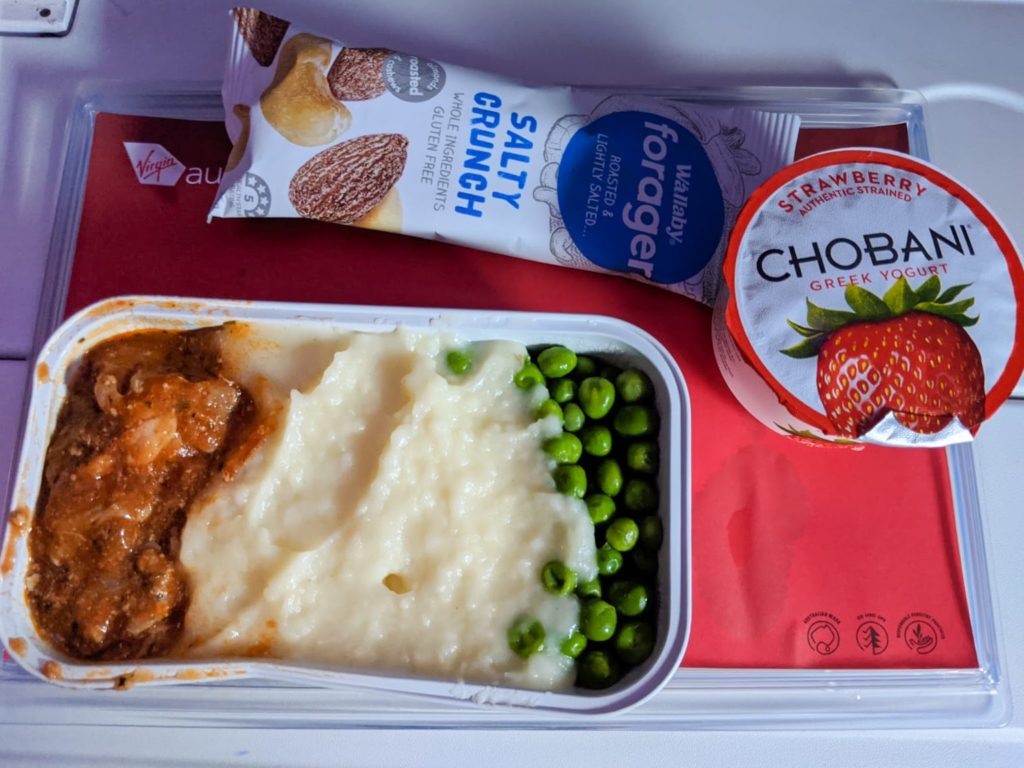 Customer service
Virgin Australia's cabin crew are generally quite warm and friendly. On longer international routes, it really gives them the chance to shine with relaxed service.
Back in the terminal, Economy X, Velocity Gold and Velocity Platinum members flying in Economy Class can use the purple Priority Boarding lanes to board at the same time as Business Class.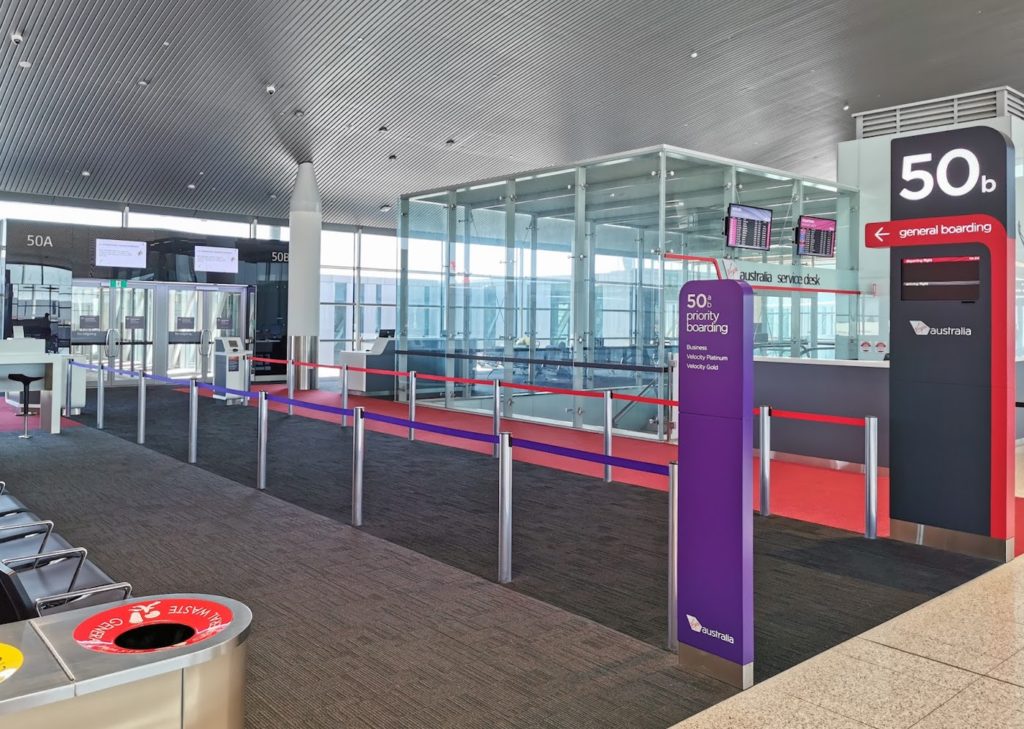 The Airbus A330 often uses two boarding doors, so the left one leads straight to Business Class and the right one to the second set of doors and into Economy.
Inflight entertainment
The Airbus A330s have great inflight entertainment, with the selections being identical to Business Class. This means a number of new-release films, collections of older and popular titles, some TV box sets and a customizable moving map.

While I didn't take pictures of using the system while in Economy (beyond the welcome screen, shown earlier in this article), here is a shot of the moving map while in Business Class on a similar flight.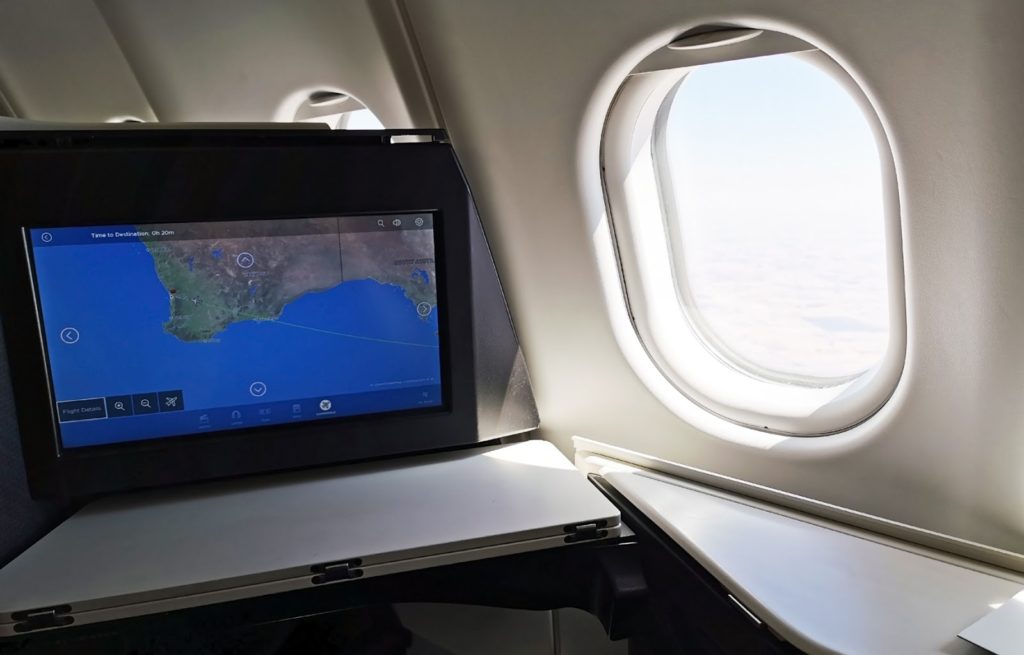 Most Virgin Australia Airbus A330s have WiFi on board, which is free for domestic flights and offers reasonable speeds. It works internationally as well, though be prepared to pay around $19.99 for a connection. I didn't test it on the Hong Kong flight.
Amenities
In your seat back is a pair of simple headphones, but still bring your own if possible, as they will likely be more comfortable and have better sound quality.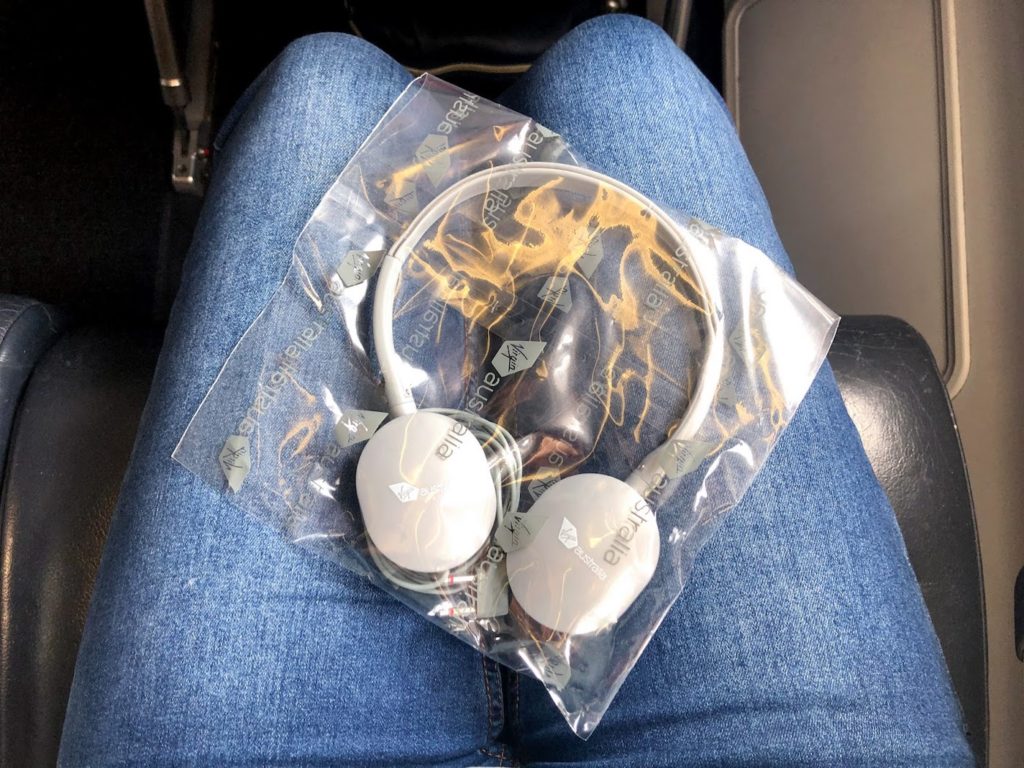 Apart from the menu and inflight safety card, there is also Virgin Australia's Voyeur magazine which I actually quite enjoy reading.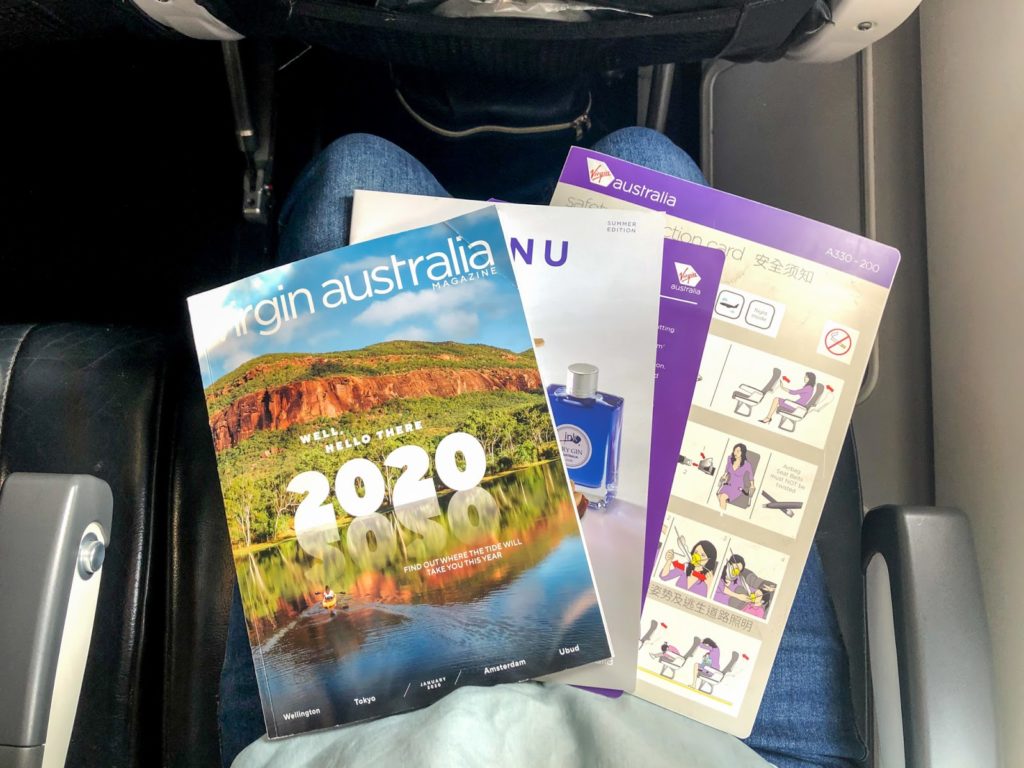 Lavatories are small but functional. They were mostly kept clean on all the flights I was on.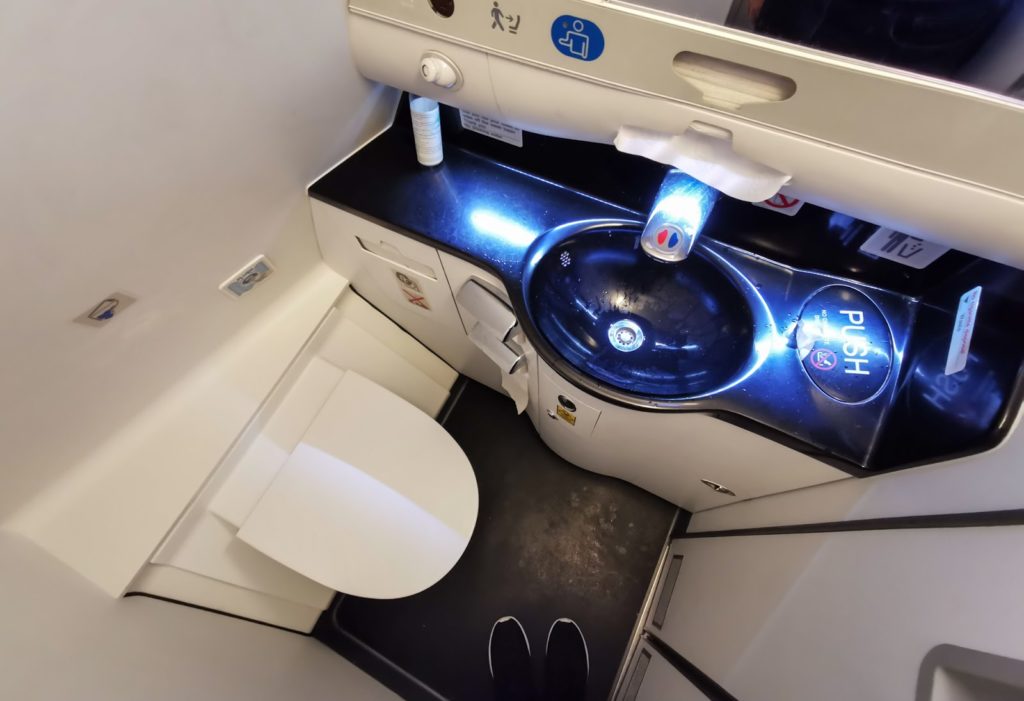 Beyond that, don't expect more of the fancier amenities you might get on other airline's international Economy Class.
How to redeem points for these flights
As another reminder, points are rarely a good use for Economy flights unless cash fares are very expensive, or you just don't care about flying in premium cabins (and that's fair enough!).
It's quite easy to use Velocity Points to book Virgin Australia Economy class flights. It helps to know what routes offer the Airbus A330 before you go searching for it.
Just type in your dates, city pairs and click on the 'Use Points + Pay' box (left side). On the right side below, you'll see the options show up.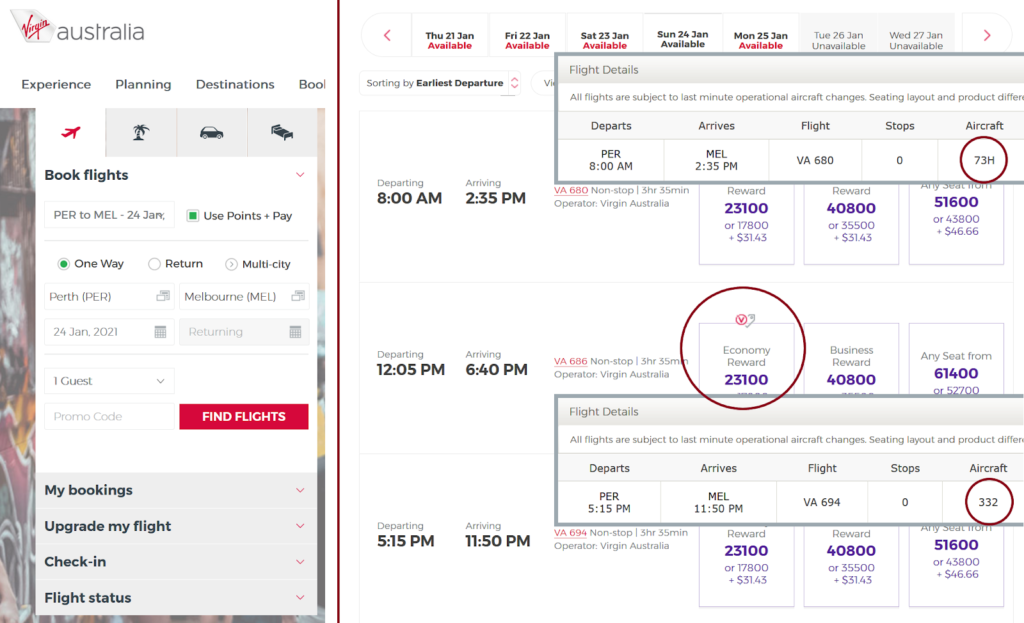 For Economy Class redemptions, look for 'Economy Reward' (big circle). To ensure you are booked on an Airbus A330, look for the code '332' under Aircraft (small circle), not '73H' which is a Boeing 737.
It's very important to know that Virgin Australia will occasionally adjust schedules and your Airbus A330 is swapped for a Boeing 737. If this happens and you are flexible with flights, call up and request to be moved to another flight that is still an Airbus A330.
You could also redeem the points and miles of partner airlines (such as Singapore Airlines, Virgin Atlantic, Delta) for Virgin Australia Economy flights. As usual, take care to check what type of aircraft the flight is being operated by.
Lounge access
Virgin Australia Economy Class doesn't usually come with lounge access, and neither does an Economy X ticket. Velocity Gold and Platinum members have access along with other partner airline elite members.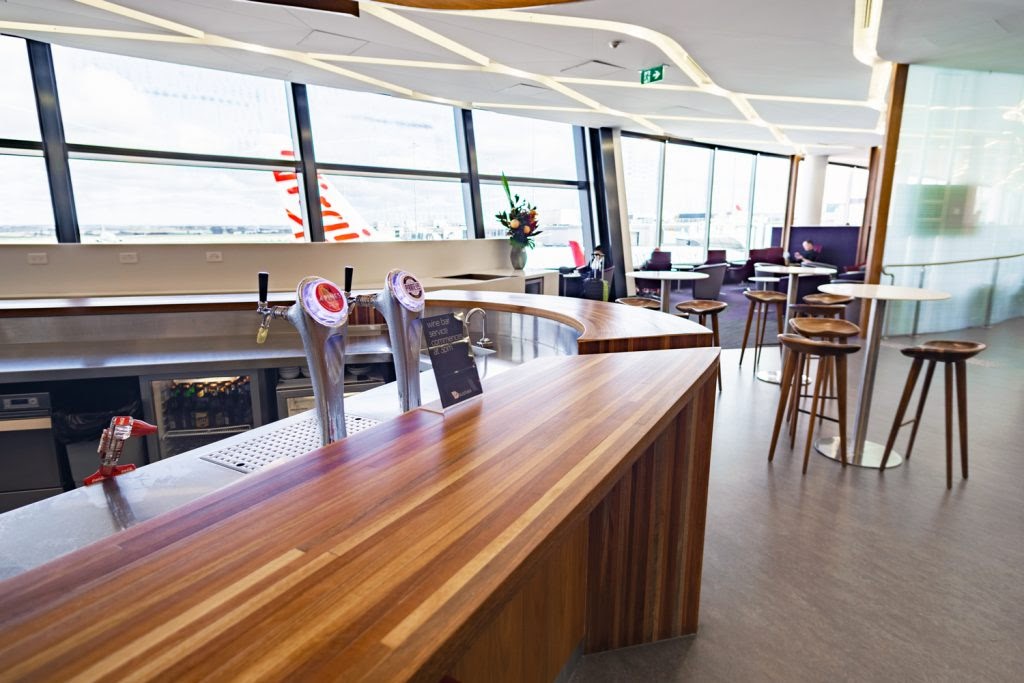 Velocity Silver members and certain credit card holders also receive two lounge passes a year, which is valid for Virgin Australia domestic lounges.
Summing up: why choose this flight?
Virgin Australia's Airbus A330 generally offers a better experience than the Boeing 737. If nothing else, having a twin-aisle jet compared to a single-aisle plane just feels so much more spacious! Seats are a bit wider and have more recline.
I usually try to book on an Airbus A330 on transcontinental flights to and from Perth where possible. All seats have modern inflight entertainment systems and most A330s have WiFi by now. It also means a greater chance of getting a points upgrade since there are 20 Business Class seats.
What is great
Modern inflight entertainment system for everyone
Free and fast WiFi on domestic flights, paid WiFi for international flights
More spacious than the Boeing 737s
Much better upgrade prospects to Virgin Australia's fantastic Business Class
Quality of meals on medium-haul international flights
Power points and USB outlets for most passengers
What is not great
Leather seats are starting to show their age with covers starting to wear out and crack
31" pitch between seats is okay for domestic flights, but a bit tight for longer international flights
Very small number of Economy X and extra legroom seats
This content contains affiliate links from which Point Hacks may earn commissions from transactions generated from new customers, bookings and general enquiries. Find out more here.
Virgin Australia A330 Economy Class Overview
was last modified:
November 29th, 2021
by