Each year I head to the US for a work exhibition which usually alternates between New Orleans and Las Vegas. Last year I stayed at the W New Orleans which I will avoid next time and for the last three exhibitions in Las Vegas, I have stayed at The Cosmopolitan, or 'The Cosmo' as it's informally known.
Research & booking
The Cosmopolitan of Las Vegas is ranks #24 out of 267 hotels in Las Vegas on TripAdvisor, which puts it at the top 10 of the hotels in the area.
The hotel is currently a Marriott Bonvoy Category 8 hotel so you can book a base room for 85,000 points per night (or 70,000 for off-peak nights or 100,000 during peak when they are introduced).
Average room rates start at USD $380 (AUD $700) for a base City Room and USD $430 (AUD $620) for a Terrace. I was lucky enough to be staying in the latter. As these trips are booked up to a year in advance, I usually book a flexible room-rate and watch for last minute discounts. I managed to secure an average nightly rate of USD $337 one month before arrival by booking directly with the hotel. In comparison, the Fine Hotels & Resorts rate was much higher in this instance.
There is also a USD $35 resort charge (plus $4.68 tax) that is added to the total cost per night, which has since been increased to USD $39 per night since my visit. The nightly resort fee is to cover the expense of providing 'complimentary' self and valet parking, unlimited local, toll-free, and domestic long distance telephone calls (all 50 states) and 24-hour fitness center access. I did not utilise any of these services and paid more than AUD $220 for this privilege!
Lobby & Check-in
I arrived at midday and as a Marriott Bonvoy Platinum member I used the Autograph Lounge to check-in and avoid the queues at the main reception.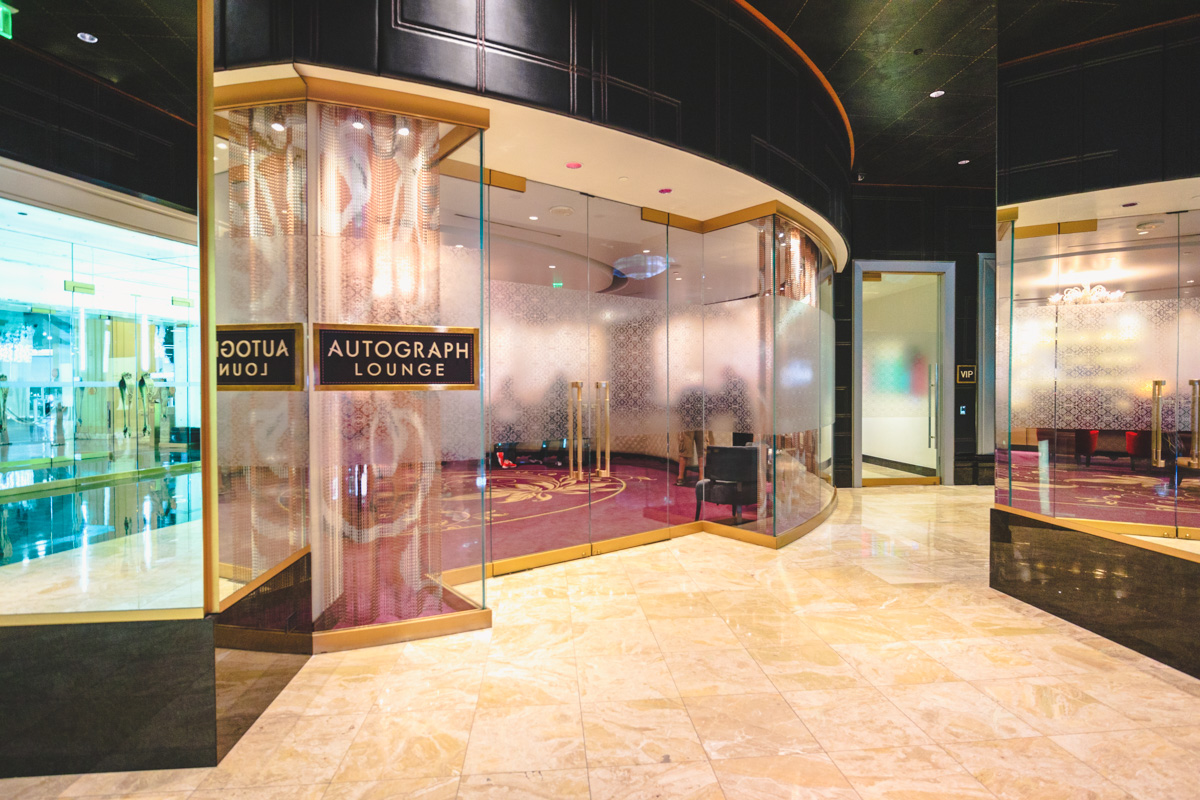 No higher room category was available, which I had also confirmed on the Marriott app before arrival, so I did not receive a Platinum room category upgrade. However, the team member that checked me in said the specific room I received had a large floor space than others in the same category.
A welcome amenity of 1,000 points or $10 Food and Beverage voucher is offered.
The lobby's key feature are the digital displays which wrap around all the building pillars.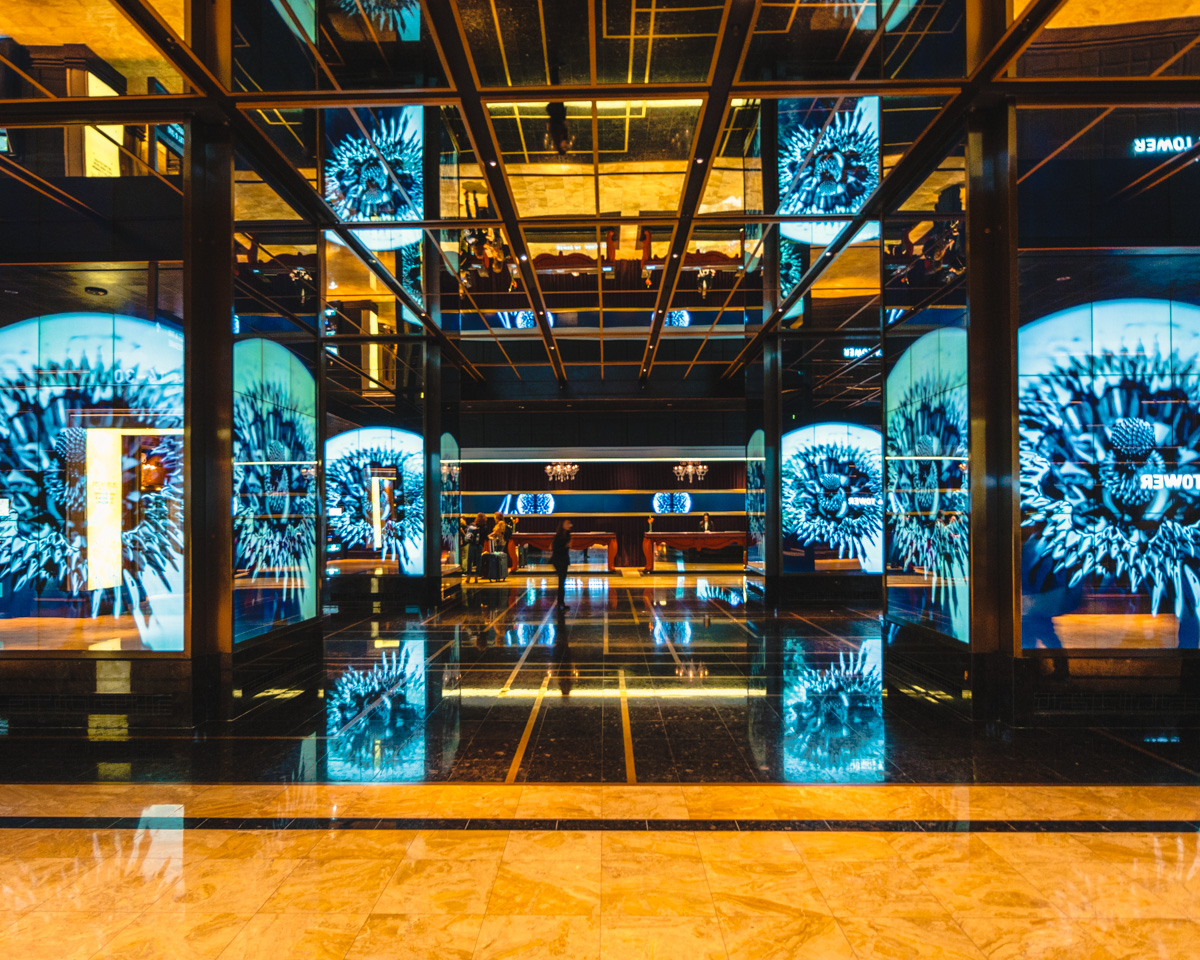 Room
The hotel has been renovated since my last stay in 2016, and the updated décor is a welcome improvement as the rooms were starting to look dated.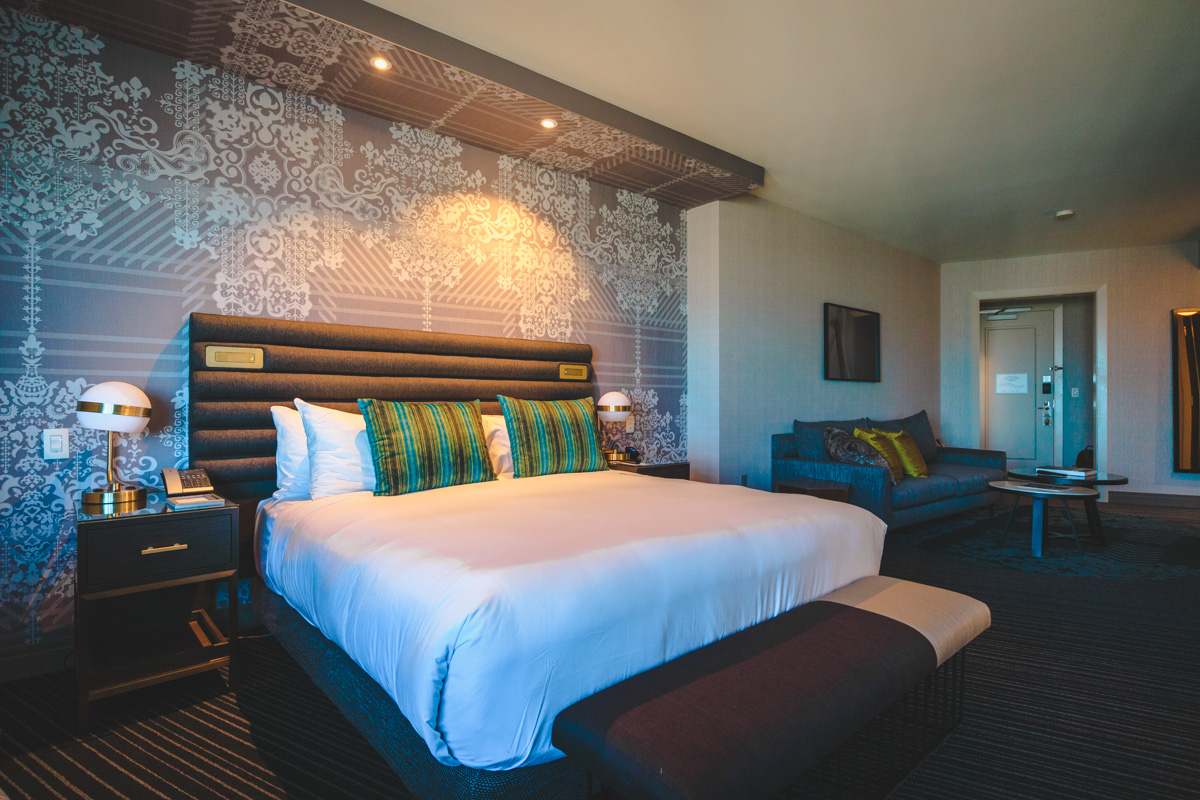 You enter the 55-sqm room into the lounge area with sofa along one side, adjacent to a flat-screen TV on the other.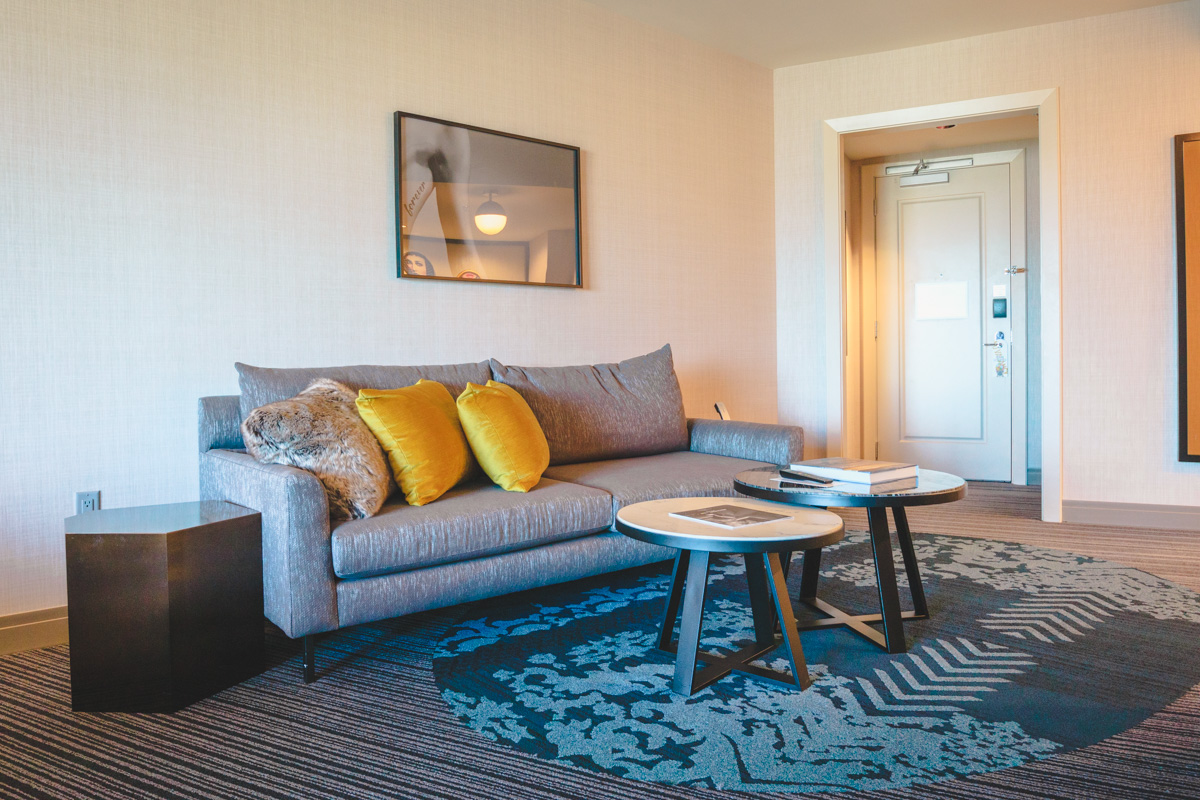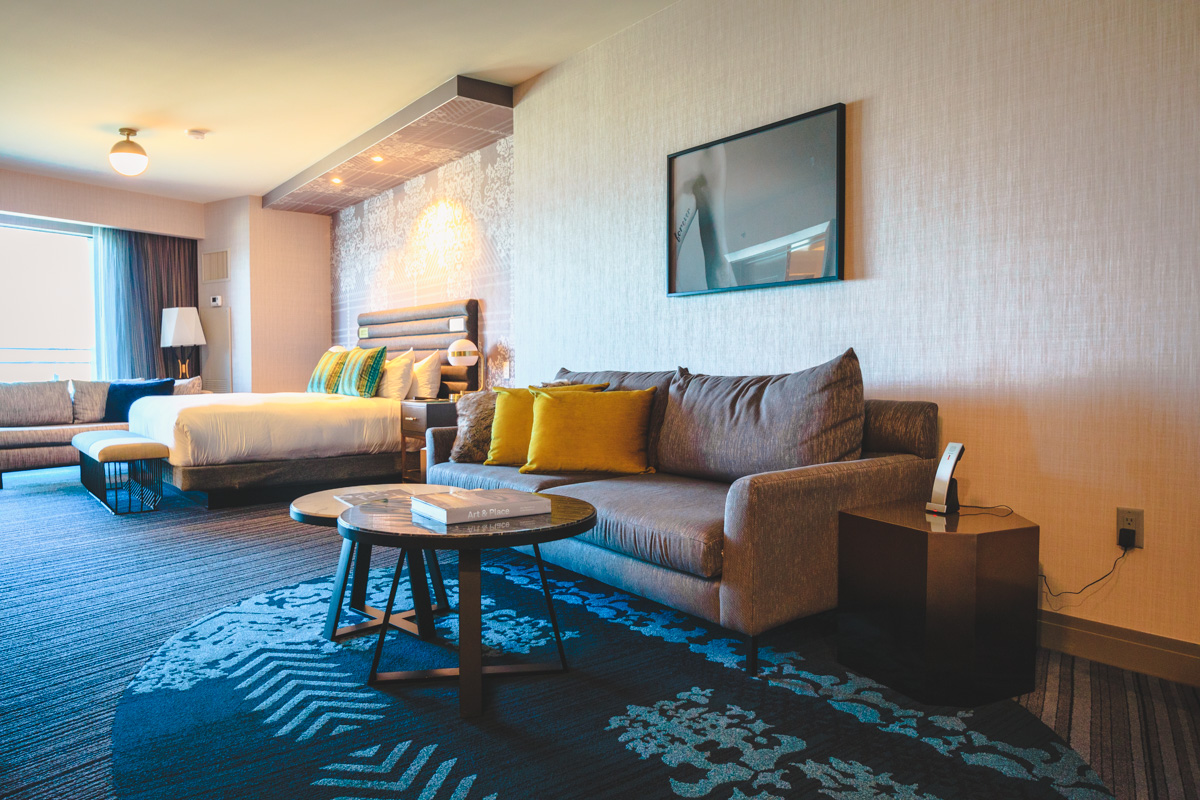 Opposite the lounge area is an alcove with mini bar, large image, iPad to control the room and wardrobe.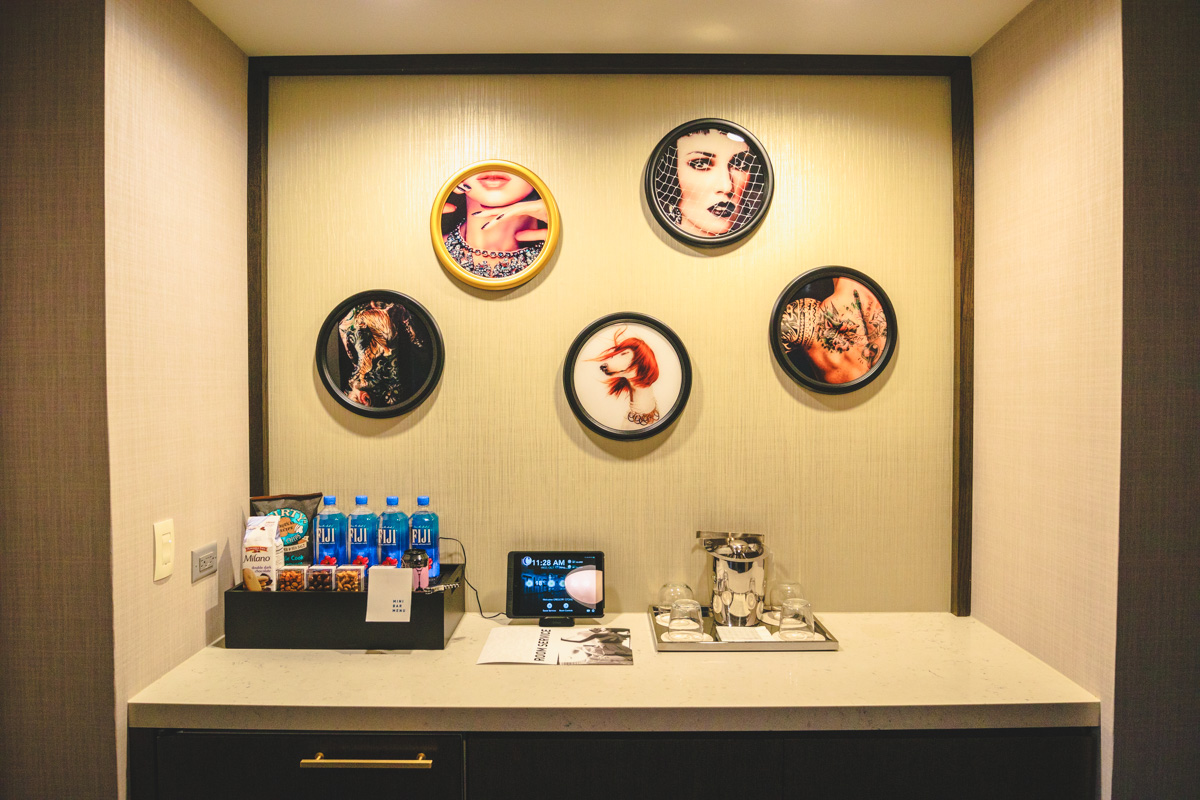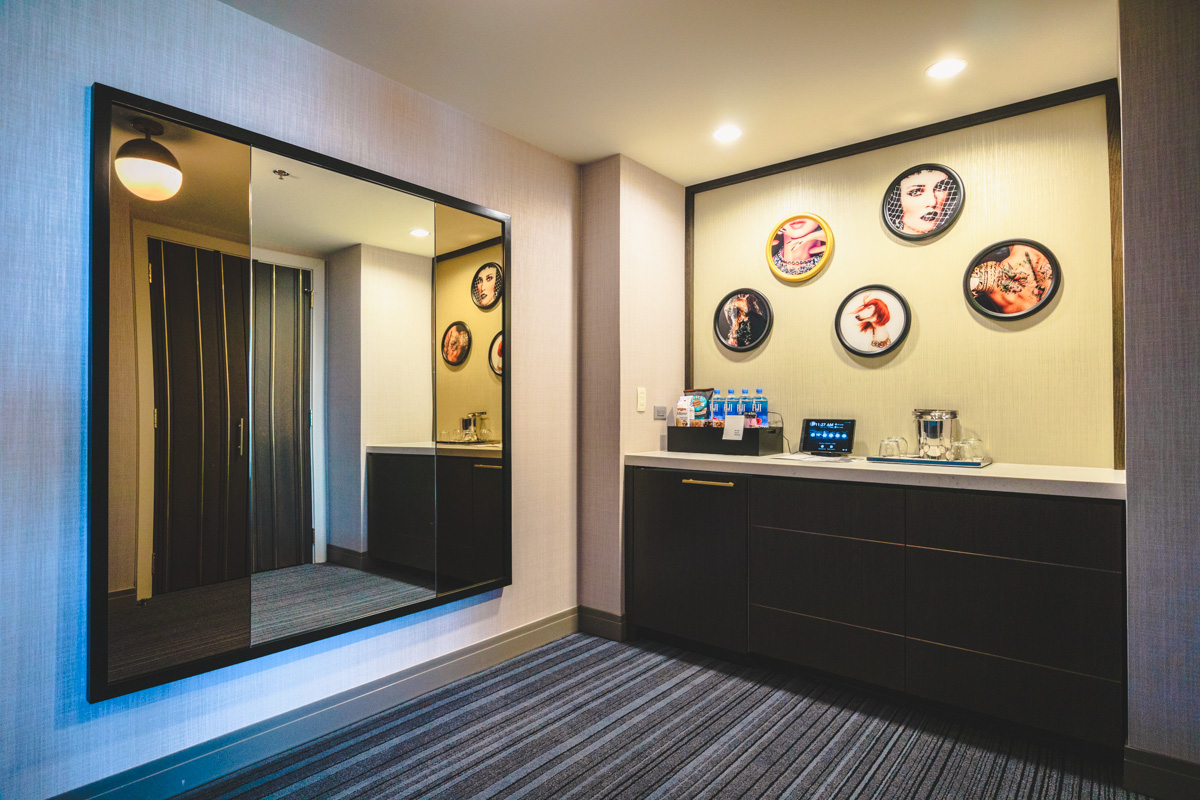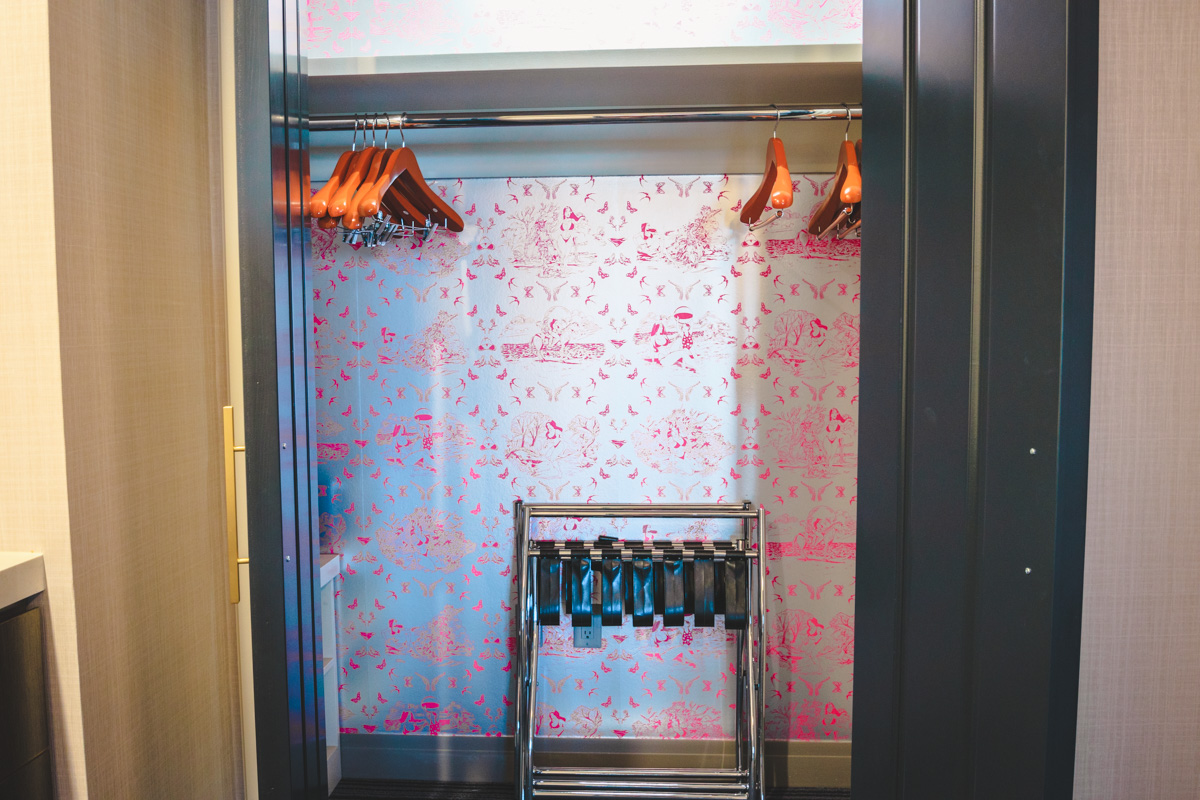 The minbar has pressure sensors under the beverages so if you lift one up, it will auto charge to your room.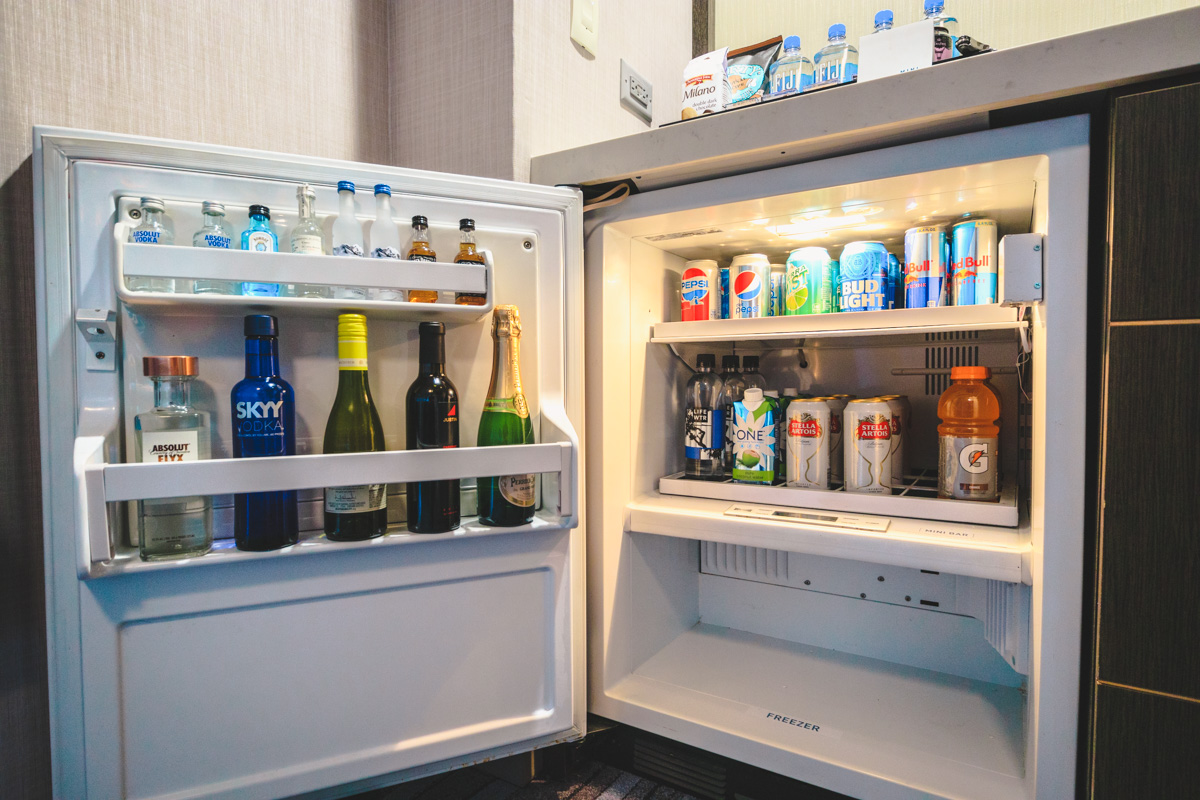 You won't find any tea or coffee making facilities in the room as they don't want you spending too much time in your room when you could be downstairs spending money in the 9,300-sqm casino or many restaurants.
A spare bathroom is just off the entrance which has a shower and toilet.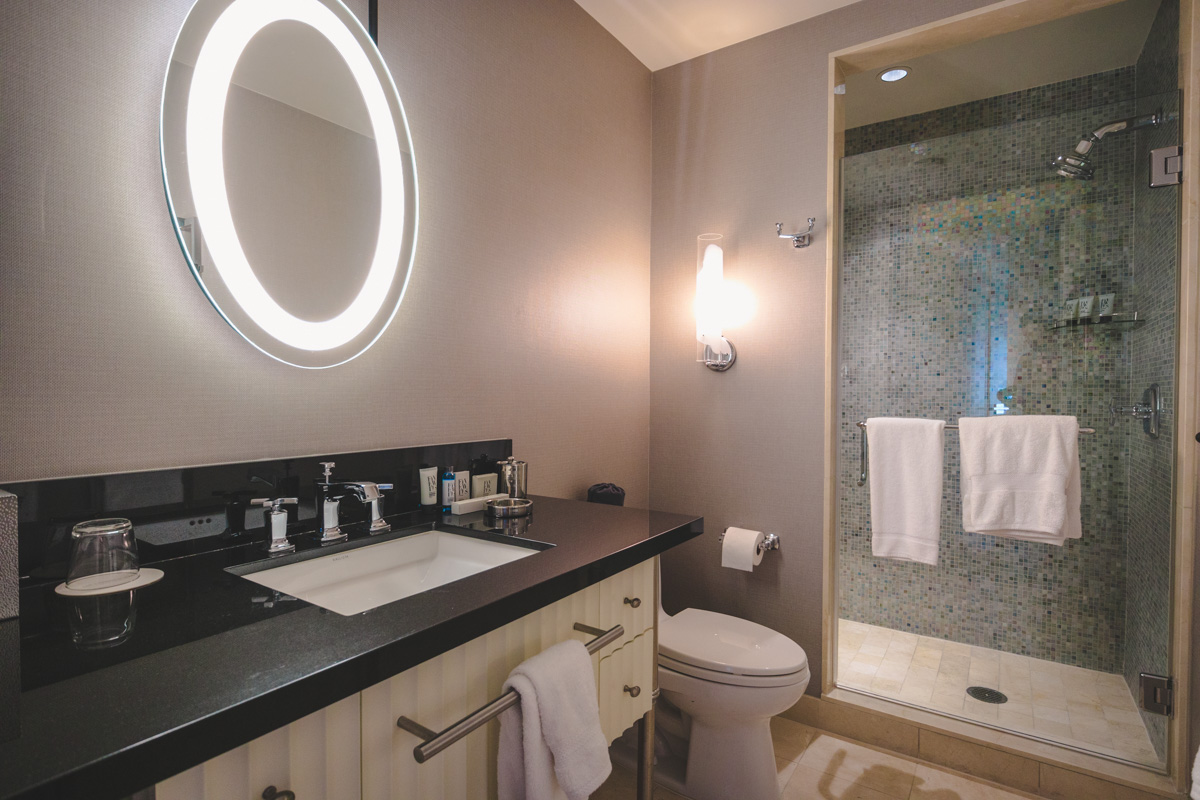 Further into the suite, the comfy king-size bed faces another flat-screen TV and small desk.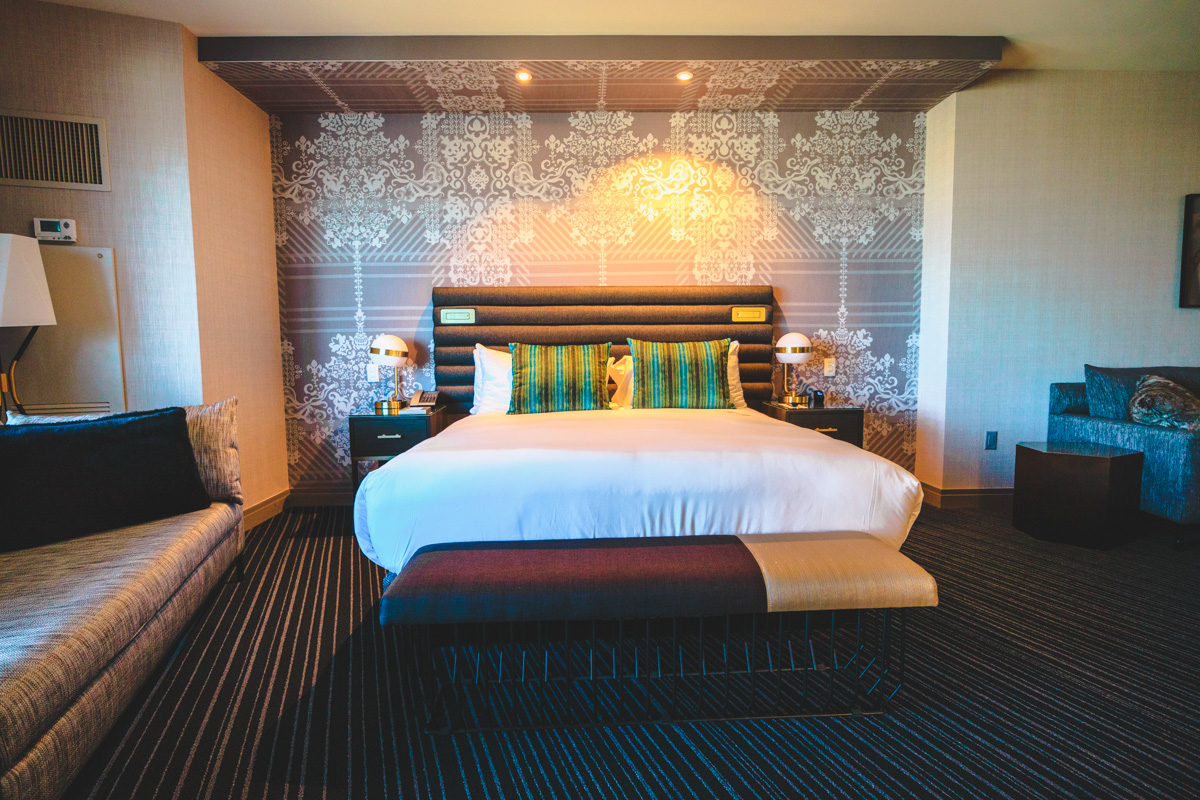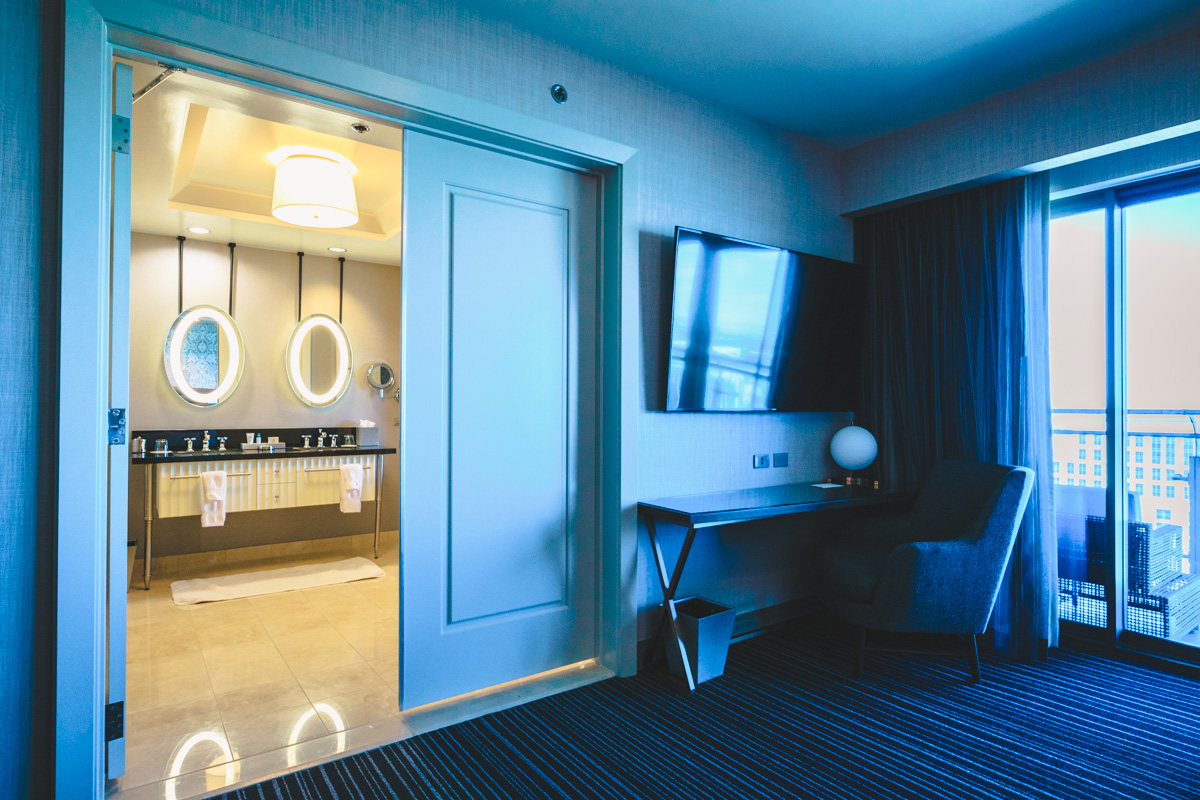 Your private terrace extends off the bedroom with panoramic views north of the Las Vegas skyline and famous Bellagio fountains.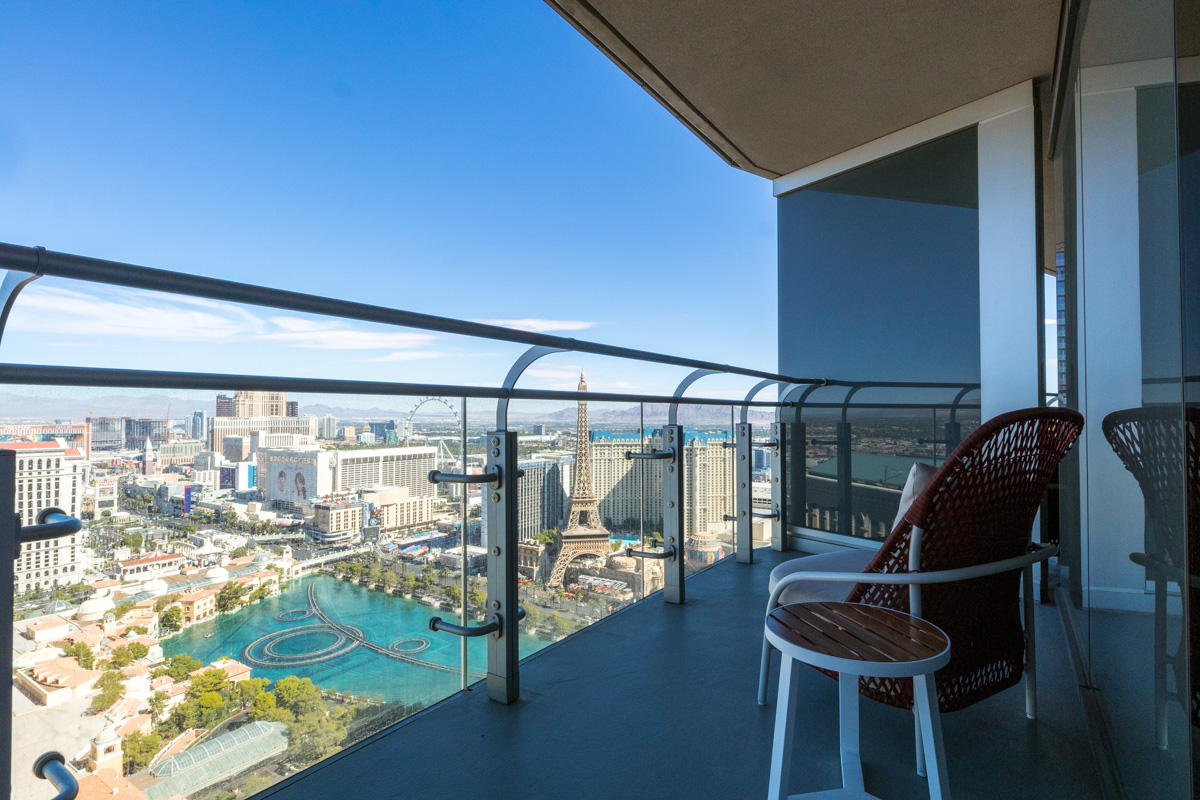 The view gets even better at night:
A lighting master controller sits on the bedside table.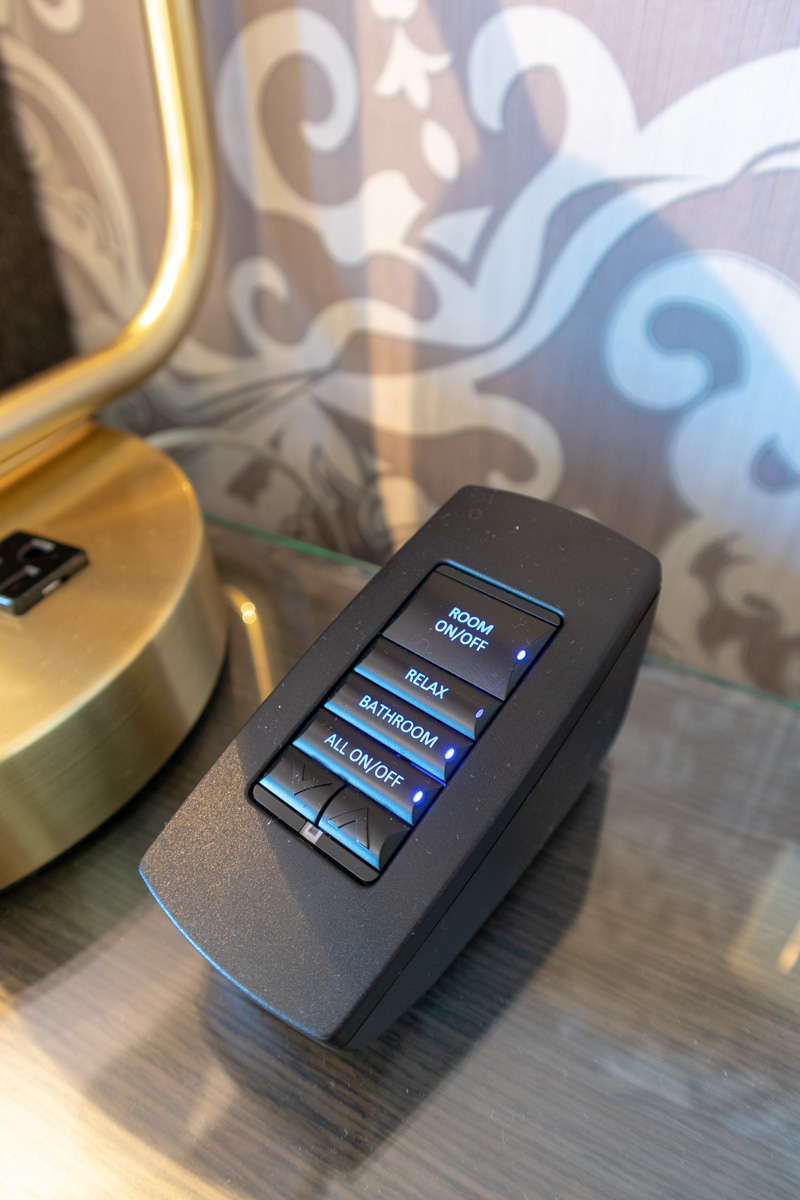 Bathroom
The marble bathroom has a large double vanity stocked with Five Wits toiletries.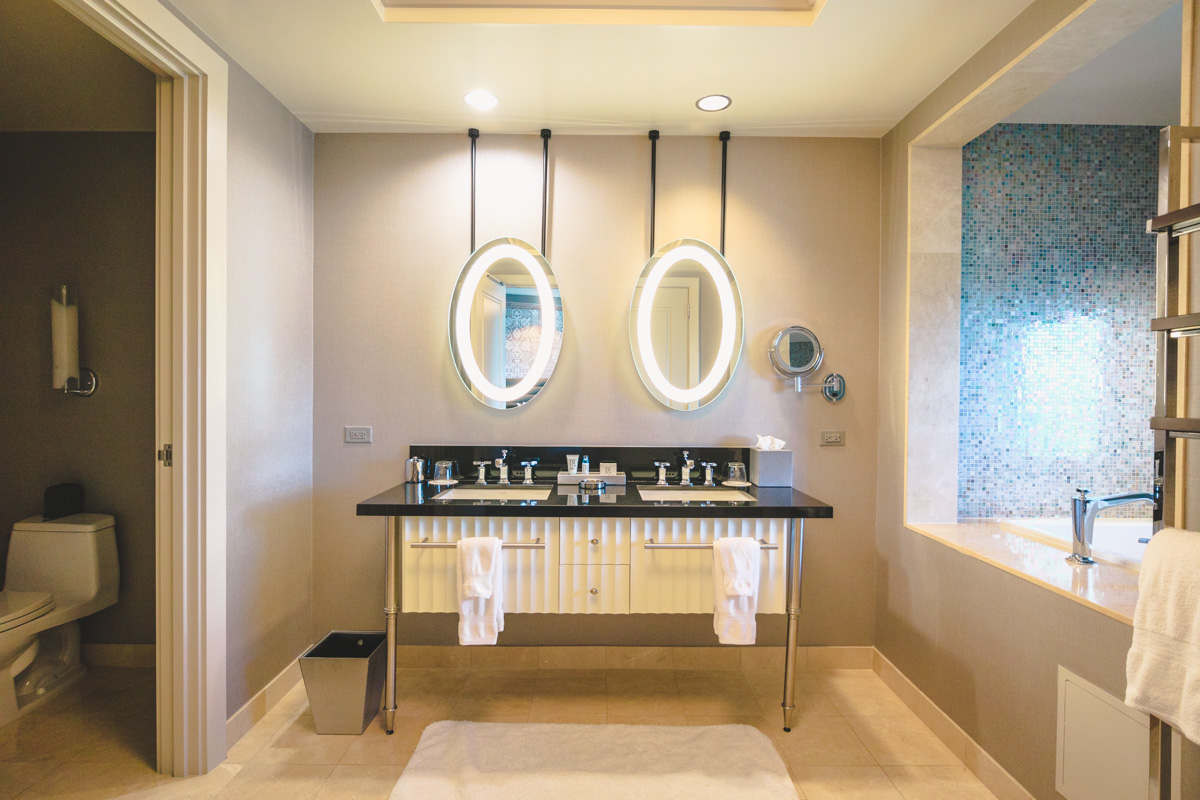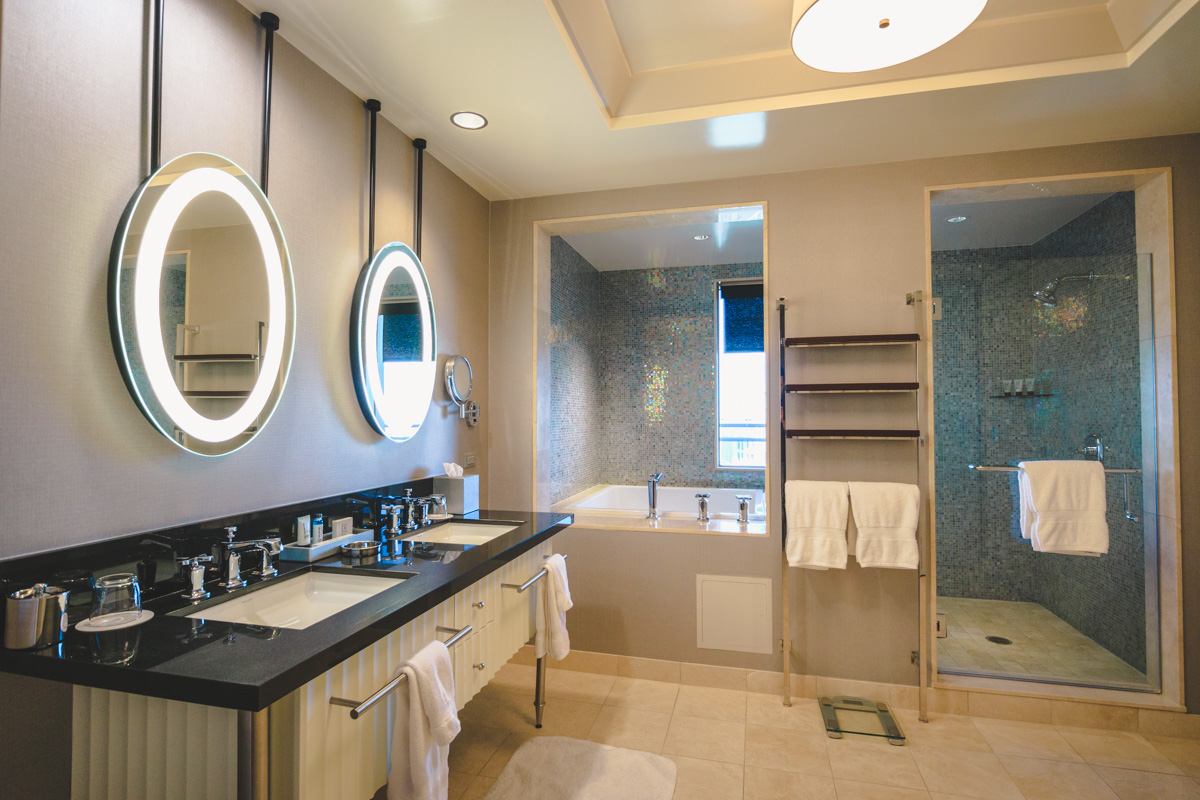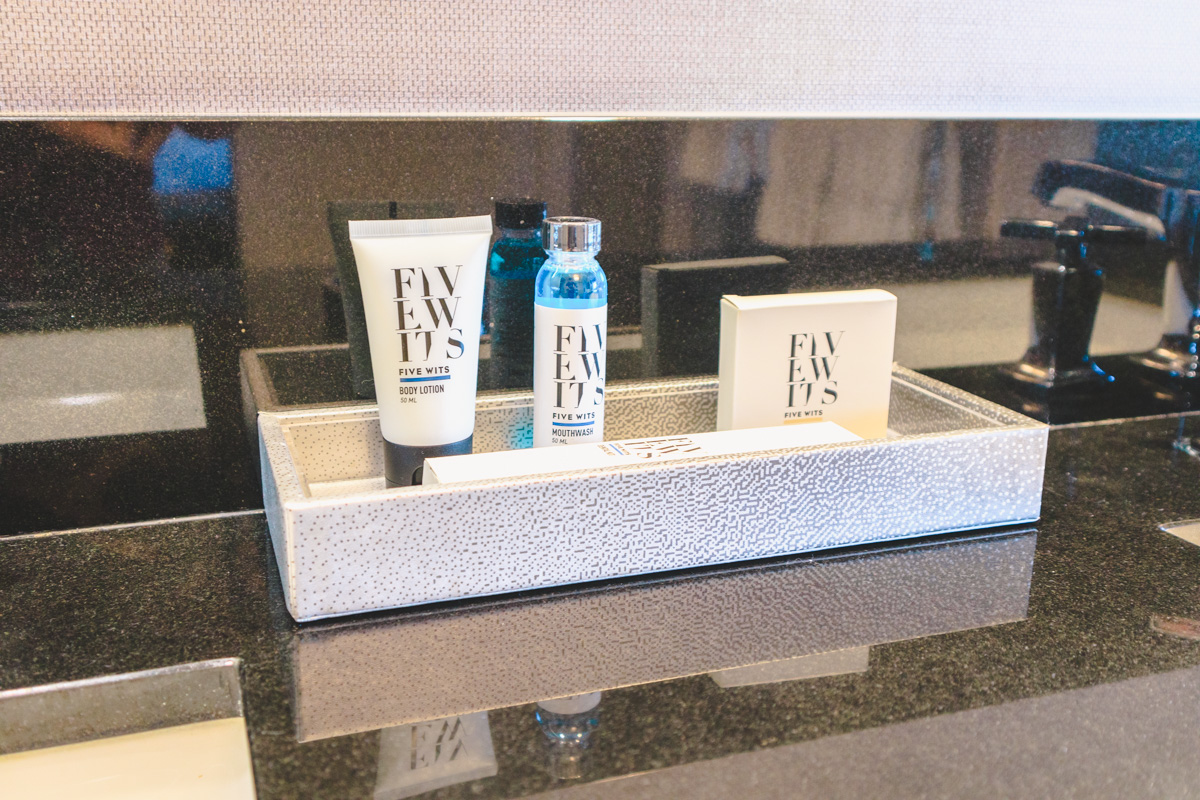 A Japanese soaking tub sits alongside the window and affords you views of the Strip. Thankfully for the size of the tub, it had water pressure to match so it didn't take too long to fill, unlike the bath in my room in the Maldives which required a kettle to speed up the process.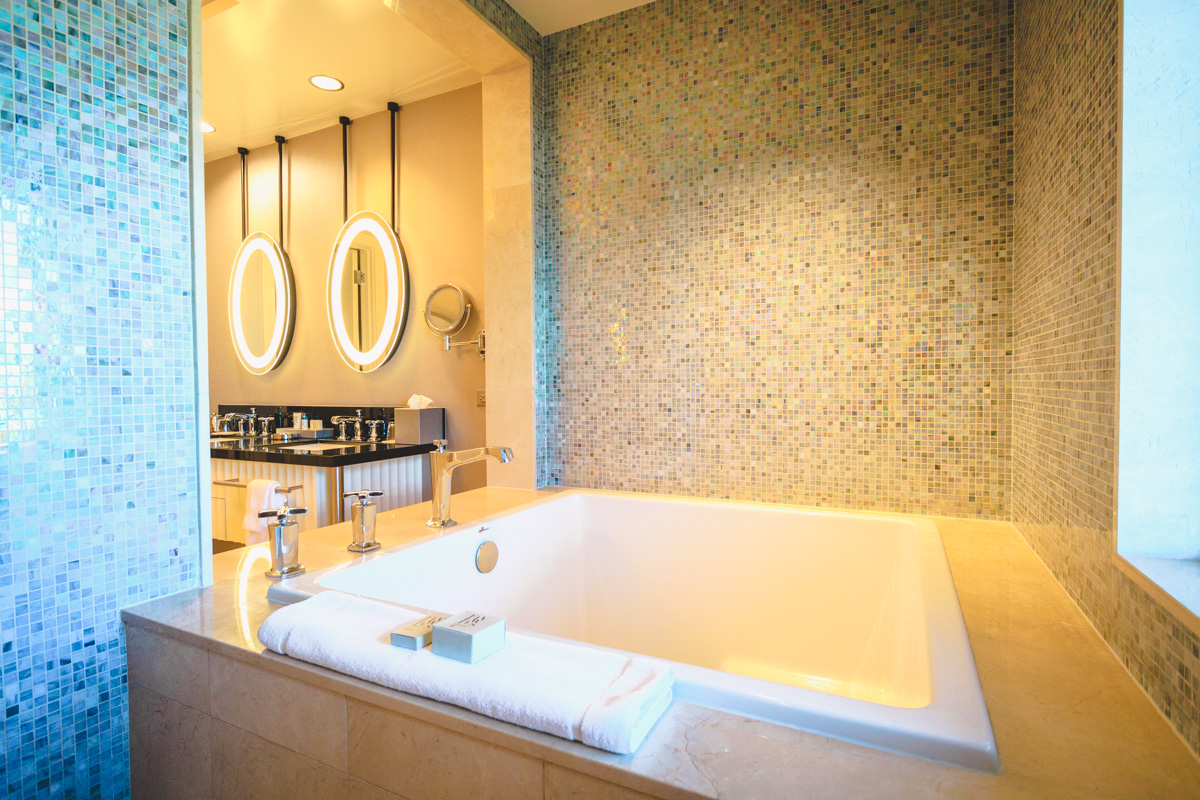 There is another wardrobe and water closet in the main bathroom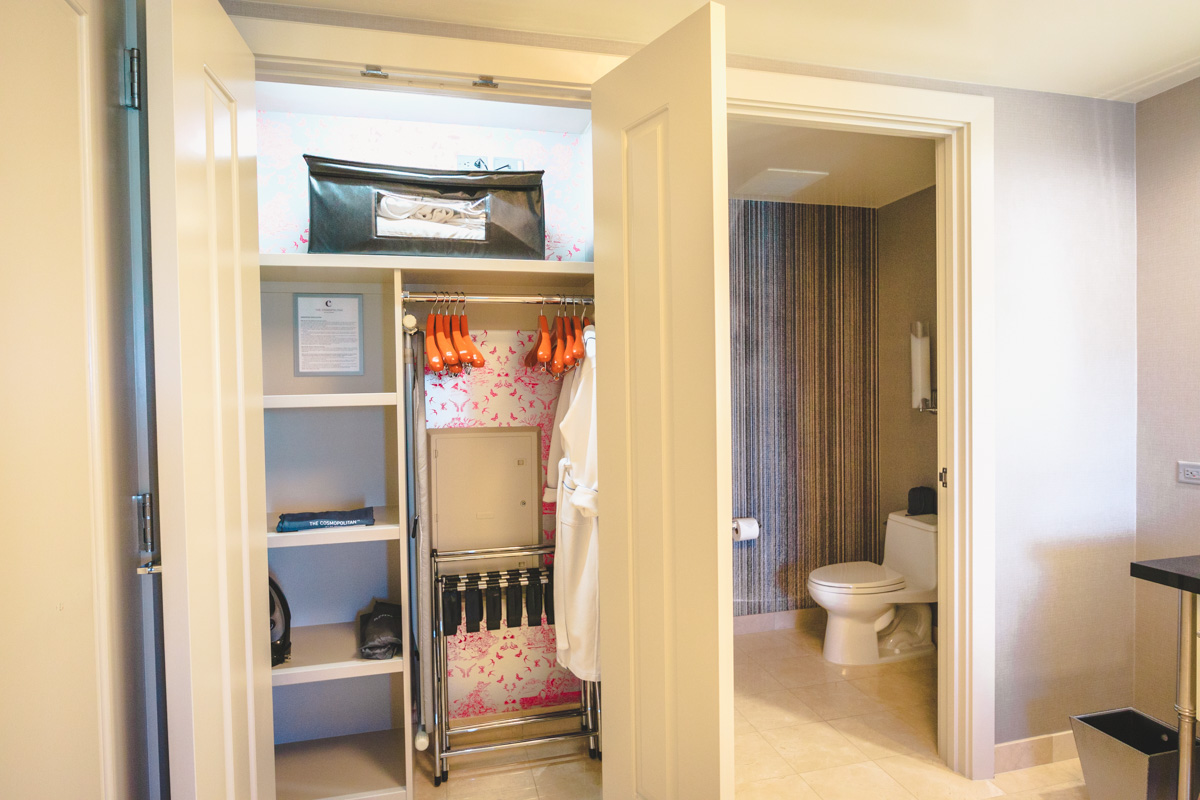 Restaurants
The Cosmo is home to no less than six bars and 27 restaurants (plus one Hidden Pizza place) to suit all budgets.
No Marriott Bonvoy members receive complimentary breakfast, however, Platinum and above members receive discounted breakfast at the enormous Wicked Spoon buffet (USD $38.52 discounted to $34.51). You can also add US $17 for bottomless mimosas, champagne, Bloody Marys or bud light draft beer. Platinum and above members can use the VIP queue however other guests should be prepared for a long wait.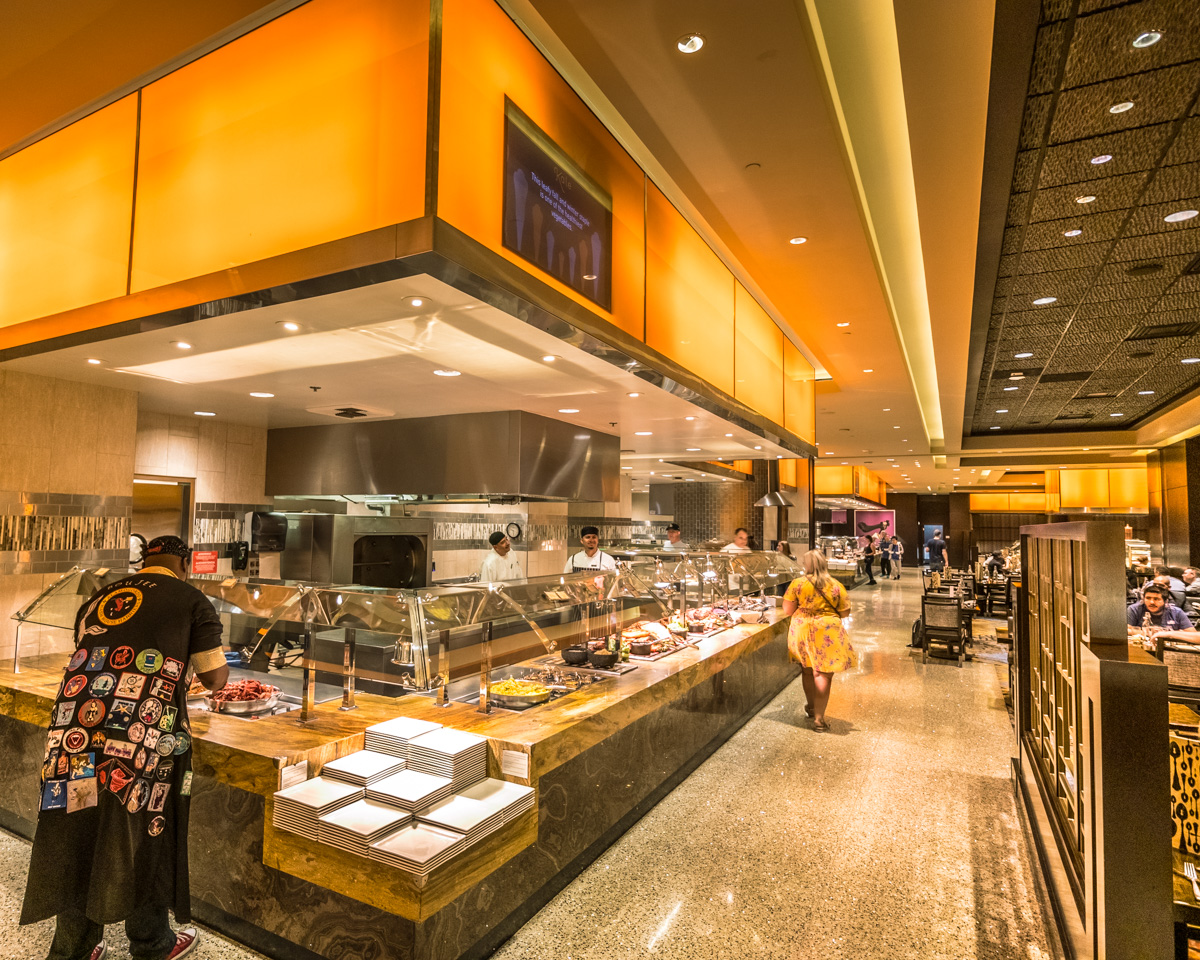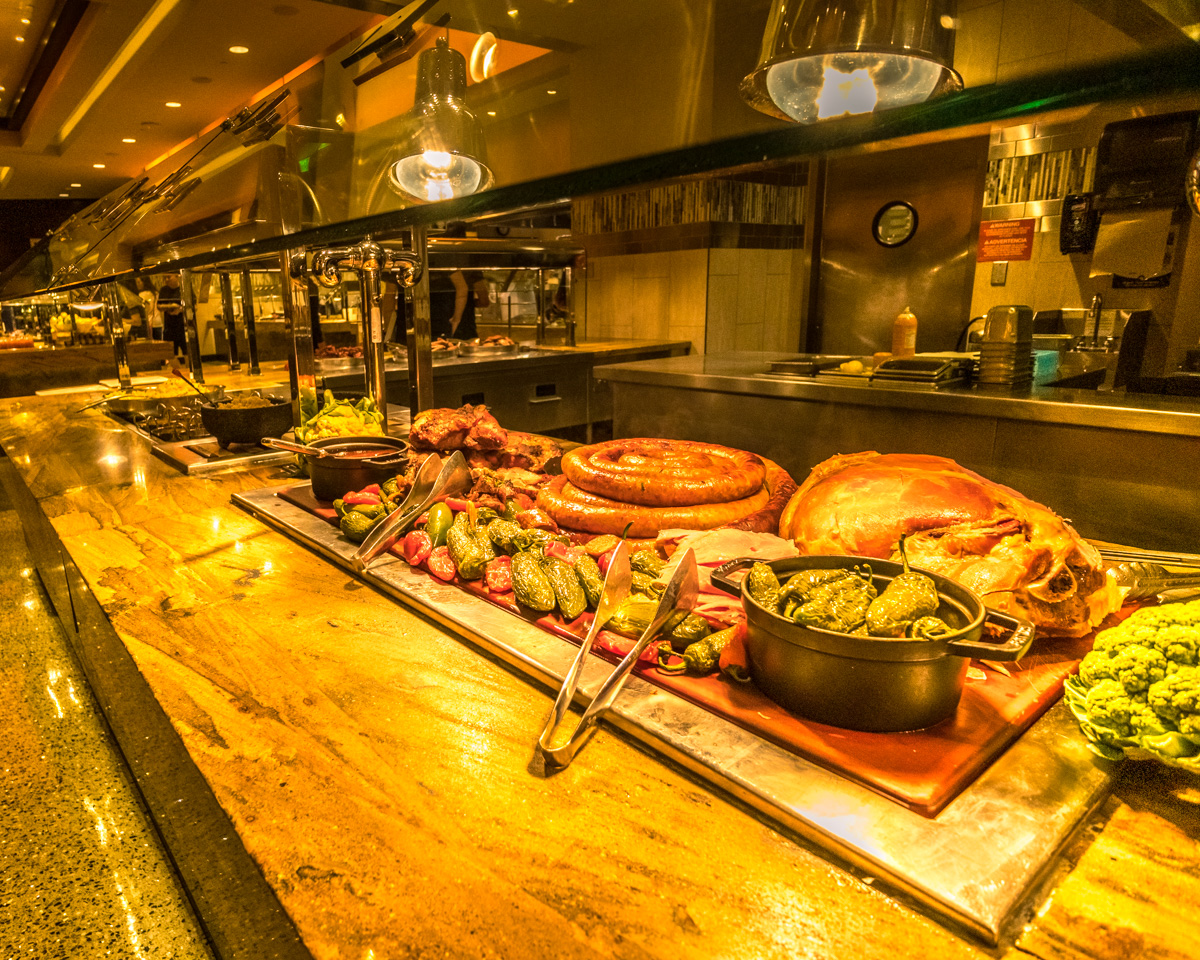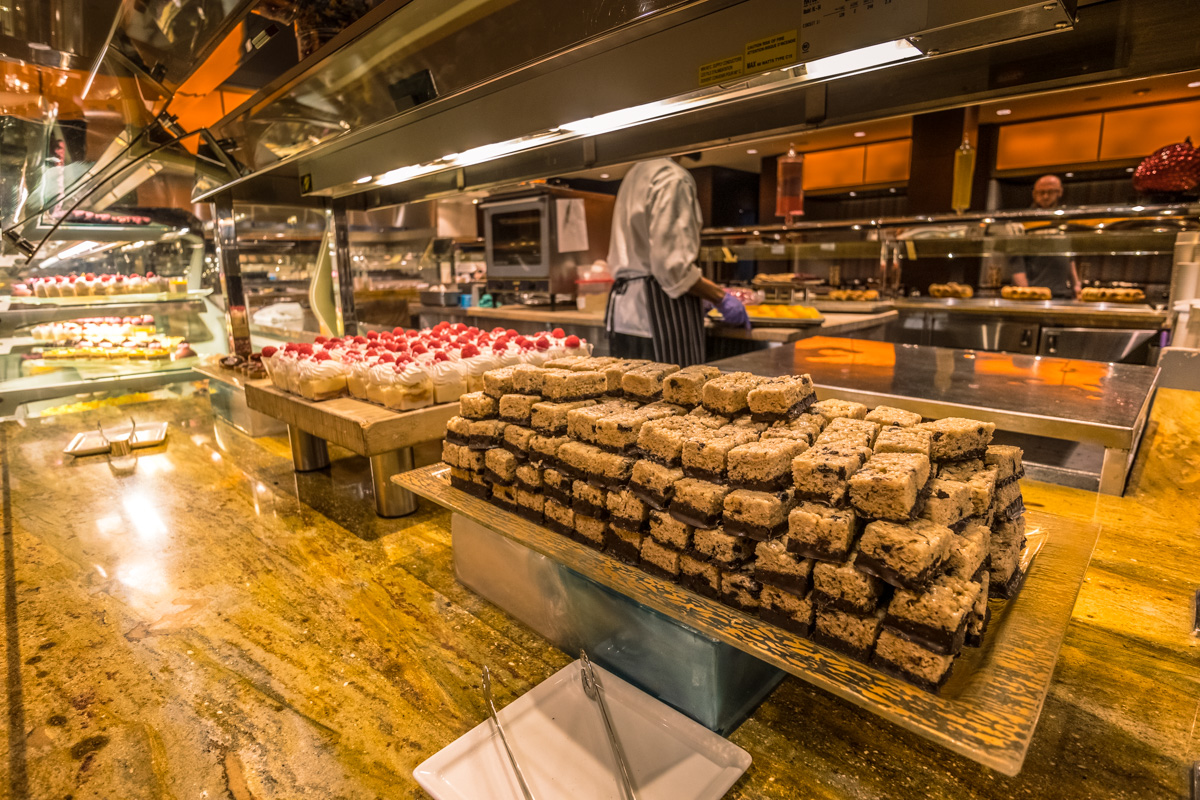 I dined at Momofuku for lunch one day and loved the Pork Belly buns, Shoyu Pork Ramen and Crack Pie.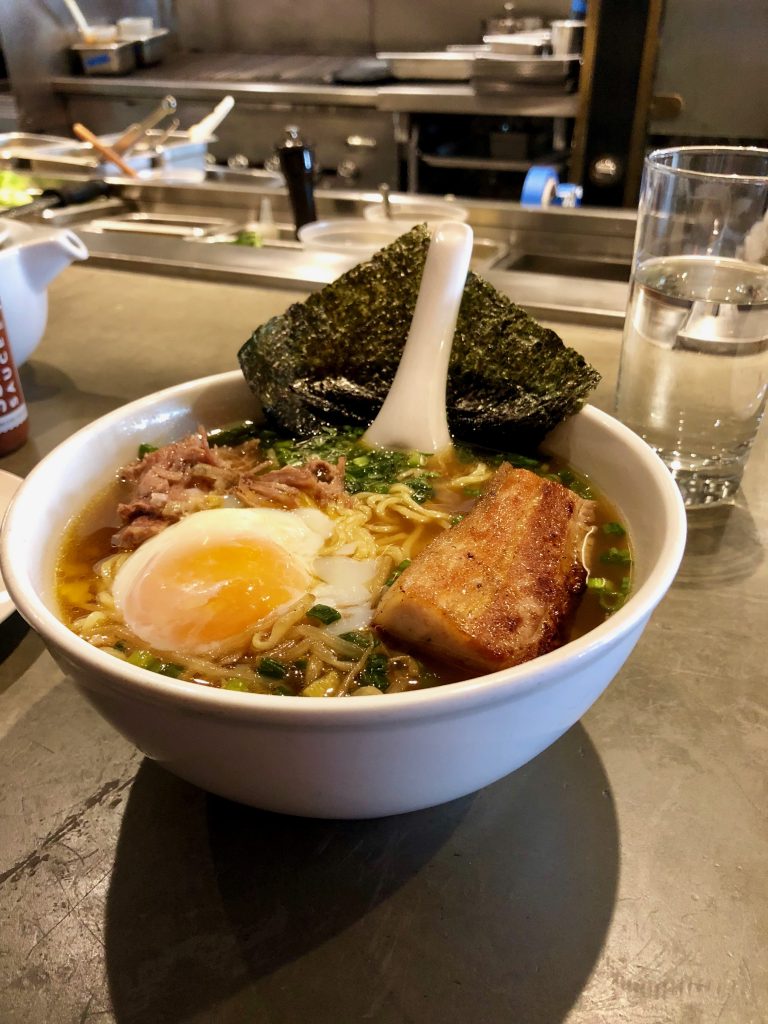 Egg Slut was a popular place for a hangover cure.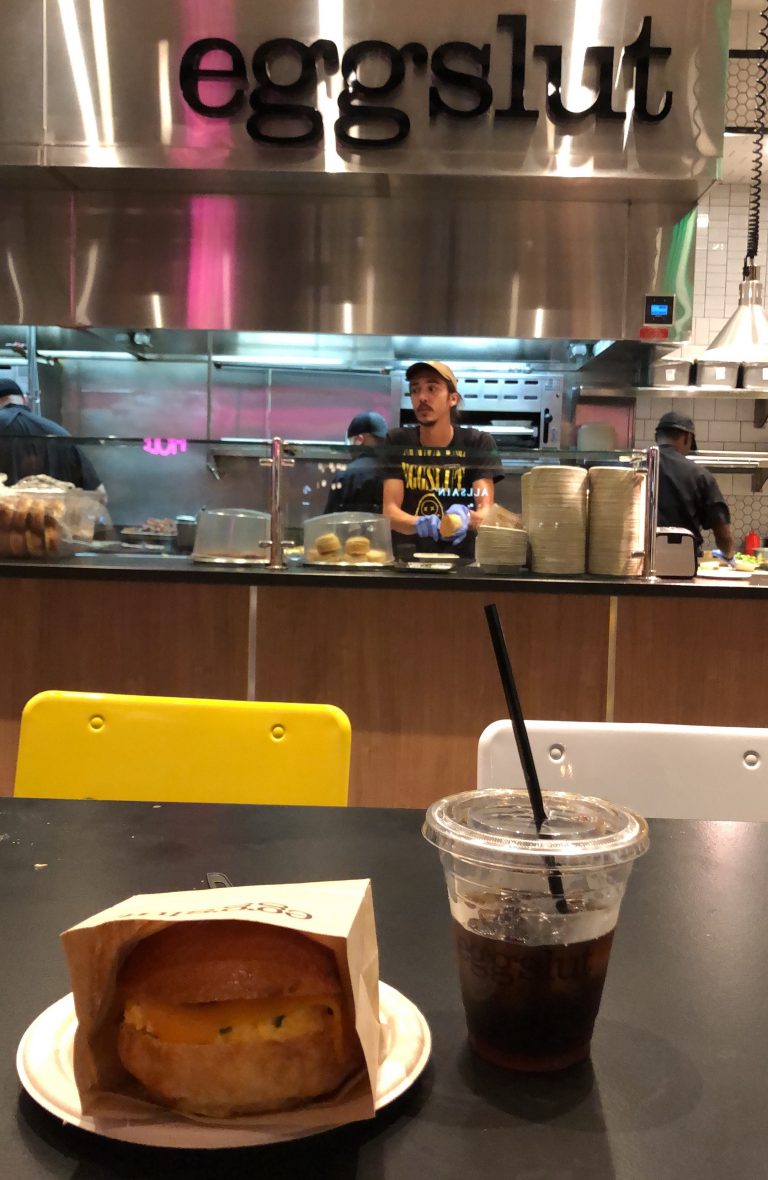 The Chandelier lounge is a three-story bar curtained in beaded light.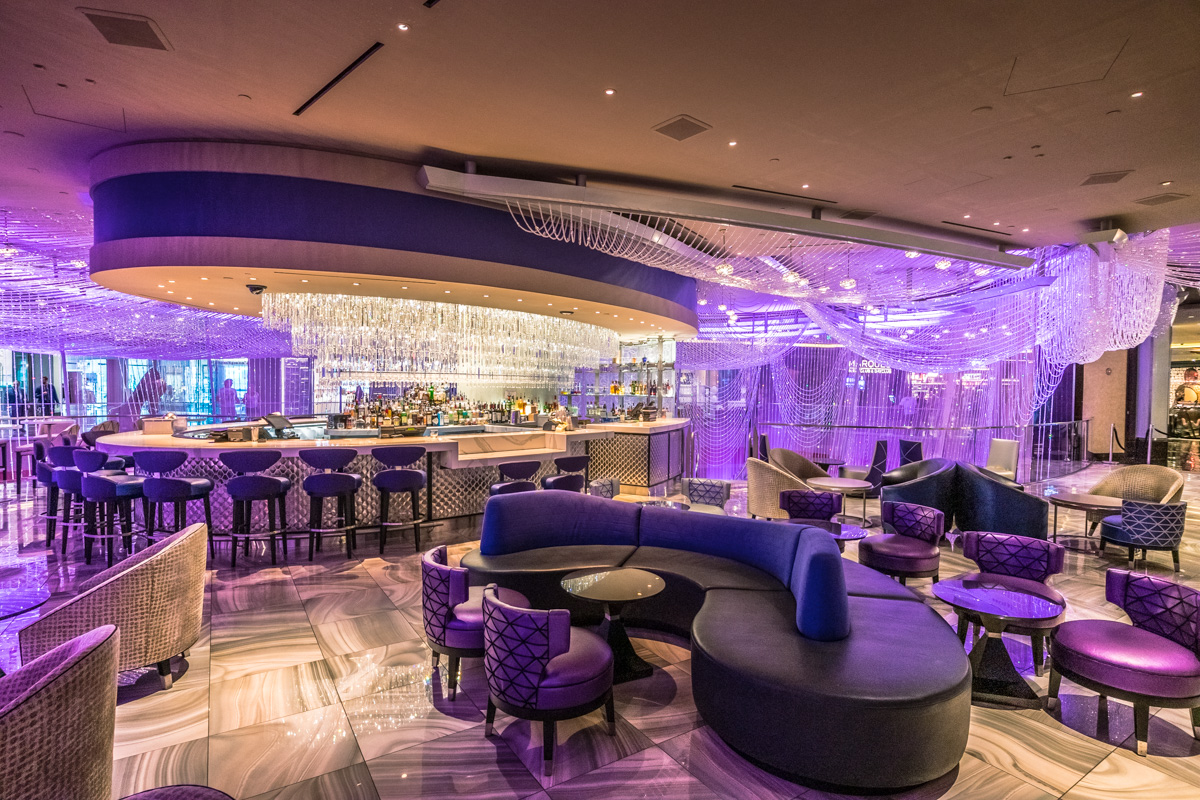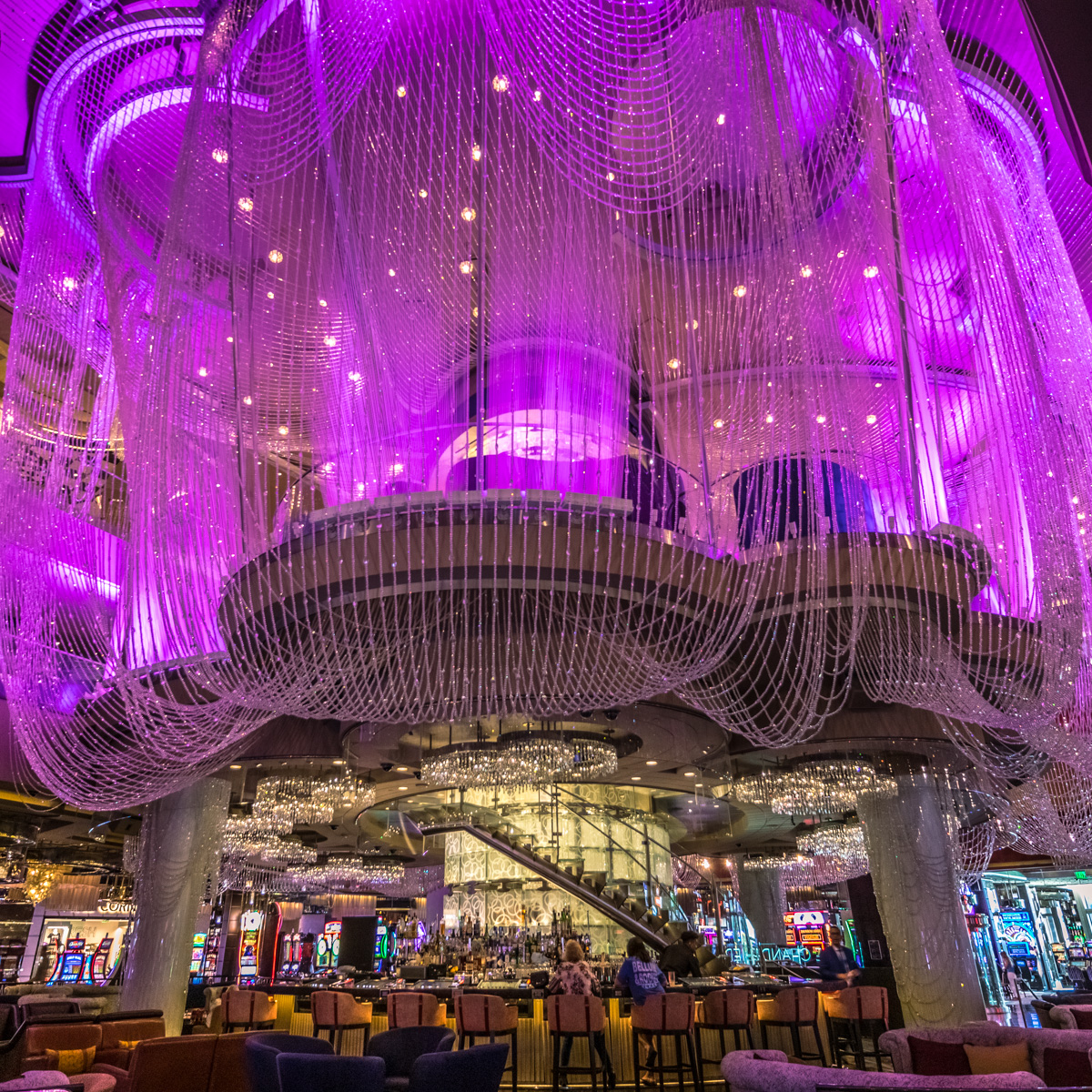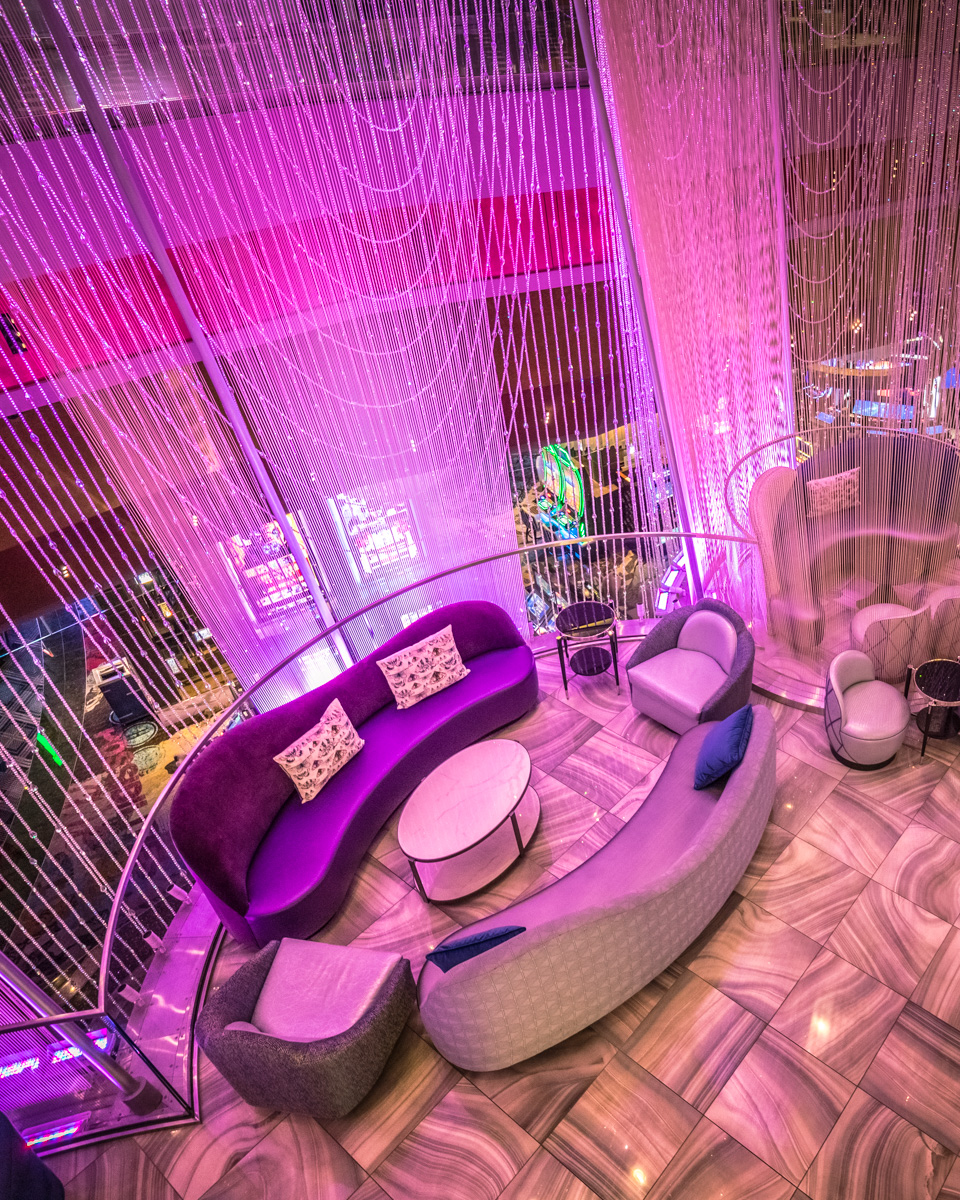 Although not on the menu, a local told me I had to try the secret Verbena cocktail and I suggest you try one as well. Just make sure you have someone filming your reaction as you drink!
Facilities
There are two outdoor pools, one located in each of the towers.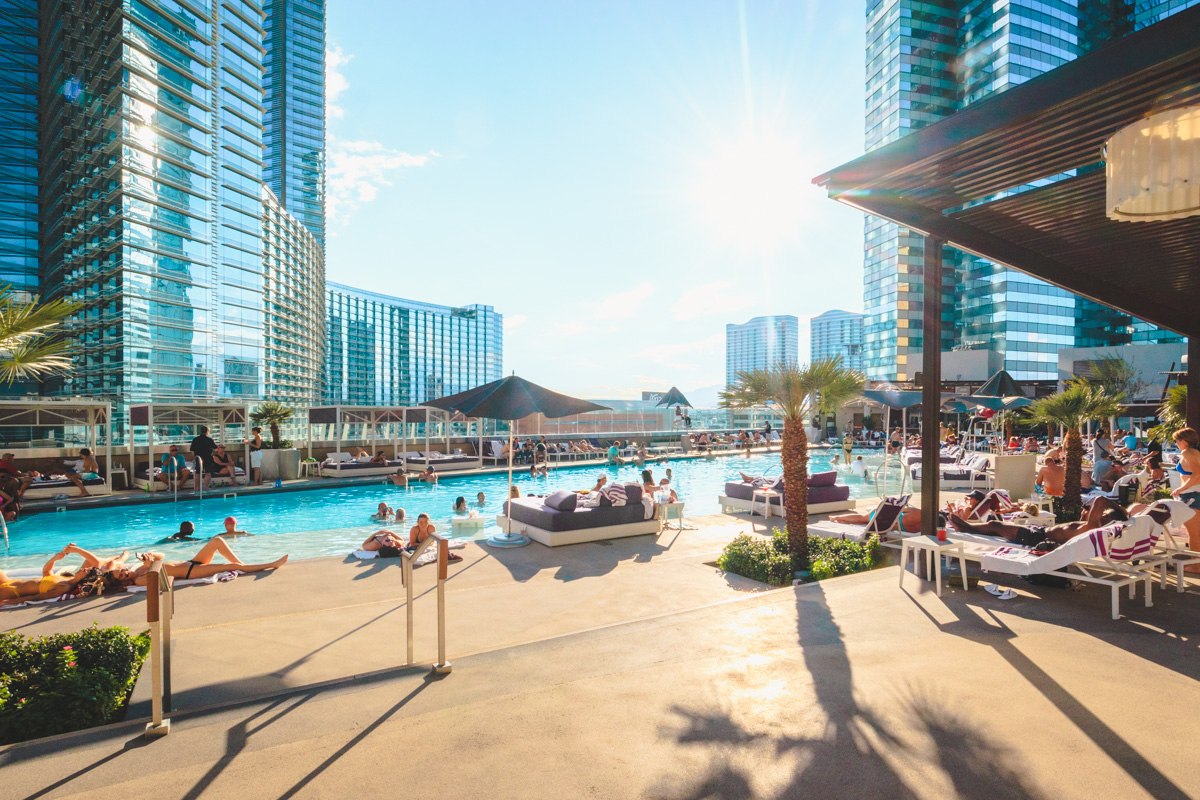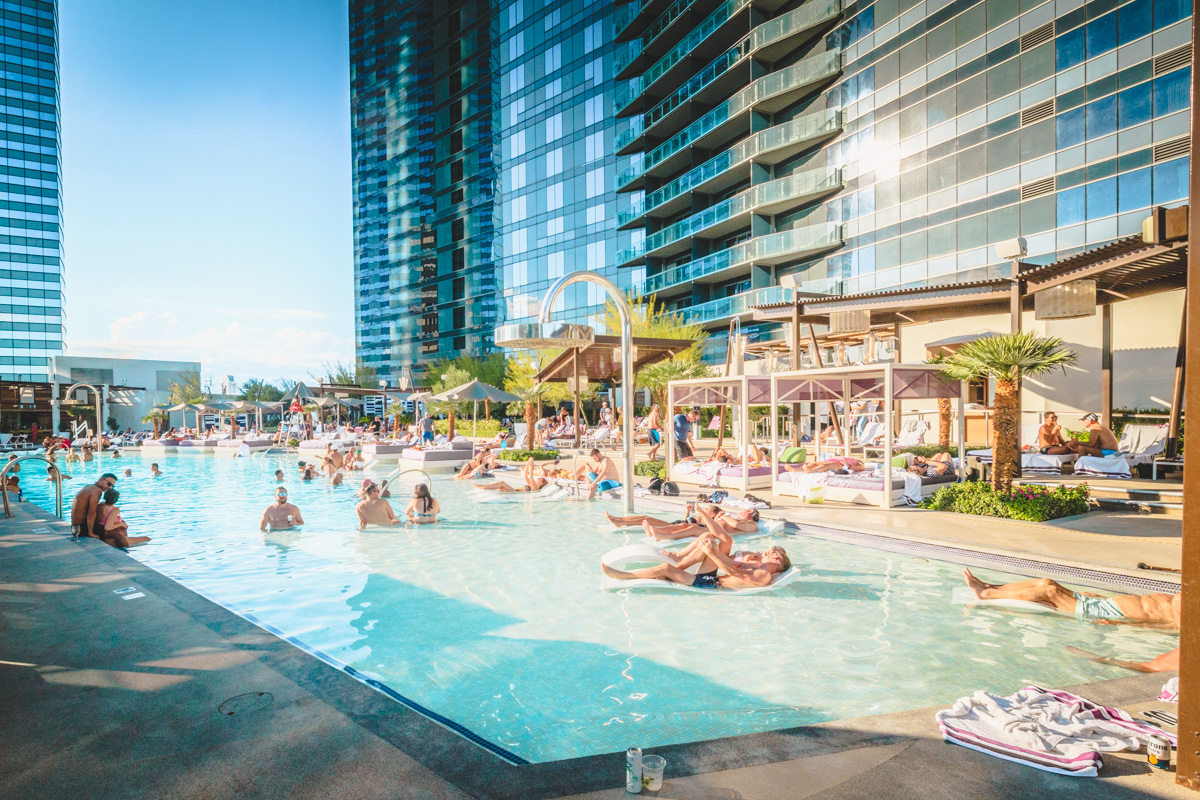 The spa facility features a large indoor swimming pool, spa, a hammam and 24-hour gym. I didn't have time to experience these facilities on this trip so there are no photos.
WiFi was recorded at an excellent symmetrical 138 Mbps.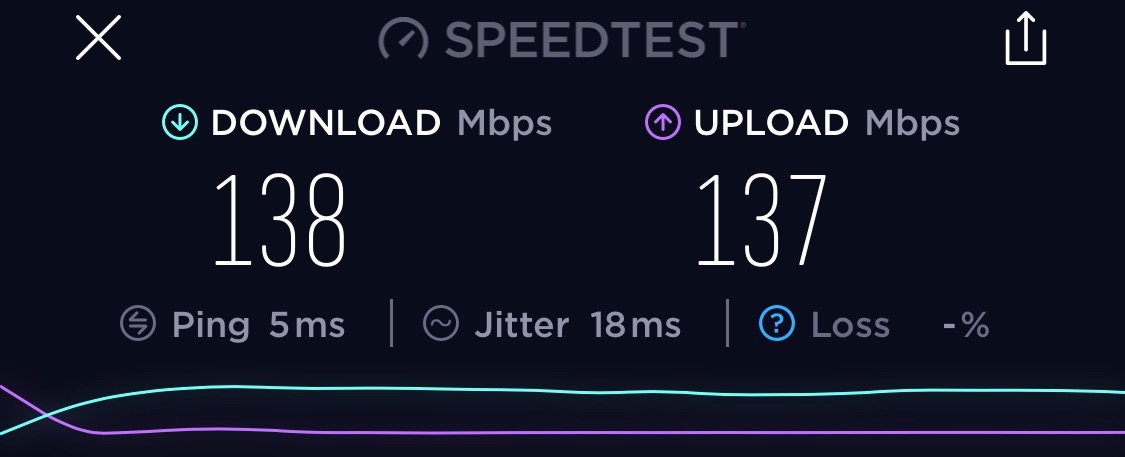 Around the hotel
Centrally located in the middle of the Las Vegas Strip and positioned so all north-facing rooms face the famous Bellagio fountains.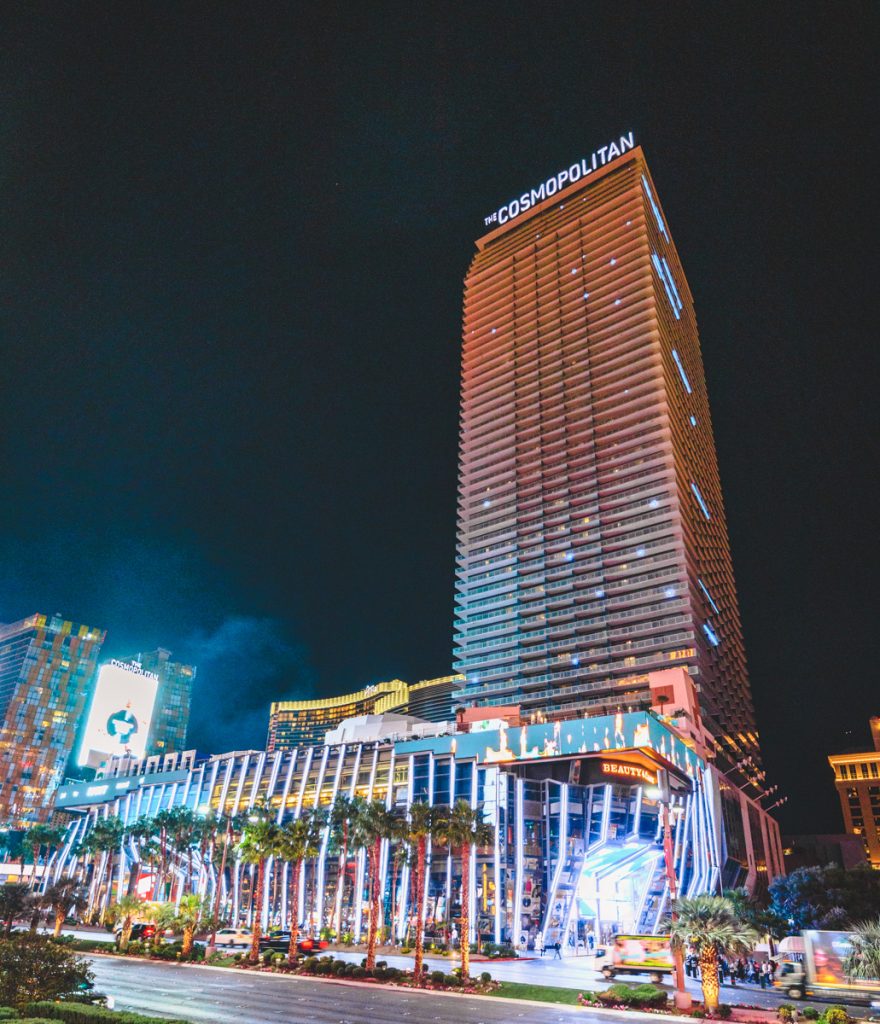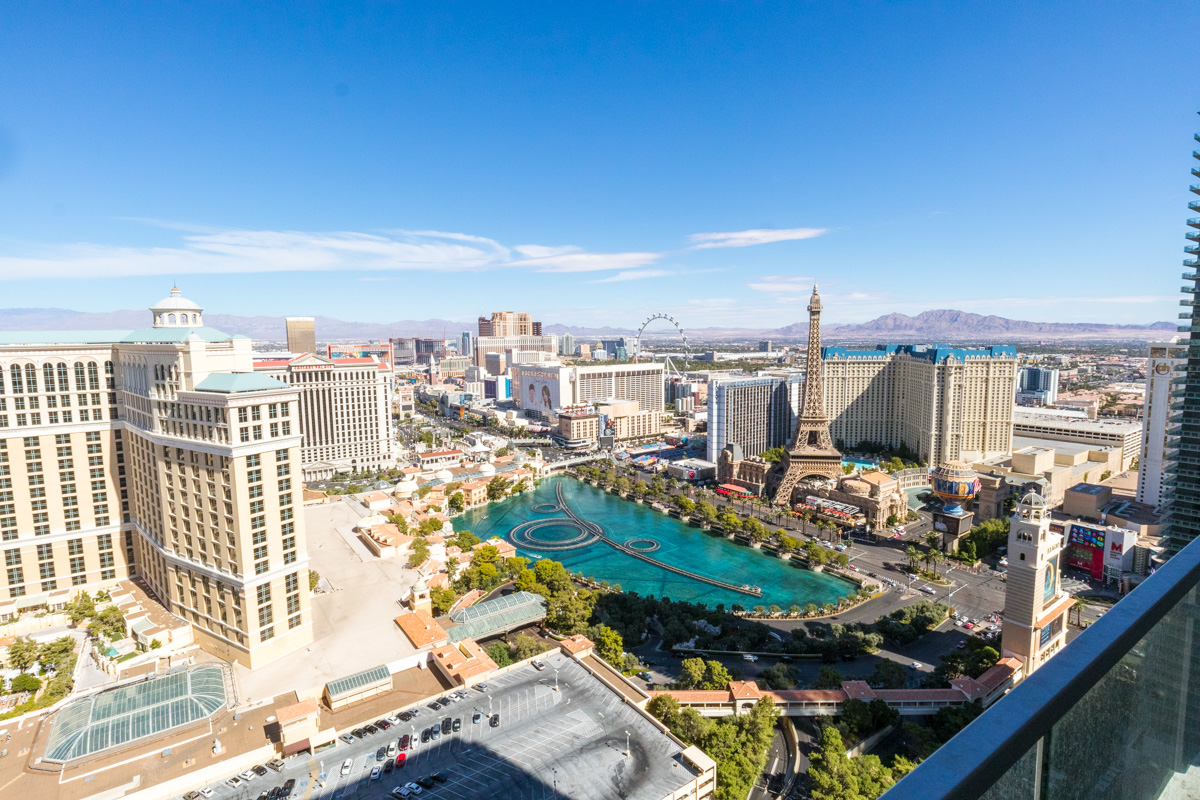 Other Marriott Bonvoy hotel reviews
Summary
Even after three previous visits, The Cosmo hasn't lost any of its fabulousness. In fact, it looks even more fabulous after the recent refurbishment. From the huge suites with unparalleled views of Las Vegas, excellent resort facilities, huge collection of restaurants and central Strip location there is a lot to love about The Cosmo. But seriously America, it's time to drop the ridiculous resort fees!
The Cosmopolitan of Las Vegas, an Autograph Collection Hotel review
was last modified:
March 23rd, 2022
by