There's no better way to begin your journey to Singapore than by getting a taste of the culture – quite literally. Thankfully, the Singapore Airlines SilverKris First Class Lounge at Melbourne Airport plays host to an array of gastronomical delights (laksa, anyone?) served à la carte, so you can truly experience Singaporean hospitality before your feet even land in The Lion City.
Wondering what SQ's most elite flyers get to experience before they jet off to Singapore? We venture into the SilverKris First Class Lounge in Melbourne to find out.
Location of the Singapore Airlines SilverKris First Class Lounge in Melbourne
The SilverKris First Class Lounge sits in the cluster of lounges in Terminal 2 of Melbourne Airport, the pathway to which is well-signed. Take the escalator up to the first floor and past the American Express Centurion Lounge and you'll be greeted by the golden bird.
Both the SilverKris First Class Lounge and Business Class Lounge are housed behind a single entryway. Most passengers are funnelled through to the larger Business Class Lounge on the right.
But for a select few passengers, the left end of the corridor unlocks a private area of serenity.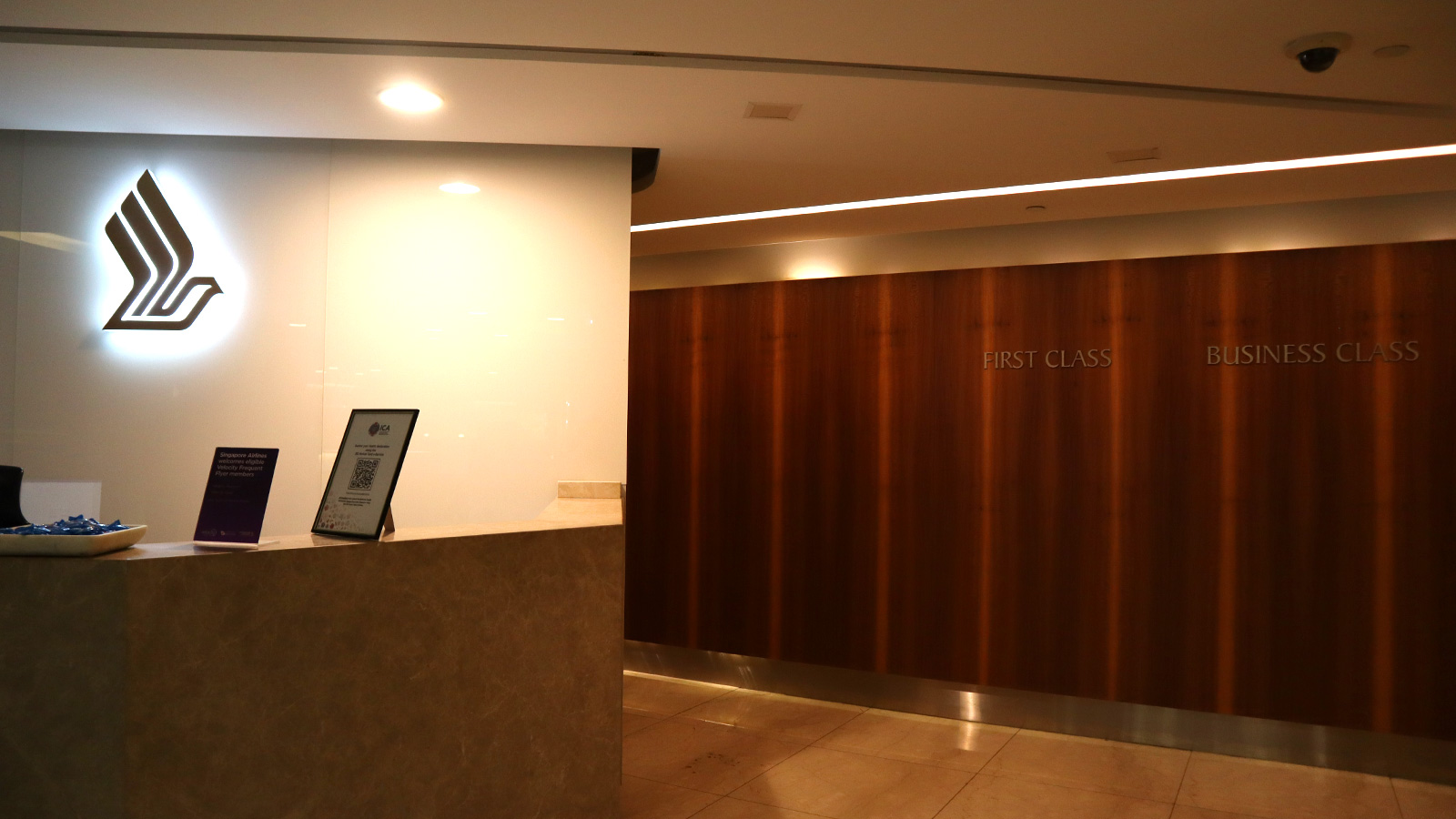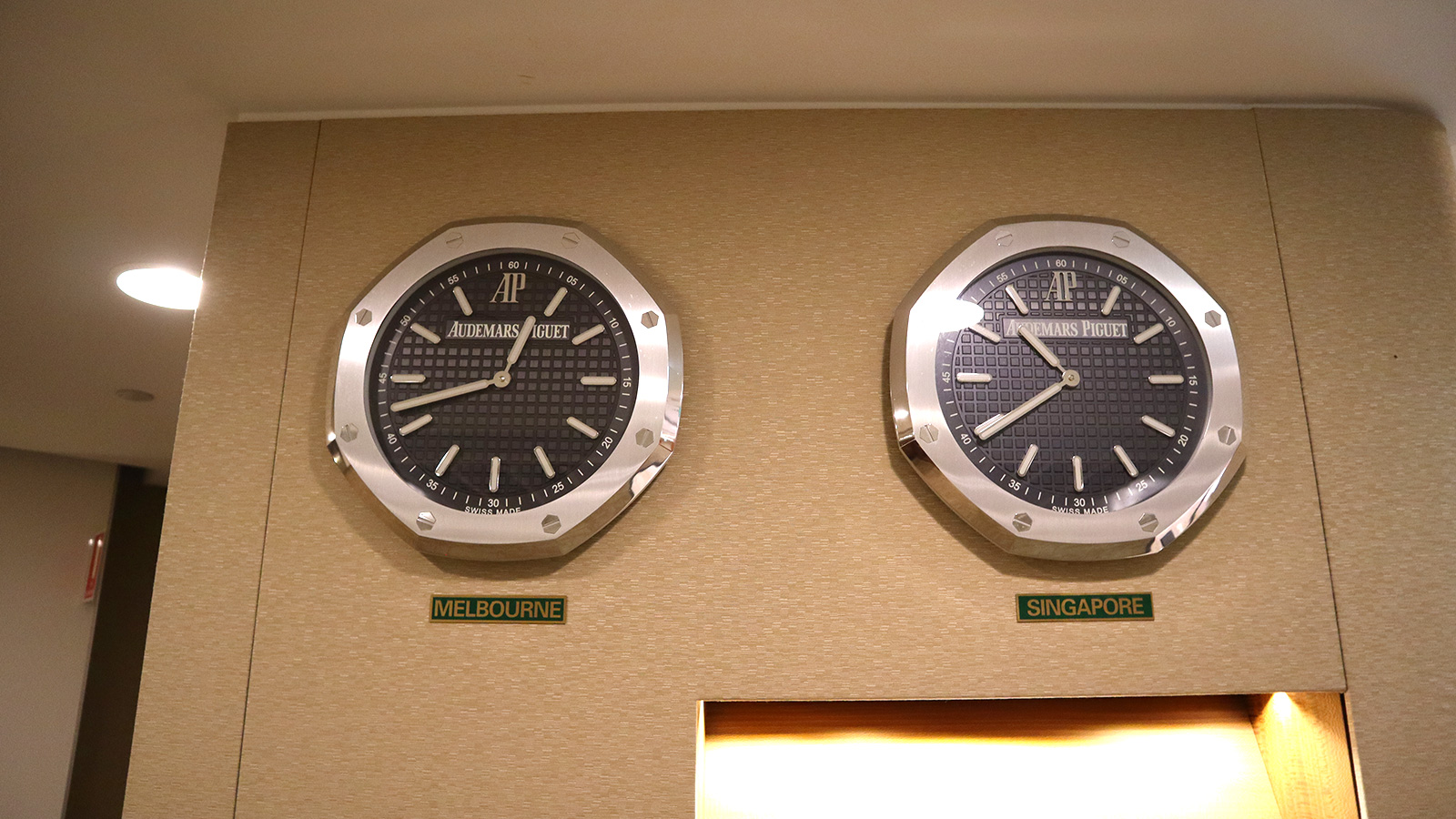 The pocket of the airport where the SilverKris First Class Lounge is located doesn't lend itself to natural lighting. And by effect, there are no tarmac views to get stuck into if you're an aviation enthusiast. But there are gorgeous timepieces by Swiss watchmaker Audemars Piguet adorning the wall, with the local times in Melbourne and Singapore should you wish to synchronise your body clock early.
Settling into the dining area near the front, I can hear faint sounds from the adjacent Business Class Lounge – nothing too audible, but merely an indication of how busy it is next door. But by contrast, just a handful of passengers trickle into the First Class lounge.
The lounge's opening hours are aligned with Singapore Airlines' departures from Melbourne Airport. I'm visiting during the afternoon opening slot – that's 12:40 pm to 6:25 pm to cater to flights SQ228 and SQ208. But if you're departing earlier or later, you can also visit between the hours of 6:35 am to 9:35 am, or 8:35 pm to 11:35 pm.
Layout and seating
My first impression upon entering the lounge is that it feels homely. The colour palette is subdued and the soft lighting brings a sense of warmth to the open-plan room.
While the space itself appears small, it's important to remember that the guest list isn't exhaustive. During my lunchtime visit before SQ228 departs, I count a grand total of five visitors.
The lounge is divided into two spaces – a seating area with single chairs scattered throughout and a separate dining area with four tables. Again, it's all relative to the guest list. The passengers inside the lounge are comfortably spread out across both areas, and there's lots of room to spare.
There's no dedicated workspace or tables aside from the handful in the dining area. But I'm told the former business centre next door has been converted into additional seating – so it seems there's little demand for these facilities anyway.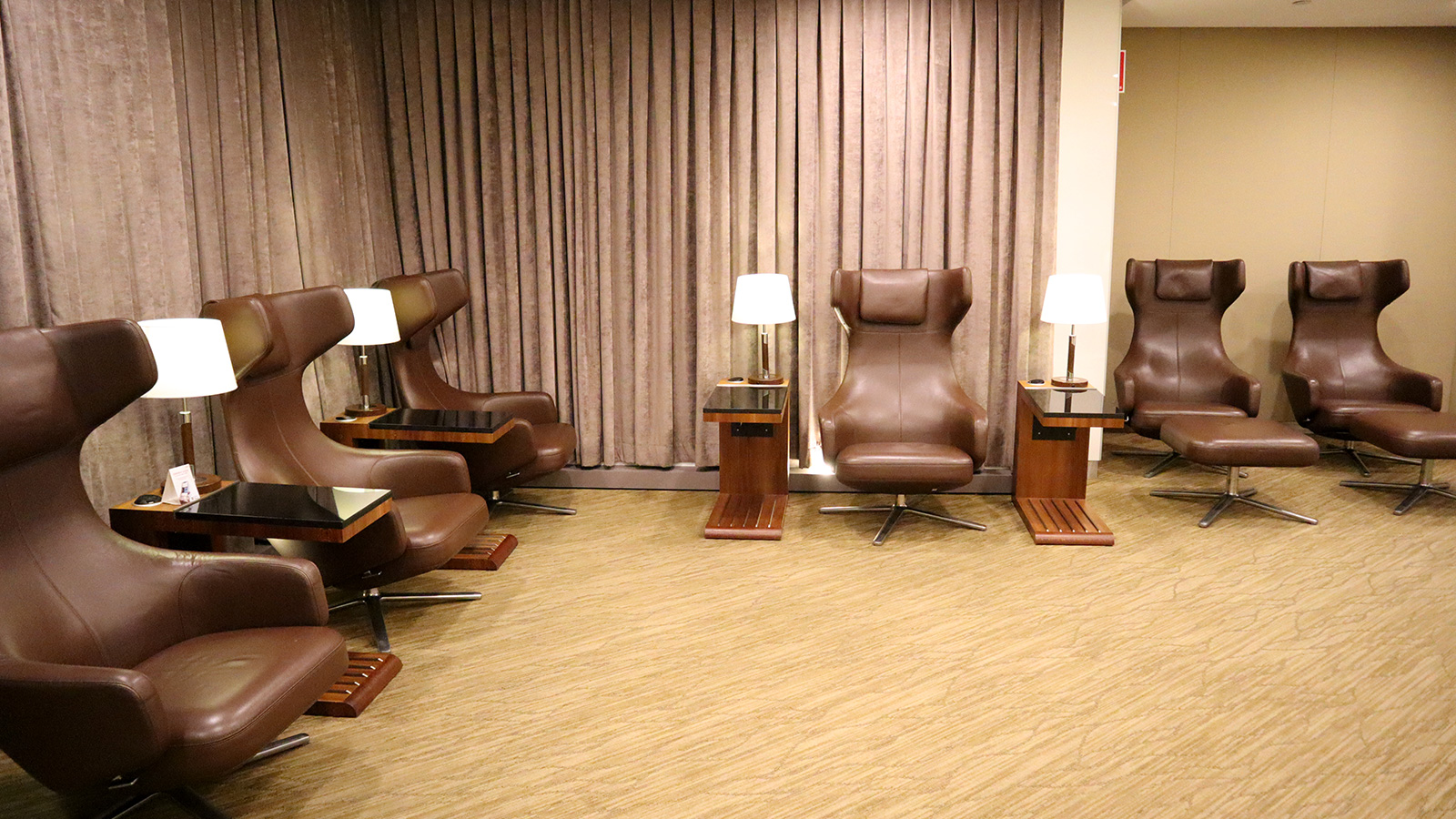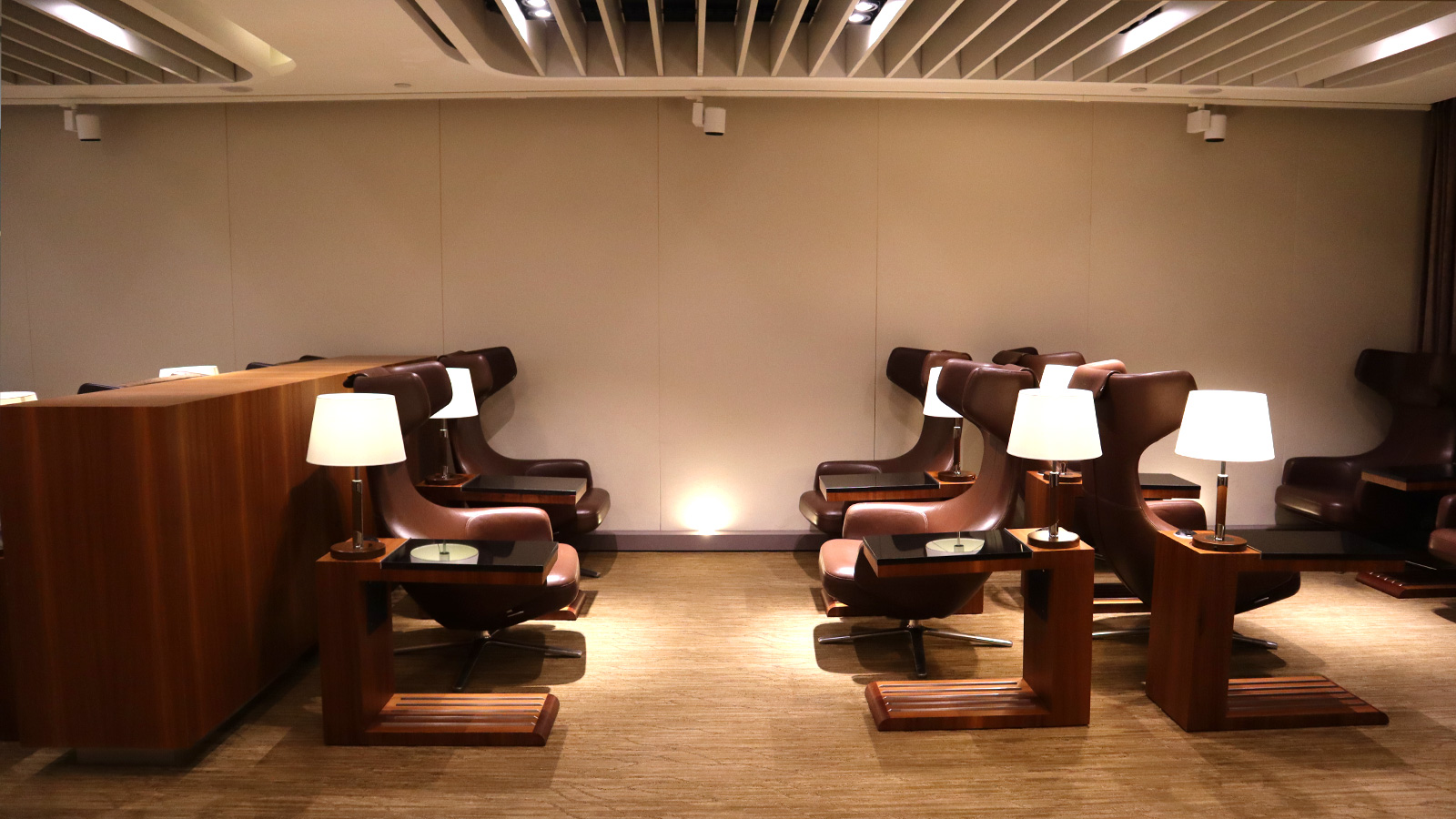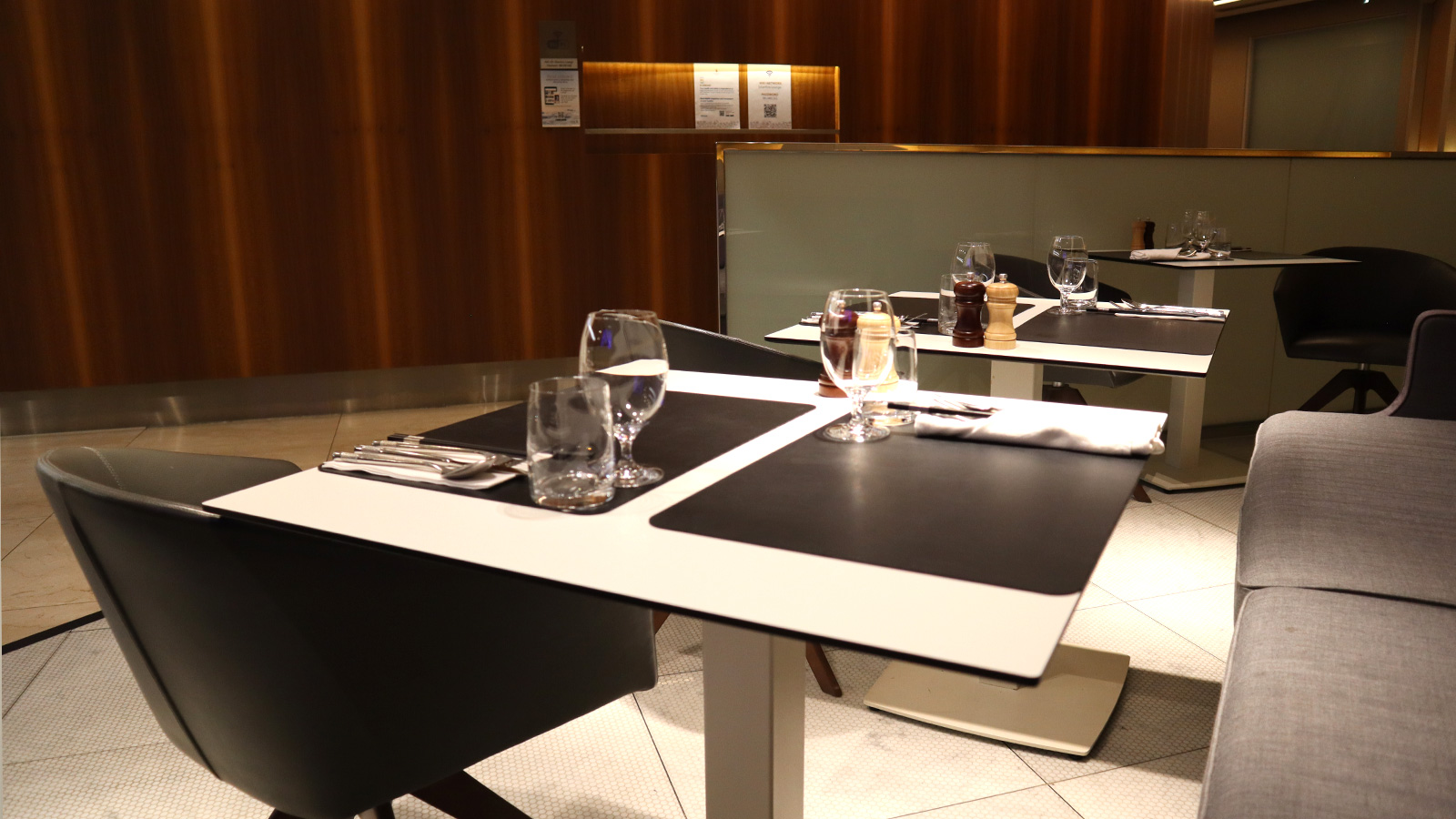 Food and beverage in the Singapore Airlines SilverKris First Class Lounge, Melbourne
The menu in the First Class Lounge is entirely à la carte, bar the grazing selections on the counter. Speaking of which, there's assorted dim sum, mini sandwiches and banh mi, a cheese platter, bite-sized cakes and my personal favourite, Spanish churros with cinnamon sugar (chocolate sauce is optional, but recommended). Yum!
But for something more substantial, you'll want to take a seat and peruse the full menu. The dishes are on a seasonal rotation and there are three separate menus to cater to breakfast, lunch and supper. My lunchtime visit coincides with the tail-end of winter so today's menu is warm, hearty and flavourful.
Many of the dishes you'll find on the First Class à la carte menu are also available in the buffet in the Business Class lounge. There are some exceptions, though. For instance, some of the Singaporean dishes are exclusive to the First Class Lounge, which also boasts its own exclusive dessert. A rich Singapore prawn laksa just isn't the same when served from a warmer, so you can only enjoy this dish – and others – as part of the curated dining experience in the First Class Lounge.
Notably, the dining ware is from French luxury brand Lalique. Sound familiar? It's the same brand that collaborates with Singapore Airlines on their First Class pyjama sets and amenity kits. Talk about consistency!
While the food selection in the lounge is exceptional, some passengers may opt to save their stomachs for Singapore Airlines' famed Book the Cook service onboard. But if you're tucking in before your flight, here's a full rundown of the menu.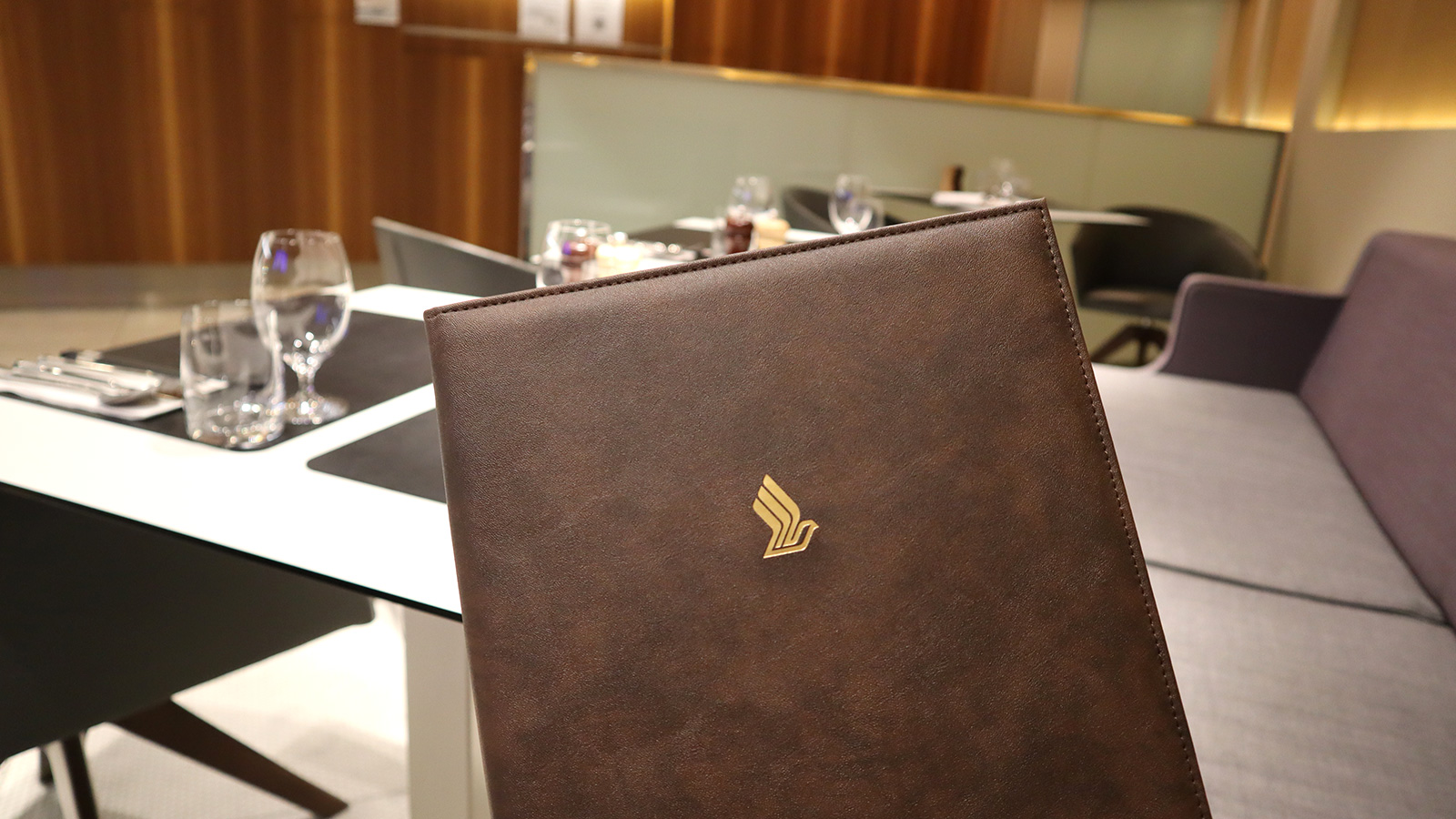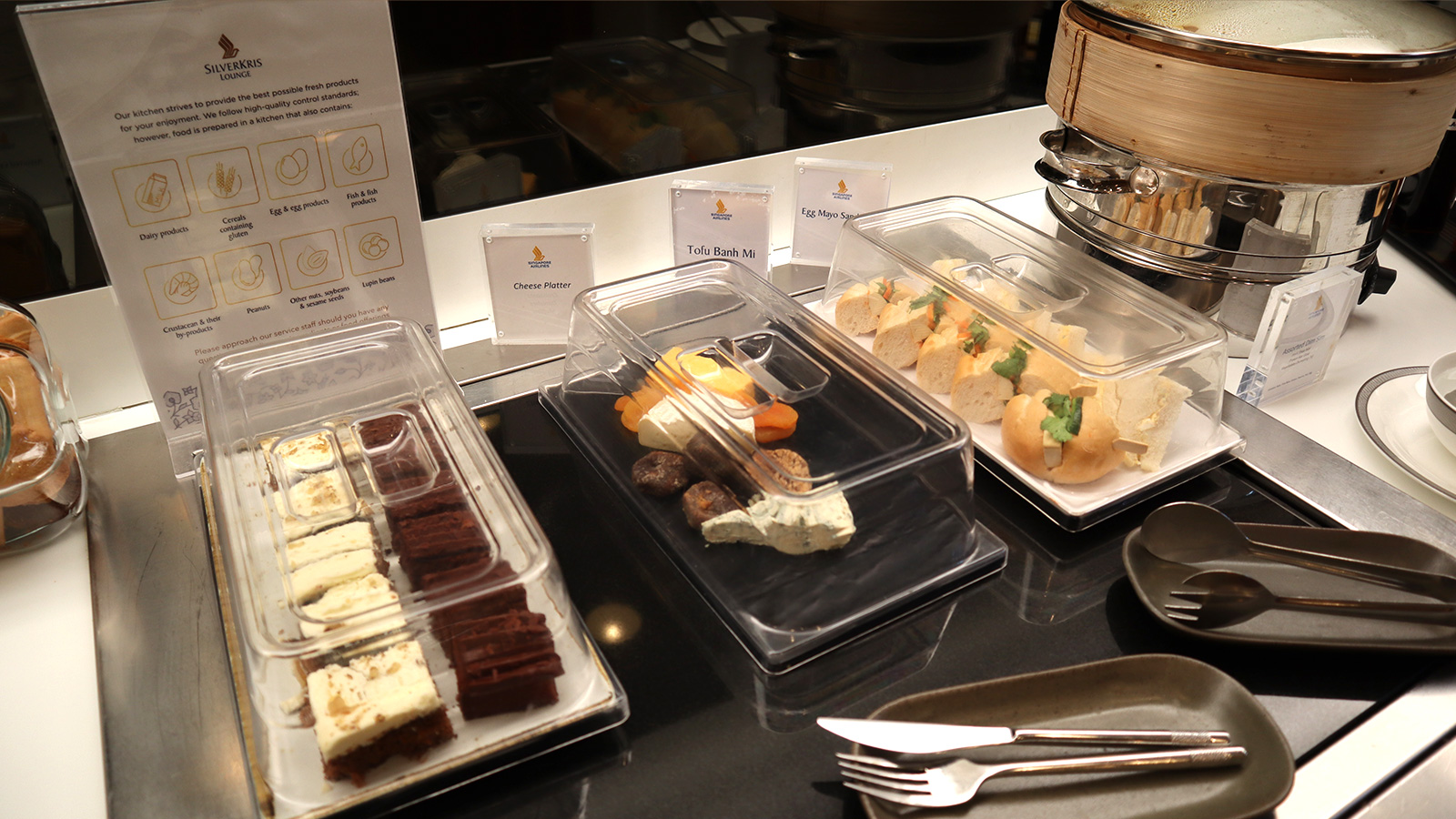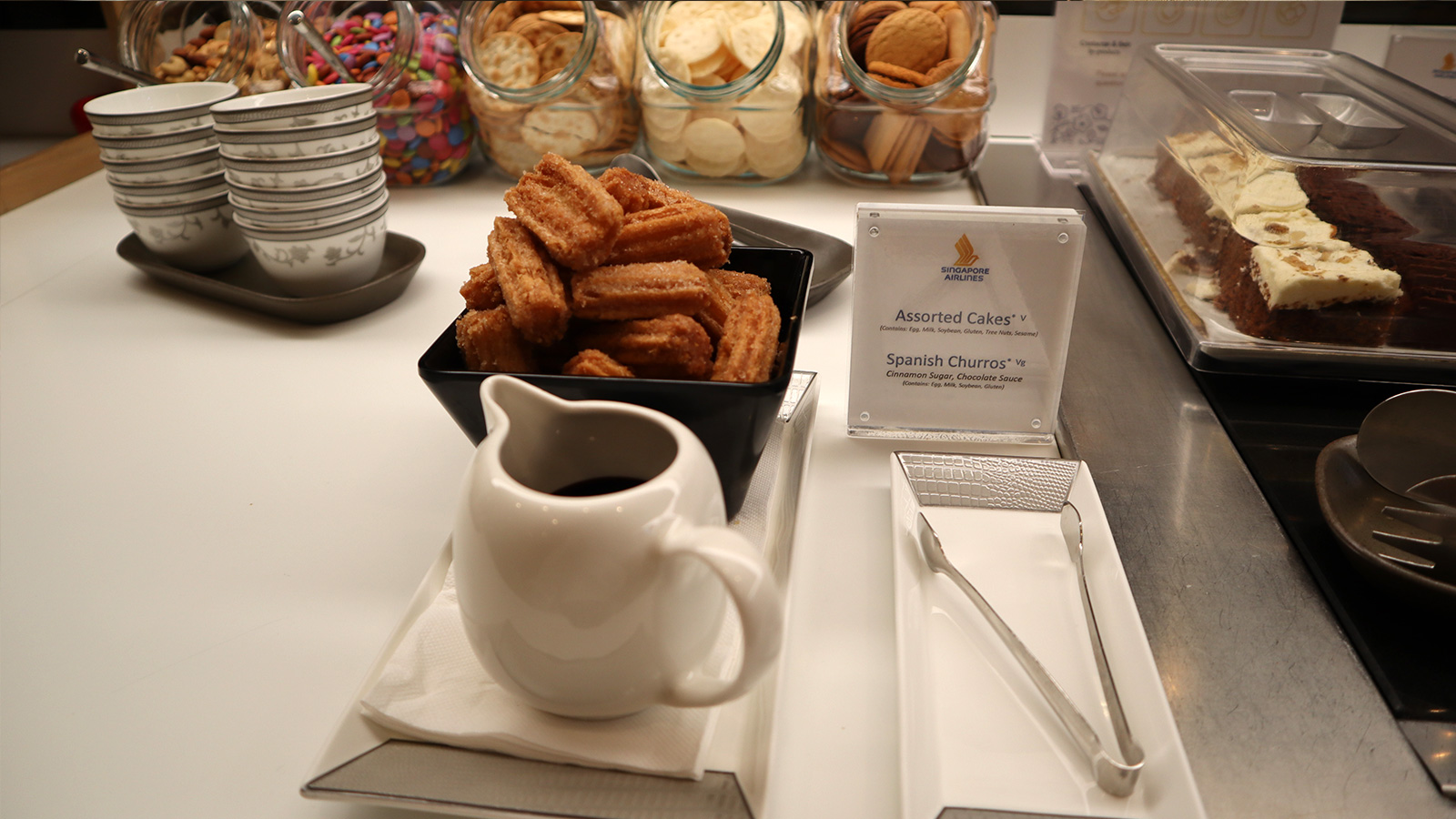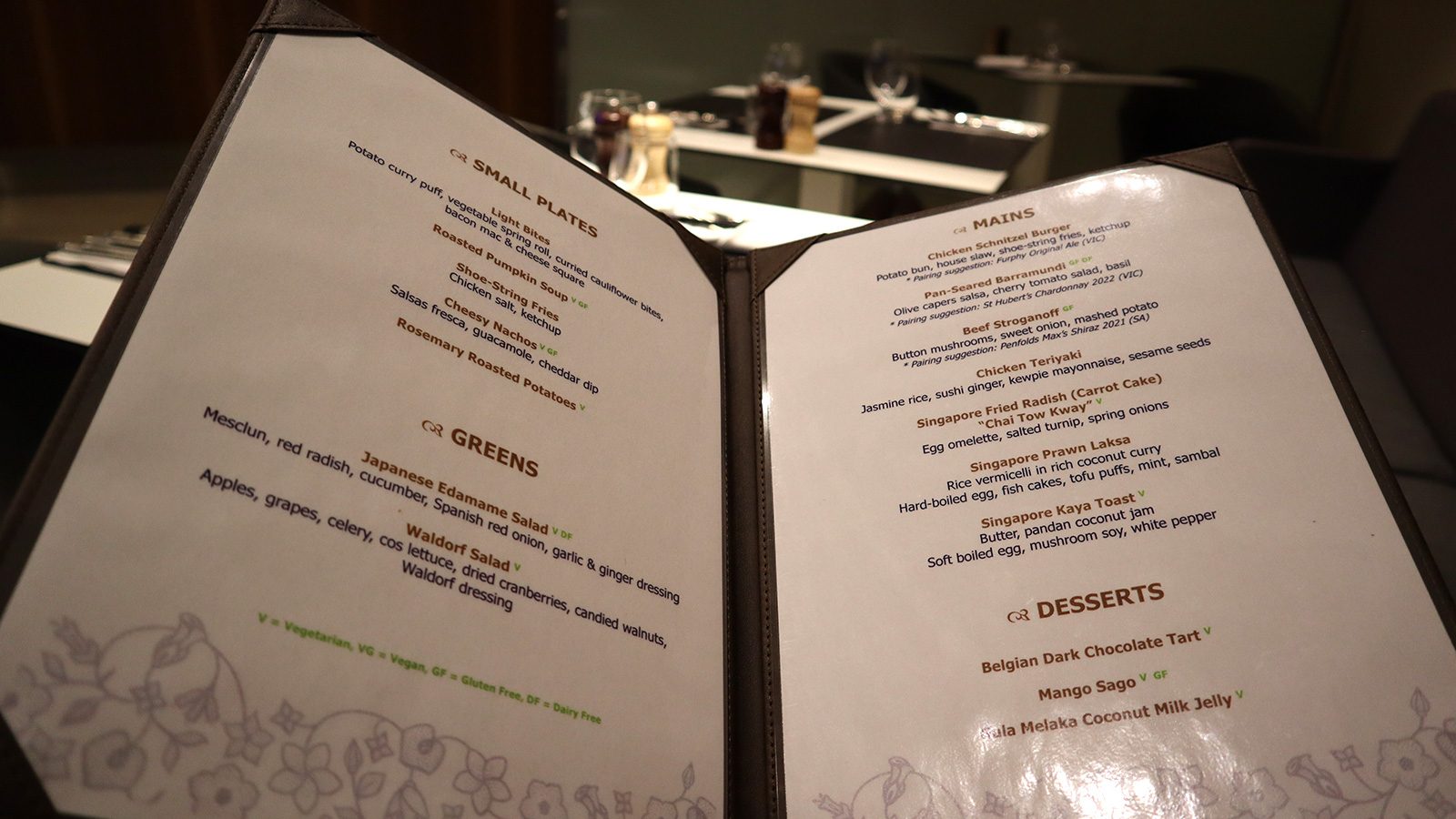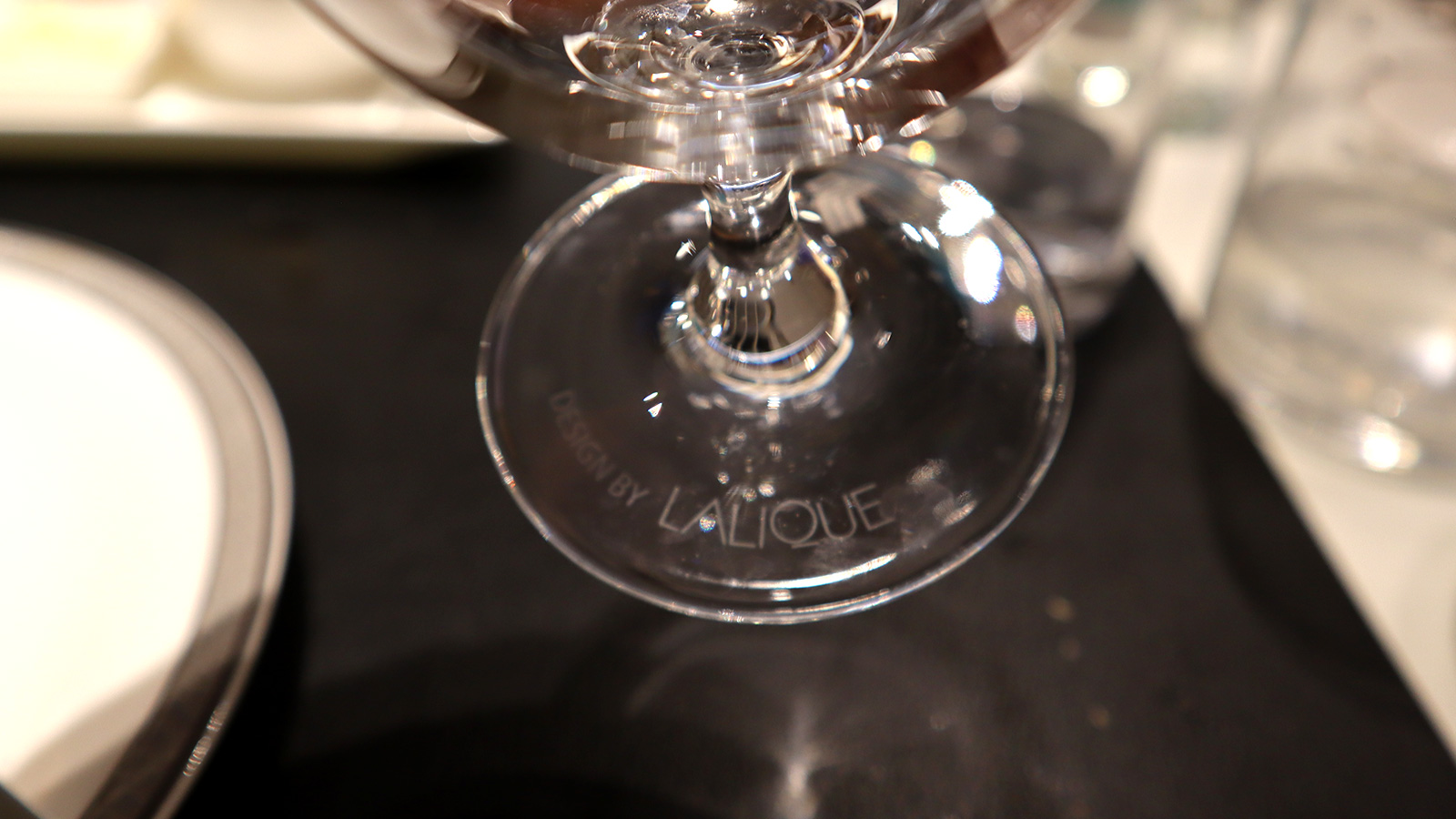 Small plates and greens
The menu in the First Class lounge is designed much like a restaurant menu. Side dishes and salads are separate from the mains, and you can mix and match dishes to suit your taste or appetite. So if you're looking for something to nibble on, the small plates section is an ideal starting point.
To whet my appetite, I begin with the 'light bites' – a potato curry puff, vegetable spring roll, curried cauliflower bites and a bacon mac and cheese square, accompanied by sauces. I take a liking to the crunchy and flavourful cauliflower bites (no sauce needed here). Though I'm told the bacon mac and cheese square is a hit with young flyers.
The roasted pumpkin soup is a delight to my senses. Warm, rich and creamy, it's topped with pepita seeds for added texture and crunch.
Rounding out the small plates menu are cheesy nachos, rosemary roasted potatoes and shoestring fries. You can order any of these to complement a main or enjoy them as a snack on their own.
And if you're building your own main, there are two salads to choose from – the Japanese edamame salad and the Waldorf salad. The candied walnuts give the Waldorf salad a sweet kick, while the ginger dressing is a highlight of the edamame salad. You can't go wrong with either option.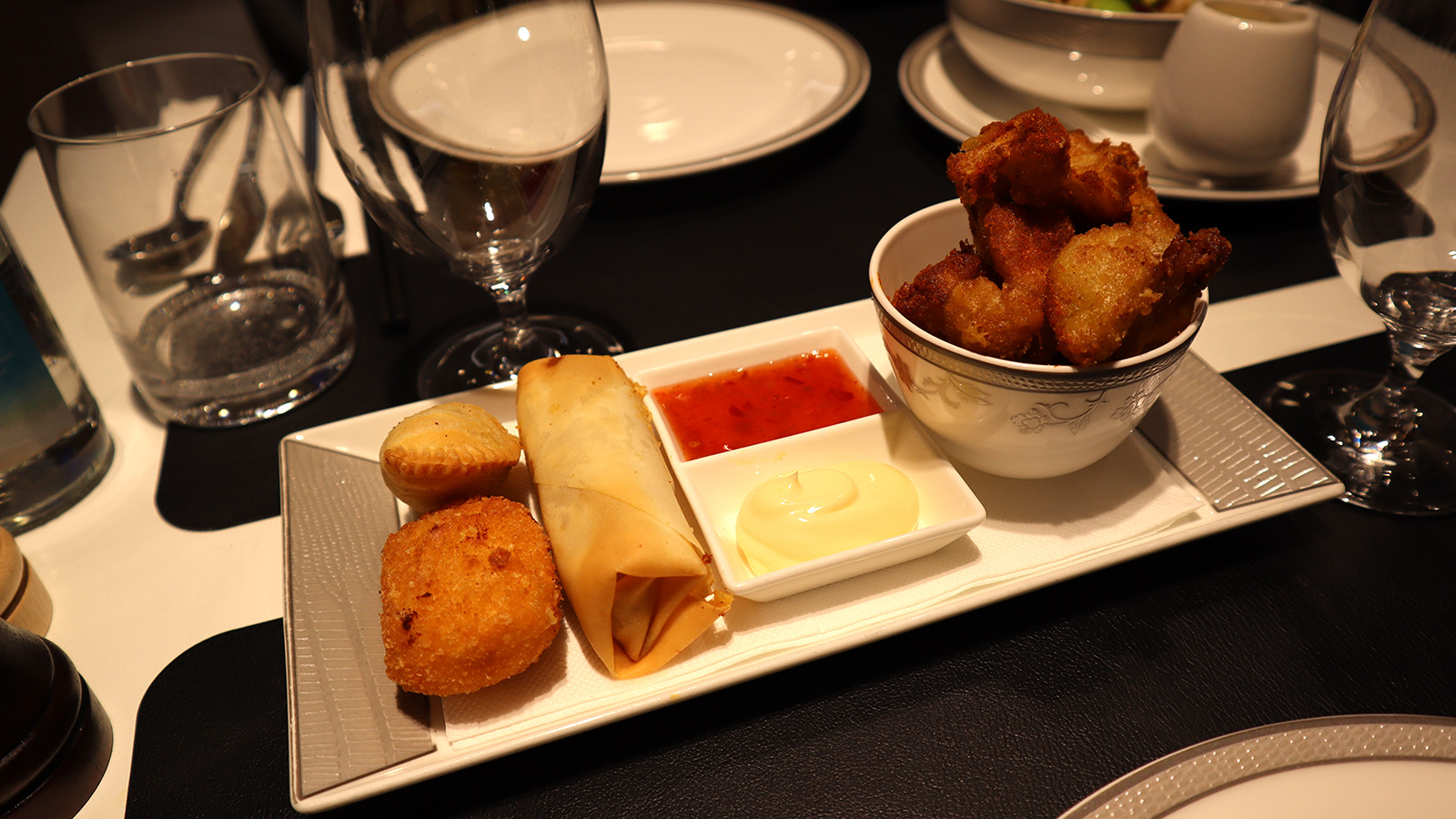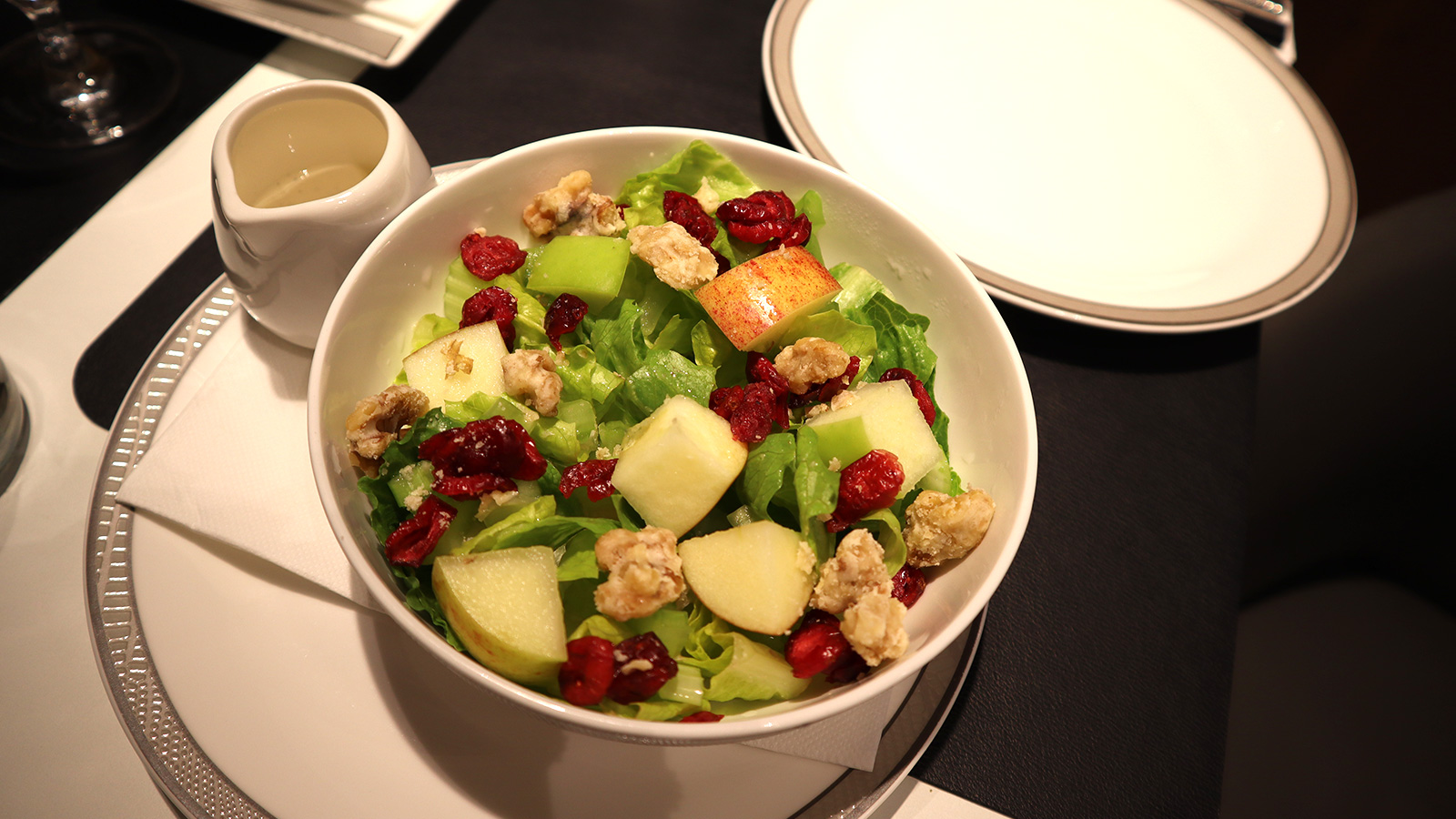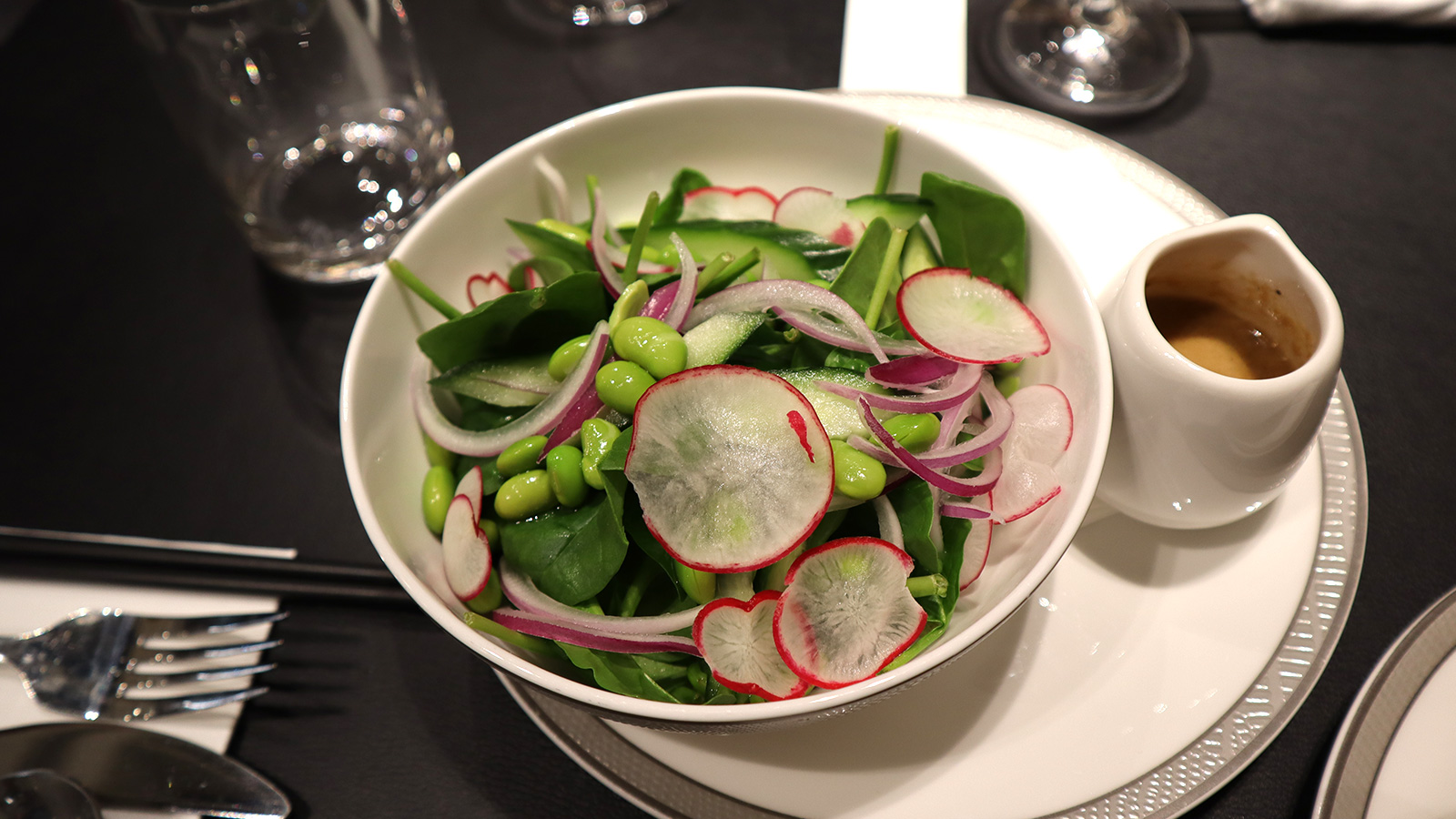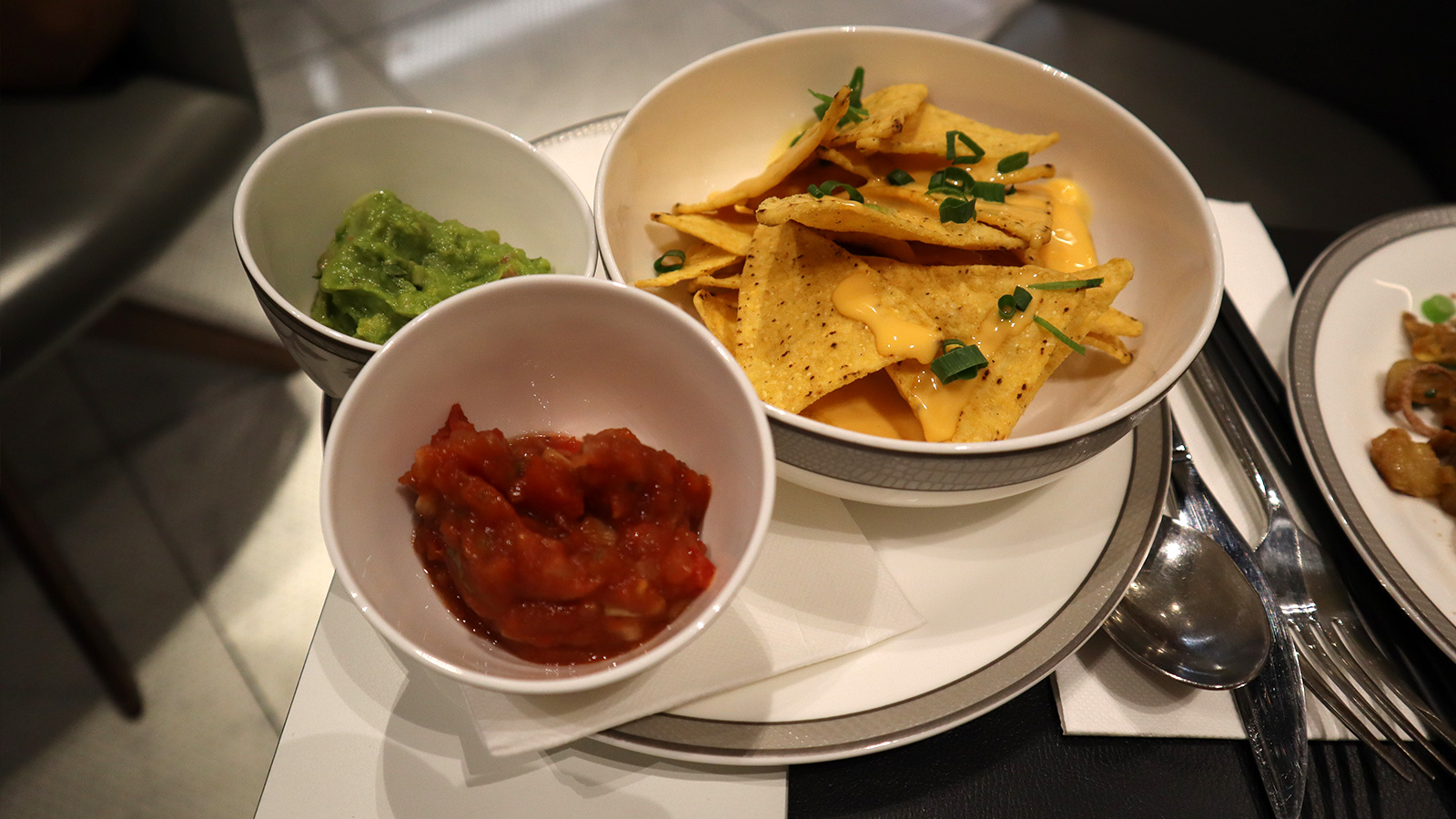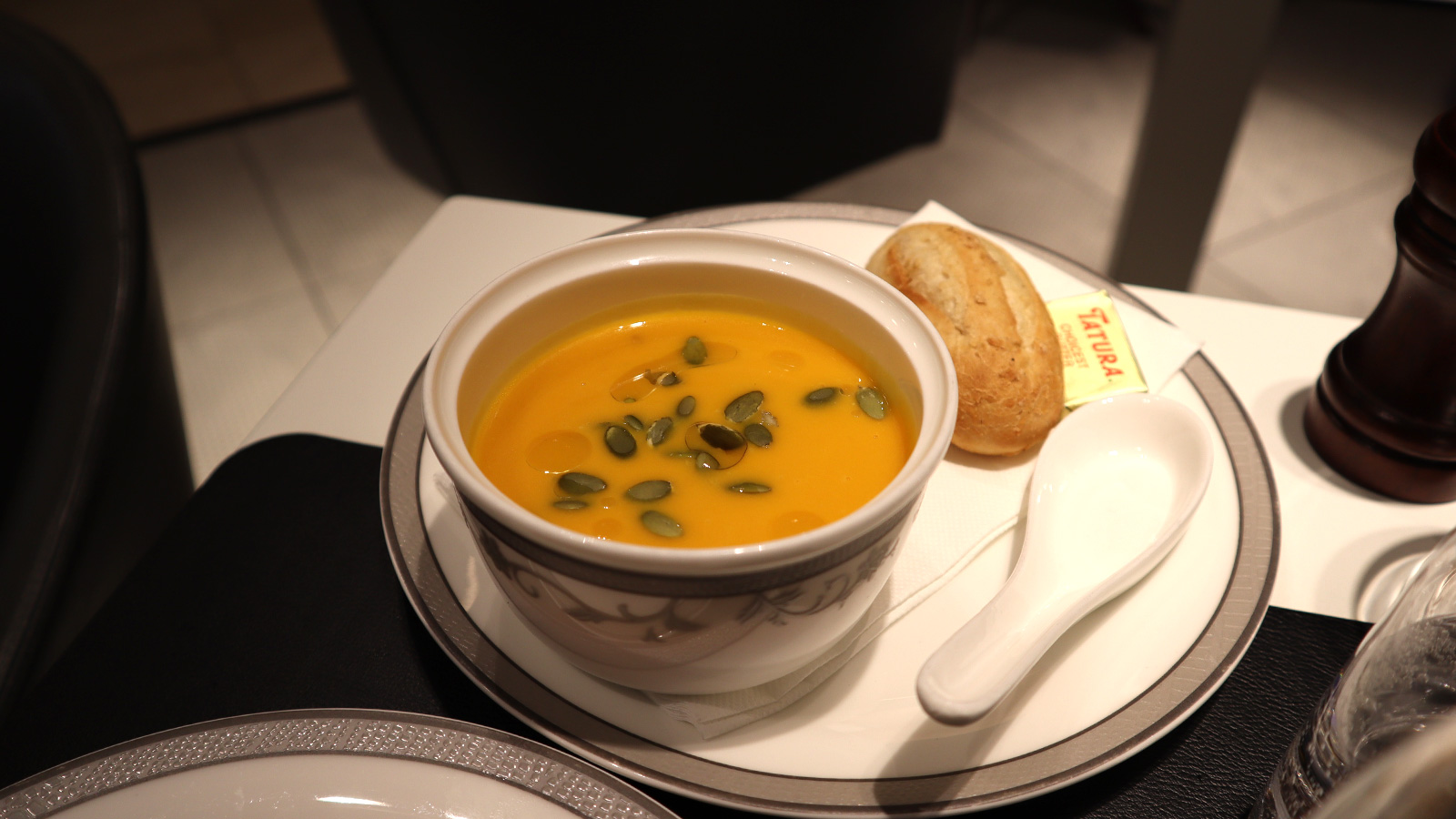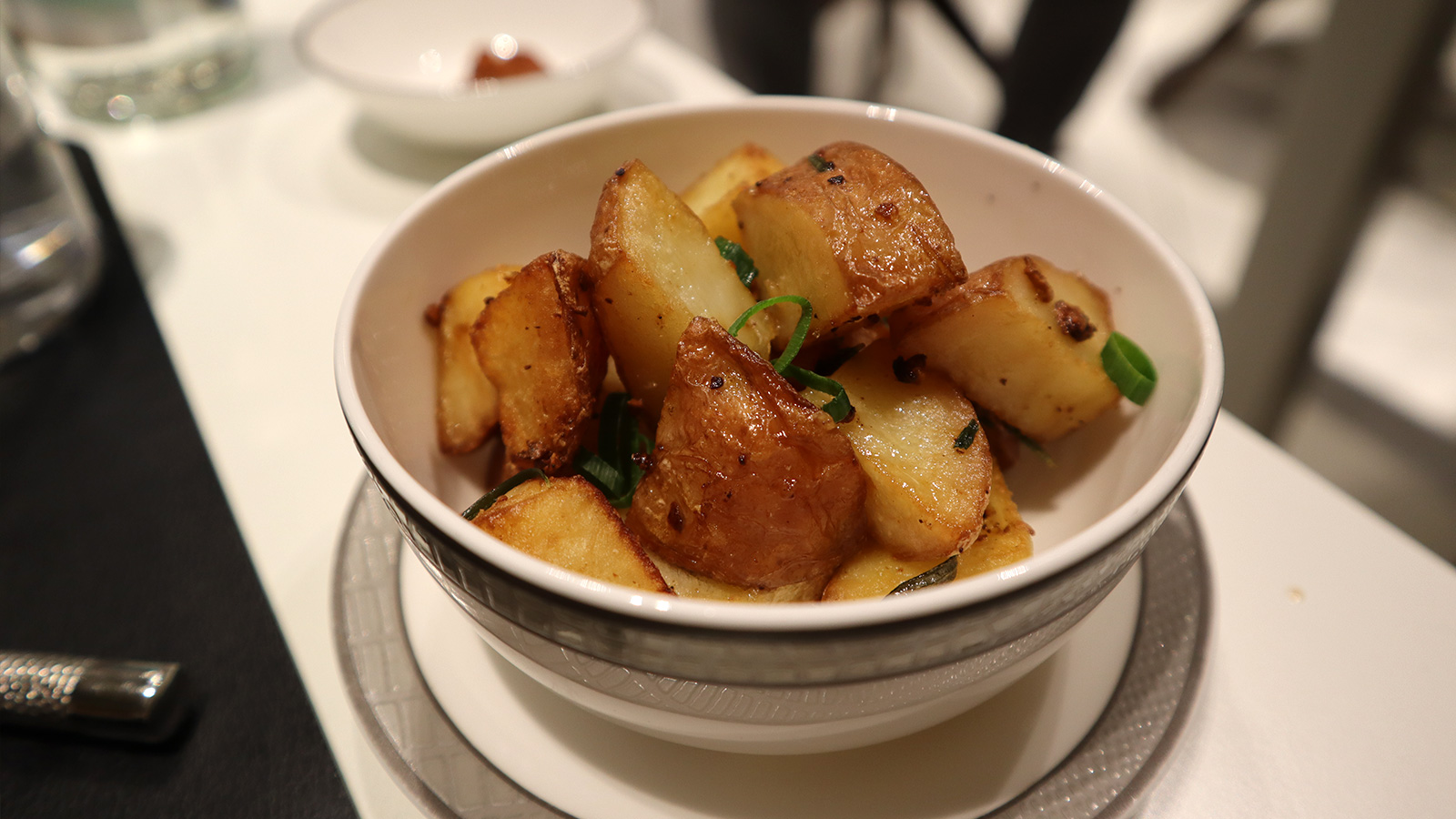 Mains
The menu in the SilverKris First Class Lounge is a testament to Singaporean cuisine. Meticulously crafted by Singaporean-trained chefs using seasonal produce, the à la carte selection of mains combines Western favourites with traditional Singaporean fare.
Start by digging into a generous serving of barramundi with house-made salsa verde. This is one of the dishes you won't find in the Business Class lounge buffet. There's plenty of variety among the other mains too, with options like a chicken schnitzel burger and beef stroganoff.
As for the Singaporean dishes on the winter menu, the aromatic laksa takes centre stage. Admittedly, a laksa is seldom my preferred dish when dining out. But I'm happy to branch out on this occasion and find myself eagerly enjoying the fragrant broth. And you needn't worry about spice, either – you can add it to your liking.
While my last trip to Singapore may have been 18 months ago, the memory of waking up at the crack of dawn to trek through the city's backstreets in pursuit of the best kaya toast remains fresh. This dish – commonly found in both Singapore and Malaysia – has always been a favourite of mine. For the uninitiated, kaya toast is made of crispy white bread slathered with brown coconut jam (kaya). The lounge serves up the Hainanese version of this dish, complemented by a soft-boiled egg. If kaya toast is on the menu during your visit, plan for a sleep-in in Singapore. You won't need to venture out early for delicious, authentic kaya toast when you can enjoy it right here.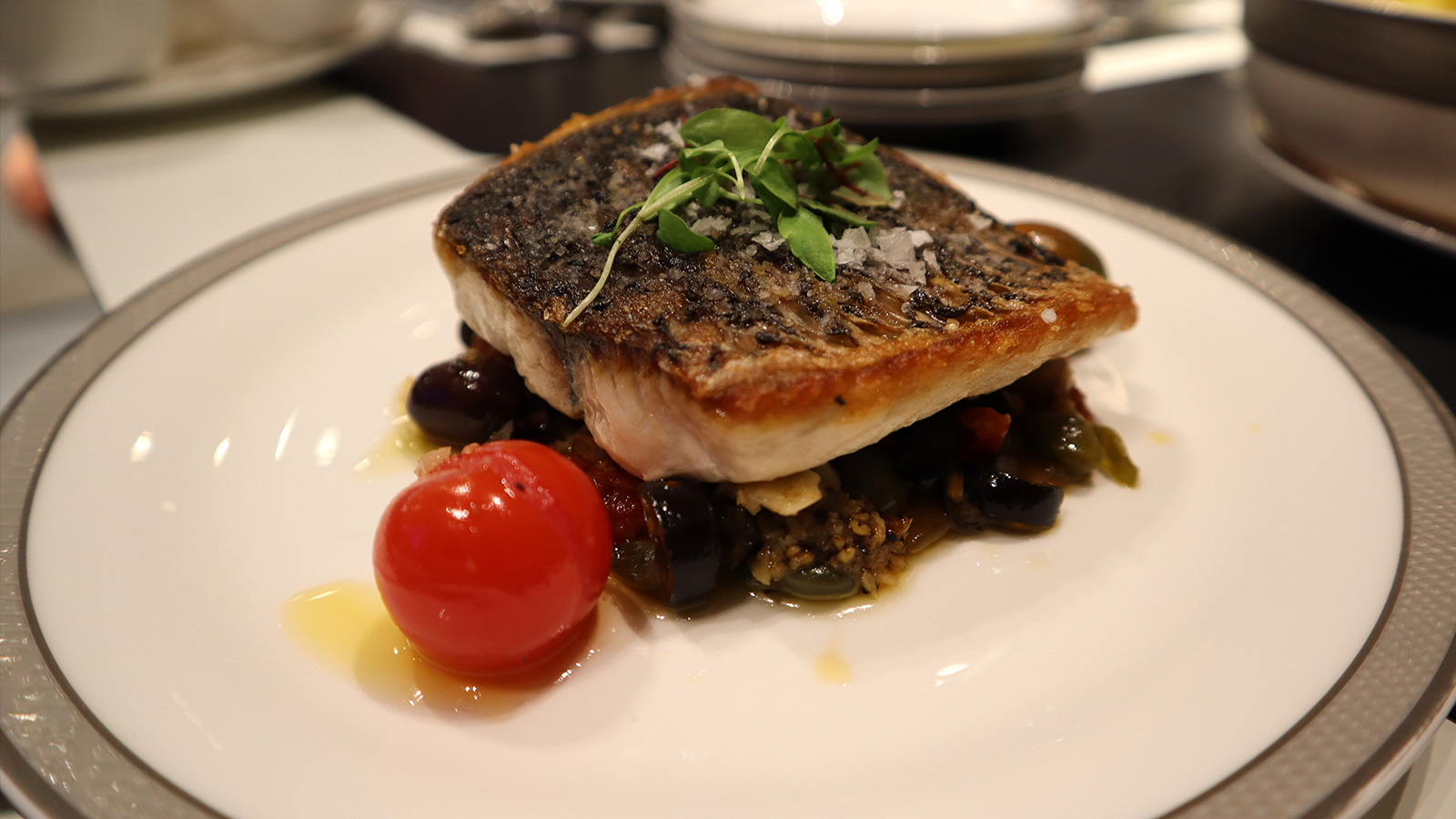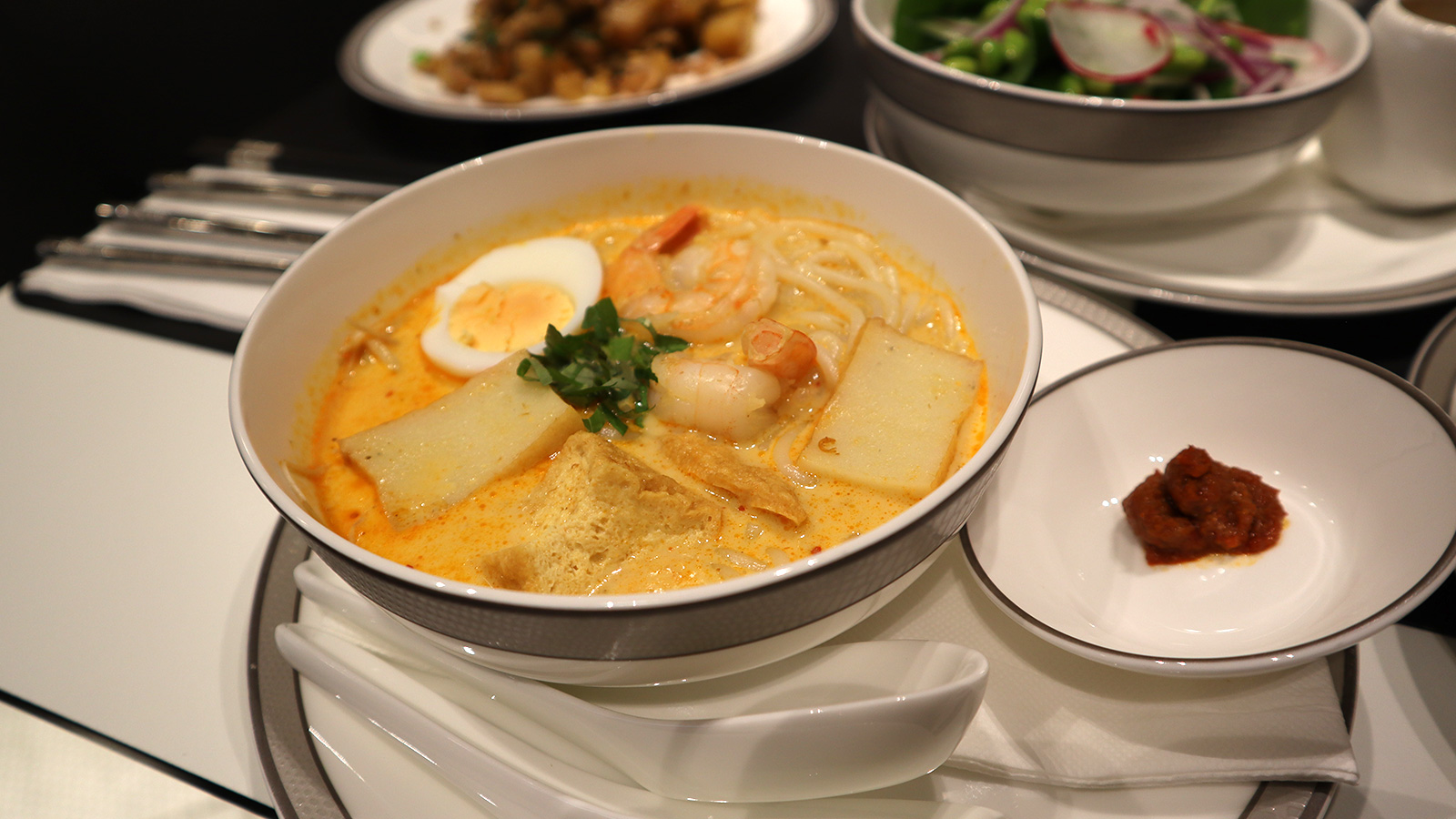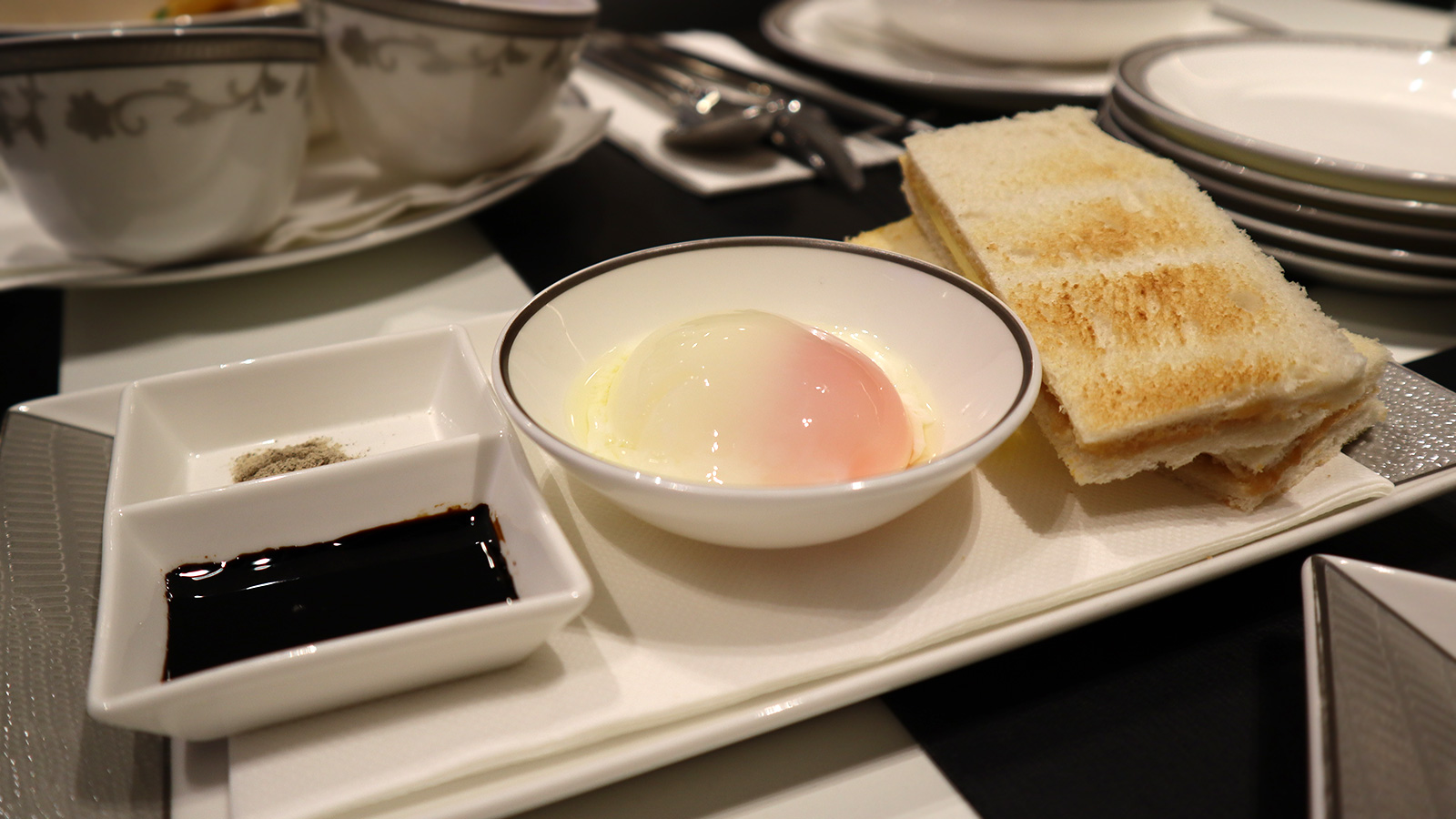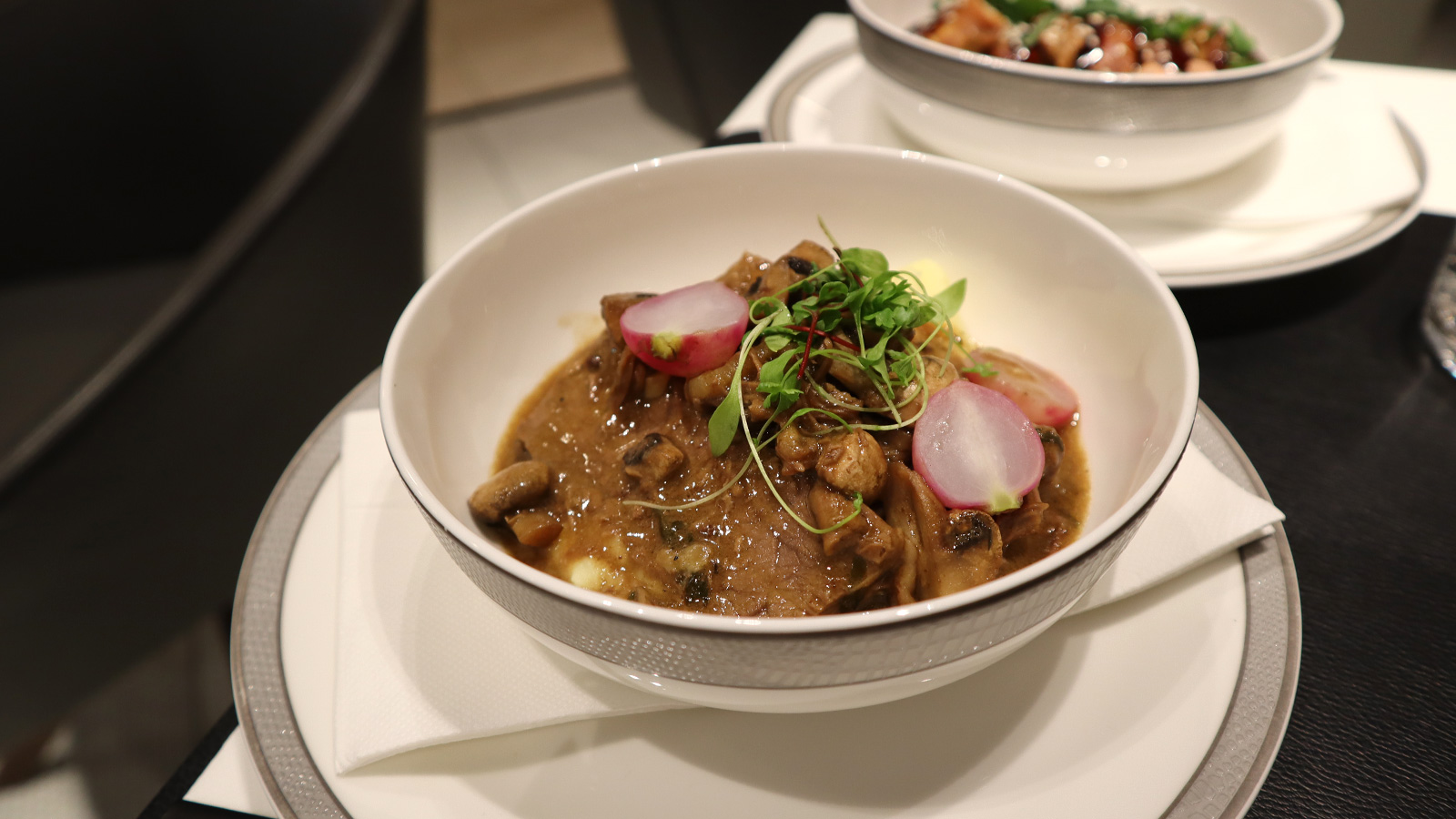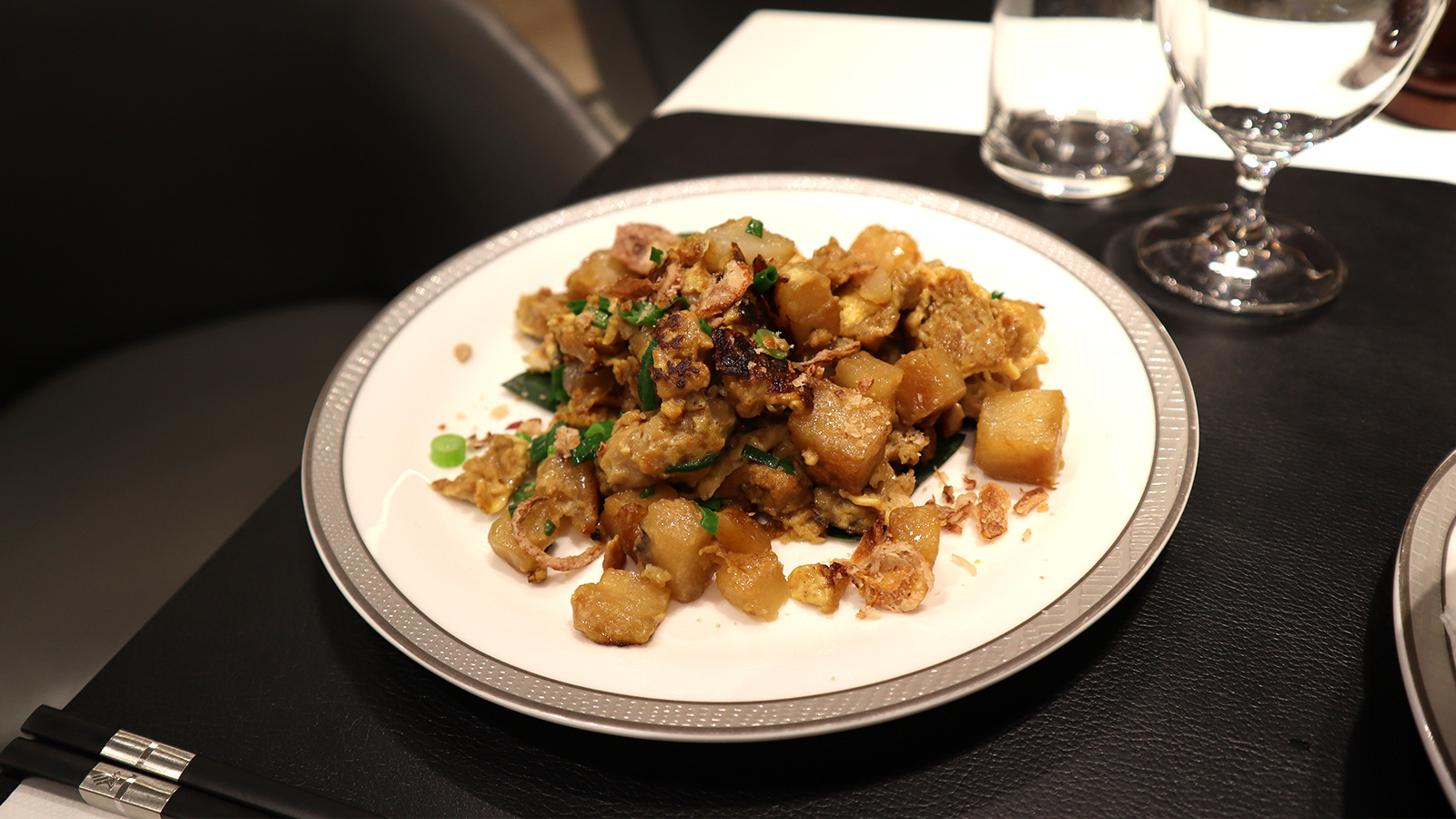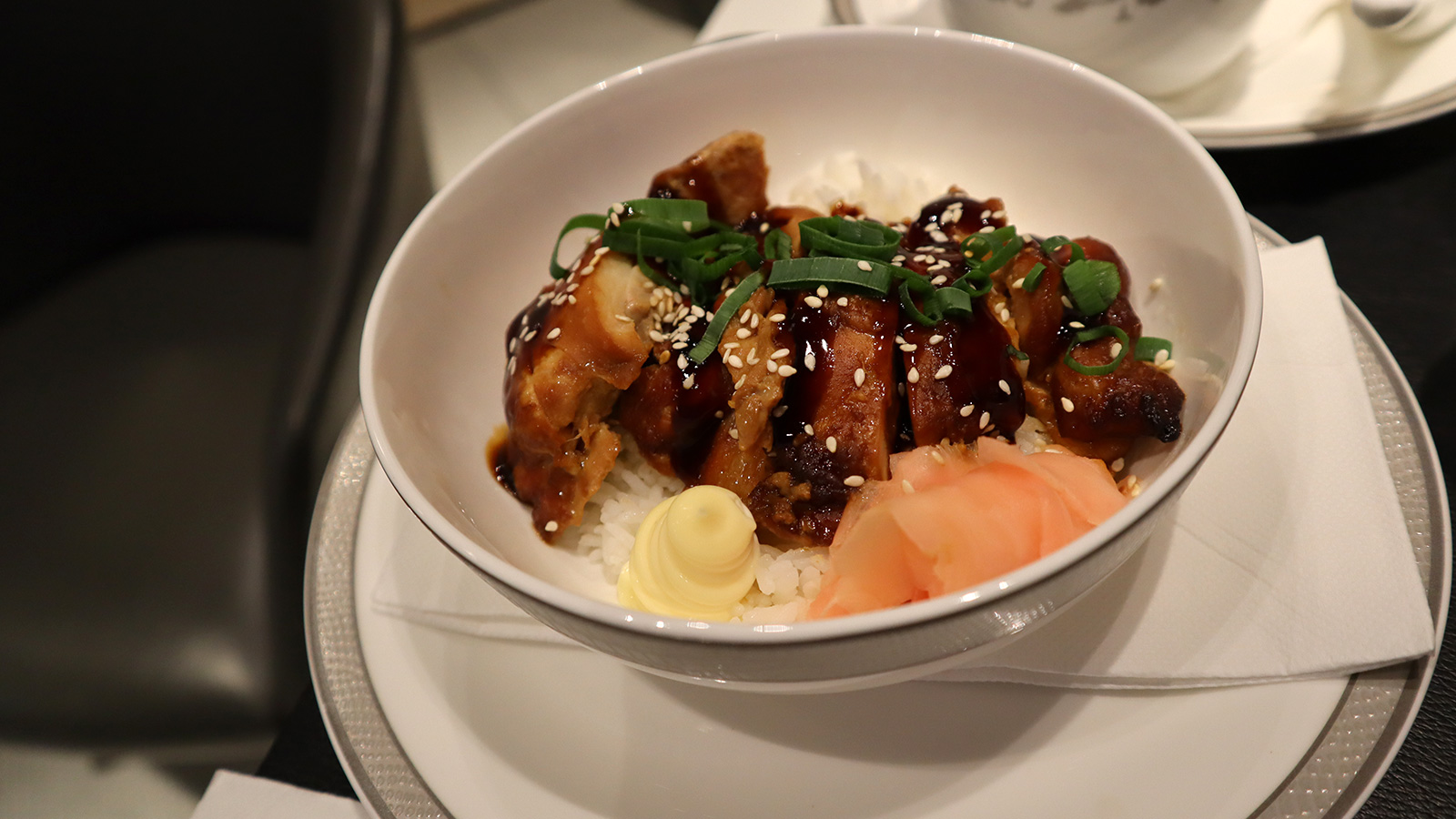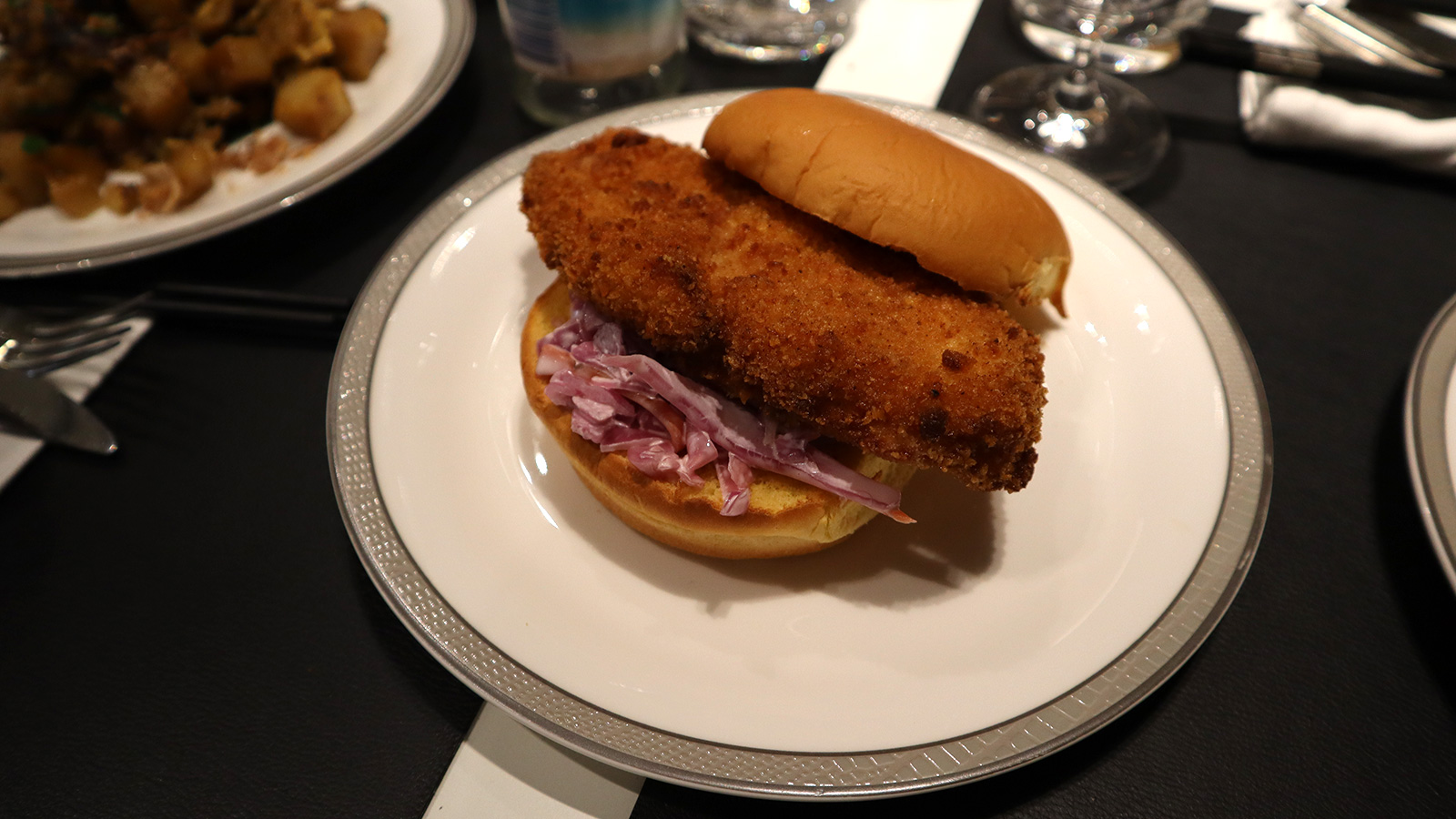 Desserts
Trust me, you'll want to unlock your second stomach for the dessert selection. All but one of the dishes are on rotation, so you can expect a different sweet surprise each time you visit.
If you've ever joined the lengthy queue outside Ah Chew Desserts in Bugis Junction on a balmy Singaporean evening (guilty), you'd be familiar with the humble mango sago. I'm overjoyed to see this local dessert on the rotating menu during my visit. The combination of fresh mango, tapioca pearls, coconut milk and condensed milk is a refreshing finale to my dining experience.
But the star of the dessert show is undoubtedly the Belgian dark chocolate tart. Exclusive to the First Class lounge, this is a permanent fixture on the menu – and it's not hard to see why. The rich dark chocolate centre has an almost fudge-like texture, topped with sea salt flakes to amplify the flavour. And tying it all together is a crunchy Digestive biscuit crumb. I may have filled up on small plates and mains, but I polish off every last bit of this tart.
And if you're just looking for something light to sweeten your palate, there are individual tubs of ice cream in the freezer. Barista coffee is available in the morning, so your affogato is sorted.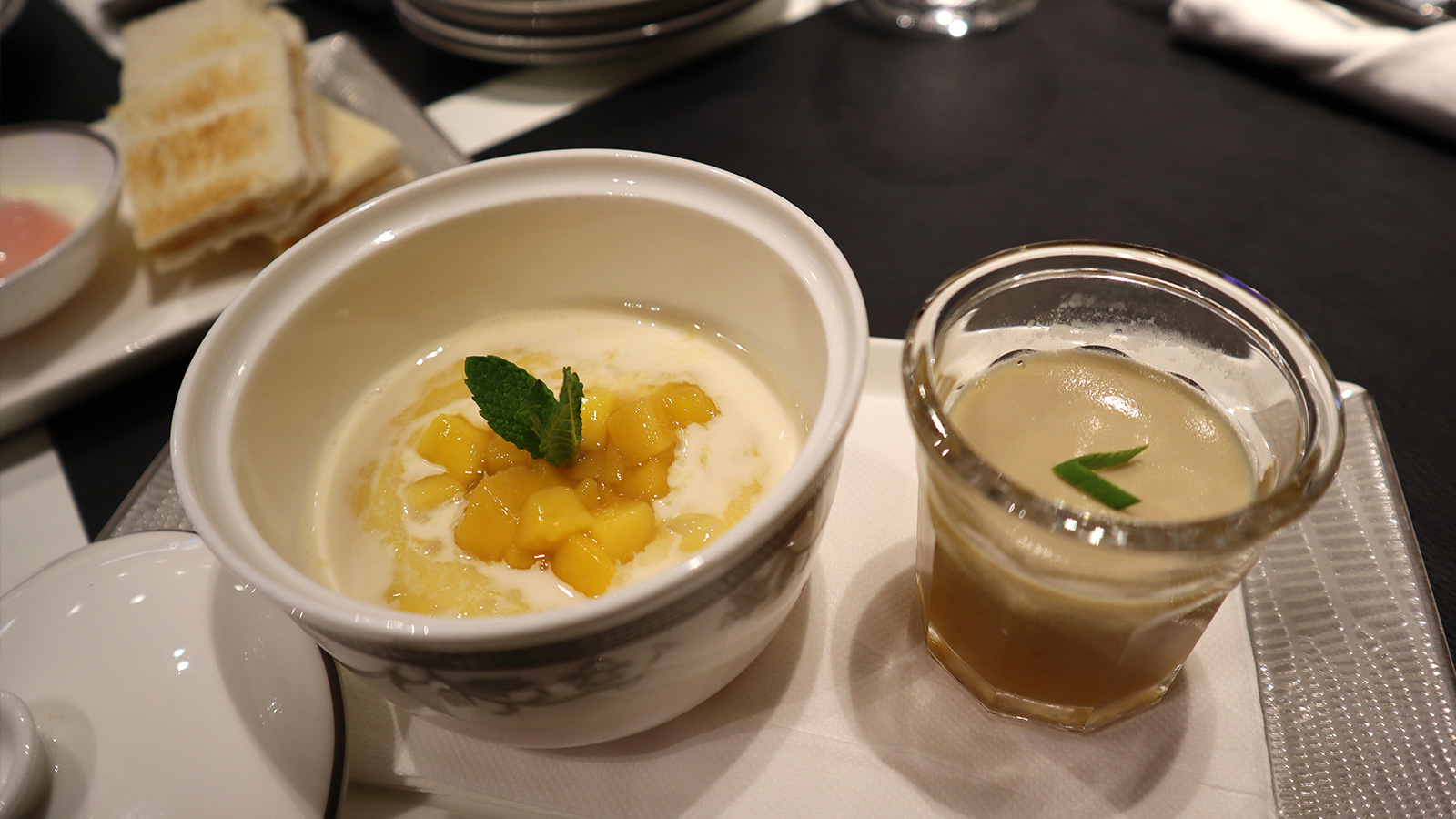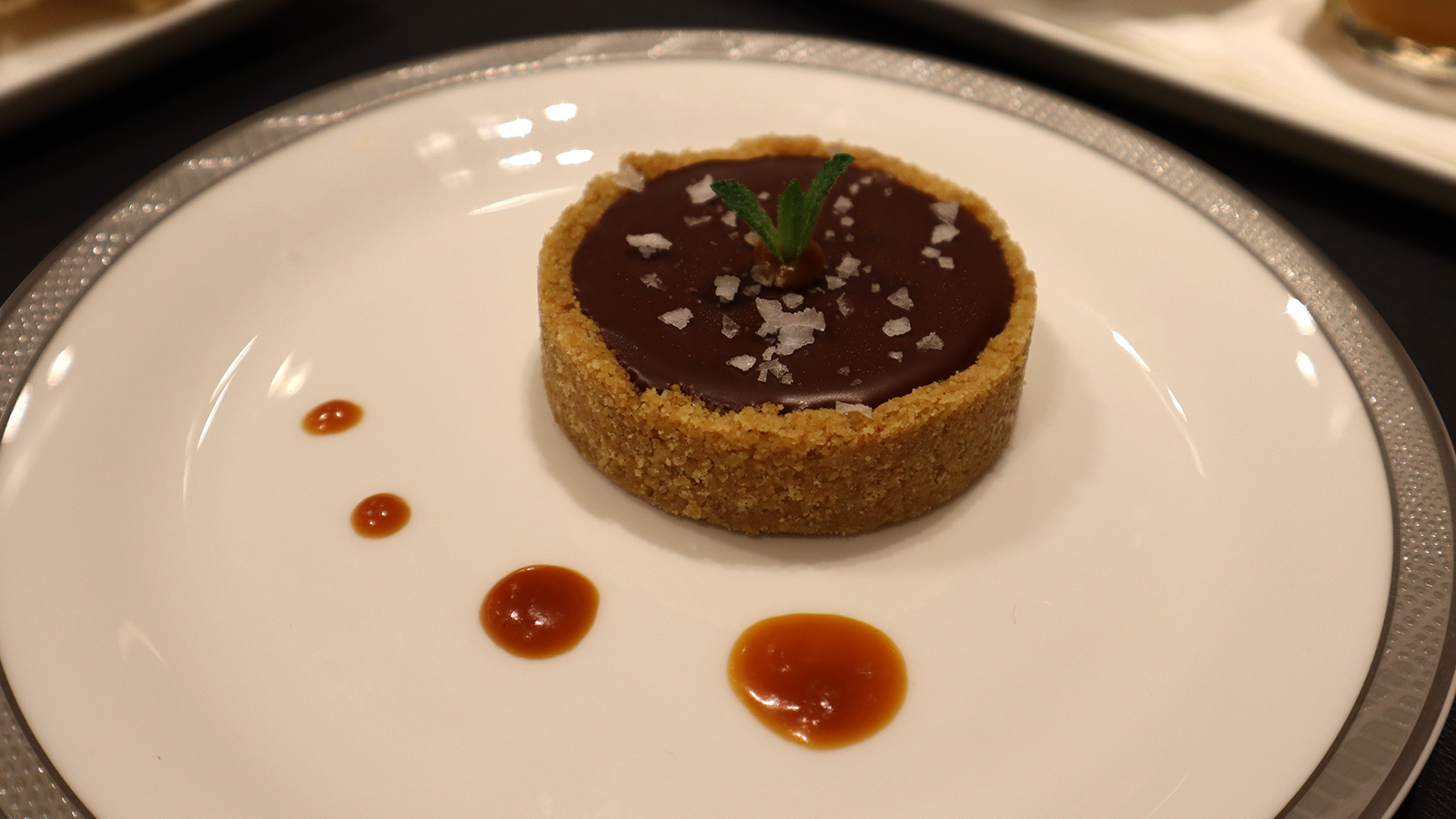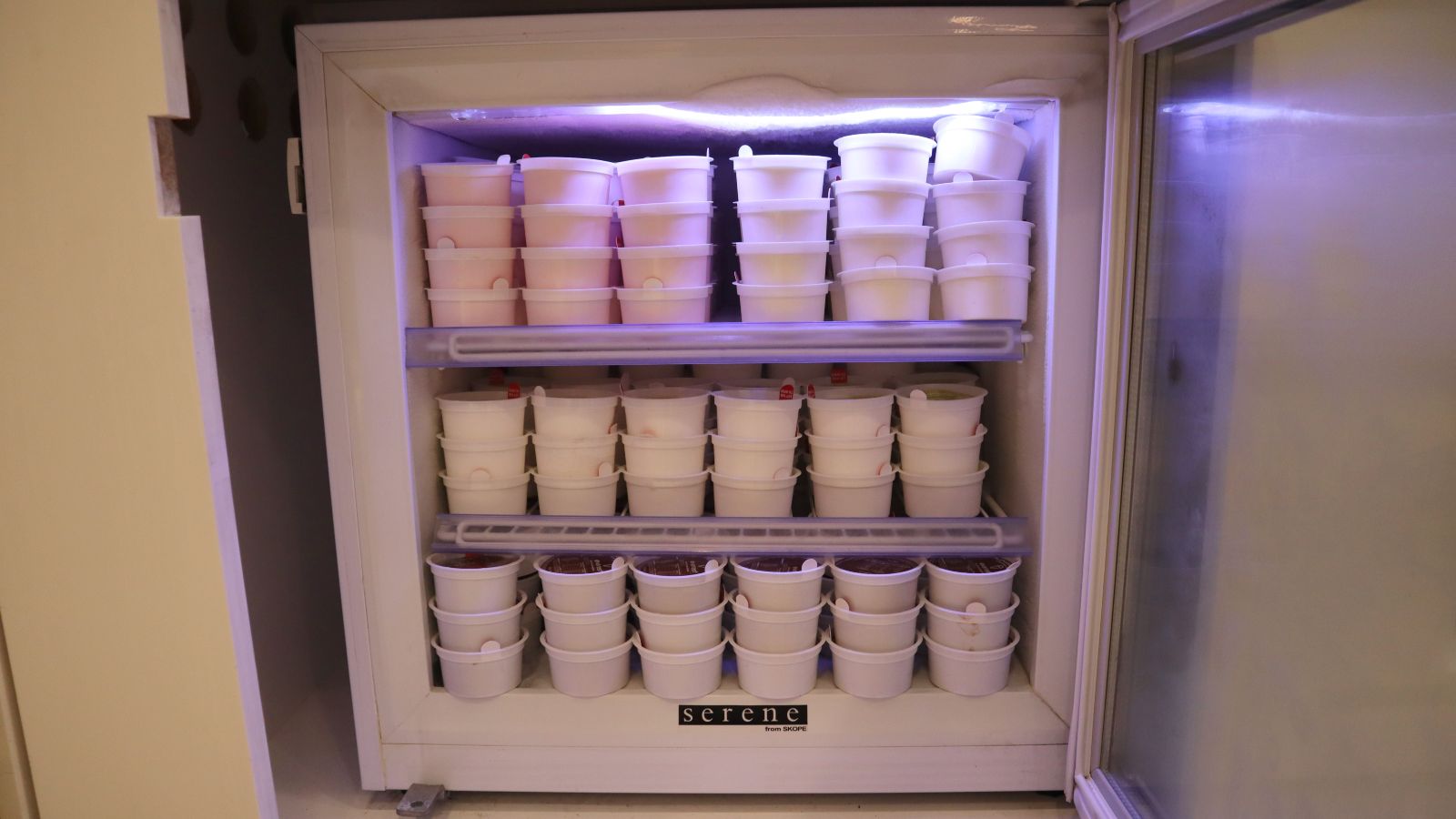 Drinks
There's no bar, so you can simply help yourself to the beverages on offer. This includes spirits, wine, beer, Champagne and a selection of soft drinks, juice and soda water.
Unsure how to quench your thirst? Helpfully, the menu suggests pairings for some of the popular mains. You could try a glass of the vibrant Penfolds Max's Shiraz with the beef stroganoff, an aromatic St Hubert's Chardonnay to complement the barramundi, or a crisp Furphy Original Ale to accompany your burger.
But my beverage of choice is a yuzu-flavoured soda water. Refreshingly fizzy with a subtle citrus zing – perfect to wash down my meal. Though I find room for a cheeky glass of Champagne – the bottles are housed on the bottom shelf of the mini fridge, for those wondering.
And while there's no barista coffee when the lounge reopens for lunch, there's a coffee machine to satisfy your afternoon caffeine cravings.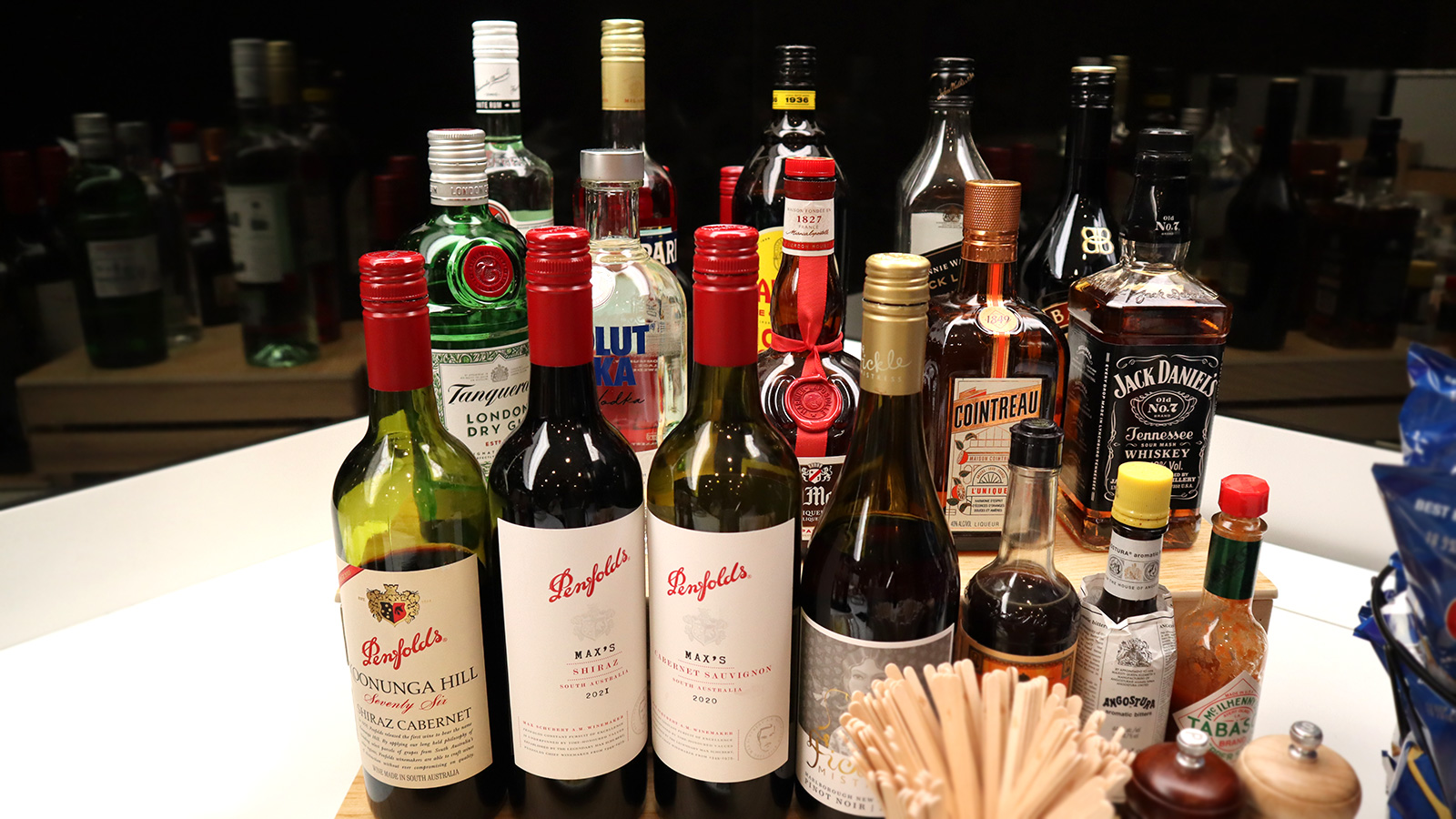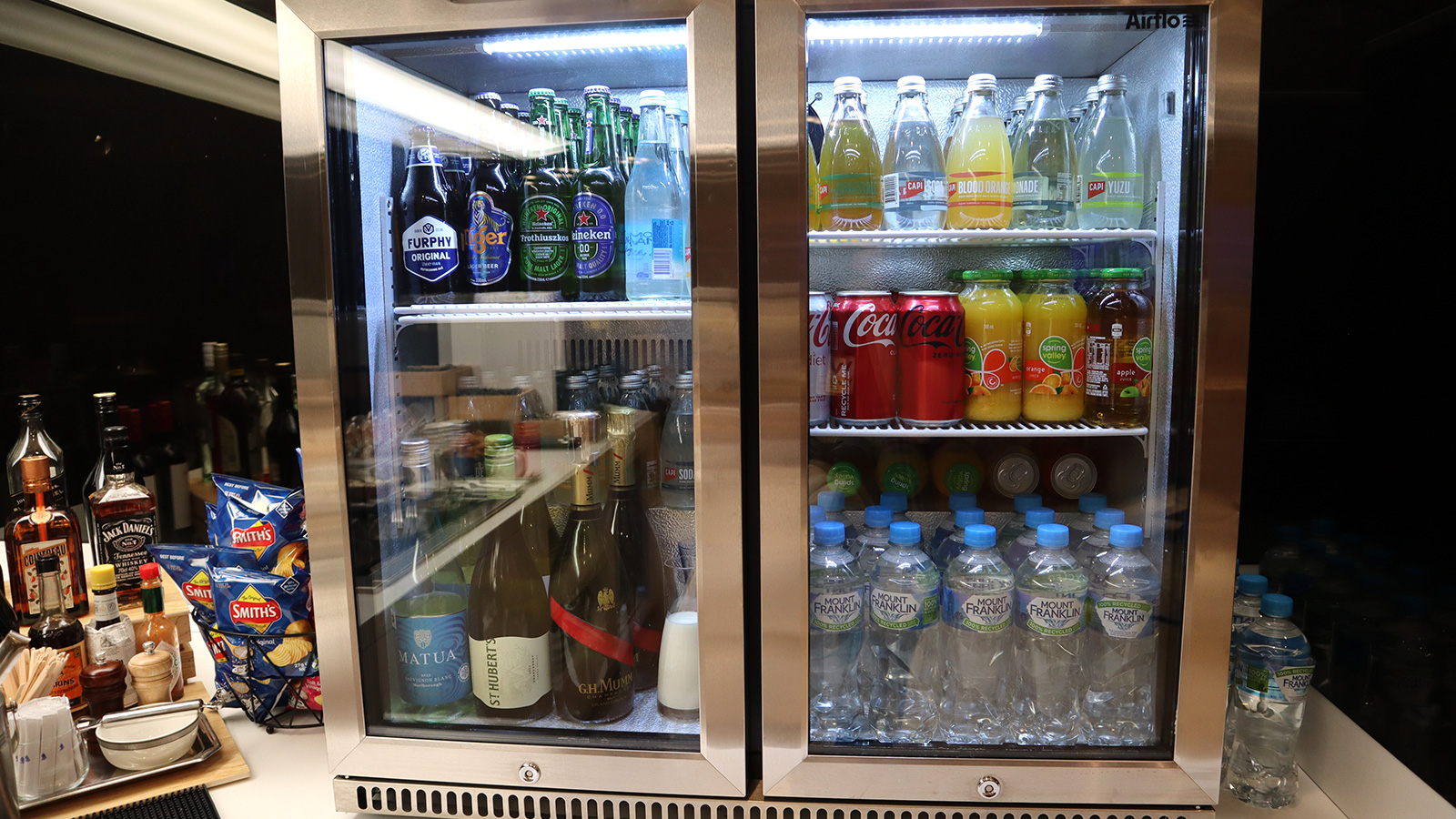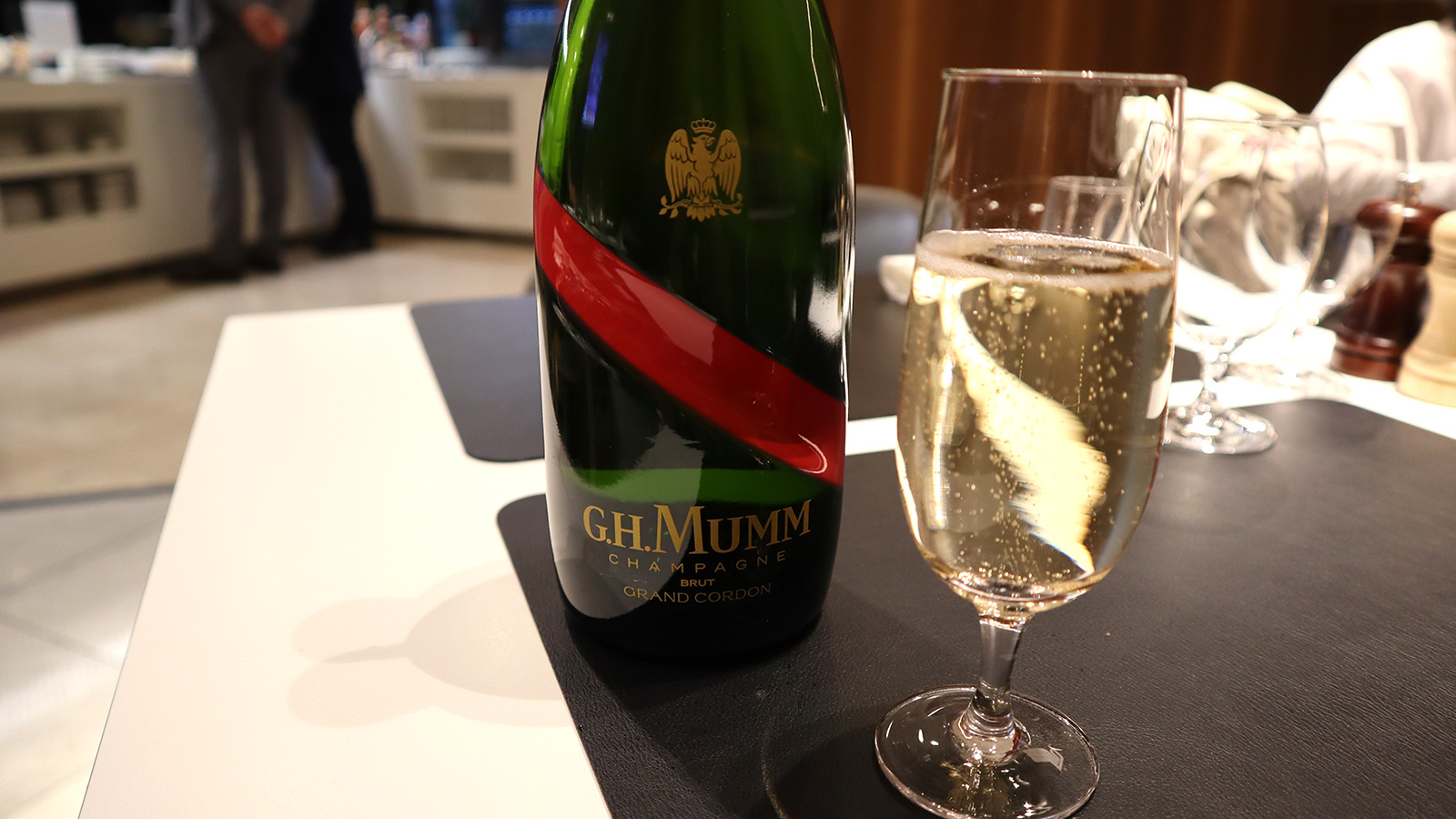 Amenities in the Singapore Airlines SilverKris First Class Lounge, Melbourne
Size aside, this lounge is fitted with ample amenities for a comfortable pre-flight stay.
Travelling with various gadgets, I always take the opportunity to charge up my devices before a long flight. Pleasingly, this lounge allows me to do so with ease. Between each pair of couch seats you'll find a power socket and USB port conveniently located on the tabletop. You won't have any issues forgetting your charger with your device sitting comfortably within your peripheral vision. This also means you can settle into any seat in the lounge and know you'll have access to power.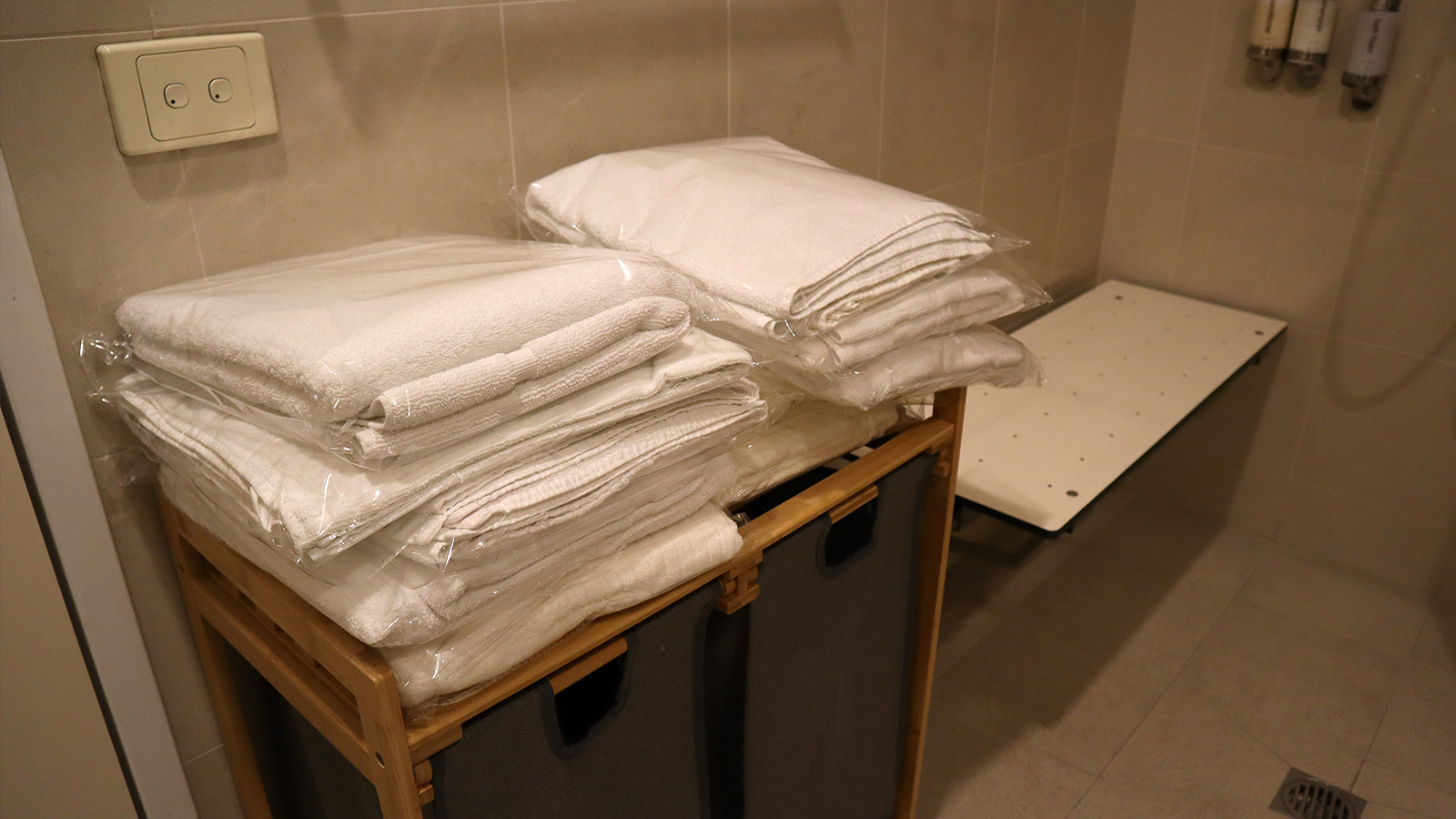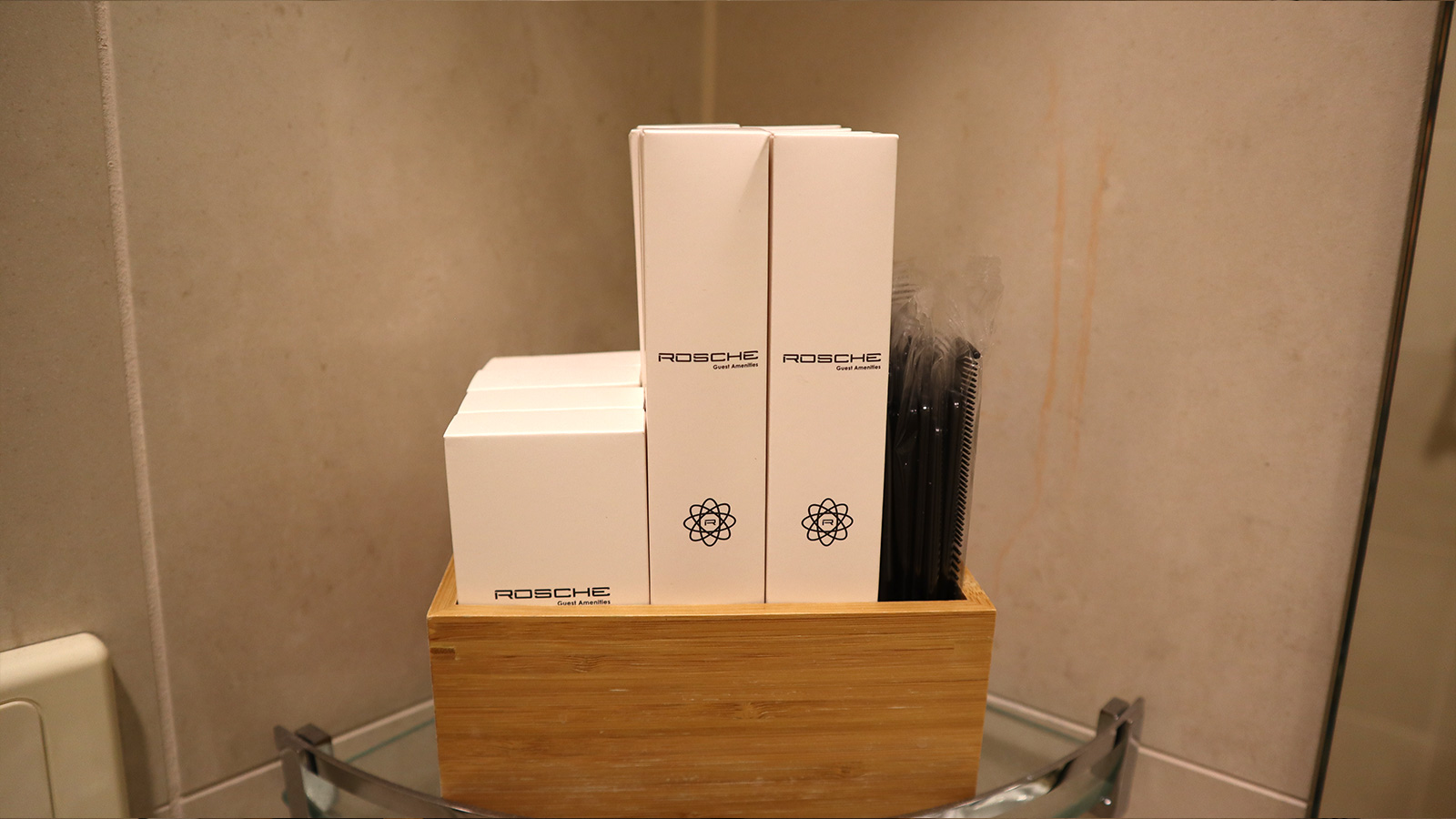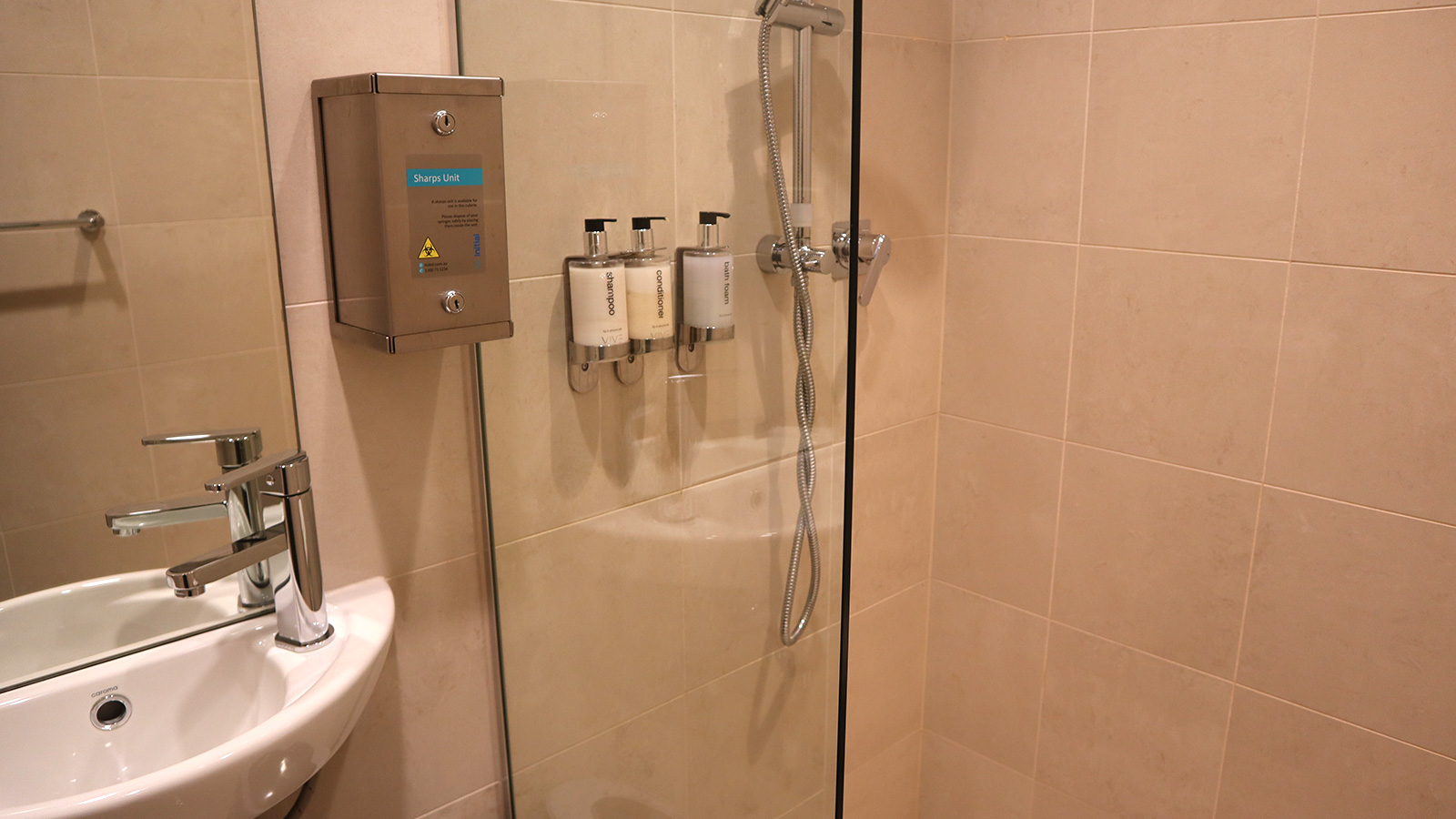 Three shower suites are available for use – an accessible shower, and one each for male and female. Given the size of the lounge, this number is more than adequate. None of the showers were in use during my visit, so had I needed a quick refresh I'd face zero wait time. Individually wrapped towels sit next to each shower, and there is a selection of amenities like combs and toothbrushes to have you looking and feeling your best.
As an aside, there's a small selection of reading material centrally located under the clocks. But I don't peruse these – the à la carte menu is certainly enough to keep me occupied during my visit!
Accessing Singapore Airlines' SilverKris First Class Lounge, Melbourne
In contrast to the adjacent Business Class lounge, the First Class lounge boasts a compact guest list. Travellers who meet one of the requirements below are granted entry:
Class of travel: passengers flying First Class on a Star Alliance airline (+1 guest).
Singapore Airlines KrisFlyer status when departing or arriving on Singapore Airlines:

Solitaire PPS Club (+1 guest).
Solitaire PPS Club Life (+1 guest).
The verdict
The SilverKris First Class Lounge may lack some of the amenities that First Class passengers of other airlines can expect at Melbourne Airport. While there's no on-site spa or tarmac views, the lounge evokes an unrivalled sense of warmth and exclusivity.
Undoubtedly, the highlight of this lounge is the curated seasonal menu. Dining is an experience in itself, and the rotating Western and Singaporean dishes ensure that there's always something new to whet your appetite each time you visit.
If you're one of the lucky few passengers invited to 'turn left' at the entrance to Singapore Airlines' lounges in Melbourne, you certainly won't walk out disappointed – just a little full!
Also reviewed: Singapore Airlines' SilverKris First Class Lounge, Changi
All photography by Victoria Kyriakopoulos, who accessed this lounge as a guest of Singapore Airlines.
---
Stay up to date with the latest news, reviews and guides by subscribing to Point Hacks' email newsletter.
Singapore Airlines' SilverKris First Class Lounge, Melbourne
was last modified:
October 26th, 2023
by