The Qantas Club in Mackay is a comfortable space for both leisure and business travellers, and provides most amenities needed for passengers to work or relax prior their flight. The lounge is also decent in size, with a capacity for approximately 80 frequent flyers and Qantas Club members.
This guide takes a closer look at the Qantas lounge offering in Mackay.
Lounge details and location
The Mackay Qantas Club Lounge services eligible customers flying in- and out of Mackay on Qantas' subsidiaries QantasLink and Jetstar.
The lounge is located after security check-point on the upper level of the terminal's departures lounge, opposite Gate 2.
In contrast to the Virgin Australia Lounge in Mackay, the Qantas Lounge lacks any signage in the terminal, and can therefore be quite difficult to locate. Depending where you stand, you might just be able to catch a glimpse of the Qantas kangaroo looking from the top of the stairs near the Virgin lounge.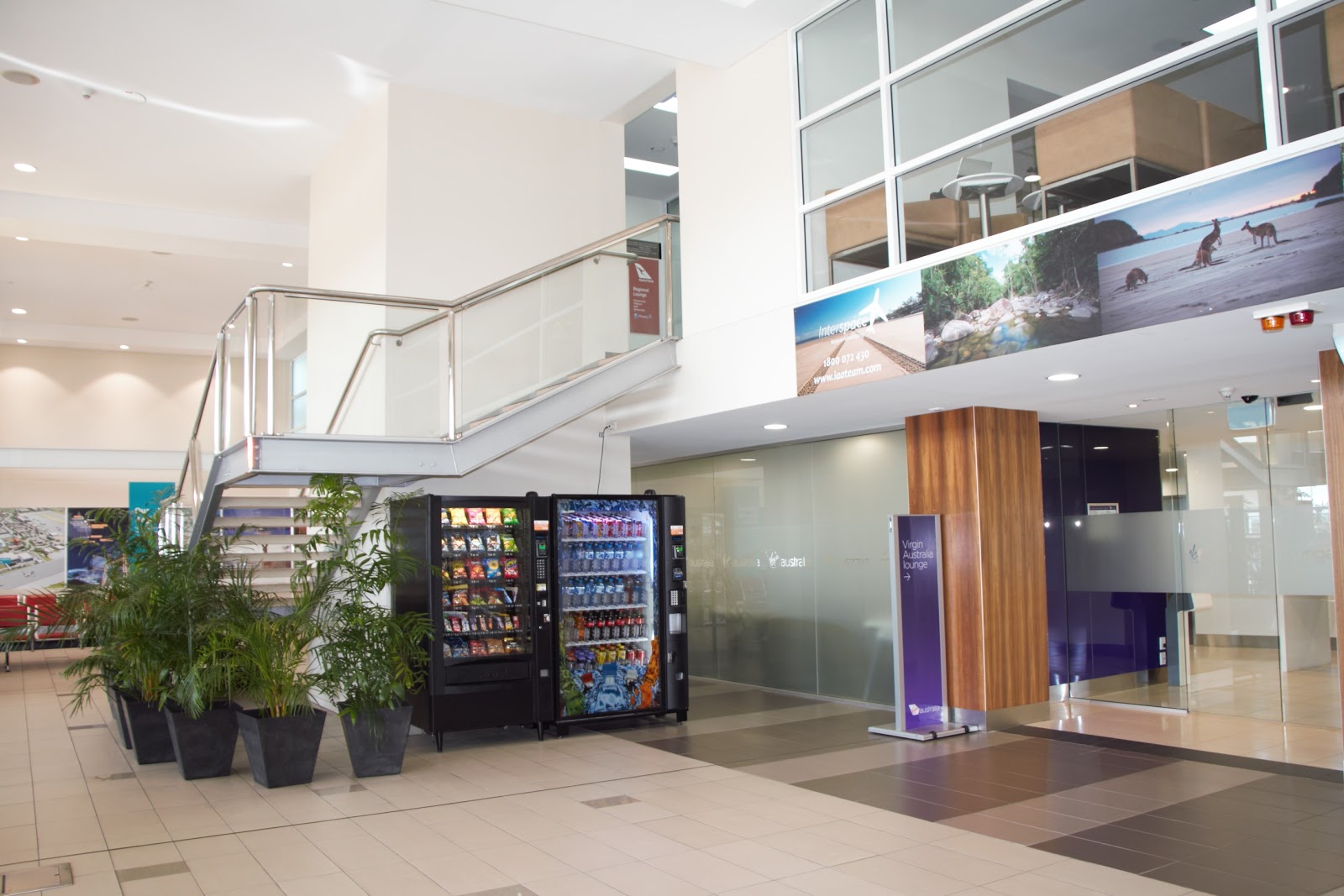 Once upstairs, the lounge can be accessed by going through the automatic doors, which will lead you to the lounge service desk.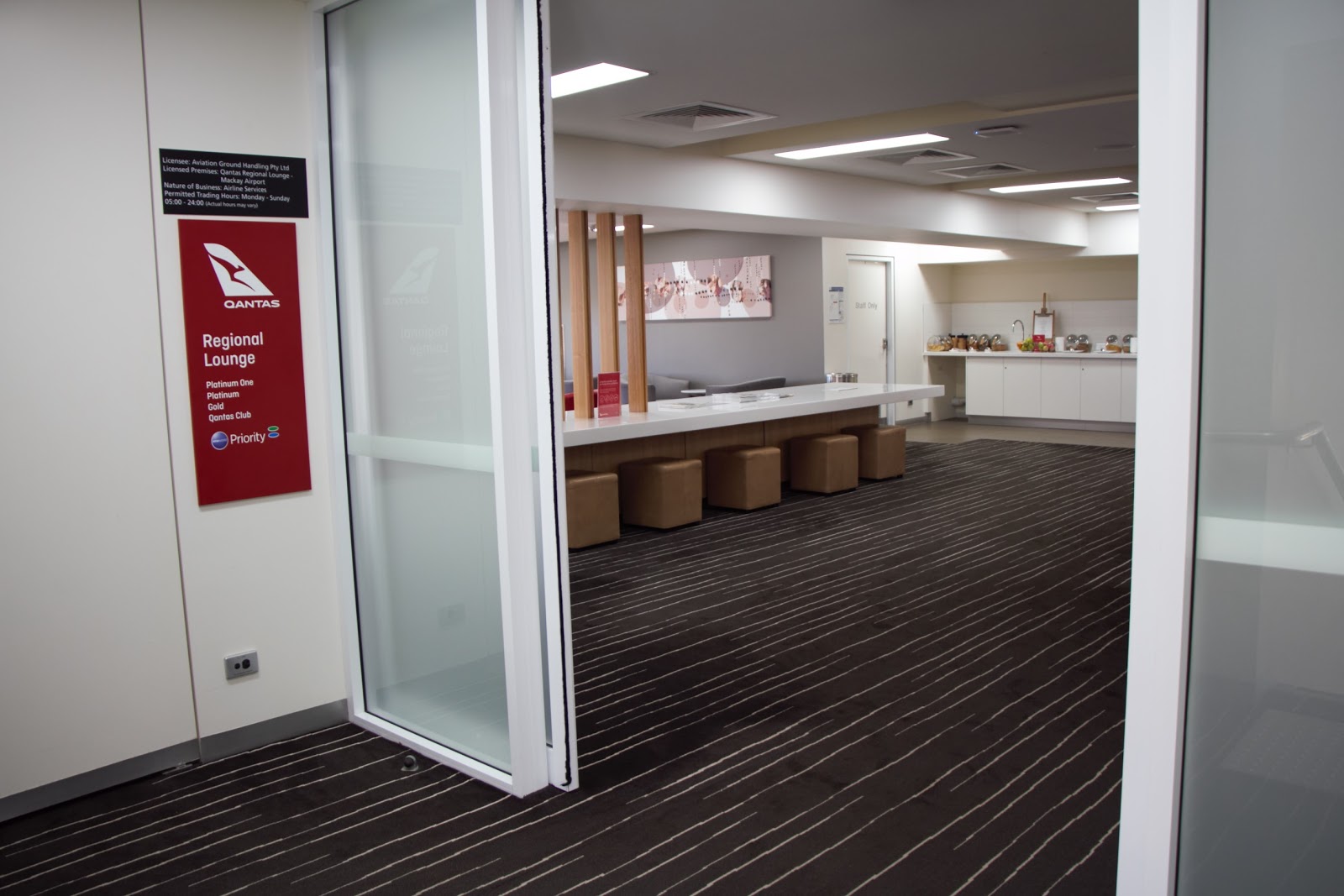 At the service desk you are likely to find a big bowl of Minties, as well as a friendly staff member who will check your boarding pass and assist you with any questions or queries you might have about your flight.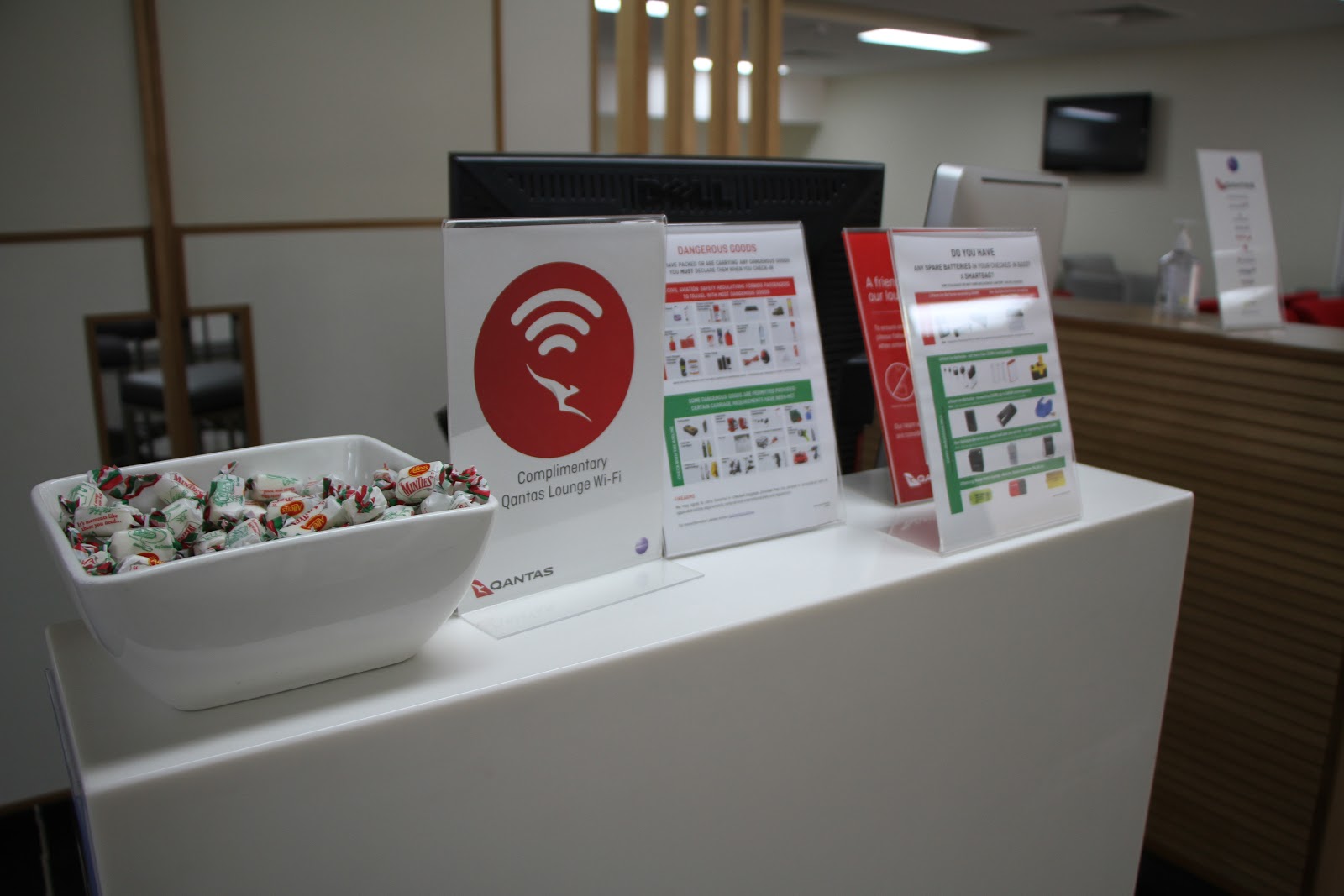 The location of the Mackay Qantas Club Lounge is quite different from many other Qantas regional lounges, as they are often situated right next to the Qantas check-in counters, before security gates. This is a great bonus, as you don't have to account for extra time to go through security before boarding.
Additionally, since it is located on level 1, the floor-to-ceiling windows on one side of the lounge provide a view of the departure gates on ground level. This allows you to sit back and relax right until boarding, as you will be able to get a first-hand view of when boarding is about to commence.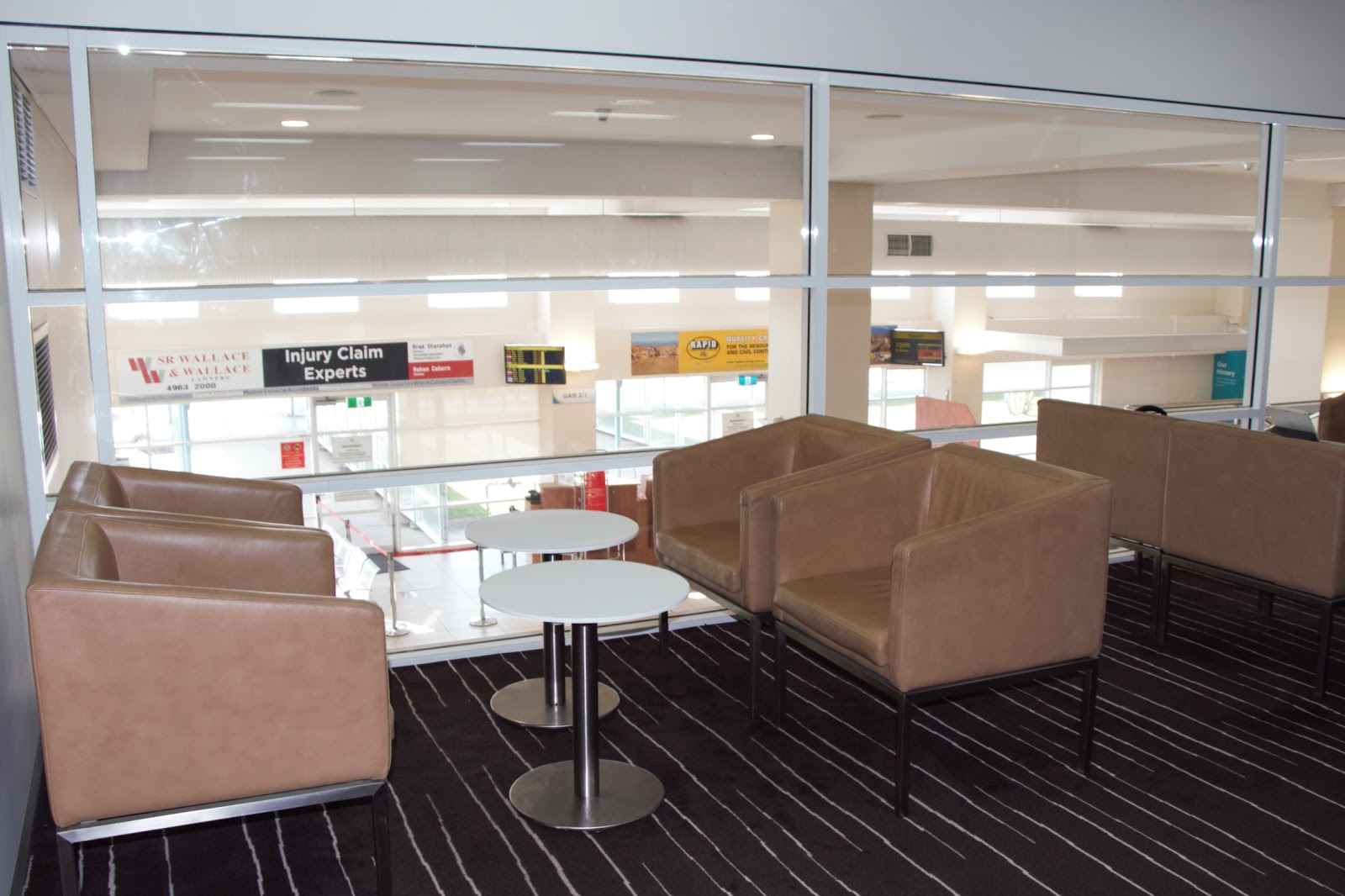 Update: The latest lounge hours can be found on the Qantas website. It is currently open an hour before Qantas-operated services.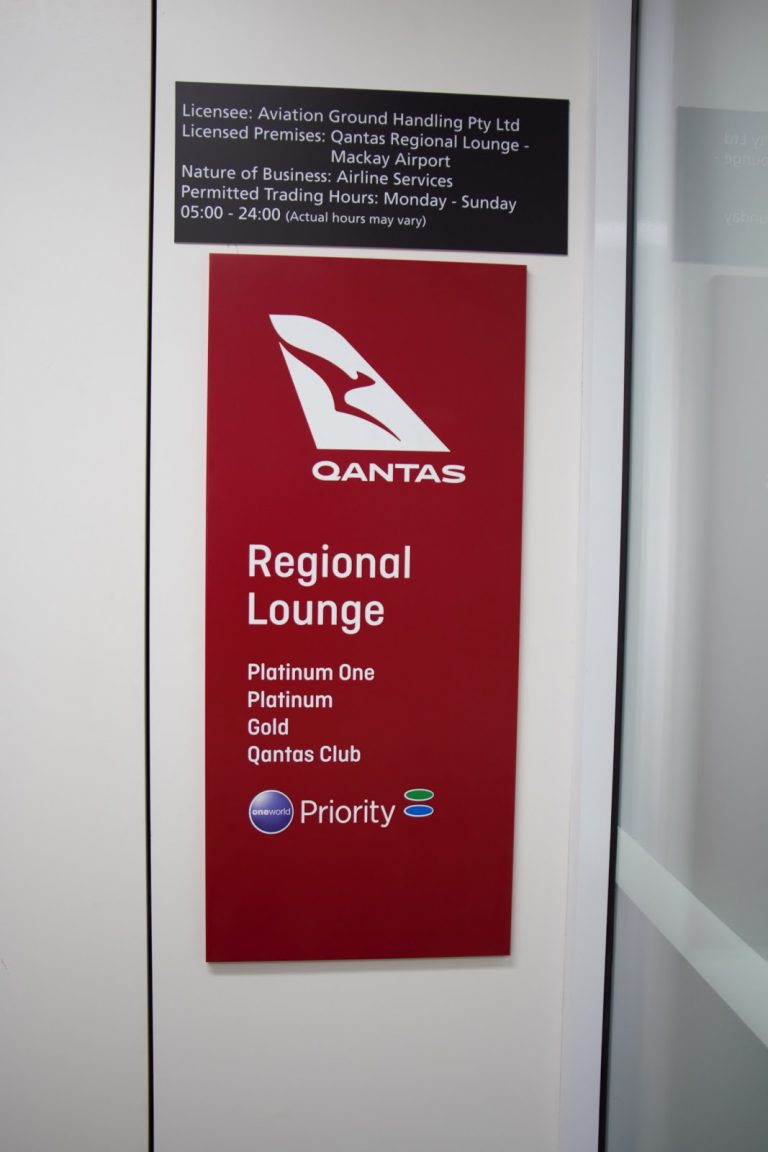 Lounge seating
The lounge is the shape of a large rectangle, however, the open space is effectively segmented into separate areas for working or relaxing.
Once you enter the lounge, you can see a large kitchenette across the back wall, alongside with a fully-stocked fridge.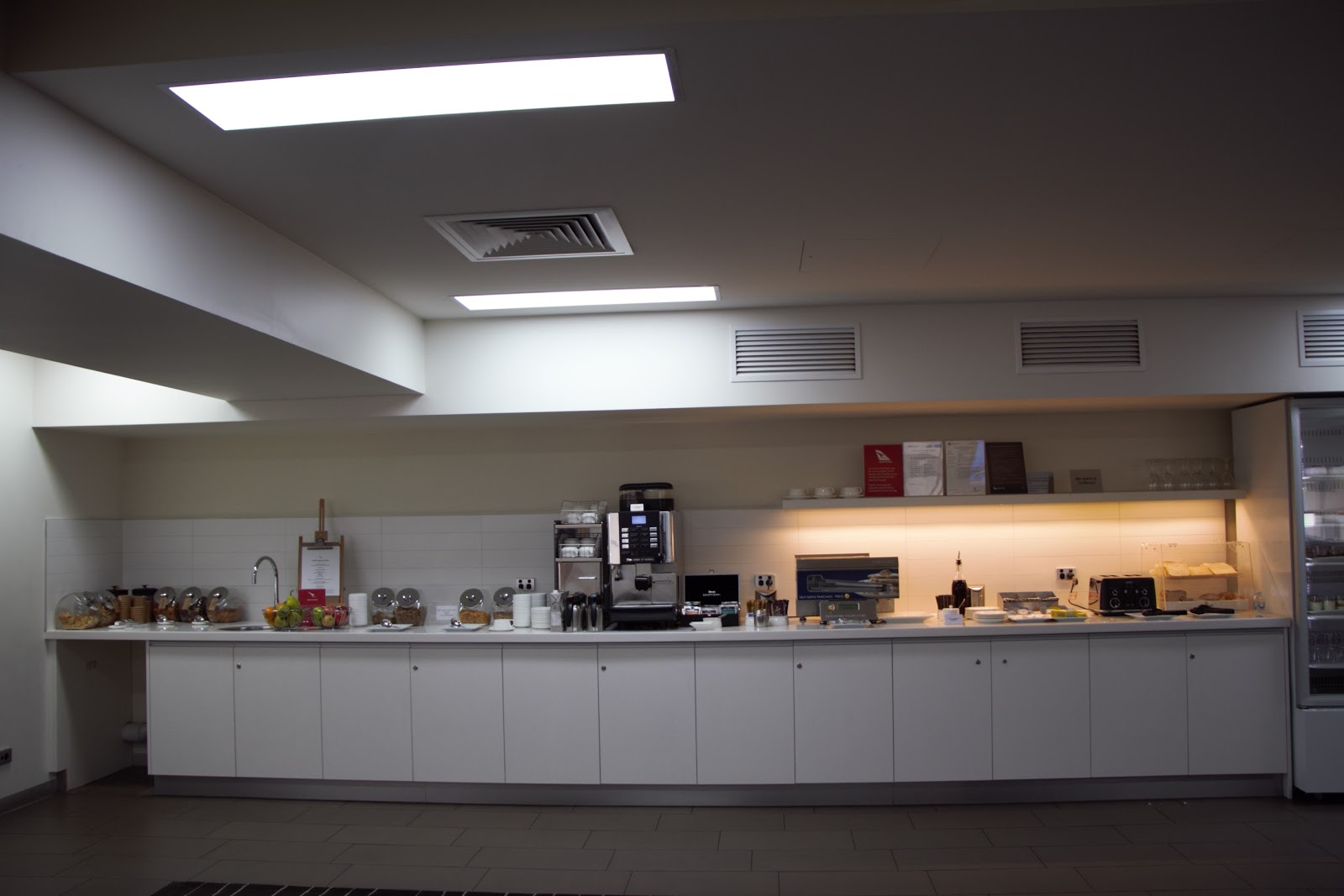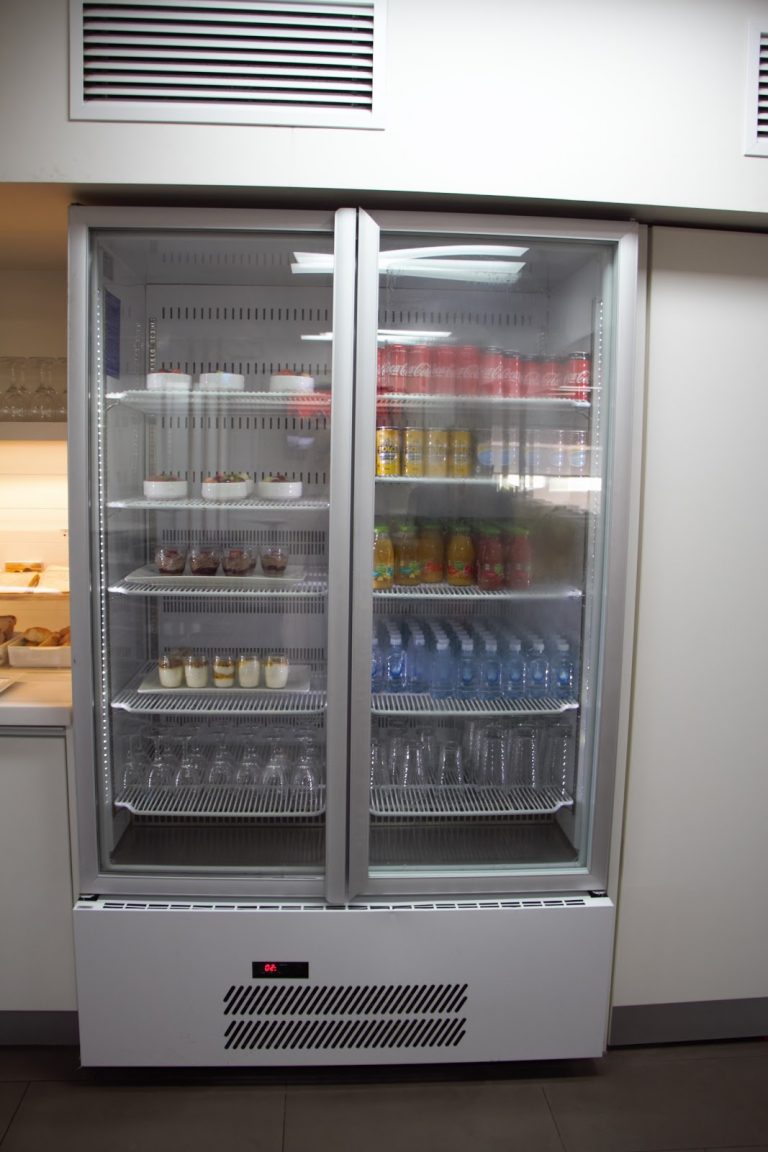 Although this lounge has quite a few windows and a lot of natural light, don't expect any sweeping views of the tarmac.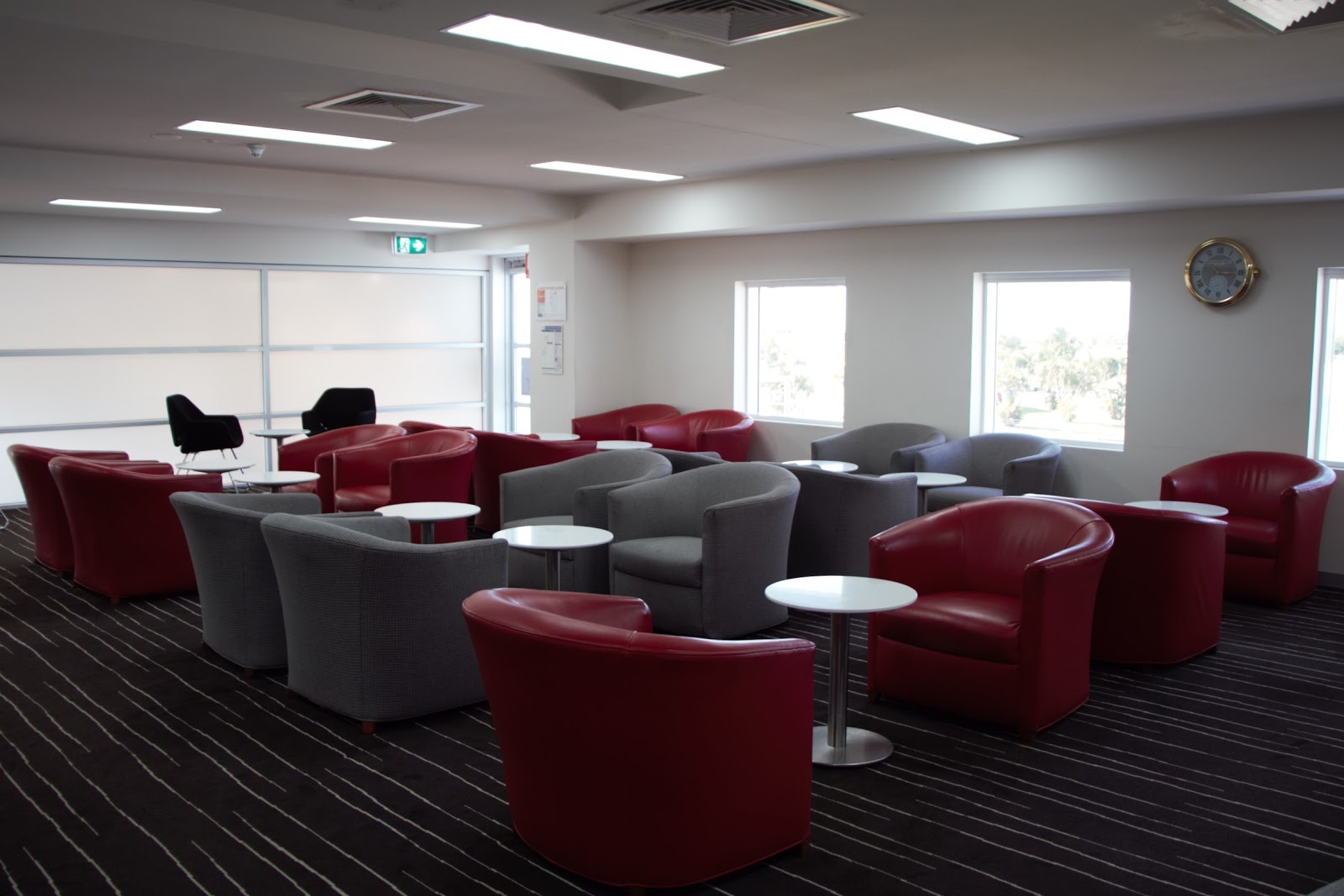 The left-hand side of the lounge contains chairs that are arranged in rows around coffee tables. Small windows behind the seating provide a view to a grass area behind the airport, and a glimpse of the tarmac.
Large windows facing the departures terminal are frosted and do not provide any views at all.
Although the seating next to the frosted windows might look a little like a bit of a 'naughty corner', the extra sitting space might come in handy when the lounge gets crowded during peak hours or in a case of delayed or cancelled flights.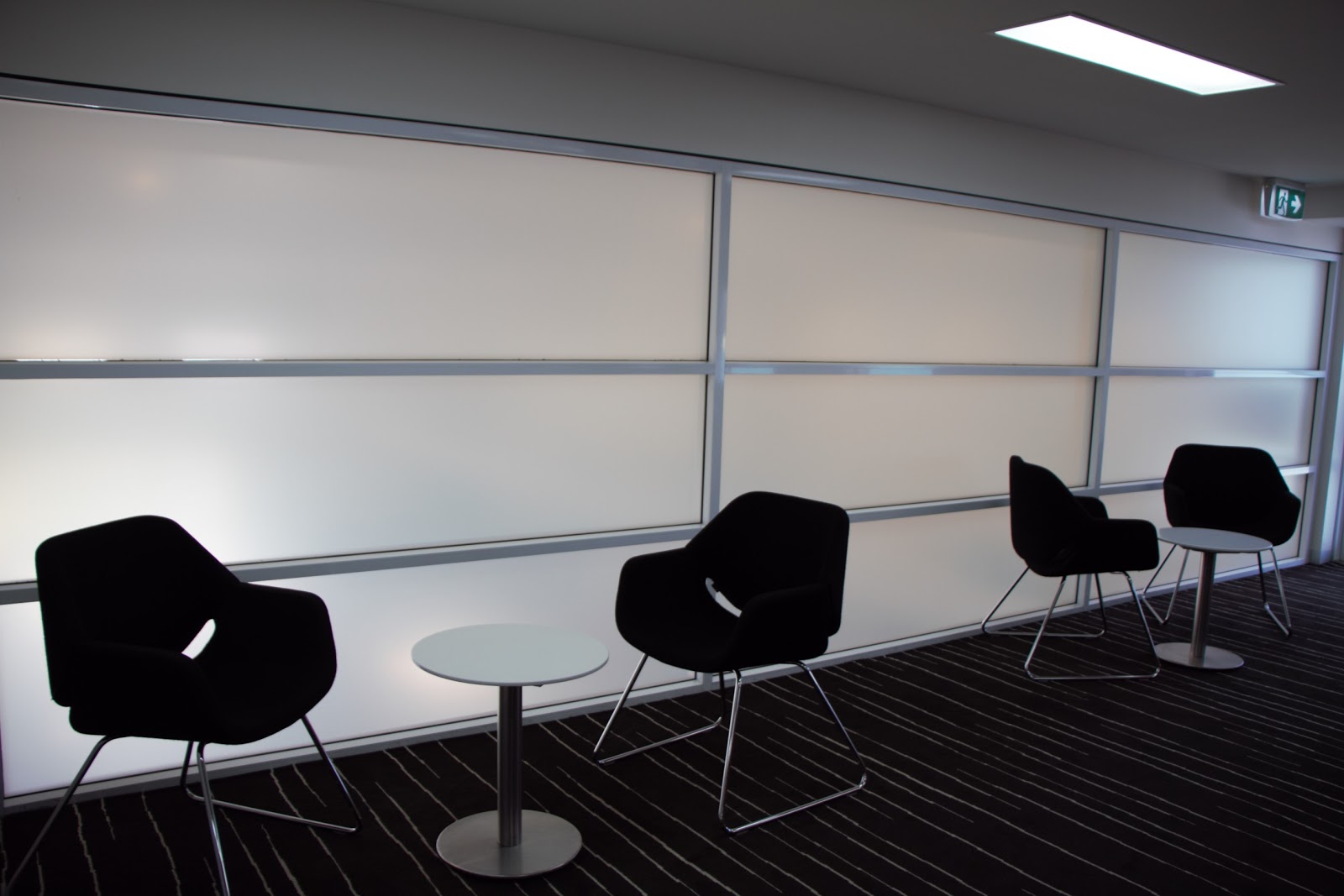 This seating space is separated from the rest of the lounge by a big workbench that seats approximately 10 people, and contains power points within the desk to charge your devices.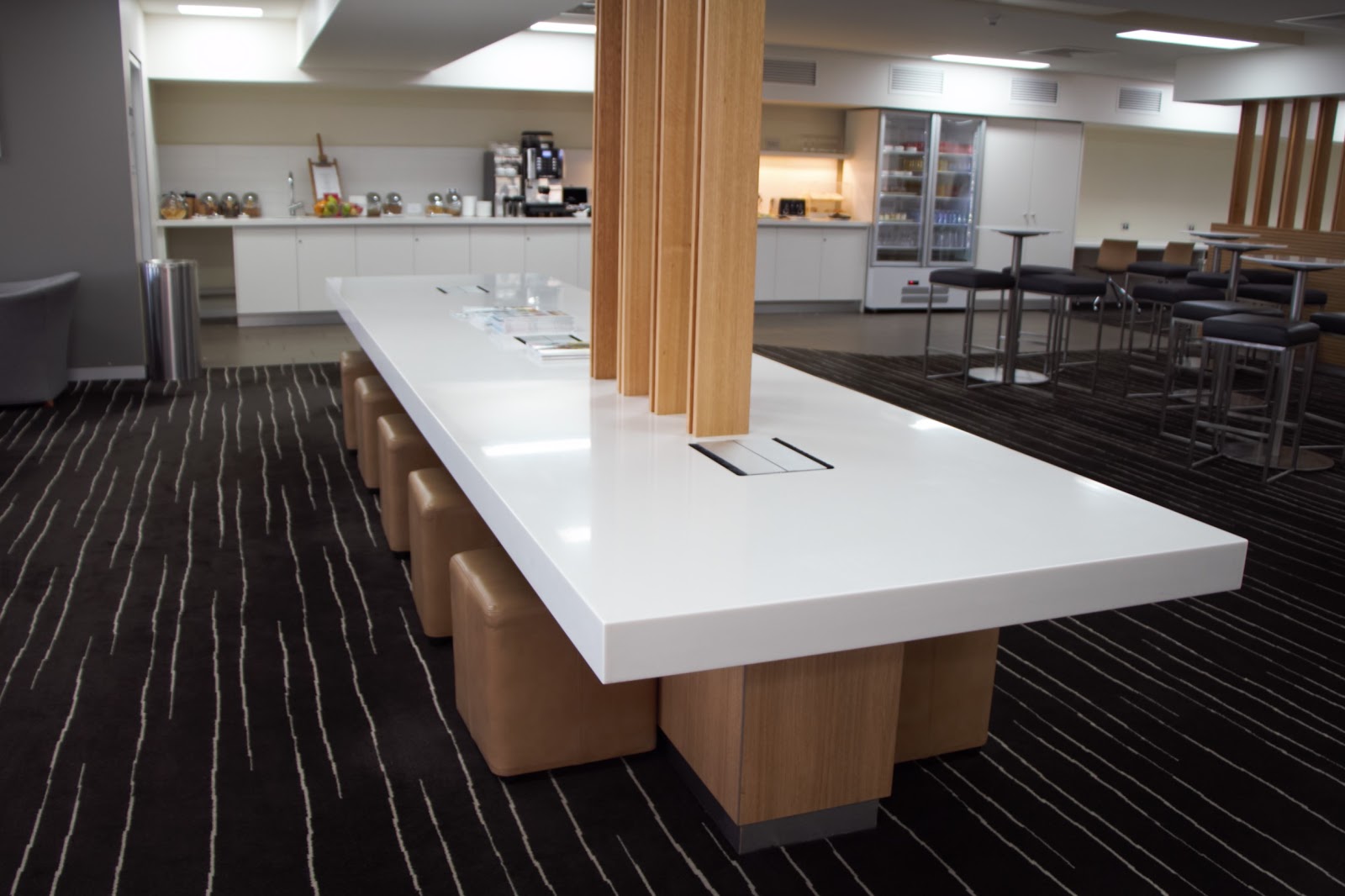 In the middle of the lounge, opposite from the kitchenette and fridge, and right on the other side of the service counter is an area with bar stools, tables and a TV. This area is perfect for grabbing an afternoon beer and catching up with the daily news.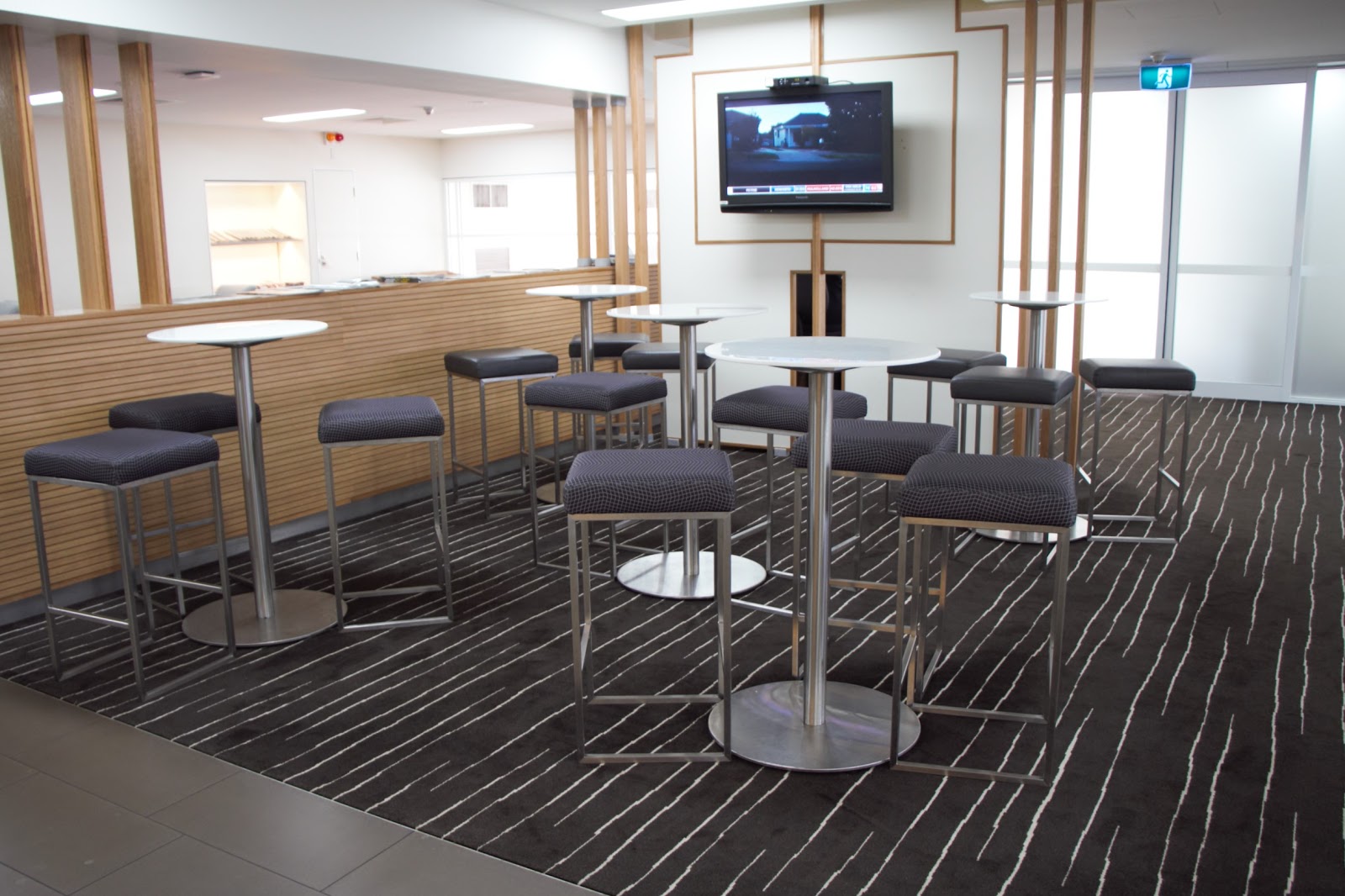 The right-hand side of the lounge contains another leisure area with lounge chairs neatly arranged around coffee tables. The wall facing the departures terminal is all glass, allowing you to overlook the departure gates on the ground floor.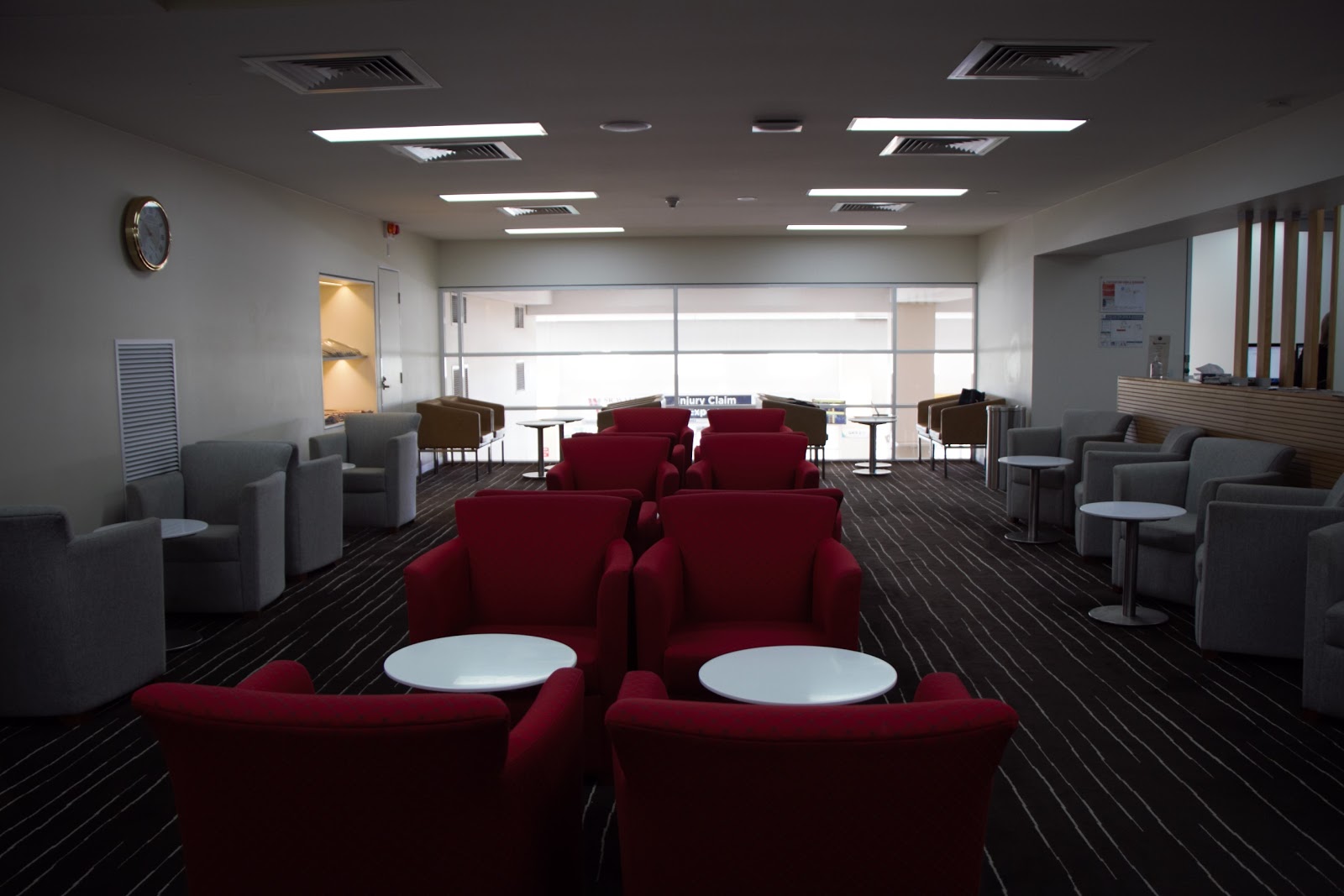 The opposite wall to the windows accommodates a fairly long combined work bench for travellers who have some work matters to attend to. There are also plenty of power points located on the wall if you wish to work and charge your devices at the same time.
The work desk can seat up to six people, although when completely occupied, the space might become a little cramped.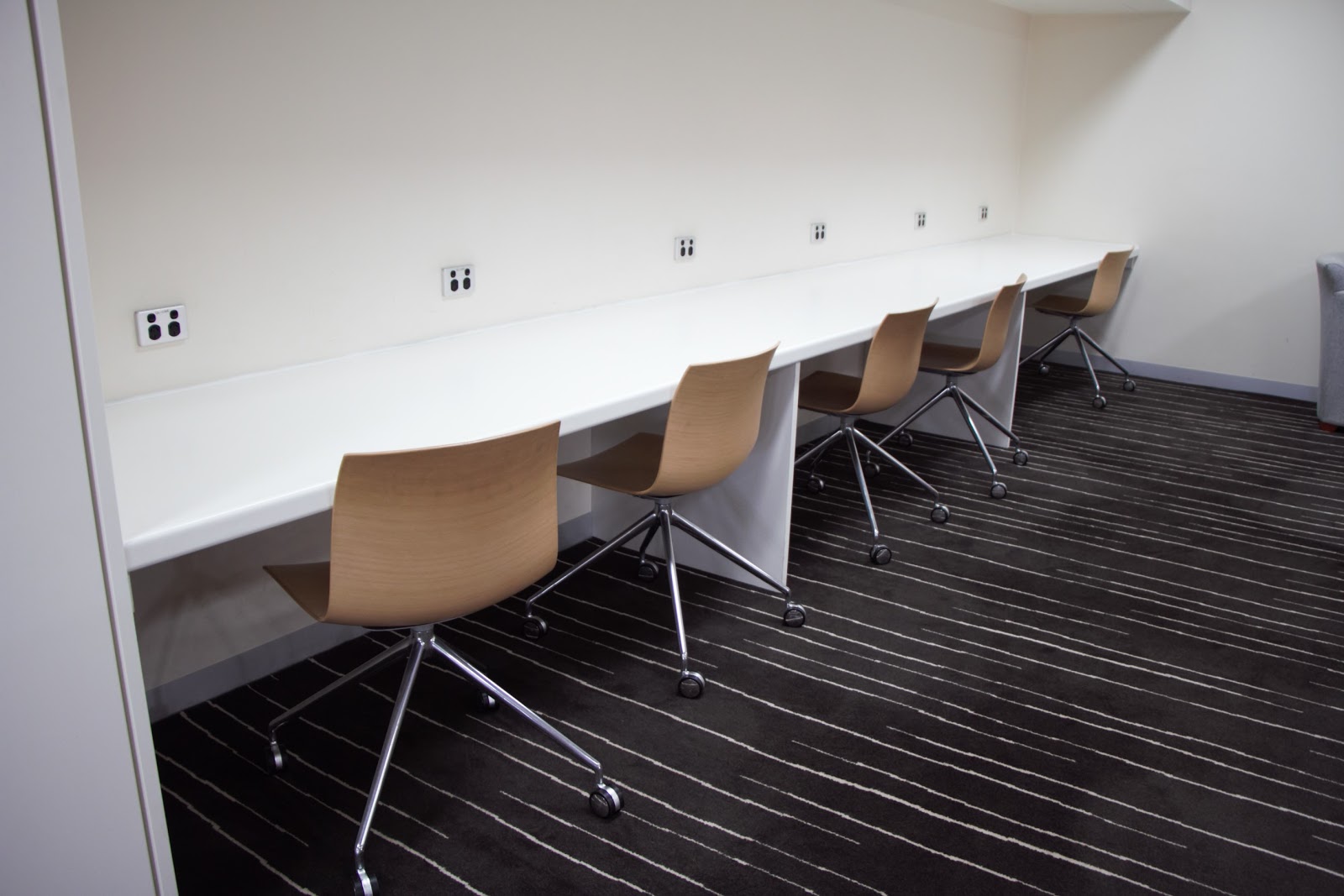 Food and drink
The Mackay Qantas Club Lounge features both a range of snacks and more substantial food items, so lounge guests should be able to find a pre-flight refreshment to their liking.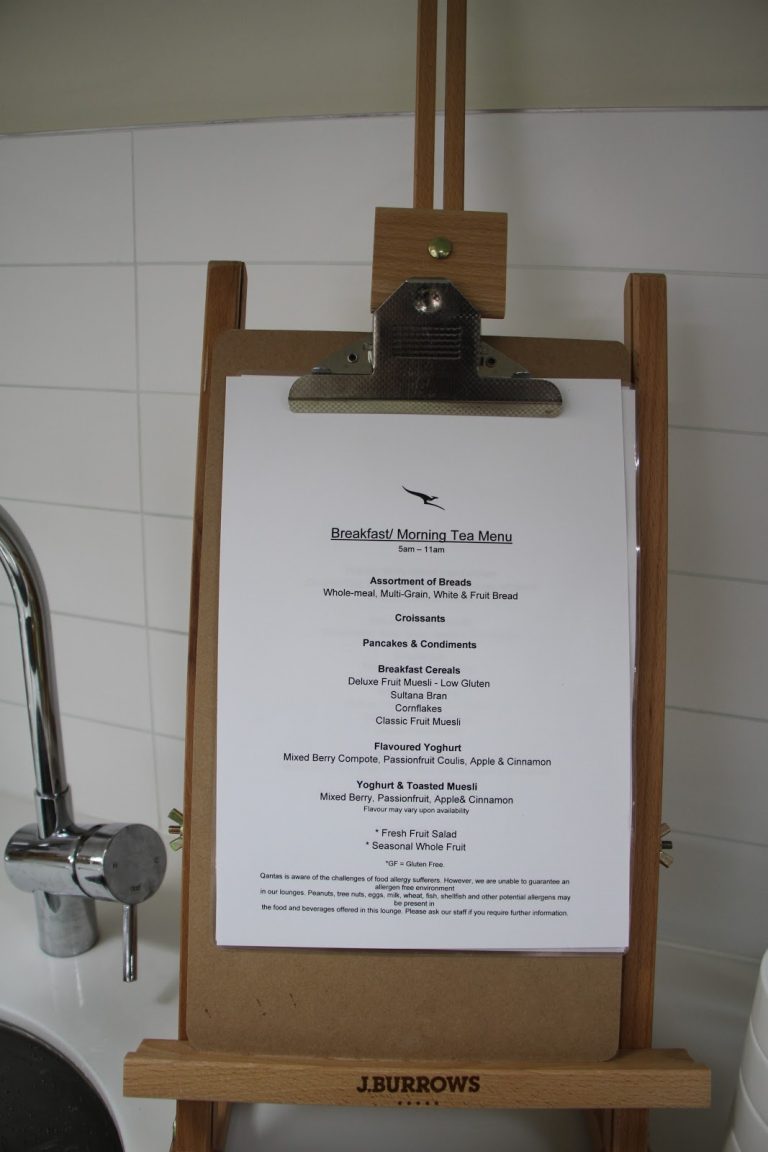 The food and drinks are all self-serve, but catering staff frequently attends the lounge to replenish food and drink items, and make sure the presentation is clean and tidy.
For breakfast you can make use of the four-slice bread toaster to prepare yourself a piece of toast…. Or four.
They have an assortment of breads including white, whole-meal and multi-grain bread, as well as croissants and fruit bread. Some of the condiments include Vegemite, marmalade, maple syrup and apple cinnamon compote.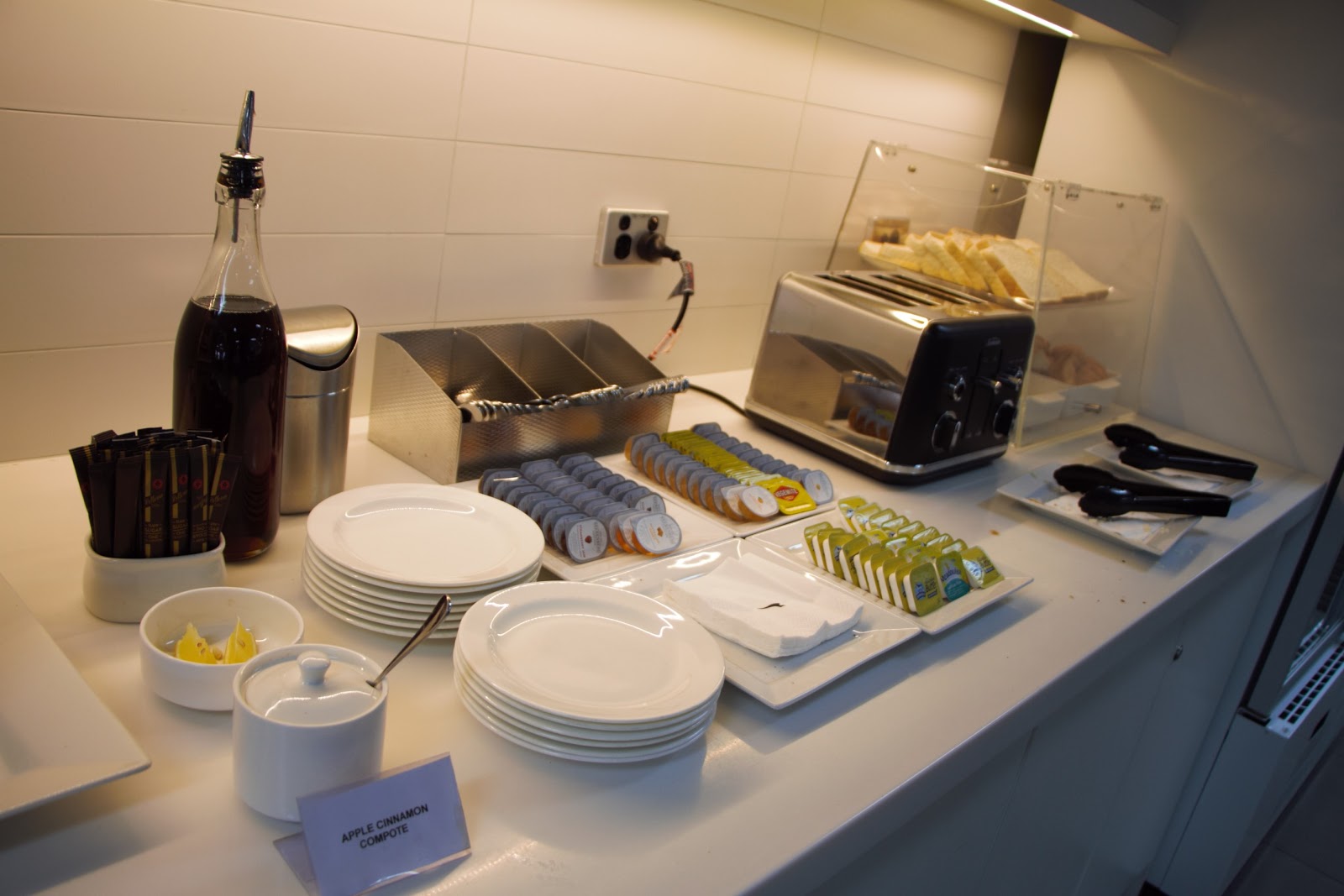 You can also find an assortment of breakfast cereals, fresh fruit, and a supply of sweet and savory snacks, including nuts, pretzels, biscuits, cookies, mixed lollies and chocolates.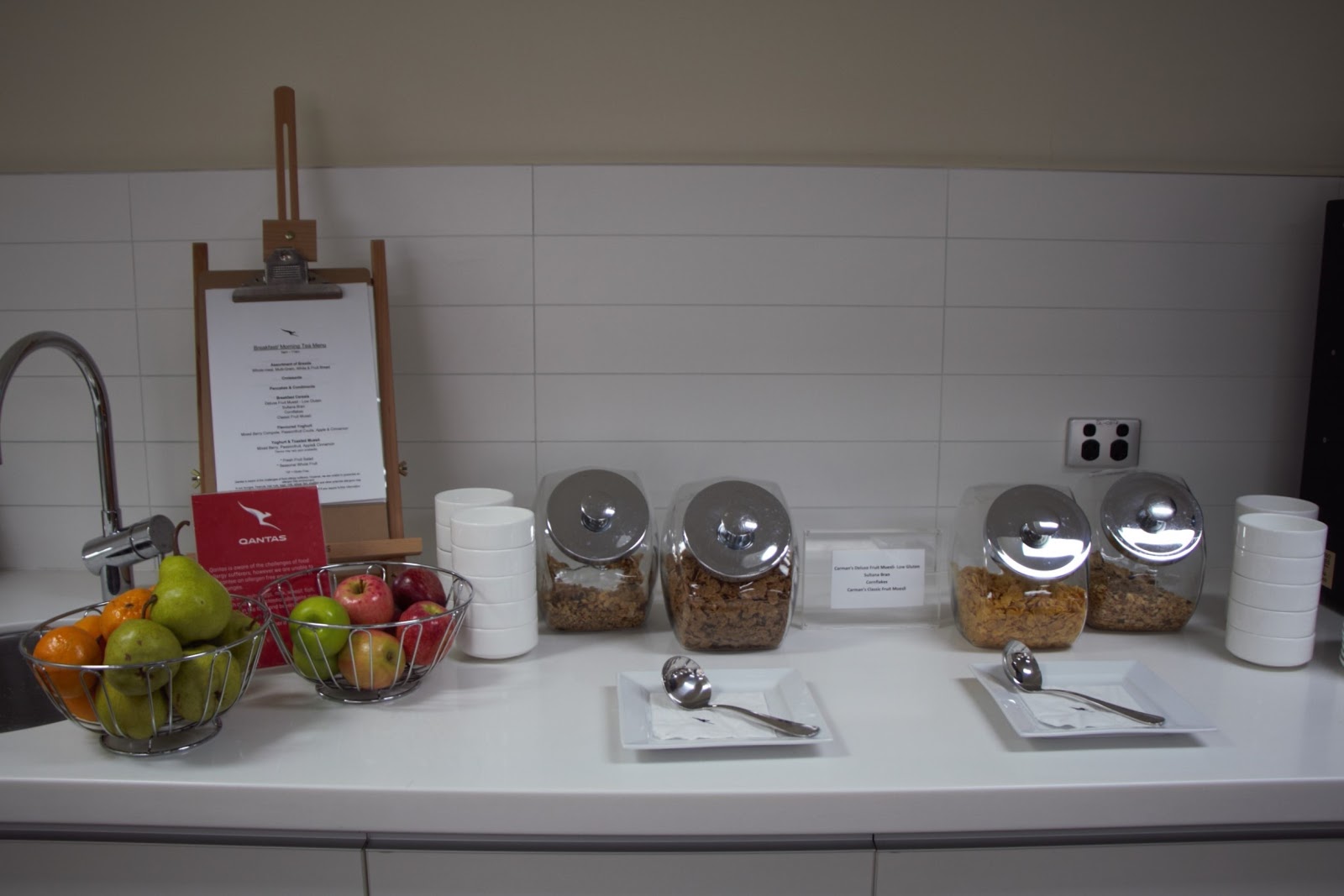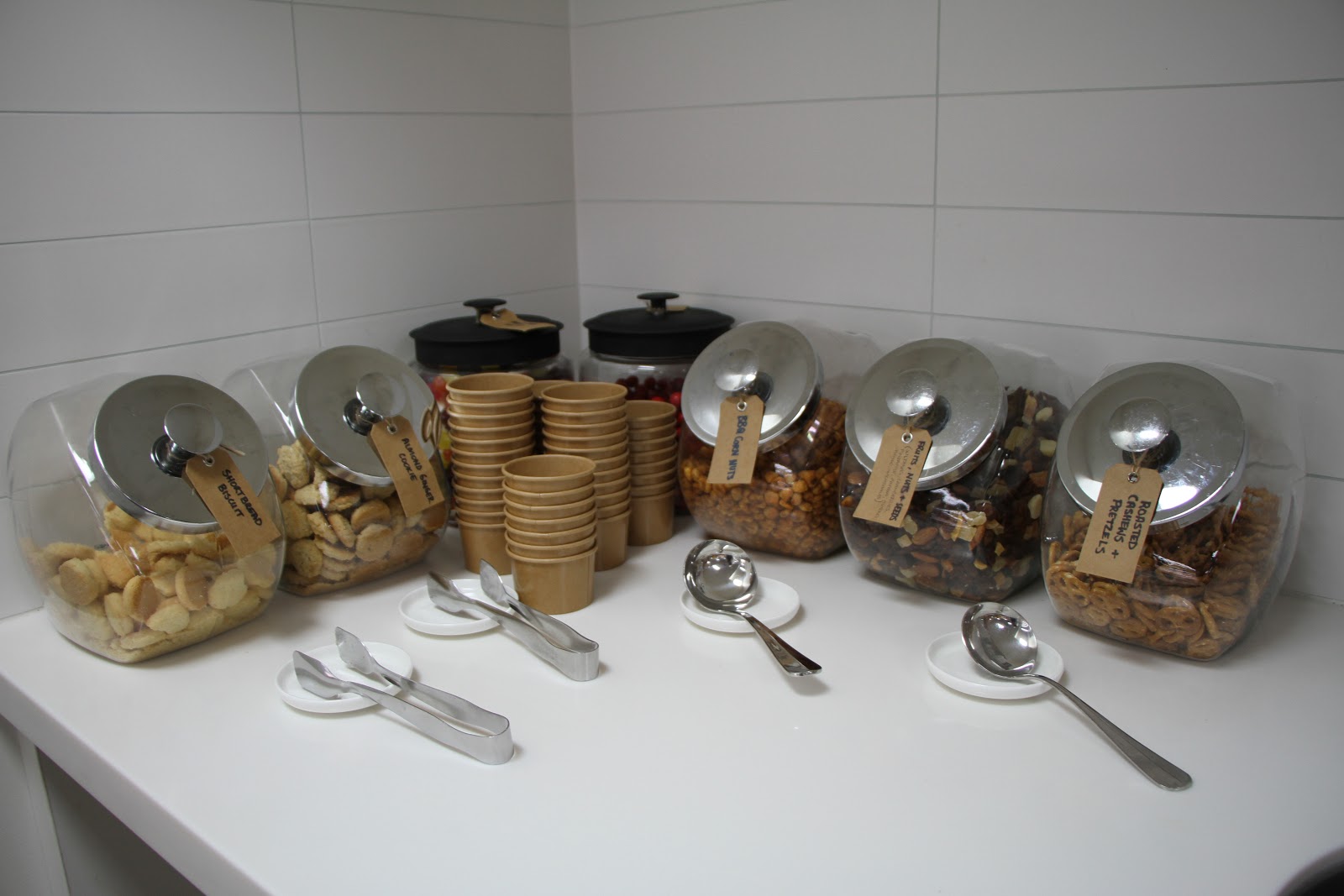 There is also a pancake machine that operates throughout the day.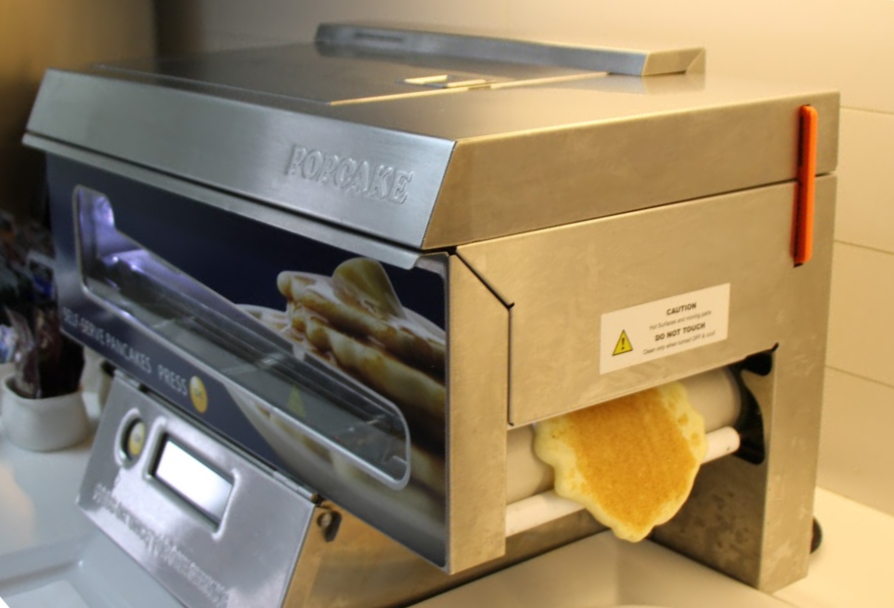 The lunch- and dinner menu features a selection of freshly-made sandwiches, and a soup of the day, as well as your usual choice of cheese and crackers.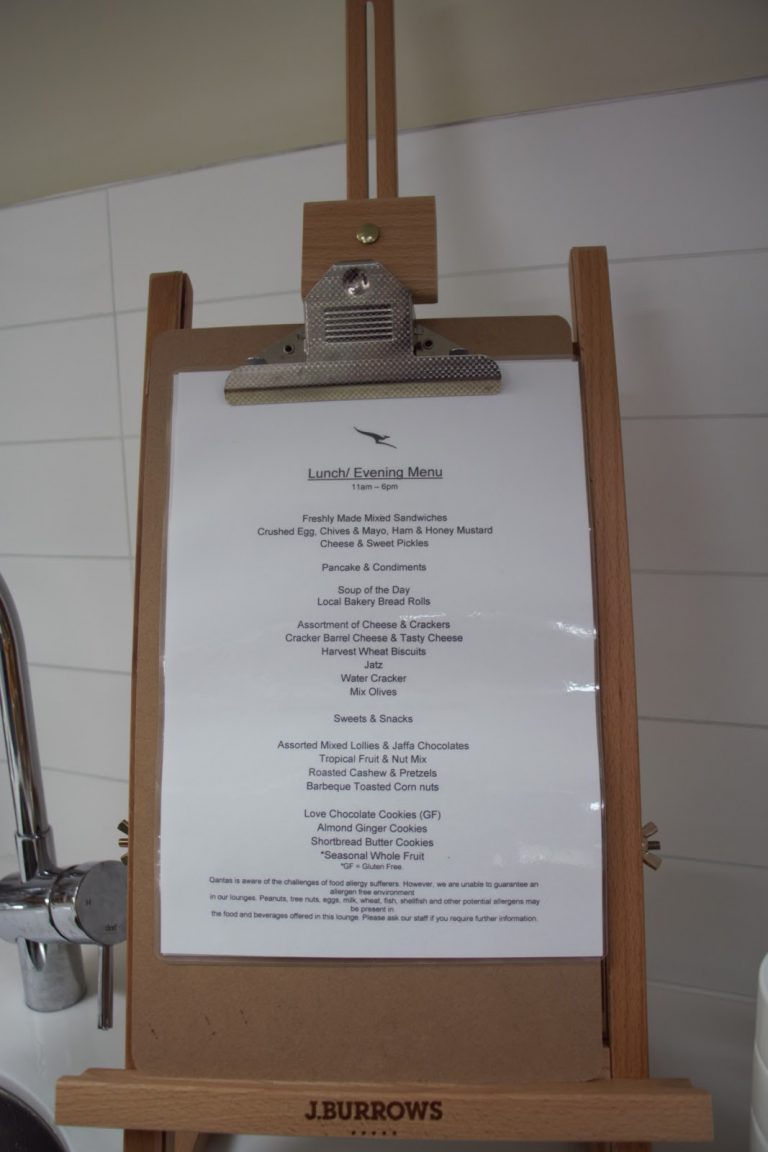 What makes this lounge stand out from other similar lounges in regional areas is the fact that in addition to conventional snack food, they also have freshly prepared food items, such as sandwiches, fruit salads, yoghurts with compotes and coulis, and even chocolate mousse!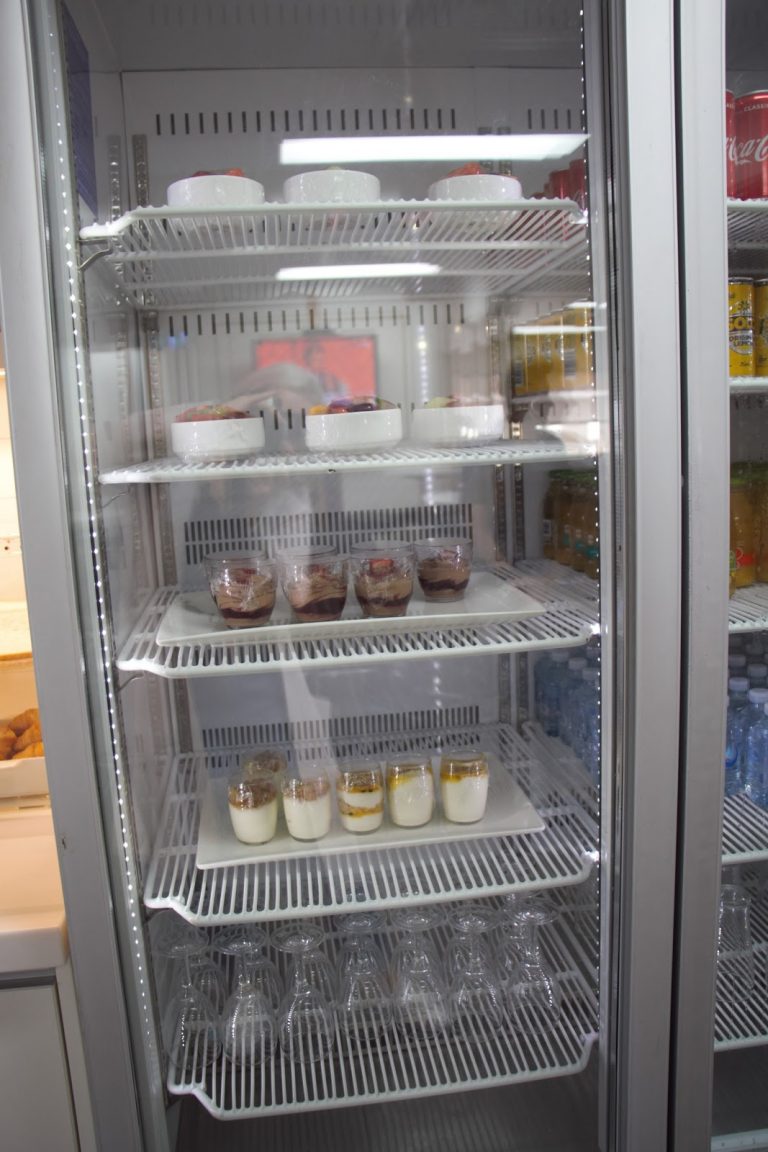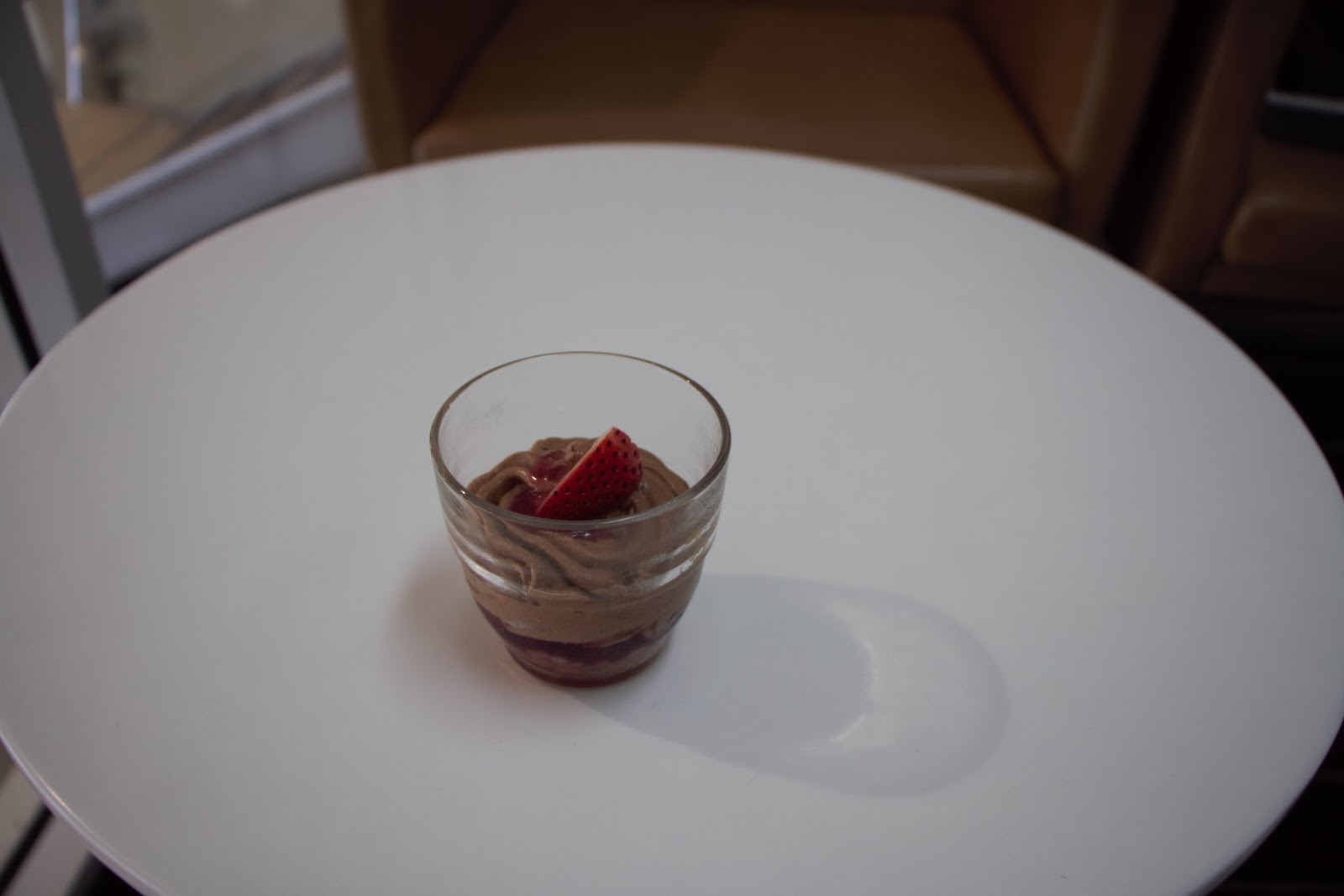 The lounge also has a DIY coffee machine that I'm sure all coffee-lovers would appreciate. Although the coffee machine includes a built-in milk frother, a selection of milks, including soy milk, are provided next to the coffee station.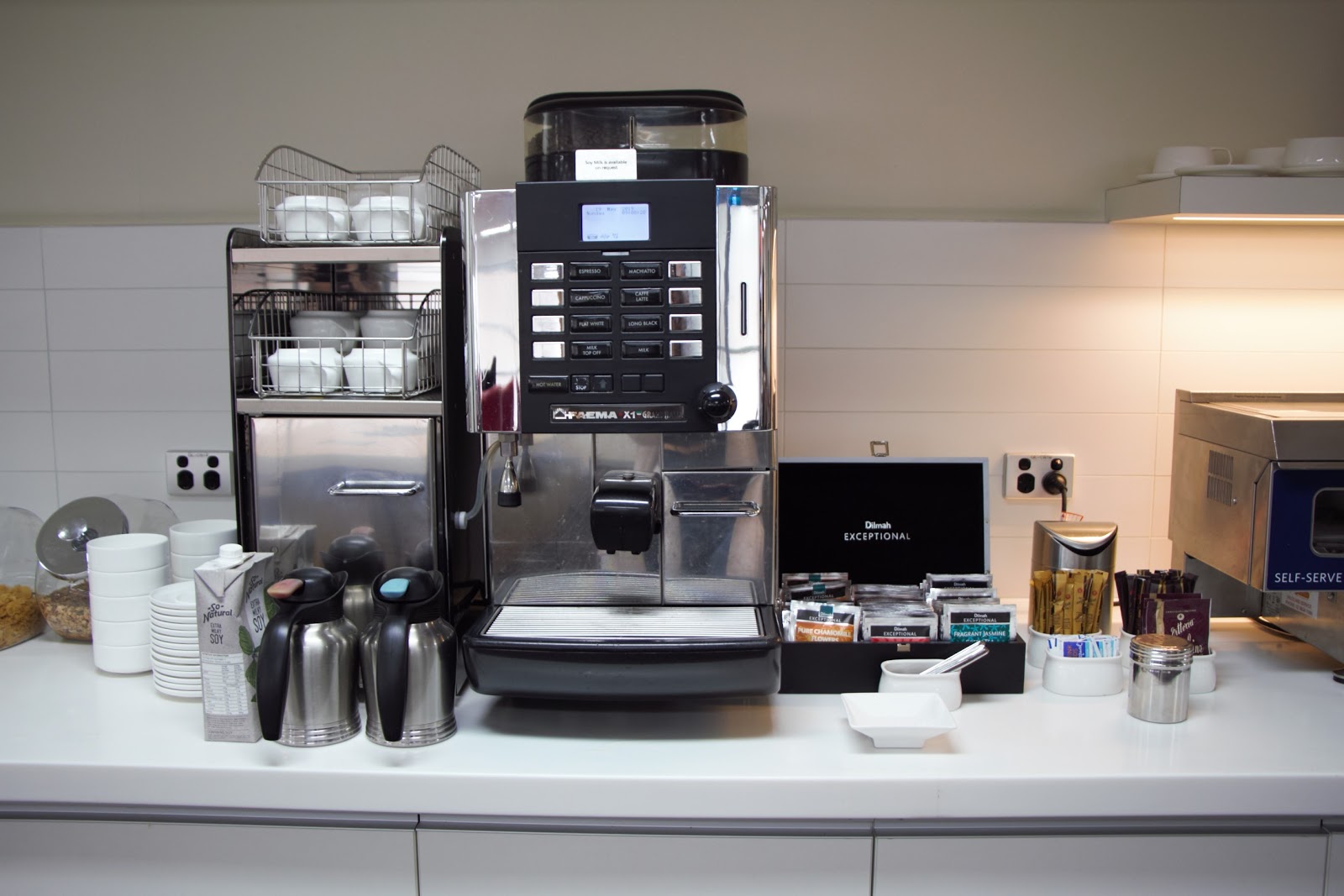 Tea drinkers can help themselves to the usual selection of Dilmah teas.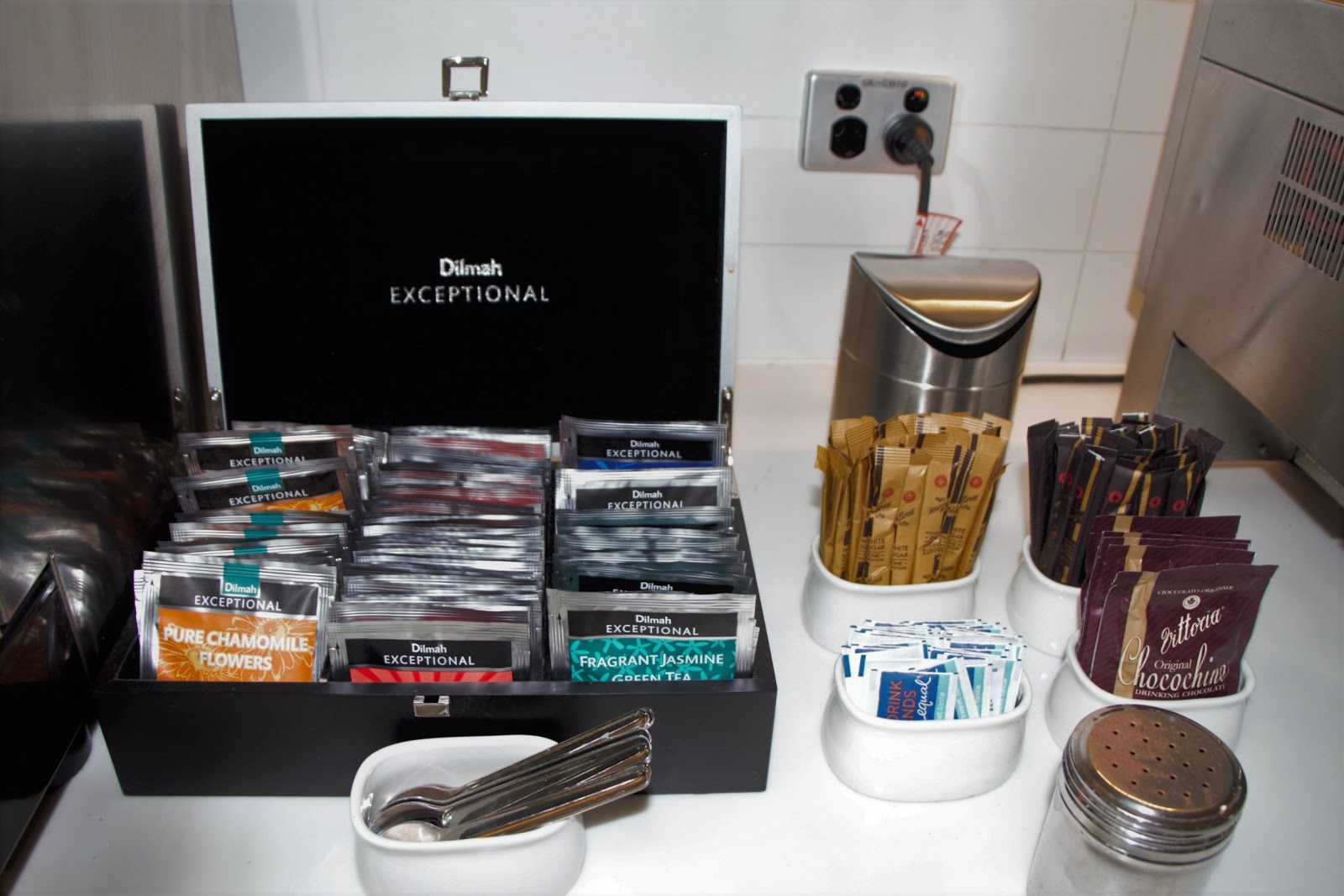 The fridge is stocked with quite a wide selection of water, soft drinks and bottled juice.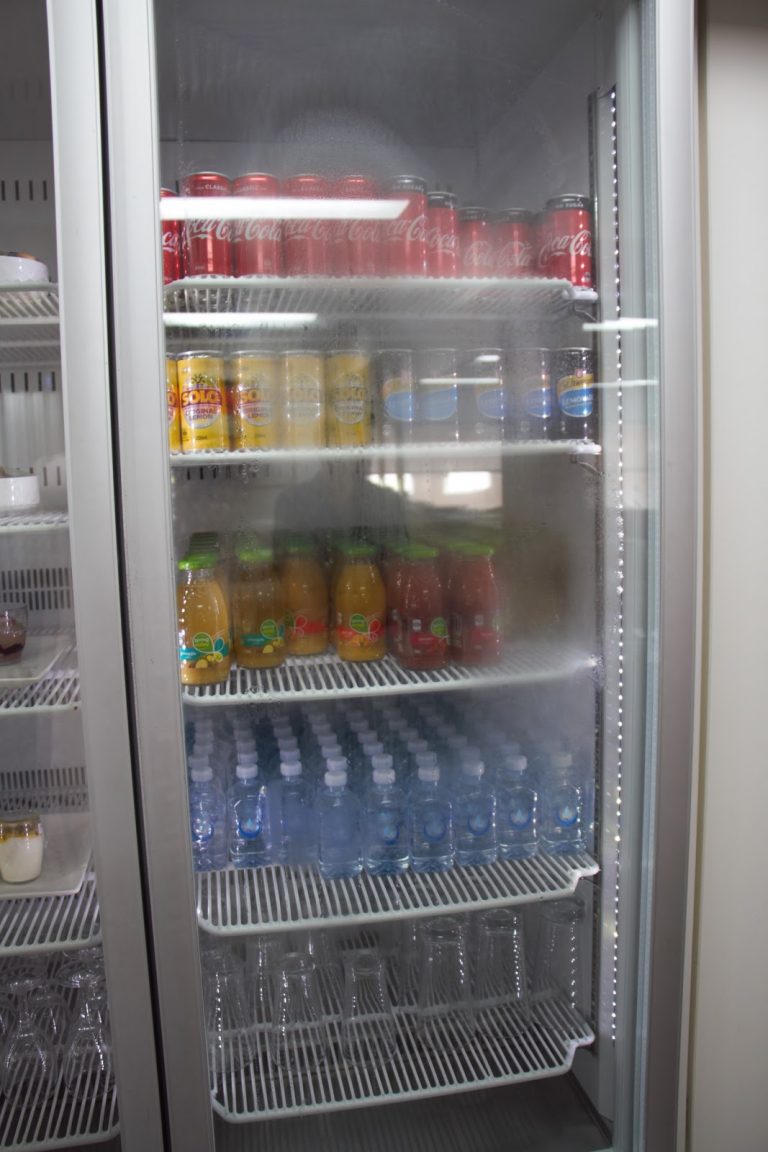 As alcohol service starts at 12pm, the fridge gets restocked with a selection of wines and beers.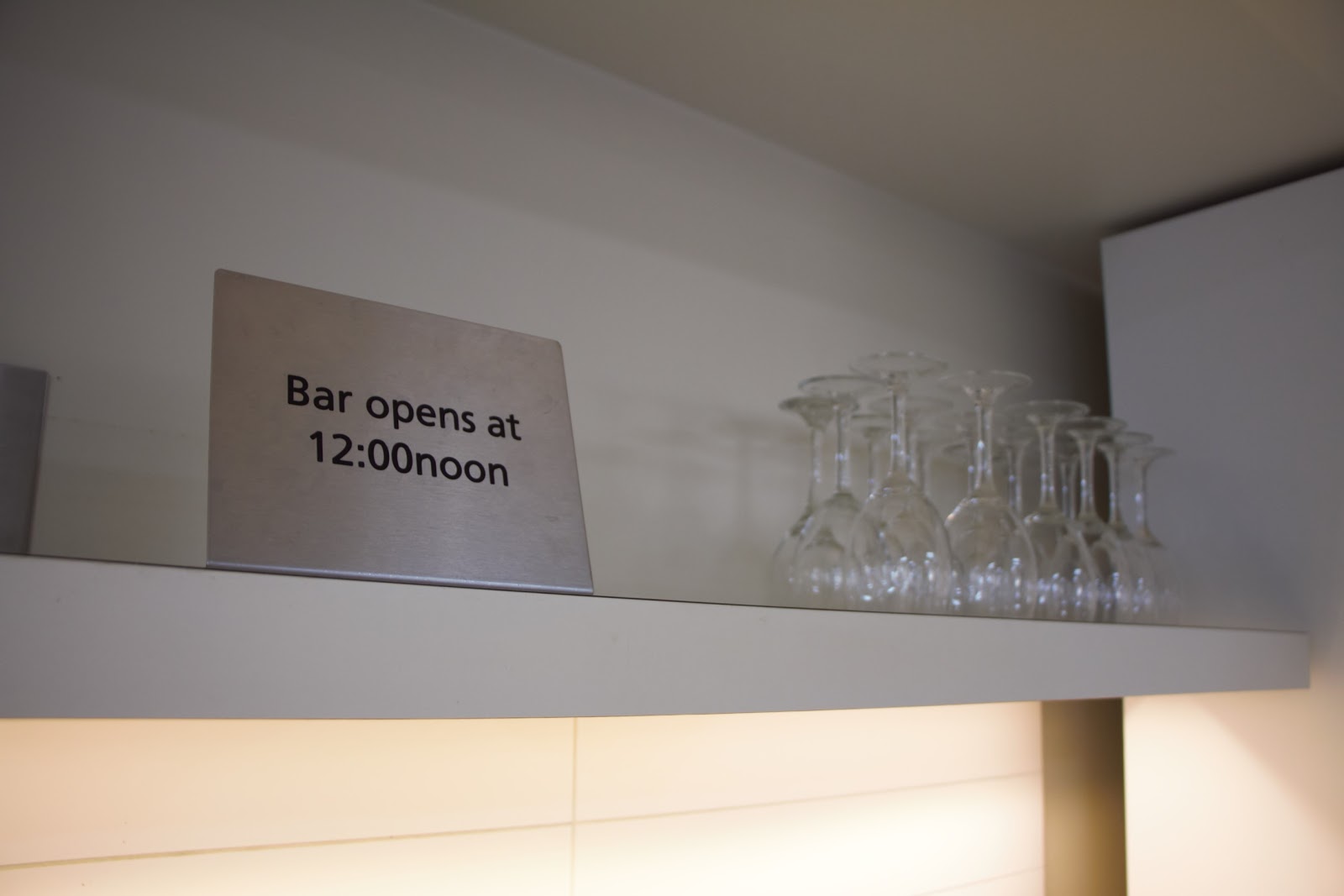 When it comes to food, the Mackay Qantas Club Lounge sets the bar rather high in Qantas' network of regional Club Lounges.
It is always good to have an option to grab a bite to eat before flights, whether it be a quick snack or a light meal. The fact that the Mackay Qantas Lounge have both available is commendable.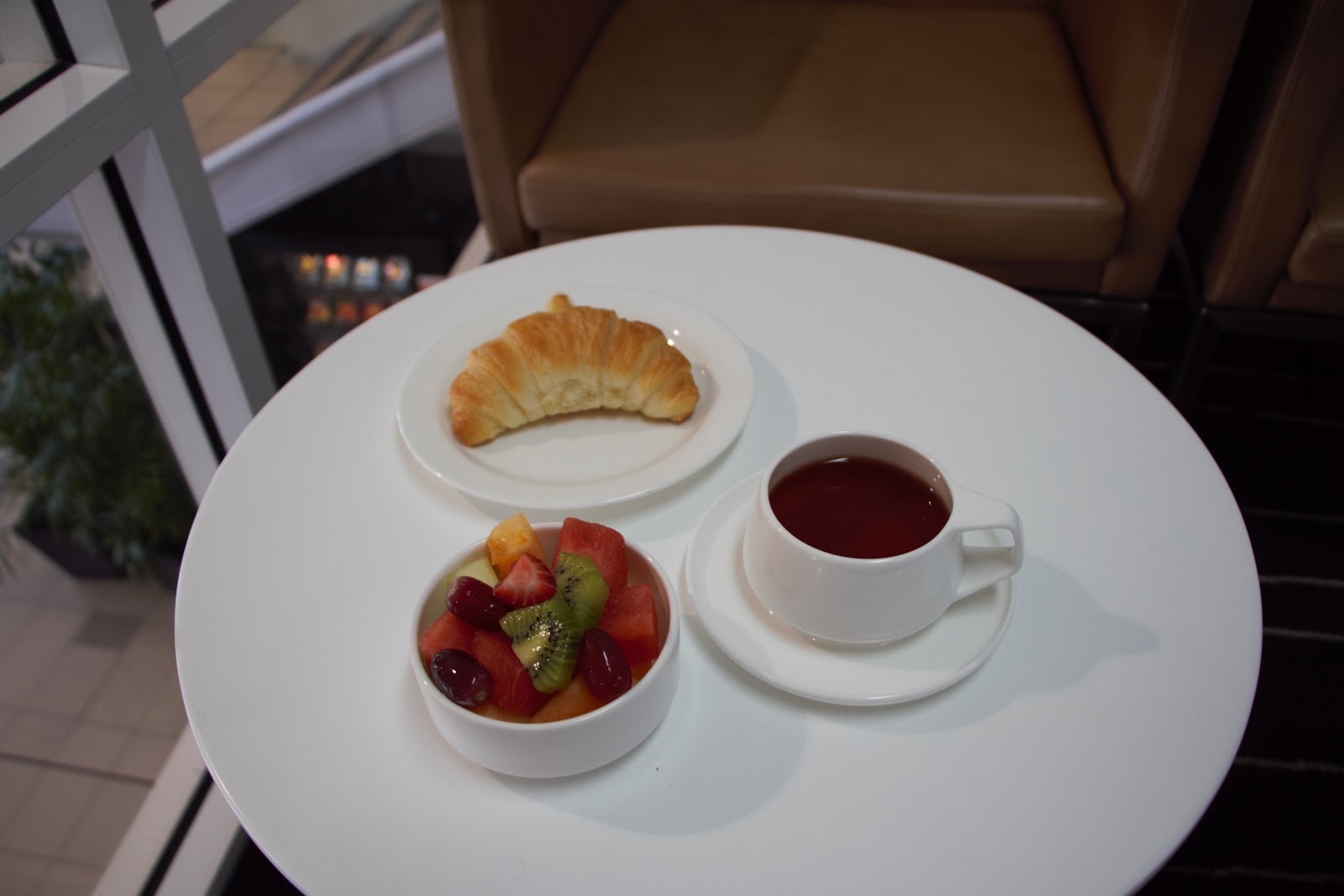 Amenities
Firstly, a special mention needs to be made for the lounge staff. Whilst a lot of Qantas Club Lounges in regional areas are self-contained, and occasionally attended by local ground staff, the Mackay Lounge is attended by dedicated lounge staff who are present at the lounge at all times, and assure all visitors are comfortable and well looked after.
The only real downfall I could find about this lounge is that there are no bathroom or shower facilities within the lounge. To use the bathroom, customers will actually have to leave the lounge, and proceed to the toilets located downstairs in the departures terminal.
Complimentary Qantas Lounge Wi-Fi is available for all lounge guests, with the speed test showing 8 Mbps download and 8 Mbps upload speeds.
There is a proper collection of daily newspapers and magazines, allowing passengers to catch up with all of the latest news and trends.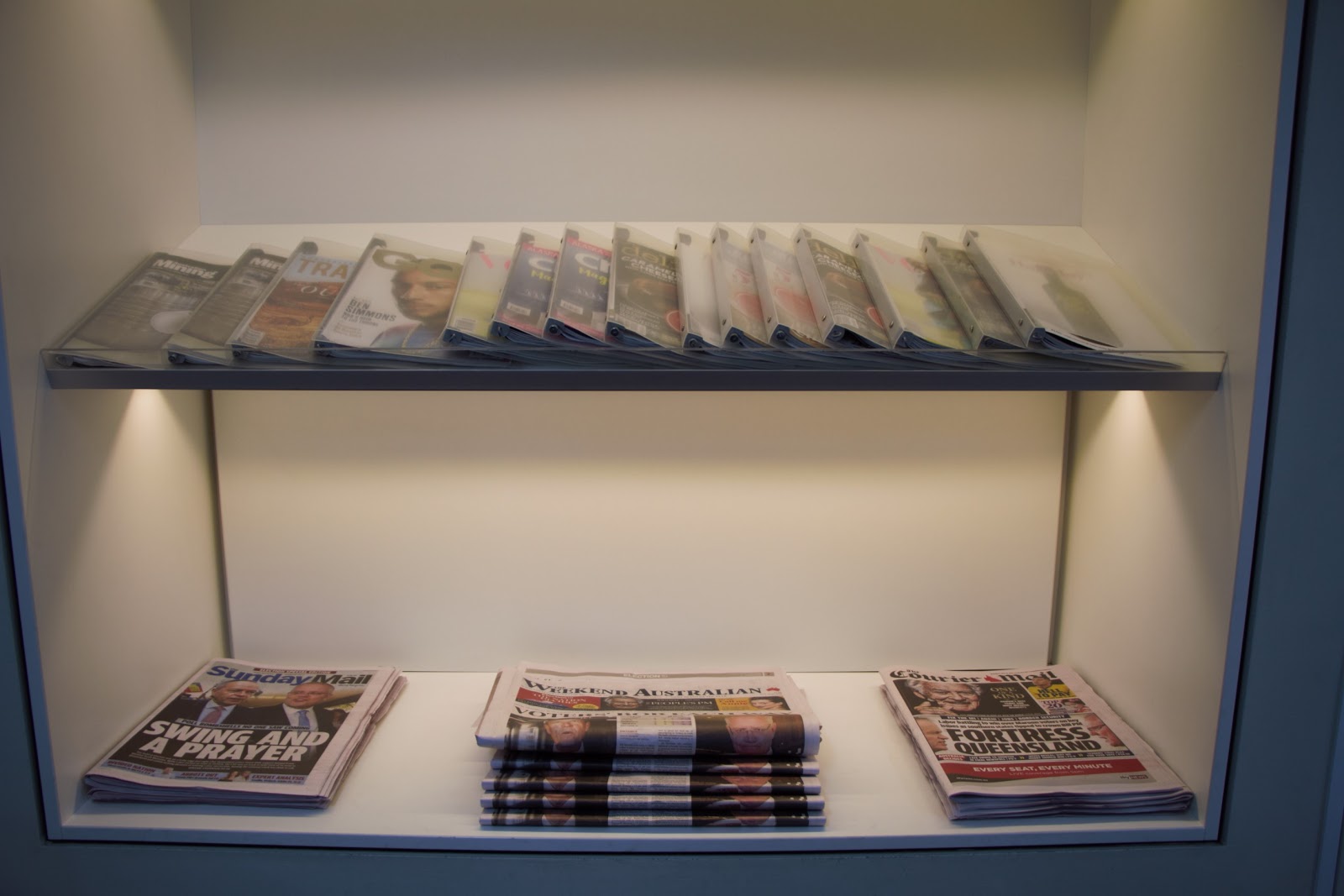 A selection of magazines and newspapers are also spread across the lounge, making sure all passengers have the option to keep themselves occupied in case they didn't bring their own reading material with them.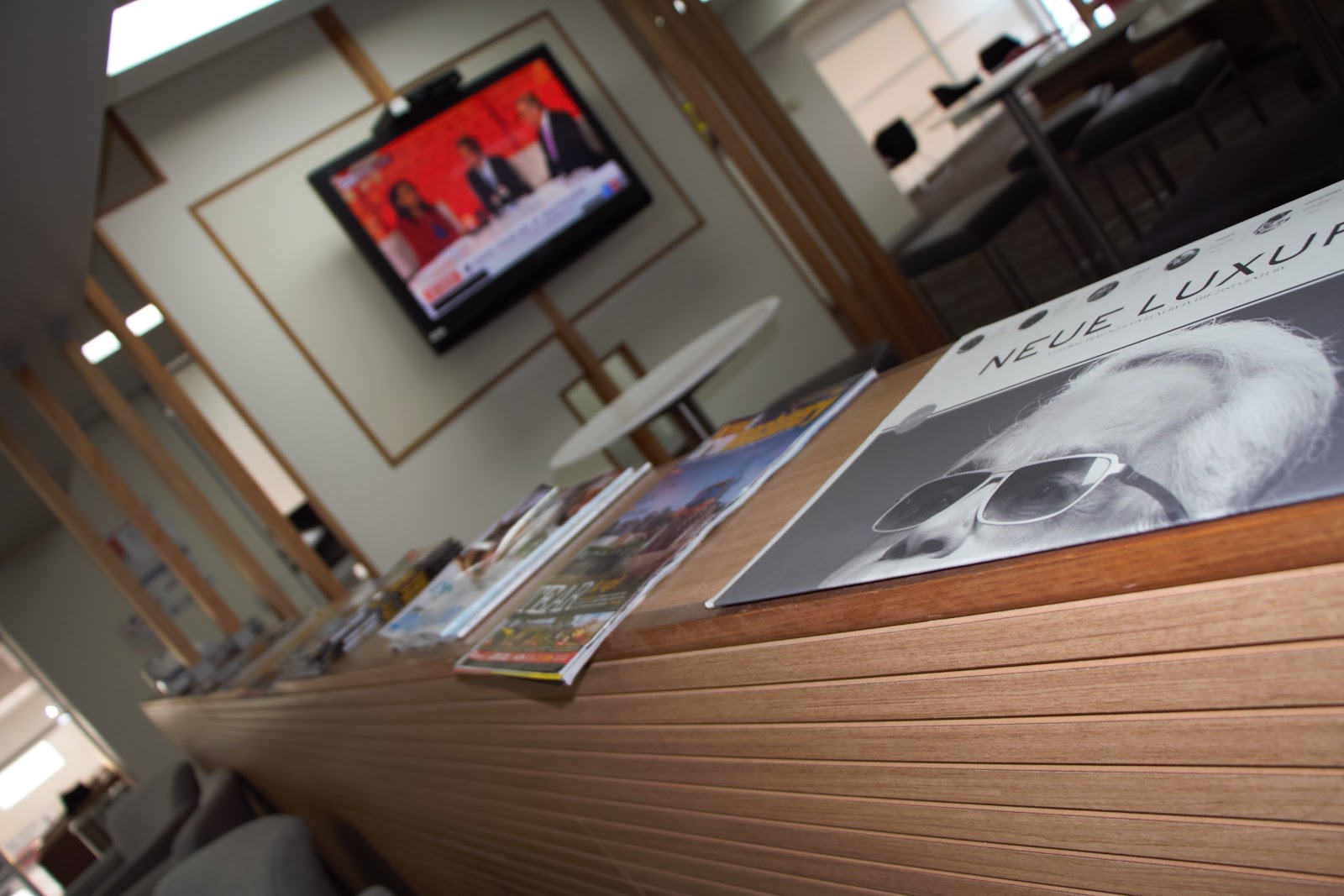 There are three TVs in different parts of the lounge, showing the local news, as well as daily departures information.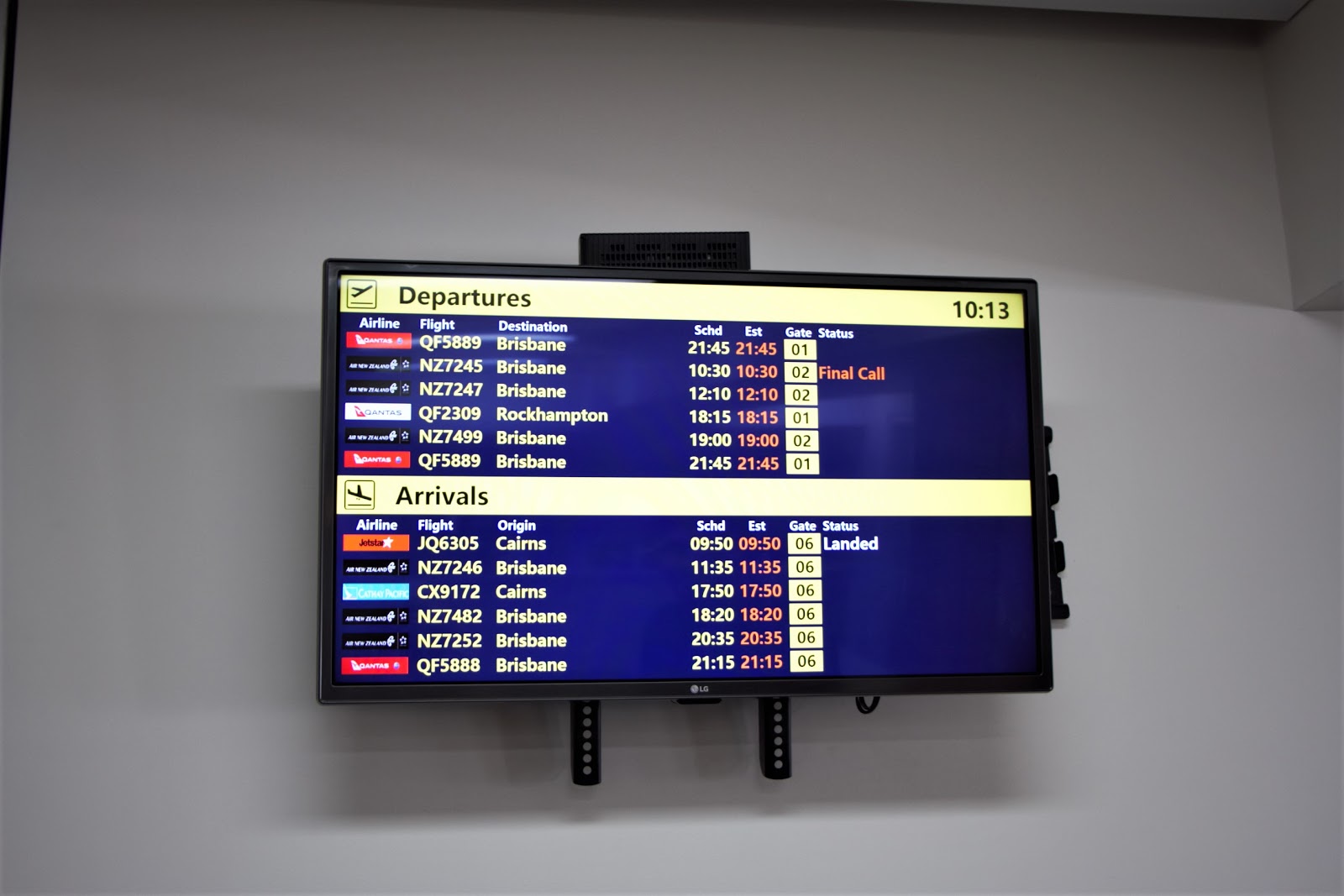 Lounge access options
You can access this lounge:
By eligible class of travel: Qantas and Emirates Business and First Class passengers on connecting international flights and same day domestic flights (+1 guest for Qantas customers in Business and First Class; +1 guest for Emirates First Class passengers) (there is no Business or First Class on QantasLink flights from Mackay)
By airline frequent flyer status: Qantas Gold (+1 guest) and higher (+2 guests) travelling on a Qantas, Emirates, Jetstar or on a oneworld operated or marketed flight
By airline partner frequent flyer status: Emirates Platinum Gold or higher (+1 guest) travelling on a Qantas or Emirates flight
By alliance frequent flyer status: Sapphire and Emerald oneworld members travelling on a oneworld operated and marketed flight (+1 guest); International Business (no guest) or International First (+1 guest) travelling on a Qantas domestic flight connecting to or from a oneworld flight in international Business or First, respectively, on the same day
By Qantas Club membership: Qantas Club members and Annual Guest Card holders travelling on a Qantas or Jetstar flight (+1 guest)
By credit card: refer to our definitive guide to Qantas lounges for credit cards that offer access to Qantas lounges like this one
By day pass: from achieving Qantas Silver Frequent Flyer status
Summing up: Our take
As Qantas aims to be Australia's airline of choice, it is important that they also have a strong presence in regional areas. Mackay is an important gateway for Qantas as the mining and tourism industry attracts corporate, government and leisure travellers.
The Qantas Club in Mackay does a good job in accommodating a mixture of business, leisure, and fly-in fly-out travellers who prefer a comfortable space to work or relax in prior their flight.
What is great
A cosy space to relax and work in
Located after security on level 1, overlooking departure gates
Open throughout the day
Modern design and natural light
Professional and friendly lounge staff
Wide selection of food and drinks, including freshly prepared food
Complimentary Wi-Fi
Extensive selection of newspapers and magazines
Plenty of power points across the lounge
What is not great
No signage to lead to the lounge
No bathrooms
No showers
No tarmac or runway views
Qantas Club Mackay overview
was last modified:
August 22nd, 2023
by