The Hobart Qantas Club isn't the largest or most modern in the Qantas network. But with tarmac views, a decent food and beverage offering and a range of seating options, it's a comfortable place to await your flight's departure.
It's also the only lounge at Hobart Airport, leaving lounge lizards without much of a choice. And given it's a small space, it's often at capacity. But you can't blame the place for being popular.
Here's what to expect when flying out of the Apple Aisle on Qantas or Jetstar.
Location
At Hobart Airport, check-in for Qantas flights only opens two hours before your scheduled departure – and there's no self-service bag drop. So if you have a bag to check-in, you can't scoot through security until two hours before your flight.
Unfortunately, my husband and I show up at the check-in counter three hours early, thinking we'll kick back in the departures area until the Qantas Club opens. We're forced to sit uncomfortably in the small check-in area for an hour instead. Lesson learned.
When we finally make it through security, we're pleased to discover the lounge is already open. During our visit in May 2022, the Hobart Qantas Club opened one hour before Qantas and Jetstar flights and closed in between. Though on the days Qantas operates a Perth service (two times a week at the time of writing), the lounge stays open all day.
Your best bet is to check flight departure times on the Hobart Airport website for the most up-to-date opening hours.
Once you've successfully checked-in, you'll find the Hobart Qantas Club conveniently located directly after security between gates 5 and 6, on the right-hand side of the terminal. Given there are only six gates at Hobart Airport, you're no more than a minute's walk away from your gate tops. Leaving you more time to relax in the lounge than if you were flying out of a larger airport.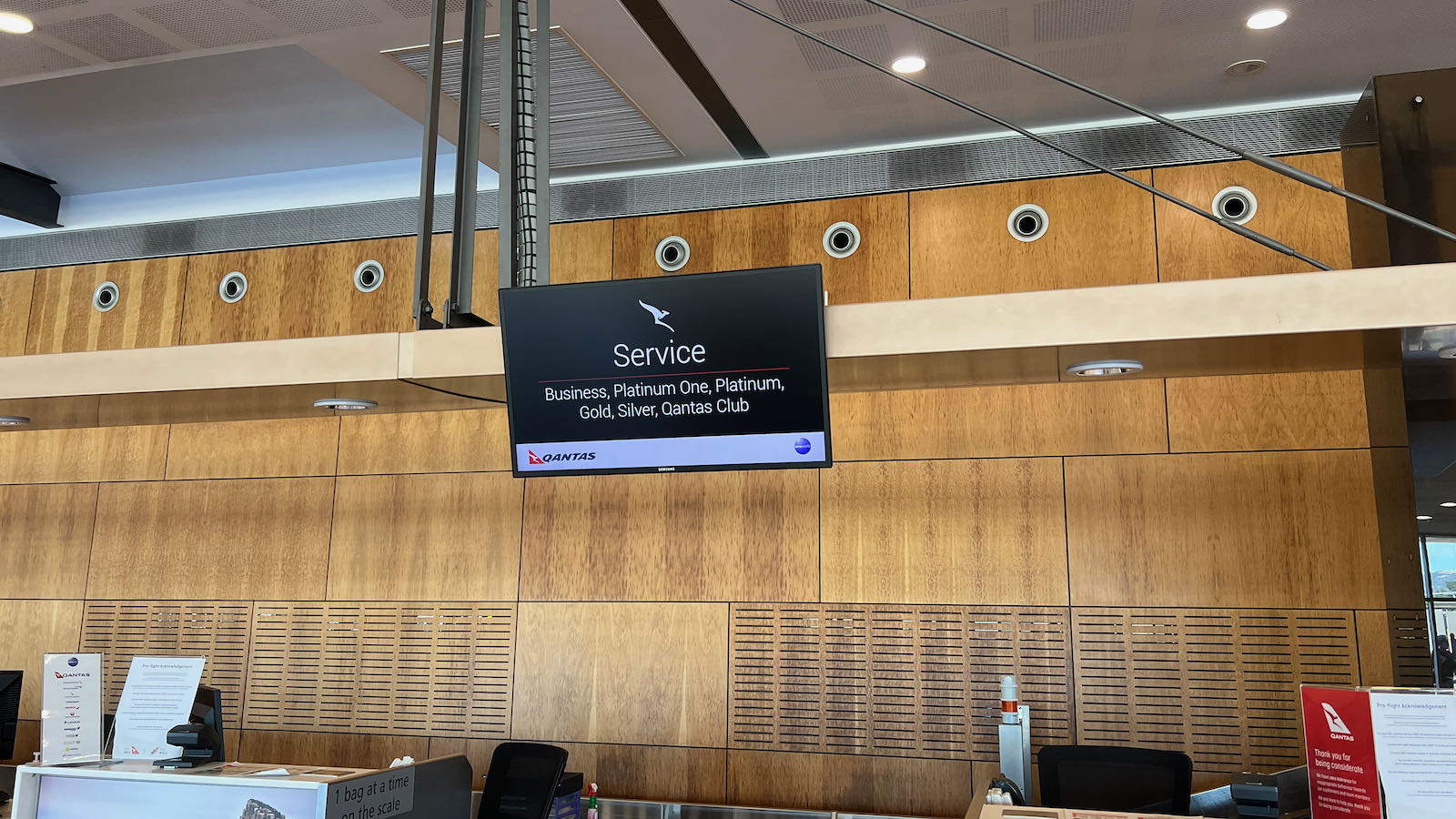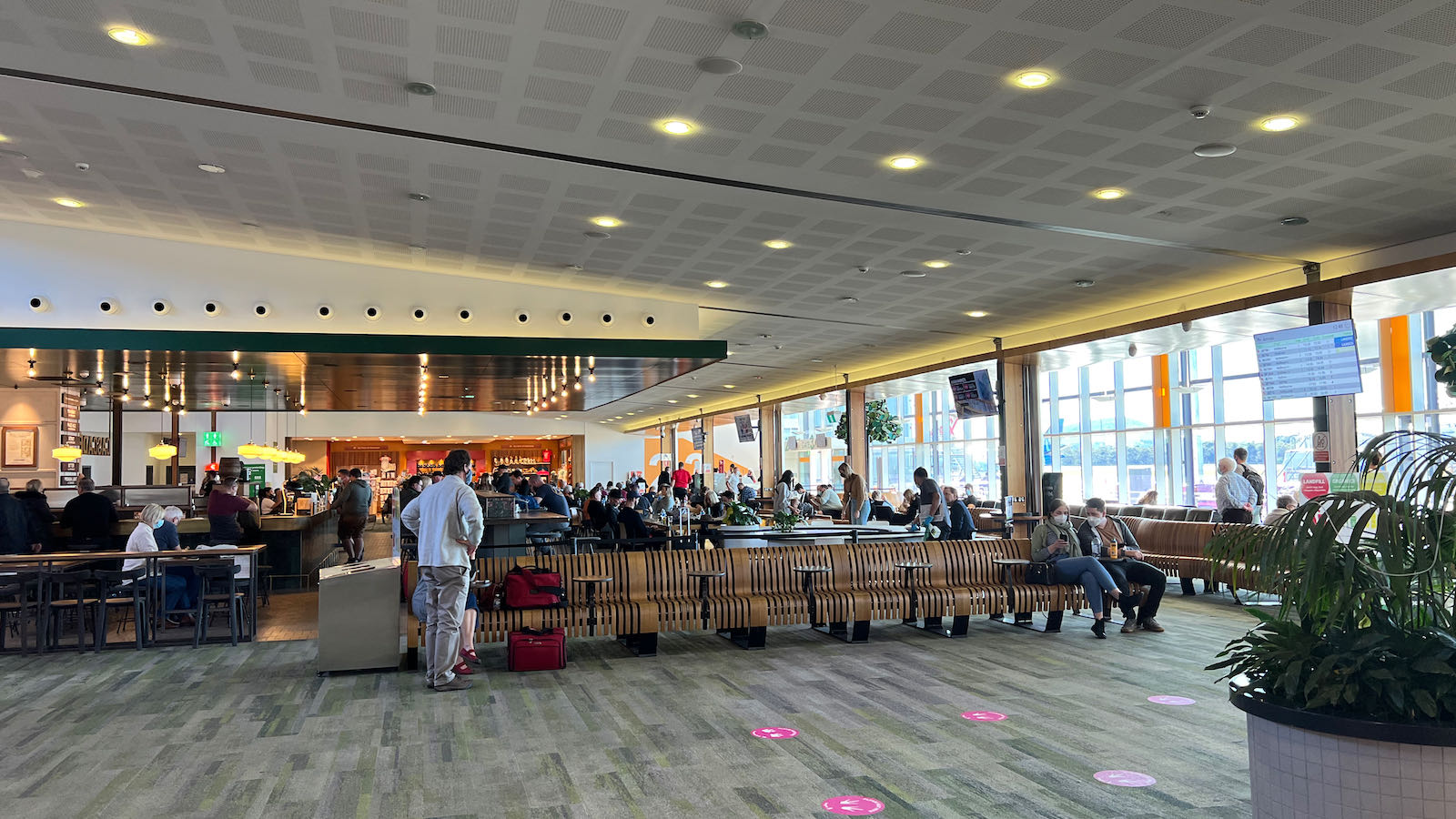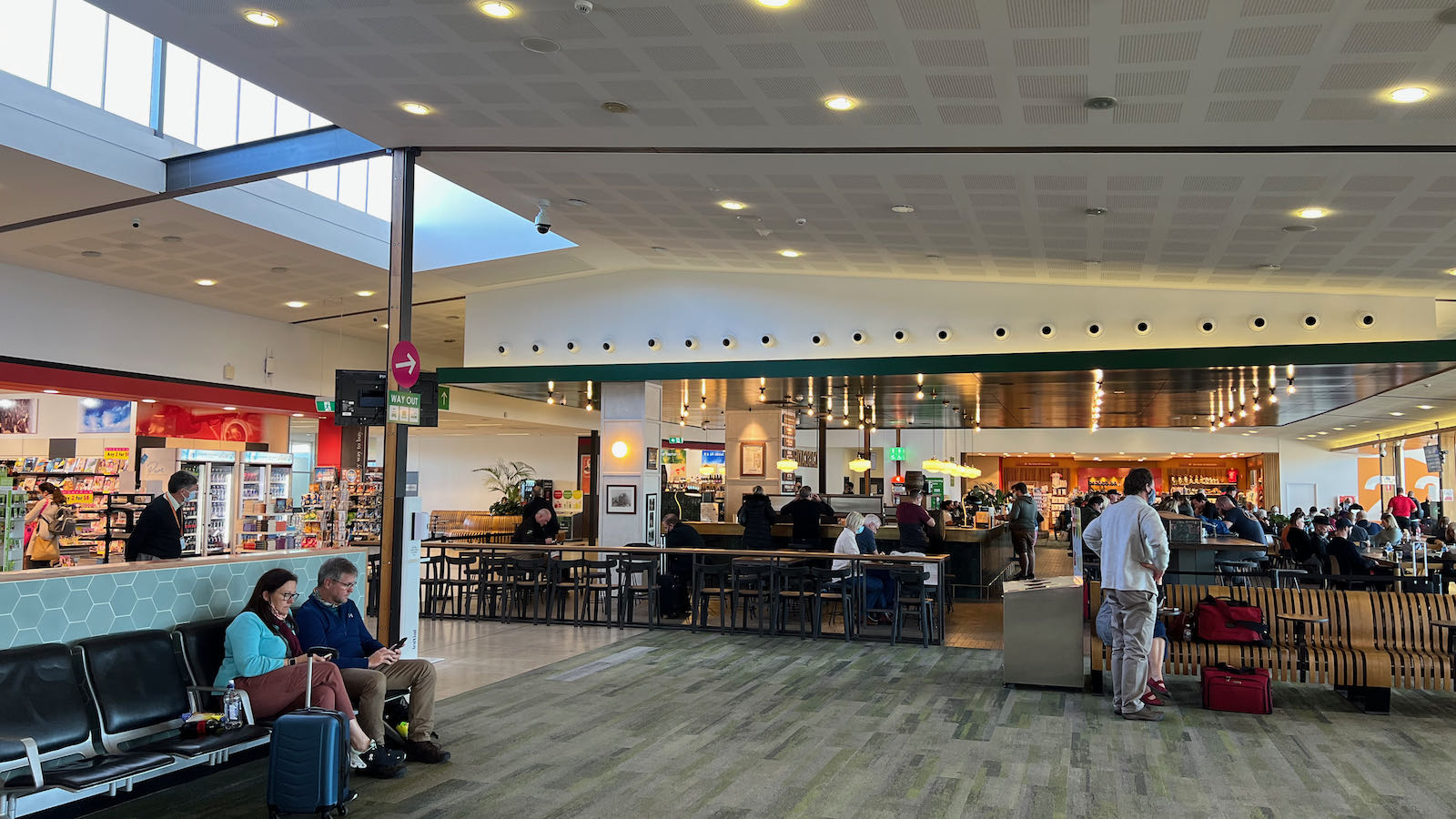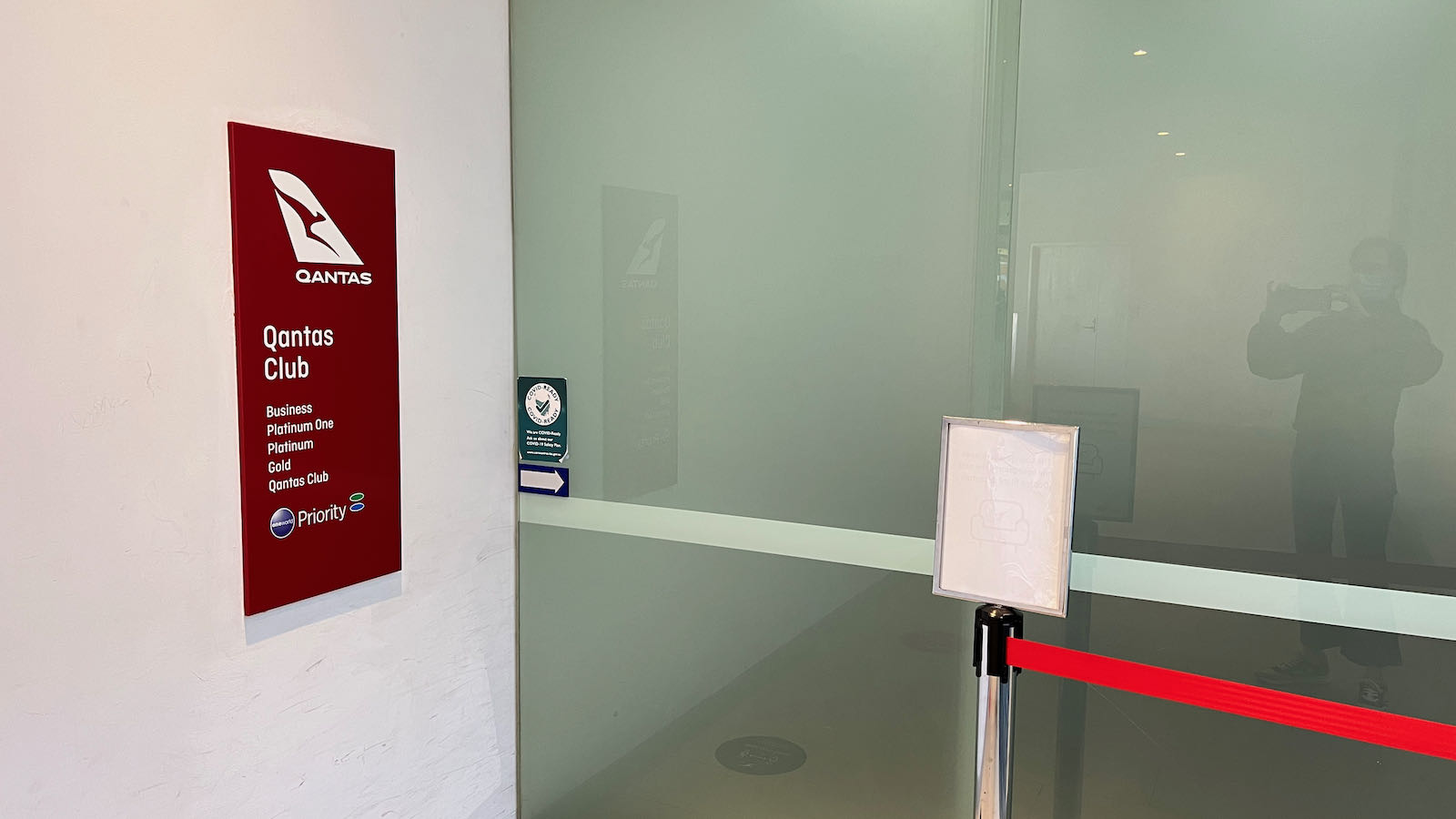 Those travelling with kids may prefer to spend time in the light and bright departures area, which has a dedicated kids' zone. The Hobart Qantas Club's size and popularity make it somewhat unfriendly to kids – as a family with two small and energetic children quickly discover on our visit. There's no room for kids to play, let alone a separate kids' area. So bear this in mind.
Lounge layout and seating
First impressions count for a lot in my book. So when we arrive at the Hobart Qantas Club and are greeted coldly, things aren't off to a great start. My husband needs to jump on a Zoom call pronto, and the woman at reception remarks disapprovingly that the noise will echo throughout the room. Not ideal for a lounge catering to business travellers.
Once you've made it past reception, you'll find a range of seating options packed into the small space. Padded seats and armchairs serviced by small tables are the comfiest options. Closer to the window are several bar stools clustered around high tables – perfect for socialising over a drink and light bite.
The small dining tables and chairs lining the windows are your best bet for those looking to get some laptop work done (whispered Zoom calls included!). Though most of the power points are located near the armchairs on the wall near reception.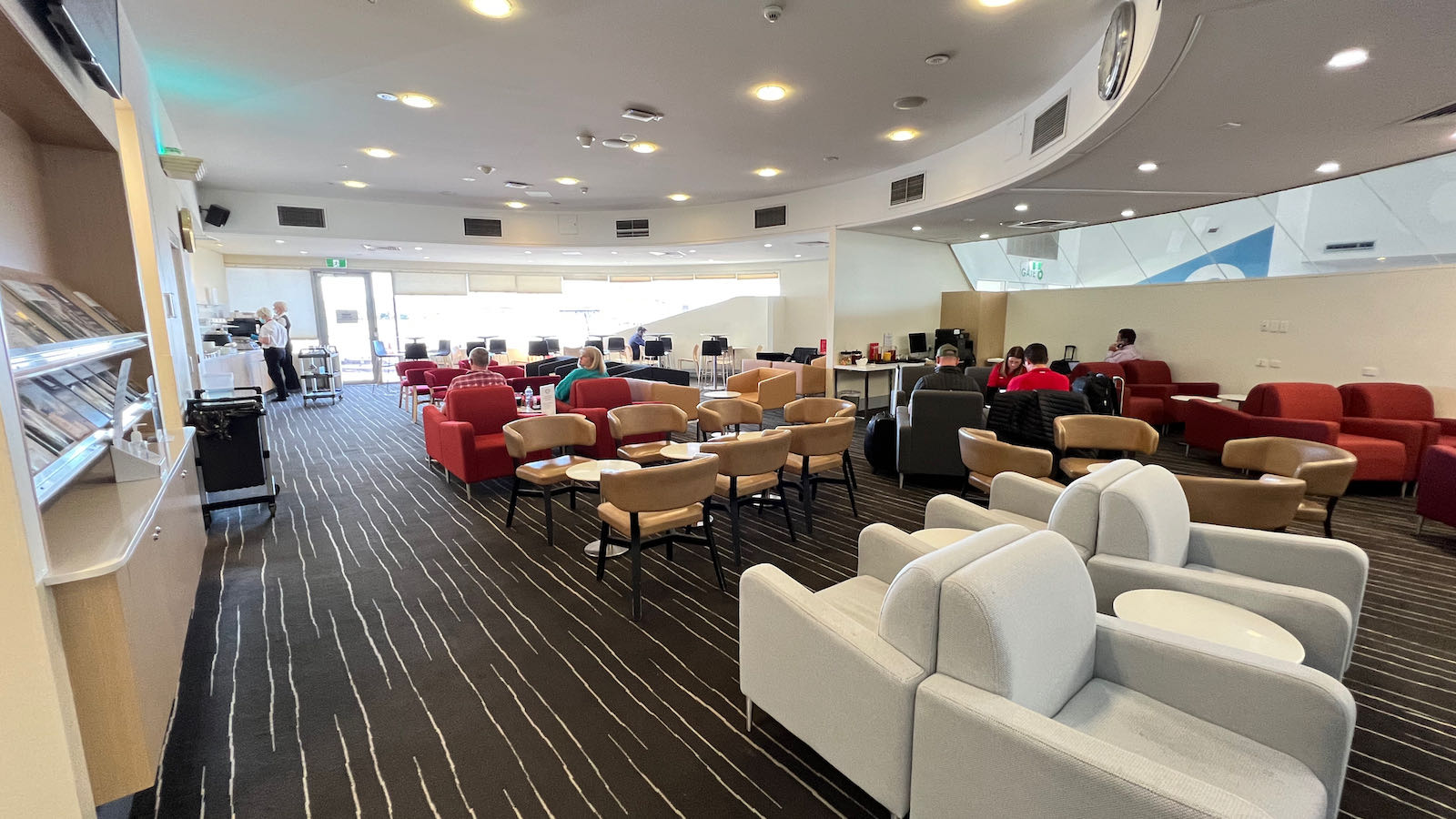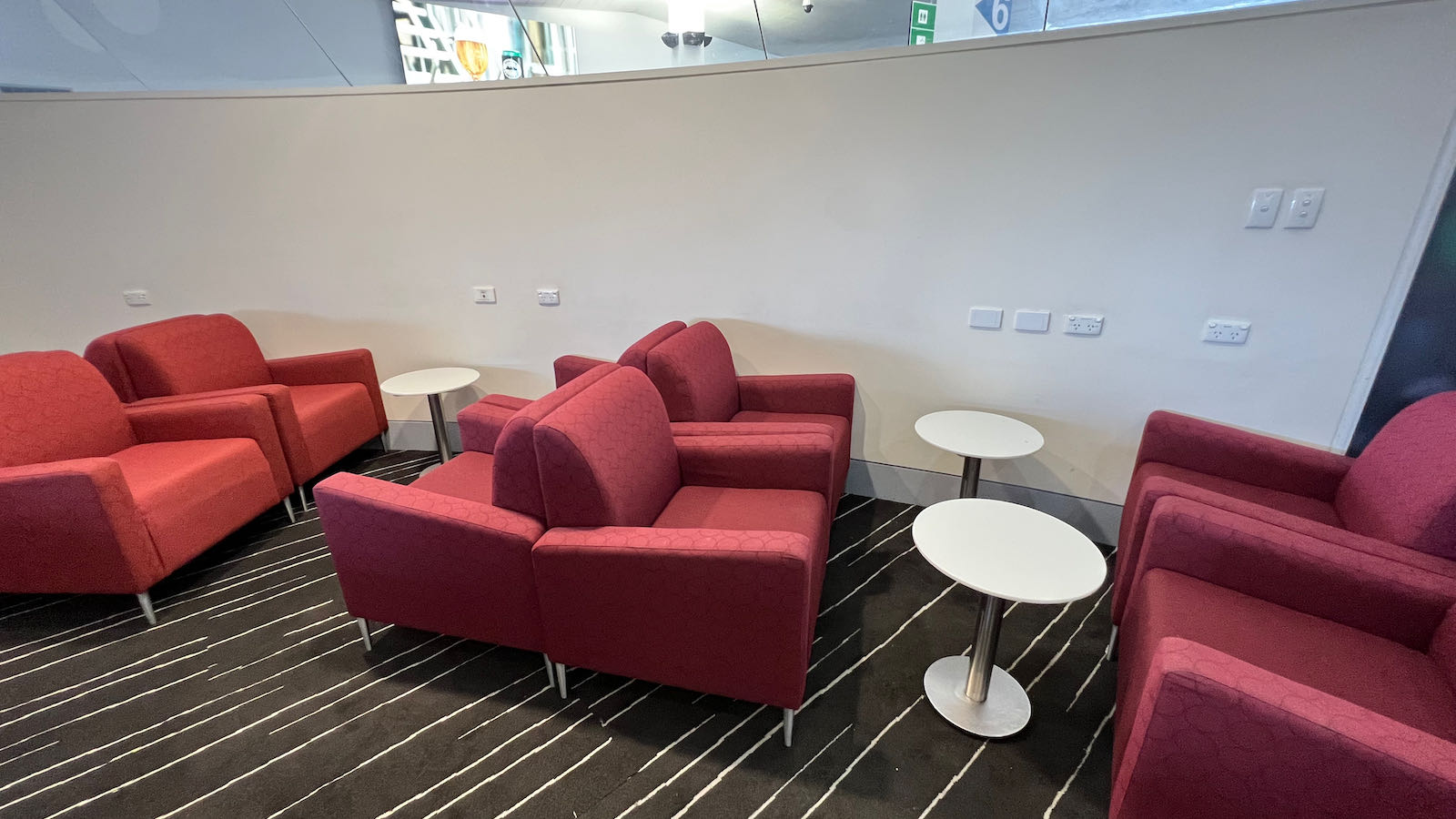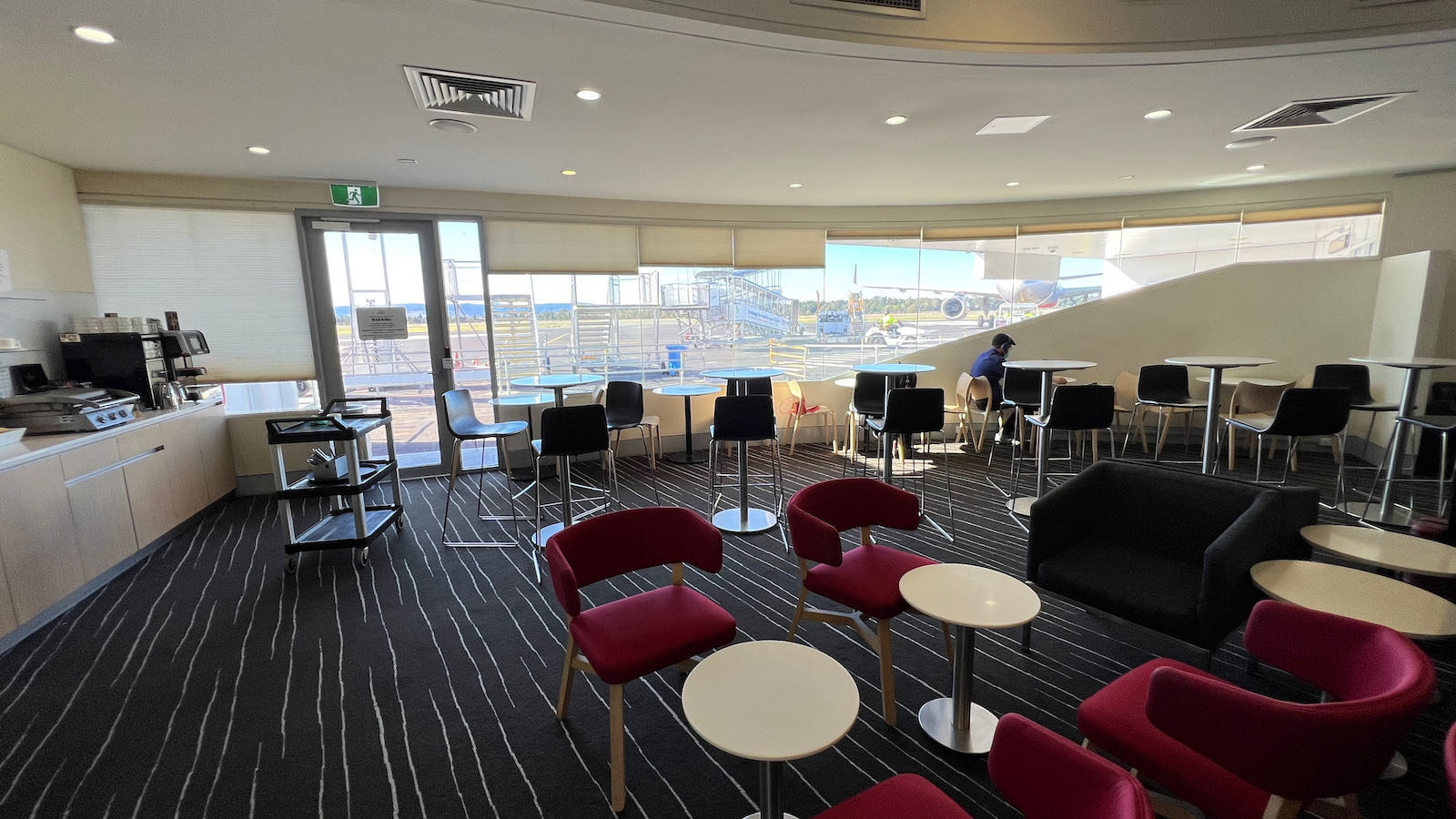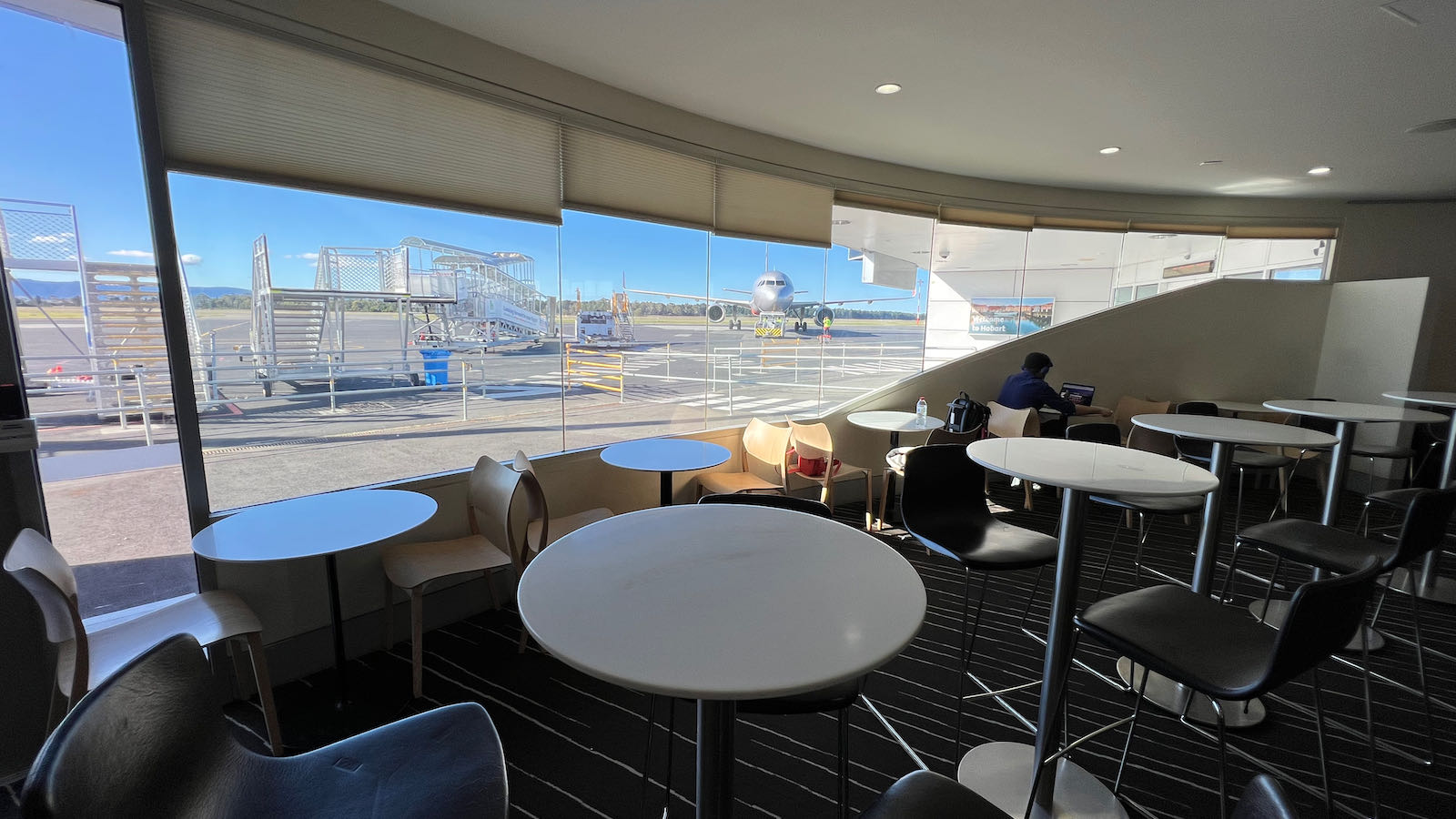 For such a petite space, Qantas has done an admirable job of accommodating as many people as possible. Pre-COVID, there were plans to expand the lounge by moving it to the airport's second level, which would have introduced a whopping 80% more seating. But these plans are currently on hold.
For the best experience, I suggest arriving as soon as the lounge opens to stake out your preferred spot.
Food and beverage in the Hobart Qantas Club
The food and beverage offering isn't bad for such a small lounge. And if you're prepared to get creative with toasted sandwich fillings and even DIY cocktails, you'll find enough to eat and drink here.
In terms of food on our lunchtime visit, there's a tomato soup on offer, plus the Qantas Club's popular toastie station with a selection of meats, cheese and condiments. A Greek salad, slices of raisin cake, fresh fruit, pretzels, and wasabi peas to graze on round-out lunch. Or so we thought.
Much to our surprise, a trolley with piping-hot dim sim and gyoza appears after we've already hit the buffet. Apparently, this hot food trolley makes a daily appearance between 1:30 and 2:30 pm. The dim sim is tasty, though if you're flying Qantas Business out of Hobart you may want to save room for the onboard meal service.
As with all Qantas Clubs and Domestic Business Lounges, the bar opens at noon. You'll find a fairly standard selection of wines, beers and spirits on offer. Though rifling through the drinks fridge I'm happy to discover three vintages of Seppelt The Drives chardonnay. Back vintages of vino are a personal passion of mine, so naturally I make a beeline for the oldest: 2018. The extra age adds a rich mouthfeel to the wine that I'm quite fond of.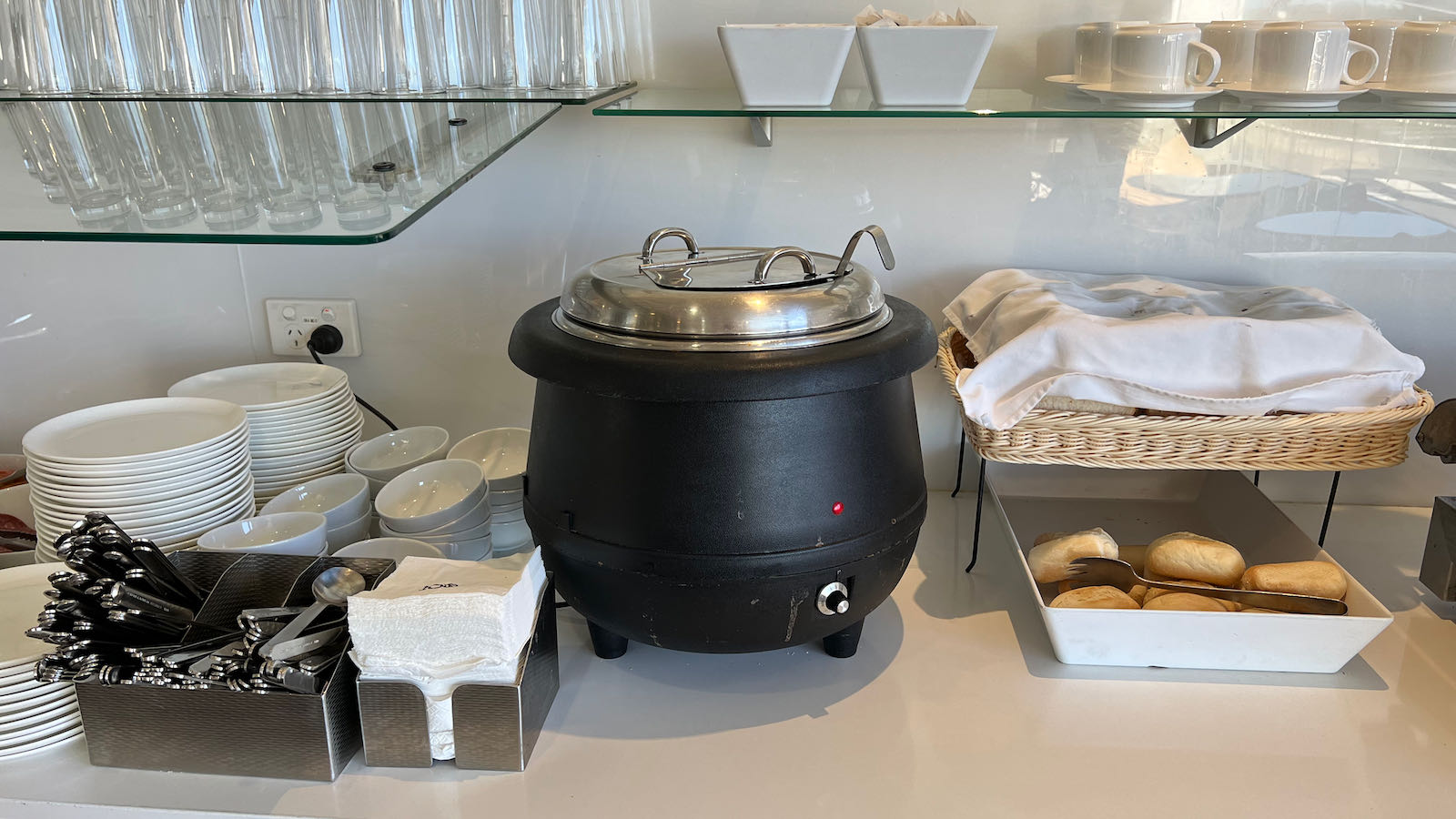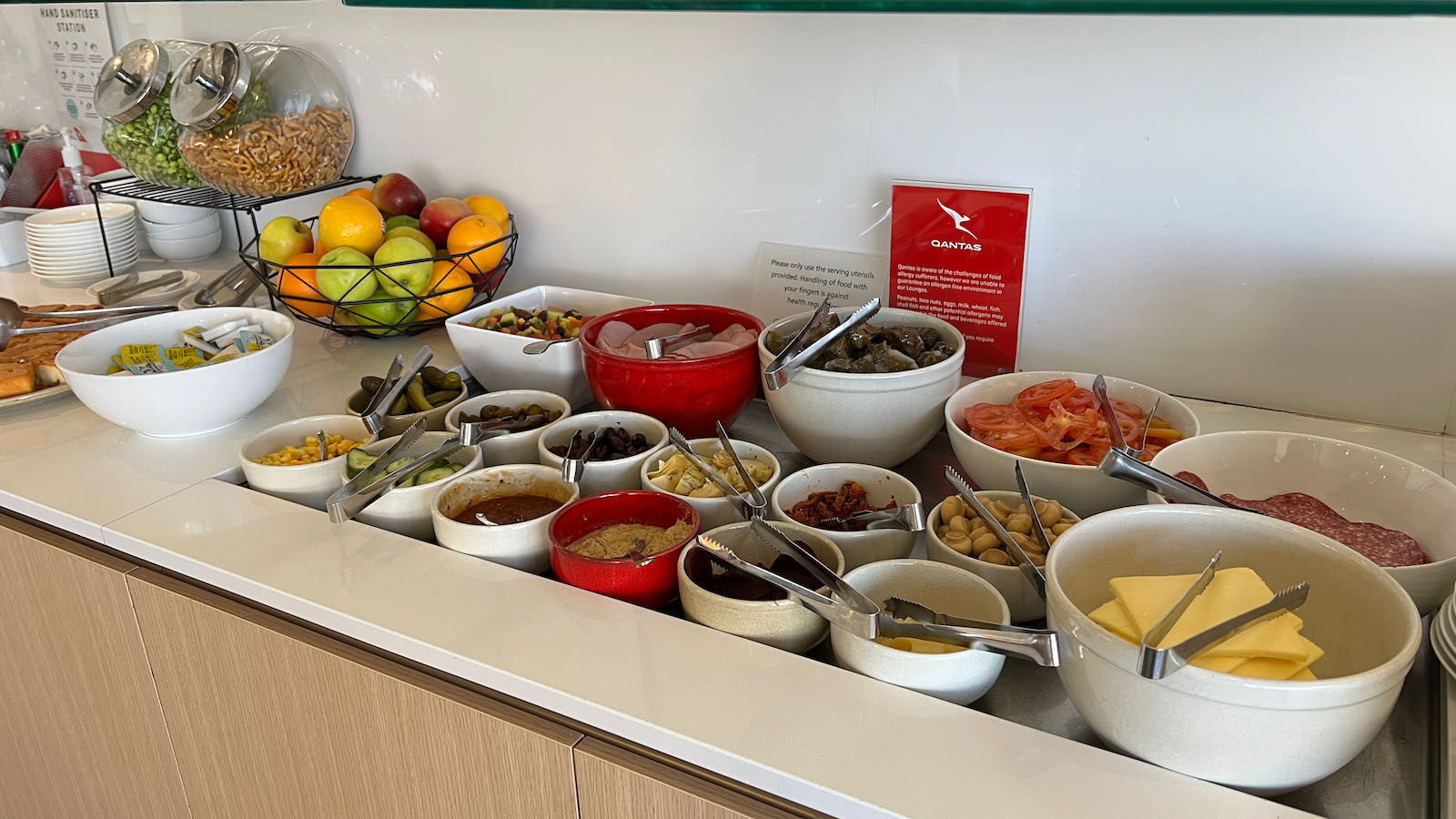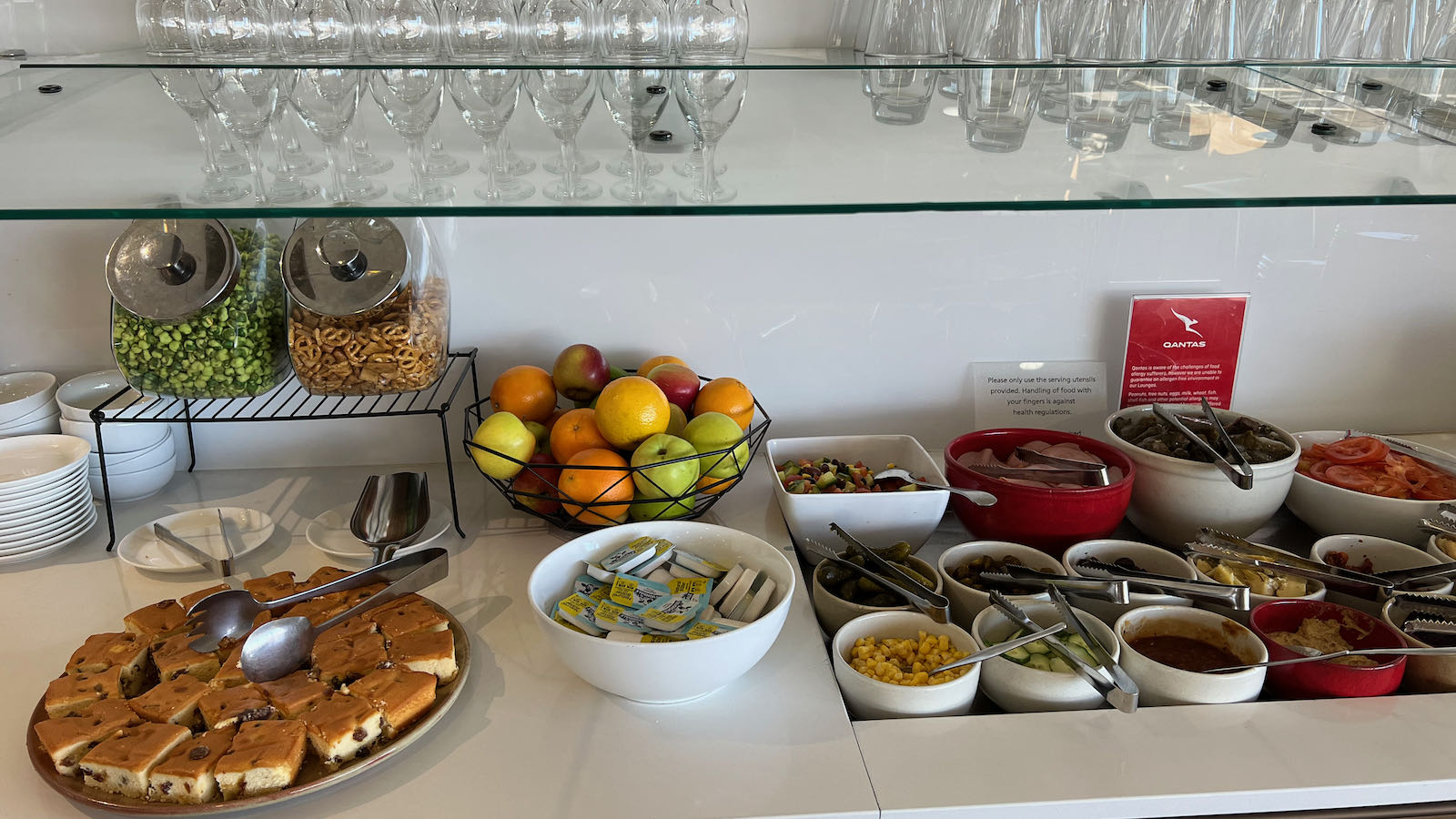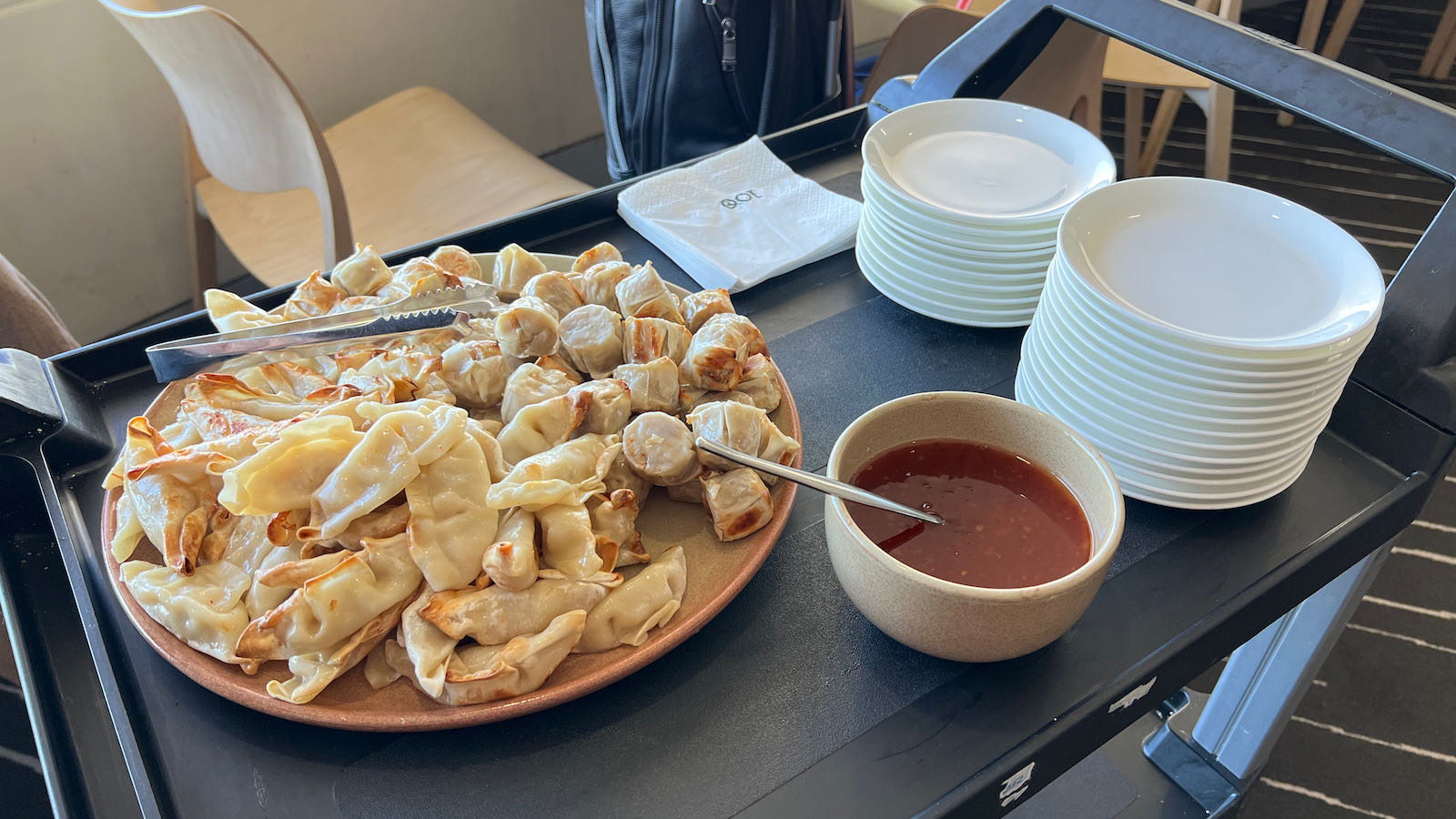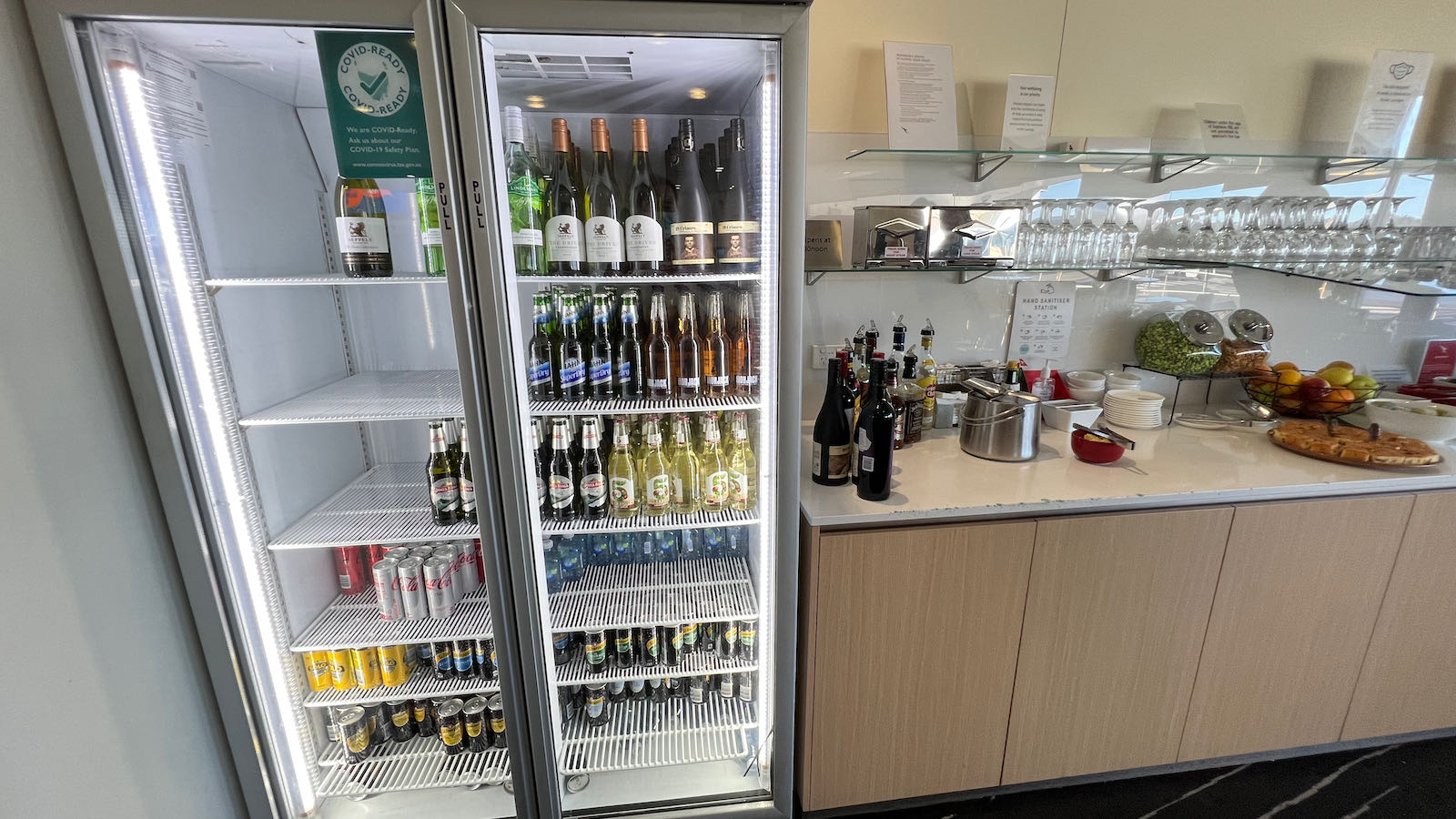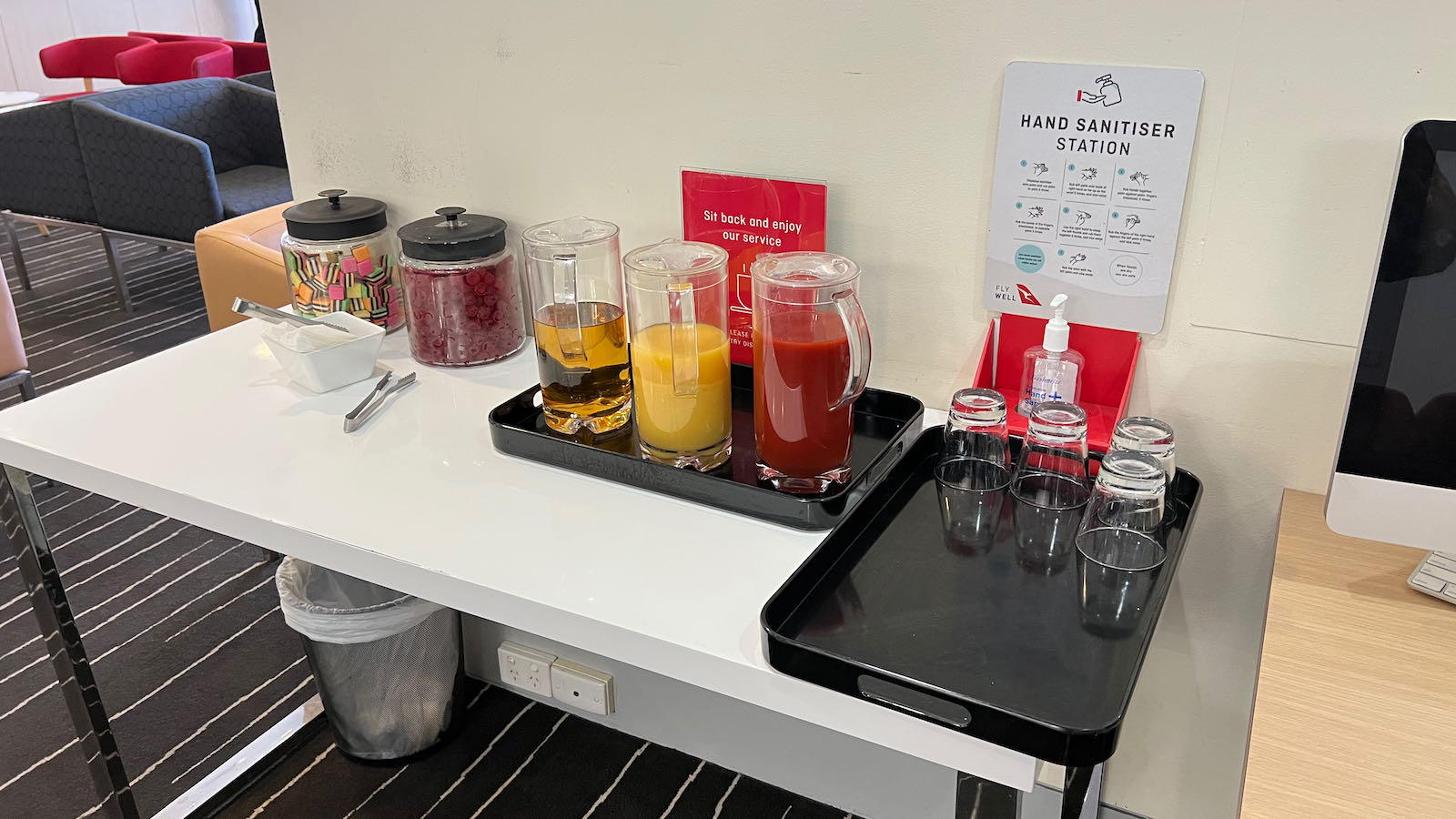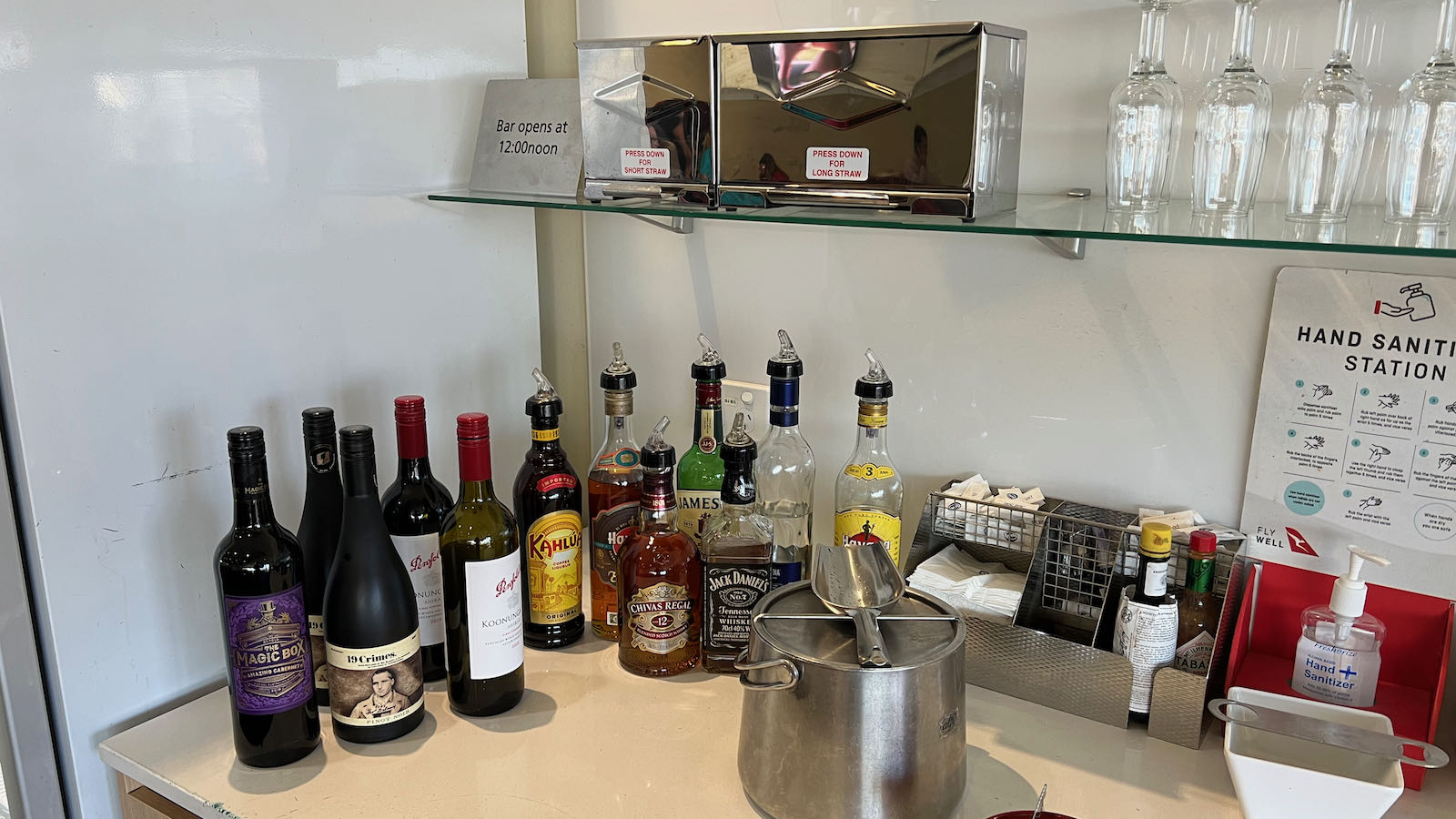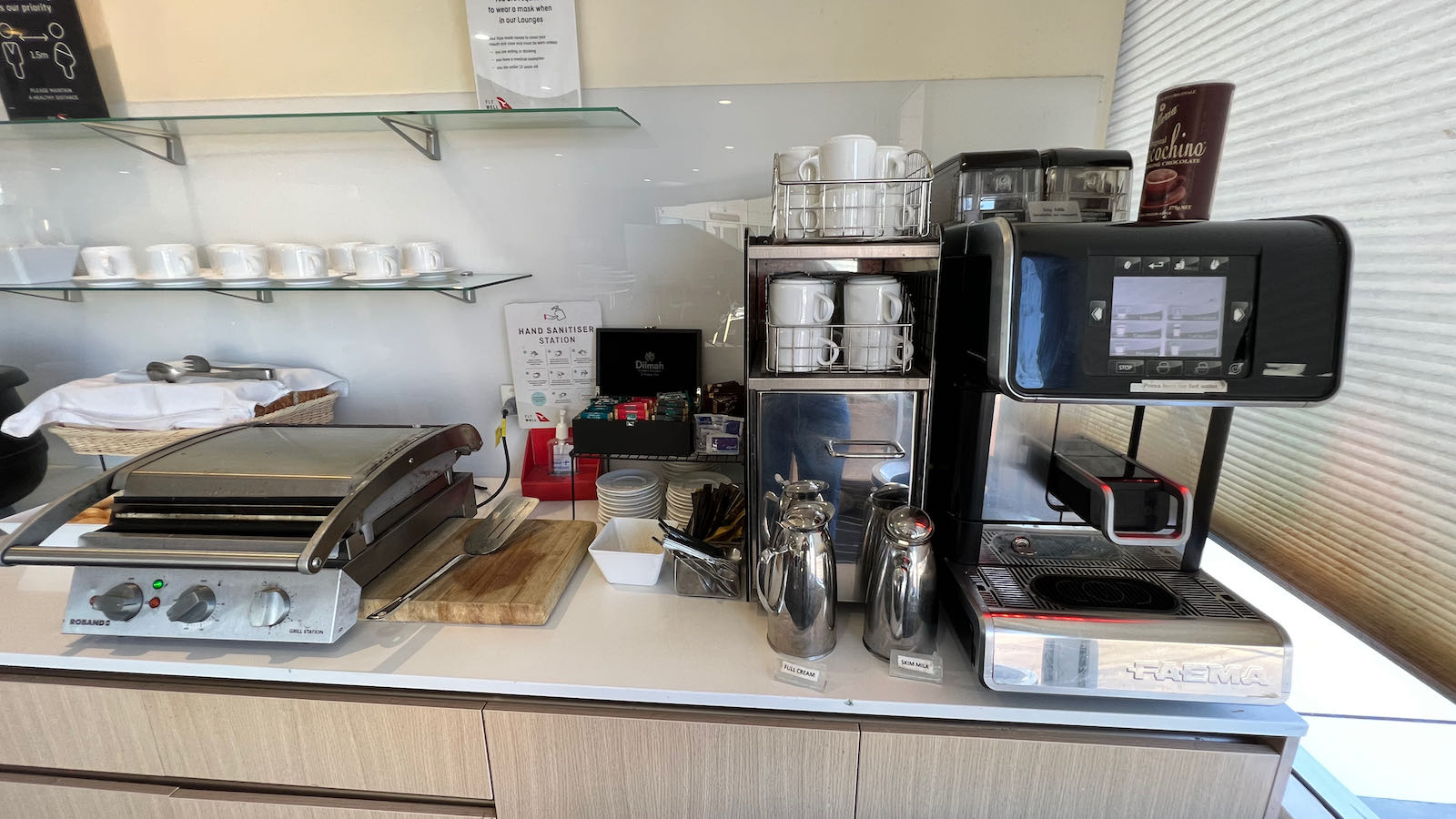 My hubby gets creative with the spirits on offer and creates his own Old Fashioned cocktail, using Jack Daniel's whisky, Angostura bitters and sugar – plus a lemon wedge and slice of orange. He cheerfully informs me that with the choice of alcohol and mixers, one can also whip up a Bloody Mary (minus the Worcestershire sauce), a mimosa, a screwdriver and an espresso martini over ice. Happy days for cocktail lovers.
Non-alcoholic drink options include a range of soft drinks and juices, plus Dilmah teas, hot chocolate and of course water. Looking for a coffee fix? It's self-serve from the machine. Hey, you can't win 'em all.
Lounge amenities
As you'd expect, complimentary Wi-Fi is available throughout the Hobart Qantas Club. I clock a download speed of 25 and an upload of 27.6. Fast enough to stream Netflix in high definition and efficiently download a movie. For those travelling without a laptop, there's also a small work desk with a Mac and printer set up. The popular juice and lolly station sits alongside, so you may find your concentration disturbed every time someone ducks over for a liquorice allsorts.
Fancy a read? The magazine rack has copies of the inspiring Qantas Magazine for you to take home, plus a few other travel-related titles. Though the selection isn't as comprehensive as it was pre-pandemic.
Of course, you'll also find bathroom facilities in the lounge, though there are no showers. Not that you'd need one before the quick hop over to the mainland.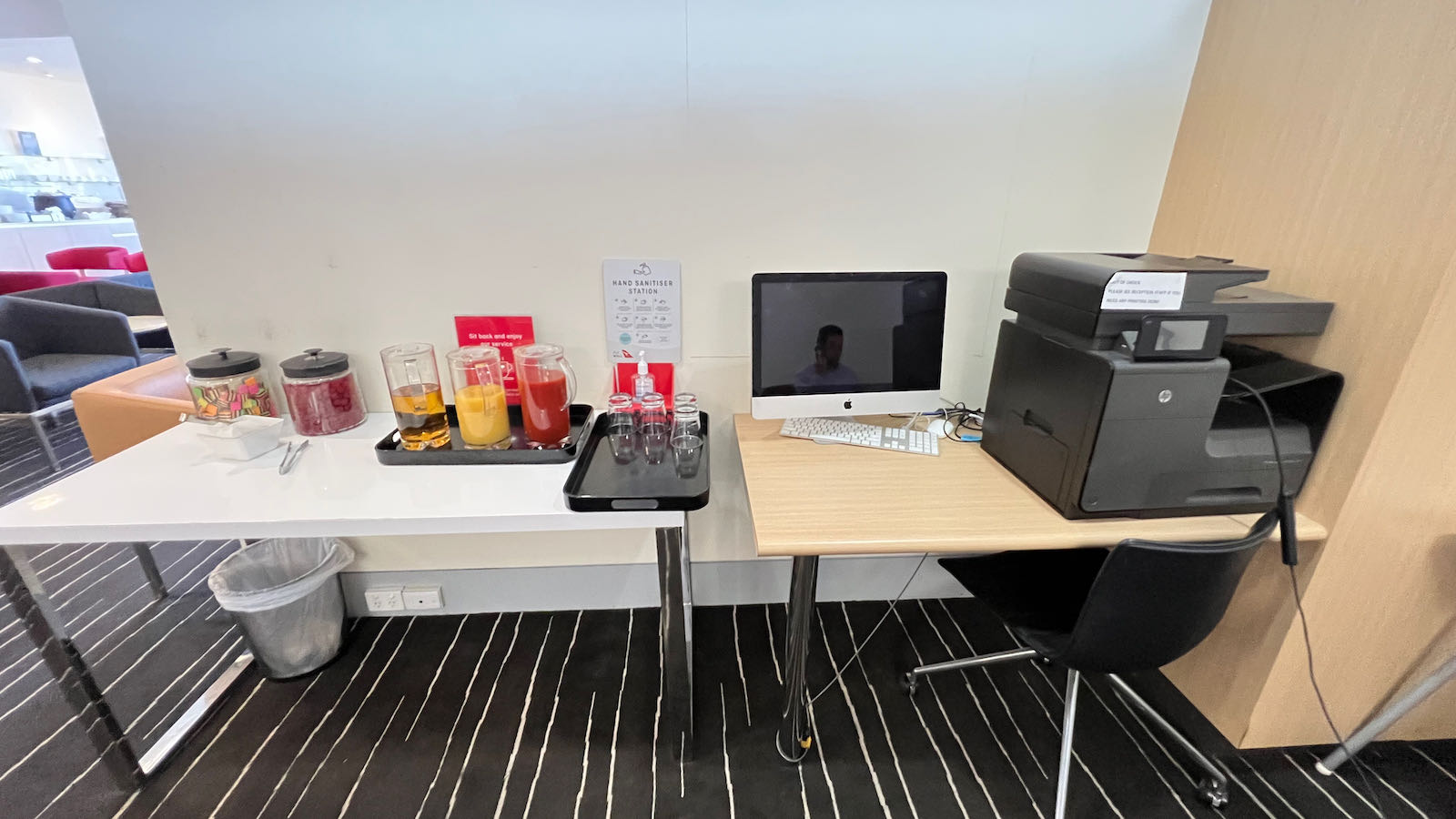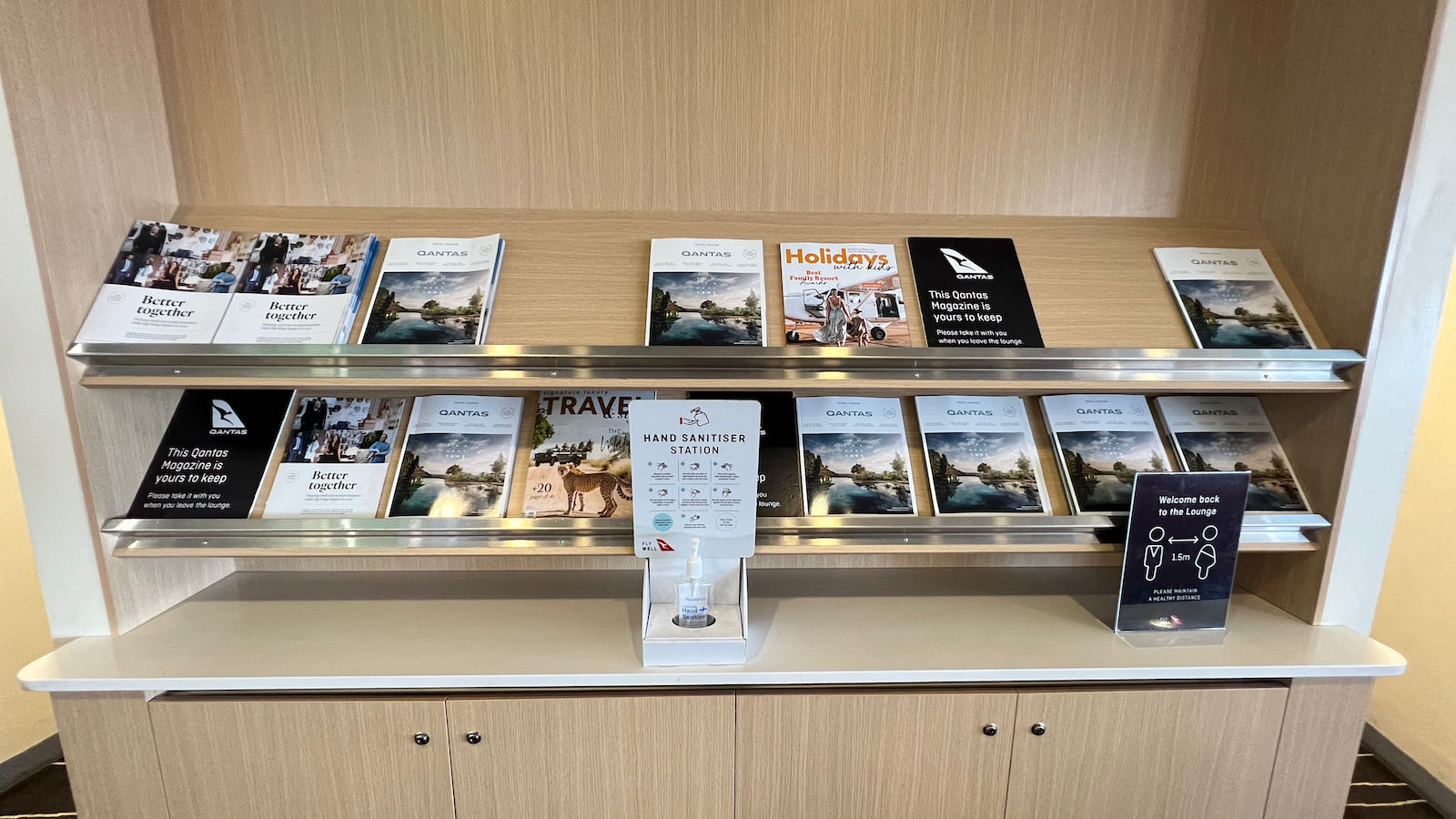 Lounge access options
You can access this lounge:
By travel class: Business Class passengers flying on Qantas or QantasLink.
By frequent flyer status: Qantas Gold (+1 guest) and higher (+2 guests) travelling on Qantas, QantasLink or Jetstar flights.
By partner frequent flyer status: Emirates Gold and higher (+1 guest); China Eastern Gold and higher (+1 guest).
By Oneworld frequent flyer status: Sapphire and Emerald oneworld members travelling on a oneworld flight number (+1 guest); international First (+1 guest) or international Business passengers travelling on a Qantas or QantasLink flight.
By credit card: read our definitive guide to Qantas lounges for credit cards that offer lounge access.
By Qantas Club membership: Qantas Club members and Annual Guest Card holders travelling on Qantas or Jetstar flights (+1 guest).
By day pass: Offered via email after achieving Silver Qantas status.
Summing up
The Hobart Qantas Club offers a comfortable place to relax before your flight. Natural light floods in through the angled windows, and the range of seating offers something for everyone. Timed hot food and the potential to whip up certain cocktails elevate the offering above what you might expect.
The only thing missing on our visit is a warm welcome. After all, a smile goes such a long way.
Featured image by Tom Goward, who originally wrote this article. All other photography by Antonia Strakosch, who accessed the lounge courtesy of her Qantas Club membership while travelling at Point Hacks' expense.
---
Stay up to date with the latest news, reviews and guides by subscribing to Point Hacks' email newsletter.
Qantas Club, Hobart
was last modified:
October 20th, 2022
by